Last day to vote for 6sqft's 2017 Building of the Year!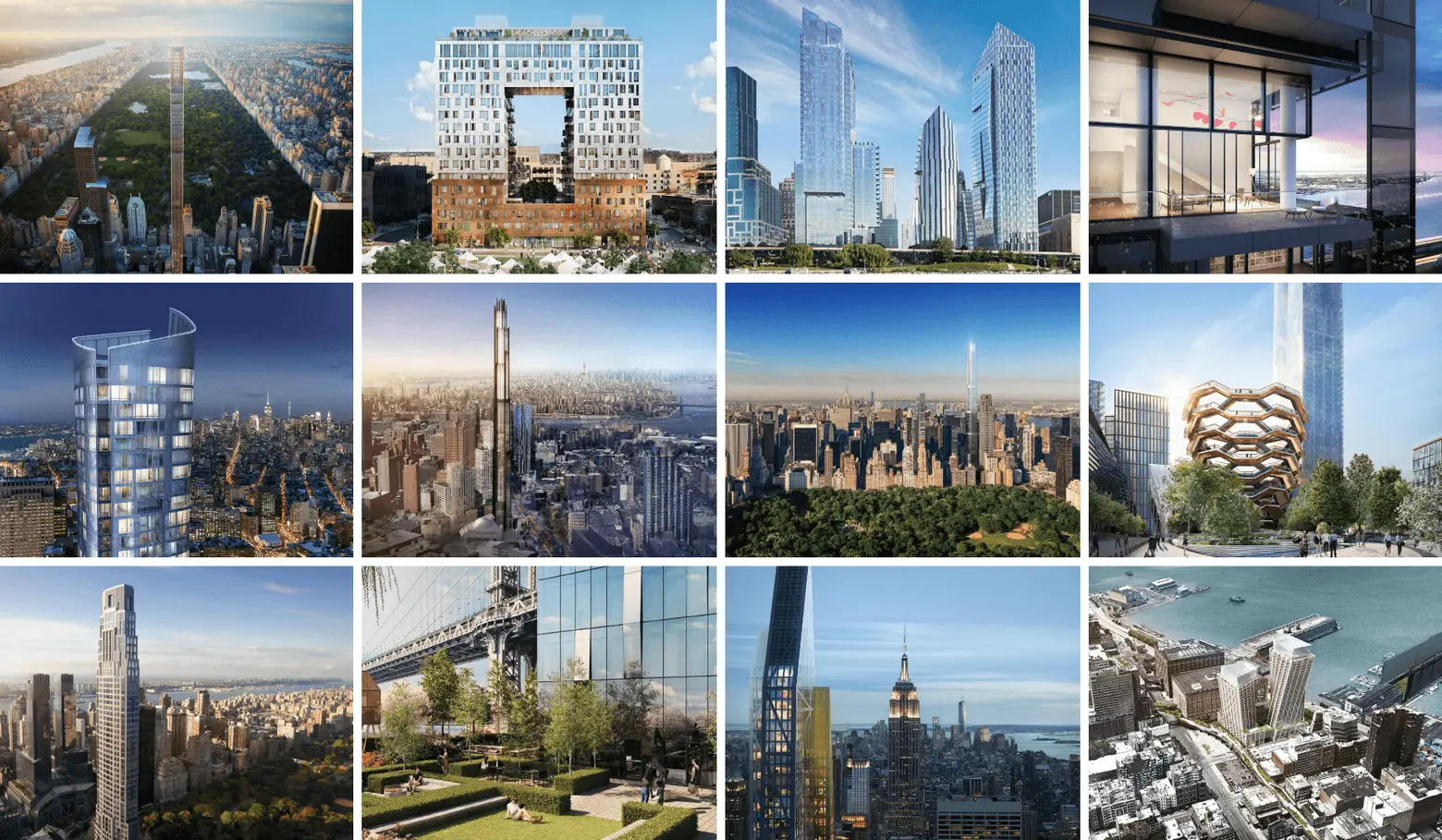 This year was all about new development redefining the New York City skyline. Construction moved along at a rapid pace, whether it be the topping out of Richard Meier's tower at 685 First Avenue or foundational work kicking off at Brooklyn's first supertall 9 Dekalb. In the next several years we'll see these buildings open and show off apartments at sky-high prices, but for now, we get to enjoy the construction process on some of the most notable new architecture to come to New York.
We've narrowed down a list of 12 news-making residential structures for the year. Which do you think deserves 6sqft's title of 2017 Building of the Year? To have your say, polls for our third annual competition will be open up until midnight on Monday, December 11th and we will announce the winner on Tuesday, December 12th.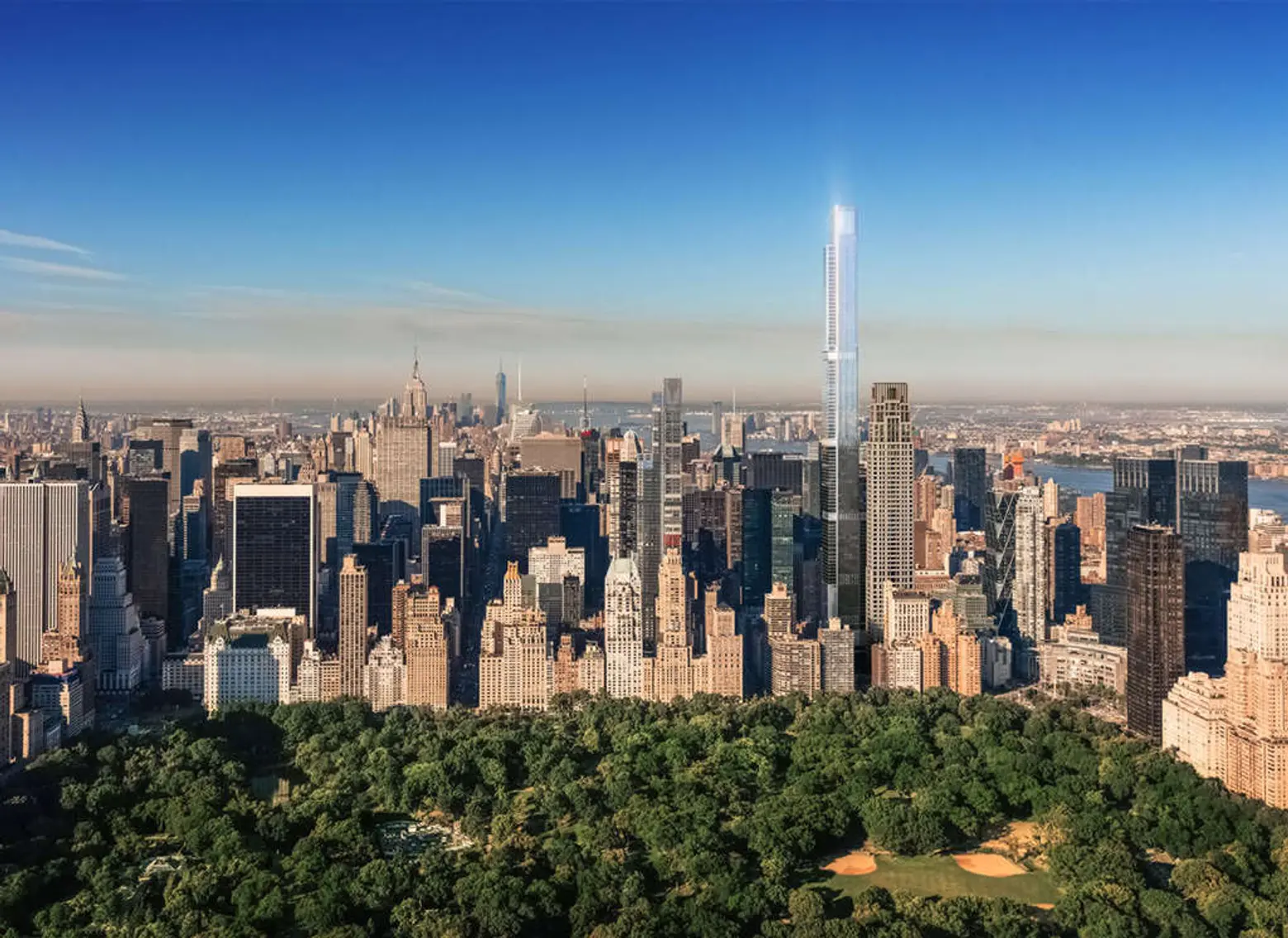 Rendering courtesy of Extell
Central Park Tower, the city's tallest-tower-to-be rising at 225 West 57th Street, had a year of reveals. First off, pricing leaked for the ultra-luxury condos, with 20 of the 179 units boasting asks of $60 million and above. The most expensive unit listed was a $95 million penthouse with four bedrooms, a 2,000-square-foot terrace and outdoor pool. Then, details on the tower's three full floors of residential amenities came out. We now know the 100th floor will hold a cigar bar, private dining room and a grand ballroom. The Central Park Club on the 14th floor will feature a resident's lounge with a screening room, conference room, and play area. Then a landscaped terrace offers a 60-foot pool, a lawn and gardens, while the 16th floor will have an indoor pool, fitness center and spa. Renderings of the "Village Green" lawn and pool deck came out this fall. The tower's glass facade, designed by Adrian Smith + Gordon Gill Architecture, went up this year but there's still no set completion date. It will eventually hit 1,550 feet, making it the second tallest building in the United States after the One World Trade Center.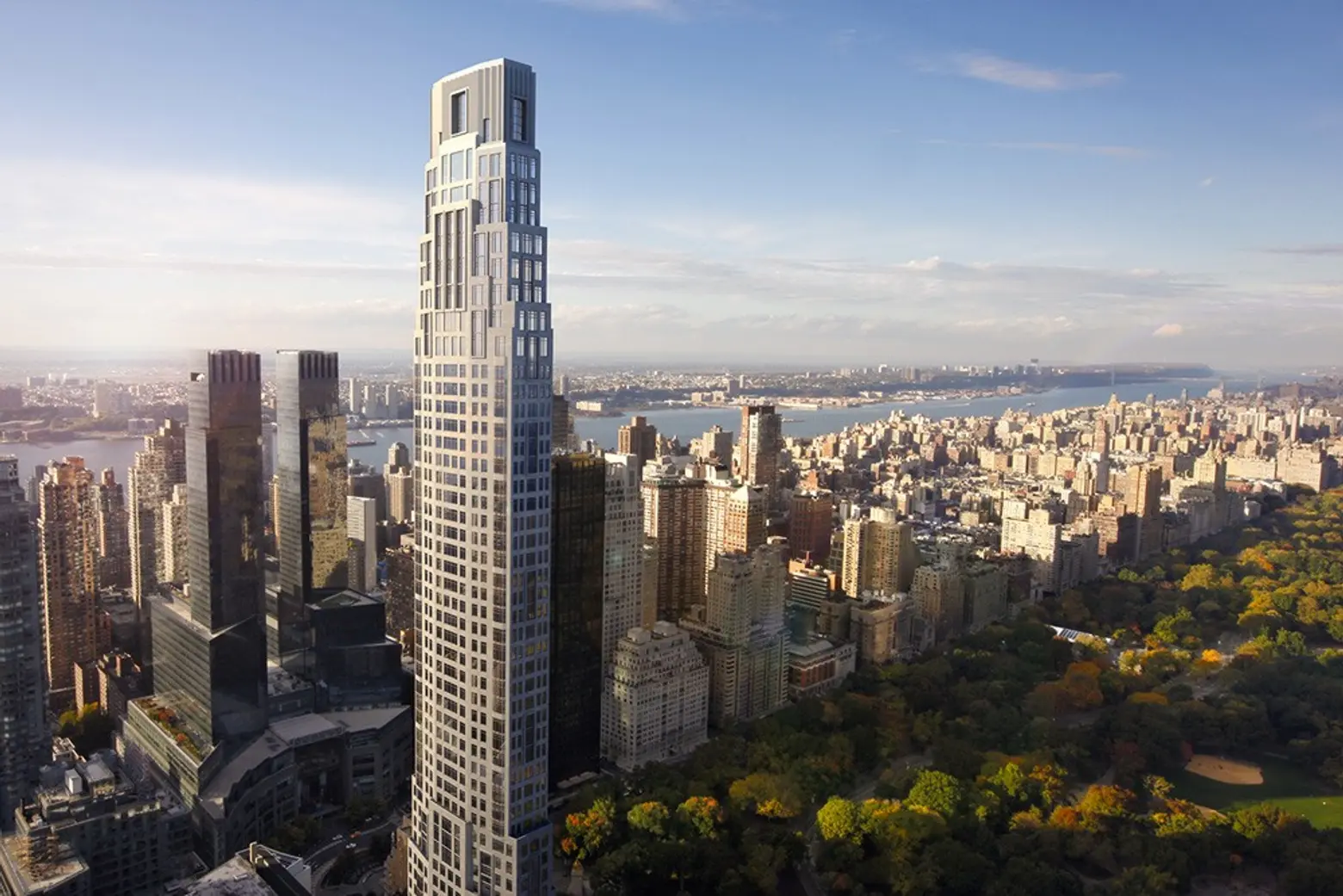 Rendering courtesy of Vornado Realty Trust
220 Central Park South remains one of the most exclusive new developments now under construction in New York. Robert A.M. Stern handled the design, and developer Vornado has thrown down $5,000 per square foot to construct it. This year New Yorkers watched as the tower's limestone facade enveloped more and more of the 66-story building. Last year, the development was known for attracting the likes of Sting and his wife Trudy. This year, the developers listed a nearly 8,000-square-foot duplex on the building's eighth floor with six bedrooms, seven bathrooms, and 2,000 square feet of outdoor space for $80 million. While Vornado's Steve Roth is extremely secretive about the building, he did spill to investors that "sales to date [have] exceeded our cost." The project is taking an estimated $1.3 billion to build, and has a total projected sellout of $3.1 billion.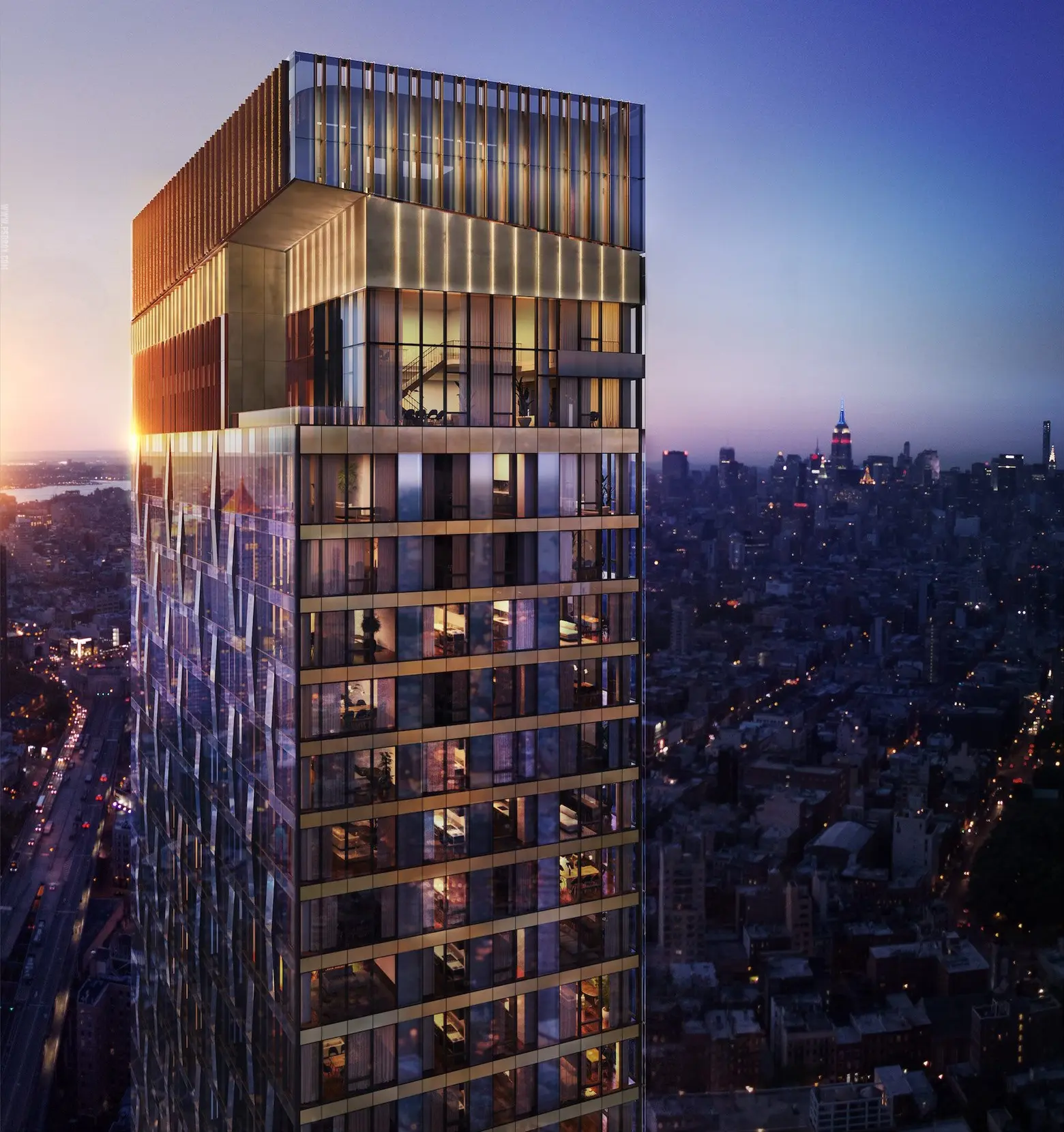 Rendering courtesy of Extell
This May we learned that Extell's One Manhattan Square will become home to NYC's largest outdoor private garden, detailed in a video released by the developer. And if that didn't impress you, Extell also released the building's Skyscape Collection, 25 condos on the upper floors of the 800-foot tower with "limitless bird's eyes vistas" of the skyline, Brooklyn, New York harbor, and the East and Hudson Rivers. One such unit, a five-bedroom penthouse duplex, has already sold for $13 million. Occupancy is a little less than one year away for the tower, located where the Lower East Side meets Chinatown. Once residents are in, they'll be enjoying more than 100,000 square feet of over-the-top indoor and outdoor amenities, everything from a tree house with fire pits and stargazing observatory to a 70-seat movie theater and bowling alley.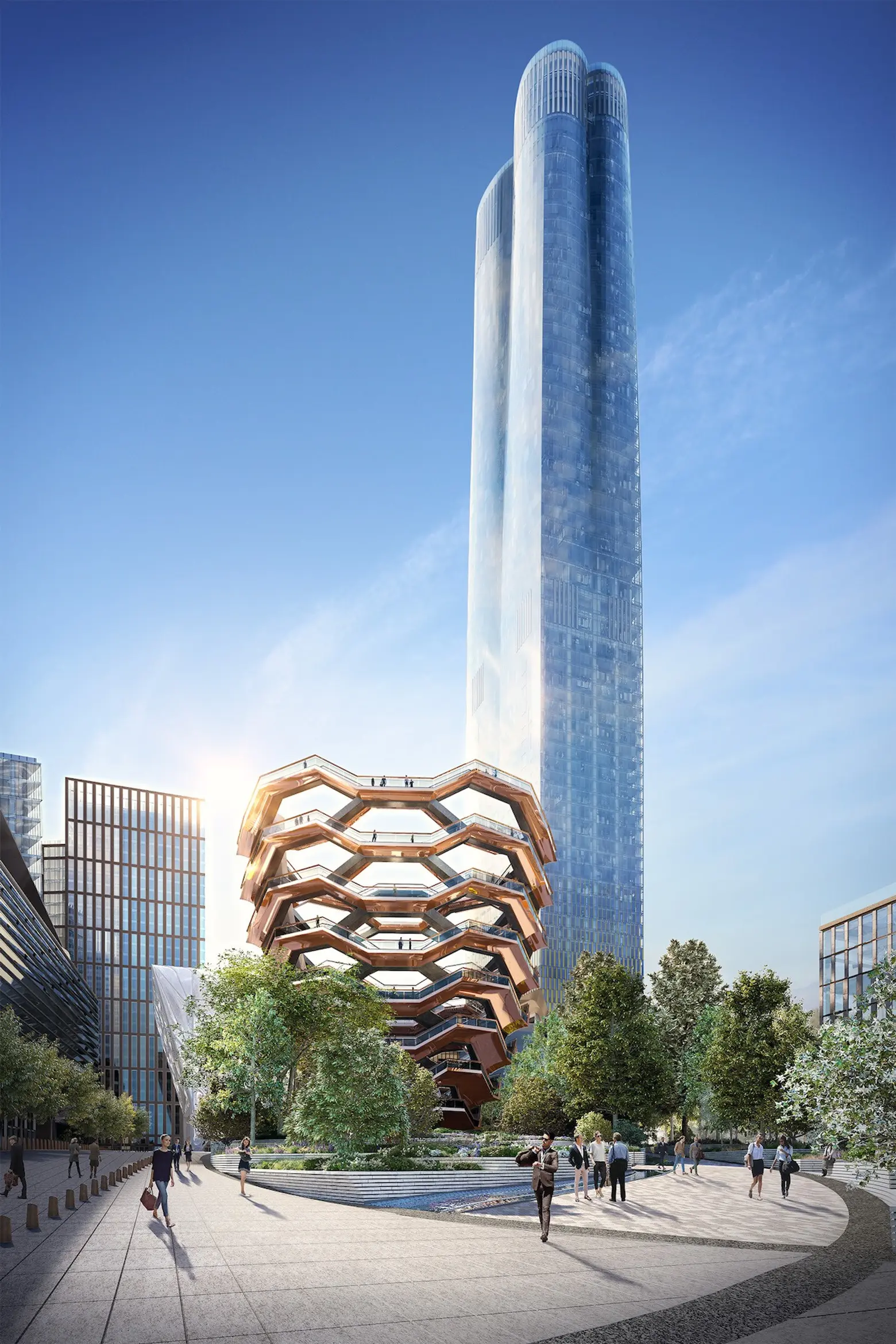 Rendering courtesy of the Rockwell Group
This sleek 910-foot-tall tower at 15 Hudson Yards has held the attention of the real estate world since construction began in spring of last year. 2017 started off strong for the development having secured more than $300 million in contracts since commencing sales that past September. Major progress was made on the facade designed by Diller Scofidio + Renfro in collaboration with the Rockwell Group. By the summer the glass and metal curtain wall of the uniquely-shaped tower–one of four to go up on the eastern railyards of the Hudson Yards master plan–was about halfway up. The building's first penthouse hit the market with an ask of $32 million, boasting floor-to-ceiling glass spanning 116 linear feet, allowing a 270-degree panorama of the city. The development is finishing out the year with apartments available between $3.875 million up to $32 million.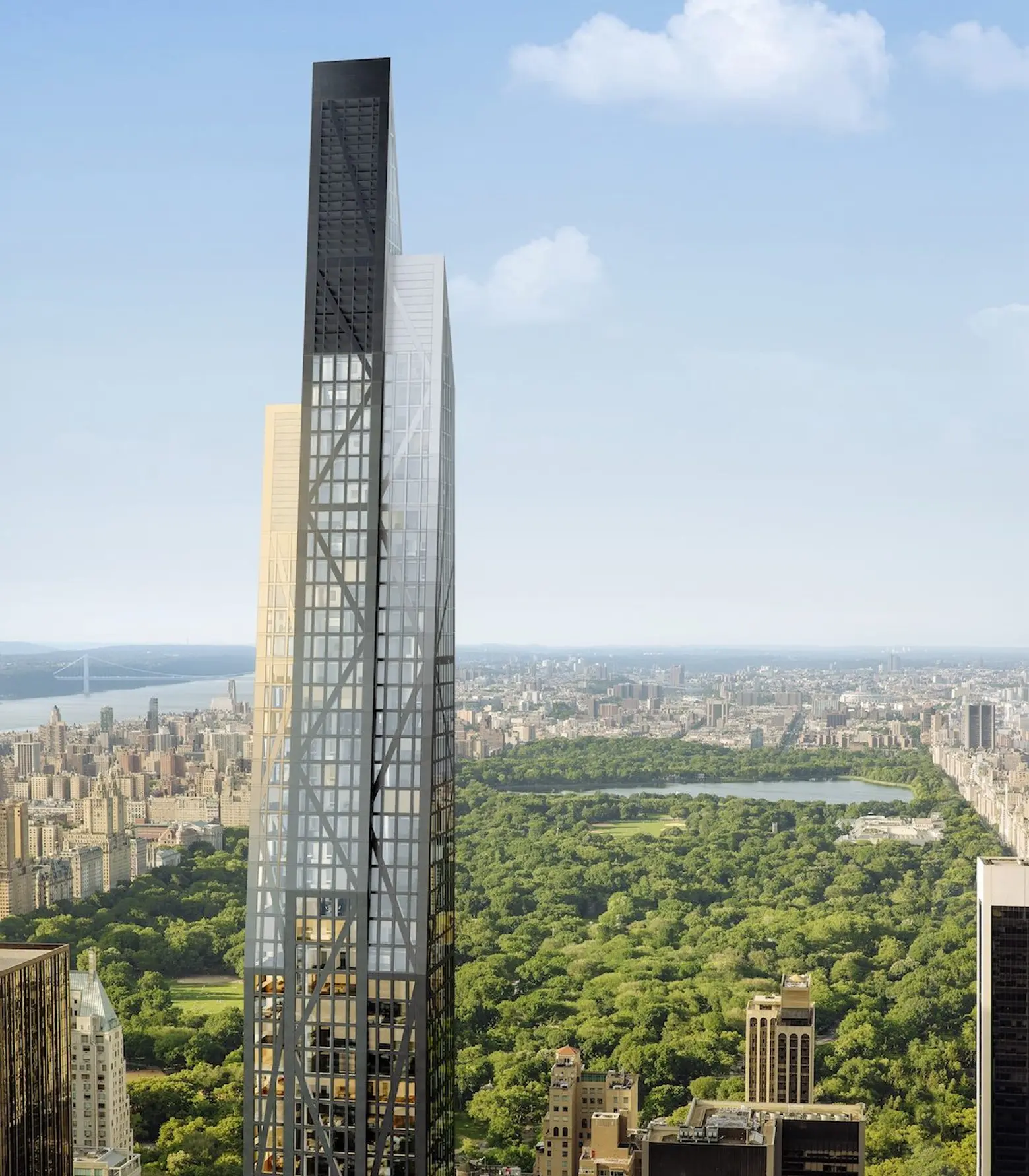 Rendering by Hayes Davidson
This September 6sqft checked in on Jean Nouvel's "MoMA Tower" and found that construction on the 82-story building had reached the 58th floor. Newly-released renderings and construction photos were also showing off the entire 1,050-foot-tall tapered tower, from crown to ground level. And in October, the first of the building's intricate facade–a curtain wall of non-mirrored glass and painted aluminum elements–started going up. Pricing for units now ranges between $3.654 million for a one bedroom up to $43.95 million for a four-bedroom, four-bathroom spread. (Interiors were designed by Thierry Despont.) The tower, developed by Hines, is expected to wrap construction sometime next year.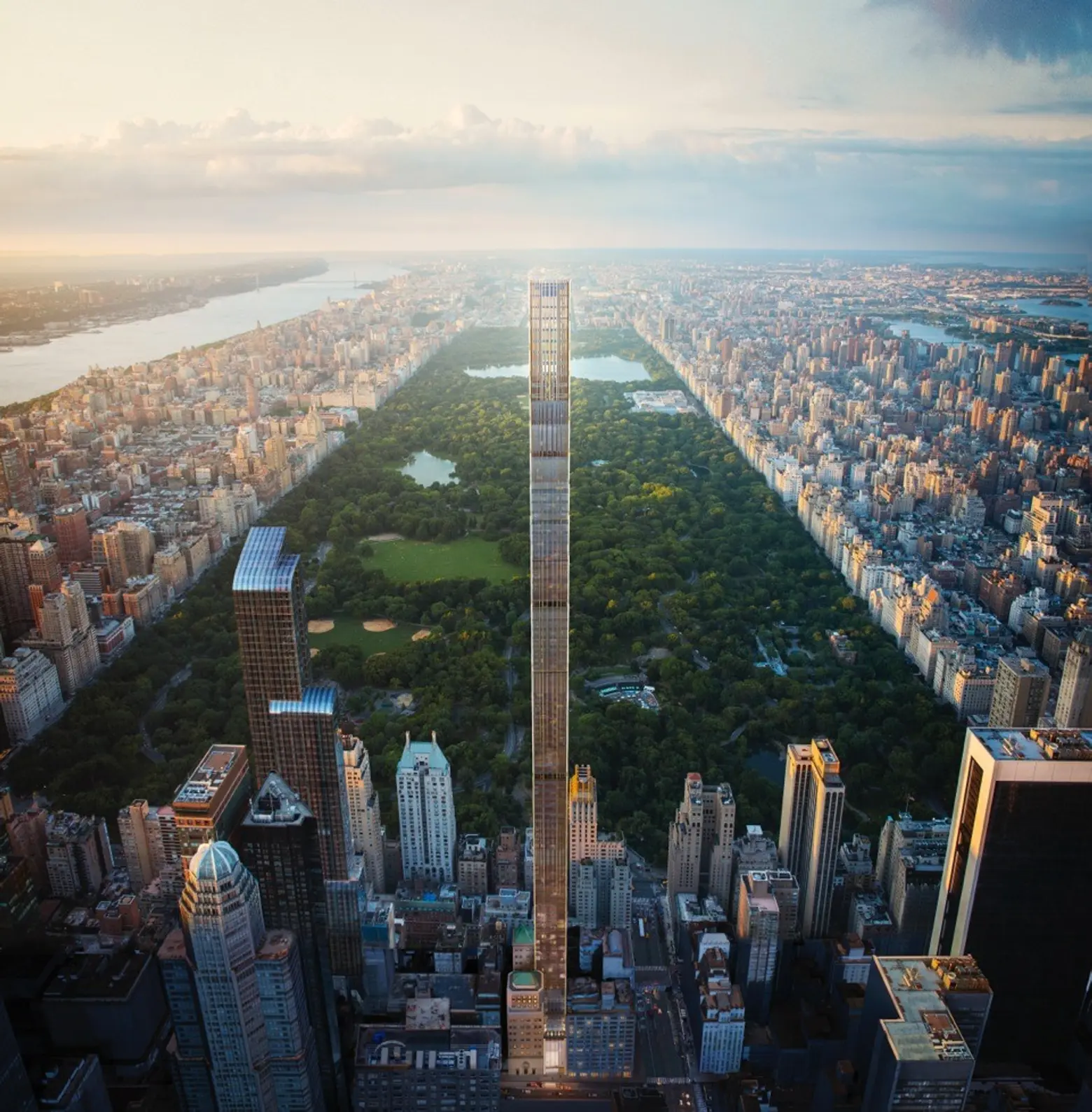 Rendering by SHoP Architects
You could call it a year of drama for the super-skinny tower designed by SHoP Architects for Billionaire's Row. Construction was moving right along for the first half of 2017, but by this summer construction stalled after only 20 stories due to severe budget overruns. In early August there was some good news, as the first units had gone into contract. (An offering plan at the time showed prices starting at $15.5 million, with the most expensive unit on the 74th floor listed for $58 million.) But by late August, news of lawsuits broke. Property Markets Group's Kevin Maloney and JDS Development's Michael Stern were getting sued by the real estate investment corporation and project owner AmBase as the company tried to salvage its $66 million investment. That wasn't the only lawsuit, either; AmBase sued Maloney and Stern claiming they were responsible for $50 million in cost overruns after omitting from the budget the hefty cost of cranes. Legal issues aside, construction of the bronze and terracotta-clad tower picked up at a rapid pace in the second half of of the year. And after all that drama, it's still on track to be the world's most slender skyscraper with a height-to-width ratio of 24:1.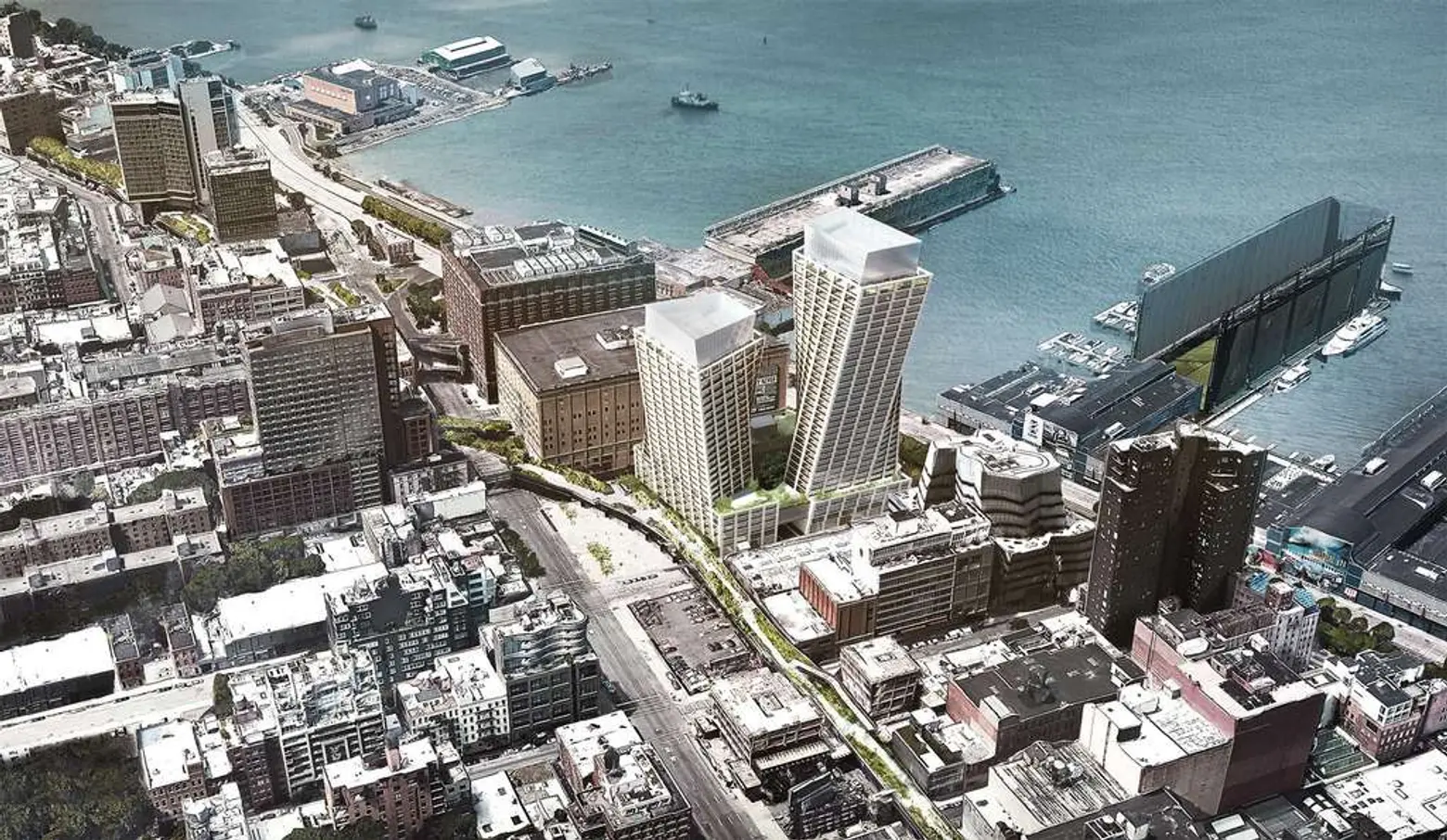 Rendering by Bjarke Ingels Group
This is the second year Bjarke Ingels' High Line towers made 6sqft's Building of the Year list. HFZ Capital Group brought in the Danish starchitect for this project back in 2015. And last year, the pair of twisting travertine-and-bronze towers was dubbed "The Eleventh." 2017 started with the release of a new website and fancy signage for the development. HFZ then secured a $1.25 billion construction loan this May to move things along. By October, foundation work was underway with the first crane erected at the construction site. The full-block mega-development, bounded by 17th and 18th streets, is scheduled to wrap construction in 2019. Once complete, the two towers–sharing a common podium–will soar 28 and 36 stories and hold 260 condos, a hotel, and 180,000 square feet of retail and offices.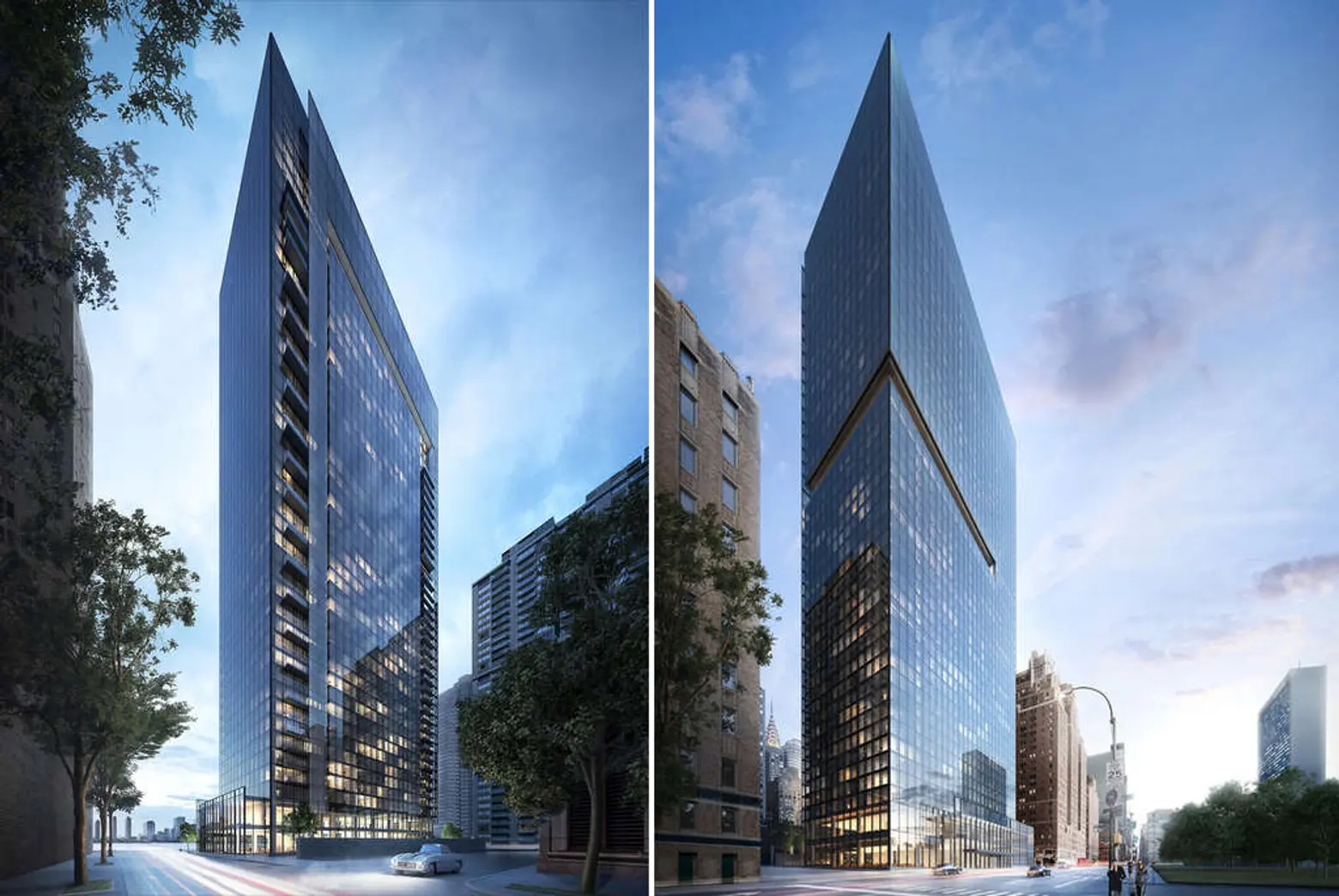 Courtesy of BloomImages
The largest and tallest building in NYC from Pritzker Prize-winning architect Richard Meier spent the year making its ascent at 685 First Avenue. The 42-story, 460-foot-tall tower officially topped out in September right along the East River, boasting an all-black, glassy facade to offer residents privacy and create a uniform appearance on the outside. The buiding's main distinguishing feature is an architectural cut-out at the 27th and 28th floors, visible from across the East River. This project is a long time coming, as developer Sheldon Solow bought the site 16 years ago and development plans only started coming together last year. Upon completion in 2018, the Turtle Bay project will feature 556 rental and condominium apartments with panoramic waterfront views.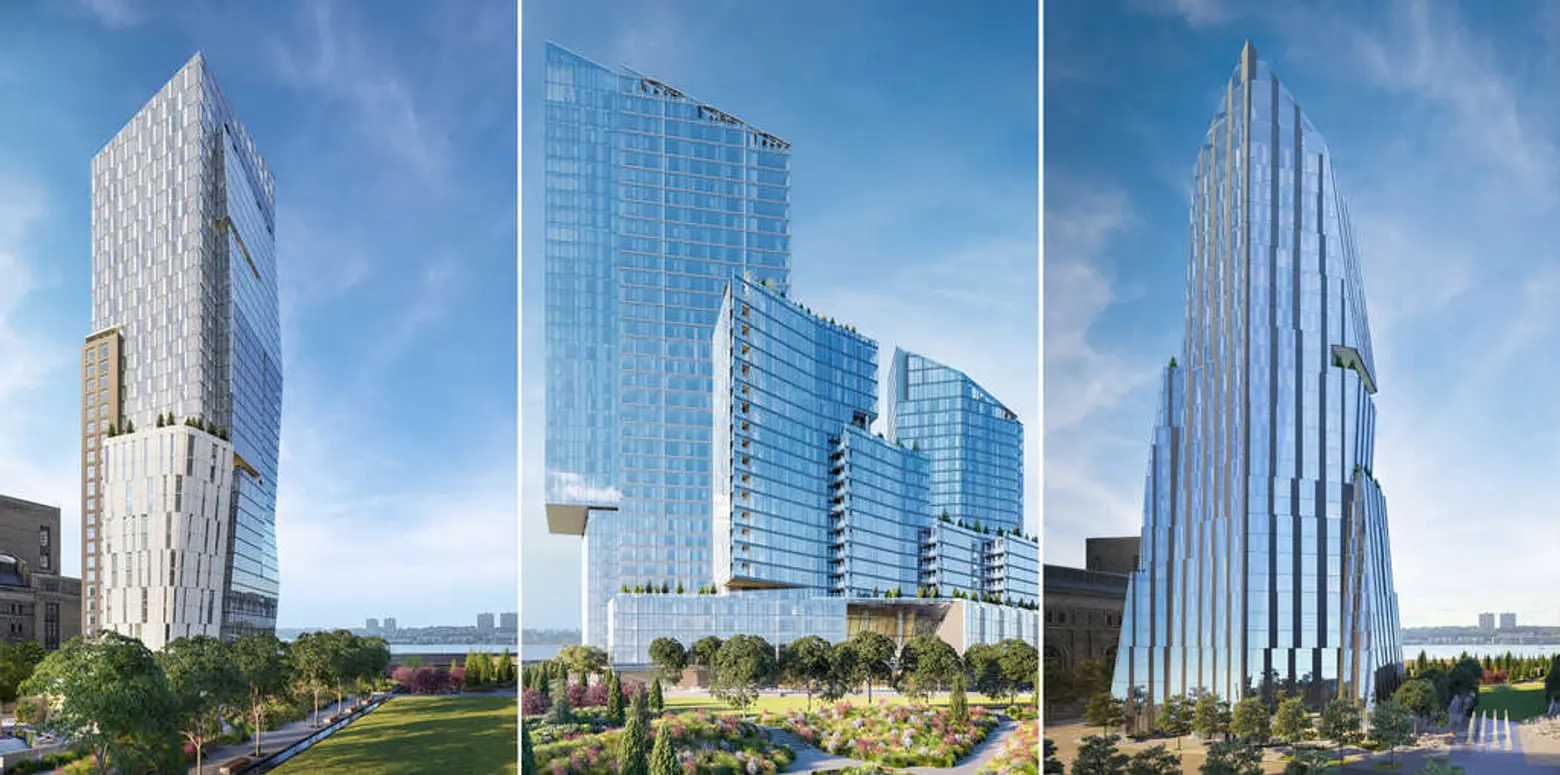 L to R: One Waterline Square by Richard Meier, Two Waterline Square by KPF, and Three Waterline Square by Rafael Vinoly
This Upper West Side trio of glassy residential towers designed by starchitects was moving right along in 2017. By October Rafael Viñoly's tapering, pinstriped Three Waterline Square had topped out construction, with Richard Meier's neighboring One Waterline Square rapidly approaching its 36-story height. A twin-peaked building that will be the plan's largest and last to top out was designed by Kohn Pedersen Fox. Viñoly's design has distinguished itself from his most prominent work in New York, the super-tall luxury tower 432 Park Avenue, as Three Waterline boasts a tapering ensemble of sloping elevations, angled rooflines and pinstriped glass. With such impressive facades, developer GID Development Group followed it up by revealing an insane amenities package. Residents won't have to leave their building for perks, but will also have shared access to the Waterline Club, 90,000+ square feet that includes an indoor tennis court, rock-climbing wall, lap pool, art and music studios, bowling alley, dog playroom and grooming station. Finally, sales launched toward the end of the year on a diverse set of one- to five-bedroom condos priced from $1.85 million.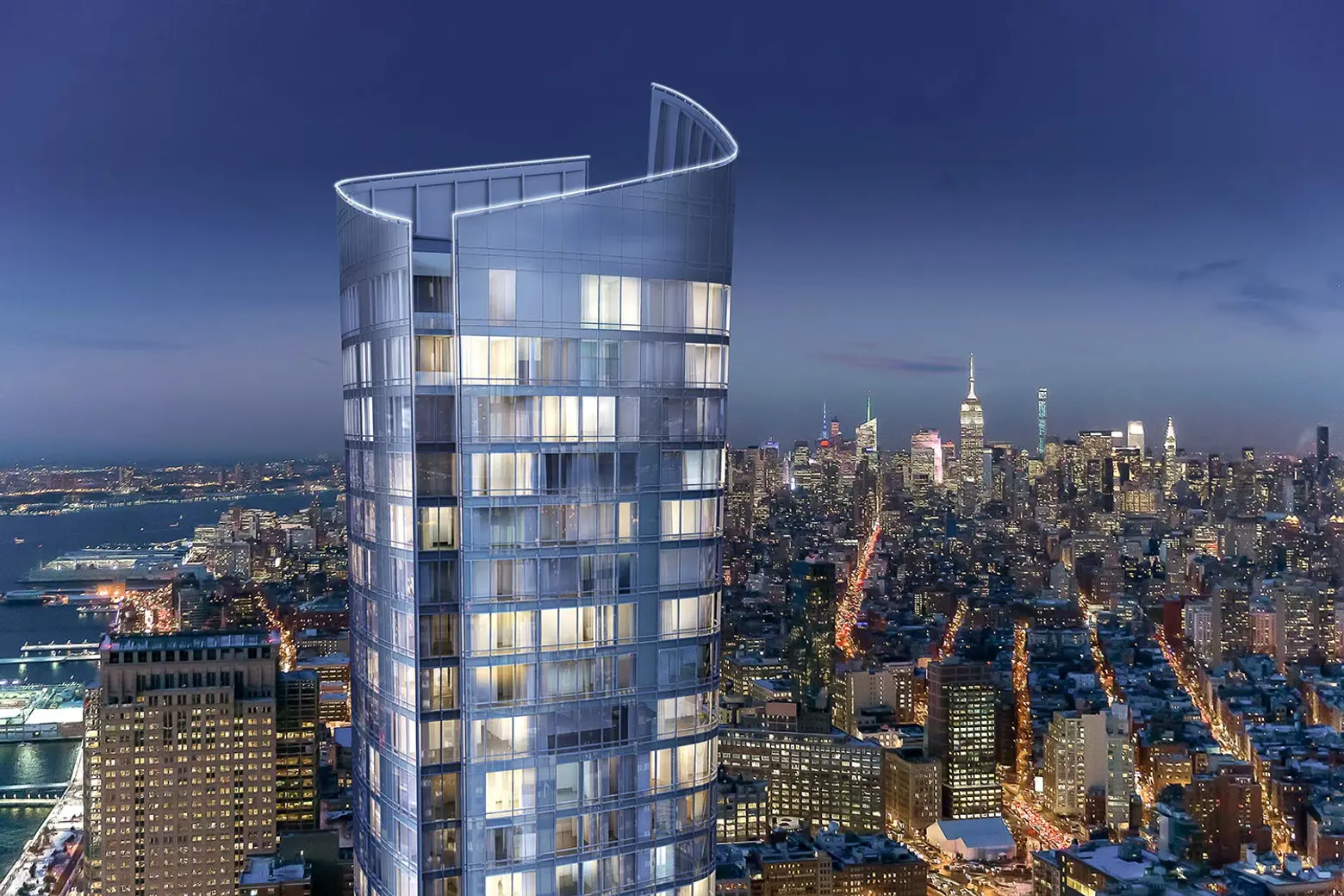 Courtesy of Kohn Pedersen Fox
The shimmering glass curtain wall of 111 Murray, the Tribeca tower by Fisher Brothers and Steve Witkoff, was on full display in 2017. Designed by Kohn Pedersen Fox and Hill West Architects, the 58-story condo's dramatically flared apex and crystalline exterior now sets apart from its Downtown Manhattan neighbors. The height will also grant 157 apartments uninterrupted views of the city and river views in all directions. Ahead of move-ins, set for 2018, there are pads available between $4.35 million and $18.9 million. Interior finishes are getting customized by AD100 designer David Mann. And unsurprisingly, the amenities package is impressive, with a 24-hour attended lobby designed by David Rockwell, residents' lounge with private garden views, a 3,000-square-foot fitness center, 75-foot lap pool, hammam, sauna, hot tub, and spa treatment rooms. The list continues with a private Drybar hair salon, private dining room with demonstration kitchen, children's playroom, teen lounge, and media room.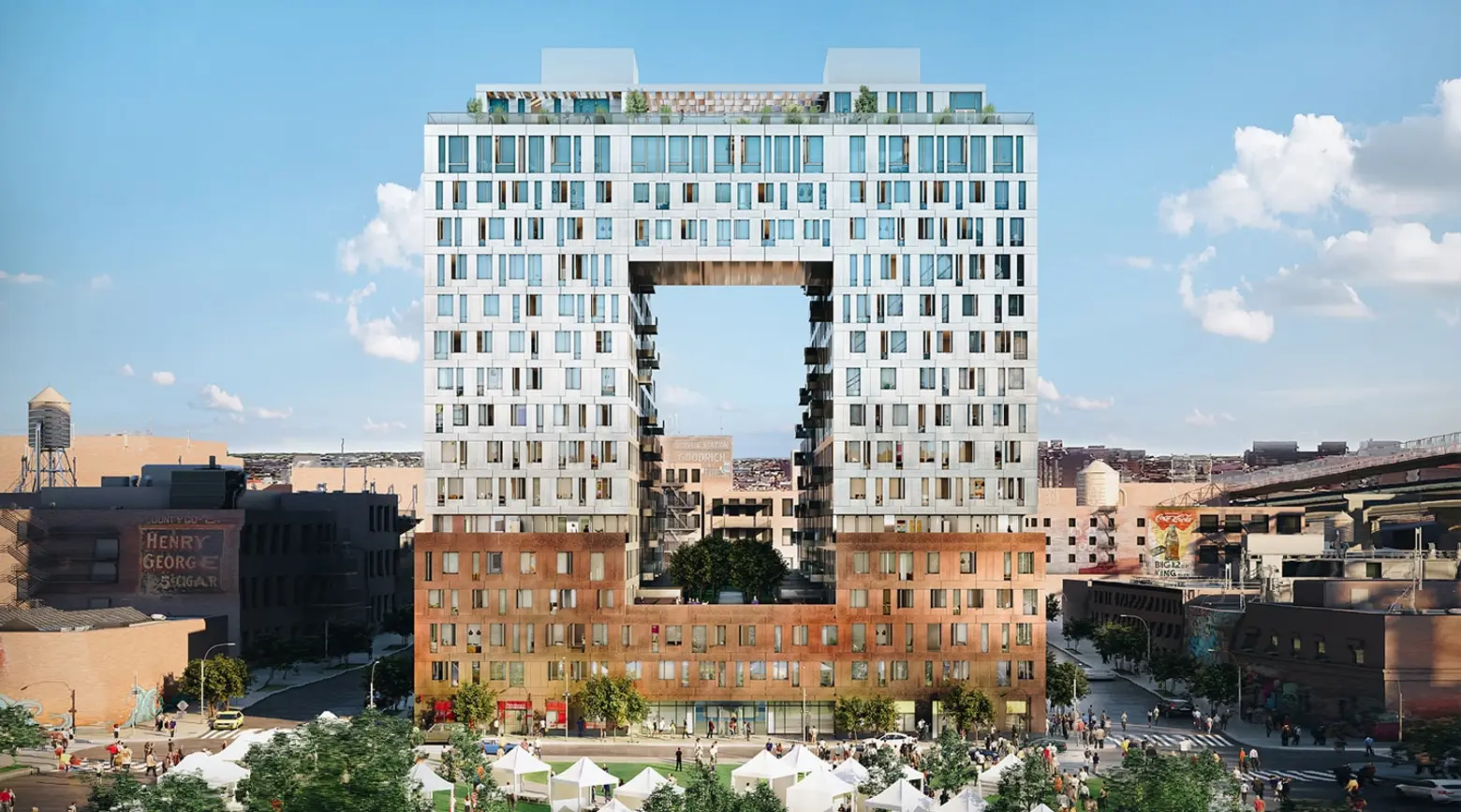 Rendering by SHoP Architects courtesy of Two Trees
325 Kent Avenue, Domino Sugar Factory
The Williamsburg mega-development going up at the former Domino Sugar Factory site has made major progress over the past 12 months. And of the entire $1.5 billion project, 325 Kent Avenue was the first building to wrap construction. The distinctive U-shaped building is now clad in copper on its lower floors with a silvery sheen above, with a high-flying skybridge to connect its two wings. The 522 rentals launched this summer, with prices starting at $2,406/month for studios, $3,800/month for one-bedrooms, and $4,996/month for two-bedrooms. Two Trees Management also received over 87,000 applications for the 104 affordable apartments. The building is fronted by a spectacular 11-acre park designed by James Corner Field Operations, expected to open next summer. Also to come is a dramatic revamp of the historic sugar factory building. The Landmarks Preservation Commission took no action on Vishaan Chakrabarti's glassy barrel-vaulted design this fall, but went ahead and approved it in late November.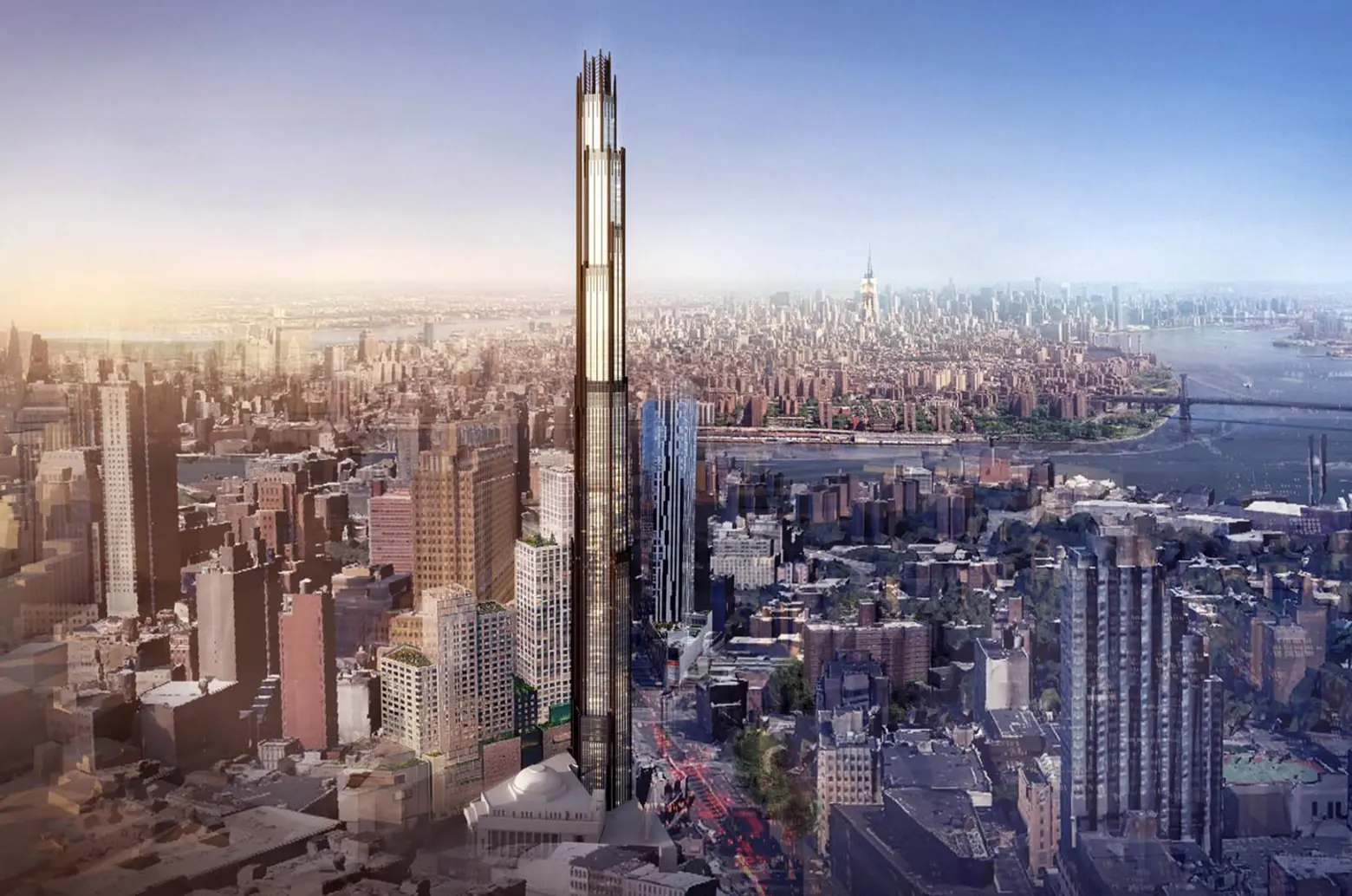 Rendering by SHoP Architects
Following last year's news that the Landmarks Preservation Commission approved SHoP Architects design for Brooklyn's first super-tall tower, foundation work kicked off in the summer. JDS Development Group, who's developing it with Chetrit Group, posted a video to its Instagram showing caisson installation underway. (That's what will make the structure extra secure, given it's 1,066-foot height.) As the tower sprouts from Downtown Brooklyn's landmarked Dime Savings Bank, the Brooklyn skyline will be redefined by the glass facade overlaid in ribbons of bronze, stainless steel, and black granite. When construction wraps in 2020, it'll hold roughly 500 rental units, a mix of high-end apartments and 20 percent below-market rate housing.