Oops! 2020 did it again! We have TWO Buildings of the Year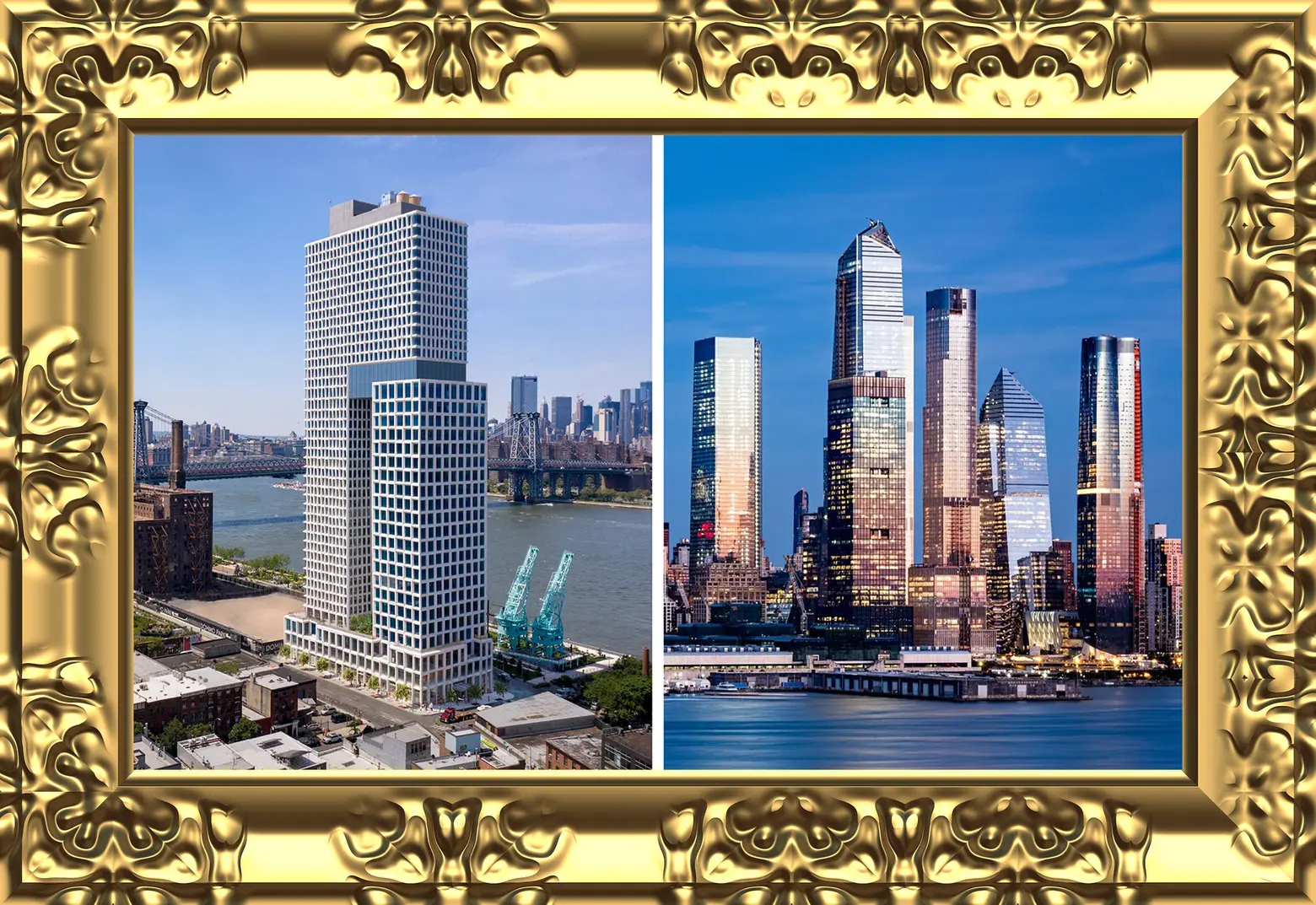 Earlier this week, 6sqft reported that 15 Hudson Yards was voted 2020 Building of the Year with a whopping 50 percent of the votes. However, after we discovered a glitch in our vote-counting system (how 2020!), the results are too close to call and it's a virtual tie with One South First. If it were another year, we would extend the voting to call a single winner, but it is 2020, and we don't want to think about voting anymore!
The fact that our readers put these two buildings on par is fitting, as they are both prominent projects that have changed the trajectories of their respective neighborhoods–15 Hudson Yards at the Hudson Yards mega-development and One South First at the Domino Sugar development on the south Williamsburg waterfront. Ahead, learn more about the two buildings and what sets them apart.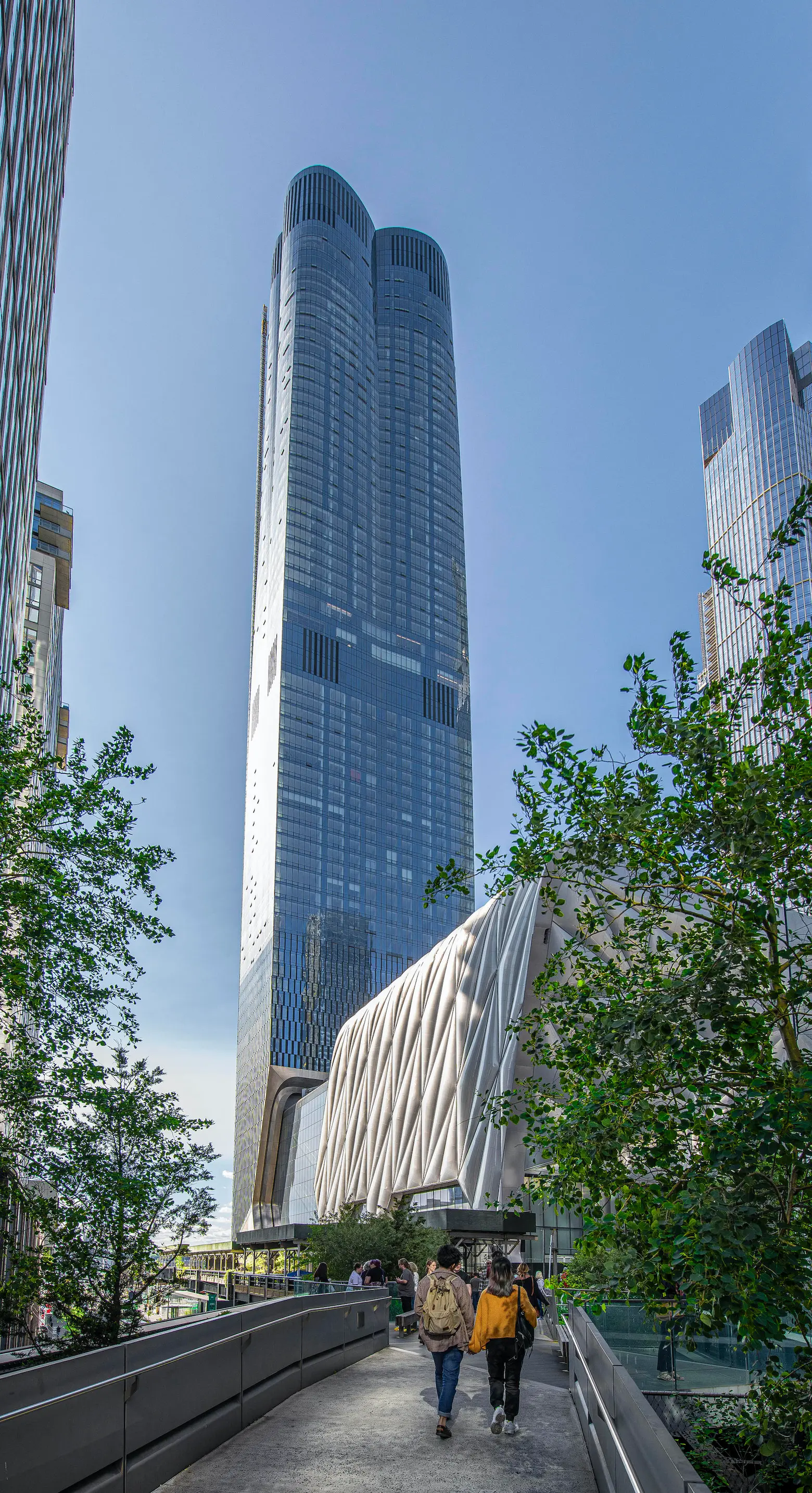 Courtesy of Related-Oxford
Developed by Related Companies and designed by Diller Scofidio + Renfro in collaboration with the Rockwell Group, 15 Hudson Yards has a total of 285 units, which are on the market as a mix of rentals and condos. It was the first residential building to open at the larger Hudson Yards development, which officially opened to the public in March of 2019.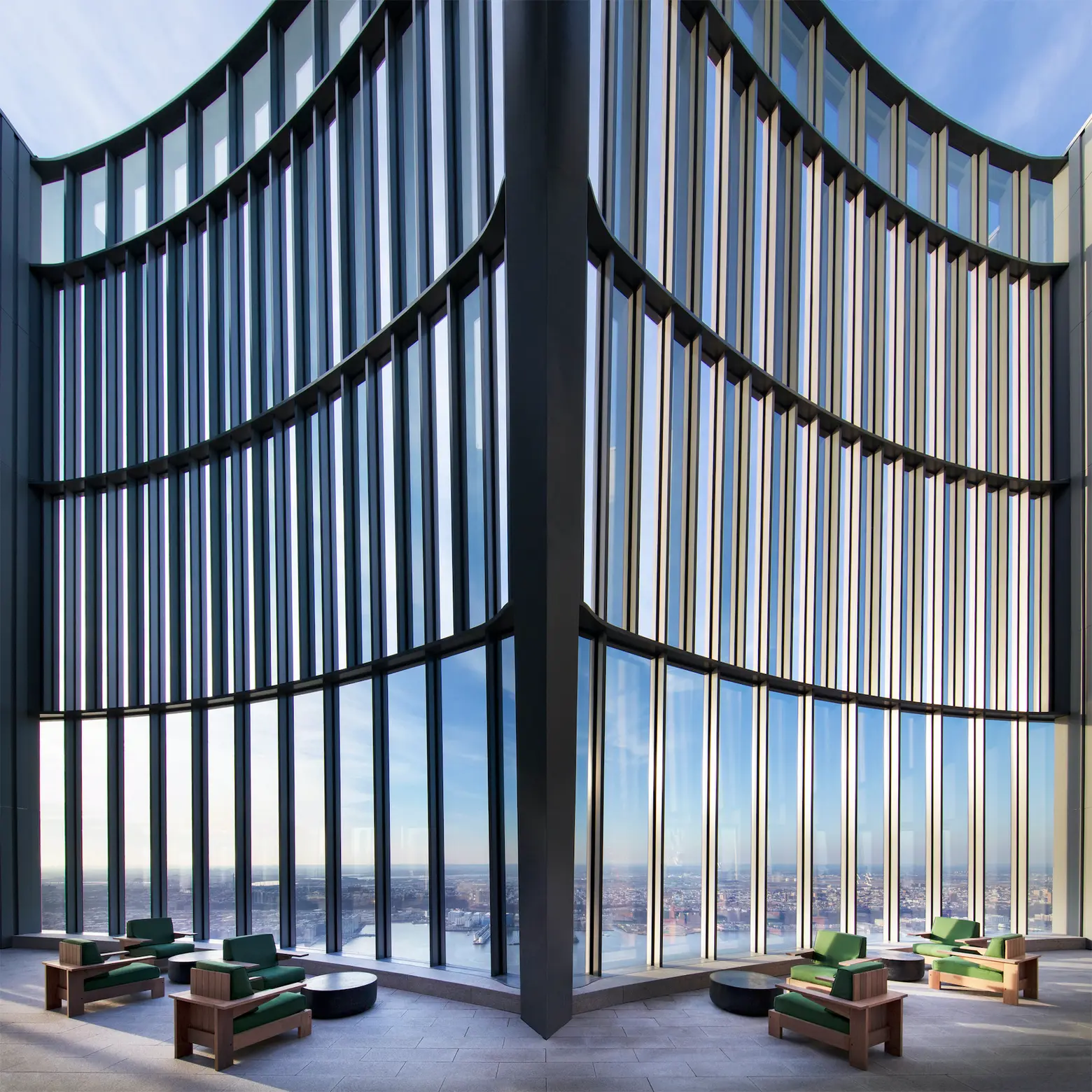 Photo of Skytop by Scott Frances for Related-Oxford
The 88-story tower boasts the city's highest outdoor residential amenity space, is connected to the Shed performing arts space, and has some of the best views in town. The 900-feet-in-the-air Skytop amenity space takes up 6,000 square feet, situated behind a 60-foot tall glass screen that overlooks the Hudson River. Other amenity spaces include an aquatics center with a 75-foot swimming pool, whirlpool, private spa with treatment rooms, beauty bar, fitness center outfitted by The Wright Fit, a children's imagination center, screening room, golf club lounge, wine storage and tasting room, business center with dual conference rooms, and a collaborative workspace.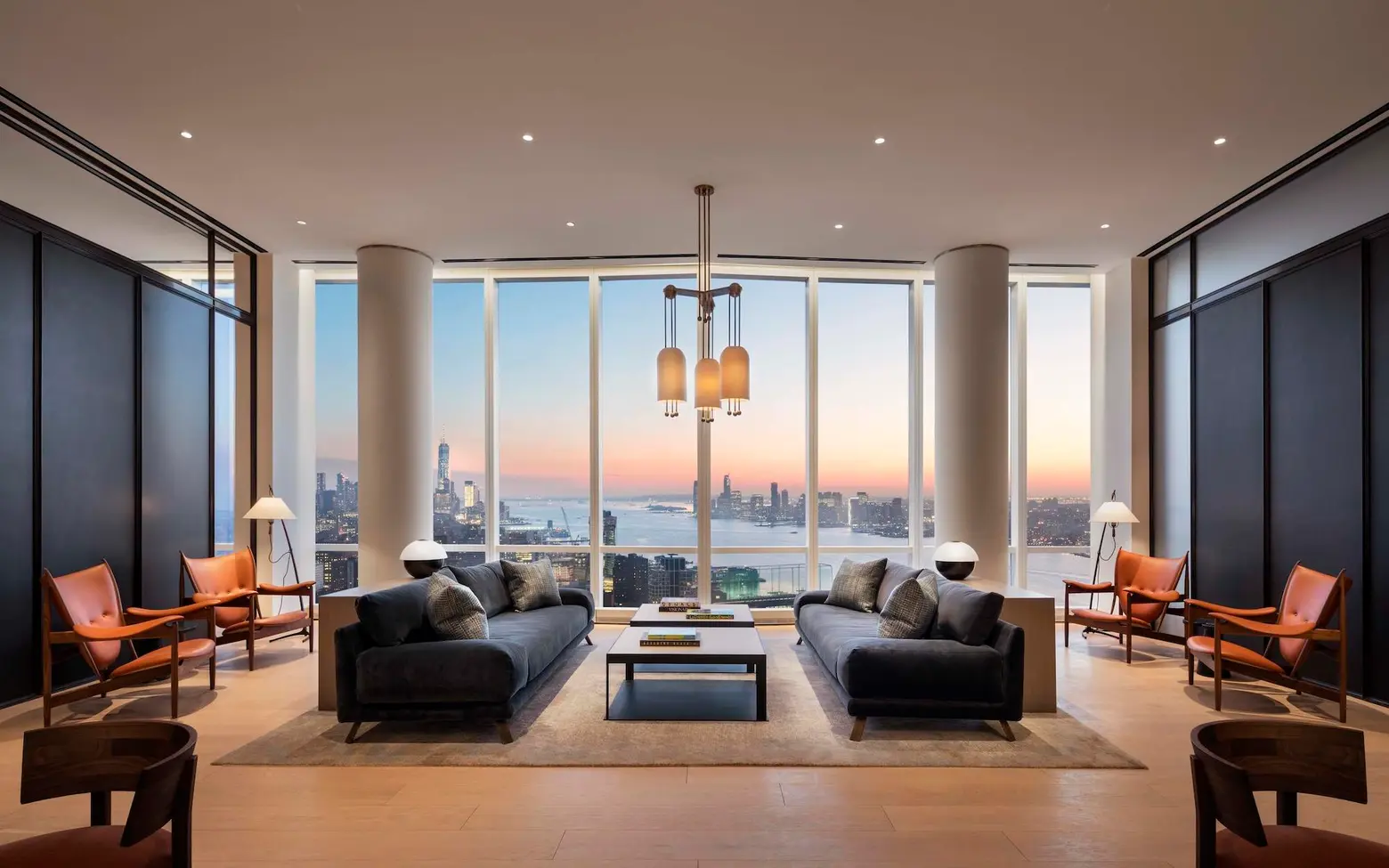 15 Hudson yards living room, courtesy of Related-Oxford
15 Hudson Yards launched sales in the fall of 2016. Current sales listings range from a $1,995,000 one-bedroom to a $32 million penthouse. Rentals range from a $6,975/month one-bedroom to a $27,500/month four-bedroom.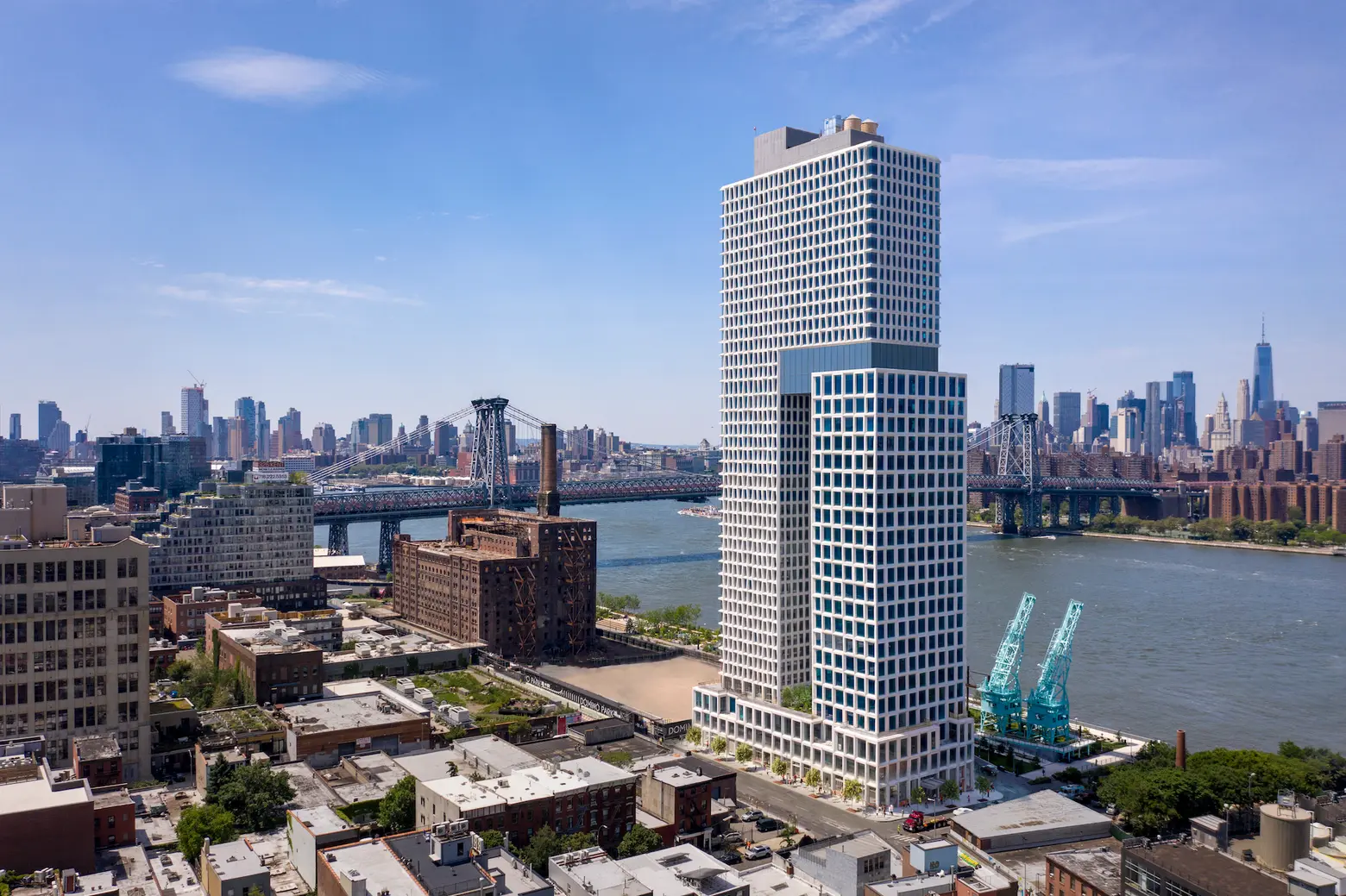 Photo courtesy of Two Trees Management
At 435 feet, One South First is Williamsburg's tallest tower. It was developed as part of Two Trees Management's larger 11-acre Domino Sugar Factory development, which in total will include 2,800 rental apartments across four residential buildings (700 of which will be affordable), 600,000 square feet of office space, and 200,000 square feet of retail. It also includes the wonderful Domino Park that opened in the summer of 2018.
The mixed-use building was designed by COOKFOX Architects to represent the structure of a sugar crystal in honor of its location. Its facade was built using 3D-print molds and acts as a self-shading system. Its roof reduces stormwater and runoff. It offers 330 rentals, office space, and ground-floor retail, which includes a newly opened outpost of uber-popular pizza spot Roberta's.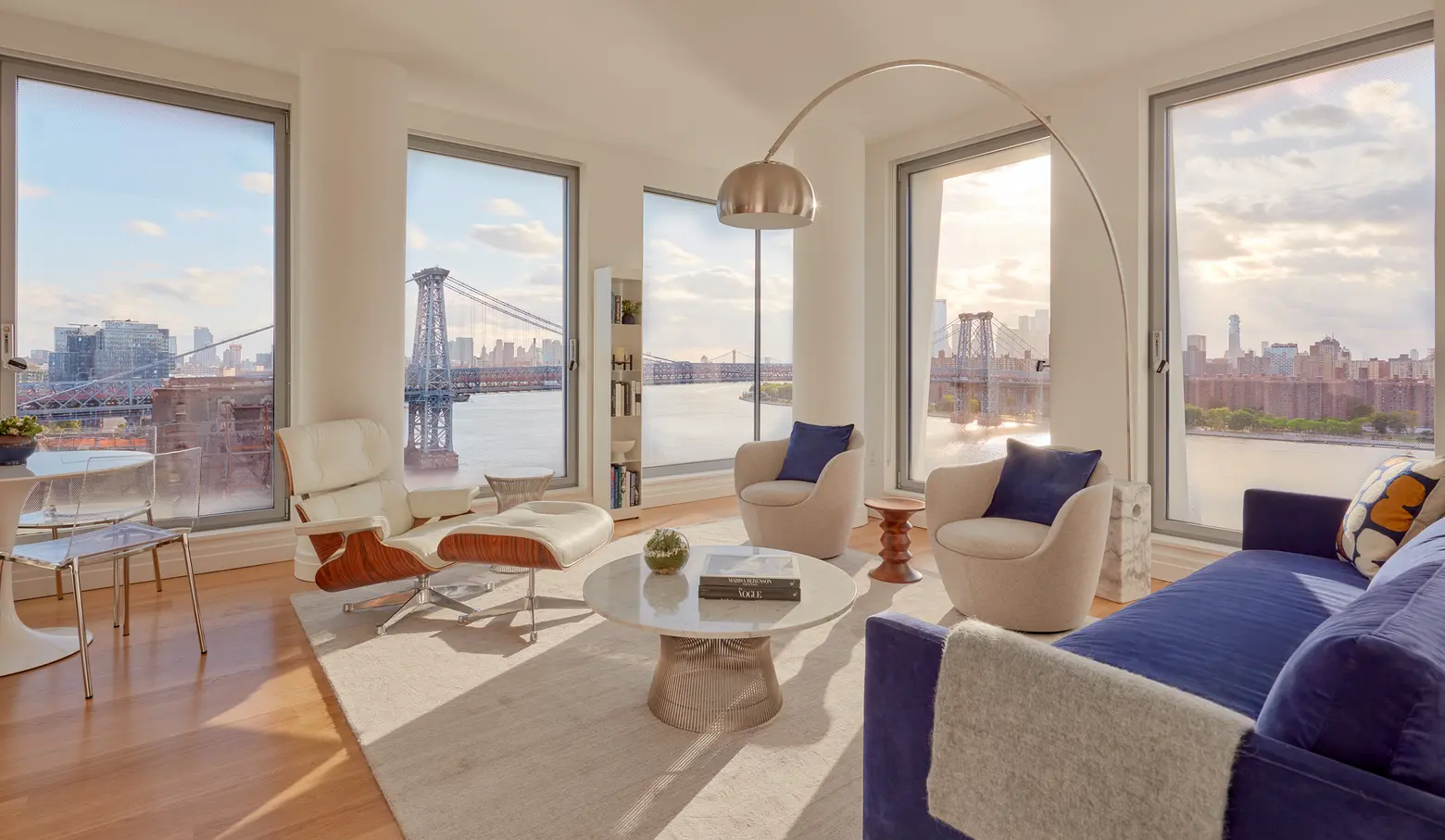 Photo courtesy of Two Trees Management
One South First opened to residents in the fall of 2019, with units including alcove studios and one- and two-bedrooms, boasting floor-to-ceiling windows and East River views. Current availabilities range from a $4,500/month one-bedroom to an $8,500/month two-bedroom.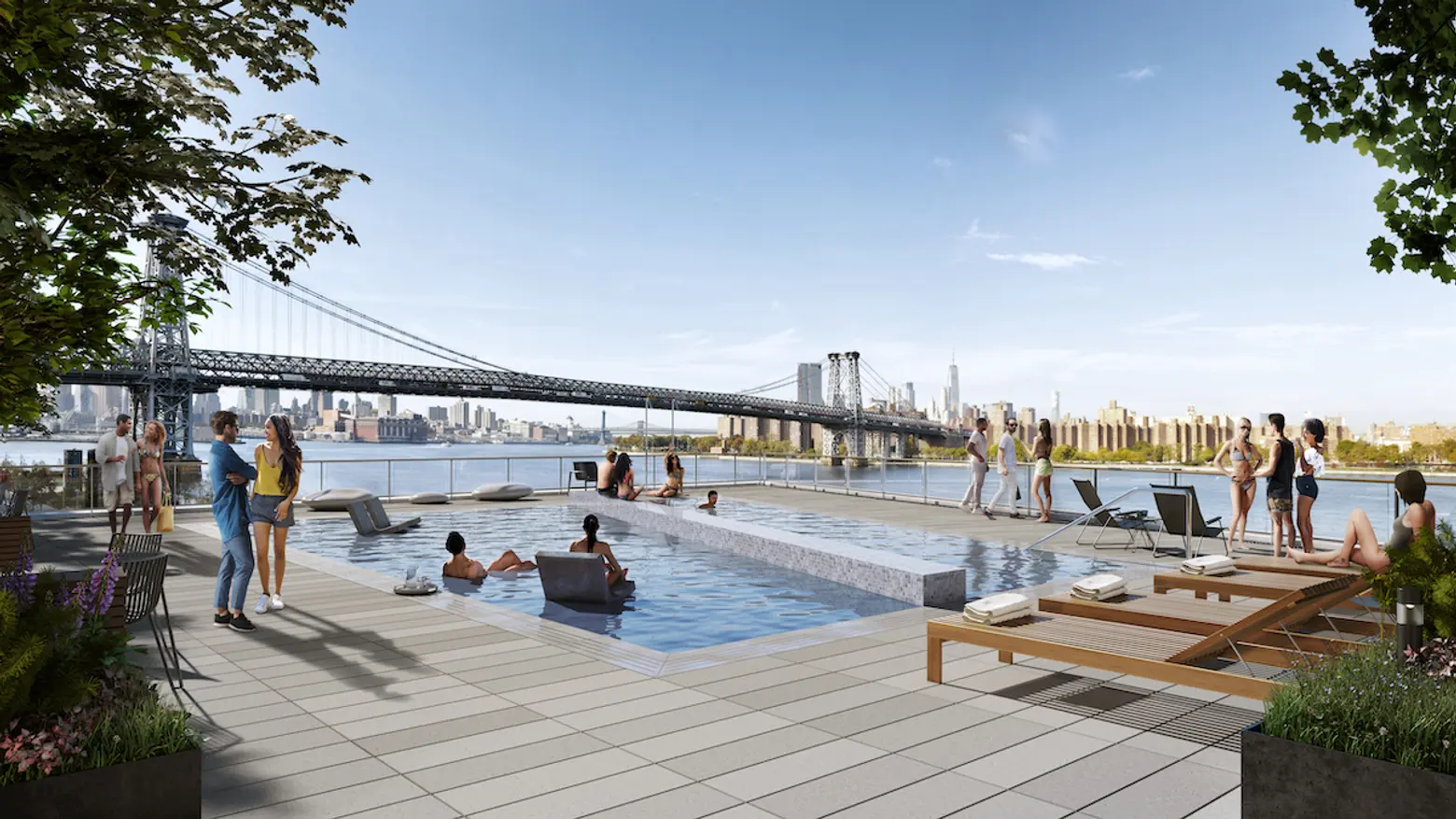 Photo courtesy of Two Trees Management
Residents can enjoy an outdoor pool deck complete with rooftop cabanas, outdoor grilling stations, and incredible views. Other amenities include social lounges, communal and private work spaces, conference rooms, a gym that offers fitness and yoga classes, children's playroom, media room, bike storage, and pet grooming station.
The rest of the rankings:
3. Lantern House: 395 votes
4. 111 West 57th Street: 369 votes
5. Central Park Tower: 291 votes
6. 35 Hudson Yards: 251 votes
7. The Towers of the Waldorf Astoria: 236 votes
8. Brooklyn Point: 218 votes
9. 11 Hoyt Street: 200 votes
10. Waterline Square (One, Two, and Three): 170 votes
11. 277 Fifth Avenue: 75 votes
12. 22o Central Park South: 68 votes
Congratulations to all the teams represented. And thanks to all who voted!
See all past Building of the Year winners here:
Editor's Note: An earlier version of this story incorrectly announced 15 Hudson Yards as the sole winner of 6sqft's Building of the Year contest.