See inside Domino Sugar Factory site's first commercial building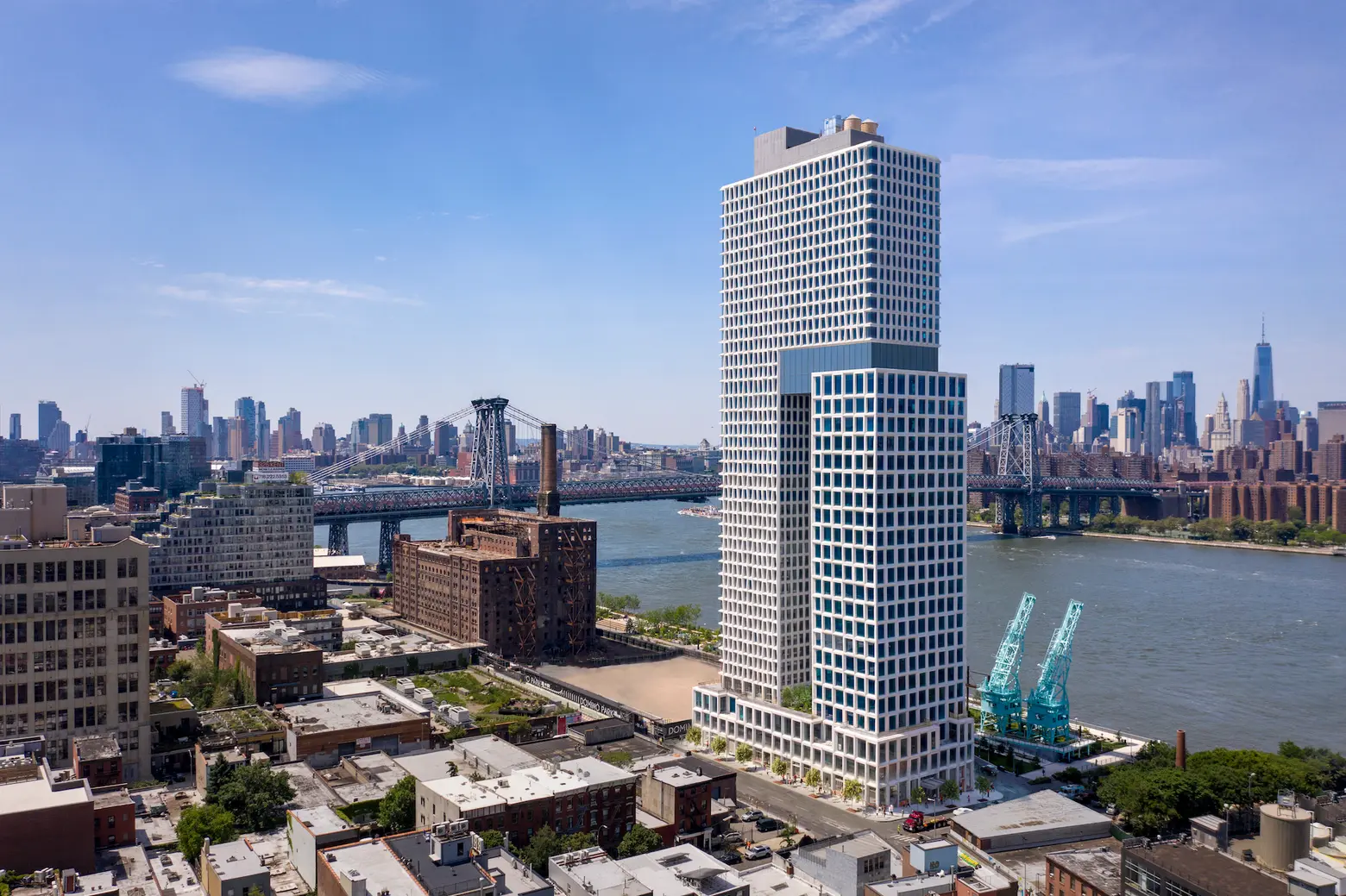 Image by Two Trees Management
The first commercial building at the Domino Sugar Factory site in Williamsburg officially launched leasing this week. Ten Grand Street sits within the 45-story mixed-use tower One South First, which opened in September with 330 rental units. Designed by COOKFOX Architects and developed by Two Trees Management, the towers interlock, a sustainable component that allows extra heat from the office building to be preserved and reused at the residential property. Offering tenants between 5,000 and 6,000-square-foot floor plates and floor-to-ceiling windows, Ten Grand boasts sweeping views of Manhattan, faces the six-acre Domino Park, and will be home to several Brooklyn-based retailers, including Roberta's and Other Half Brewing.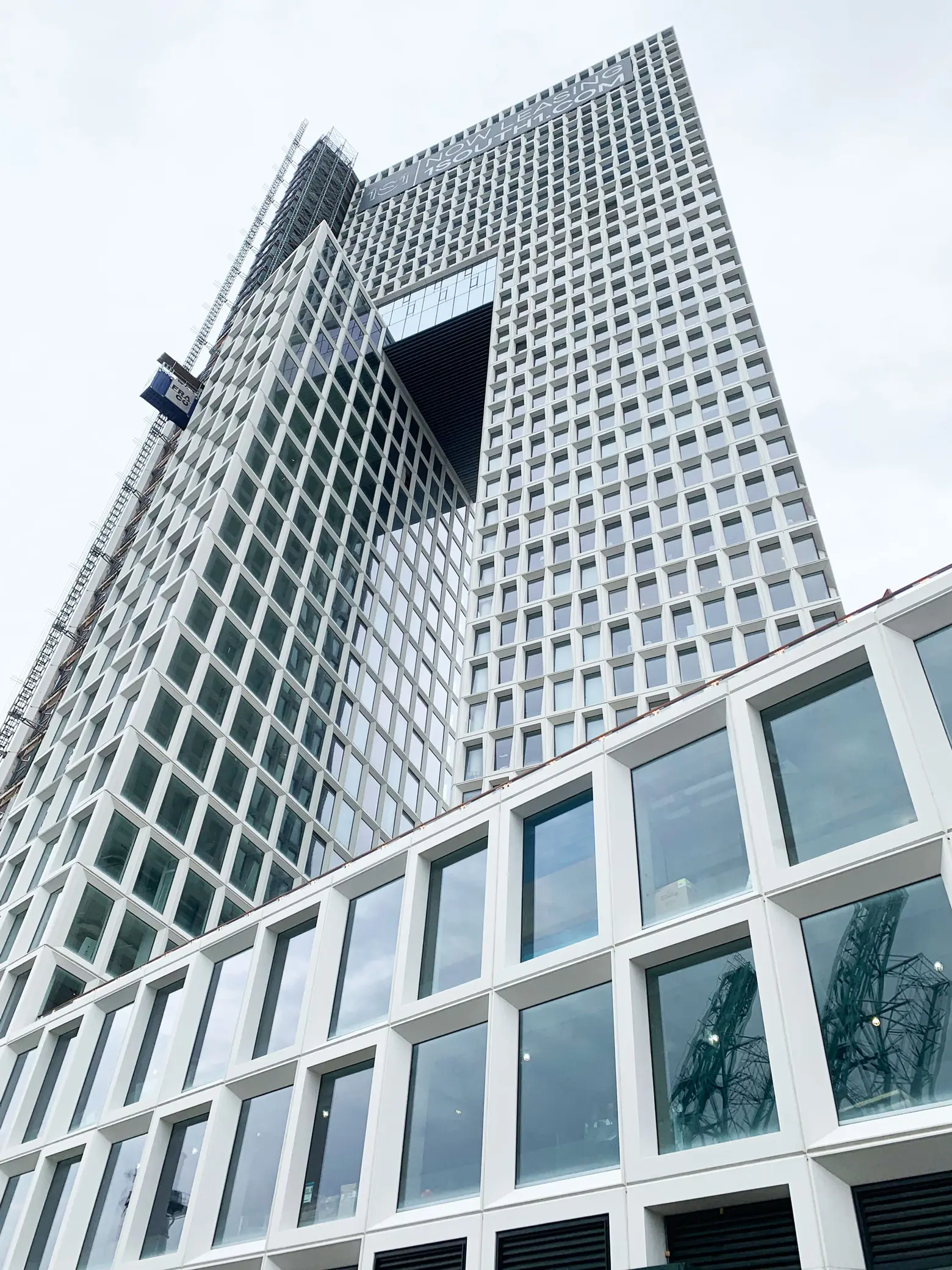 The office building at Ten Grand rises 24 stories, with the residential portion of One South First rising above it; Photo © 6sqft
At 45 stories, One South First is Williamsburg's tallest building. The facade of both properties includes white precast concrete window panels made to resemble the molecular of sugar crystals, a nod to the former sugar manufacturing site where the buildings now sit.
Adding to its innovative elements, the facade, built by using 3D-print molds, is also designed to self-shade as each elevation formed can respond to its specific solar orientation. Plus, the building's' roof reduces stormwater and runoff.
Rick Cook, the founding partner of COOKFOX, said his firm was interested in the idea of designing a true mixed-use building. "Sometimes there will be an office building at the base and apartments at the top, and there's no interaction, they just happen to be in the same building," Cook said during a tour of the building. "Here, the two buildings are actually looking at each other."


A light- and greenery-filled lounge connects Ten Grand and One South First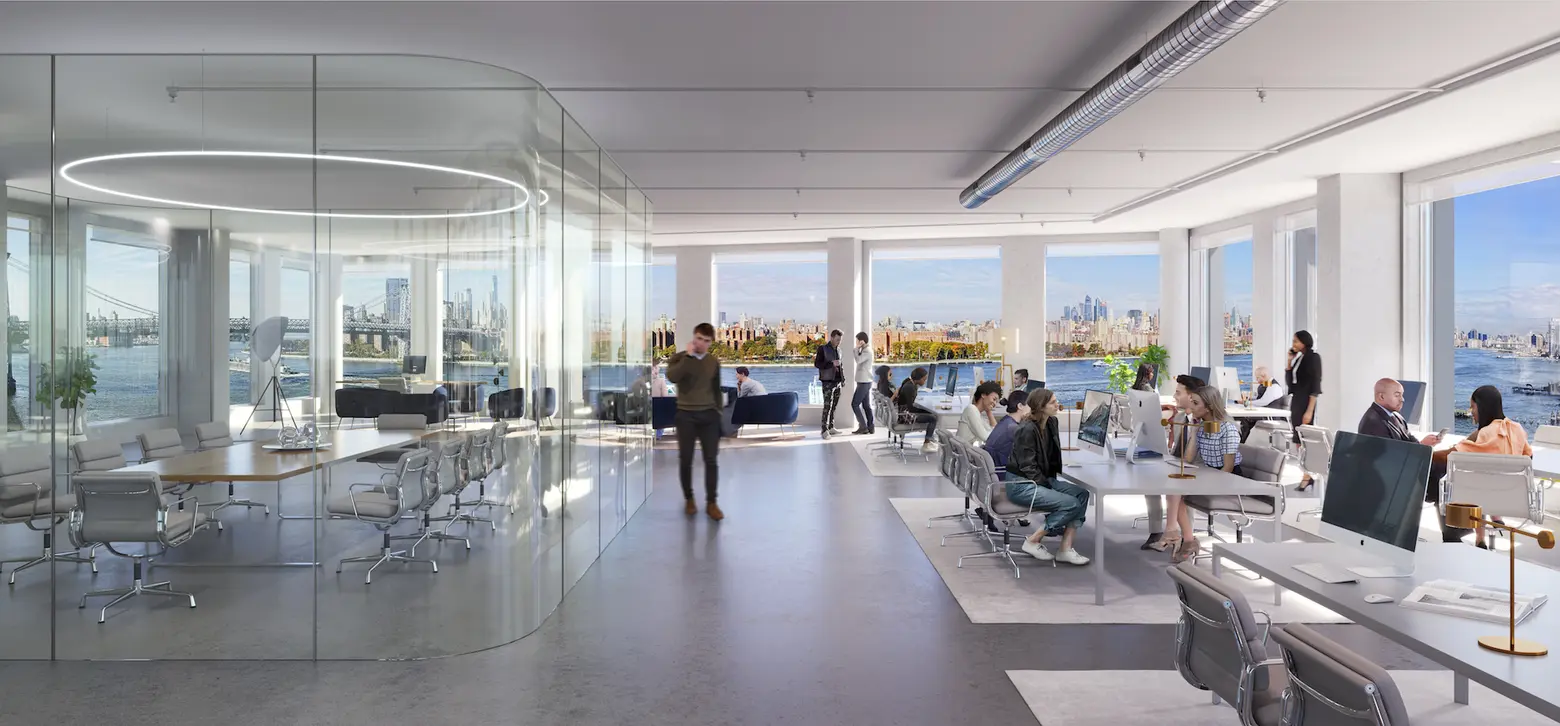 Ten Grand boasts between 5,000 and 6,000 square-foot floor plans and incredible 360-degree views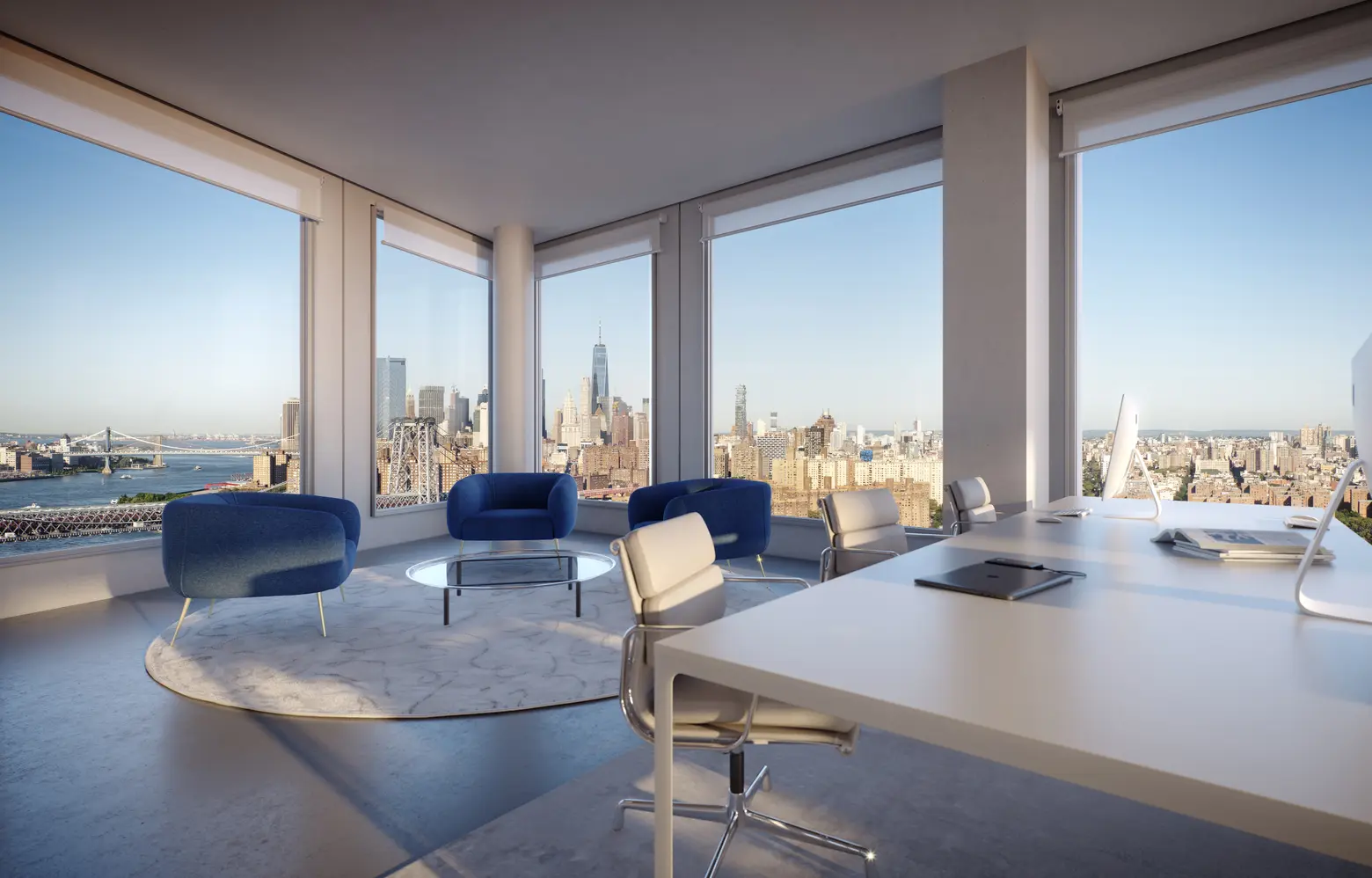 Amenities at Ten Grand include private conference rooms, a 48-seat auditorium, a bike lobby with a separate entrance and ramp, lounge with library-style tables, outdoor terraces, and the option to rent private rooftop cabanas.
The residential and office properties are linked through a common, light- and plant-filled lobby with lots of seating. Local shops like Roberta's pizza, Other Half Brewing Co., Oddfellows Ice Cream, and Two Hands Cafe will take up space on the ground floor of Ten Grand.
Two Trees Management will offer flexible lease lengths for tenants, with asking rents around $70 per square foot, as the New York Post first reported. Some companies can save up to $25 per square foot by taking advantage of the city's Relocation and Employment Assistance Program, which gives companies tax credits for relocating from Manhattan to an outer borough.
"Ten Grand brings a singular elevated office experience to Brooklyn, adding to the borough's growing global destination for creative businesses," Jed Walentas, the principal of Two Trees Management, said in a press release. "Ten Grand tenants will have access to an unparalleled suite of amenities to serve the modern professional–a substantial bike lobby, a one-of-a-kind sustainable building, access to the waterfront, and Domino Park and popular local food purveyors."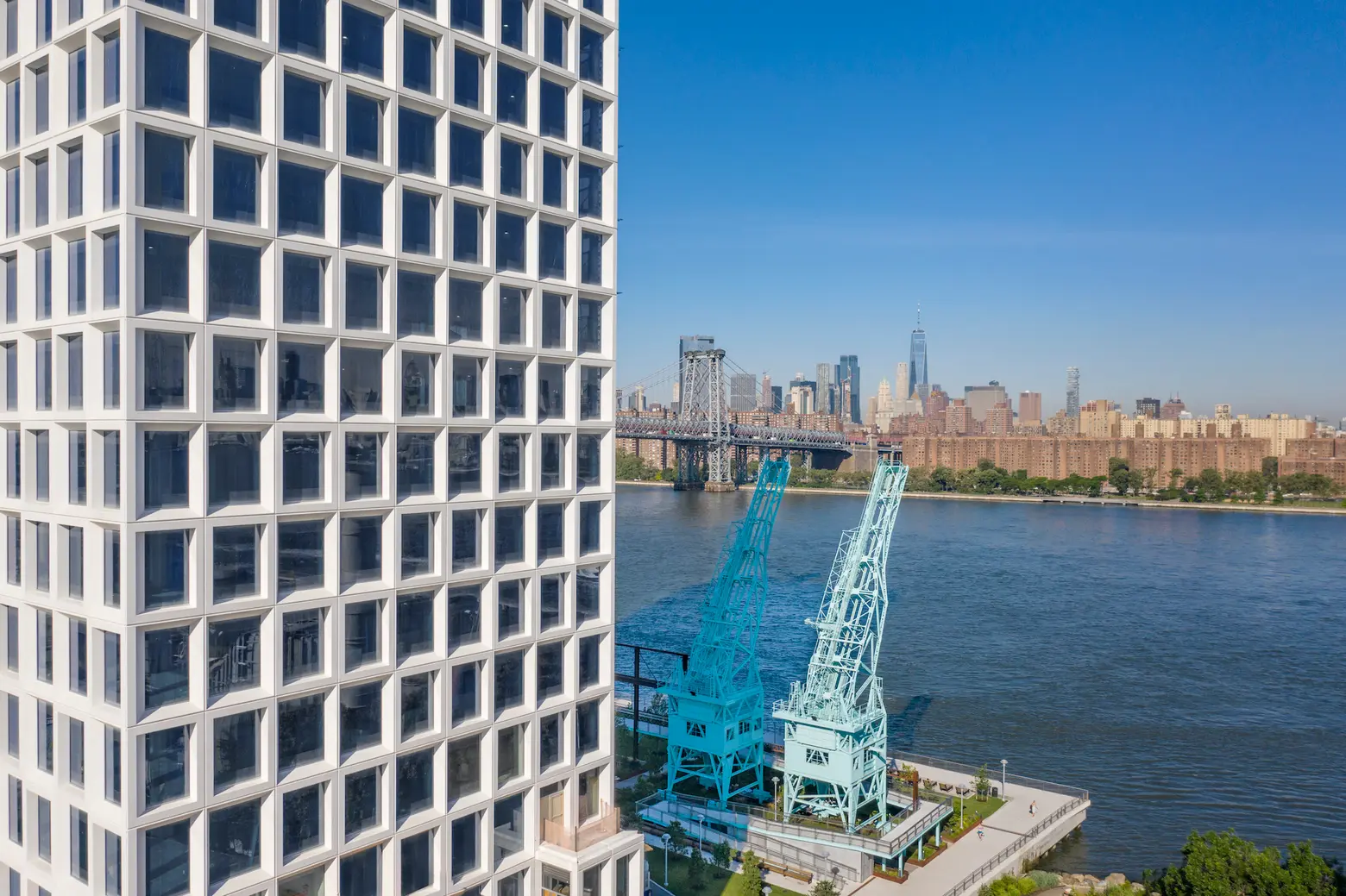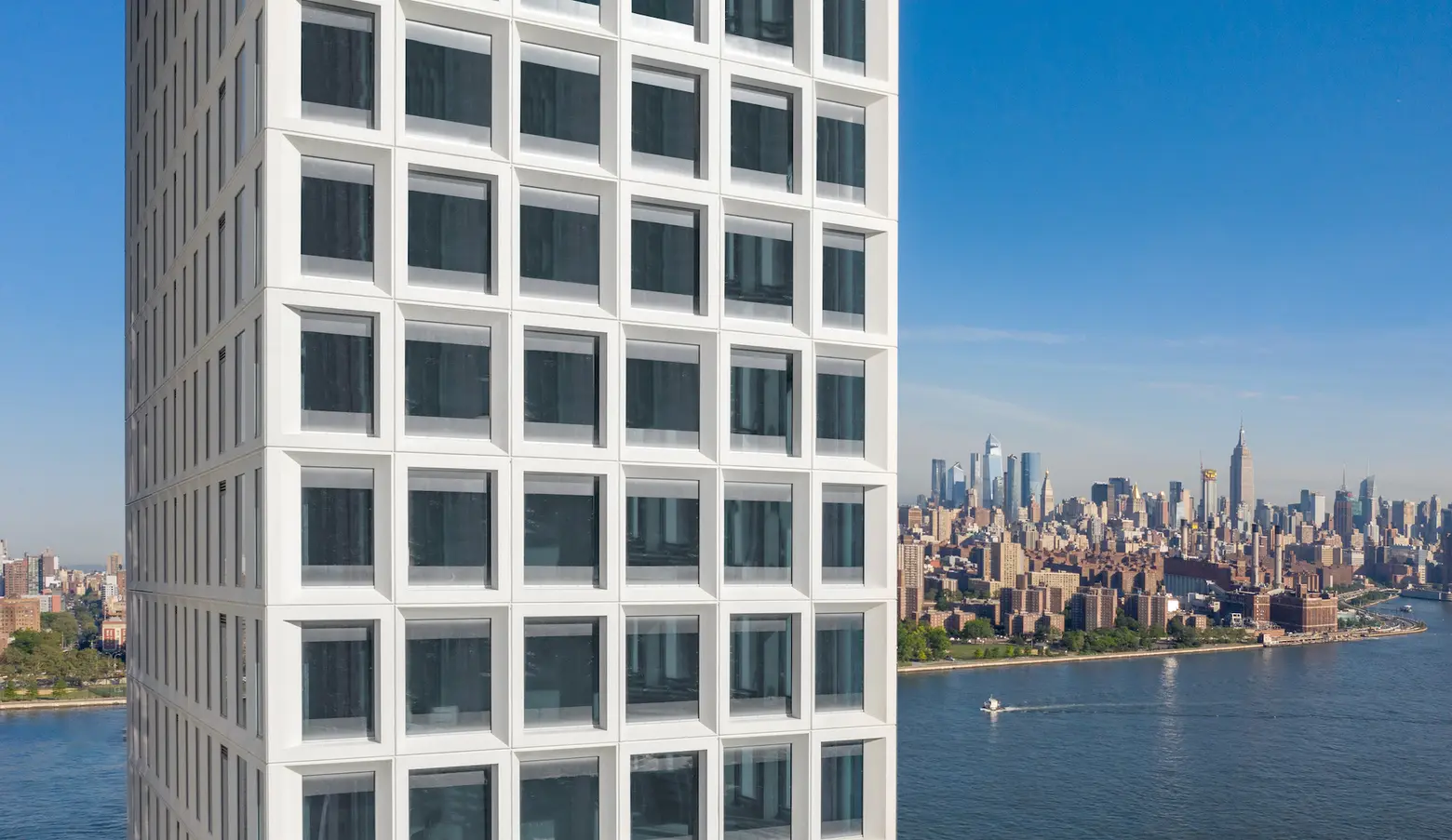 The building faces Domino Park and the skyline of Manhattan
Development began in 2017 at the Domino Sugar Factory site, which was in operation along the waterfront until 2004. The doughnut-shaped 16-story rental at 325 Kent Avenue, designed by SHoP Architects, became the first structure to open in 2017 at the 11-acre site, offering more than 500 rentals, followed by the opening of Domino Park in the summer of 2018.
And this past September, One South First officially opened its doors, with rental units ranging from a $3,795/month studio to a $6,725/month two-bedroom. The landmarked Domino Sugar Factory Building will be transformed into a modern office building, which will retain its 19th-century brick exterior but gain a new glass and steel structure inside of it.
Overall, the project will ultimately bring 2,800 rental apartments across four residential buildings, with 700 of them affordable, 600,000 square feet of office space, and 200,000 square feet of retail.
RELATED:
Images courtesy of Two Trees Management, unless otherwise noted