VOTE for 6sqft's 2020 Building of the Year!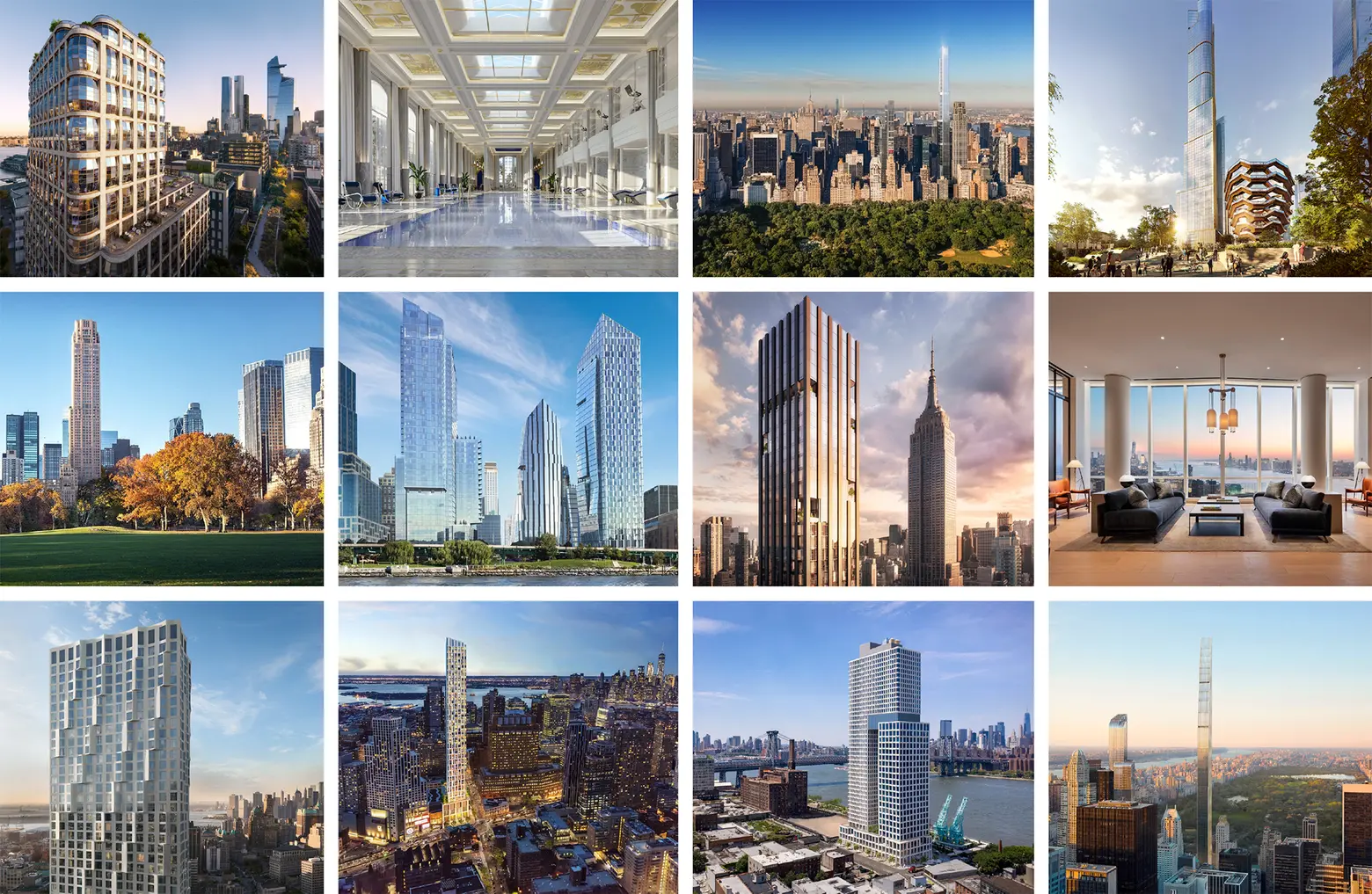 It goes without saying that 2020 has been an unpredictable, challenging year. This March, COVID-19 brought New York City to a standstill, from the city's bustling street life to the plethora of construction projects that defined the prior year. The pandemic quickly changed the way we live and build, but ultimately didn't stop New Yorkers from doing either.
The city is still a place with bold new construction projects, glittering towers and mega-developments, unique and creative amenities — especially to respond to a year sticking close to home. 2020 brought the introduction of a new public park inside an Upper West Side mega-development, multi-million dollar condo sales along Billionaire's Row, the restoration of a classic NYC landmark, and impressive new architecture that promises to shape our ever-changing skyline.
Our picks are down to 12 of the most notable residential structures this year. The only question is: Which do you think deserves 6sqft's title of 2020 Building of the Year? To have your say, polls for our sixth annual competition will be open up until midnight on Sunday, December 13 and we will announce the winner on Monday, December 14.
Learn more about all the finalists here: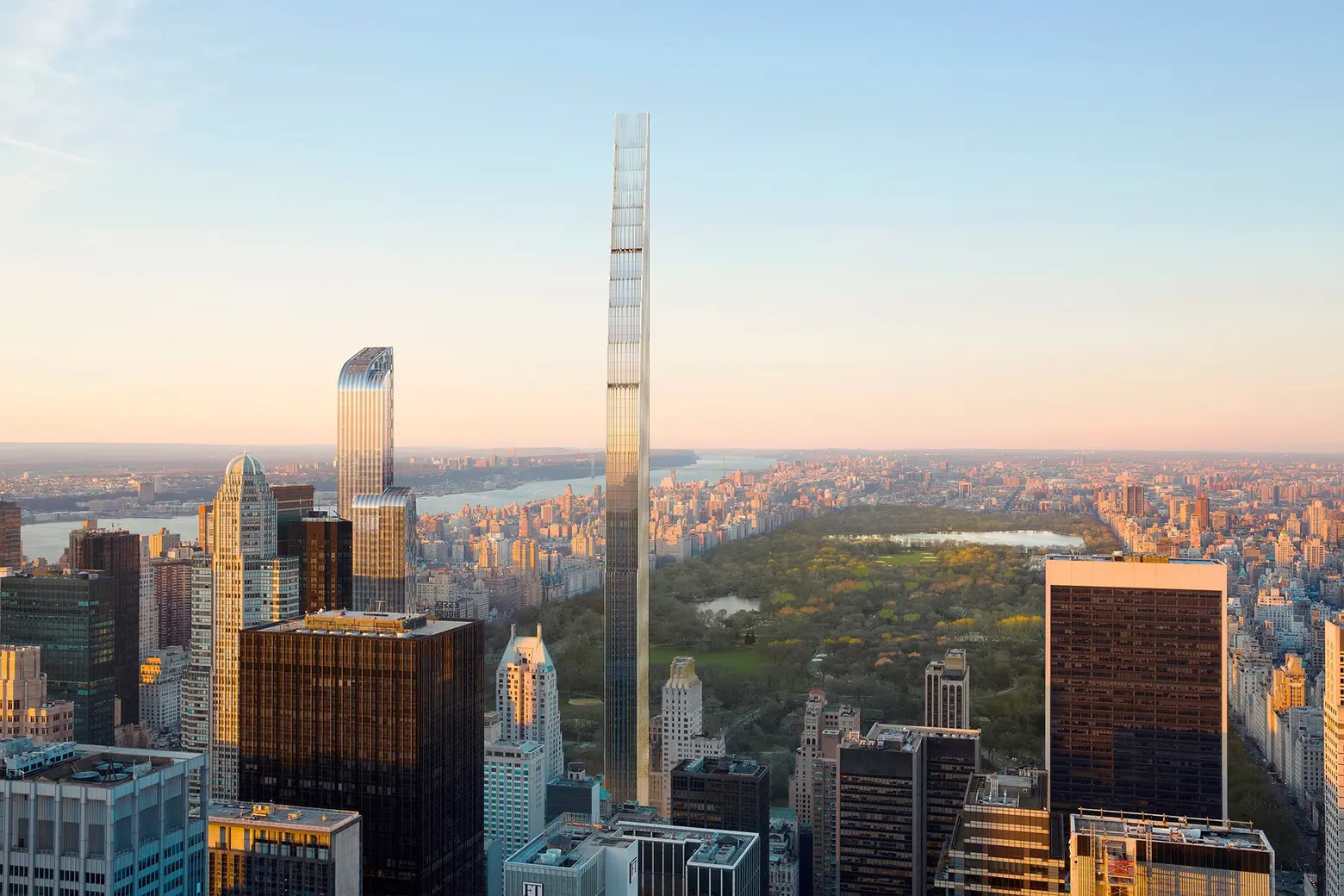 Image courtesy of Hayes Davidson
Penthouse 72 Loggia, courtesy of 111 West 57th Street
SHoP Architects' superskinny Billionaires' Row tower has been nominated for Building of the Year several years running, given its high profile status on the NYC skyline. This year, more condos hit the market, like a two-bedroom with a private terrace asking $8,750,000 and a four-bedroom duplex seeking $17,995,000. In September, a three-level, four-bedroom penthouse with over 7,000 square feet of interior space and an additional 1,367 square feet in private outdoor space debuted with an ask of $66 million. The views, unsurprisingly, stun with Central Park to the north and the Statue of Liberty looking south. It's the tower's priciest unit now up for grabs.
111 West 57th Street even held up against the city's nearly stagnant luxury market, selling two $30 million units this summer during the coronavirus shut down. There remain plenty of high-priced units for sale, however, alongside the $66 million penthouse.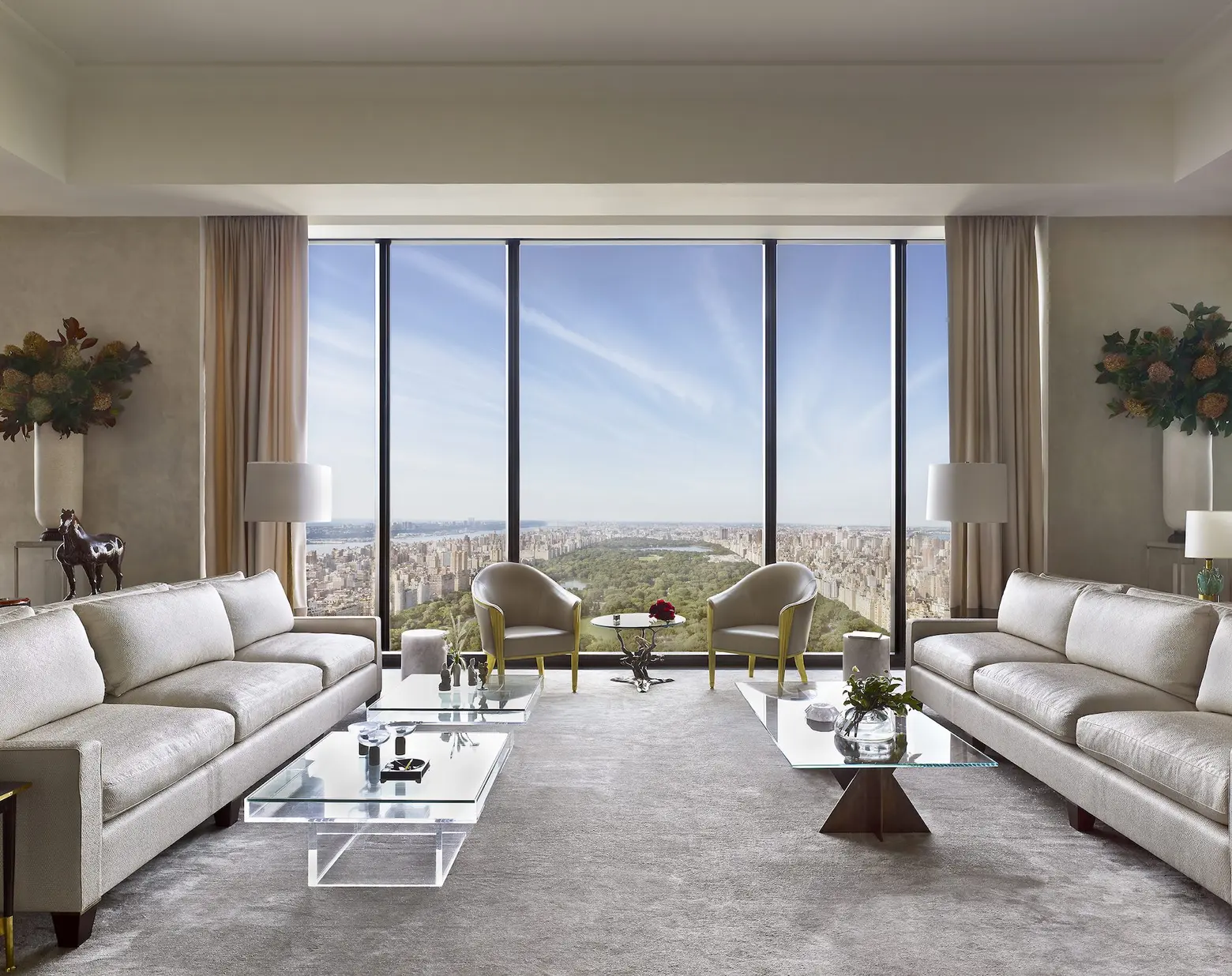 The living room of a 43rd-floor unit. Photo by Peter Murdock.
Developers JDS Development Group, Property Markets Group, and Spruce Capital Partners worked on the 86-story tower between 2013 and 2019. Closings began last year and now residents enjoy amenities like an 82-foot swimming pool with private cabanas and separate sauna, a fitness center, a private dining room, a resident's lounge, and 24-hour attended entrances and concierge service. There is also a private porte-cochère at the 58th Street entrance.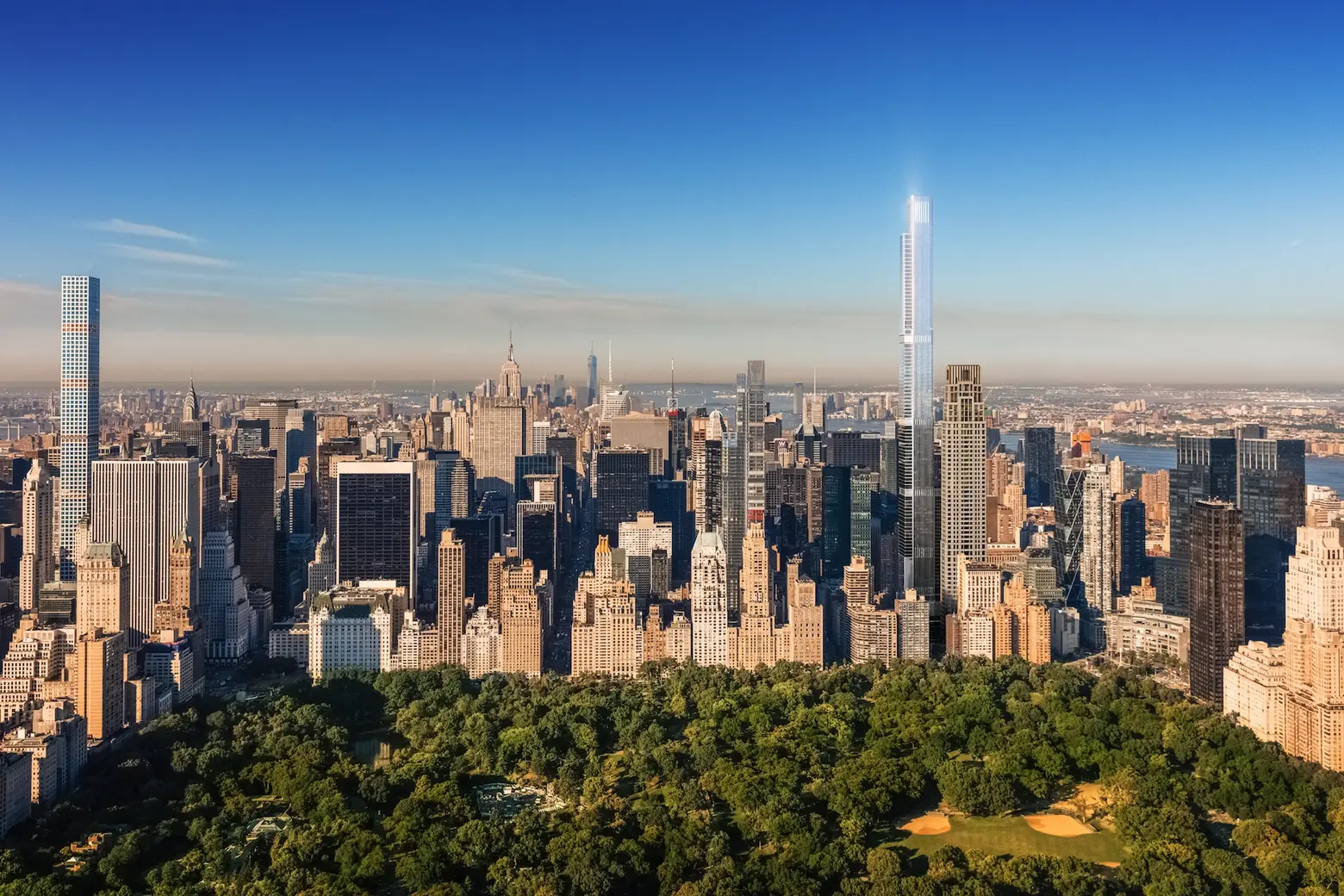 Central Park Tower rendering courtesy of Extell Development Company
It's been about two years since sales launched at Extell's Central Park Tower and one year since the 1,500-foot condominium topped out on Billionaires' Row at 225 West 57th Street, making this the tallest residential building on the globe. This summer, we got our first look inside one of the luxe 179 condo apartments. The model residence was a 3,401-square-foot, three-bedroom corner unit on the 43rd floor, priced at $17.5 million. Extell partnered with renowned interior design firm Pembrooke & Ives to deck out the apartment, which boasts views to the top of Central Park and both rivers.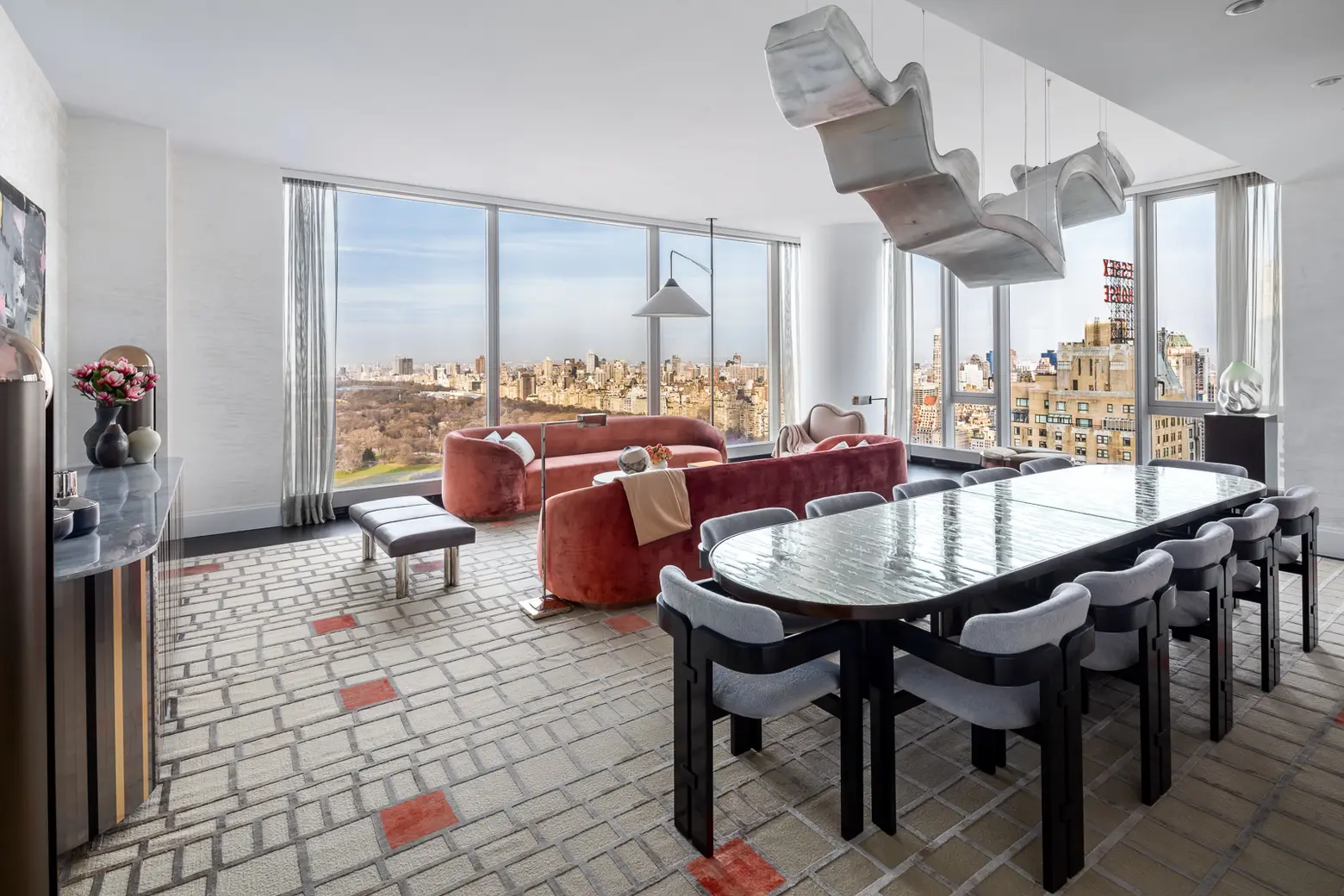 The model residence at Central Park Tower, photo by Evan Joseph
Condos start on the building's 32nd floor and range between two- and eight-bedroom layouts. Prices now start from $8.5 million for a three-bedroom up to $65.5 million for a 7,074-square-foot, five-bedroom penthouse. Pre-COVID, the building had a predicted sellout of more than $4 billion, making Central Park Tower the country's most expensive condo project ever.

Central Park Tower's 100th floor ballroom, courtesy of Extell
In January, we offered a peak into the building's 100th-floor residential club, which spans over 8,300 square feet with a dining room, private ballroom, a bar, a full-service kitchen helmed by Michelin-star chefs, and wine and cigar lounges. This decked-out amenities floor was designed by Rottet Studio, who also designed the building's residential interiors.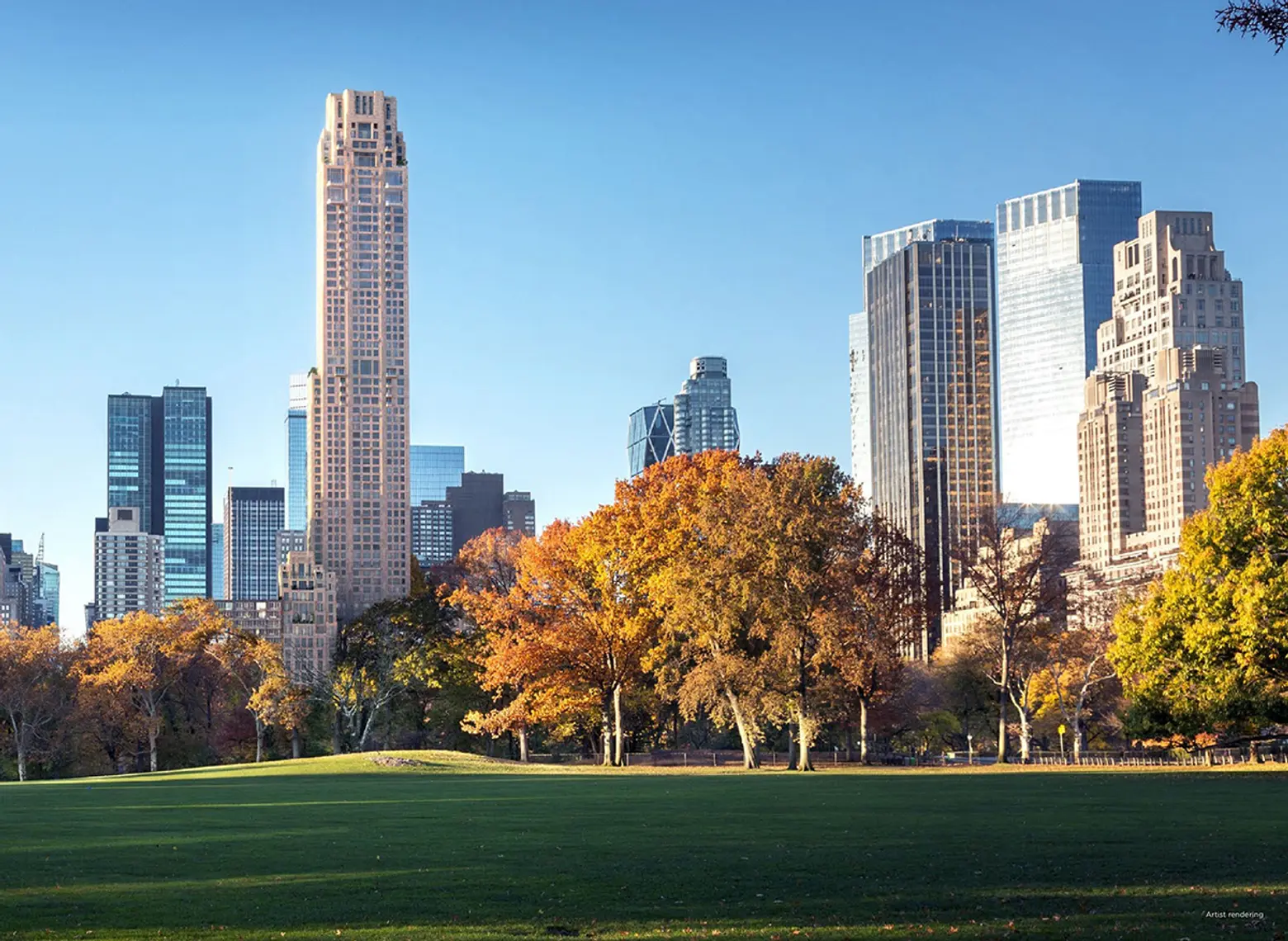 Via Vornado Realty Trust and Robert A.M. Stern Architects
220 Central Park South, the Vornado tower which took an estimated $1.3 billion to build with a projected sellout of $3.4 billion, continued its sky-high sales in 2020. Last year, the tower captured headlines with the most expensive home sold in the U.S., a $238 million penthouse for billionaire Ken Griffin. This year, PH 76 at the Billionaires' Row tower closed for $99,903,375, making it the third-most-expensive sale ever behind Ken Griffith's purchase. It seems the pandemic hasn't majorly derailed the building's appeal; it was recently dubbed the world's most successful condo.
Listings and interior views for the limestone residence have been traditionally kept under wraps, but a four-bedroom, 31st-floor apartment is publicly listed for $33 million, as well as another three-bedroom asking $26.9 million and a number of rentals. Condos boast herringbone floors, custom moldings and millwork, and marble in the kitchens and baths. Amenities include an 82-foot saltwater pool, a fitness center with a squash court and yoga room, library, screening room, outdoor terraces, and a garage.
Waterline Square (One, Two, and Three)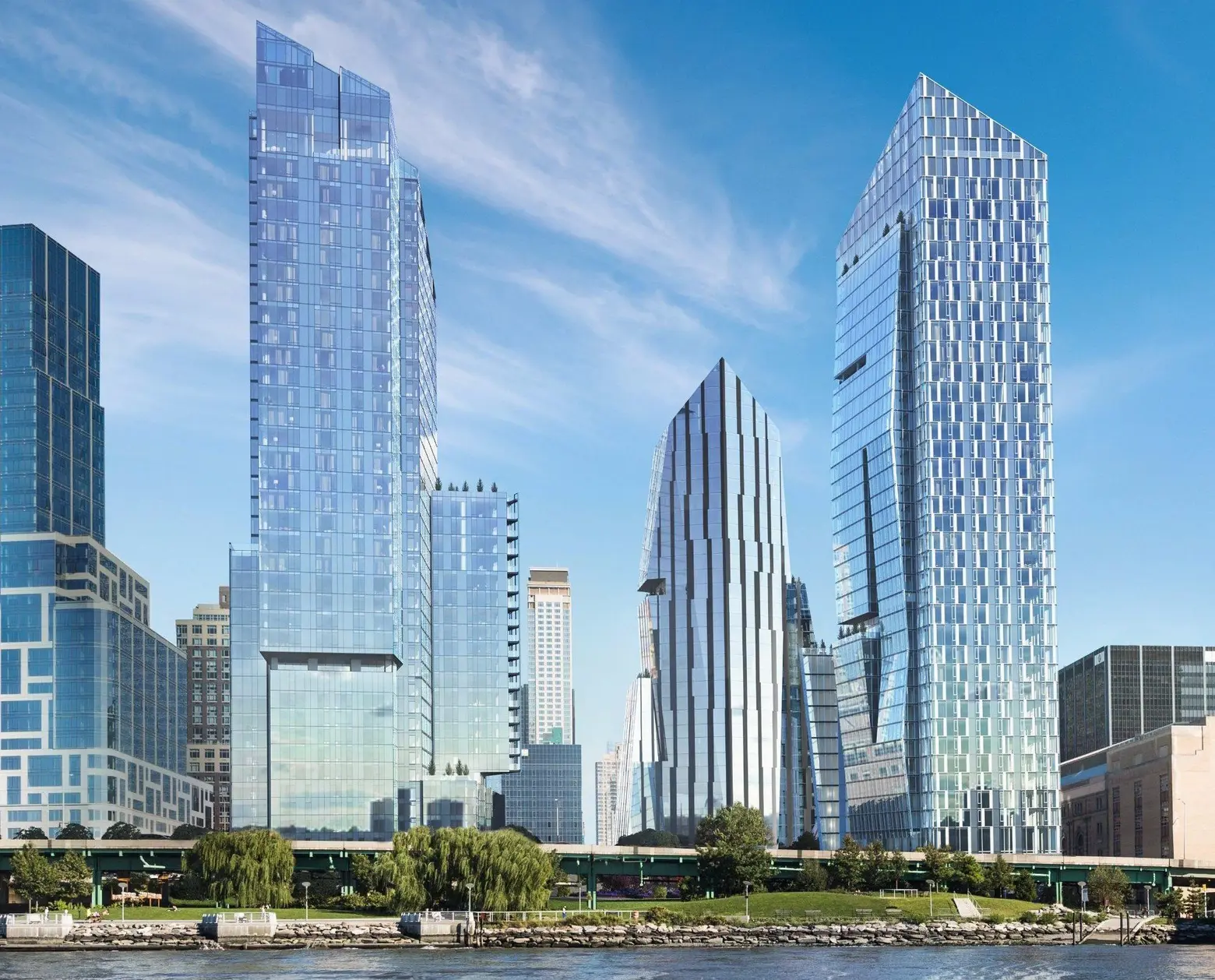 Rendering courtesy of Noe & Associates with The Boundary. L to R: Two Waterline Square by KPF, Three Waterline Square by Rafael Vinoly, One Waterline Square by Richard Meier
Waterline Square is best known for the starchitects who designed its three glassy towers–Richard Meier & Partners (One Waterline Square), Kohn Pedersen Fox (Two Waterline Square), and Rafael Viñoly (Three Waterline Square). Hill West Architects served as master planner. This glitzy Upper West Side trio has seen some of the most activity in a year that's been quieter for luxury real estate. Perhaps most exciting, this summer the developer opened nearly three acres of green space in the middle of the five-acre, mixed-use development. The park hosted a number of socially-distanced events including live music performances and yoga classes.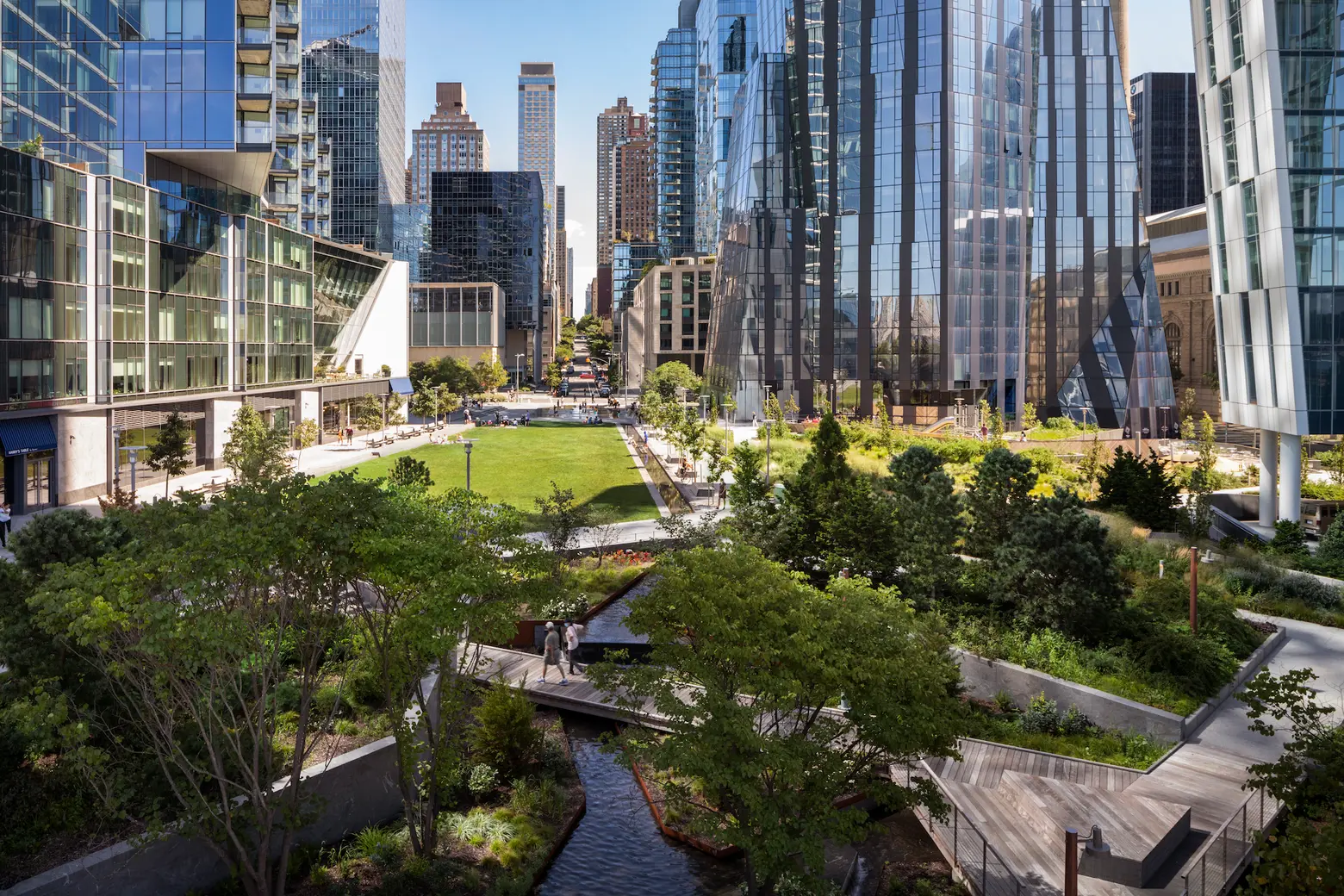 Waterline Park photo courtesy of Elizabeth Felicella
Beyond the park opening, Waterline Square made other headlines. In April, a family dropped $27 million on eight apartments as an investment, opting to put their money into real estate instead of a bank during the coronavirus pandemic. In May, a housing lottery launched for 22 affordable apartments with $741/month one-bedrooms and $901/month two-bedrooms. Across all three buildings are one- to five-bedroom apartments, with rentals on the lower floors and condos above.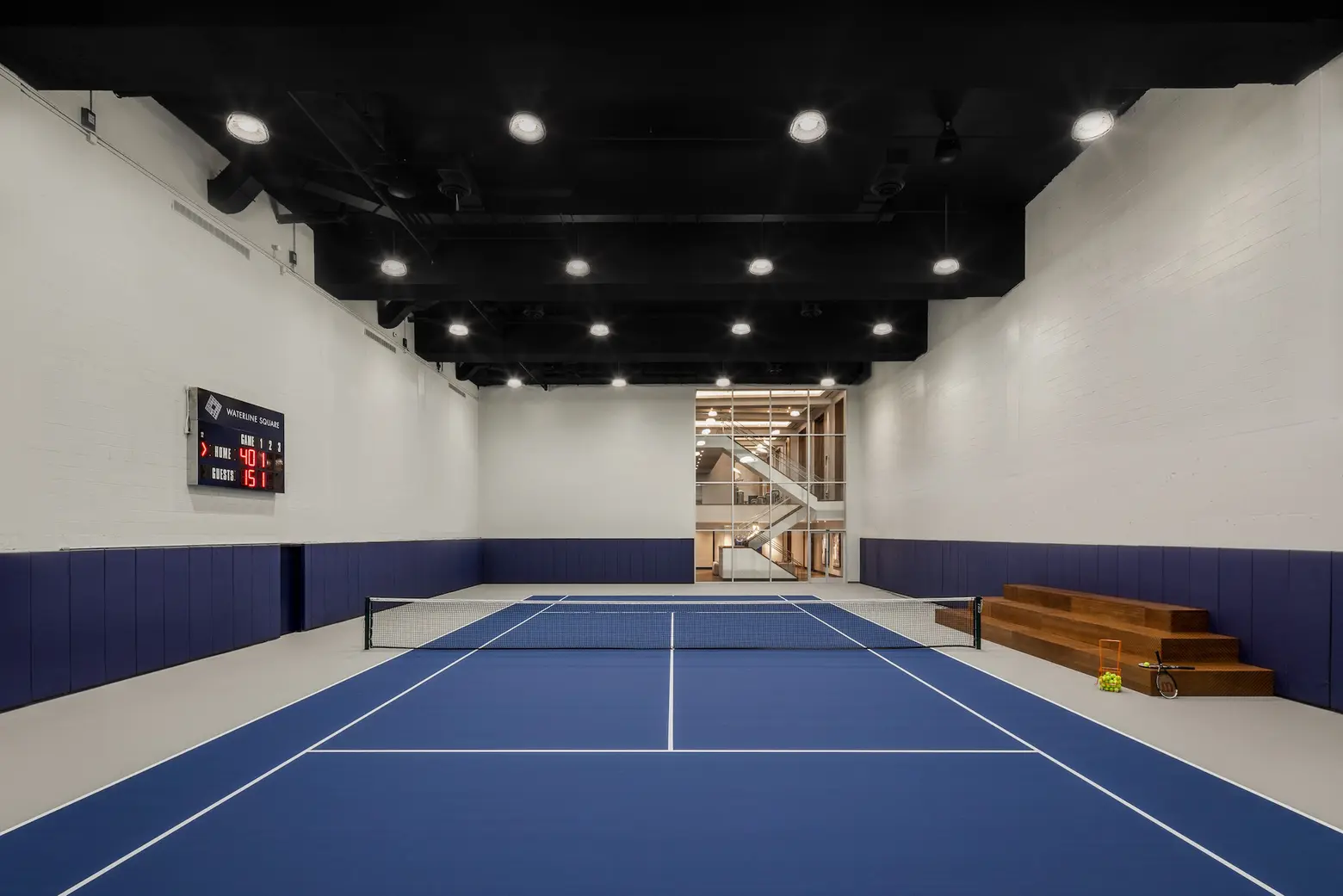 This September, we took a look at Waterline's Square incredible amenity package as it was fully unveiled. At 100,000 square feet and spread over three floors, it includes everything from an indoor skate park and full tennis court (both a first in NYC) to a 30-foot rock climbing wall to a gardening studio to an entire pet suite. The Waterline Club was designed by the Rockwell Group and is anchored by a three-level atrium that connects all 30 of the curated amenity spaces with pedestrian bridges and a dramatic staircase.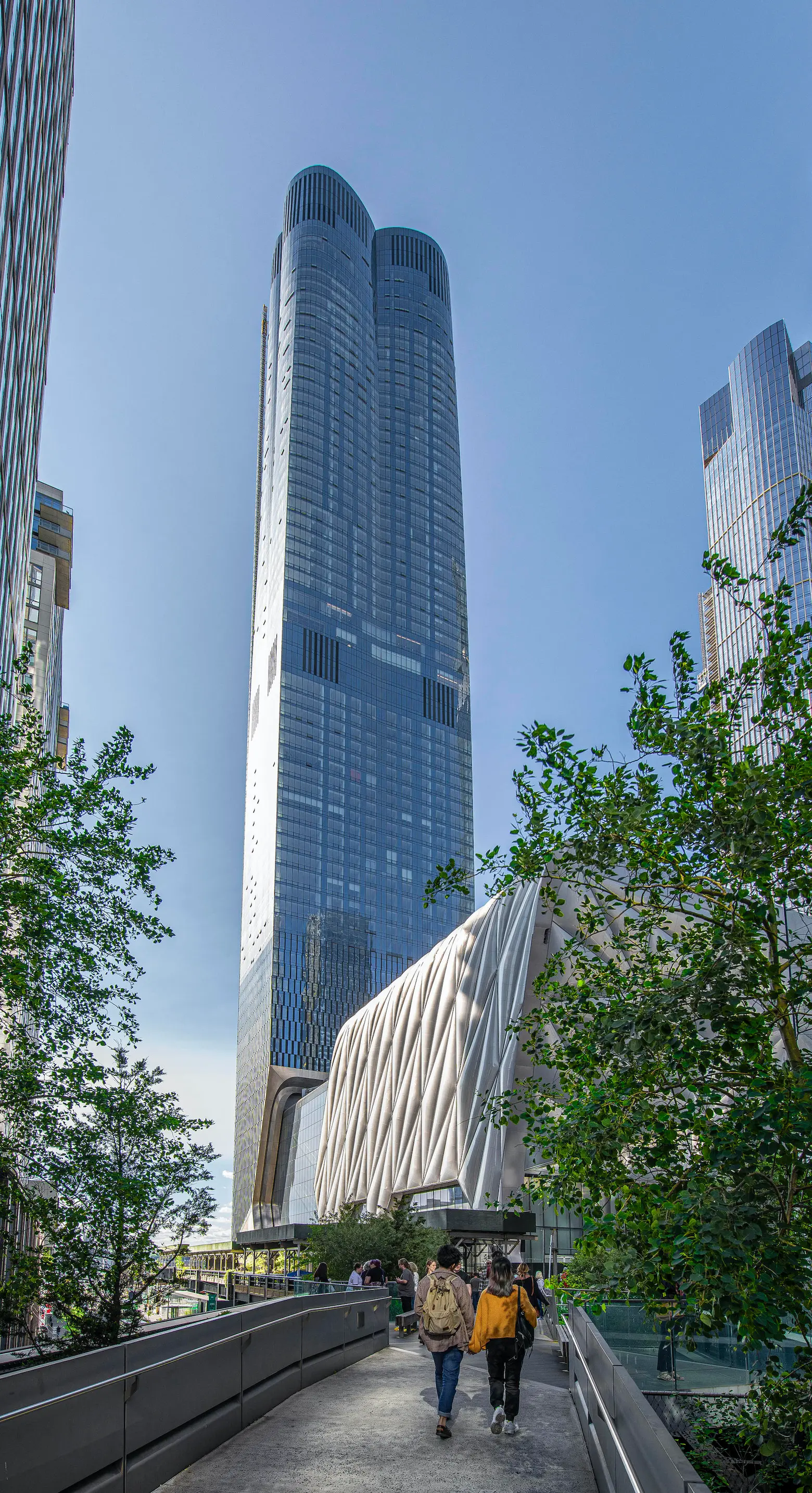 15 Hudson Yards photo courtesy of Related-Oxford
What a difference a year can make! 2019 was monumental for Hudson Yards, the largest private real estate development in the U.S., as it opened to the public after seven years of construction. In 2020, millions of square feet of the mega-development's office and retail space were emptied as New Yorkers stayed at home. The Neiman Marcus that anchored 15 Hudson Yards quietly closed. "Coronavirus killed the new neighborhood's momentum," said a New York Times article this summer, "But its potential for rebound could be a bellwether for the city's overall economic health."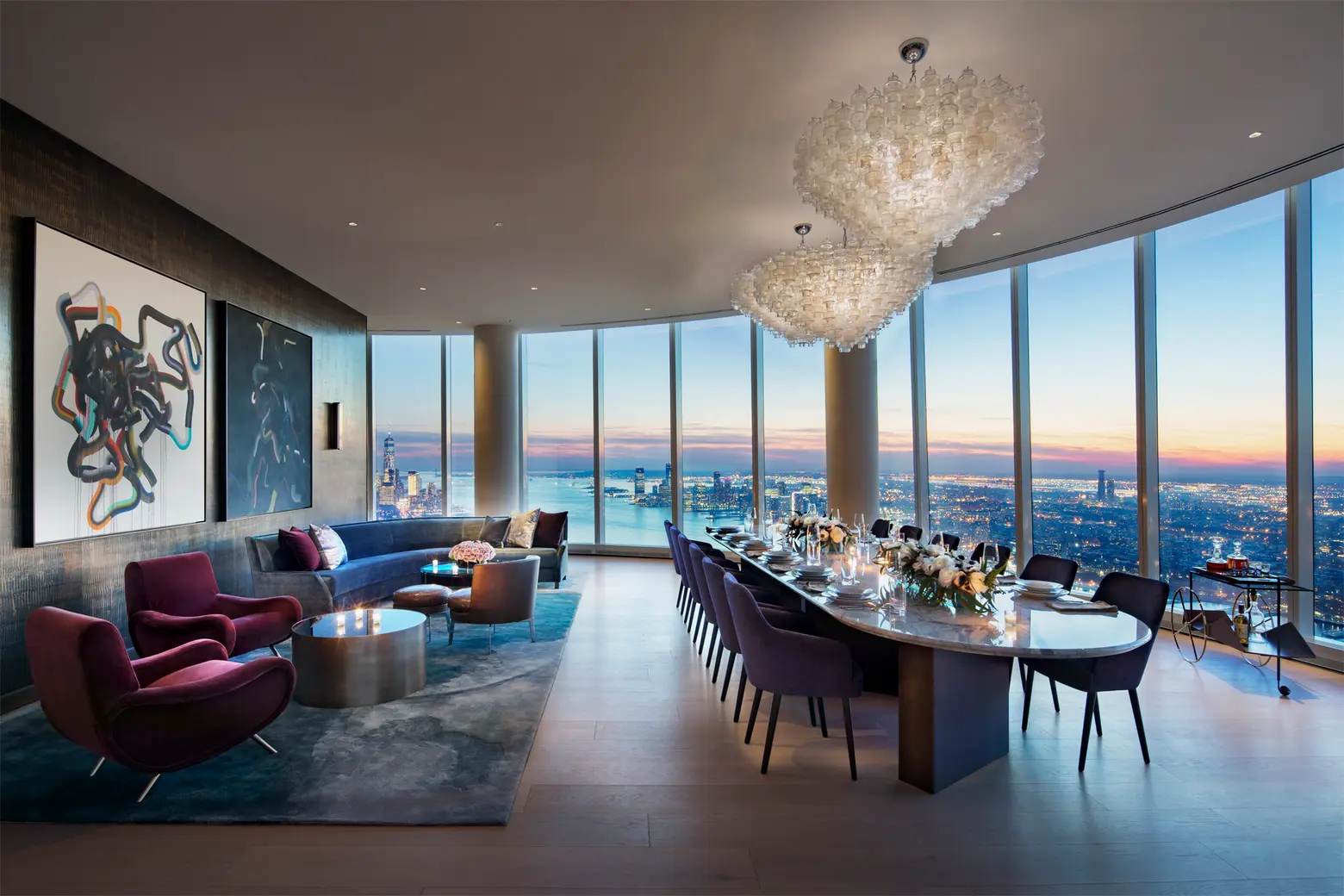 Skytop at 15 Hudson Yards, photo by Scott Frances for Related-Oxford 
In February, the 88-story Rockwell Group and Diller Scofidio + Renfro-designed tower opened the city's highest outdoor residential amenity space, called "Skytop." It features 6,000 square feet of curvy indoor-outdoor space following the shape of the building's crown. As for apartments, Related recently reported that both 15 and 35 Hudson Yards have averaged between one and two sales per month for the last six months.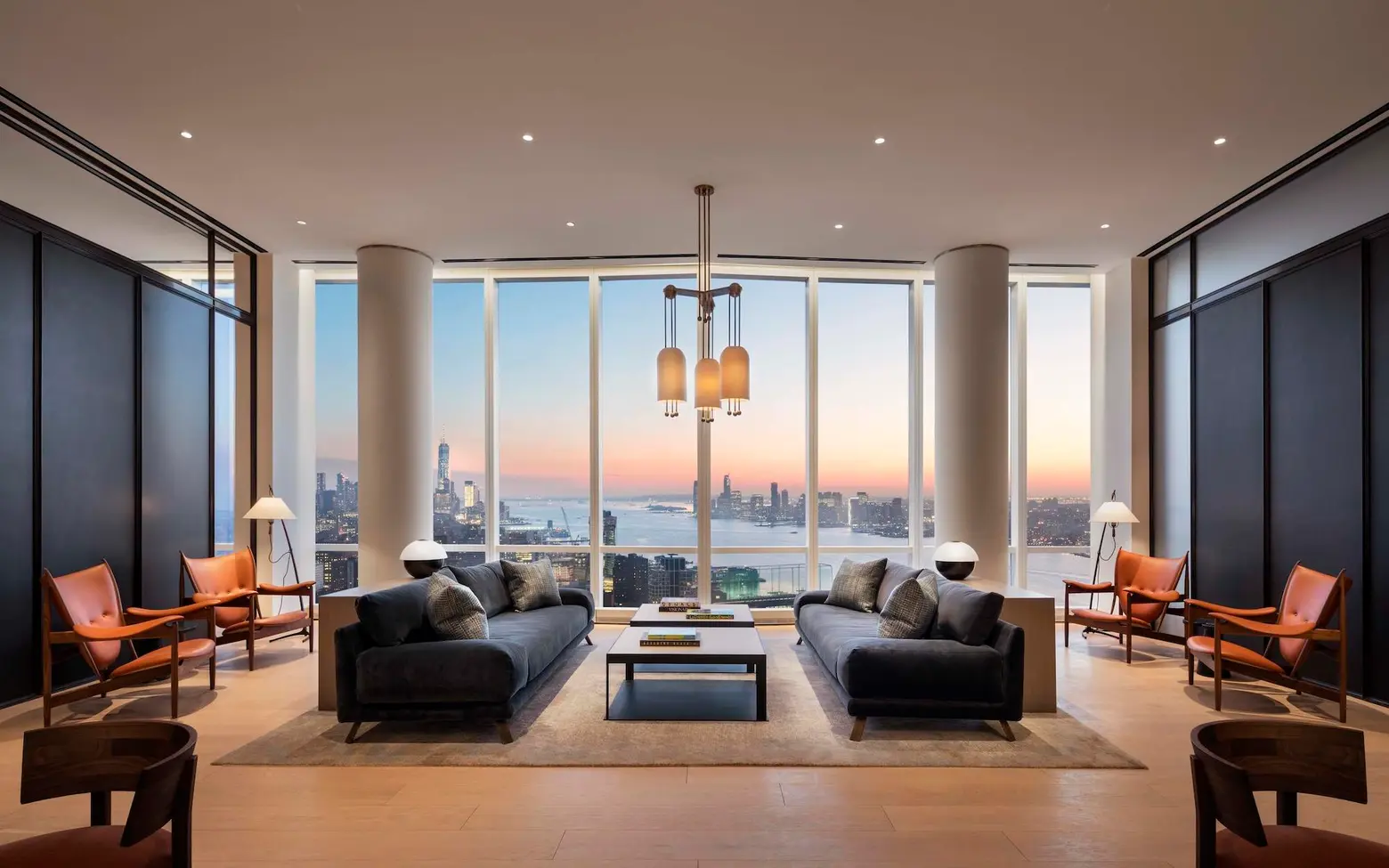 15 Hudson Yards living room, courtesy of Related-Oxford
Fifteen Hudson Yards was the first Hudson Yards condo to kick off sales on its 285 units about three years ago, with residents moving in last year. Today there are a number of rentals and condos now on the market, the most expensive being the $32 million penthouse with six bedrooms over 5,211 square feet. 40,000 square feet of amenities include an aquatics center with a 75-foot-long swimming pool, whirlpool, private spa with treatment rooms, a beauty bar, fitness center outfitted by The Wright Fit, a children's imagination center, screening room, golf club lounge, wine storage, and tasting room and business center.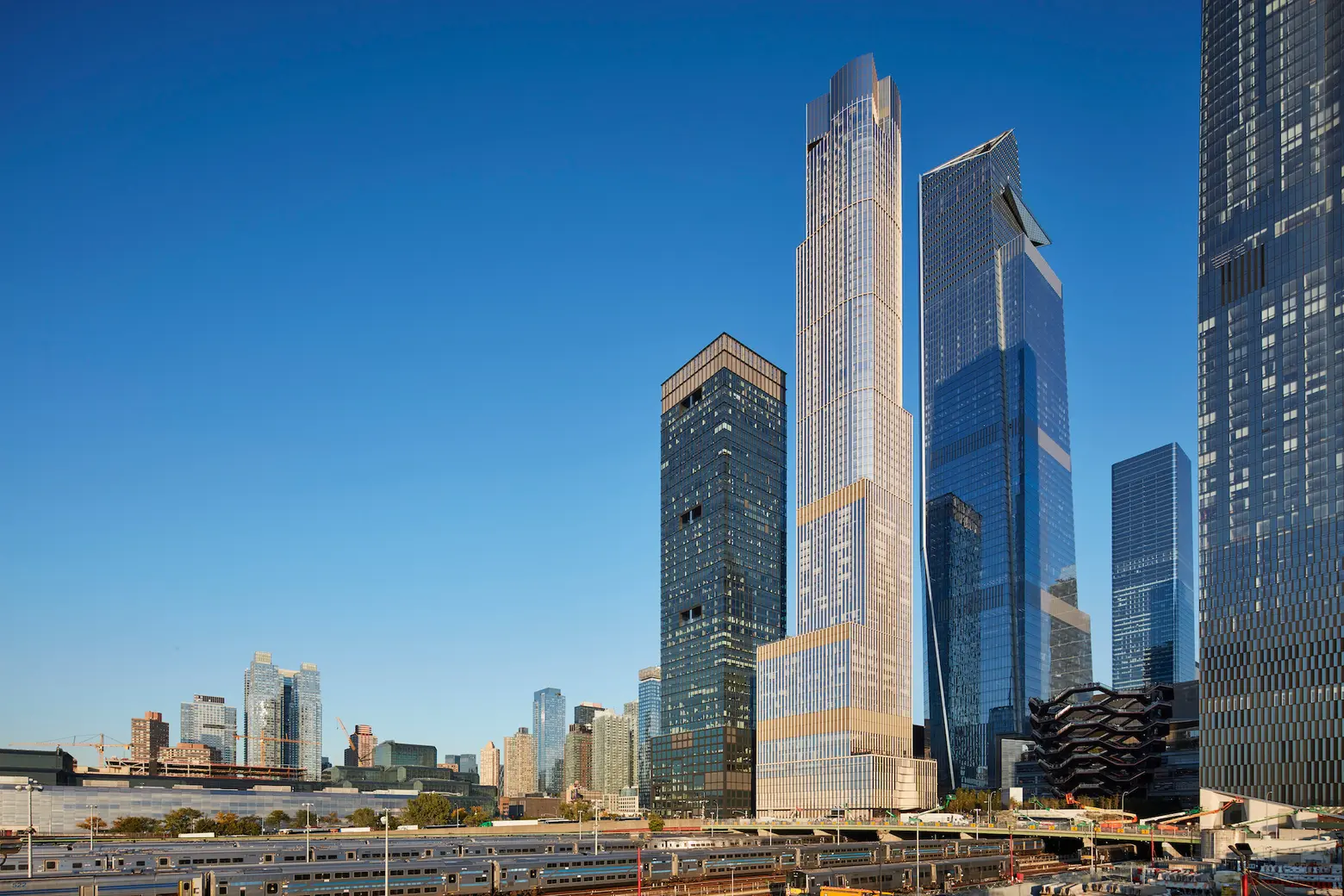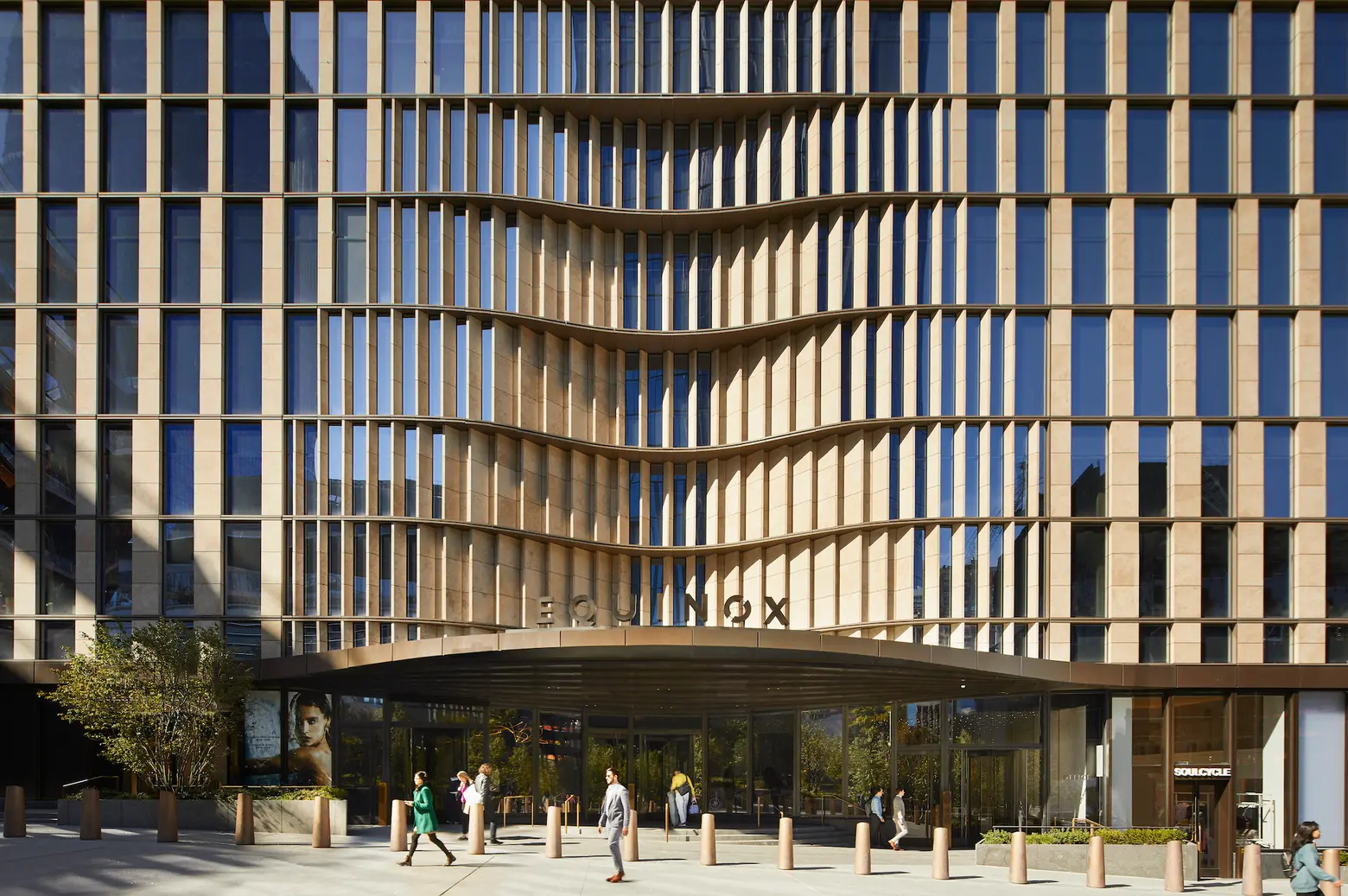 Photos by Dave Burk © SOM
2020 was relatively quiet for 35 Hudson Yards as compared to last year. In 2019, this 1,009-foot, 92-story supertall designed by David Childs of Skidmore Owings & Merrill opened apartments and amenities, including an exclusive supper club for its wealthy residents. The city's first Equinox Hotel also debuted inside. (The hotel is still up and running, despite the pandemic.)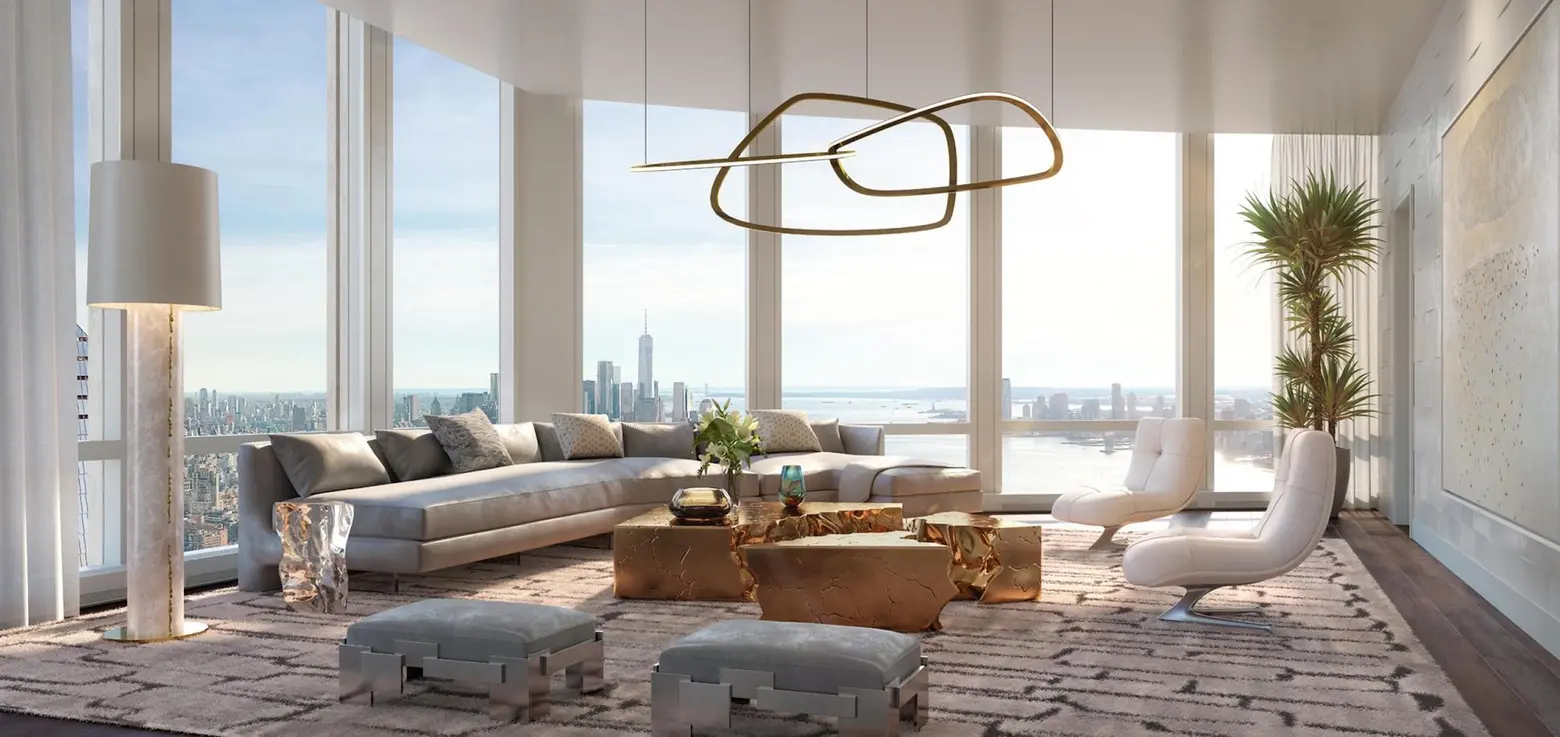 35 Hudson Yards living room, courtesy of Related-Oxford
This year, the building, the second-tallest across the whole development, hasn't been as much in the headlines. An apartment closed for just under $7 million this summer, and on the sales end, there are a number of units up for rent alongside condos priced between $4.25 million and a $59 million penthouse. Two- to six-bedroom residences boast panoramic Hudson River and Manhattan skyline views. Amenities include 22,000 square feet devoted to wellness and entertainment, priority reservations at the building's eateries, in-residence dining, plus memberships to the Equinox Fitness Club.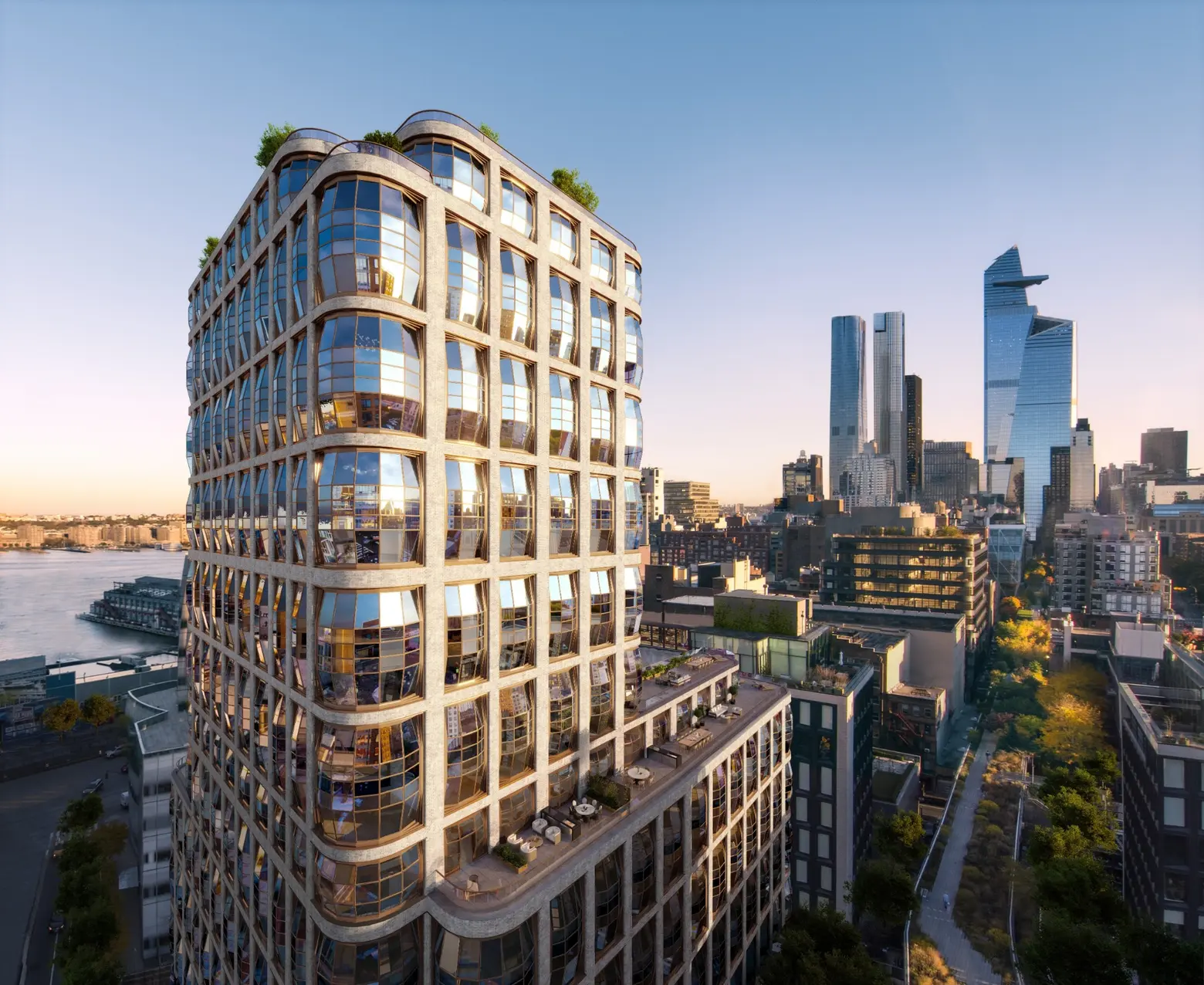 Lantern House rendering by Related Companies
This January, sales officially launched at Thomas Heatherwick's condo project on the High Line. Located at 515 West 18th Street, Lantern House consists of two bubbled towers that straddle the elevated park, one at 10 stories and the other at 22 stories. Pricing for the residences, which include one- to four-bedroom units, started around $1,395,000 and went up to $17 million. The amenities package was also revealed, with renderings of the Equinox-curated health club with a swimming pool, outdoor terrace, roof deck, and private dining space.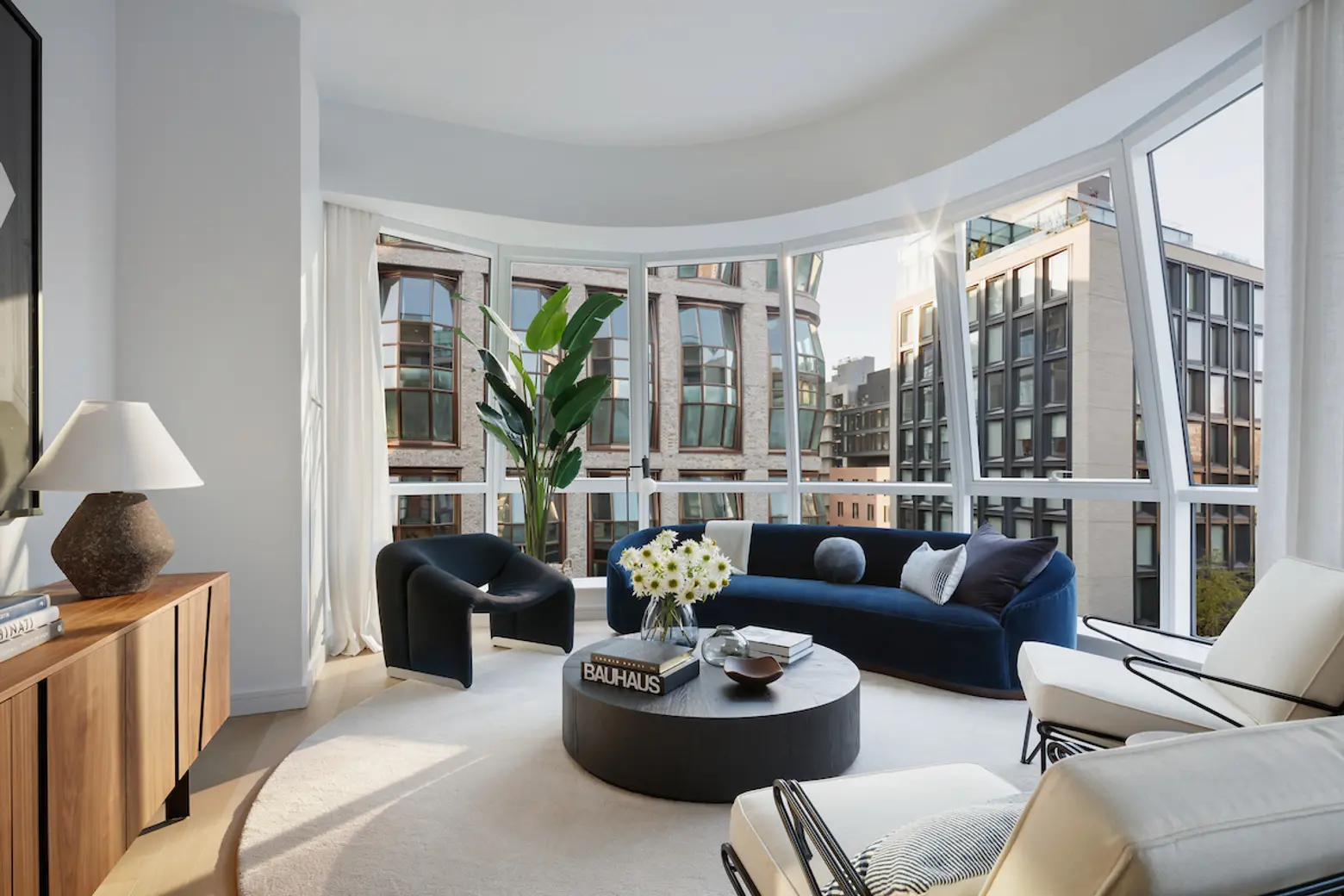 Model unit photo by Colin Miller
This fall, building developer Related released photos of the actual apartments inside the glass bubbles designed by ASH NYC to complement the building's unique architecture with a mix of bold, contemporary furniture and vintage details. The model unit sits on the fifth floor and measures 1,564 square feet.
181 residences, which include one- to four-bedroom units split between the two buildings, also offer access to a library, a private dining suite, a game room, a screening room, a co-working lounge, and a private courtyard designed by Hollander Design Landscape Architects. If all has gone to plan, occupancy should already be taking place.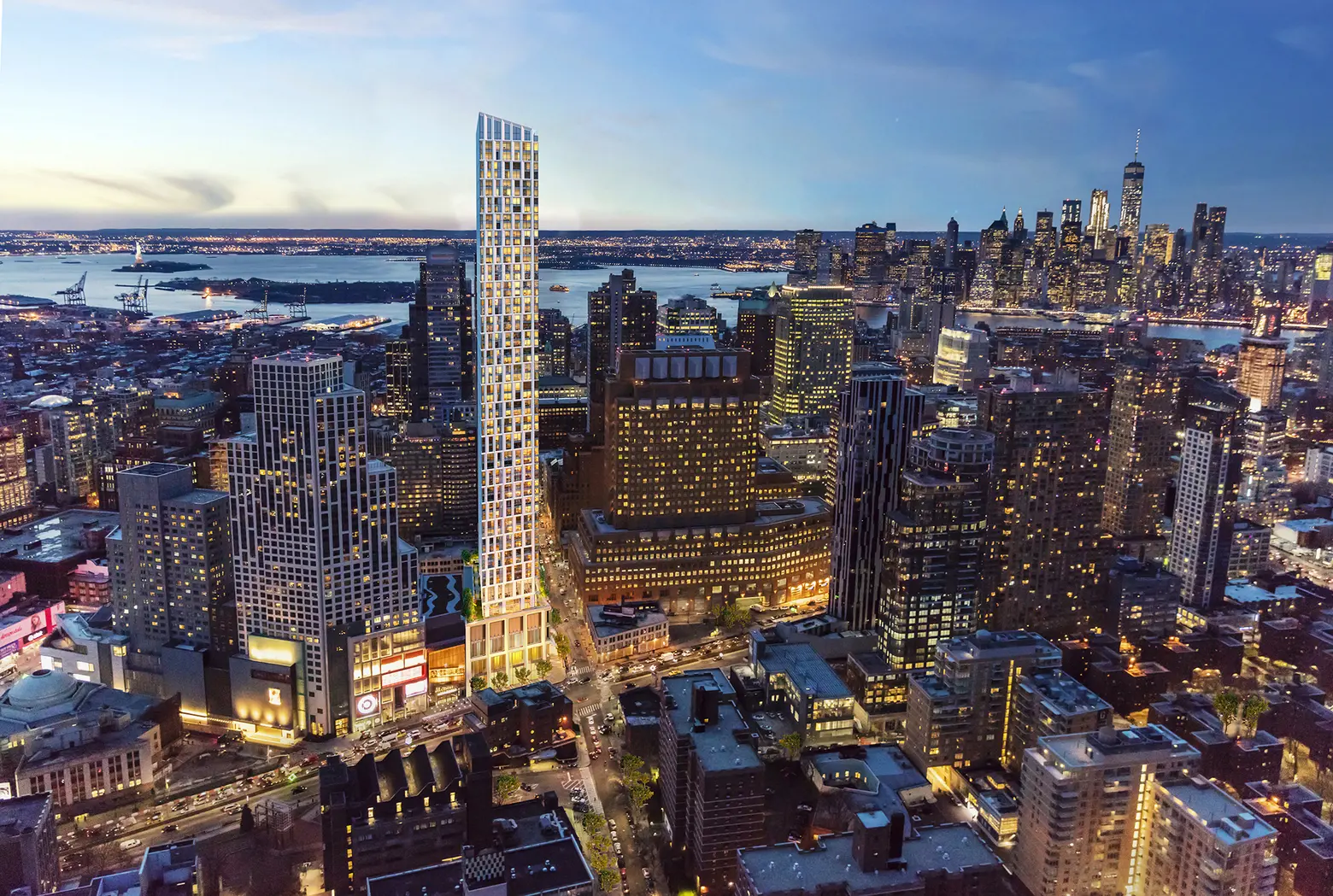 Brooklyn Point renderings by Williams New York
This summer marked a milestone for Brooklyn's tallest tower, which also happens to boast the highest infinity pool in the western hemisphere. Extell's 720-foot condo tower — located across from Willoughby Square Park and part of the larger City Point development in Downtown Brooklyn — commenced closings and began the first move-ins. Designed by Kohn Pedersen Fox, the 68-story tower holds 438 studio to three-bedroom residences. Sales launched back in 2018 and the building topped off the next year.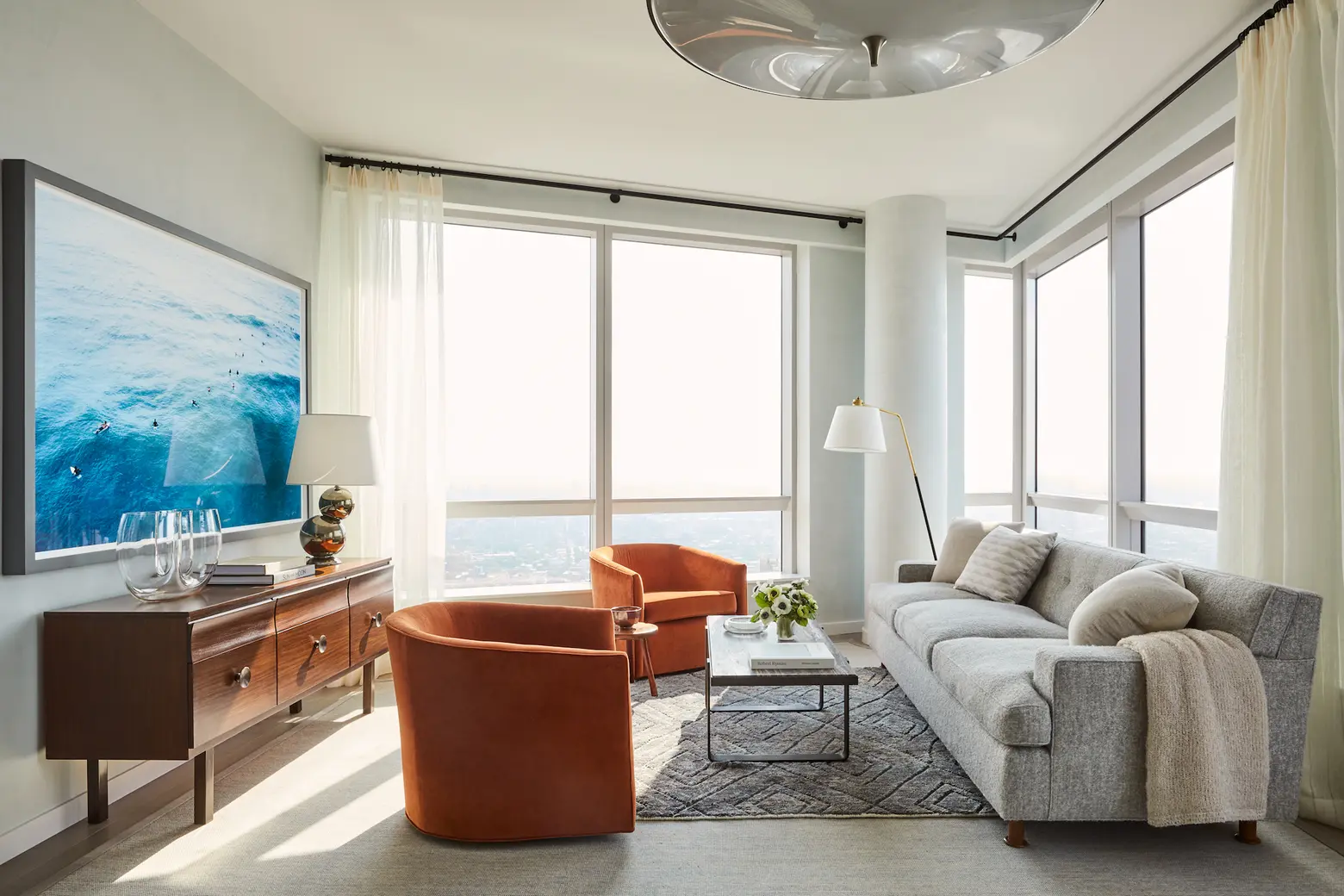 Photo courtesy of Nicole Franzen
This fall, we got to gawk at new photos of the building's model unit, which show off the eclectic interiors by designer Charlie Ferrer. The move-in unit sits on the 50th floor, spans 1,486 square feet, holds three bedrooms, and was asking $2.59 million. Currently, condo pricing ranges from $900,000 to $2.75 million.
Located at 138 Willoughby Street, Brooklyn Point is part of Extell Development's City Point complex, home to a Target, Alamo Drafthouse, Trader Joe's, DeKalb Market, and other retailers. 40,000 square feet of amenity space is a highlight of this building, with the infinity pool joined with a health and wellness facility, an indoor saltwater pool, a 35-foot rock-climbing wall, and a squash and basketball court.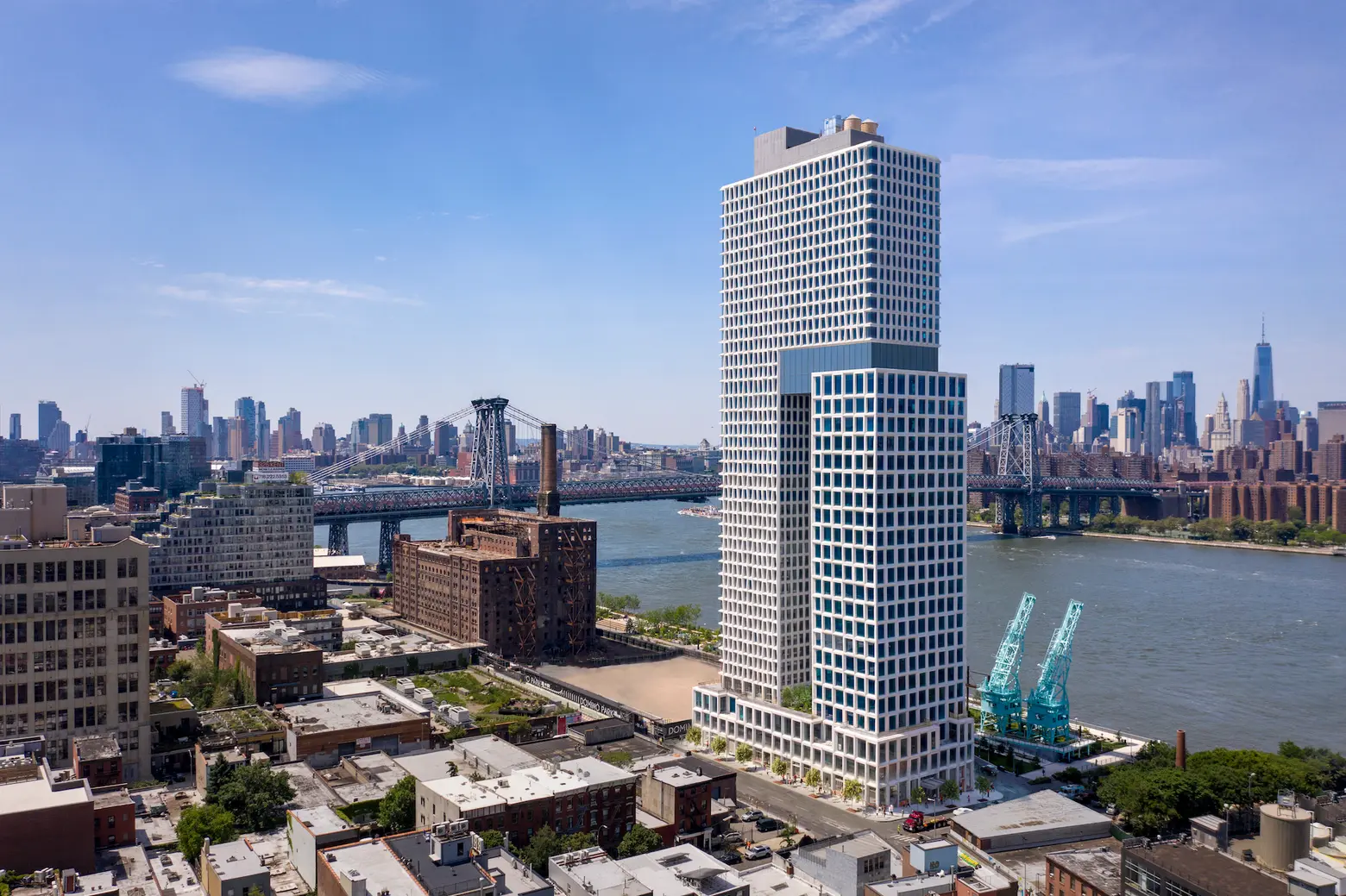 Photo courtesy of Two Trees Management
One South First was designed by COOKFOX Architects as a mixed-use, 45-story building across from Brooklyn's popular Domino Park. It includes 330 rentals, office space, and ground-floor retail featuring local enterprises like Roberta's pizza. The tower — which is the neighborhood's tallest at 435 feet — boasts a distinct facade inspired by the structure of sugar crystals in honor of the site's history as a sugar manufacturing plant.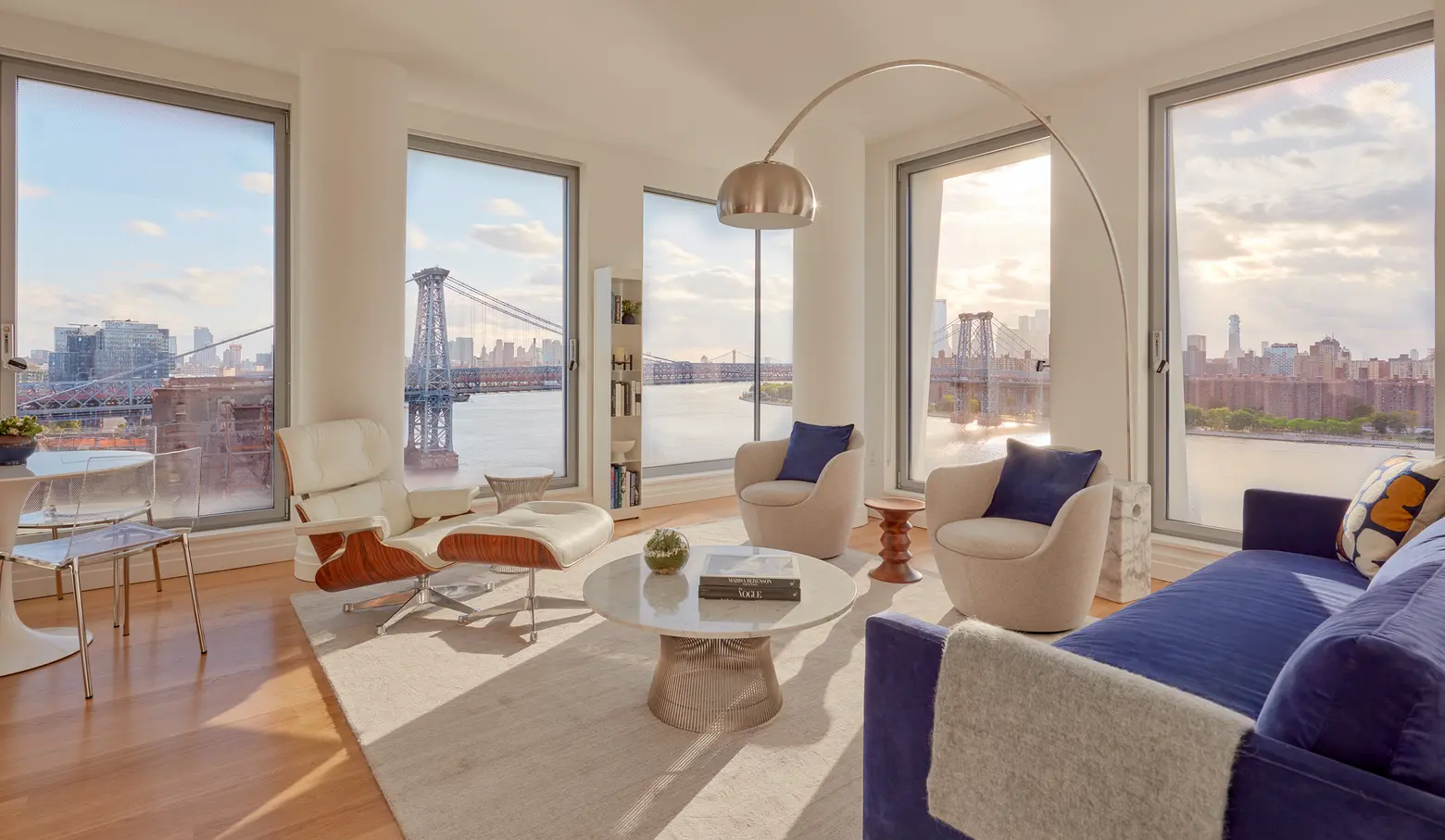 Photo courtesy of Two Trees Management
The Williamsburg building opened in the fall of 2019 with alcove studios and one- and two-bedrooms with floor-to-ceiling windows and East River views.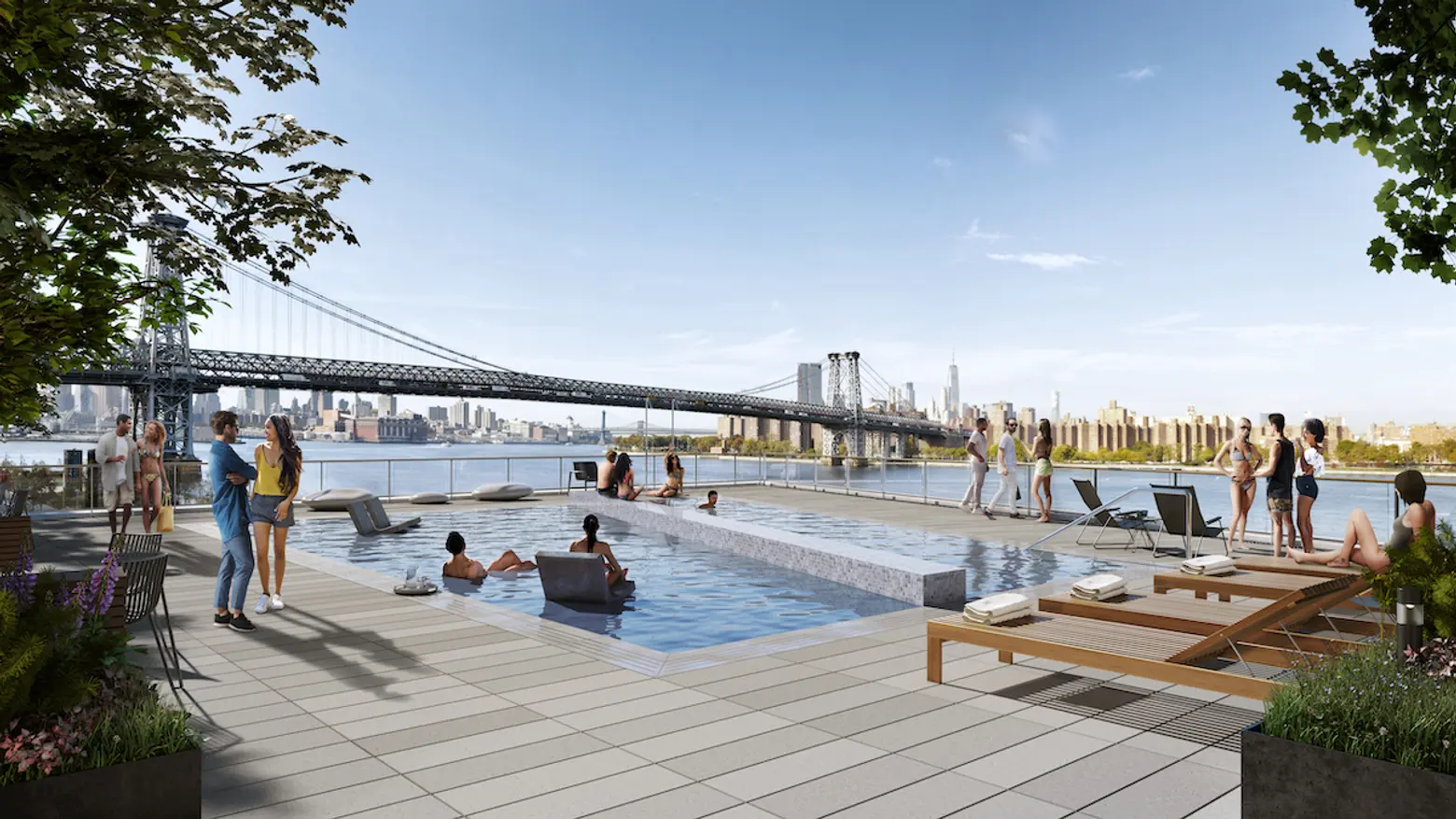 Rendering courtesy of Two Trees Management
Since opening, One South First has established its presence on the emerging skyline of the Brooklyn waterfront. There are now a few apartment listings that are live, with one bedrooms starting at $3,500 and two bedrooms at $6,291. 66 apartments were designated to low-income residents. One big amenity perk here is an outdoor pool flanked with rooftop cabanas, all with stunning views across the East River.
The Towers of the Waldorf Astoria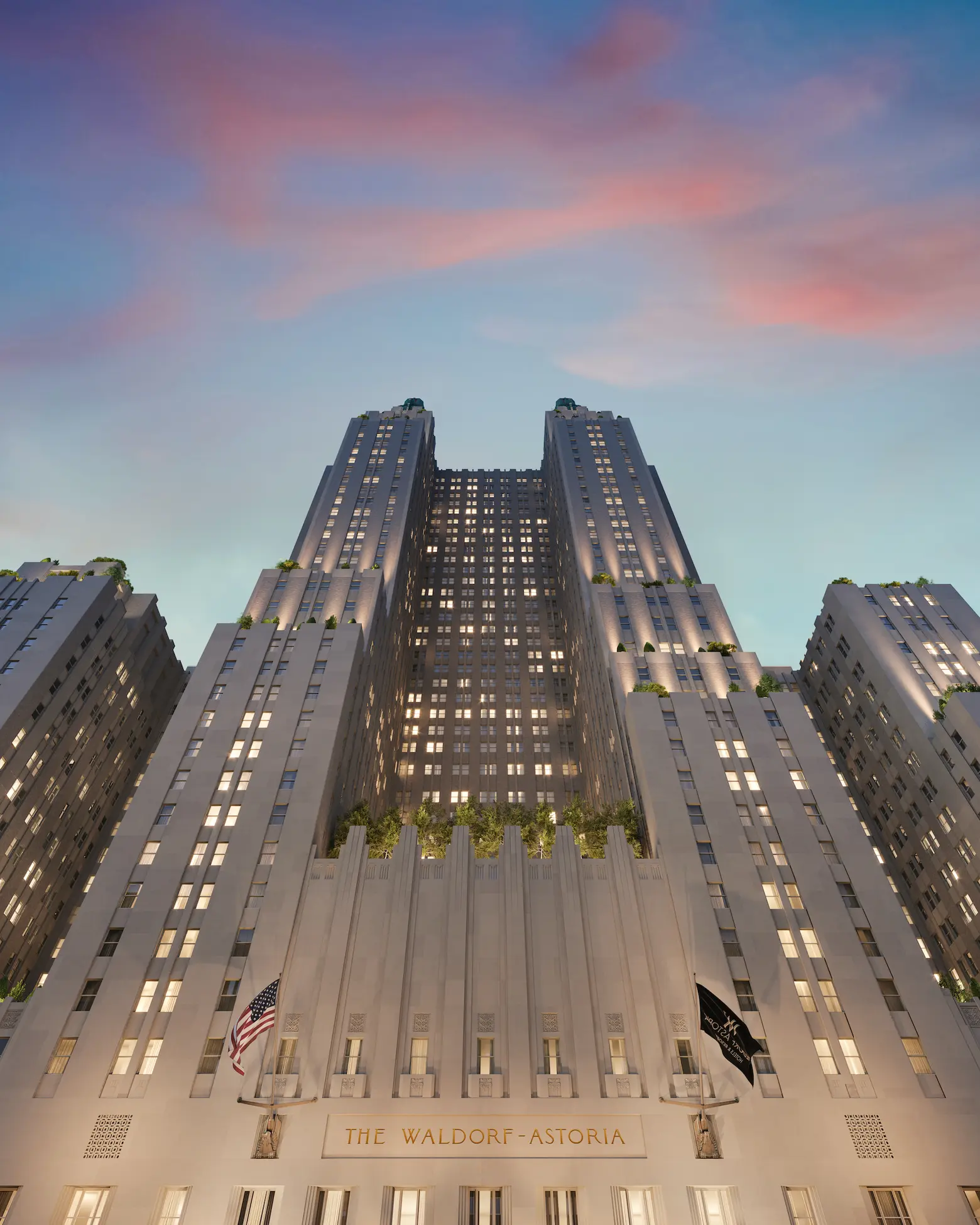 Rendering by Noë & Associates / The Boundary

Rendering by Noë & Associates / The Boundary

This year, the Skidmore, Owings & Merrill-led conversion of the historic Waldorf Astoria hotel was downright glamorous. The hotel closed in 2017 in anticipation of becoming luxury condos surrounding by amenities. This March, we got a peek at the 82-foot-long residents-only pool. It'll be called Starlight Pool, which gets its name from the Waldorf Astoria's iconic event space on the 19th floor, the Starlight Roof. (That 6,000-square foot aerie had 19-foot ceilings and a retractable roof, a groundbreaking feature at the time.) That same month, sales launched at $1.7 million for a studio up to $18.5 million for a 3,000-square-foot, four-bedroom home. Penthouse prices have yet to be released.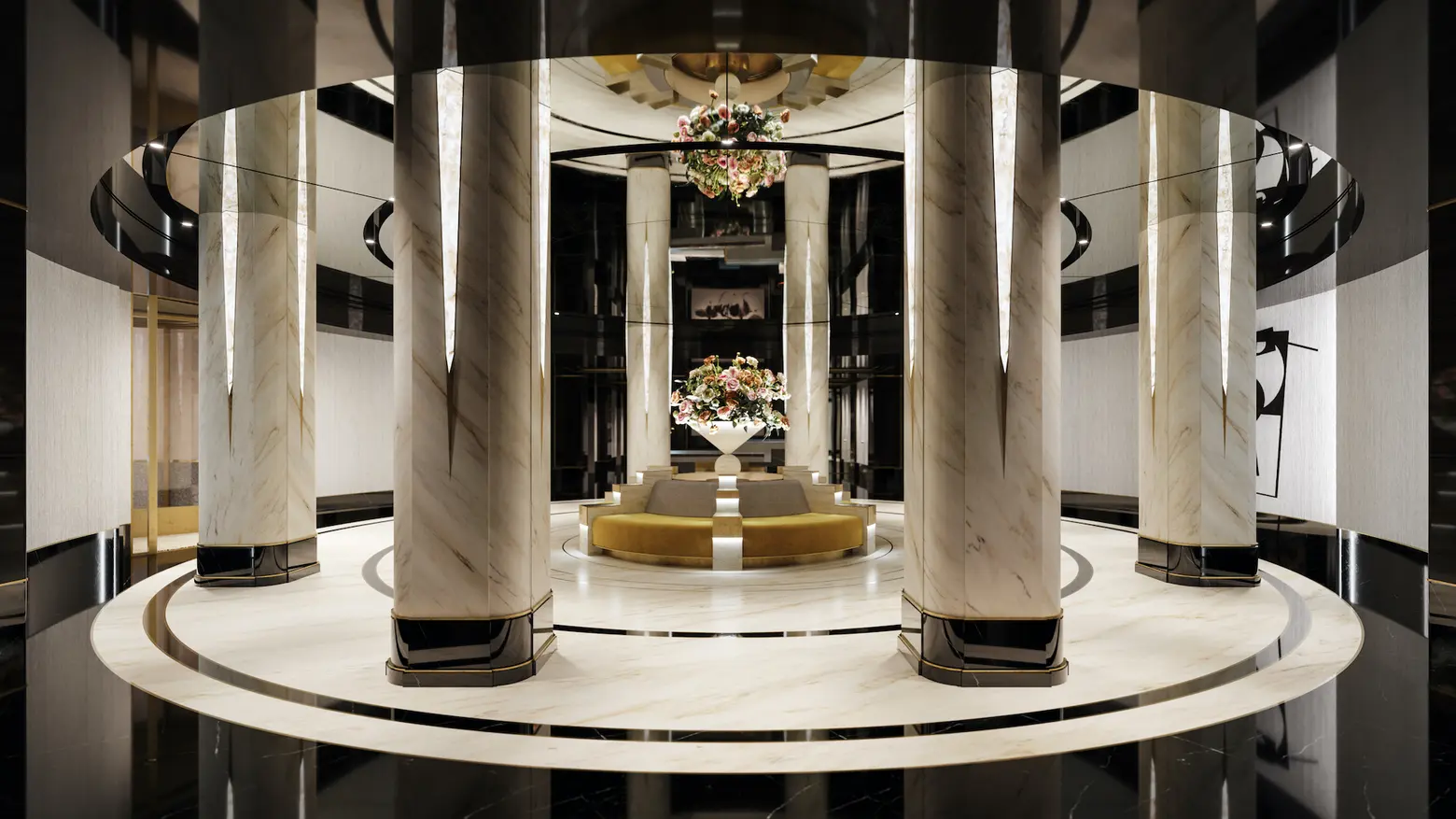 Rendering by Noë & Associates / The Boundary

The residential portion of the building will sit above the renovated hotel, with 375 condos and 50,000 square feet of amenities including private bars and a fitness center alongside the pool. If you can't wait to see inside, this May a virtual tour offered a walk through the sales gallery, model residence, and the outdoor terrace that will extend off the pool.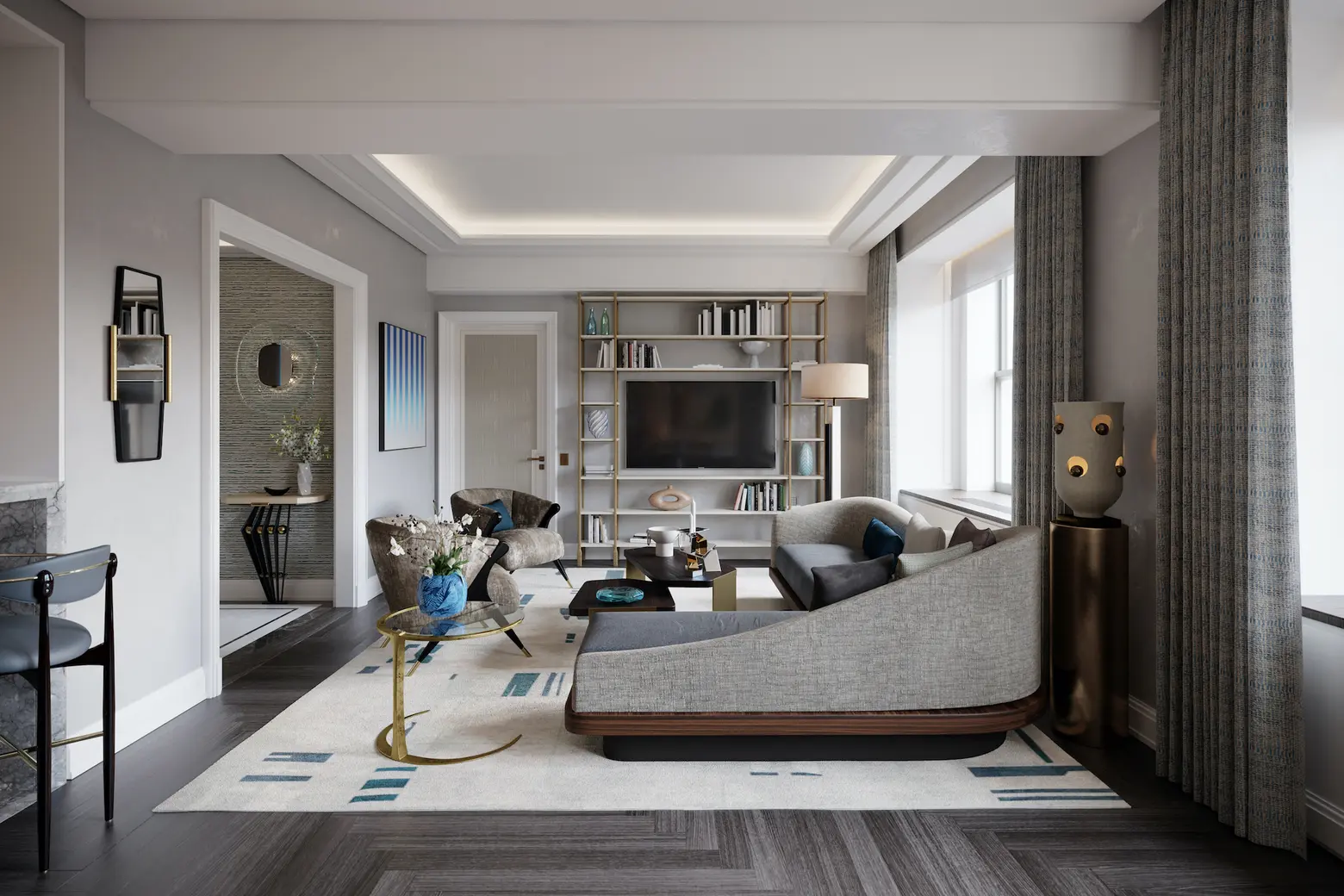 Rendering by Noë & Associates / The Boundary

Residences are being designed by Jean-Louis Deniot and will feature his own custom designs that speak to the building's Art Deco history. These include paneled interior doors with bespoke antique bronze hardware, cabinets manufactured in Italy, vanities with polished marble countertops, custom forged polished nickel fixtures, and tile mosaics featuring a Waldorf Astoria-inspired pattern. It is all expected to open back up in 2022.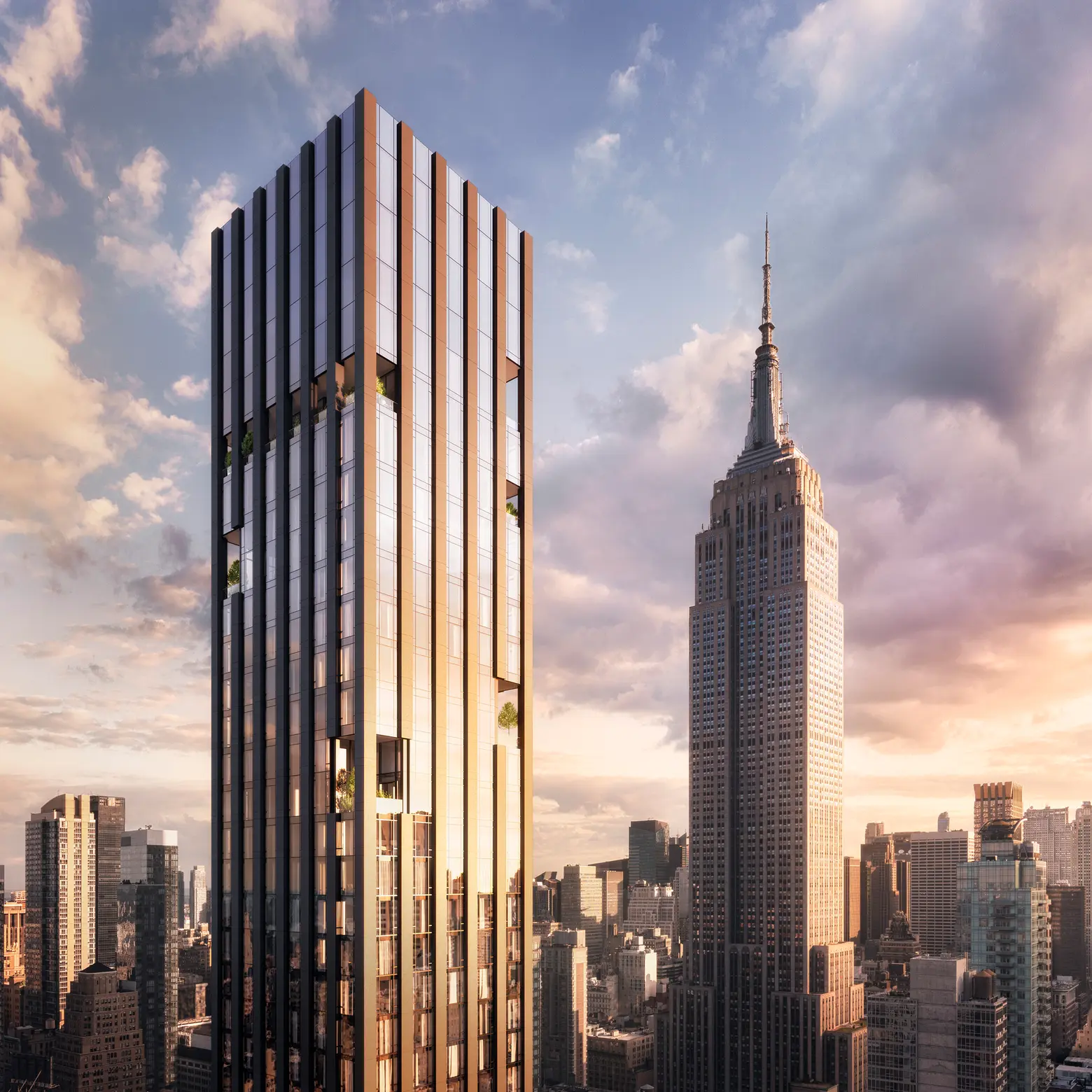 Credit: THREE MARKS
Rafael Viñoly's Nomad tower at 277 Fifth Avenue headed into 2020 by debuting a $24 million penthouse, one of four atop the 720-foot tower. The building is known for its double-height, open-air loggias that appear to be carved out of its uppermost corners. While it is only the 79th tallest in the city, the central Fifth Avenue location offers singular wide-angle views of the surrounding skyline.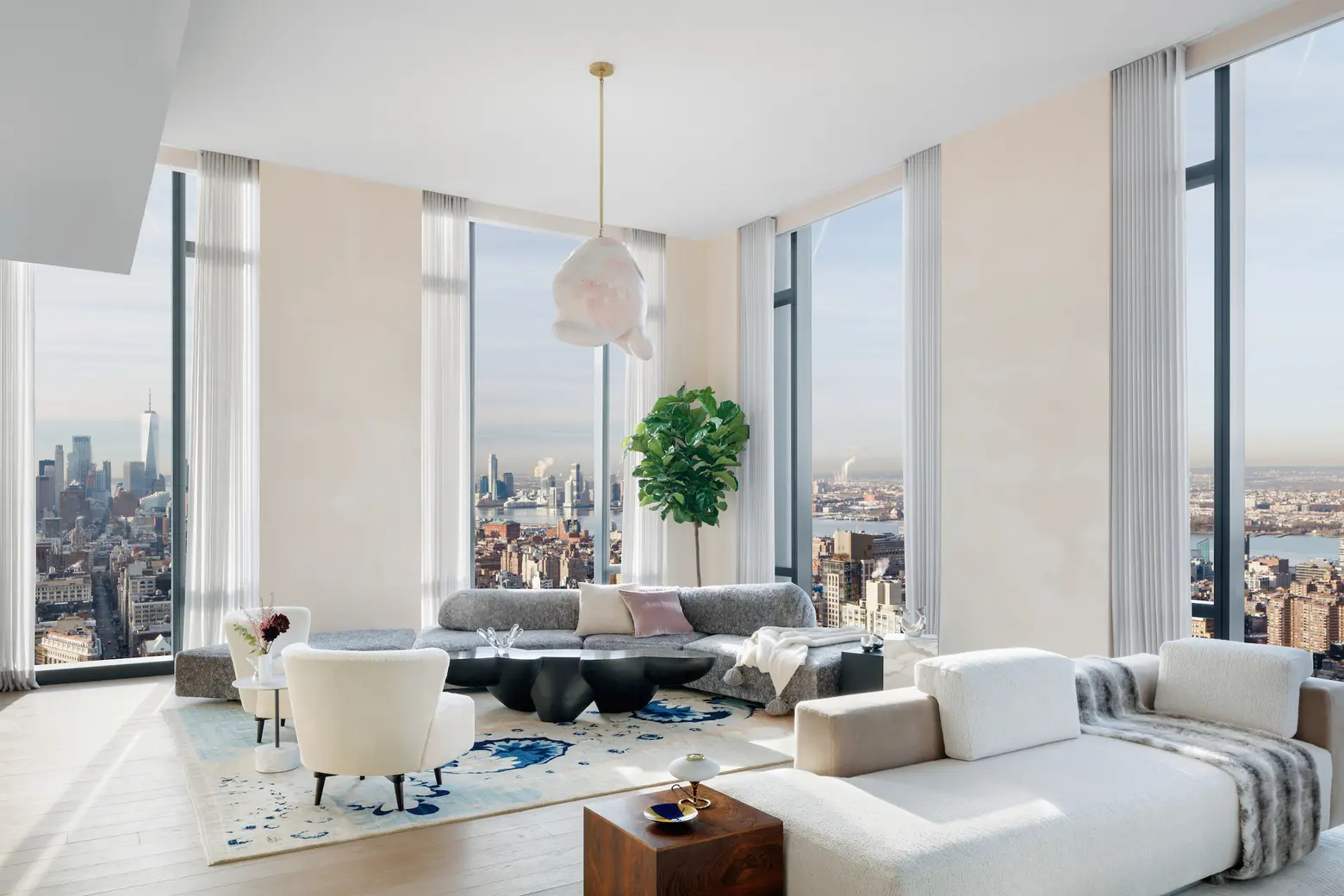 277 Fifth penthouse, photo by Colin Miller
The building's façade features a composition of striped masonry bands and highlights the four loggias adorning the building's upper corners. Designer Jeffrey Beers oversaw the interiors, which now display neutral palettes featuring natural finishes like white oak in the kitchen and marble in the bathrooms. He also designed a two-floor amenity space with a lobby library, an entertainment suite featuring a bar and private dining room with catering pantry, a fitness club opening onto the furnished Fifth Avenue Terrace, a games lounge, and a kids' club. At the moment, units range from $2 up to $24 million.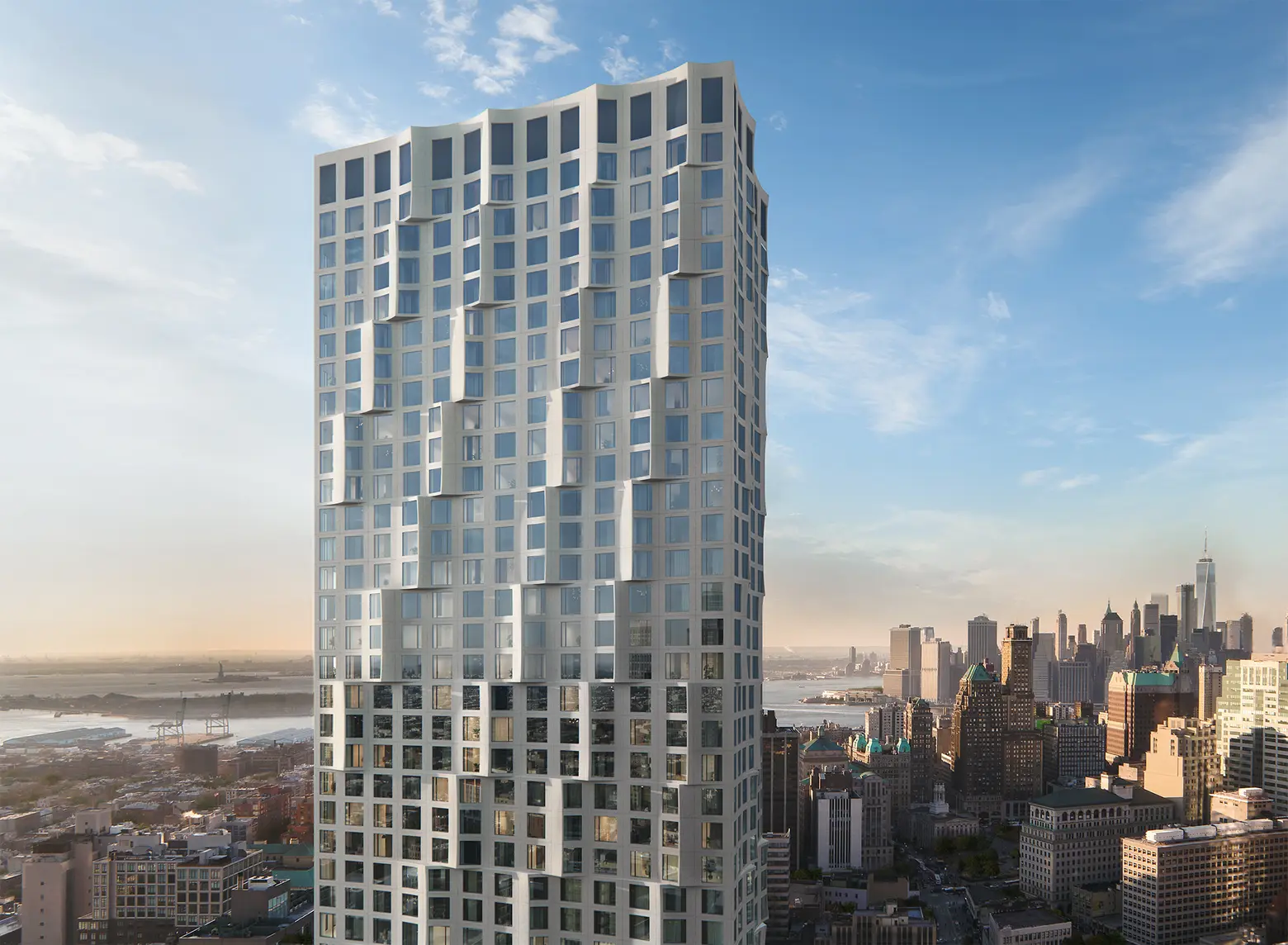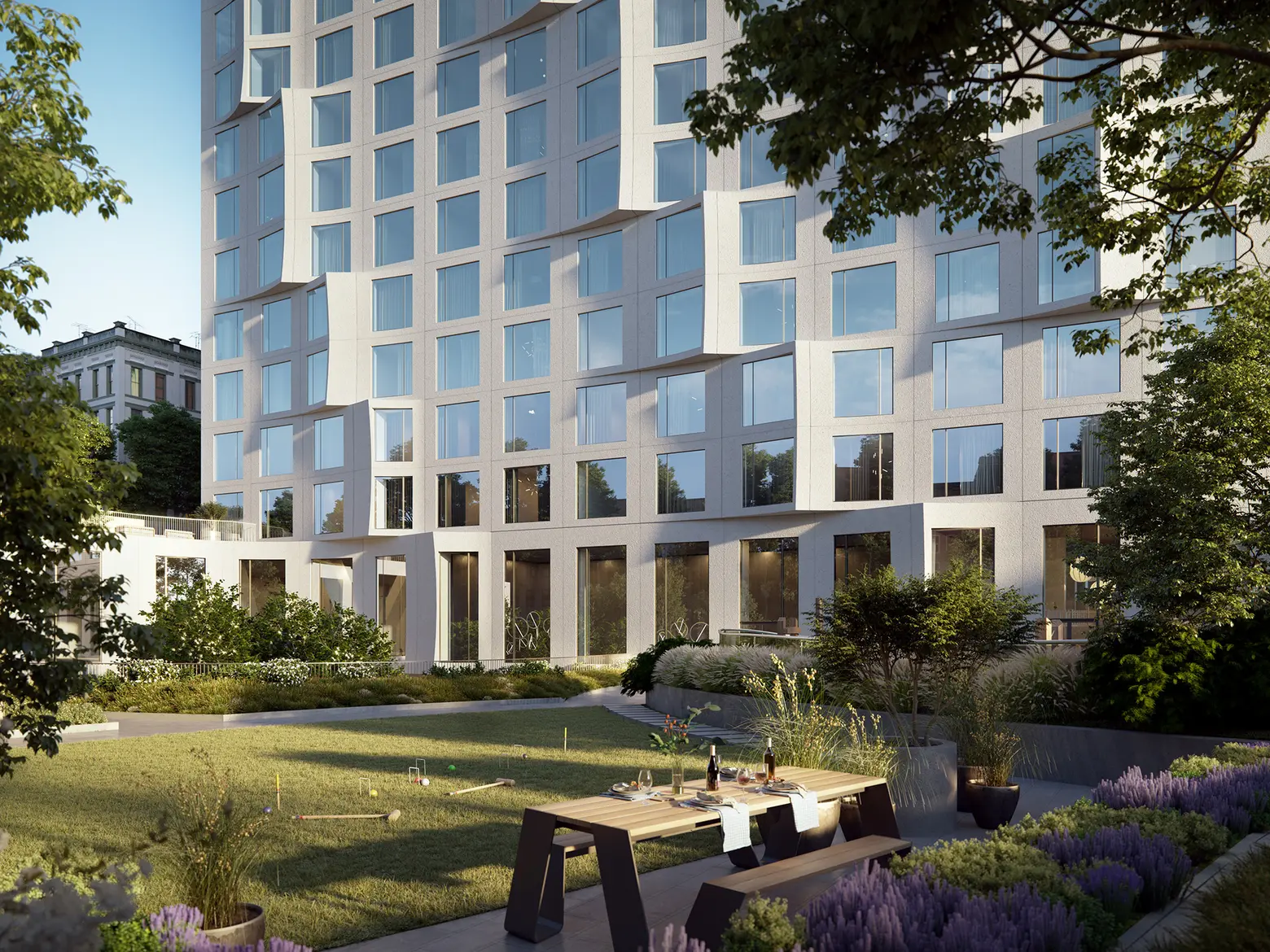 Images courtesy of Binyan Studios for 11 Hoyt
It's nearly a wrap for 11 Hoyt Street, the first residential tower in New York City designed by Jeanne Gang's Studio Gang, in collaboration with Hill West Architects. Last year the Downtown Brooklyn tower topped out at 620 feet, with the promise of holding 481 condos. Most recently, the entirety of the sculpted surface panels were in place across the distinctive rippling façade. It is on pace to finish construction sometime next year.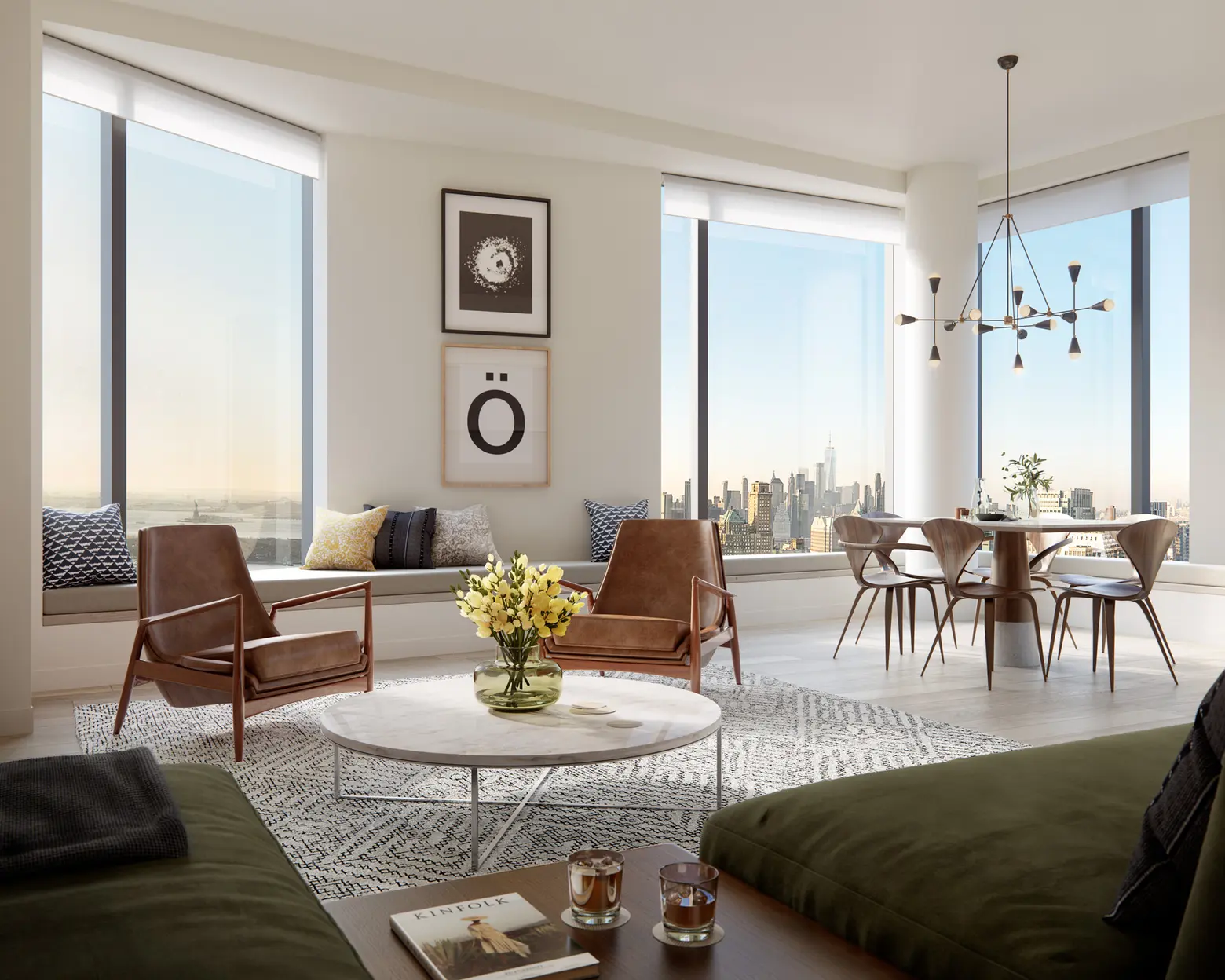 Image courtesy of Binyan Studios for 11 Hoyt
Sales launched back in 2018 and prices now range from $710,000 to $5 million. There will be 190 unique layouts across the Tishman Speyer-developed building. And it wouldn't be complete without an amenities suite: 11 Hoyt will hold 55,000 square feet of them inside and out, including a 32nd-floor Sky Club and an elevated 27,000-square-foot private park.
+++