See the Waldorf Astoria's glamorous, residents-only pool
Image credit: Noe & Associates/The Boundary
The Waldorf Astoria is still closed for a major renovation, but it appears on track to becoming more luxurious than ever. The latest rendering to be released (which we spotted over on The Post) shows the skylit pool that will be available to residents of the recently branded Towers of the Waldorf Astoria, where 375 condos will be sold for the first time in the history of the storied property.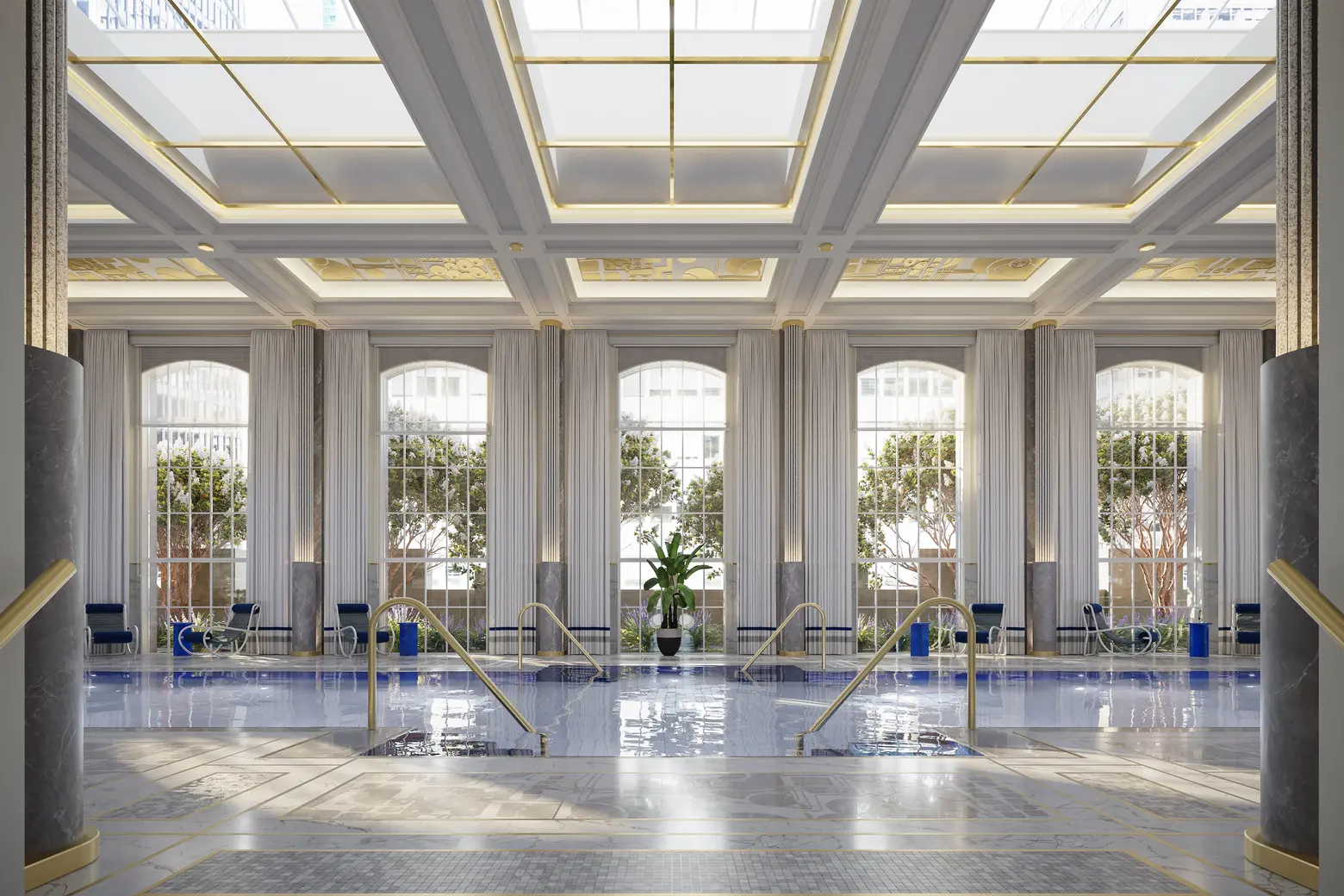 The Starlight Pool gets its name from the Waldorf Astoria's iconic event space on the 19th floor, the Starlight Roof. The 6,000-square foot aerie had 19-foot ceilings and a retractable roof, a completely groundbreaking feature at the time. It was never open to the public, but the regular attendance of figures like Ella Fitzgerald, Cole Porter, Frank Sinatra, and Marilyn Monroe made it the place to be seen in the '30s and '40s.
Previous renovations weren't kind to the space; the once-awe-inspiring ceiling was eventually covered by air conditioner cooling towers in 1950. As part of the extensive renovation project currently underway, the skylights and connected outdoor space have been brought back to the original intent. Now they frame an 82-foot-long pool with light from all sides.
The pool is only one component of the extensive amenities that are part of the design—a fitness center (that appears to overlook the pool), a gaming room, cinema, and more. The Waldorf was always known for its glamorous public areas, but Skidmore Owings & Merrill are aiming to add another layer of luxury with the amenities. The hotel had "really nothing in the way we think of amenities today," Frank Mahan, associate director at Skidmore Owings & Merrill, suggestively told the Post.
The condos—and additional hotel rooms—will open in 2022.