Extell's Central Park Tower will have a $95M penthouse and 100th-floor ballroom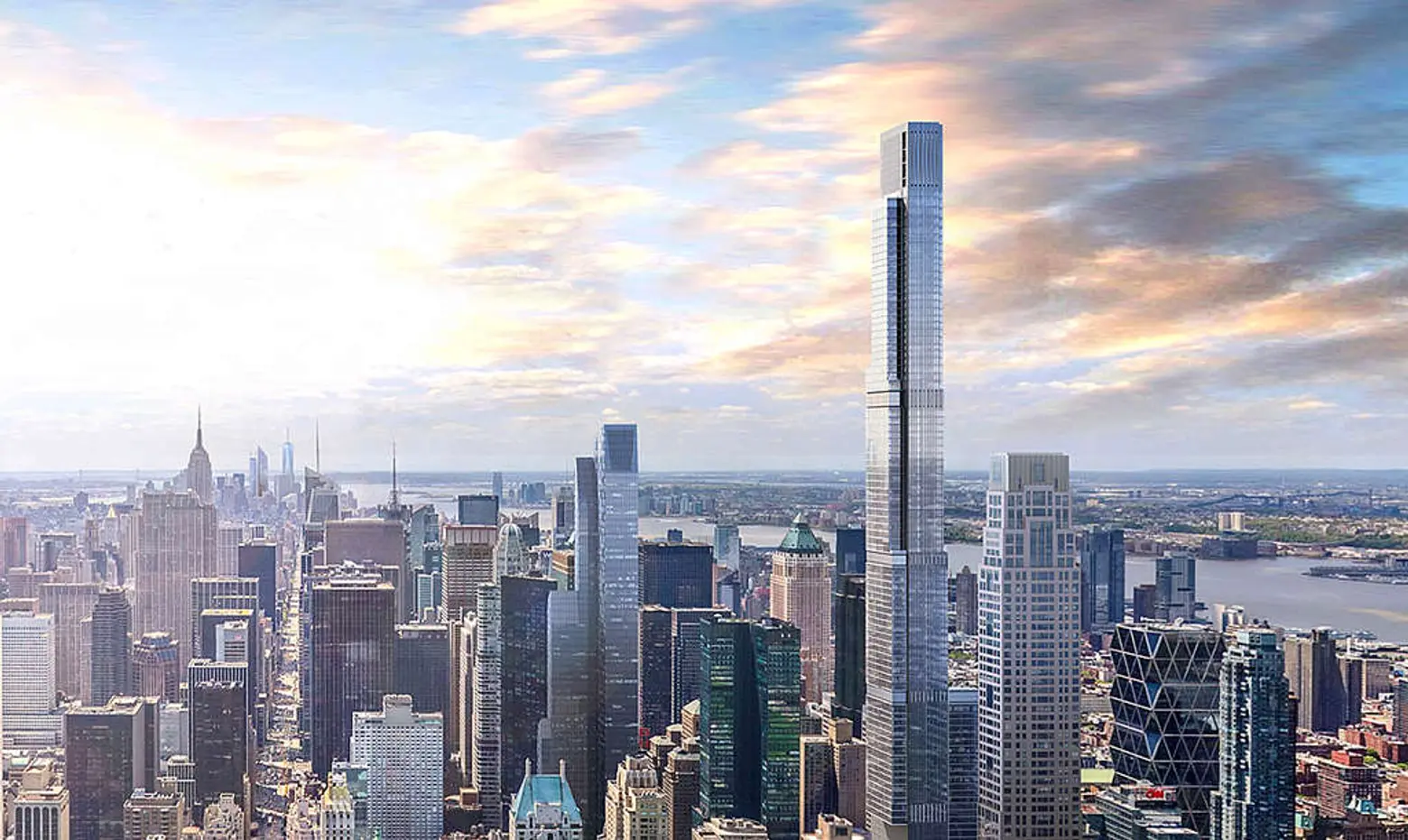 With massive condominiums, private elevators and a 100th-floor ballroom that overlooks Central Park, Gary Barnett and Extell Development won't have much trouble luring the world's richest to their ambitious $4 billion Central Park Tower. Although the building at 217 West 57th Street, slated to be the tallest residential tower on Earth and most expensive in NYC, won't be completed until 2019, the Real Deal discovered the building's floorplans and the price breakdown for each unit. According to filed documents, 20 of the 179 condominiums in the building have a price tag of $60 million and above. The most expensive unit listed? A $95 million penthouse that contains four bedrooms, a 2,000-square-foot terrace and an outdoor pool.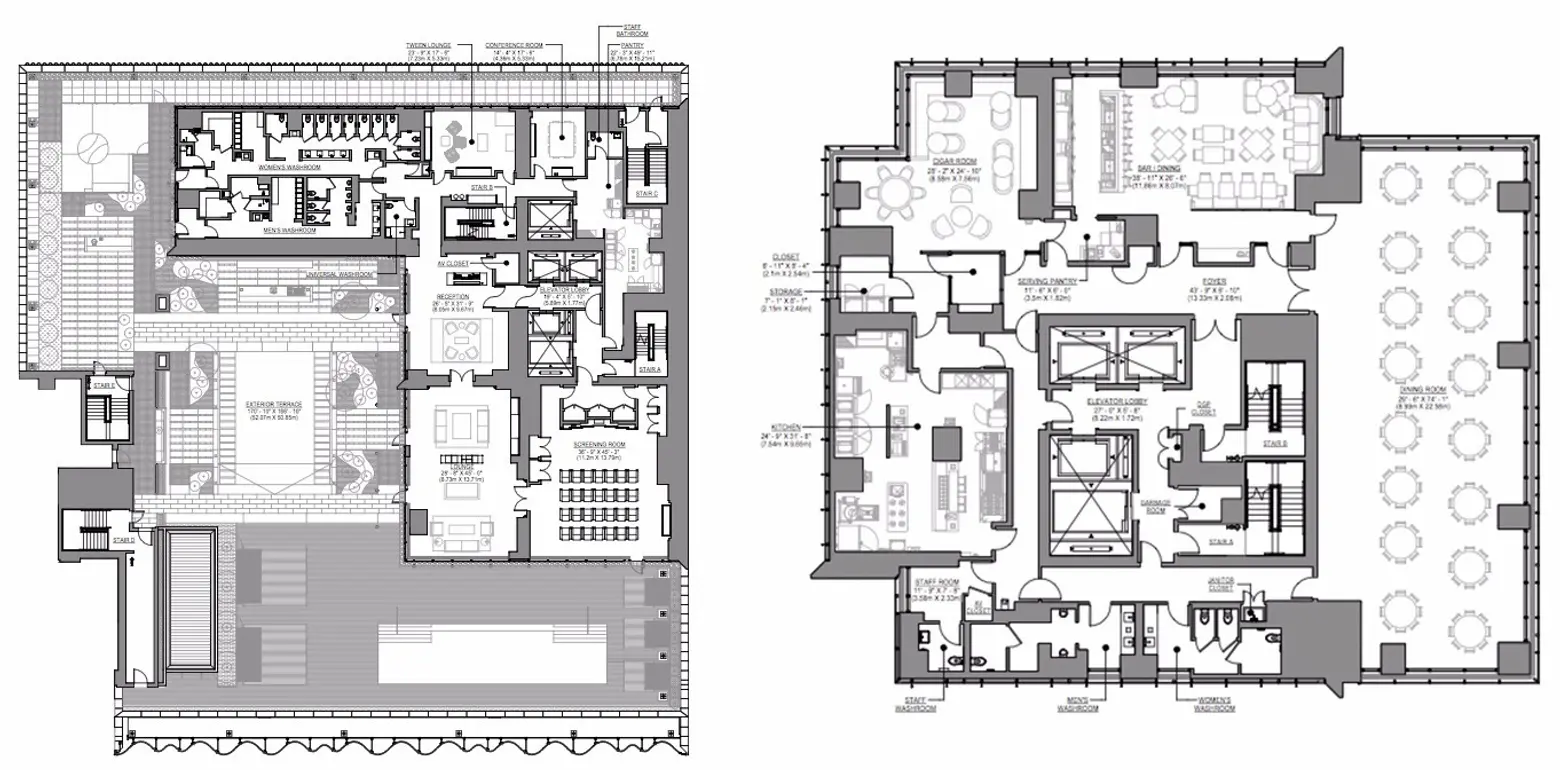 Central Park Tower's residential amenities on the 14th and 100th floors
The amenities at Central Park Tower take up three whole floors. The grandest of them all include a huge ballroom on the 100th floor with unbeatable views of the park and that seats 126 and includes a cigar bar and private dining room. Other perks include the "Central Park Club" on the 14th floor that includes a lounge with a screening room, conference room, play area and a "tween" lounge. The landscaped terrace features a 60-foot pool, central lawn and two gardens. On the 16th floor, residents will enjoy a 63-foot indoor pool, exercise room, spa and children's playroom.

Floor plans for Central Park Tower's 53rd floor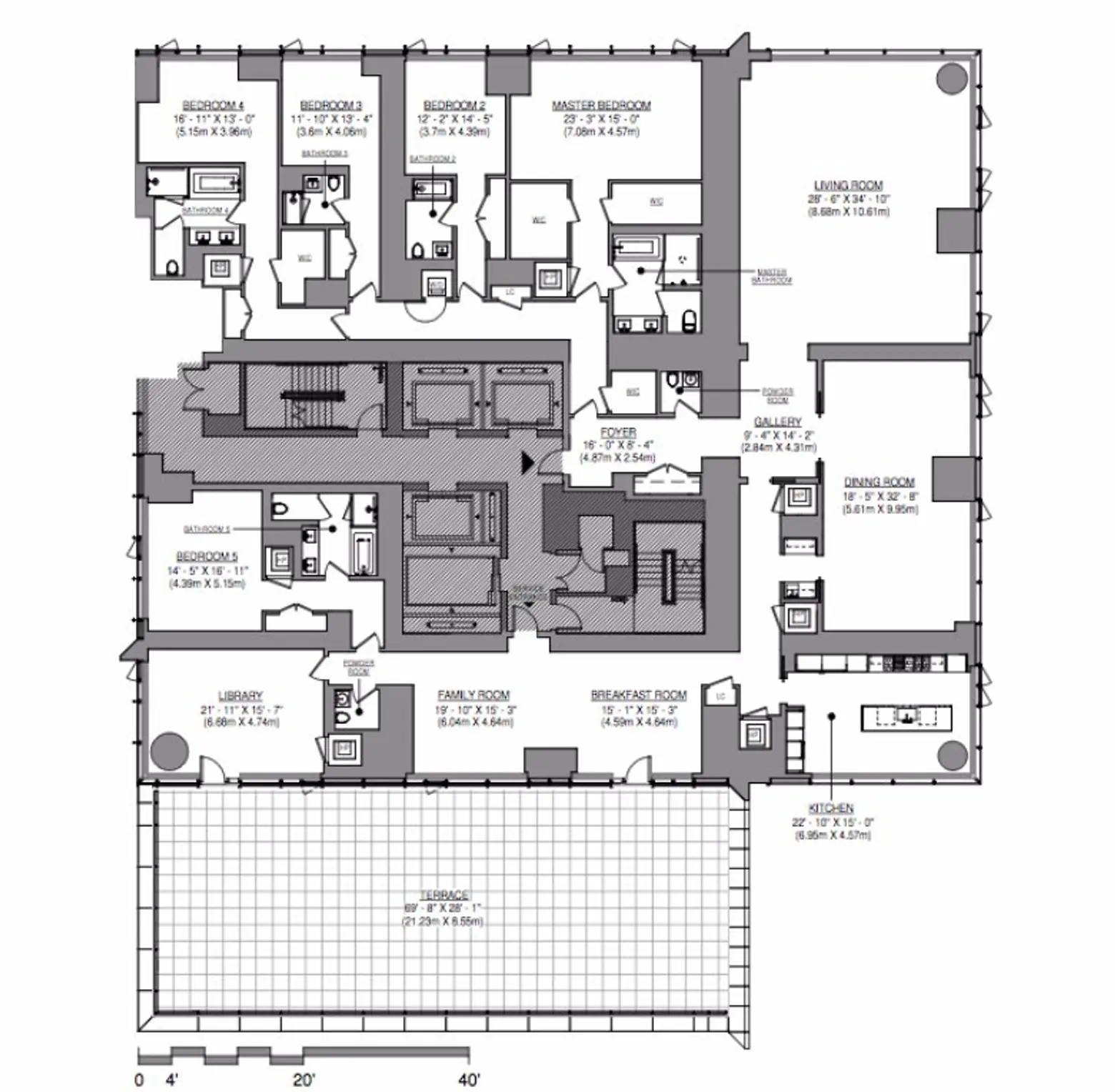 Floor plans for Central Park Tower's Residence B on the 39th floor
The Real Deal's analysis found that at least 26 of the units are priced over $9,000 per square foot. This includes Unit 39B which boasts 7,587 square feet and includes a 1,956 square foot terrace for $75 million. The average price per square for units listed is $7,106. The most expensive units will offer white oak floors and Miele and Sub-Zero appliances.
While $95 million for an apartment is obviously a staggering price tag, three units in the building have not been listed yet. These units are all enormous and include their own private elevators. Unit 107 is listed as a duplex with seven bedrooms, spans 11,823 square feet with a 240 square-foot terrace. Unit 127 features an eight-bedroom duplex with 10,822 square feet and a 713-square-foot private elevator lobby.


Floorplan of Unit 129, the top penthouse

The top floor penthouse, Unit 129, measures 15,898 square feet with seven bedrooms, a sprawling terrace and a 1,647-square-foot private elevator lobby. The pad includes a media room, library, observatory, grand salon, gym and a private ballroom. While no price tag is listed for this unit yet, the carrying costs alone are $925,909 per year.
Extell projects $11 million in expenses, including $800,000 to run the building's facilities and $375,000 to run the dining service. A date has not been announced yet for sales of units at the 1,550-foot tower.
[Via The Real Deal]
RELATED: