Where I Work: Go inside Lite Brite Neon's colorfully gritty Gowanus workshop and showroom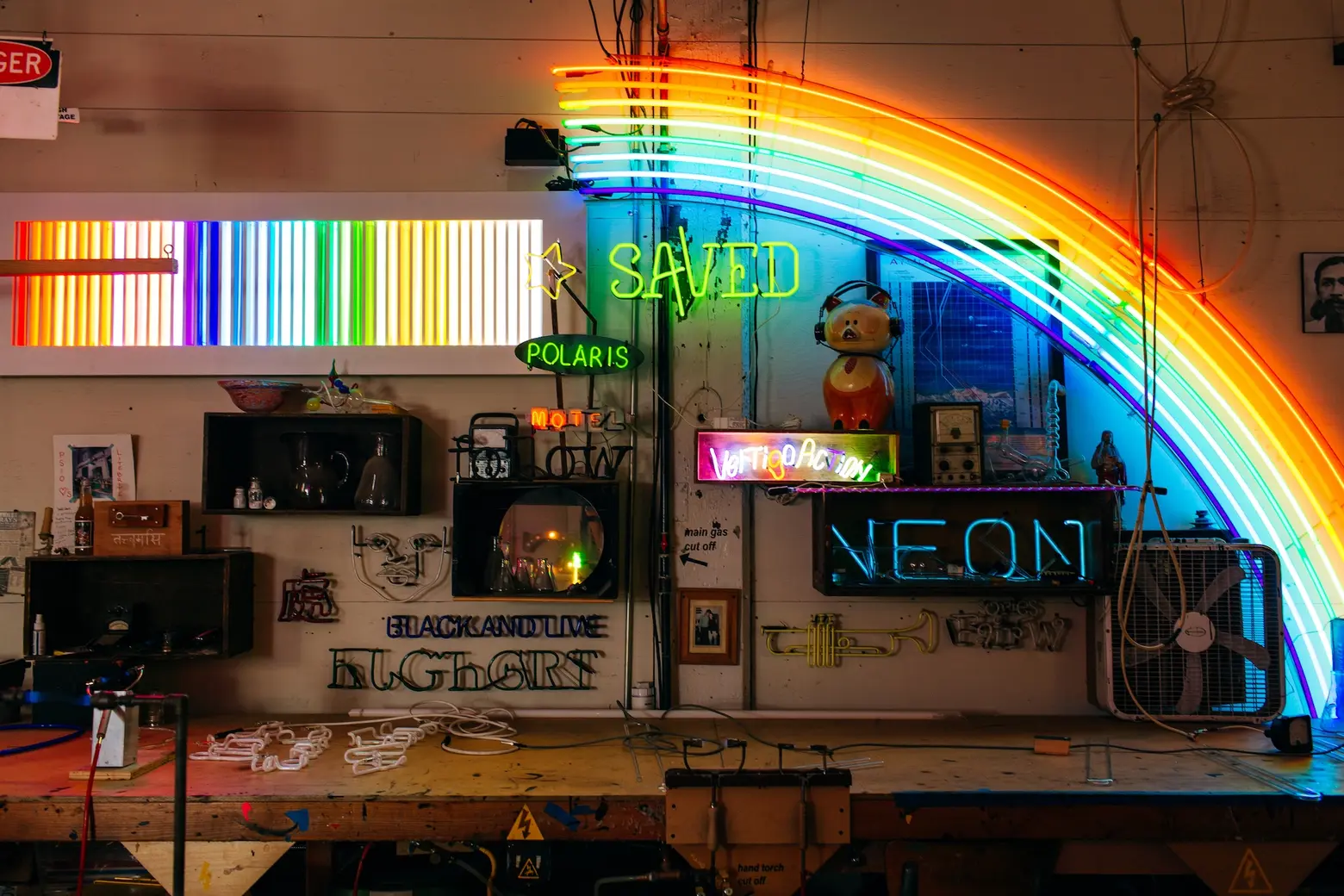 6sqft's series "Where I Work" takes us into the studios, offices, and off-beat workspaces of New Yorkers across the city. In this installment, we take a tour of the Gowanus studio of Lite Brite Neon. Want to see your business featured here? Get in touch!
Among the manufacturing and arts tenants in the Old American Can Factory, a converted six-building industrial complex at the Gowanus Canal, is Lite Brite Neon, which has been described as "the darling of artists and designers." And after touring their funky workspace/showroom, the description definitely fits. They were founded in 1999 in Brooklyn and have been creating neon art, signage, lighting, and displays ever since, in addition to preserving and restoring historic neon. 6sqft recently got an insider's look at their colorfully gritty home and spoke to lead designer Wayne Heller about how the company functions and what makes neon unique.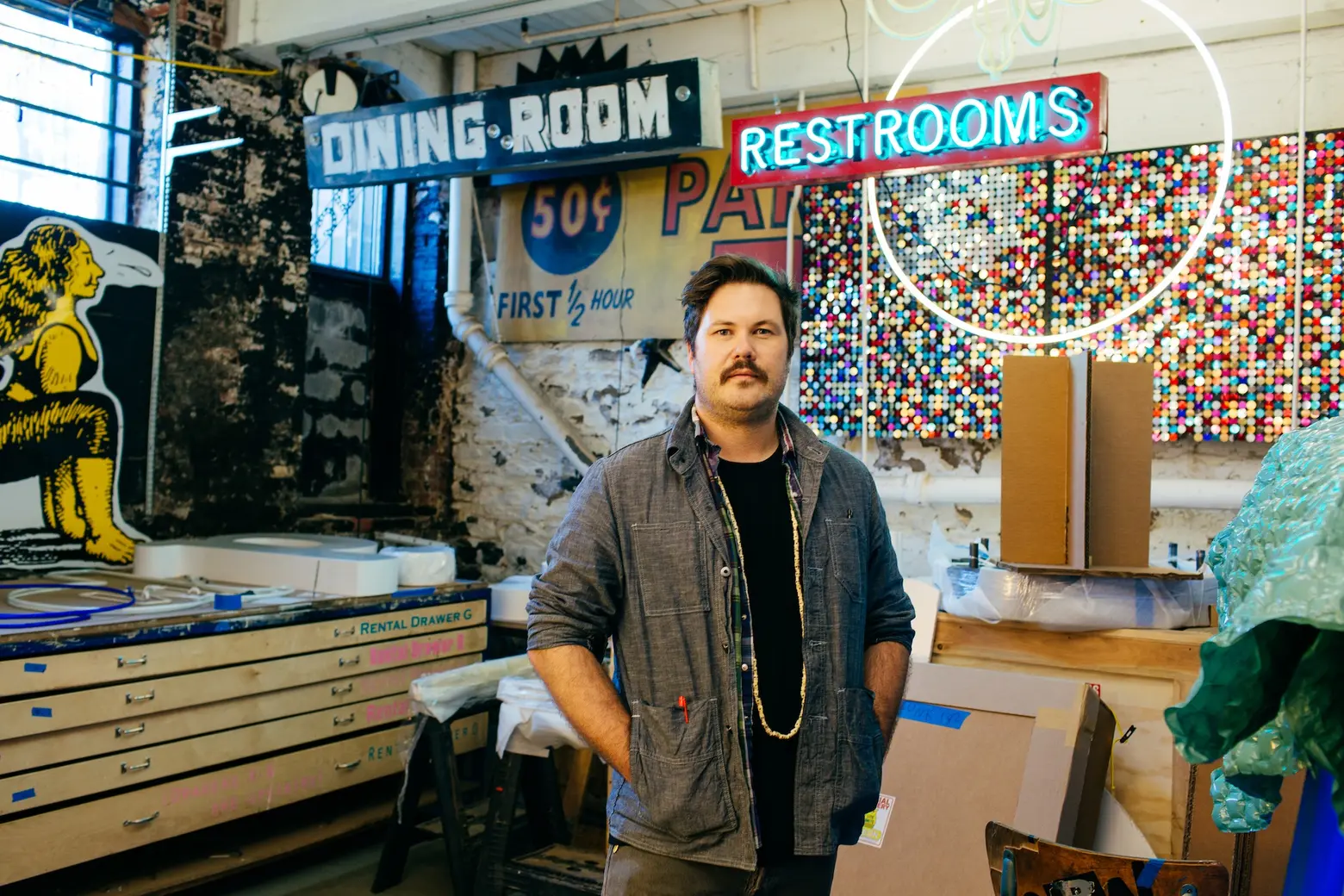 How long have you been with Lite Brite? How did you originally get into the field?
Ten years. I come from a graphics and art background, but was born into a neon-making family.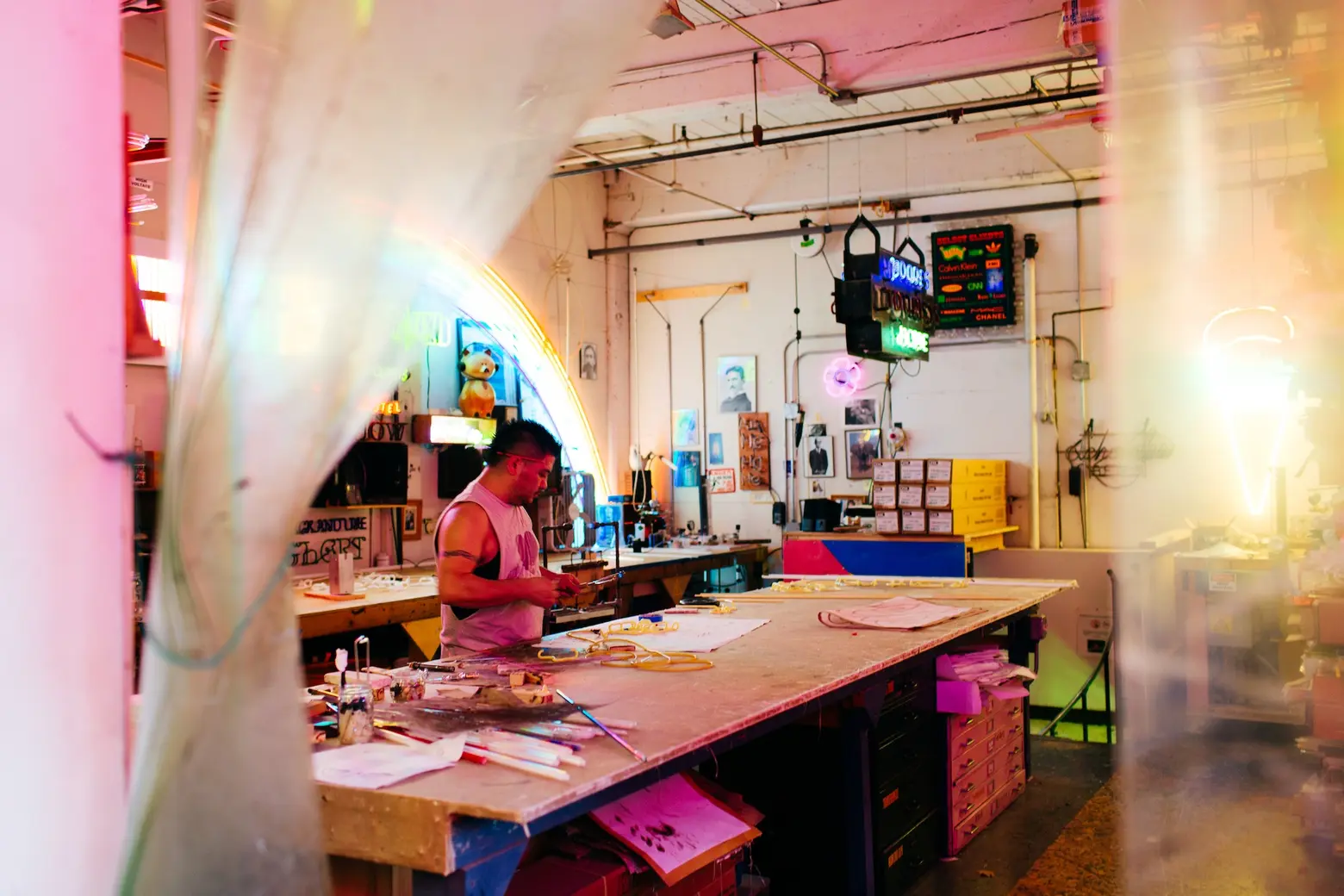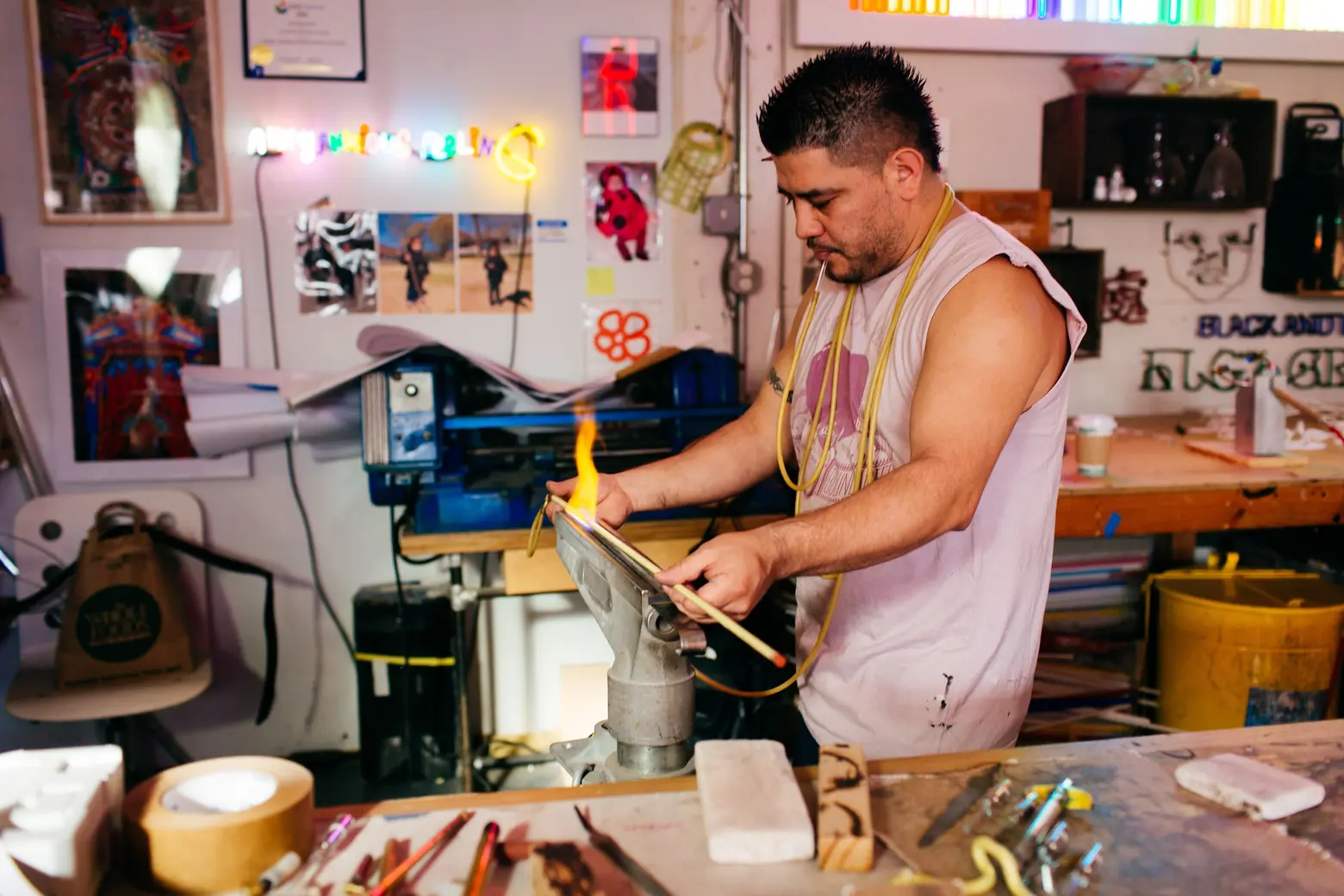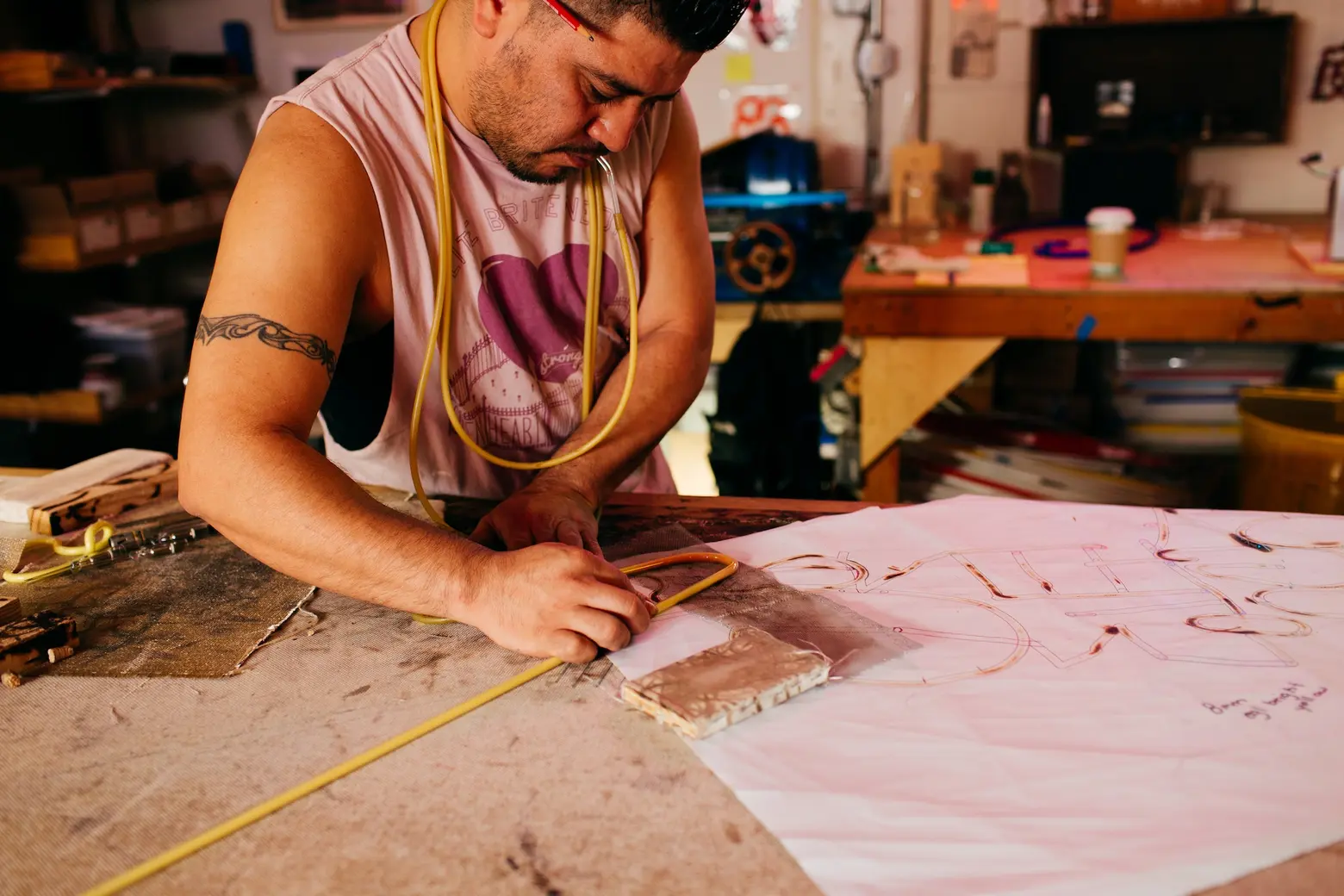 Lite Brite's Sergio is working on a bending project for the Bloomingdales holiday windows. He's been with the company for 15 years; they say it takes 10 years for someone to master the art of bending. 
For those who don't know, can you give a brief rundown of the science behind neon?
Sure, it's dawn comes from a confluence of events. At the end of the Victorian age, science managed to isolate certain gasses that coexist in the atmosphere- among them the noble gases, neon, krypton, argon, and helium. Enter the advent of electricity and pioneers like Nicola Tesla, and the discovery that when high voltage current is applied to the isolated gas sealed in a tube, the gas molecules become excited and emit light.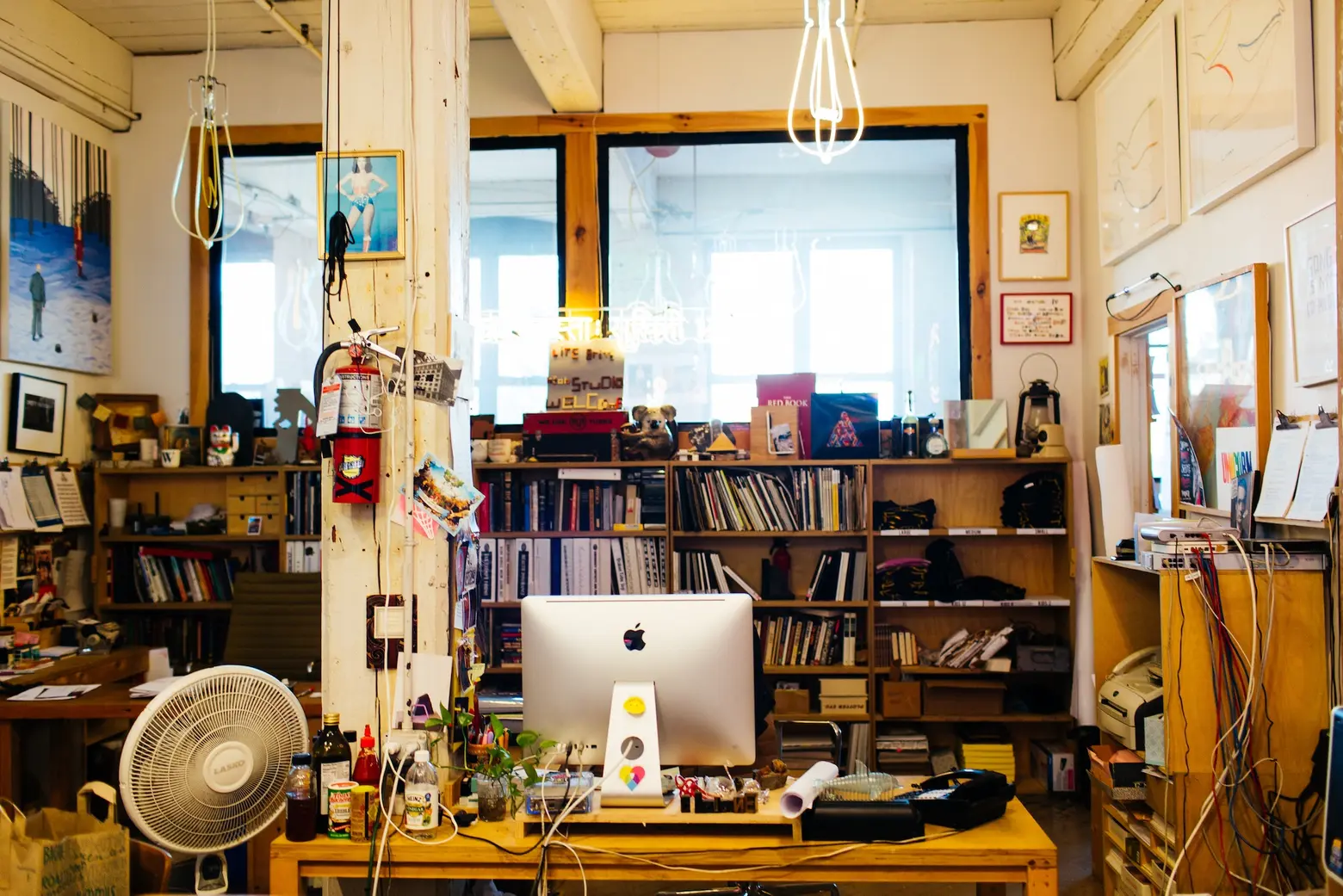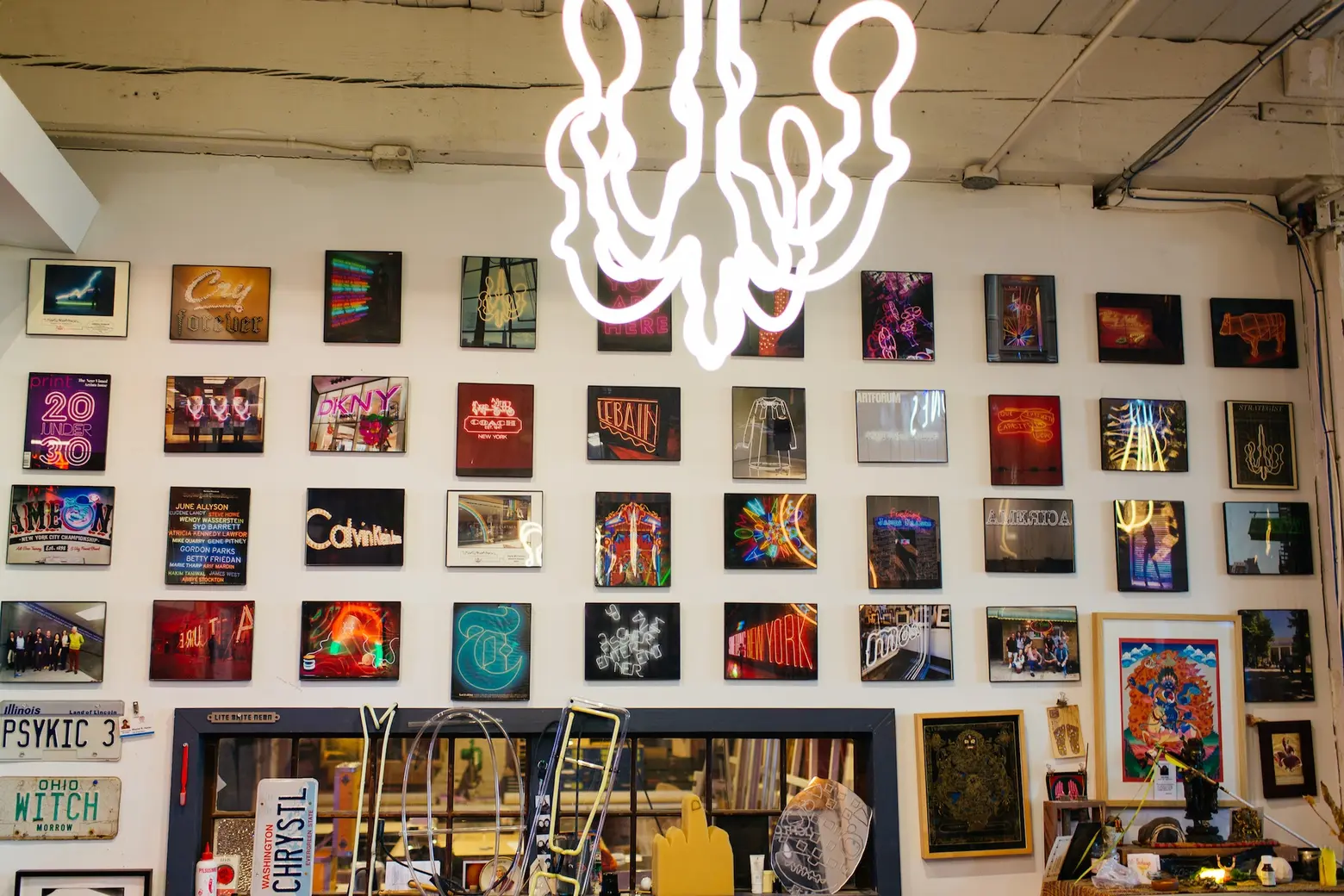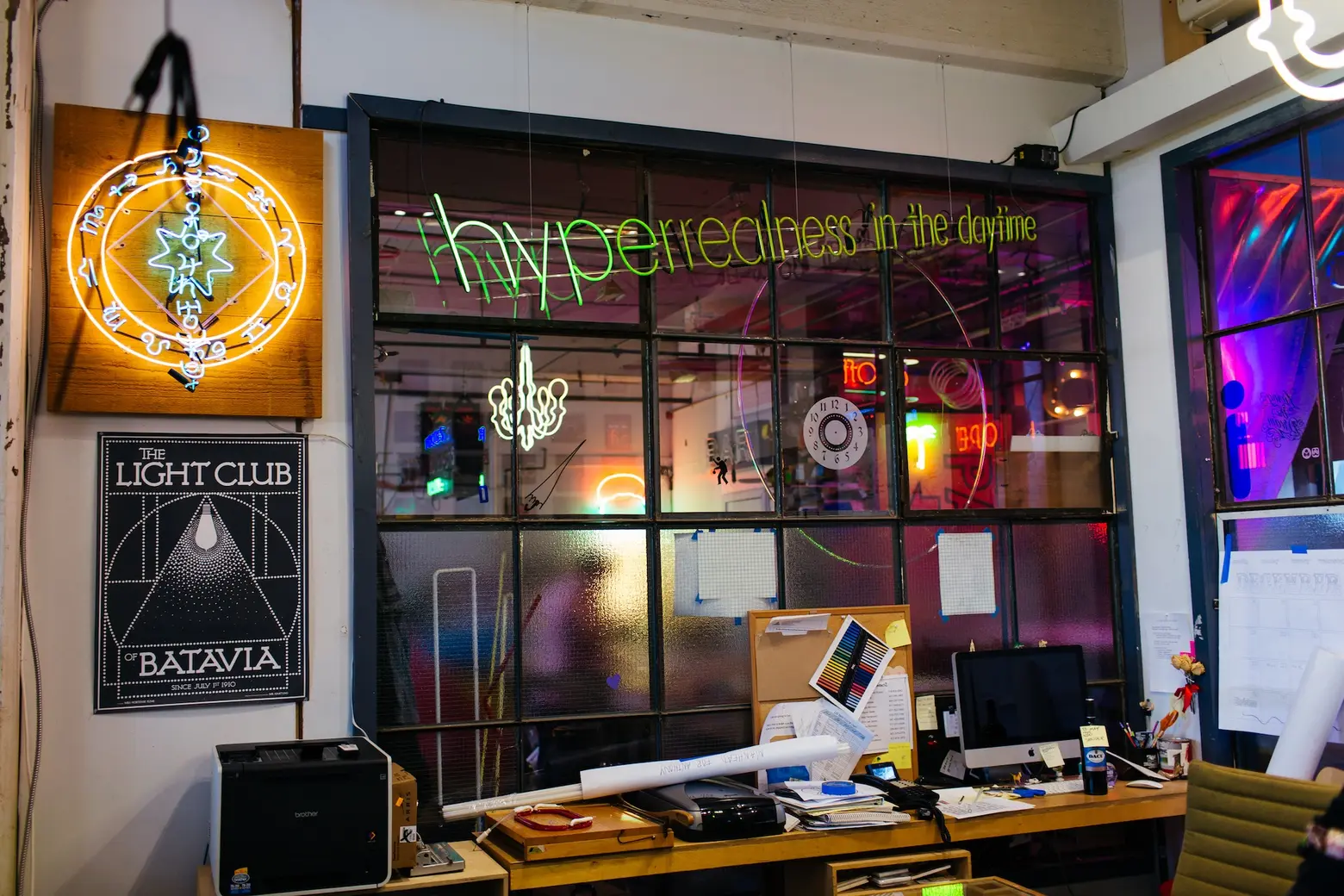 The main office is where all the design work happens; Wayne calls it the "planning epicenter." 
What does a typical day in the studio look like?
We start with a morning meeting in the studio to keep us grounded, sorting out the projects, considering our deadlines, and general problem solving discussions, then off to the races. Crew members typically have several different roles depending on the day and which vary from meeting with clients, to bombarding completed tubes, to getting strapped into a harness and lowered down a glass stair shaft adorned with neon flowers (see that project on 6sqft's Flavor Paper studio visit).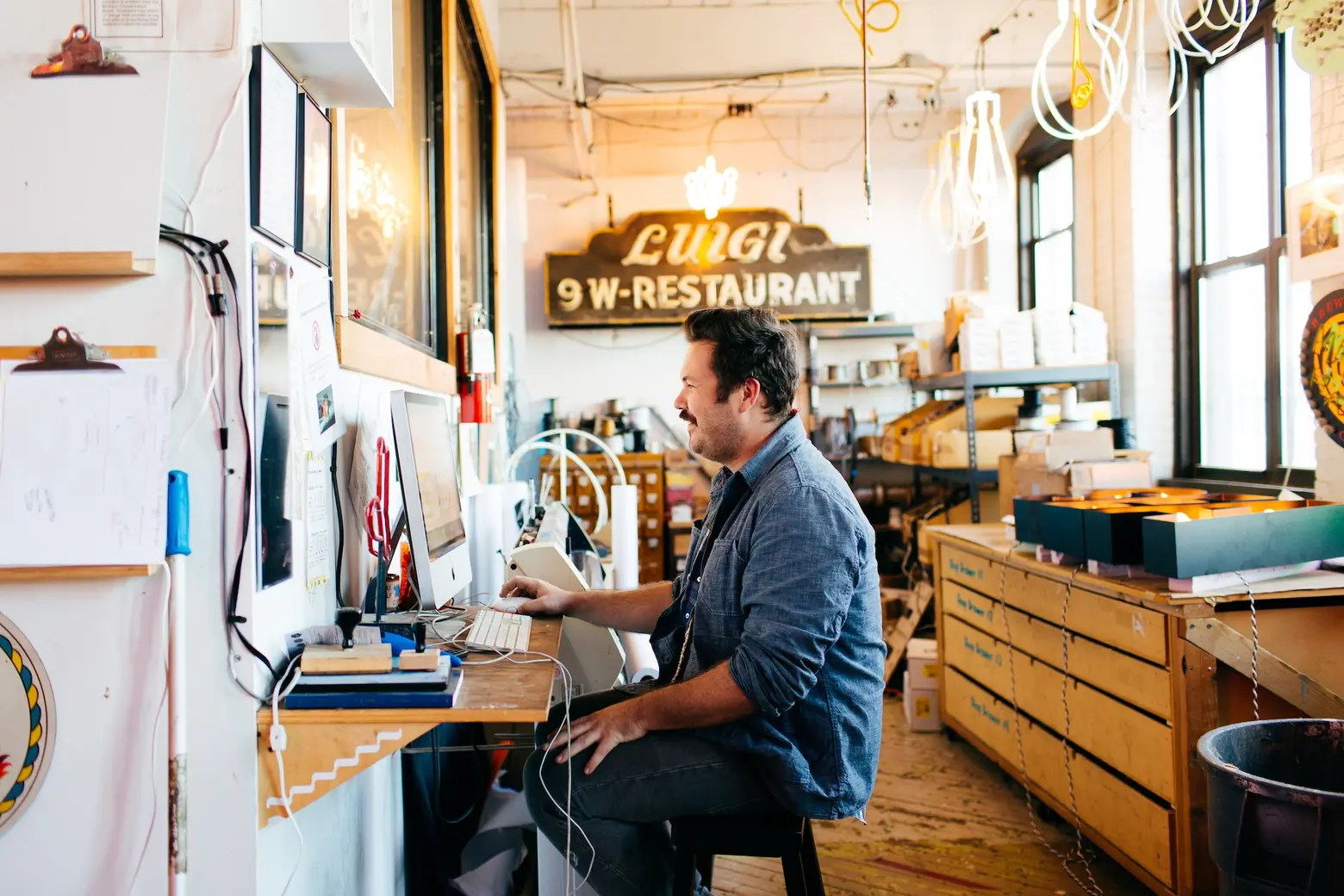 The computer Wayne is working on connects to the big plotter to the right, which spits out a giant drawing of a project.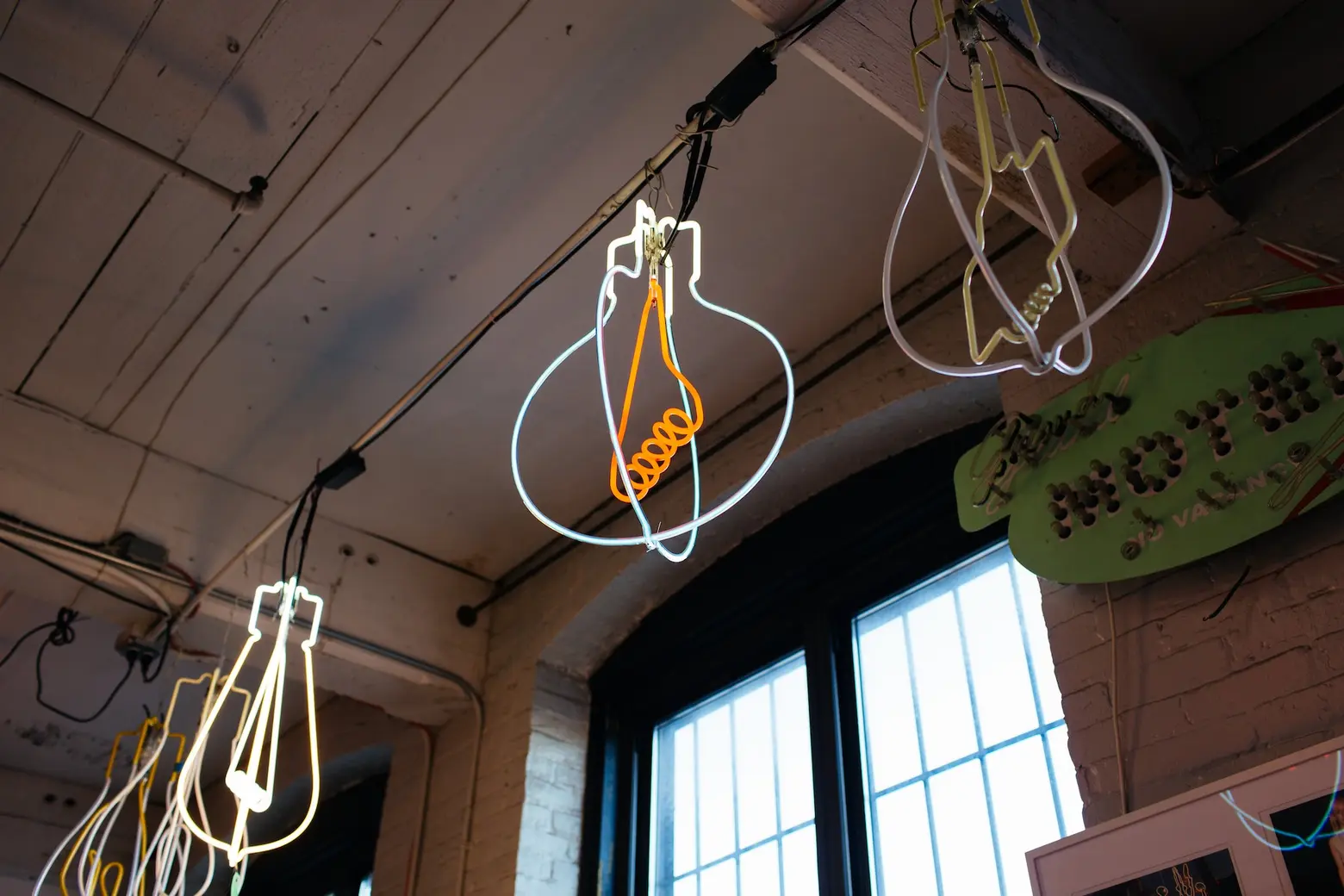 You mentioned that you're often working on 20 or 30 different projects at a time. How do you balance the workload?
It's just like a performance, everyone has different roles, and you learn to trust in one another's abilities to move with the flow. Better to be the river then the rock, as they say.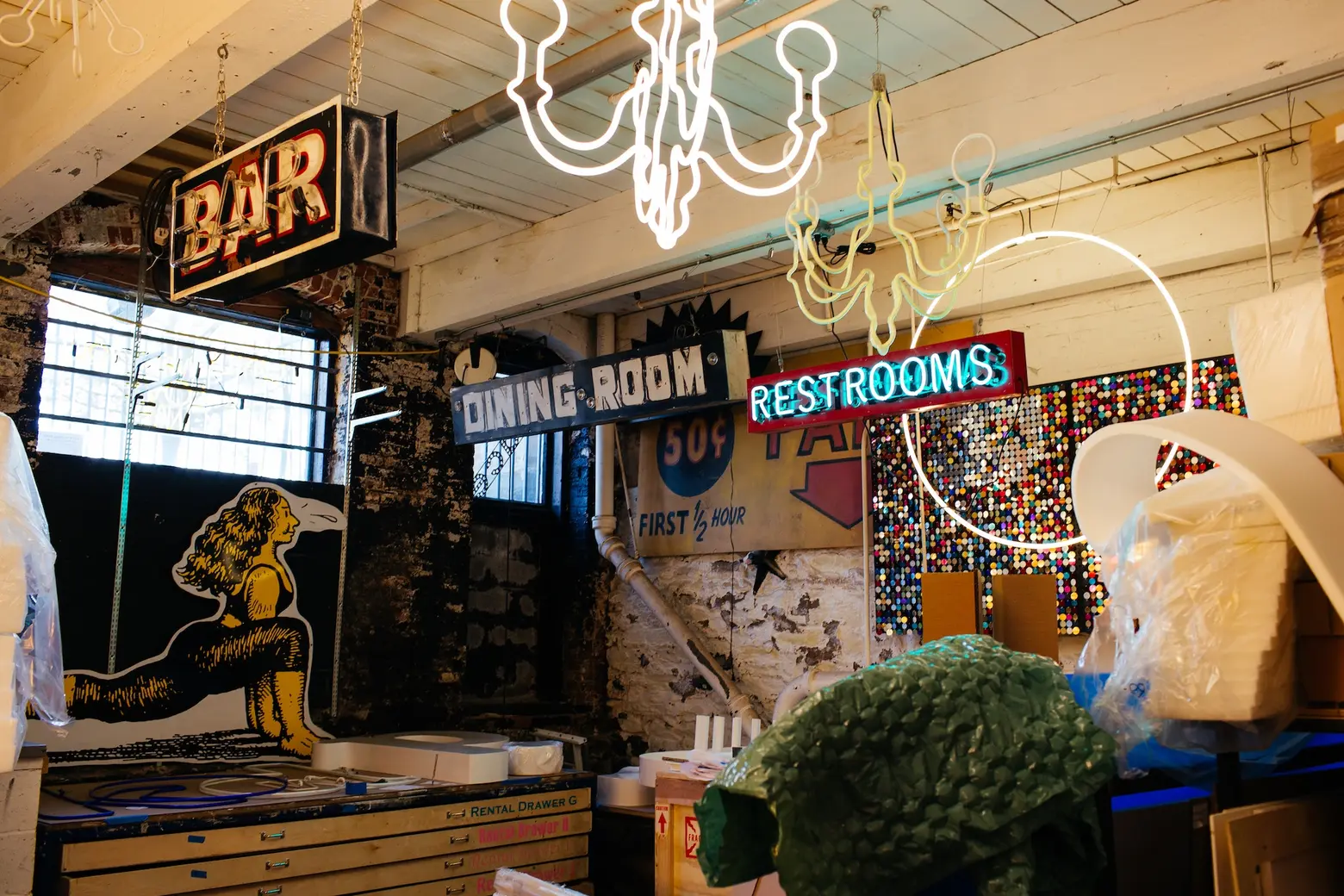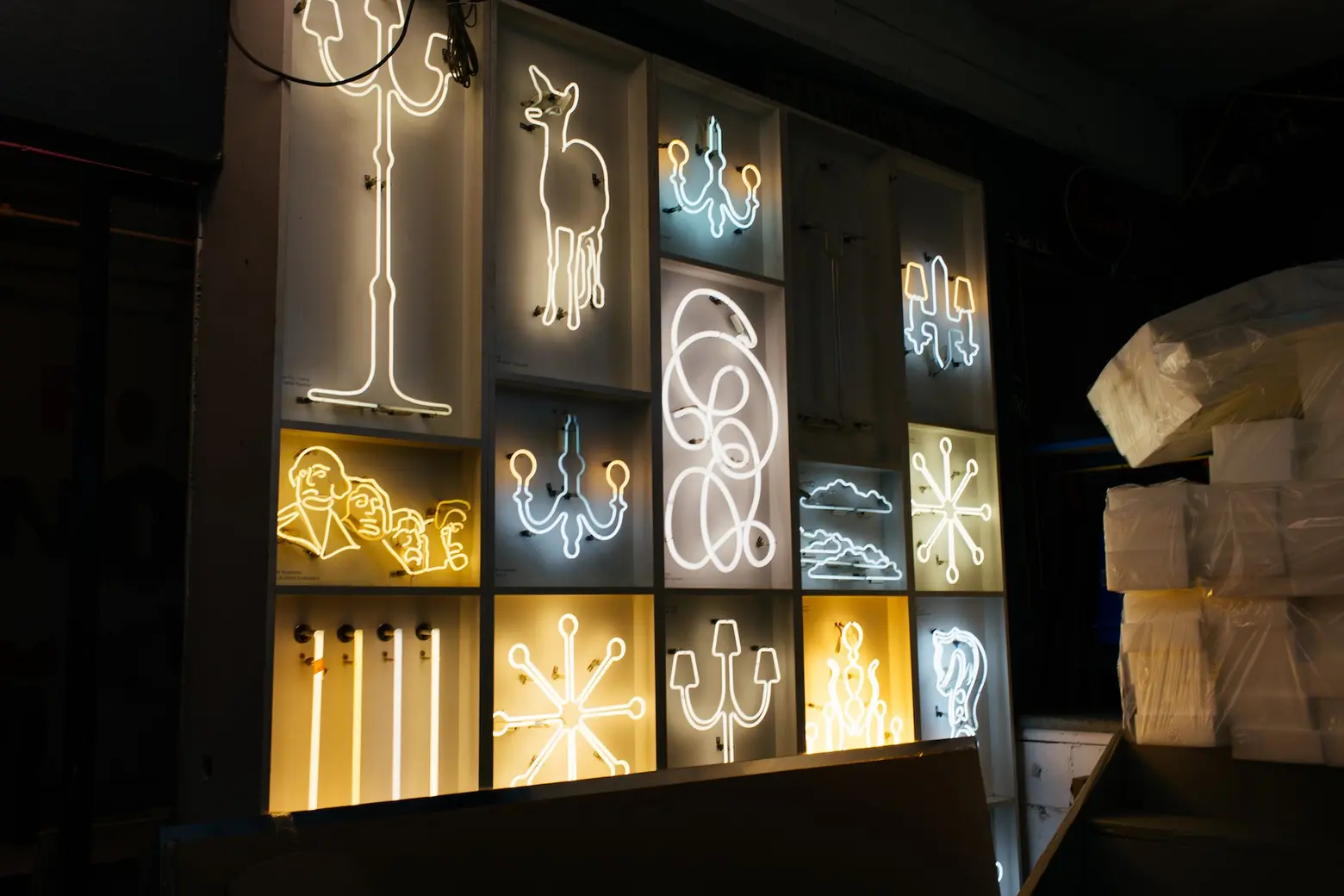 Can you tell us a bit about the clientele?
It varies as widely as the individual projects–artists, designers, small business owners, restaurateurs, party promoters, bands, window dressers, set decorators, photographers, movie producers all find their way to Lite Brite.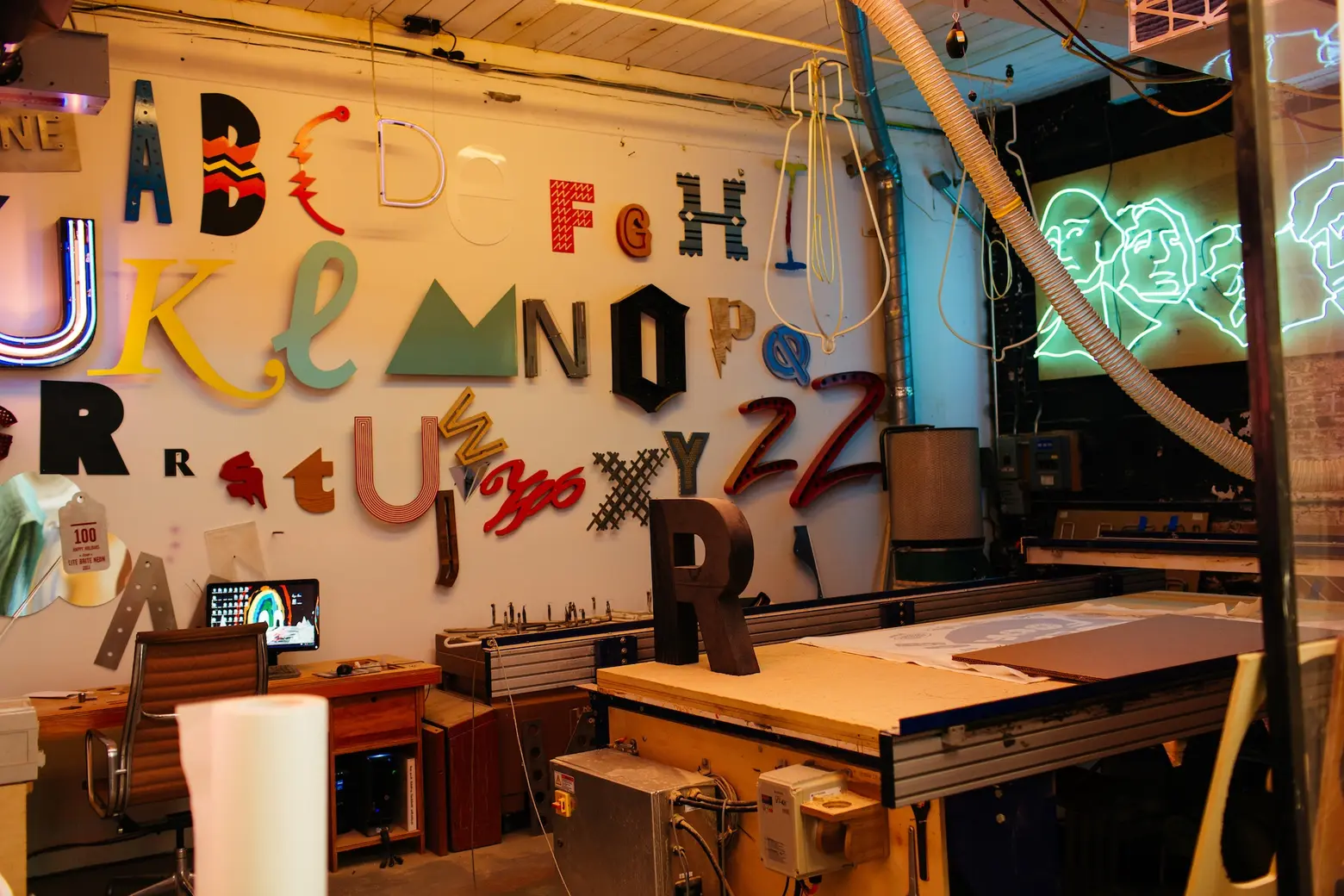 The CNC room, where letter forms get cut out.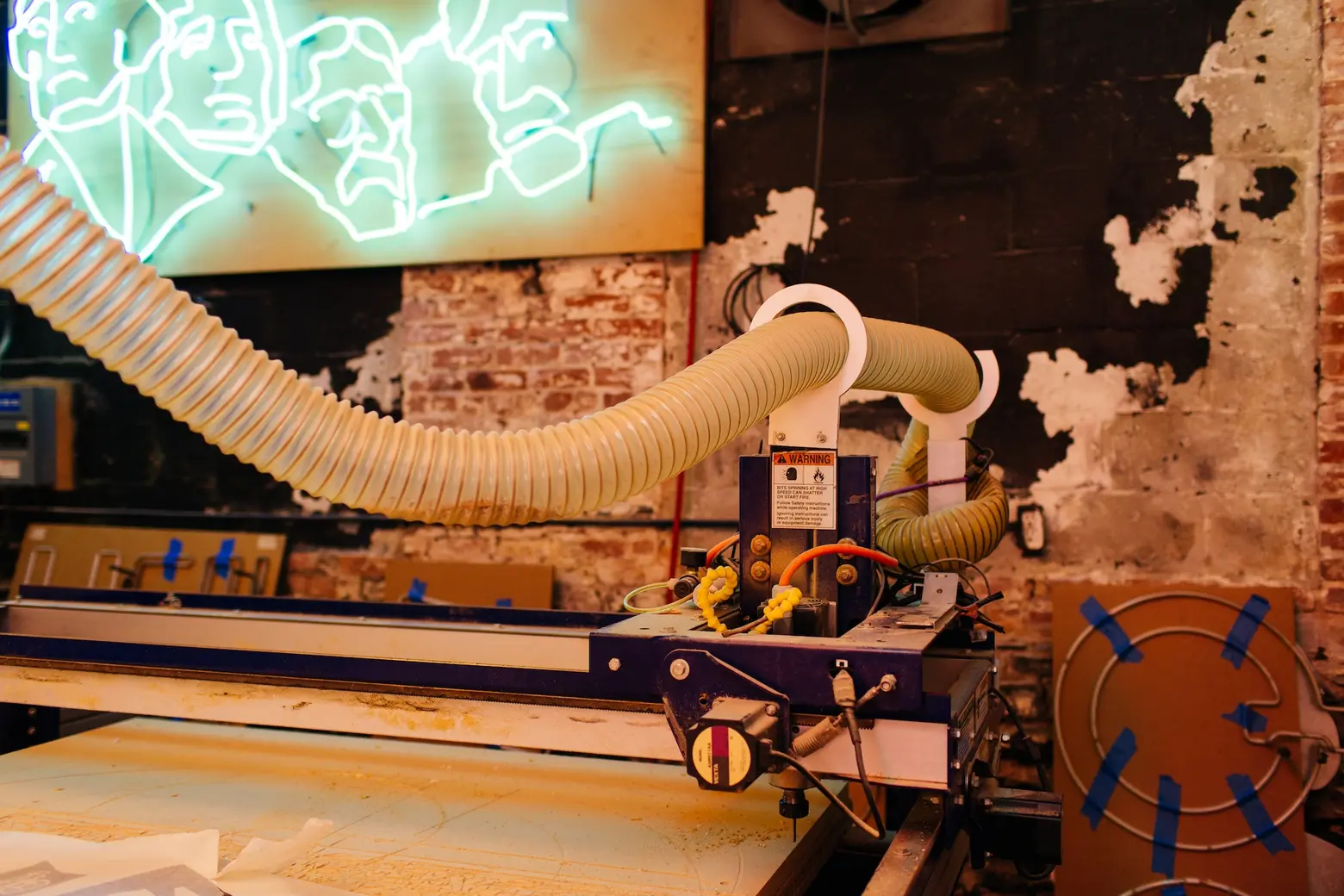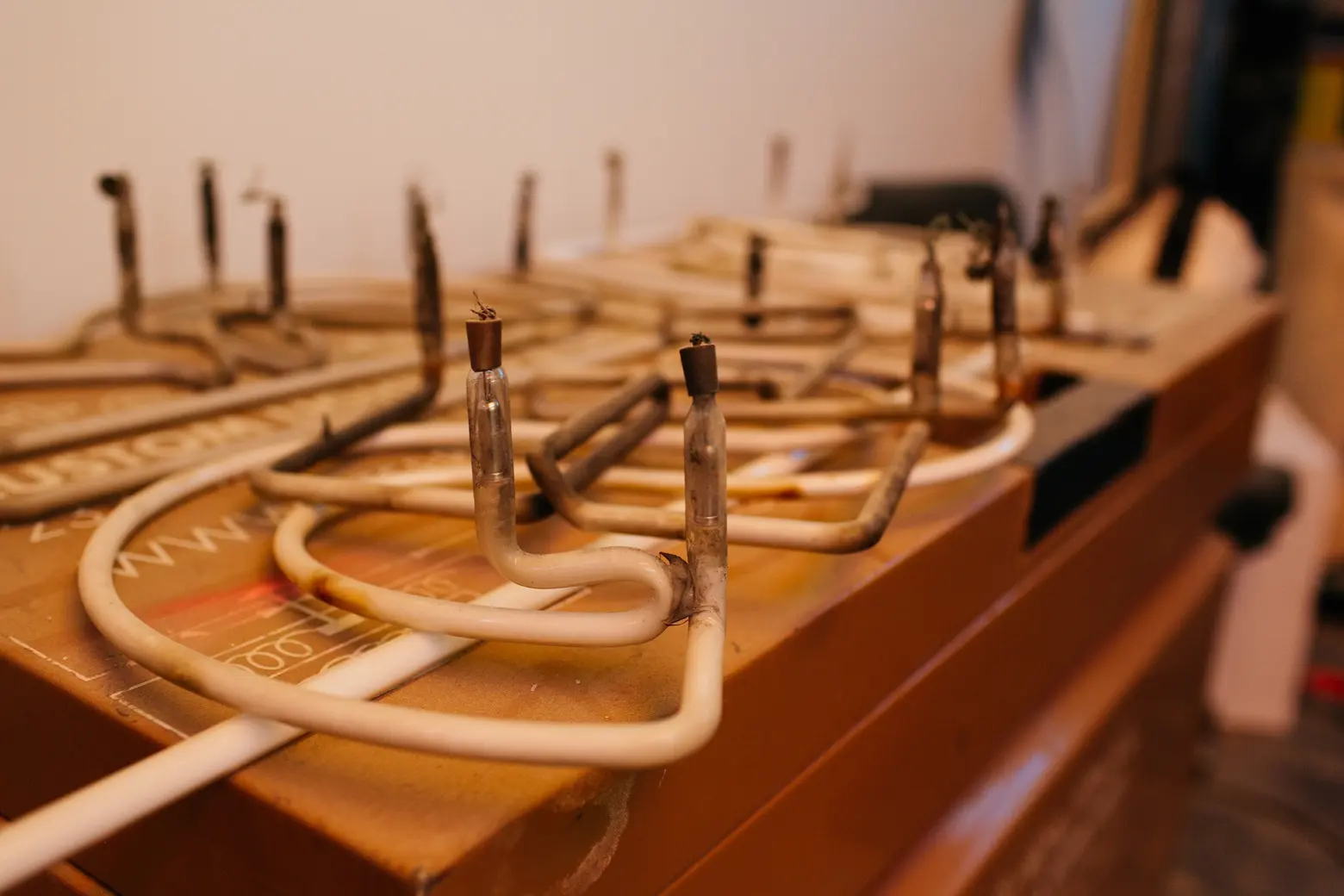 Why do you think Gowanus is a good spot for the company?
For us, there's the infrastructure that's been in place for a long time–the warehouses, loading docks, and expansive work spaces that give room for projects to come to life. But greater still is that Gowanus remains at the moment a "mixed-use neighborhood" in the Jane Jacobs sense. I think that the physicality of the neighborhood has a lot to do with it's diversity–there's plenty of different types of buildings of varying scale from different eras, some used for work, some used for living, interesting water feature of course, but importantly, it's non-homogenized and has been allowed to develop organically, which is an increasing rarity in New York City.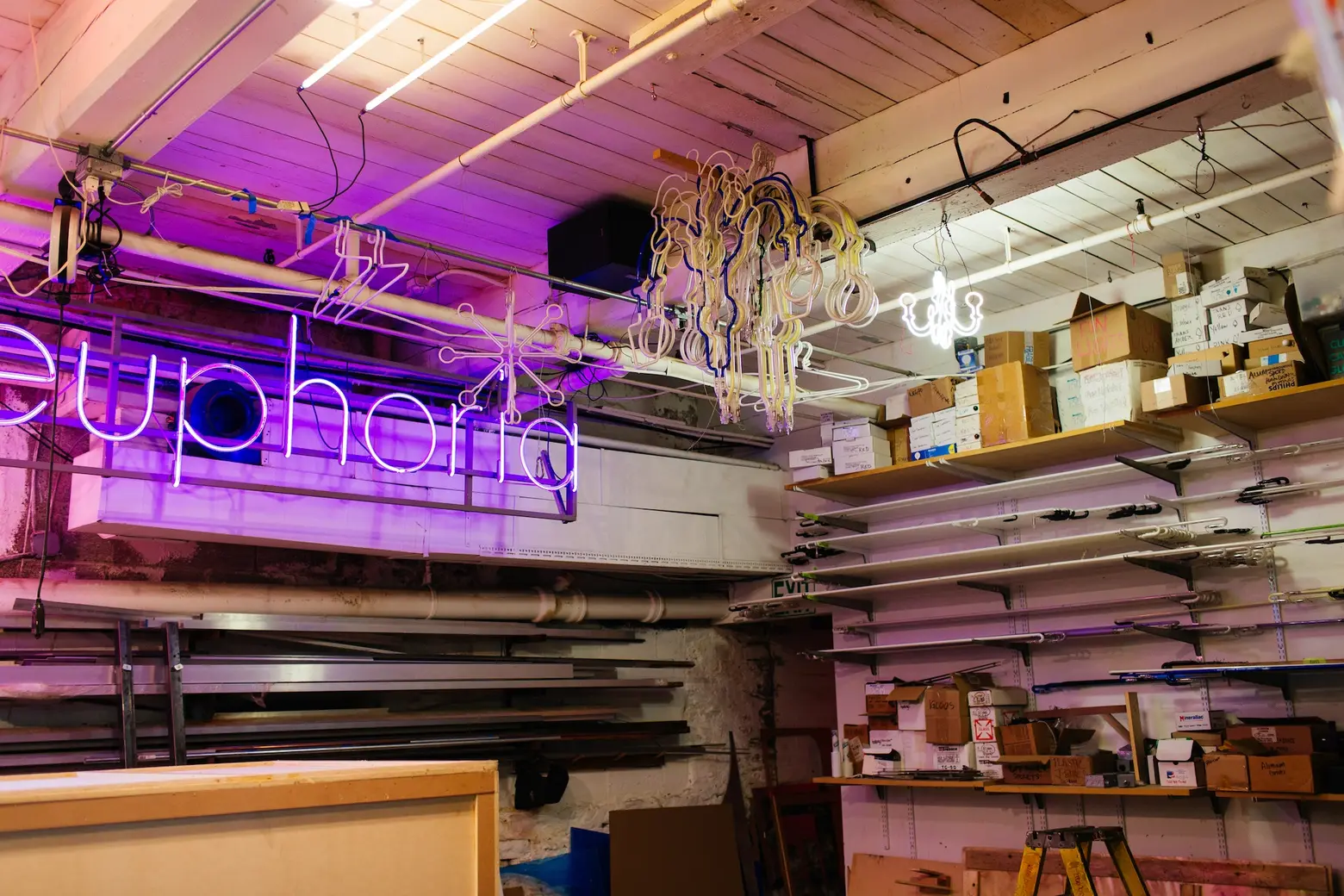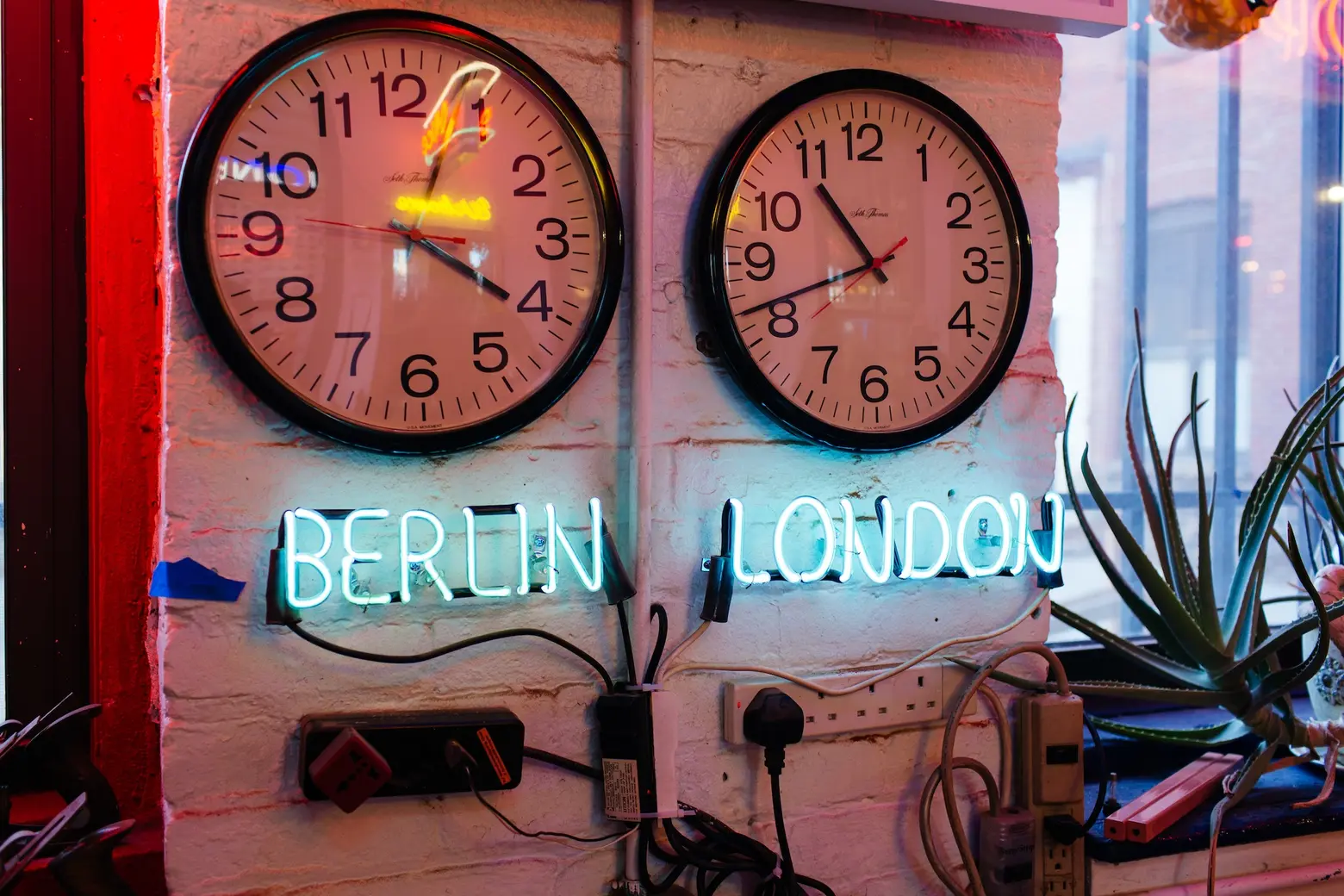 Do you collaborate with other creative tenants in Factory 232 Studios?
We're glad whenever we can weave the efforts of other disciplines into a project. A print studio down the hall made prints from woodblocks produced that were milled on our CNC machine, for example. Artists from the building stop by with some frequency.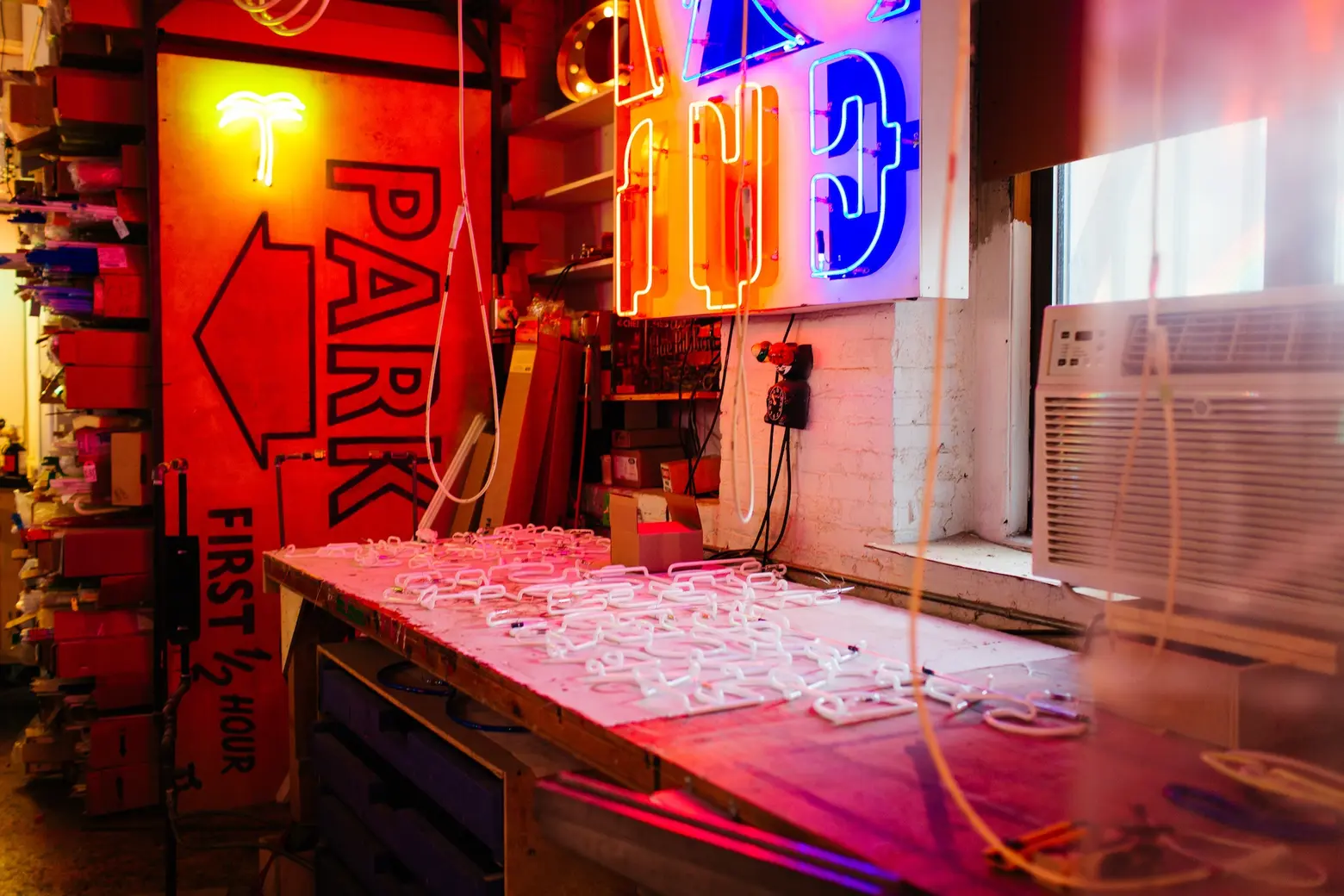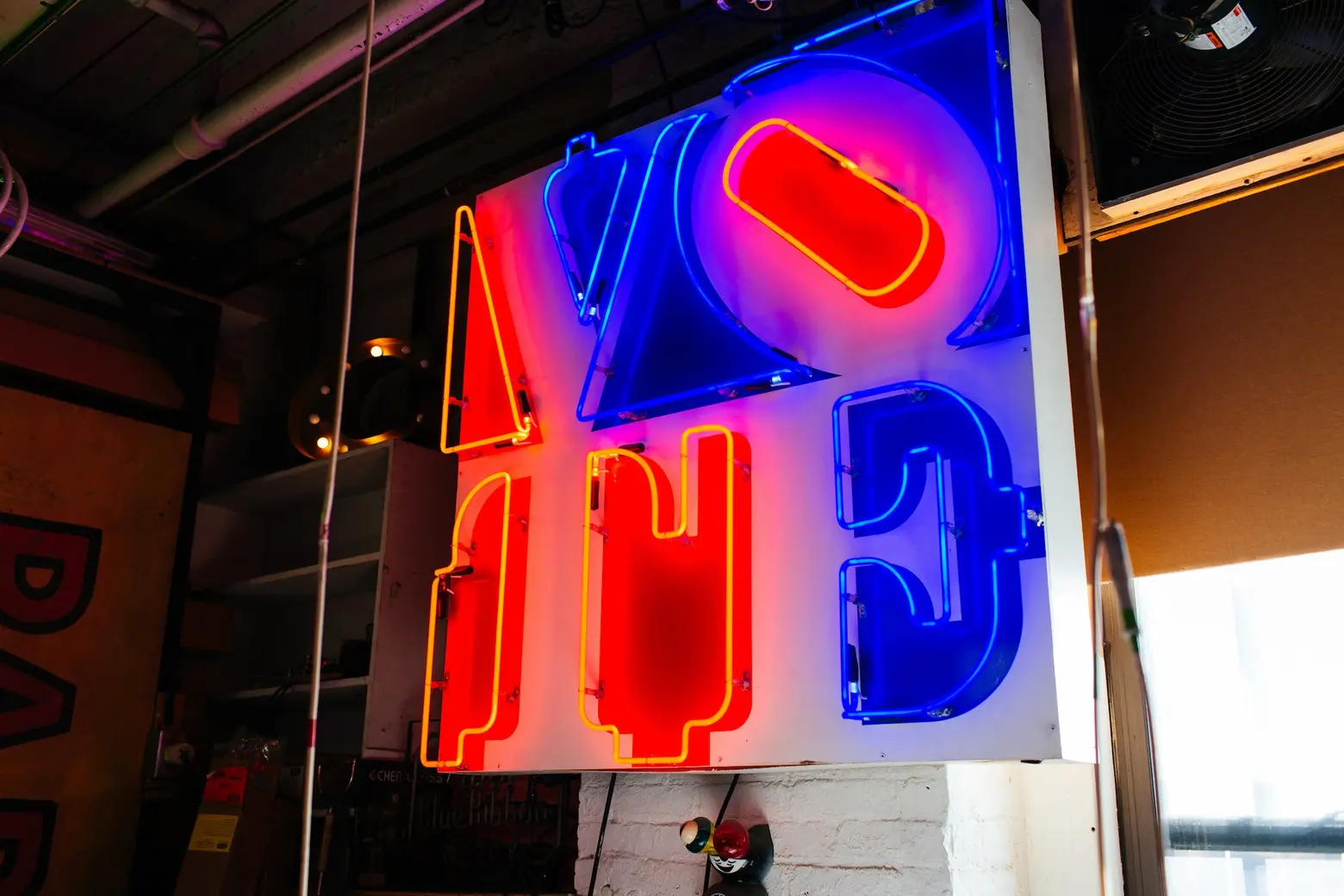 Do you have a favorite project you've worked on?
Anything dreamed up by the Bergdorf Goodman window team or the large-scale project we made for the artist Mary Ellen Carrol several years ago, in which a 900-foot-long phrase of neon was staged in a Jersey City warehouse that was visible from JFK.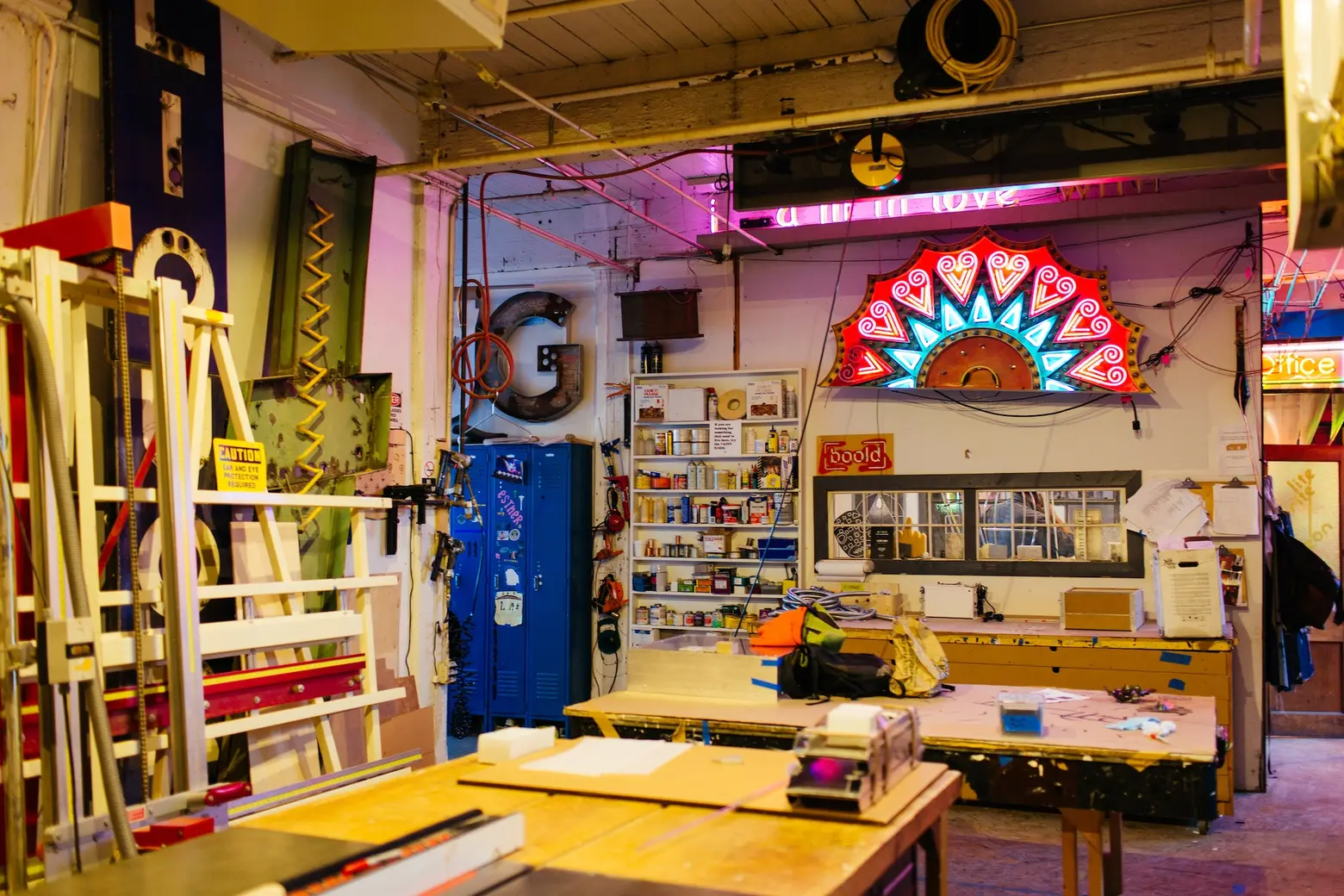 The arched piece above the window was part of Bergdof's holiday windows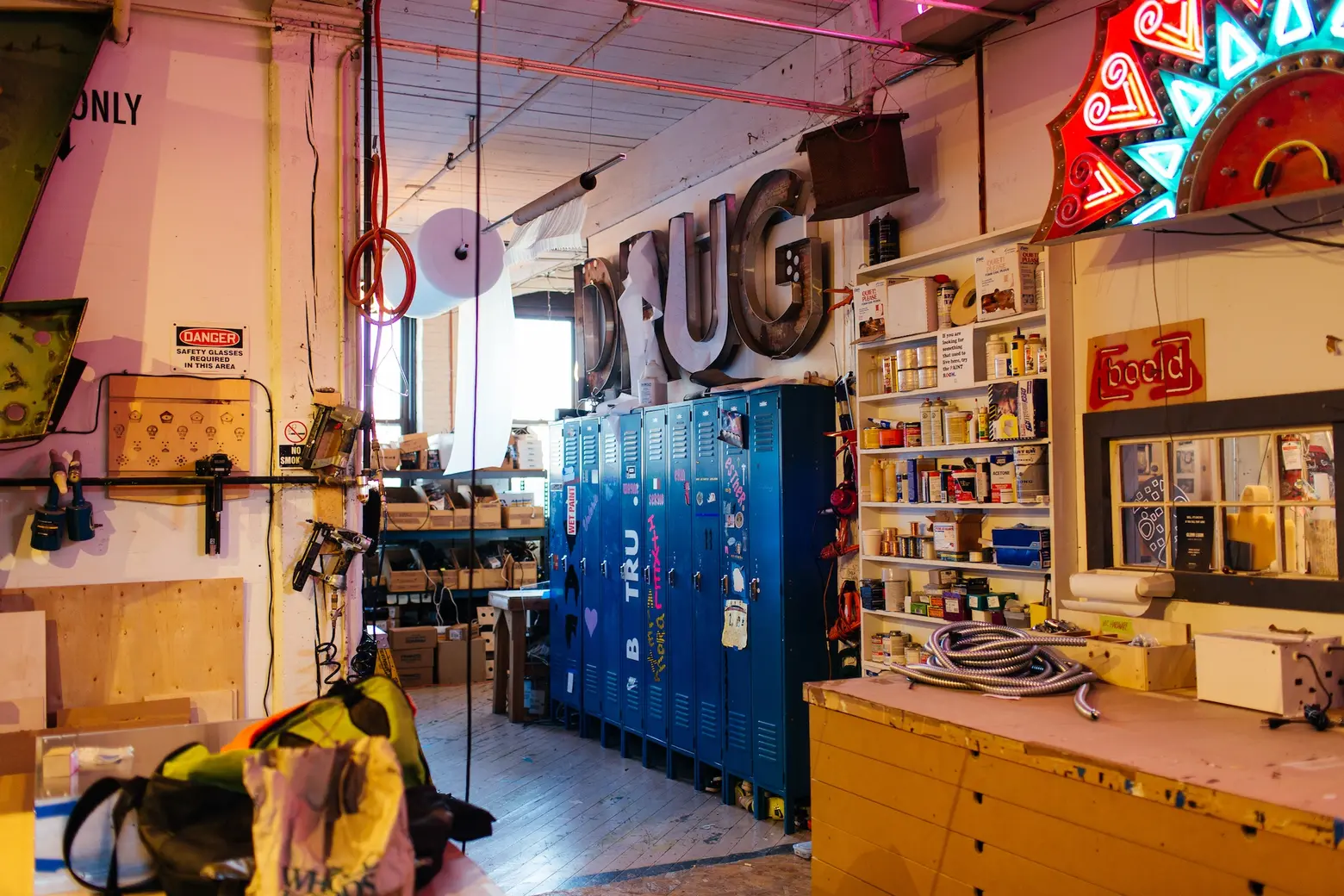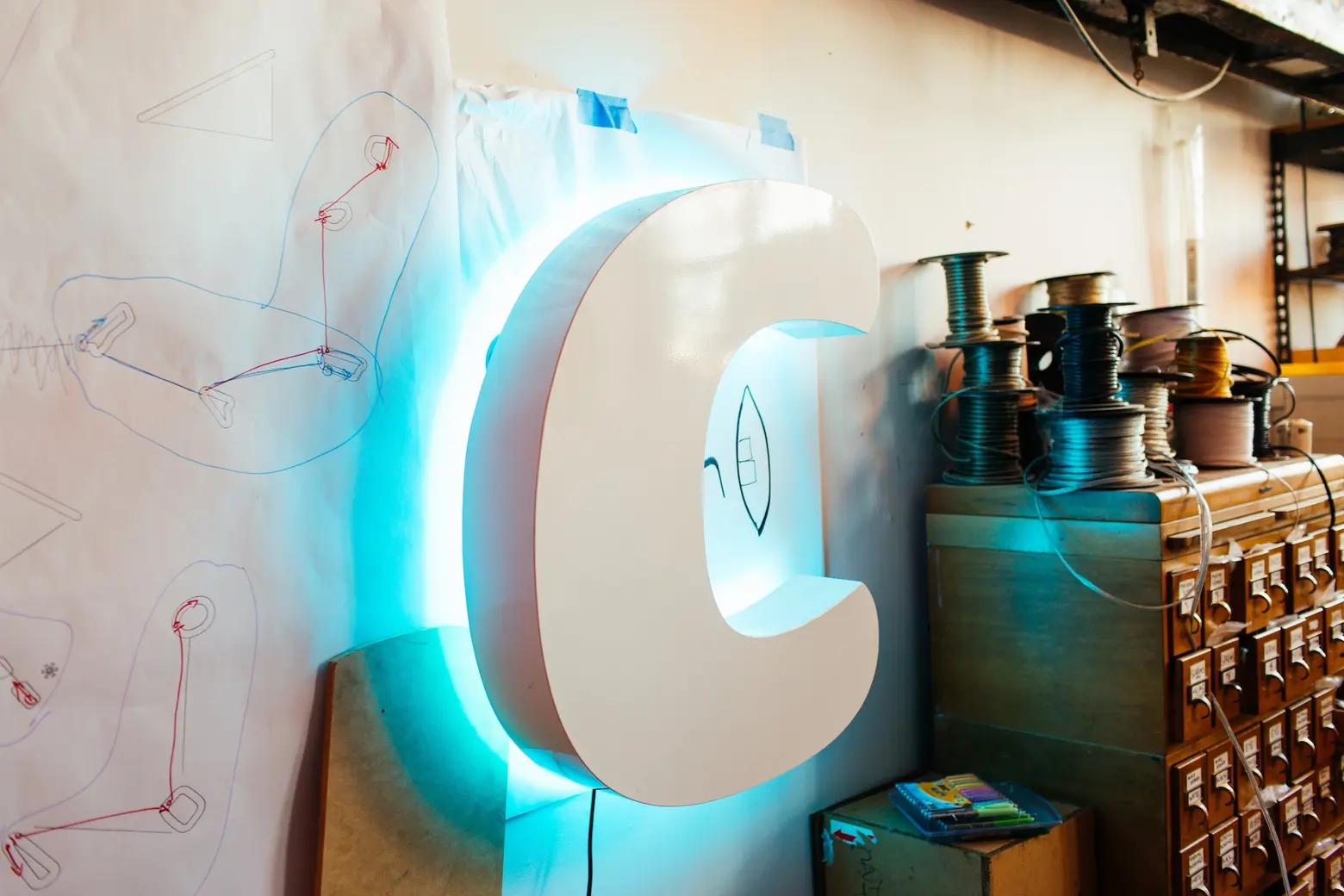 Anything exciting in the pipeline you can fill us in on?
Not specifically, but there's a large-scale project underway that involves us half burying many neon tubes in the California desert.
RELATED:
All photos taken by Erin Kestenbaum exclusively for 6sqft. Photos are not to be reproduced without written permission from 6sqft