Pollution Cleanup Park Taking Shape at Gowanus Canal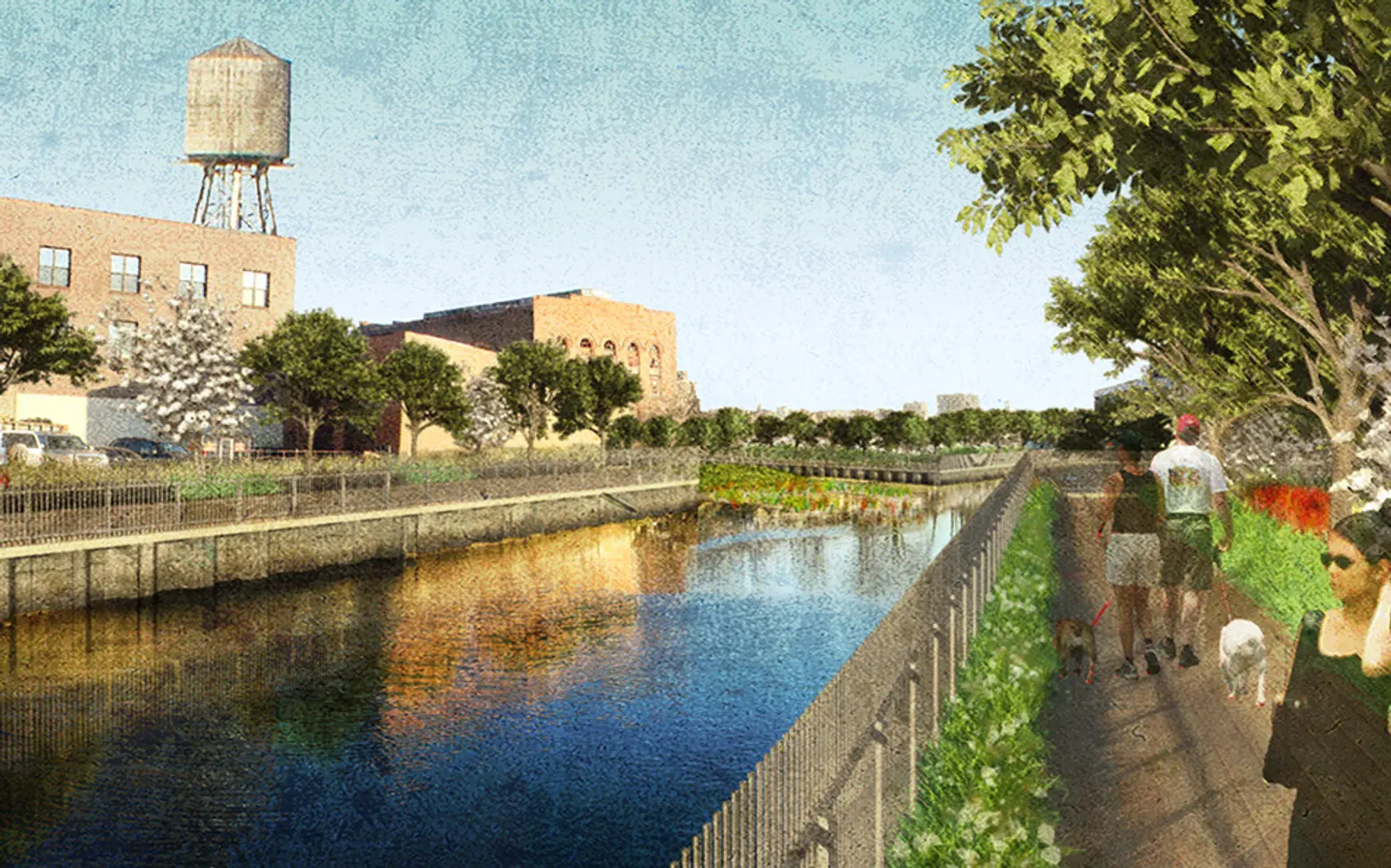 The Gowanus Canal isn't the first place that comes to mind when one thinks about lush waterfront parks, but that's exactly the vision behind the long-planned Gowanus Canal Sponge Park, an 18,000-square-foot public space that will be built with engineered soil to absorb (hence "sponge") stormwater that would otherwise pollute the canal, as well as plants to break down toxins and floating wetlands. It was first conceived back in 2008 by the Gowanus Canal Conservancy and Susannah Drake, principal at the landscape architecture firm DLANDstudio (who's also responsible for the Queensway).
Now, seven years later, DNAinfo reports that state officials announced on Tuesday that construction has officially commenced on the $1.5 million project at the notorious Superfund site. The park will sit on city-owned land at the point where Second Street dead-ends at the canal. Workers are on site, digging out five feet of contaminated soil that will be sent to a special facility that handles toxic materials; during the next 90 days, the metal walkway will be installed; and plants will arrive in the spring.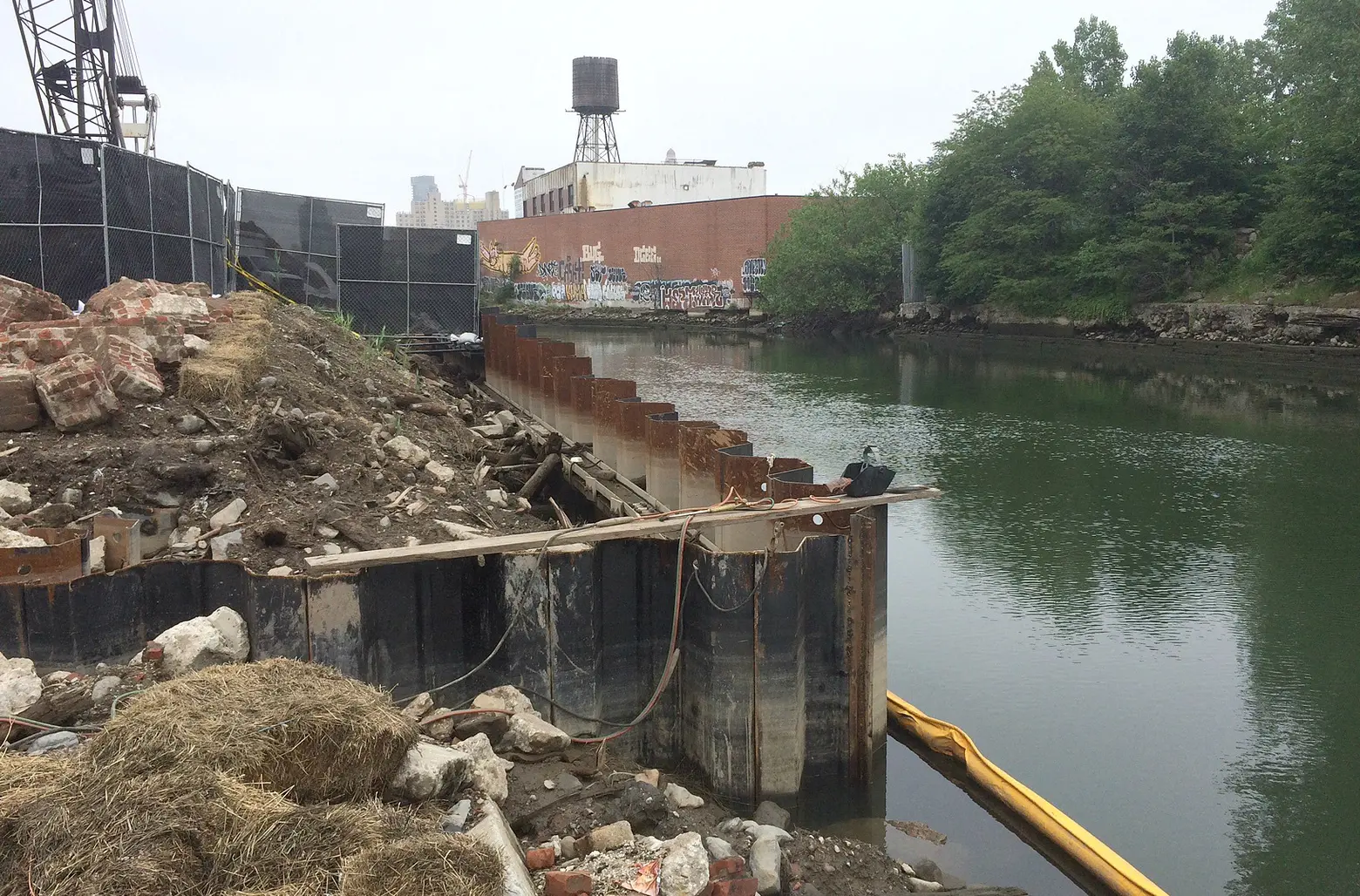 Recent construction on a Gowanus Canal sea wall, via 6sqft
The Bayside Fuel Oil Depot Corp., which overlooks the canal just north of the Union Street bridge, is also getting a major cleanup by the New York State Department of Environmental Conservation. According to the DEC, the depot contains "1.5 million gallons of empty, aboveground fuel oil storage tanks, automobile maintenance garages, a parking lot, and equipment storage areas." Tanks and equipment will be removed, more contaminated soil will be disposed of, and then the agency will assess what other measures are needed to address the site's toxicity. This is just one spot along the canal that's part of the state's Brownfield Cleanup Program.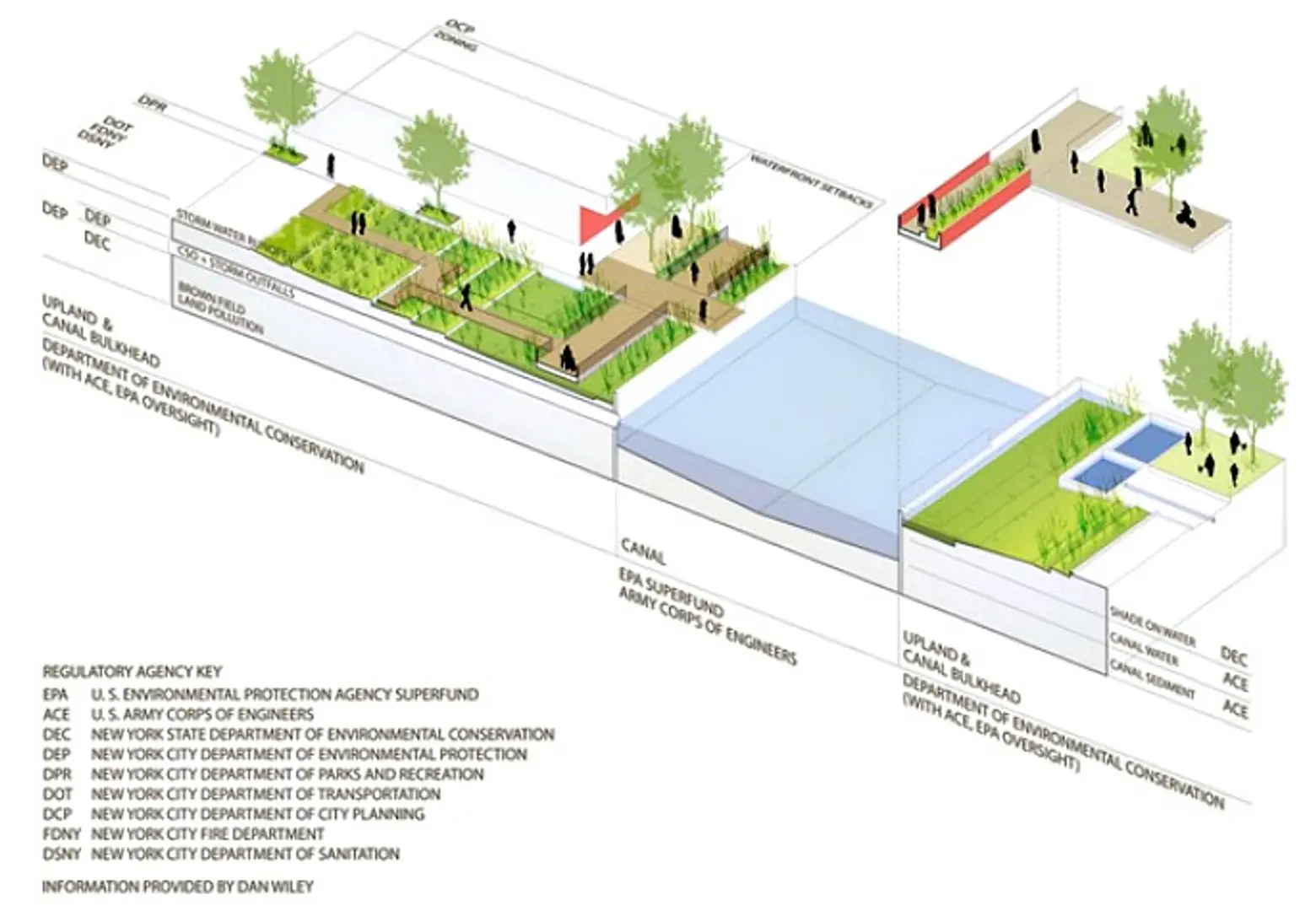 Another element of the Gowanus Canal Sponge Park is a canal access point for the Gowanus Dredgers canoe club. This will be built by developer the Lightstone Group who is constructing an adjacent 700-unit tower. Susannah Drake envisions the park as part of a larger green district that will consist of "esplanades, walkways and pocket parks." She does note, though, that this will likely take a few decades to come to fruition, but she hopes it will set an example of green infrastructure for similar sites across the country.
[Via DNAinfo]
RELATED:
All renderings courtesy of DLANDstudio