The Success Story of Industry City as Told by Its Innovative Manufacturing Tenants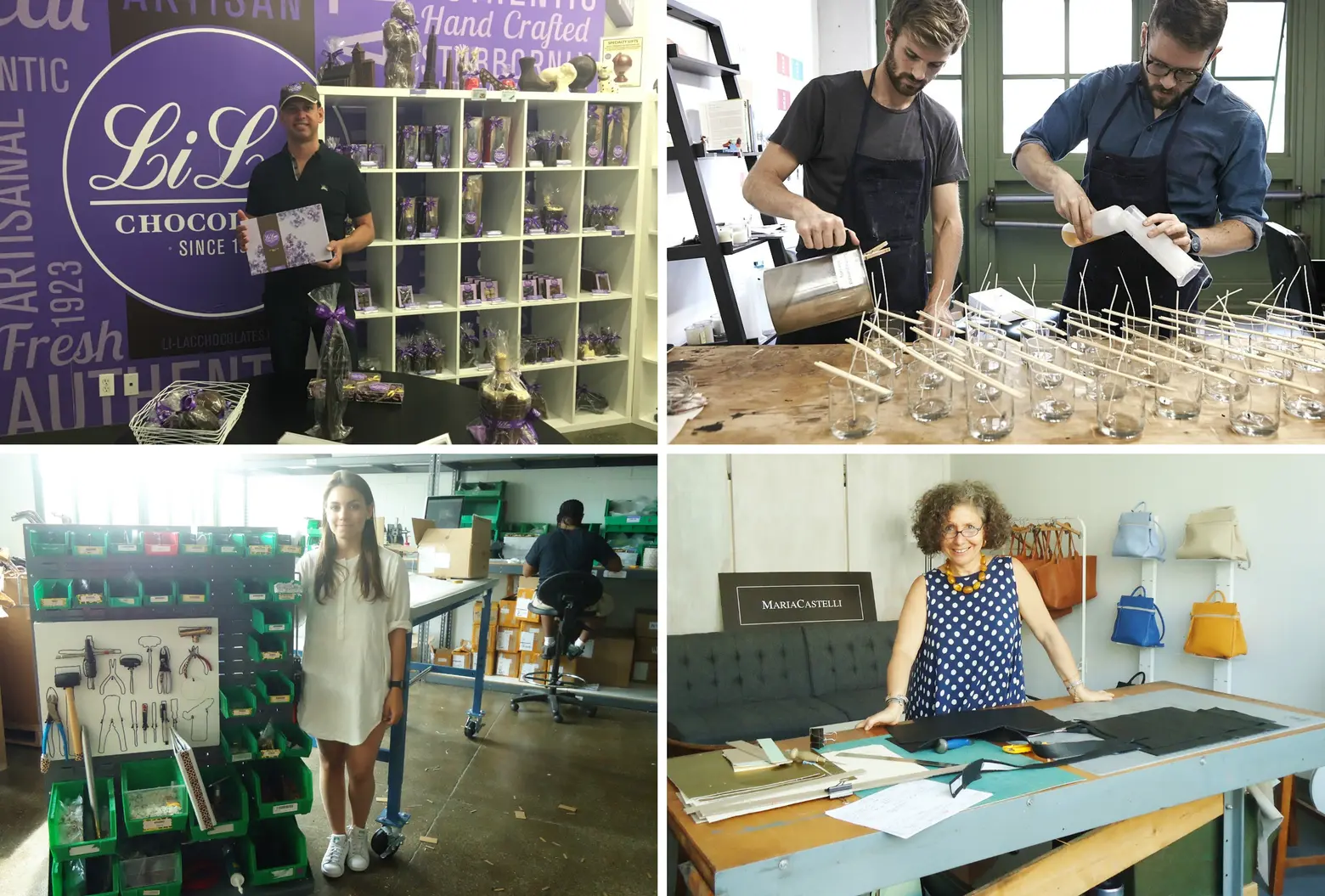 Industry City is a six million-square-foot, 30-acre industrial complex on the Sunset Park waterfront. Its 16 buildings made up the former Bush Terminal, a manufacturing, warehousing and distribution center that opened in 1895. After falling into disrepair over the past few decades, in 2013, a new ownership team led by Belvedere Capital and Jamestown began their $1 billion undertaking to update the complex while cultivating a diverse tenant mix that fuses today's burgeoning innovation economy with traditional manufacturing and artisanal craft.
Today, there are more than 4,500 people and 400 companies working in Industry City, and 6sqft recently paid a visit to four of them (a handbag designer, lighting designer, candle company, and chocolatier) to learn why the complex makes sense for their business and what unique opportunities it's afforded them. We also spoke with Industry City CEO Andrew Kimball about the unprecedented success of the complex and his visions for the future, as well as took a tour of the buildings and their wildly popular public amenity spaces such as the food hall, outdoor courtyards, and tenant lounge.
Andrew Kimball, CEO of Industry City 
Andrew Kimball began his work at Industry City in August 2013, following his appointment to National Director of Innovation Economy Initiatives at Jamestown, a national developer focused on the revitalization of underutilized urban assets. Previously, from 2005 to 2013, he served as President and CEO of the Brooklyn Navy Yard Development Corporation (BNYDC), overseeing the transformation of the 300-acre, former Naval ship-building facility into a national model for the creation of innovation economy jobs and sustainability. Prior, Kimball served as Director of Operations for NYC2012, the privately-funded bid to bring the 2012 Olympic Games to New York City, and as Vice President of the New York Public Library.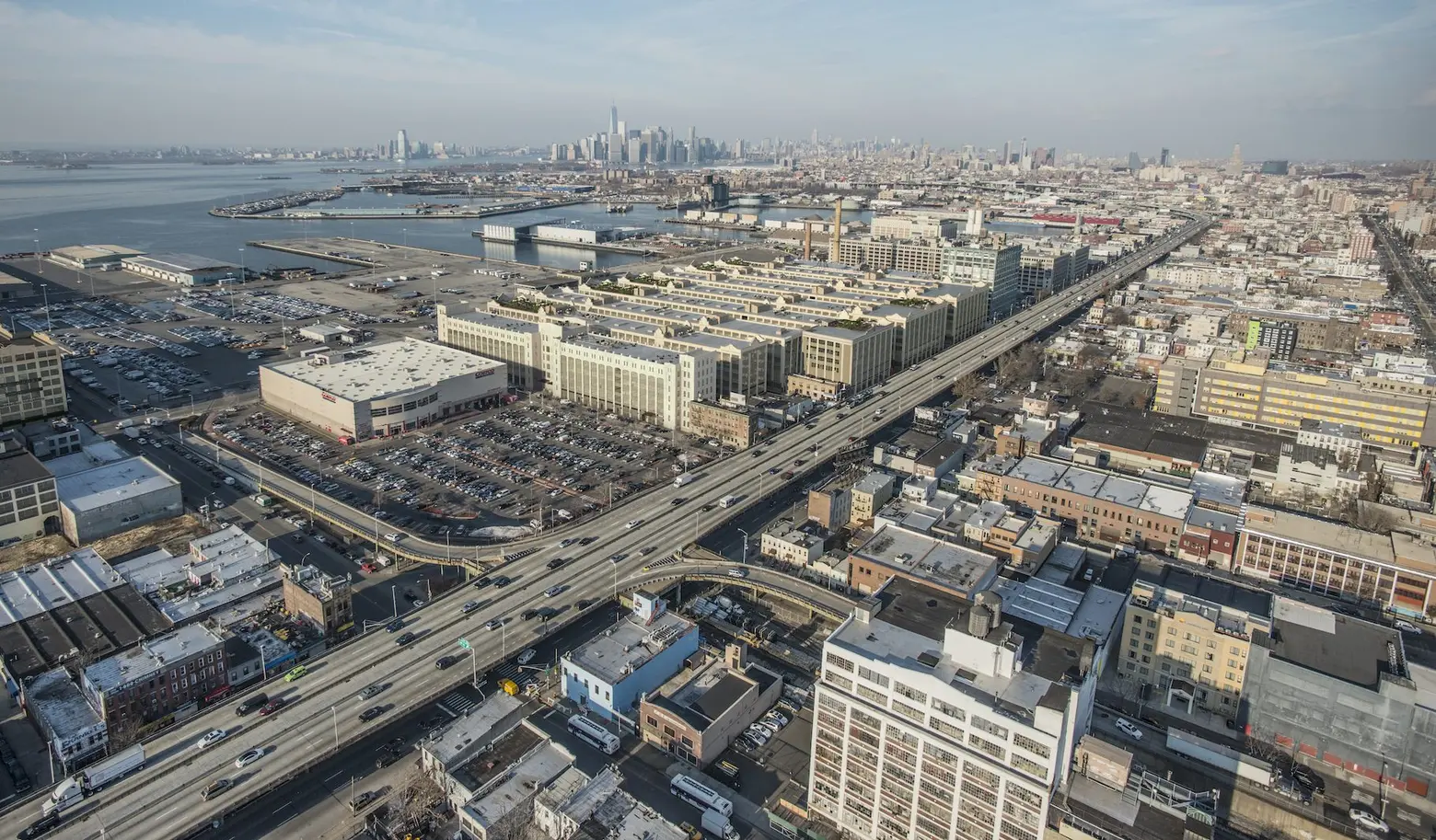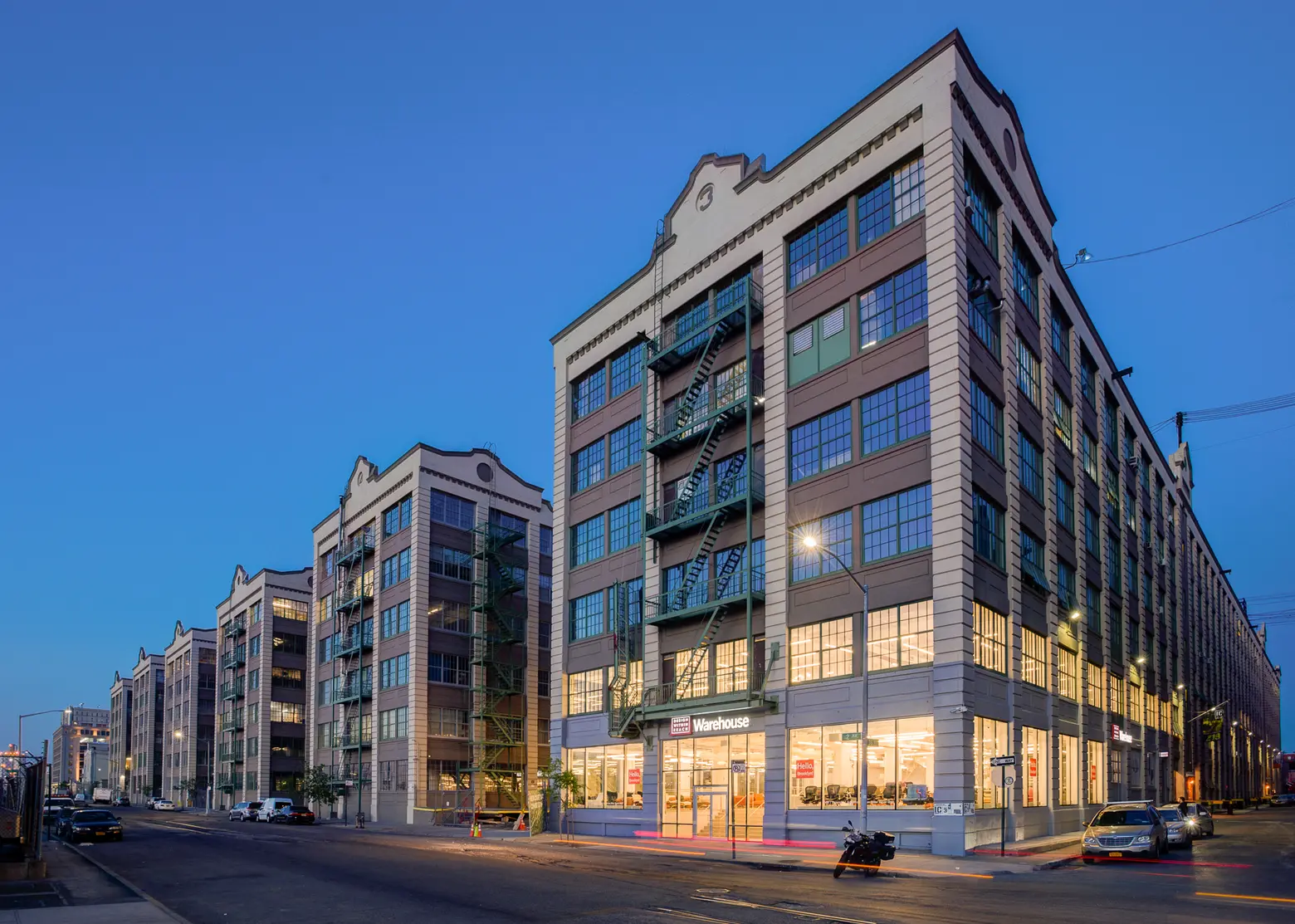 6sqft: How did your success at the Brooklyn Navy Yard help with the transformation of Industry City?
Andrew: While very different models – the Brooklyn Navy Yard is publicly owned and benefits from public investment, while Industry City is a private undertaking and suffered from years of deferred maintenance — there are some similarities: both involve multiple structures over large swaths of waterfront property; both thrived as part of the military industrial complex that drove Brooklyn's economy through the 1950's; both fell into decline as manufacturing and the military withdrew from the northeast; and most recently both are becoming home to manufacturing and tech-based entrepreneurs who are bringing makers back to urban centers.
In many ways, the level of entrepreneurship and the demand for space at Brooklyn Navy Yard offered confidence that Industry City could be successful and was a wise investment. And more than anything, the success we had at the Yard in linking economic opportunity back to the surrounding community showed how important that is for any transformative development.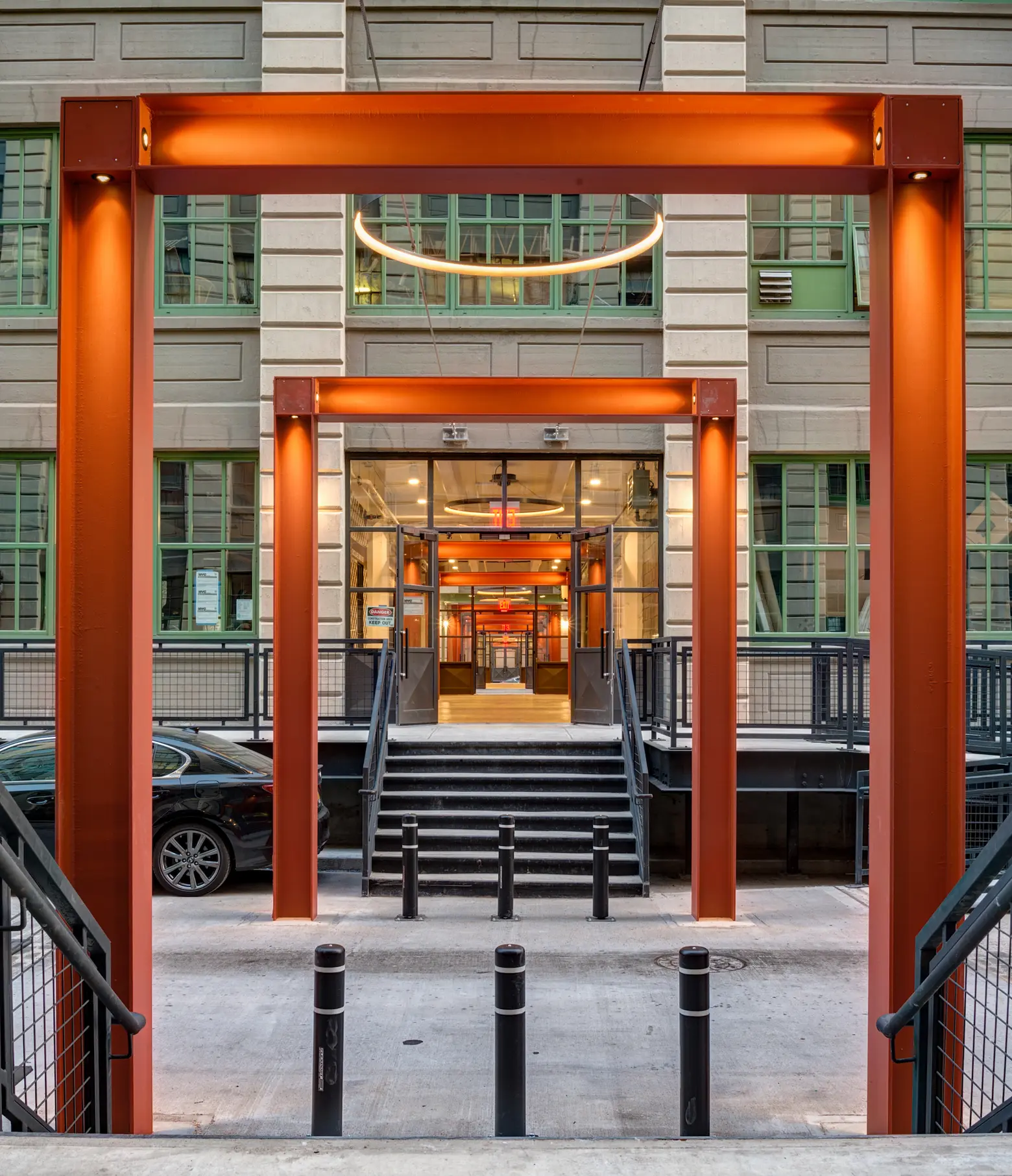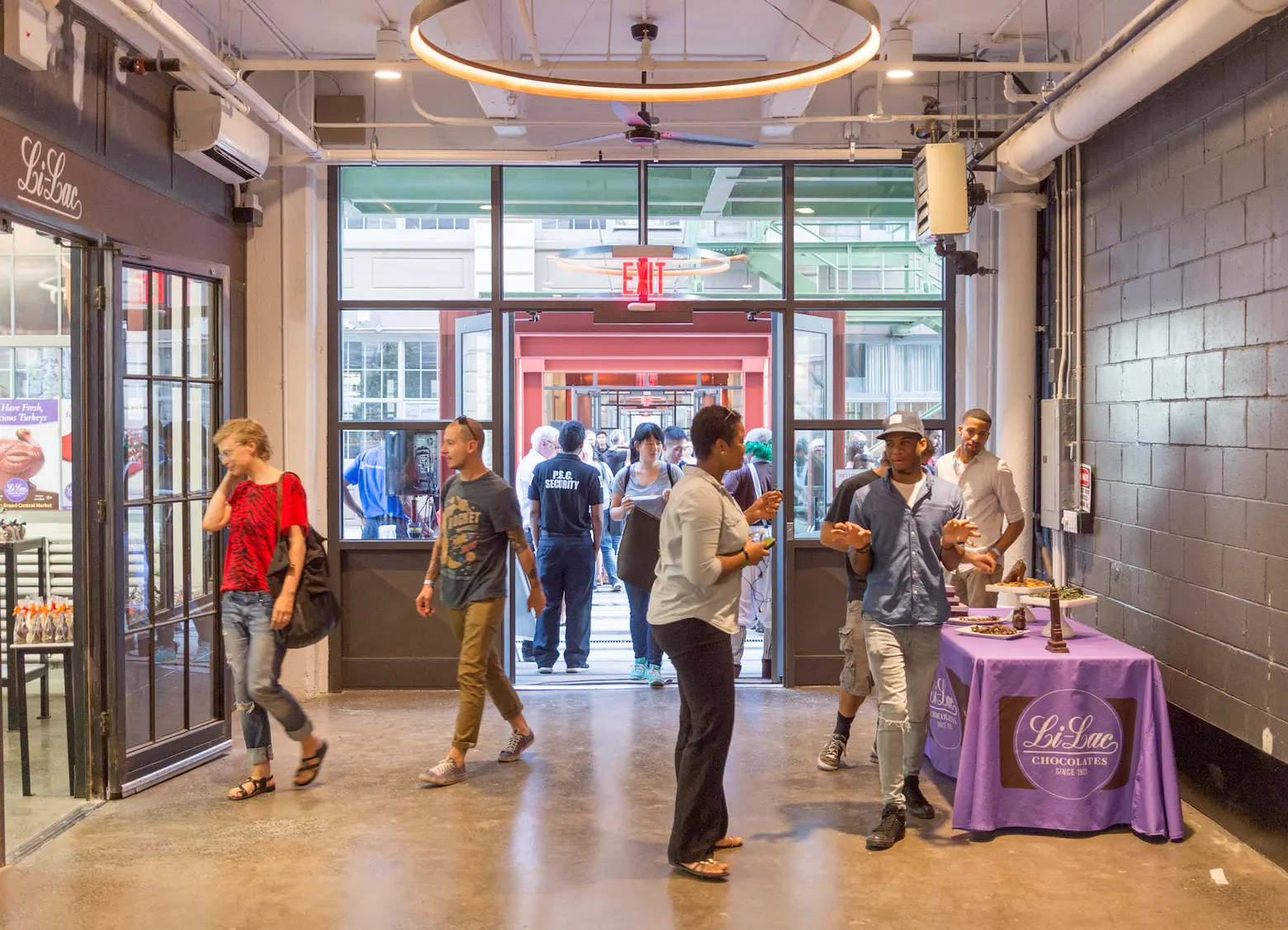 Innovation Alley, the pass-through between buildings
6sqft: Tell us a bit about the huge growth at Industry City over the past three years? To what do you attribute this?
Andrew: Since 2013, we've leased some two million square feet to more than 400 tenants, including one million to manufacturers, and employment has increased from 1,900 jobs to 4,500 jobs, with some 50 percent of the people working here living in nearby neighborhoods. That is success by any measure. $125 million has been invested in the campus and provides tenants with five acres of open space to socialize, a 40,000-square-foot food hall, WiredScore Certified Platinum internet, a fitness center, easy parking options, bike racks and more.
Tenants are the number one factor for the success of Industry City: they create the environment that draws others; they're the reason to drive investment; and they are writing a narrative that tells the story of a new economy.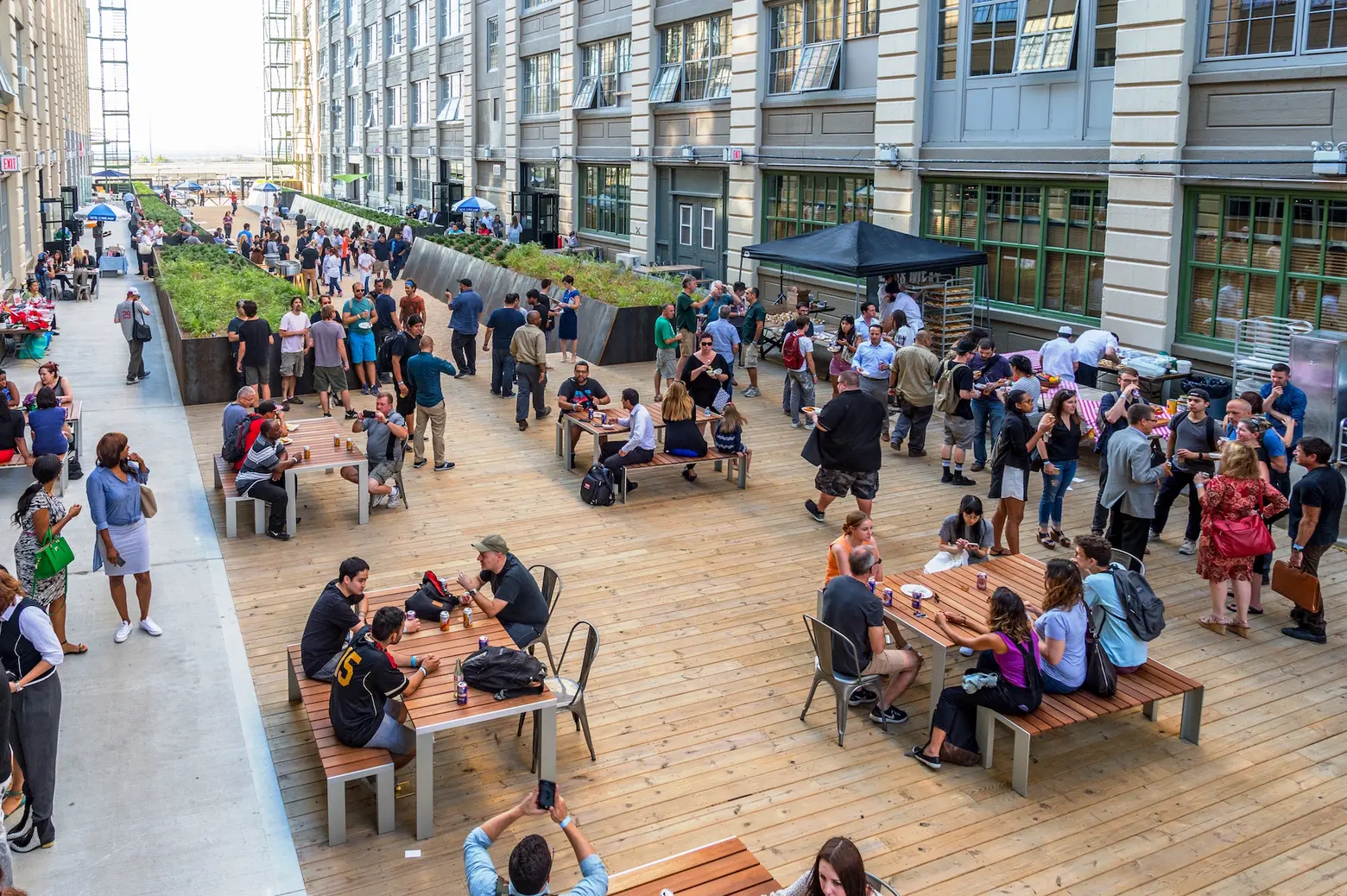 Industry City has five acres of courtyard space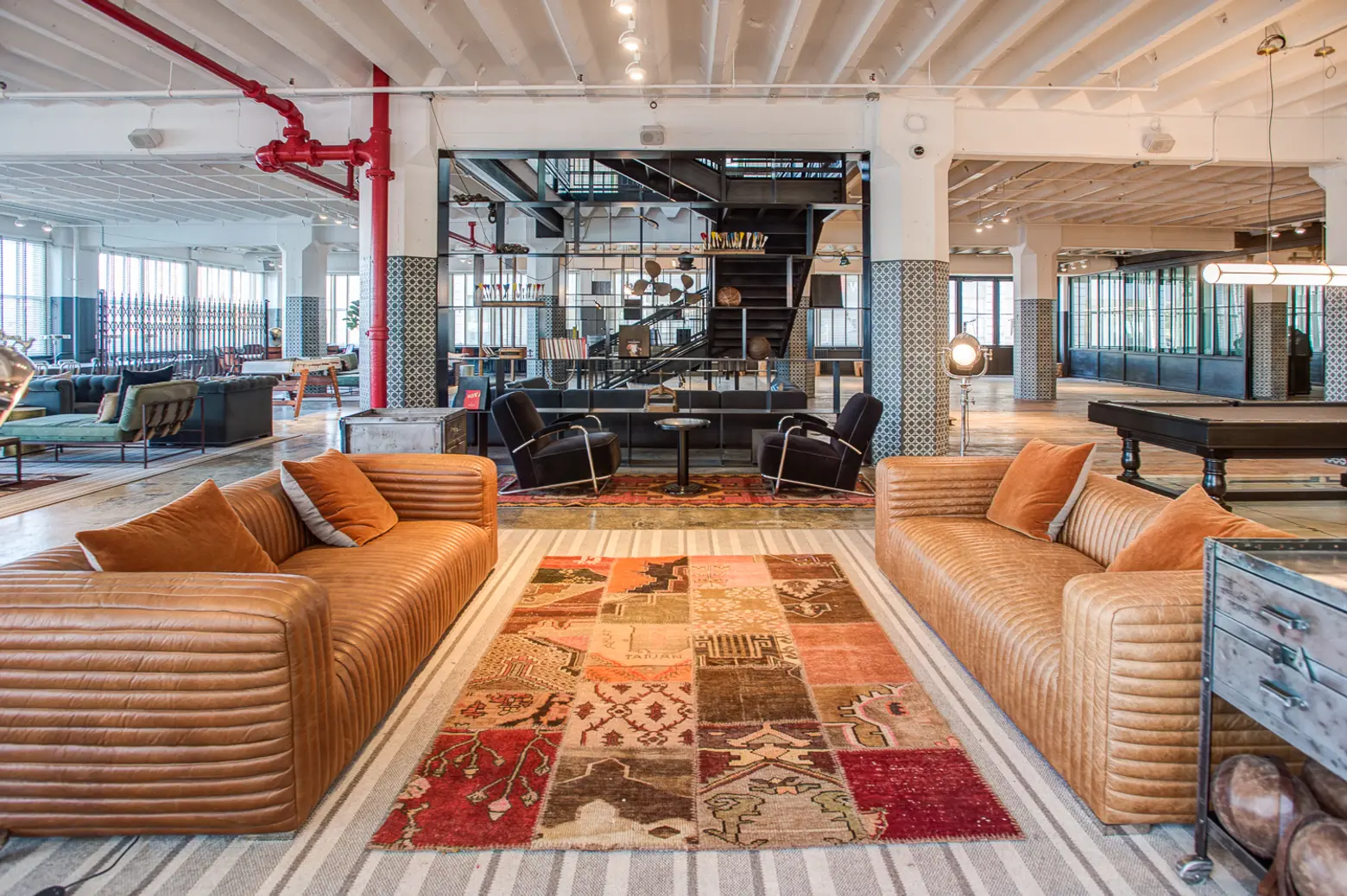 The Landing cafe and lounge
6sqft: What does a typical day at Industry City look like for you?
Andrew: It varies day to day. I spend a good amount of the day meeting with our internal team, interacting with current and prospective tenants, local community partners and stakeholders, and those wishing to bring events and programming to Industry City. The rest of the time I like to move through the campus and observe tenants in their spaces as well as different communal areas.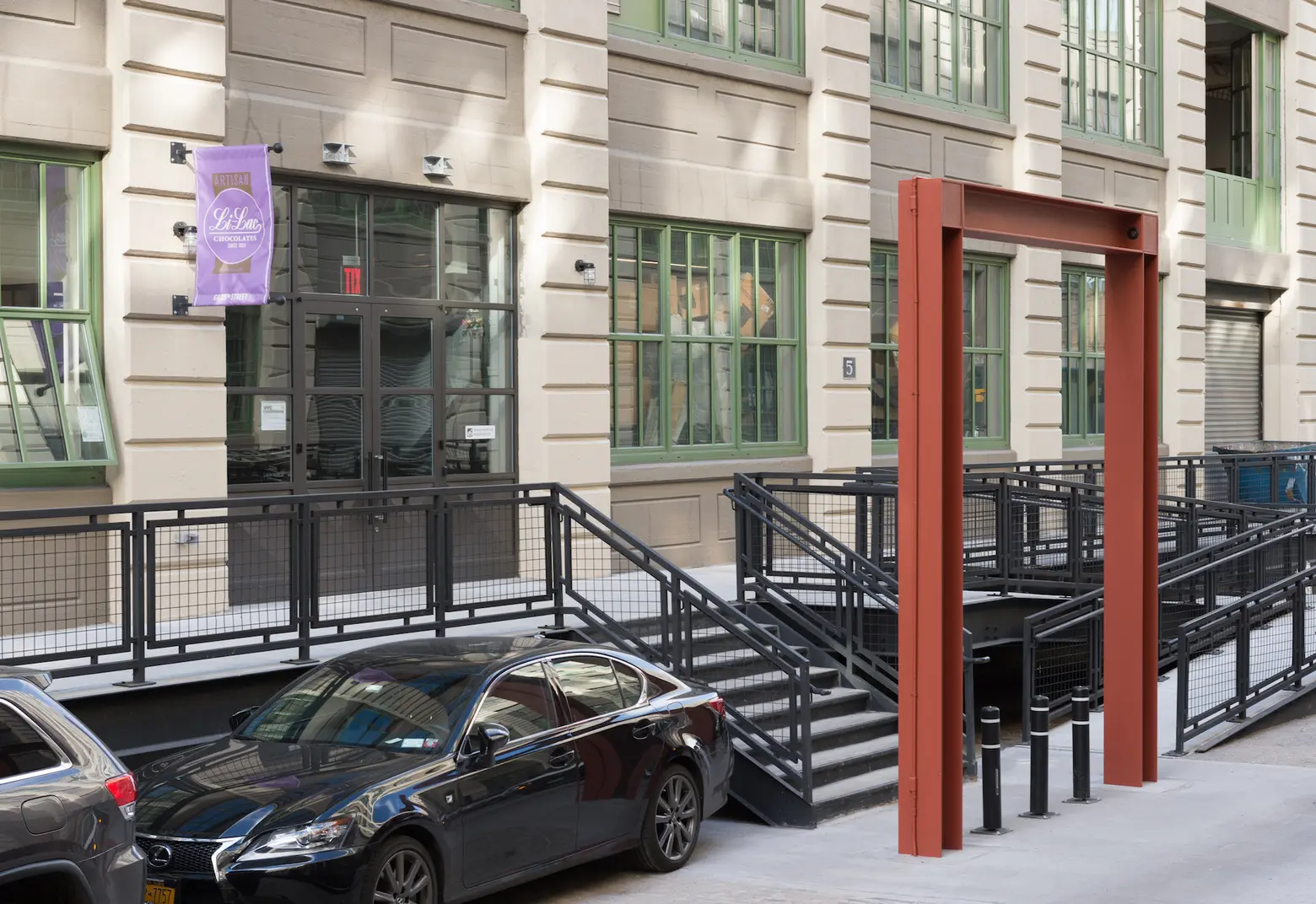 The elevated sidewalks
6sqft: Where do you hope to bring Industry City over the next few years?

Andrew: The vision for Industry City is to continue to build on the existing innovation ecosystem that exists here and spans verticals from manufacturing to technology, media to fashion, food to photograph, creating thousands of jobs in the process.
Cecilia Zanetta, Co-founder of Maria Castelli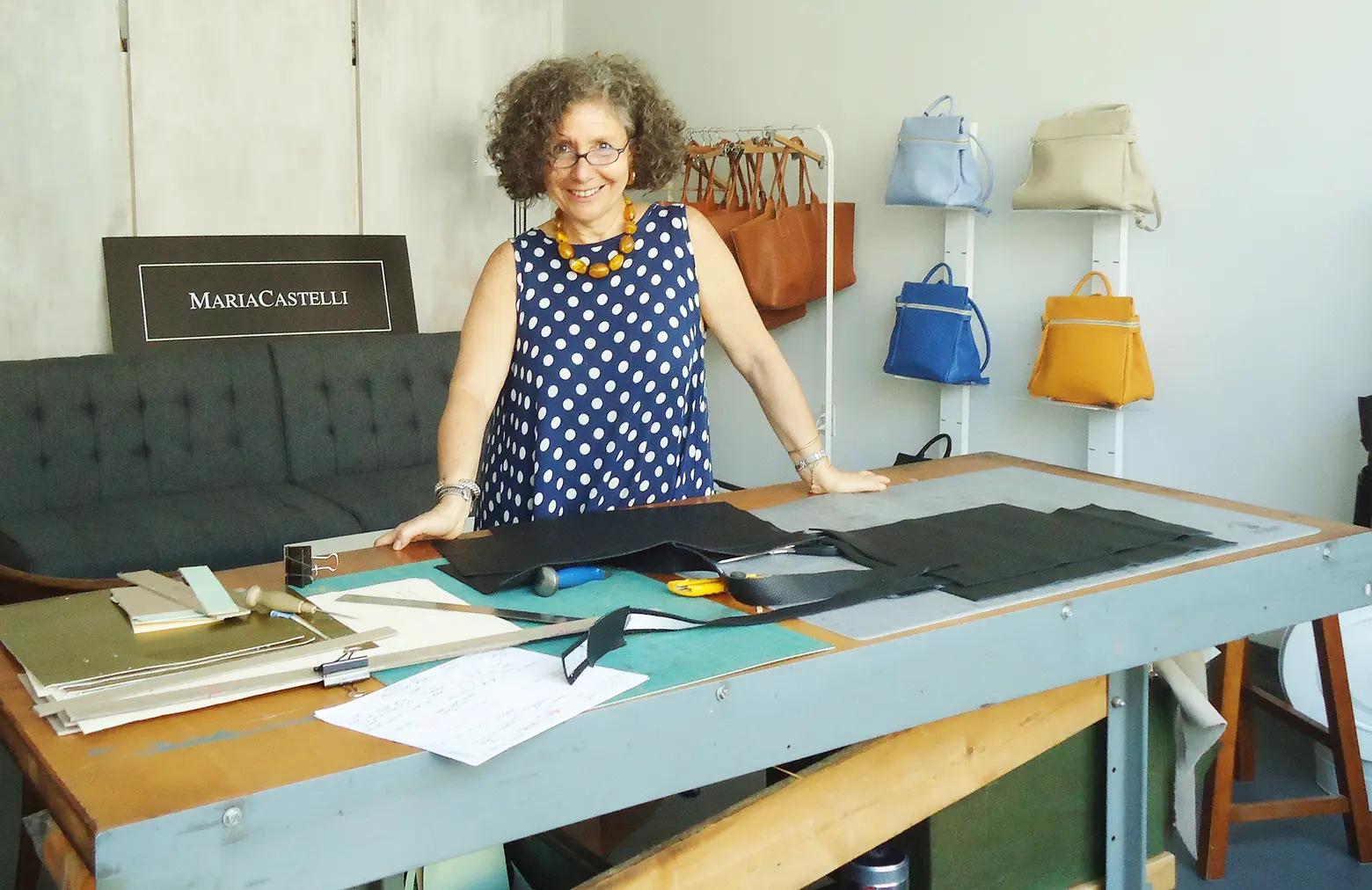 Cecilia Zanetta is a native of Buenos Aires, Argentina, where she was trained as an architect. After traveling the world, she studied handbag design and now runs Maria Castelli with her architect daughter Veronica. They founded the brand with the vision of combining modern styles with the tradition of European craftsmanship and today make their leather handbags in Industry City.
6sqft: Did your business start out in Industry City?
Cecilia: It did. I used to make handbags when I was 18, but stopped in college. I ended up in London years later where I really studied how to make them, and when I came back in 2012, I realized it's now or never, so my daughter and I started looking for a studio. We saw an ad from an Italian sculptor who was going to have a baby. She had her studio [in Industry City] and wanted to take some time off, so we subleased from her for three months. It was still very dormant since Jamestown wasn't here yet. It was a completely different feeling, but we loved it.
We chose a baby studio on the fourth floor, which was a perfect entry point for us. Then Jamestown came in and it went ballistic. Even the subway station is completely different. Before you only had people from the community; now it's a lot of hipsters.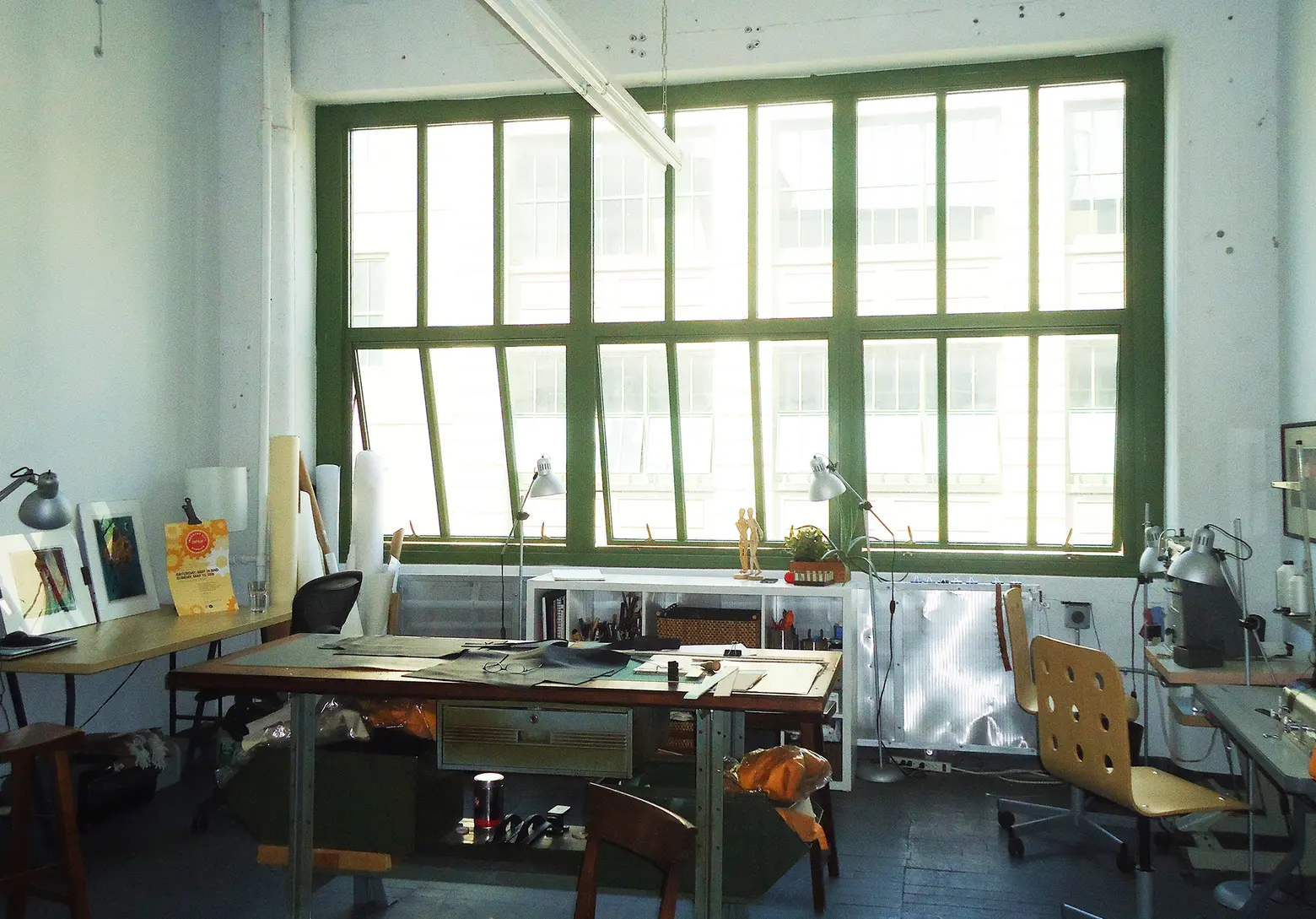 6sqft: Why do you think Sunset Park was the right spot for Industry City?
Cecilia: You're very close to the subway. I live in Midtown, and I'm here in 40 minutes. The whole area was underdeveloped, so it was the right time to come in. Now, part of the charm is that there's an overlap of the changing neighborhood and the old. You have the texture of an ethnic neighborhood, and you have all these new things happening. It's opening up the neighborhood to a lot of people.
6sqft: How have you seen the neighborhood change in the four years you've been here?
Cecilia: You may have seen a framing place [on the walk over]. When I first came, it was an industrial bakery, now it's to serve all the artists who are here. Of course that has positives and some negatives, too. There's more employment opportunities, and people from the neighborhood work here. At the same time, if you don't own your house the rent is going to go up. But Industry City is making an effort to make sure it doesn't happen in a way that excludes people; they're staying away from residential. The other thing I like is that you have the Innovation Lab that does a lot of partnerships with the high school. [The students] are always invited to openings, and you see that they feel super comfortable.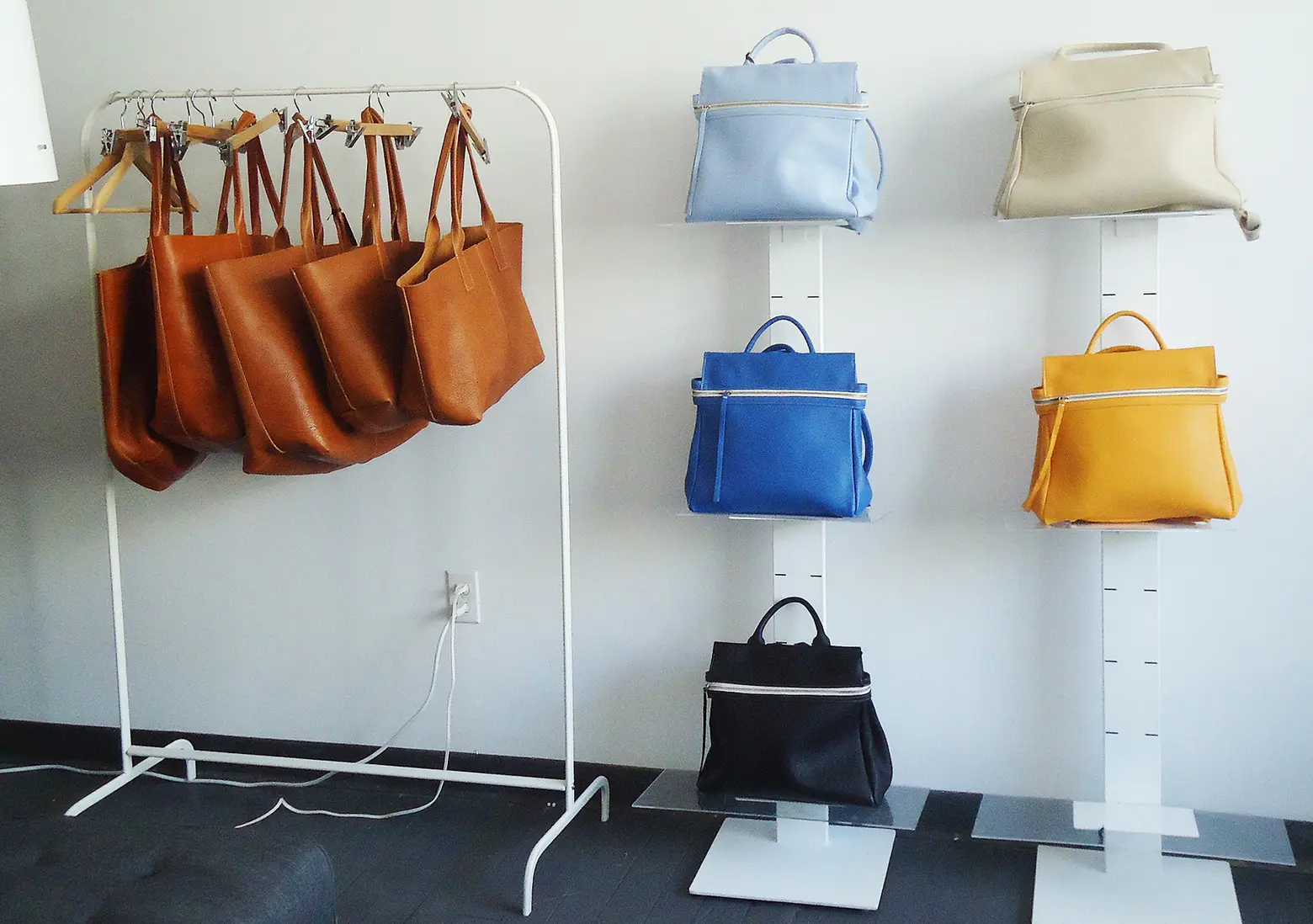 6sqft: Have you gotten business opportunities in Industry City that you wouldn't have been afforded elsewhere?
Cecilia: In terms of the whole experience, it has more oxygen and more life. You have the inner courtyard, and there are a lot of things that allow you to interact with other people; you feel a sense of community. We're taking a plan for growth course, and a lot of businesses are participating. You start comparing notes, and that ability to talk to others is great. Andrew has a vision that's beyond the ordinary, and I think that's what leading this whole effort. I consider myself very fortunate. I get to do my own thing, but at the same time I'm part of a larger transformation.
Harry Doull, Co-founder of Keap Candles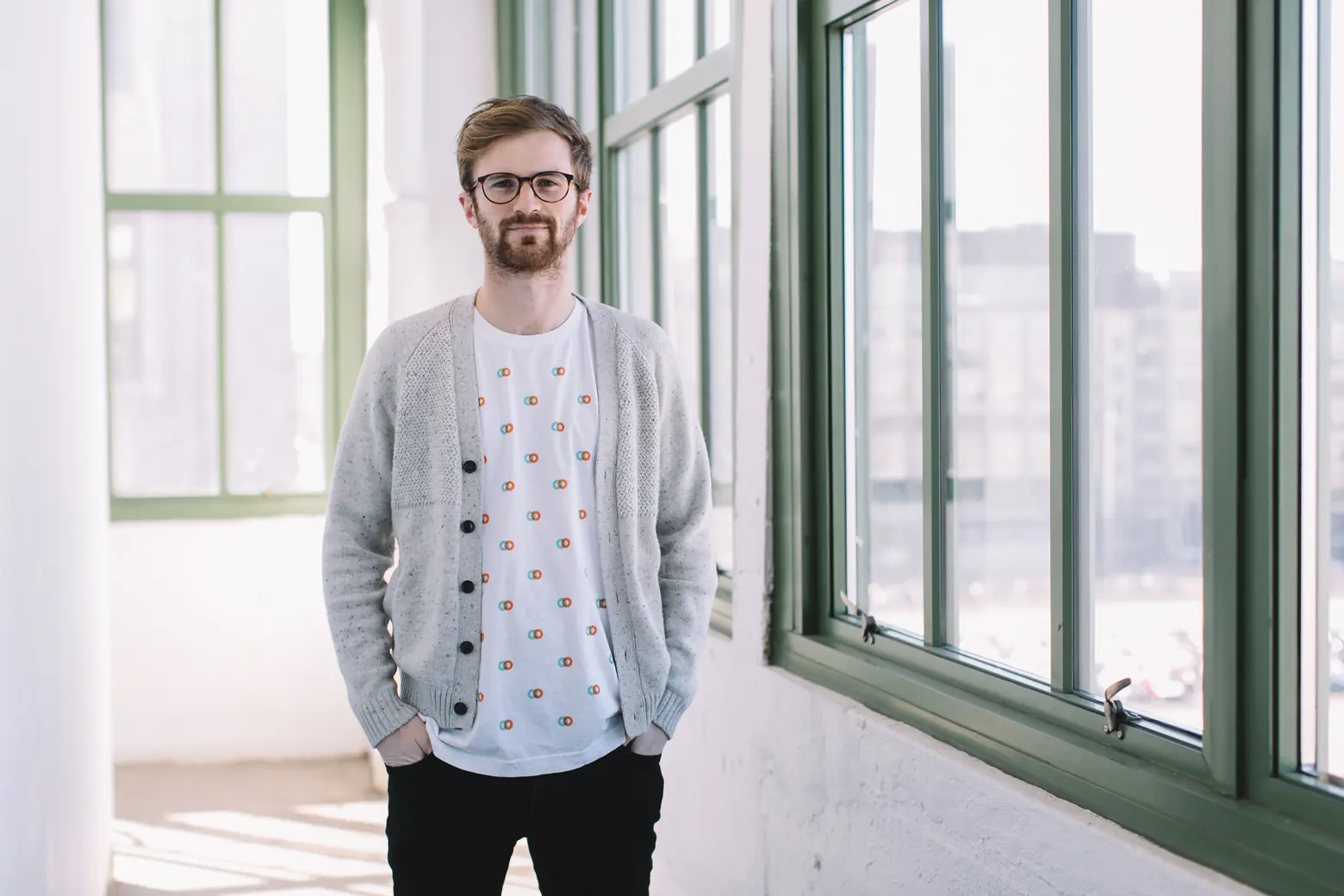 As roommates sharing an apartment on Keap Street in Brooklyn, Harry Doull and Stephen Tracy realized that it cost a fortune to light their home with quality candles, so they decided to create their own candles that feature pure materials and impeccable design, but are sold at an honest price. Keap candles are made of sustainable coconut wax, have clean-burning lead-free wicks, use 30 percent recycled glass for the holders, and are hand-poured in Industry City.
In addition, Keap partnered with the charity SolarAid to distribute solar lamps to people living outside of the electrical grid. For every candle sold, they donate $1, and down the road hope to expand their involvement in the organization's goal of eradicating kerosene lamps by 2020.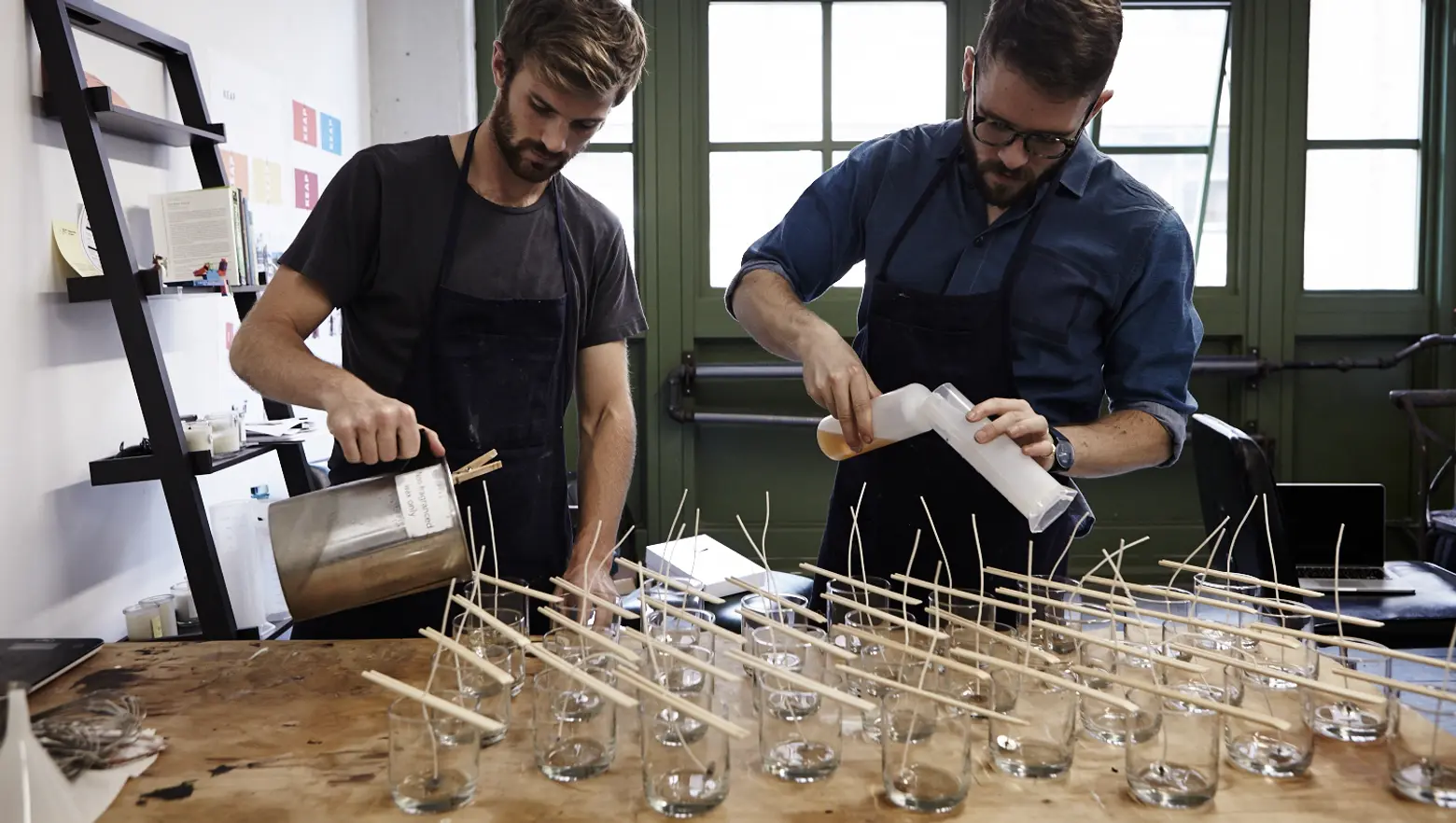 6sqft: Did your business start out in Industry City?
Harry: It was our first place after working from home. We've been here since June of last year. Before we actually launched the store we needed a space where we could experiment with making things, as well as have computers and WiFi for office work. There weren't a lot of places where you could do both efficiently. On one end of the spectrum, you have the co-working spaces which are pretty expensive, and you can't really do any making or experimentation with physical objects. On the other end, you have warehouses where you can manufacture, but those generally don't cater to start-up operations. When we started out we didn't know for sure what direction things would take, so we wanted that freedom to be able to experiment, and this was one of the few spaces we could do that.
6sqft: Do you collaborate often with other companies in the building?
Harry: The draw for us here was the community. Just on our floor we have four photographers, one rock band, one architect, a bunch of painters, various other artists, and a few innovative tech companies. Having that creative energy was important to us; we wanted to be imbedded in the artist community in Brooklyn.
We have a photographer down the hall who did a great photo shoot for us, and our product page photos are done by him. We have a few other photographers we're talking with to do something similar. We try to at least meet all the people around us and hang out with them in social settings and hopefully take it further.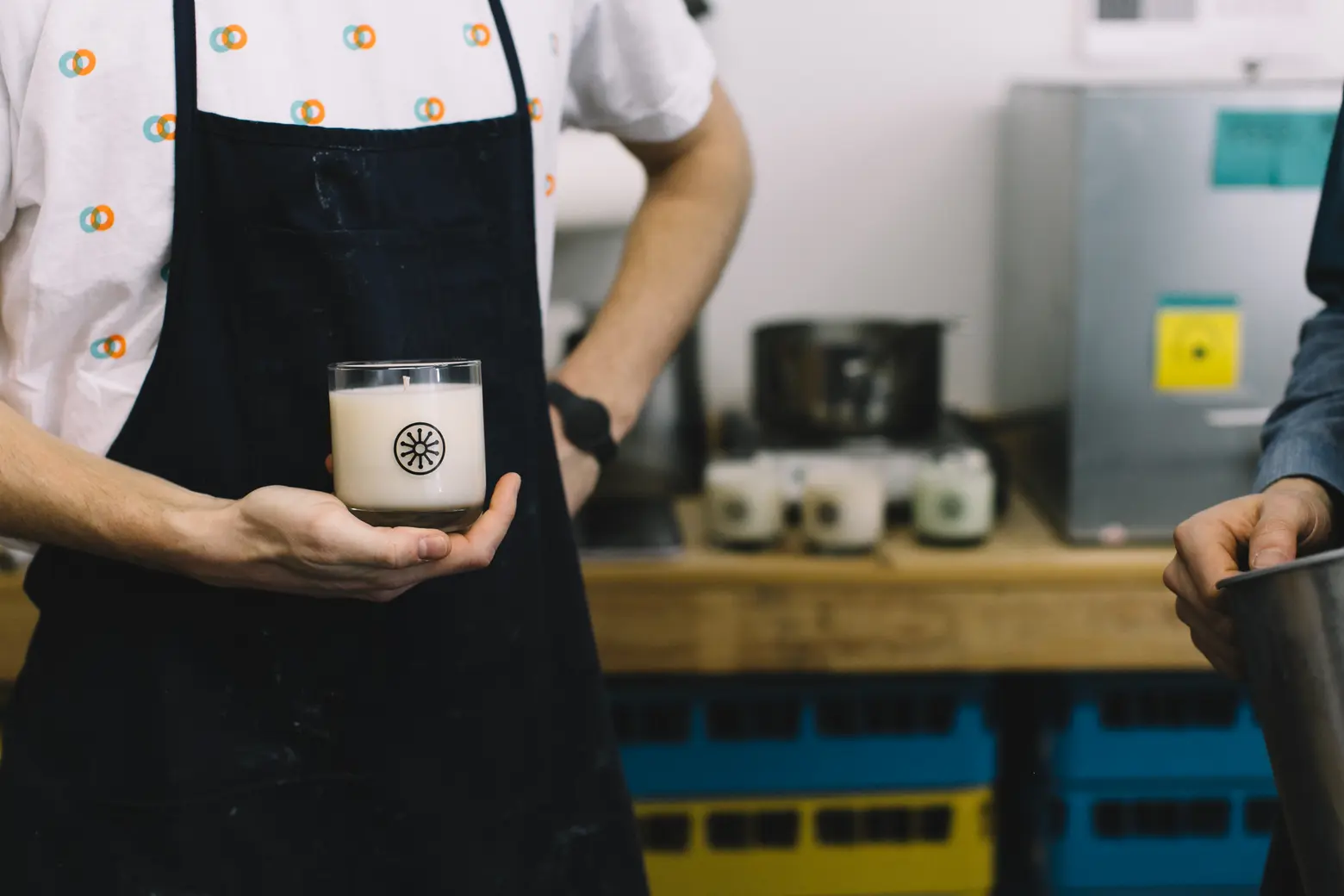 6sqft: Have you gotten business opportunities in Industry City that you wouldn't have been afforded elsewhere?
Harry: Generally, there's an ease of starting up here. There's so much infrastructure already here. The most obvious is the food court and social events, but then there's slop sinks and electricity. At a lot of other places those would have been extra tasks. And then it's nice when we bring in new people, that they have access to the social events; we think about creating a work place that's attractive for people long-term.
Anthony Cirone, Co-owner of Li-Lac Chocolates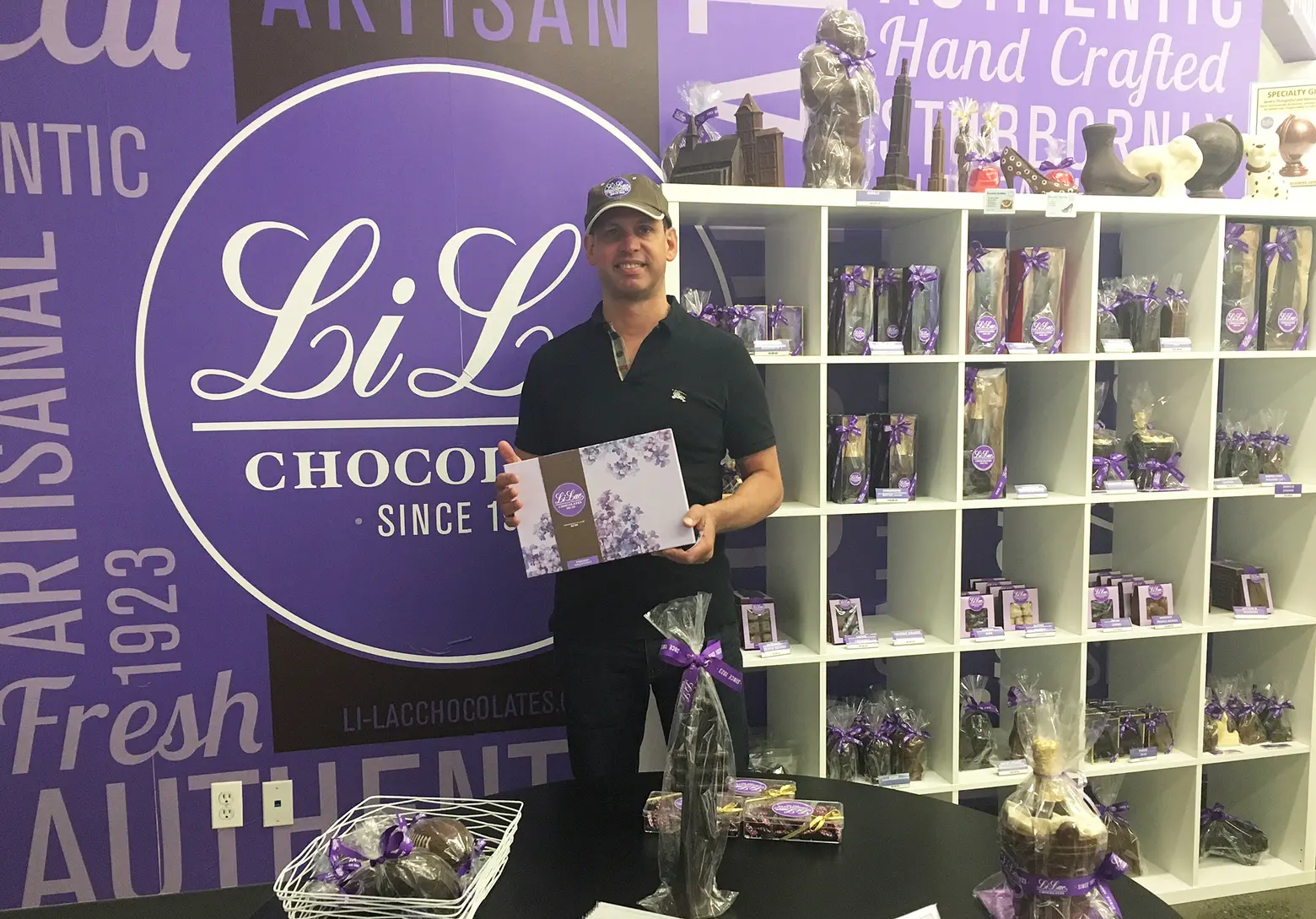 Li-Lac Chocolates is Manhattan's oldest chocolate house. They started out in 1923 in Greenwich Village and today maintain a location there, as well as in the West Village, Chelsea Market, Grand Central, and Industry City, where they moved their factory in 2014. The company is led by two long-time customers, Anthony Cirone and Christopher Taylor, along with Li-Lac's Master Chocolater Anwar Khoder. The trio uses the original recipes and maintains the old-school chocolate making processes that make Li-Lac Chocolates so special and unique.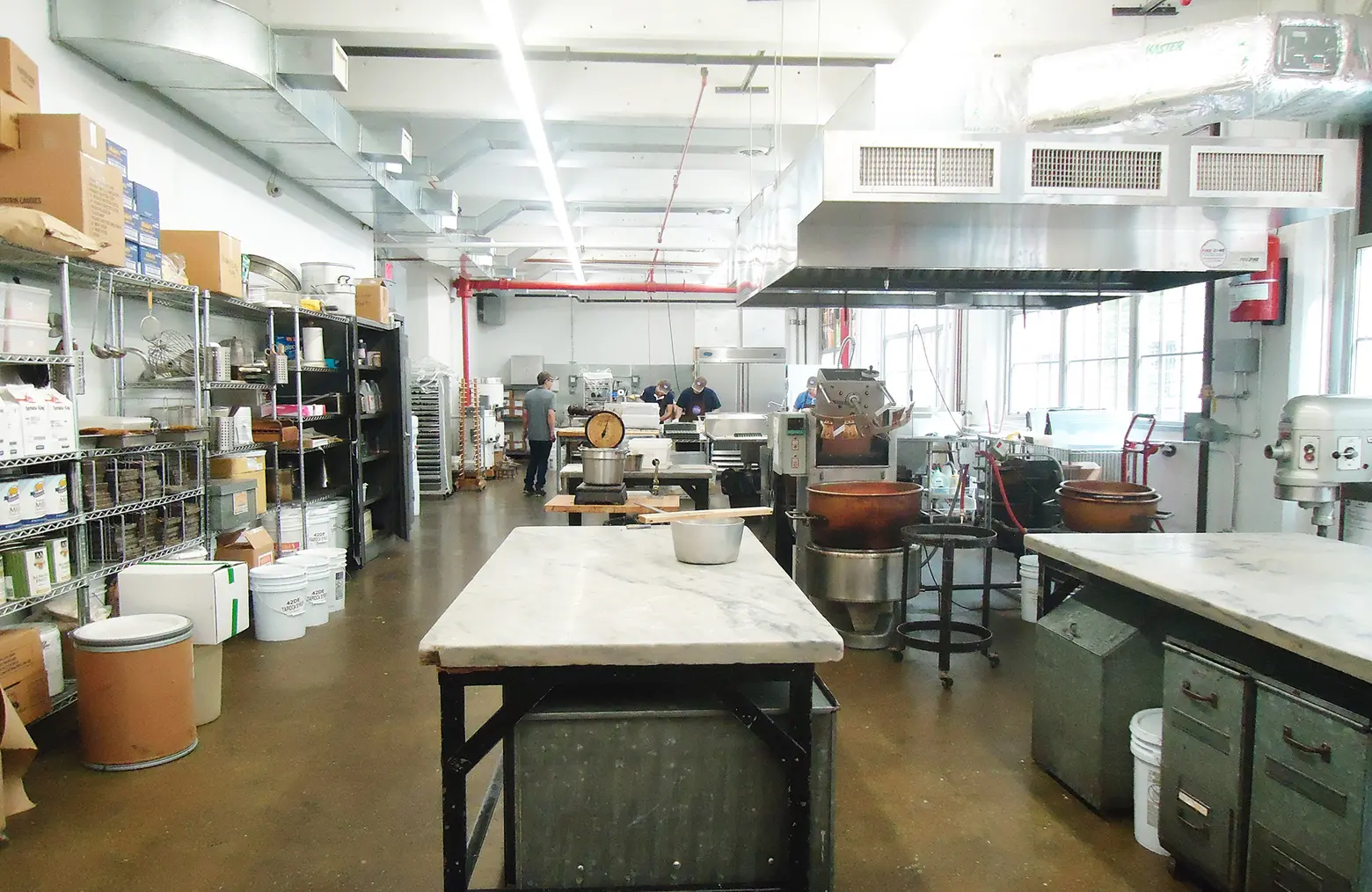 6sqft: Did your business start out in Industry City?
Anthony: The company started in 1923 on Christopher street. When the founder opened, he had a factory in back and the store in front; it was there for 50 years with the same setup. When he passed, the company changed hands, but it was there for 80 years until it wasn't affordable to keep production in Manhattan. The store moved to where it is now on Jane Street and the factory moved 12 years ago not far from here, on 50th Street between 2nd and 3rd Avenues. We were there for 10 years, but it was a smaller space than this. When our lease expired in 2014, we moved to Industry City because it was a bigger space, plus we just loved the vision of what was happening here.
When we built this place it was with a visibility in mind so people can look through the window. Everybody wants to know what's in your product and where it comes from these days, so we played into that when we built this factory.
6sqft: Why do you think Sunset Park was the right spot for Industry City?
Anthony: First of all, it's very easy to get to, which is a huge benefit for us and our employees. The second thing is the community of makers. For 10 years we were in a stand-alone building on a nondescript street. It's really nice to be part of a community, whether you know other business owners or you just go to lunch and congregate in the same place, you feel like your part of something.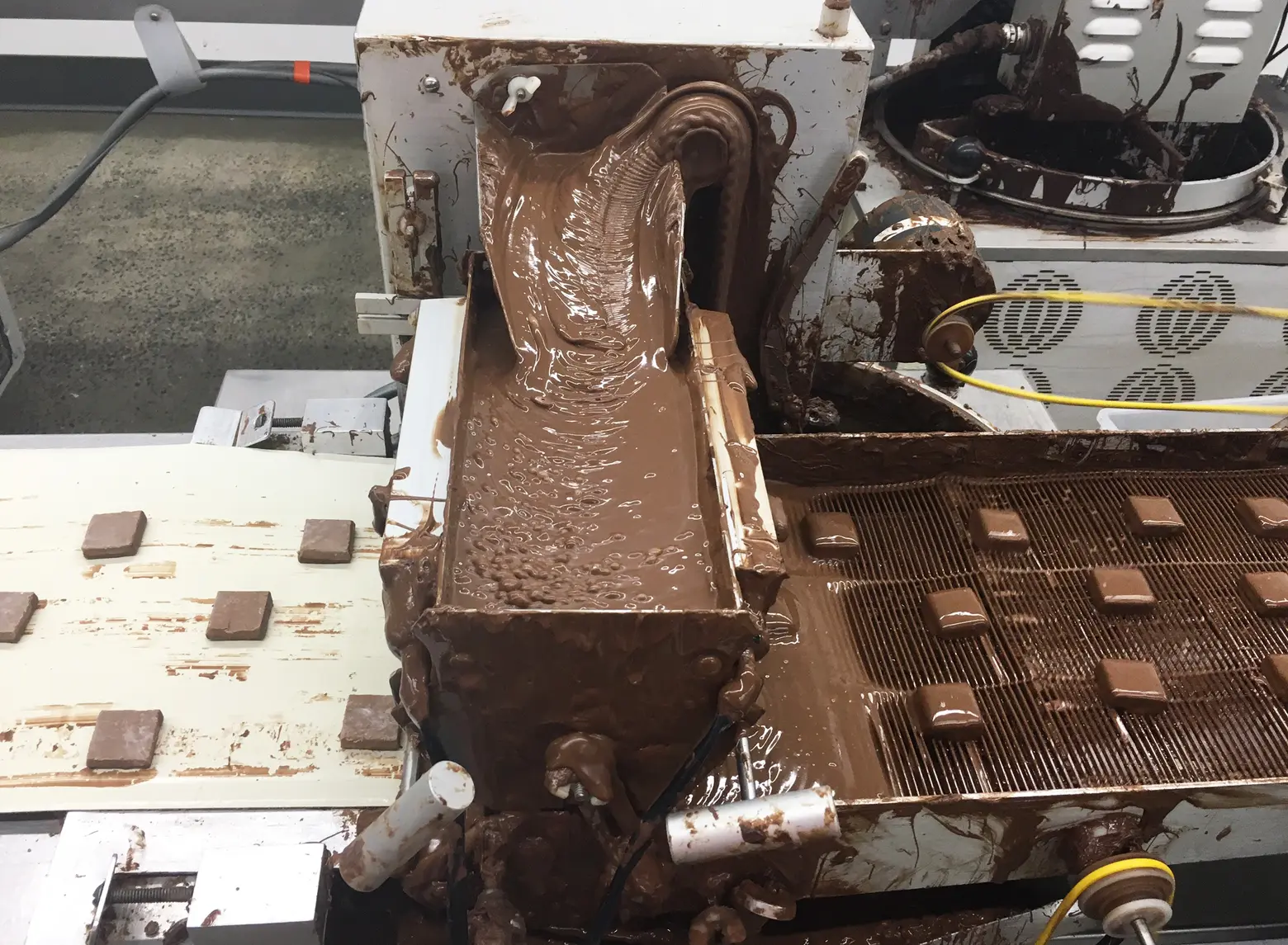 6sqft: Do you collaborate often with other companies in the building?
Anthony: Yes. We found a photographer who's here in Building 2. With the Distillery, we talked about partnerships and ways to get people who are coming for chocolate to go there and back and forth. We have a partnership with Parm; they buy some of our chocolates.
6sqft: What about working with the local community?
Anthony: [For hiring], we work with the Hope Program and Opportunities for a Better Tomorrow, two local non-profits, and the Southwest Brooklyn Industrial Corporation (SBIDC). We've also hired other people from the neighborhood through word of mouth. We do a lot of partnerships with the Lutheran Hospital, and we reach out to the school and community organizations and try to do what we can.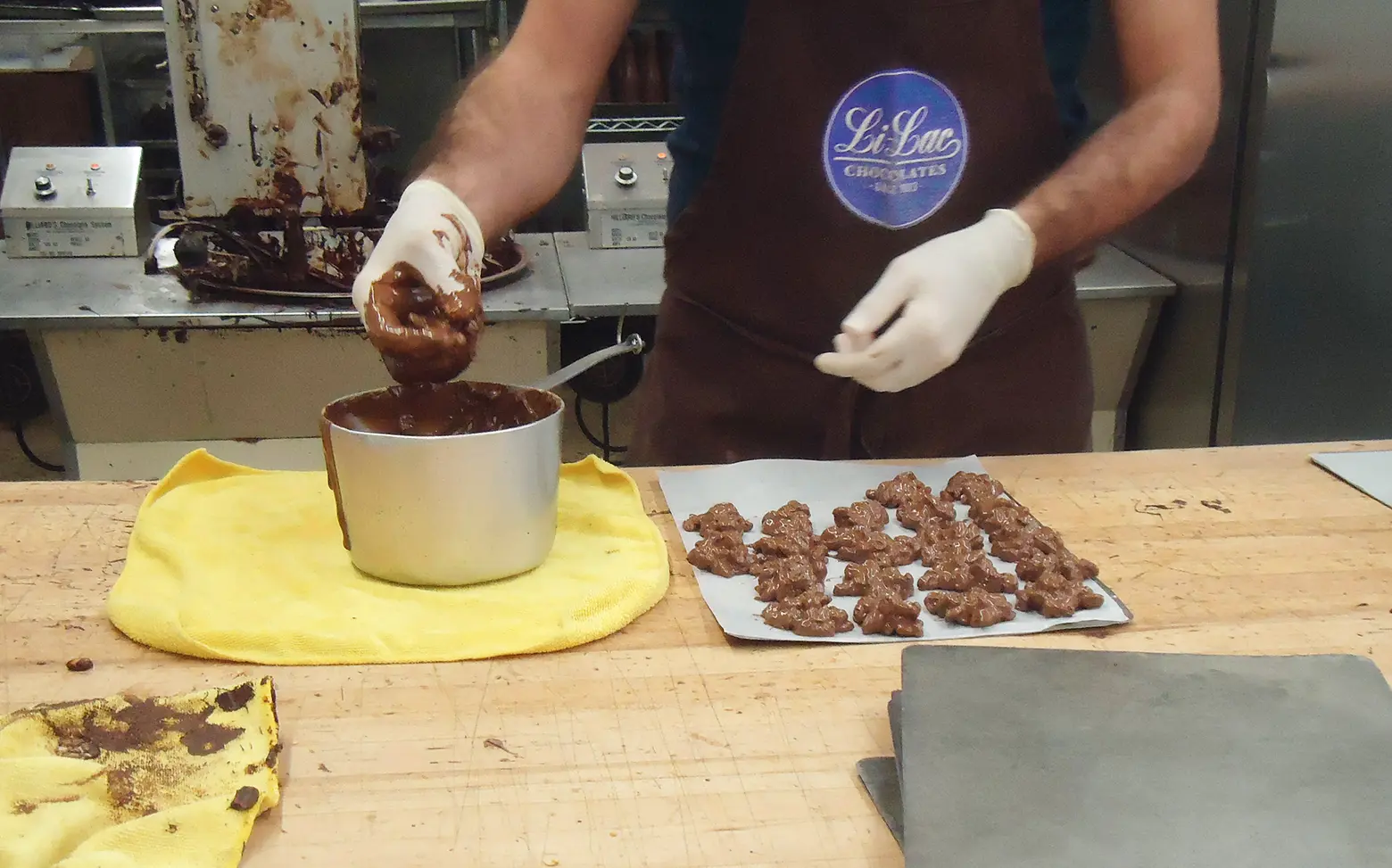 6sqft: How have you seen Industry City change in the couple years you've been here?
Anthony: All the changes have been great, particularly the infrastructure. It's so much better now that people can walk on the raised sidewalks. Innovation Alley is great, and our employees love going into Building 2 and the food court. The courtyard was built and people can have lunch outside now.
Industry City does a lot of amazing things like the tenant social happening tomorrow. It's good for our employees who otherwise wouldn't have the experience to meet other people. It's something beyond coming to work; it's feeling like you're part of something.
Alexis Jesup, PR & Social Media Coordinator at Rich Brilliant Willing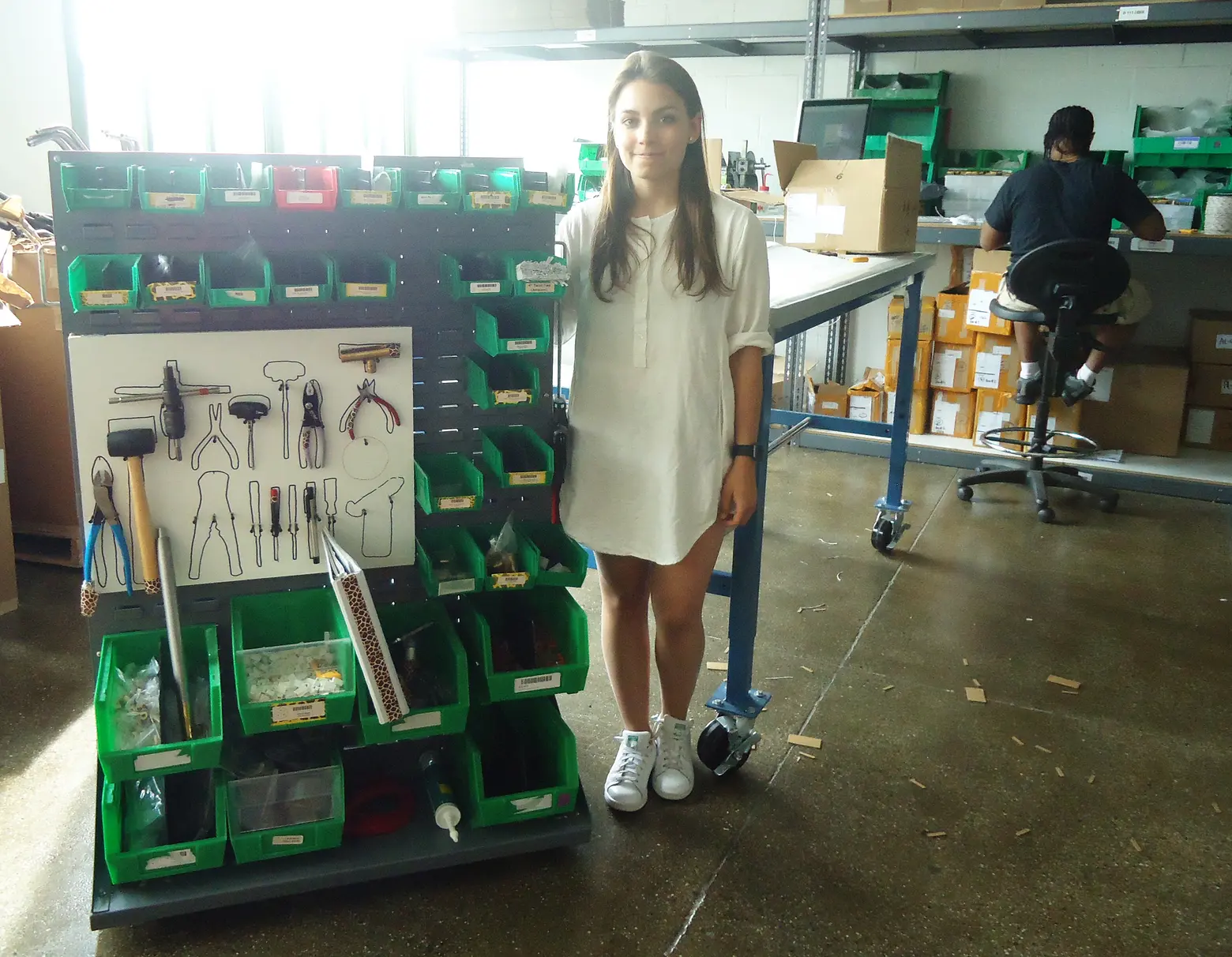 Theo Richardson, Charles Brill and Alexander Williams founded Rich Brilliant Willing in New York in 2007. Today, the global company designs and manufactures LED fixtures for hospitality, workplace, and residential projects, merging the industrial and the elegant.
6sqft: Did the company start out in Industry City?
Alexis: We moved here in April; our old space was in Gowanus and was half the size of this. We do the designing and manufacturing here and have a showroom in Manhattan. It's nice to have the space now to hang up our fixtures and have the manufacturing and office space together. You get this interaction between the designers and production people, whereas if you're in two separate spaces things can get lost in translation.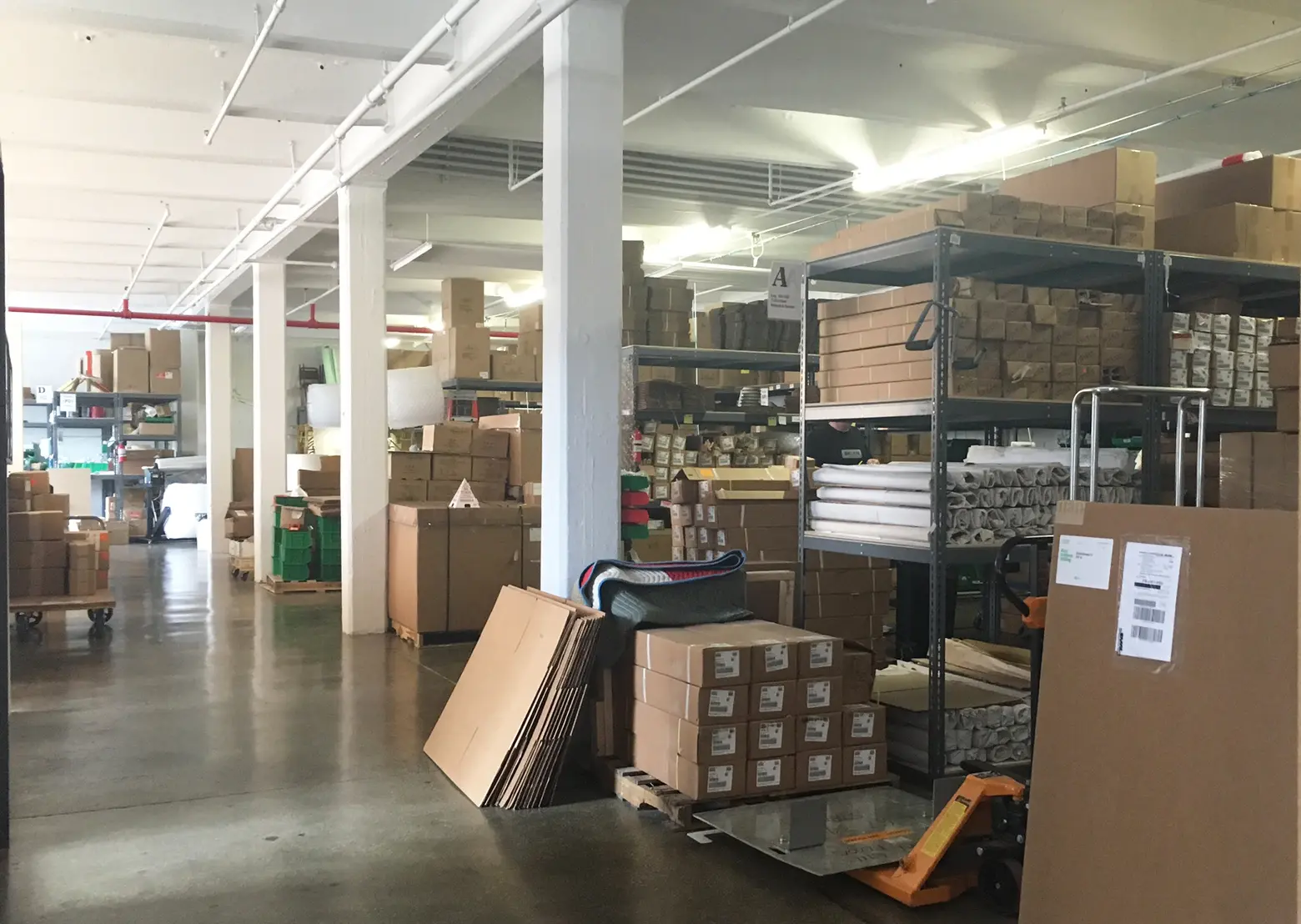 6sqft: Have you had business opportunities in Industry City that you wouldn't have been afforded elsewhere?
Alexis: It's a great place to expand; if we need more space we can always move to another portion of the building or get another space. Then there's all the amenities; the food hall is really nice, and they're making a gym. There's a big sense of community between the buildings. You have the opportunity to chat with other people about what they're doing; we didn't have that in our old office.
We have the freight elevator, and that's been really amazing to have the help of an elevator operator. It's a lot more convenient for drop off/pick up with the loading docks. We had a studio opening at the end of July, so we emailed Industry City and asked if we could have our guests use the freight elevator, even though it was past hours, and they said okay. It's really cool how everyone works together to make things happen.
+++
RELATED: