Sunset Park: How Creativity and Commerce are Transforming This Waterfront Neighborhood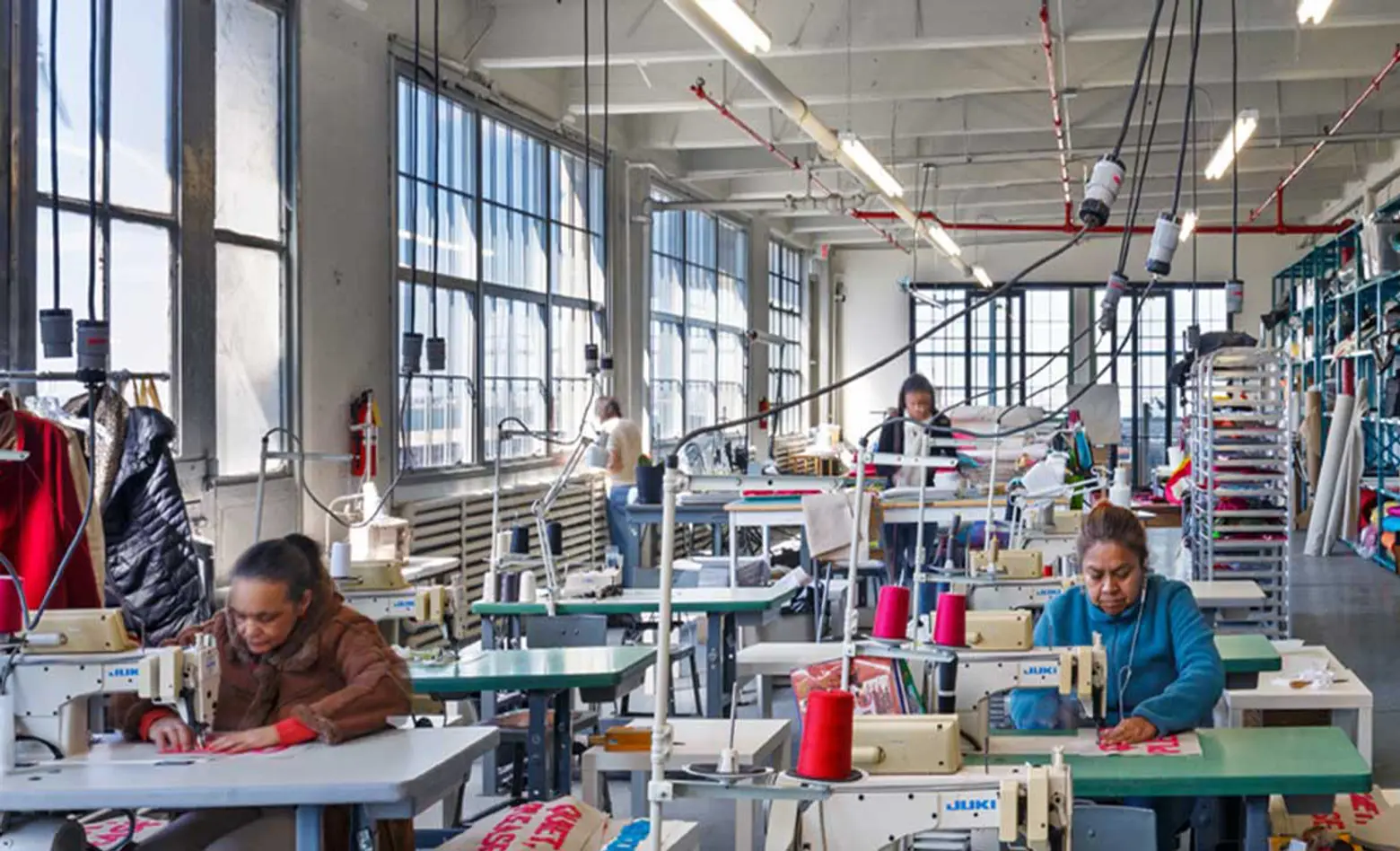 With plans in place that call for a public waterfront bustling with creative industry and commerce rather than luxury residential developments, Sunset Park is not on its way to becoming the next hip NYC residential neighborhood–and that's a good thing.
Located on Brooklyn's western waterfront flank, there are really two sides to Sunset Park. The neighborhood, generally defined as the area between 65th Street, the Prospect Expressway, Eighth Avenue and the East River, has long been a thriving residential community. Sunset Park is also home to about 15 million square feet of warehouse and light industrial space. The key to the neighborhood's future may be the point at which the two meet.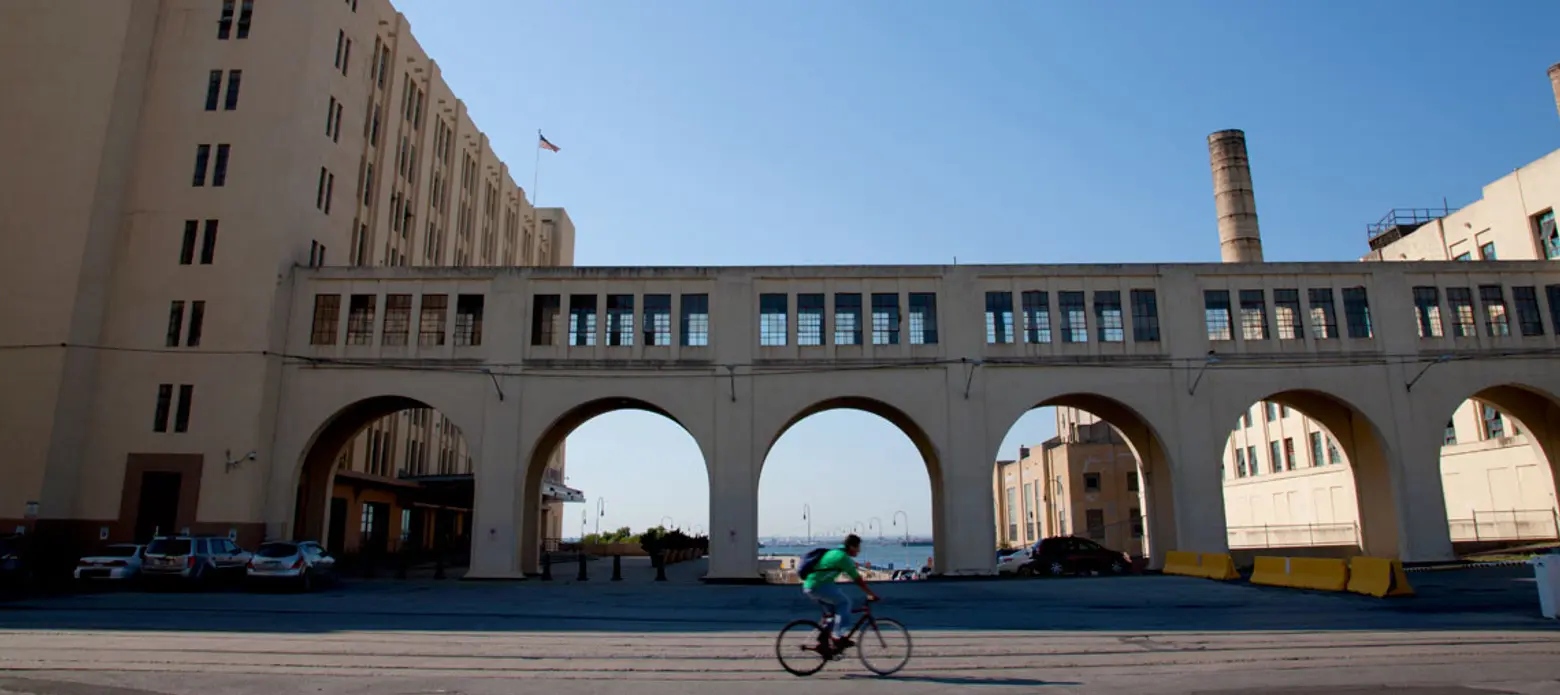 Brooklyn Army Terminal.
As you may have heard, things are happening in Sunset Park. A recent Wall Street Journal article called Sunset Park an "important bet" for Mayor De Blasio's administration as many of New York City's industrial areas have been rezoned for residential development, particularly along the waterfront. But it's what's not happening here that's key. Instead, Sunset Park's industrial buildings have been designated for commercial and manufacturing use–and the neighborhood already has a sizable immigrant workforce in residence.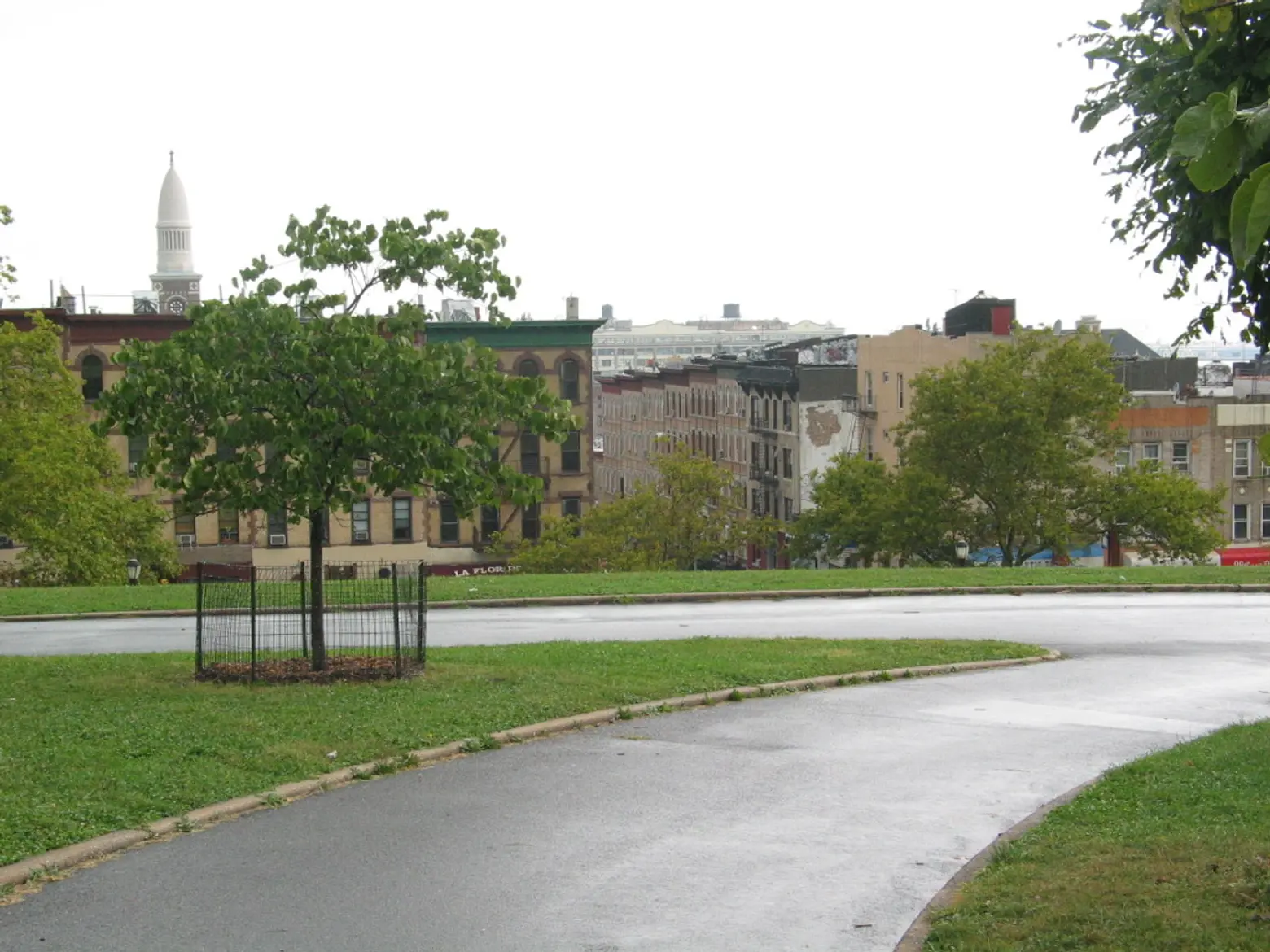 View from Sunset Park. Photo: Wikimedia Commons.
A diverse, established community
The actual park of the same name, something of a hidden gem, offers 24 acres of elevated land and an Olympic-sized free public pool that is open all summer. Green-Wood cemetery is another neighborhood treasure. Within its borders is the highest point in Brooklyn, with breathtaking views of New York Harbor, Downtown Brooklyn, the Brooklyn Bridge, Lower Manhattan, the Statue of Liberty, Staten Island and New Jersey. It's also one of the city's finest spots to view fall foliage.
Eighth Avenue is lined with grocery stores, restaurants and bakeries. The neighborhood is home to what foodies have called "America's best tacos," as well being the originator of the city's Banh Mi craze (see Ba Xuyen, below). Chain stores like Home Depot and Costco add a convenience factor to living here, and subway access—both local and express—is plentiful via the D, M, N and R lines.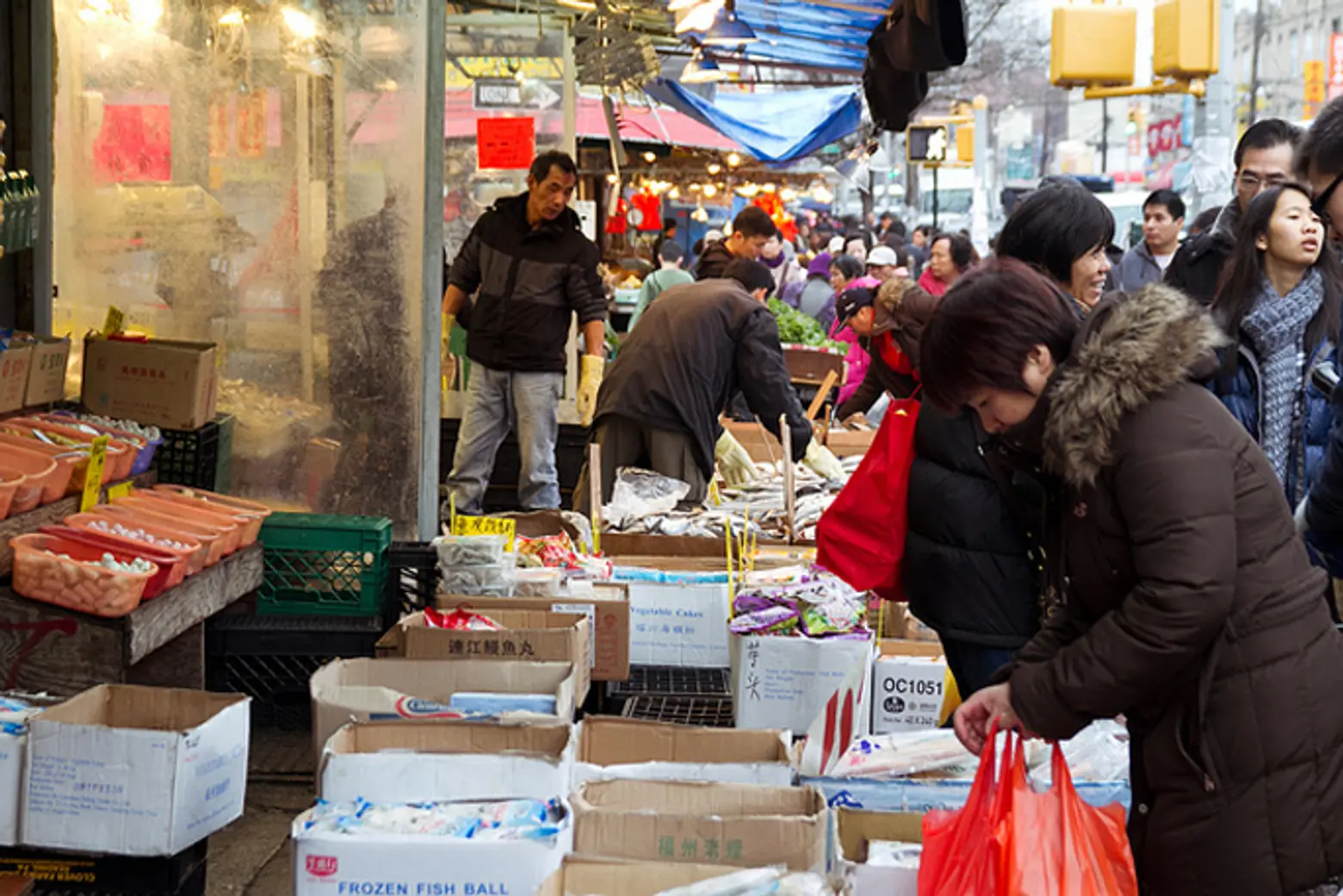 Sunset Park Chinatown. Image: cc.
In the first half of the 20th century, Sunset Park was home to a large Scandinavian community and welcomed waves of Polish, Irish and Italian immigrants, many of whom walked to jobs on the nearby waterfront. Today the neighborhood remains among the city's most diverse, with Dominican, Puerto Rican, Mexican, Chinese, Malaysian, Korean, and Vietnamese communities. Sunset park is home to Brooklyn's Chinatown, serving a growing population of Chinese immigrants. In more recent years, young professionals, artists, post-graduates and families have arrived from elsewhere in Brooklyn and Manhattan to escape escalating rents.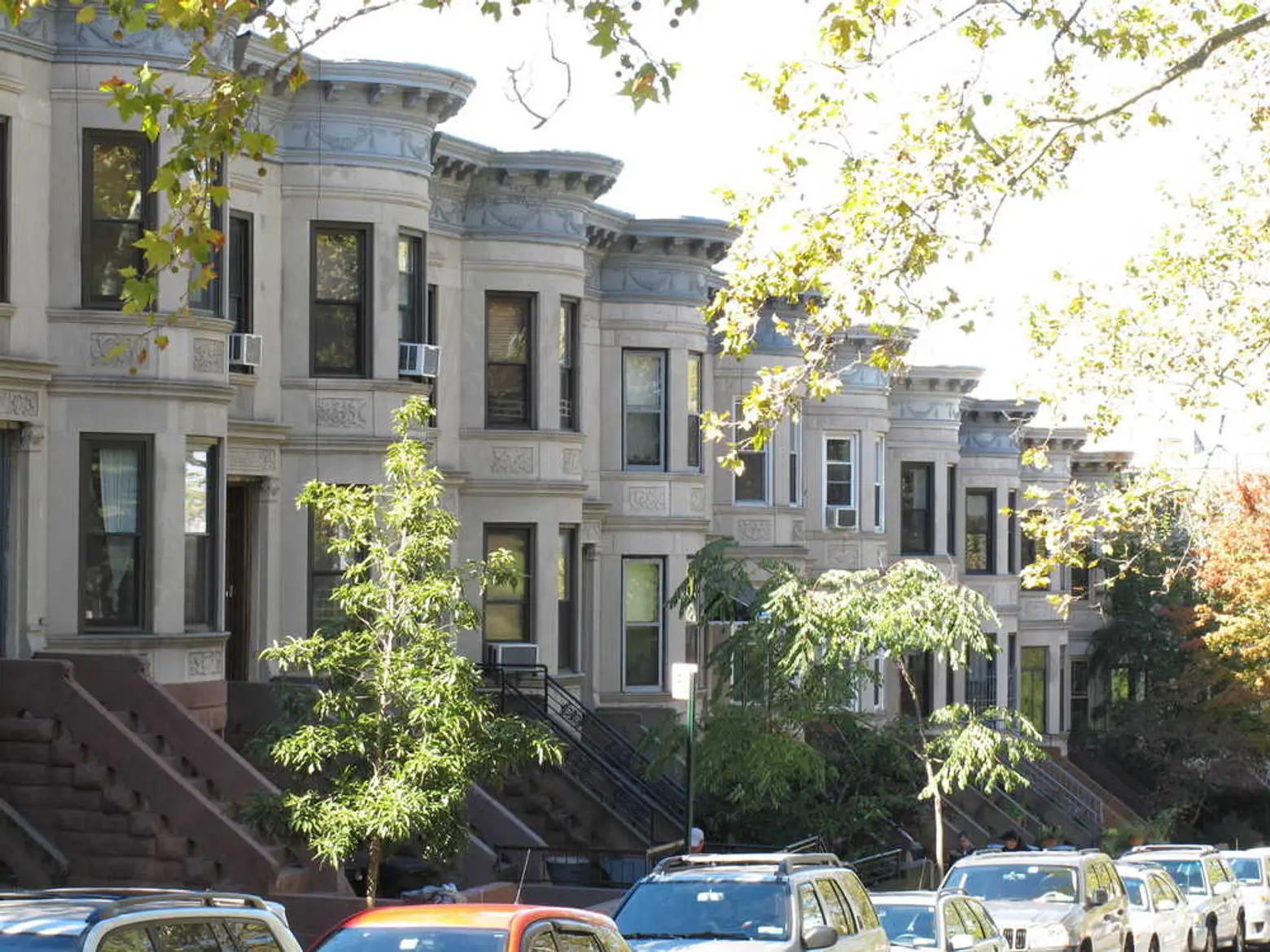 Historic row houses. Photo courtesy of Sunset Park Landmarks Committee.
To the south lies the primarily residential neighborhood of Bay Ridge. Just to the north is the residential neighborhood of Greenwood Heights (considered by some to be a sub-neighborhood of Sunset Park) and north of that is South Park Slope–both residential areas that have seen home prices rise dramatically in recent years. Housing in Sunset Park varies in style from older and newer construction apartments to wood, vinyl siding and brick multi-family houses. Several of the neighborhood's loveliest streets are lined with historic townhouses.
A New Industrial Model
New York City's largest supply of manufacturing-zoned real estate entered the 21st century in a state of disrepair–signifying, to some, the demise of a bygone industrial age. During the Bloomberg era, the city pledged not to rezone the area for residential use. The 2007 New York City Economic Development Corporation's (EDC) Sunset Park Vision Plan explains its intent to establish a "sustainable urban industrial district." Mayor de Blasio's administration has picked up the thread with an initiative to promote a revitalized residential community with affordable rents for workers who can walk to their jobs. Business owners here are eligible for a $1,000 tax credit for every person they employ (up to $100,0000).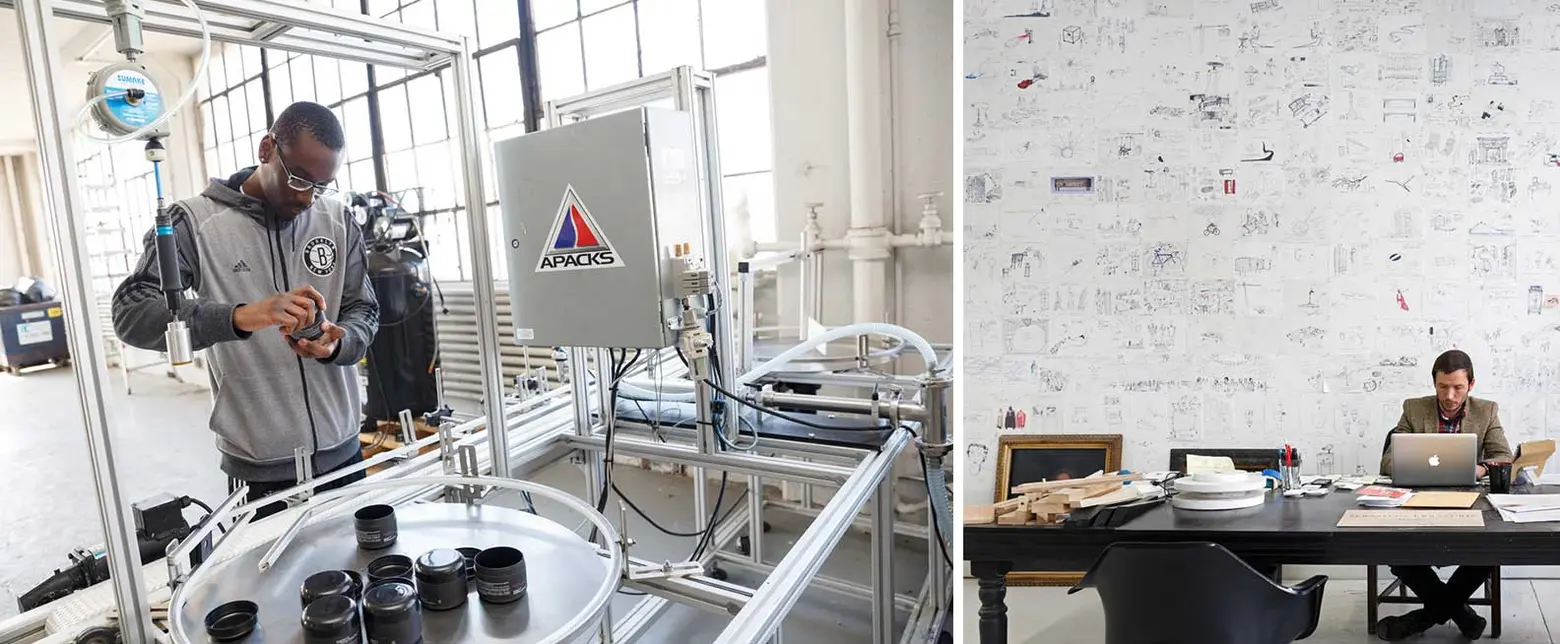 Industry City.
The Plan
Both the city and private investors are betting on Industry City. The former Bush Terminal was once a catalyst for the development of the Sunset Park waterfront. Dominating the area between 31st and 51st Streets, it was built by developer Irving Bush in 1895, and became the most extensive of the Brooklyn dock works. Bush Terminal was the first facility of its kind in New York and the largest multi-tenant industrial property in the United States.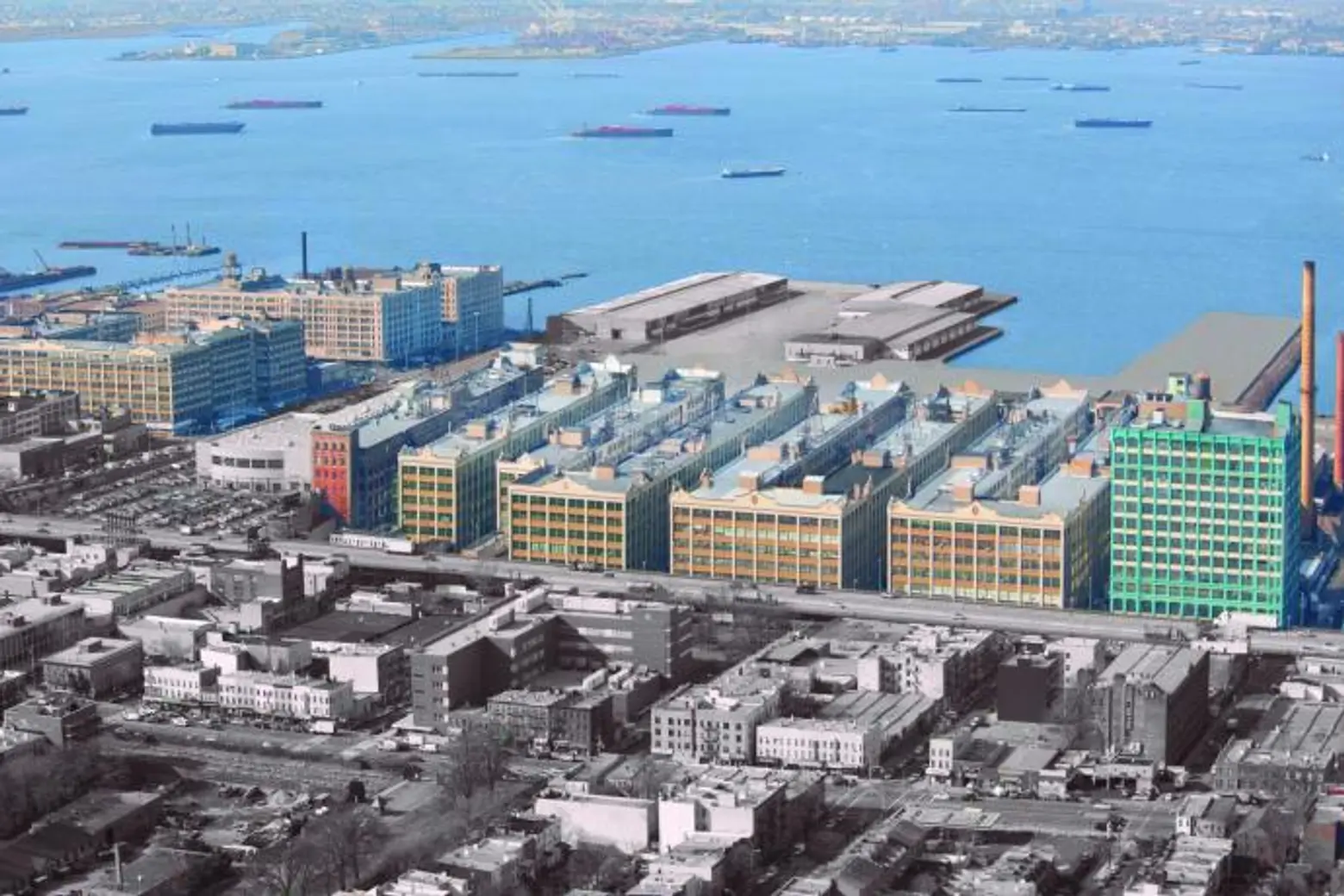 Offering 6.5 million square feet of space, its 16 buildings comprise one of the last industrial strongholds in New York City. Its new owners (the developers behind Manhattan's Chelsea Market) are remodeling the century-old warehouses, many of them suffering from years of neglect, with the intent of creating "a dynamic 21st century innovation and manufacturing community that balances existing manufacturing tenants with those centered on creative and innovation economy fields."
Liberty View Industrial Plaza, an eight-story, 1.2 million-square-foot warehouse will offer work space adjacent to Industry City. Its developers, who spent $10 million for its two 1916 buildings and another $40 million on renovations, advertise Sunset Park as "a walk-to-work neighborhood."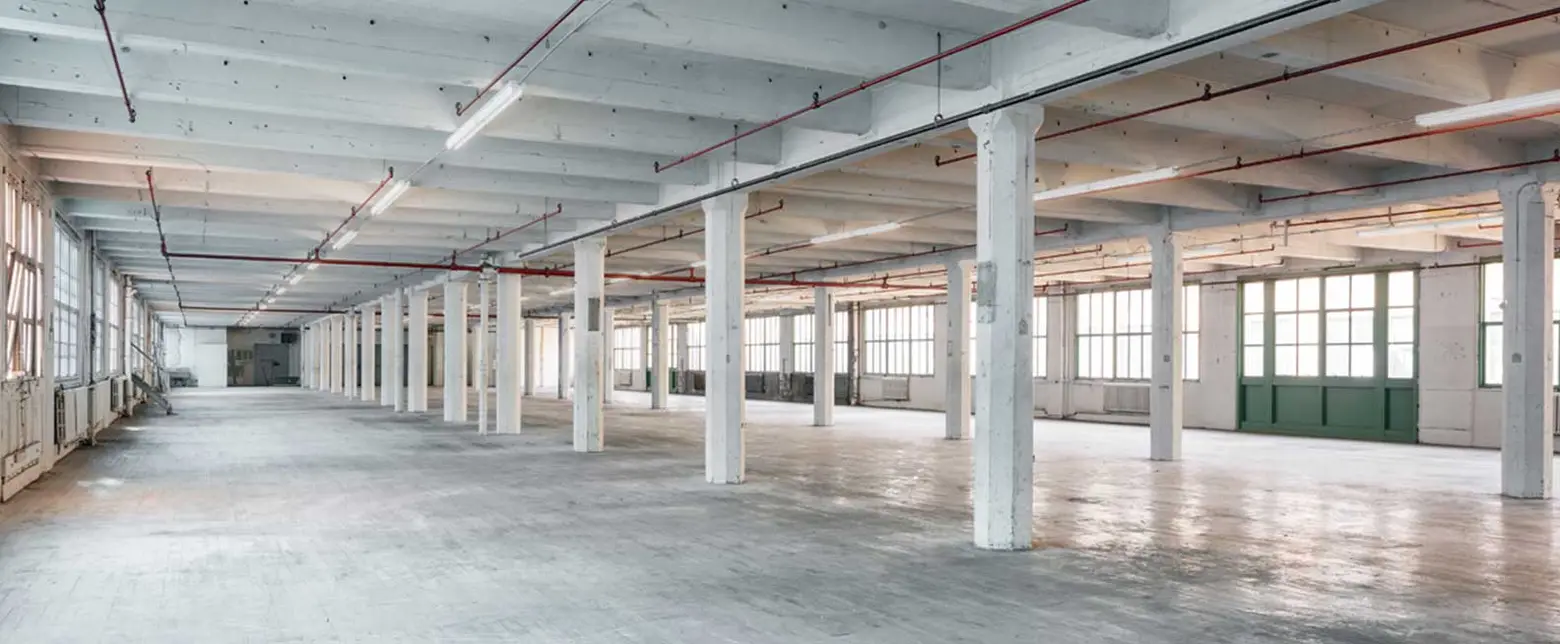 Space available at Industry City.
The Brooklyn Army Terminal served as the United States Army's port of embarkation during World Wars I and II (Elvis Presley was one of three million troops to pass through the Cass Gilbert-designed building when he was deployed to Germany in 1958). There are 3.1 million usable square feet in the city-owned structure. With its developers touting "huge commercial spaces with spectacular views," Whale Square, on the 53rd Street waterfront area west of First Avenue, will offer similar opportunities.
Is It Working?
In addition to relatively inexpensive leasing prices (compared to Long Island City and Williamsburg, for example), public incentives have been helping to entice tenants. So far, the combination has been successful in attracting locally-based manufacturers and other small businesses. Printers, paper companies and food flavor producers have been joined by startup business incubators and artists' studios.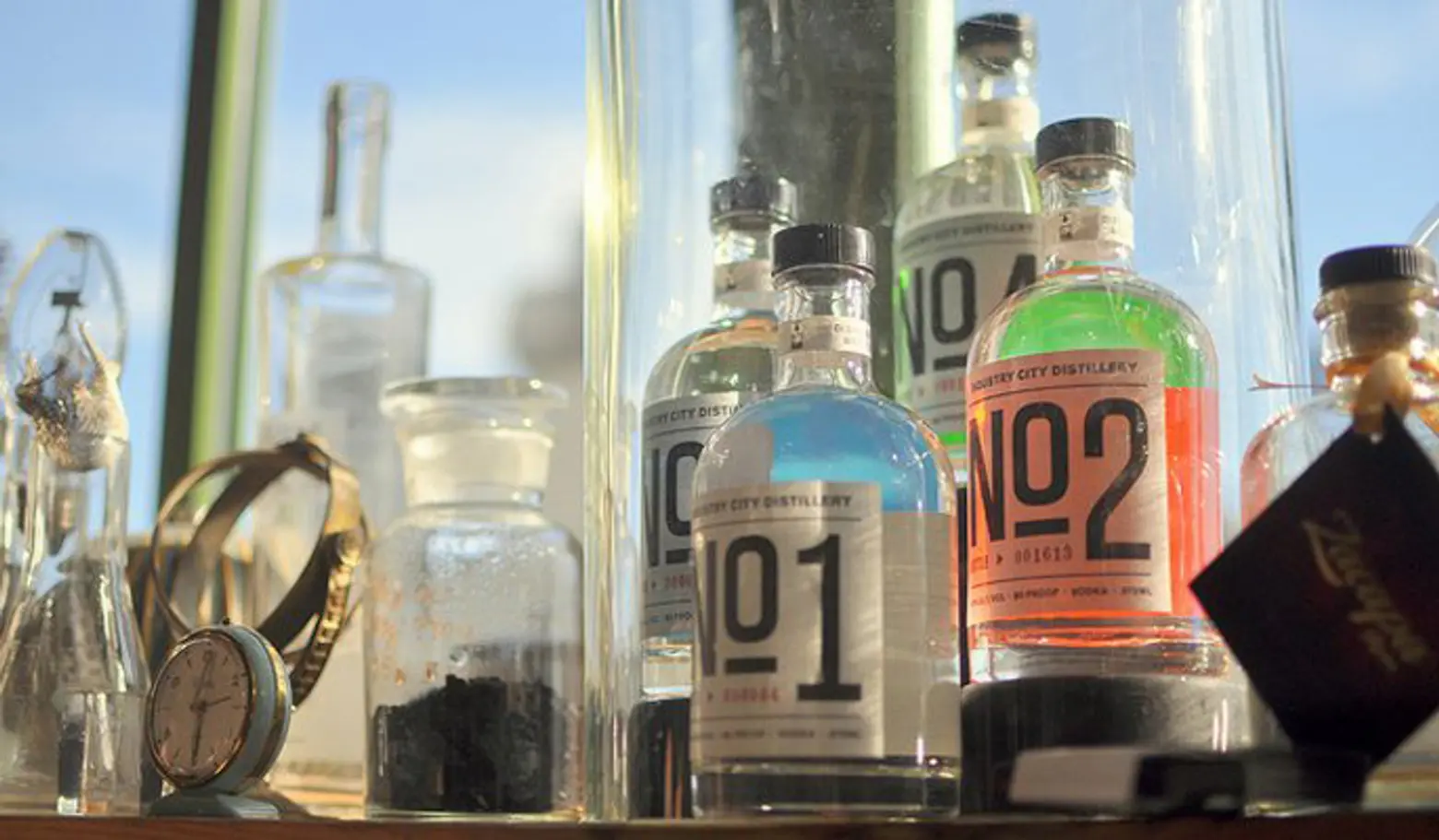 Vodka from Industry City Distillery. Image: cc.
Jamestown Properties and partners–overseen by CEO Andrew Kimball, whose experience includes managing the recent resurgence of the Brooklyn Navy Yard–have invested $100 million in the Industry City project. The group claims to have added 750 jobs and expect to add 800 more. Their strategy includes leasing space to food manufacturers with attached retail spaces; they hope this will create a destination for neighborhood residents and eventually tourists. Amenities for tenants include a food hall and locally sourced restaurants, new lobbies and professionally-designed public spaces, job placement resources, a robust events schedule and ownership-sponsored networking opportunities. The New York Times called Industry City "The SoHo of Sunset Park."
Non-industrial businesses are also welcome. The social site Datemyschool.com leased 8,500 square feet at Industry City, and recently the Brooklyn Nets NBA team announced their intention to build a $50 million training center there.
The Brooklyn Army Terminal is currently 97 percent occupied, and the de Blasio administration is spending $100 million to renovate. Artisanal chocolatier Jacques Torres recently inked a 10-year lease, drawn by the building's rich history and the accessibility—there's a subway across the street–of the 39,000 square foot 95-year-old compound.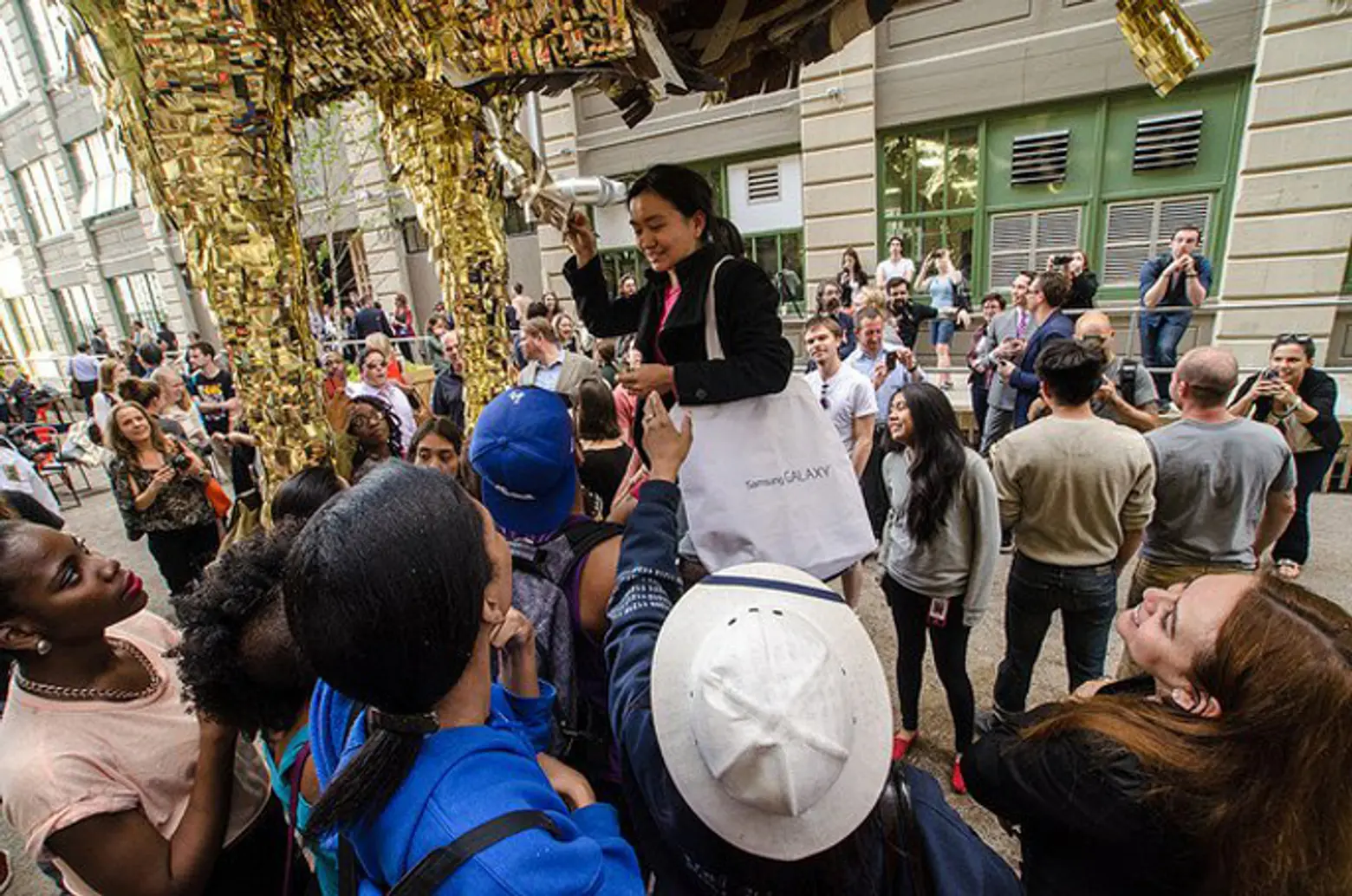 Design Week exhibition at Industry City. Image: cc.
The above efforts, coupled with the attraction of the area's unique historic feel, lower rents than one might find in established spaces in Gowanus and L.I.C. and the sheer size of the spaces available, have also allowed cultural events like Rooftop Films to bring thousands of new visitors to the neighborhood. Melding industry and art and growing the area's creative reputation, the complex hosted a ten-day design exhibition, curated by Wanted Design, during the city's 2014 Design Week international showcase. Industry City also hosts Brooklyn's Fashion Weekend.
Is Fashion the Perfect Fit?
Creativity and commerce meet in the fashion industry. New York City is known as an international fashion capital; yet the industry has been increasingly less able to afford to do business here. Sunset Park's industrial renaissance has seen a number of apparel labels among new tenants. Fashionista favorite Steven Alan, Swimsuit designer Malia Mills, men's lifestyle brand Ball and Buck and footwear brand Marc Joseph have become tenants recently, joining several longtime local fashion design tenants. With a nod to the city's colorful history, a recent Crain's NY article highlighted this trend with a story titled, "Gaggle of Garmentos Grows in Industry City."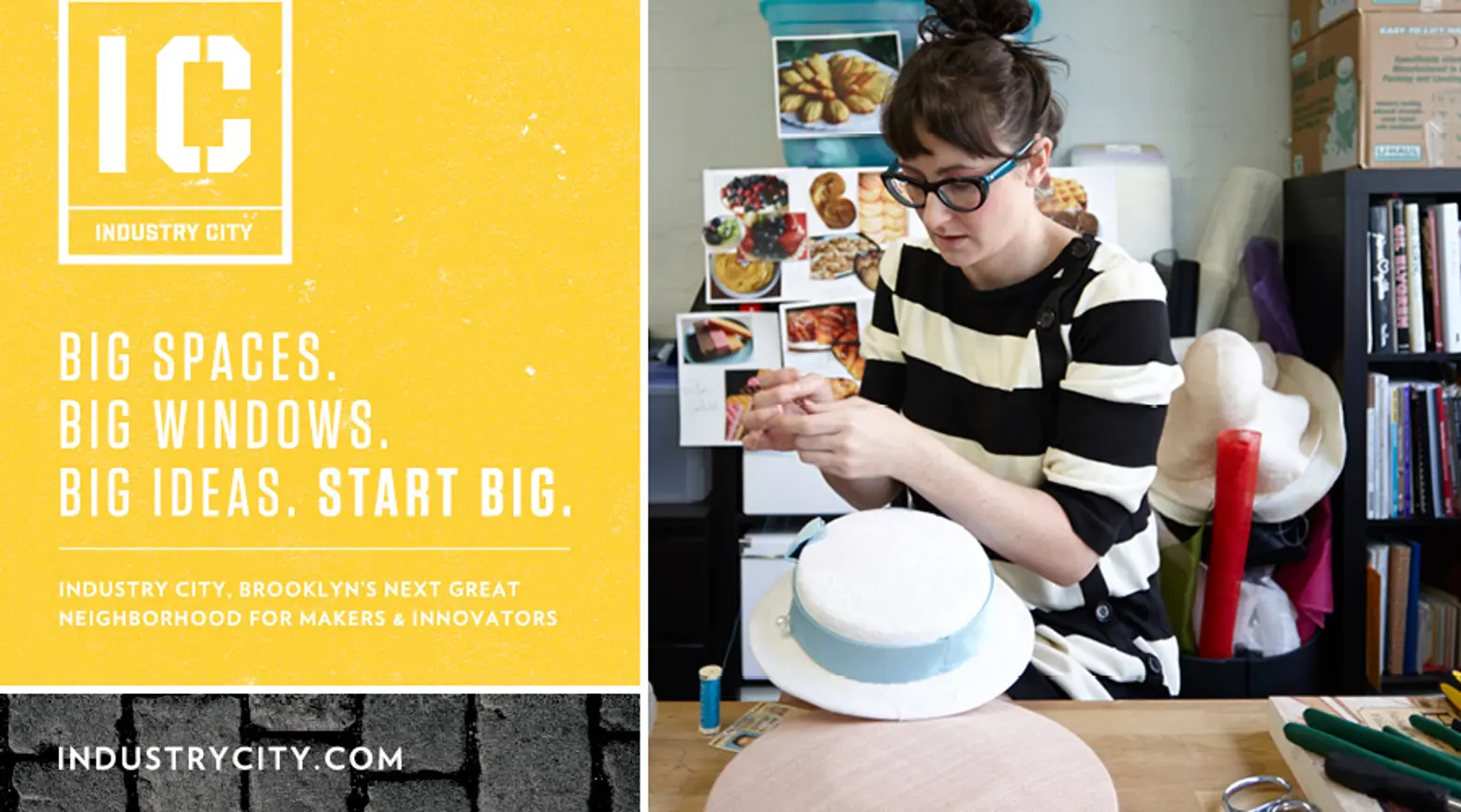 Industry City hopes to attract former Garment District tenants.
One reason fashion creators find the location a fit: Industry City is home to a dozen "cut and sew" companies (basically small factories where garments are assembled) which have recently relocated from the Garment District to Industry City. The promise of on-site manufacturing has enticed fashion firms to follow.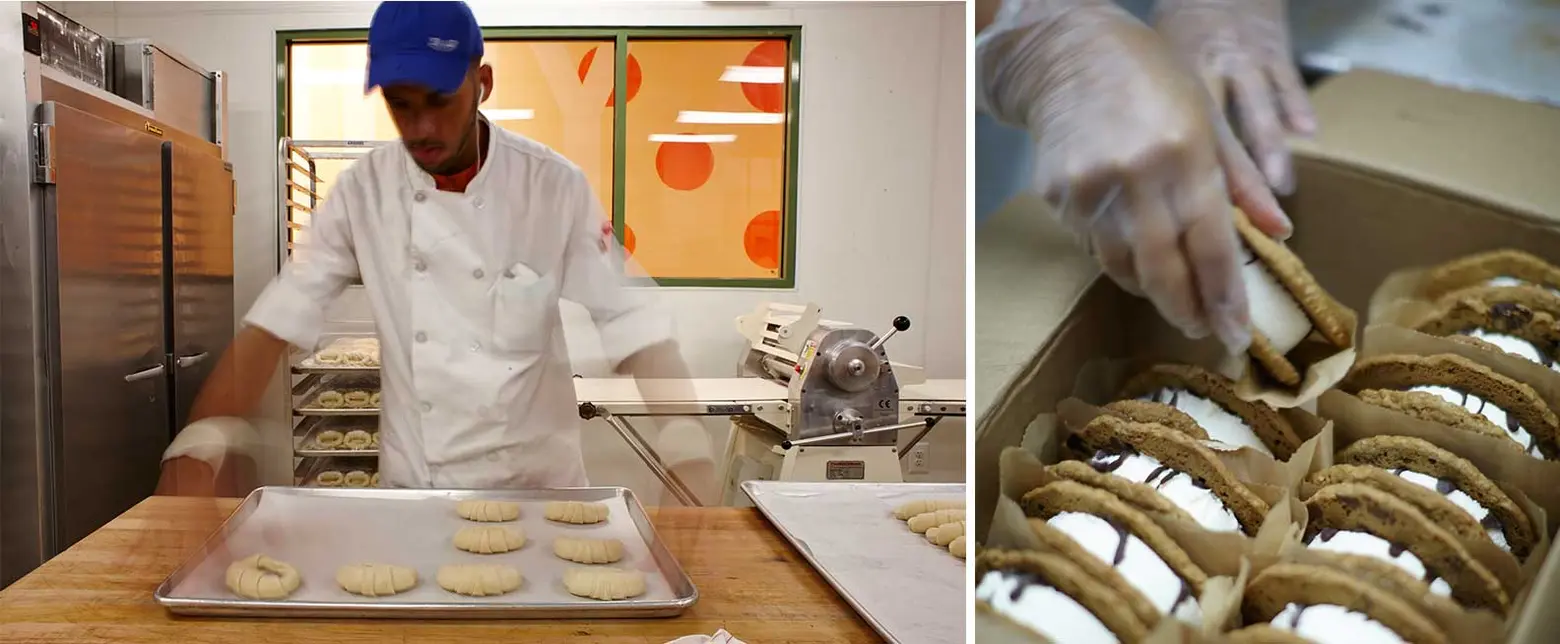 Industry City Food Hall.
Marvin Schein and Sal Rusi of Salmar Properties are marketing the two massive 1916 buildings that make up Liberty View Industrial Plaza to tenants priced out of the Garment District. The developers are reportedly finalizing a 160,000-square-foot lease with Manufacture New York, a fashion incubator and production center for early-stage local designers and manufacturers. These developments go hand in hand with the city's recent efforts to enable designers to work locally by offering financial aid via the NYC Fashion Production Fund. The ideal future of Sunset Park may be just such a hybrid: old and new industry meeting a very real need in New York City's business community while keeping creativity and commerce local.
Also: A Great Place to Live
What does all of this mean for the neighborhood's residential community? Some say that the ambitious resurgence of properties like Industry City is helping to promote neighborhood change. One of the keys to keeping this change positive lies in keeping the residential population locally employed, which may, in turn, provide a rare chance for industry to stay local.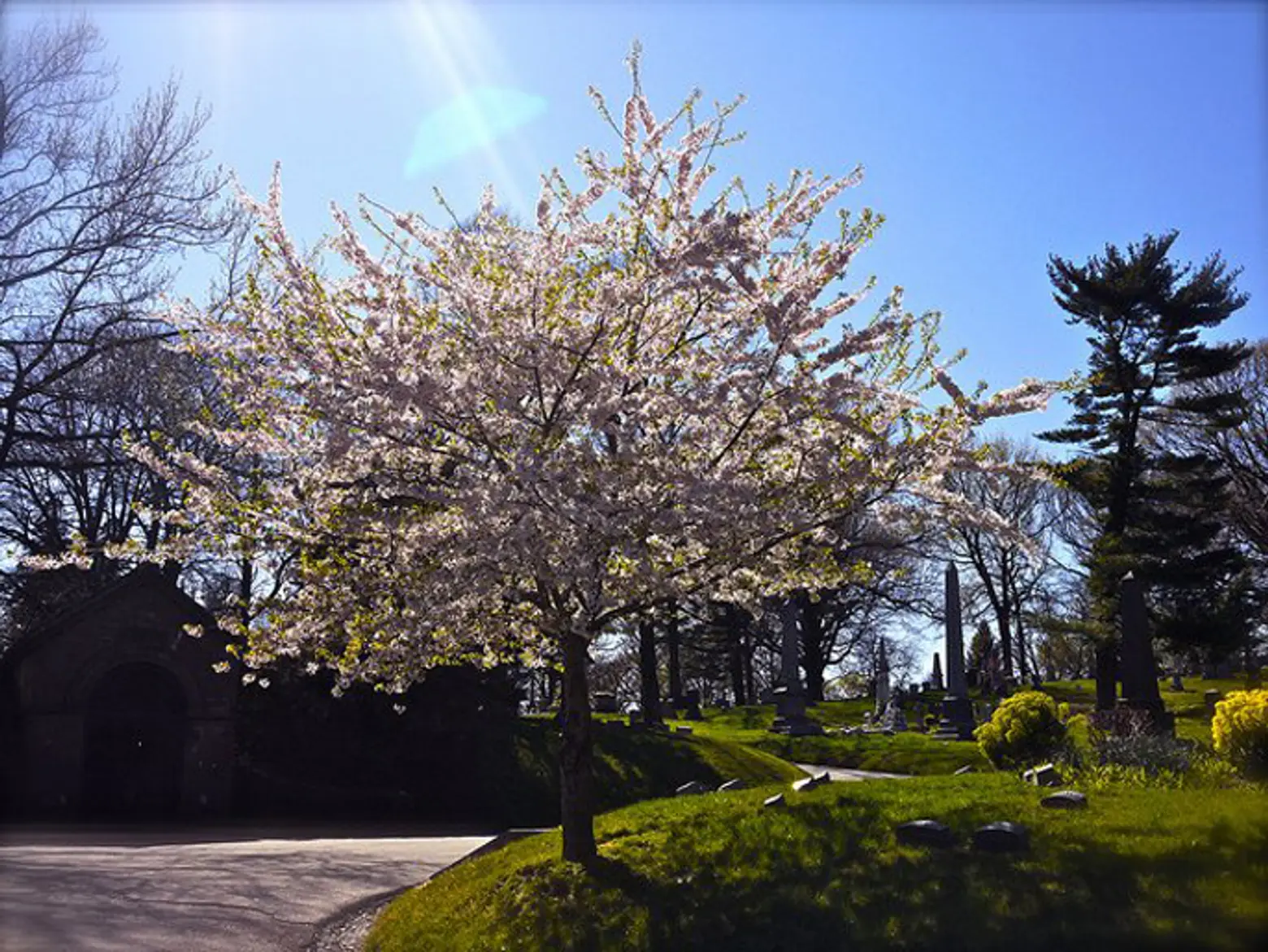 Cherry Blossoms in Greenwood Cemetery. Photo: cc.
The planned Brooklyn Waterfront Greenway, a 14-mile off-street path, will connect Brooklyn's waterfront, running through the Industry City complex to the 23-acre Owls Head Park, also served by the Sunset Park Greenway. Construction on a Bush Terminal Pier Park began in 2012. The Sunset Park Landmarks Committee leads walking tours and other events to introduce people to the neighborhood's charms and show off its best residential blocks. The organization hopes to find buyers who will renovate historic homes and preserve their character rather than demolish them for new construction.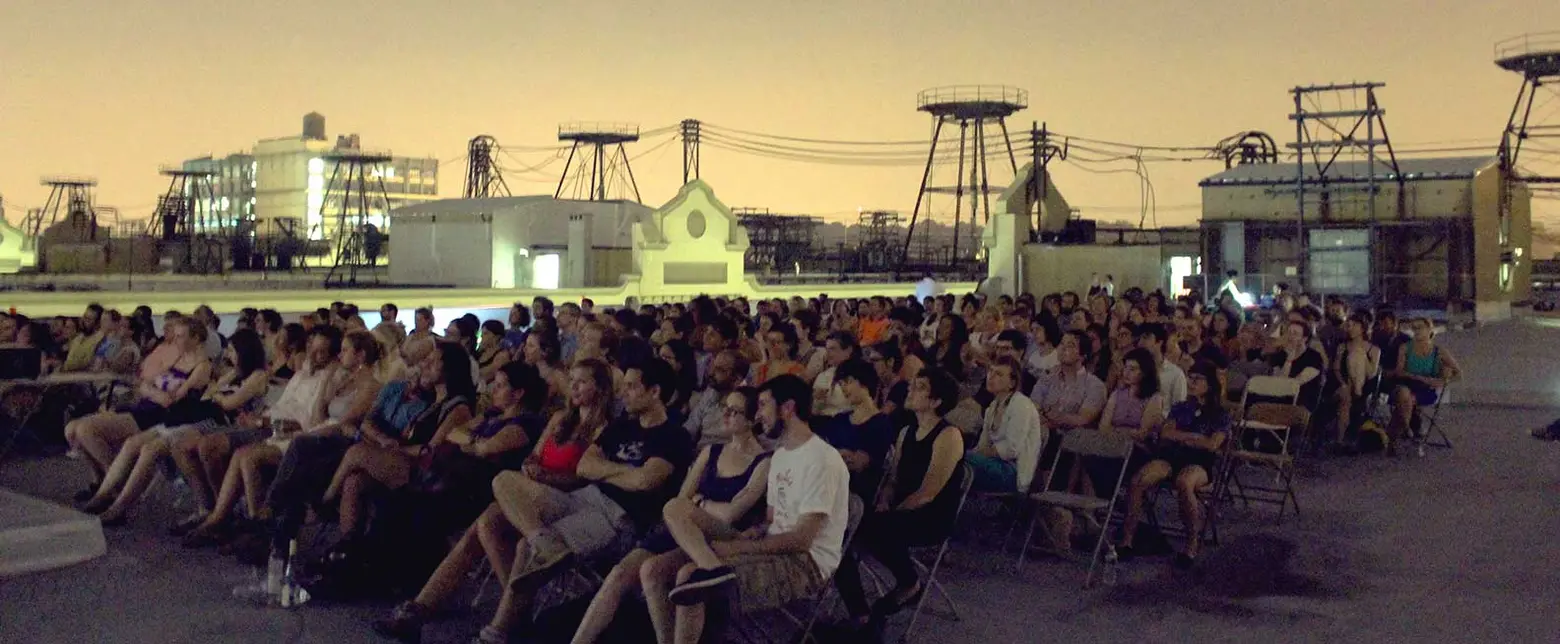 Rooftop Films summer screening at Industry City.
Things to check out in the neighborhood
Community news and events
Friends of Sunset Park
Sunset Park Landmarks Committee
Neighborhood highlights
Sunset Park
Green-Wood Cemetery
Neighborhood eats
Ba Xuyen
Yun Nan Flavour Garden (Formerly Yun Nan Flavour Snack)
Tacos Matamoros
Tacos el Bronco
Rico's Tacos
Industry City Food Hall (Colson Patisserie, Blue Marble Ice Cream, etc.)
Other Information and Reading
History of the Sunset Park Waterfront [by Michael Minn]
Sunset Park is a Hefty Bet for Developers  [WSJ]
The Sun Also Rises: Sunset Park's Booming Artisanal Economy [Commercial Observer]
Gaggle of Garmentos Grows in Industry City [Crains NY]
Lead image courtesy of Industry City