My 630sqft: Inside 'Store Front' photographers Karla & James Murray's East Village home of 22 years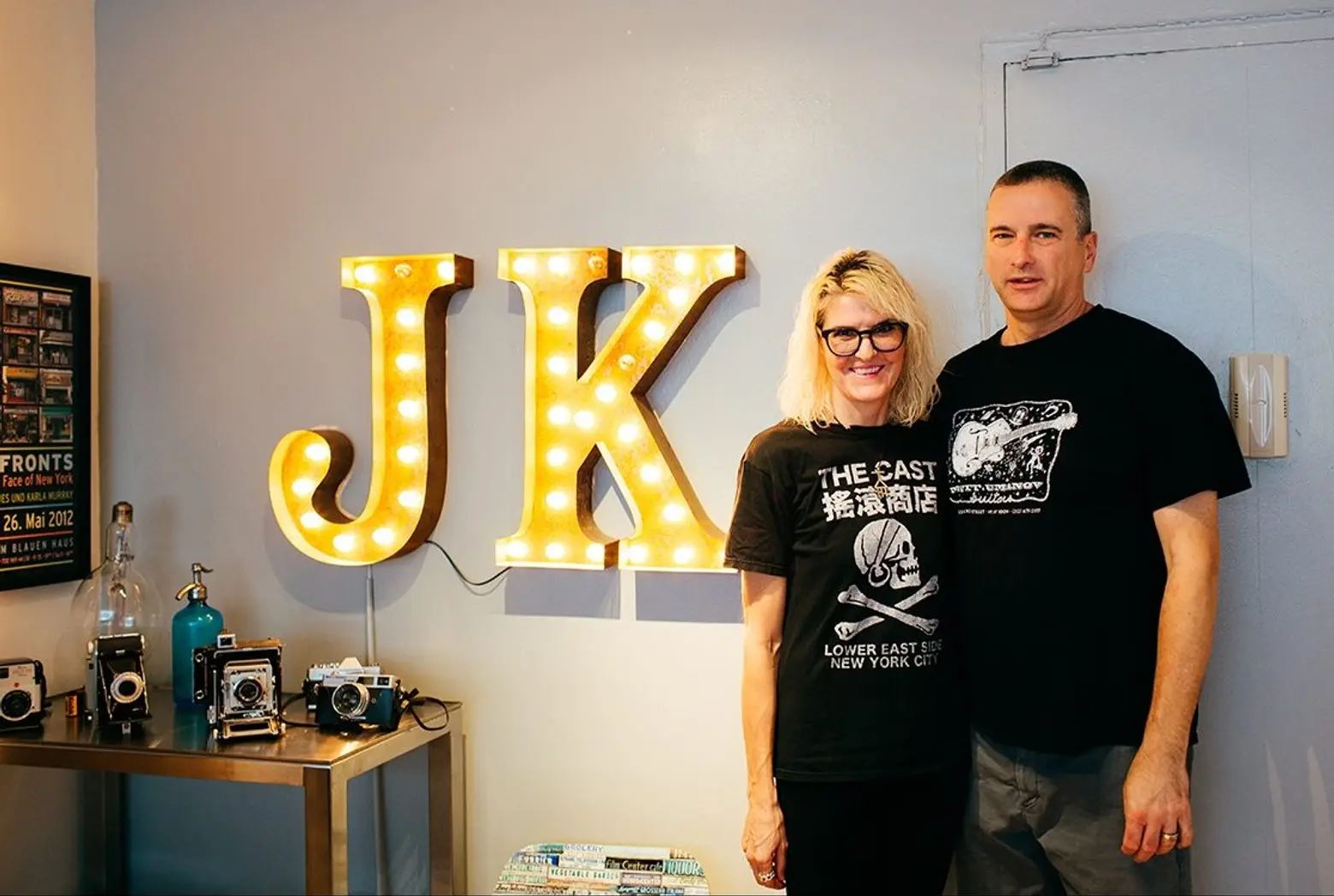 Our ongoing series "My sqft" checks out the homes of 6sqft's friends and fellow New Yorkers across all the boroughs. Our latest interior adventure brings us to the longtime East Village apartment of acclaimed photographers James and Karla Murray. Want to see your home featured here? Get in touch!
You might not immediately recognize their names, but there is no doubt you know their work. Photographers James and Karla Murray burst onto the scene back in 2008 with the release of their seminal book "Store Front: The Disappearing Face of New York," a work culling hundreds of images of the bygone retail graphics that once covered the city—and jointly, the mom and pop businesses that vanished alongside them. Since then, the Murrays have released two more tomes of the same vein, and collected countless awards and accolades for their documentary work along the way. In fact, their photographs can now be found in the permanent collections of major institutions around the world, including the Smithsonian Center for Folklife and Cultural Heritage and the New York Public Library. Their images also decorate the homes of countless celebrities, among them Sarah Jessica Parker, Ralph Lauren, Alicia Keys and Roseanne Barr.
In this week's My sqft, 6sqft visits this warm and spunky husband-and-wife team in their East Village home to talk about their tenure in the city (they moved downtown in the 80s—though Karla is from the Bronx) and their ongoing efforts to chronicle what remains of "old New York." We also get a peek inside their studio apartment/workspace of 22 years, which as Karla and James share ahead, has some crazy stories of its own.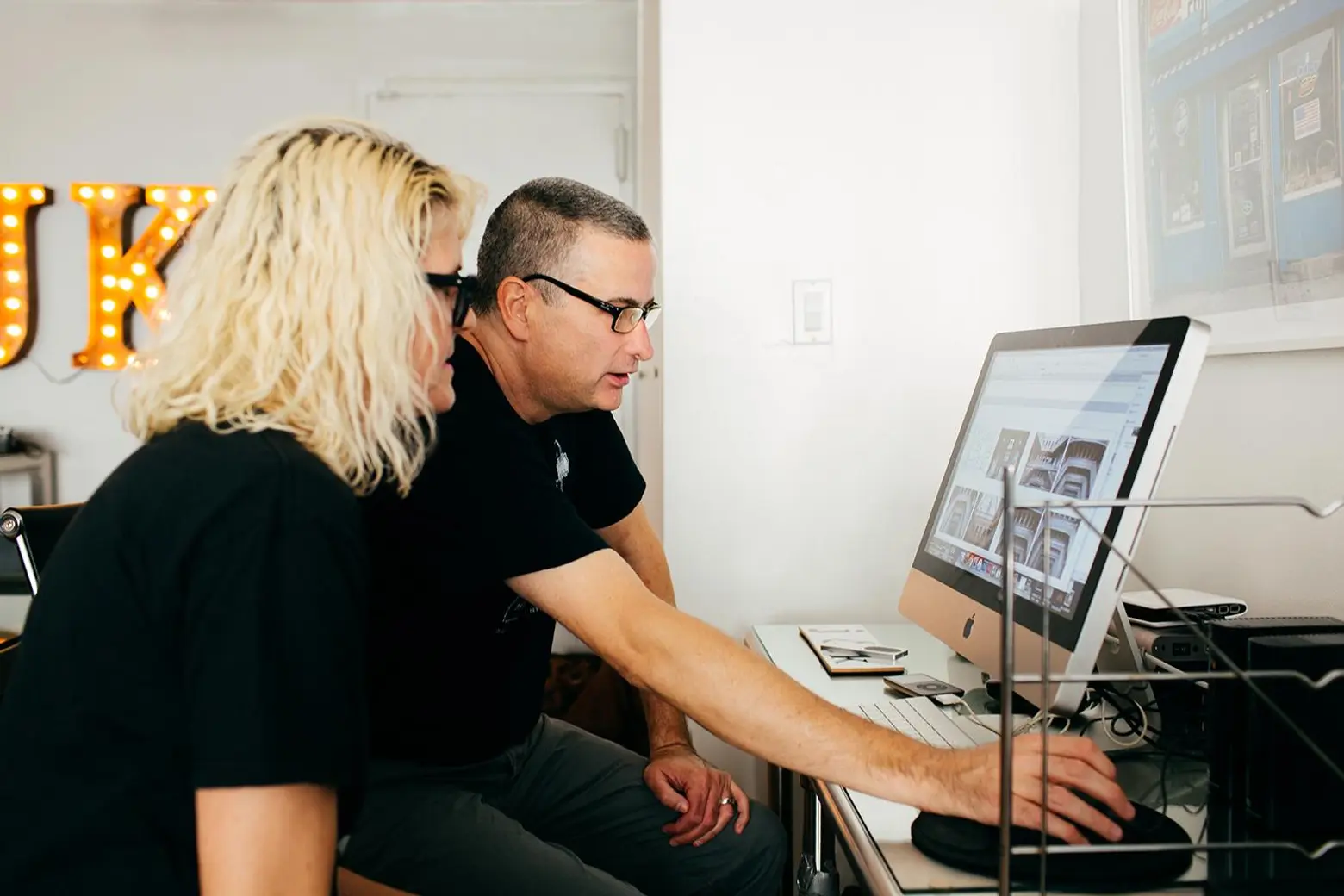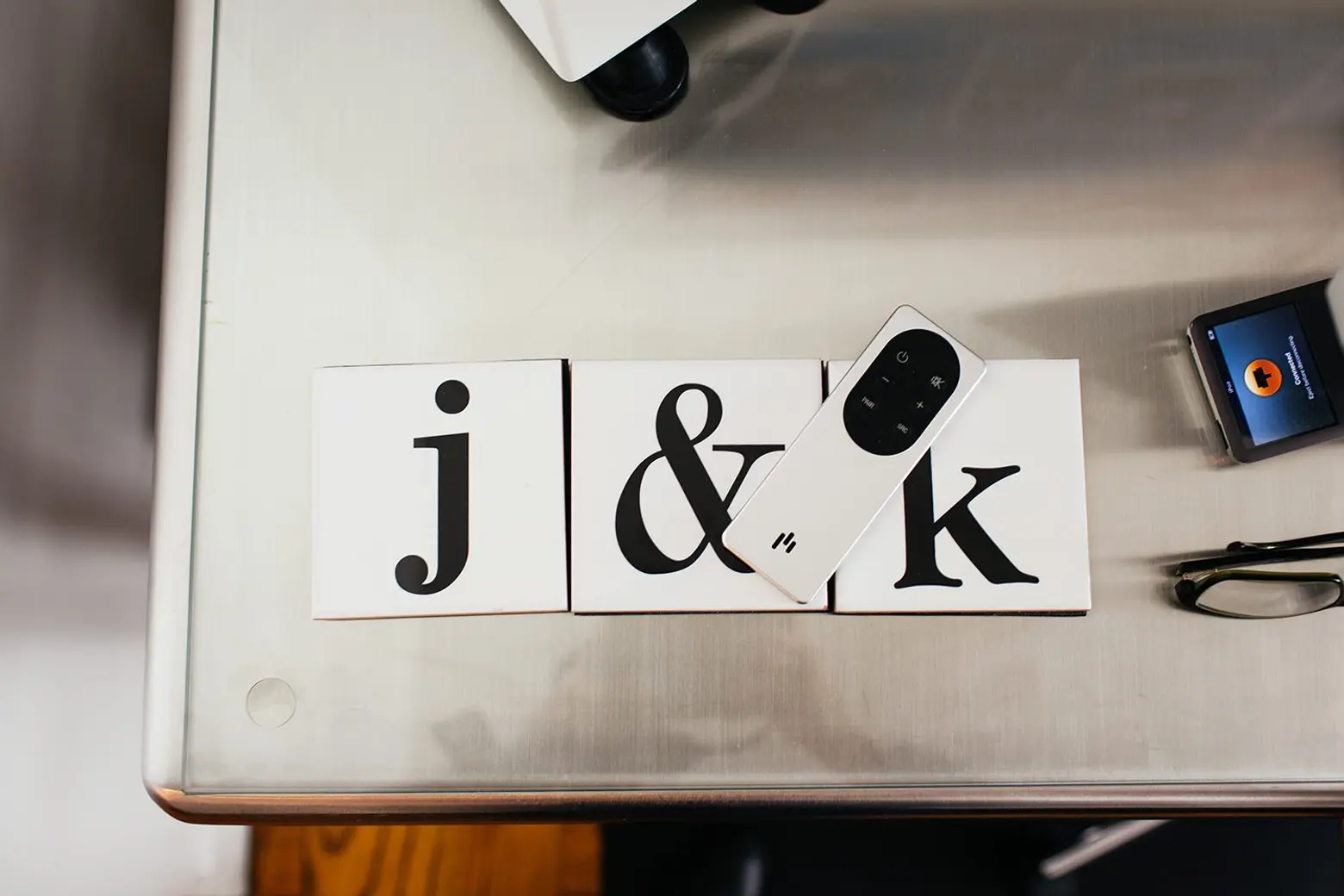 How did you two meet and end up working together?
We were introduced by mutual friends in the late 1980s. We both had similar interests in photography, urban exploration, and graffiti art. After over six years of friendship, we finally had a "real date" and soon afterwards (less than three months) we were married. At first we each had separate and multiple jobs to make ends meet but eventually decided to work together as photographers, taking our passion into a business reality.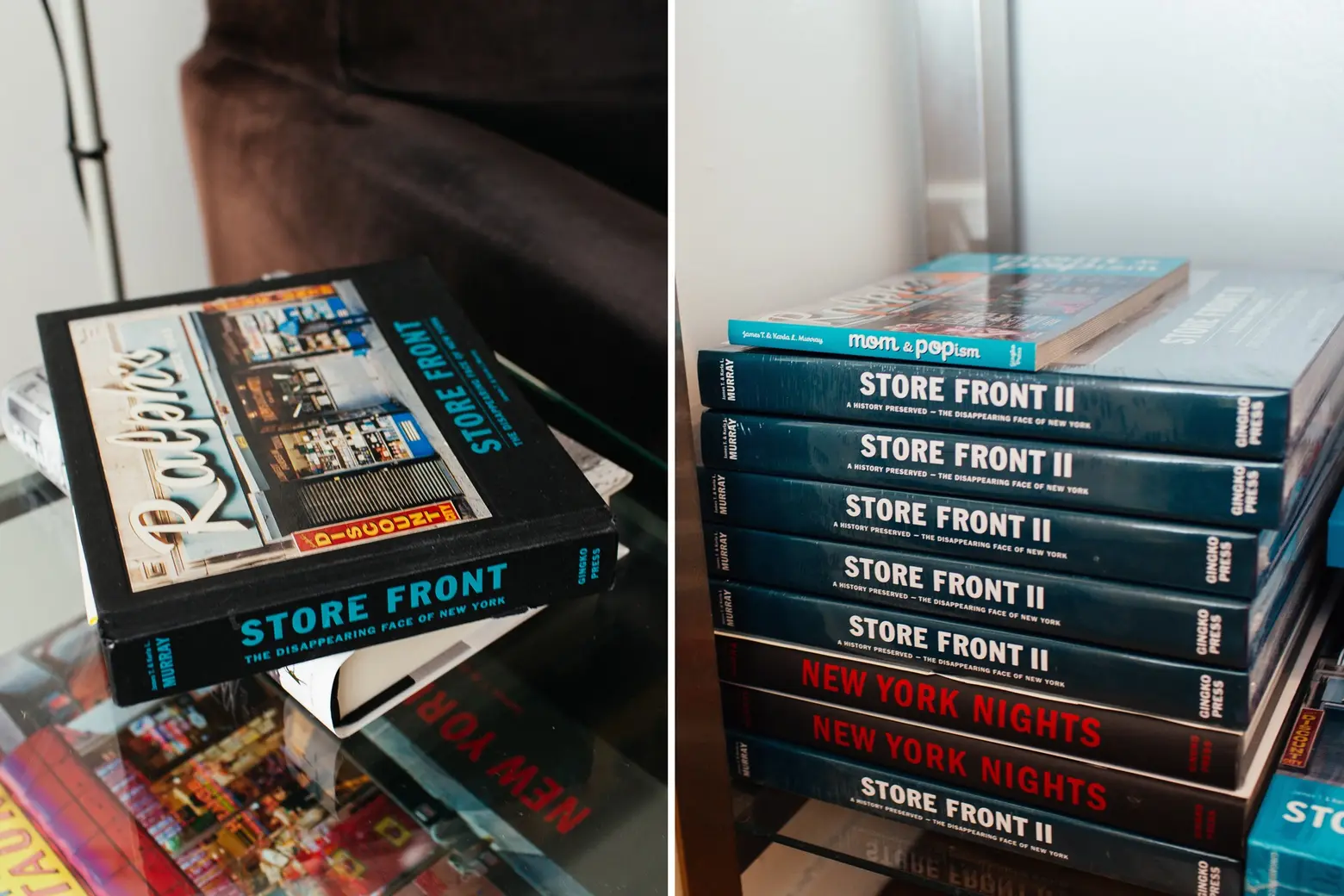 Have you always done photography and shot storefronts? Did you think you series 'Store Front' would blow up like it has?
We both have had a love of photography since we were children and owned many different film cameras. Although we were not working as photographers when we first married, we often would spend our free time and weekends going on photo "safaris" walking different neighborhoods of the city and capturing its street culture.
The idea to capture the disappearing storefronts came about when we were photographing the city's streets for an entirely different project. During the mid to late 1990s, we were combing the streets of NYC searching out and documenting its graffiti art scene for a book we were making that involved large-scale photography, "Broken Windows-Graffiti NYC." We were traveling to many distant neighborhoods of the city because most graffiti is not found in the center of Manhattan, but in its boroughs. The nature of graffiti art is such that it constantly changes as new art covers what had been there before. We would often return to the same location and see new artwork, so we often had to make many trips to the same block. Despite the short time frame between visits, however, we noticed that some blocks looked drastically different.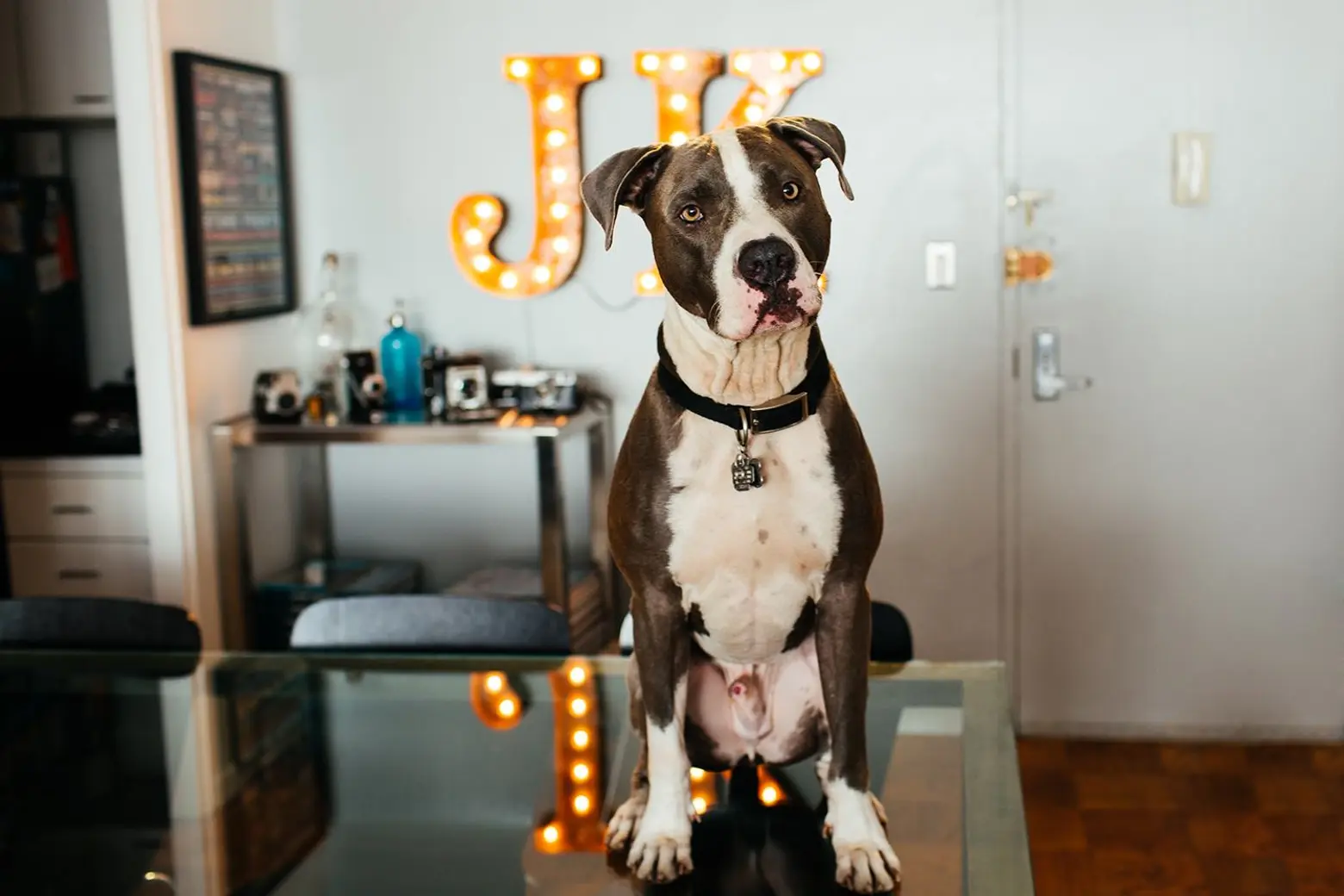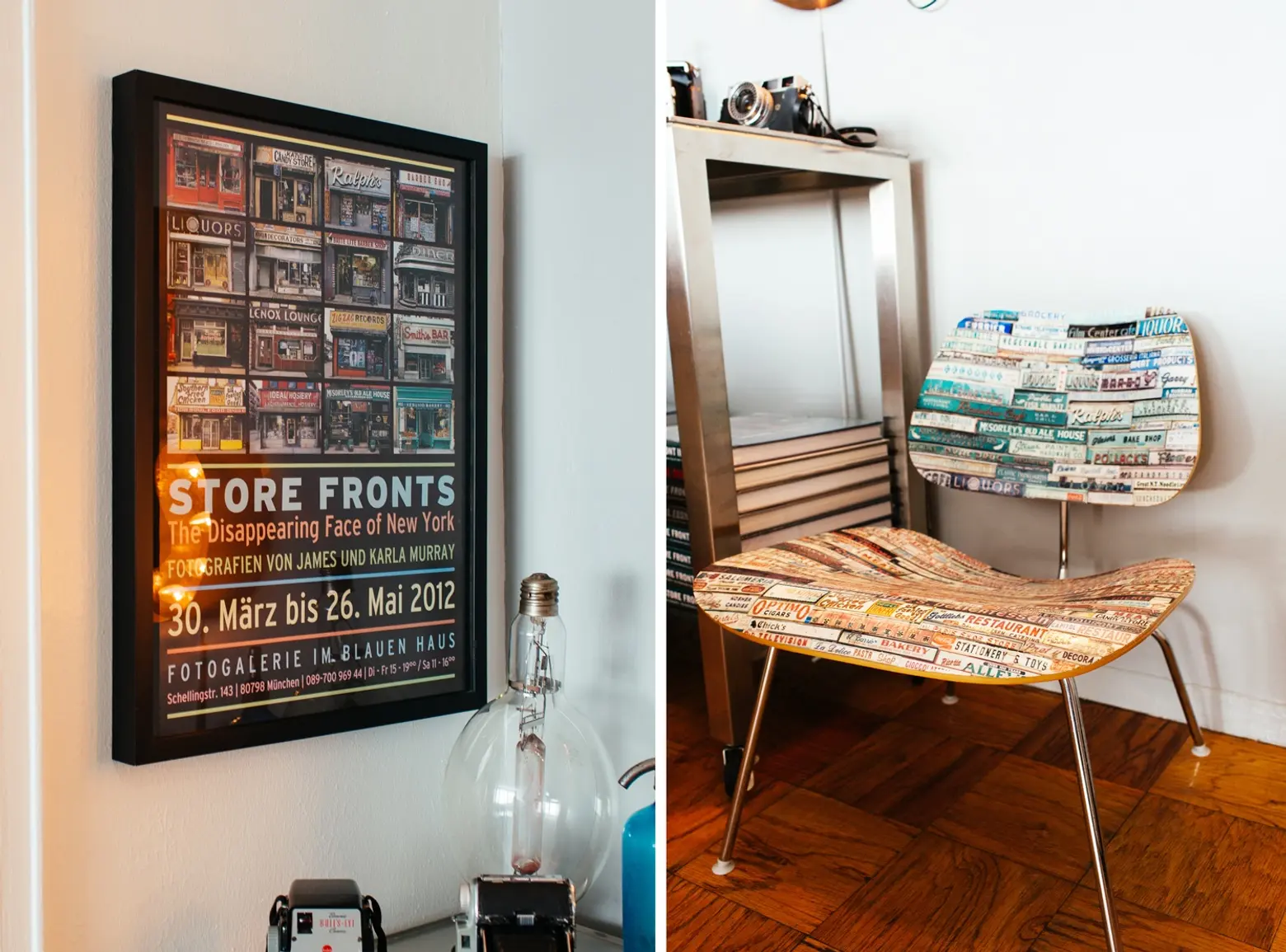 Karla and James' dog Hudson, a pit bull they rescued from death row three years ago (top); A poster advertising their 2012 solo gallery show in Munich, Germany and a giant bulb from the Newton Creek Power Plant (bottom right); A real Eames chair that Karla collaged with NYC storefront signs. The chair is actually the second she's made, the first she created for a Design Within Reach charity event at Barney's. She had a hard time parting with it and thus decided to make another
Coming from a graffiti background, which is a letter-based art form, we were always looking at store's signage and window displays and how the lettering was manipulated or styled. Many stores in these distant neighborhoods had closed, or we would come across "old" stores, still in business, but somehow different. They were either refaced, remodeled, or original signage had been substituted with new, bright and shiny plastic awnings using generic type faces. The whole look and feel of the neighborhood had changed and much of its individuality and charm had gone. We were witnessing first hand the alarming rate at which the shops were disappearing, and decided to preserve what we could of what remained.
We had no idea when we started our "Store Front" project that anyone besides ourselves would have an interest in it. We were primarily driven by visual aesthetics. We were at first visually attracted to the mom-and-pop shops original signage, including both hand-painted signs and neon signs, architectural adornment, and hand-made window displays. But even though the project was initially primarily driven by visual aesthetics, after speaking with only a handful of the storeowners, the scope of the project became larger as we discovered that many of the shop owners had fascinating stories to share about the joys and struggles of surviving as a family business in New York City. After initially posting some of our storefront photos on the web and hearing positive feedback from so many people, we saw the opportunity to publish a book and have the project act as an artistic intervention to help draw attention to and preserve the small shops whose existence is essential to the unique and colorful atmosphere of the city's streets.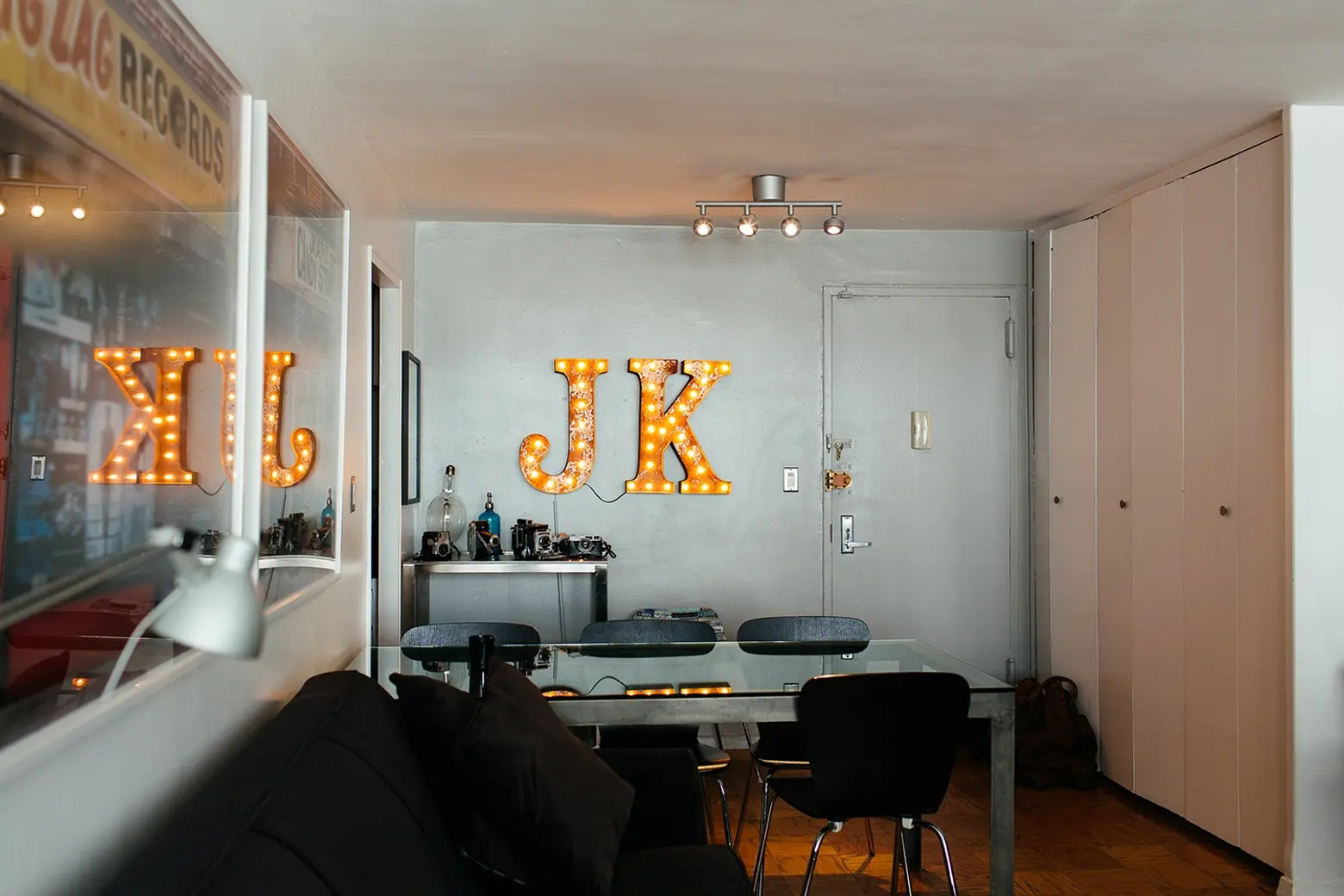 The pair's office/workspace. Their walls are covered with some of their favorite storefront photos
You've been in your building 22 years now. How did you find this apartment and how have things changed during that time?
We were searching for an apartment for a while and knew we wanted to be south of 14th Street, but were on a budget. The realtor showed us many "unique" apartments including spaces where there was no kitchen, just a microwave on a cart and a refrigerator in a hallway, and others with the shower in the kitchen area. We also saw some small "loft" spaces which really were just tiny apartments with a sleeping platform built to create more space—not really wasn't suitable for James who is over 6'2″. Our realtor eventually decided to show us our present apartment, which although needed "work" had good views and an even better price.
When exiting the elevator to the 10th floor of this building, we noticed remnants of police crime scene yellow tape sealing the door, but our realtor quickly ripped it away, muttering something like "this should have been gone by now." We quickly forgot about the tape when we saw the sweeping open views of the East Village from the south-facing wall of windows lining the entire width of the L-shaped studio. We not only had a view of blocks and blocks of four and five-story tenement buildings in our East Village neighborhood but also had a great view of a nearby water tower as well as views of iconic downtown lower Manhattan and Financial District buildings and all three bridges crossing the East River.
A few weeks later, we met the co-op board to obtain approval and when asked what apartment we were interested in, they all gave each other side long glances and their eyebrows shot up when we told them the apartment number. They quickly approved us and we moved in. Just a few days later, we met our neighbor who lived at the end of our hall and curiously had a very large steel entry door with a huge security bar and lock going across it. He told us that our apartment used to belong to one of his "clients" who had overdosed in the bathroom. That explained the police tape, the raised eyebrows of the co-op board as well as the great price we got on the apartment!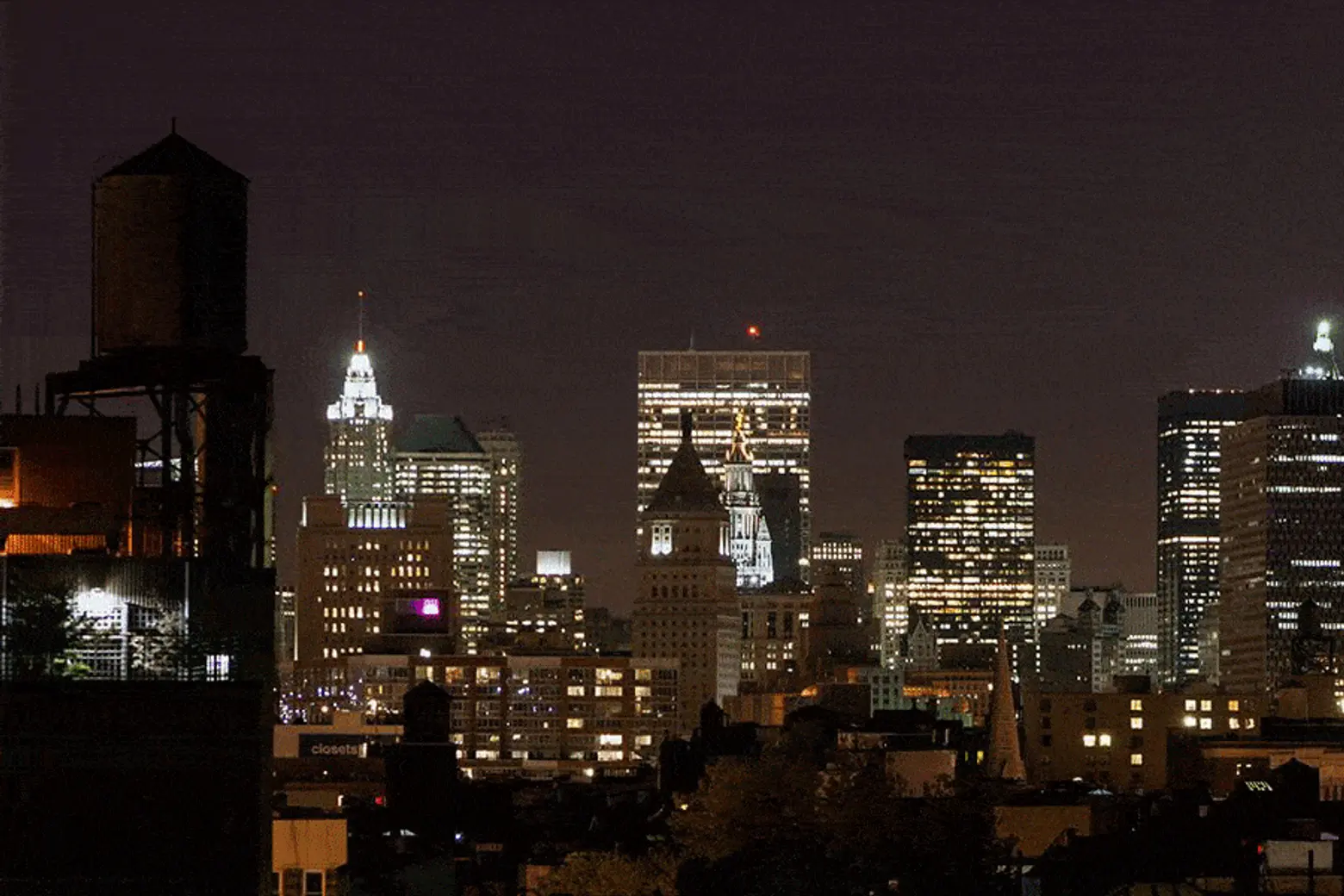 The view from their apartment in 2007 versus 2016
In the years we have lived here, we have seen our own building and the surrounding neighborhood change drastically. Crime has gown down and many new taller buildings have been built, blocking parts of our view, and at the same time many of the small unique mom-and-pop shops that we used to frequent have disappeared.
What are some of your favorite spots current and bygone?
We always liked to look at and buy books from St. Mark's Bookshop on the corner of Third Avenue and Stuyvesant Street. We would always say to ourselves, "How amazing would it be to have a photography book of our own for sale here?" And in 2002, our first graffiti book "Broken Windows-Graffiti NYC" was not only on display in the front window but also a popular seller on the front table of the store, as was "Store Front: The Disappearing Face of New York" in 2008 and "New York Nights" in 2012. We often would stop by to sign copies and talk to Bob, the co-owner. He would let us know how well our books were selling and also give us recommendations on new releases and other books he thought would be of interest to us. He also confided in us when rising rents were forcing him to close the store and downsize to a small, off-the-beaten track location on East Third Street, which sadly closed less than two years later.
We also have great memories of going to DJ parties and art shows in the basement of the old P.S. 64/El Bohio/CHARAS building and going to clubs like the World, the Gas Station on Avenue B and Carmelita's Reception House on 14th Street and also buying music at Throb on 14th Street. All of these have long ago closed.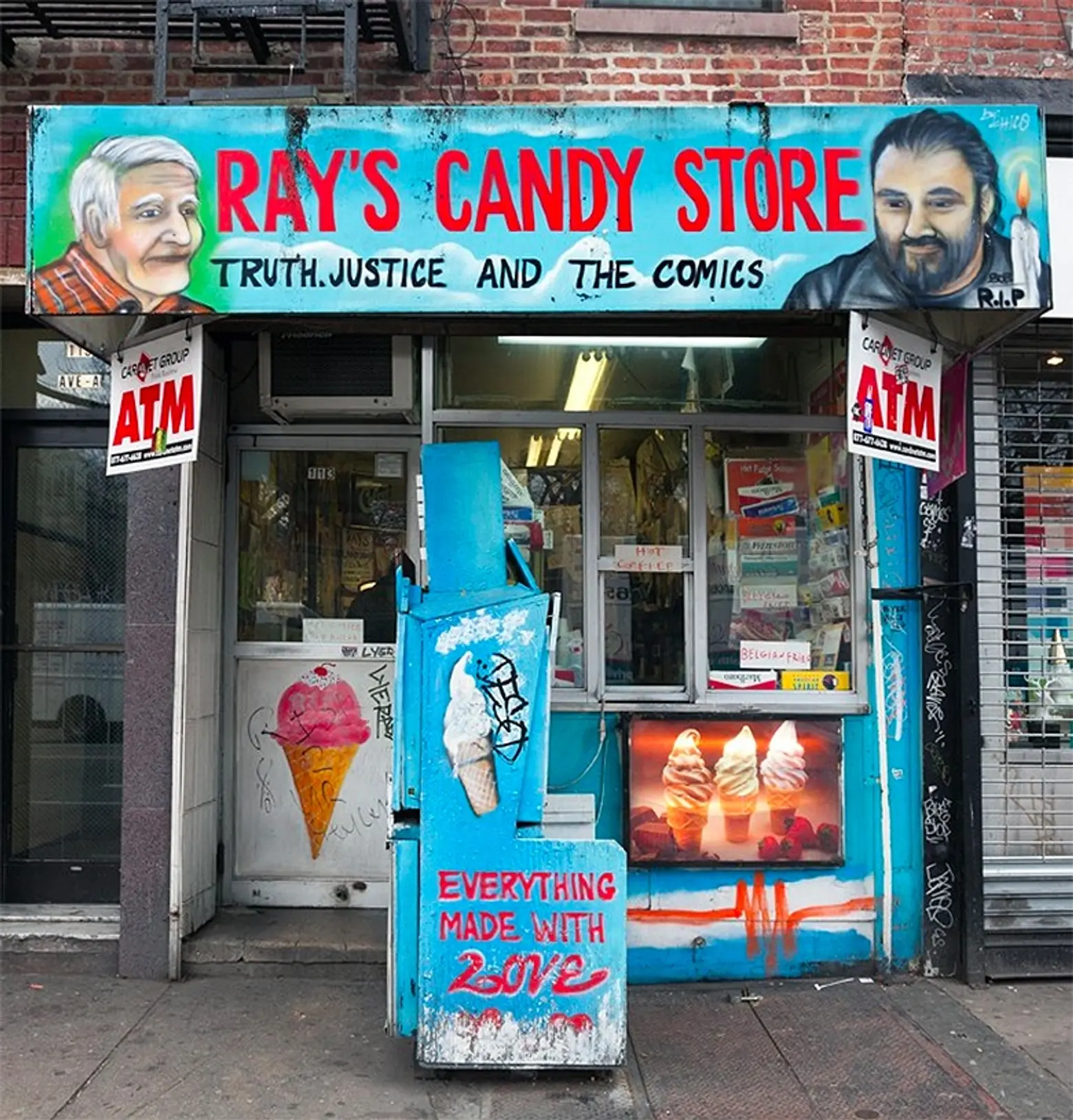 Ray's Candy Store on Avenue A. Image courtesy of James and Karla Murray
We also have memories of going to Ray's Candy Store on Avenue A across the street from Tompkins Square Park in the 1980s to get a coffee or egg cream late at night. We still frequent the shop to this day to talk to the amazing owner, Ray Alvarez, who still works the night shift!
Another favorite spot of ours is the 2nd-floor Bangladeshi restaurant Milon on First Avenue near East 6th Street. We have been getting our favorite Chicken Tikka Bhuna Masala and Alu Paratha almost every week since the early 1990s. Not only do they have amazing food at great prices, but also a very unique atmosphere filled with thousands and thousands of tiny, twinkling lights from walls to ceiling.
To satisfy our sweet tooths, we go to Veniero's Pasticceria on East 11th Street. We've been going there since we moved to the neighborhood in the 1980s. Everything they sell, from their authentic Italian pastries and cookies to their cheesecakes, are baked on site fresh daily!
Is there a time in NYC you'd like to revisit?
We wish we had taken more photos of our own neighborhood and its street culture in the early days, as well as Times Square in the 1980s. But since we already have a storage unit filled with our slides and negatives of thousands of storefront photos, we are happy with what we have documented.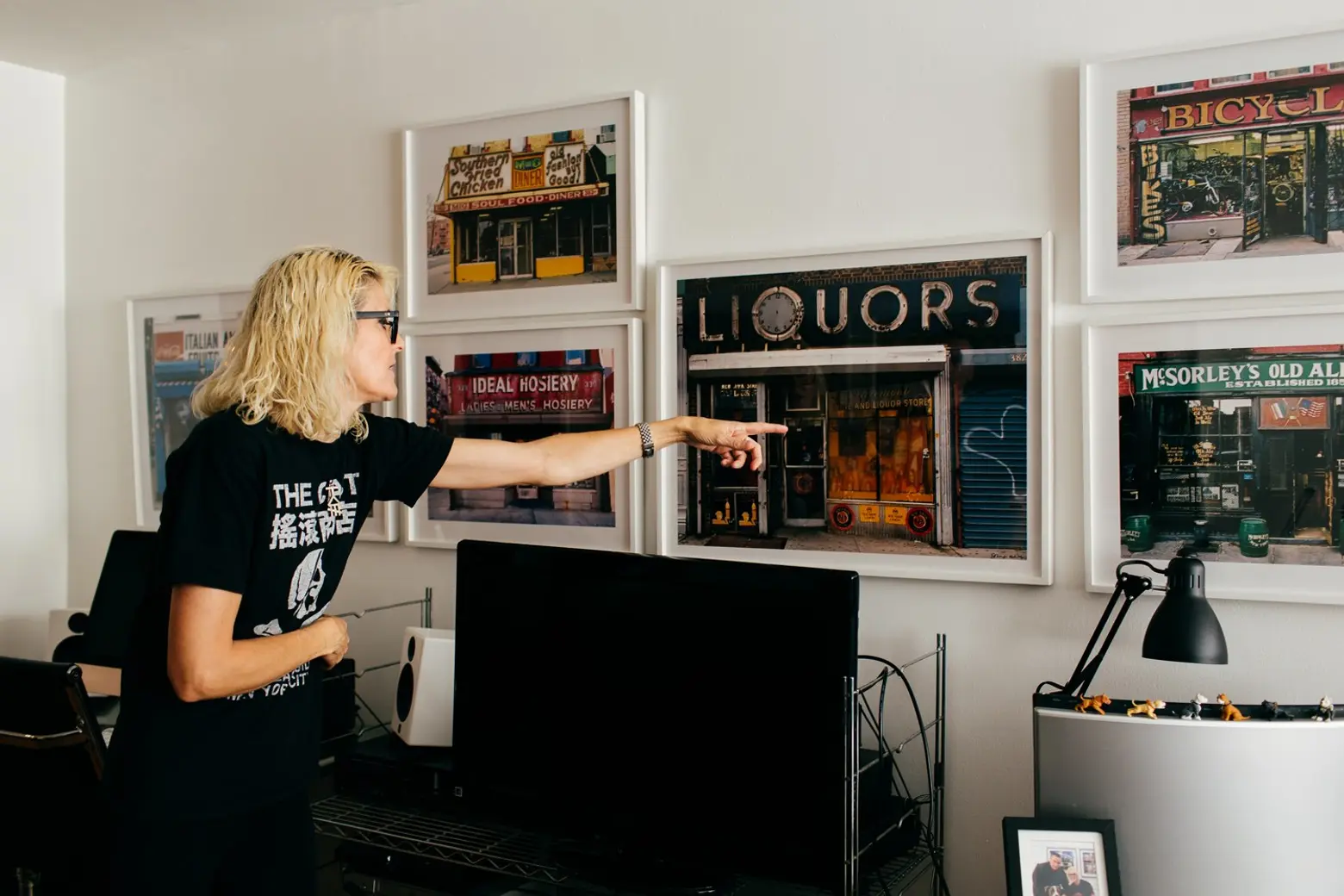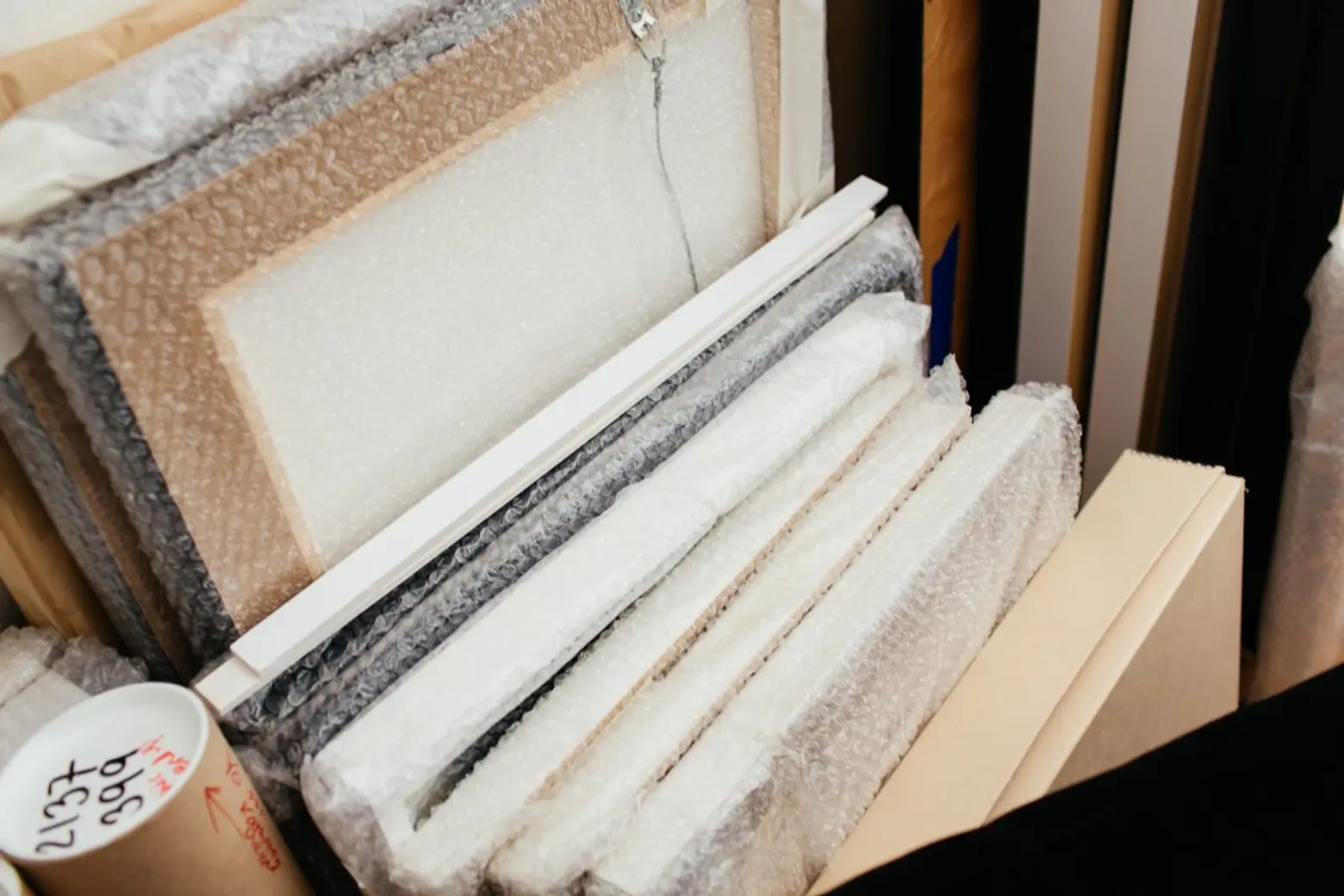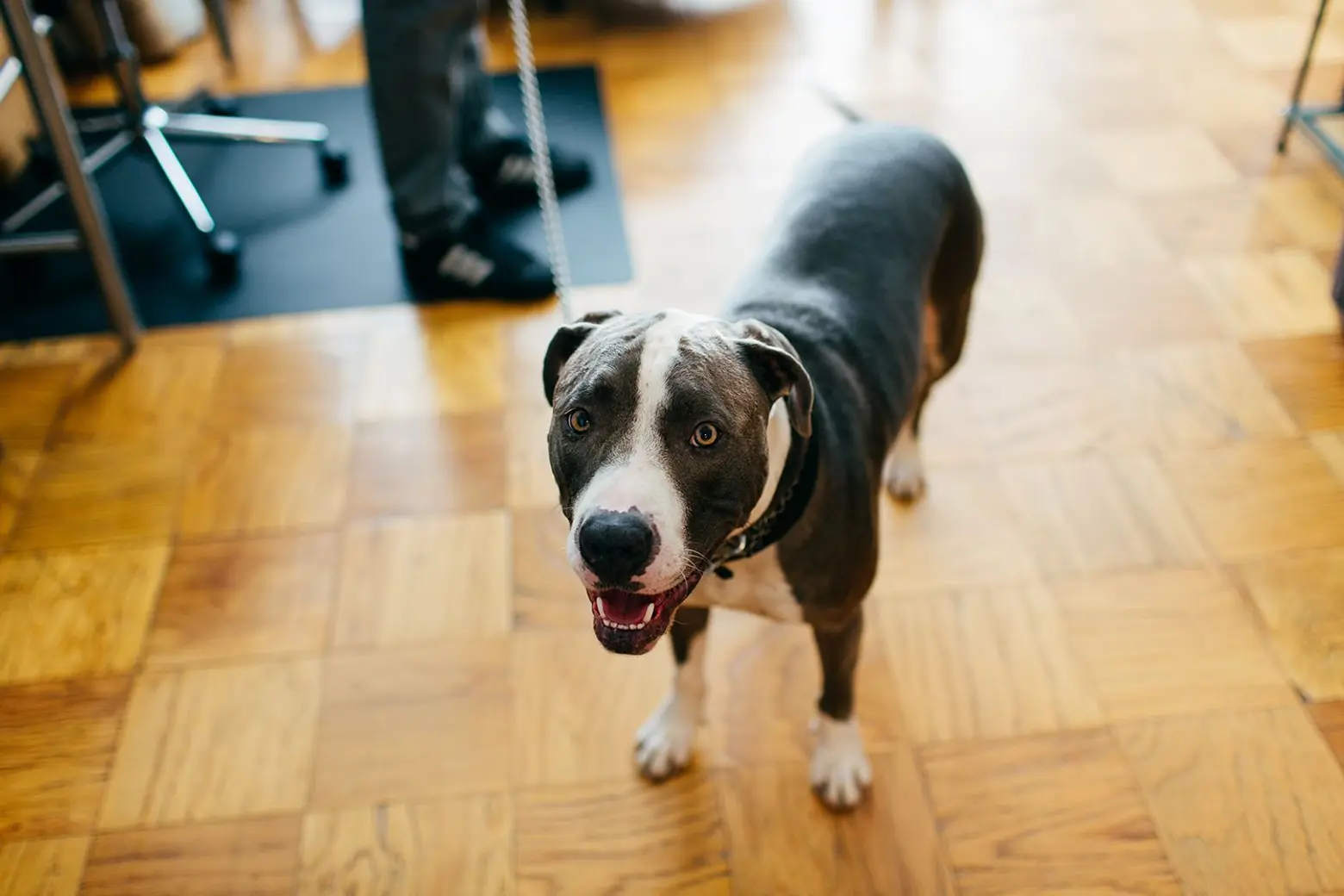 How would you describe your interior and personal style?
We have always been attracted to more industrial styles and also try to remain as clutter free as possible in the small space we live in. Our decorating style is utilitarian and also business-friendly in that are walls are lined with framed storefront photos in a variety of sizes that we can show to clients who are interested in purchasing prints for their own business or home. Our personal style is simple and functional; Karla tends to dress in a lot of black and muted tones and we both have a large collection of t-shirts from local mom and pop businesses that we support.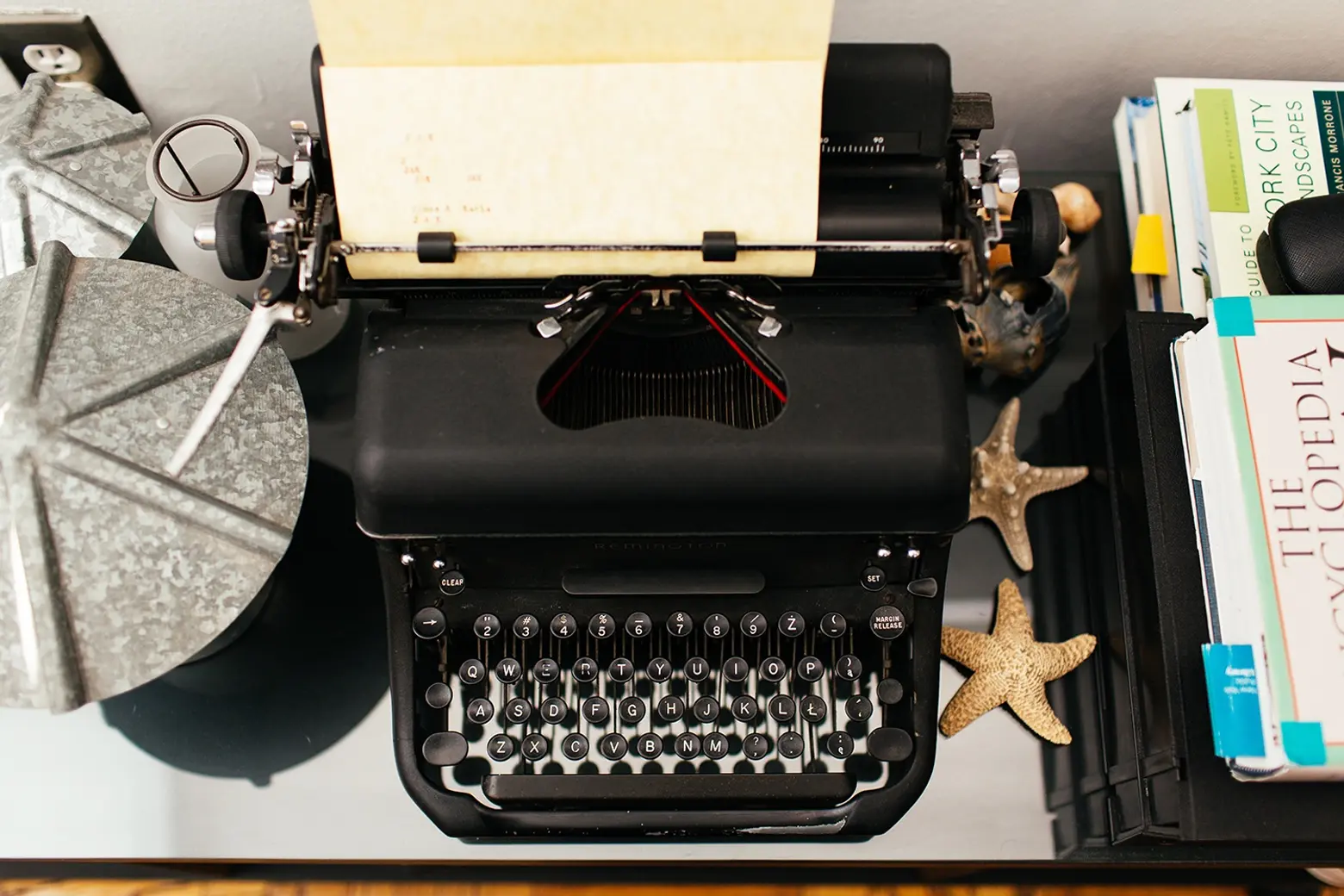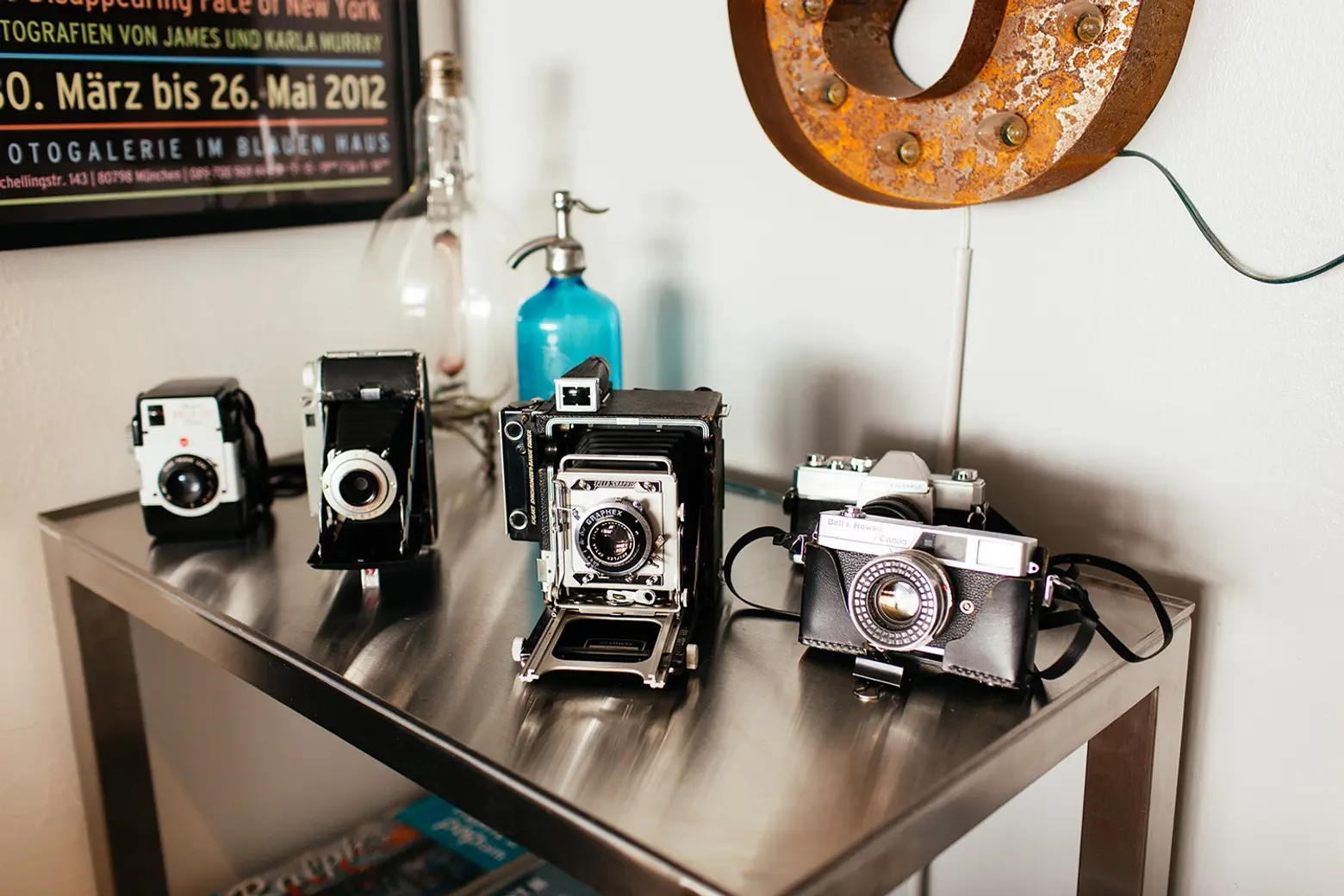 Their Remington Rand Model Standard No. 17 typewriter (top); Their collection of vintage cameras and a seltzer bottle they picked up on the Lower East Side. The bottle still has the original water in it because it's not clear how it's opened (center); A Nixie Clock, which uses vacuum tubes (bottom)
What are a few of your favorite personal items?
We love our 1946 Remington Rand Model Standard No. 17 typewriter that we found in the trash outside the old Stuyvesant High School around the corner from our apartment. We restored it to working condition.
We also love collecting vintage film cameras including our favorite Graflex 1949 Pacemaker Speed Graphic 4 x 5″ camera. We often use this camera when shooting personal projects including black and white street scenes and turn-of-the-century architecture. This camera is especially meaningful to us because many photographers who we admire, like Man Ray, Berenice Abbott and Weegee, used a Graflex camera at one point in their career.
Another favorite item we have on display is our "J" and "K" vintage marquee lights. They bring a little bit of old Broadway into our own apartment.
Any other upcoming projects you'd like to share?
By the time we wrote our introduction to our book "Store Front: The Disappearing Face of New York" in 2008, over one-third of the stores we had photographed had already disappeared and today, over 75 percent are no longer in business. As a result, we started re-photographing the locations of all the mom-and-pop stores which appeared in our first two book ["Store Front" and "New York Nights"] after almost a decade had passed. We felt this was a sufficient amount of time to really bring into focus the commercial changes and resulting loss of character and decreased sense of community the neighborhoods were experiencing. The purpose of the photos in the before and after project is to clearly spell out and provide documentation of not only what storefronts have been lost but also what is often lacking in the commercial space's replacement. Until you place them side-by-side and really look at the two photos, you cannot get the true sense of loss experienced by the neighborhood.
The trend we noticed very early on while photographing the original stores was that if the owner did not own the entire building, their business was already in jeopardy of closing. The owners frequently acknowledged that they were at the mercy of their landlords and the ever-increasing rents they charged. Due to the commonality of high rent increases, after the business had closed, it was often replaced by a chain-type store or banking institution, which could afford the higher rent, or the whole building was converted into a luxury condo. If the location had too small a footprint or the locale was deemed undesirable by a chain-type store, the space often remained vacant, sometimes for years.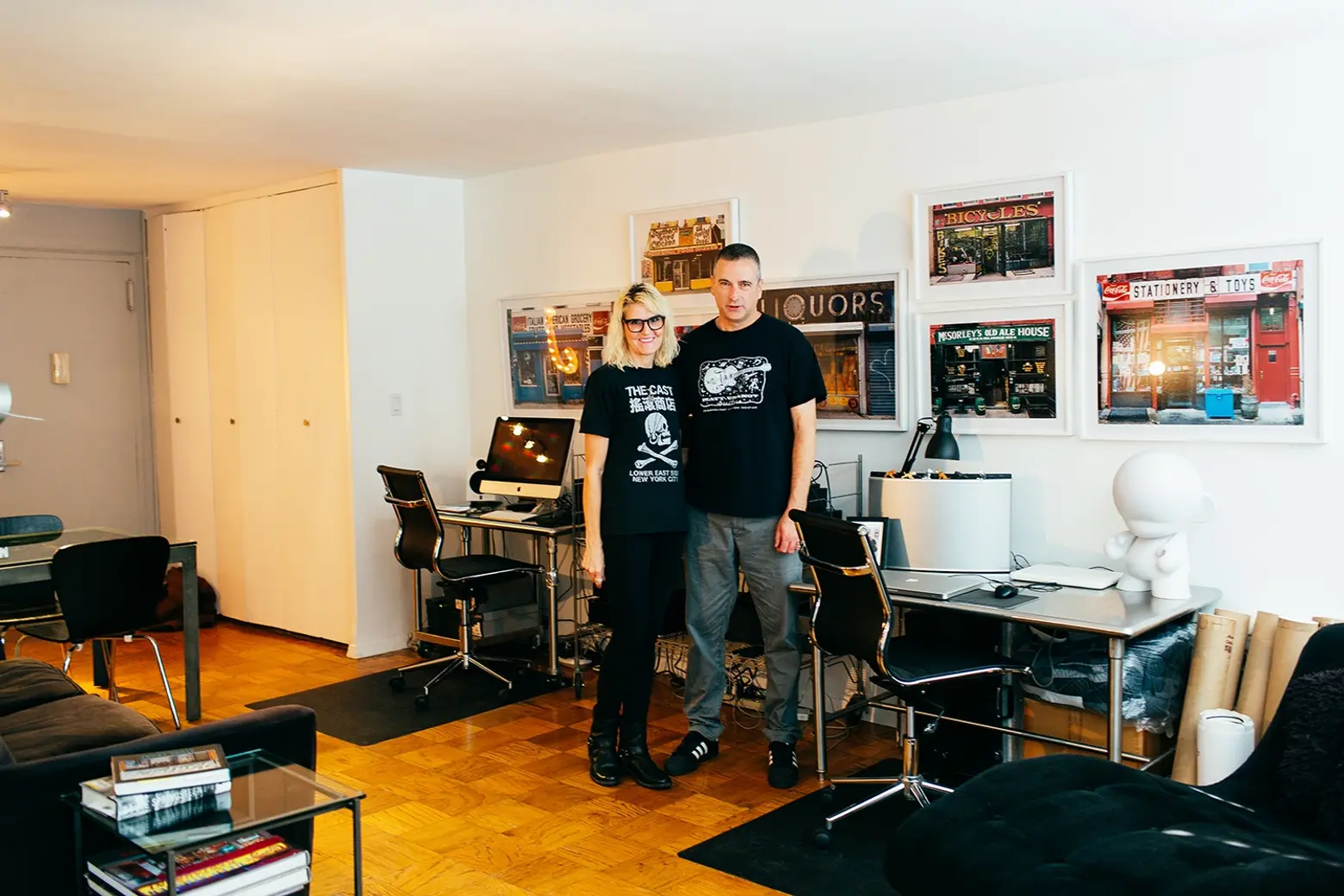 PHOTOS FROM KARLA AND JAMES PREVIOUSLY FEATURED ON 6SQFT:
MORE FROM OUR MY SQFT SERIES:
All photos taken by Erin Kestenbaum exclusively for 6sqft unless otherwise noted. Photos are not to be reproduced without written permission from 6sqft