10 ways to make a studio apartment feel bigger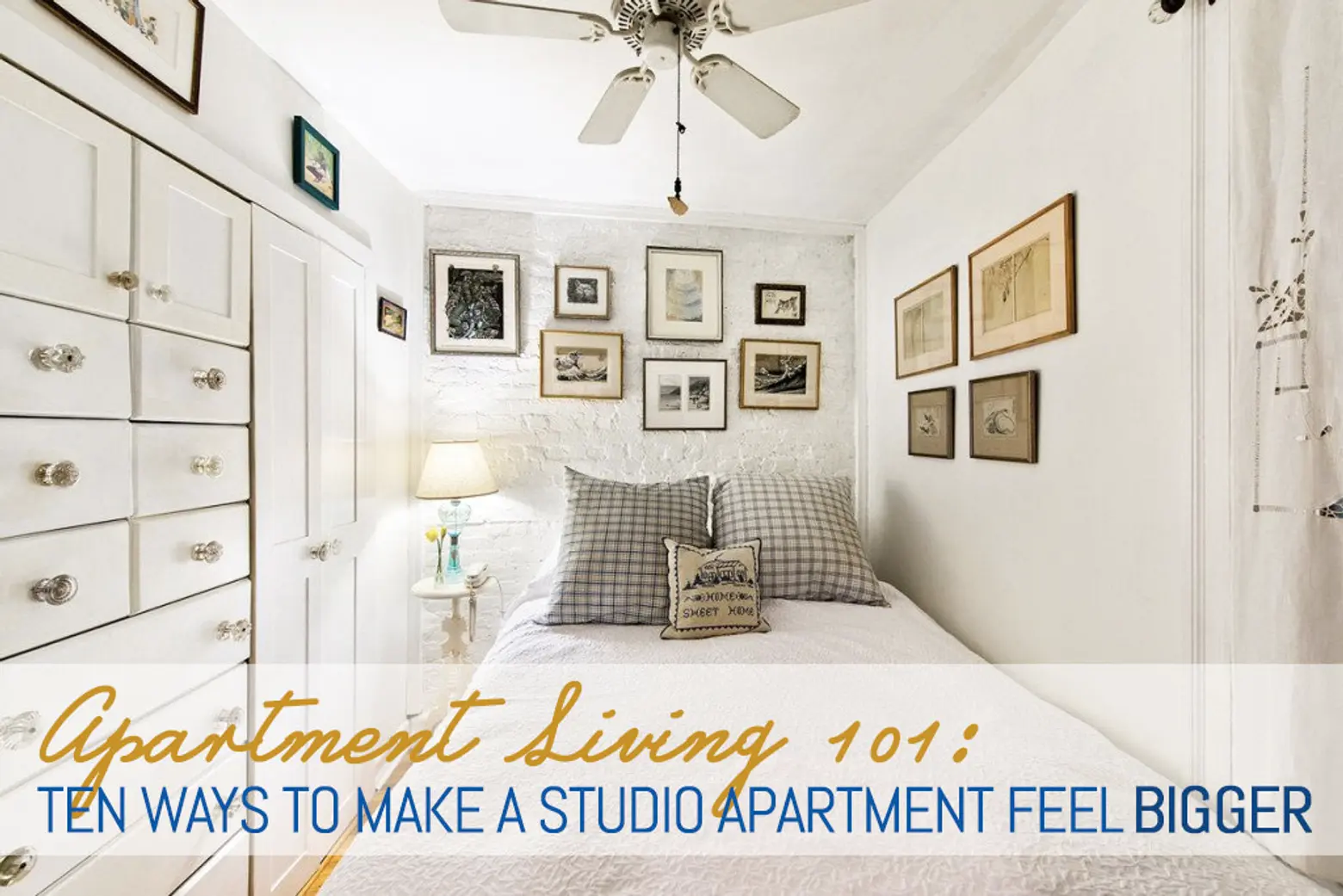 Our new series Apartment Living 101 is aimed at helping New Yorkers navigate the challenges of creating a happy home in the big city. This week we look at the space and storage struggles that come with studio living.
Every New Yorker knows far too well the challenges associated with small living spaces. However, for the folks living in studio apartments, they need to be experts. While we love the beautiful vintage furniture and lush apartment plants that spruce up our digs, when thinking about decorating a studio, one should first start with the basics of good planning and smart design. For our many space-challenged readers, we've put together some tips and tricks to help you get the most out of your limited square footage.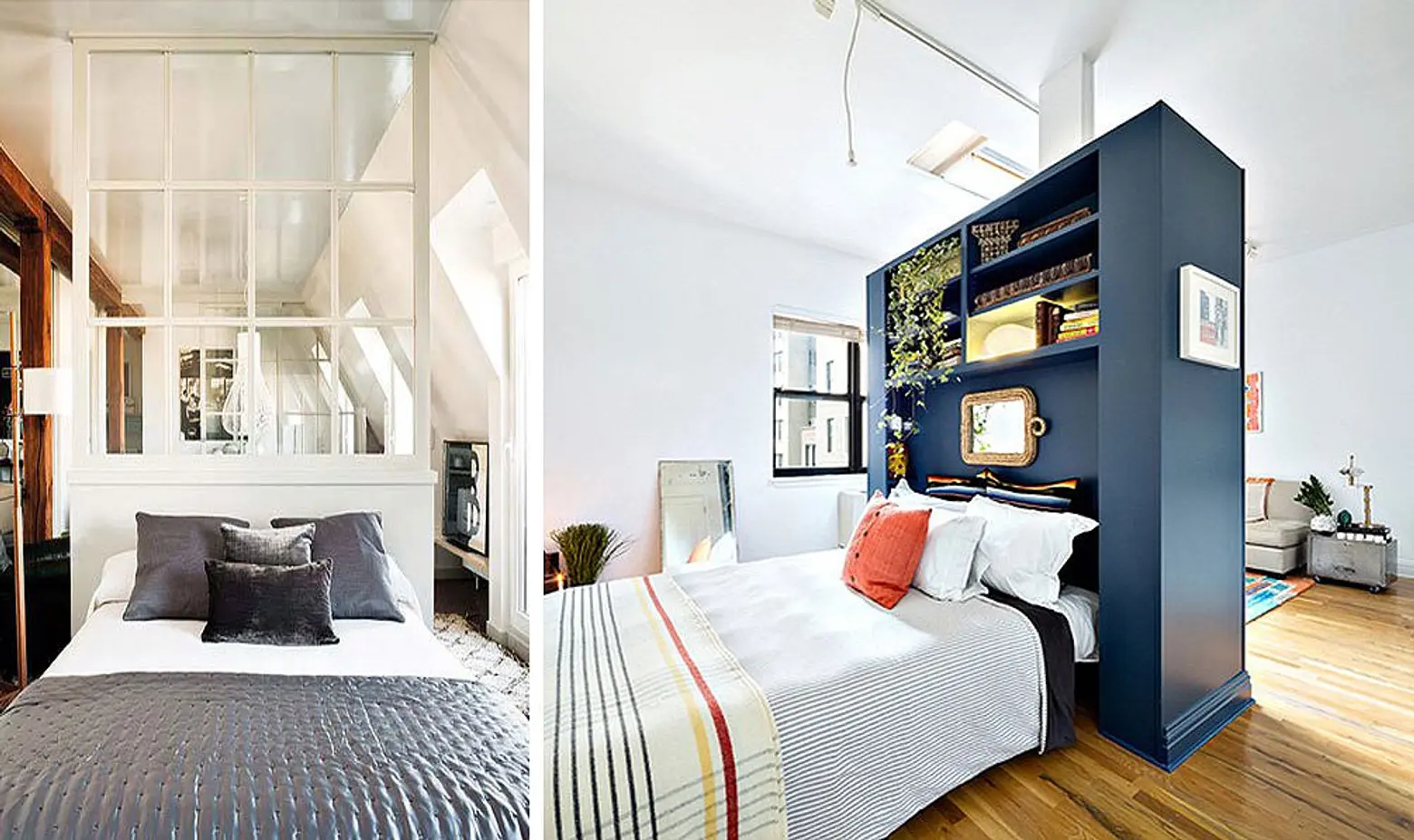 Using windows as a divider (L); A Brooklyn Heights studio that uses a large shelving unit to divide the space. Image courtesy of Jason Saft, Compass © Donna Dotan Photography (R)
1. Be Creative With Visual Dividers ↑
You don't need a physical wall to separate the space of your studio apartment. There are slew of cool and ingenious ways to create visual dividers that are far less rigid and labor intensive than building a wall. Curtains, vintage windows and functional pieces of furniture are all excellent options in forging the illusion of multiple rooms inside a limited space.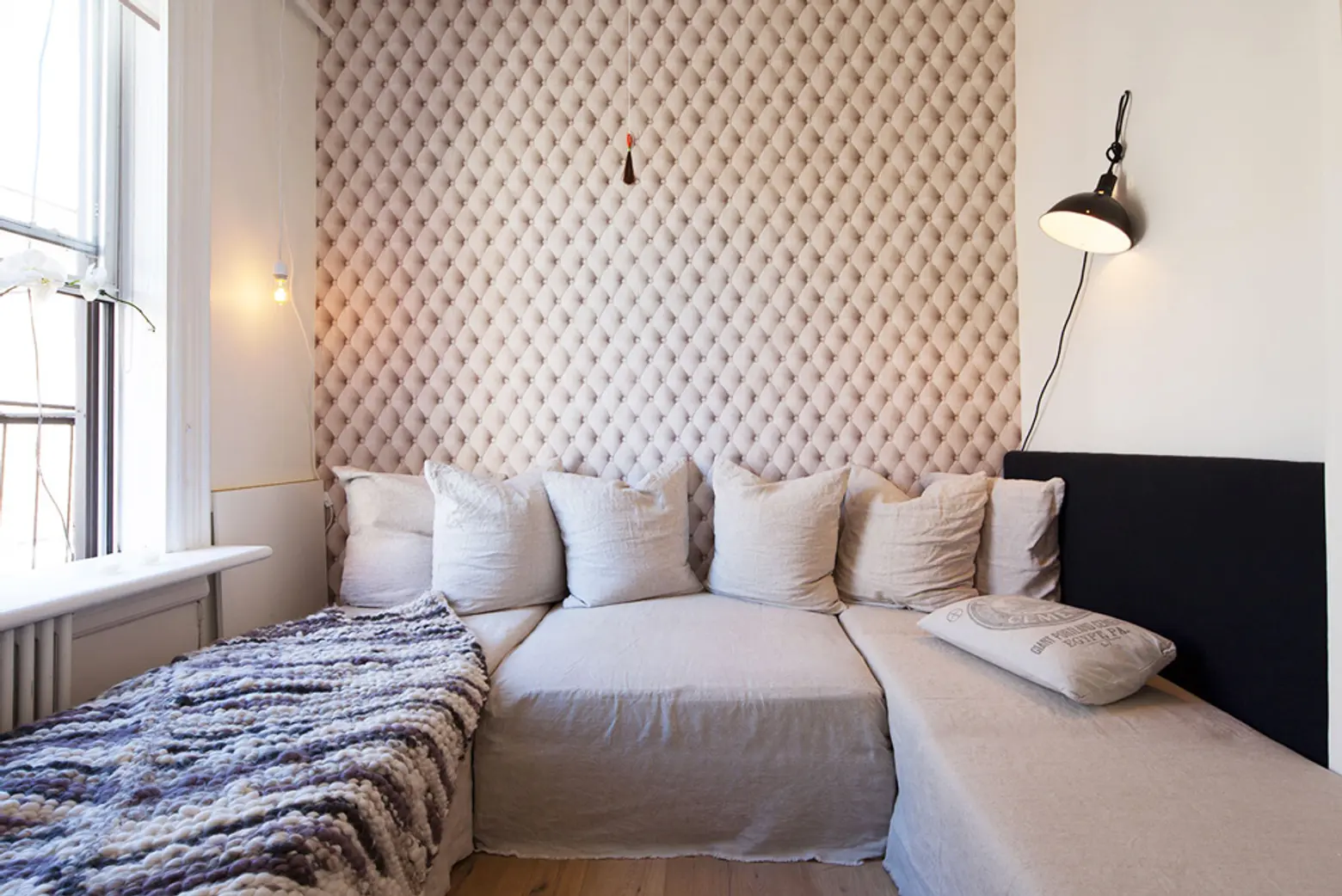 This Soho apartment is so small it has a tub in its kitchen, but beautiful details and smart furniture placement make it feel glamourous. Image © Lonny
2. Use Design to Create Zones ↑
Furniture arrangement is important in any home, but it's even more essential when you have little area to work with. Use furniture placement to create specific areas designated for specific uses or activities. You can also use bold accent walls or fun wallpaper (yes, that's wallpaper above) to visually organize your space for different purposes.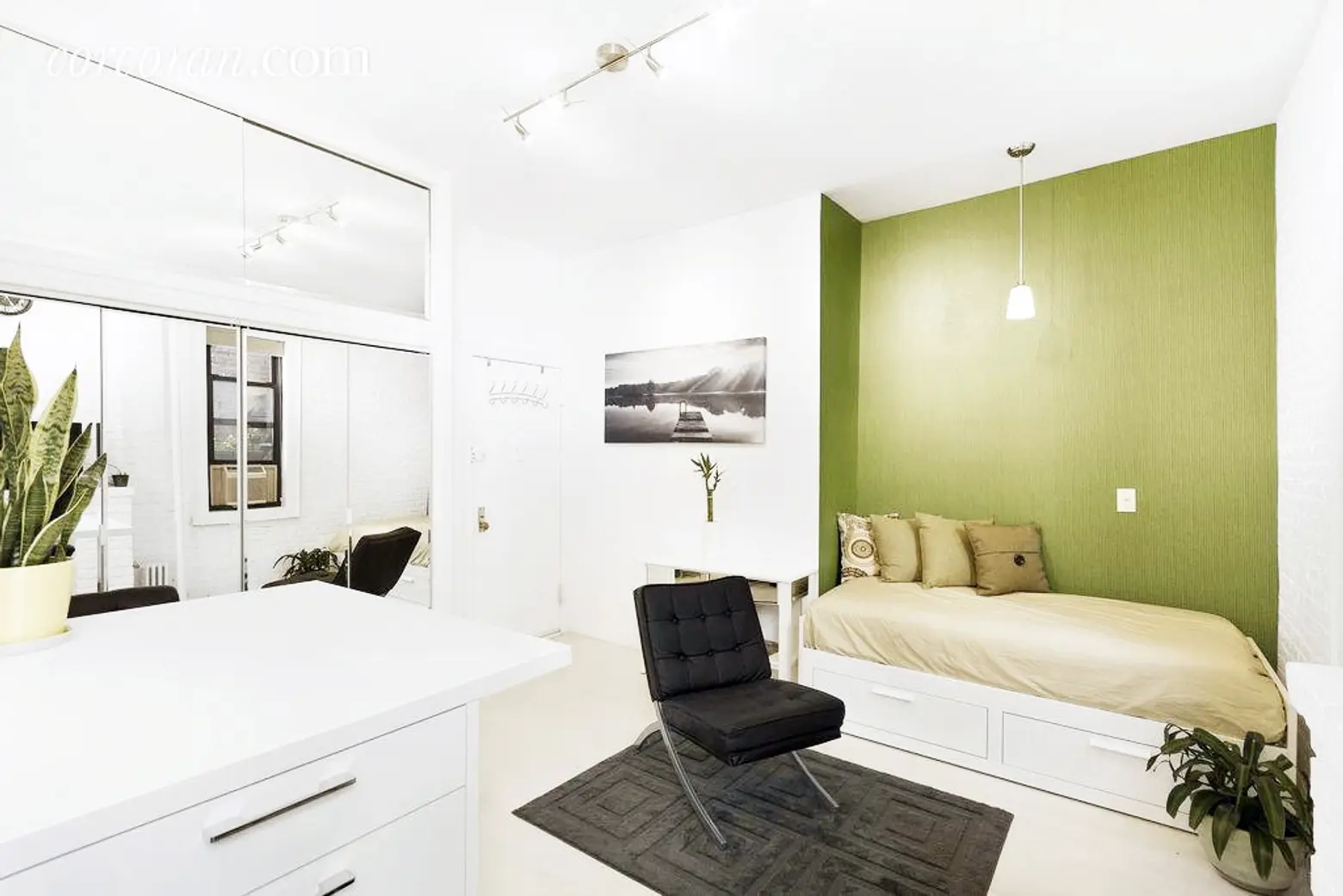 This Upper West Side studio has mastered mirror placement. Image via Corcoran
3. Decorate With Mirrors ↑
Most of us already know that mirrors can help smaller spaces look larger, so it makes sense for anybody living in a studio space to incorporate them into their wall decor where possible. Mirrors look great on their own, but they can also add visual interest when placed across from a cool piece of art, furniture or wall display.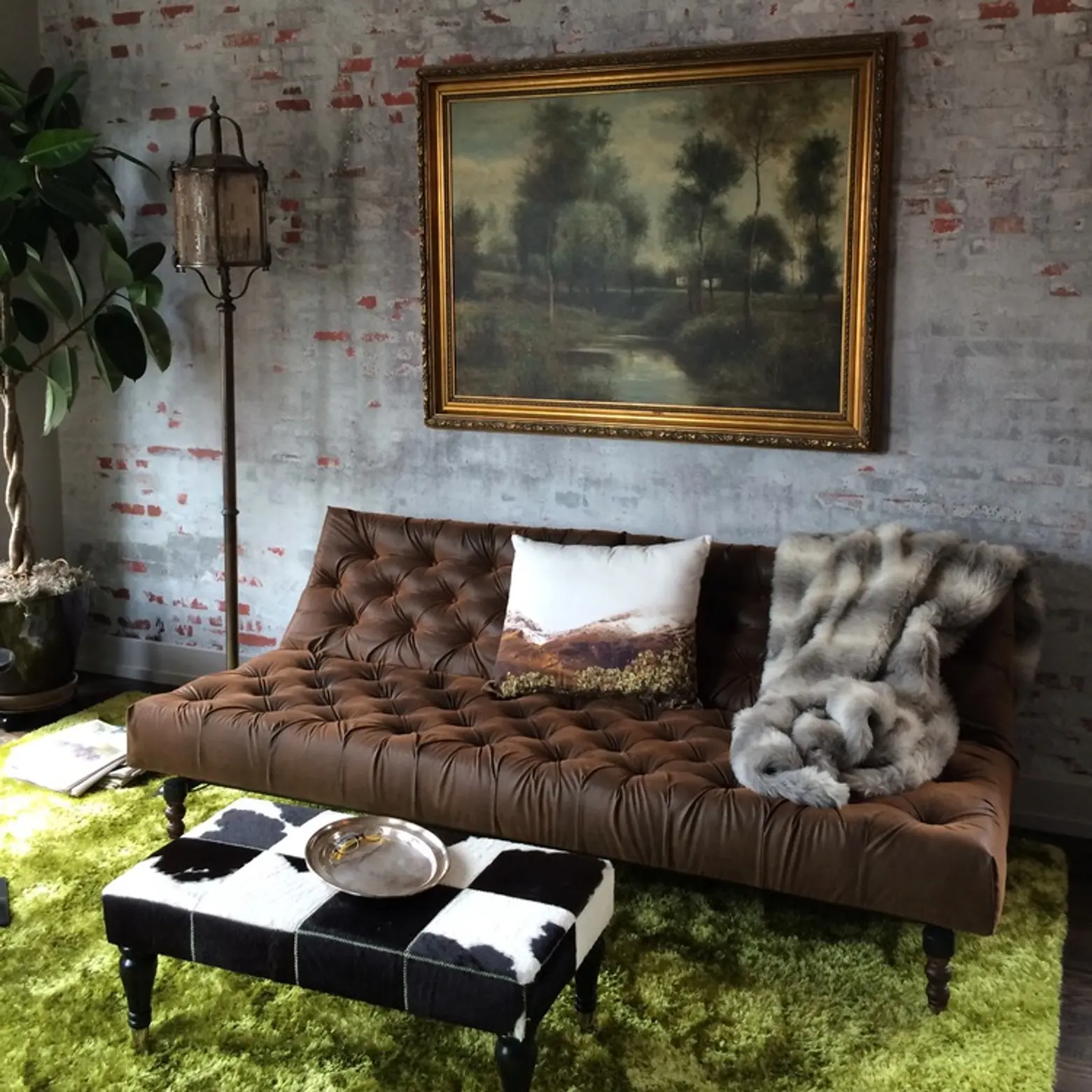 FOZ Design's 500-square-foot studio apartment in Chelsea. Image via FOZ Design
4. Create a Focus ↑
A great way to make your space appear larger is to add focal point. If you have a fireplace, accentuate it; if you don't then it's easy to create another point of interest on your own. For example, you can paint one wall a different color and adorn it with a large credenza, entertainment center or a large piece of art.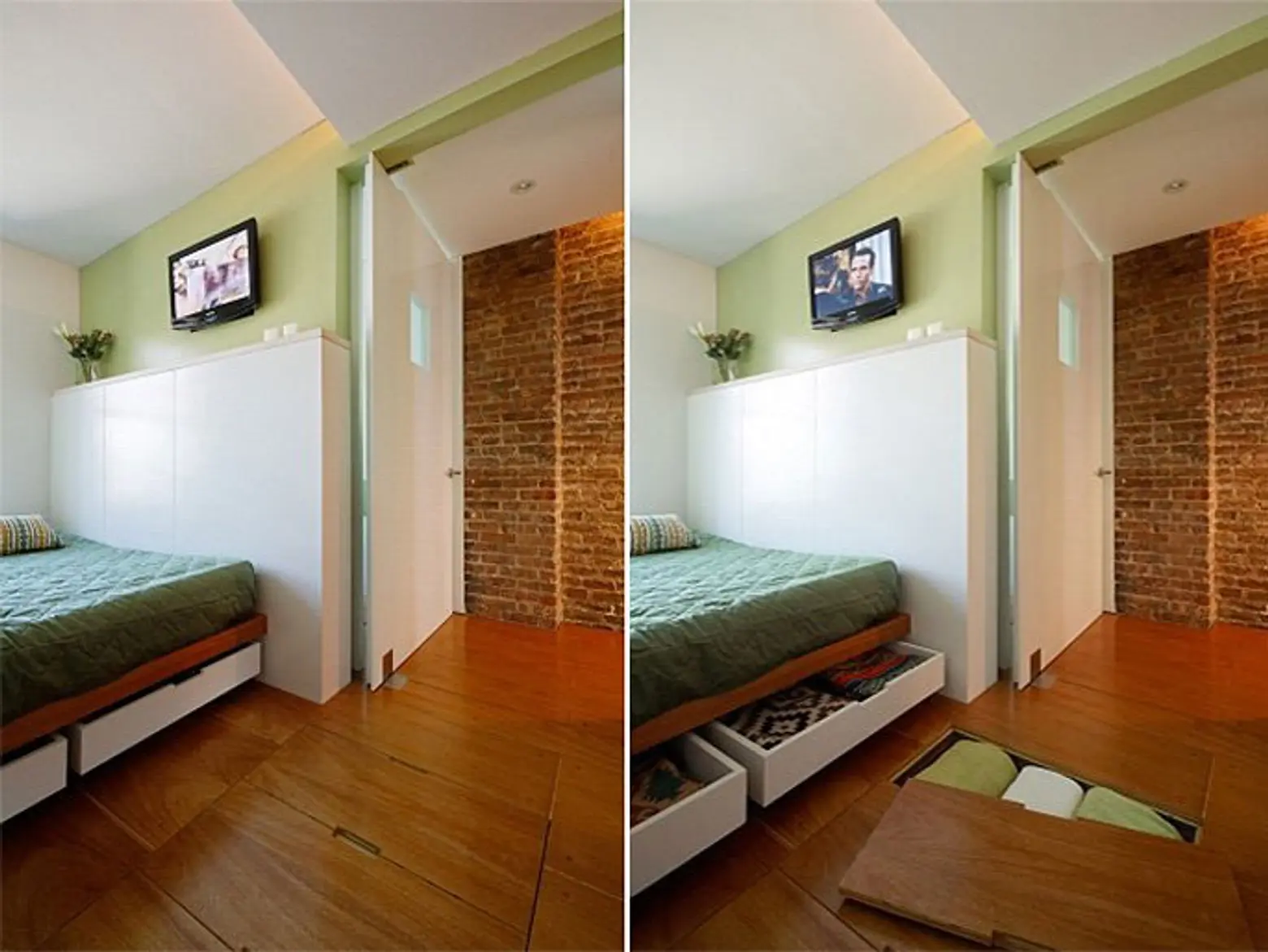 Noroof Architects tackled the design of a tiny apartment for a family by adding lots of built-ins and hidden storage. Image via Noroof Architects
5. Be Creative With Storage ↑
When living in a studio apartment it's extremely important to keep the clutter at bay. Take advantage of things like Tupperware and wicker baskets to optimize the storage you have available, and consider different places you could create additional space. For example, you can store extra bedding or clothing with hidden drawers under stairs or bed frames.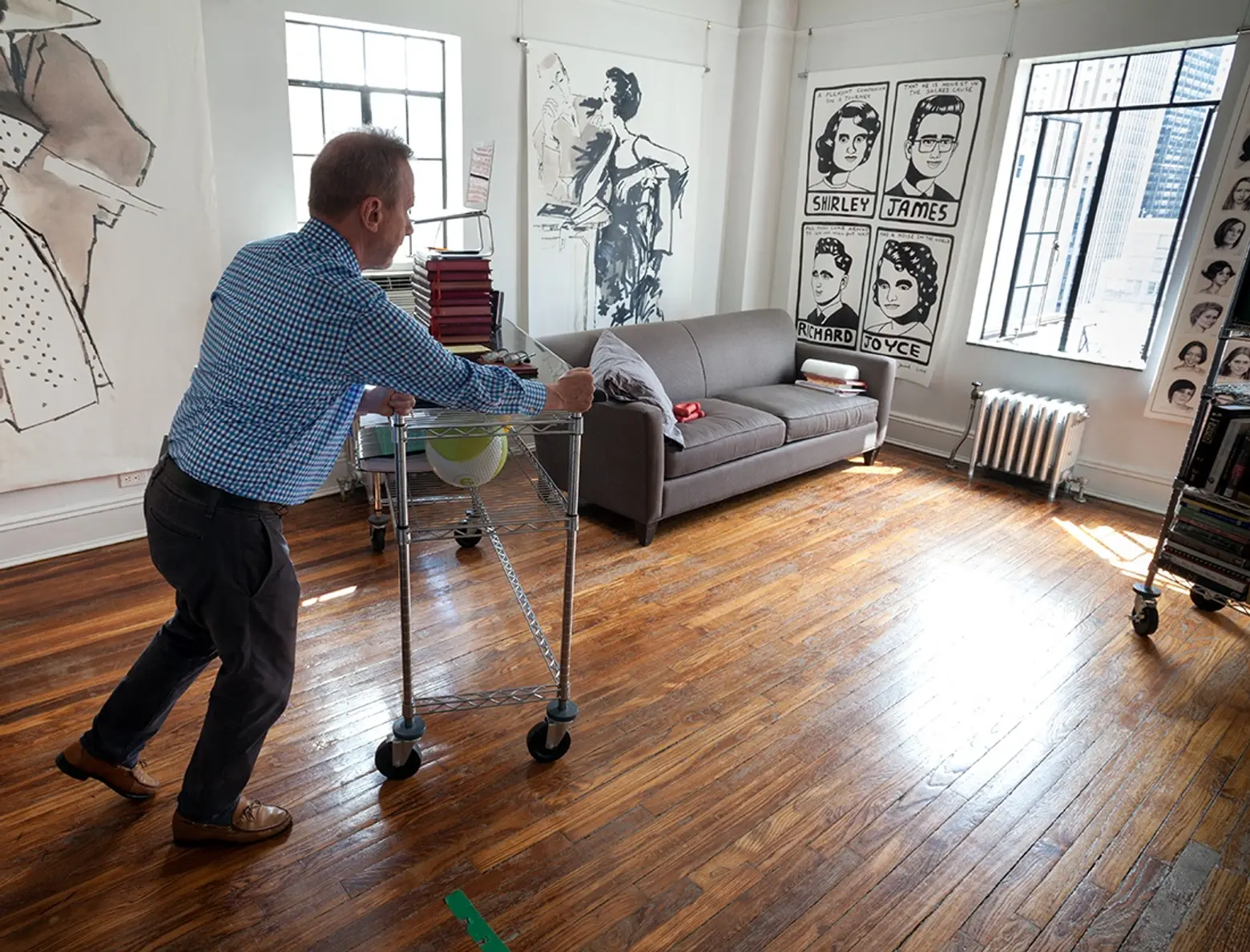 6. Multifunctional or Transforming Furniture ↑
When you don't have a lot of space, a multi-functional or transforming piece of furniture can make all of the difference. Things like futons or desks that double as kitchen tables, are perfect when optimizing your studio space. These types of pieces help to use one area for multiple activities.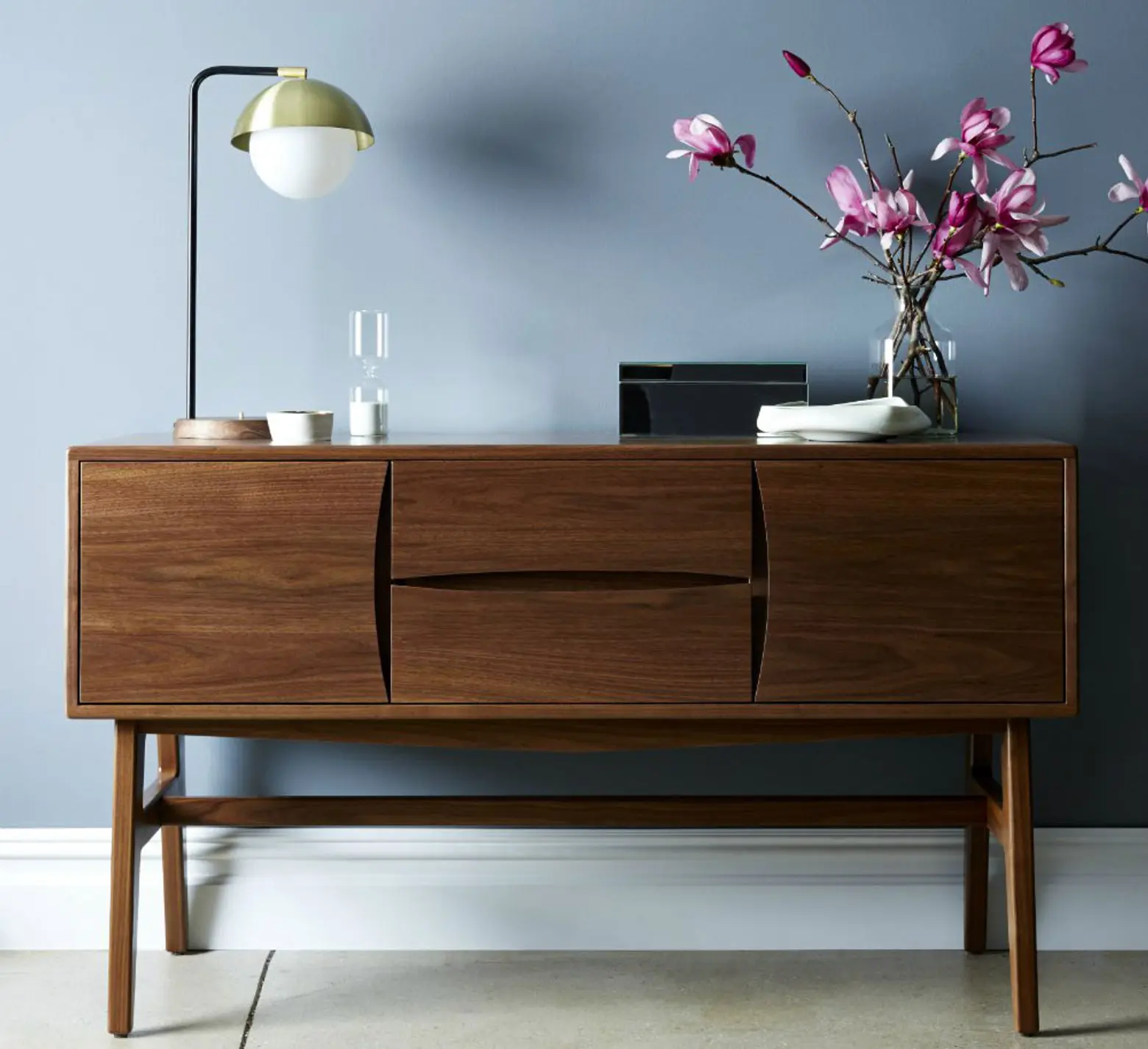 The Desi media console by Katy Skelton
7. Avoid Clunky Furniture ↑
A lesser-known design tip for smaller spaces is to purchase furniture with legs that are higher off of the floor. When furniture is raised your eye will see under the furniture and add visual space. Heavier looking pieces that are low to the ground will make a room appear more crowded. If space allows, you can also pull furniture away from the wall to for the same affect.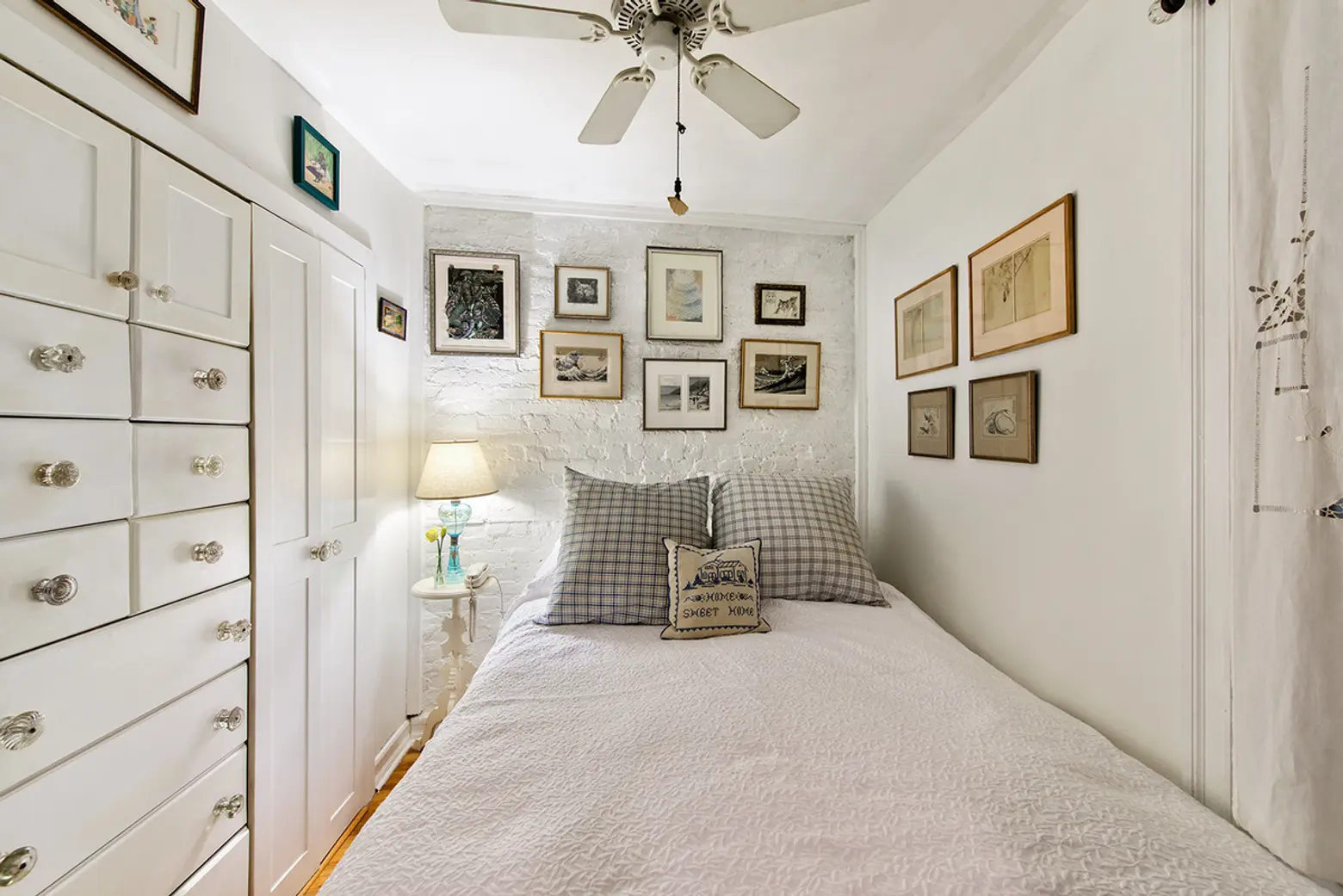 This West Village apartment is petite but perfectly adorned
8. Paint with Lighter Colors ↑
Dark colors are known for making spaces feel cozier because they absorb light instead of reflecting it. The opposite is true for light colors, so selecting lighter-colored walls and flooring will make the room feel more airy. You don't have to paint everything white, any lighter color will help to visually expand your space.
Imagevia Bedup
9. Take Advantage of Vertical Space ↑
Not everything you own is going to fit neatly in a drawer or stackable. However, to go along with our creative storage solutions, also think about different things that you can store higher up in your apartment. Larger items like bicycles can be mounted above doorways or entry hallways. Murphy beds are also always a good option with smaller spaces, and now there are companies like BedUp that make it easy to store your bed on the ceiling.
Also if you like plants, instead of cluttering your windowsills with pots, install a vertical garden.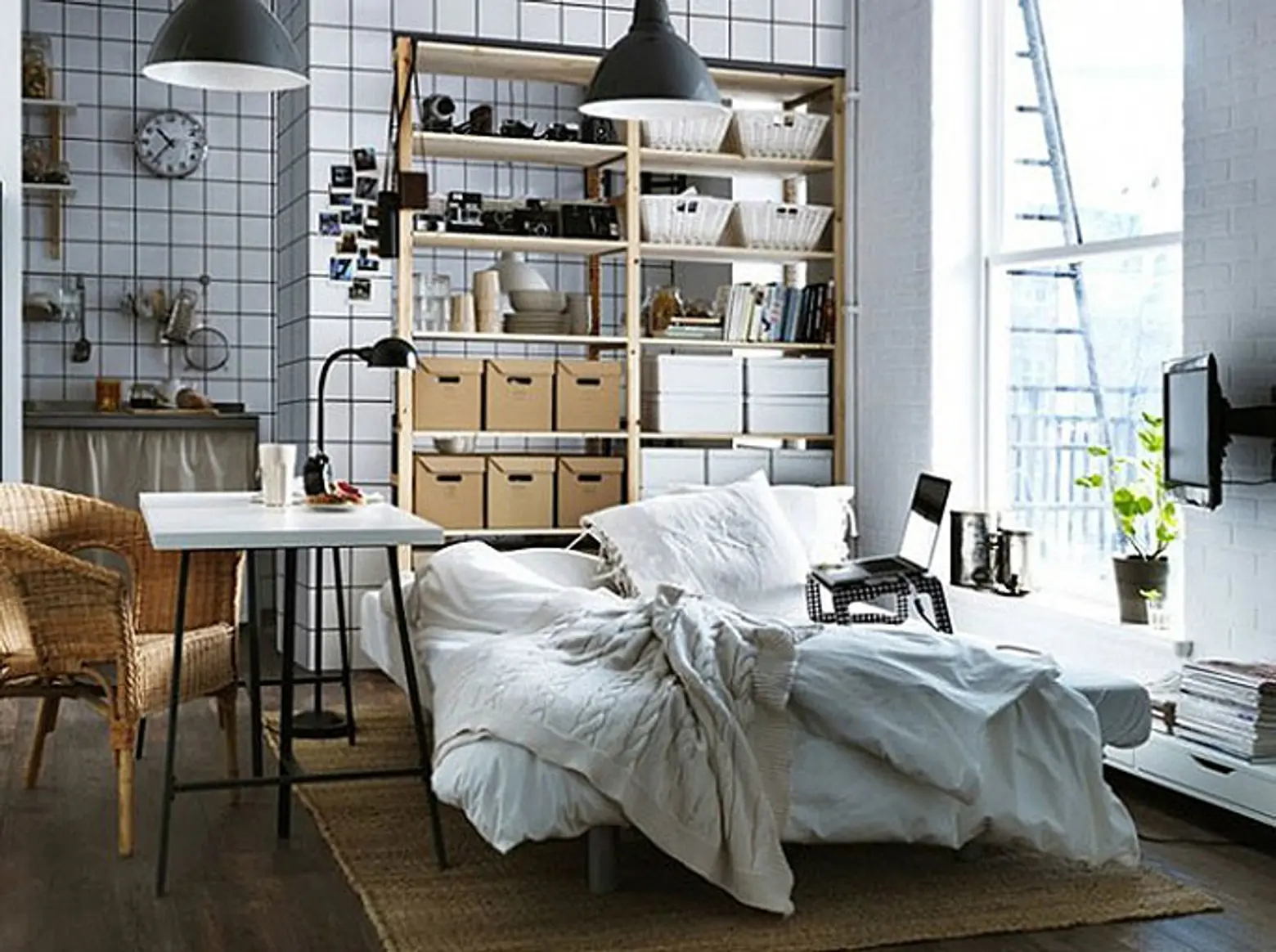 Image via Arepa Home Interior
10. Shelving, Shelving and More Shelving ↑
Shelving is another way to take advantage of vertical space, but also important enough to warrant its own category. There are a multitude of prefab shelving out there on the market, perfect for housing all of your book and trinkets. Custom shelving, however, will allow you to add storage anyplace including linen closets, under a set of stairs or a kitchen pantry.
Do you have any personal space-saving tips to share? Tell us in the comments below.
+++
RELATED: