My 4000sqft: Inside artist Chad Lewine's 'minimal-vibrant' Brooklyn Navy Yard loft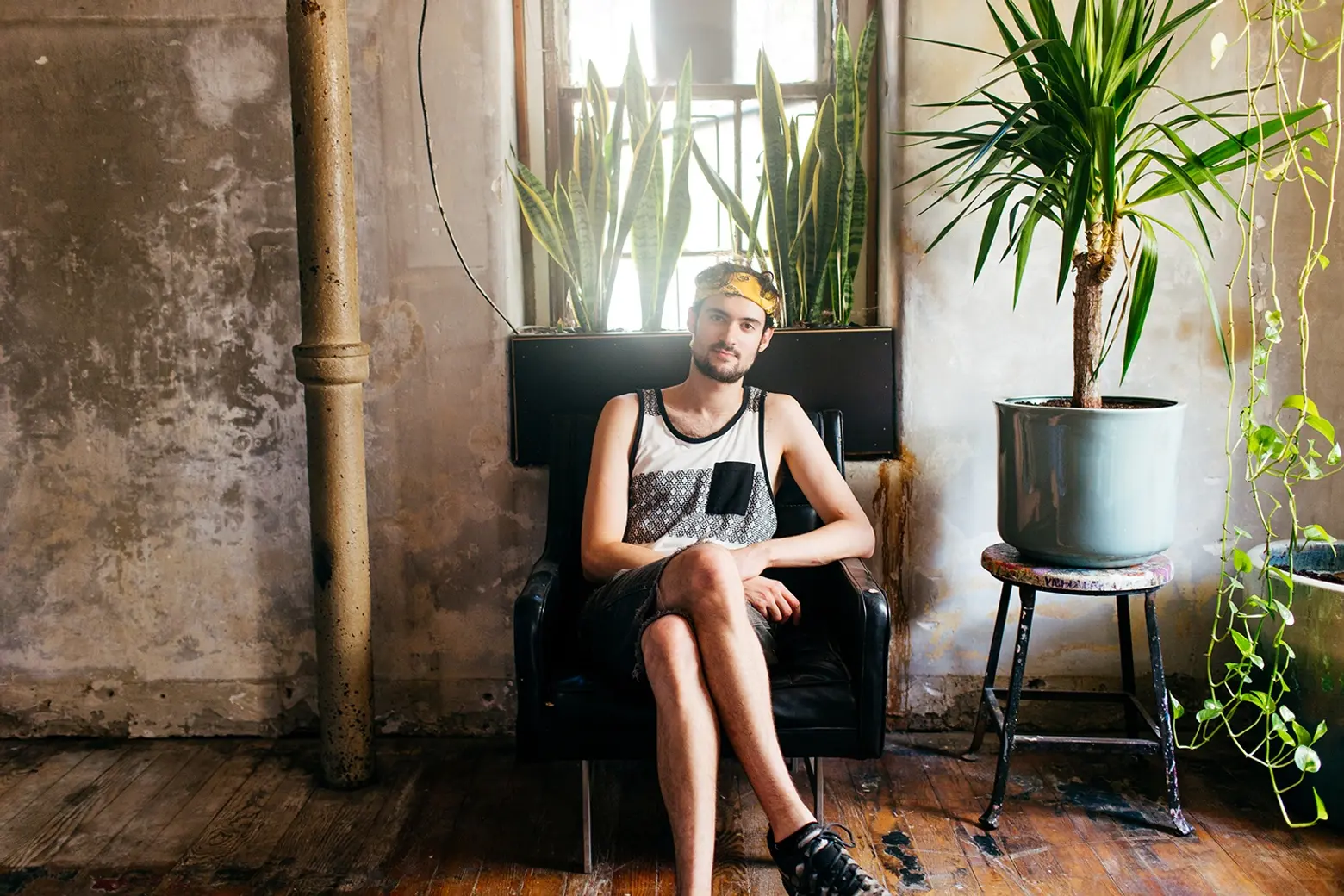 Our ongoing series "My sqft" checks out the homes of 6sqft's friends, family and fellow New Yorkers across all the boroughs. Our latest interior adventure brings us to the massive live/work space of a multi-disciplinary artist and designer in the Brooklyn Navy Yard. Want to see your home featured here? Get in touch!
The artists lofts romanticized by Andy Warhol and Jackson Pollock are long gone in neighborhoods like the East Village and Soho, but if you turn your gaze across the East River to Brooklyn, you'll find that these spaces are far less elusive; Just have a look at the home of multi-disciplinary artist Chad Lewine.
One year ago, Chad, a serial loft-liver, went house hunting deep within the Brooklyn Navy Yard and came across a building filled with working artists. At first he took up a room on the top floor of the four-story structure, but shortly after migrated to the second floor where he now shares an incredible 4,000 square feet with a fellow creative. In addition to providing Chad with a place to rest his head at night, the vast full-floor apartment also serves as an office, production studio, painter's workshop, photo studio, party pad and a place to experiment with what he calls his "minimal-vibrant" style. As Chad says, "I've been on the hunt for this kind of space all my New York City life."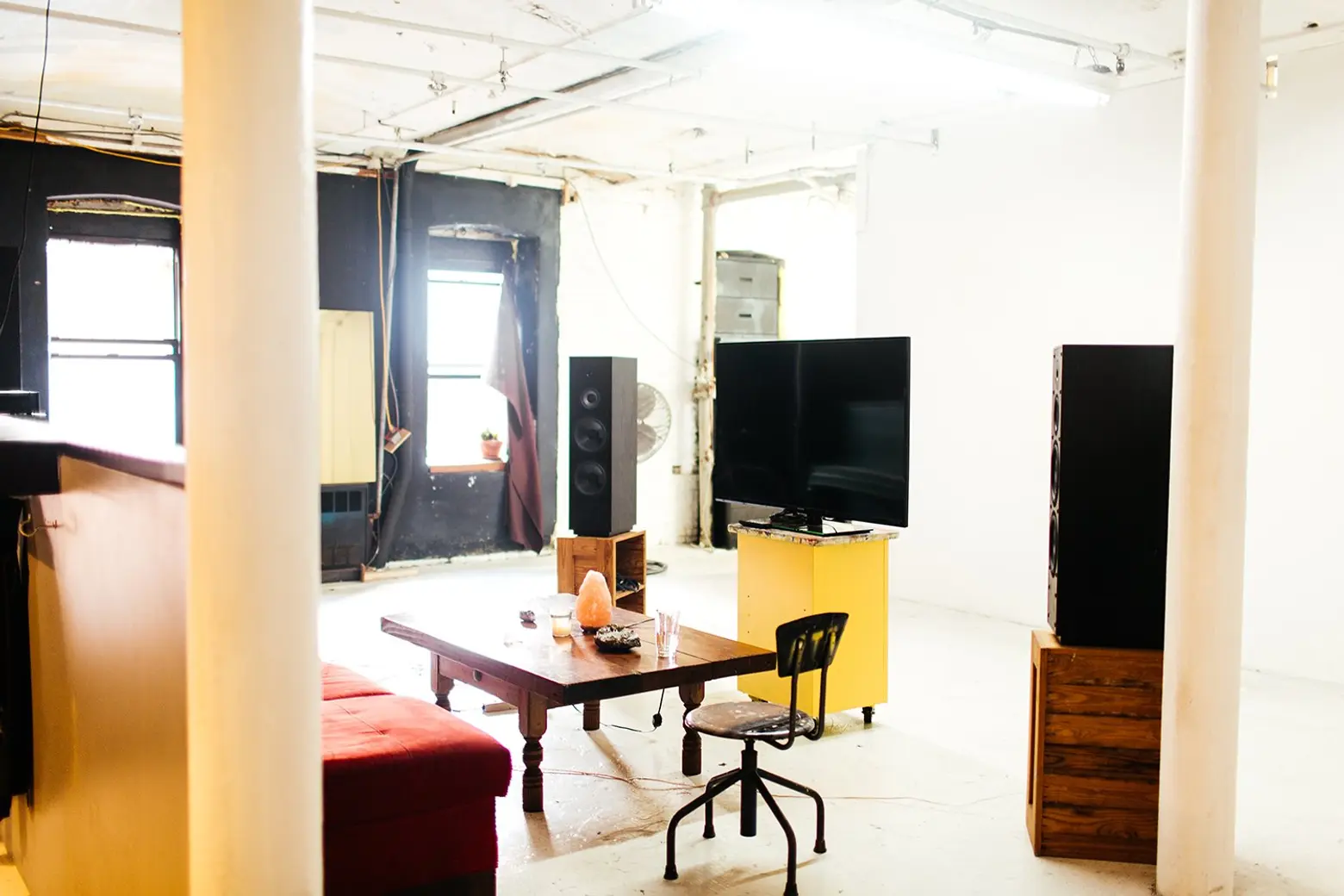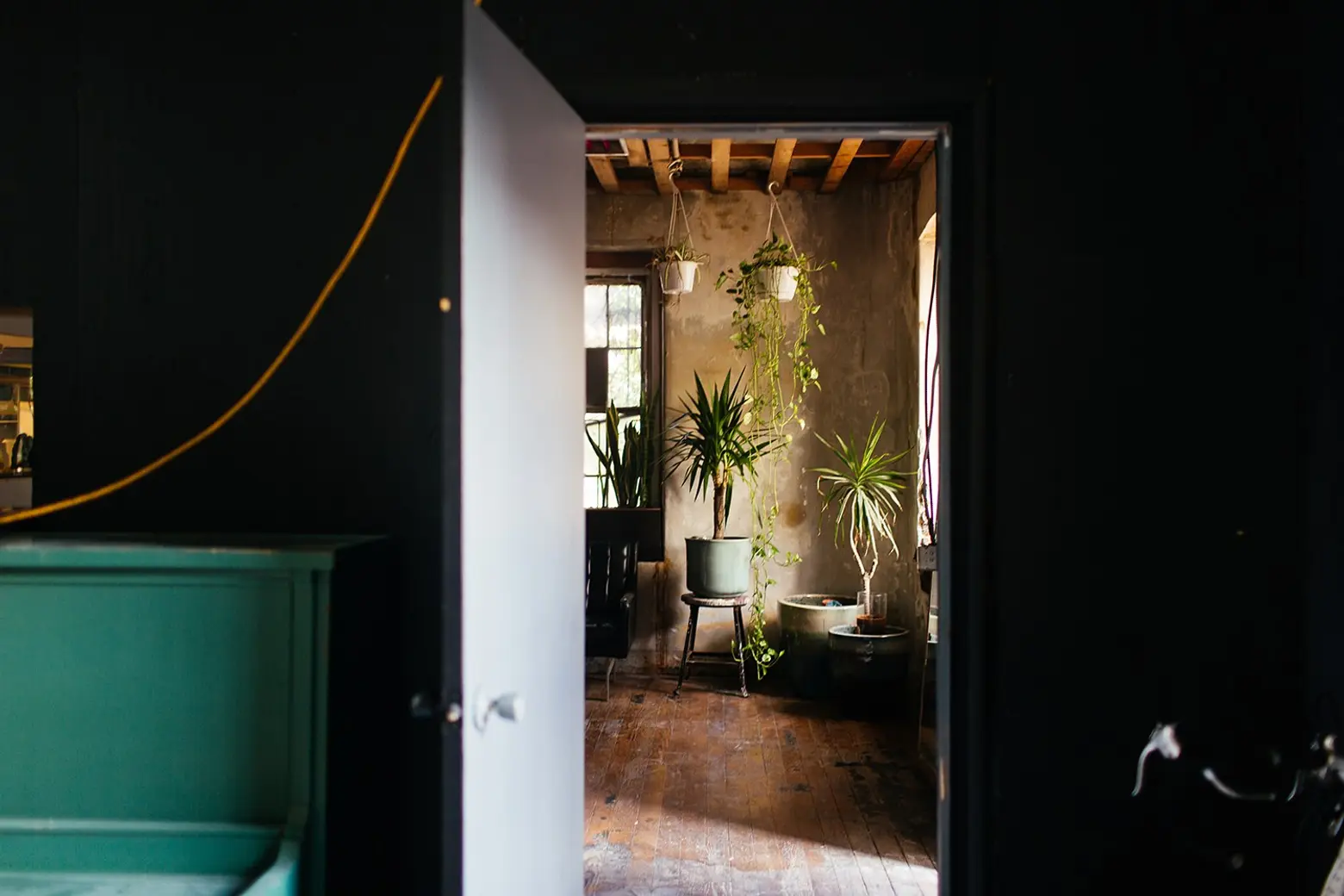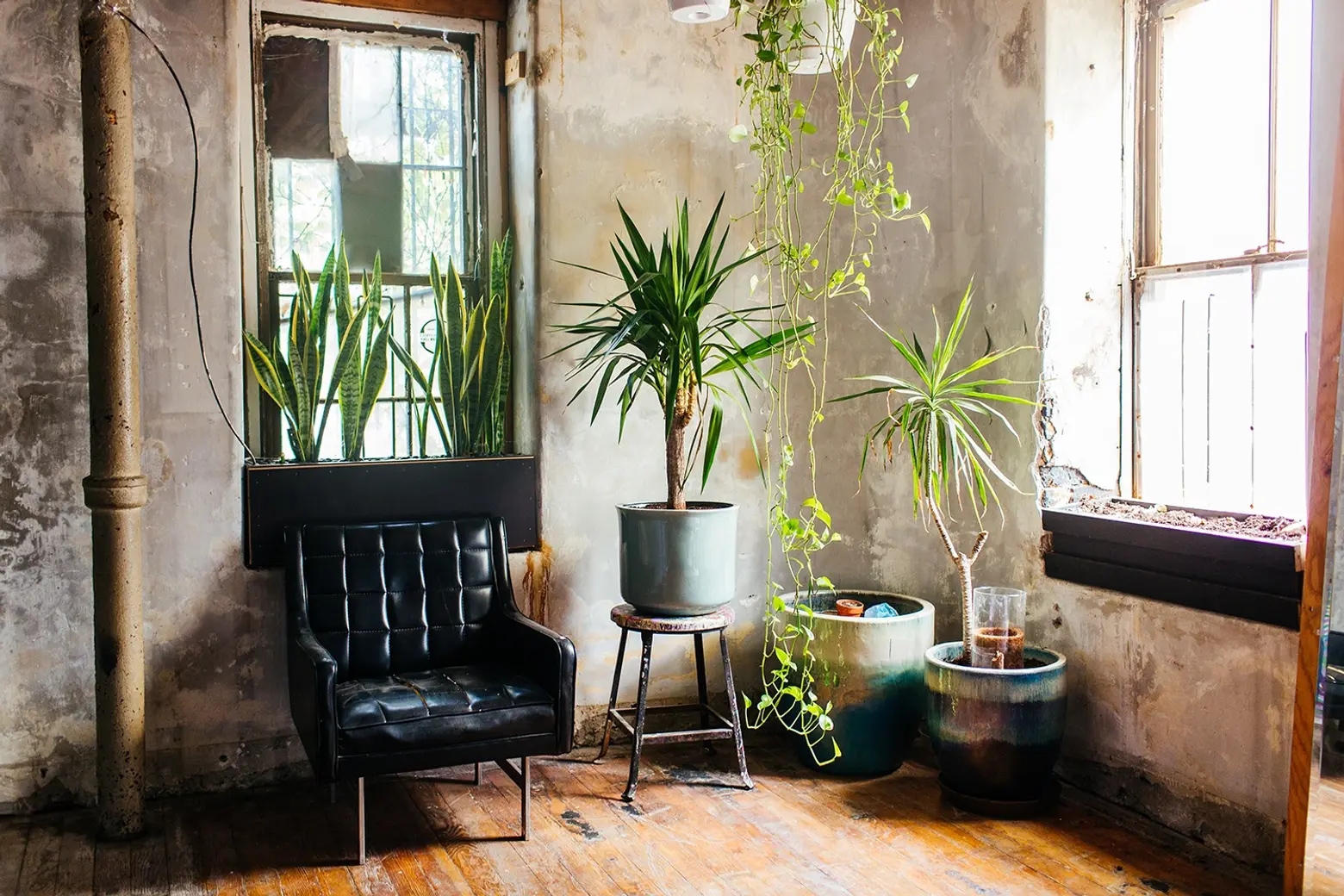 The main space (top) is used as a photo studio and production room; The foyer (bottom) will be turned into mud room. The planters were custom built for the windows
First of all, how would you describe what you do?
Chad: I paint on lots of things and sell them, produce and perform pop music as HoneyChrome. Design websites and marketing strategies as CDL500.
When did you come to New York and how did you end up in this loft?
Chad: I came to NYC/Brooklyn in 2011 from just outside of Philly, in Montgomery County. I found this building through Craigslist. Of the nine-plus places I've lived, only two weren't from Craigslist. Craigslist is where you go when you only have money for one month or one month and a security deposit. There's no other real option for those with limited funds. Initially, I had lived on the top floor of this building for a year, and I got to know a roommate on the second floor. When I had enough of the oppressive and selfish nature of the lease holder on the fourth floor, I decided to move out of the top floor. Literally on the day I decided to move, I learned there was someone moving out on the second floor and I took the opportunity.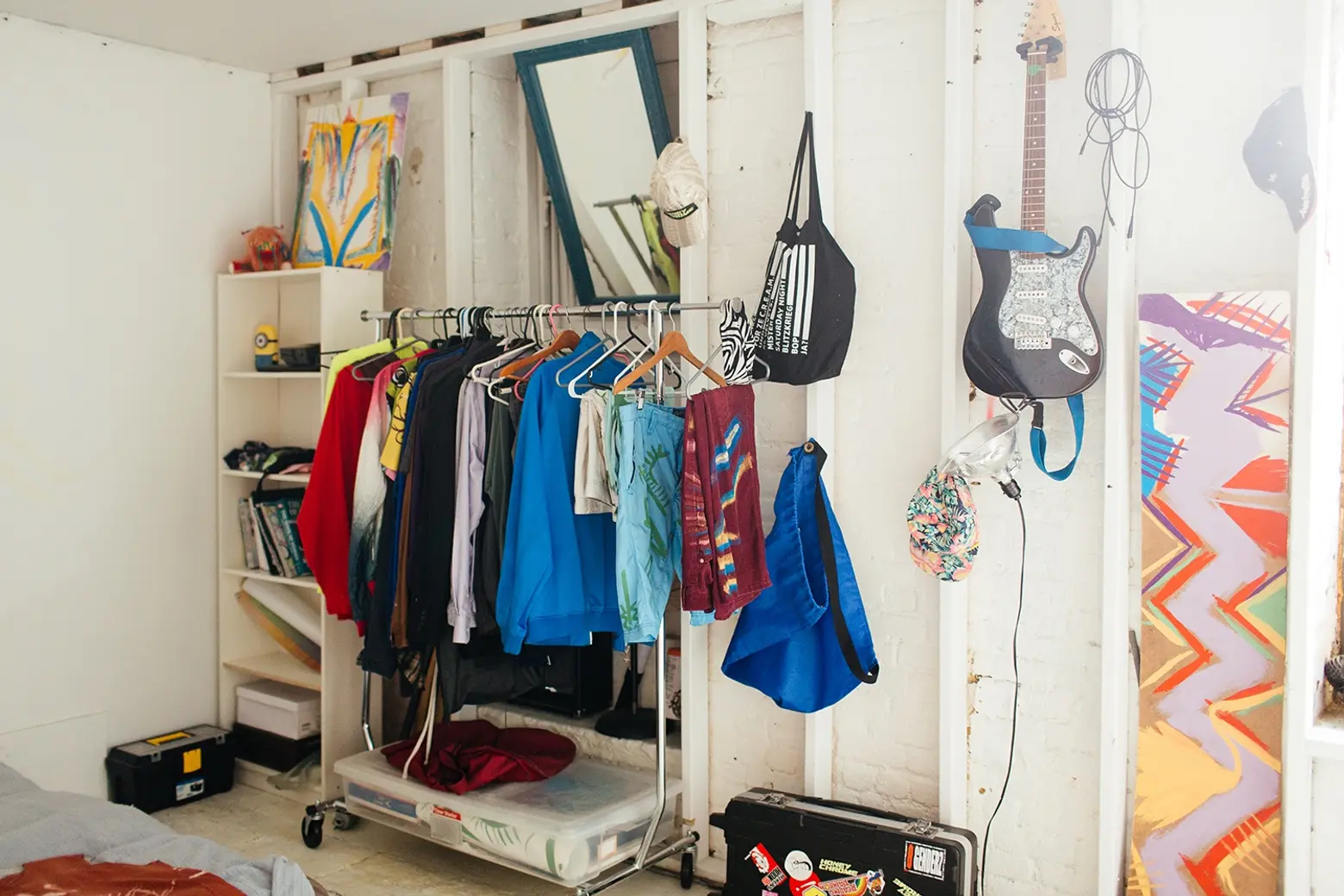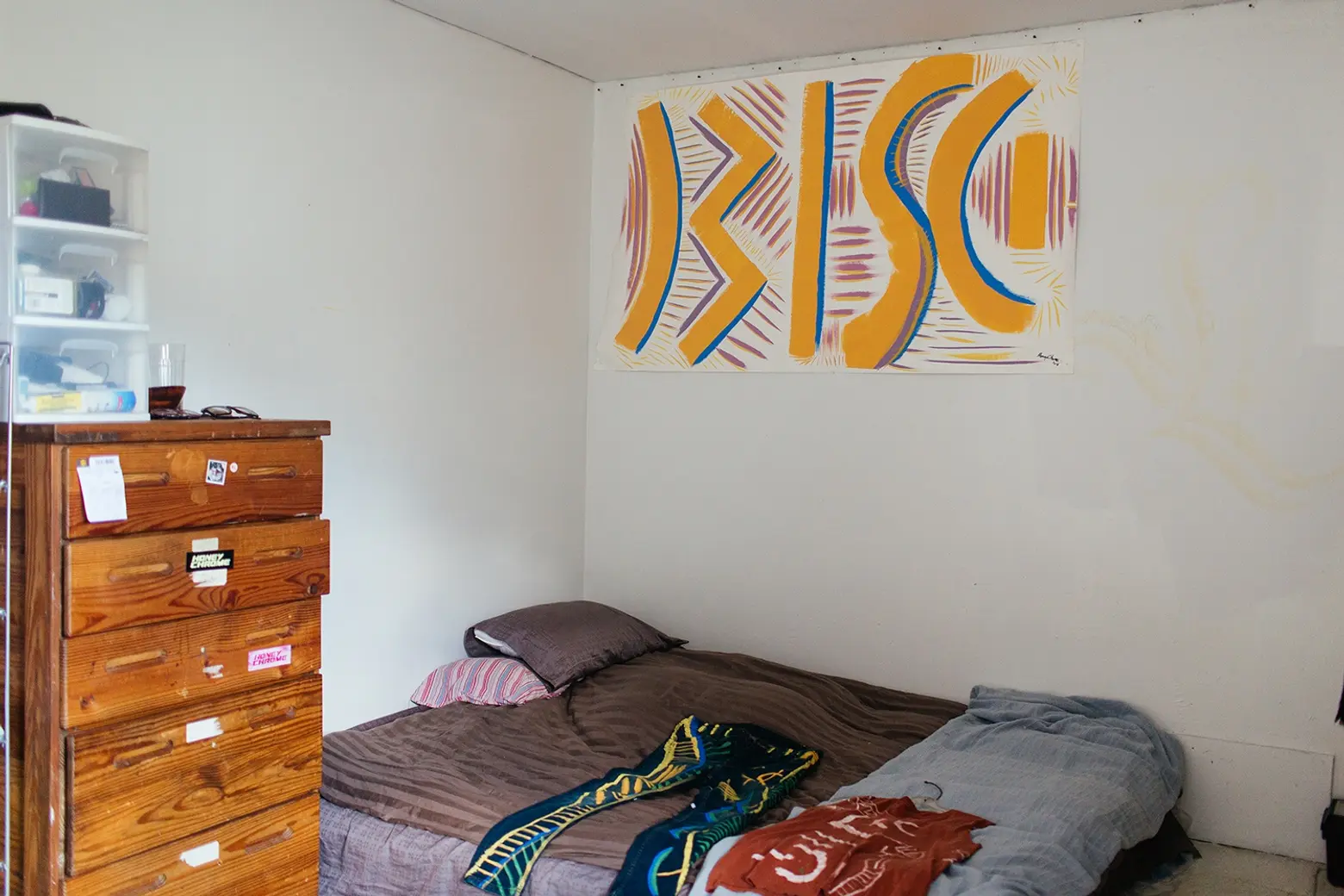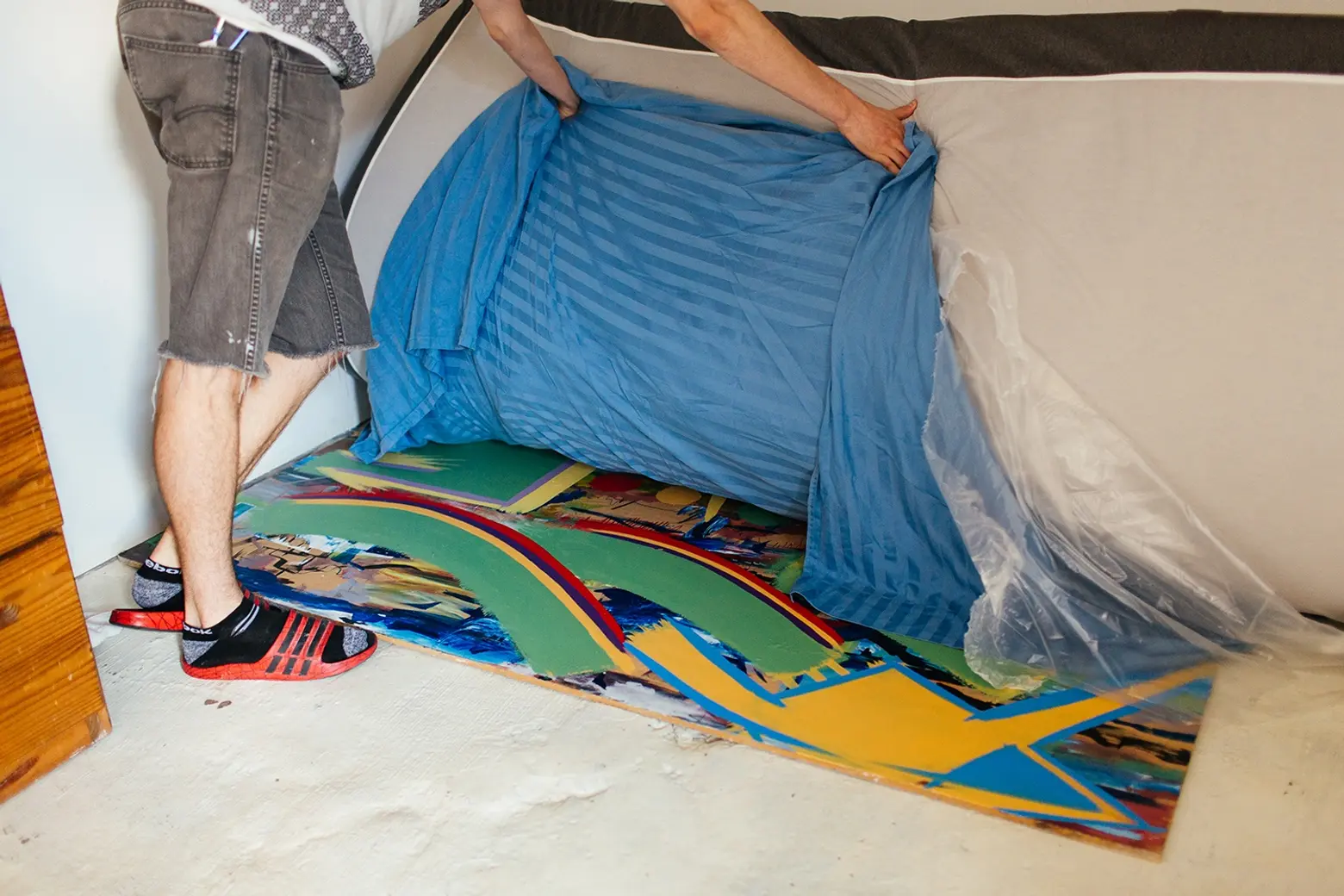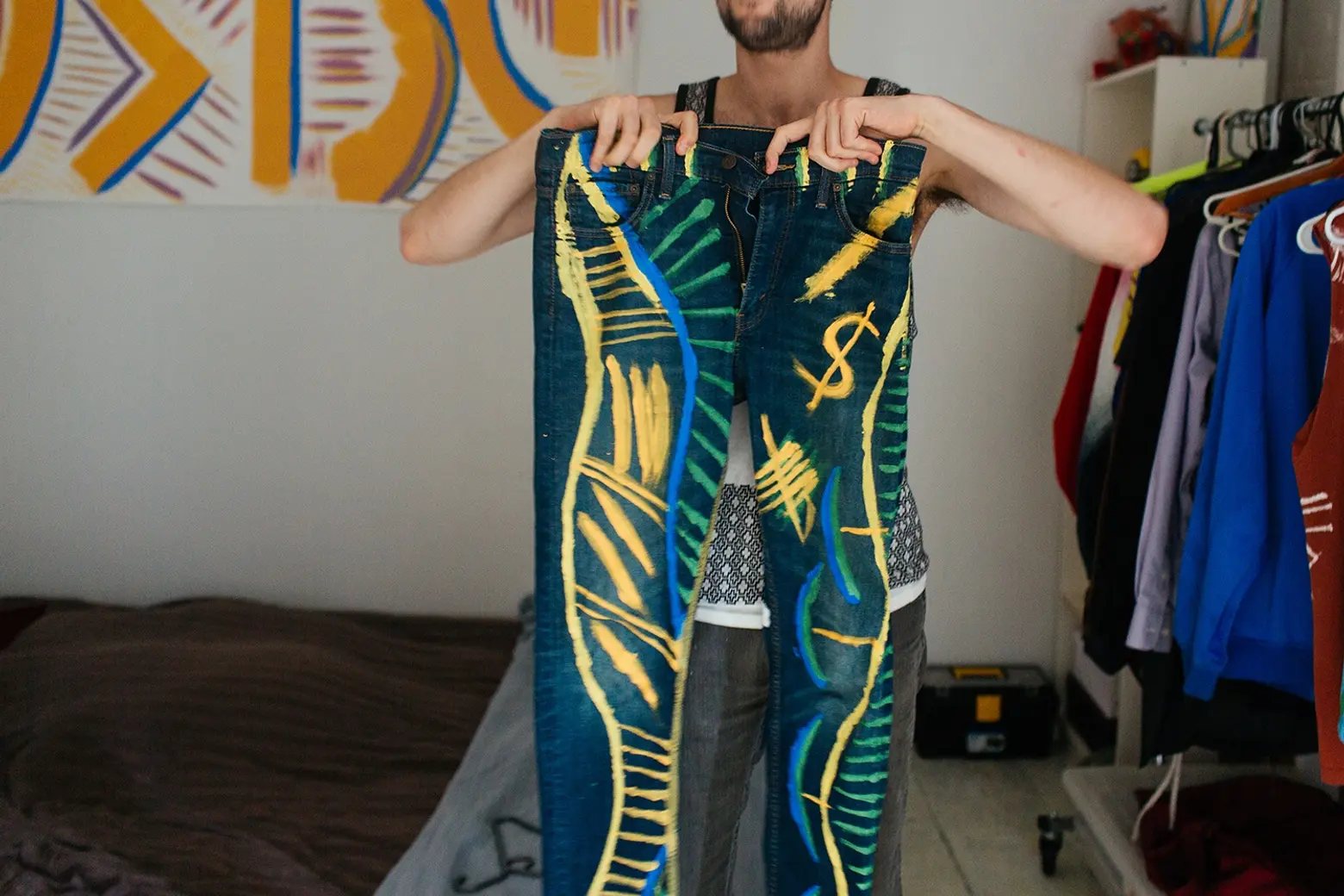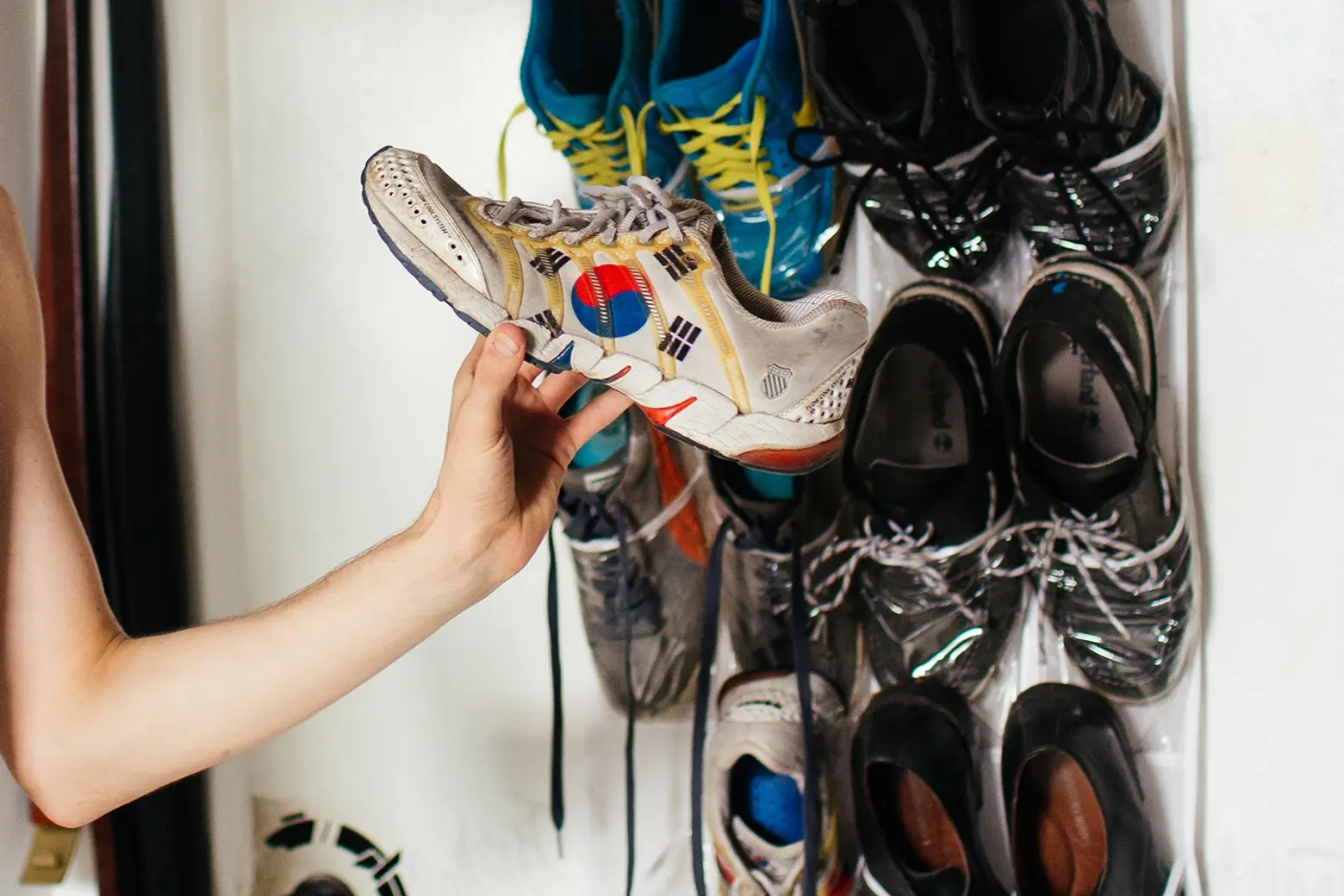 Chad's room is decorated with his art and two weeks ago he launched his art/clothing brand at the Brooklyn Night Bazaar in Greenpoint (he also designed the bazaar's new website). His line features jeans and shirts that he's painted directly on. His sneaker collection he says "very much represents who I am"
4,000 square feet is a lot in NYC—is it overwhelming to have so much space with just two people?
Chad: Naw, the whole point is the big space. I gradually got more space as I moved from loft to loft. I've always known I needed a lot of space. That was my goal. I am super sensitive to sound, space and energy. Big space allows for energy to flow and not get caught and intertwined with someone else's for too long. Plus, I use the space. I dance around, rehearse my performances, paint, have friends over, have recording sessions, parties. The space is huge and that's how I like it.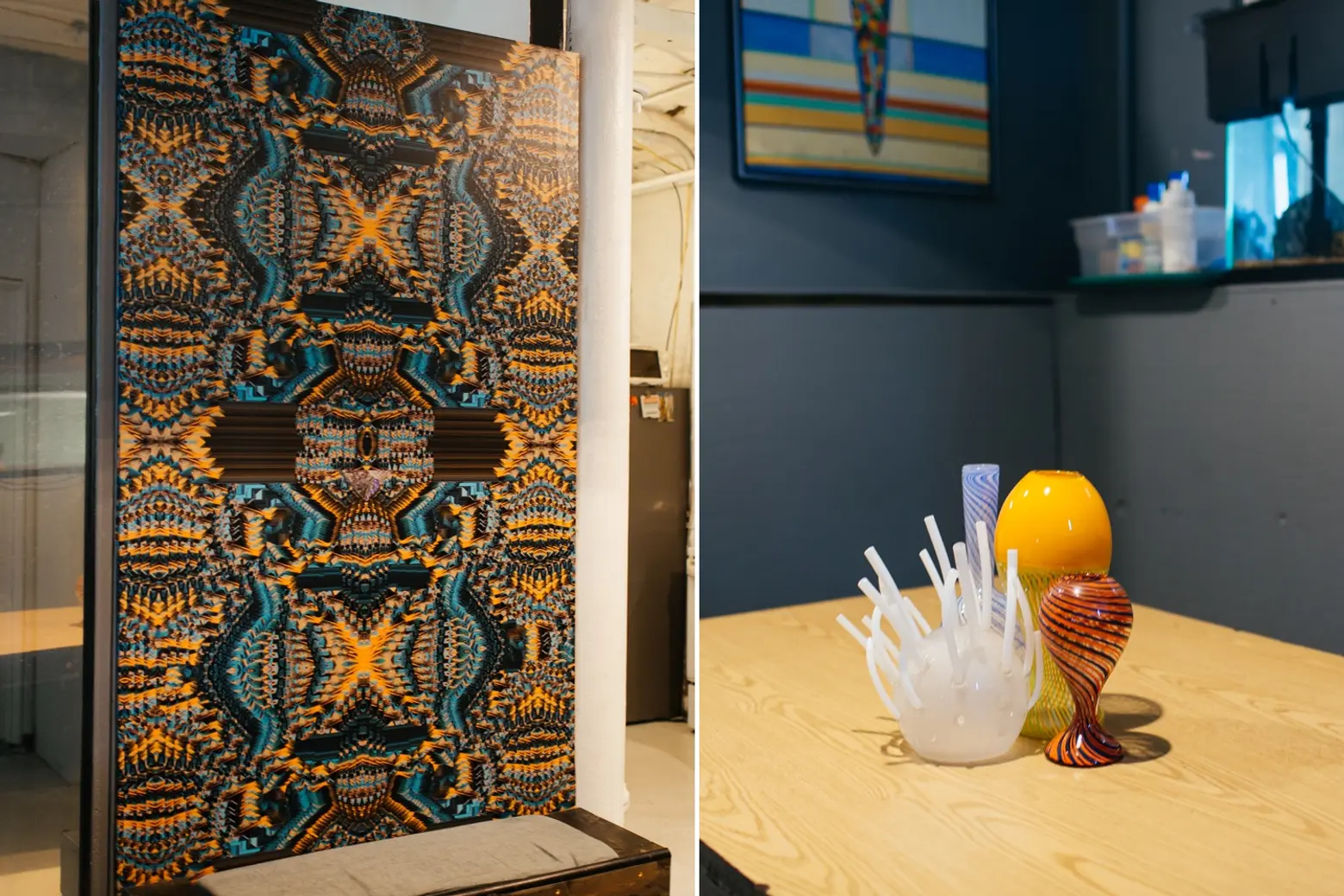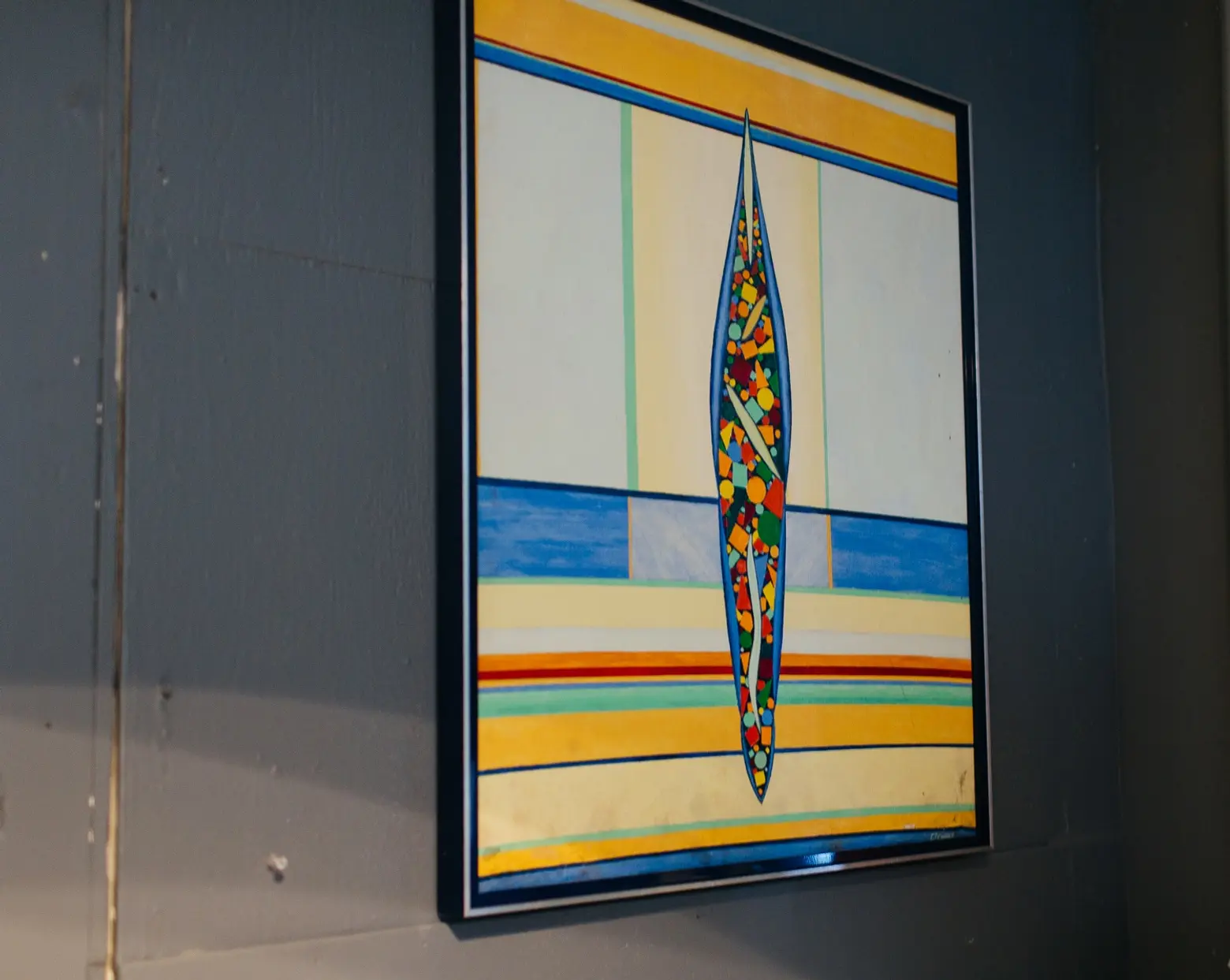 The glass pieces (top) were made by Chad's roommate, Alex Schmitz, while the patterned partition is a print adhesive made by a previous resident; The piece in the middle was painted by Chad's grandfather; The bottom series is by Chad and is called "How To Get Out Of A Funk, In Three Steps"
How would you describe your interior design style and how does that meld with your art?
Chad: Minimal-vibrant. My roommate had set the standard for minimal clutter, which I am fine with.  The studio should be a place to create and only occasionally a place to show work or decorate. It should be mostly bare. The design style inside is modern-minimal with remnants of the warehouse peeking out and a breath of positive energy. The kitchen is industrial with a homey feeling, but mostly I want to be cooking in an industrial kitchen anyway, so it works for me.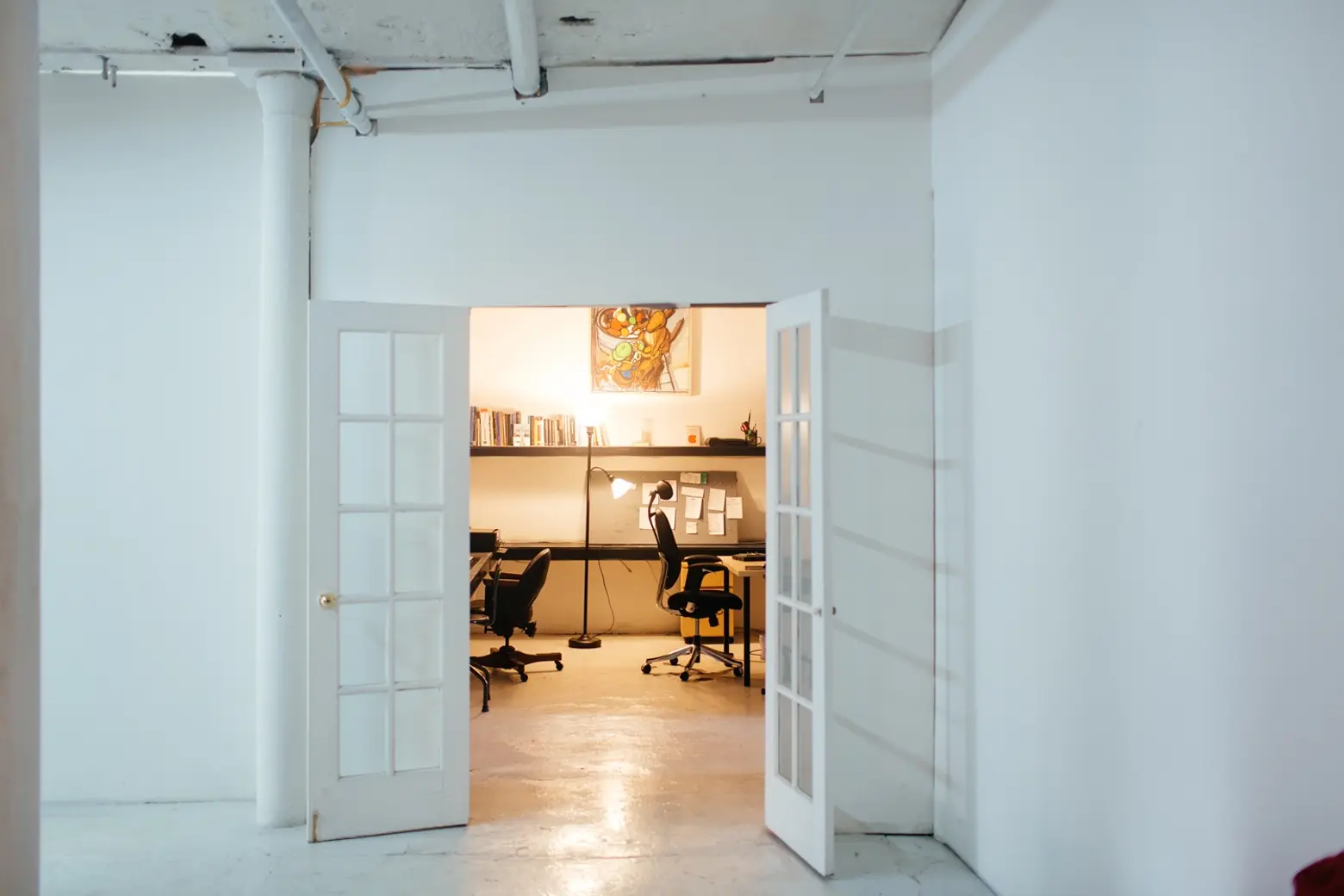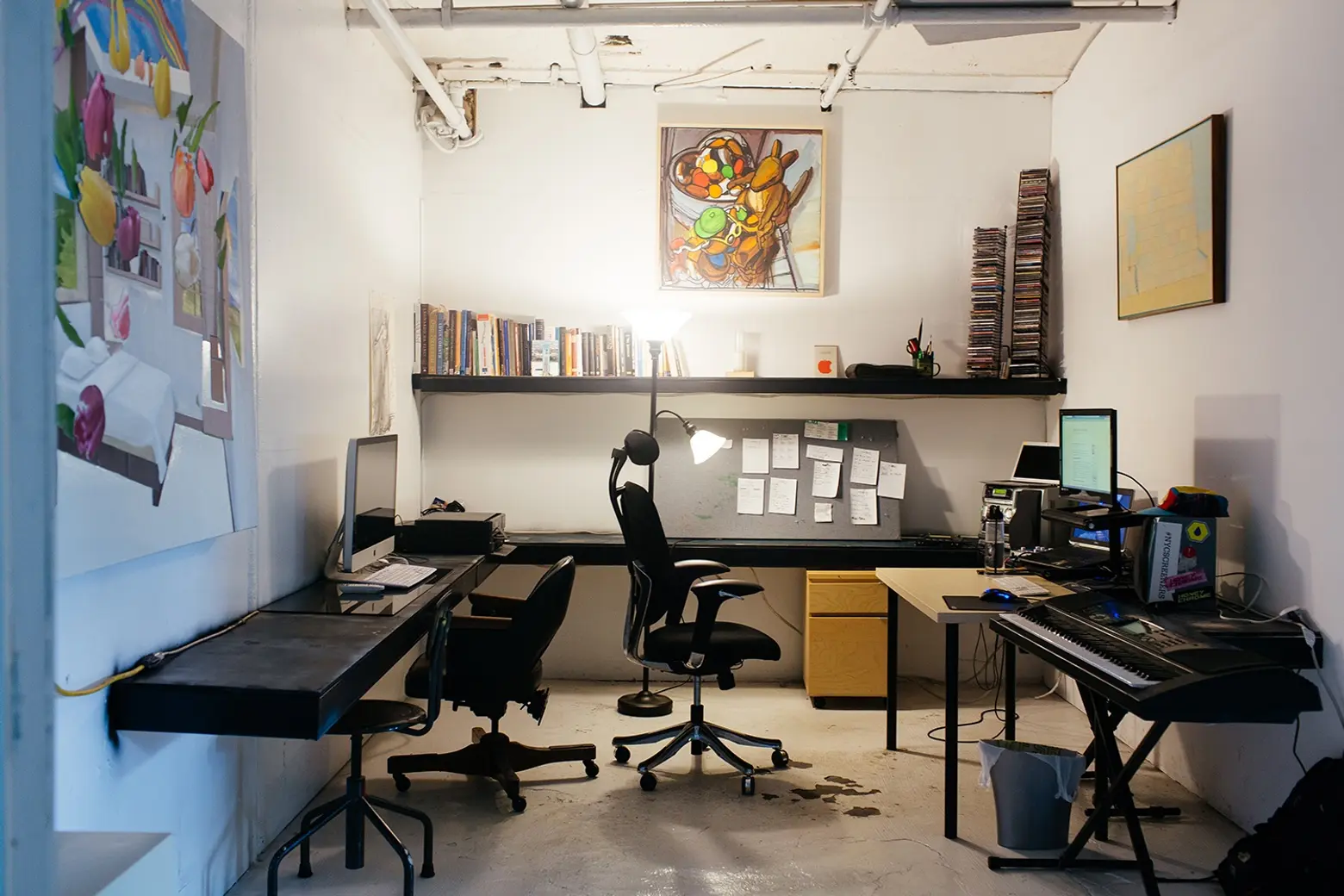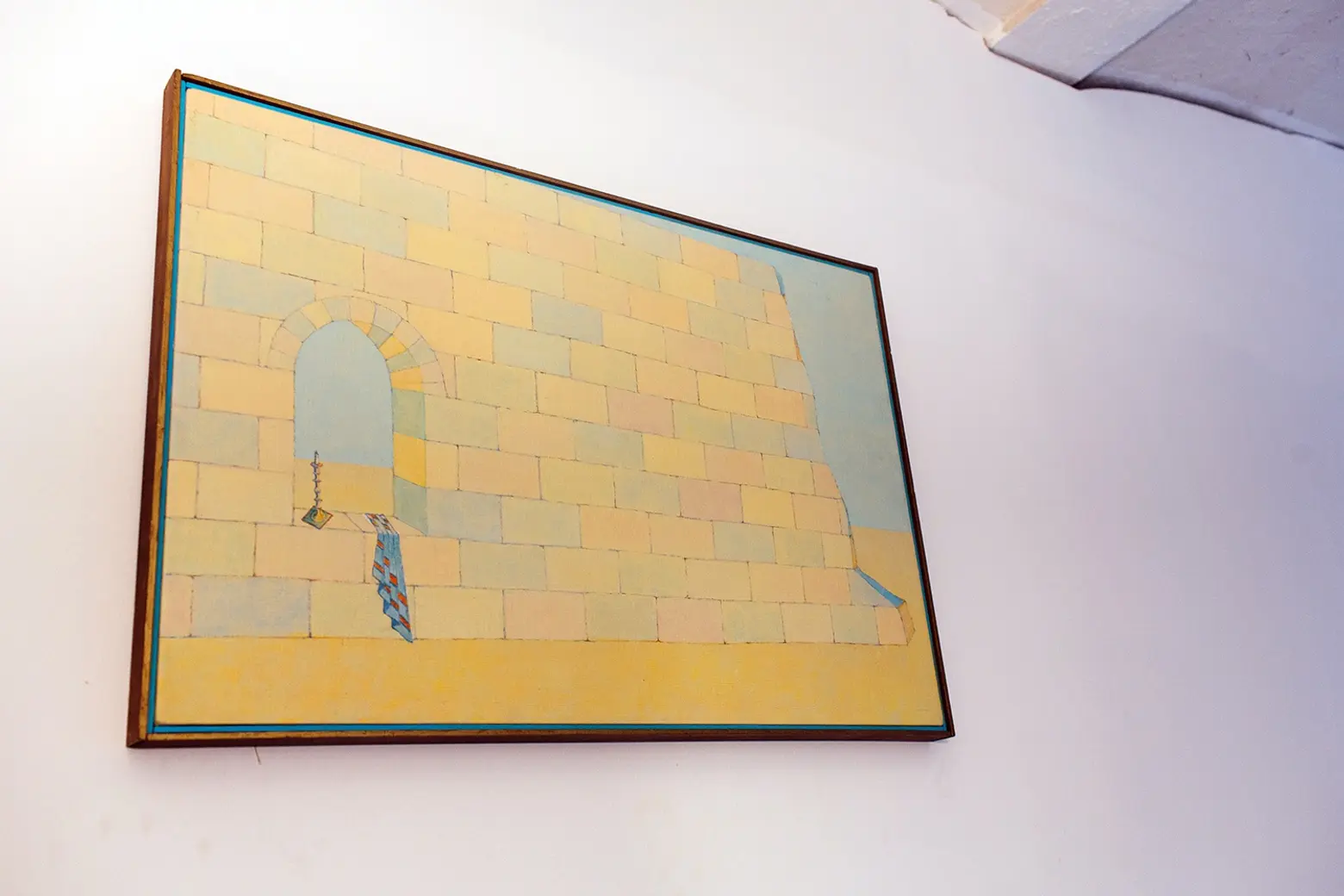 Chad's office features a lot of his friends' artwork and his favorite piece by his grandfather—who he credits for his interest in painting. His grandfather's painting is a take on the "Wailing Wall" in Jerusalem. He says the wall is incomplete "so you can walk around it"—something in specific he loves about the work
What are your favorite features of the loft?
Chad: The office is pretty cool for me and my work. My favorite feature is the size. You just can't find it anywhere else as affordable as this.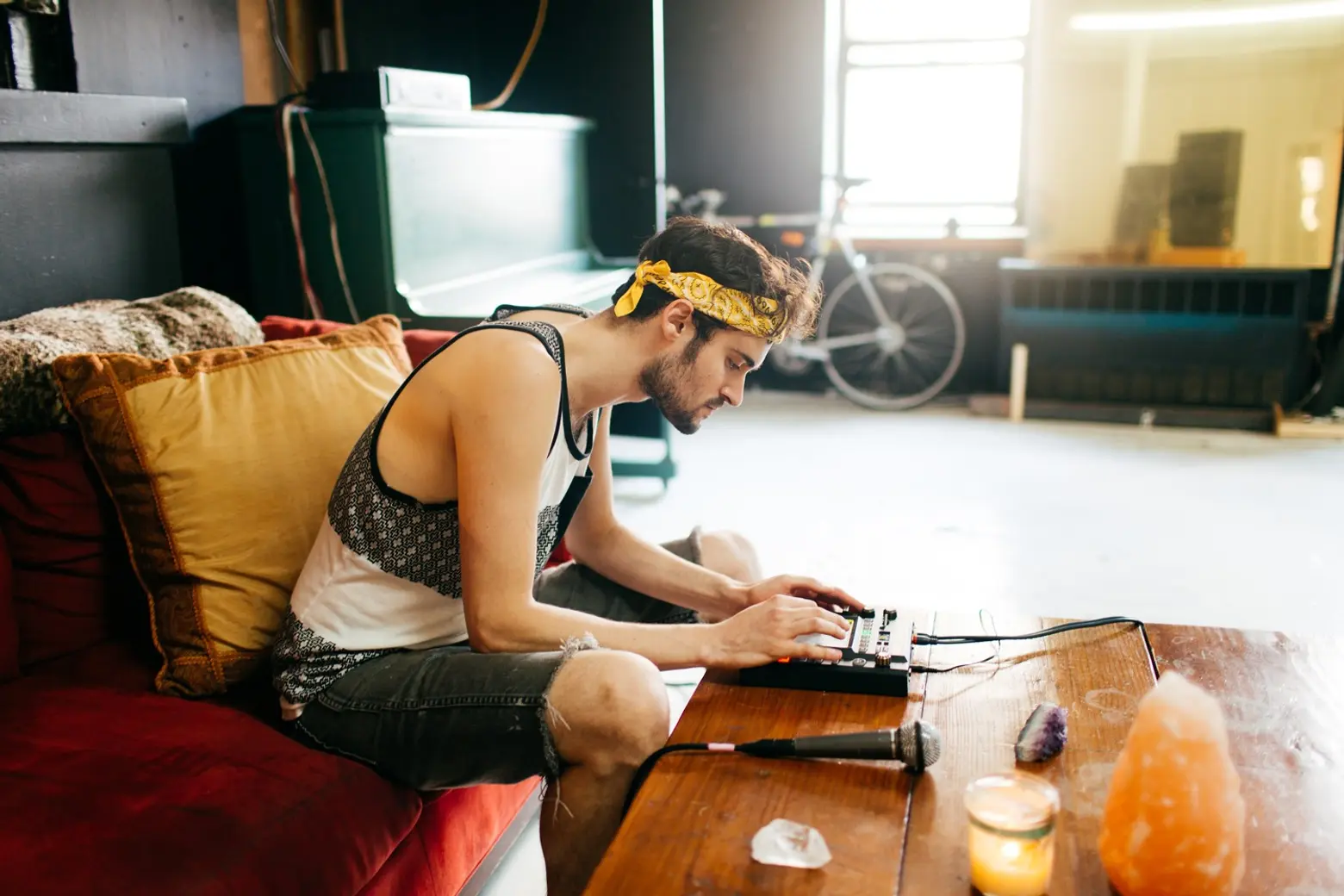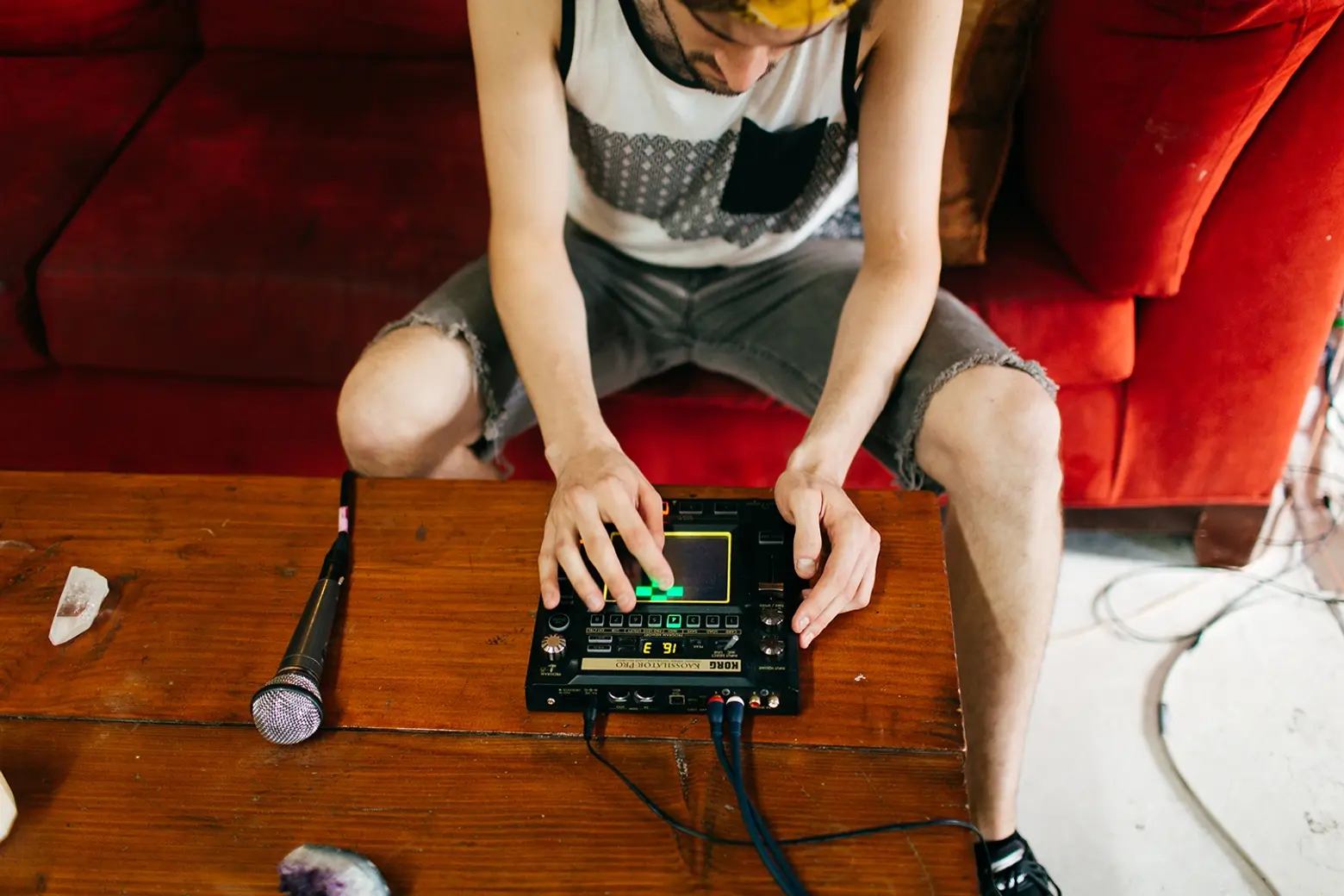 Treasured personal items?
Chad: My Kaossilator Pro—the device I use to produce a lot of my music. My laptop, my bike, my art, my new bed, my performance outfits, my starry laser light, my grandfather's paintings.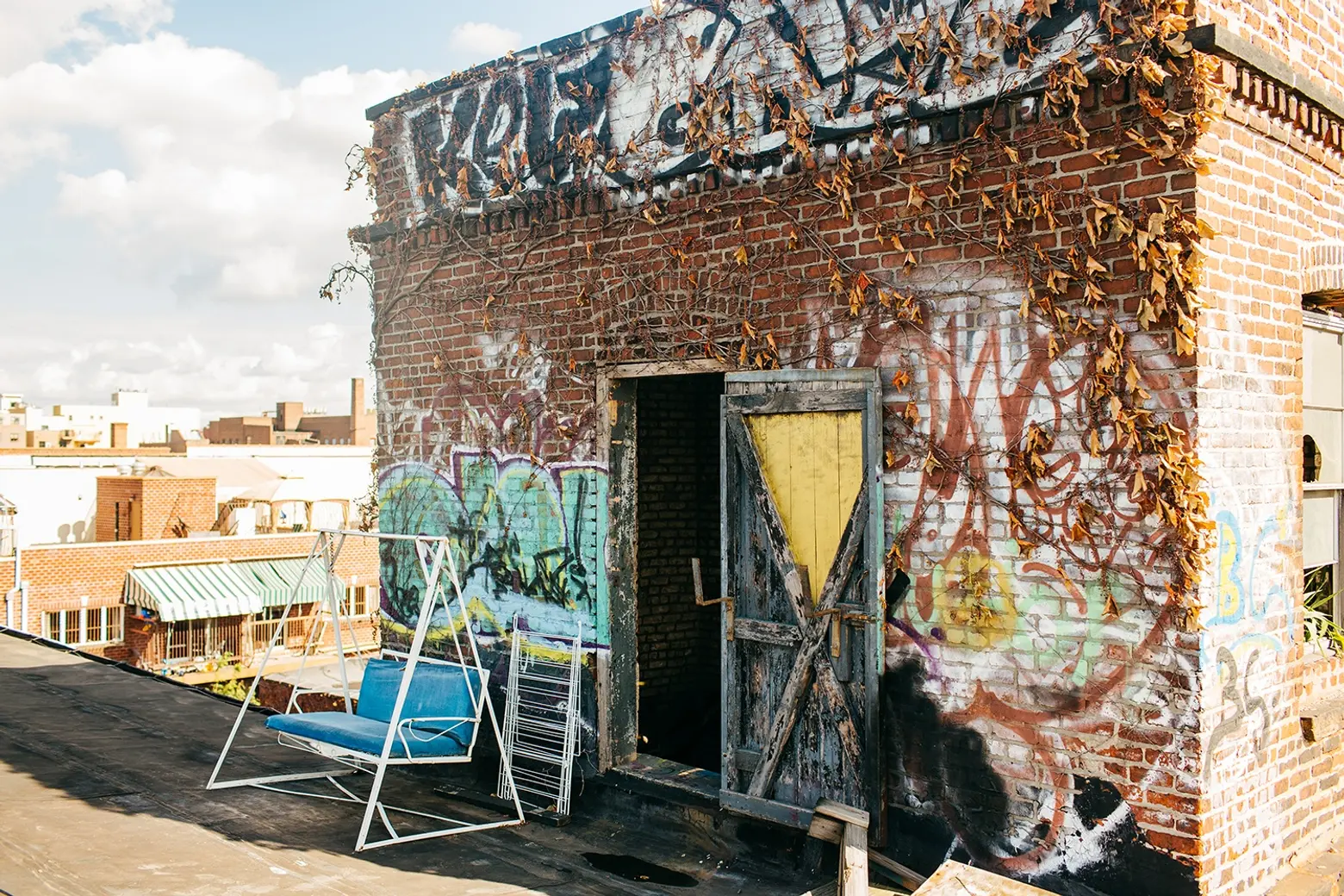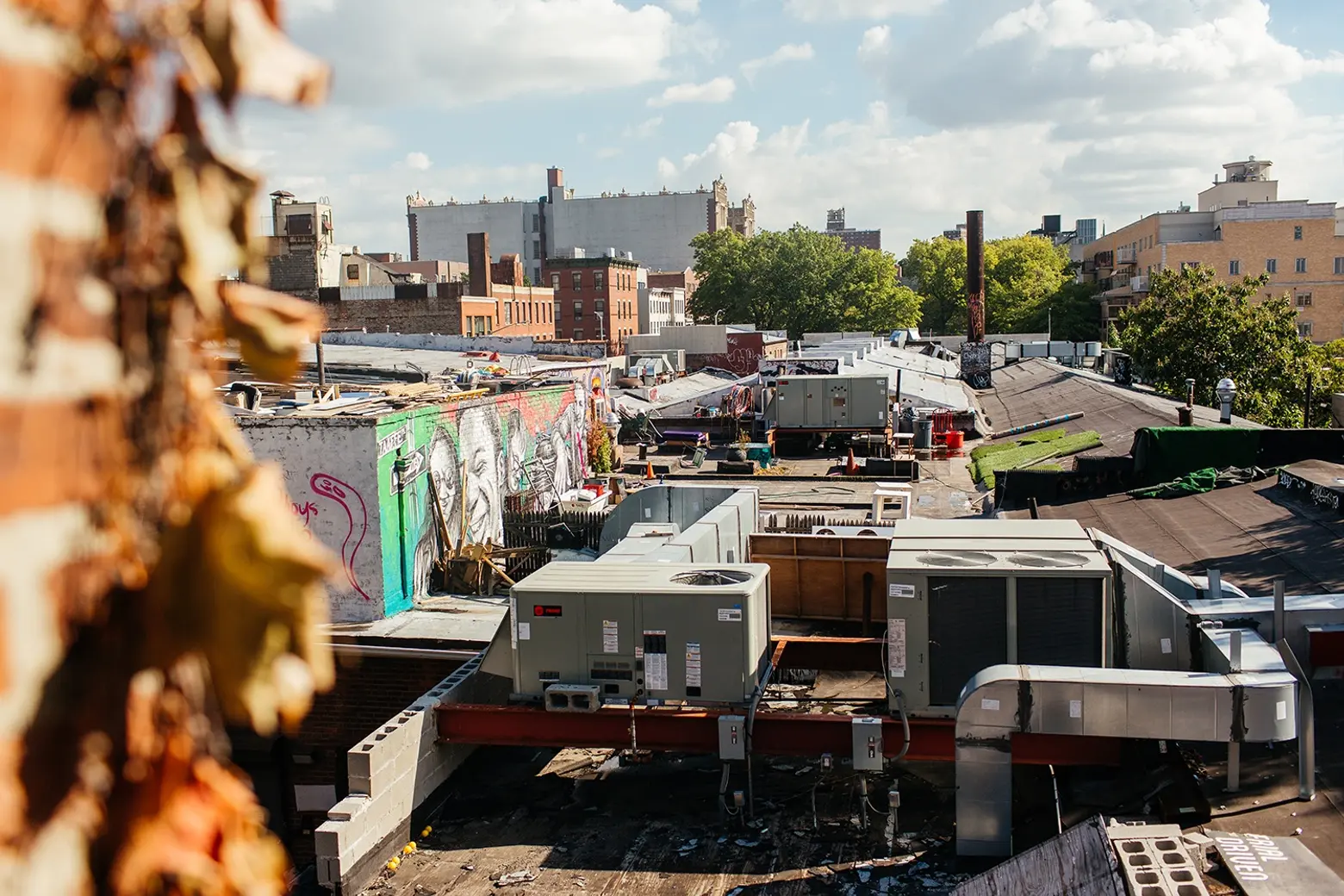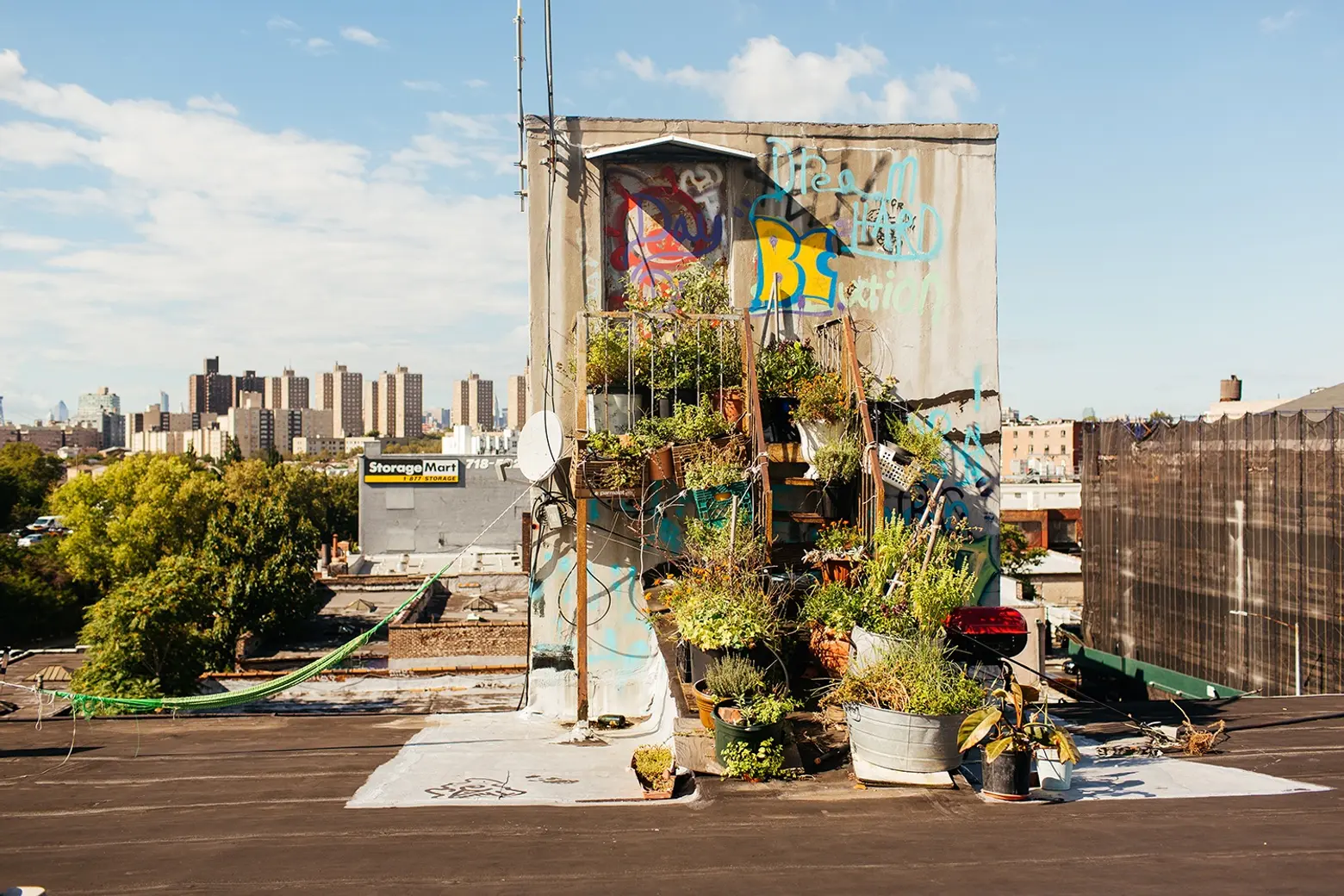 The building's shared rooftop which also features a small garden, graffiti by some of the residents past and present, and views of the surrounding neighborhood and BQE.
What's the vibe like living in the Navy Yard and your building?
Chad: The area is really secluded. We are surrounded by Hasidic homes which keeps the noise and crime down. I say we live at the convergence of many Northern Brooklyn neighborhoods: Williamsburg, Bed Stuy, Clinton Hill, Fort Greene and the Navy Yard included. If I go 15 minutes in any direction, I can get to any neighborhood, like Greenpoint, Bushwick or Crown Heights. So the vibe is very neutral until you decide on a direction. It's a blank palette which is really special.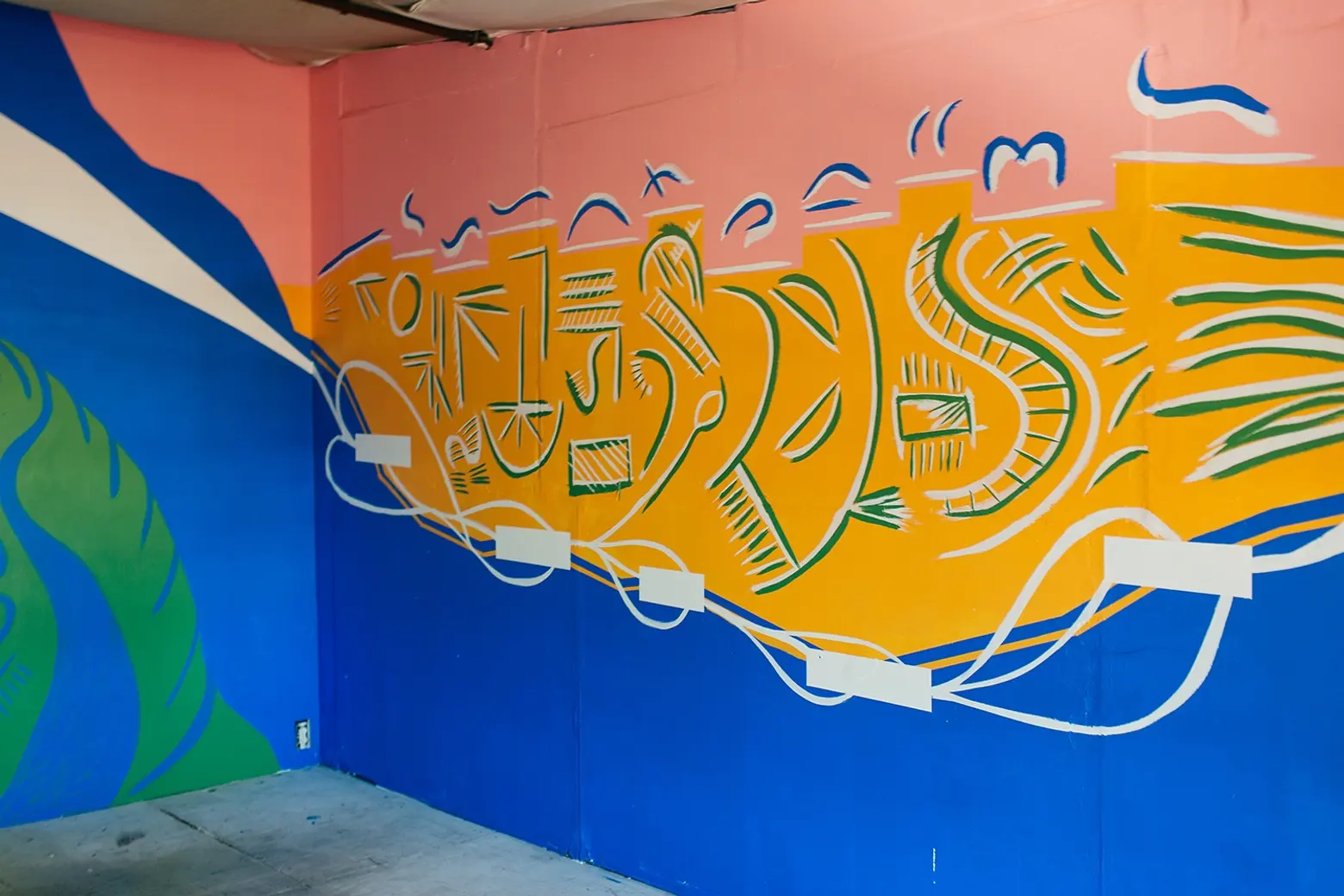 A mural he painted for a room in another apartment in the building
As for the building, it has unfortunately started to seem segmented. The fourth floor has been straight up butchered by its lease holder. The vibe on the fourth floor is depressed and the epitome of starving artists—a mindset I have recently broke free from. The third floor is cool. They have their own community, but I feel like they have beef with the fourth floor so I couldn't get to know them. They never gave us the time of day. Now that I am on the second floor, I want to reintroduce myself and see if we can get a building community going. We have something special here and together, with communication, it can flourish beyond what it is now.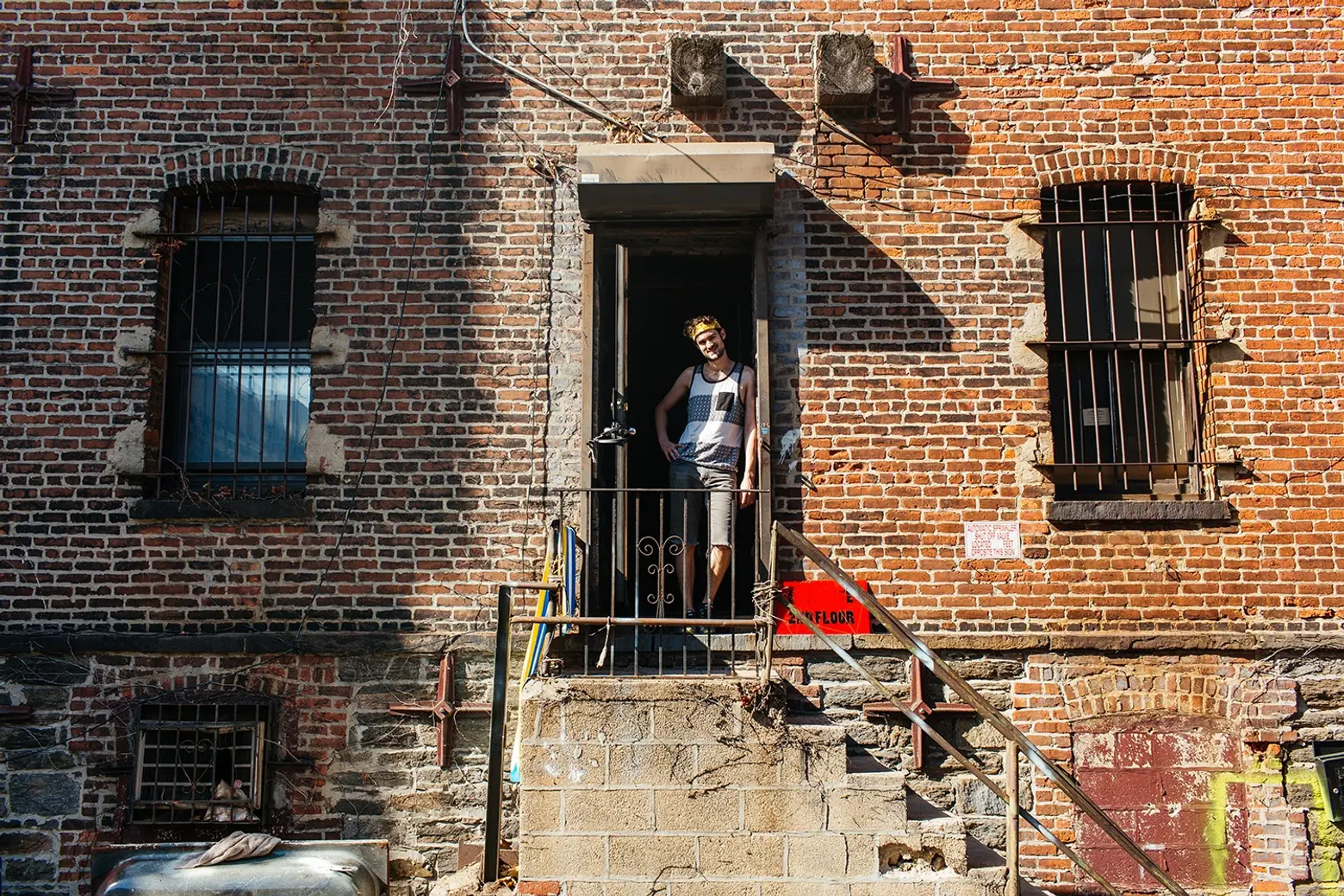 The Navy Yard is definitely considered up-and-coming—how do you see it changing?
Chad: Fortunately, as I mentioned, our block is secluded. Our immediate surroundings won't be changing for a long time. The neighborhood changes surrounding us are pretty positive. A lot is already developed—it is not crumbling like Williamsburg was when they rezoned. I am a man of expansion, luxury and the good things in life, so if more of that comes to the neighborhood, I say bring it on. I stand in the place between strong self-desire and global respect for communal growth and collaboration. A balance that I believe we need more of.
+++
RELATED:
All photos taken by Erin Kestenbaum exclusively for 6sqft. Photos are not to be reproduced without written permission from 6sqft