My 2,400sqft: Inside Compass agent Christine Blackburn's custom-designed Fort Greene home
Ten years ago, Christine Blackburn and her husband built an entirely new home above two storefronts in Fort Greene. Christine is one half of the Barak/Blackburn Team at Compass. As a seasoned real estate agent who specializes in North Brooklyn and Downtown Manhattan, it's no surprise that she had the eye to create a home with a double-height living room, two terraces, a roof deck, and plenty of cool, custom design details. 6sqft recently paid Christine a visit to get a tour of her home, learn what it was like to build the residence from the ground up, and hear her thoughts on the real estate market in New York City.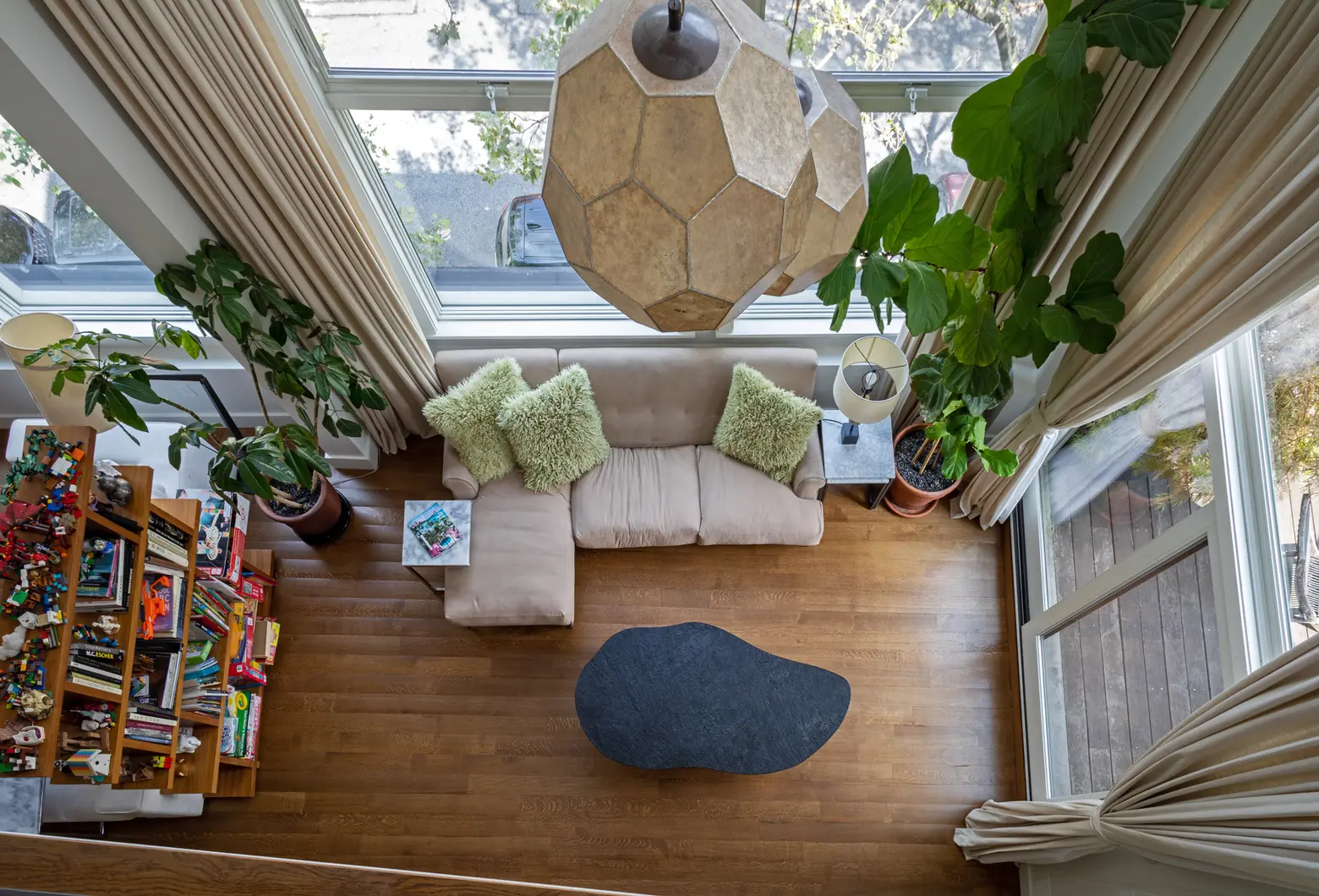 Most of the house has 12-foot ceilings, but in the living room, they're 26-foot
What brought you to NYC?
I always wanted to live in the city ever since I was a little girl, but ultimately it was going to NYU that got me here.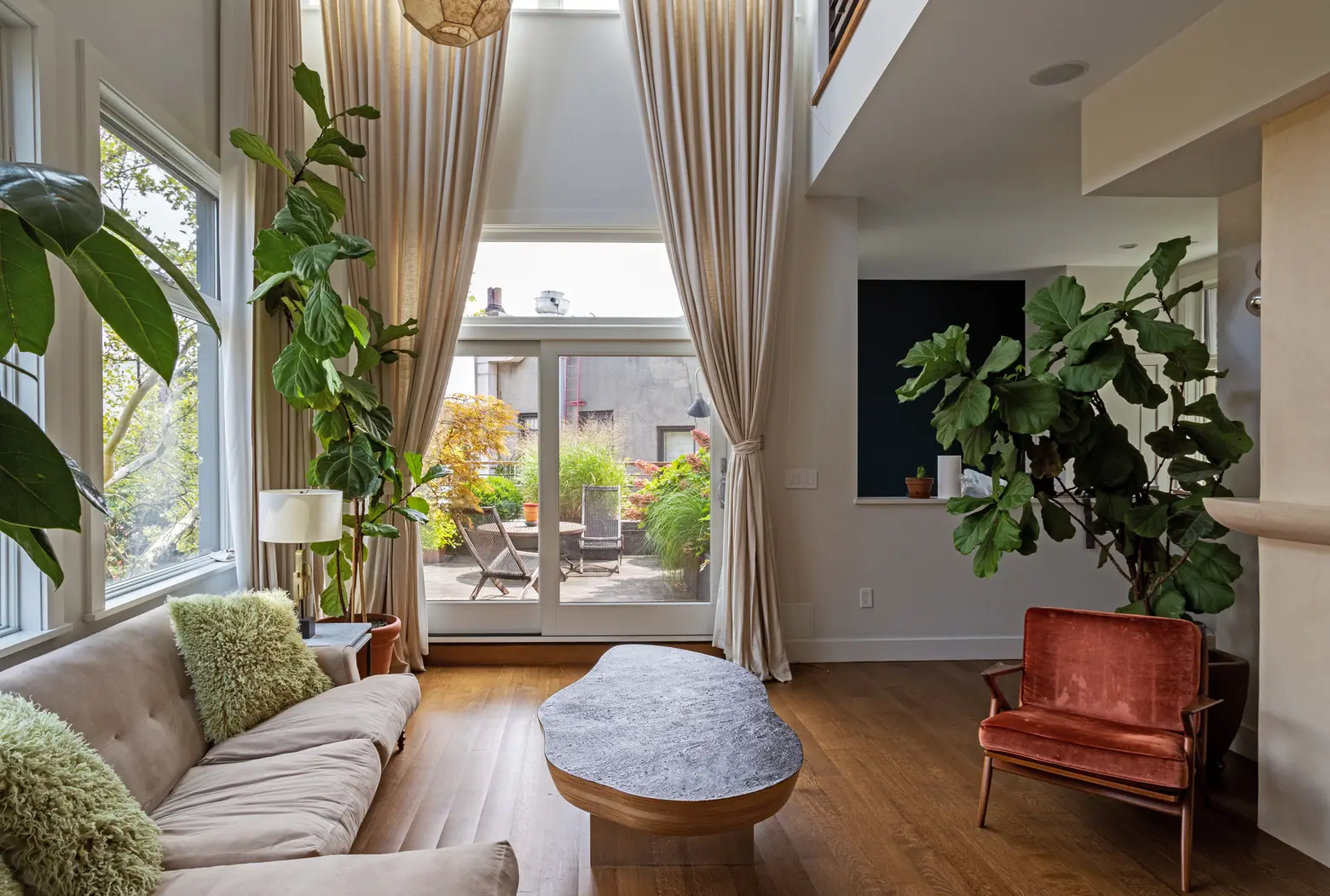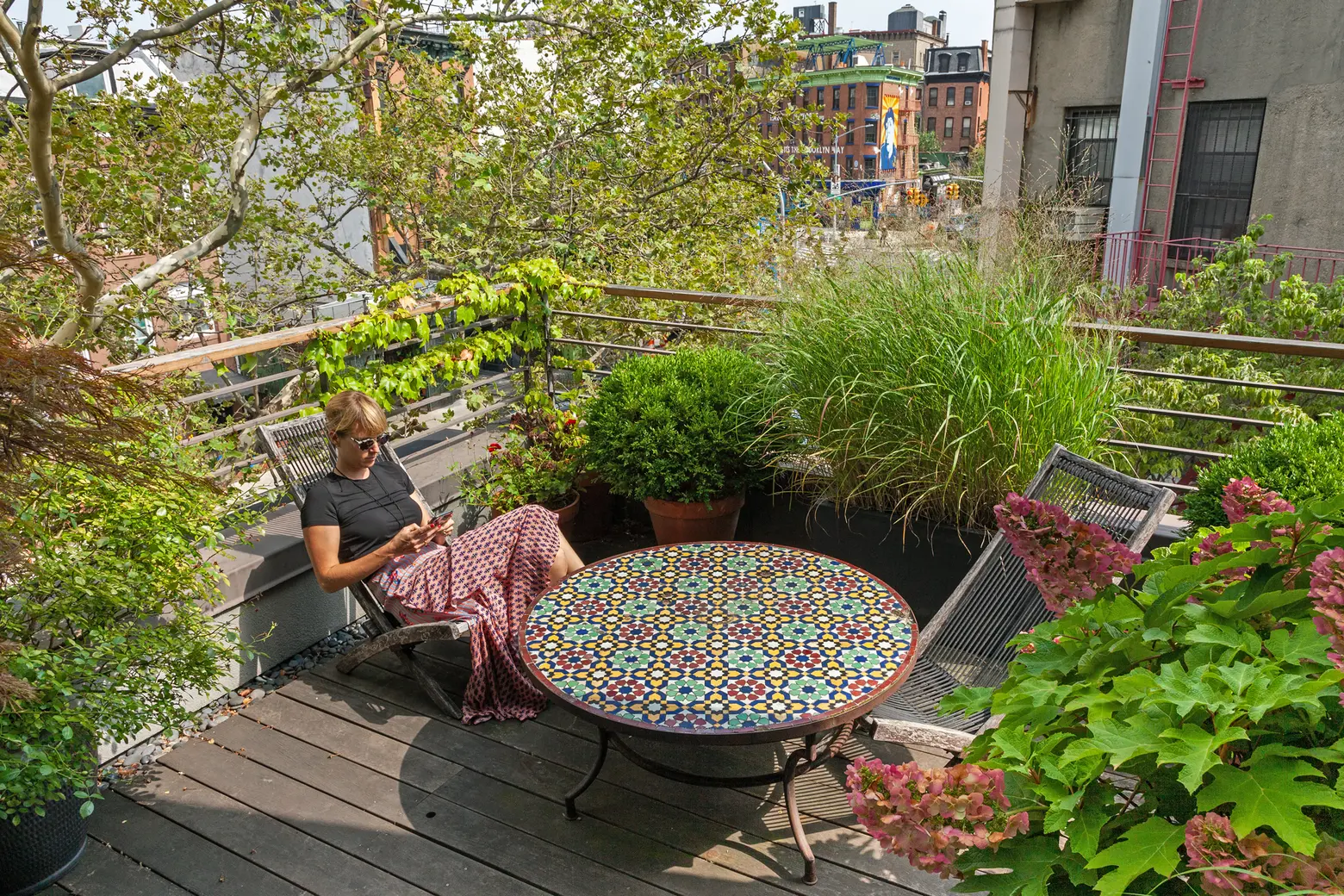 Christine's husband made the living room coffee table with layers of burnt wood
How did you get into the real estate business?
Purely by accident! I was a photographer and had a friend who began renting apartments and convinced me to get my license. From there, I began with rentals, and it just grew and I loved it more and more. Each transaction is a challenge, but it gives you a great sense of satisfaction to find solutions and get it done.
What is special about working for Compass?
I think they really get where the industry is headed. The people are great (management, agents) and Rob and Ori have a real vision and appreciation for the agents.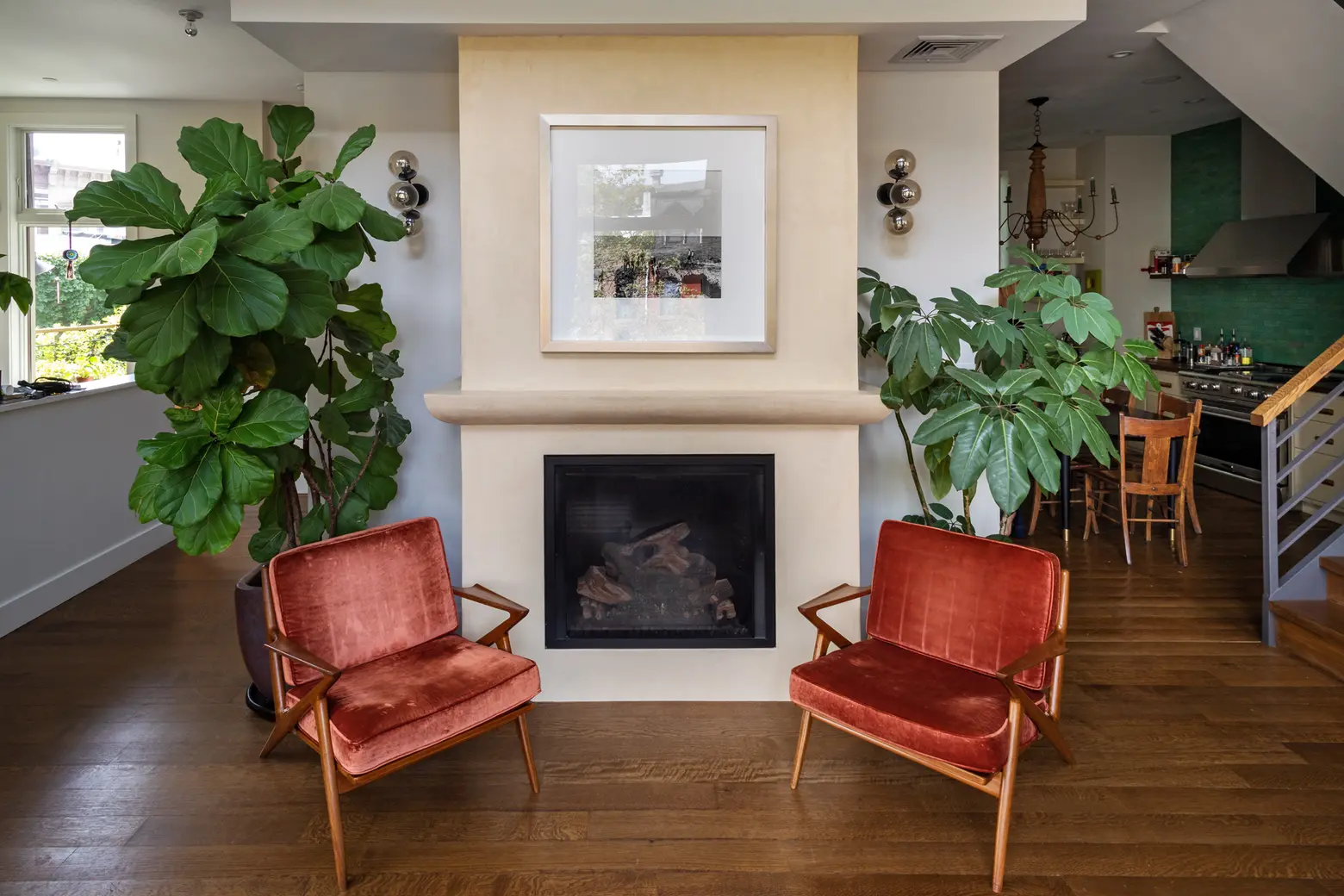 The mid-century-modern Z chairs are original; Christine took the photograph about the fireplace
You and your business partner Lior are known for your work in Williamsburg. What do you think is so great about that neighborhood?
It's so central – five minutes to Manhattan and right on the water – but it's really its own mini-city unto itself. It's the perfect blend of relaxed Brooklyn vibe and lots of things to do, see, and eat.

The ivy gets taken down from the wall once a week to get watered
Why did you choose Fort Greene for your family?

The park is a big draw and the transportation. But in the end, it's all about those gorgeous brownstones. It's just so lovely to walk those blocks every day. I feel truly lucky.
Favorite spots in the neighborhood?
BAM and the Polonsky Theater. For restaurants, Olea (always a neighborhood favorite), Colonia Verde, and Dino. And of course Fort Greene Park.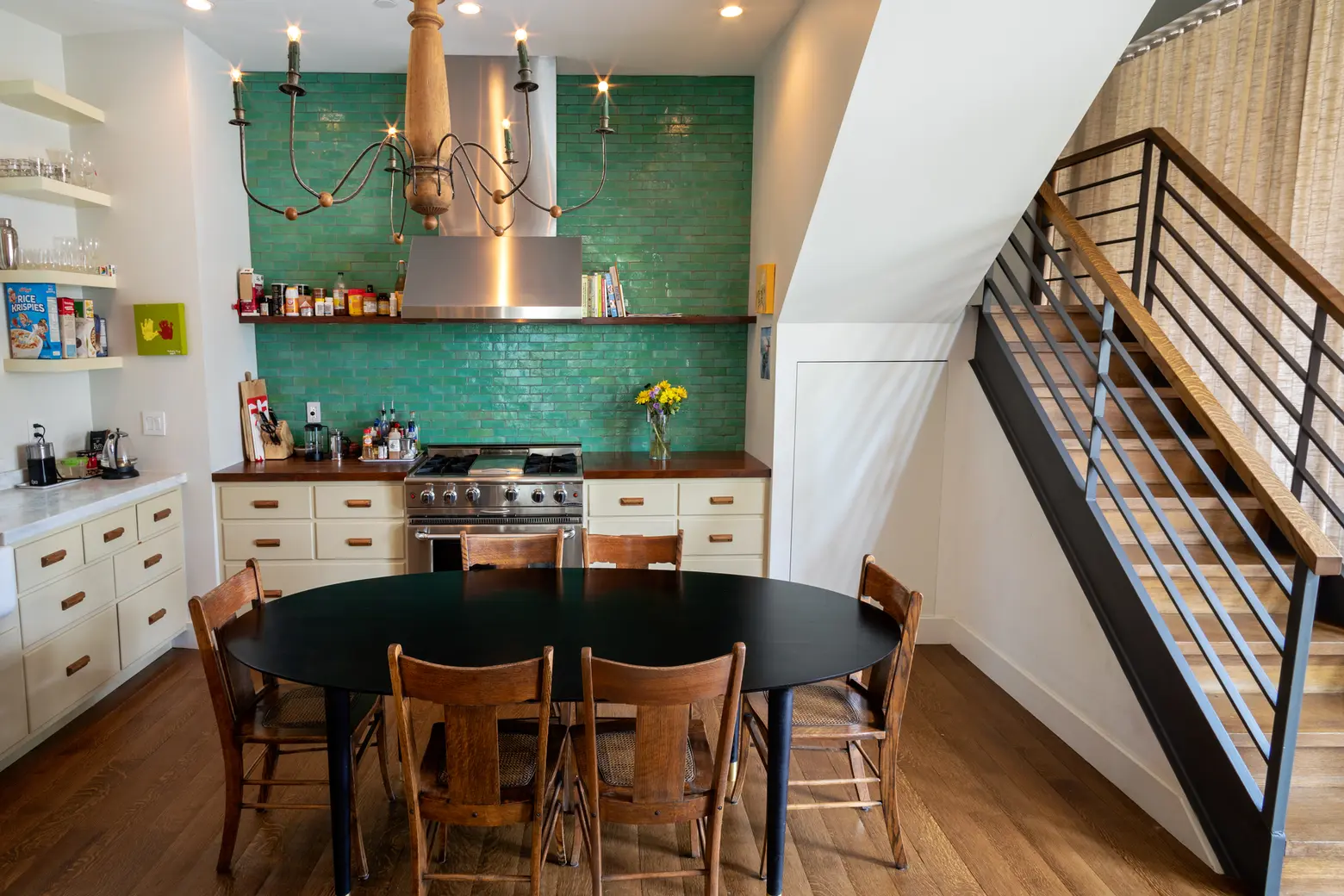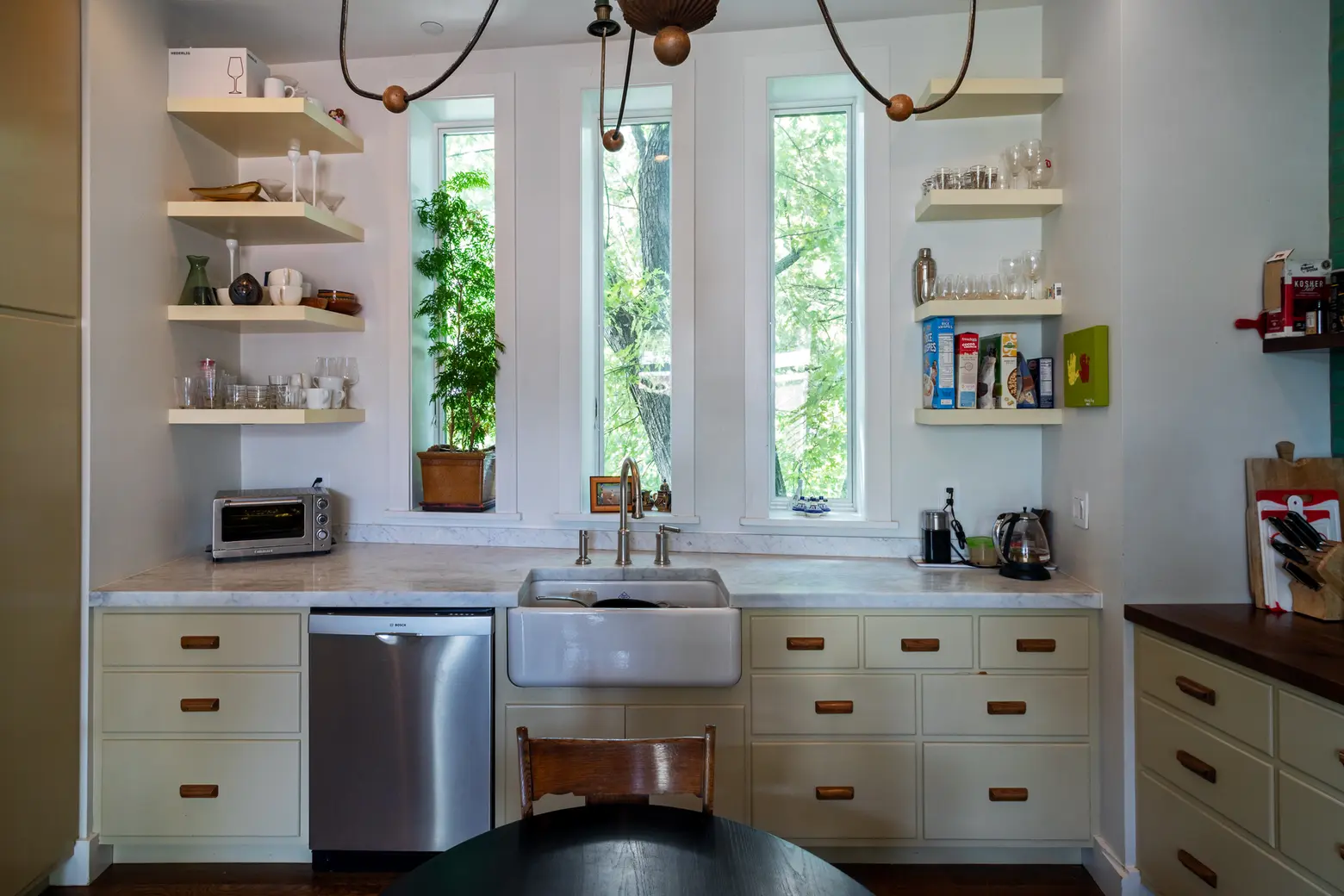 The kitchen chandelier is vintage; all the cabinetry is custom made
Tell us about your house. Why did you decide on this property and what was the process like building it from the ground up?
It was an amazing opportunity with a lot of challenges. But the location was incredible, so we essentially bought it on land value alone. We knew we had air rights to build our dream home and the income from tenants to pay the mortgage – so it was a win-win.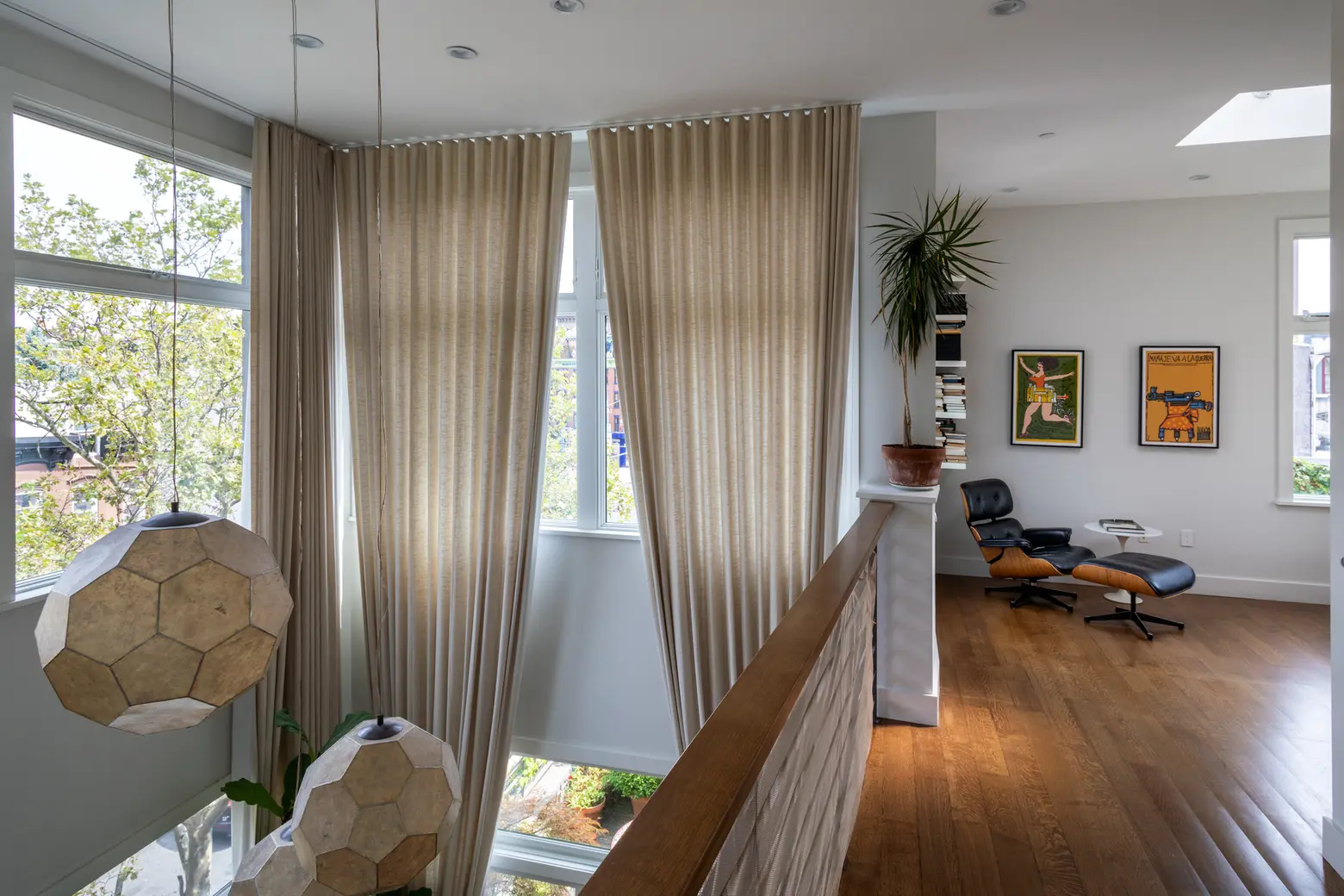 Were there any challenges in the building process?
Absolutely. Building anything in New York City is a feat worthy of an Olympic medal. I had a newborn baby and strapped him into a carrier and headed down to the DOB whenever issues came up. It was a crazy time but totally worth it in the end.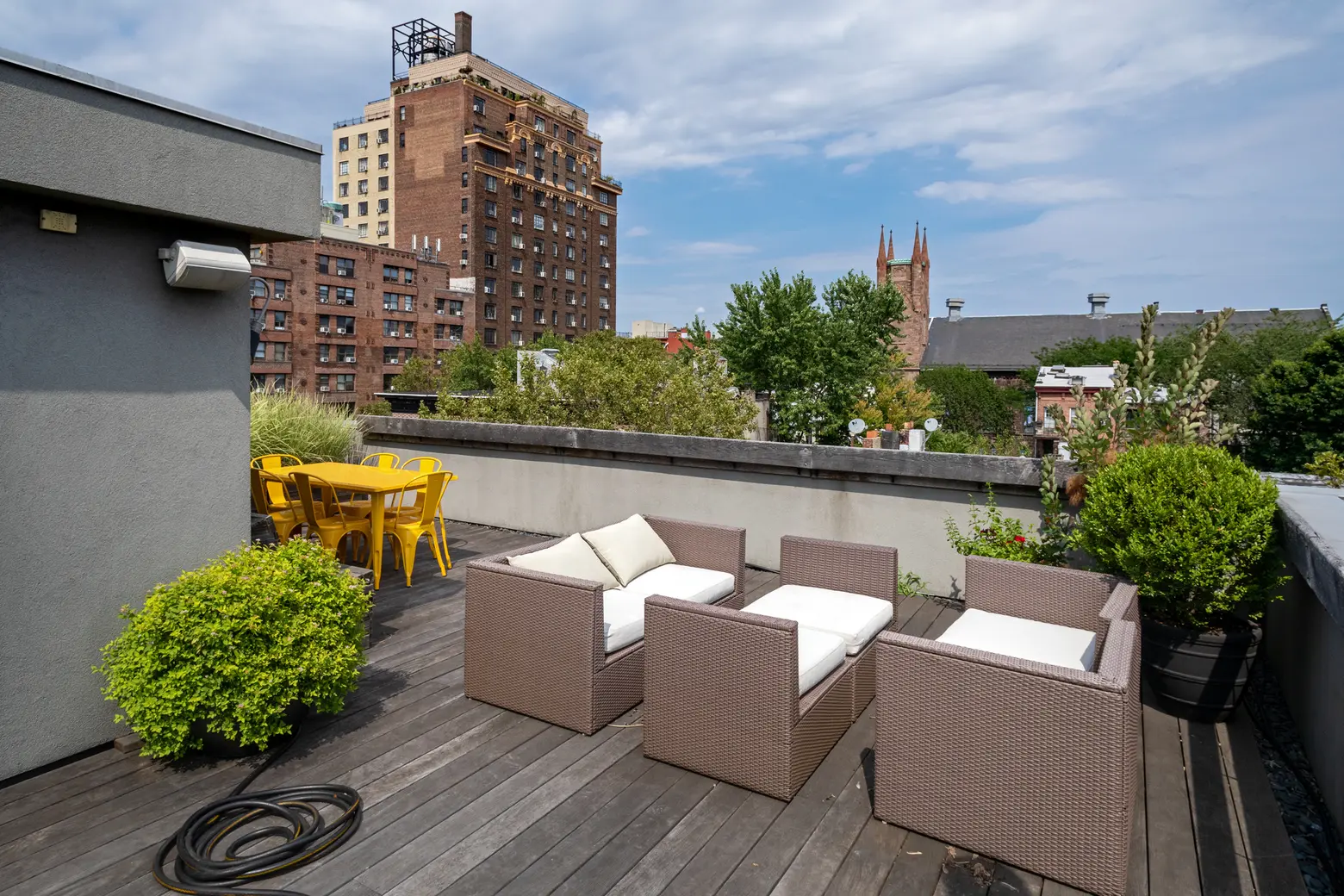 The outdoor spaces were designed by Brook Landscape
What's your favorite part about the house?
The double-height living room and outdoor space views of surrounding brownstones.
Was it important for you to have a good deal of outdoor space?
Yes, with two young boys they need it. It makes a world of difference.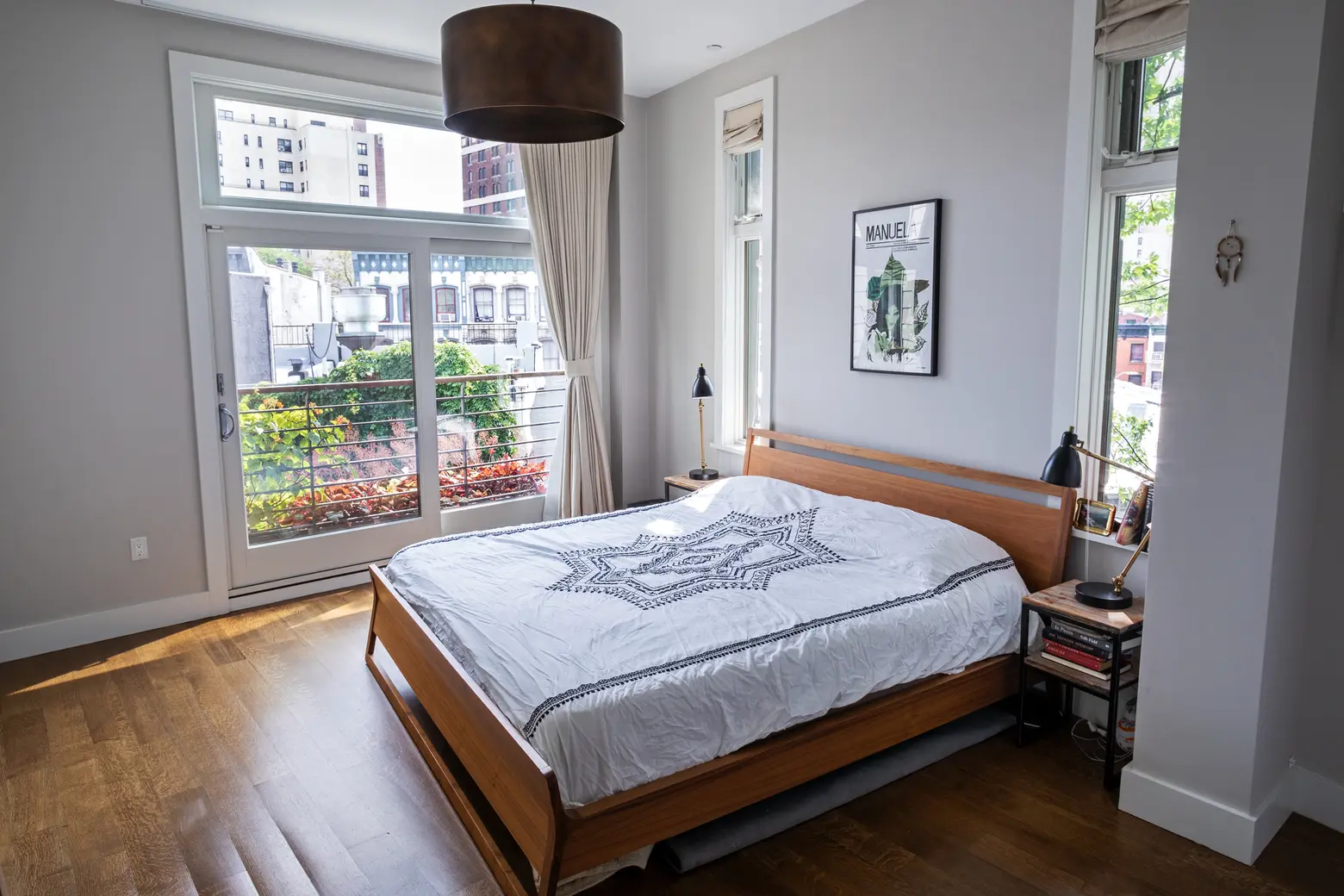 There's a Juliet balcony off the master suite 
You mentioned that you worked with an interior designer. What was that process like?
It was a group effort. Being an agent, I know many designers. I got help from David Alhadeff at The Future Perfect, where many of the pieces are from. Later on, for finishing touches, we worked with The New Design Project out if Williamsburg, who I love.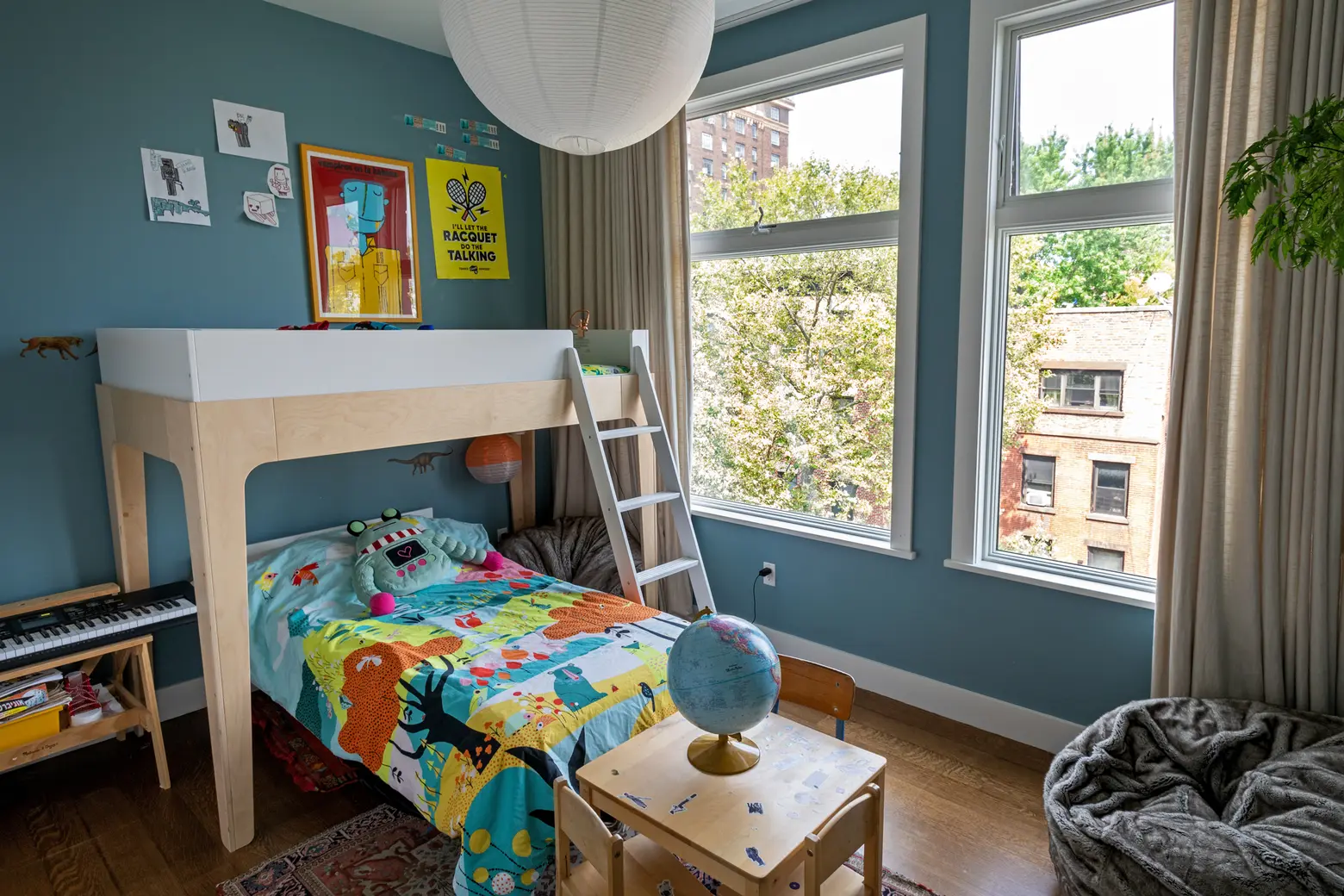 How has the house changed since you had your two children?
We designed it with them in mind so not much minus many more toys than I care for!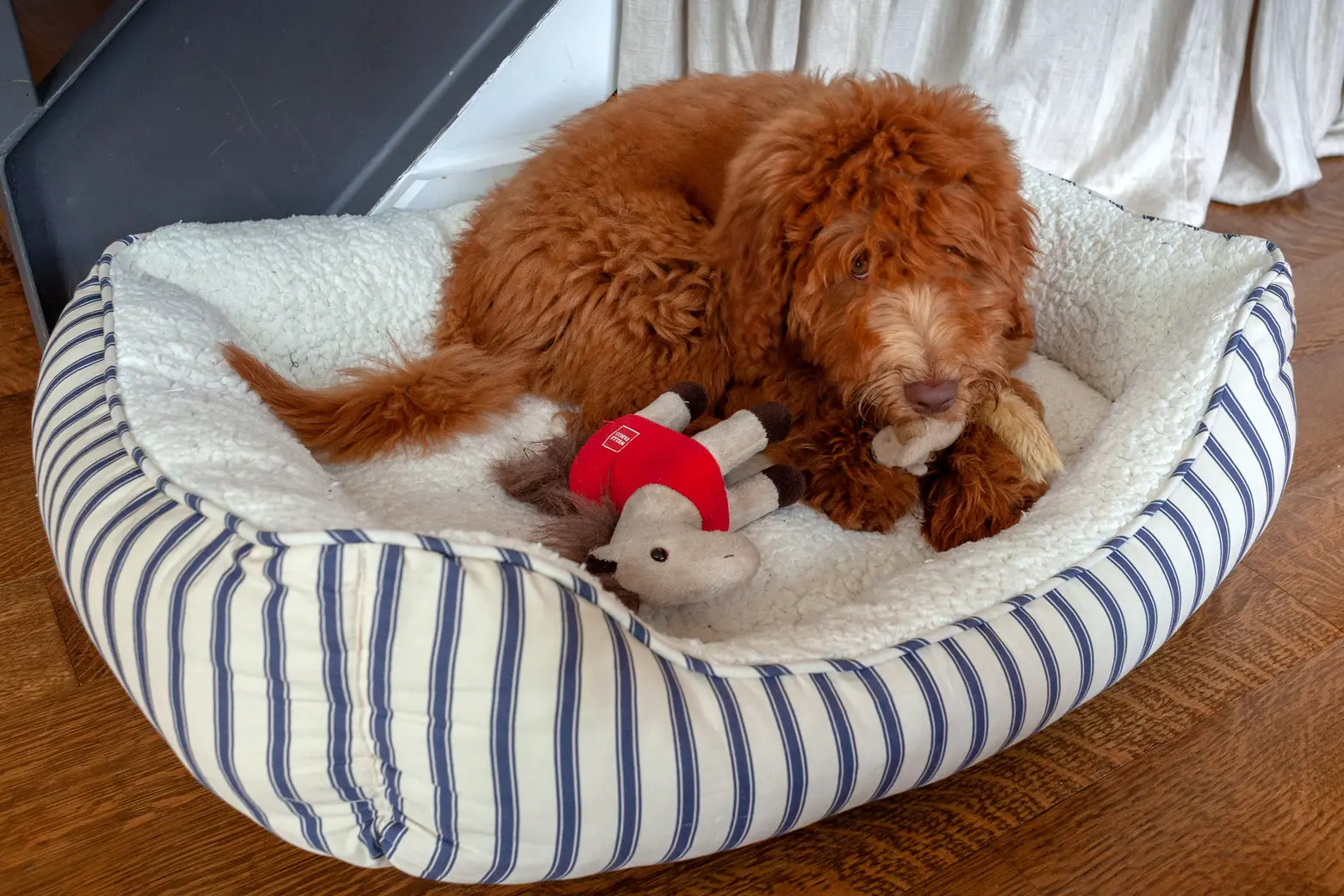 The family's labradoodle Bailey is five-months-old
All photos by James and Karla Murray exclusively for 6sqft. Photos are not to be reproduced without written permission from 6sqft