My 450sqft: An Australian expat creates a calming 'slice of heaven' in the East Village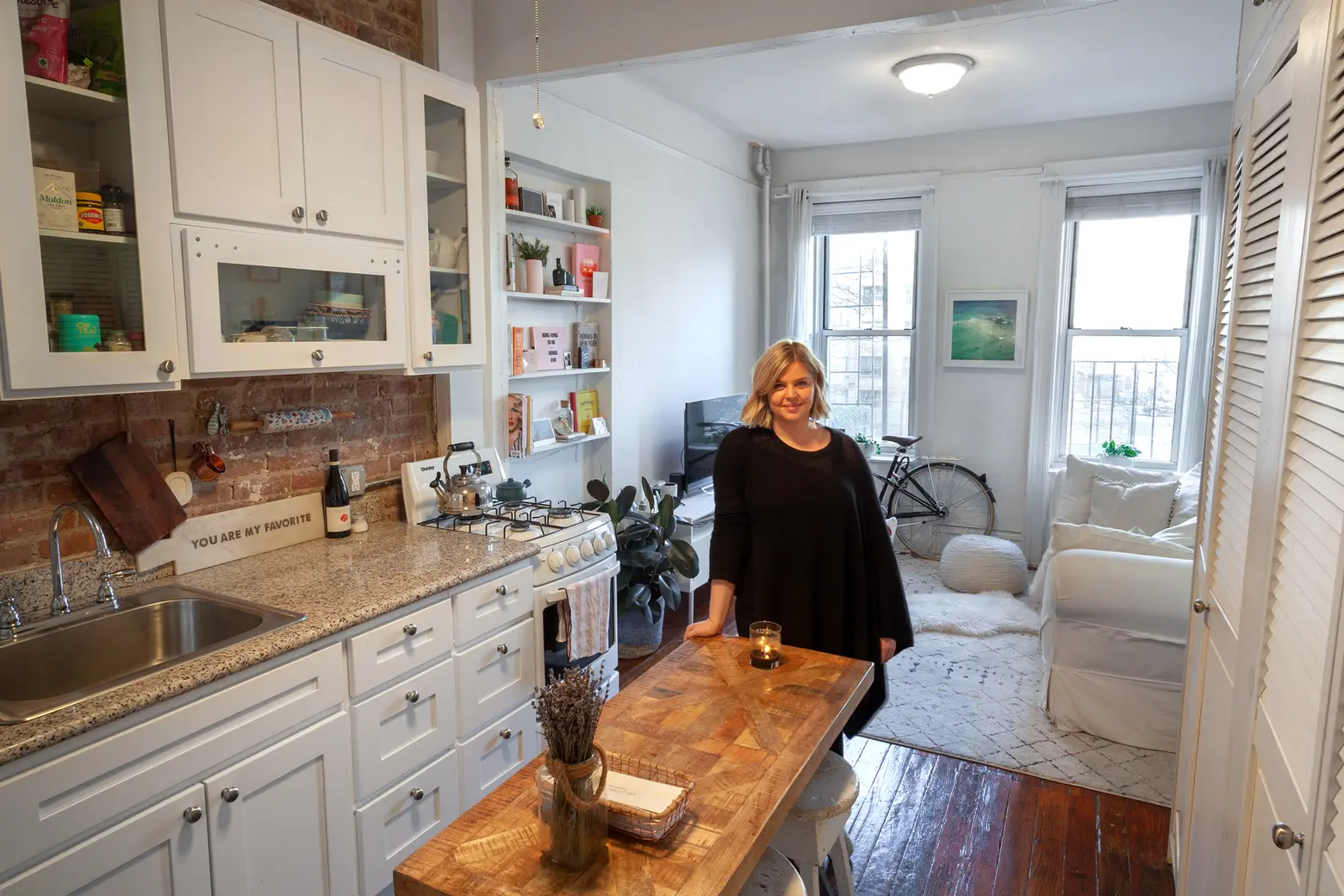 Our series "My sqft" checks out the homes of New Yorkers across all the boroughs. Our latest interior adventure brings us to Kate Callander's East Village apartment. Want to see your home featured here? Get in touch!
There are almost too many charming elements to note about advertising professional Kate Callander's East Village one-bedroom. First, there are all the original features–the floorboards, claw-foot tub, penny tiles, exposed brick, and copper light fixtures. Then there's the serene vibe you get as soon as you walk in. Hoping to create her own "slice of heaven" within the bustling neighborhood, Kate opted for neutral fabrics, whimsical touches like her beloved fairy lights, and soft, feminine finds. But most importantly, she's filled her home with mementos from her upbringing and travels.
Kate was born in Australia and raised in Malaysia and Hong Kong, but after a vacation in NYC, she decided she never wanted to leave. She moved to her railroad-style home four years ago and has only grown more in love with the city and her apartment. We recently paid her a visit to learn more about how she decorated the space, how New York living is different than in her past cities, and where to get the best Aussie coffee in the East Village.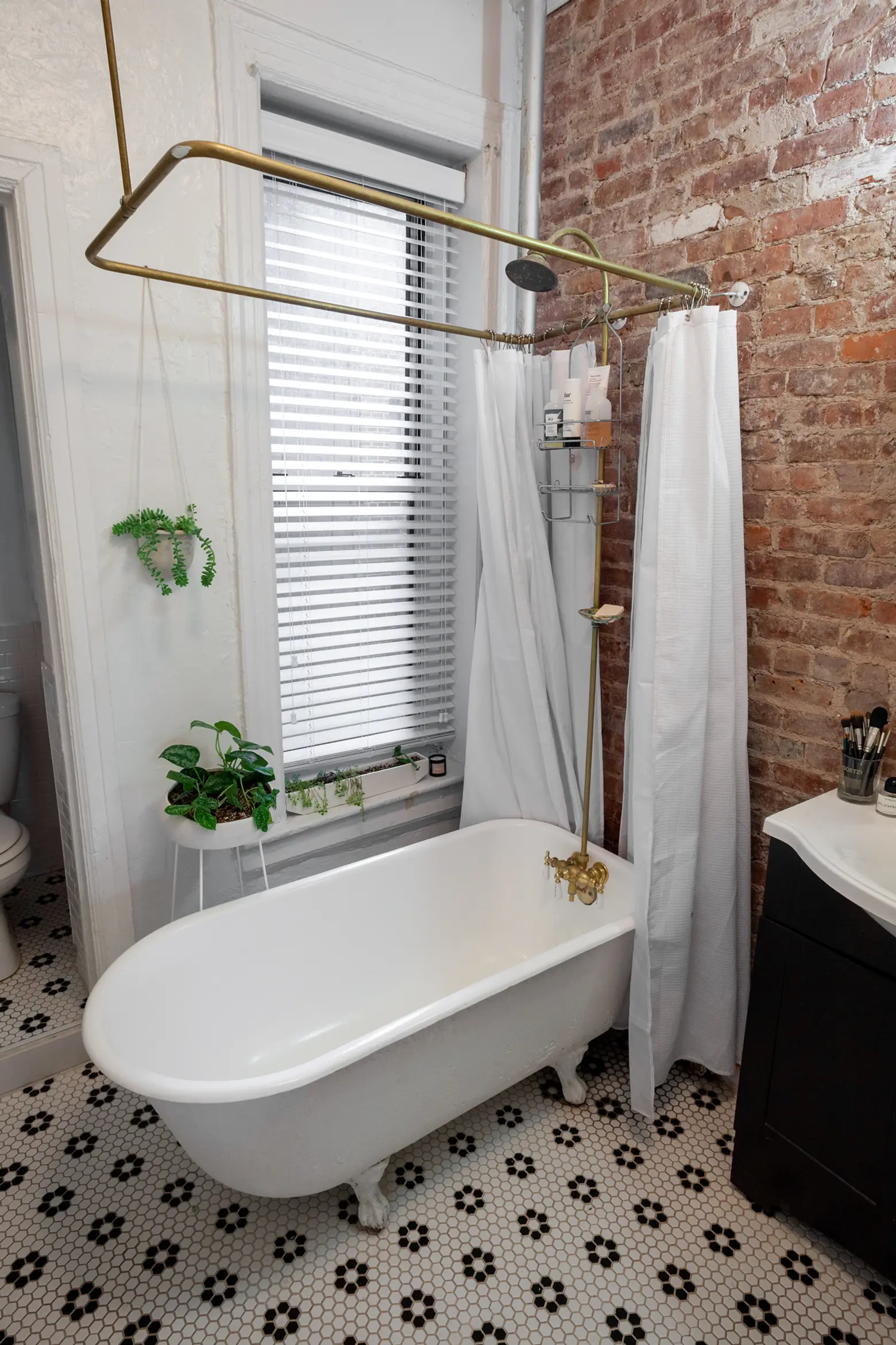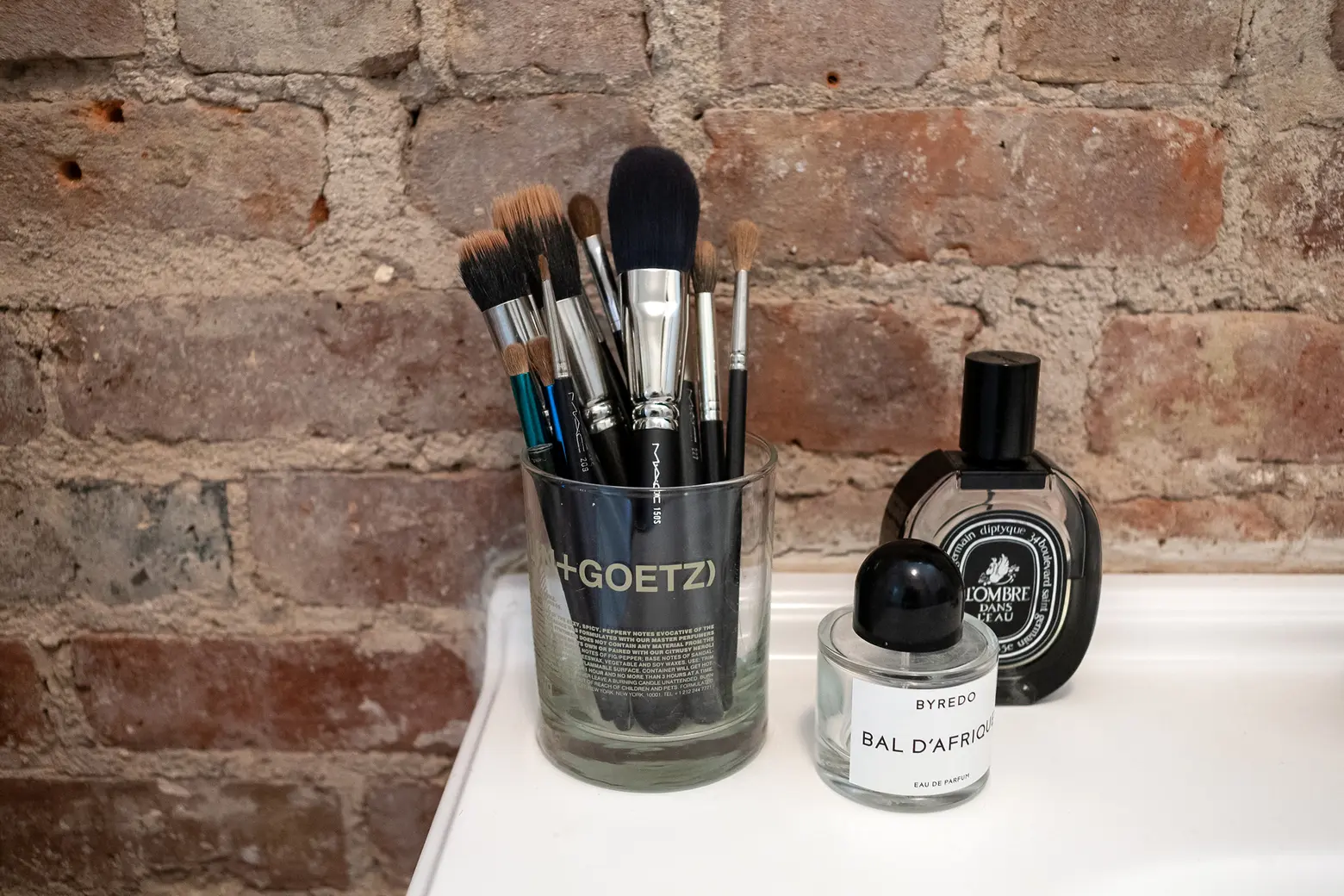 Tell us a bit about your background. How did you eventually make it to New York?
I was born in Australia. My dad is a commercial airline pilot, so we lived in Malaysia for a few years. My parents were not planning on staying overseas for too long, but they decided to move to Hong Kong for a couple of years. When we were in Hong Kong, we lived on a boat for seven years. It sounds wild, but it was very normal, on a little island where they drive golf buggies. Then, 30 years later, [my dad] just retired and they moved back home [to Australia].
In that time, we got to travel a ton, so I think that was just kind of in the blood. I ended up going back to Australia to finish my education. The first year out of high school, I went to the UK and traveled around, and then I came back to Australia for university. I settled down, bought a house in Melbourne, and spent a year furnishing it and buying all the bits and bobs.
I came over to New York for a last-minute vacation. I'd been here five or six times, but I was staying with a friend in Williamsburg, and just living the life here. Like 12 hours in, I was like, "I don't want to leave." And so I went home to Australia, and I put one more piece of art on the wall, and I was like, "Okay, I'm done, I'm leaving." I packed everything up, moved over here, and started working in advertising. I've been here for four years.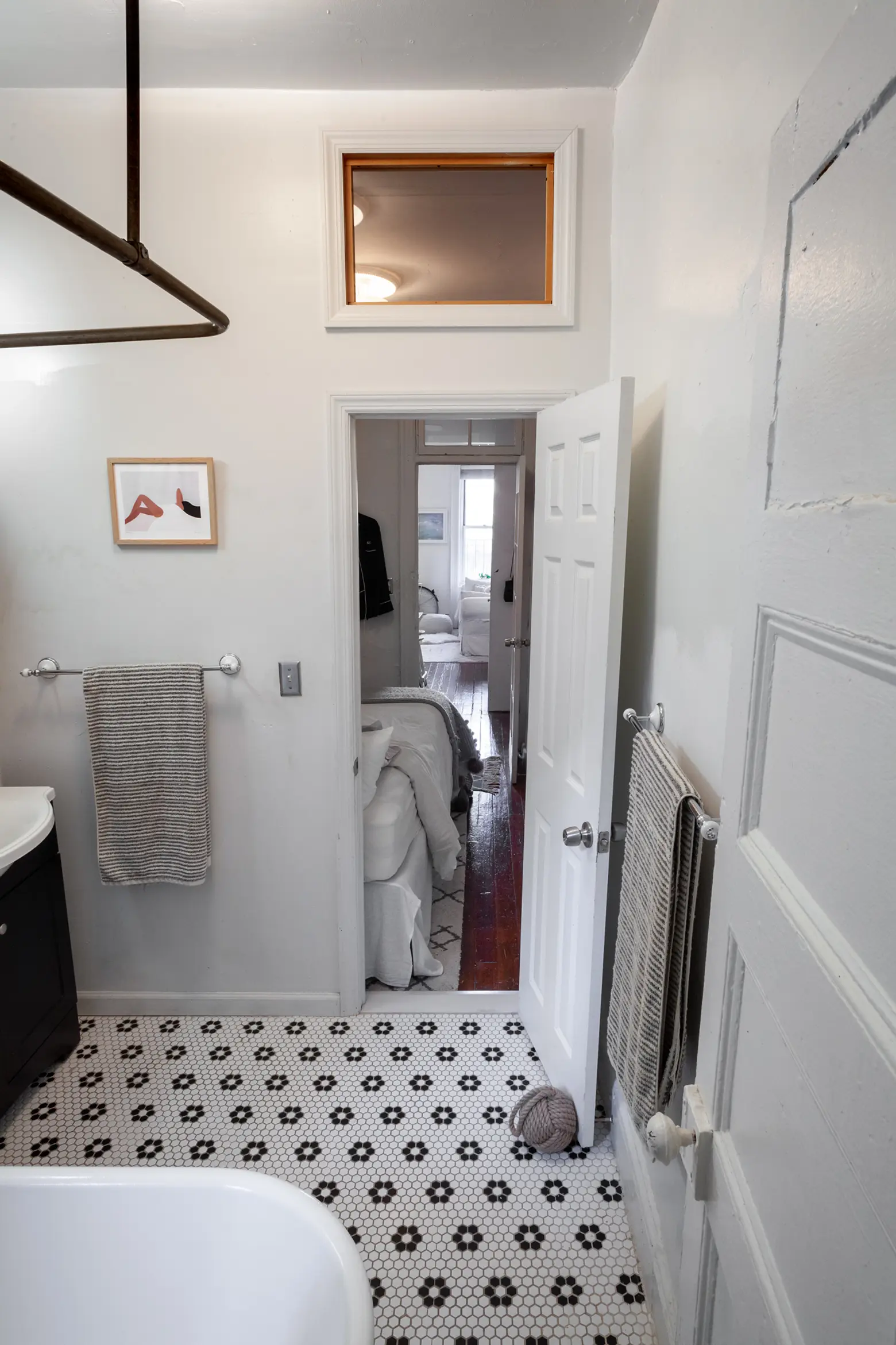 What would you say are the biggest differences between living in New York versus Melbourne or Hong Kong?
It's a really hard question. I think the way of life in each of those places is slightly different, but in a really nuanced way, and you don't realize it until you've started spending a while somewhere. The school I went to in Hong Kong is the British system. And Australian schooling is quite similar, too. When we first all moved here, we couldn't work out why our resumes were printing weirdly. And it's because the paper sizes are different. It's small things like that which creep up on you.
I think people in New York are incredibly social and friendly and open, which reminds me a lot of Australia. And then the fast-paced way of life reminds me of Hong Kong. I love the metro here; I love the art and talent that's down in the subways and how old it is, and I'm intrigued by the history of New York. In Hong Kong, it's different in the sense that it's very new and flashy–the same with all the buildings and homes there.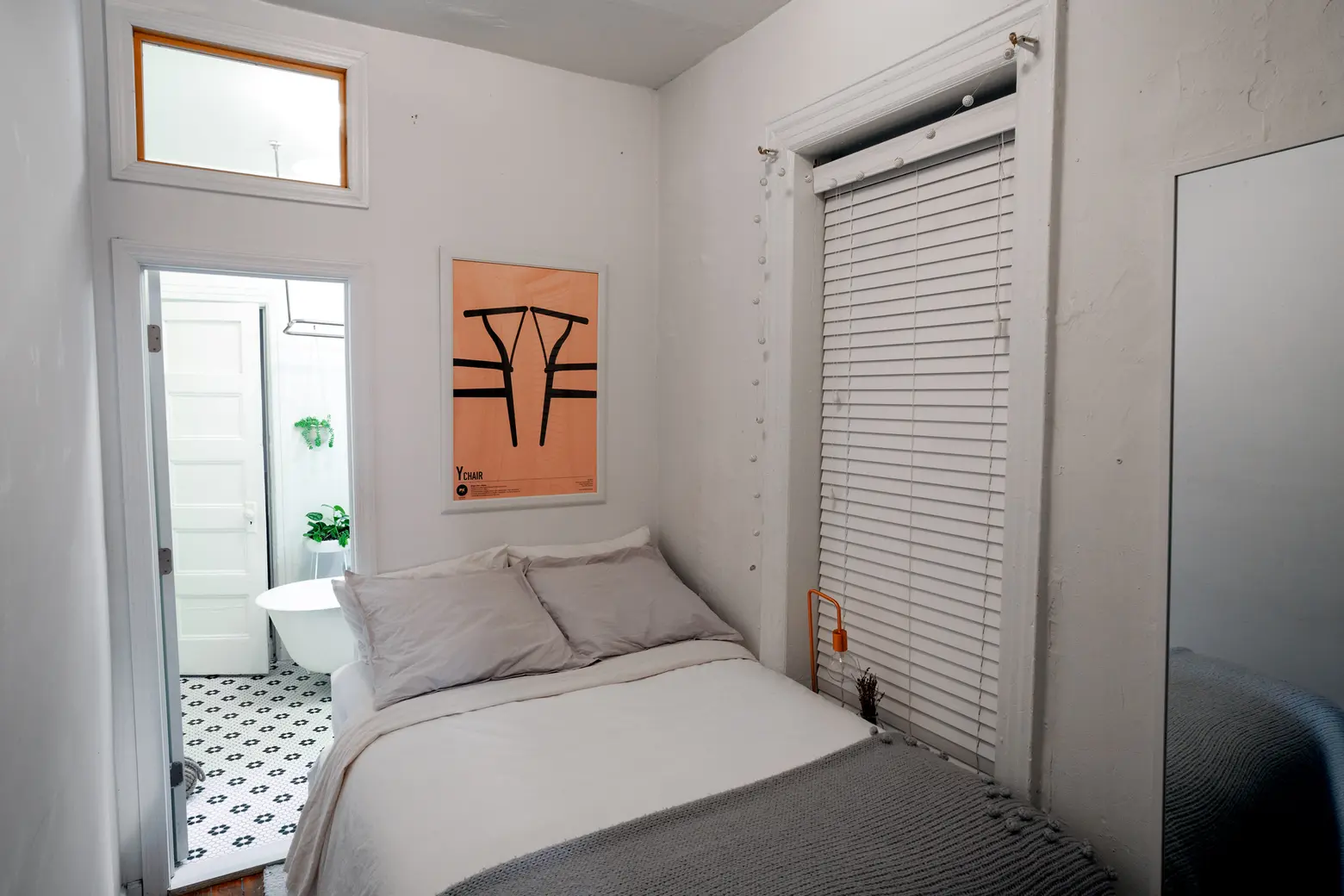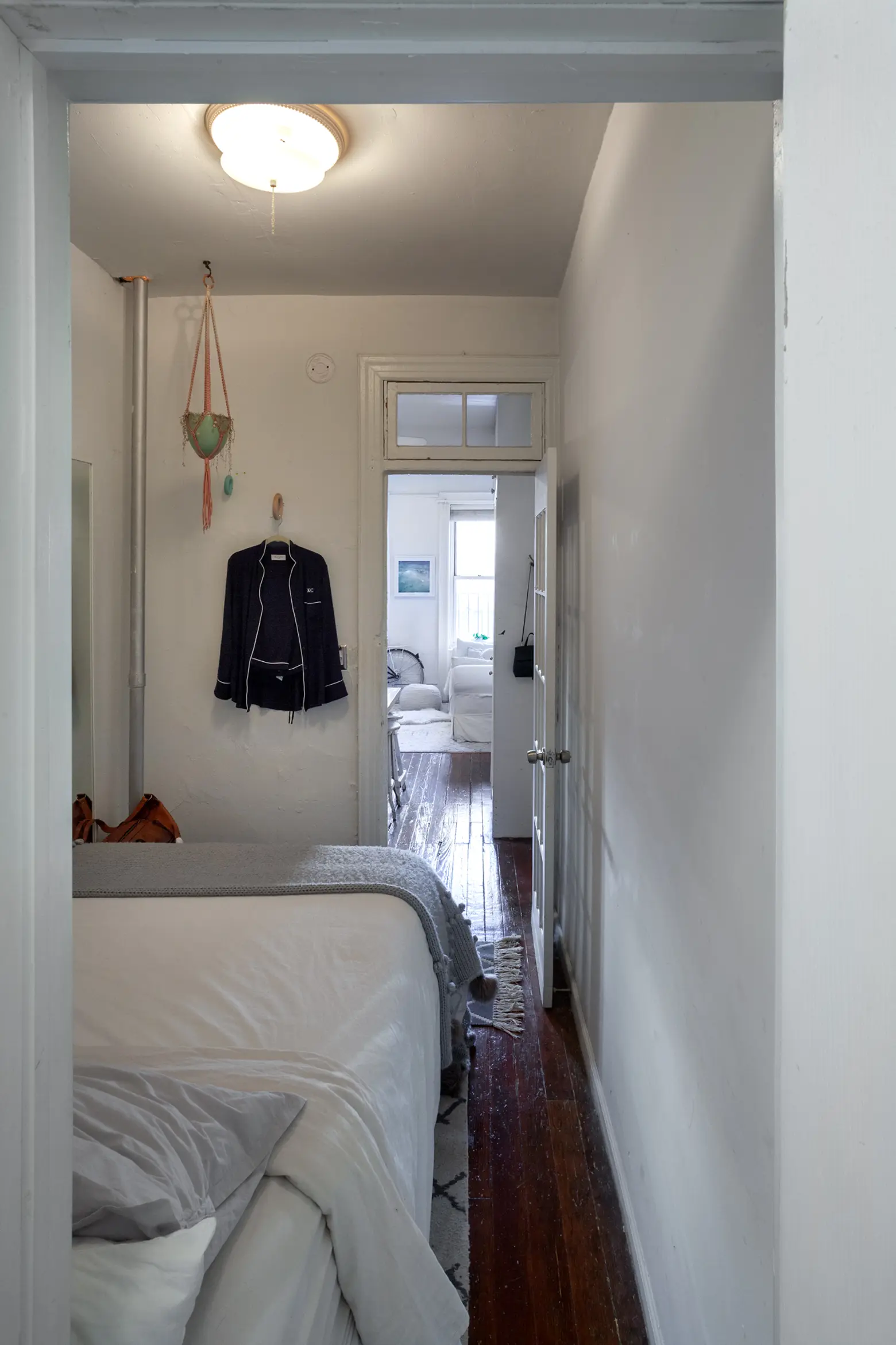 Do you get homesick?
Because I spent more time in Hong Kong but I'm Australian, it's hard for me to figure out what I identify most with. And New York has all the things that I loved about my upbringing. So I don't miss it yet, but I think with my parents going home, it will change things a little bit.
I'm so lucky in that my brother [is a pilot], so I have the opportunity to fly back and see my family all the time. And I get to go back to Australia, too. And then, there are a lot of Australians in New York.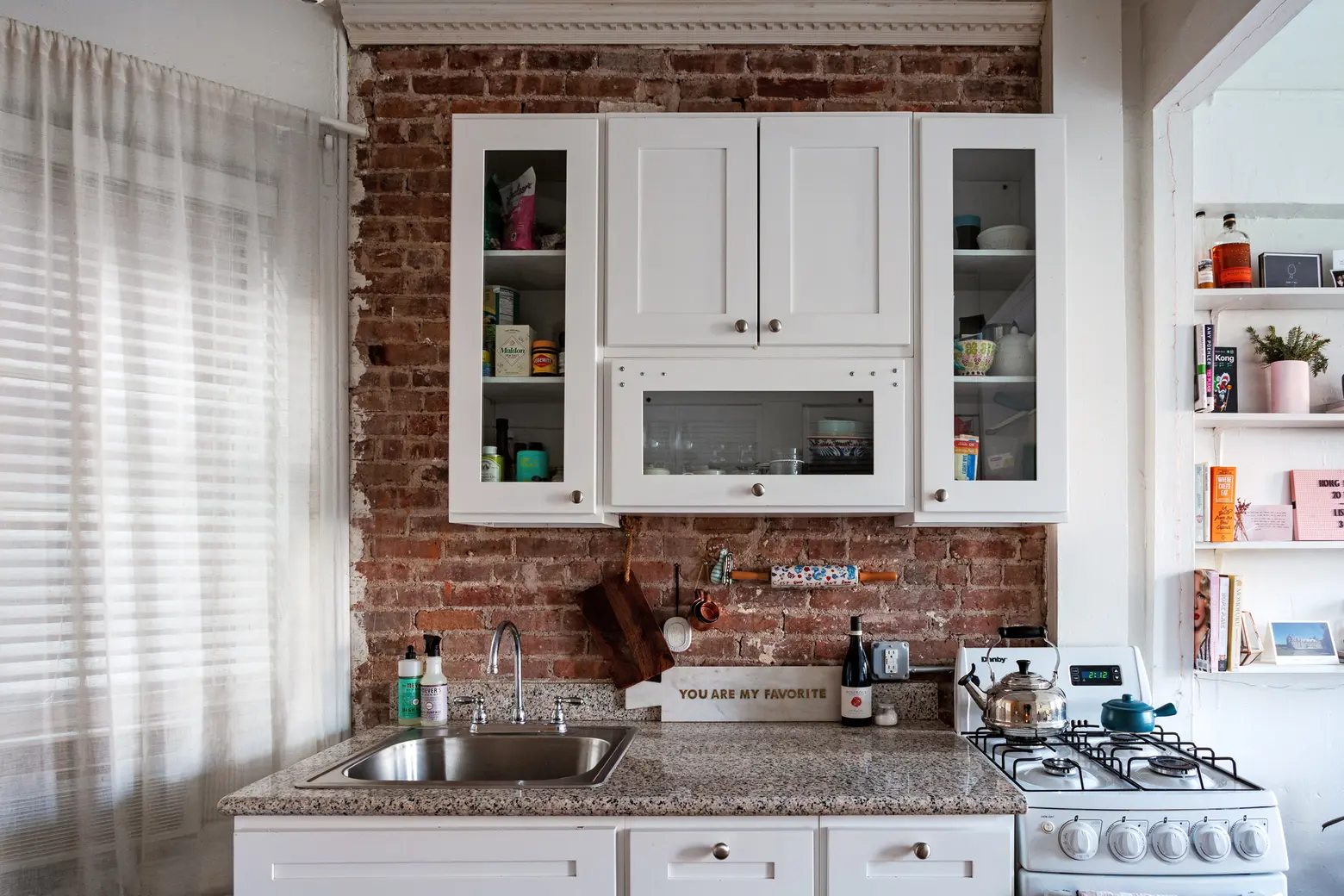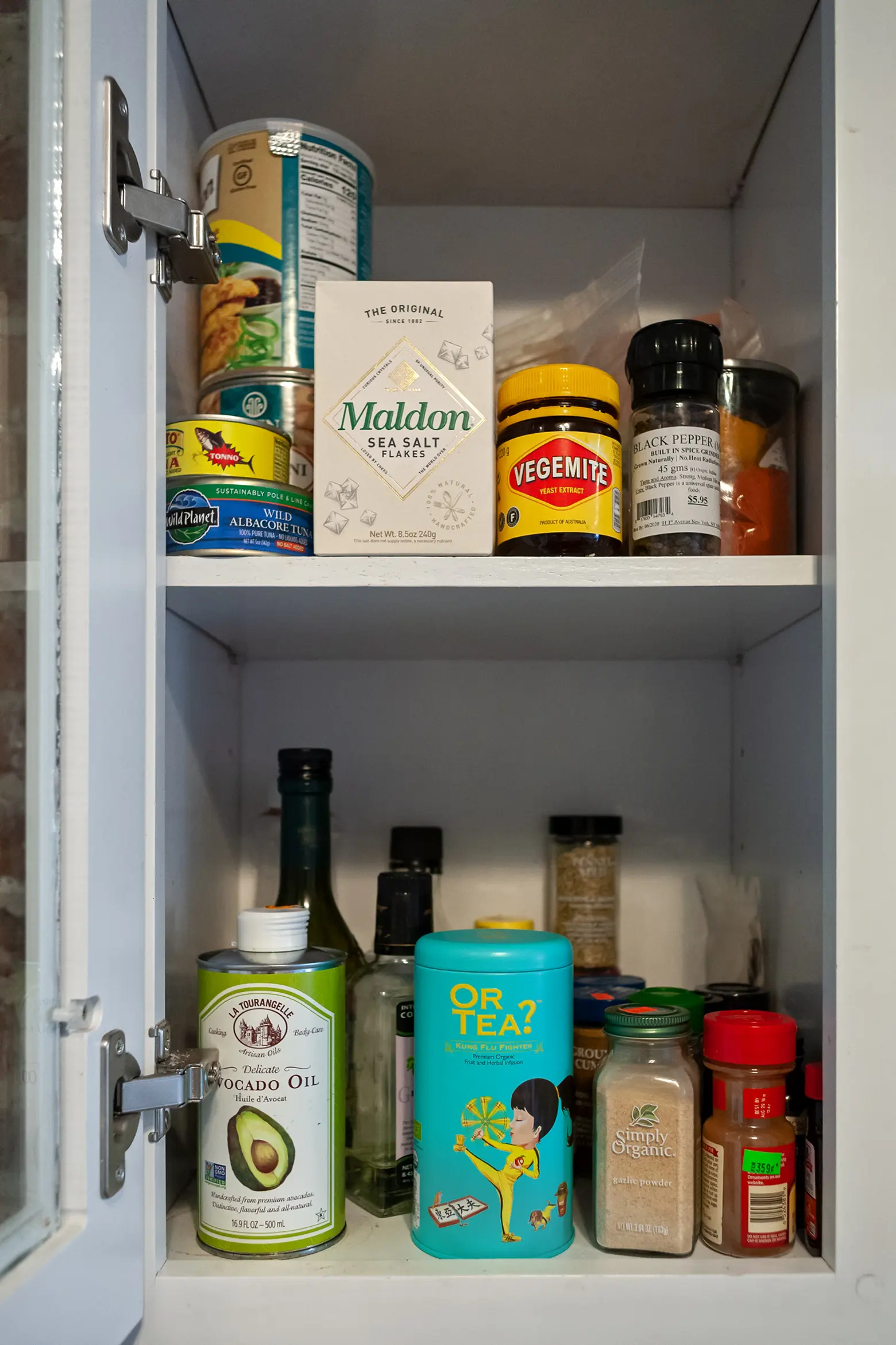 There are quite a few Australian spots in this neighborhood, right?
Yeah! Our friends own Three Seat café, which is really beautiful. There's an Aussie café across the road called Saltwater as well. Every morning, we'll go and get our coffee from Saltwater; they have the best dirty almond chai.
Any other favorite spots in the area?
I love the Wayland, which is over on Avenue C. Also Ruffian wine bar. The Eddy is one of my favorite little bars, and then the restaurant is amazing. I love getting a bagel from Black Seed. I love Baohaus on 14th; that's Eddie Huang's place, and it's the best Bao in the city. I cannot go without mentioning Hanoi House. They have the best Pho in the city, and the couple who owns it is so lovely and amazing.
There's a really beautiful shop called Duo NYC. They have the same railroad space. All the floors are painted white and it's beautiful clothing and like jewelry. I think it's owned by two sisters and they curate everything.
I also love on a Sunday in spring, going and getting a coffee and then strolling to [Tompkins Square Park] and listening to the saxophone. Sometimes I have those moments, like when I'm sitting in the park, when I'm like, "Oh, I didn't think it was going to be this amazing moving to New York."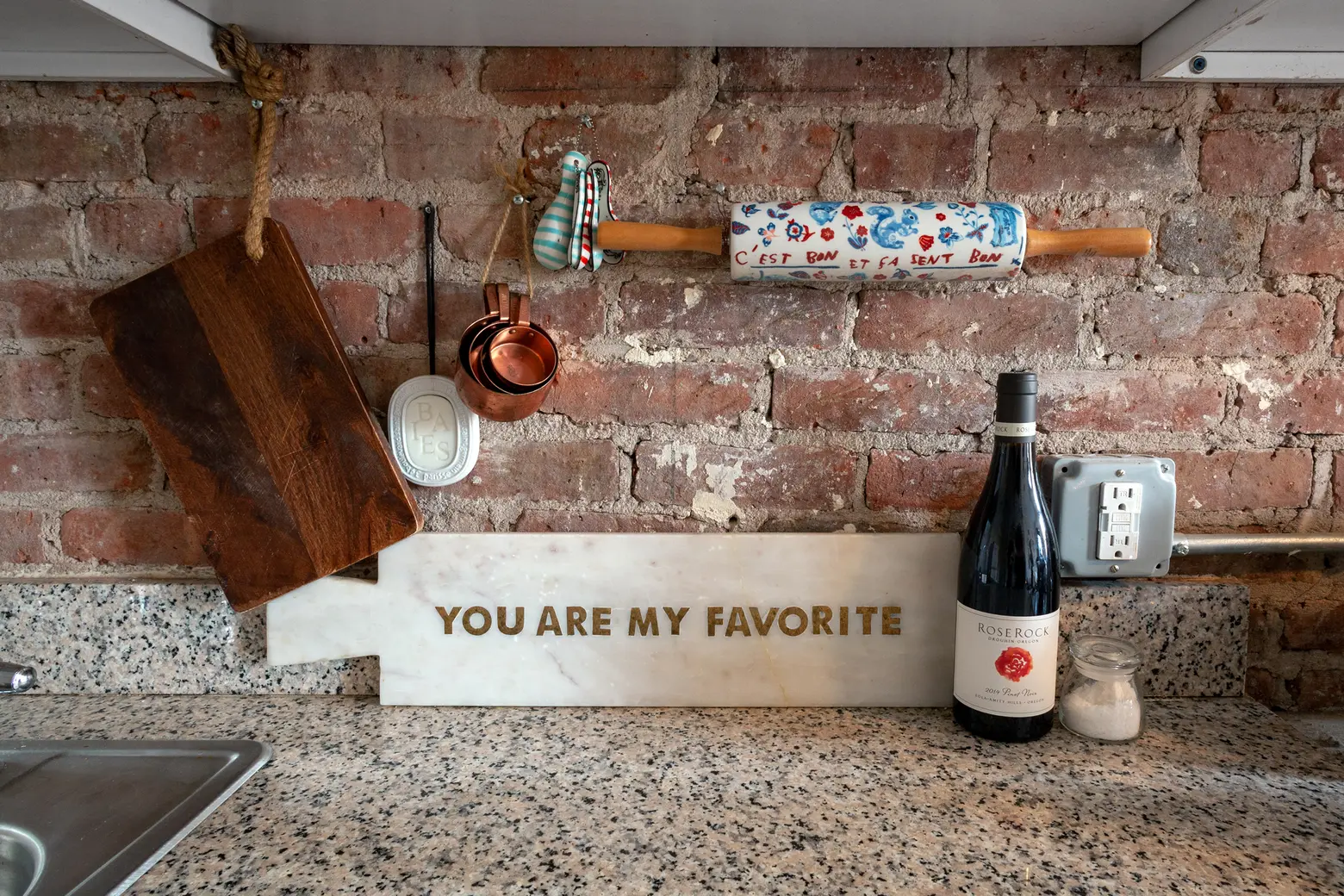 How did you find this apartment?
I had a broker. I know people are terrified of the word broker in New York. But my friend was like "Please trust me, this broker is the most amazing person ever." He found her apartment, and he's gone on to do the same thing for me and nearly 12 of my friends.
He showed me a couple of apartments in the East Village. I chose [this neighborhood] because it was the very first place I stayed when I got here, so I think it was the sense of place I had in Manhattan. And for the first few months, I was in the East Village and tried the Lower East Side, staying with a friend, and then in Nolita too.
This was the third place [the broker] showed me, and we both walked in and we were like, "Okay, come on." The listing photos were so cluttered that I would have skipped past it if I had been looking on my own. So he didn't send me the listing because I think he knew that I would have a preconceived notion of what the space was like.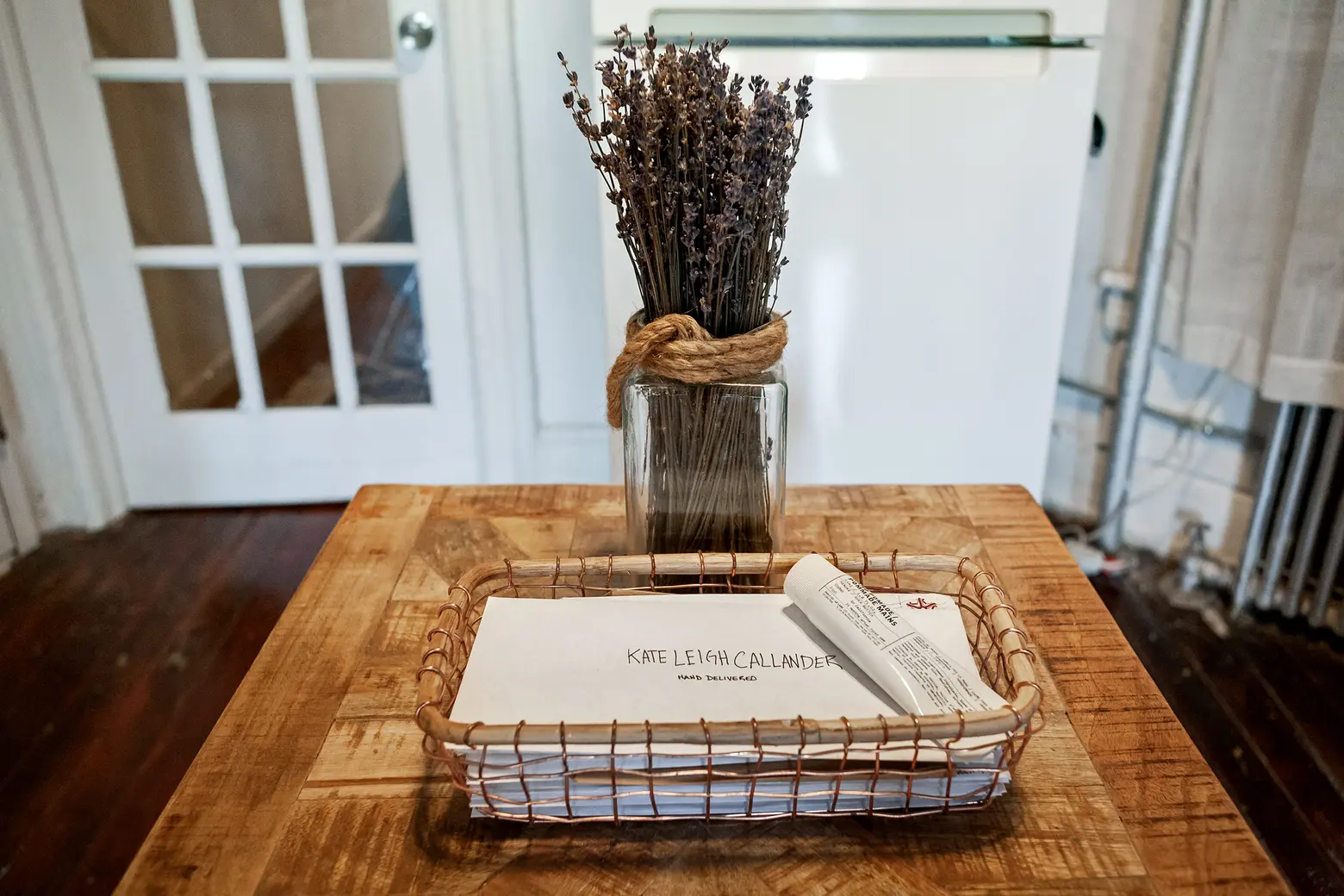 Did you encounter any challenges dealing with a railroad layout?
There's the bathroom door, which [got in the way of the bed]. The building is from the 1890s when beds used to be way smaller. They were three-quarters in length, so the overhang was killing me. I ended up finding an old school guy that made bed frames up on the Upper West Side who custom made it to the width of the wall for me.
When I got the couch delivered, it couldn't fit through the door. It was a Sunday so I had to call the Couch Doctor. I was just watching them out the window rip my couch in half, but it was beautifully taken care of. And he did it in 20 minutes flat.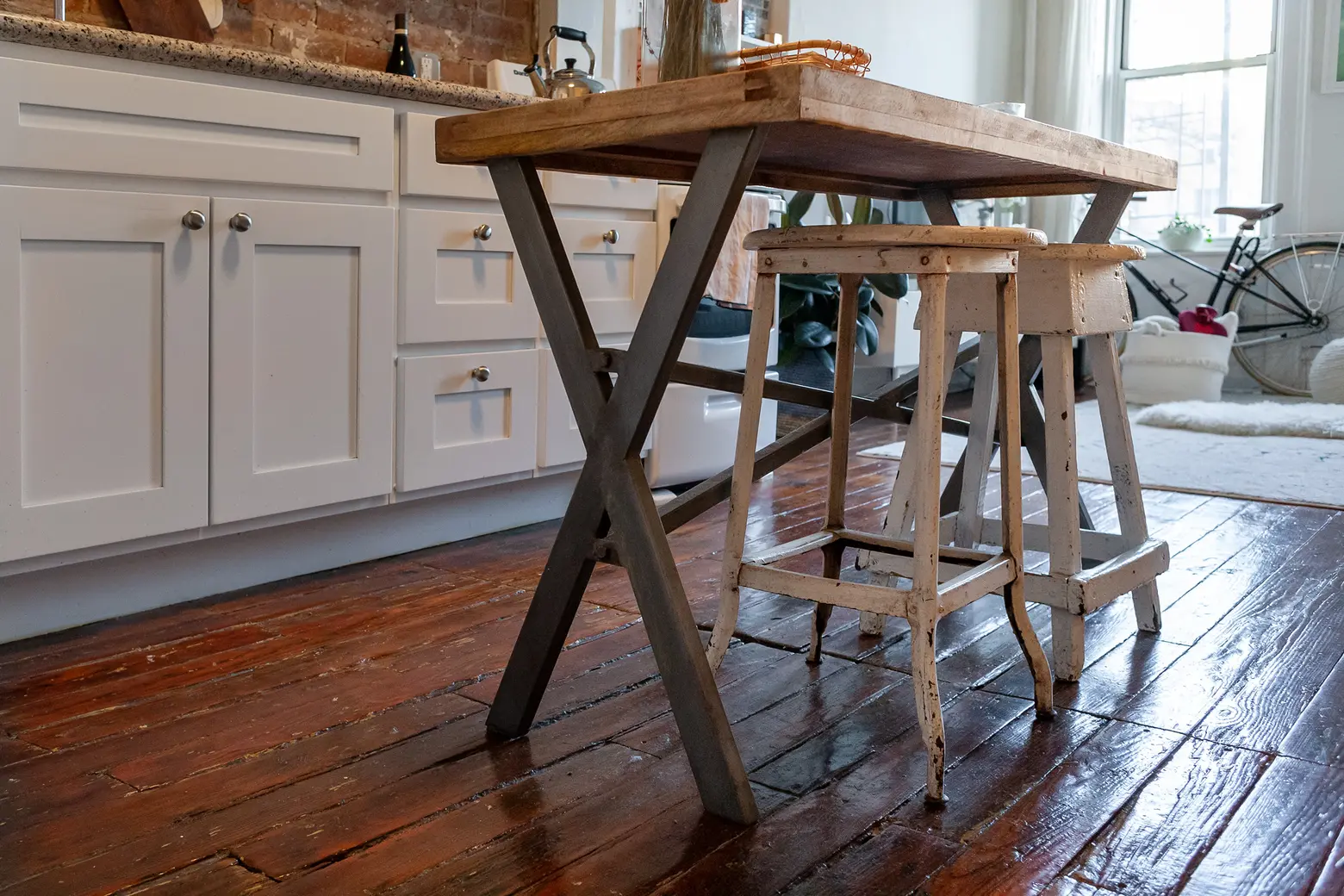 How would you describe your design style?
It's a really calming space. I tend to go for more neutral things. It's kind of a collection of some really basic stuff, like Ikea, and then things from vintage markets, some beautiful linen, and things that I've collected from overseas or traveling. The cups and dishware are from Anthropologie So I don't really know how I'd describe that style. That's kind of my mindset towards it–start with the basics and collect over time.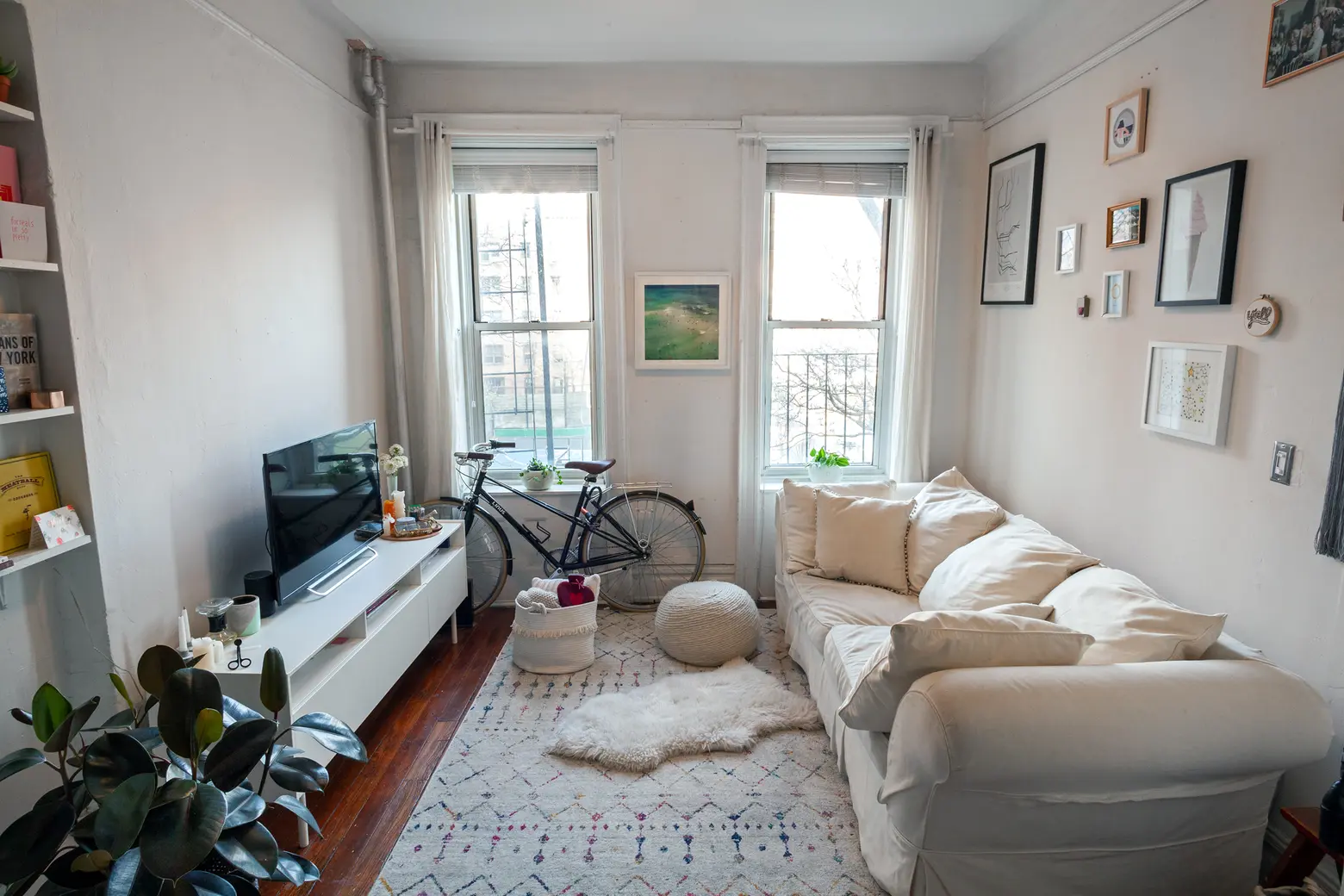 Did you come across any really great finds when furnishing the place?
The couch is actually Jennifer Convertibles. I was looking everywhere for a foldout. I went in and put a deposit down for it brand new and then someone told me about a really good website, APT Deco. It was exactly the same couch I was just about to buy for $2,000 for $300.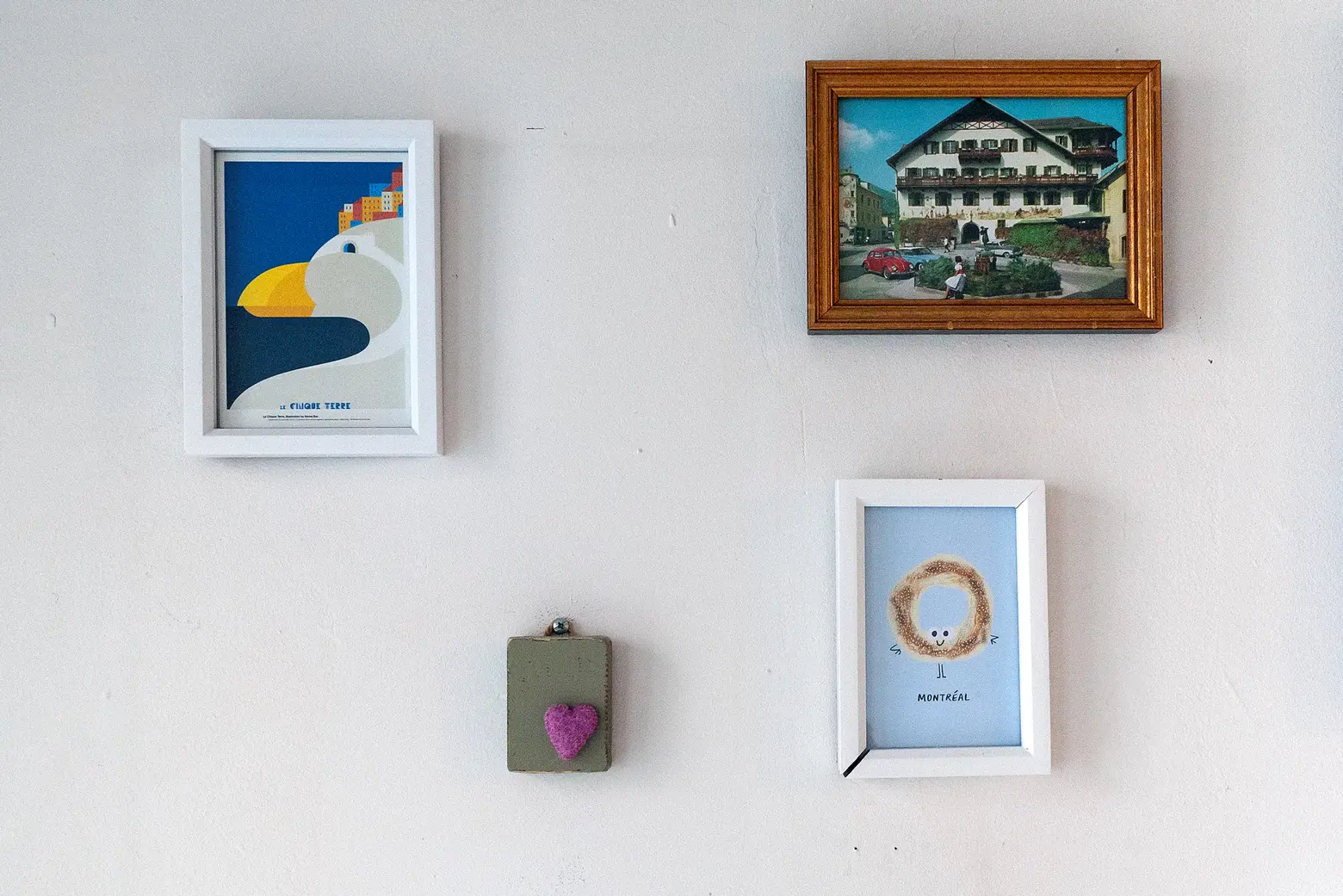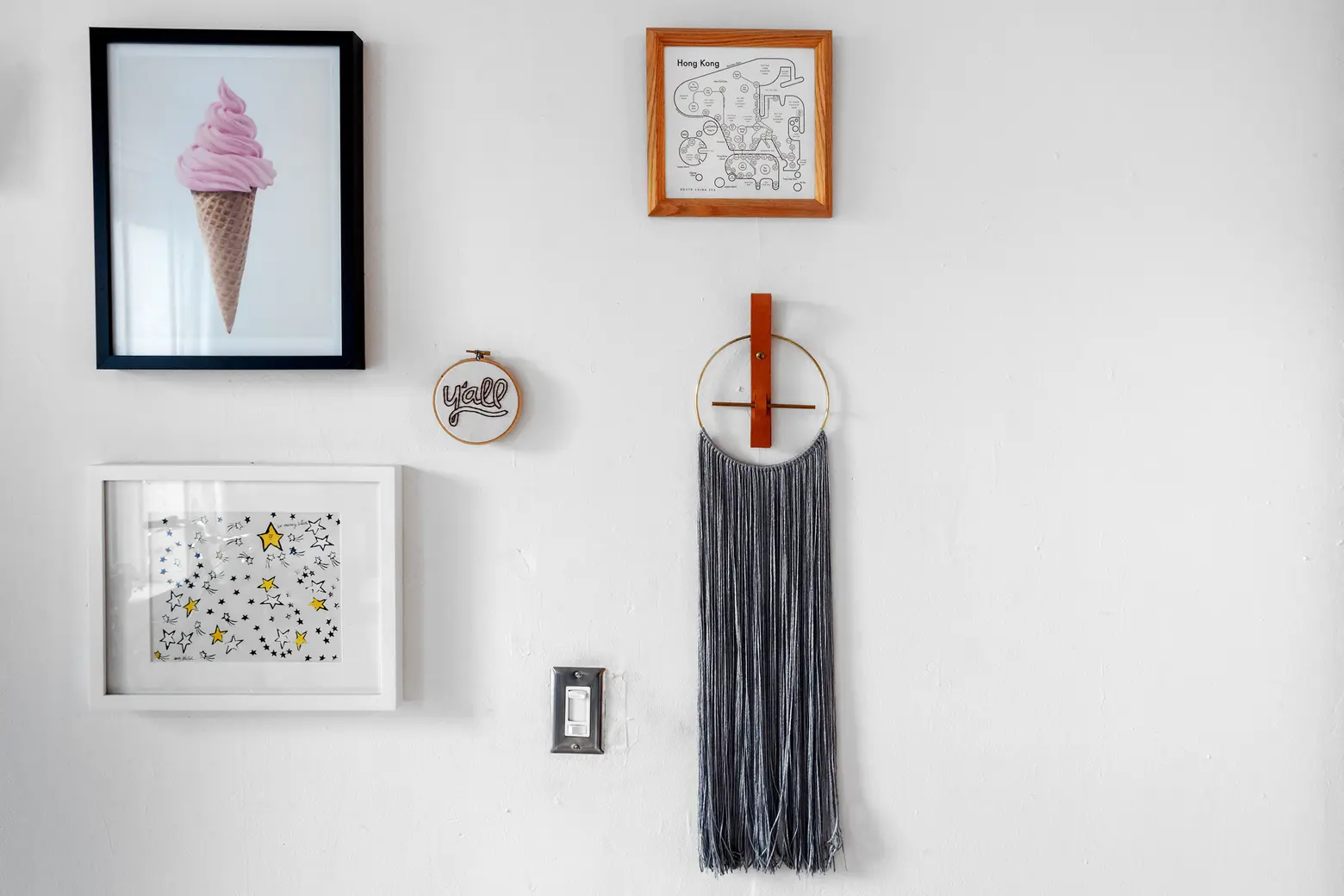 Tell us a bit about your gallery wall.
All of it is a collection of things [from my travels]. I collect postcards from everywhere I go and frame some of the really cute ones. The little bagel guy is from Montreal; that little wooden block is from when my friends got married in Austria. The one above it is a little one I got from Paris. There's a map of Hong Kong. That flying king is from Australia. The photo at the top was a gift from a friend. I MC-ed their wedding in Paris. They got married at this chateau.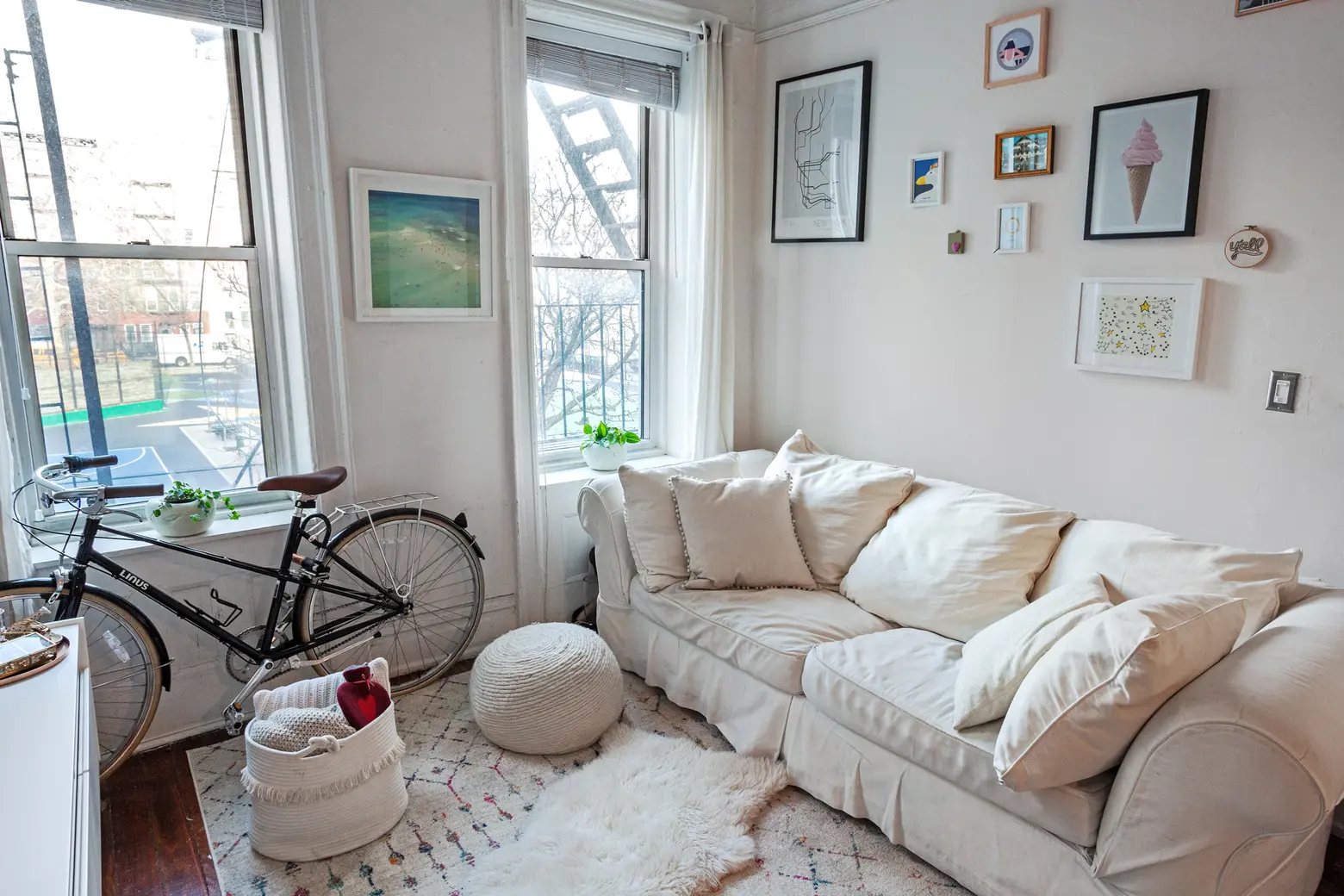 Any other pieces you really love?
[The picture between the windows] is from Urban Outfitters. I love the ocean, being near it, the salt air and fresh water. So it was one of the first things I put up.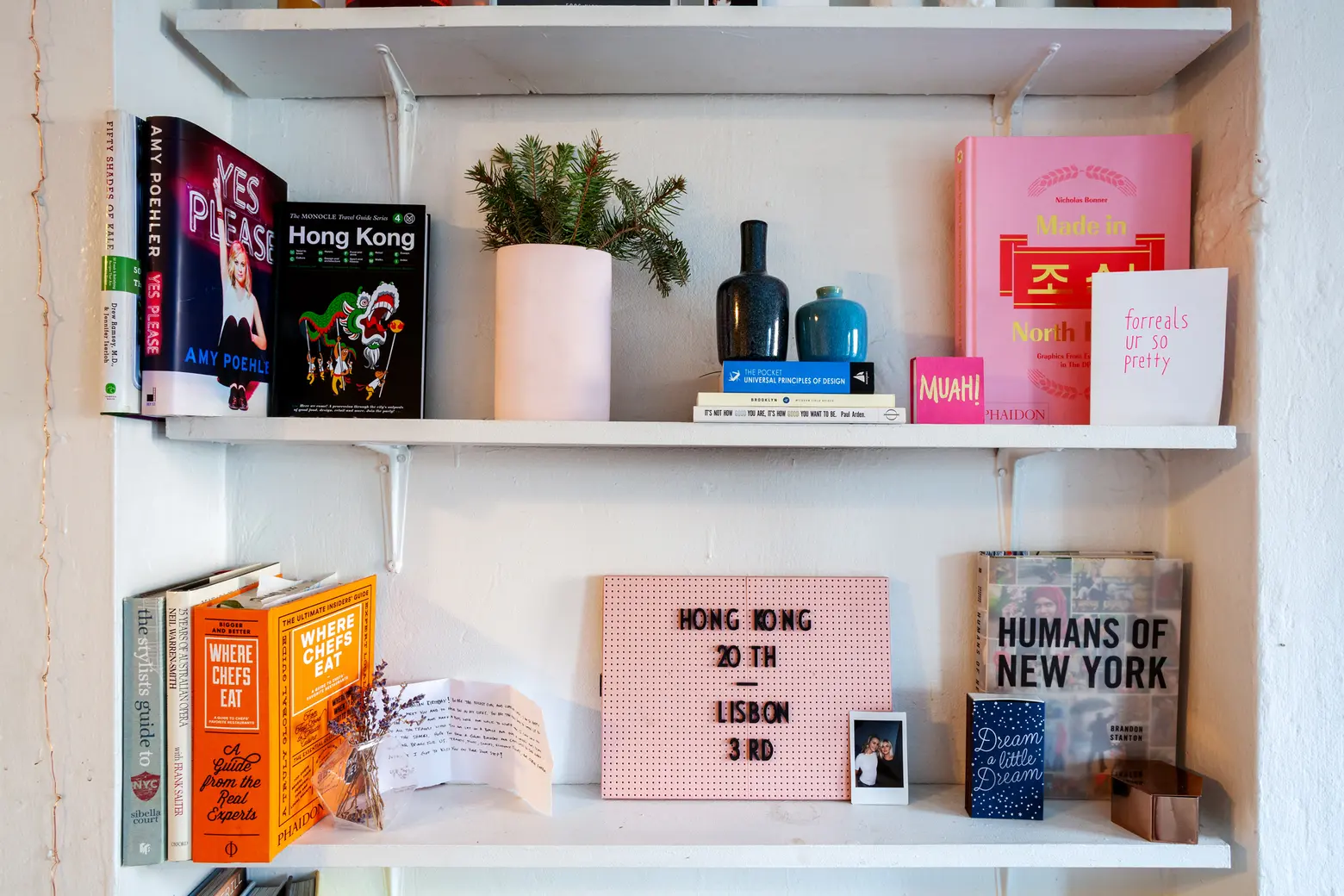 Did you intentionally use pink as an accent color?
I don't know. I think it's a beautiful color, but I never really realized that I did that. I'm mostly focused on like this [sea foam] blue. With millennial pink, I'm always like, "millennial women want millennial pink," which is not for me. But you're right. I actually do have touches of it everywhere.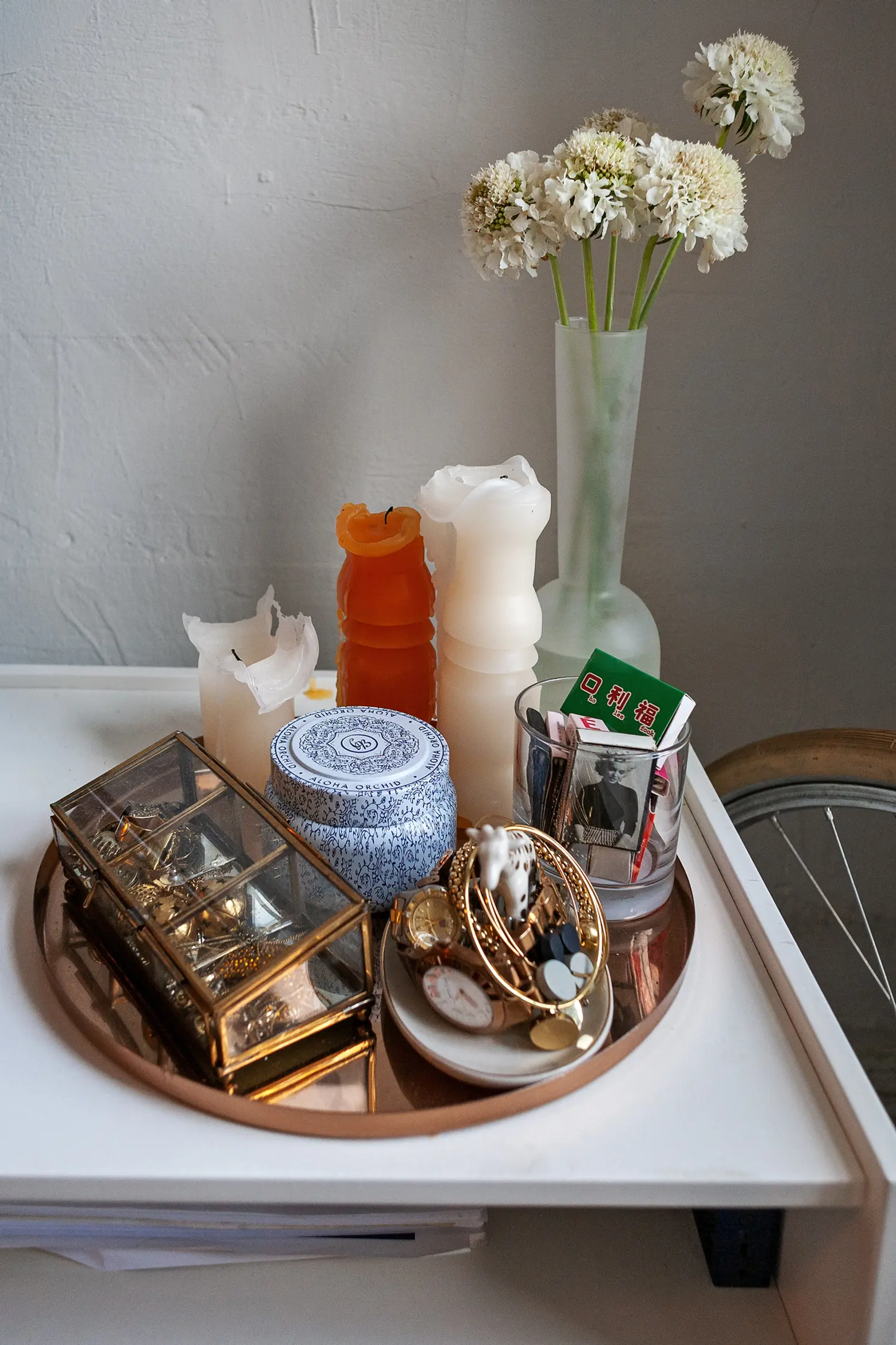 What do you love most about your home?
A lot of people say it's soothing. Especially in the East Village, they say it's so nice to just come back in this space. And I always have the same feeling when I've been out all day or at work. It lets you shut off; it doesn't feel like it is where it is. 
All photos taken by James and Karla Murray exclusively for 6sqft. Photos are not to be reproduced without written permission from 6sqft.