My 1,600sqft: Adam Elzer shares what it's like to live above his own East Village pizzeria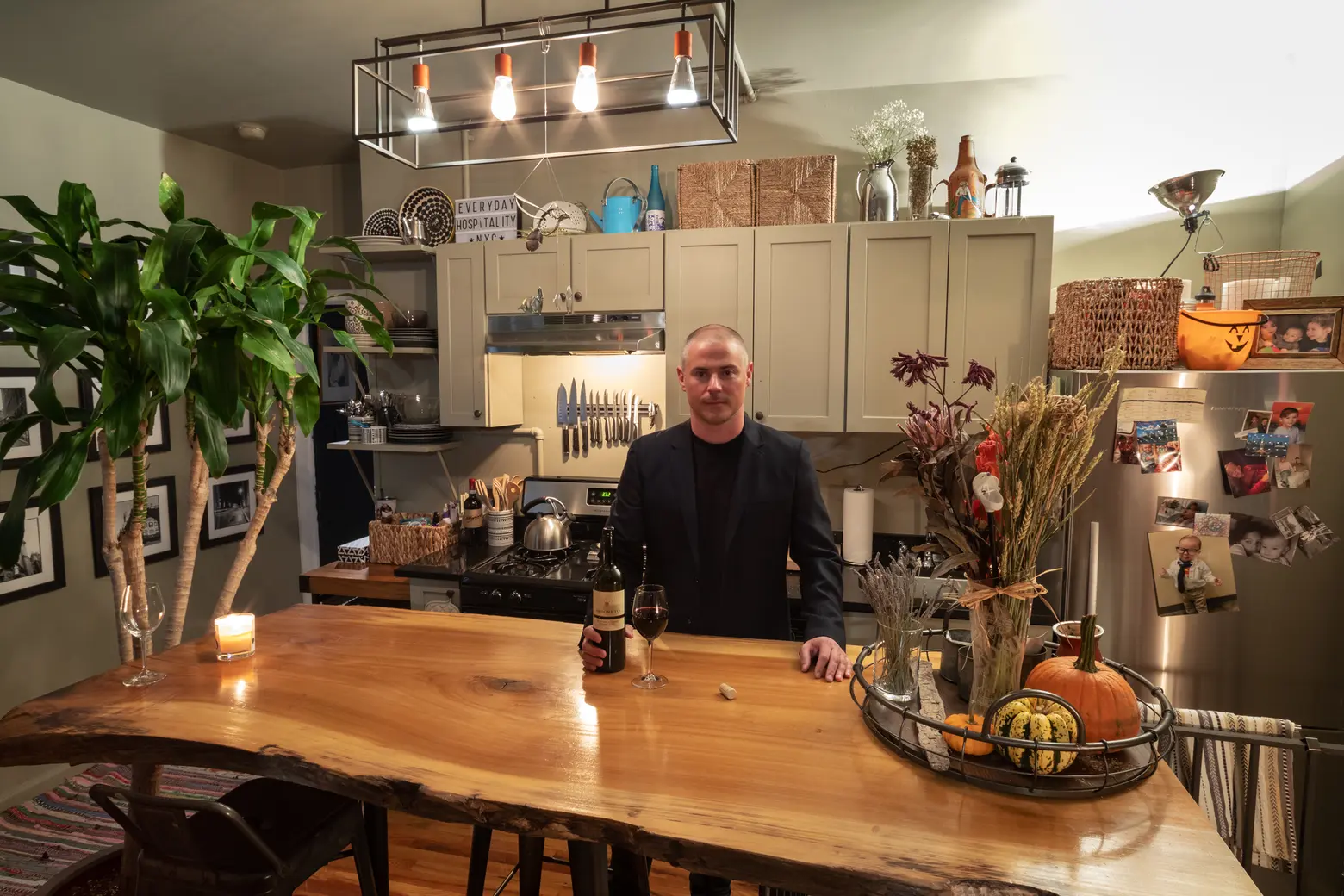 Our ongoing series "My sqft" checks out the homes of New Yorkers across all the boroughs. Our latest interior adventure brings us to restauranteur Adam Elzer's East Village duplex. Want to see your home featured here? Get in touch!
Adam Elzer likes being close to his work. So close in fact, that the fourth-generation New Yorker recently moved above Sauce Pizzeria, his new pizza parlor in the East Village, after previously living above Sauce Restaurant, his eatery on the Lower East Side. As the co-founder and CEO of Everyday Hospitality, Elzer, in addition to the two Sauce restaurants, also oversees LES Pizza and Coco & Cru, an Australian-inspired cafe.
When he's not running his restaurants, Adam enjoys going to flea markets and mills, finding unique items and pieces of wood, upcycling them, and creating something totally new. His creativity can be seen throughout his East Village apartment, from the walls and ceilings Adam painted himself to the handmade wooden pieces, like his kitchen countertop. Ahead, tour Adam's colorful duplex, decorated with what he describes as "bohemian and rustic" decor.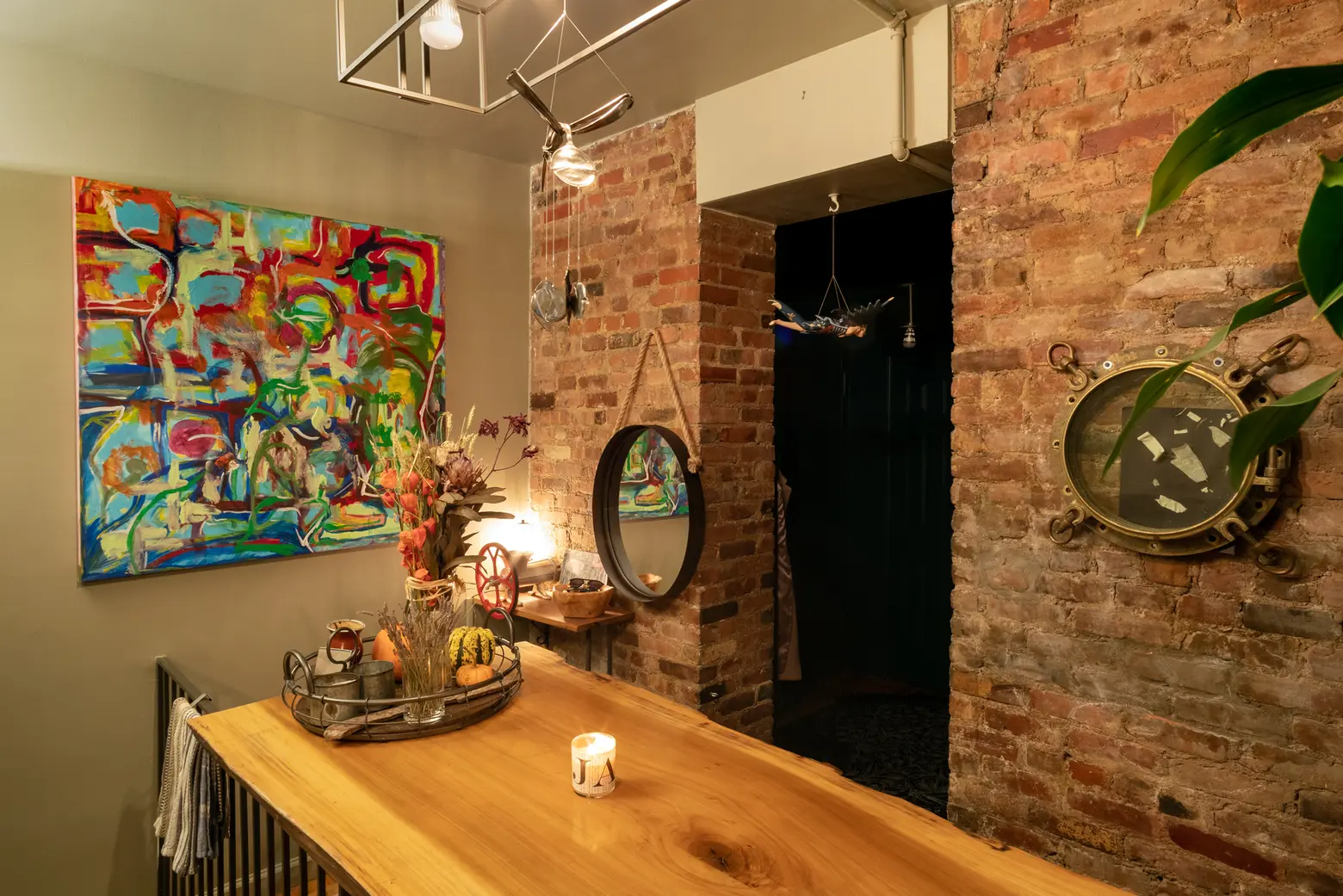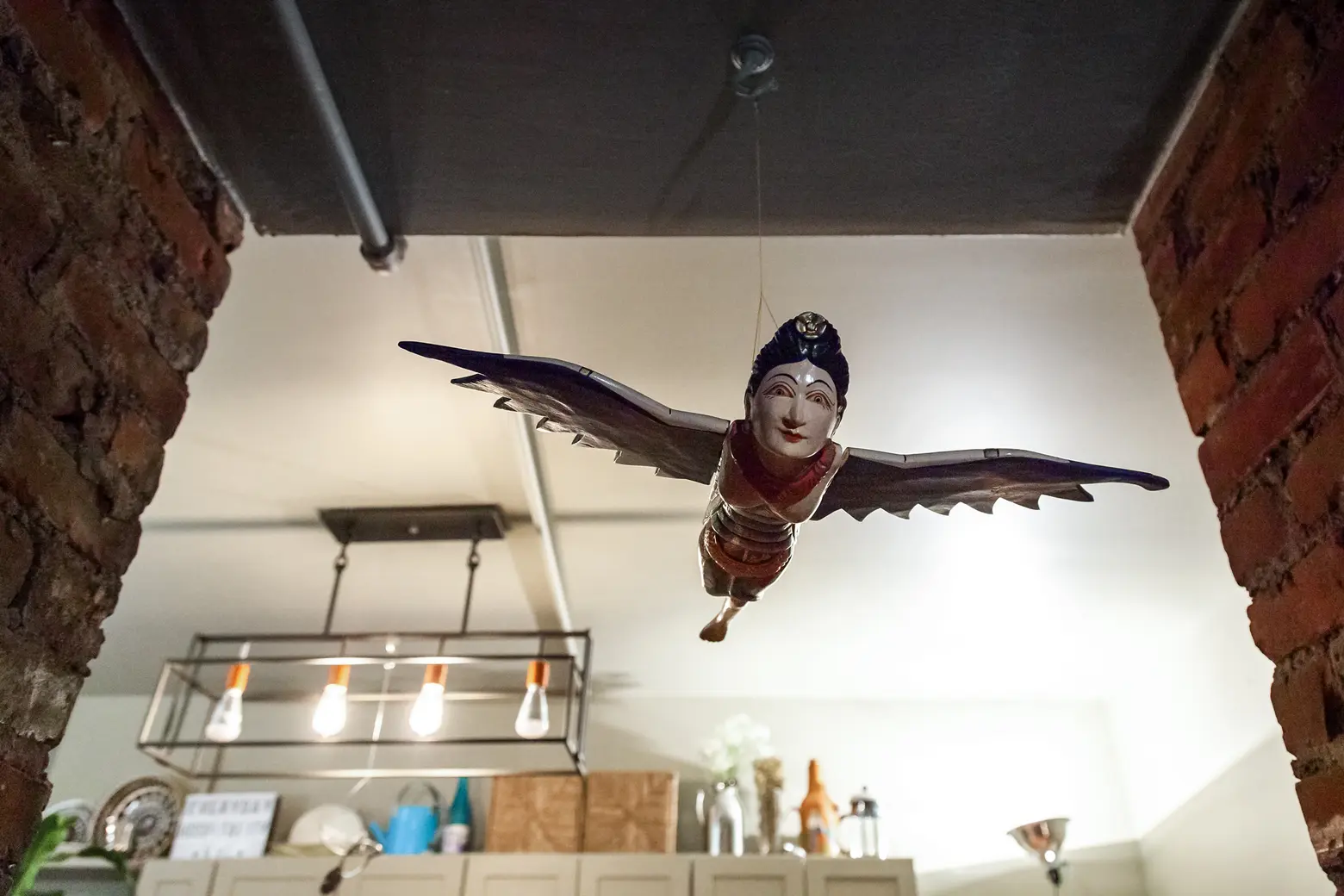 Adam's girlfriend gifted him this flying mermaid she found in Hawaii. "I believe these figurines are used as puppets–she is the protector of good vibes entering my house," Adam told us.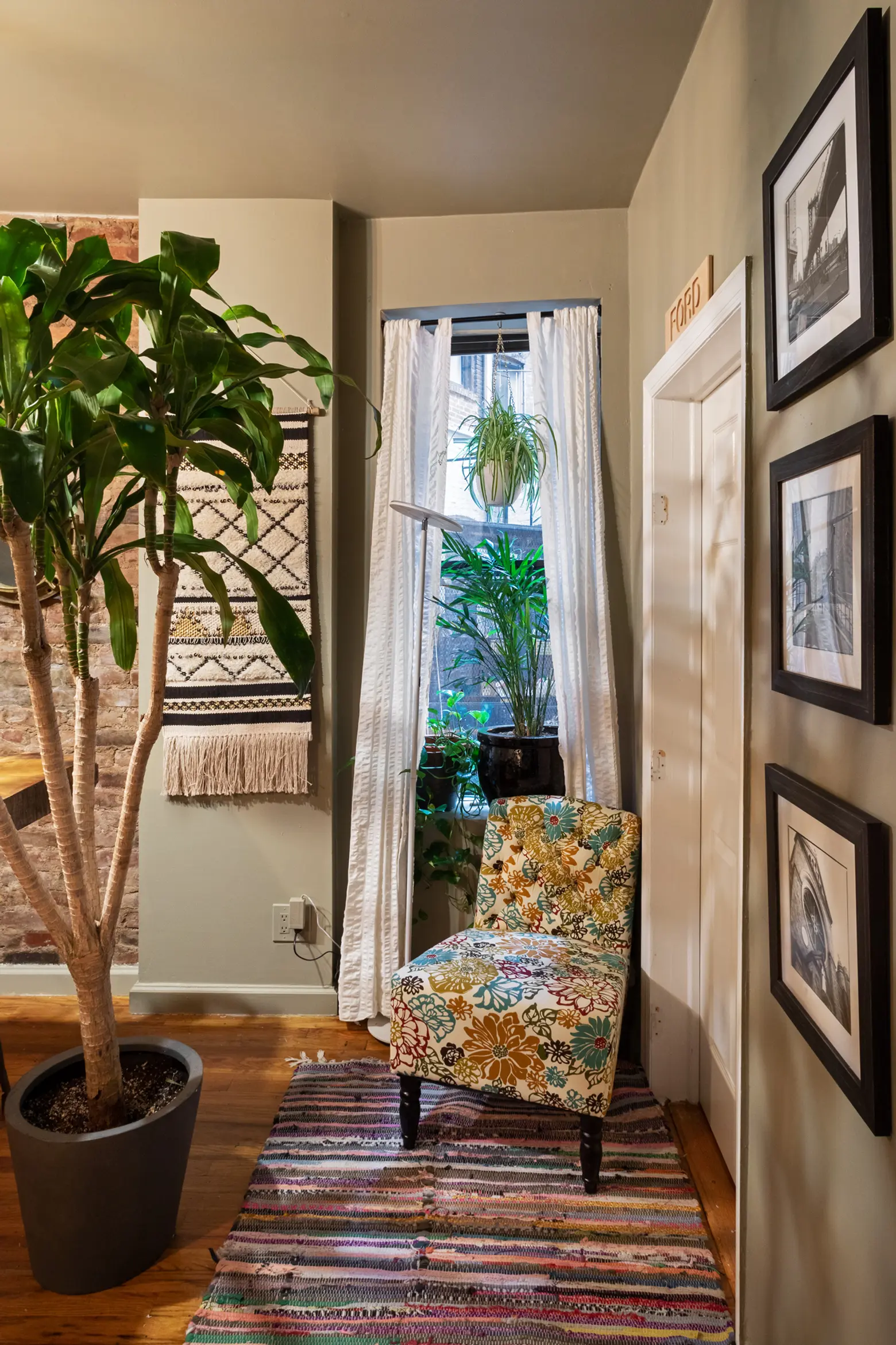 Tell us a bit about yourself.
I'm the co-founder and CEO of Everyday Hospitality, which owns & operates Sauce Pizzeria, Sauce Restaurant, LES Pizza, and Coco & Cru. I've spent my entire career in the hospitality industry in NYC and prior to founding EDH was the Director of Operations & Founding Partner for the Empellon group.
As a fourth-generation New Yorker, I've loved pizza since I was a kid. Now, I live right above my pizzeria in the East Village with my five-year-old son, Ford.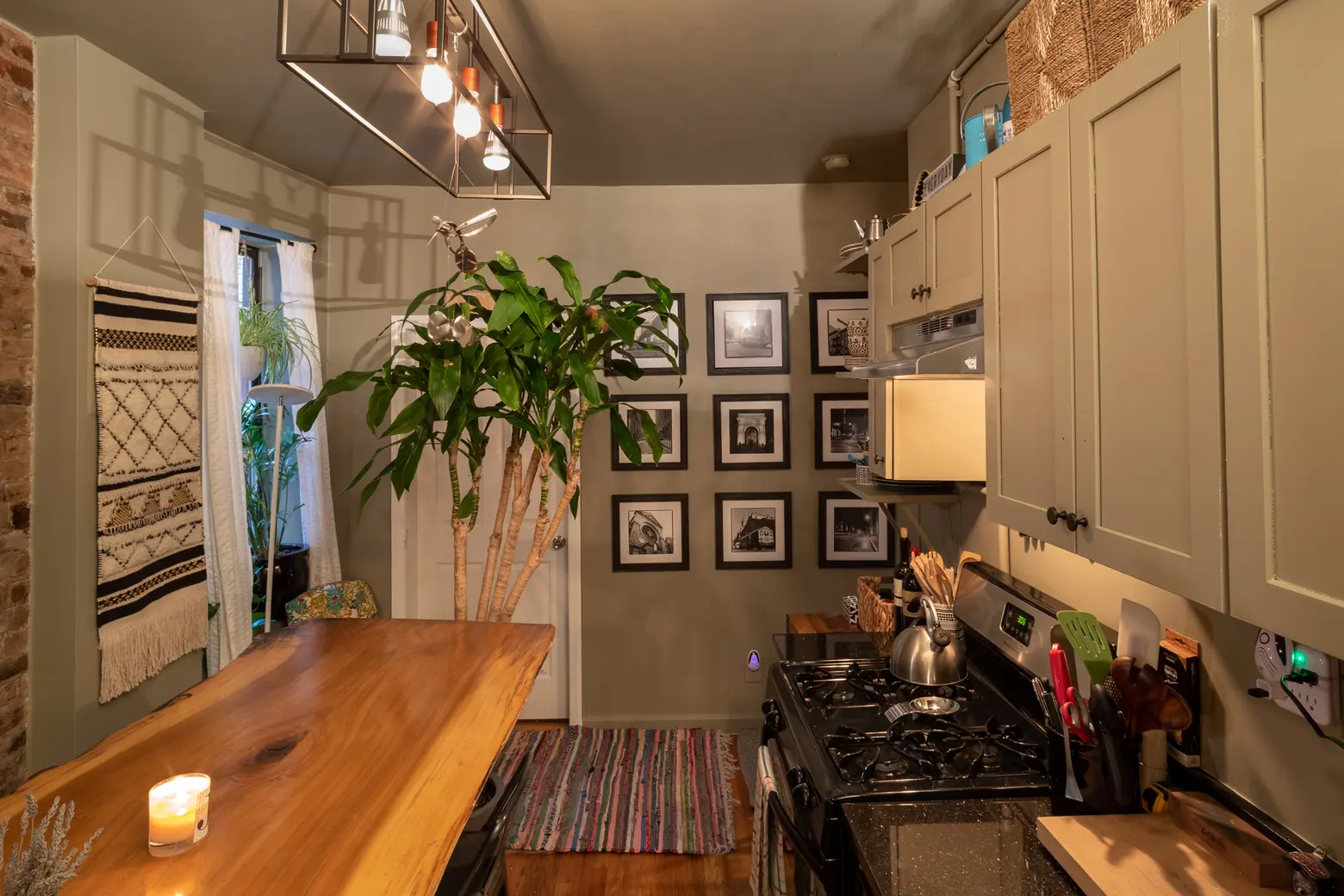 Adam's countertop came from a mill and he sanded it down to go in one of his restaurants. When it didn't fit, he reshaped it as his kitchen countertop.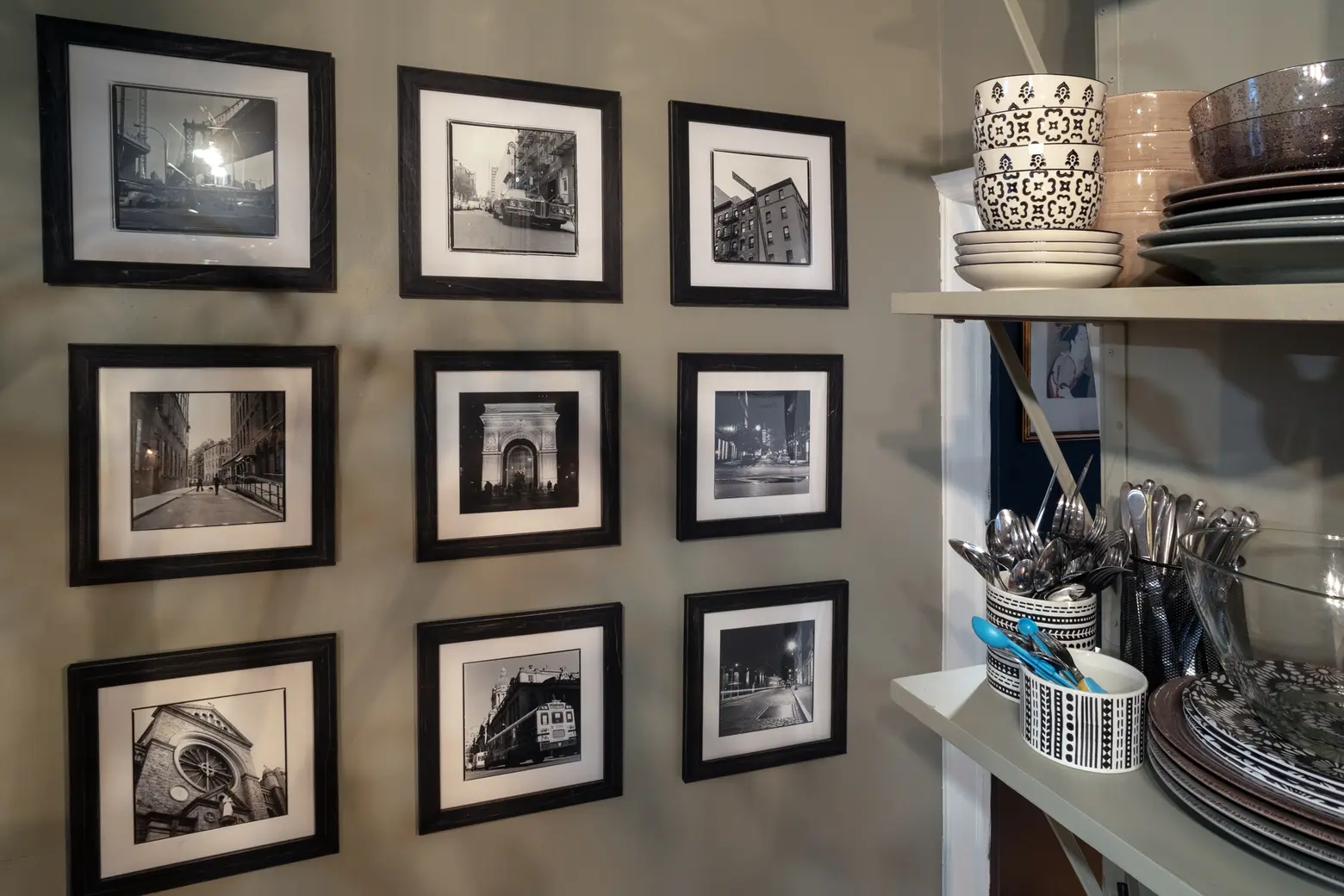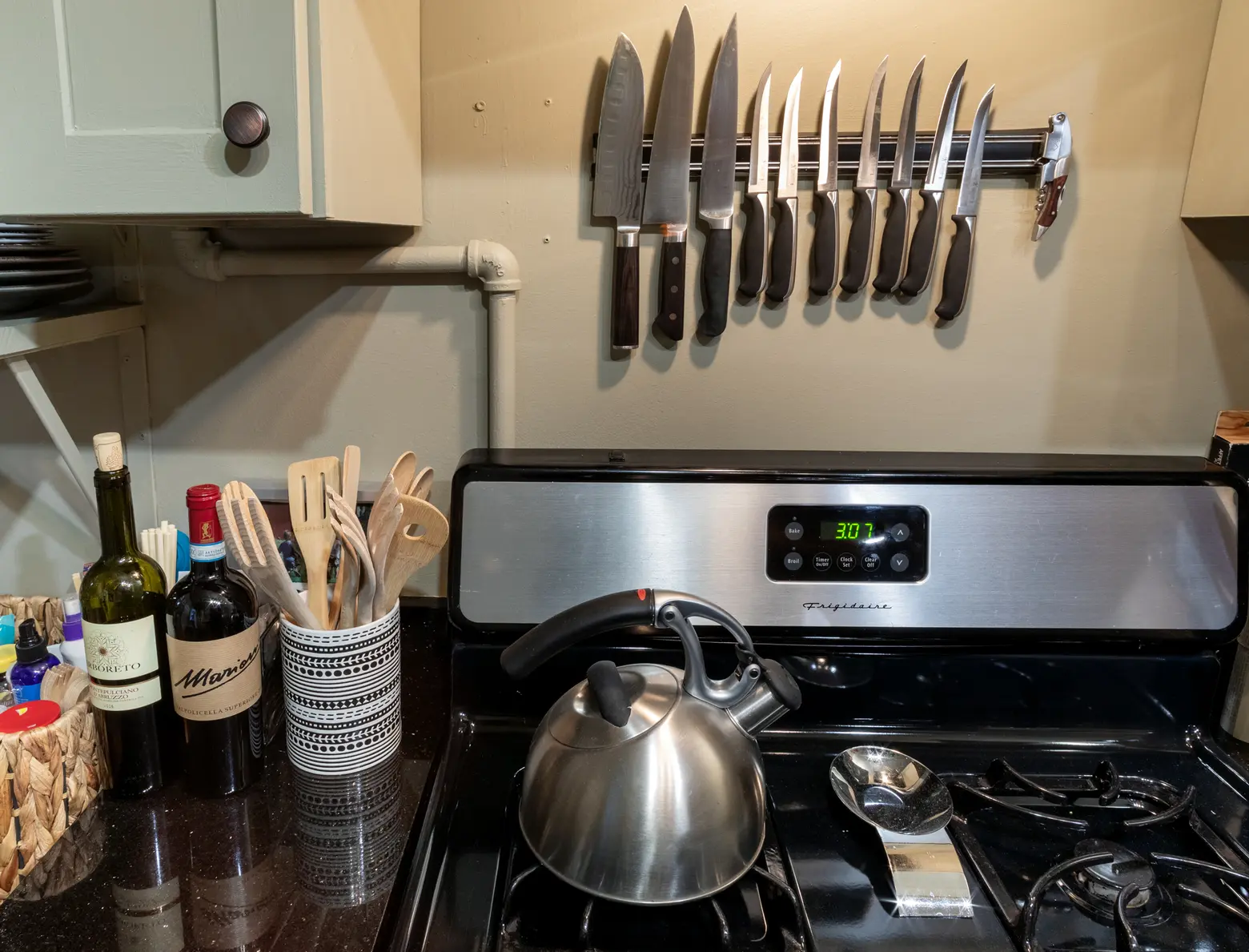 How did you get started in the food industry?
My first restaurant job was when I was 12 years old as a busboy at a restaurant in Sea Bright, NJ. From there, I went on to work as a cook and a server at various restaurants. At 17, I worked as a pizza delivery guy and that was when I really began making pizza.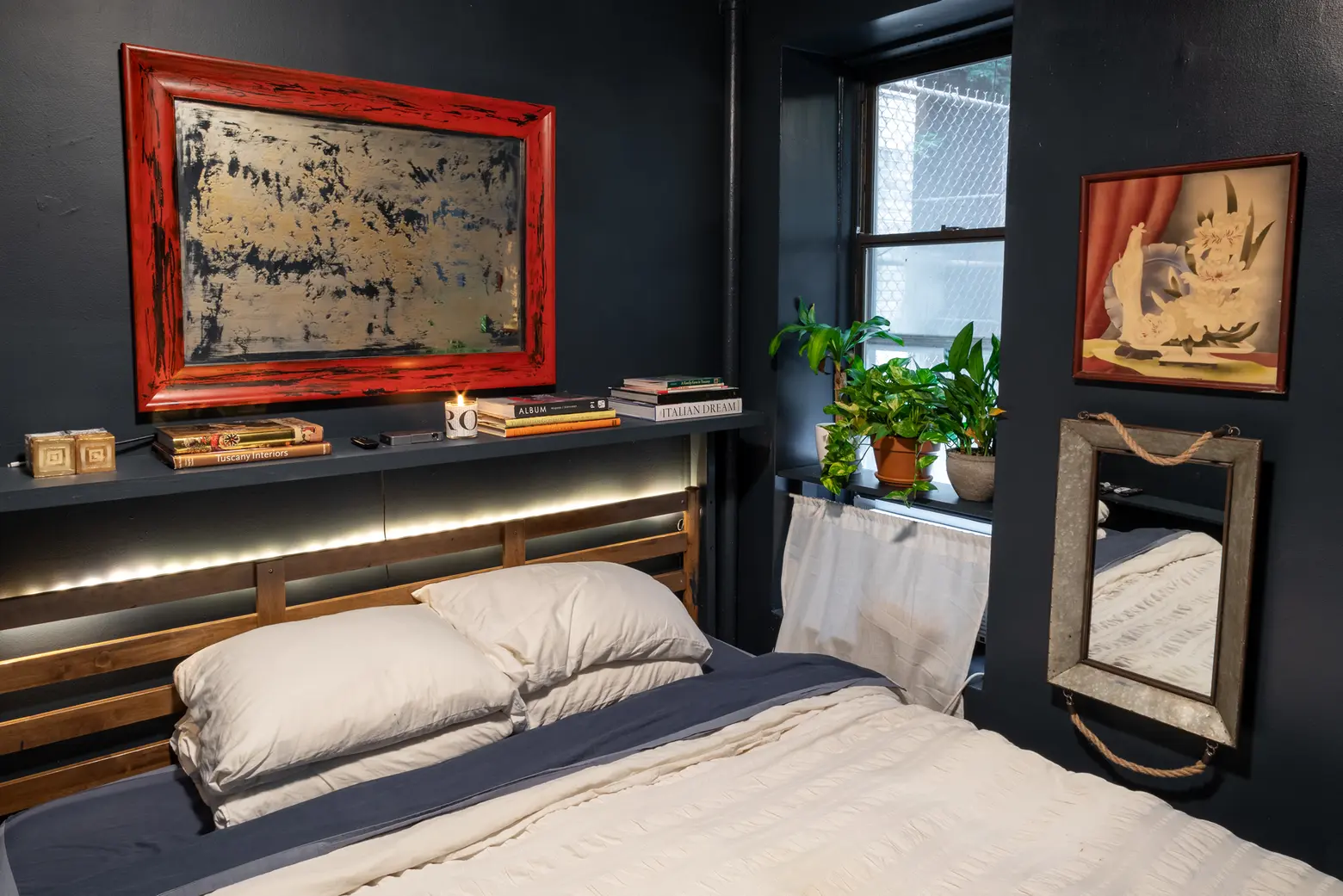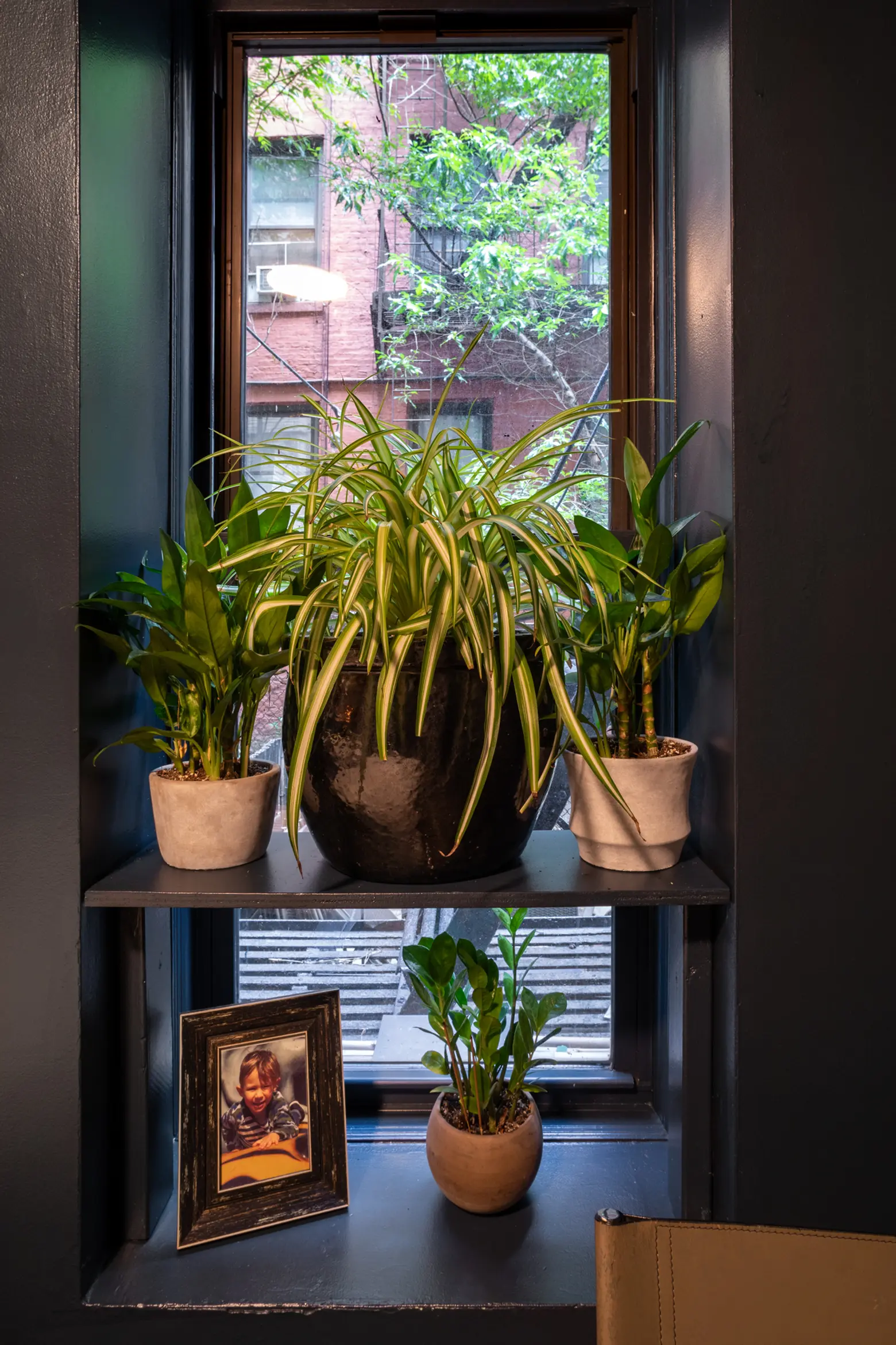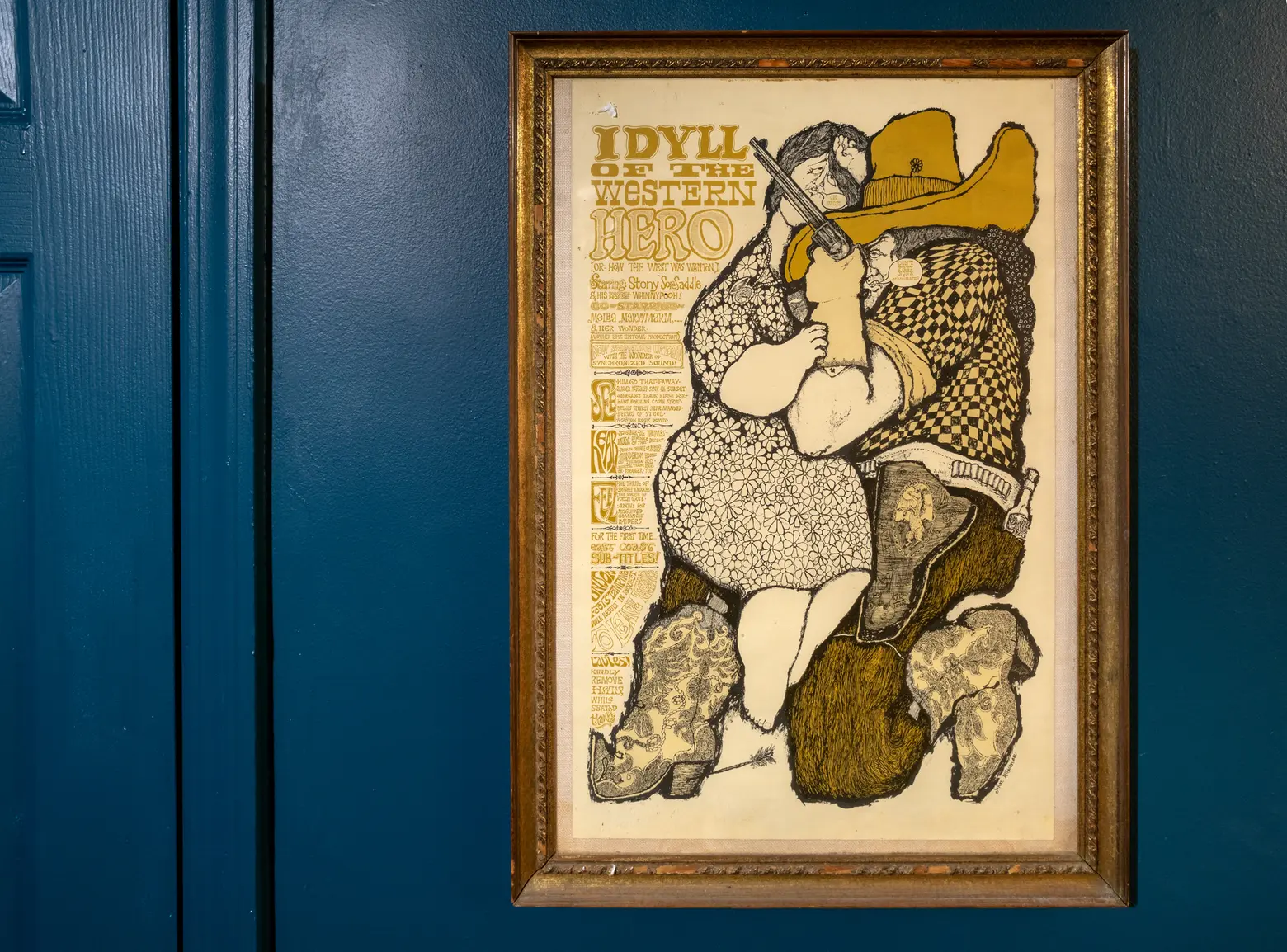 Adam found this artwork by John Hitesman, an artist known for his anti-war posters, in a thrift store
Congratulations on the opening of Sauce Pizzeria. Can you tell us about the pizzeria and its flagship restaurant?
Sauce Pizzeria is a counter-service pizza parlor with some modern twists. We focus on classic, thin crust style pies and offer each with a side of Grandmother's gravy for dipping crusts. Our Pizza Master oven achieves overall consistency and ideal leopard spotting on each pie. The use of a homemade sourdough starter, Central Milling Beehive organic malted flour, fresh sauces, and a unique cheese blend creates our signature flavor profile.
Our menu includes Classic Cheese, Biellese Pepperoni, Upside Down Cheese Pie, Heritage Sausage Pie, and Vodka Pie. We also have an Al Pastor Pie with chipotle-spiced roasted pork, white onion, pickled red onion, pickled jalapeño, pineapple sauce, and cilantro — a nod to my time at Empellon.
Our flagship, Sauce Restaurant, is where our Grandmother's Gravy was born. It's a full-service, neighborhood spot known for Italian classics like chicken parm, meatballs, and homemade pasta, but what people really come back for is the thing that anchors it all: the sauce.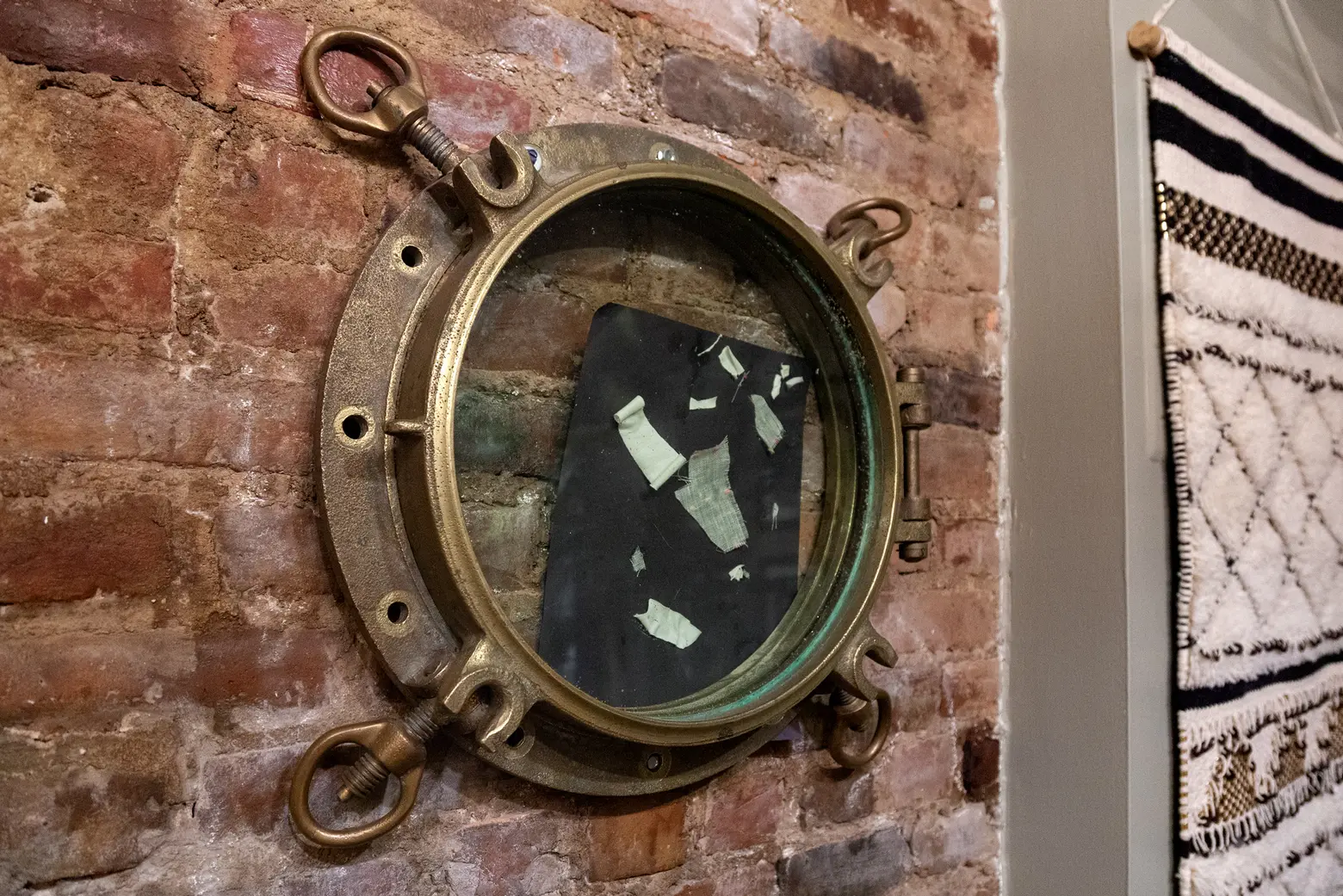 This porthole came from the tugboat of Adam's grandfather. His son Ford's artwork is displayed in the middle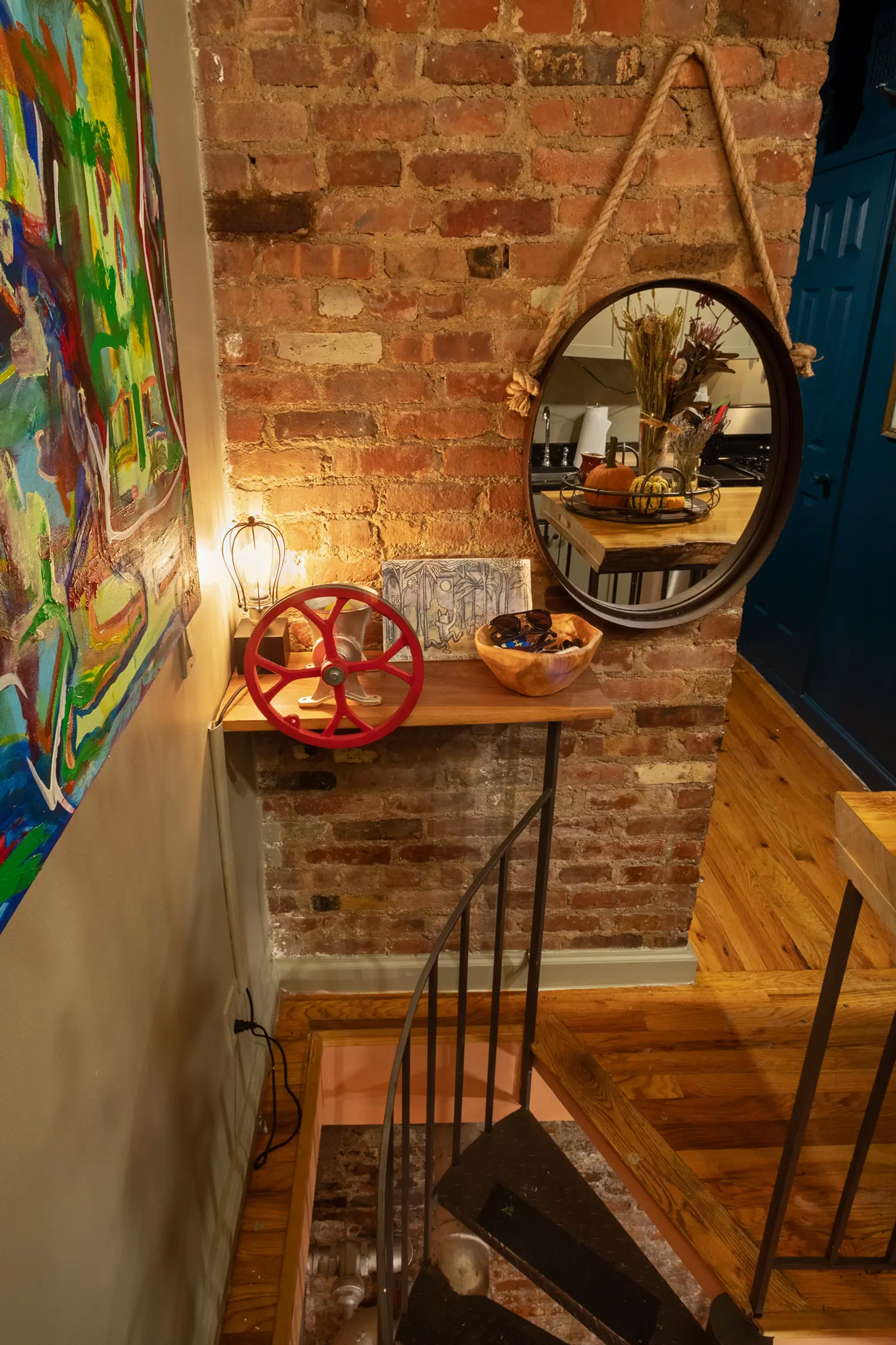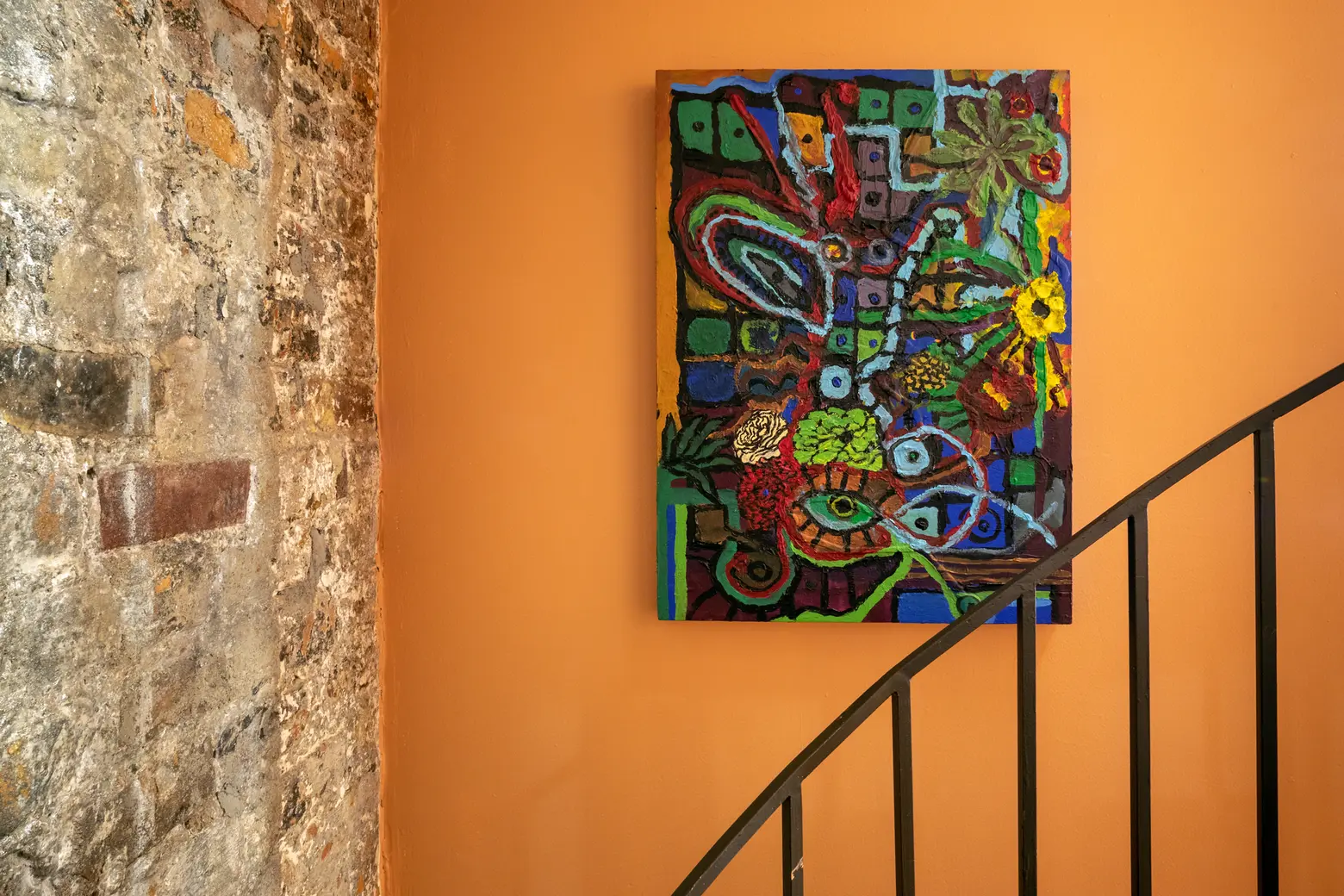 Barstool Sports gave you one of their highest ratings for pizza in NYC. Which Sauce slice do you like the best?
Each one represents a classic NYC style pizza that I have had obsessions within the past so I really do love and crave them all but if I had to choose it would be the Al Pastor, closely followed by the Upside Down Cheese.
Besides your own delicious pie, what are some of your favorite pizza joints in the city?
My list is always changing but right now I can't get enough L&B Spumoni Gardens and Lucali's.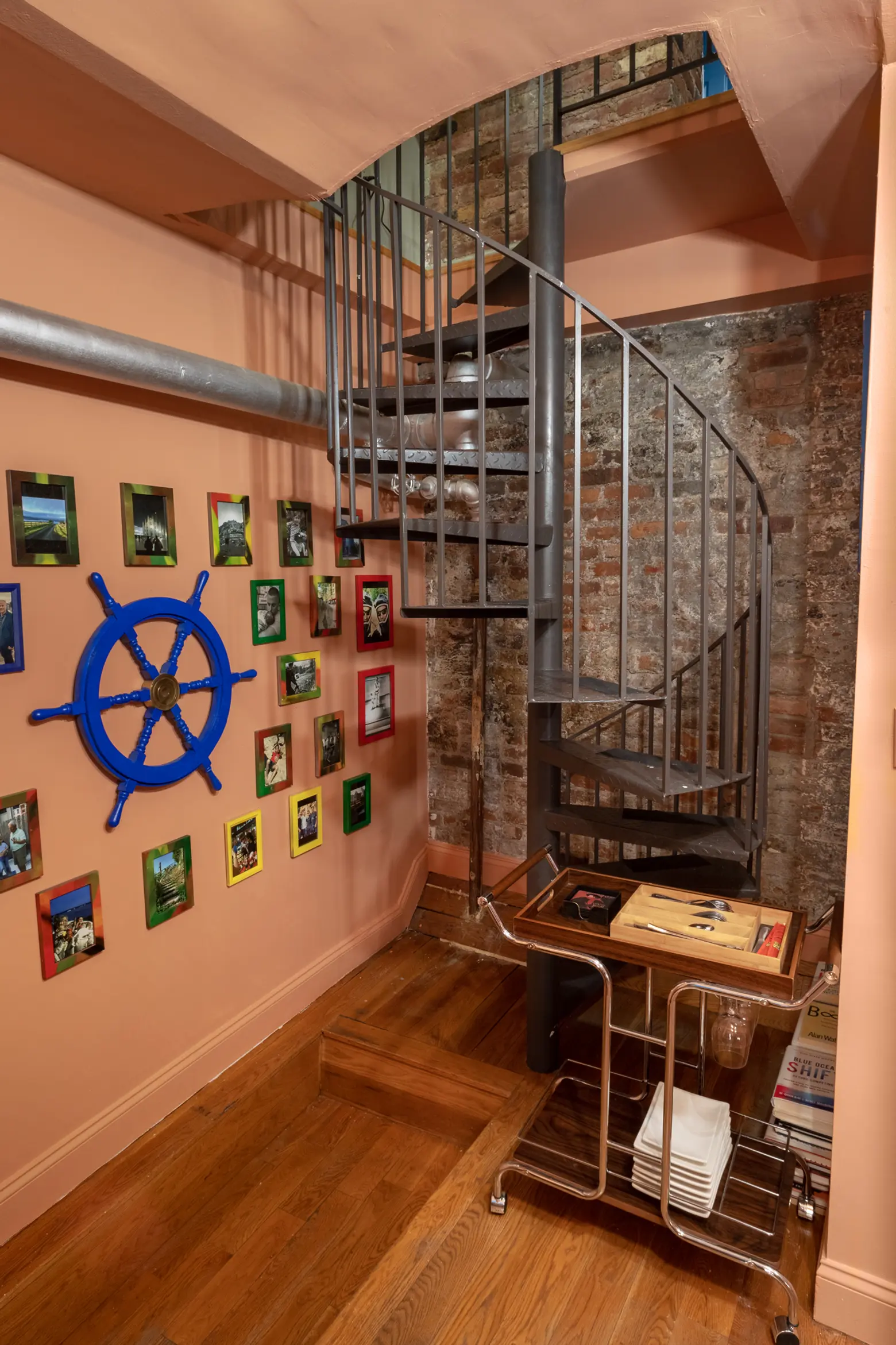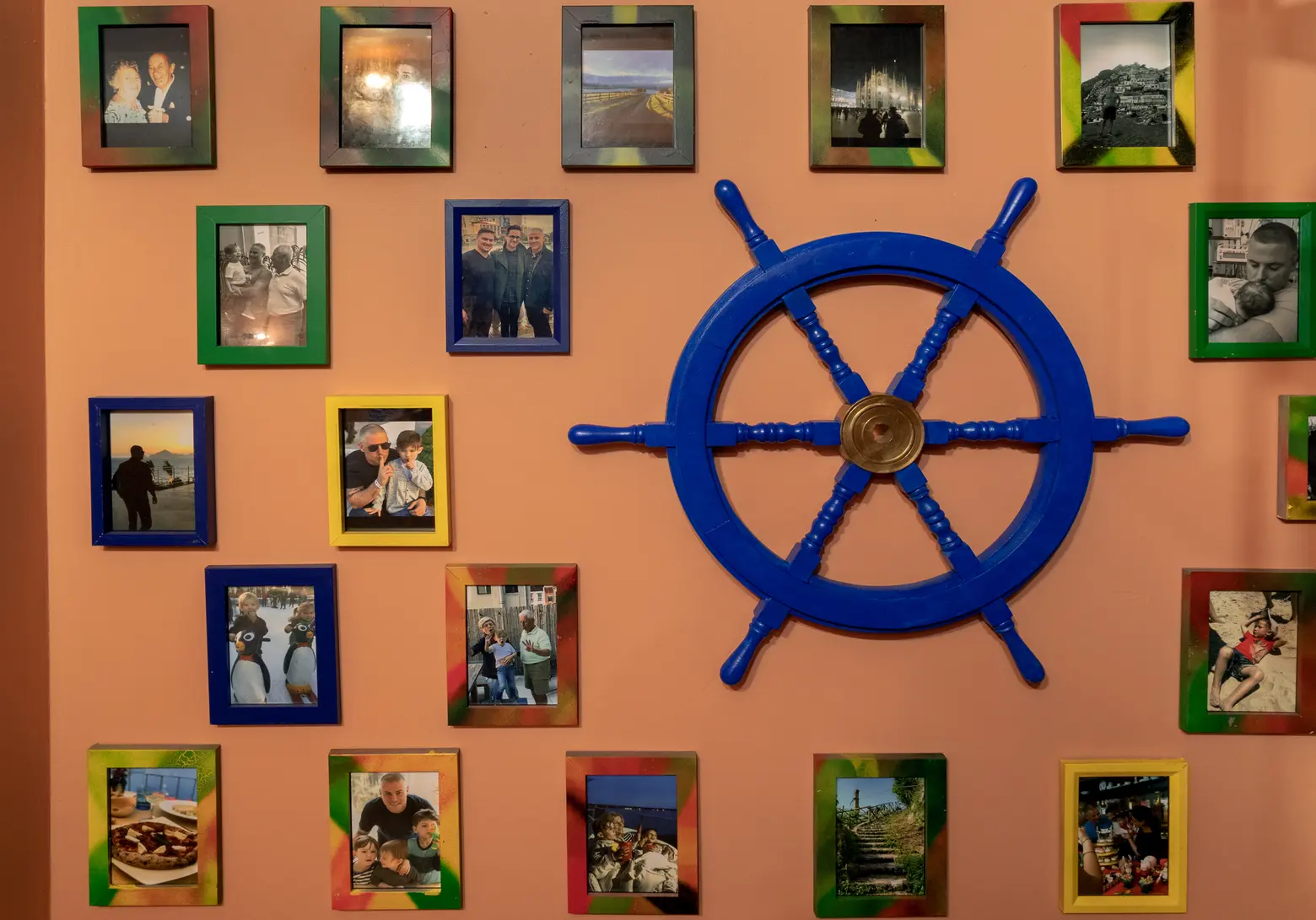 Can you describe some of the challenges that come with opening and owning a business?
One of the biggest challenges is recruiting a good team in the beginning. Until you have a team that you can count on and that is fully trained it is challenging to keep the food & service consistent. I find myself needing to jump into various roles a lot, which can make it so I never stop working and makes keeping a good work/life balance very challenging. Since we have multiple restaurants it has also been hard to balance my time between the three.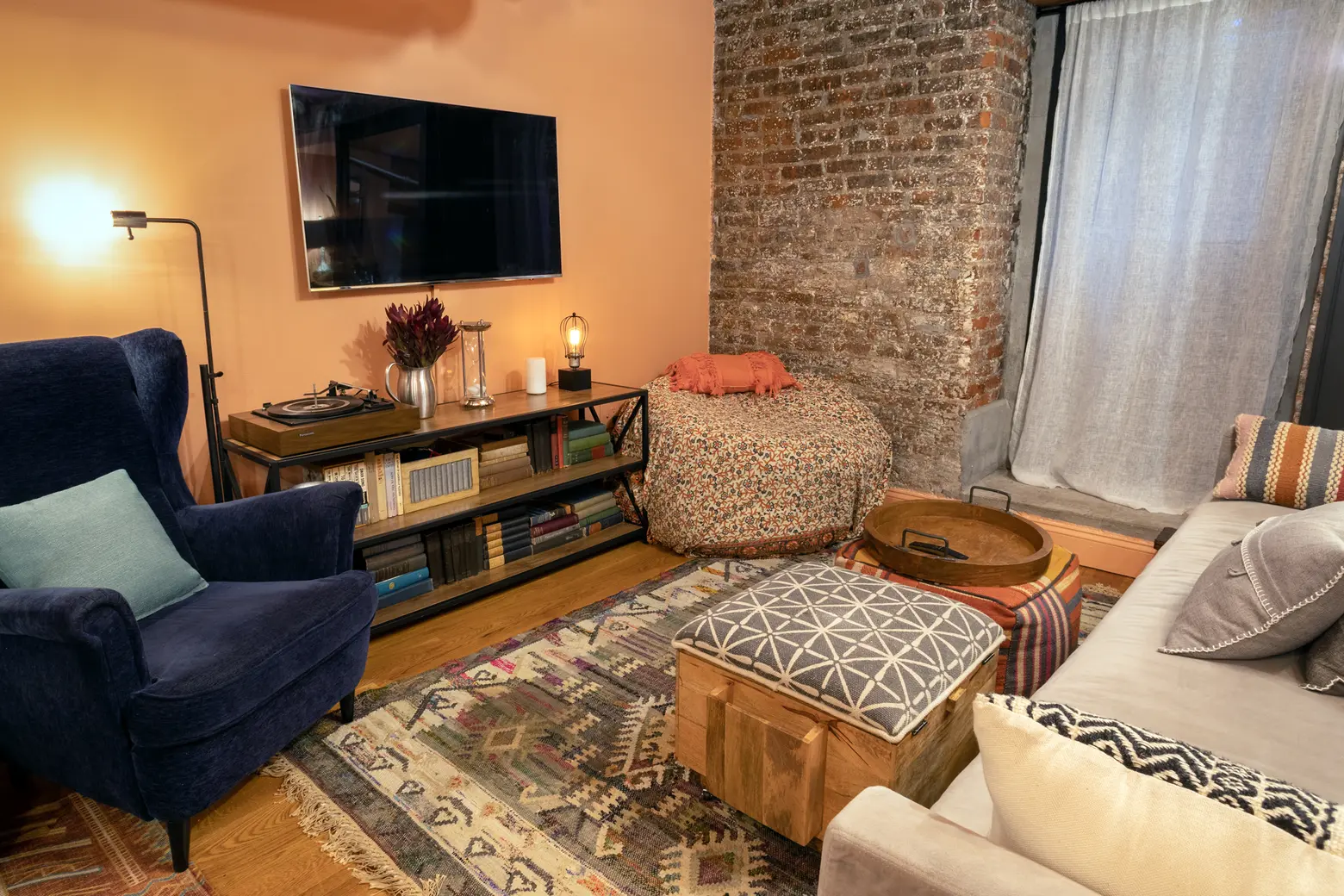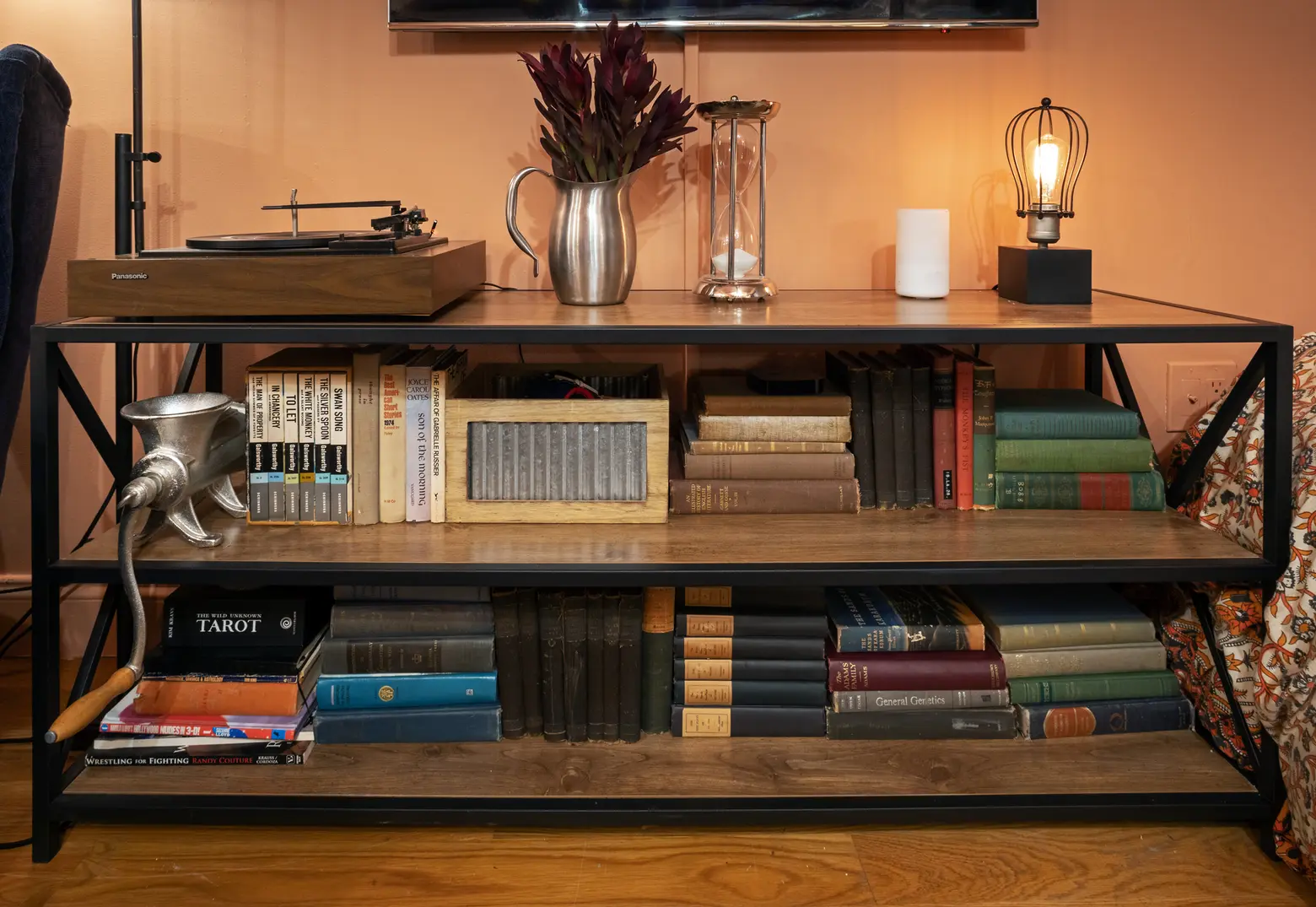 Adam found many of the old books at flea markets and antique shops
You recently moved to an apartment above your restaurant. Why did you decide to make the move? And what are the benefits and/or drawbacks of being so close to work?
I moved in to be close to the restaurant while launching it (I actually moved from an apartment above Sauce Restaurant). The biggest benefit is that I can easily go back and forth whenever needed. Many days my son and I will go into the restaurant before I drop him at school so we can feed the starter, which he calls making the dough.
The process of making our pizza starts at 7 am when we feed the starter until after midnight when we close our doors so living nearby is really convenient and maximizes both my time at work and at home. I love that I can work for a few hours, then take a break in my own home.
The same benefit of living so close is often the drawback, which is getting sucked into longer hours at work. Occasionally my buzzer will ring instead of my phone because there is an issue that needs my attention, which can also feel a little intrusive when I'm trying to take some time for myself.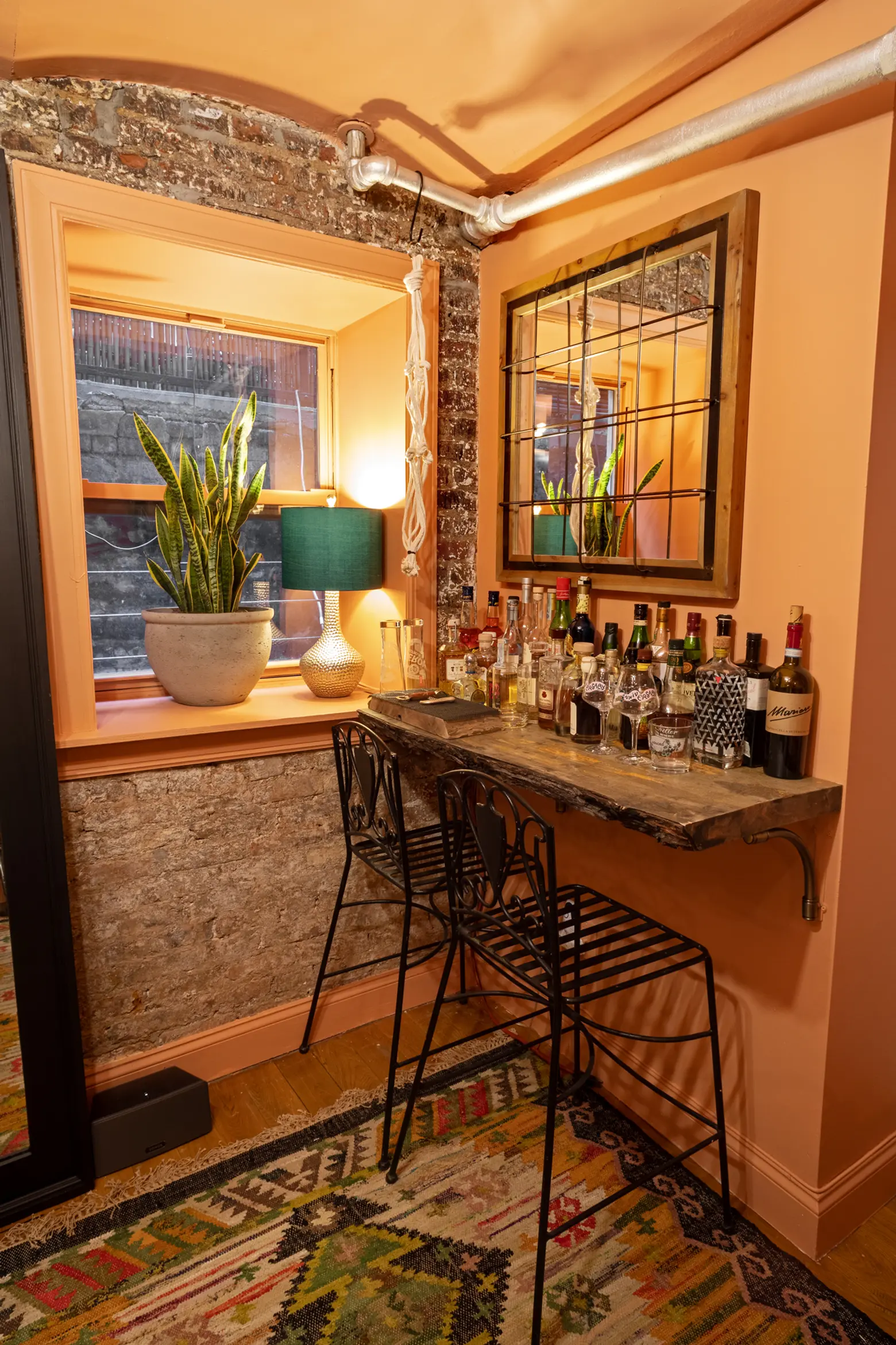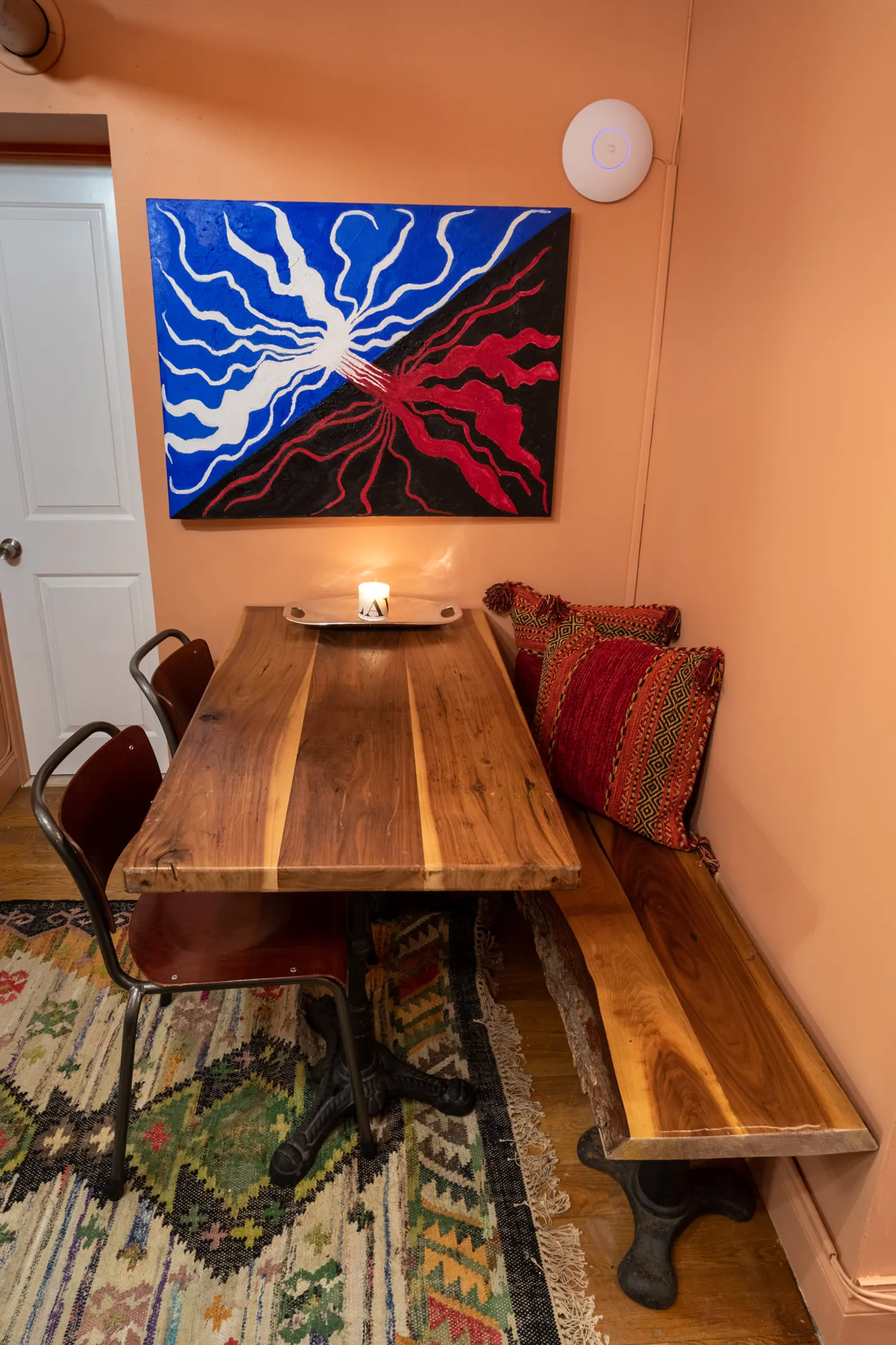 All of the paintings are by Adam alone; some were completed with the help of friends
In a few words, describe the aesthetic/ style of your home.
Bohemian and Rustic. These are the two styles I keep in mind when buying or making furniture and décor.
What are some of your favorite DIY projects you've done for your home/ restaurant?
I do a lot of the work that is in my home and my restaurants myself. One of my favorite things to do is to go to a mill and look for some really unique pieces of wood that I can cut, sand, stain and use in my house or in the restaurants.
My countertop came from a mill and I sanded it down into a table that was in two of my restaurants – when it didn't fit in a recent remodel of Coco & Cru I took the table and cut it down to fit as the countertop in my kitchen. Reshaping and upcycling pieces between work and home is a lot of fun for me.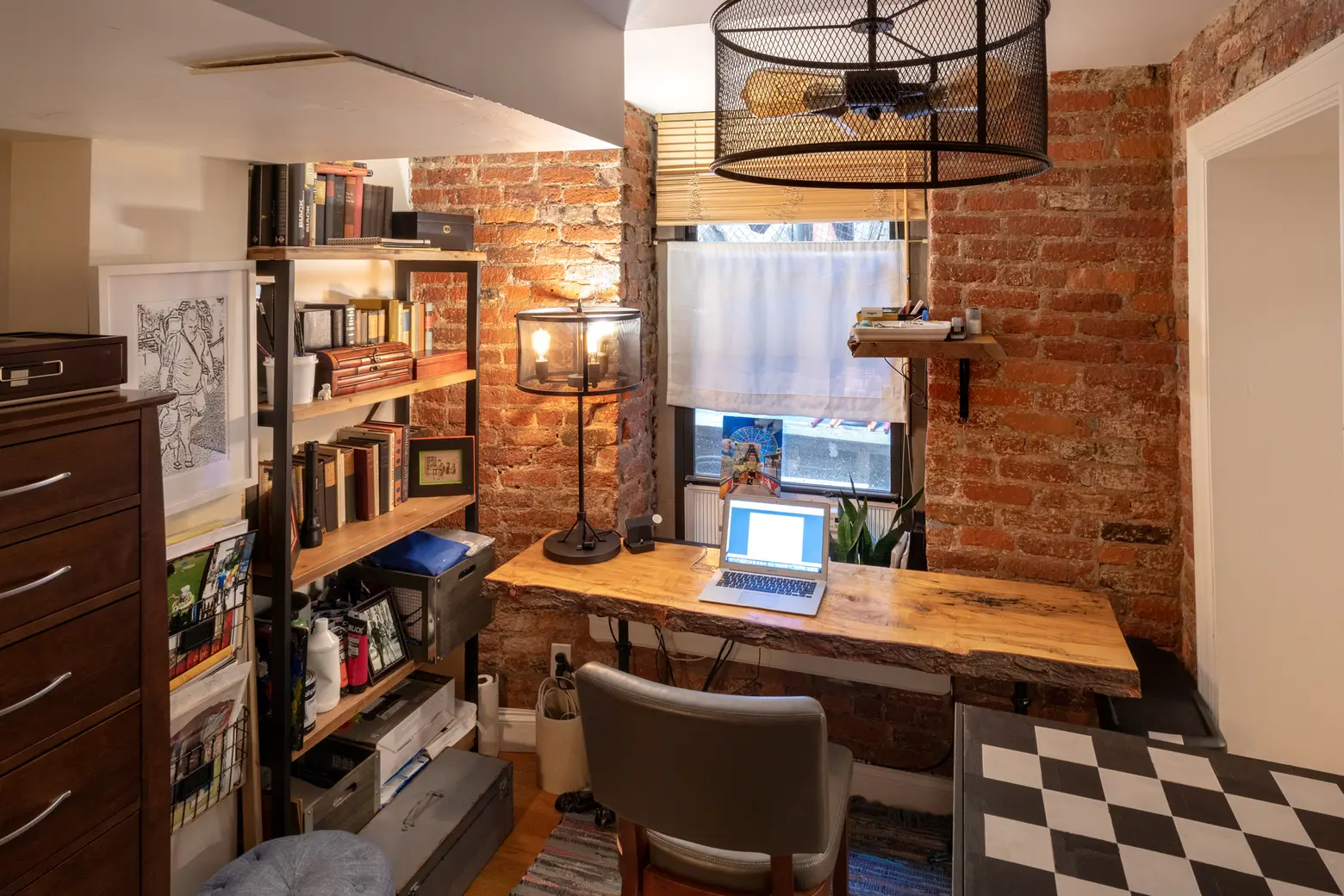 The lower-level office nook is Adam's favorite room in his apartment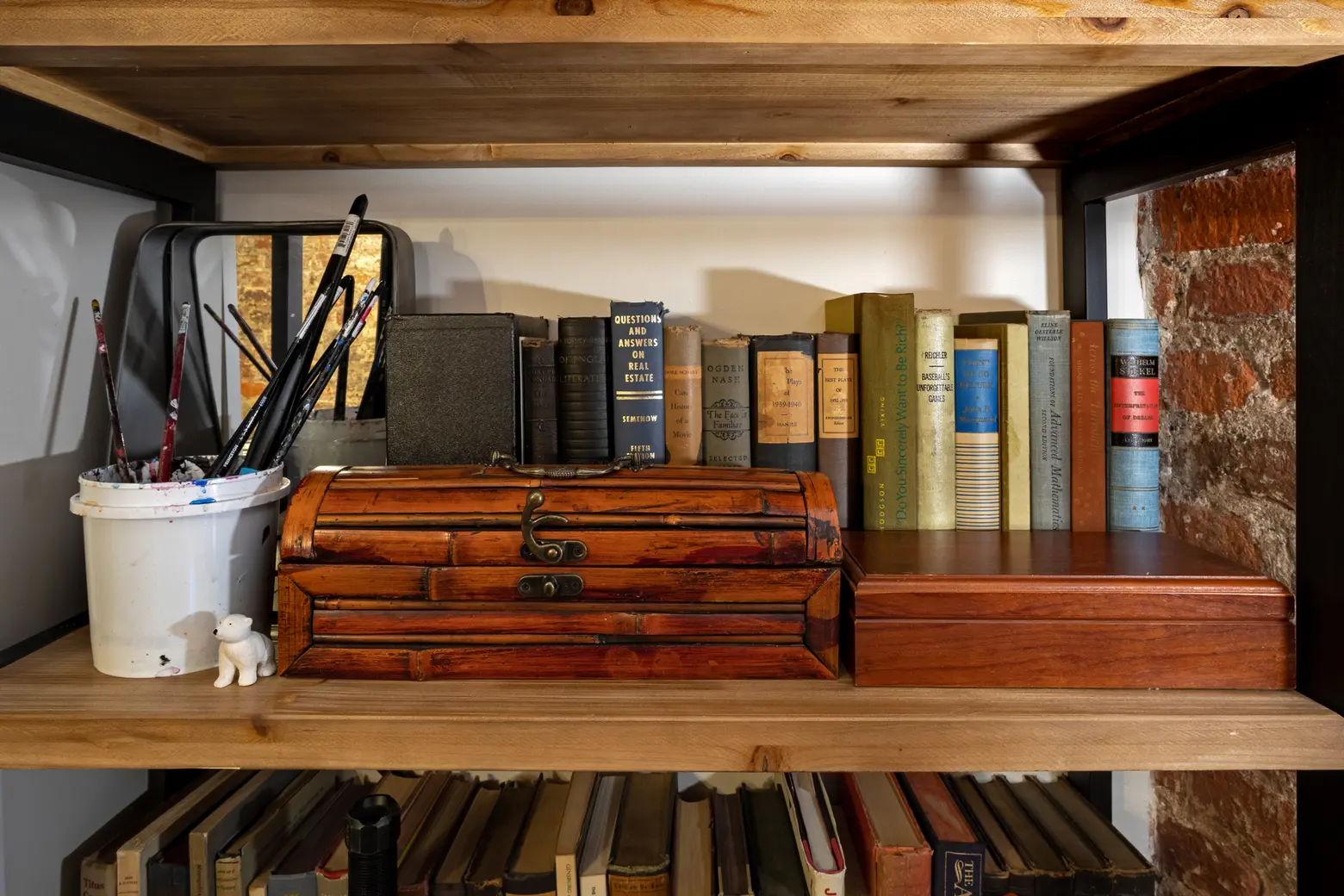 Do you have a favorite room or spot in the apartment?
My office/library is my favorite room to hang out in.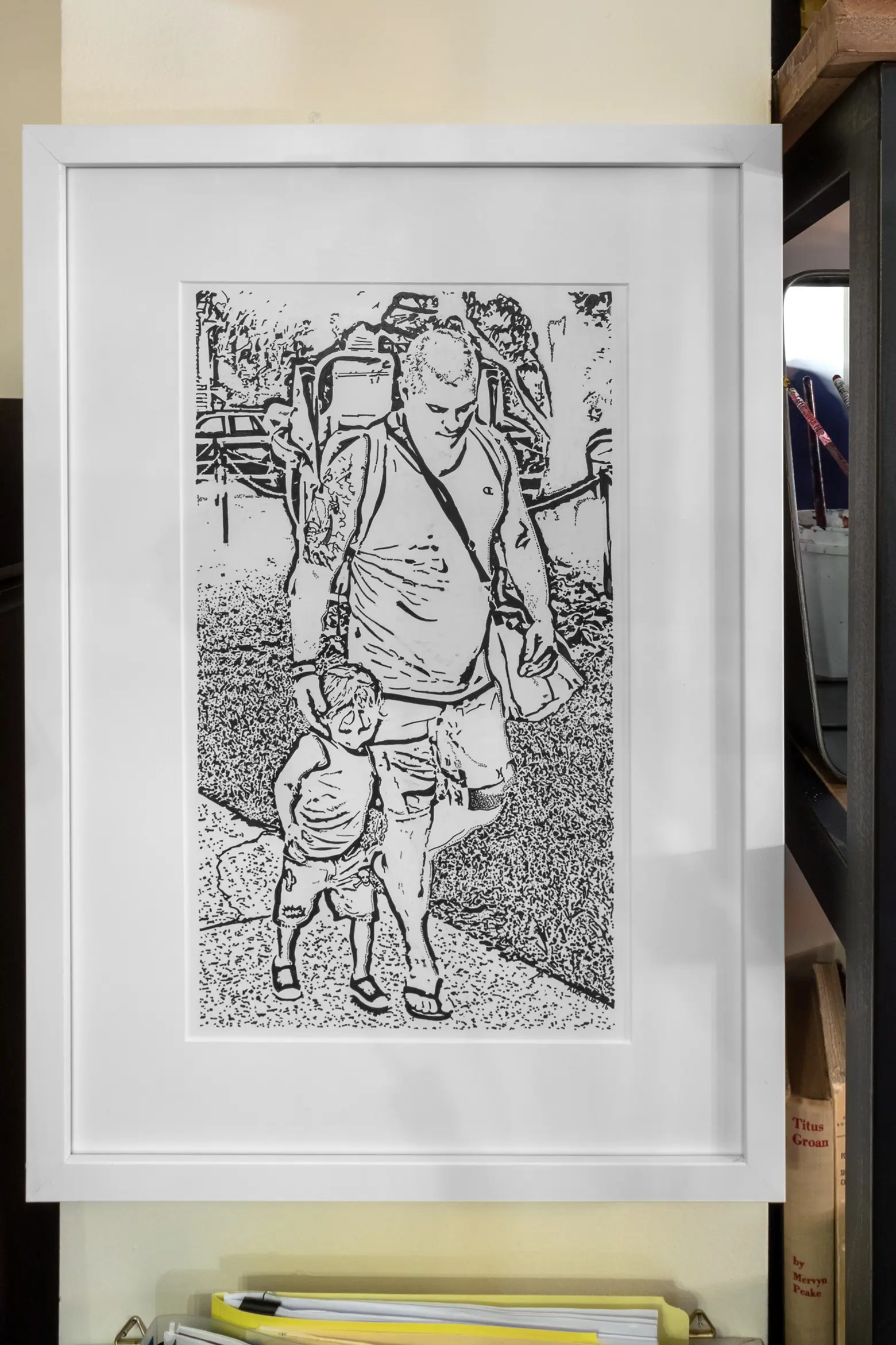 This photo of Adam and his son Ford hangs in the office
How do you spend a typical weekend?
My weekends are spent with my son, Ford, who is five. I'm always dreaming up exciting adventures that will leave him with an experience that he will remember. We like to get out of New York City when I'm not working and love to travel to different towns nearby and stay for a night or two. I also love visiting random flea markets, and going mountain biking or hiking for some exercise and fresh air.
RELATED: 
All photos taken by James and Karla Murray exclusively for 6sqft. Photos are not to be reproduced without written permission from 6sqft.