Tompkins Square Halloween Dog Parade is back on and bigger than before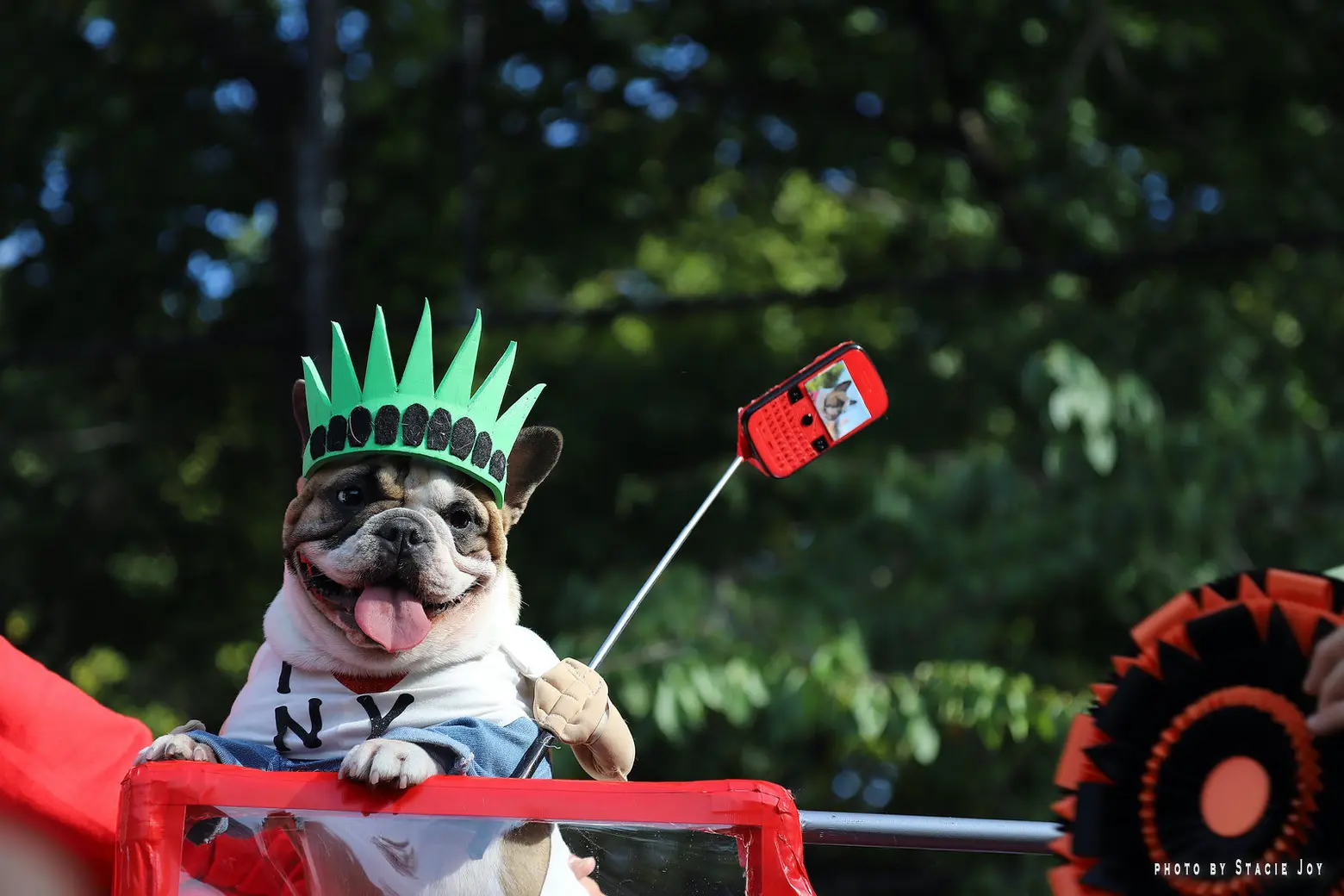 Get back to designing those canine costumes, New Yorkers: this year's Tompkins Square Halloween Dog Parade is back on. After being canceled last week, the 33rd annual dog parade will proceed with support from Mayor Eric Adams and financial backing from dog wellness company Get Joy. Taking place on October 21, this year's event is set to be the largest ever and will feature a formal parade procession instead of just a gathering inside the East Village park, according to the New York Times.
After learning of the event's cancellation, the mayor's office was able to coordinate the parade with the city's Open Streets program, cutting the permitting bill down to only $5,000, Joseph Borduin, the parade's organizer for the last four years, told the Times.
Getting a sponsor to help cover the costs was also a key factor in ensuring that the event was hosted. Luckily for the dog parade, Tom Arrix, the founder of Get Joy, reached out to Borduin on Facebook offering to sponsor the event. Arrix will serve as one of the judges for the competition.
"Any time a dog's joy is threatened we want to help because, like humans, a dog's total wellness is as much about the health of their spirit as their mind and body. This parade is all about dogs finding joy by spending time with their families and other dogs in their community," Arrix said in a statement.
"Additionally, being able to step in to support the dog run that enables daily exercise and socialization for dogs makes complete sense as we are dedicated to helping dogs and families live their best lives together."
As part of the event, attendees will meet at 14th Street and Avenue B and at 1 p.m. begin the walk down to Seventh Street. The cross street between Avenue A and B will be reserved for competitors, and the stage where the judges sit will still be located inside the park, according to the Times.
Last Thursday, dog lovers awoke to the devastating news that 2023's dog parade had been canceled indefinitely due to overwhelming complications with permits and logistics.
Borduin told Gothamist he had attempted to figure out the roughly $50,000 price tag that was necessary to cover the costs of permits and insurance with city agencies and Council Member Carlina Rivera.
Borduin had already made the decision to cancel the event earlier this year due to construction in Tompkins Square Park that would have forced the parade into the street. In order to host the event, he would have had to figure out a new format for the parade and submit applications to close down several blocks through the city's Street Activity Permit Office (SAPO), which charged him $5,000 to close down only one street for last year's event.
For this year's event, Borduin had to submit applications to shut down Avenue B from East 6th Street to East 14th Street, and East 7th Street between Avenue A and B, a total of eight city blocks. This costs roughly $50,000. After going back and forth with city agencies about who would pick up the tab for these costs, Borduin withdrew the permit application.
This year's parade will take place on Saturday, October 21 from 1 p.m. to 3 p.m.
RELATED: