This year's Tompkins Square Halloween Dog Parade has been canceled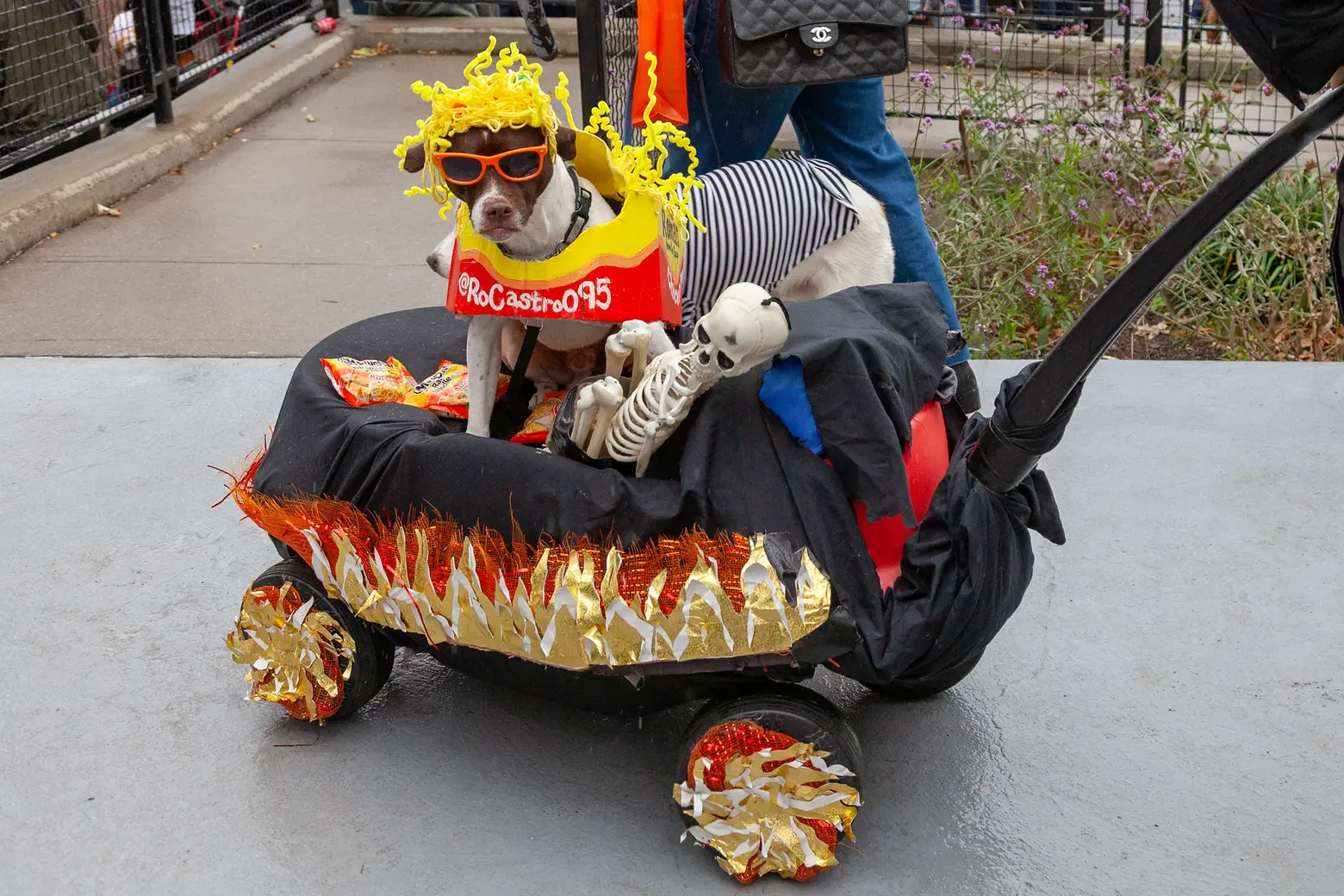 Dog lovers, we have some ruff news. The Tompkins Square Park Halloween Dog Parade has been canceled indefinitely. The event's website homepage reads, "Parade has been canceled for the foreseeable future" in bold. The dog parade, which would have been returning for its 33rd year, was canceled due to overwhelming complications with permits and logistics, parade organizers told Gothamist.
Joseph Borduin, the event's organizer for the last four years, blames the cancelation of negotiations with city agencies. For weeks, Borduin told Gothamist he has attempted to figure out the roughly $50,000 price tag that was necessary to cover the permitting and insurance costs for the event with city agencies and Council Member Carlina Rivera.
"I'm done. I do not work like this," Borduin told Gothamist. "This is the most unorganized and craziest thing I've ever tried to do."
Borduin had already made the decision to cancel the event earlier this year due to construction in Tompkins Square Park that would have forced the parade into the street. In order to host the event, he would have had to figure out a new format for the parade and submit applications to close down several blocks through the city's Street Activity Permit Office (SAPO), which charged him $5,000 to close only one street for last year's event.
In August, just a few weeks before the event would take place, Rivera's office reached out to Borduin and offered to help him secure all of the necessary permits in his name. With the help of Rivera's office, Borduin started drafting up maps and layouts for the parade and quickly came to realize how complicated following through would be.
While previous year's events featured dogs walking across a stage within the park, with visitors entering the park to spectate, this year's event would have required parade-goers to stand in the street and watch as the procession of dogs walked past them.
To do this, Borduin would have had to submit applications to shut down Avenue B from East 6th Street to East 14th Street, and East 7th Street between Avenue A and B, which is eight city blocks. Doing so would cost roughly $50,000.
After going back and forth with government agencies about who would take responsibility for the costs, Borduin withdrew the permit application.
Despite the council member's insistence that her office would take care of the expenses, SAPO told Borduin that since the permits would be registered in his name, he would have to cover it out of pocket.
Rivera's office has since stated that they are continuing to work towards securing the event permits and are even offering to eliminate the fee for community organizations. The council member still has hope that the event can take place next month.
RELATED: