The Urban Lens: Documenting Gentrification's Toll on the Mom-and-Pops of Greenwich Village
6sqft's new series The Urban Lens invites photographers to share work exploring a theme or a place within New York City. To kick things off, award-winning authors and photographers James and Karla Murray bring us 15 years of images documenting the changing storefronts of Bleecker Street in Greenwich Village. Are you a photographer who'd like to see your work featured on 6sqft? Get in touch with us at [email protected]
Bleecker Street between Sixth and Seventh Avenue South was once a huge Italian enclave with many traditional "mom and pop" stores catering to the large Italian families who resided in the neighborhood. By the late 1930s, it also had a significant bohemian population with many artists, writers, poets and musicians living in the area who set up galleries, coffee houses and music shops. Due to widespread gentrification and escalating real-estate values, the neighborhood has changed drastically and its unique appearance and character is suffering.
We are here to take you on visual tour to experience how many of the truly authentic shops remain on this venerable Greenwich Village street, and to show you what has replaced the ones that have vanished. Many of the shops you'll encounter ahead have been featured with full-color photographs and insightful interviews with the store owners in three of our widely acclaimed books on the subject, but we've also rounded up several more ahead.
↓↓↓
[*Note: Click on any image to enlarge it]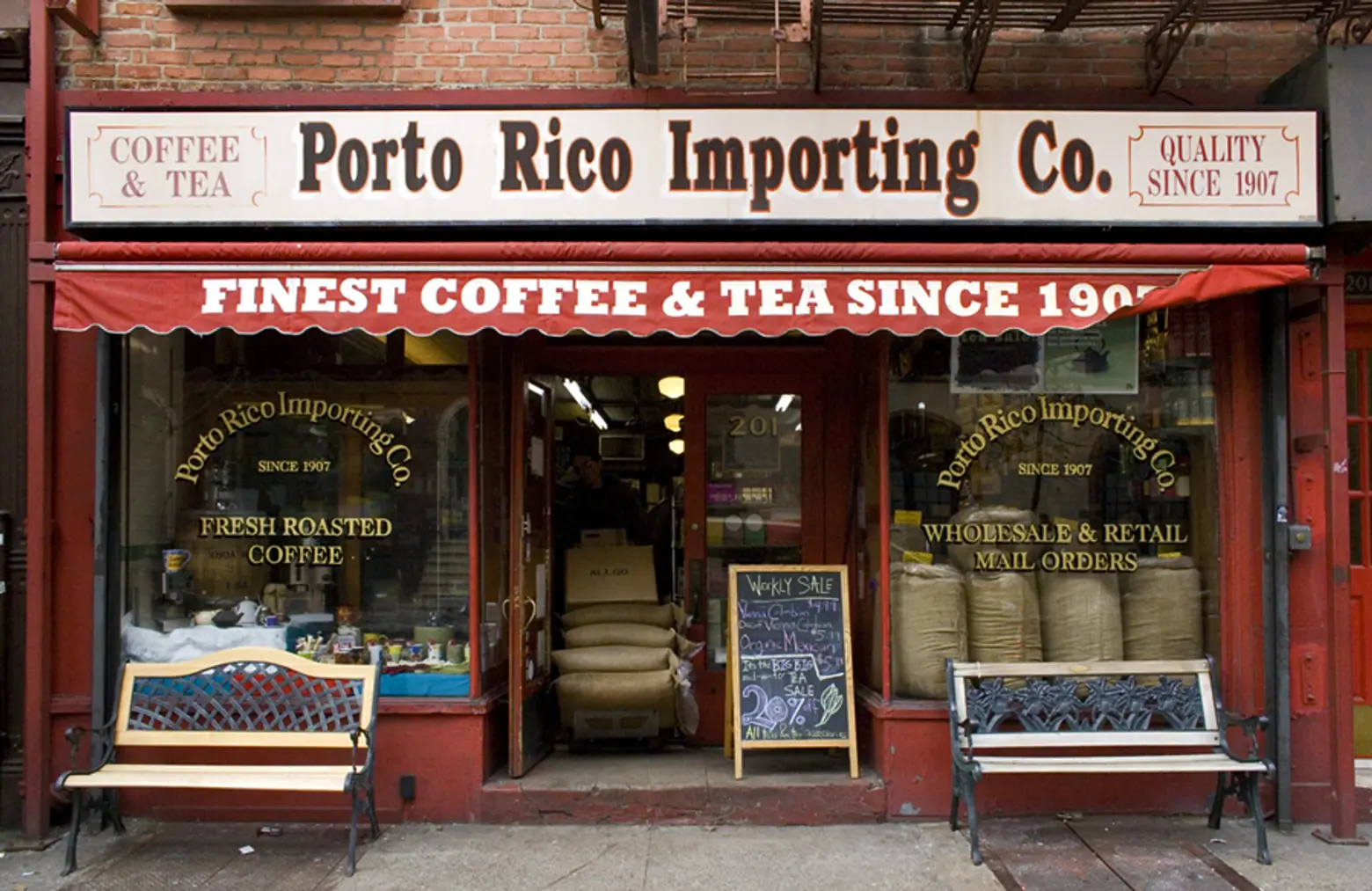 On any stroll through this area of Greenwich Village, we always first stop by Porto Rico Importing Company to get a cup of coffee and take in the wonderful smells of the freshly-roasted beans. The benches in front of this shop are always a great place to see friends, say hello to the many neighborhood dogs that are out and about, and people watch.
PORTO RICO IMPORTING CO. located on Bleecker Street by Sixth Avenue is a fourth generation family-owned business that was founded in 1907. On the history of the place, Peter Longo, the third-generation owner told us:
"My grandfather bought the building in 1895 and lived above the store. We sold coffee, tea, dried mushrooms, and olive oils to the many Italians who lived in the neighborhood. Years ago we used to roast our own coffees in the back of this store but because of stricter pollution codes we are no longer able to do that and instead roast in our warehouse in Williamsburg, Brooklyn.

Greenwich Village has really changed tremendously over the years. The rents are much, much higher and many of the artists and musicians have moved out of the area.  But the biggest change that I see is that when I was growing up in the 1950s, Greenwich Village was a huge Italian family neighborhood and the social life centered around the churches in the area. Everything except church was closed on Sundays and it gave a rhythm to the week. As the years went by, most of the Italians moved out of the neighborhood and NYU replaced the Italian community. Most of the specialty stores, which catered to Italian customers, have gone out of business and the whole Village has lost its ethnicity and character."
↓↓↓

Coffees in hand we cross Sixth Avenue, diagonally heading northwest and pass an empty storefront which was once the location of Avignone Chemists.
AVIGNONE CHEMISTS on Sixth Avenue at the corner of Bleecker Street closed in 2015 after 86 years in business when the landlord tripled the rent to $60,000 a month. We always loved the old laboratory glass wear and other antiques in the pharmacy's window.
Before continuing down Bleecker Street we round the corner onto Carmine Street for a quick detour past the historic Our Lady of Pompei church, which is one of the few churches left in New York City where you can still attend services delivered in Italian.
↓↓↓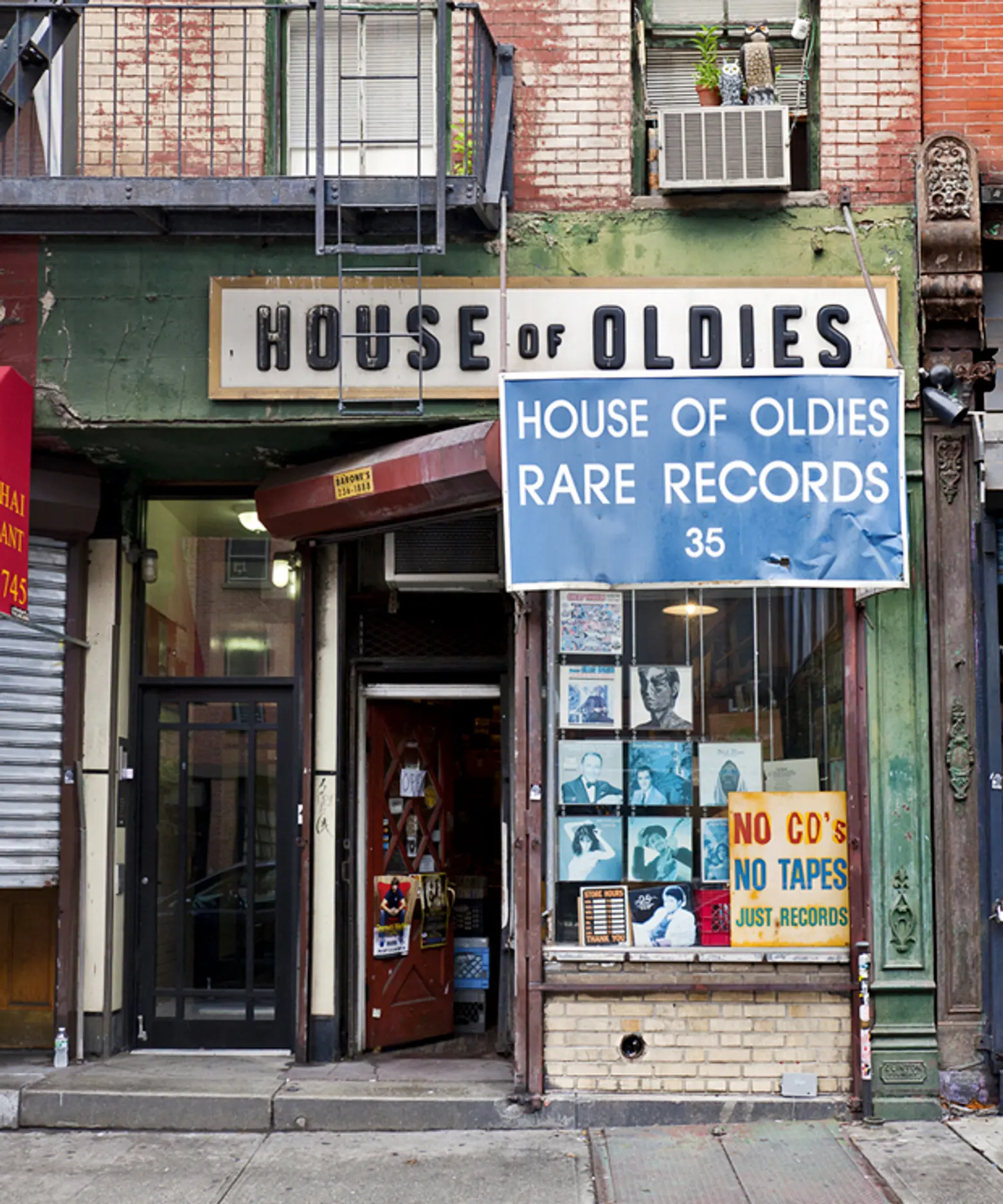 HOUSE OF OLDIES was originally located on the corner of Bleecker Street at Carmine but relocated in 1980 to the middle of the block. House of Oldies which has been in business since 1969, sells albums from the 1950s to 1990s. Every time we've been in the store, Bob amazes us by easily identifying and locating, among the floor to ceiling shelves and racks, any record including 45rpms that customers ask for. The owner, Bob Abramson told us:
"Since the day I opened, I have only sold records. I have never handled cassettes, 8-tracks or CDs. I installed the sign in the window saying 'NO CD's NO TAPES JUST RECORDS' after I got tired of people constantly coming in and asking for things other than records. I am one of the only record stores left in the neighborhood. I don't own this building but luckily business in the last few years has increased for me. I am now getting lots of 15-year-old kids buying vinyl. Vinyl is back! The kids realize how much better the sound is on vinyl than a CD or MP3." 
↓↓↓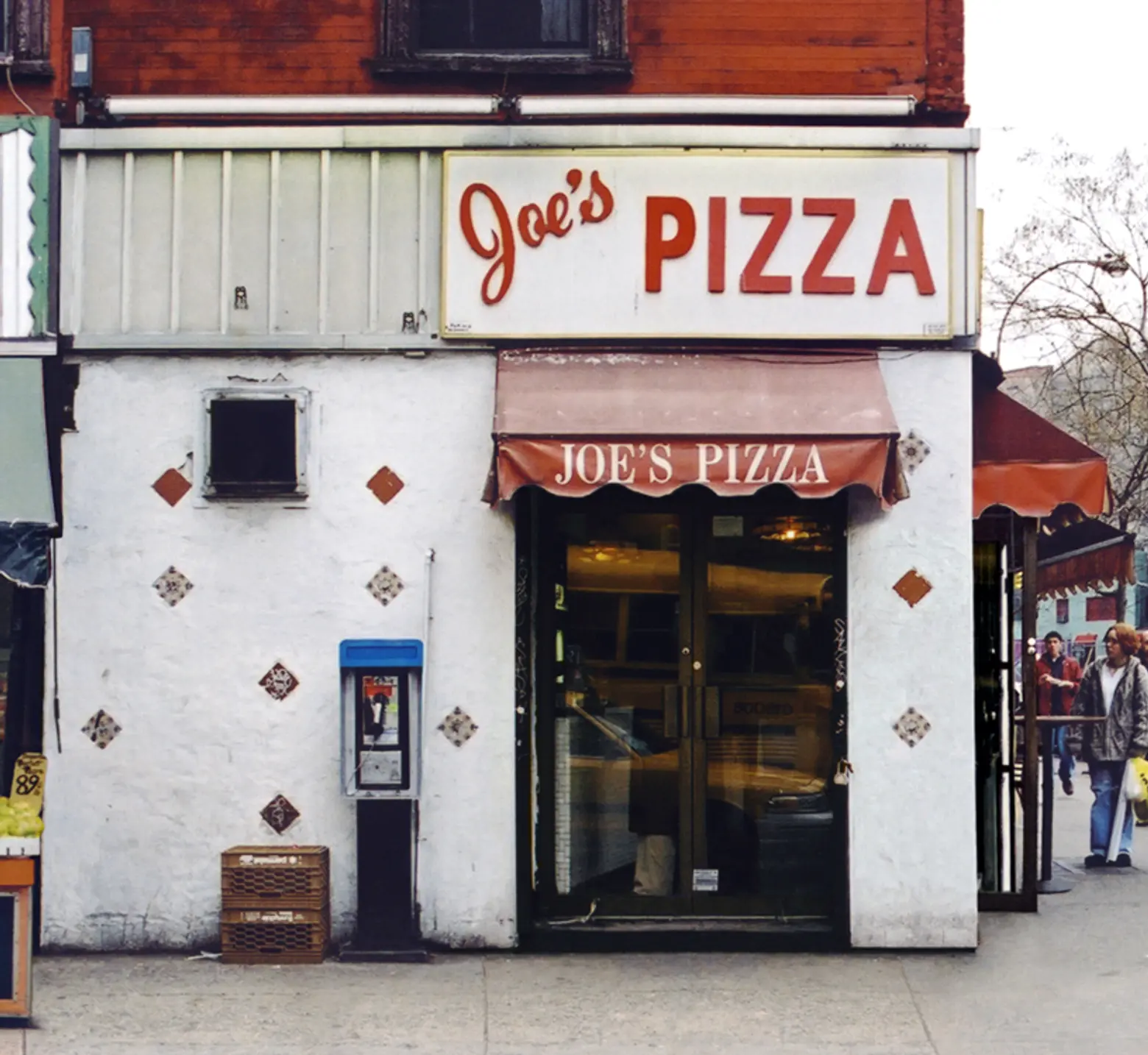 We return to Bleecker Street to the corner where Joe's Pizza was founded.
JOE'S PIZZA on Bleecker Street was established in 1975 by Joe Pozzuoli, an immigrant from Naples, Italy. Joe served the affordable classic New York slice and worked seven days a week alongside his sons until he was forced to leave their corner storefront in 2005. The landlord had raised the rent and demanded a $1.5 million guarantee for Joe Puzzuoli to stay in his original location. Thankfully, he was able to relocate the pizzeria around the corner to Carmine Street and he's even expanded with two additional locations — one close to 14th Street, and the other in Williamsburg.
↓↓↓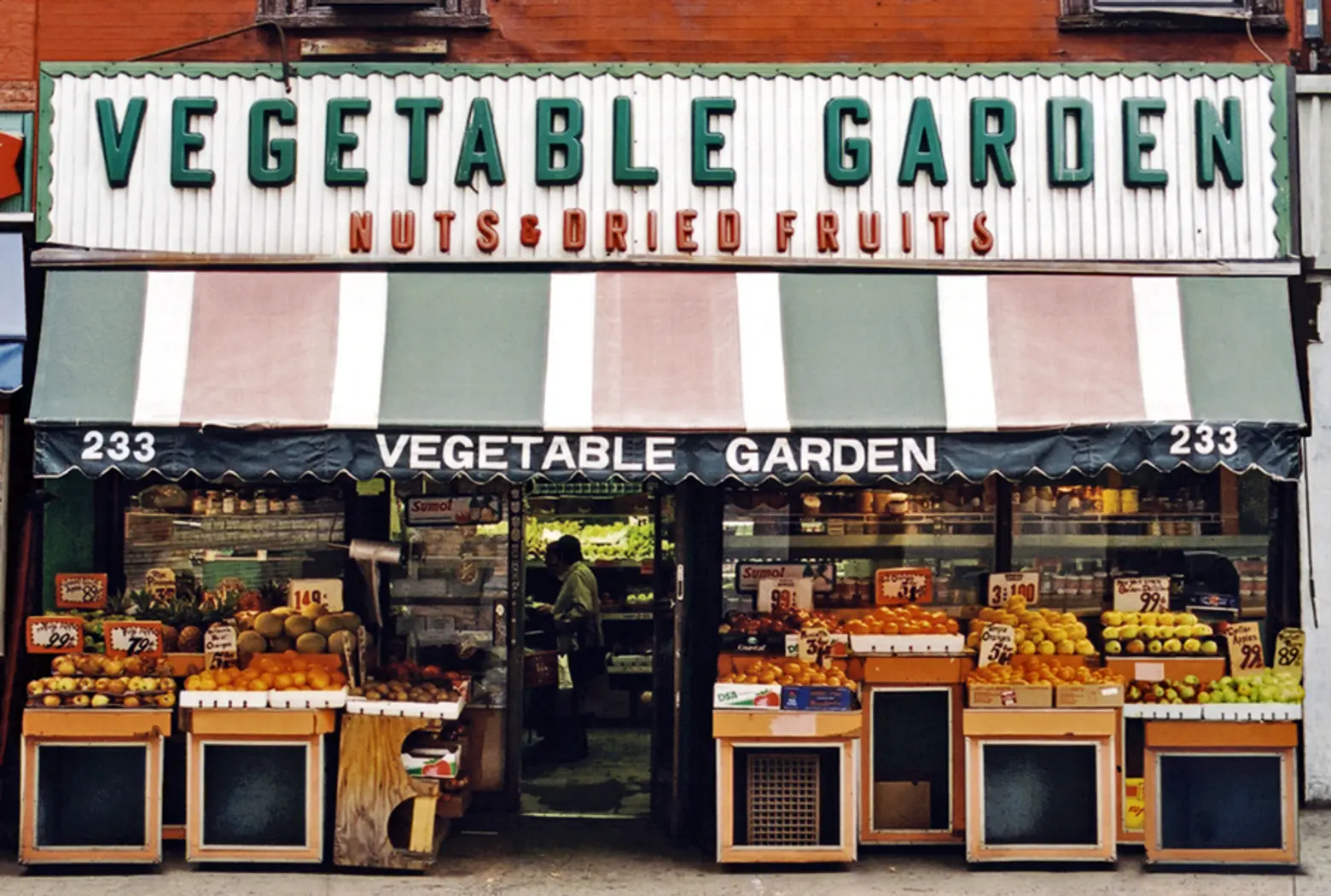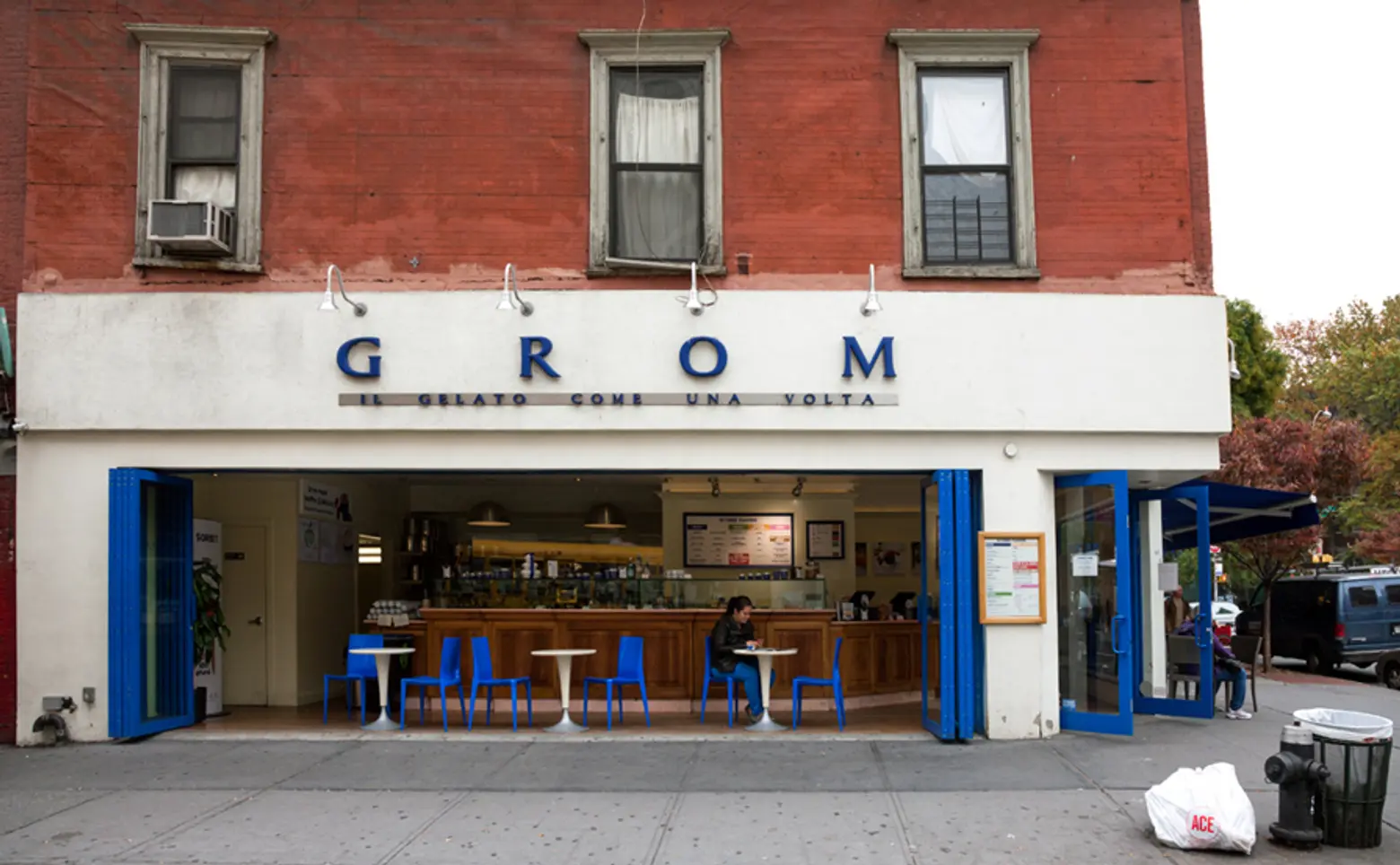 Many people have contacted us sharing how much they miss VEGETABLE GARDEN and its helpful staff. We always loved the storefront's classic signage with its vacuform lettering. Grom, a "high-end" Italian gelato chain, took over both the Joe's Pizza storefront as well as the neighboring Vegetable Garden storefront — a relic of what was once Greengrocer's Row. The wood-frame building that now houses Grom was built in 1822.
↓↓↓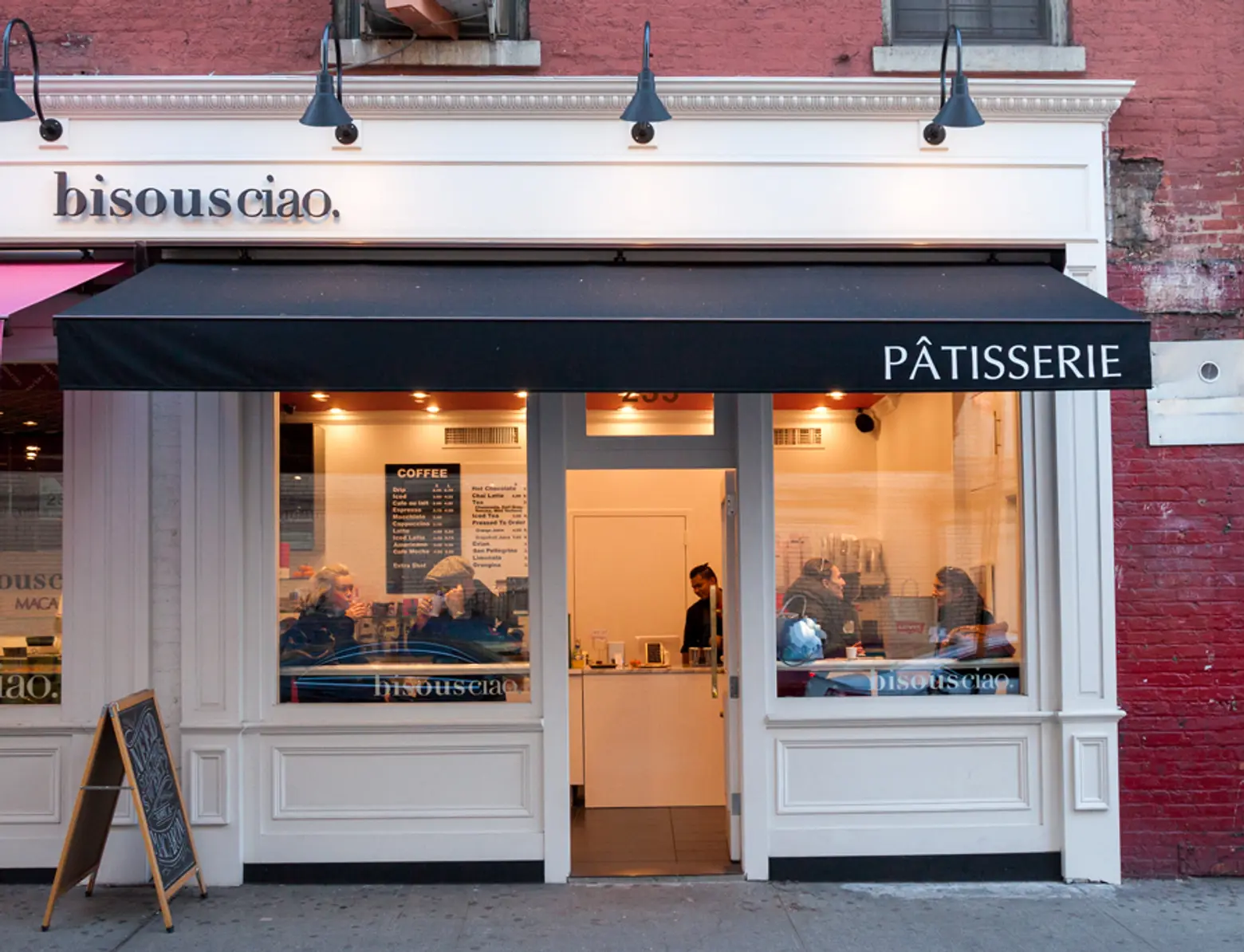 Continuing west we arrive in front of what used to be MAGAZINE – PLUS , a magazine and newspaper shop. The storefront had a vintage Coca-Cola "privilege sign" which we always admired. Privilege signs, an industry term for the promotional signs installed by large corporations, most often Coca-Cola, became popular in the 1930s–1960s. The signs were not only given free to store owners, but they also brought people into the store with instant brand recognition. Companies such as Coca-Cola benefited from them as well because they were an easy way of weaving a marketing campaign right into the building's façade.
Bisous Ciao, a high-end patisserie and macaron bakery, now occupies the former Magazine-Plus location and the neighboring clothing shop.
↓↓↓

Further west we arrive at the building that once housed the pet store BEASTY FEAST, sadly still standing vacant. It was originally a coach house from 1830 and is one of the few remaining wood-frame buildings in Manhattan. The Village is a dog-lovers paradise and the old shop always seemed to be busy.
Beasty Feast was established in 1977 and became known for its great service and selection of natural foods and accessories for dogs and cats.  Beasty Feast happily is still in business although no longer on Bleecker. They have two locations further west at 630 Hudson Street and 690 Washington Street in the West Village.
↓↓↓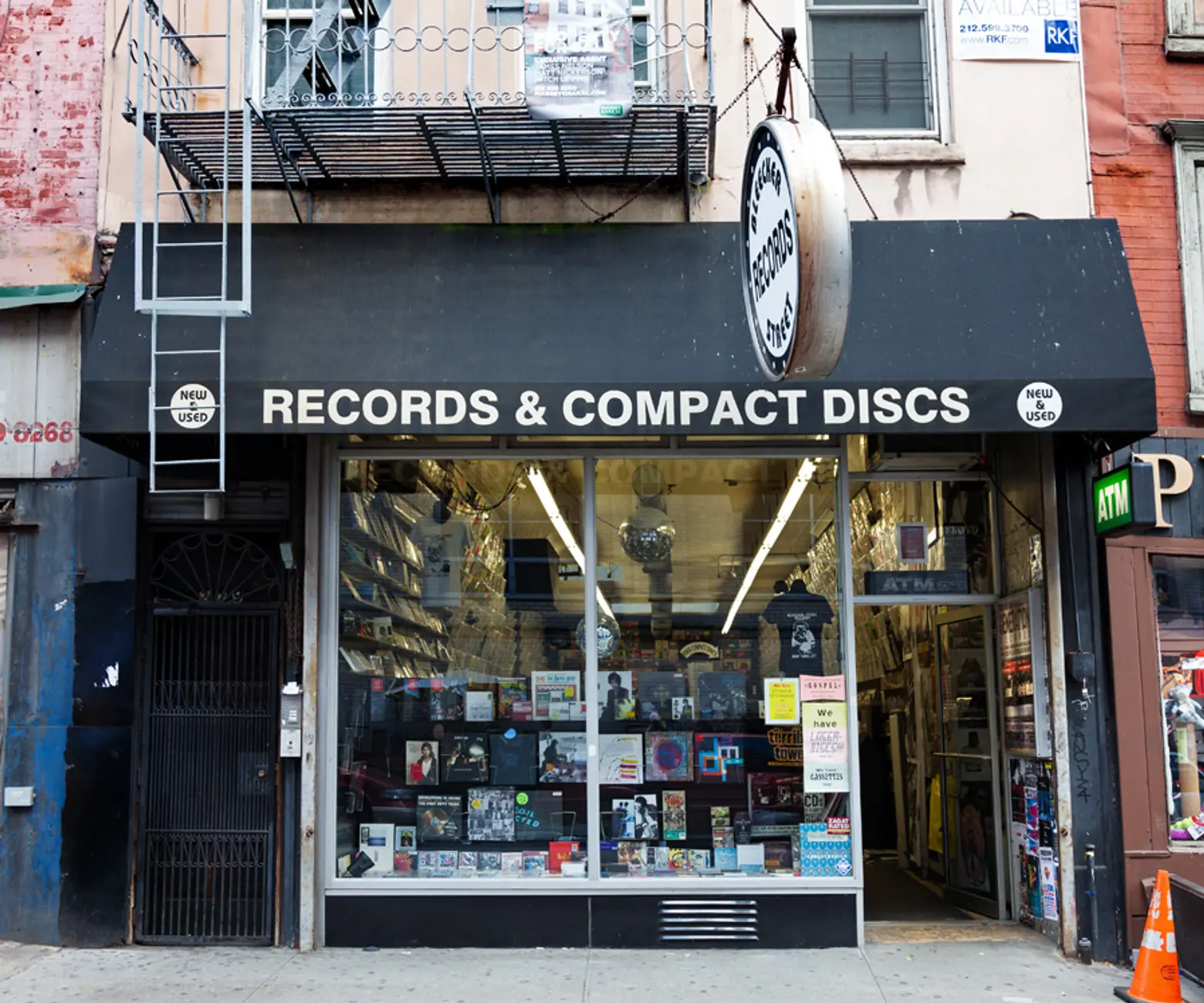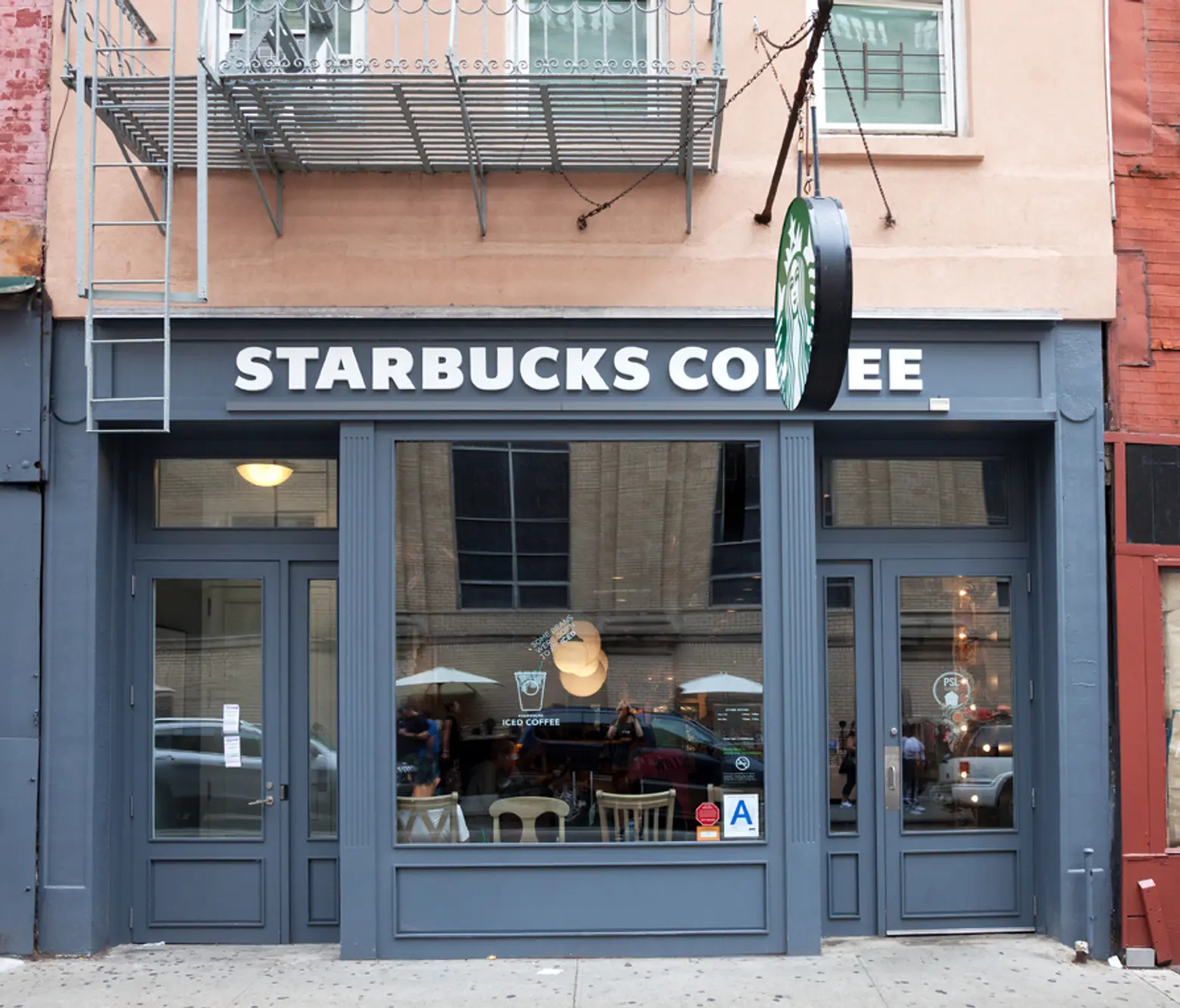 BLEECKER STREET RECORDS was in business for more than 20 years on Bleecker Street before it was forced to move in 2013, when its rent was increased to $27,000 a month. Starbucks has now replaced the record store, but luckily the record store found a new home on West 4th Street between Jones and Barrow. Vintage vinyl lines the walls and a mannequin still stands near the checkout counter covered in buttons available for purchase. Bleecker Street Records is a favorite place of ours to spend hours browsing the racks and our dog Hudson is very fond of one of the store's resident cats.
↓↓↓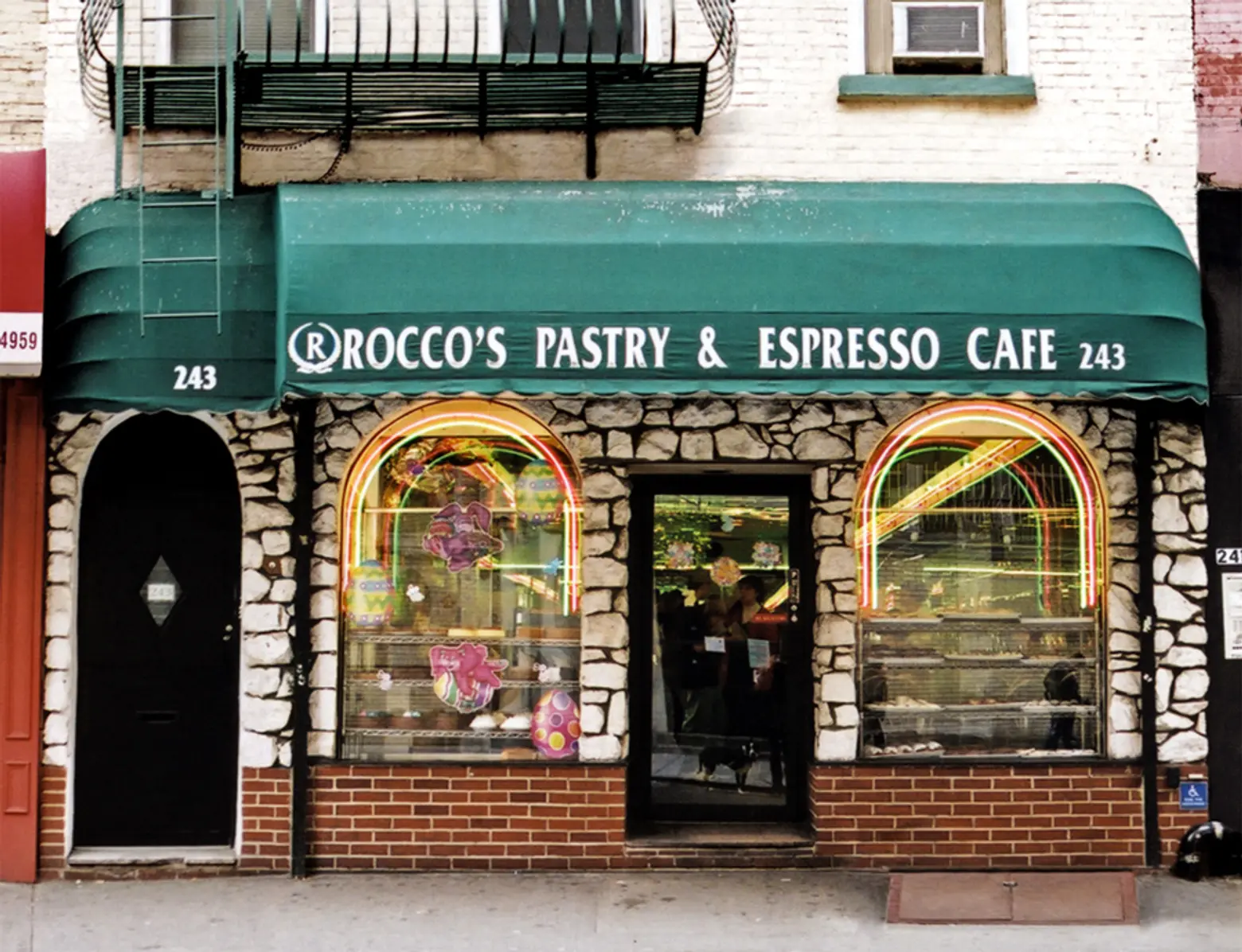 ROCCO'S PASTRY SHOP & CAFE has been family owned and operated since 1974. Rocco Generoso emigrated to the United States from Italy and first started working as a dishwasher at Zema's Bakery in 1957. The owner took him under his wing because of his great work ethic and taught him all about the pastry business and he became Zema's apprentice and eventually the head pastry chef. In 1974 he took ownership of Zema's Bakery and renamed it Rocco's Pastry Shop.
After Rocco retired in 2010, his children took over ownership and re-fronted the store. They continue to serve wonderful cannoli that are filled by hand and served fresh with each order.
↓↓↓

Next door to the busy pastry shop was another Italian bakery, PASTICCERIA BRUNO. Sadly they were forced to close their Bleecker Street storefront as well as their LaGuardia Street location. Pasticceria Bruno was replaced by the self-serve frozen yogurt chain 16 Handles, which has also since closed.
↓↓↓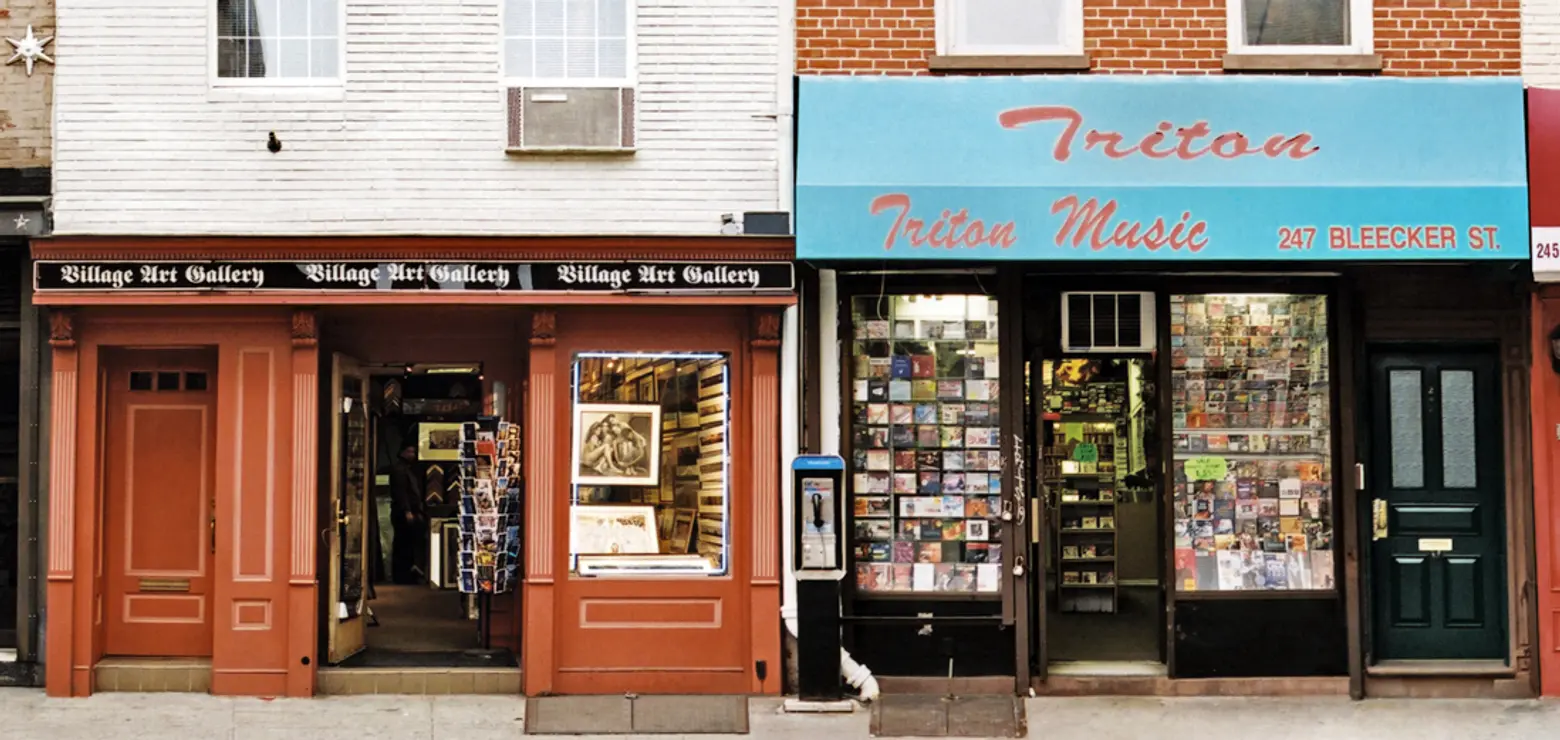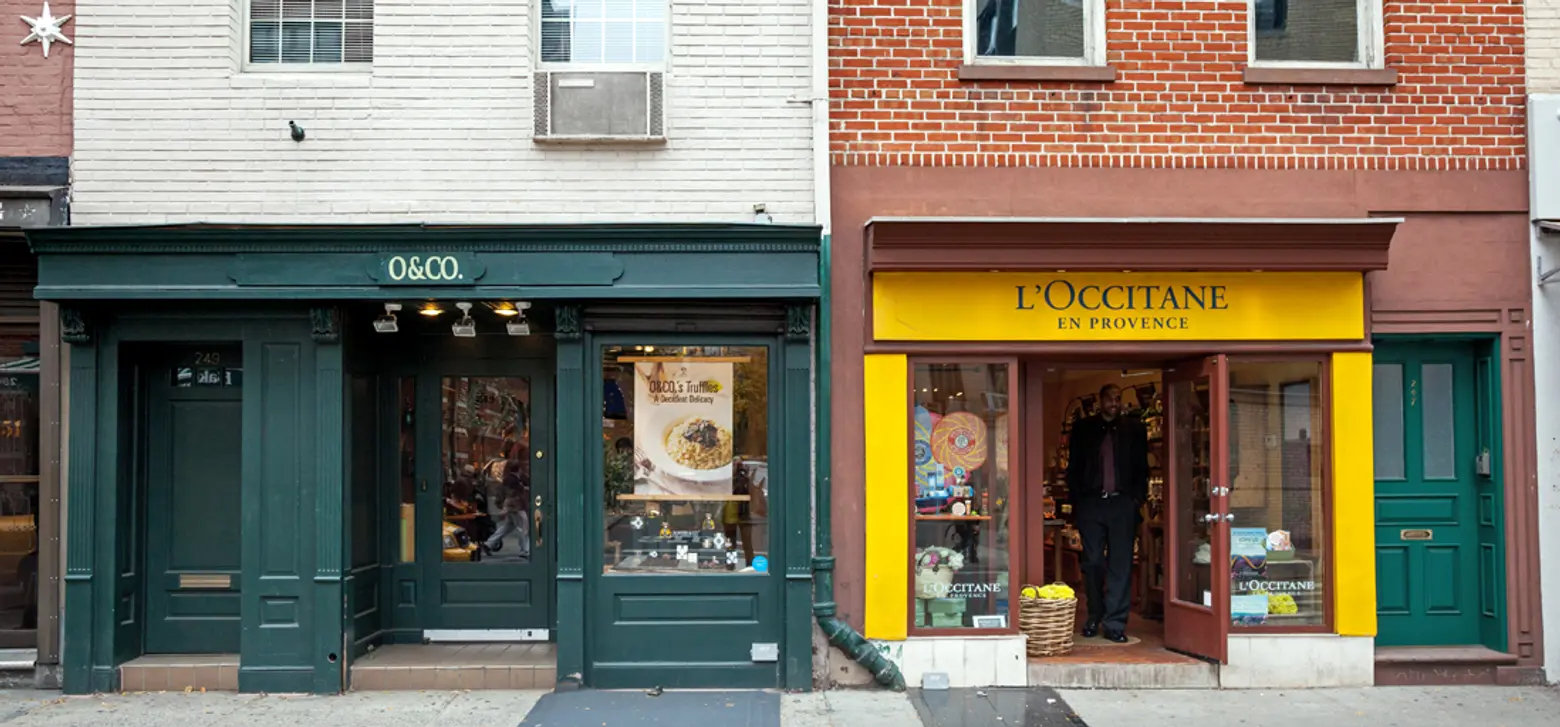 The record shop TRITON MUSIC (shown above right) was forced to close and the chain store, L'Occitane en Provence, a boutique which sells French natural beauty products and cosmetics, took over the space. VILLAGE ART GALLERY was replaced by yet another chain store, O & Co., which sells gourmand olive and garlic oils, and vinegars.
↓↓↓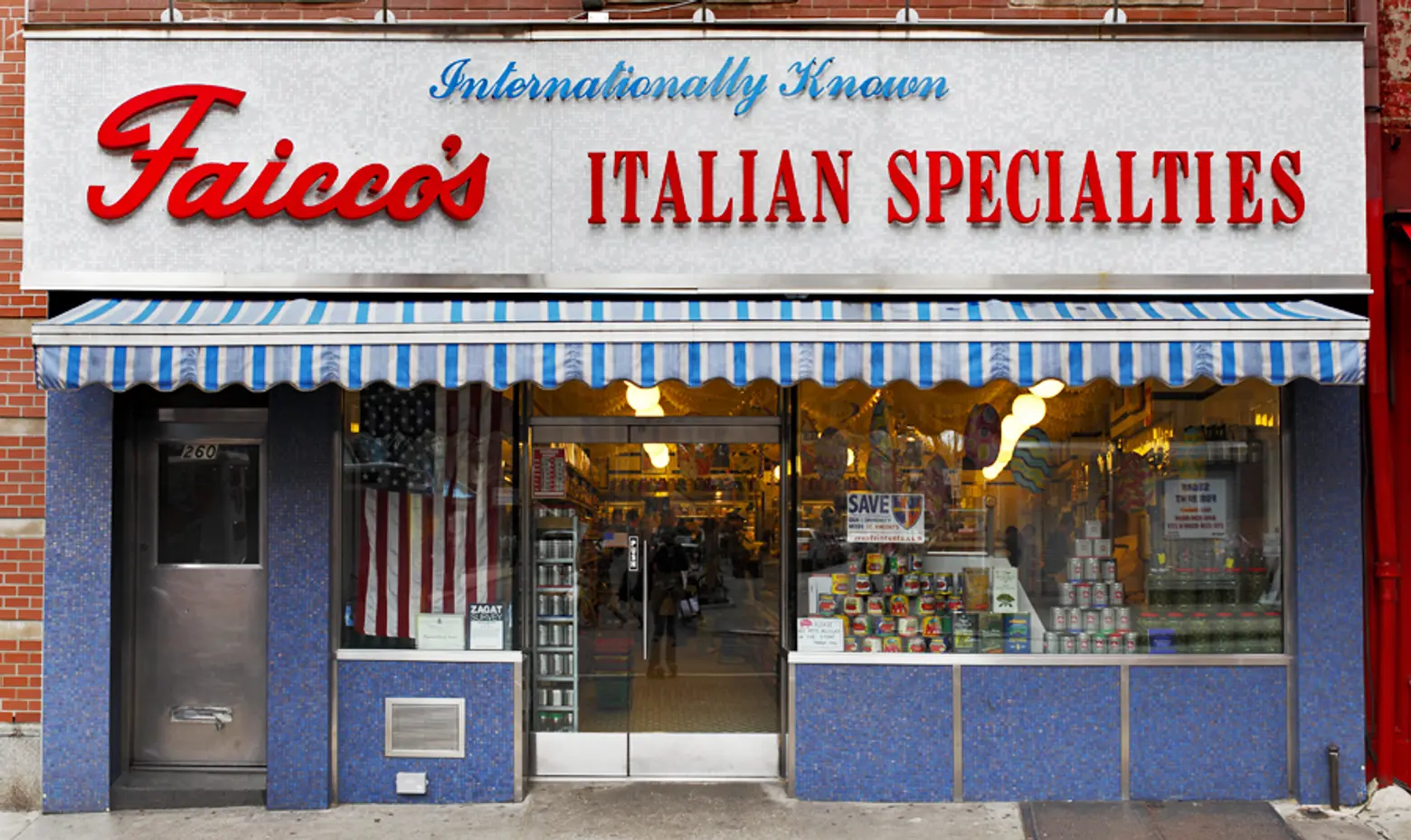 Across the street is FAICCO'S ITALIAN SPECIALTIES, established in 1900 by Eduardo Faicco. Here you can find gigantic homemade mozzarella and roasted pepper heroes to share on the bench out front. They also have prosciutto, soppressata and a wide array of Italian specialties. The shop is now being run by fourth-generation members of the Faicco family. Luckily they own their Bleecker Street building. Louis Faicco, fourth-generation co-owner told us:
"The story of how our family opened our first pork store is that one day in 1900, my great grandfather went to a sausage shop on the Lower East Side and bought some Italian sausage. When he got home, he found a splinter in one of the links and went back to complain to the shop. He yelled at the owner and accused him of not knowing anything about how to make sausages and that he planned to open his own sausage shop and force him out of business. And that is exactly what he did! He opened up our first store on Elizabeth Street and specialized in making traditionally prepared pork sausages. In the 1920s he moved the store to Thompson Street where it existed until 1951 when it was finally moved to Bleecker Street. Both our Greenwich Village and Bensonhurst locations make their own fresh sausages daily and all the dry sausages and salamis are made in Brooklyn." 
↓↓↓


Murray's Cheese, which is now located next door to Faicco's, was once across the street in the small space on the northeast corner of Bleecker and Cornelia Streets.
MURRAY'S CHEESE SHOP was founded in 1940 by Murray Greenberg and primarily sold milk, eggs, and butter. Murray's later added pasta, olive oil, Parmesan cheese, and provolone cheese to serve its many Italian neighborhood customers.
In 1990, Robert Kaufelt bought the store, moved around the corner where he expanded its cheese offerings and continued to run the business until 2004 when he moved to an even larger location directly across the street. Mr. Kaufelt even constructed masonry caves in the basement of the store in which to store and age cheese. These unique caves could once be viewed from outside through a glass panel in the sidewalk and are the only ones in the country precisely modeled after ancient cheese caves in France. The store also supplies cheese to many of the leading restaurants in the city.
Murray's Cheese carries more than 250 different kinds of cheese from countries all over the world and sells between 10,000 to 12,000 pounds of cheese per week. Today, the old location of Murray's houses Sugar & Plumm, which describes itself as a "purveyor of Yumm" selling "macarons, chocolates, ice cream and "a corn dog trio with maple mustard."
↓↓↓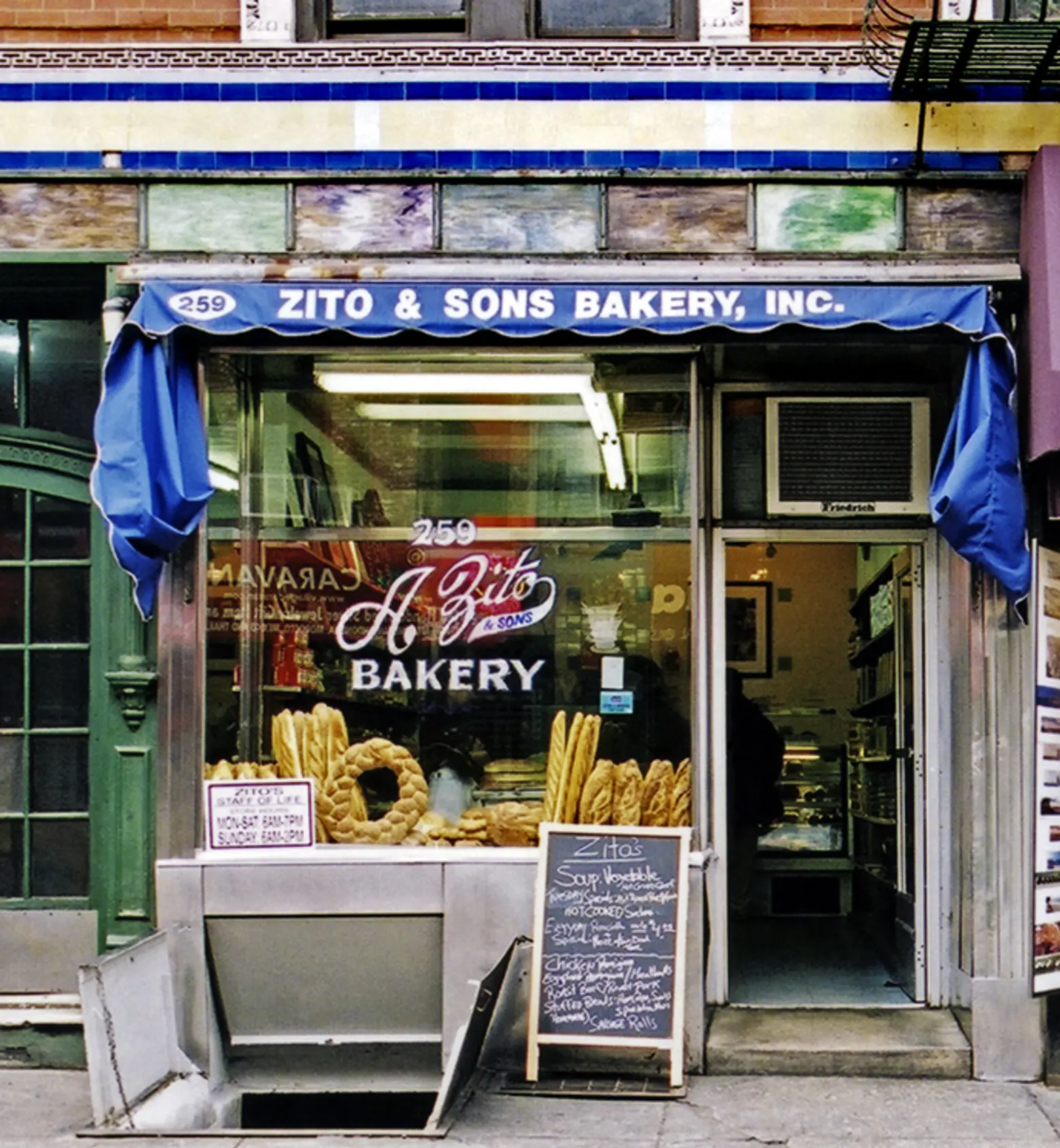 ZITO & SONS BAKERY was open for 80 years and was the longest continuously occupied store on Bleecker Street until its closure in 2004. Antonino Zito, who emigrated from Sicily with his wife, opened their first bakery on West Broadway in 1919 and then moved to Bleecker Street in 1924. The family lived in an apartment behind the bakery and raised three sons, who took over the business when Antonino died in 1963. At the time of its closure, Antonino's son Julio and grandson, Anthony managed the bakery.
The closing was prompted by a combination of rising costs including energy and supplies. The price of coal for their coal-fired ovens doubled, flour prices rose, and gasoline and insurance costs for their delivery trucks increased. The popular low carbohydrate diet also hurt their retail and wholesale business. With no preservatives, their bread didn't keep longer than a day or two but their savory lard bread, a bagel-shaped loaf studded with bits of prosciutto and sausage, was exceptionally tasty despite its unappetizing name. The picturesque Zito's Bakery, after being empty for many years, is now a "mobile phone spa" "where phones get pampered."
↓↓↓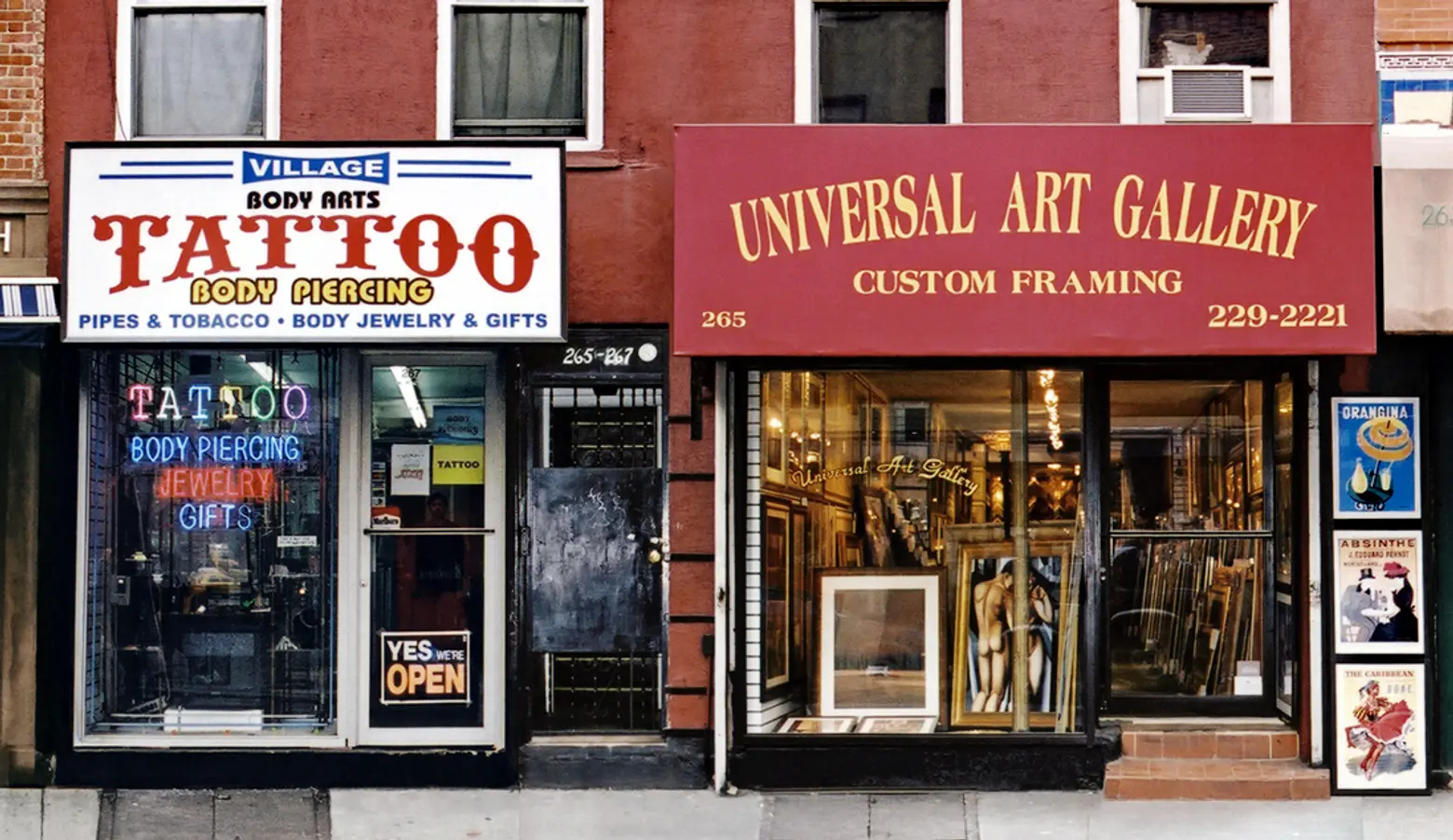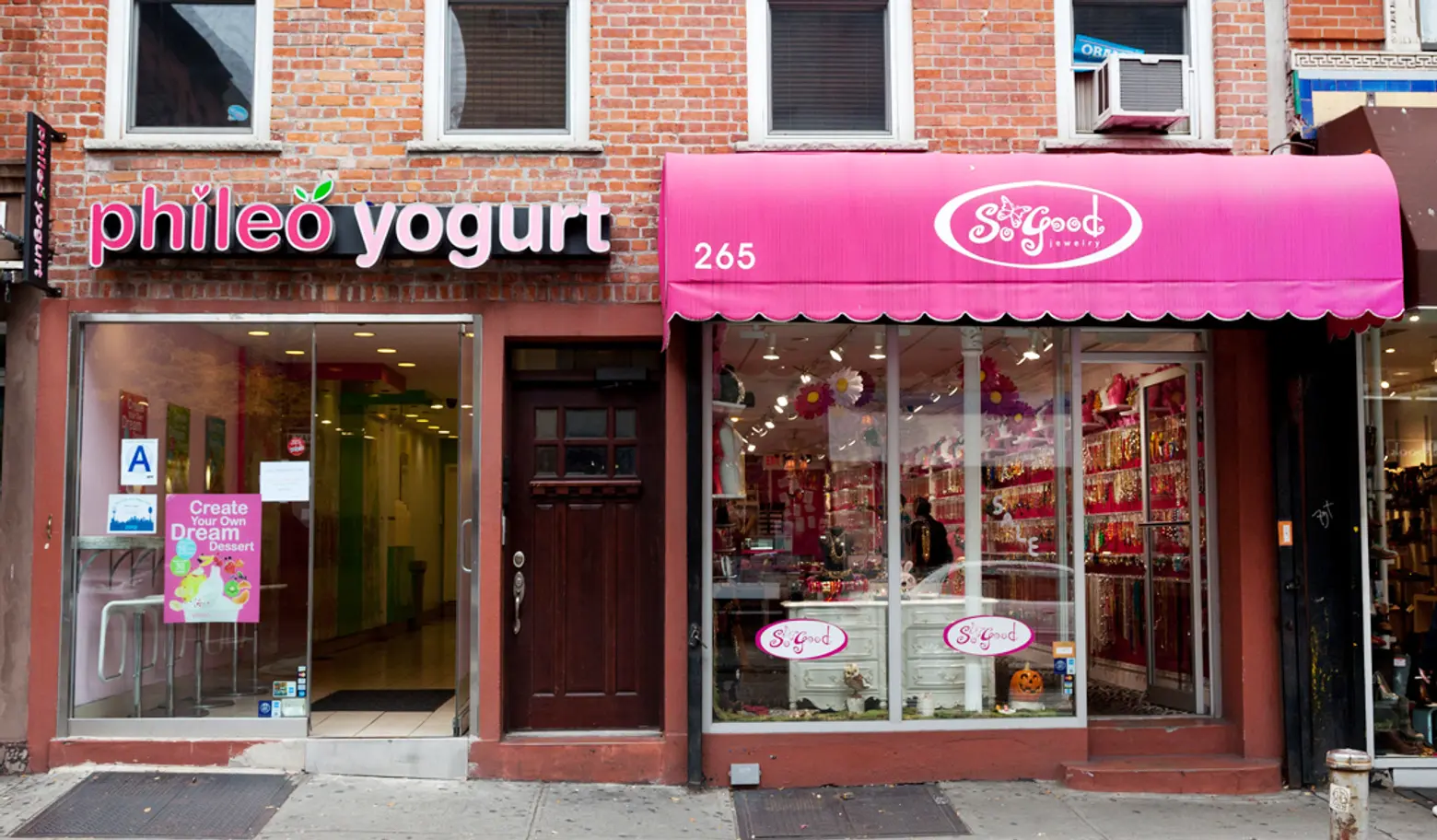 VILLAGE BODY ARTS TATTOO and UNIVERSAL ARTS GALLERY were replaced by a another frozen yogurt shop (since out of business) and the chain jewelry store "So Good."
↓↓↓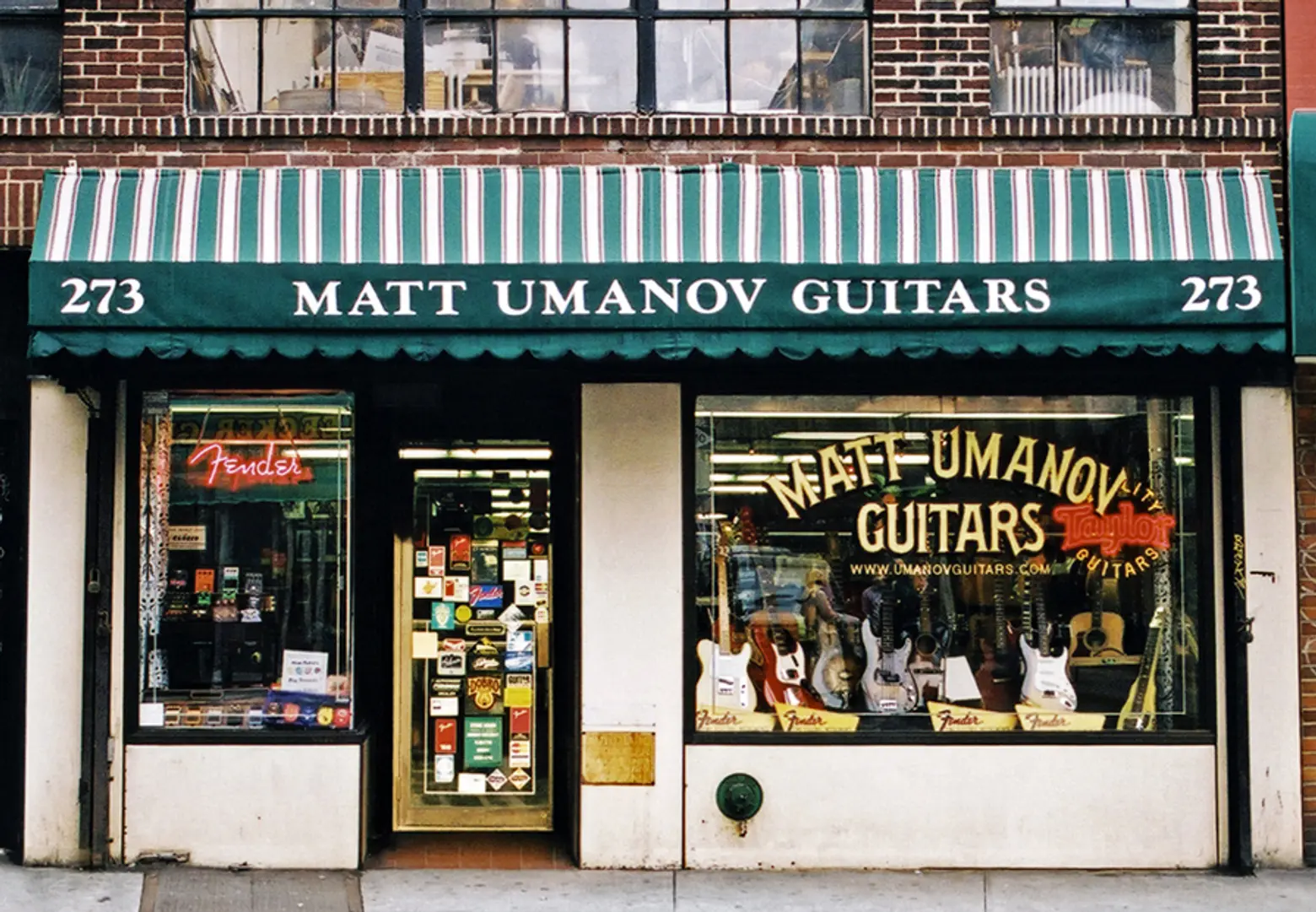 Continuing westward we approach the venerable Matt Umanov Guitars, happily still going strong on Bleecker Street.
MATT UMANOV GUITARS by Jones Street has been in business since 1965. The store sells only guitars, new, used, and vintage as well as parts and accessories. They also specialize in guitar repairs. They have had many famous customers over the years, including Patti Smith, who calls Matt Umanov's Guitars her second home in New York.
In 2006, Matt Umanov sold a vintage Stratocaster that once belonged to Bob Dylan, who was a frequent customer, for $75,000. We admire Matt's wonderfully curated window display and also are a fan of the gold-leaf lettering found on the front window.
↓↓↓

CUCINA STAGIONALE ITALIAN RESTAURANT was unpretentious and welcoming with blurry frescoes of Venice lining its walls. It served classic Italian-American comfort food and live music was also performed nightly. It was replaced by a nail salon and is now the location of the Canadian chain "David's Tea" where you can "satisfy your sweet tooth with three new desert teas." Across the street is the classic John's of Bleecker Street. We have a soft spot for John's which still has its original wood booths carved with customers names, a tin ceiling, and framed photos of many of its famous customers.
↓↓↓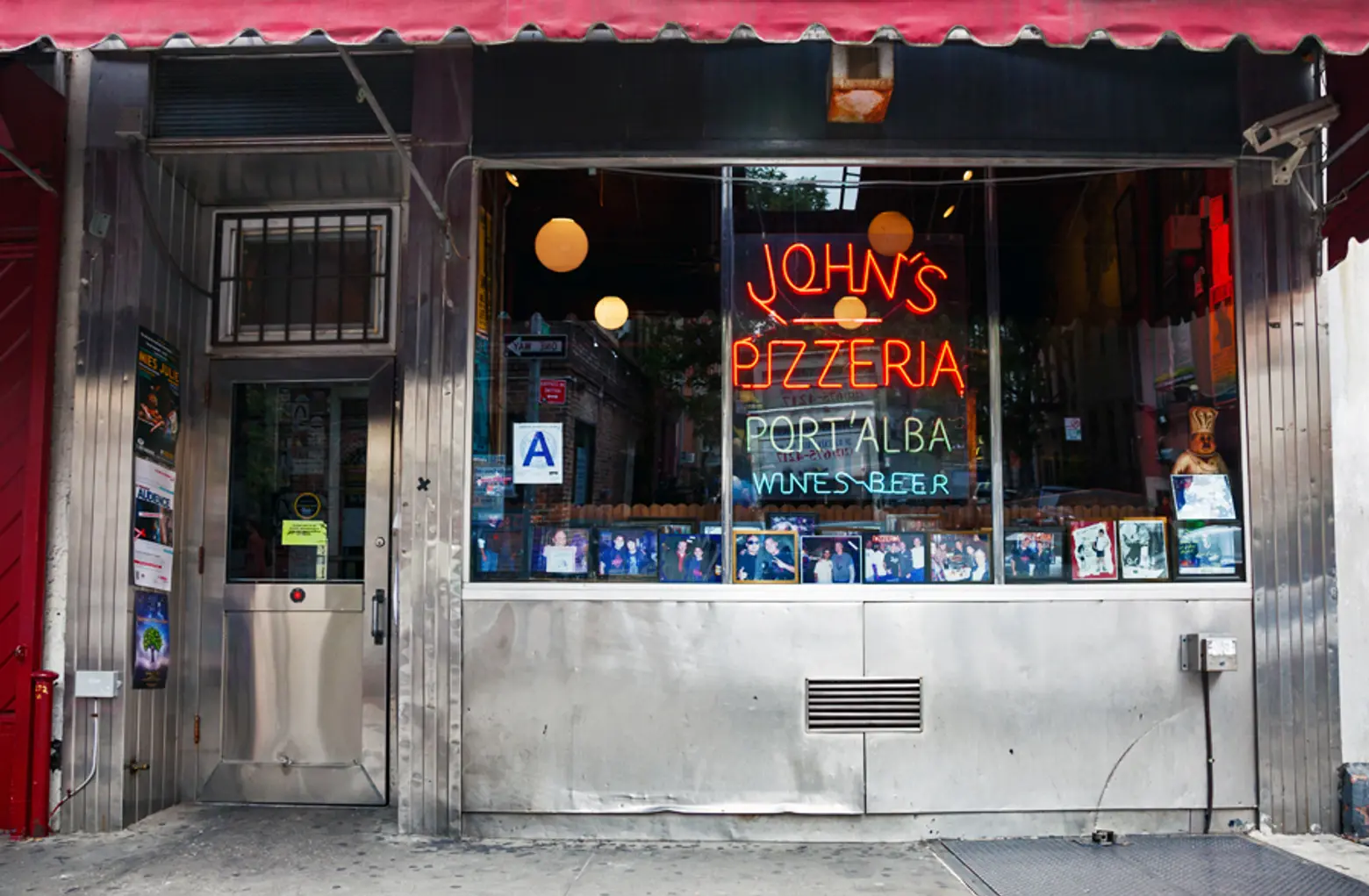 JOHN'S of BLEECKER STREET was founded in 1929 by John Sasso. This Italian pizzeria is known for its coal-fired brick-oven crispy pizza. John Sasso retired in 1954 but the pizzeria is still family run and operated and continues to make hundreds of coal-fired pizzas every day. No slices are sold, only whole pies and no reservations are taken. On Fridays and nights the lines can stretch down the block. Be warned, the pizzeria takes cash only! We take one more detour off Bleecker down the tiny Jones Street to visit Florence Prime Meat Market.
↓↓↓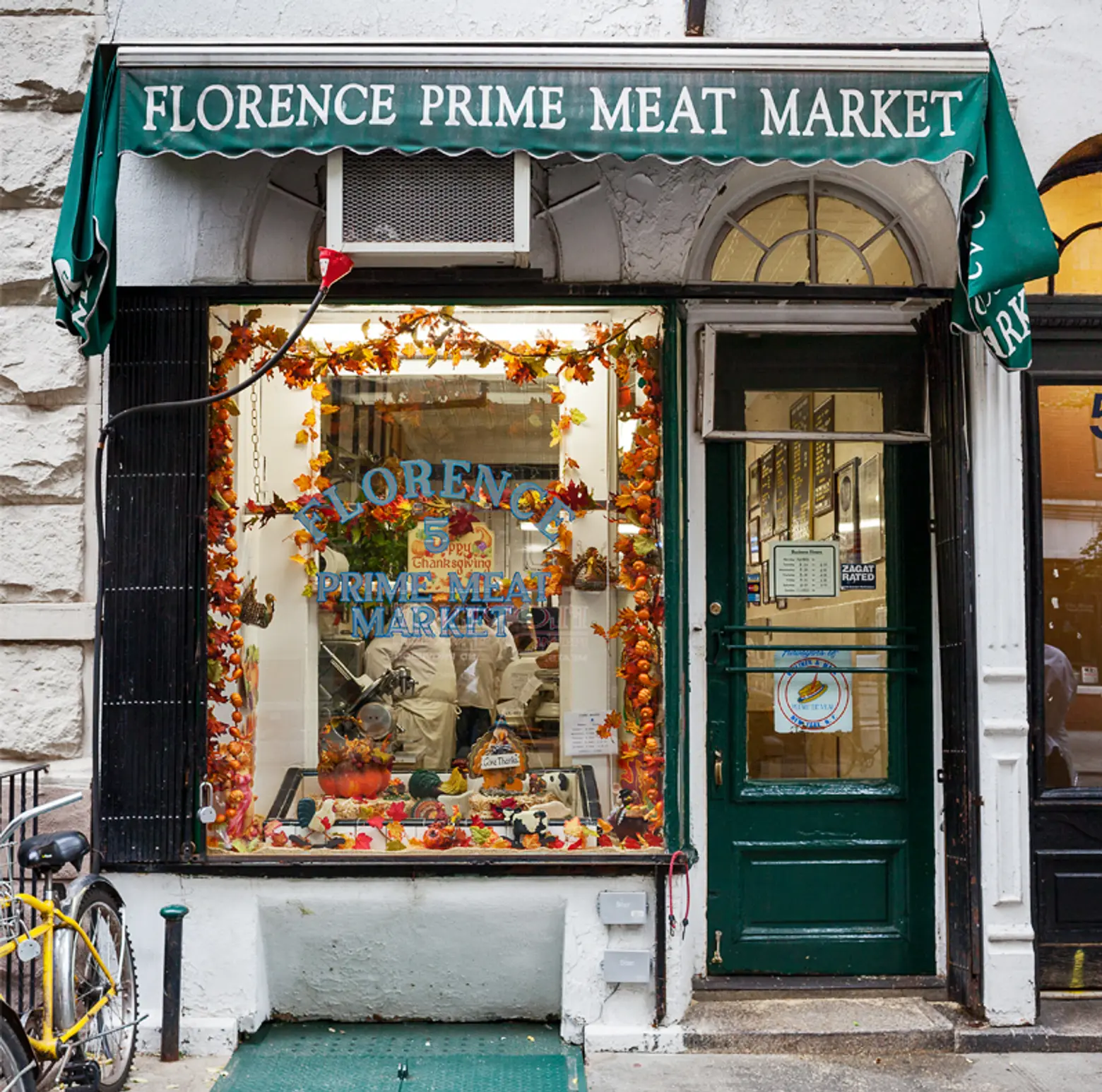 FLORENCE PRIME MEAT MARKET on Jones Street between Bleecker and West 4th Streets was founded in 1939 by Jack Ubaldi. Jack came to the United States as a young boy from Bevagna, Italy, after learning the butcher trade from his father. The manager, Maria Alva, told us:
"Our best-selling item is the Newport Steak, which is a cut invented by Jack Ubaldi. It's a very reasonably priced cut of richly flavored aged sirloin, which comes from the bottom butt area of the cow. Jack named the cut, which is shaped a bit like a crescent moon when the two tips are folded towards one another, after the packaging on the popular Newport cigarette box, which featured a half-moon logo. We have had many famous customers over the years including Jackie Kennedy, who would always order Newport Steaks. The Archdiocese of New York is also a long-time customer".
Don't be surprised when you go into the shop if you don't see a lot of meat on display in the showcases. They hand-cut everything to order and keep most of their inventory in a meat locker in the back room.
↓↓↓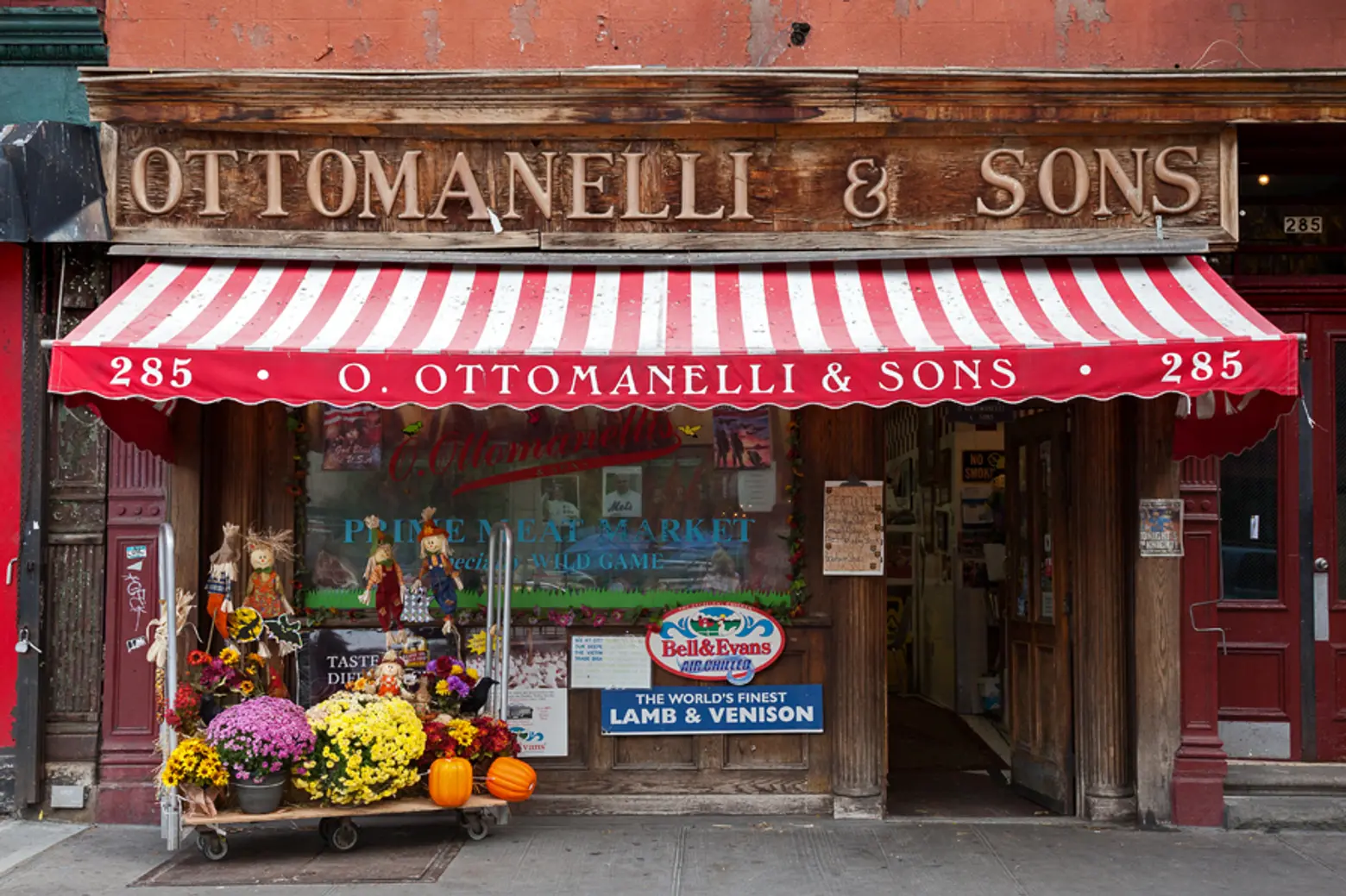 The last stop of our tour is O. OTTOMANELLI & SONS PRIME MEAT MARKET to check in on the brothers running the butcher shop. Ottomanelli & Sons was founded in 1935 by Ononfrio Ottomanelli, an immigrant from Bari, Italy.  It is now run by his four sons, Jerry, Frank, Peter, and Joe.  This old-fashioned Italian butcher shop store specializes in prime meats, wild game, and fancy birds. Peter told us:
"My brothers and I all started working for my father when we were young boys.  My brother Frank was cutting meat in the store by the time he was 14 years old.  But my father wouldn't ever let any of us use the machines to cut the meat.  He wanted us to cut everything by hand.  Because that's how you learn…it's the only way you can really feel the meat! But the secret to the longevity of our business is that we do most of the buying of the meat ourselves and we break it down and age it here in house in our meat lockers downstairs.  When you buy meat from here, you are not just buying a piece of meat…it's been hand-selected by us and aged properly to bring out the best flavor.  We also help our customers by giving them recipes and tips in preparing the meat they purchase."
↓↓↓
Despite Bleecker Street's monumental changes in the last decade and a half, a sense of community and tradition can thankfully still be found. Chain stores continue to expand their presence when older, independent specialty stores are unable to survive the astronomical rent increases. Unfortunately, mom-and-pops who don't own their buildings seem to be always at risk.
However, the bygone days of Bleecker Street still manage to seep out of the buildings and sidewalks. We found artisan vendors lining up along the eastern wall of the Church of Pompei on Bleecker Street, adding an artistic vibe; Bob Dylan still stands with Suze Rotolo down tiny Jones Street on the LP cover of The Freewheelin' Bob Dylan inside the House of Oldies. Although with each year bohemian and immigrant memories fade further into the distance, thankfully they are still visible and tangible if you look for them.
The authenticity of Bleecker's streetscape is definitely in a fight for survival. But despite the influx of chains and "high-end" shops, it hasn't thrown in the towel just yet.
And as we sit on a bench with black coffees from Porto Rico Importers and fresh mozzarella and roasted pepper heroes from Faicco's, it honestly would be hard to disagree.
+++

James and Karla Murray are New York-based professional photographers and authors. Their critically acclaimed books, which include "Store Front: The Disappearing Face of New York," "New York Nights," "Store Front II- A History Preserved" and "Broken Windows-Graffiti NYC," have garnered them numerous awards and accolades, including the prestigious New York Society Library's 2012 New York City Book Award. Bookforum's 20th Anniversary issue Dec/Jan 2015 also named it as one of the "Exemplary Art Books From The Past Two Decades" and heralded it as "One of the period's most successful New York books."
James and Karla Murray's work has been exhibited widely in major institutions and galleries, and their photographs are included in the permanent collections of major institutions, including the Smithsonian Center for Folklife and Cultural Heritage, the New York Public Library, and NYU Langone Medical Center. In 2015, the pair were awarded the 2015 Regina Kellerman Award by the Greenwich Village Society for Historic Preservation (GVSHP) in recognition of their significant contribution to the quality of life in Greenwich Village, the East Village, and NoHo.
James and Karla live in the East Village of Manhattan with their dog Hudson. 
+ Official Site
+ James & Karla's blog 
+ Instagram
+ Facebook
+ Twitter
RELATED STORIES: