NYC dedicates 220-year-old tombstone of Irish immigrant in Washington Square Park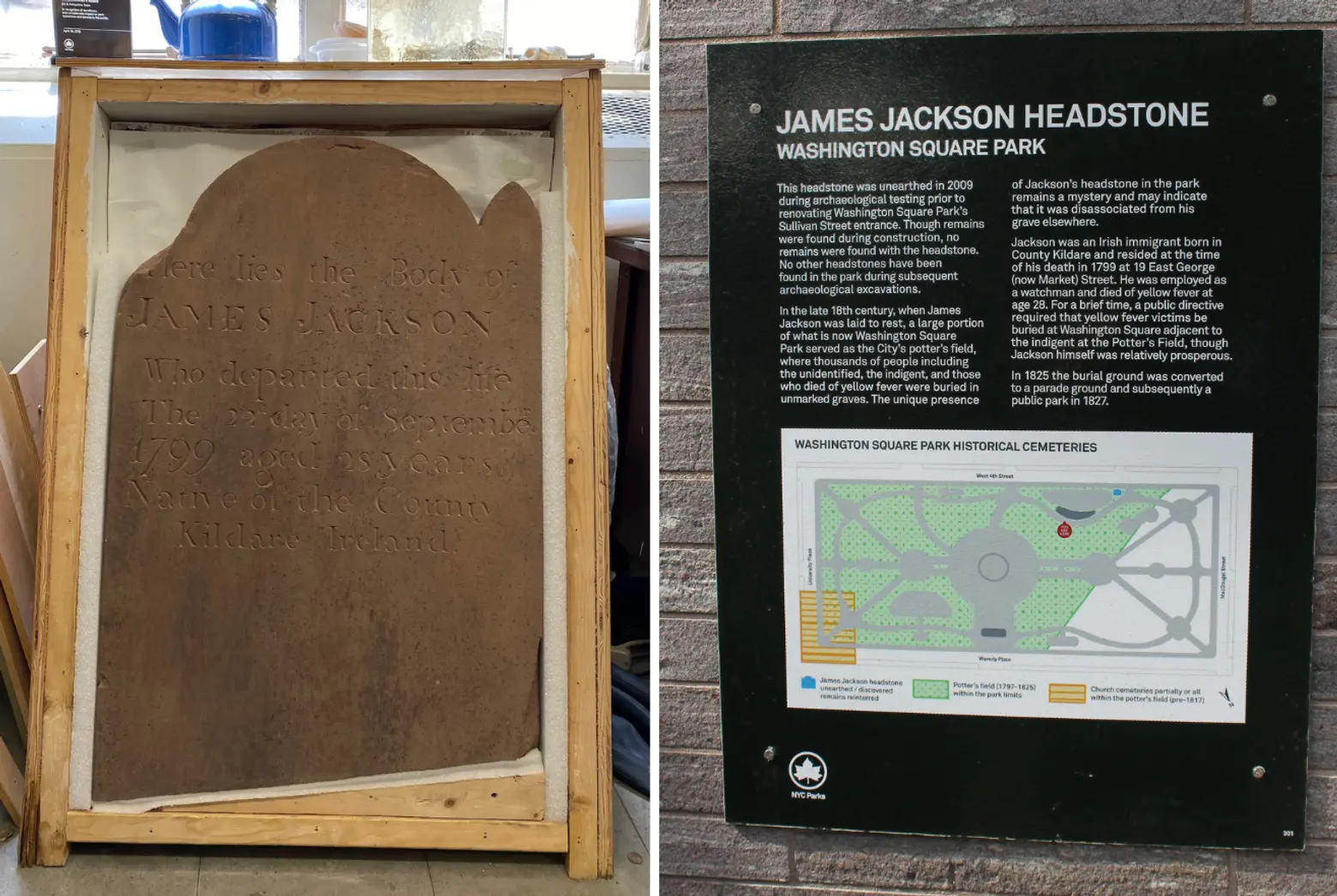 Photos courtesy of NYC Parks
A 220-year-old tombstone uncovered in Washington Square Park over a decade ago will now be honored and put on display. The New York City Parks Department on Friday dedicated the headstone of James Jackson, an Irish immigrant who died in 1799 and was buried in Washington Square Park, a potter's field from 1797 to 1825. The headstone was discovered during a renovation project at the park's Sullivan Street entrance in 2009. The relic is now being presented in one of the windows of the Park House close to where it was discovered, accompanied by an informative sign where visitors can learn more.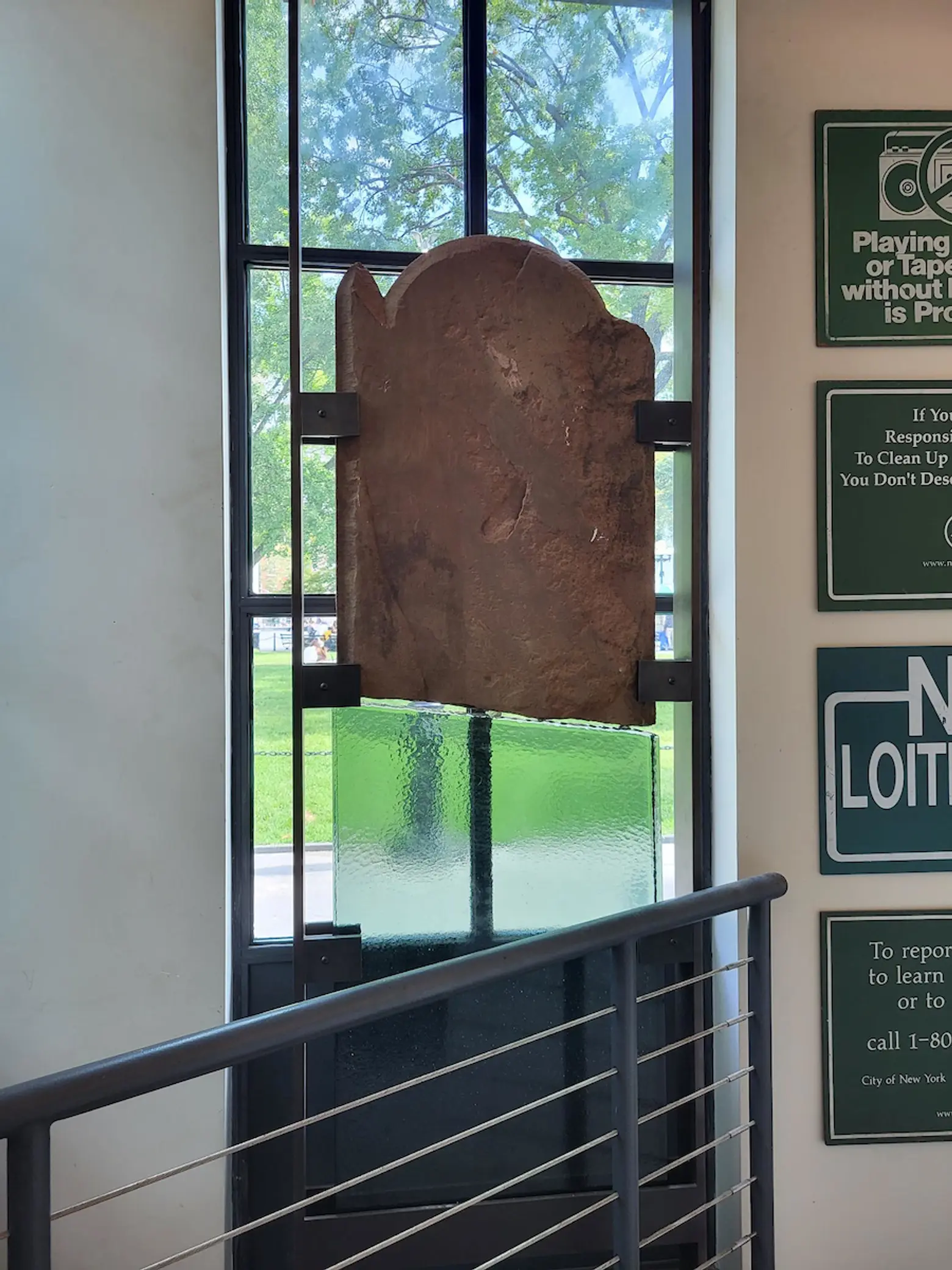 The headstone reads, "Here lies the body of James Jackson, who departed this life the 22nd day of September 1799, aged 28 years, native of the county of Kildare, Ireland." Historical research has determined that Jackson was living at 19 East George (present-day Market Street), at the time of his passing.
"This exhibit gives New Yorkers an opportunity to learn and share the rich history of our greenspaces," Anthony Perez, NYC Parks Manhattan Borough Commissioner, said.
"Washington Square Park has served untold numbers of New Yorkers over the generations, and we are grateful that we are able to amplify the importance of remembering and respecting the history of the space."
While it is impossible to know exactly what took the life of Jackson, Jonathan Kuhn, the Parks Department's historian, told the New York Times that he may have died of yellow fever, which historically plagued the city from the 1790s to the 1820s. At the time, all victims of yellow fever were to be buried in Washington Square. Roughly 22,000 people were buried at the site during a 30-year period before it became a public park in 1827.
Further research into city directories, tax records, and court files showed that he left $262, or approximately $2,500 in today's money when he passed away. Records show that Jackson's occupation was being a watchman, which was a security officer before the establishment of the police department, according to the Times.
A court record detailed Jackson's application for citizenship, revealing that he may have been in other lines of work as well: "Be it remembered that James Jackson, merchant, appeared in court and applied to be a citizen of the United States."
"History often obscures the quiet actions that derive from friendship, kinship, and empathy. Whoever arranged and paid for James Jackson's headstone was cognizant of the ways in which the phrase 'native of the county of Kildare Ireland' would distinguish him from New Yorkers generally, and among his fellow Irishmen in particular," Marion R. Casey, Clinical Professor of Irish Studies at New York University, said.
"He was a young man from a part of Ireland convulsed by rebellion in 1798 who died in a city ravaged by a deadly epidemic in 1799. Now, this 18th-century stone is a 21st-century palimpsest and Jackson can represent all the people for whom our remarkable city is home."
In 2015, workers discovered two 19th-century burial vaults while upgrading water mains beneath the park. Experts on the matter believed that the remains were connected to one of two churches that used to reside in the area but were demolished long ago. The parks department reburied the coffins found in the burial vaults in March 2021. The skeletal remains were placed in a wooden box and buried five feet below the ground within a planting bed, with an engraved plaque marking the site.
RELATED: