My 700sqft: Tour Two Photographers' Bed-Stuy Brownstone Home, Complete With Shower in Kitchen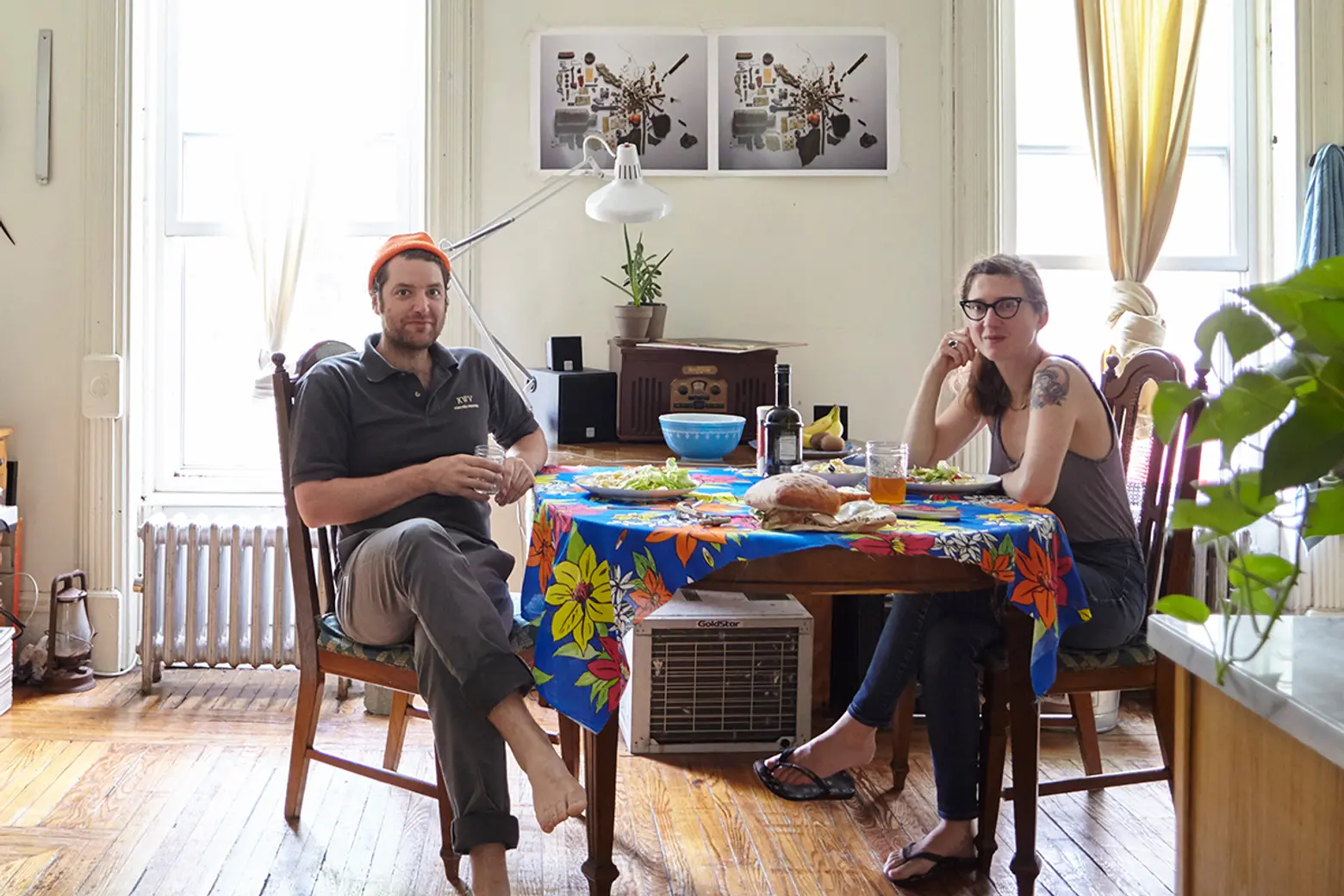 Our ongoing series "My sqft" checks out the homes of 6sqft's friends, family and fellow New Yorkers across all the boroughs. Our latest interior adventure brings us to two photographers' Bedford-Stuyvesant brownstone apartment. Want to see your home featured here? Get in touch!
As photographers, Michael DePasquale and Martina Maffini have traveled the world, shooting everything from India's middle class to the last remaining Jewish cowboys in Argentina to the polished interiors of artists and designers across Europe. While this pair's subjects are wide-ranging, their personal style is far more restrained. In their Bed-Stuy brownstone they let the building's historic details define their space, complementing these features with the artwork of friends and personal relics. Have a look inside their home ahead, and be sure to pay special attention to one defining attribute: the shower in the kitchen.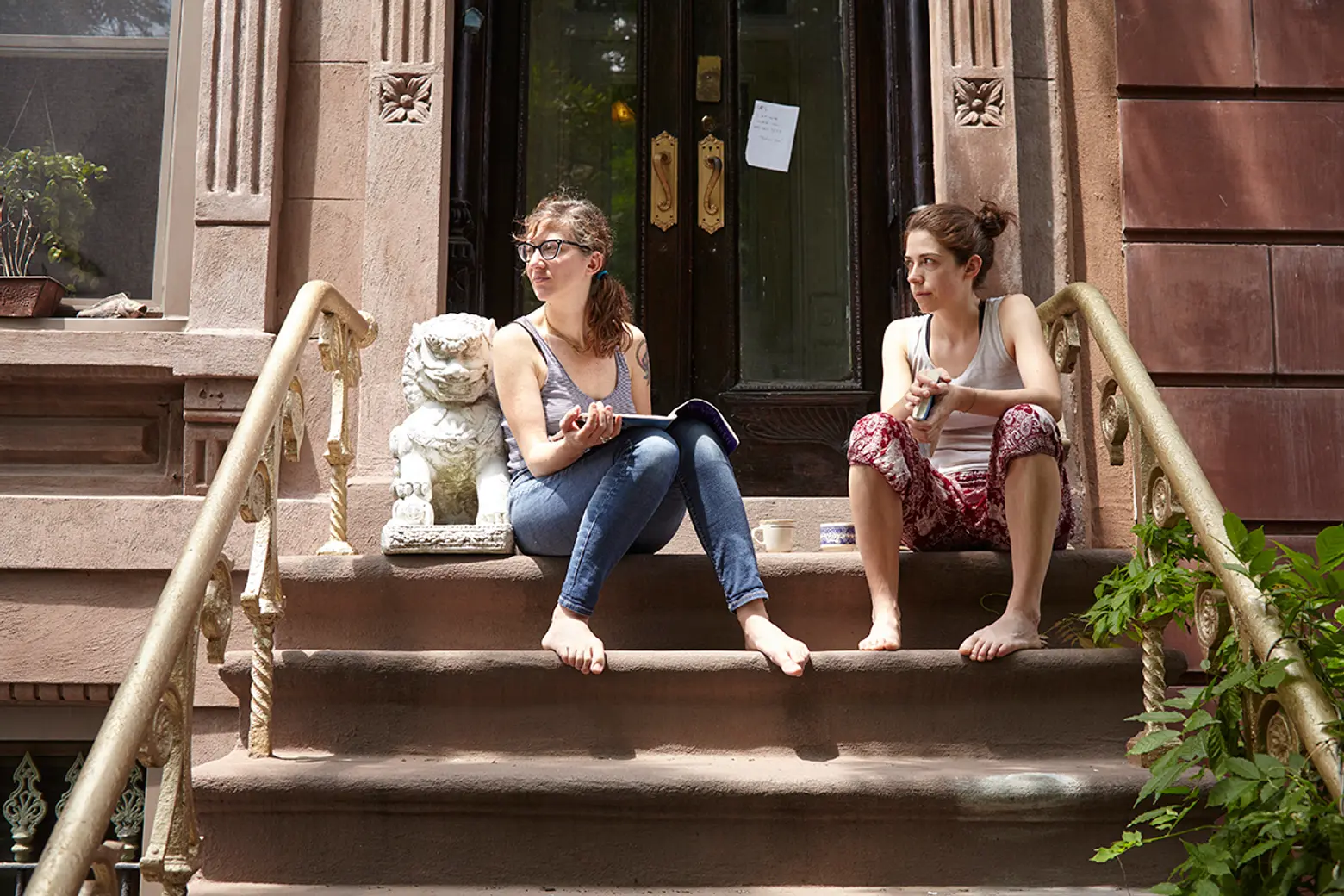 Martina on the stoop of the home with a friend (top); Mike's photograph from his series 'Mired in the Bayou' hangs above the keyboard (bottom)
How did you find this apartment and why did you pick Bed-Stuy?
Michael: I picked this apartment four years ago because a friend of mine lives upstairs. But I've been living in Bed-Stuy for more than 10 years now.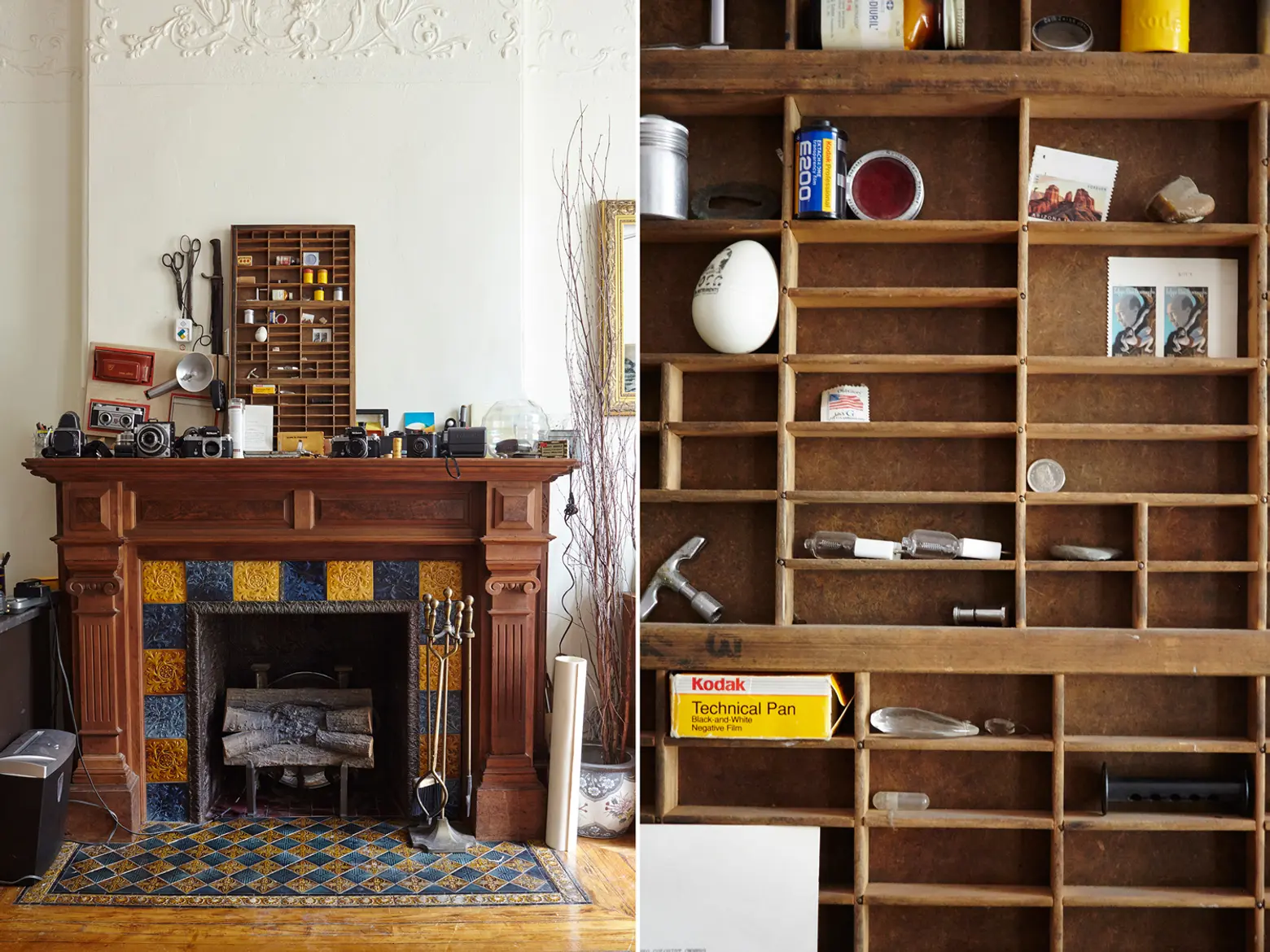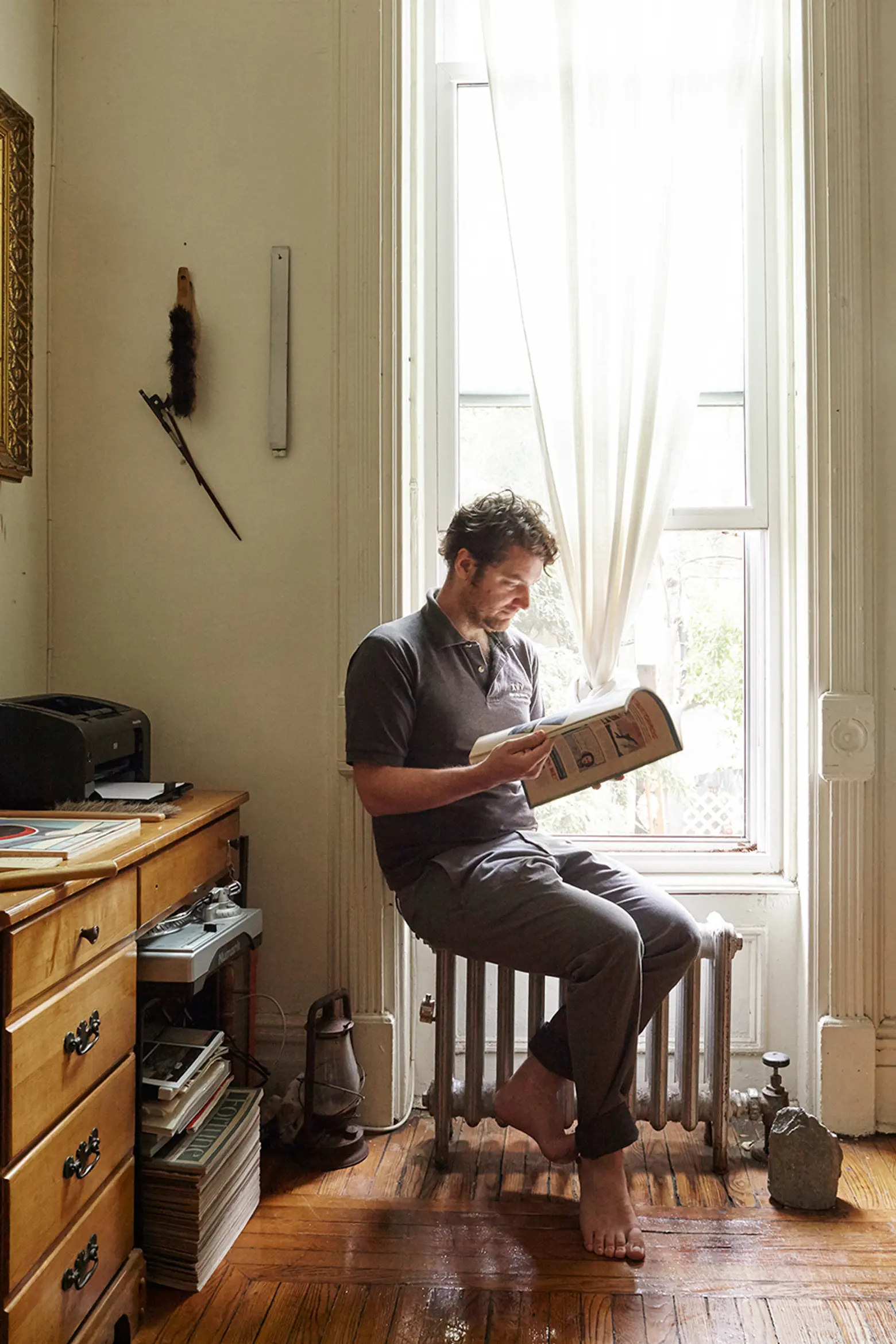 The couple's collection of vintage cameras sit above the fireplace, including Mike's father's (who is also a photographer) first camera (top); Mike in the window with one of his many vintage 'Fortune' magazines (bottom)
The neighborhood has changed dramatically since you moved in. What do you miss most and what changes do you like?
Michael: Rent just went totally bananas. Luckily our landlord isn't jumping on the unethical wagon, showing that you can also still find realistic situations. But the general mood here is to gouge. Of course it's not unpleasant to have more bars and restaurants around, but I wouldn't trade that for a real neighborhood that has history.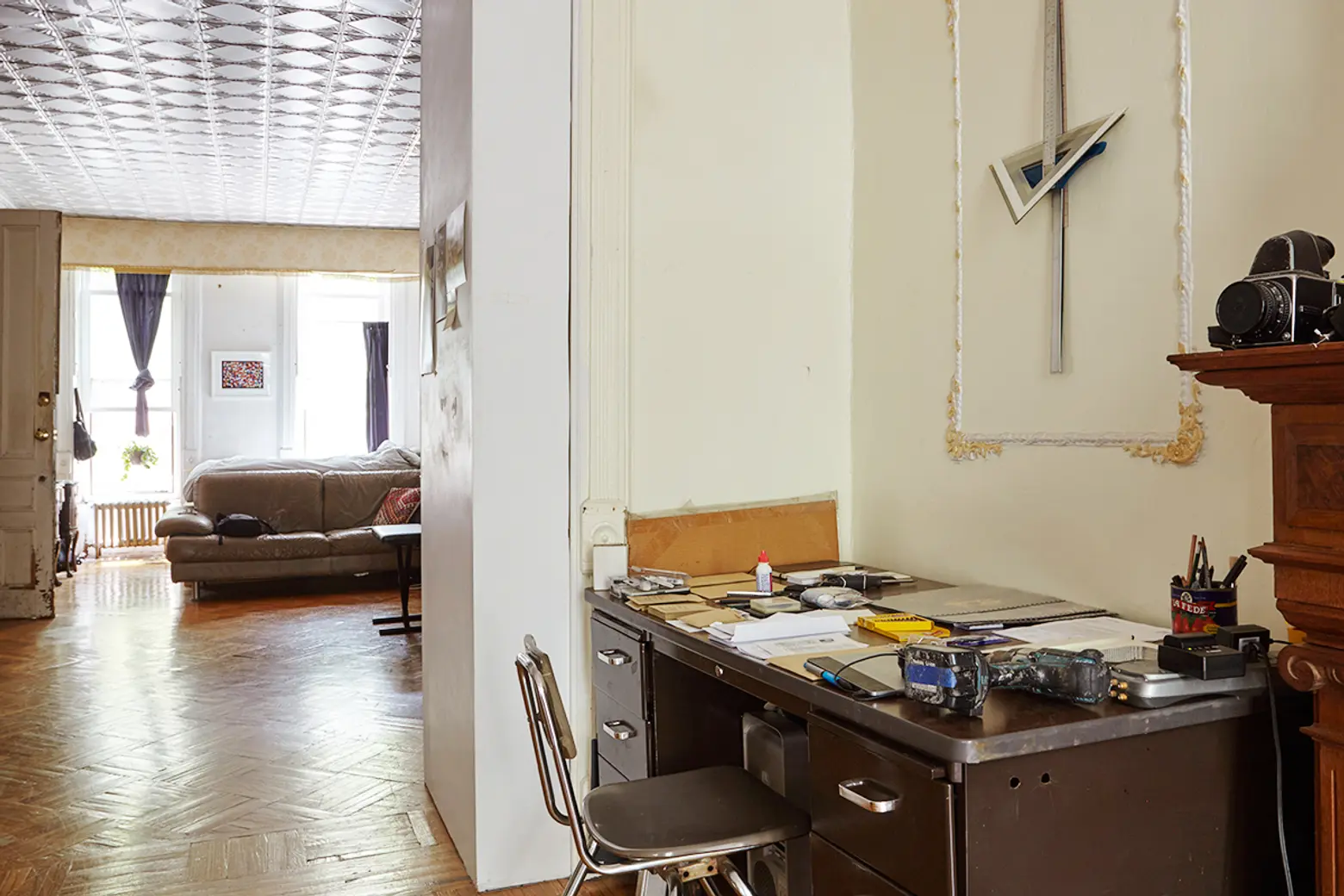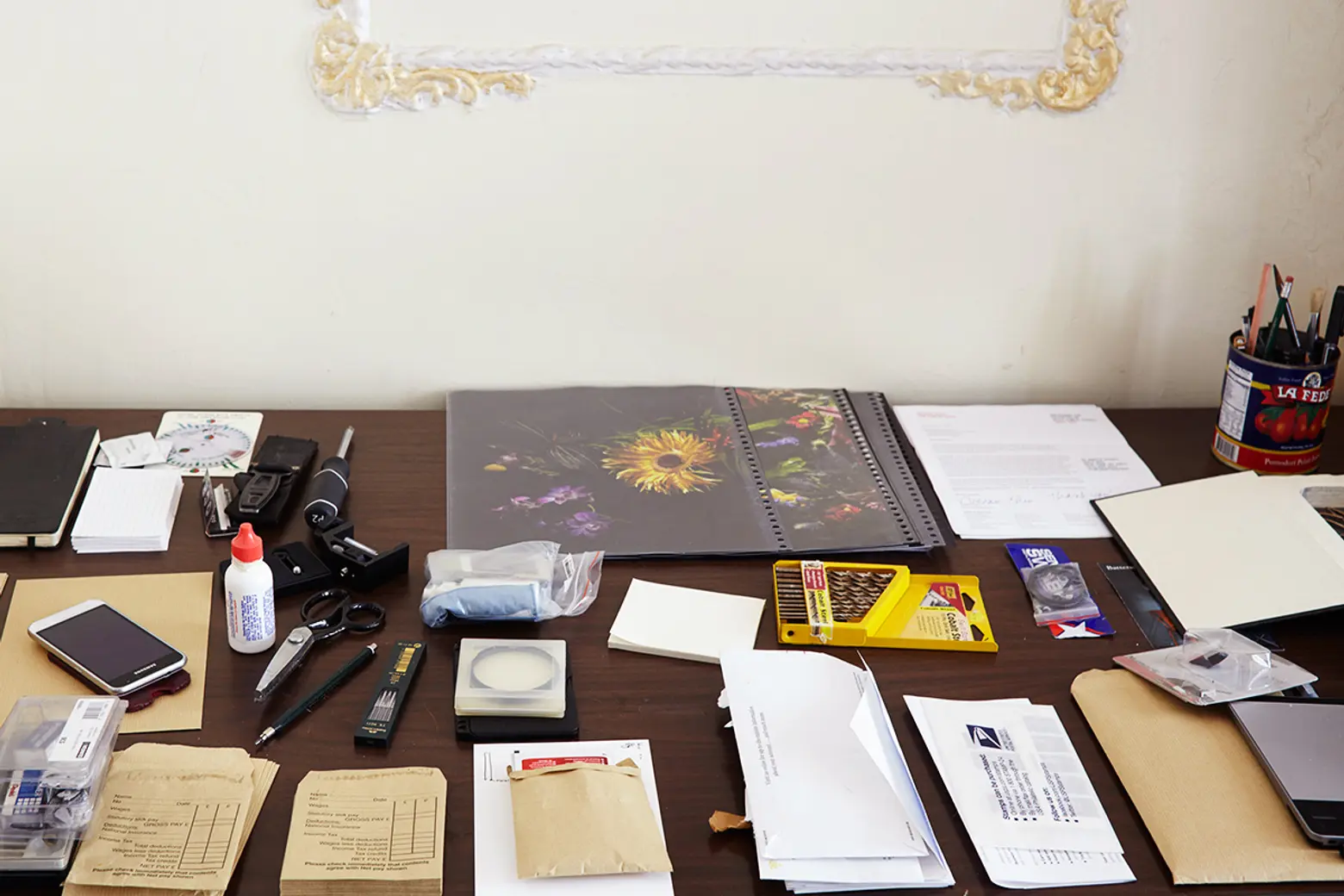 Mike's desk and chair are salvaged from a high school in Brooklyn; On the desktop is his diverse collection of envelopes and various tools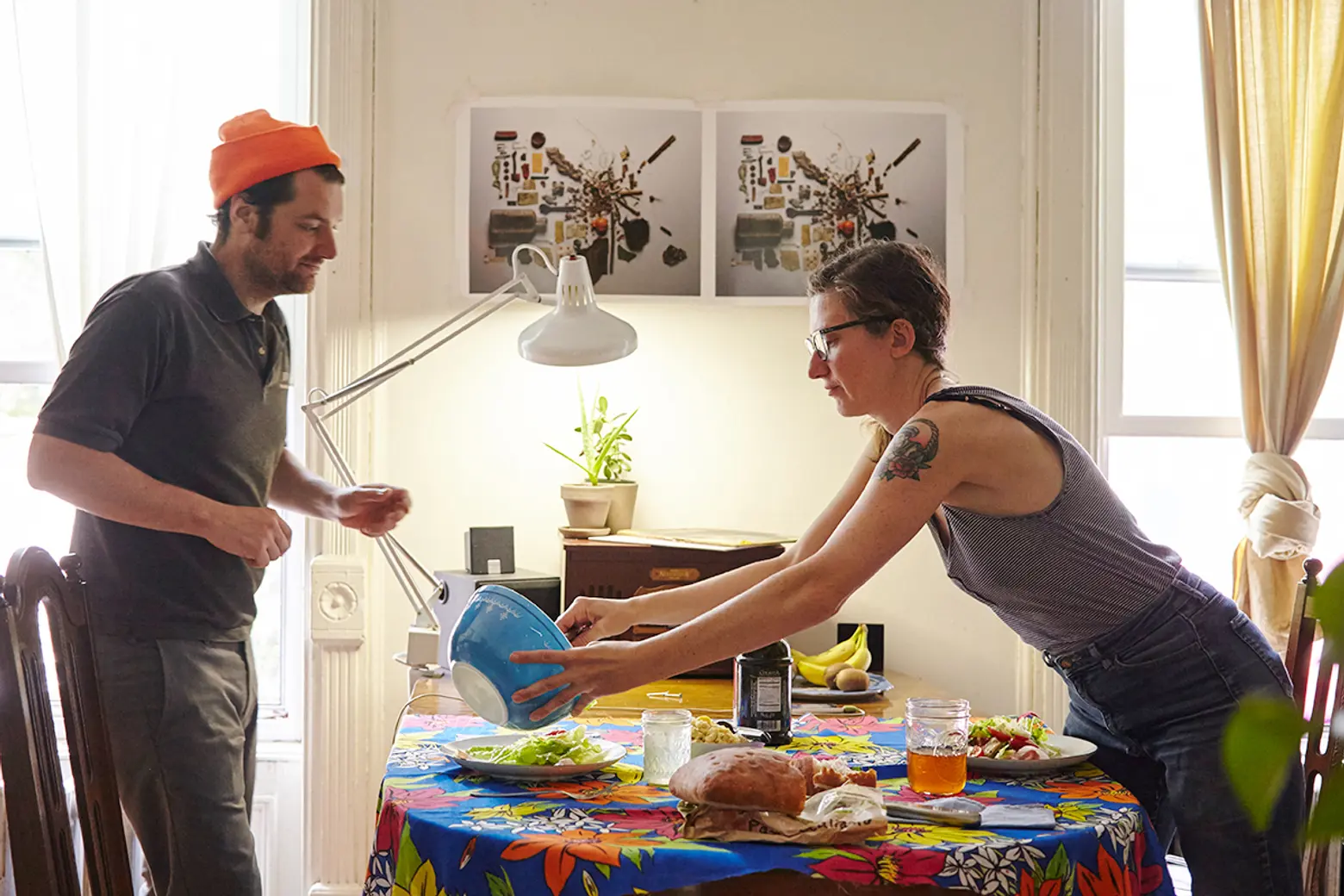 What are some of your favorite places?
Martina: We like a couple of new Mexican restaurants few blocks away and Lovers Rock which has a great backyard and no hype.
You're both photographers and you work together, meaning you spend almost 24/7 together. What's that dynamic like?
Martina: Love and hate. No, joking, we have very complementary relationship. Mike also has a studio in Williamsburg so we're not stuck in the house together all day.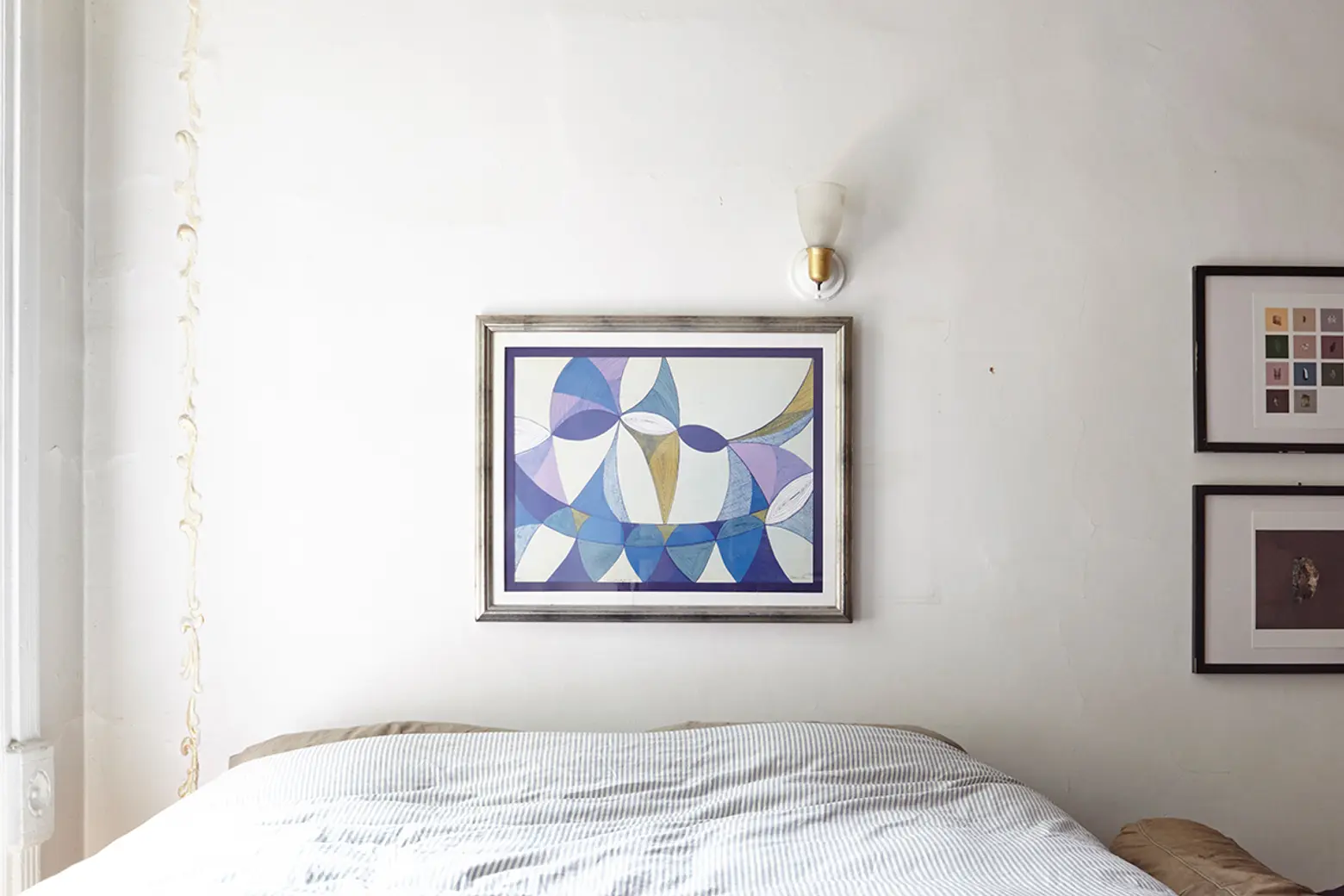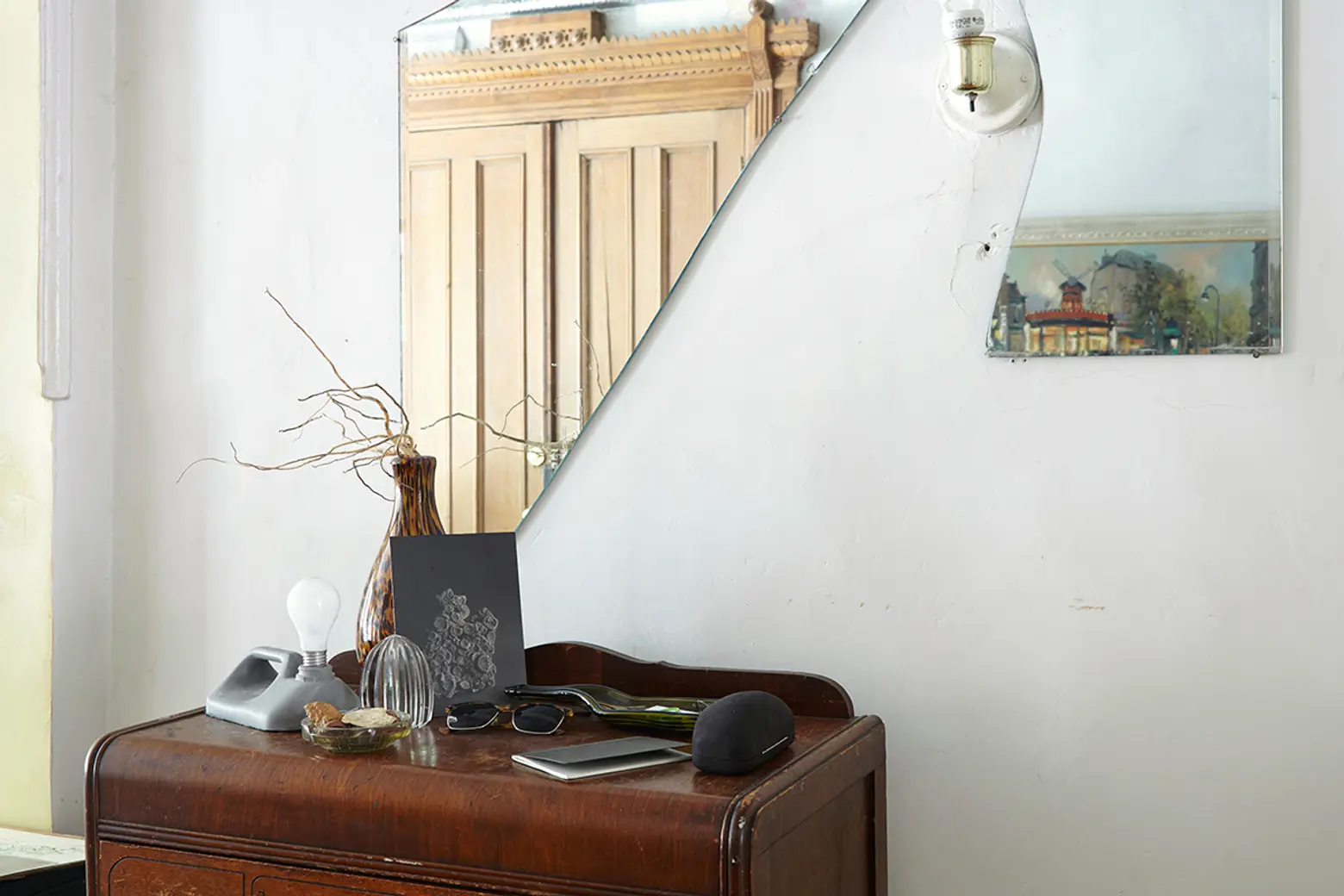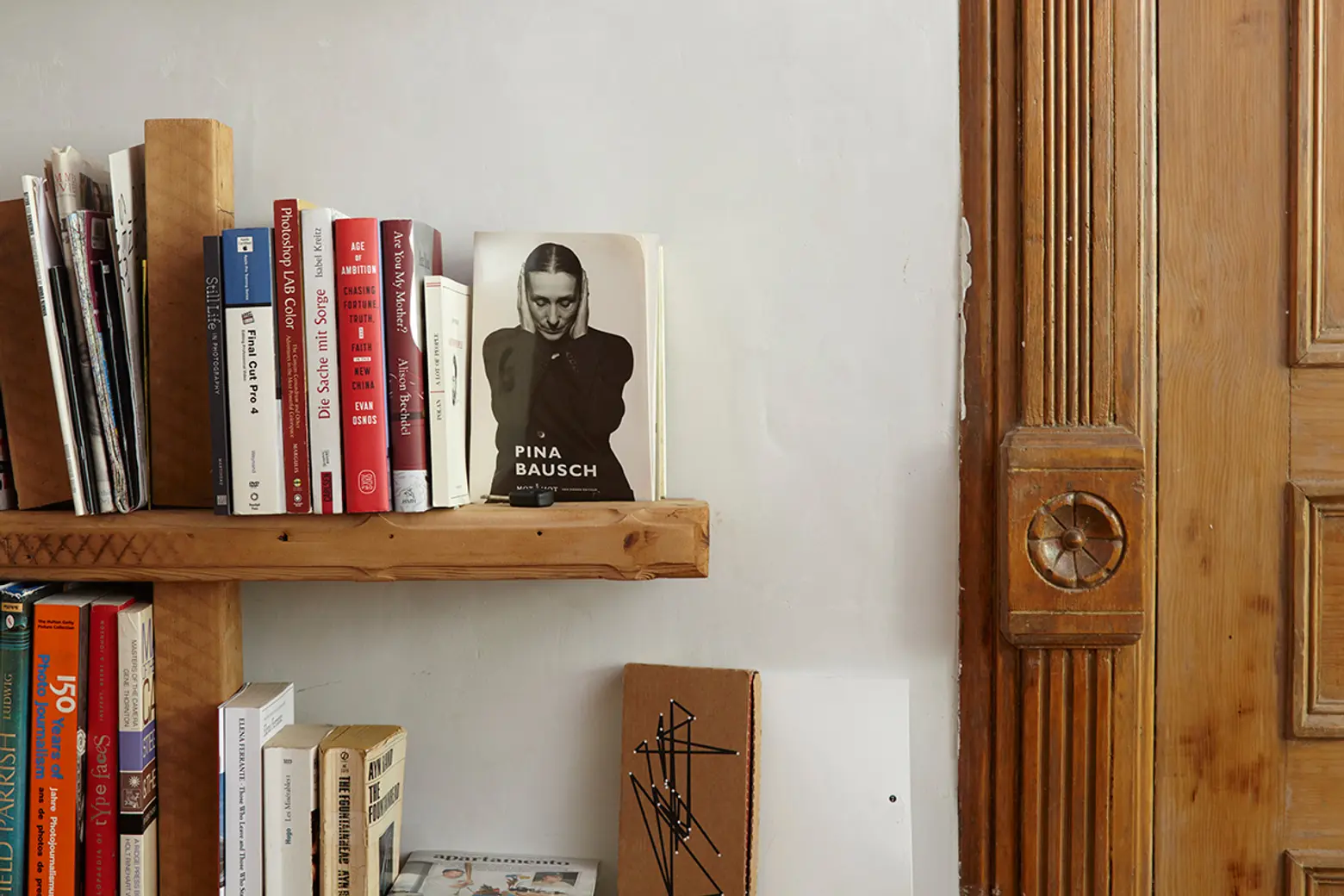 One of Martina's favorite artworks hangs above the bed (top); The mirror was part of a larger piece that broke and the pair decided to hang the shards. On the dresser is a cast concrete lamp made by their friend, designer Duccio Maria Gambi (middle); Books line a shelf built by Mike using wood taken from the street (bottom)
You shoot a lot of different spaces for major magazines, do you ever get inspired by them and take some of the ideas? What's been your favorite home to shoot?
Martina: True, we got to see very beautiful interiors, art collections, design objects we like, but in our spaces—we have an apartment in Paris as well—we are a little more practical. We are inspired more by our design friends, such as Duccio Maria Gambi, an Italian designer working mostly with concrete, or Marc Morro, a Spanish friend who works with wood.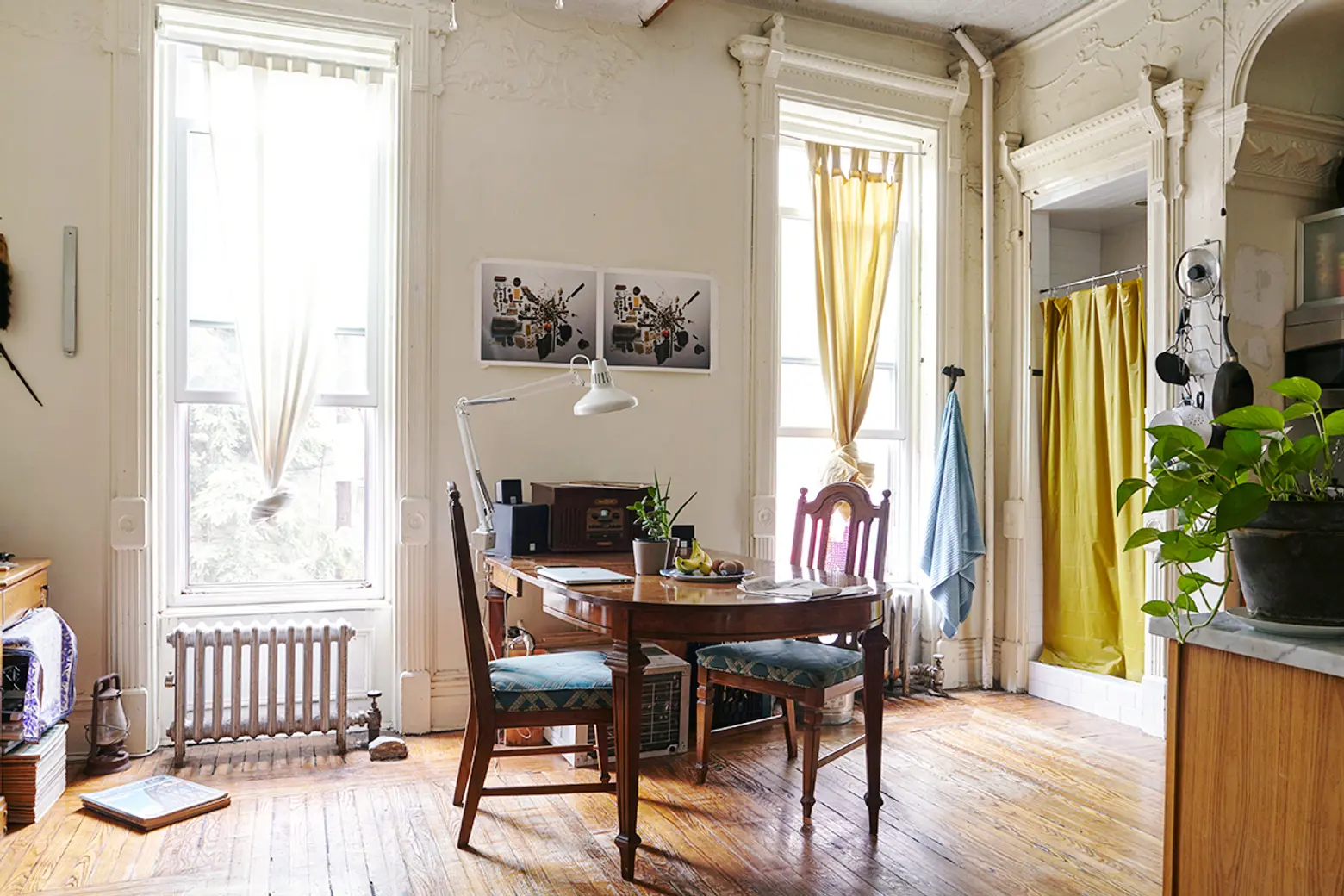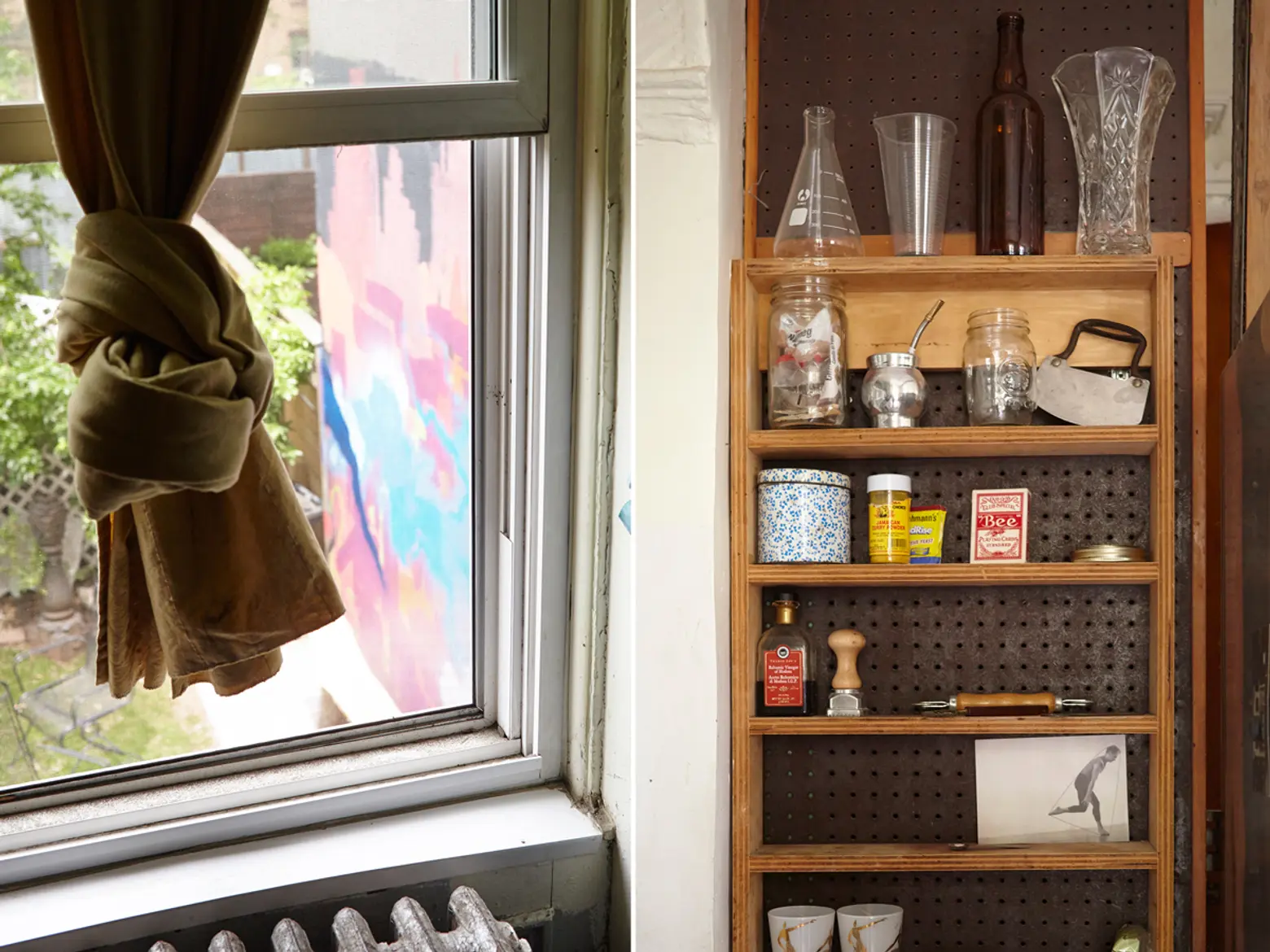 How would you describe your own interior design style?
Martina: Our apartment look very bohemian, with pieces found in the street, art collected from old friends, Mike's own projects… Having split our time between two cities in the past four years hasn't helped us settle down!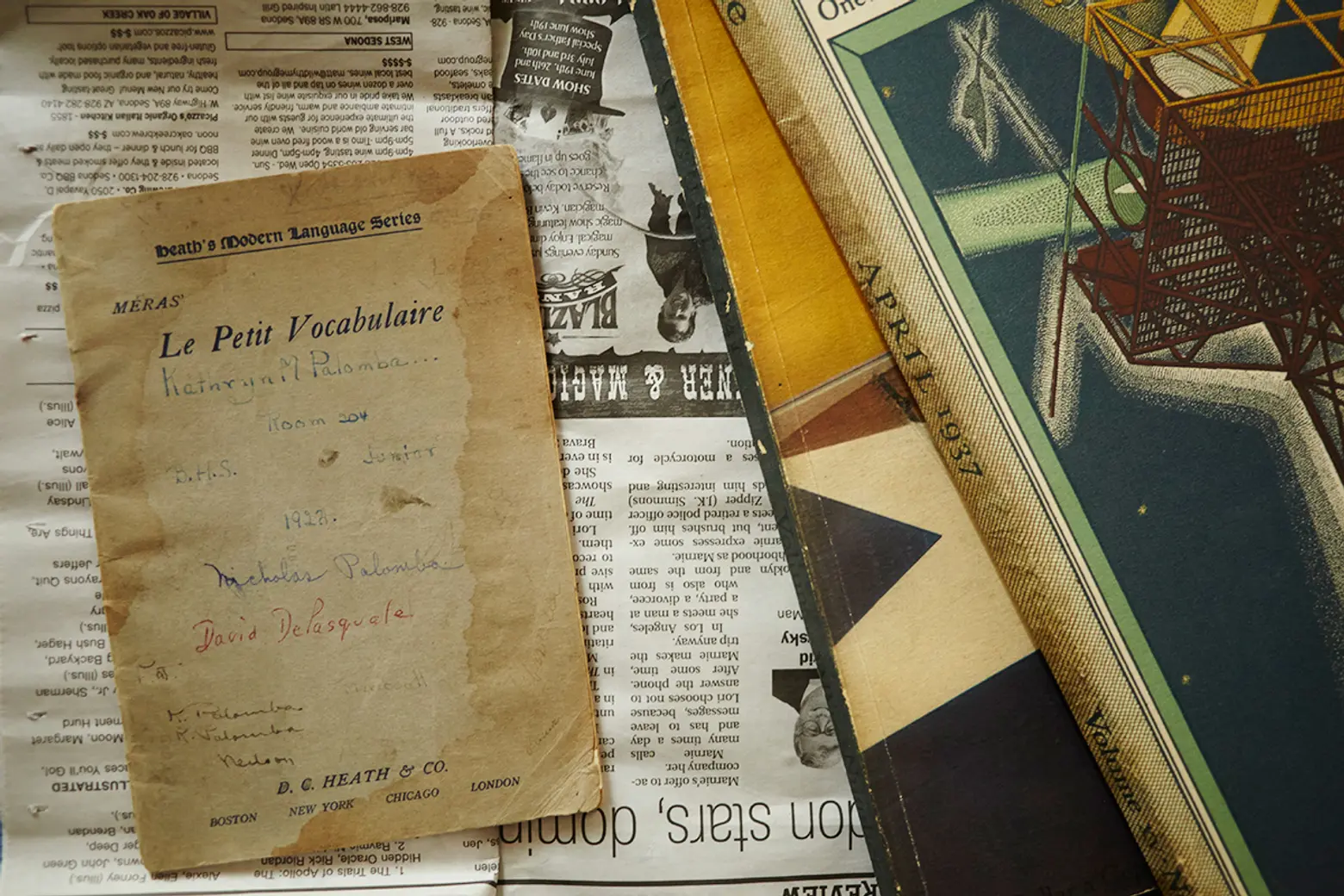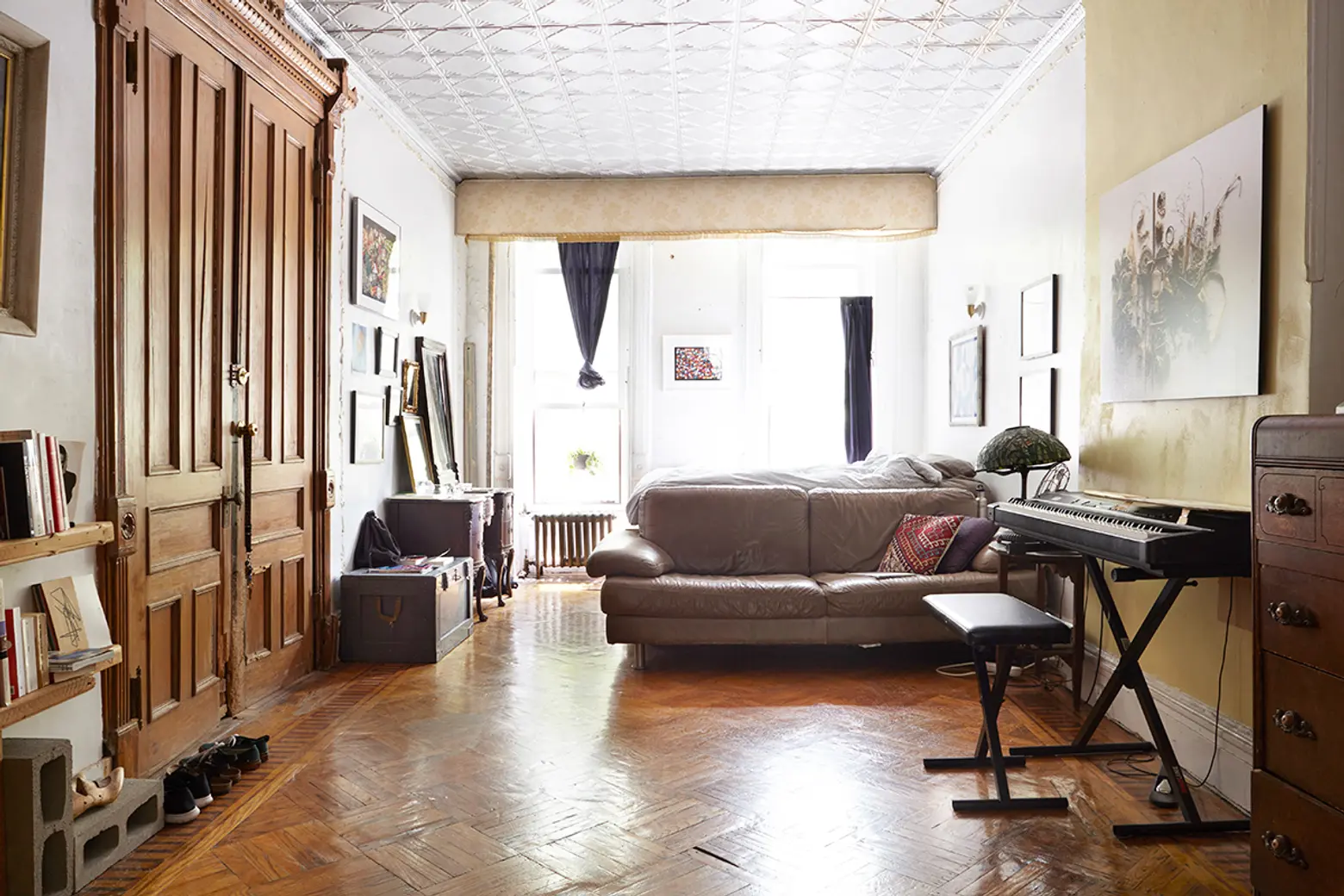 Mike's French dictionary which has been passed down generation to generation since the early 1900s (top)
What's you favorite thing about this apartment?
Martina: I love the ceiling, the floors, the old brownstone structure…it has history. I like the home-y feeling and having Mike's photographs hung on the walls.
Michael: That some of the brownstone's detail are still intact.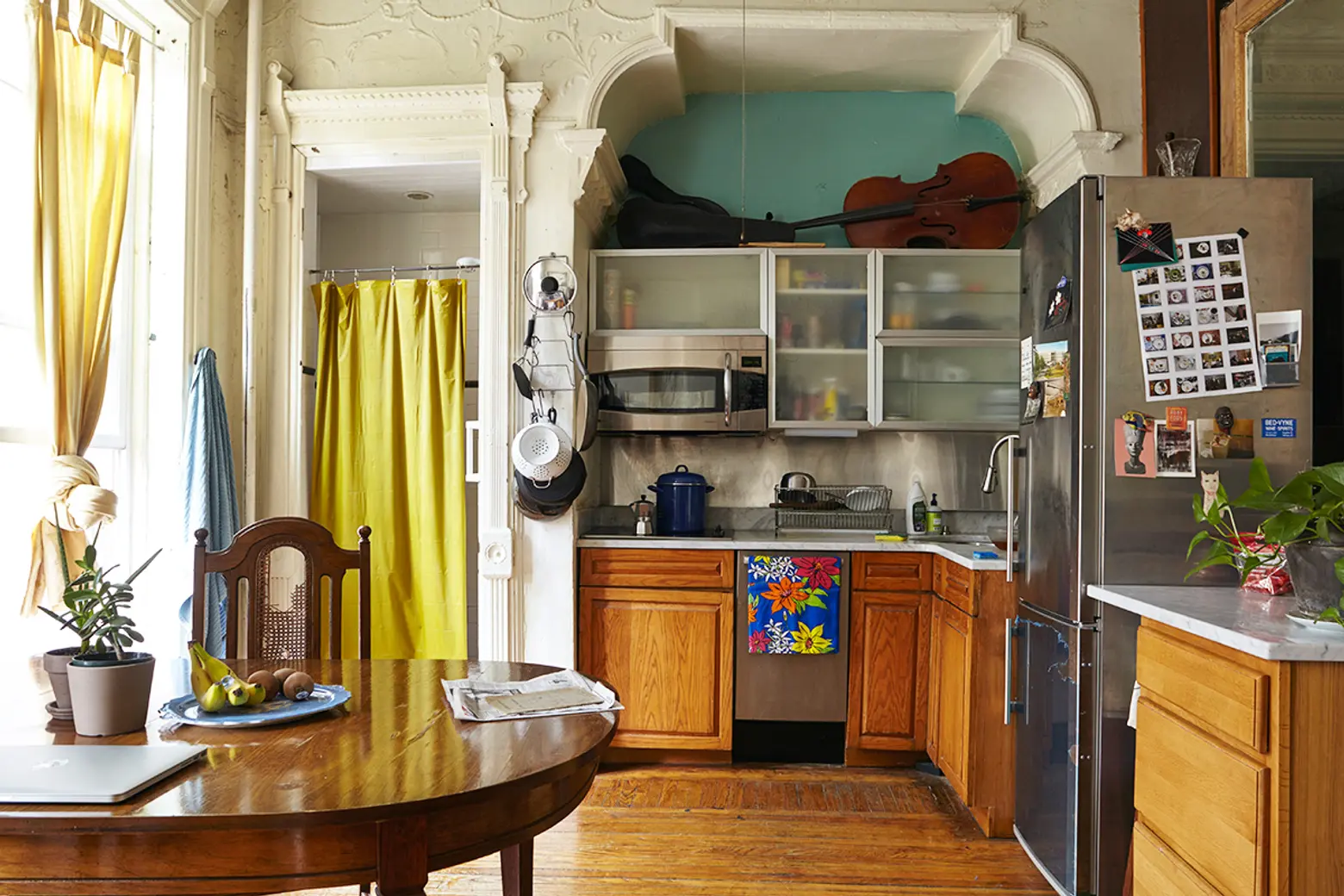 Throughout the home and the brownstone are various instruments left behind by the current owner who is a musician. The shower can be seen on the left
You have a shower in your kitchen—what's the worst part of having it there? Do people ever comment?
Martina: It's totally fine for us. It's funny and in the end we don't mind it at all. New York apartments are so warm, even in winter, that you're never cold inside.
Michael: People laugh at it. But we've had subletters that have embraced the oddity.
RELATED:
All photos taken by Martina Maffini and Michael DePasquale exclusively for 6sqft. Photos are not to be reproduced without written permission from 6sqft.