My 425sqft: Tour a Bubbly Packaging Designer's Boerum Hill Studio Filled with Eclectic Finds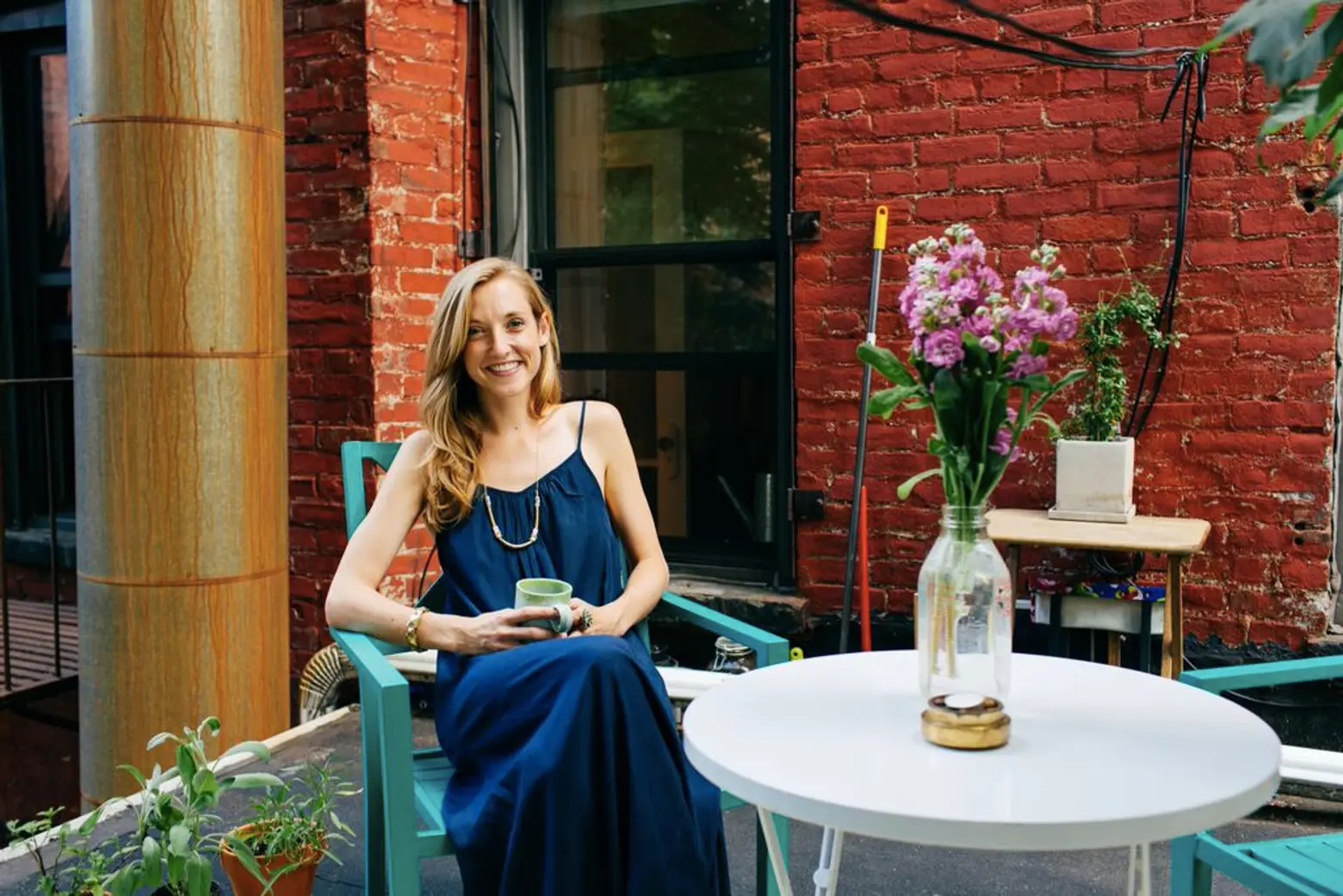 Our ongoing series "My sqft" checks out the homes of 6sqft's friends, family and fellow New Yorkers across all the boroughs. Our latest interior adventure brings us to Boerum Hill, Brooklyn. Want your home to be featured here? Get in touch!
When we heard that freelance packaging designer Amy Sprague has traveled to 25 countries, we assumed her apartment would be filled to the brim with souvenirs from far-off places including Morocco, Germany, Cambodia, Australia, and Japan. We thought this would be even more true when we learned of her love for antiquing. But the charming Boerum Hill studio is perfectly edited, providing just the right amount of eclectic touches, while still maintaining the feeling of a calm oasis. This is especially true of her lovely outdoor space, where a canopy of trees provides a serene escape from bustling Brooklyn.
Amy lived for several years in the Gramercy neighborhood of Manhattan, but after dividing her time in 2013 and 2014 between New York and Offenbach, Germany (a small city outside Frankfurt), she decided to make the move across the East River. We recently visited Amy at her 425-square-foot studio and saw that her apartment's decor is just as fun and bubbly as she is. Let's have a look at how this design-minded gal was able to tastefully display her collection of antiques and travel mementos.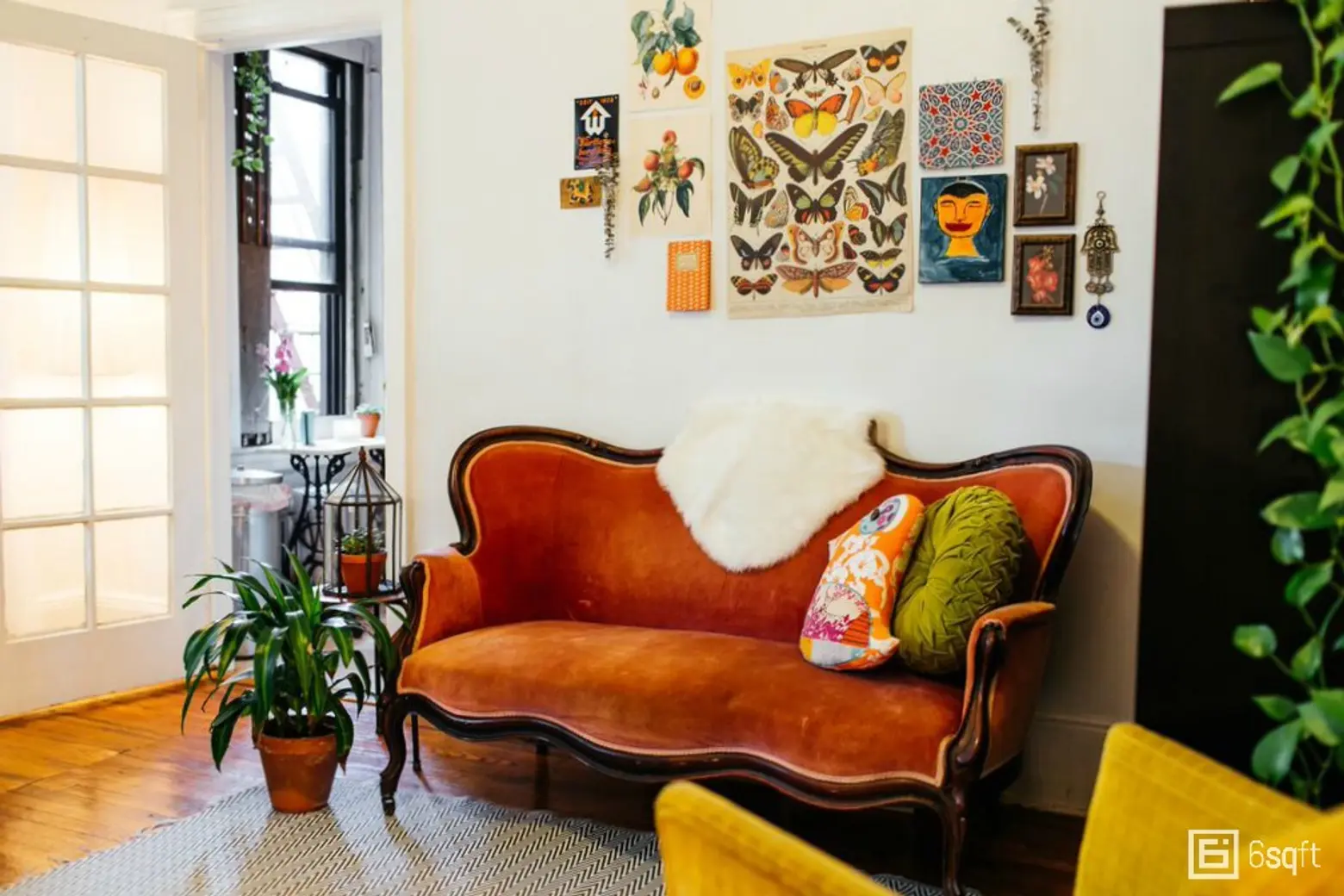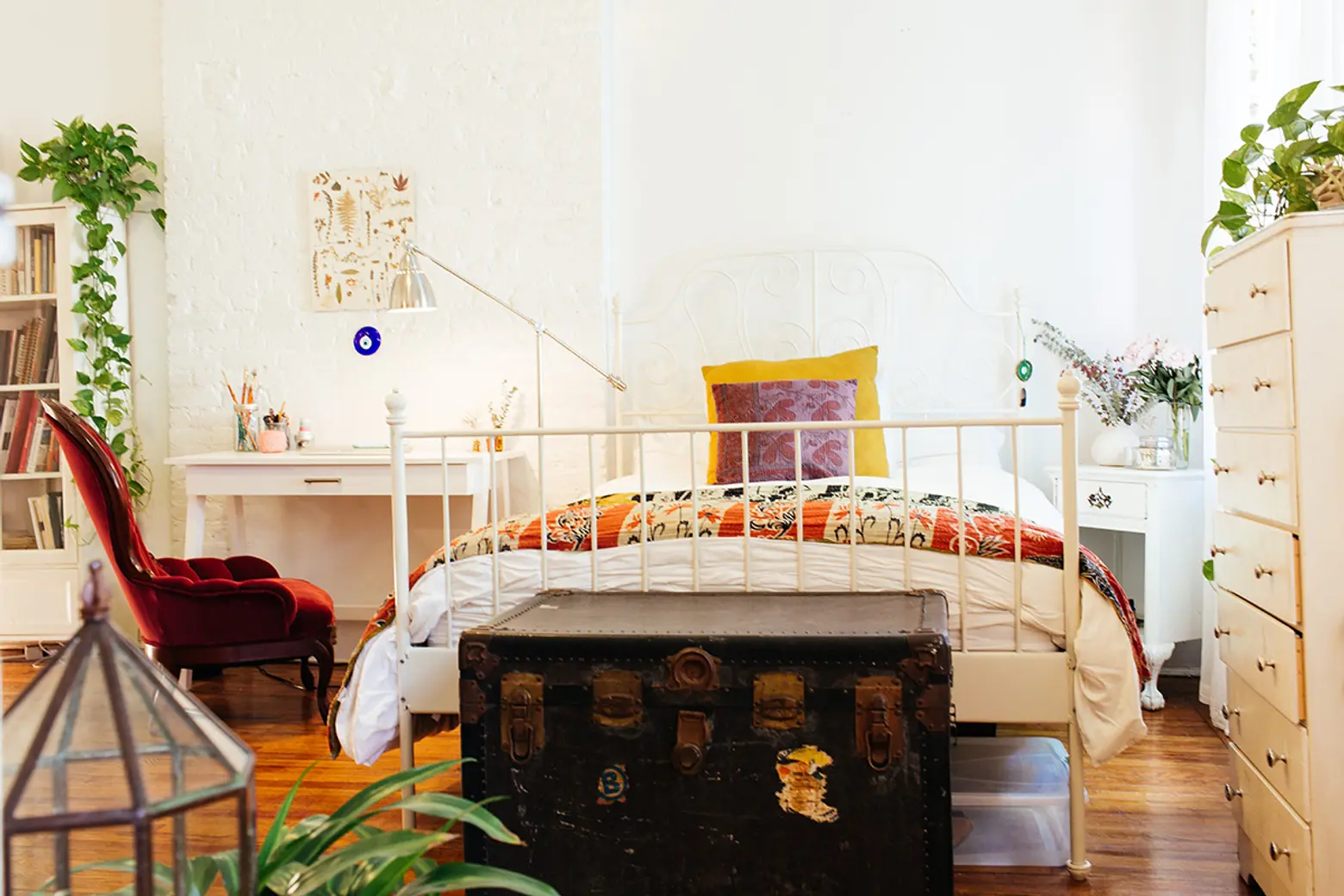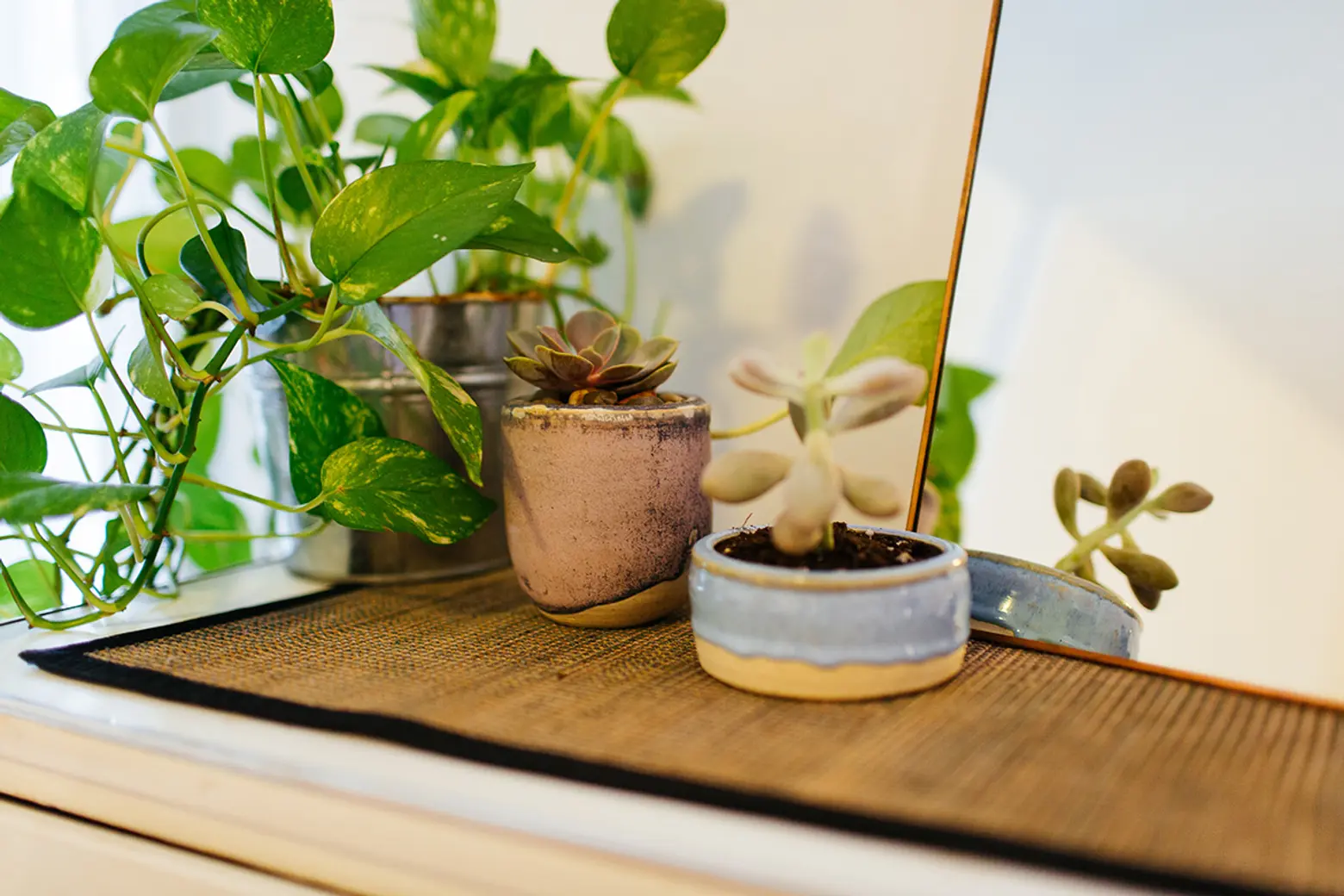 Amy made the pots on her dresser in a local pottery class last month. 
You recently moved to Boerum Hill. What brought you here?
Amy:  I started working at a small design firm across the street a few years ago. I would take walks on my lunch break and started noticing how charming and beautiful the neighborhood was. I really enjoyed the difference of pace from what I was used to living in the city for so long and began apartment hunting. My boss let me know about this apartment in 2013, but I was on my way to Germany and could not take it. So my best friend ended up moving in. She lived here for two years before passing it on to me.
How do you find the neighborhood as compared to Gramercy? Is there anything you wish was different about living in Brooklyn?
Amy: I find Boerum Hill to be a much calmer place to live. The buildings are lower, its a bit more quiet overall, and I really enjoy the neighborhood feel. It's full of small shops and cafes, and I am still finding new little spots all the time. There are more bike lanes and smaller streets, so I've bought a bicycle since moving, and it's really made everything feel more accessible. Gramercy is a great neighborhood, something I really loved about it was being able to walk everywhere. That is the only thing I wish were a little different about living in Brooklyn.
Boerum Hill has definitely become increasingly trendy in recent years. What are some of your favorite spots in the area?
Amy: Yes! Some of my favorite places here would be Rucola, Building on Bond, Bar Tabac, Brooklyn Inn…Absolute Coffee just downstairs makes delicious coffee, as does Van Leeuwen. Hudson and Lawrence and Primary Essentials are fantastic shops just down the street.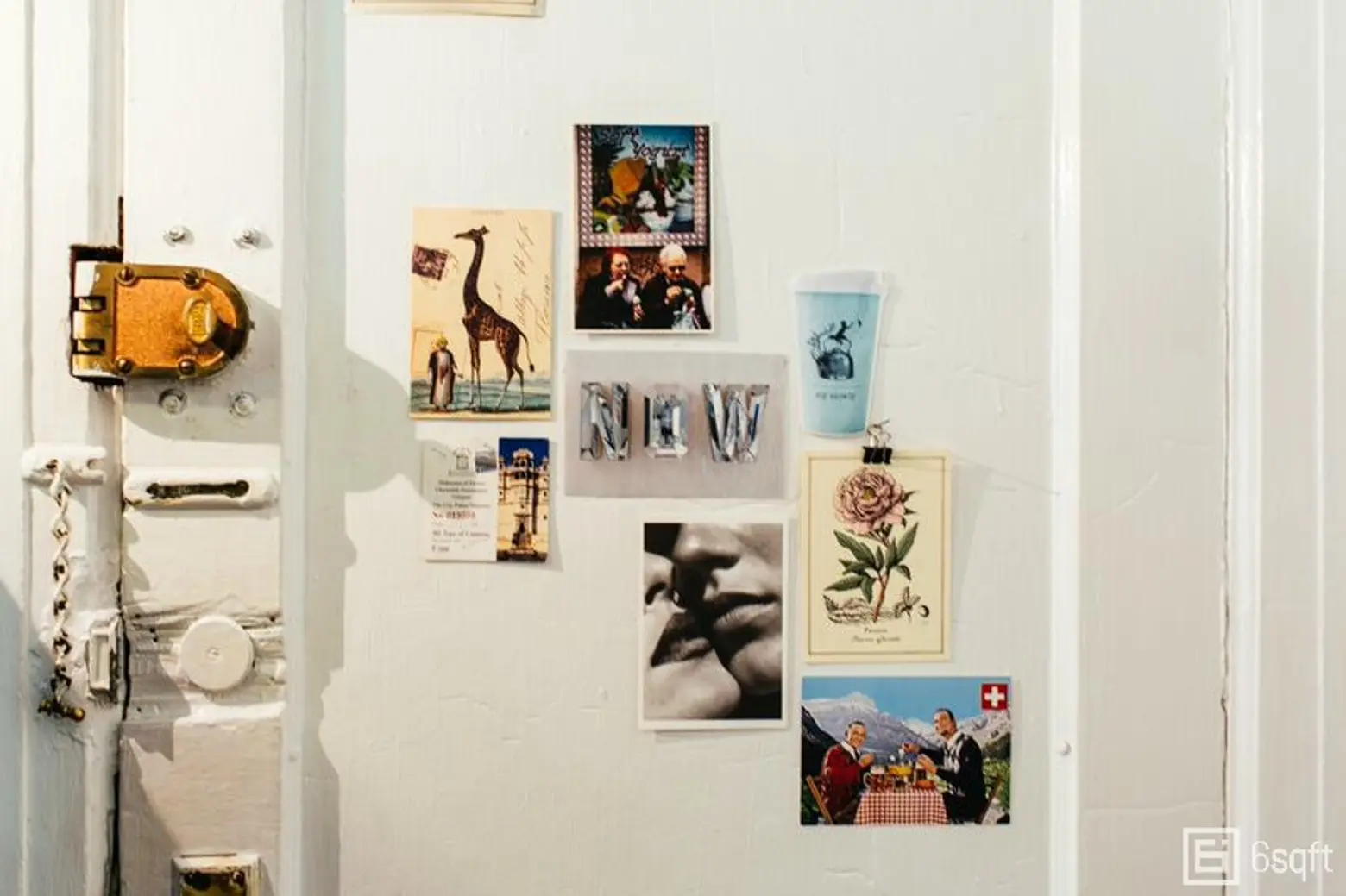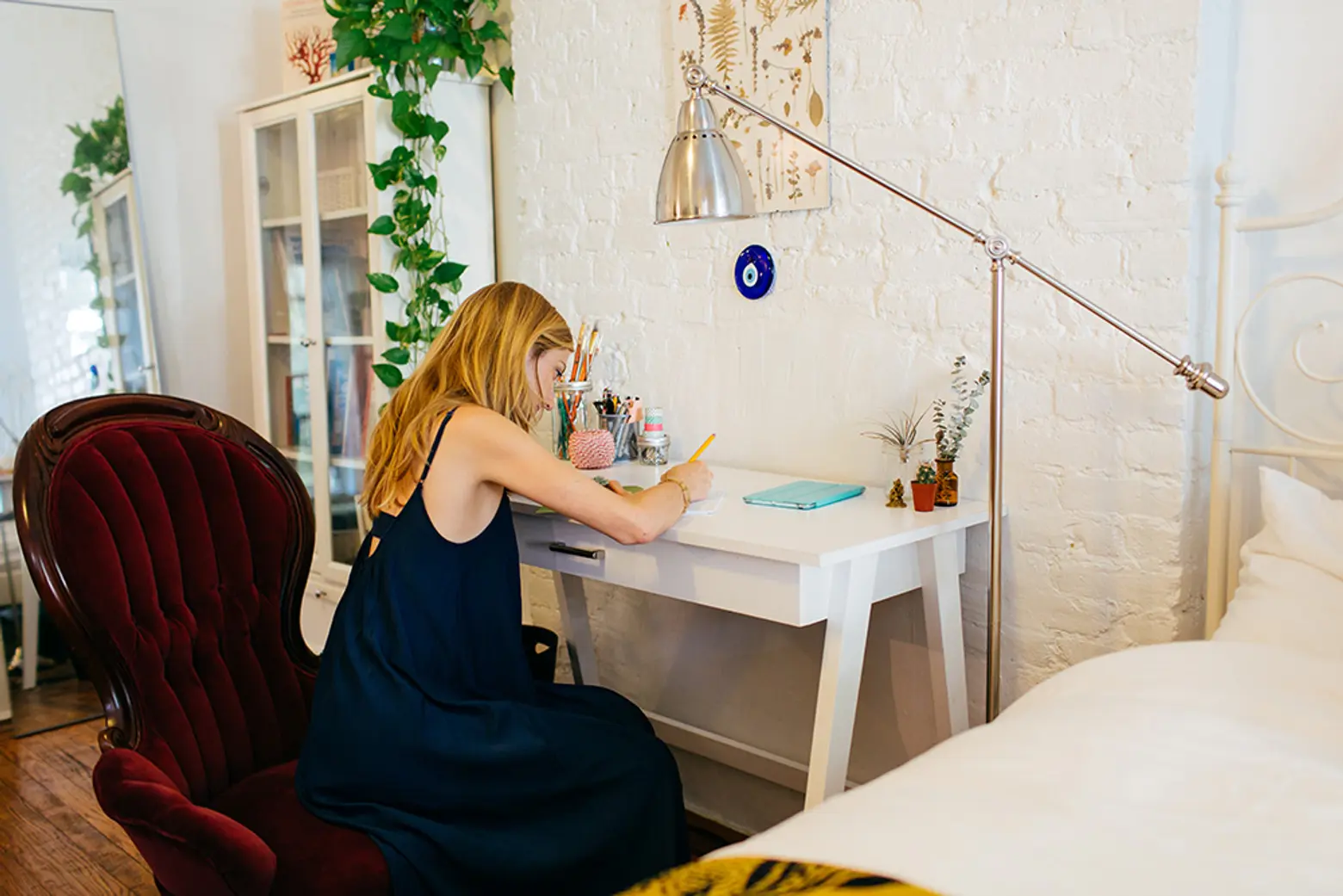 A good friend from Germany made Amy the pressed-leaf art piece above her desk. 
How does your work as a packaging designer and illustrator factor into your design aesthetic?
Amy: I think that when you do creative work as your profession, you become more sensitive to trying create a beautiful aesthetic around you whenever possible. Probably like most people in my field, I am a very visual person and find it important to make my environment a positive, enticing space that I want to soak up every day.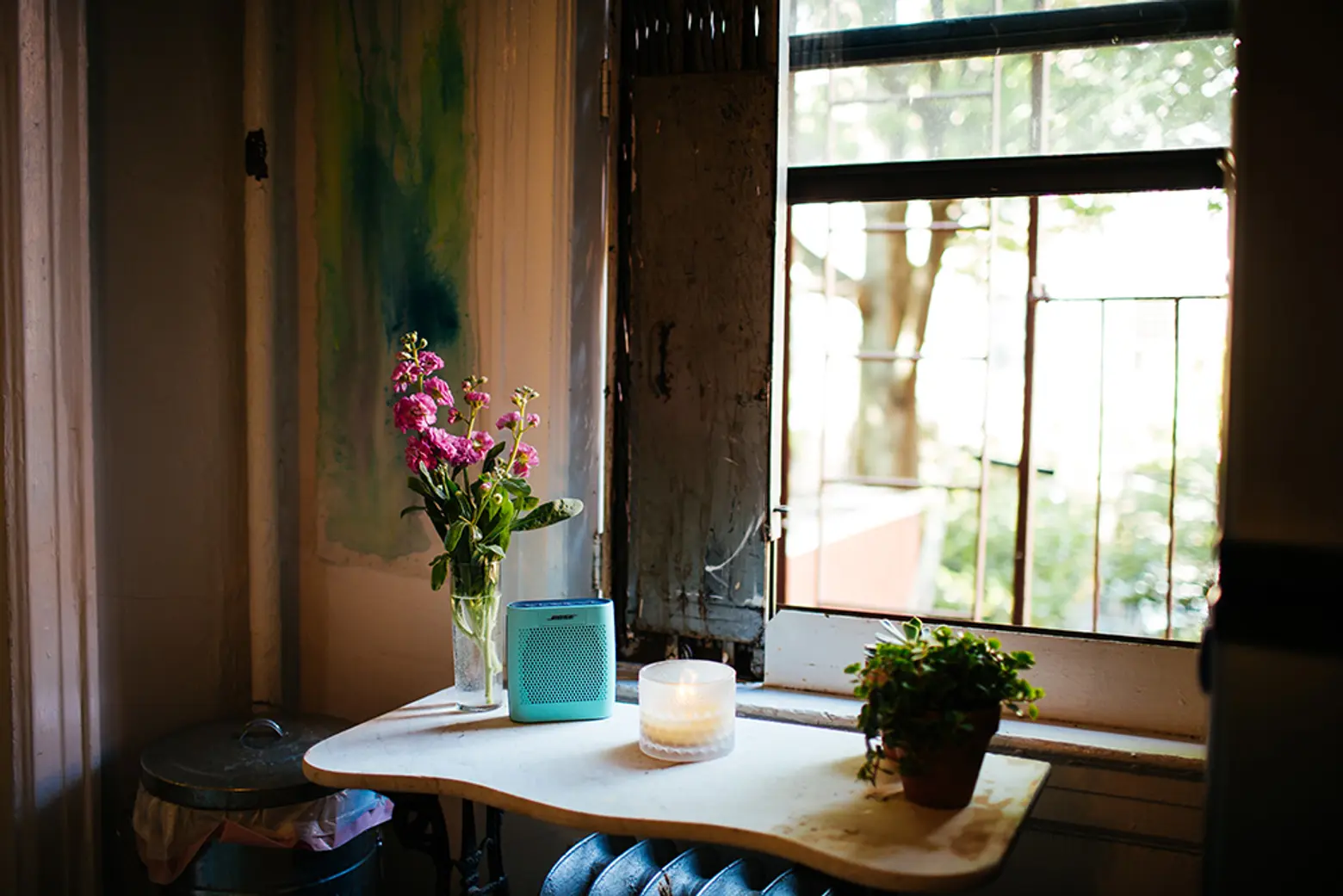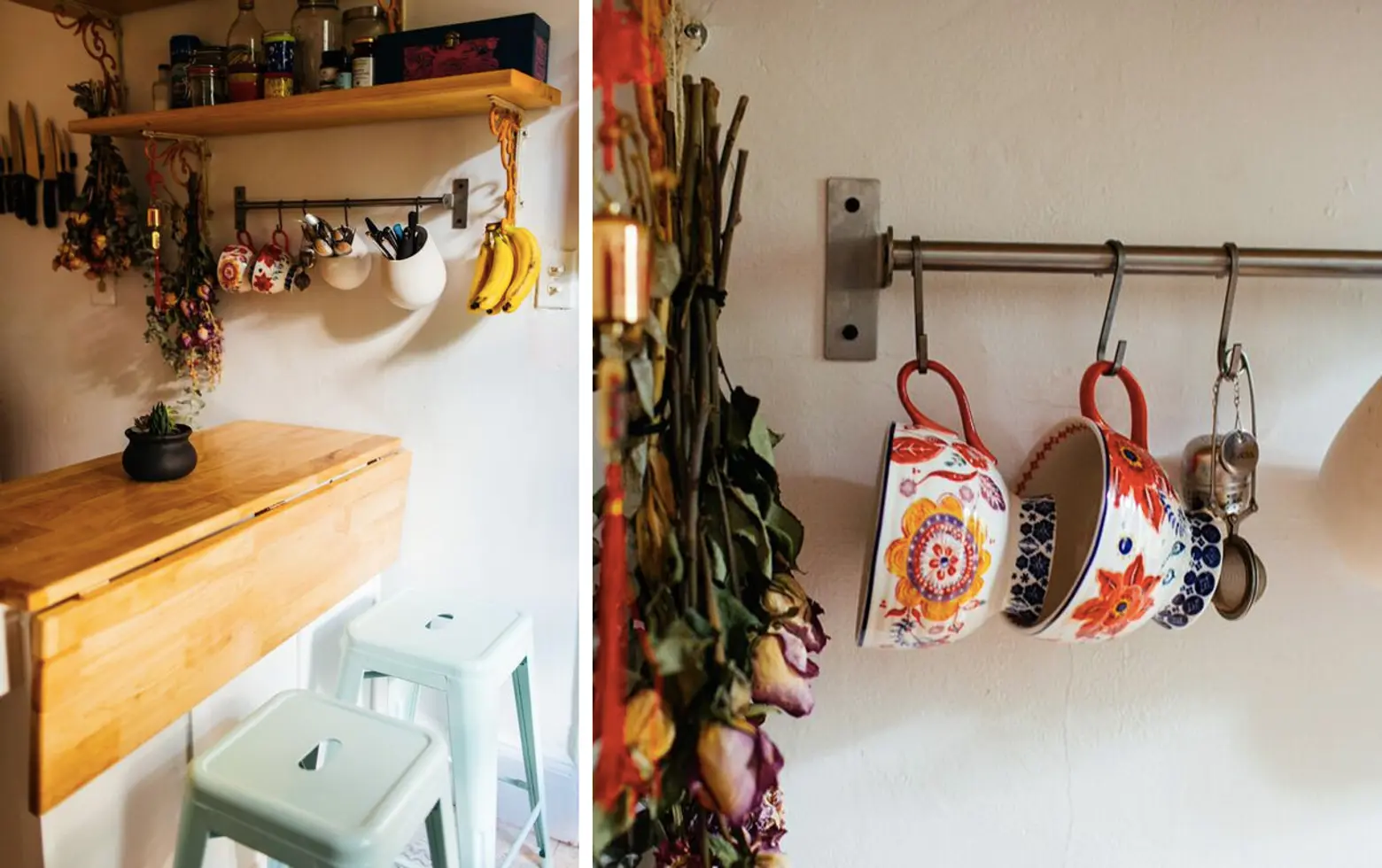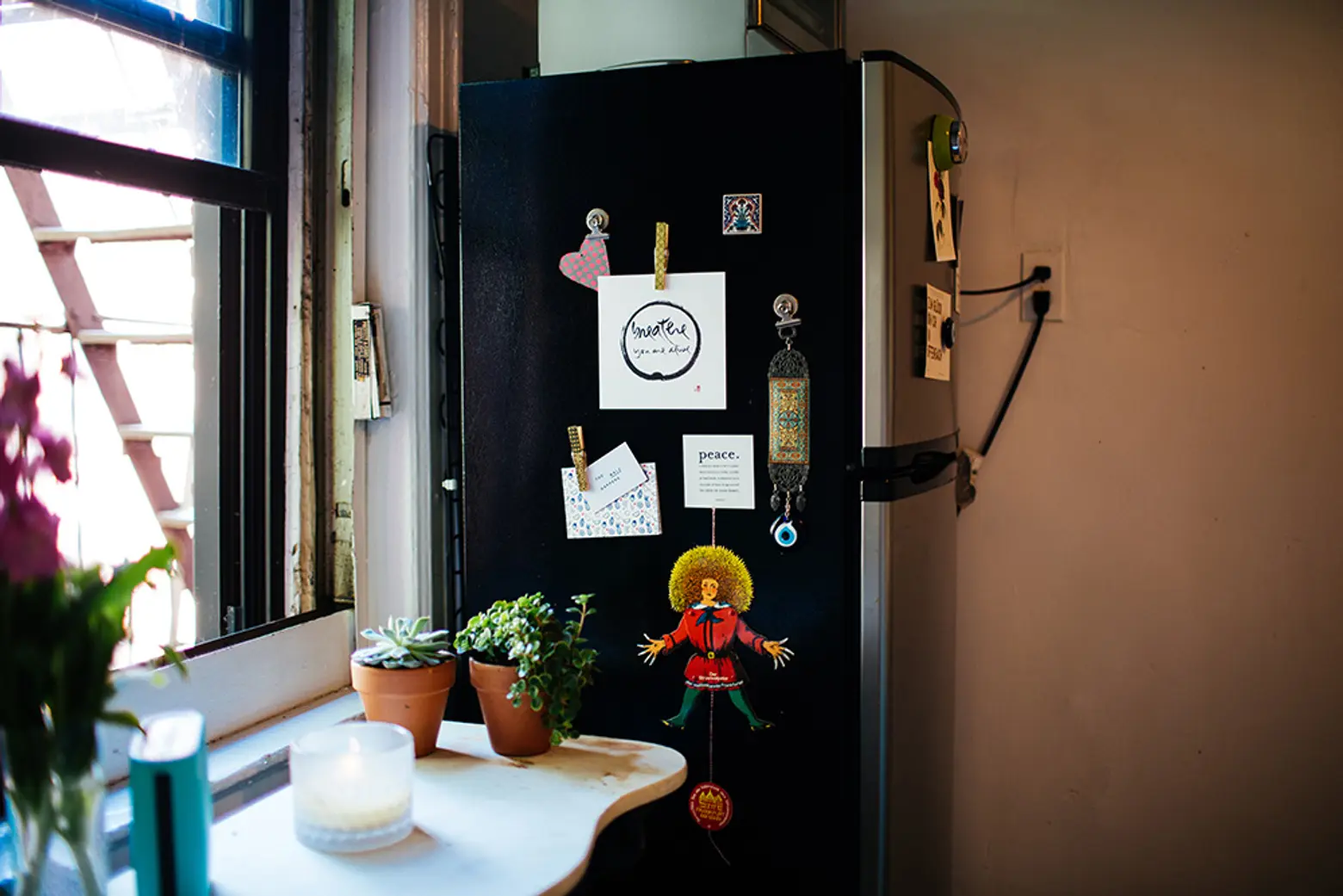 When setting up your studio, did you take into account the fact that work projects will often require you to work from home? What's your typical work-from-home routine?
Amy: I did take working from home into account when setting up my space. I have my table in an area that gets good light, and was sure to put details around that I enjoy looking at throughout the day. I tend to move around a lot, so I usually spend portions of the day at my desk working and larger portions of my day on the outdoor area working outside under the tree, which is very nice!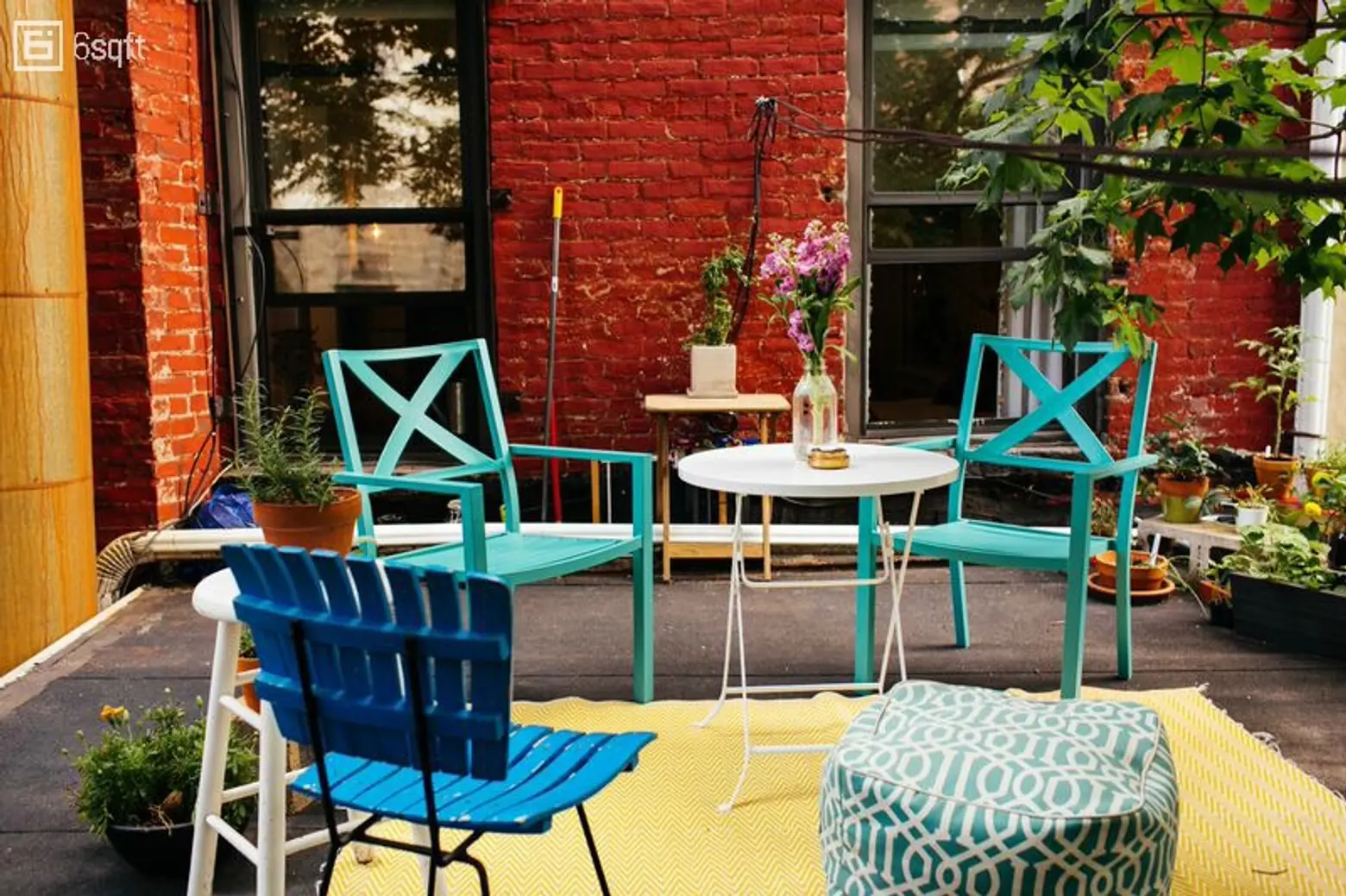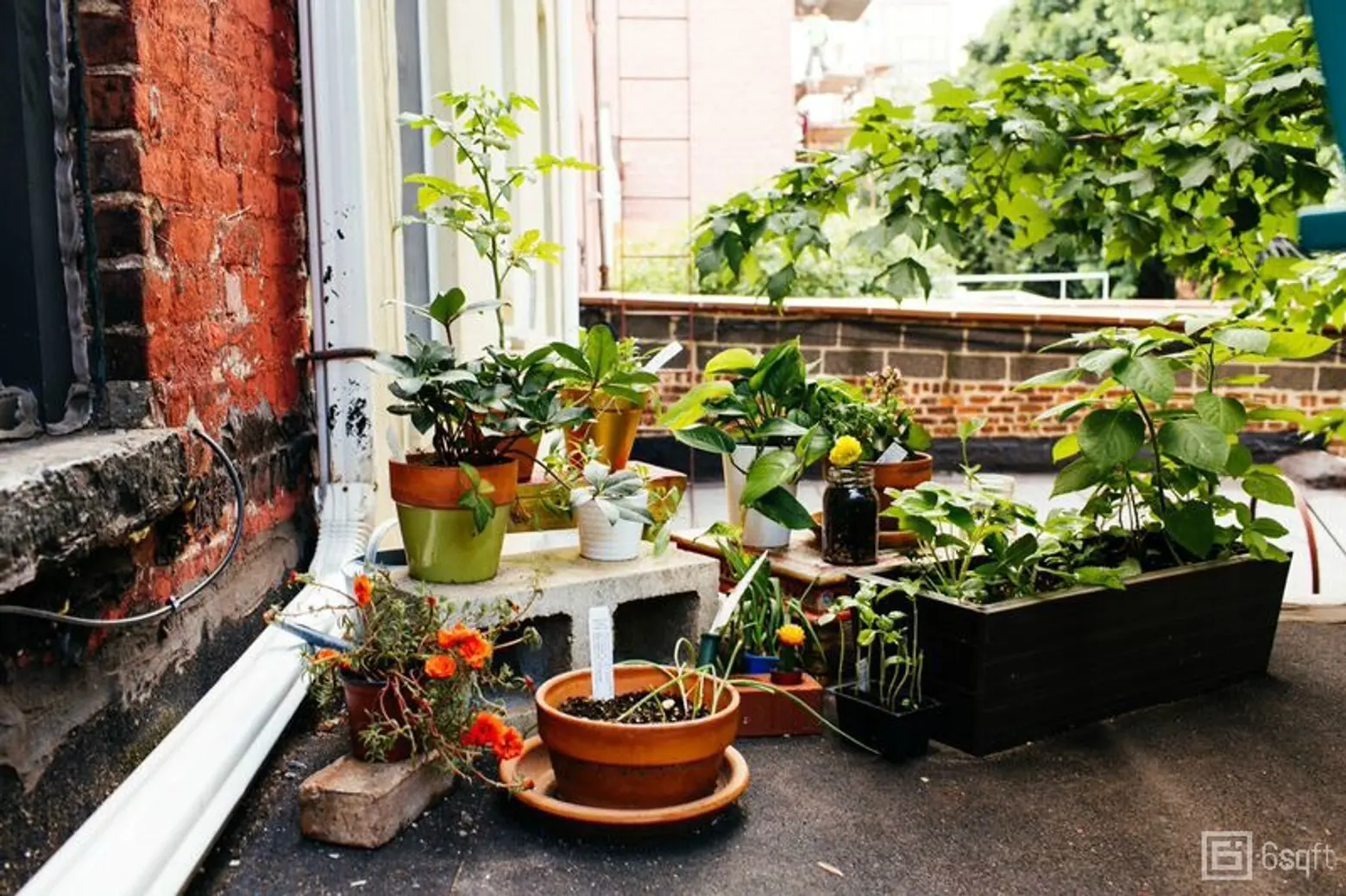 Speaking of which, has having outdoor space changed the way you occupy your apartment?
Amy: Throughout the warmer months, I tend to spend most my time out there while I am at home. It's been so nice to be able to eat and work outside, grow little herbs and vegetables, host friends, and enjoy the big tree. The outdoor area has become my favorite thing about the apartment.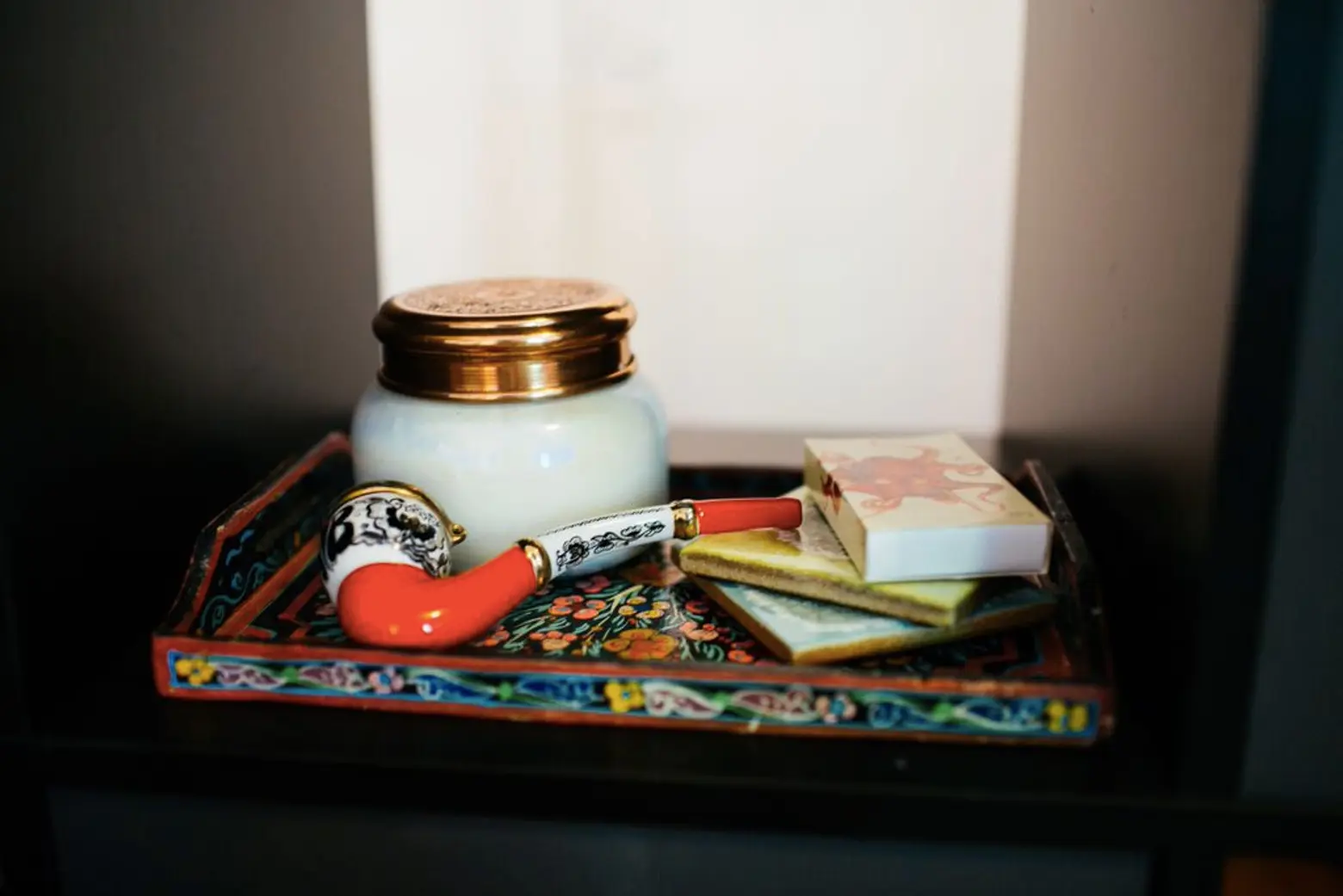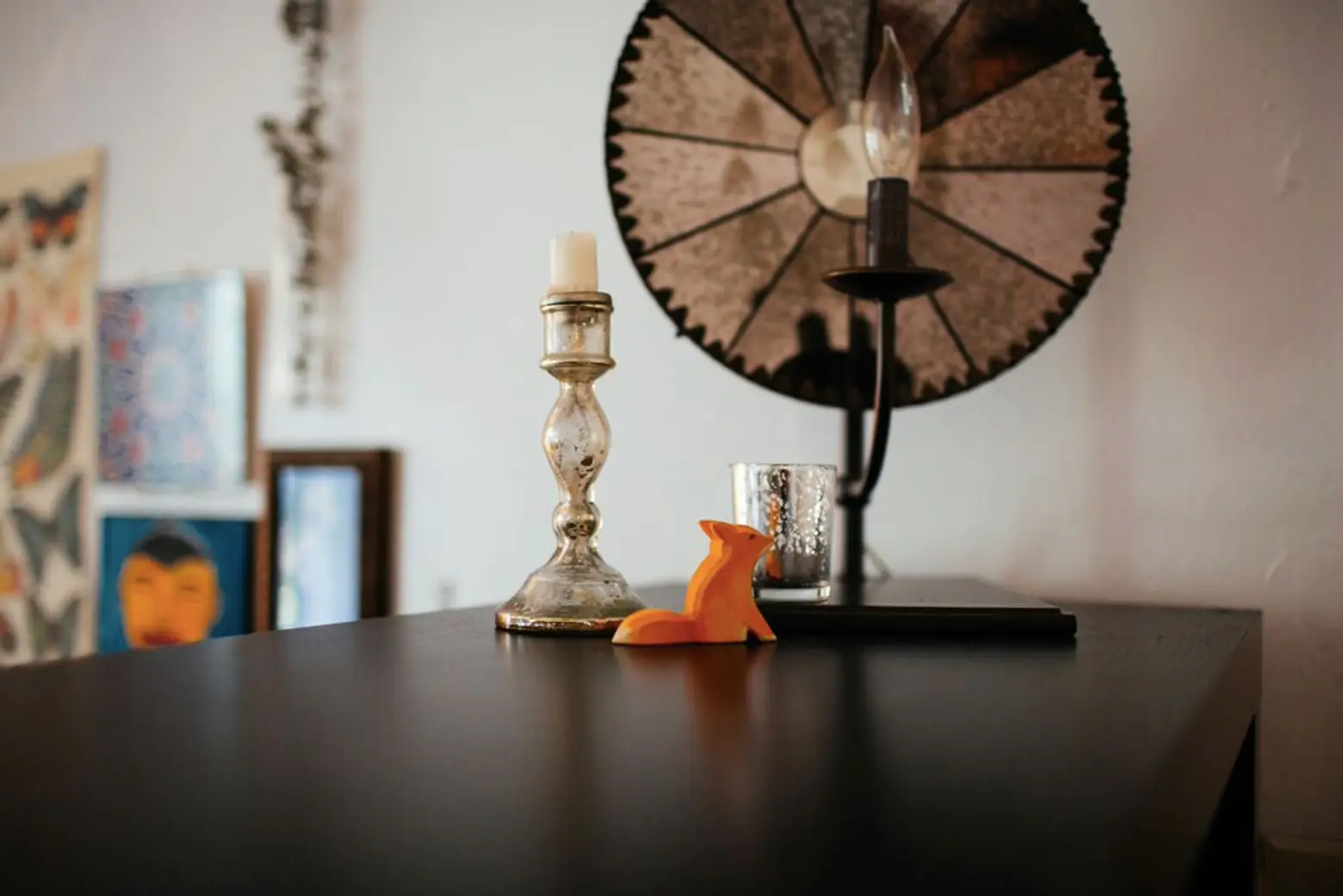 Finds from Morocco and India (top); There were a lot of handmade toys in Germany, and since Amy's family loves foxes, she couldn't resist bringing this little guy home with her (bottom)
For someone who's traveled around the world, you don't have a lot of clutter and all of your mementos are thoughtfully displayed. How do you edit your decor? And how do you decide what to bring home with you from a trip?
Amy: I definitely have a hard time not buying everything I see while I am traveling! But only so much fits into a suitcase or backpack, which can be a blessing in disguise. I collect a lot of postcards, maps, little artwork, shells, coral, stones… small things that can fit in whatever I am carrying. I love having them on display because they bring back memories of the times I collected them. Sometimes little objects from very different places look great together and sometimes not so much. I still have pieces from trips in drawers and closets that have looked great in some apartments and not the best in others. I try to organize them the best I can.
Amy's vintage couch was only $103 from a antiques store in Frederick
Tell us a bit about your love for antiquing. Any tips on where we can get great pieces like your vintage couch?
Amy: I'm lucky to be from a town that offers a lot of beautiful, affordable antiques. It's called Frederick, Maryland. Emporium Antiques, Great Stuff by Paul, and Cannon Hill Place are a few great spots there. I go back reasonably often, and I'm always finding new little pieces for very reasonable prices. It's always inspiring to walk around the antique shops in Frederick.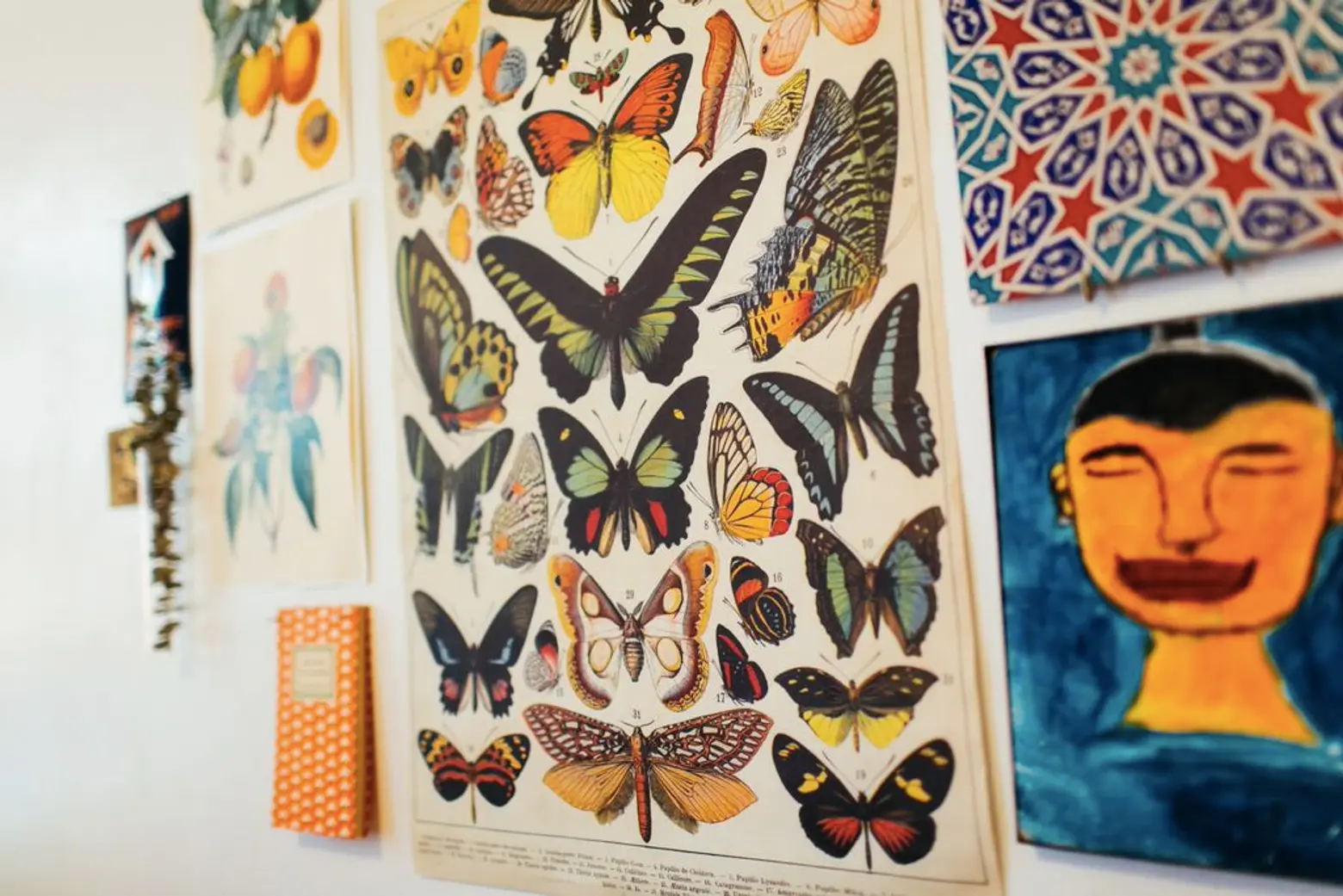 The painting in the lower right corner is from the Cambodian Children's Painting Project. The little orange book is from Frankfurt, the botanical prints are from an antique market in France, and the tile is from Turkey.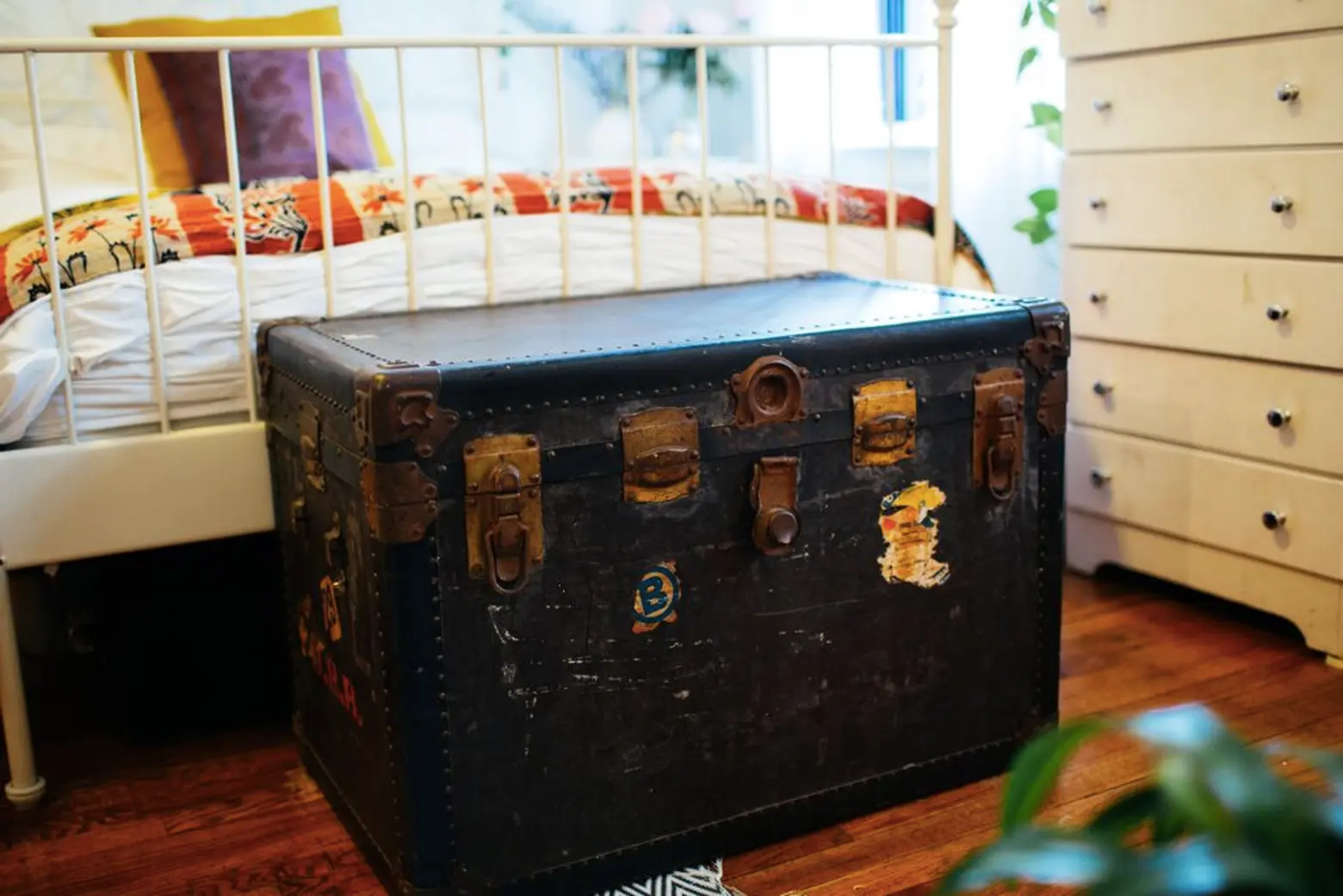 This is Amy's great grandfather's trunk.
Do you have one piece of furniture or art that means the most to you?
Amy: Some of the small paintings on the wall are from a time I spent volunteering for a group called the Cambodian Children's Painting Project in Sihanoukville, Cambodia. The paintings were created by the kids there, and being there was a really unforgettable experience. I love having them on the walls; it reminds me of the time there that was really special to me.
My great grandfather's trunk is also one of my favorite things in the apartment. He immigrated to the U.S. with it from France and his initials are still painted on the side. I like seeing how weathered it is and imagining how far it's traveled.
+++
RELATED:
All photos taken by Erin Kestenbaum exclusively for 6sqft. Photos are not to be reproduced without written permission from 6sqft.