My 1,640sqft: Inside Chef Devin Gaffney's Rent-Stabilized Classic Six on Billionaires' Row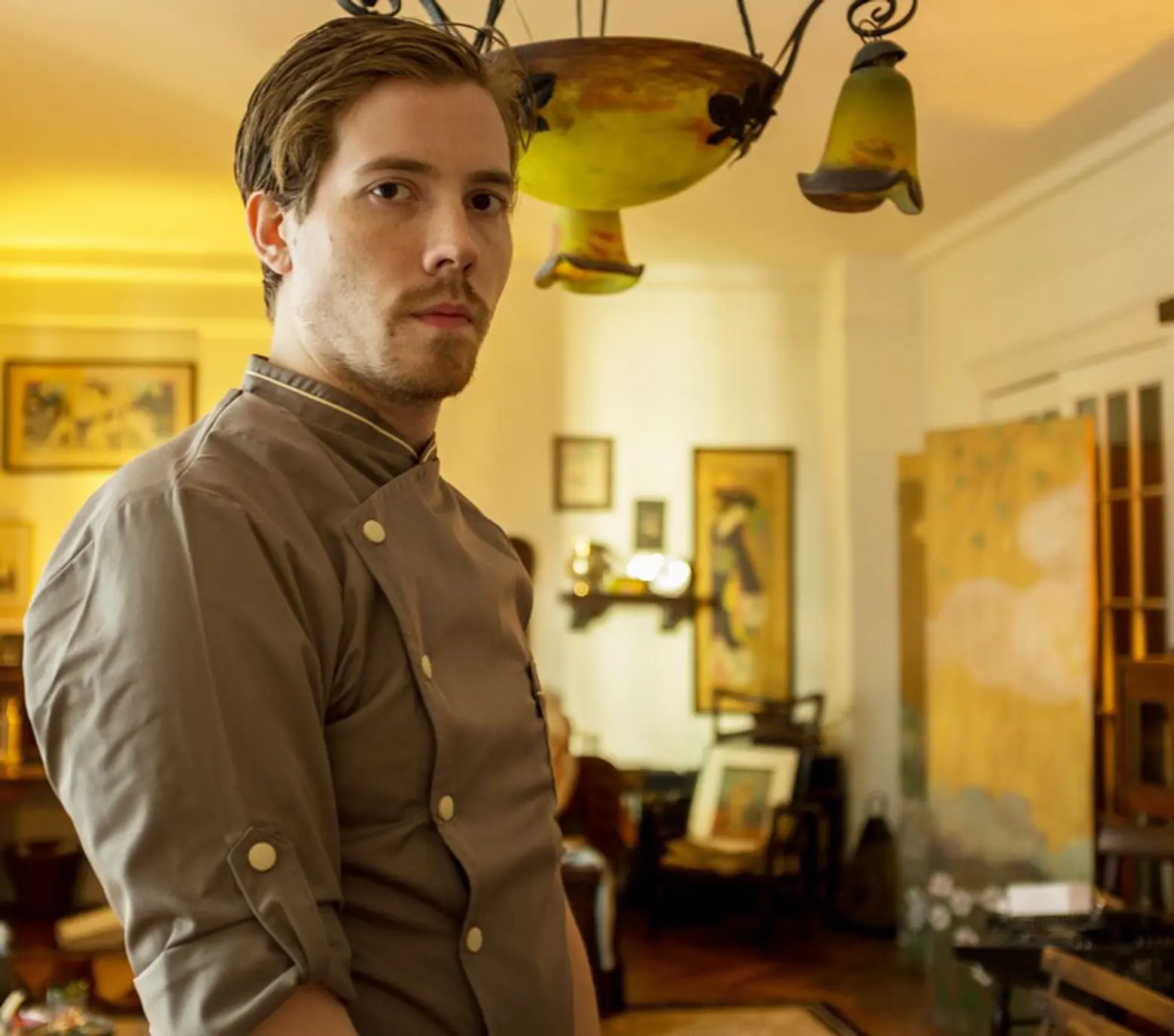 Our ongoing series "My sqft" checks out the homes of 6sqft's friends, family and fellow New Yorkers across all the boroughs. Our latest interior adventure brings us to chef Devin Gaffney's Central Park South home. Want to see your home featured here? Get in touch!
Whenever 57th Street and the few blocks that cluster Central Park South make the news, headlines usually swirl around how there's a brand new multi-billion dollar tower on the rise or how a condo in One57 just broke some city record. But lest we forget, many mere mortals like ourselves still fill out the more elfin edifices surrounding these supertalls.
One such resident is Devin Gaffney, a chef (he's whipped up dishes at Brooklyn's beloved Speedy Romeo and No. 7) who not only grew up in the area, but moved away, spent 10 years in Brooklyn, and then moved back to the island into the same apartment he called home during his formative years. Ahead, Devin takes us through his eclectic, art-filled (many works centuries-old) classic six in a 1913 construction built for musicians just a block from Carnegie Hall, a block from Central Park, and right smack in the middle of one of New York City's most coveted and most expensive areas.
Devin's brother custom builds guitars. The ornate cabinet above is from Korea. Much of his furniture was acquired while traveling
Throughout Devin's home you'll find a lot of Japanese art and furniture. His grandfather, George Denison, was a U.S. steel magnate who loved Japan. Denison also left his wife and eloped with a Japanese geisha, and his story was a source of inspiration for "Memoirs of a Geisha." The chest at the end of his bed was his great great uncle's and dates back to the early 15th century
6sqft: You grew up in Manhattan, left for 10 years for Brooklyn, and now you're back in the city—how has your childhood neighborhood changed since you left?
Devin: The area while I was growing up was enormously different from what it is now. That said, it went through its largest transformation in the 10 years proceeding that. So while I would say that yes it changed during my absence, Brooklyn has changed quite a bit more.
6sqft: How does it feel to be surrounded by all these supertall towers—and to inadvertently find yourself living on Billionaires' Row?
Devin: I'm fairly ambivalent, I think the stratification is so vast as to make any change in my perception moot. As in, none of the folks who will own the properties in these buildings will actually live there, or become my "neighbors." I feel it more in the less than super rich who actually now reside in my building, very unlike the musicians and ballet dancers who used to live here.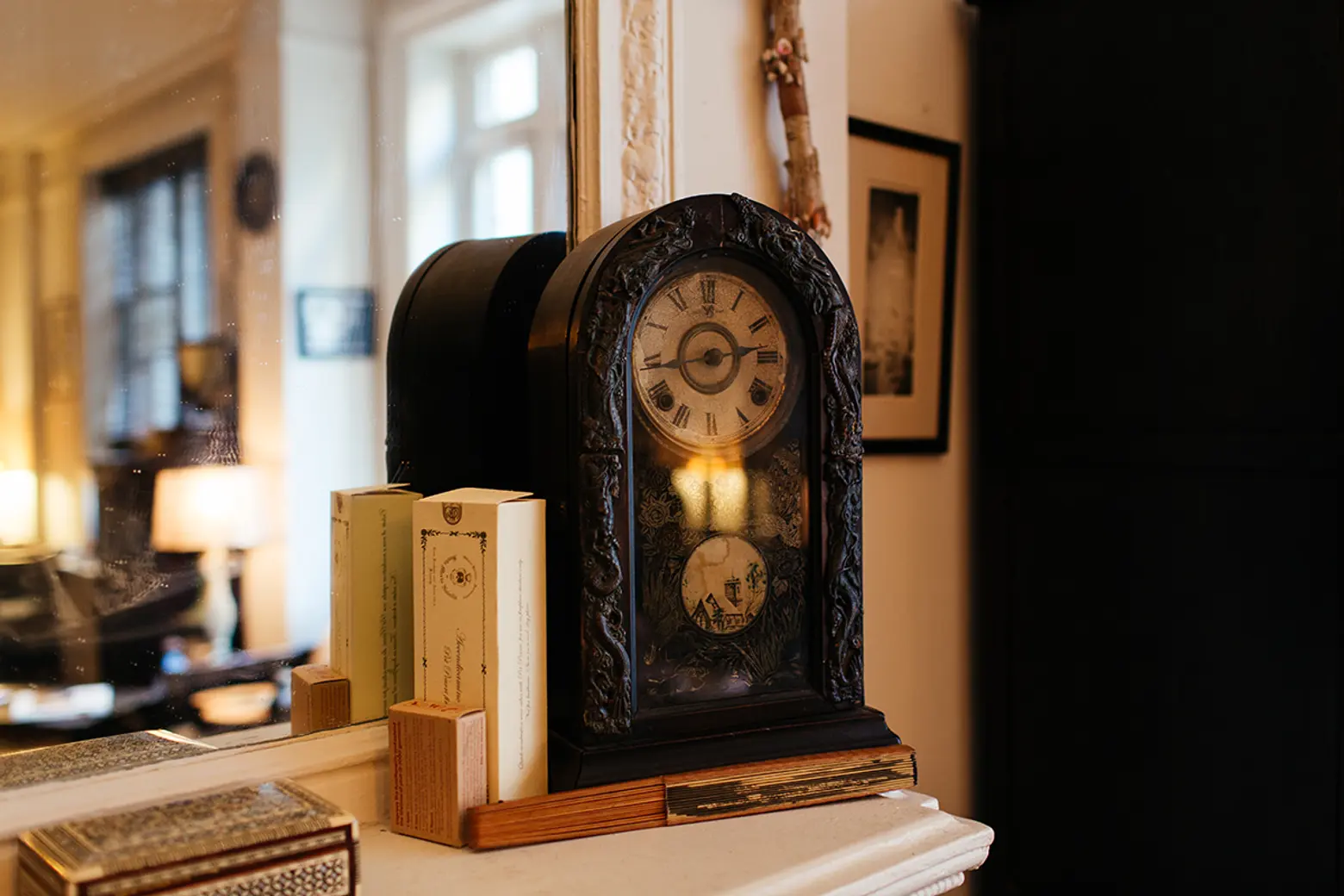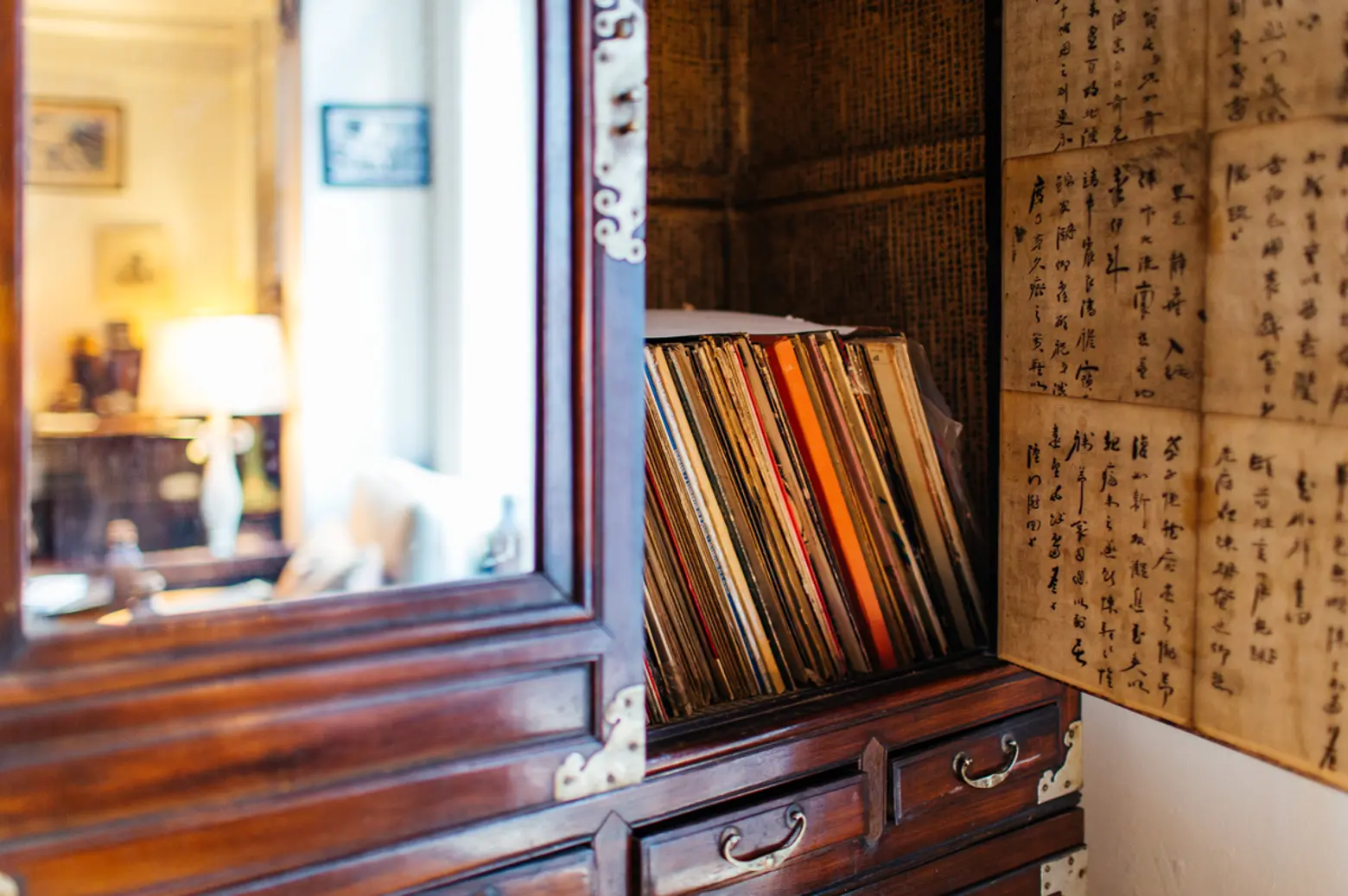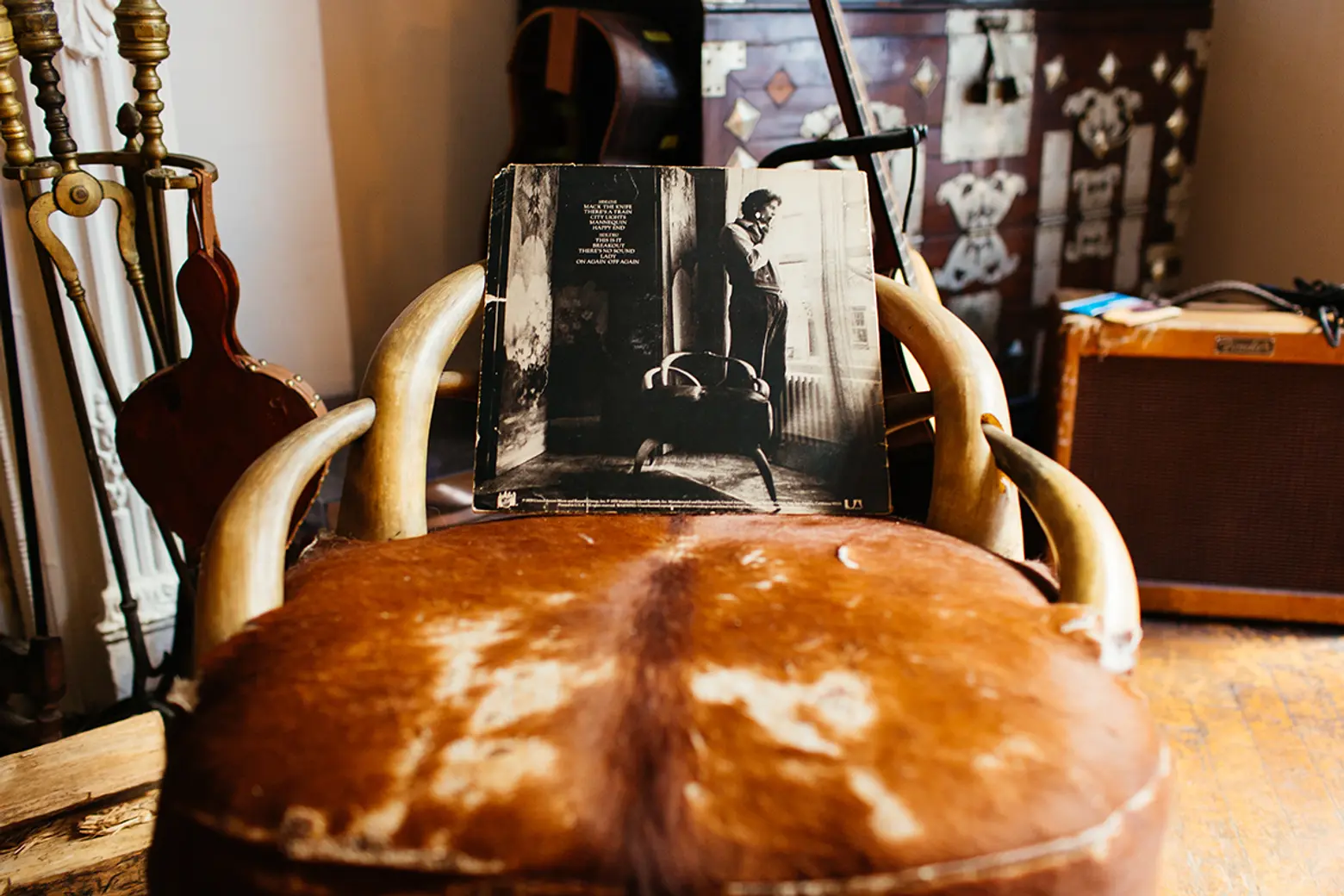 Devin's father is singer/songwriter Henry Gaffney. The cover of record sitting on the chair features the same chair and corner window of the apartment
6sqft: Having grown up in this apartment, how does it feel to come back and essentially remake your childhood home into your adult home? What were some of the first changes you made?
Devin: I gutted the place. My father had passed away, and my mother had moved to the Yucatan, so whatever things that had remained in my absence could be discarded. And I did that aggressively. Now it's been the slow process of filling the space again.
6sqft: What about your apartment do you really love?
Devin: The floors are beautiful. And the concept of space was clearly so different when this building was constructed. There is enough closet space in total to almost make a whole new room. But I think the best elements of its construction and design are the pumice and concrete walls. The building was originally constructed with an eye to house musicians for Carnegie Hall, so even in the middle of midtown Manhattan, it is quite quiet and peaceful. And the working fireplace is pretty dope.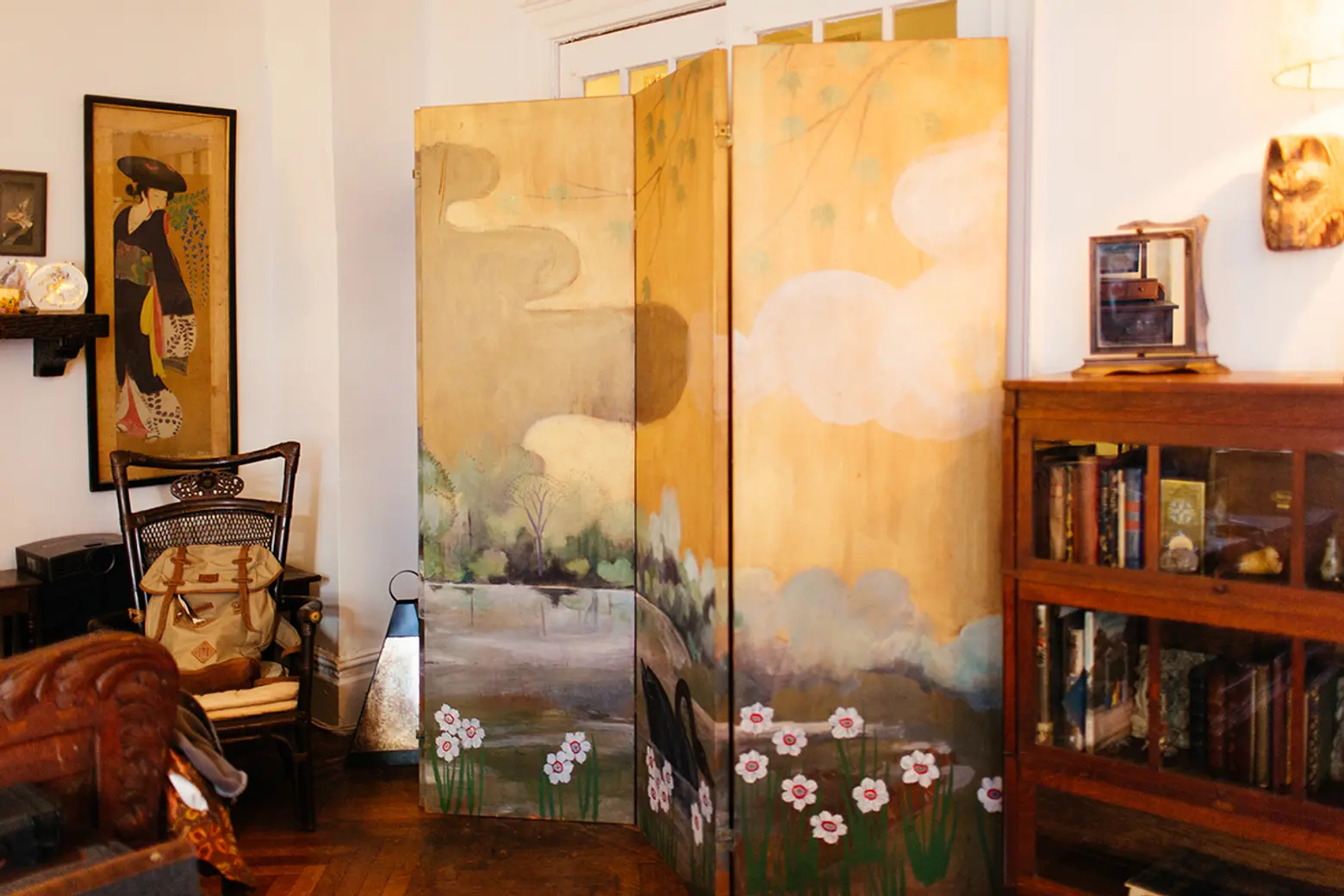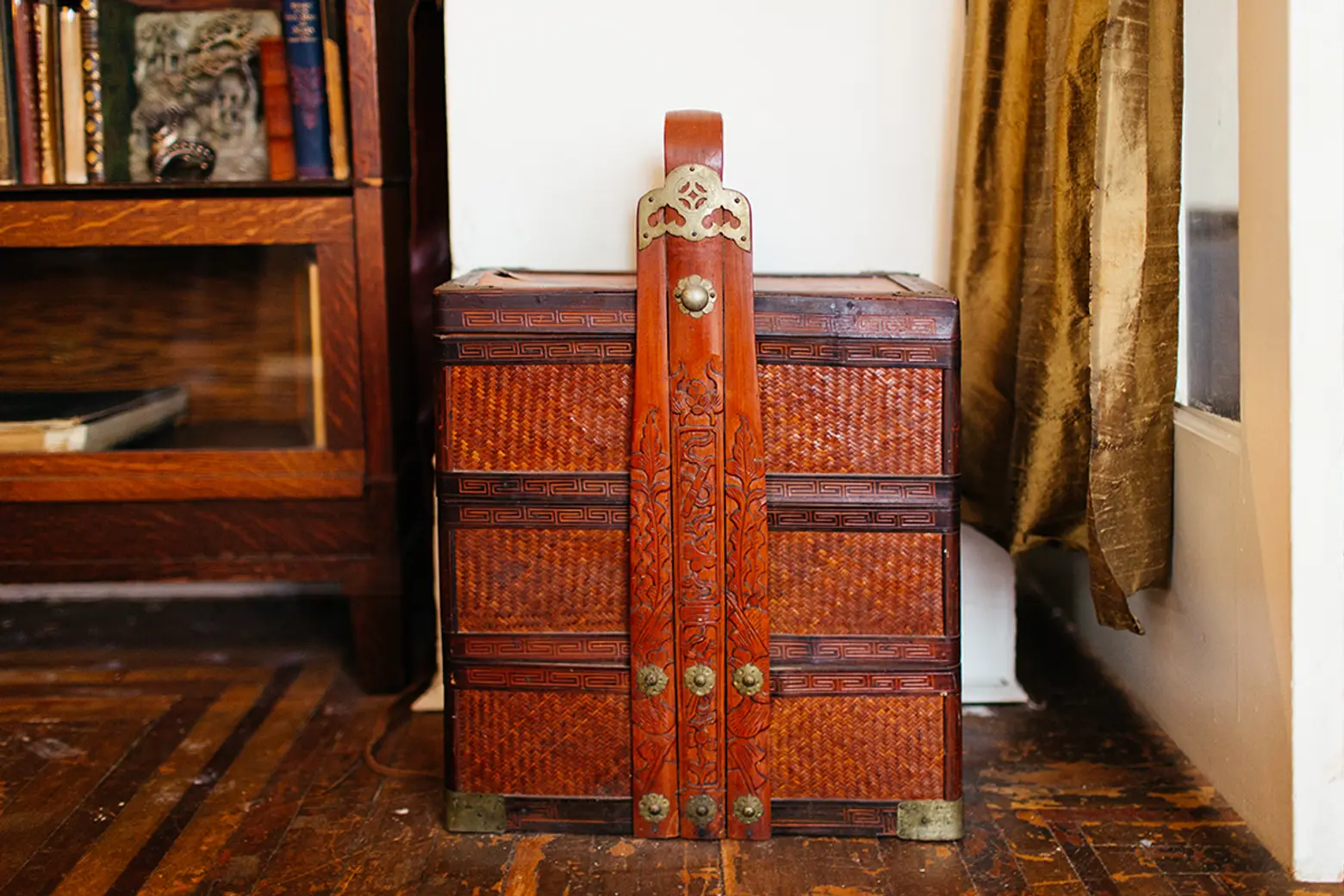 The screen and picnic basket above were party favors from one of Emperor Hirohito's birthday parties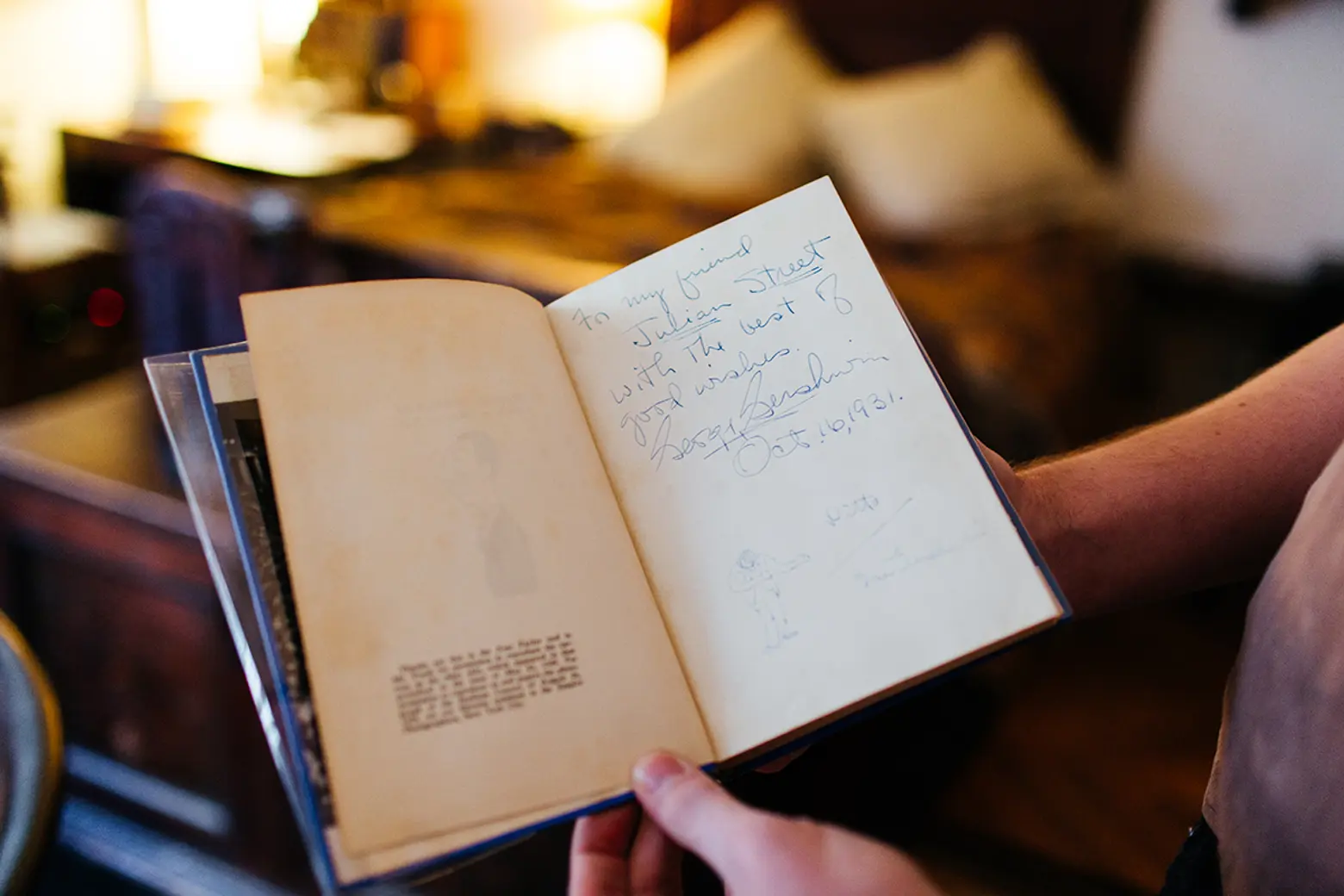 A book signed by George Gershwin to his grandfather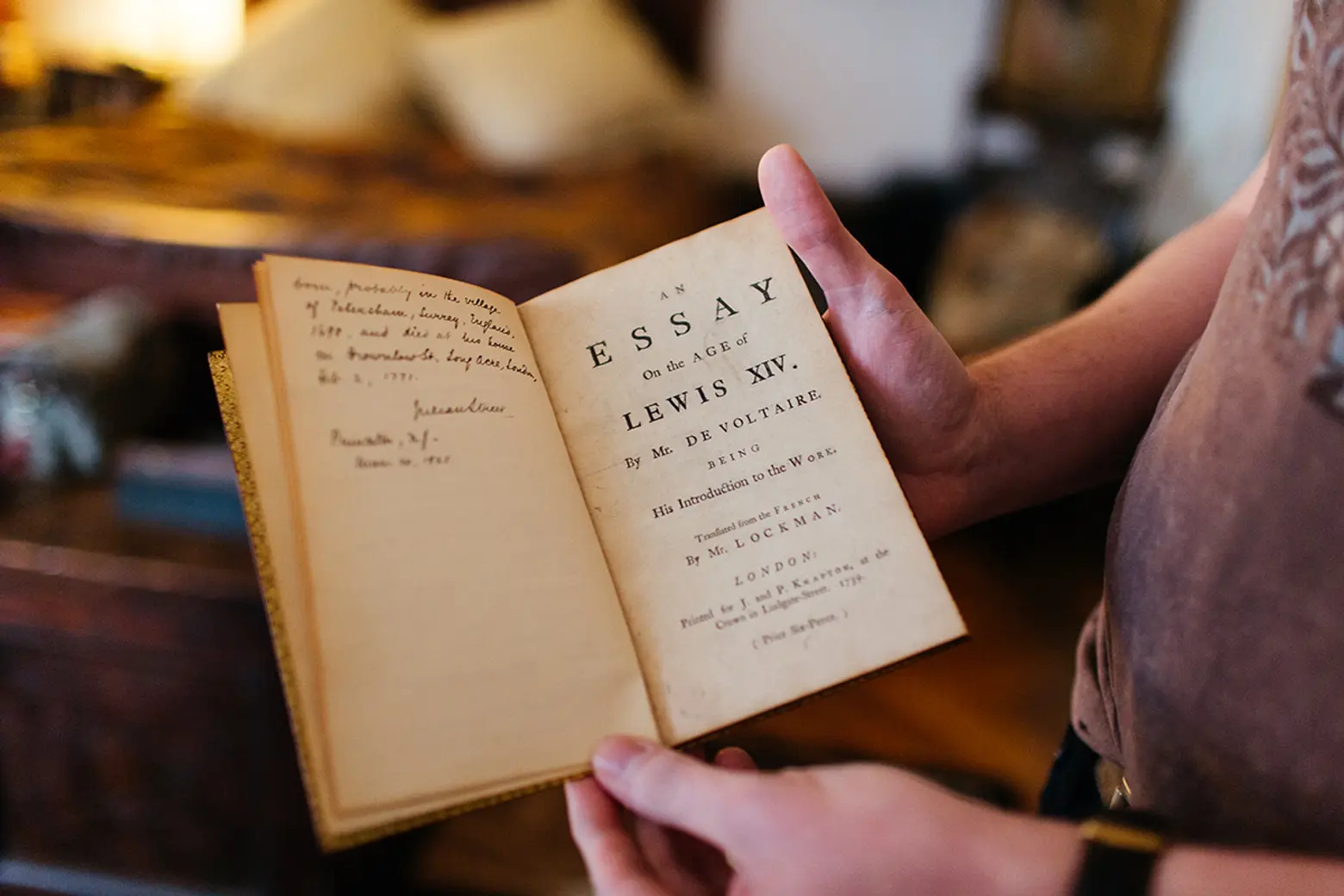 An English translation of a Voltaire volume, which was made when the author was still alive
6sqft: Which is better, Brooklyn or Manhattan?
Devin: Loaded question! I love Brooklyn, but living there was difficult. Feeling like you're on the edge of a wave that's about to crest, and it's just pushing you further and further out into the borough. My parents were both born, and raised, in Brooklyn, and I always thought that's where I would live. But what I loved about Brooklyn often seems to have become like an amusement park version of itself. That said, if I did not have this opportunity, and this old lease in my name, I would without doubt choose to live in Brooklyn over Manhattan.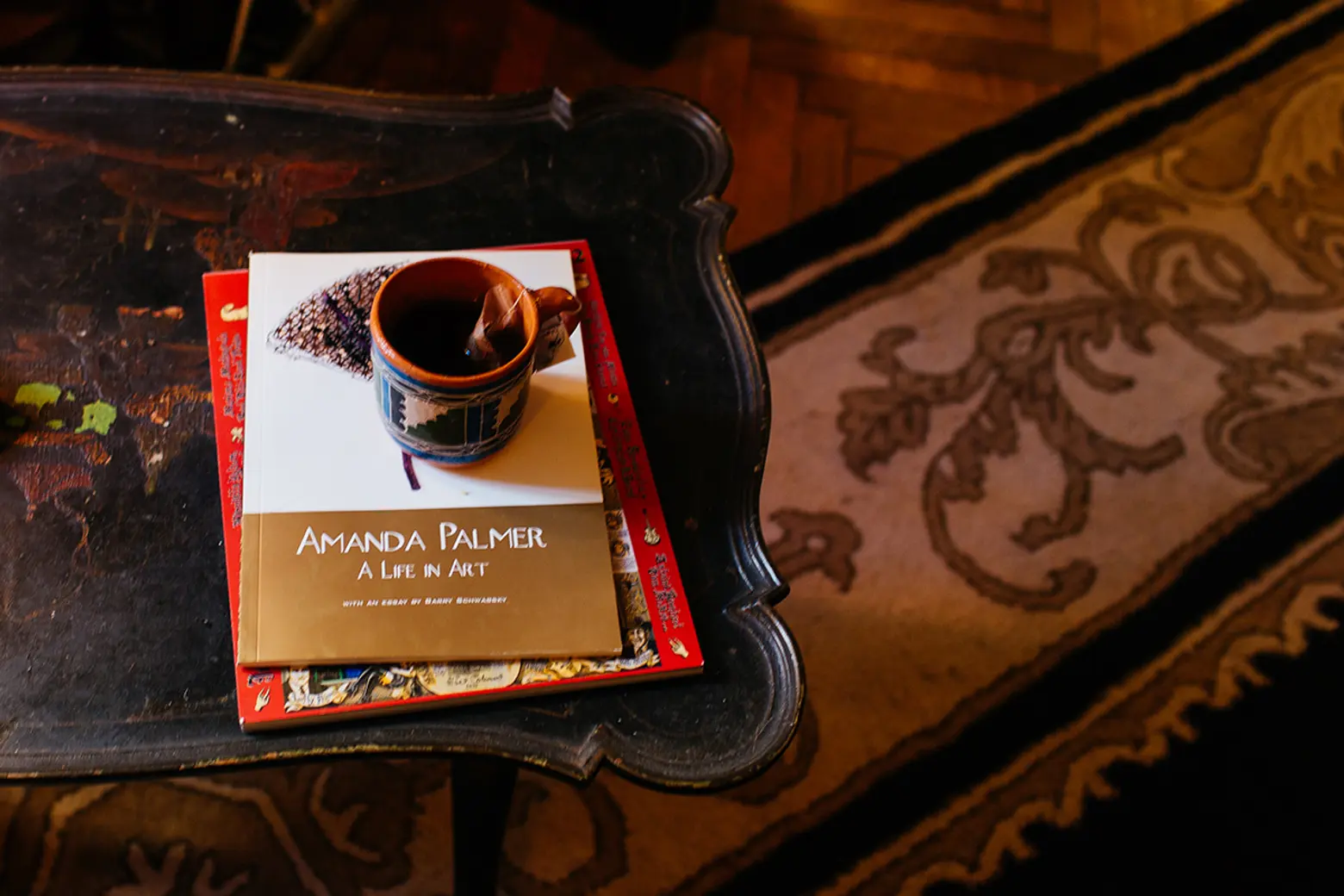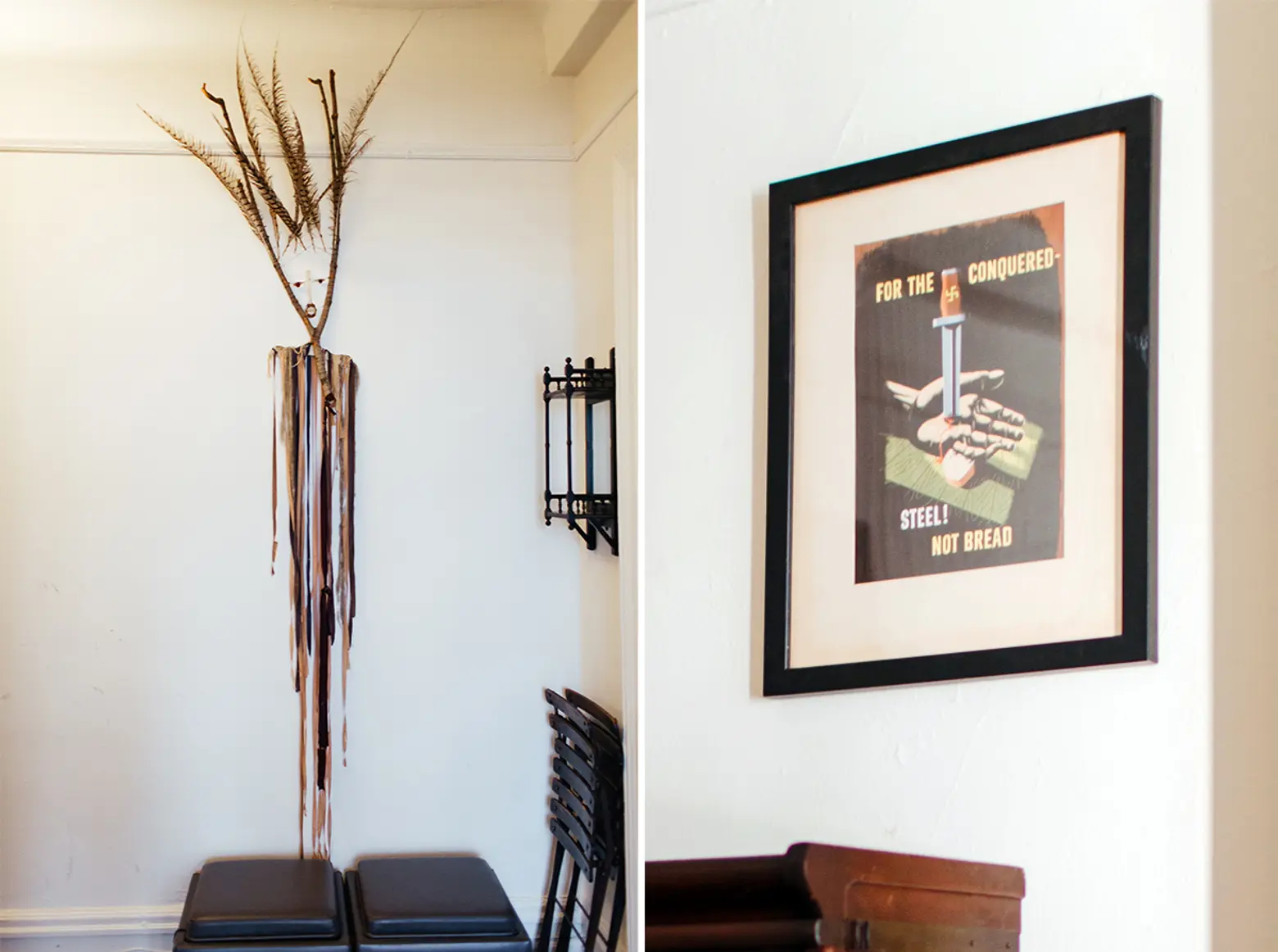 His grandmother Amanda Palmer's art is to the left; On the right his favorite piece, a work of American anti-Nazi propaganda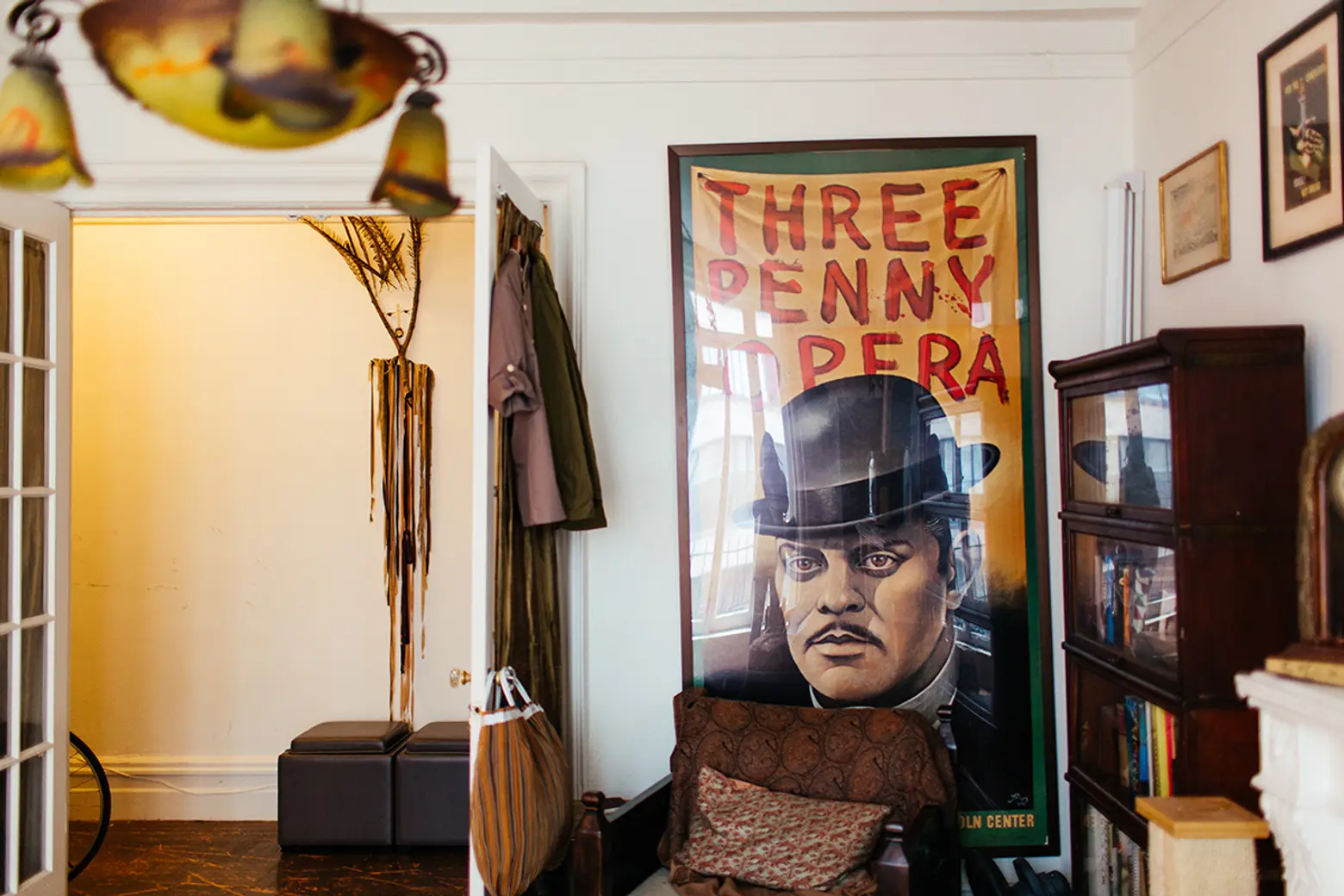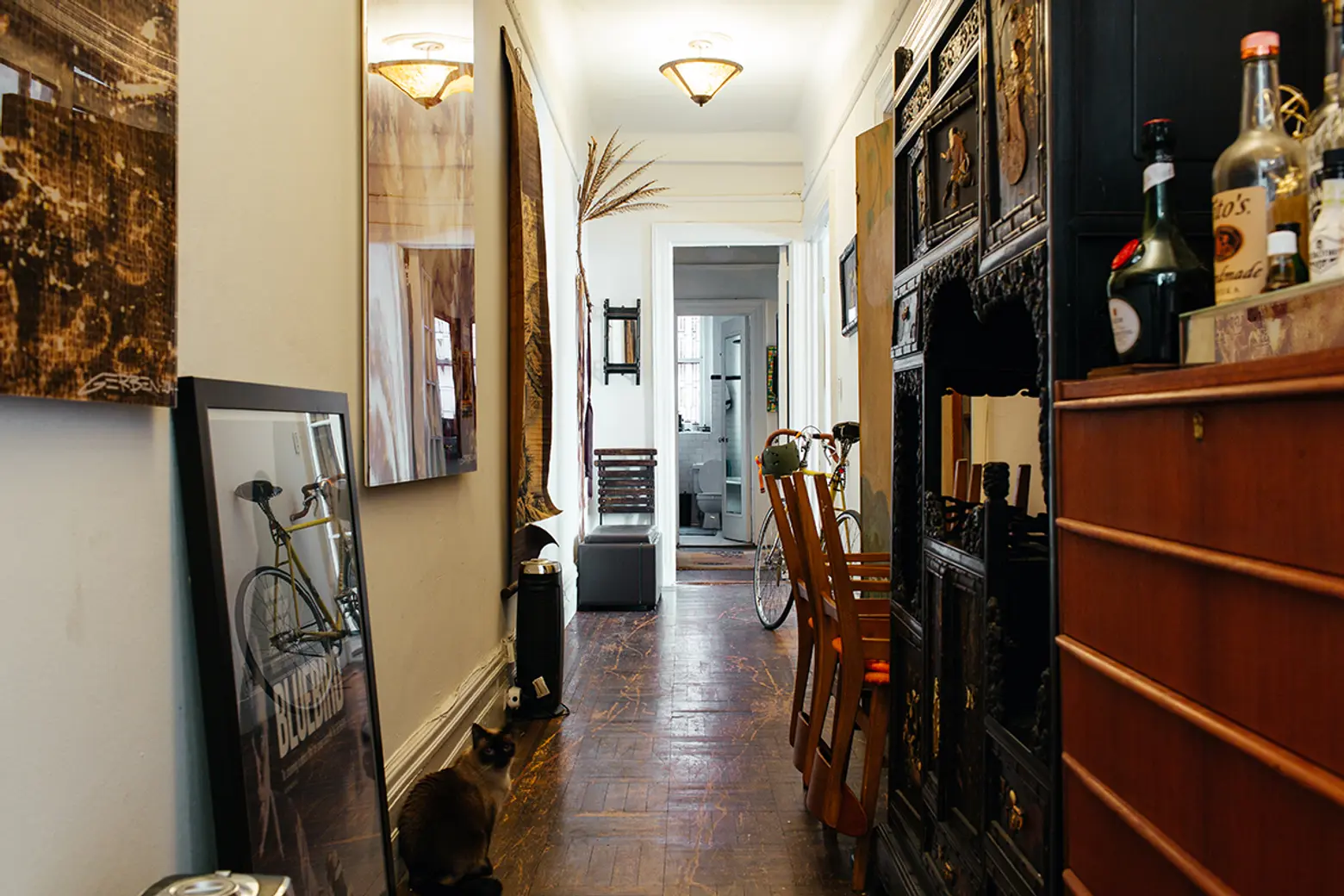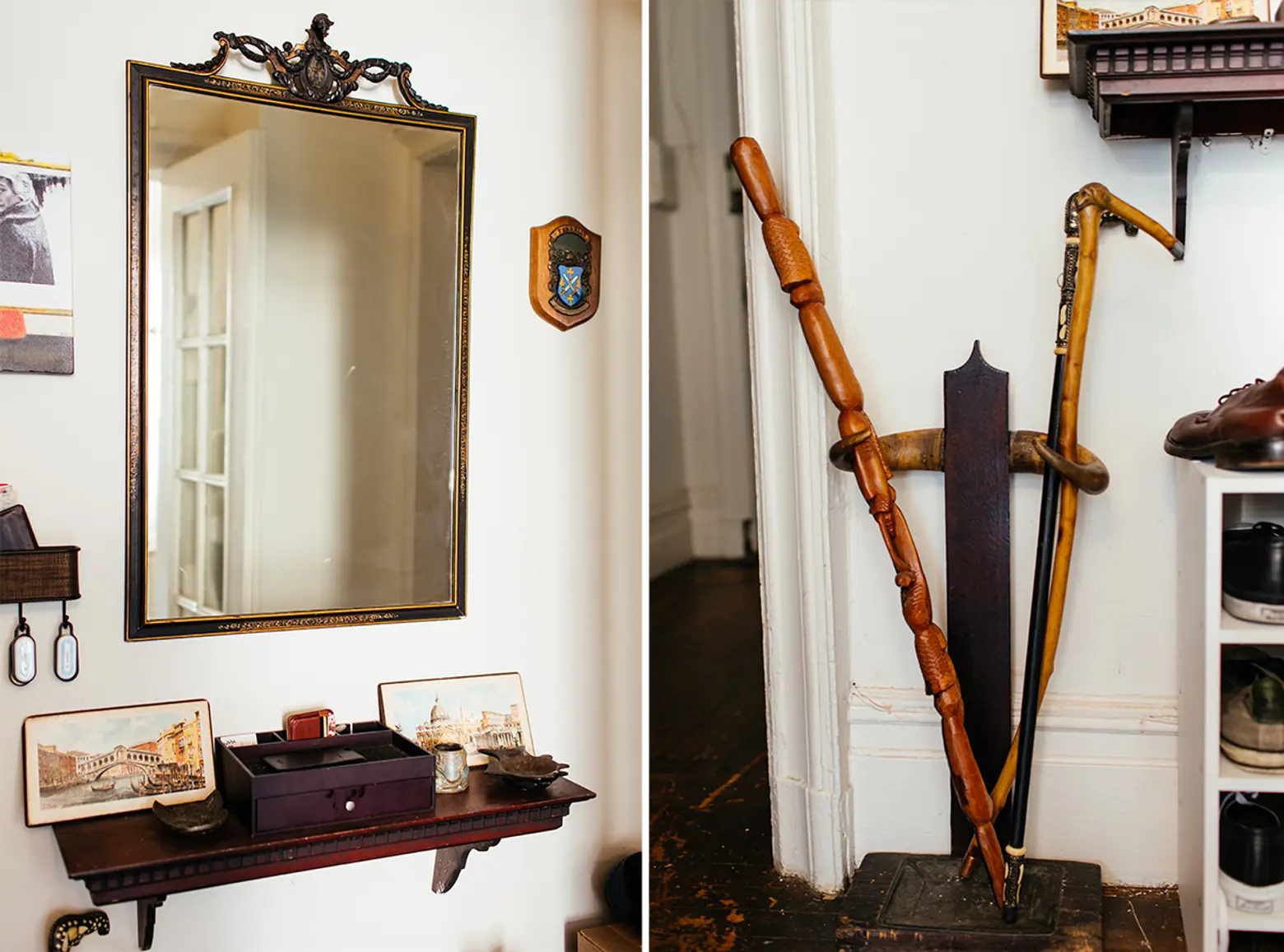 The mirror above the shelf dates back to the the 18th century; One of the canes to the right hides a shiv at the handle
6sqft: In terms of offerings, most of what's around here is really high-end or chain shopping and restaurants. Are there any under the radar spots that you frequent? Is there anything from your childhood you wish was still around?
Devin: I'm not a big shopper, so most of the boutiques here fall on deaf ears, if you will. But one of my favorite restaurants in the world is a few blocks away—Yakitori Totto. And there are parts of Central Park that sometimes feel like I'm the only person who has ever been to. There isn't a path, or meadow, or tree there that I don't know like my own hands. Many hidden gems.
As far as my childhood, there are not many businesses that I miss. But the grit is gone, and I do miss the pimps, prostitutes and drug dealers, and when the subway wasn't safe enough to ride past 8 o'clock. Or no curfew in the park, when tourists and the uninitiated wouldn't touch it. New York felt like more of a city, and I miss that.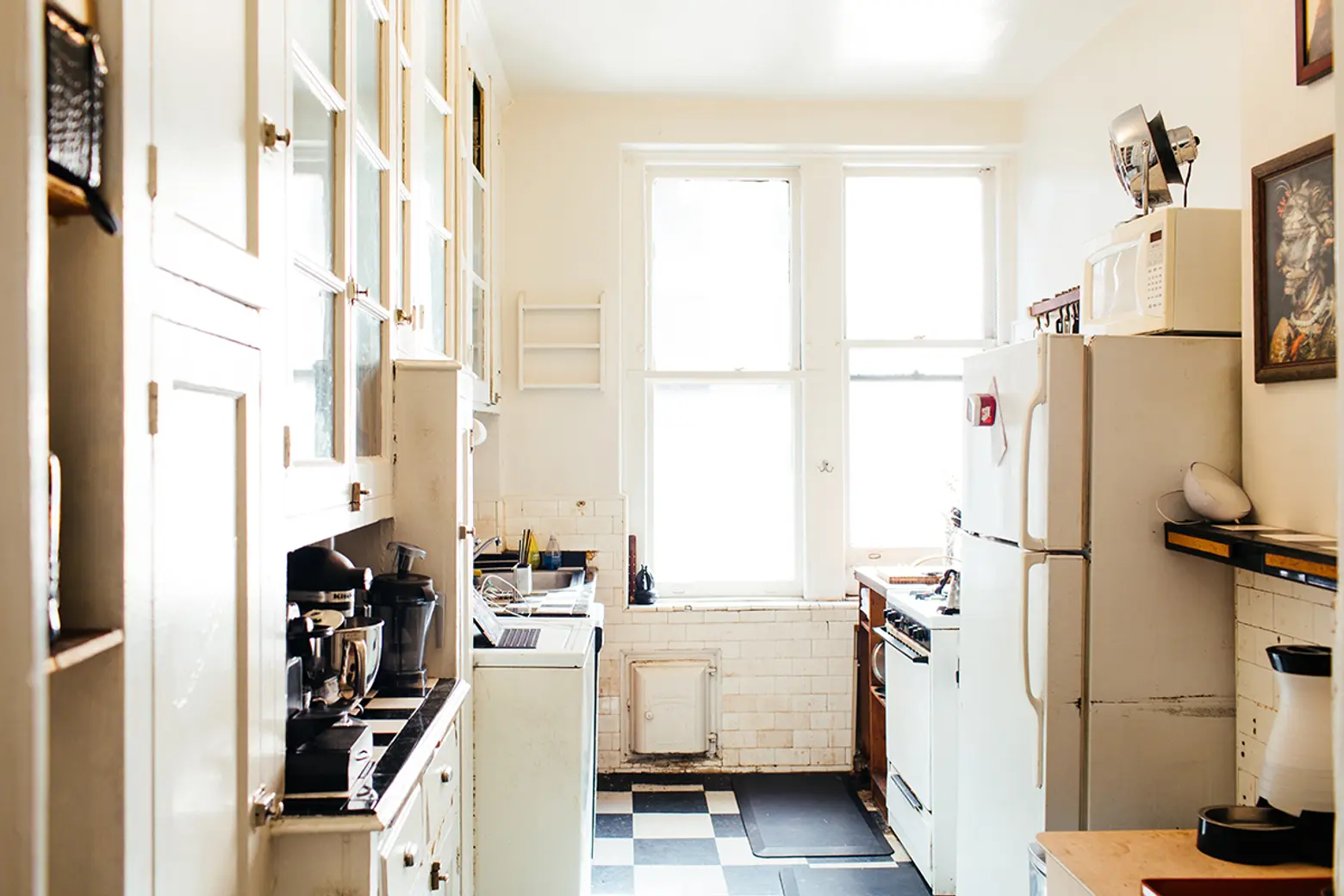 A spacious kitchen makes experimenting easy for the chef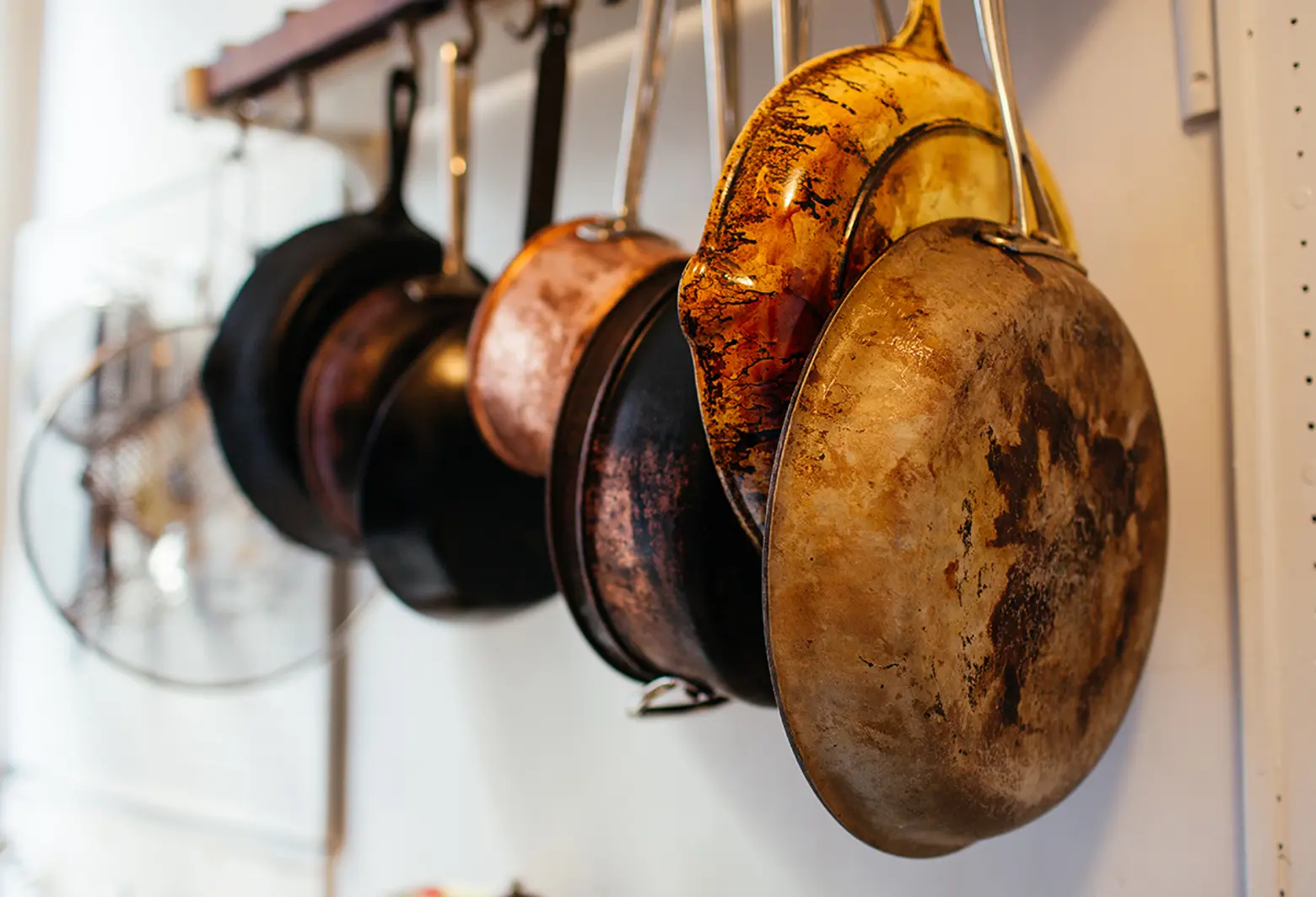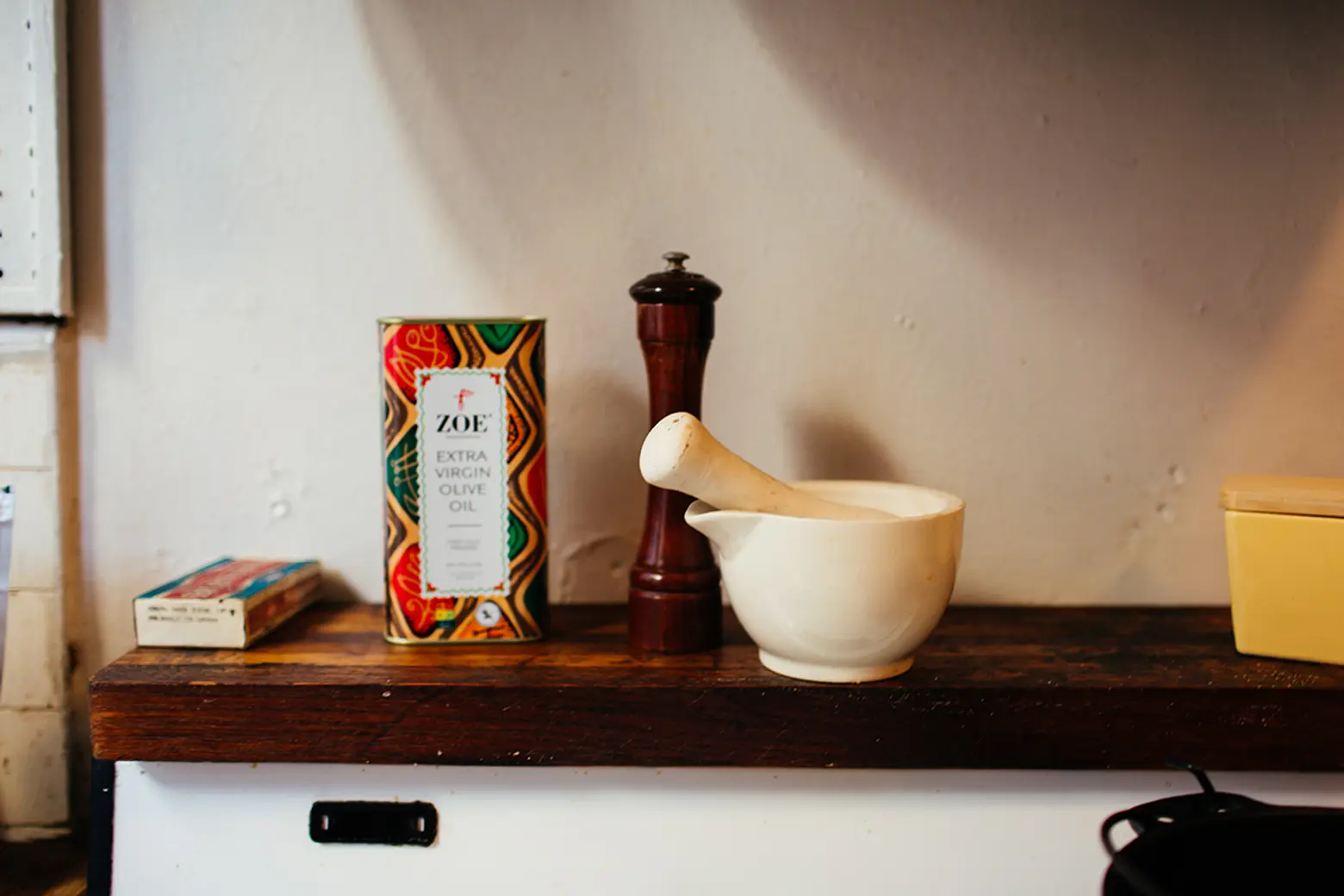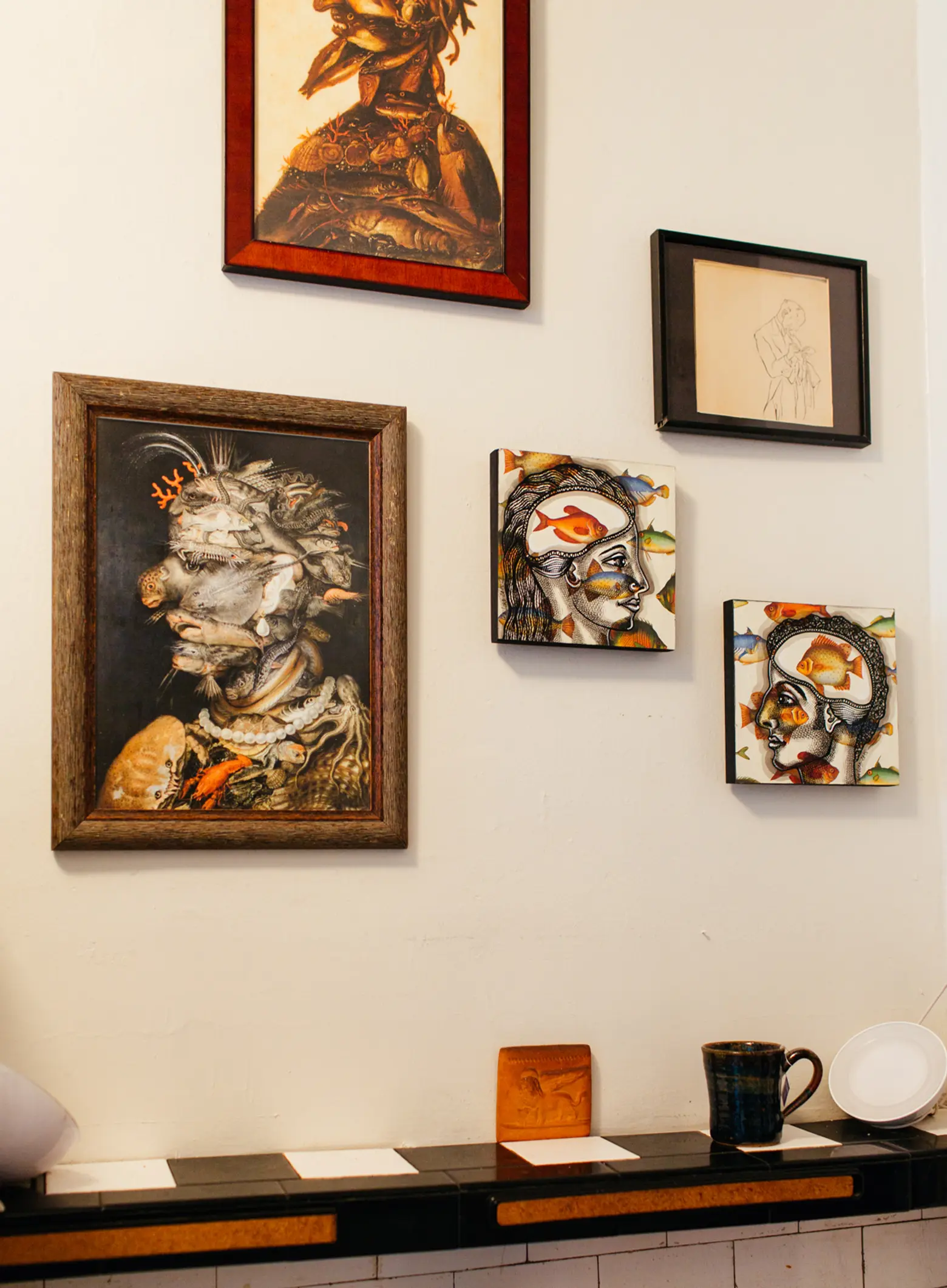 Art from friends hang on the kitchen wall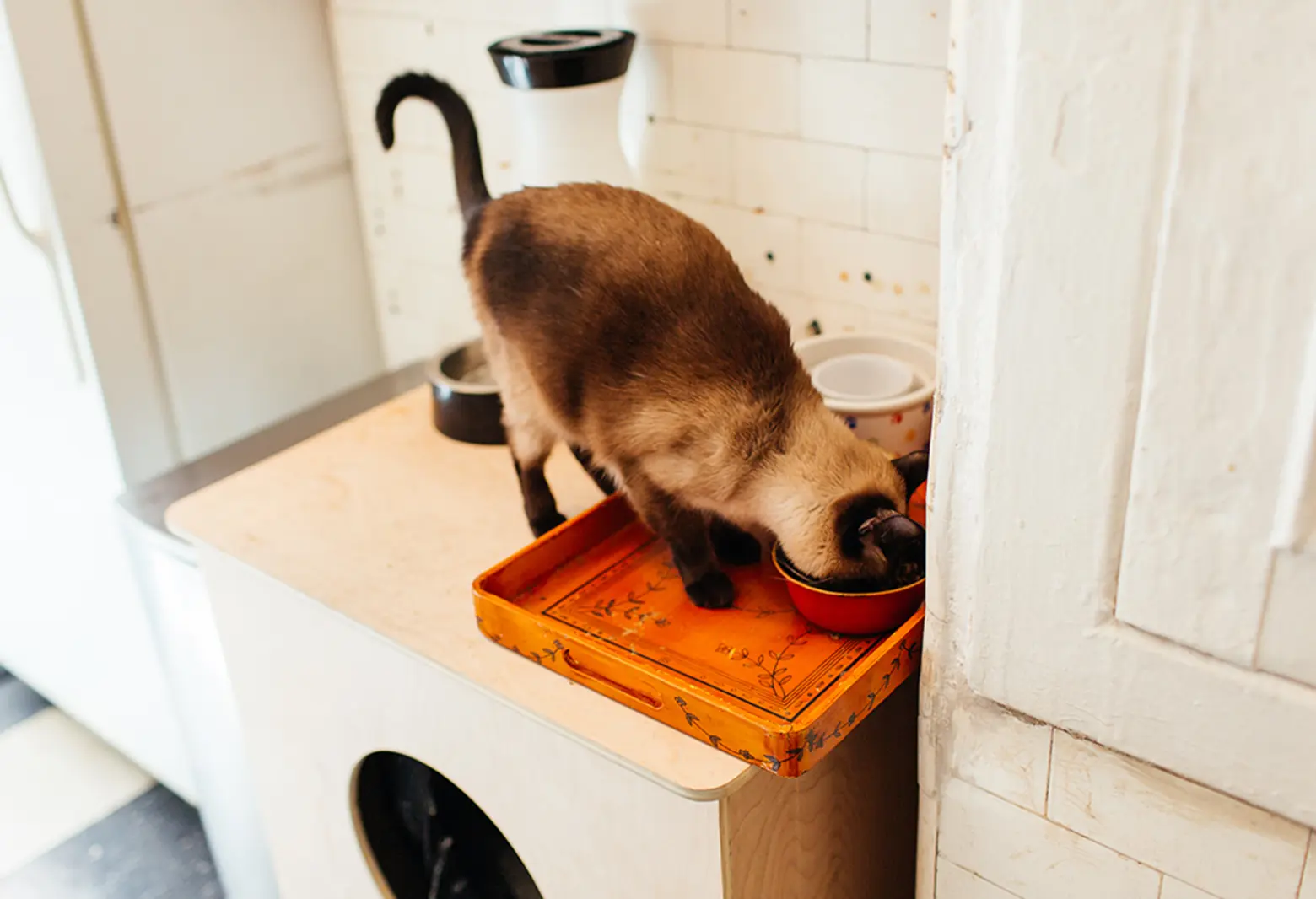 One of his two cats
6sqft: Is there any part of NYC you'd like to explore more?
Devin: I've lived in NYC for 30 years, and I've been to Staten Island once. Like actually only one time. Not sure if I want to explore it more, but I probably should.
All photos taken by Erin Kestenbaum exclusively for 6sqft. Photos are not to be reproduced without written permission from 6sqft.
RELATED: