Our 2,500sqft: New homeowners Mark and Lauren take us inside their relaxed Bed-Stuy brownstone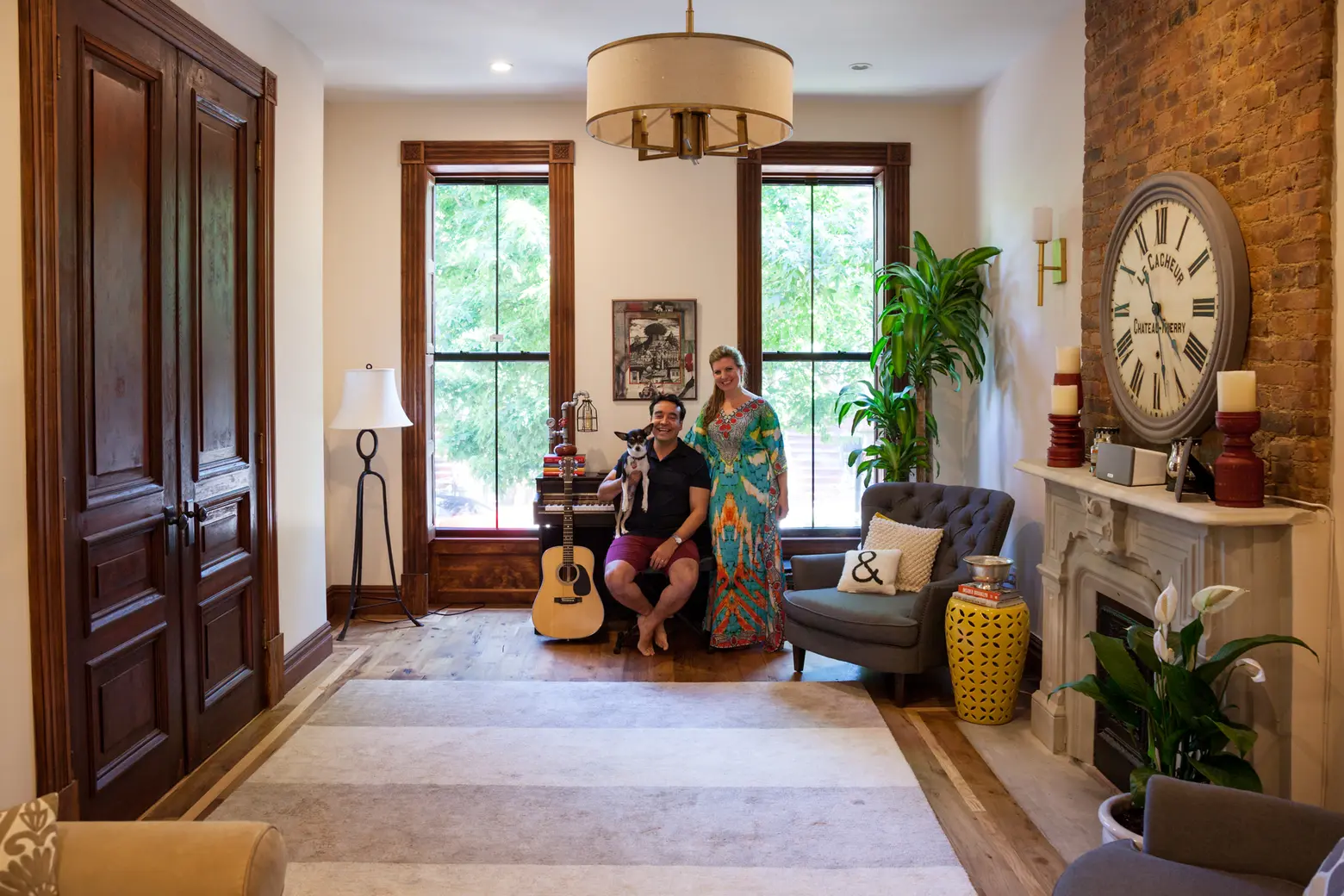 6sqft's series "My sqft" checks out the homes of New Yorkers across all the boroughs. Our latest interior adventure brings us to the Bed-Stuy brownstone of Mark and Lauren. Want to see your home featured here? Get in touch!
The Upper West Side to Bed-Stuy may seem like a big jump, but Mark Macias and Lauren DeGregory haven't looked back. Last August, the lovely couple bought a renovated brownstone in the 'hood, upgrading from a one-bedroom apartment to a three-story 1890 house complete with a rental apartment, owner's duplex, and, best of all, rear deck and backyard.
Having a warm, comfortable home was especially vital to the couple because of their schedules. Though he runs his own PR firm, Mark spent their first year as homeowners finishing up his play about Elvis Presley, "The King, The Final Hours." And Lauren's life sciences consulting job keeps her traveling and living out of a suitcase for most of the work week. 6sqft recently paid Mark and Lauren (and their dog Einstein!) a visit, got a tour of their pretty home, and learned a bit more about their new lives as homeowners.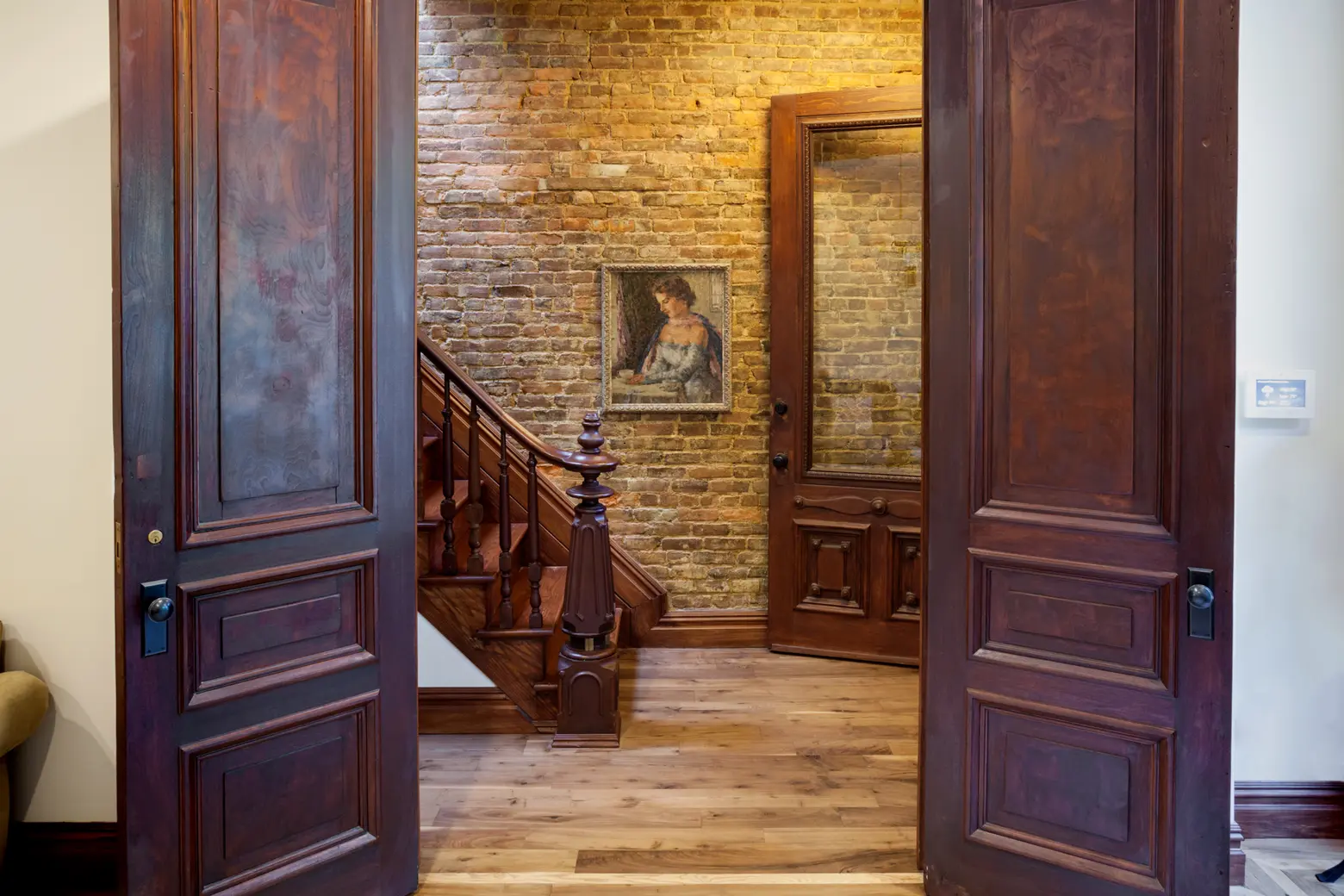 The painting near the front door is from a vintage store in Scotland, where the couple was in the spring. It caught Lauren's eye because she likes Impressionism; Mark loves how it blends with the brick wall. The staircase and front door are original.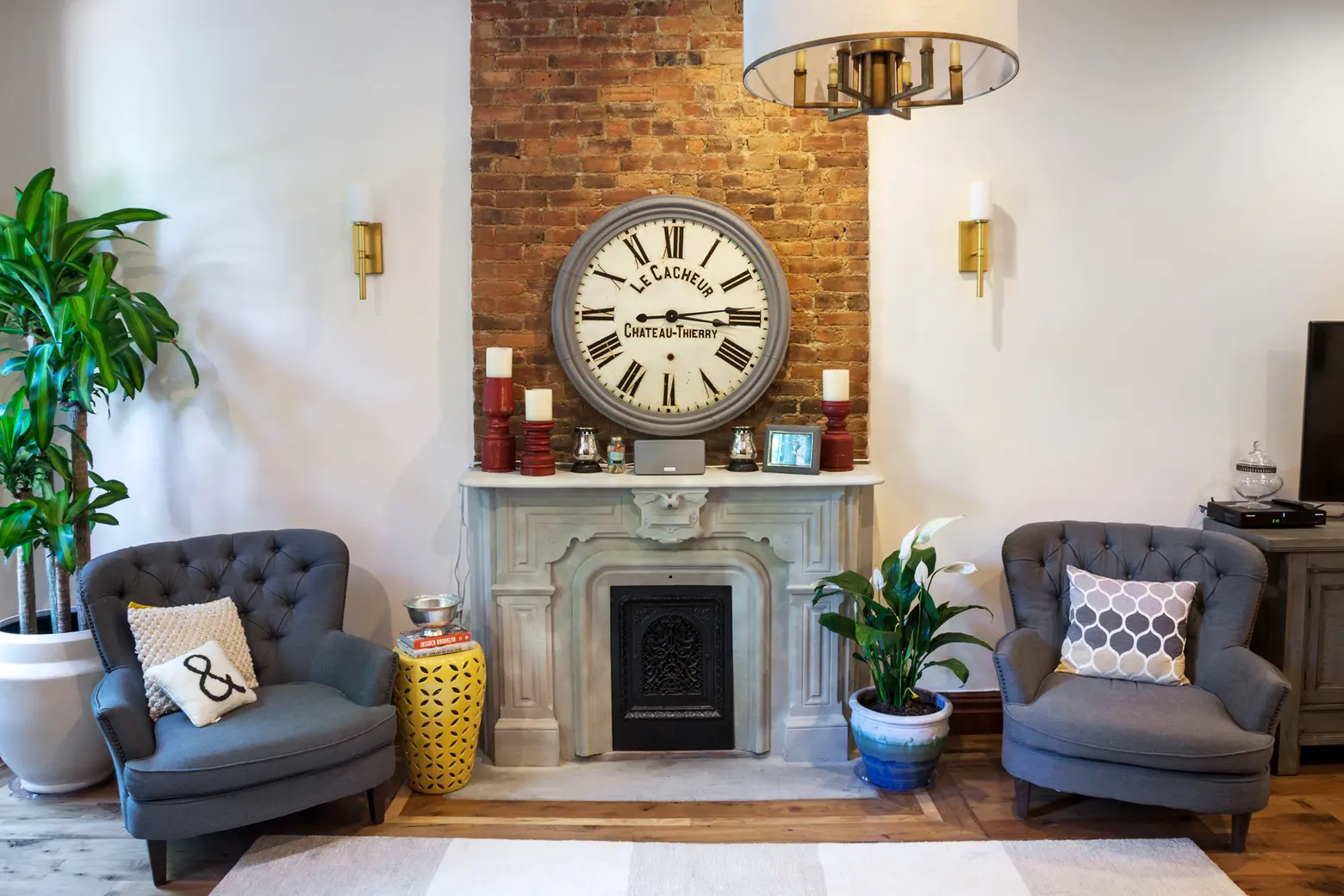 The living room fireplace is working; there's a different screen for the wintertime.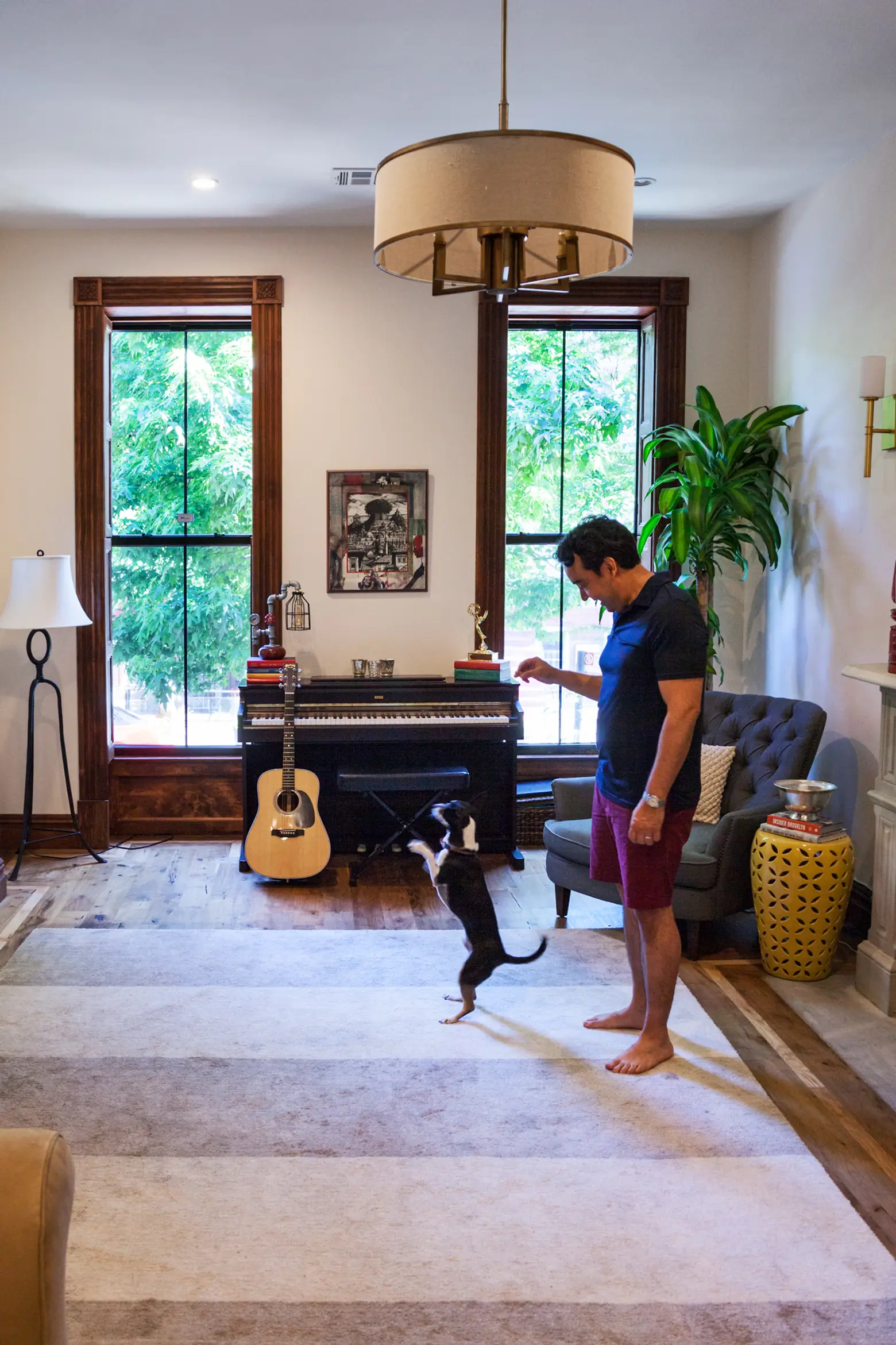 After Elvis, Einstein is Mark's other idol, hence the name of their rat terrier-chihuahua. They got him on their one-year anniversary dating in November 2015.
How did you two meet? 
Mark: We met on a dating app. We lived seven blocks from each other and made our ways into each other's lives. Probably more important, I think it's the timing that brought us together. I knew it quickly, and by date two, I told her I didn't want to date anyone else. I'd like to believe I would have found my wife inside a crowded Starbucks with or without the app. I was too drawn to her.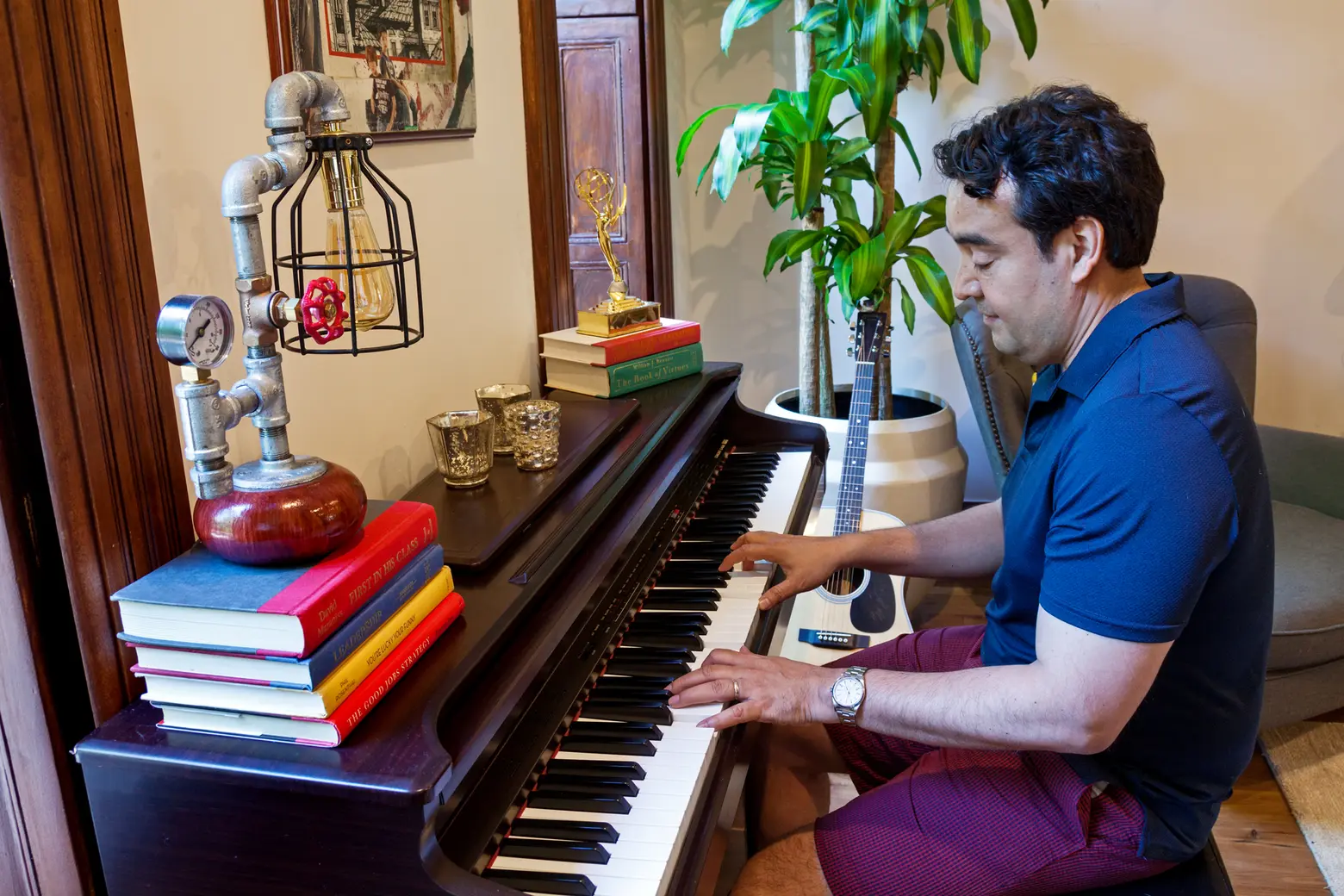 The Martin guitar next to the piano is the same one Elvis had; this was Lauren's wedding present to Mark. The lamp is from a store in Mystic, Connecticut. 
Mark won his Emmy for a story he did while working as an executive producer for NBC.
Your first place together was on the Upper West Side. Anything you miss about that neighborhood?
Mark: Not at all. We love Bed Stuy. I never thought I would love Brooklyn so much but it's such a friendly neighborhood where you actually meet your neighbors and talk to them. I work out three times a week in Bed Stuy and I know everyone in my Crossfit Outbreak class by name. I never knew anyone's name at my Equinox on the Upper West Side, and I went there for years. It's also edgier here. I can't put my finger on it, but I've discussed it with others. There's this vibe in the air that, to me, is more creative and fresh. I'm usually the oldest guy on the subway going to work, surrounded by kids that keep me feeling young. It's a stark contrast to Fairway on the Upper West Side where everyone is fighting to get milk. They made it already in the Upper West Side. Here, people are still hungry for fun and curious about life.
Lauren: The one thing I really miss is the huge bins of fresh olives at Fairway. Bed Stuy grocers, get some fresh olives, please! We often traveled to other neighborhoods, like the Lower East Side or West Village, when we lived in the UWS. Getting to the Lower East side was a 45-minute endeavor before, but now it's only 20 minutes. We are on opposite ends of the city now and still go all over. It's just as convenient living here.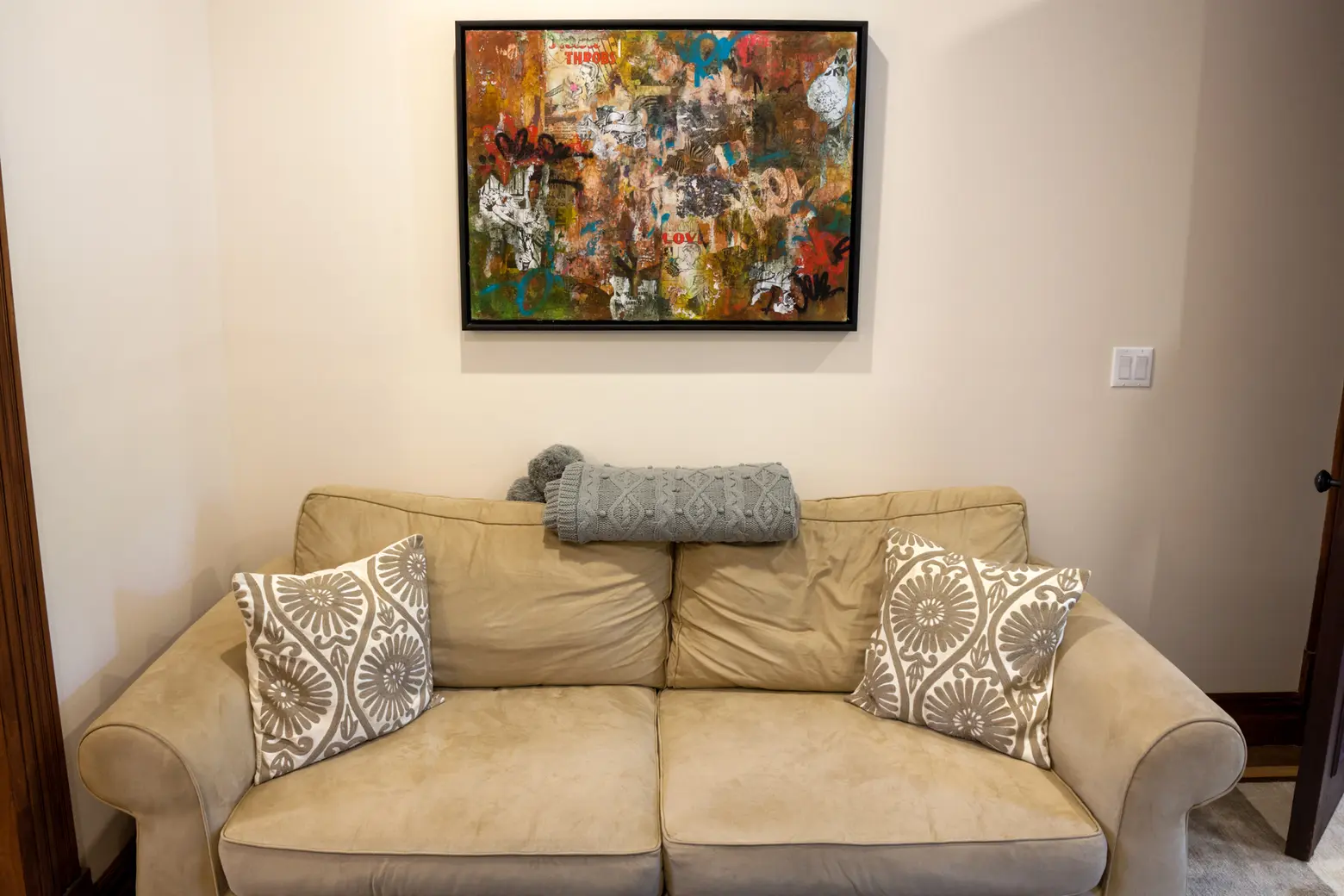 The painting above the couch is by a graffiti artist in the U.K.
Tell us some of your favorite spots in the 'hood.
Mark: I'm giving a shout out to my Crossfit Outbreak class in Bed Stuy. Victor and Richard push us all, and I think they actually care about us as people. I also love Chez Oskar; their lamb burgers are so incredible, and you're not paying Manhattan prices. Saraghinas is another great spot, but it's getting too popular. We now have to wait an hour for a table on some nights. Maybe I shouldn't tell you any more of my favorite spots so I don't have to compete with people for a table!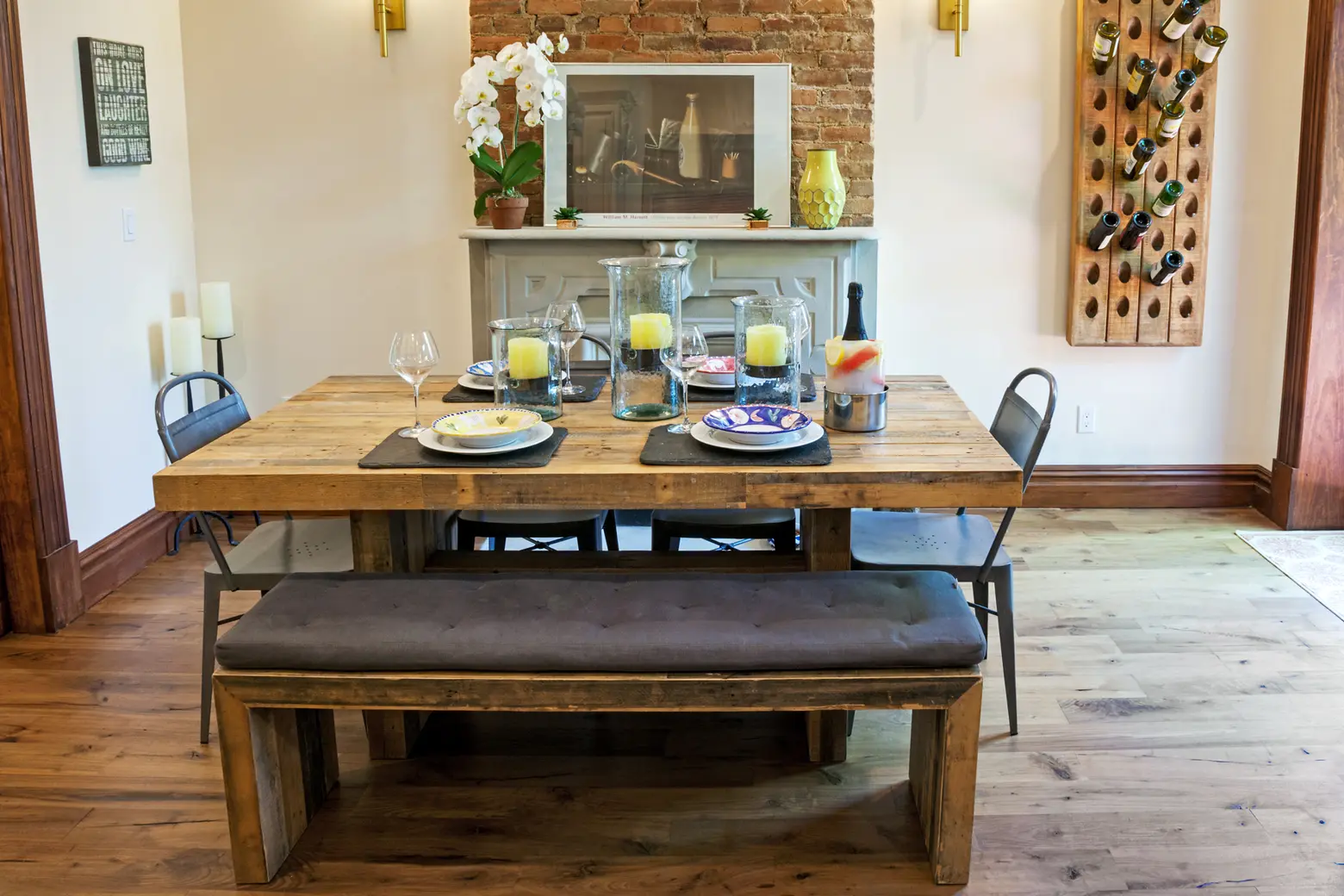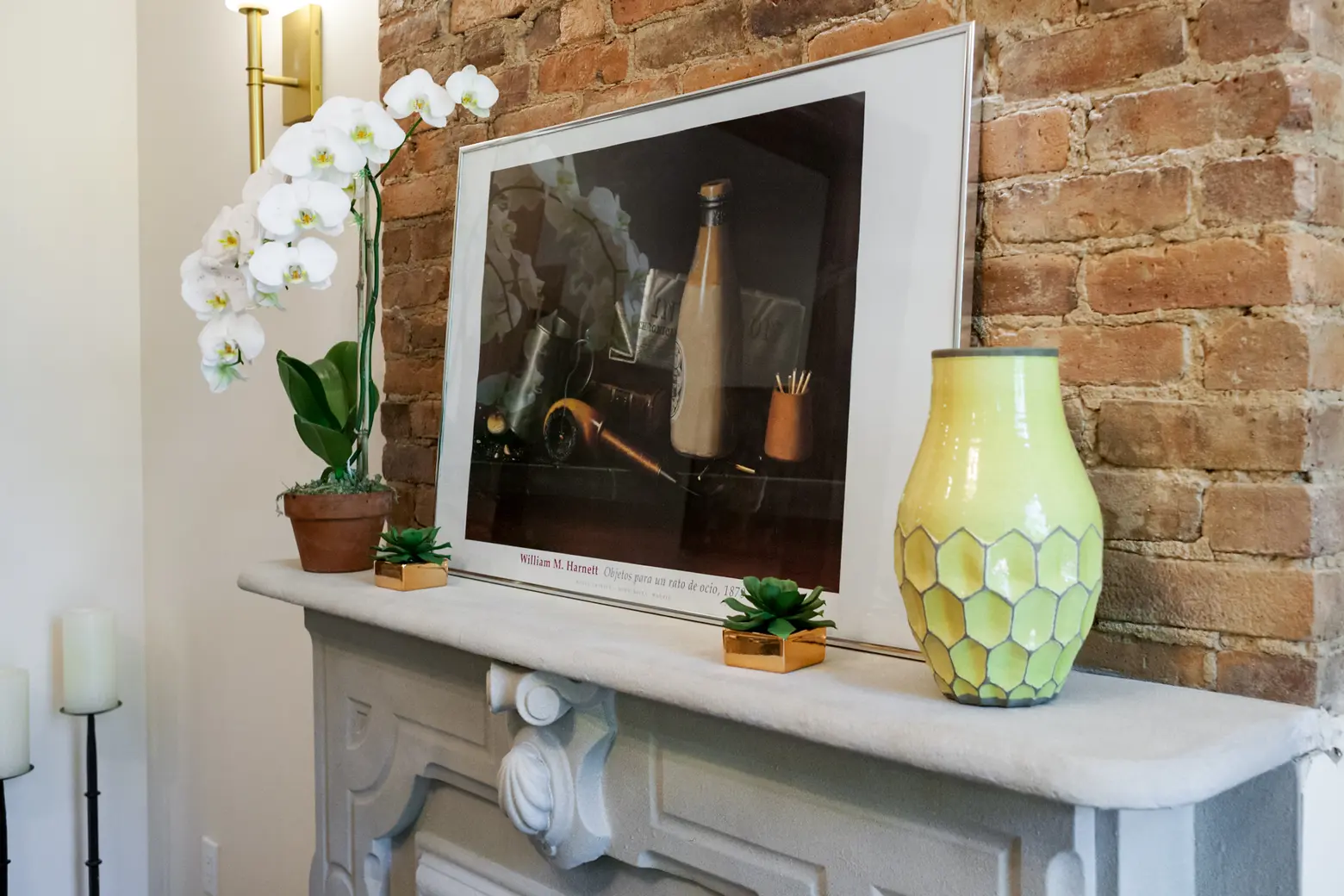 Did you look at a lot of homes before deciding on this one?
Mark: No joke, this was the first home we saw in Bed Stuy and Brooklyn. We spent over a year looking at apartments on the Upper West Side, Upper East Side, Morningside Heights, and Hells Kitchen. We never fell in love with any of those homes. They were just apartments.
Lauren was all over the new listings every week, looking to see what was coming out. She found this place the morning we decided to branch out to Brooklyn, and it went on the market that morning. The realtor later told us that he decided to host an open house at the last minute. I'm glad he did because a lot of other people missed out on this home. We didn't know how to get here, or even what to expect in Bed Stuy, but inside, it felt right. When we walked in, I looked at my wife and said "shhh, don't look excited. We don't want to let them know how badly we want this place." When you know, you know. You feel it inside.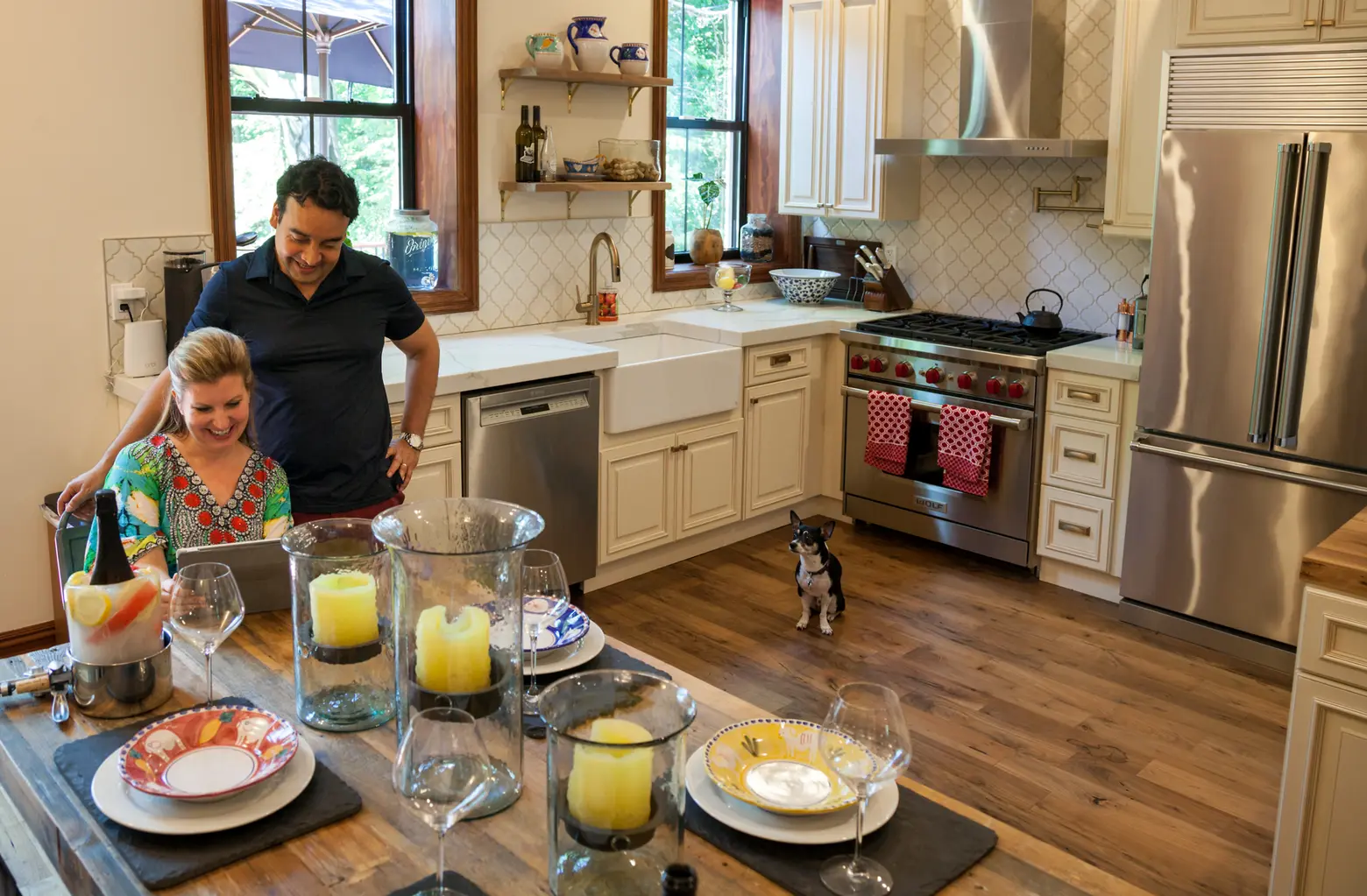 Did you change anything when you moved in?
Lauren: We are very lucky that [the previous owners] did the house to our tastes, both because it saved us money and because neither of us is very handy!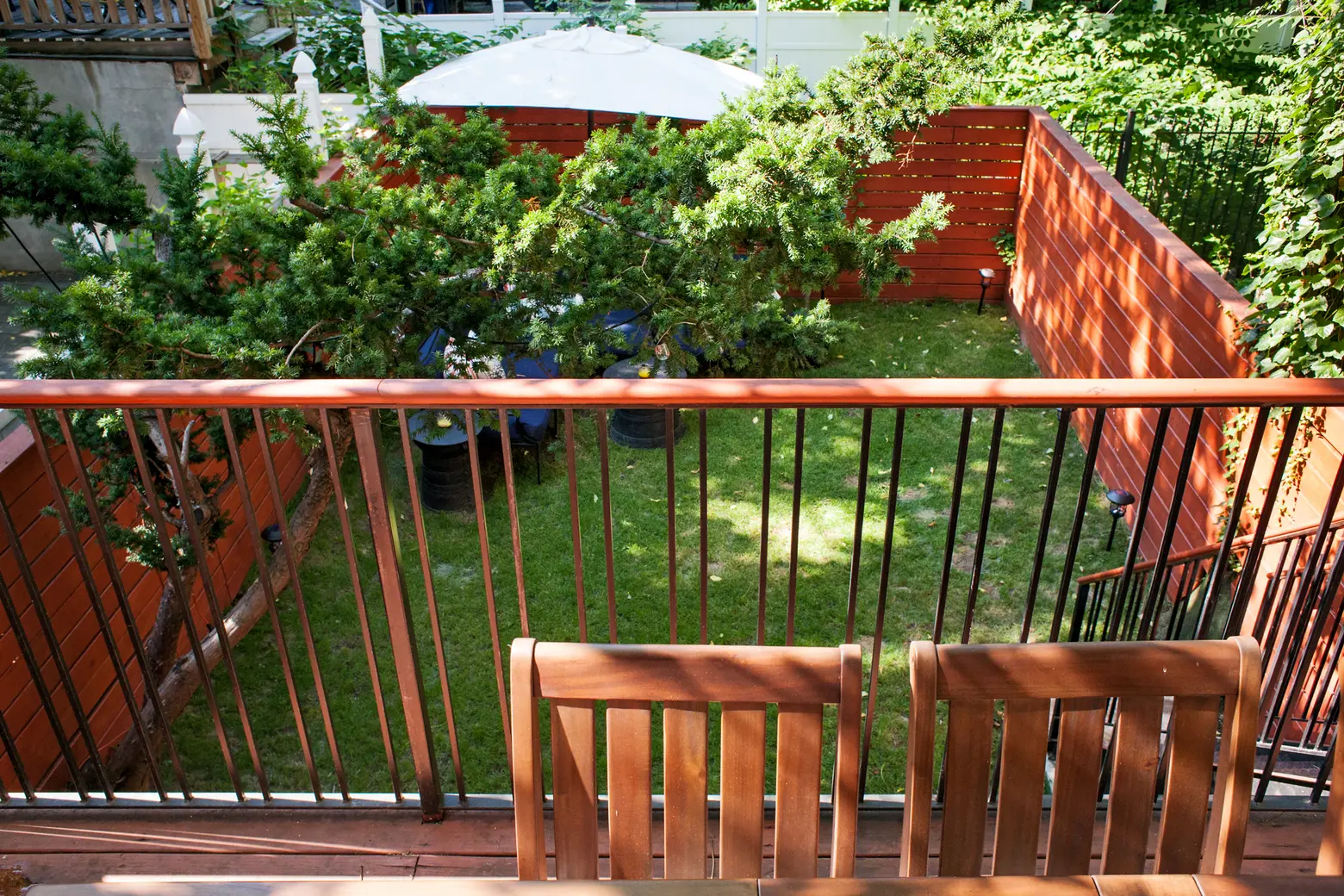 In terms of furniture, did most of the pieces come from your old place or did you have to get a lot of new items?
Lauren: We are using all of our furniture from our last apartment. Of course, though, going from a one-bedroom co-op to a five-bedroom brownstone meant we needed to buy stuff. Oh, and that outdoor space. That was first on my list to get right and start enjoying.
Mark: We bought that outdoor furniture before we even closed, and it was scheduled for delivery the day after our "scheduled" closing date. Luckily we didn't have any delays or the moving truck might have left all that outdoor furniture on the stoop.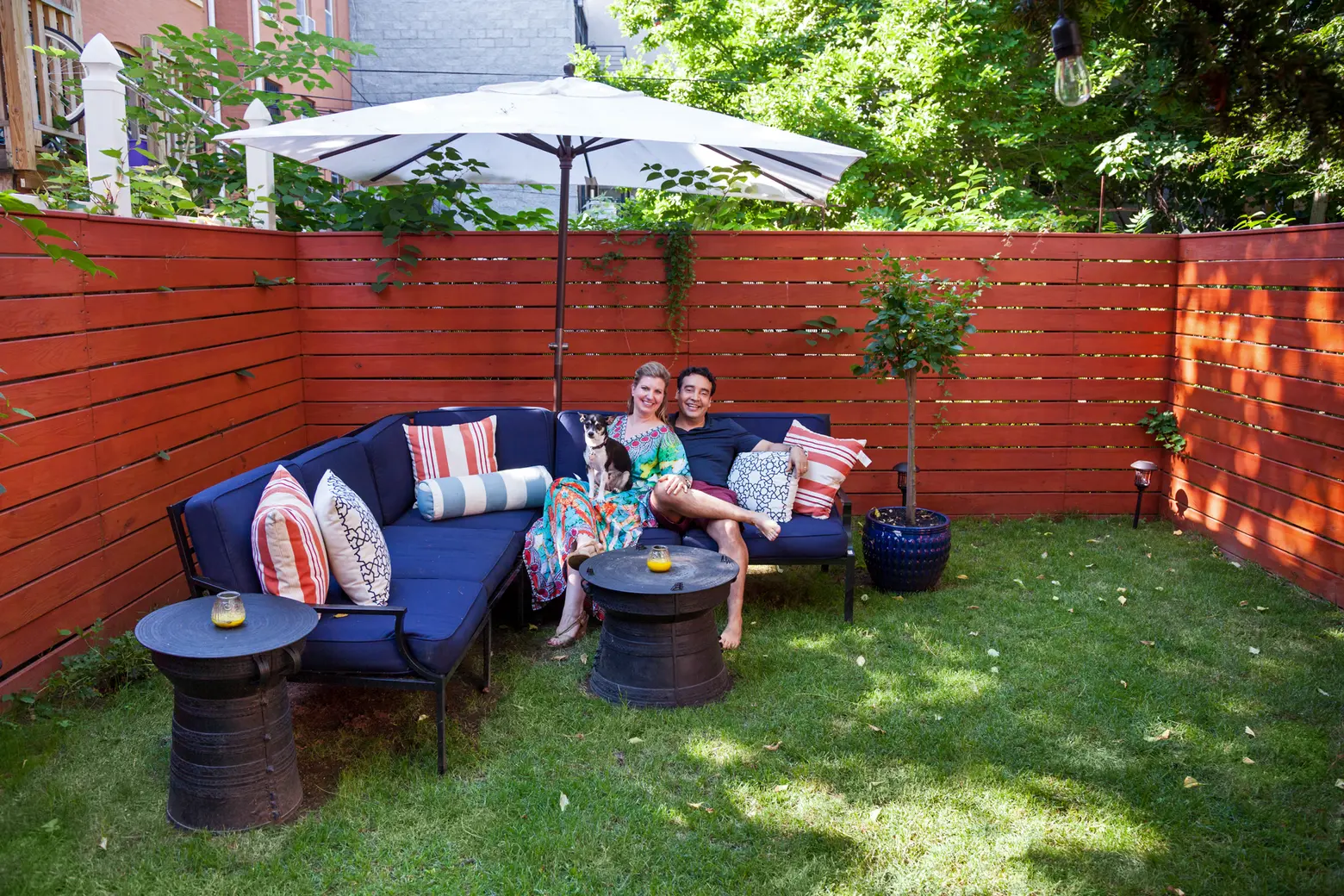 The outdoor space is certainly ideal! How has your day-to-day routine changed now that you have this backyard?
Mark: It's night and day. On Sunday, my wife and I had her parents and their grandkids over for a barbeque. After we cooked burgers and hot dogs and everyone left, Lauren and I just hung out in the backyard, sipped wine, and watched the sun set. I'm not kidding, it sounds like a movie, but we sat out there and watched the sky slowly turn from orange to light blue to dark. There are sunsets in Brooklyn.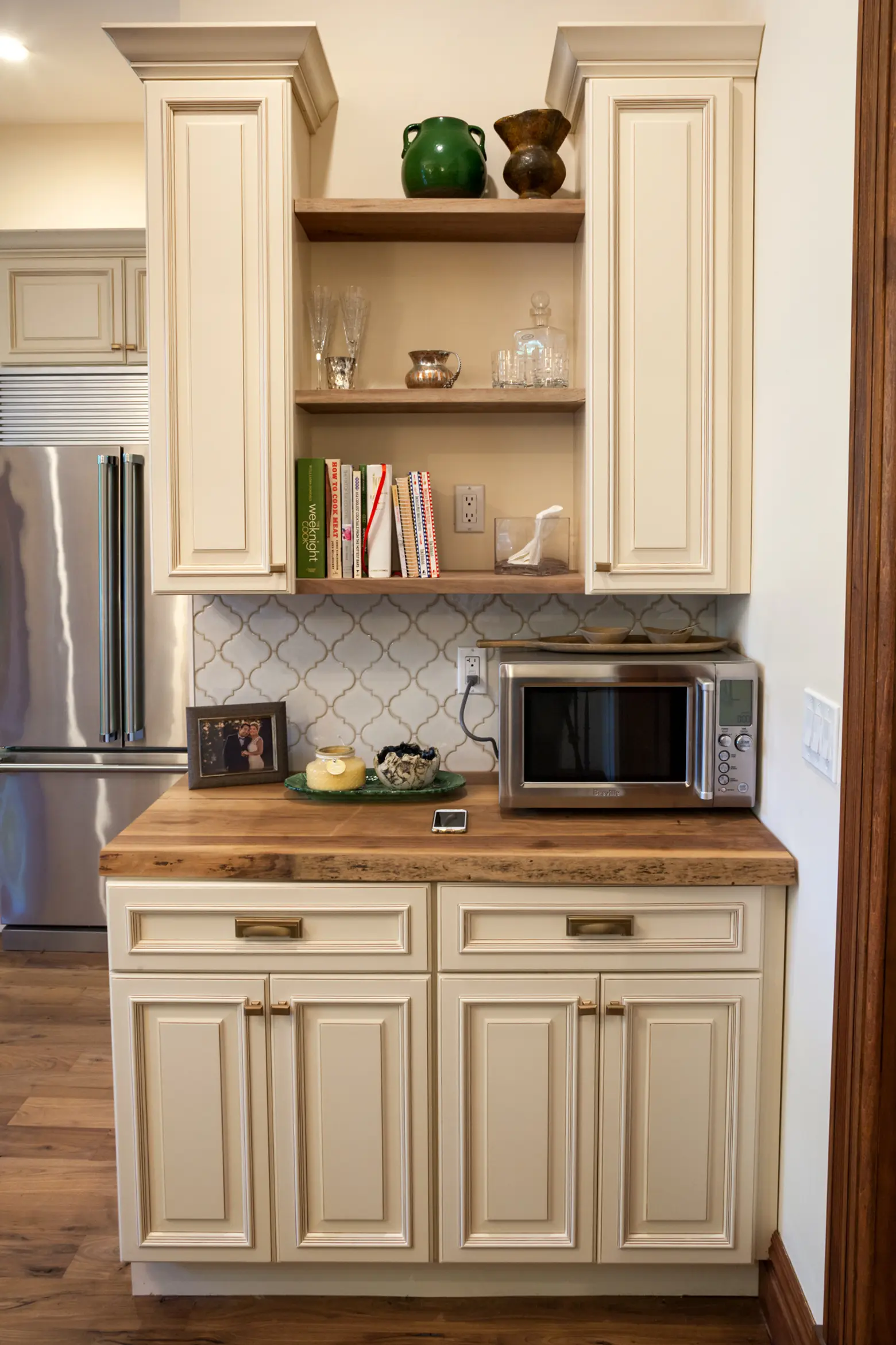 It sounds like you entertain a lot!
Mark: Oh, yes, we love to entertain. I think we have parties and friends over easily once a month. With my play on Elvis Presley coming out in October, we have organized some cast dinners to sit around the table, eat, drink wine and talk about how we can make our story better. All of our friends from Manhattan who come here for BBQs say our home is like an escape for them. I do feel like we are on a little island when we're in the backyard.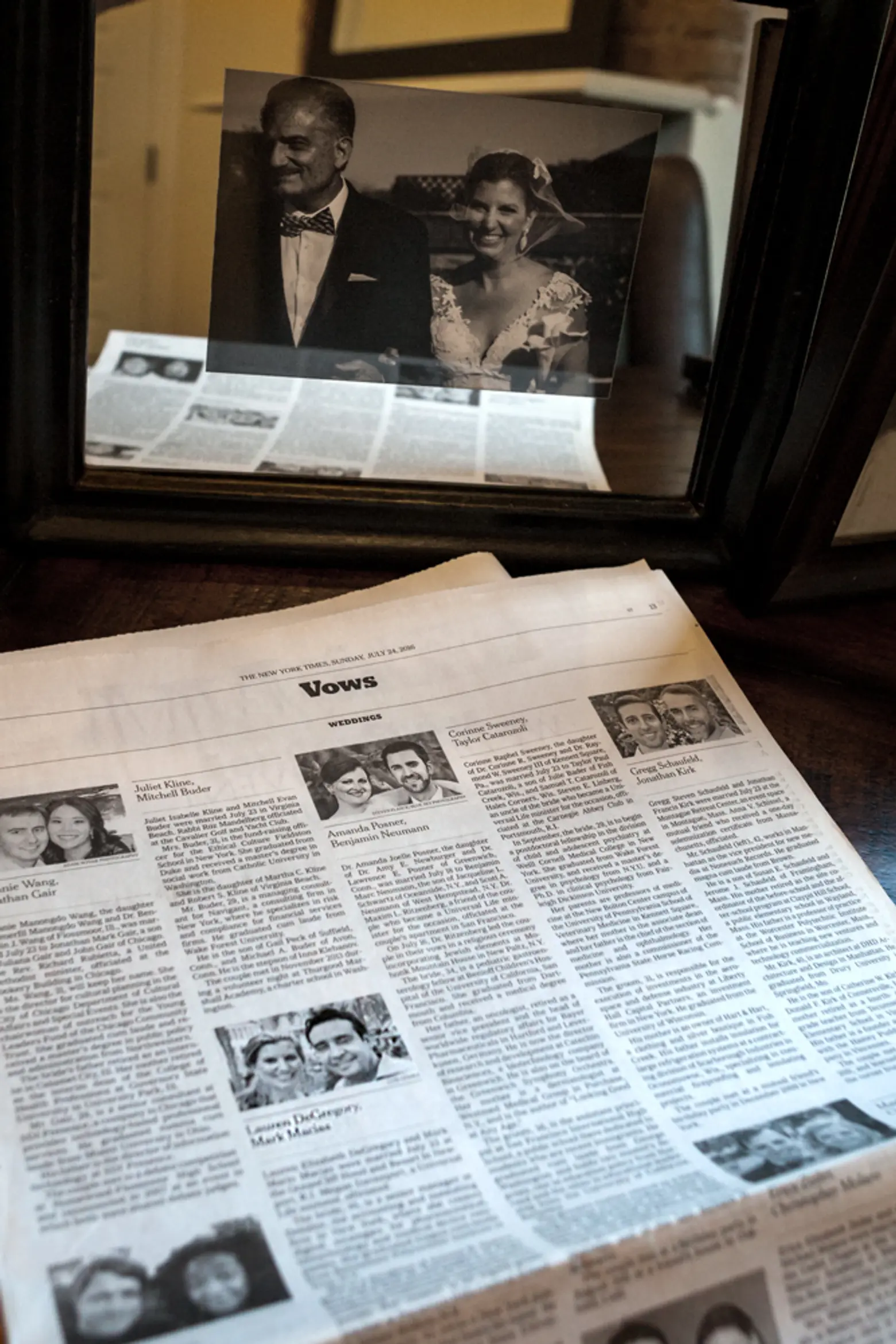 Mark and Lauren have been married for two years.
How did you go about melding your styles?
Lauren: Happy wife = happy life 😉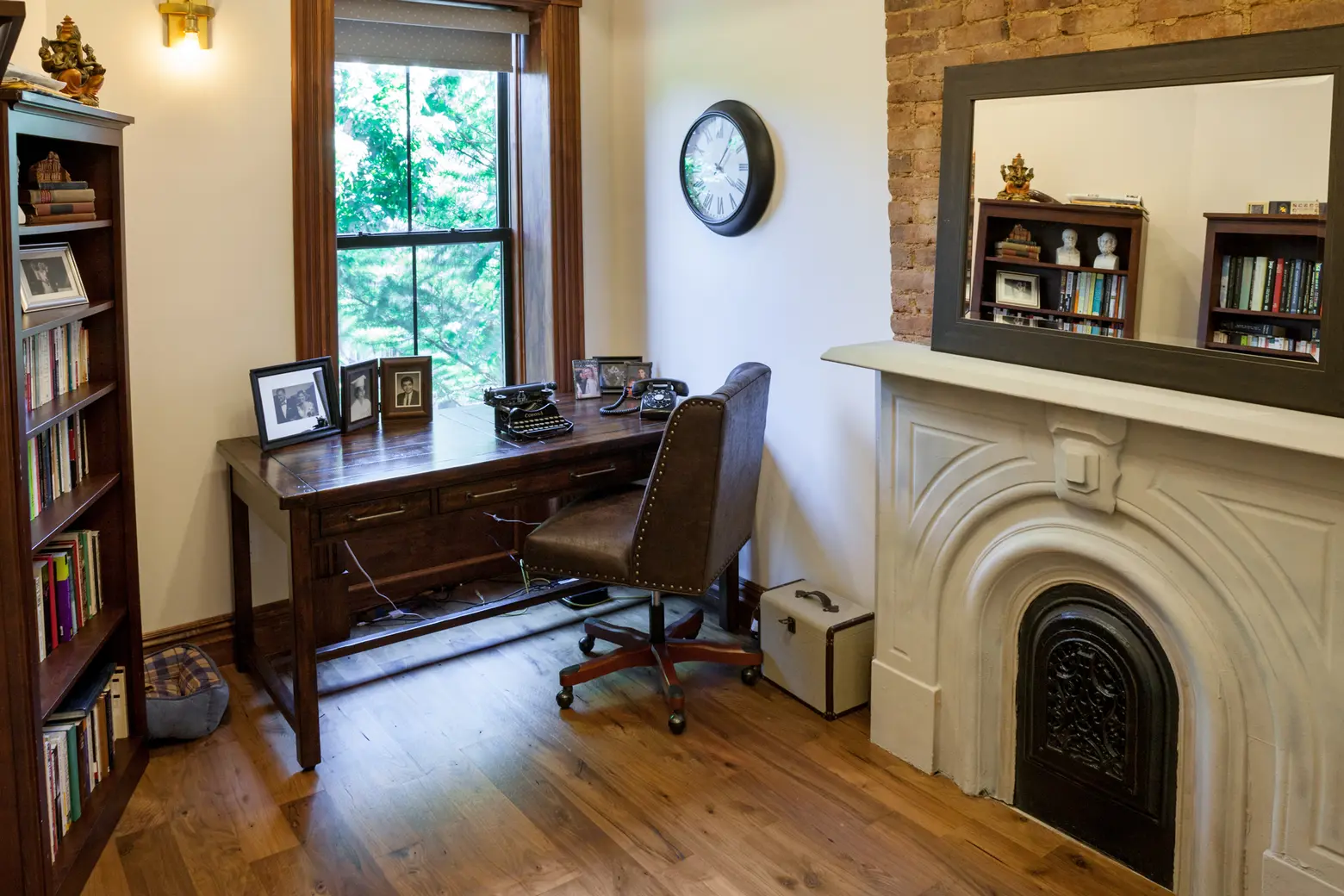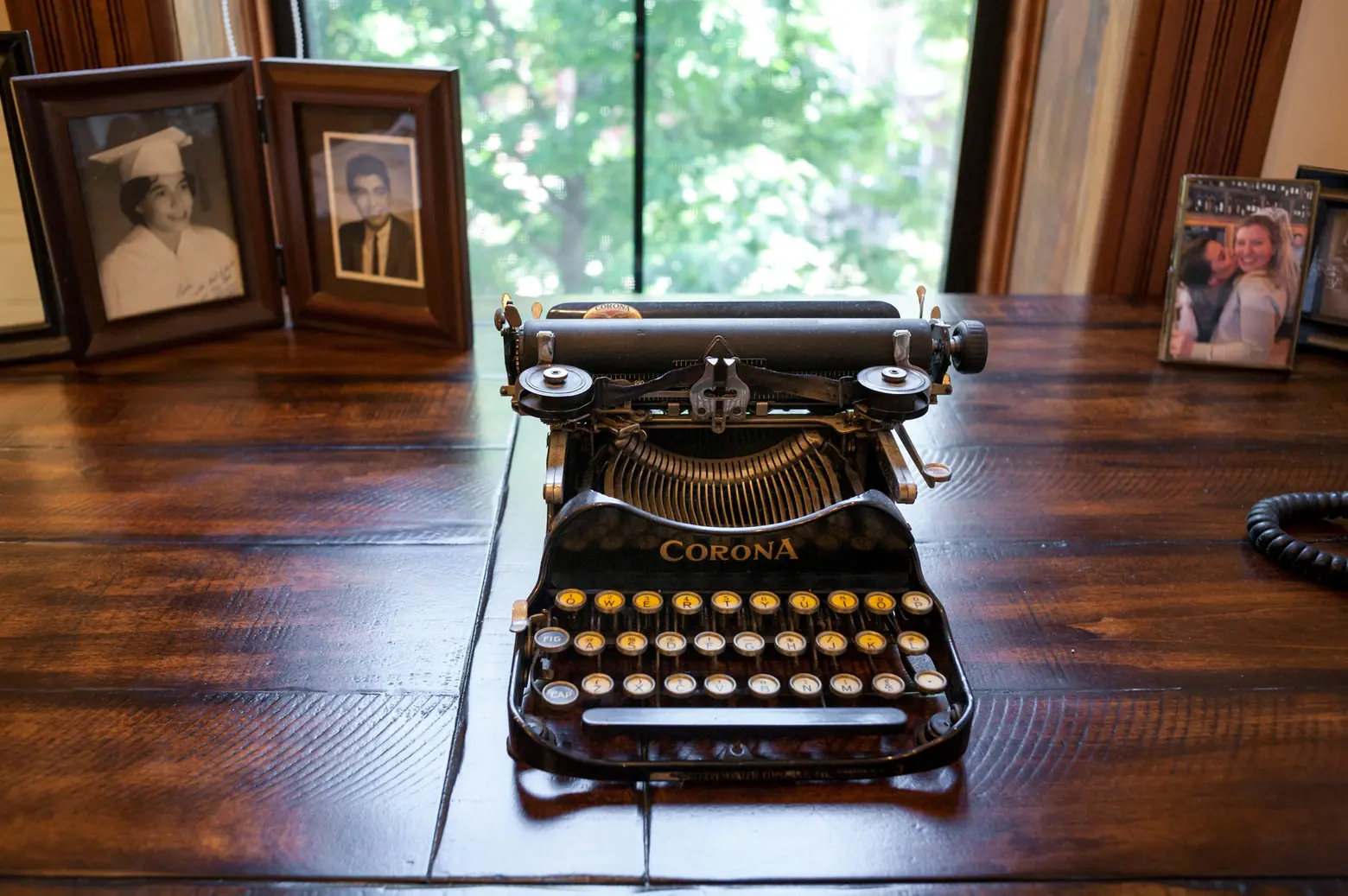 They use the third bedroom as an office
And Mark, you do a lot of your writing from home. How did this factor into setting up the home?
Mark: I wrote a lot of my play, "The King, The Final Hours," here in this home. I think the new stimulation–our backyard, our outdoor space–inspired many early morning writing sessions. I would wake up many days in the fall and sit in the kitchen and just write over coffee. The sun would slowly enter our kitchen windows and the sounds outside would slowly simmer. It was peaceful and relaxing, allowing my mind to unwind and unleash its creativity, in a way with nature.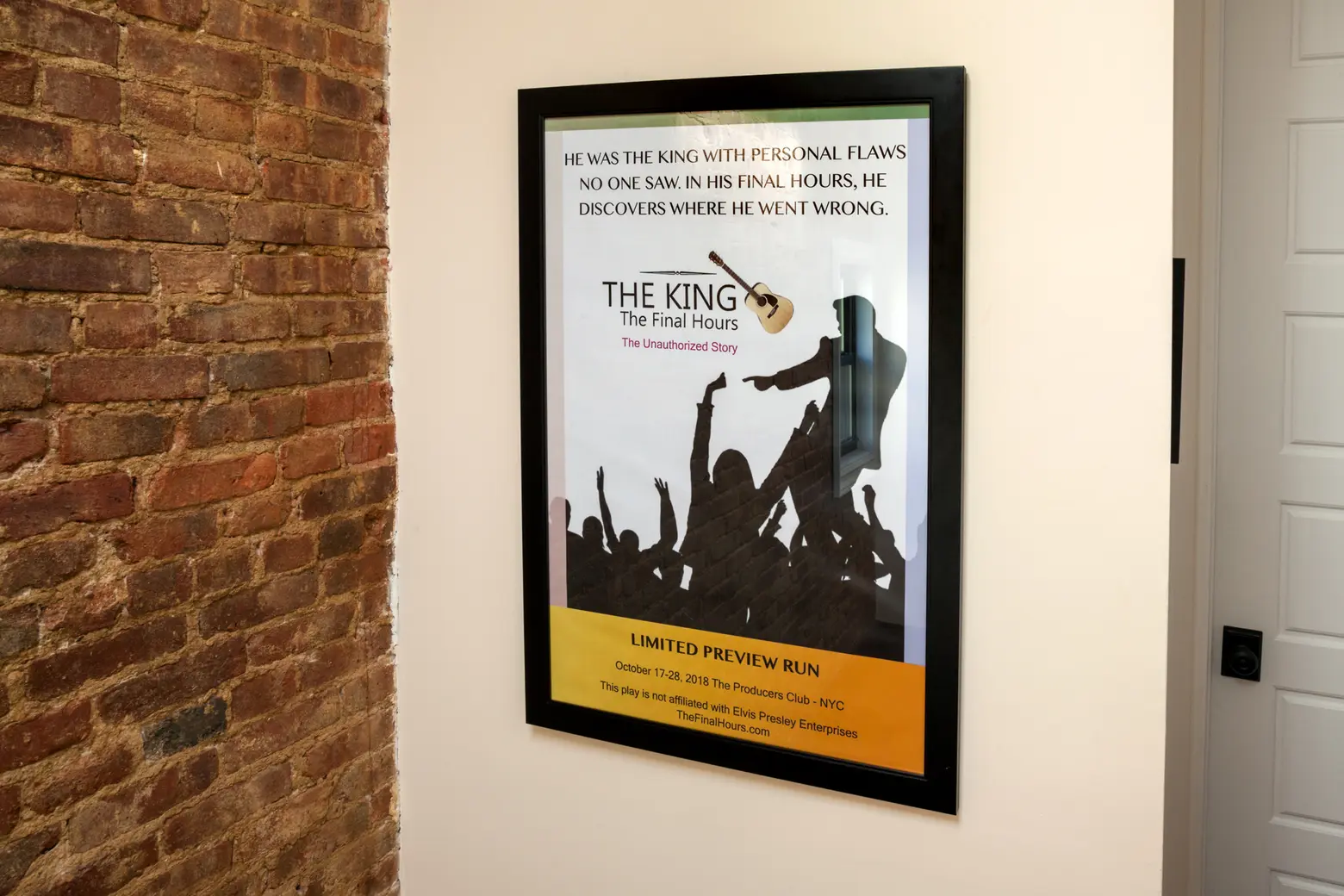 A poster for Mark's play graces the top of the staircase
Give us the scoop on your upcoming play. Where did your passion for Elvis come from?
Mark: I'm so excited about it. This is the first Off-Broadway or Broadway play on Elvis Presley. It's an unauthorized look at what went through Presley's mind in his final hours on earth. What did he reflect on? What regrets did he have in life? The play takes viewers throughout his life from the moment he walks into Sun Records for the first time to his final hours as he realizes his life is coming to an end. I hope it inspires everyone to reflect on how each decision we make today will impact us tomorrow. I've loved Elvis since I was a little boy. I used to pretend to be him and would sing his songs in front of my imaginary sold-out auditorium. He was a tremendous artist. I hope my play inspires more people to contemplate what they want in life and what will make them happy in the end.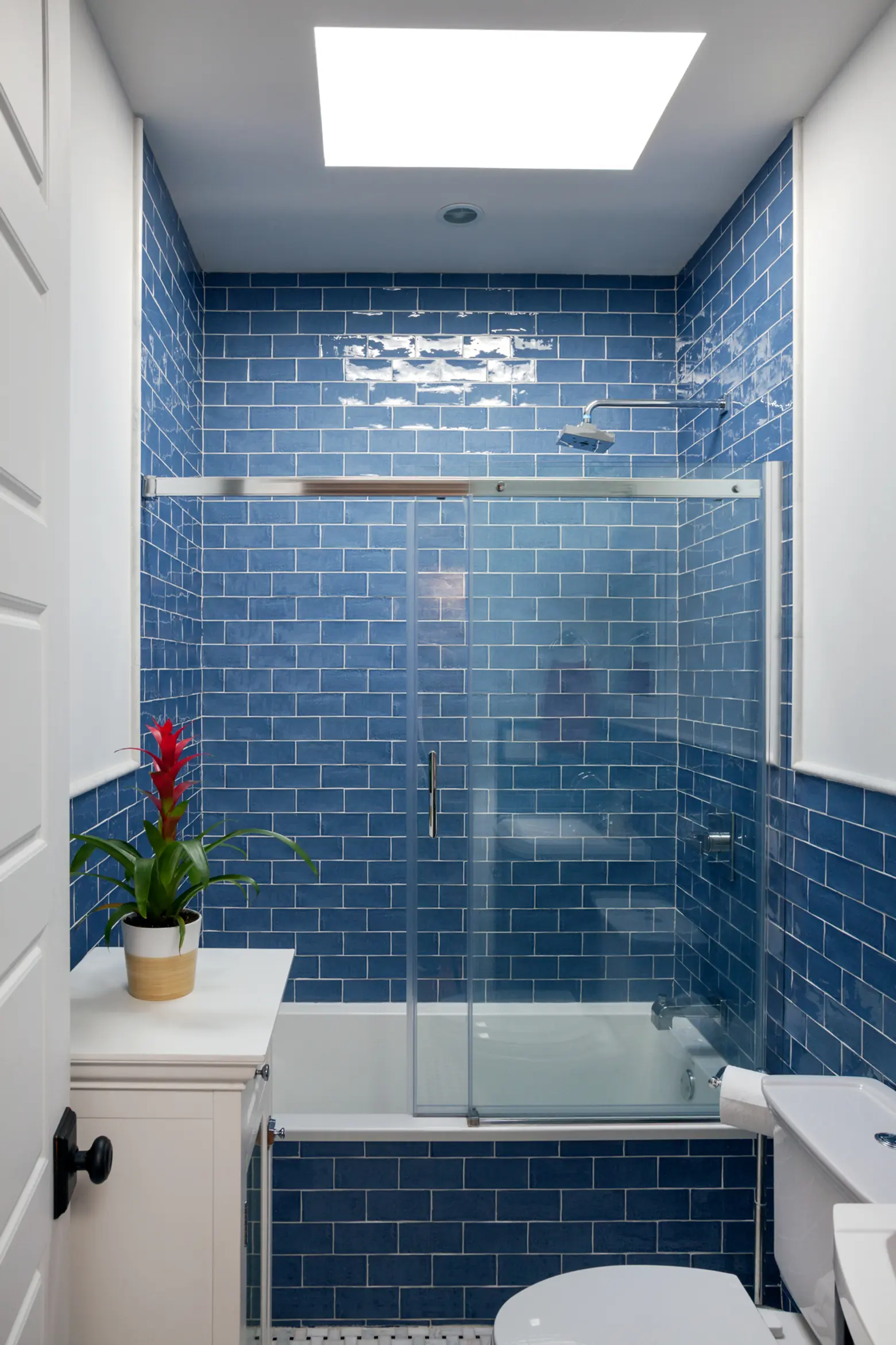 The guest bedroom and hallway bathroom
Tell us a bit about your new roles as landlords.
Mark: It's a little work, but well worth the effort. It actually hasn't been too difficult. My wife is really managing that. We got some good tenants who are responsible, and that's all you really want.
Lauren: I've been a landlord for over 10 years, both long term and short term. For me, this was a no brainer. I recently traveled to my 51st country, Scotland, with Mark to celebrate a friend's birthday. We stayed in an Airbnb in downtown Edinburgh. There's something fun about staying in a home and immersing yourself in an area through a person's home… and something almost proud when you get to reciprocate for with others who love to travel as much as you do.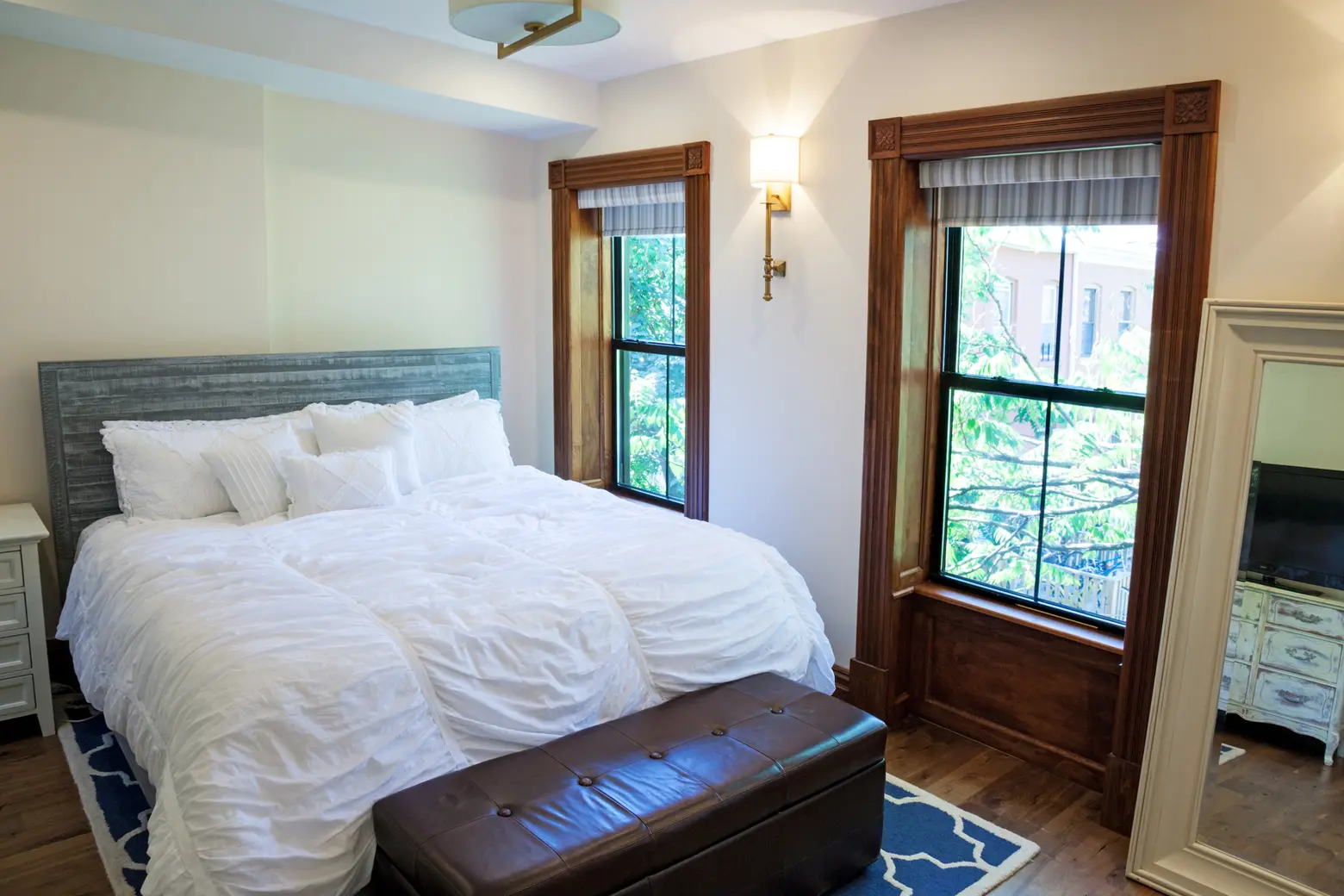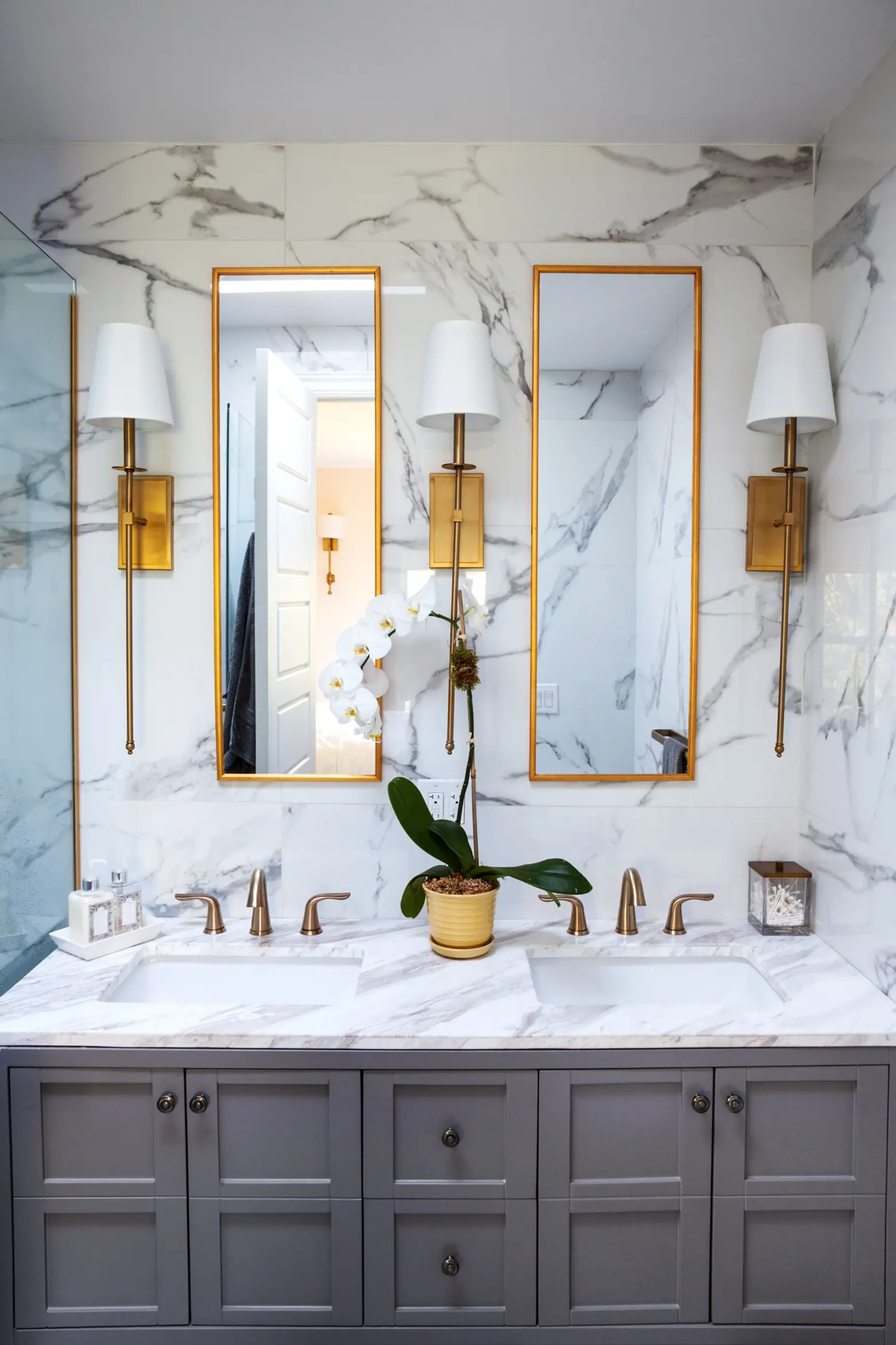 The master bedroom and en-suite bathroom
Speaking of travel, Lauren, you travel a lot for work. Is it therefore even more important for you to have a peaceful place to come home to?
Lauren: I think it's important for everyone to find that peaceful place to come home to. I definitely appreciate that about this home, and it felt that way by the second night. Many NYC apartments feel like hotels. I spend all week in a hotel. That's the last place I want to come home to.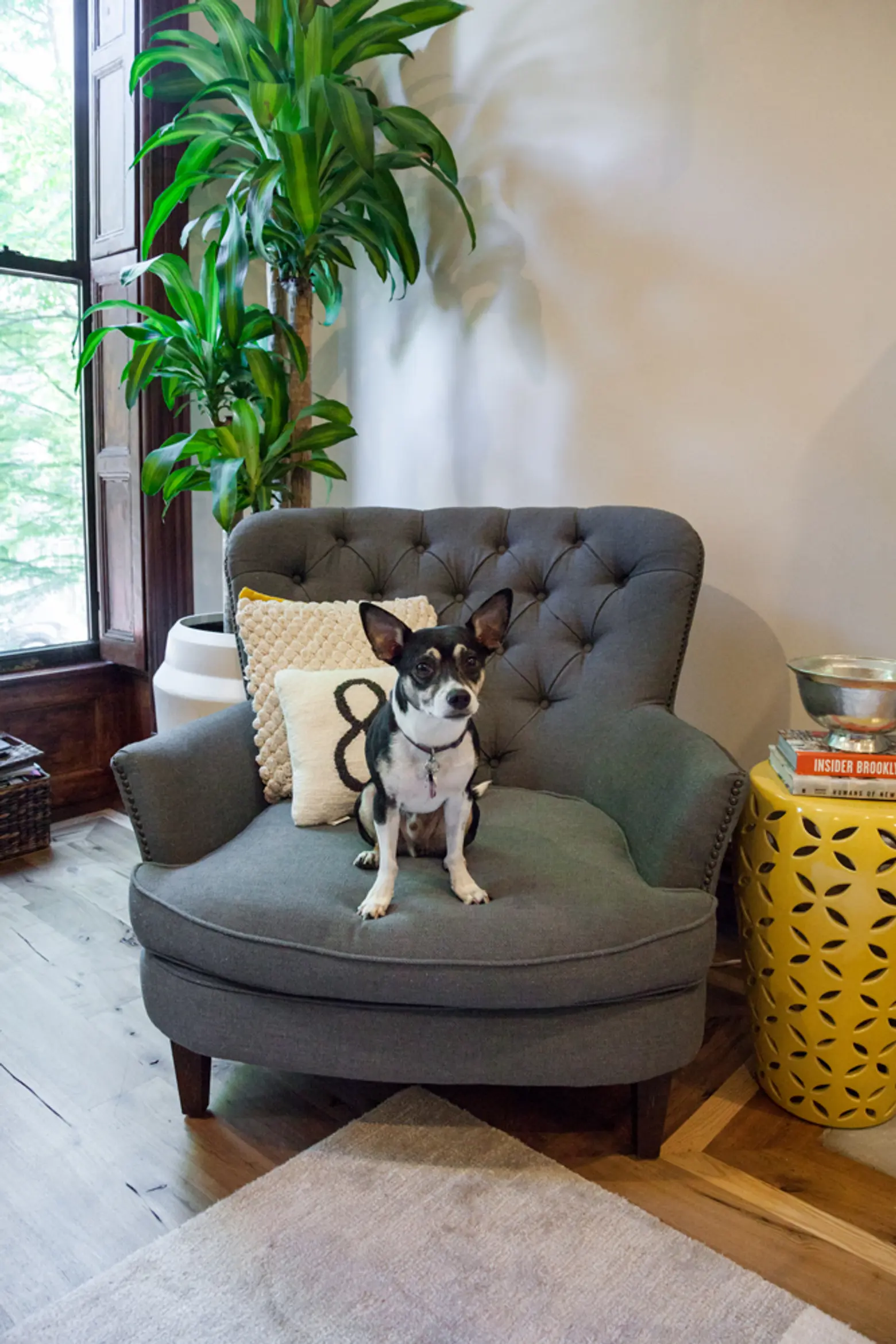 What advice would you give to young couples considering buying their first place in NYC?
Mark: Make sure your goals are aligned. I'm lucky to have my wife because we are aligned in so many ways. We love the same things and enjoy similar forms of entertainment. You need to make sure you are both in a neighborhood that reflects yourself and your enjoyments.
Lauren: For many years, I lived where I worked. Life is short. Live where you love and find someone to share it with.
+++
RELATED:
All photos taken by James and Karla Murray exclusively for 6sqft. Photos are not to be reproduced without written permission from 6sqft.