Our 1,000sqft: Creative couple Amy and Brian show off their newly renovated Prospect Park South co-op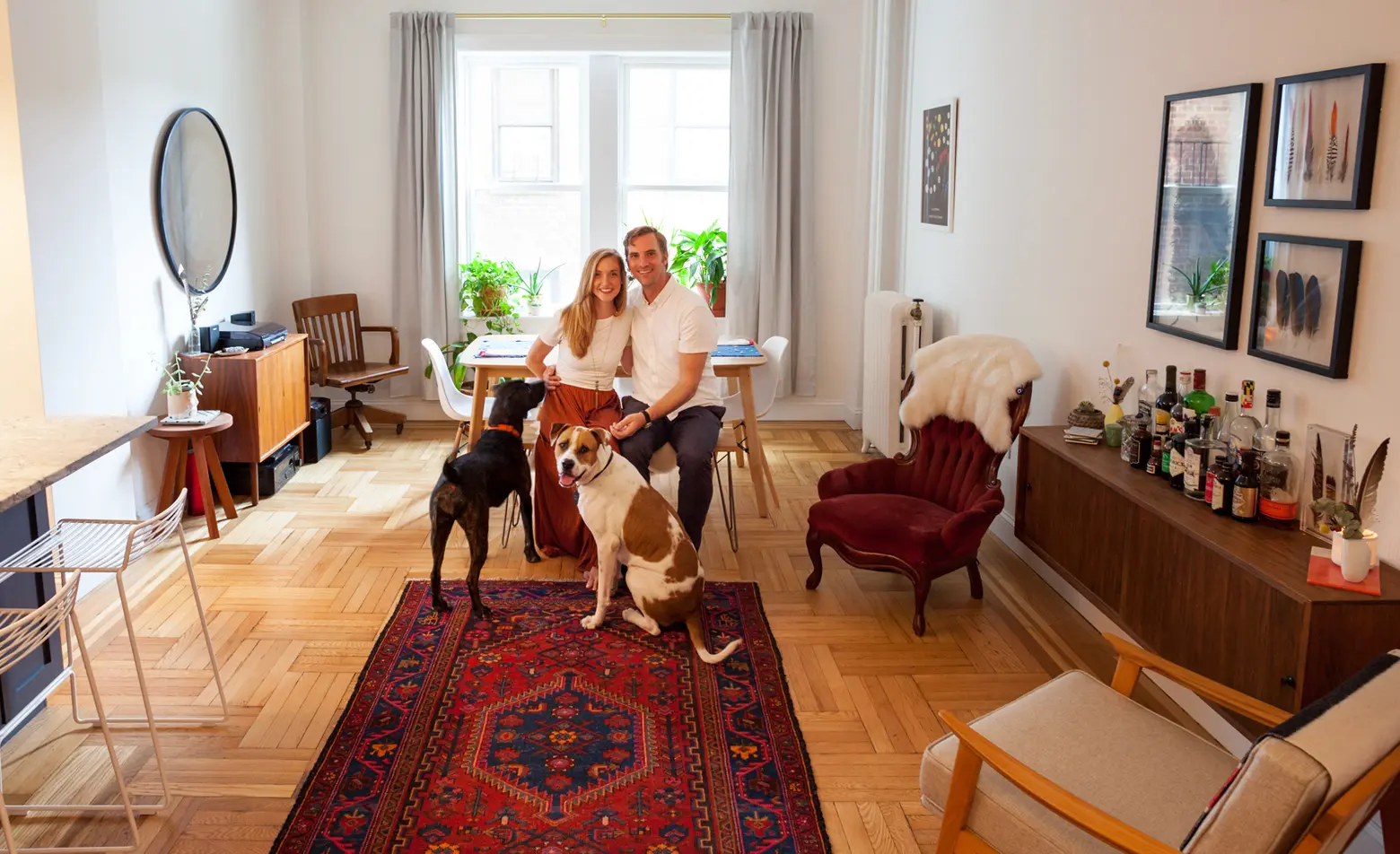 6sqft's series "My sqft" checks out the homes of New Yorkers across all the boroughs. Our latest interior adventure brings us to the Prospect Park South co-op of an adorable and creative couple. Want to see your home featured here? Get in touch!
Back in 2015, 6sqft visited bubbly Amy Sprague at her Boerum Hill studio. Three years, two dogs, and one adorable meet-cute story later, Amy has moved over to Prospect Park South with her fiance Brian Schundler. After their dogs, Charlie and Ladybug, brought them together in the dog park, these two lovebirds decided to not only become homeowners but to undertake a complete gut renovation of their pre-war co-op.
Brian, a landscape architect, favors mid-century-modern decor and minimalism, while Amy, a packing designer, loves vintage finds and earthy vibes. Luckily, this creative couple was able to mix their styles to create a comfortable home that uses clean lines and crisp architectural elements as a backdrop for their more eclectic finds and textures. Amy and Brian recently gave 6sqft a tour of their recently completed two-bedroom apartment and shared how the reno process went, how they mixed their aesthetics, and what it's like living with two 80+ pound pups.
Amy and Charlie
Amy, you're our first Mysqft participant to be featured twice! Obviously, a lot has changed in the past three years, including your engagement to Brian! How did you two meet?
Amy: Yes, a lot has changed! Brian and I met at a dog park in Brooklyn Heights the morning after I adopted my dog, Charlie. He offered me lots of desperately needed dog wrangling tips and asked for my number before leaving the park. We went on our first date that week, and the four of us have been together since!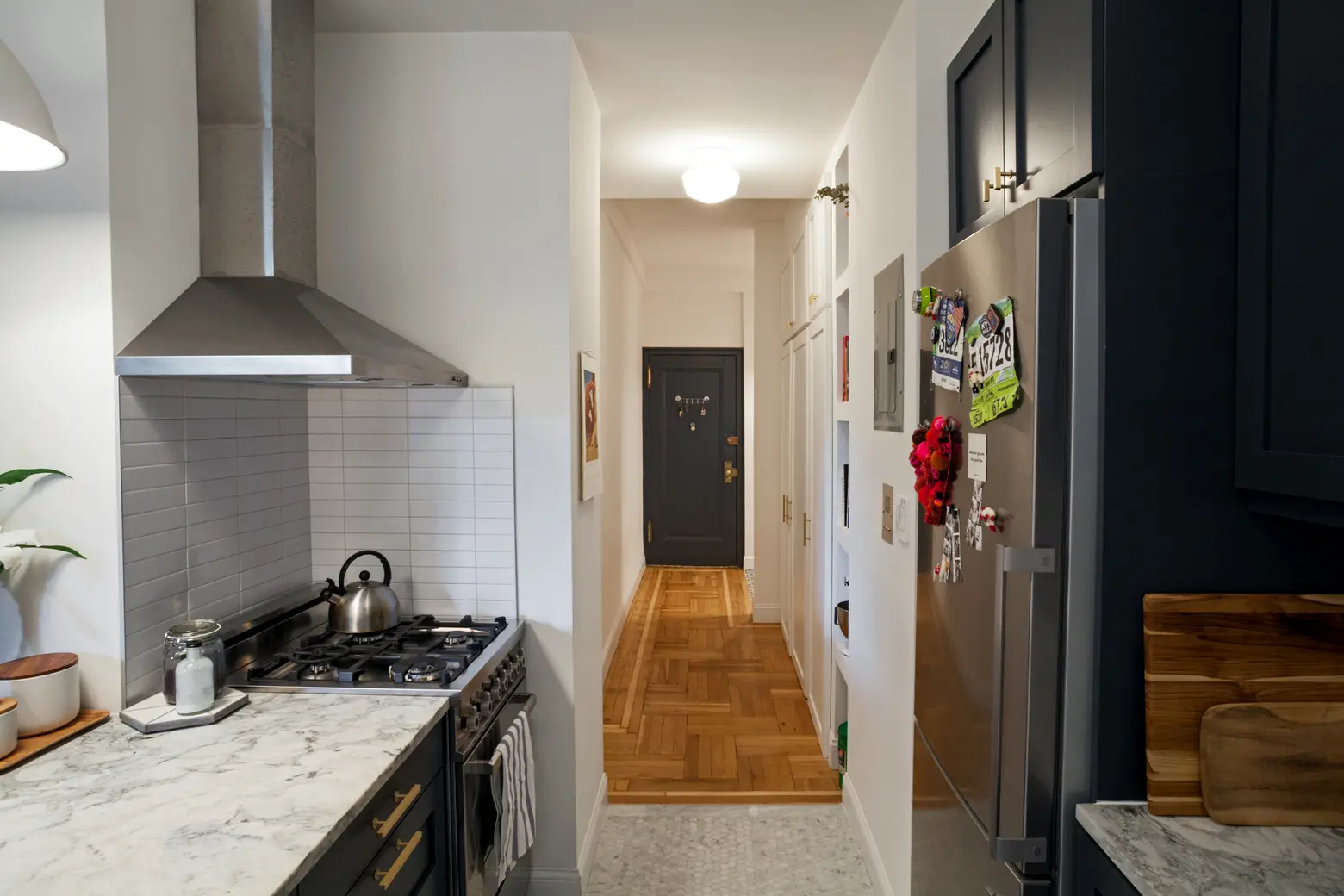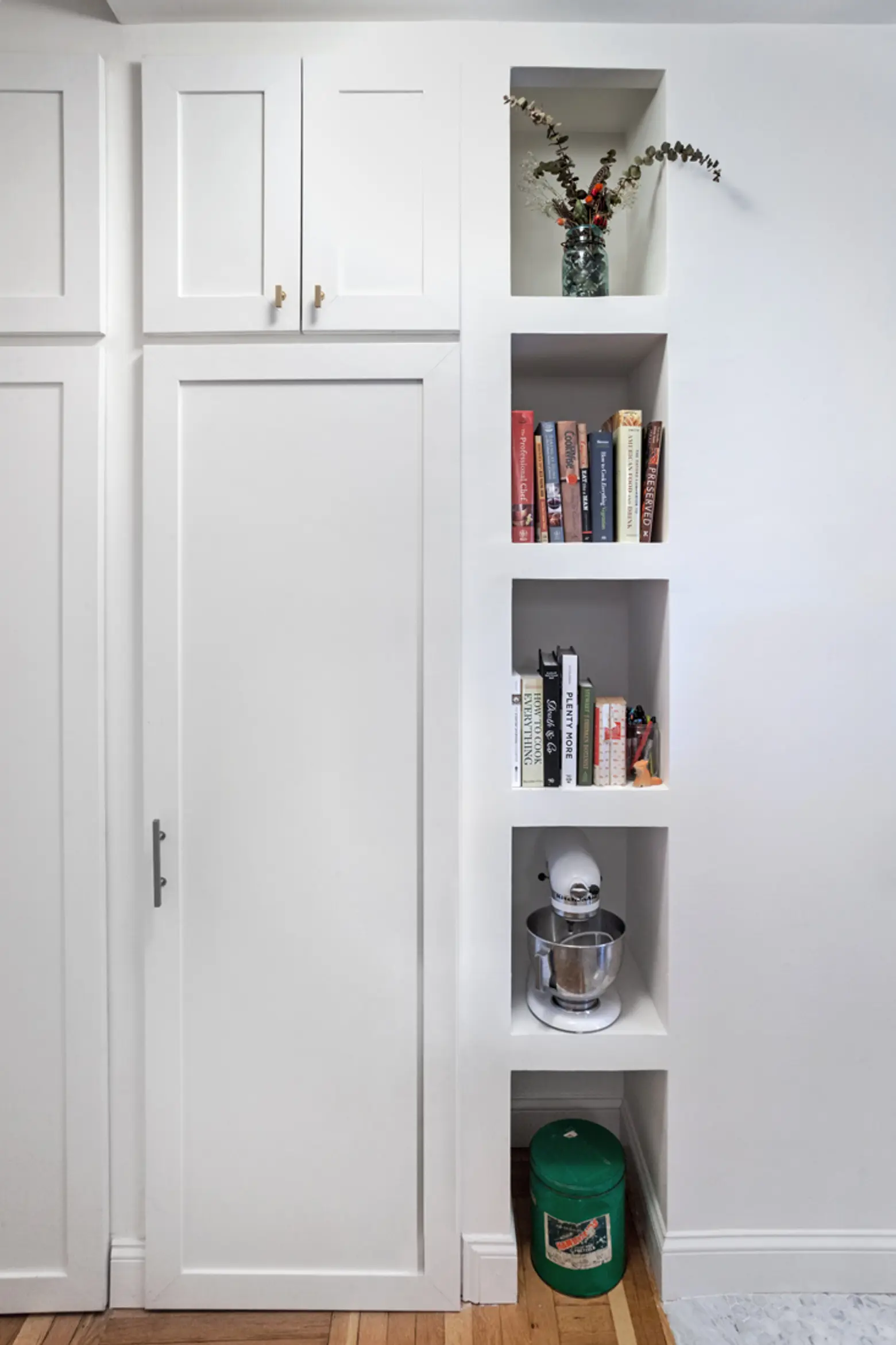 Was it hard to give up your place in Boerum Hill?
Amy: It actually wasn't. I was very excited to move in with Brian and to stop hauling our dogs back and forth between Prospect Heights and Boerum Hill!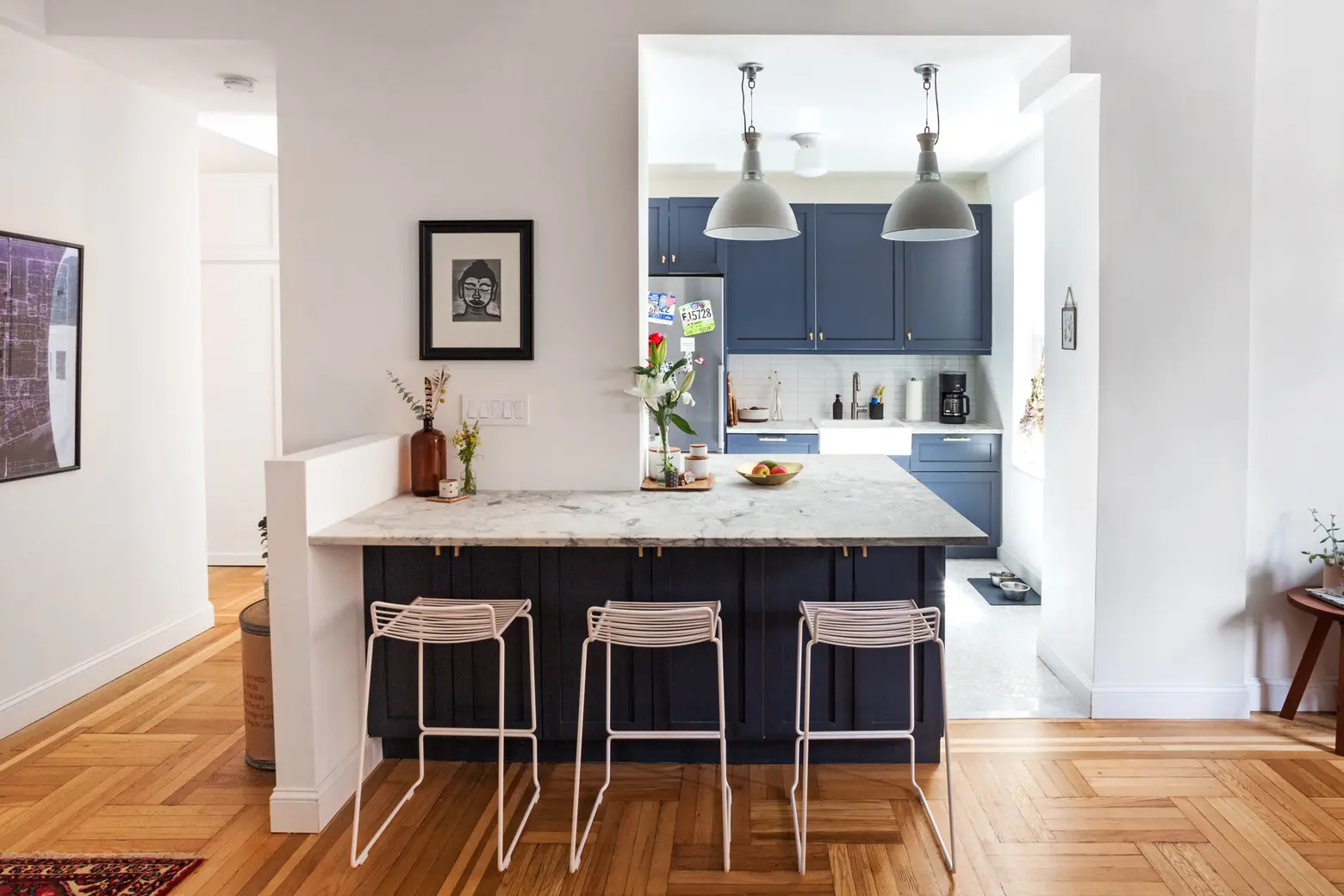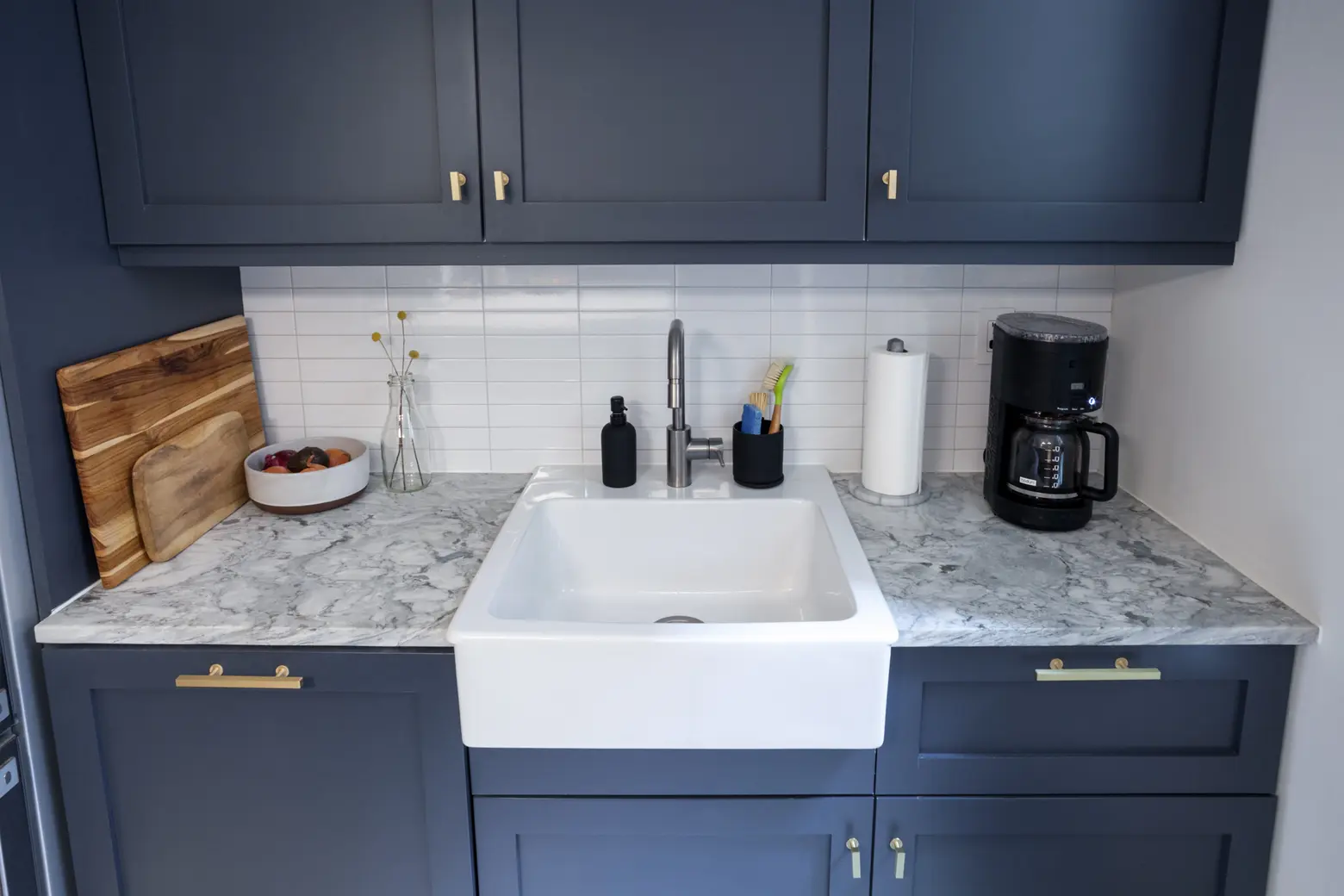 The kitchen island and counters are quartzite. It's also used in the bathroom.
Before buying your current co-op, you lived together in Brian's old place in Prospect Heights. Amy, was it difficult coming into a space that was already furnished and decorated?
Amy: Sort of! I had collected a lot of traveling mementos, artwork, and antiques around my apartment that looked hilariously awkward in Brian's former space. I had to toss some dream catchers, and he had some piled up antiquated technology that had to go. Things came together eventually.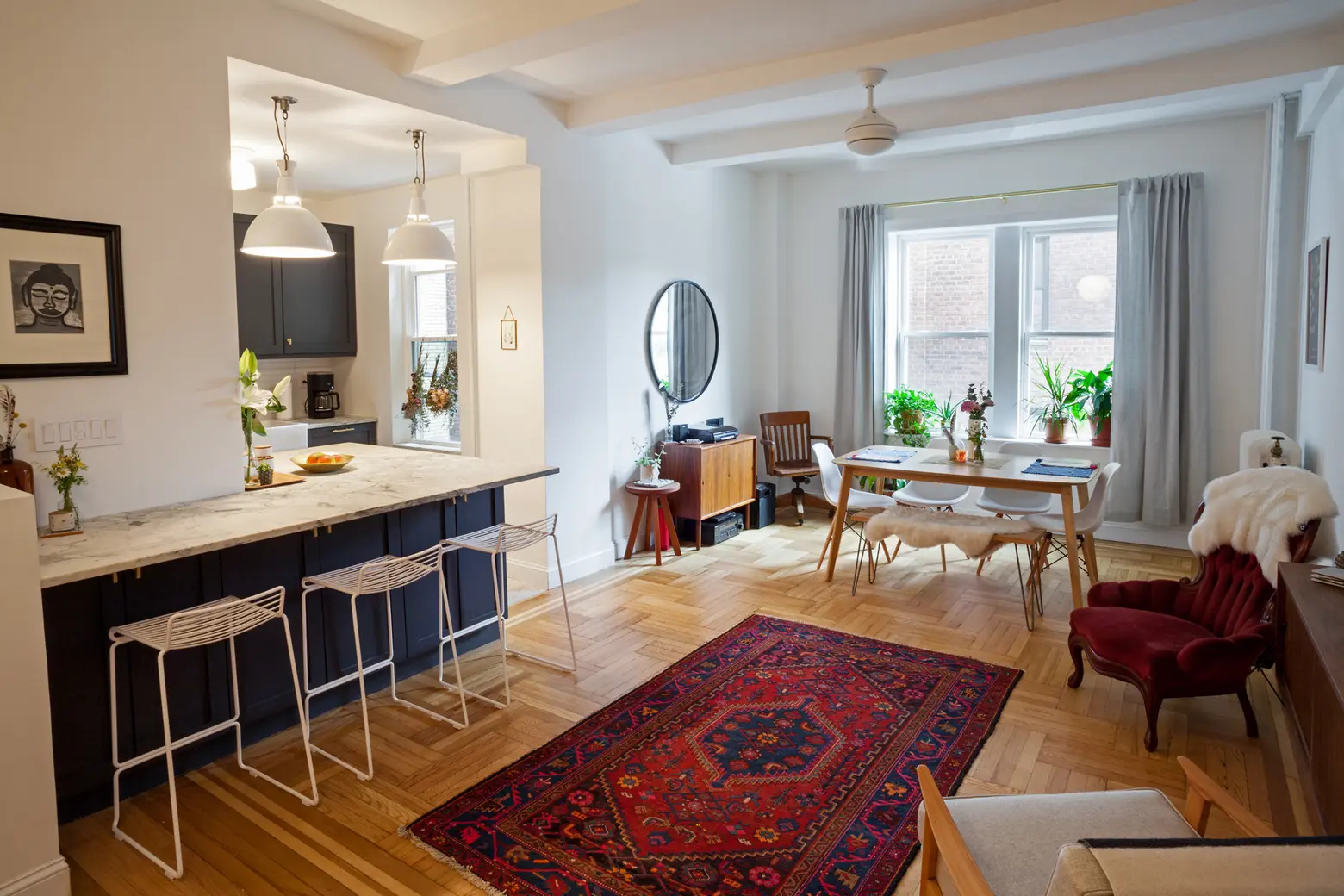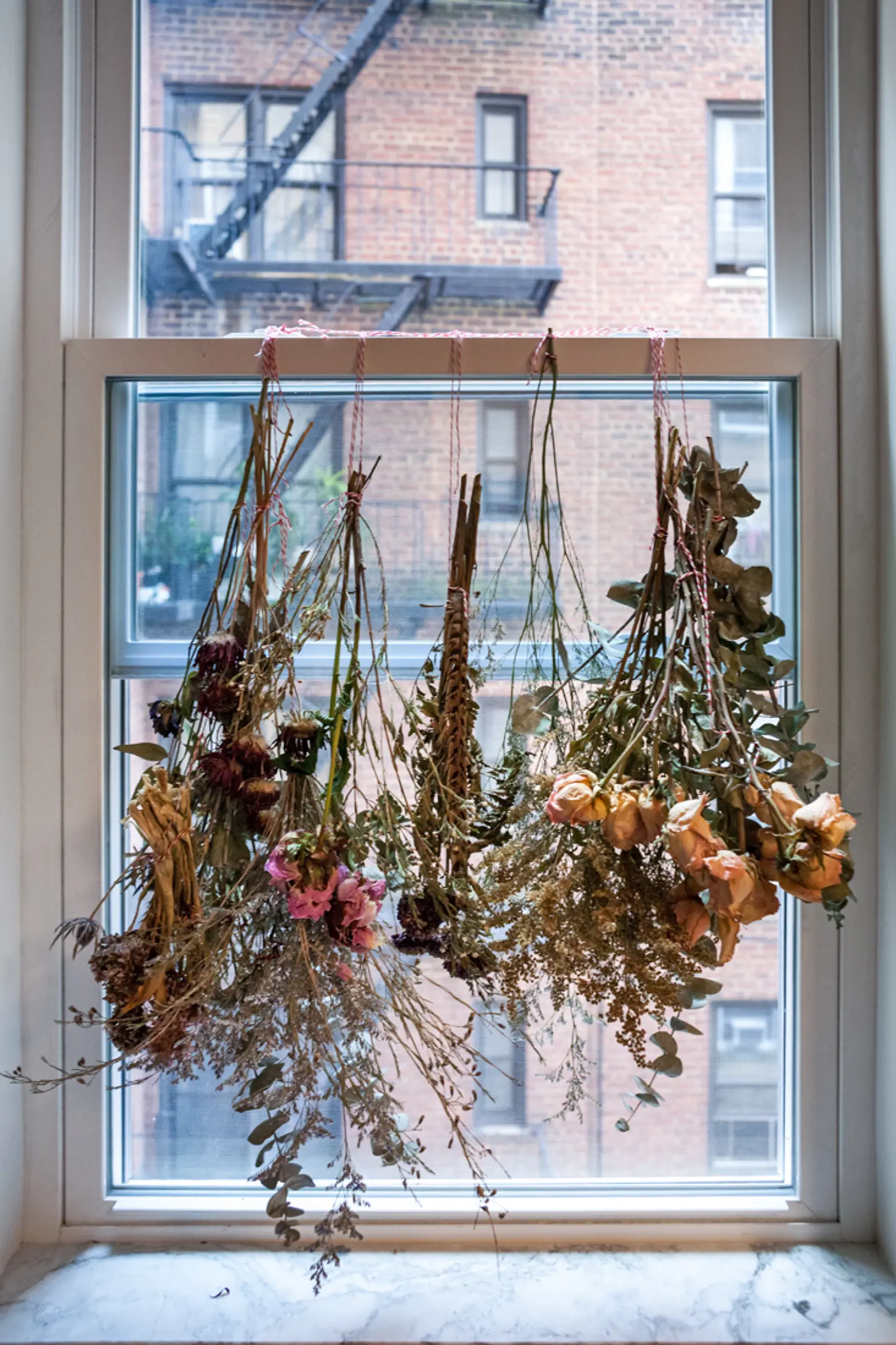 What about you, Brian, how was it having Amy move in?
Brian:  I was ecstatic when she moved in!  She brought her warmth and laughter, a hilarious dog, and countless plants. Almost immediately after she moved in, her "moments" began to appear.  A feather here, a tiny jar there, candles and flowers on every surface.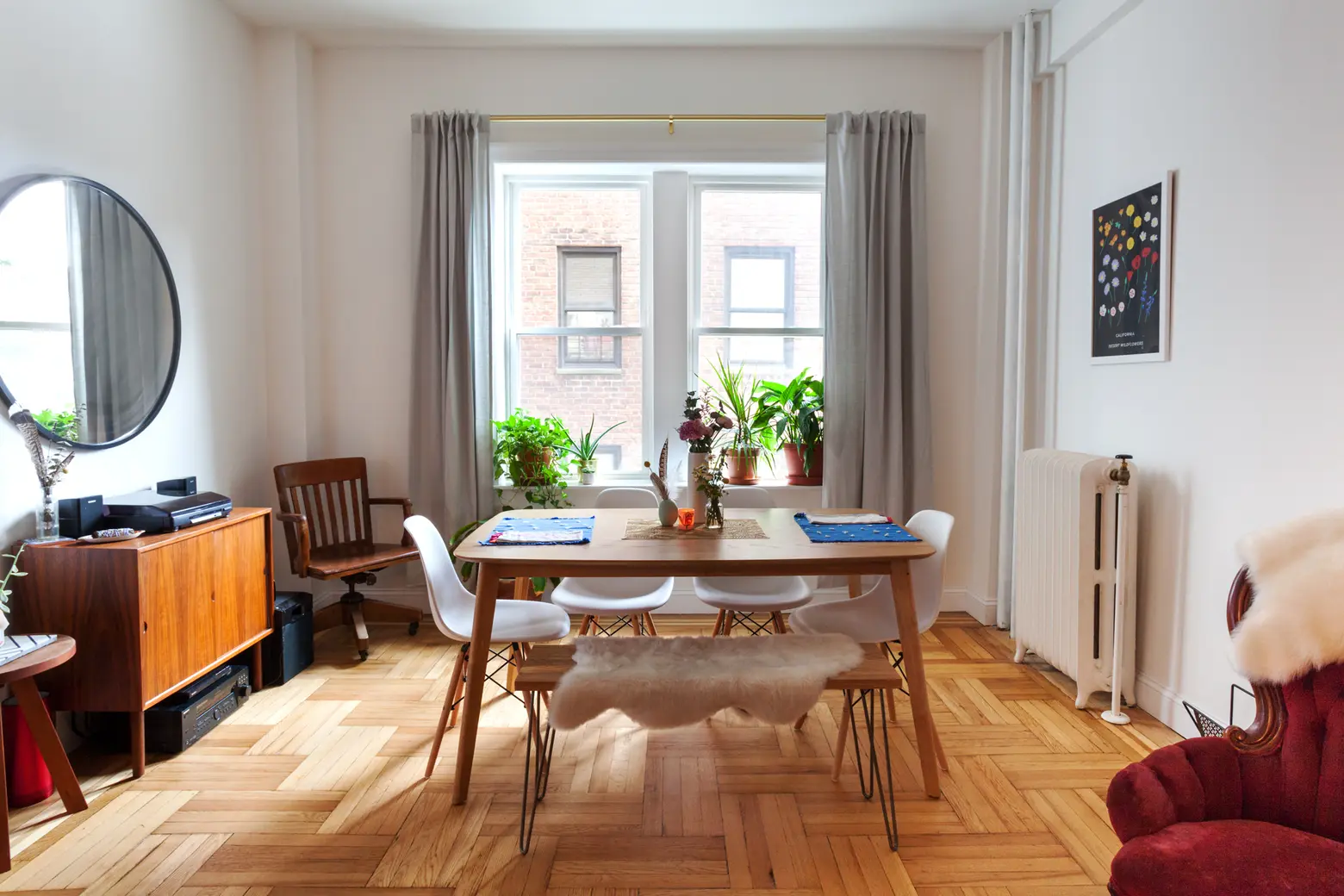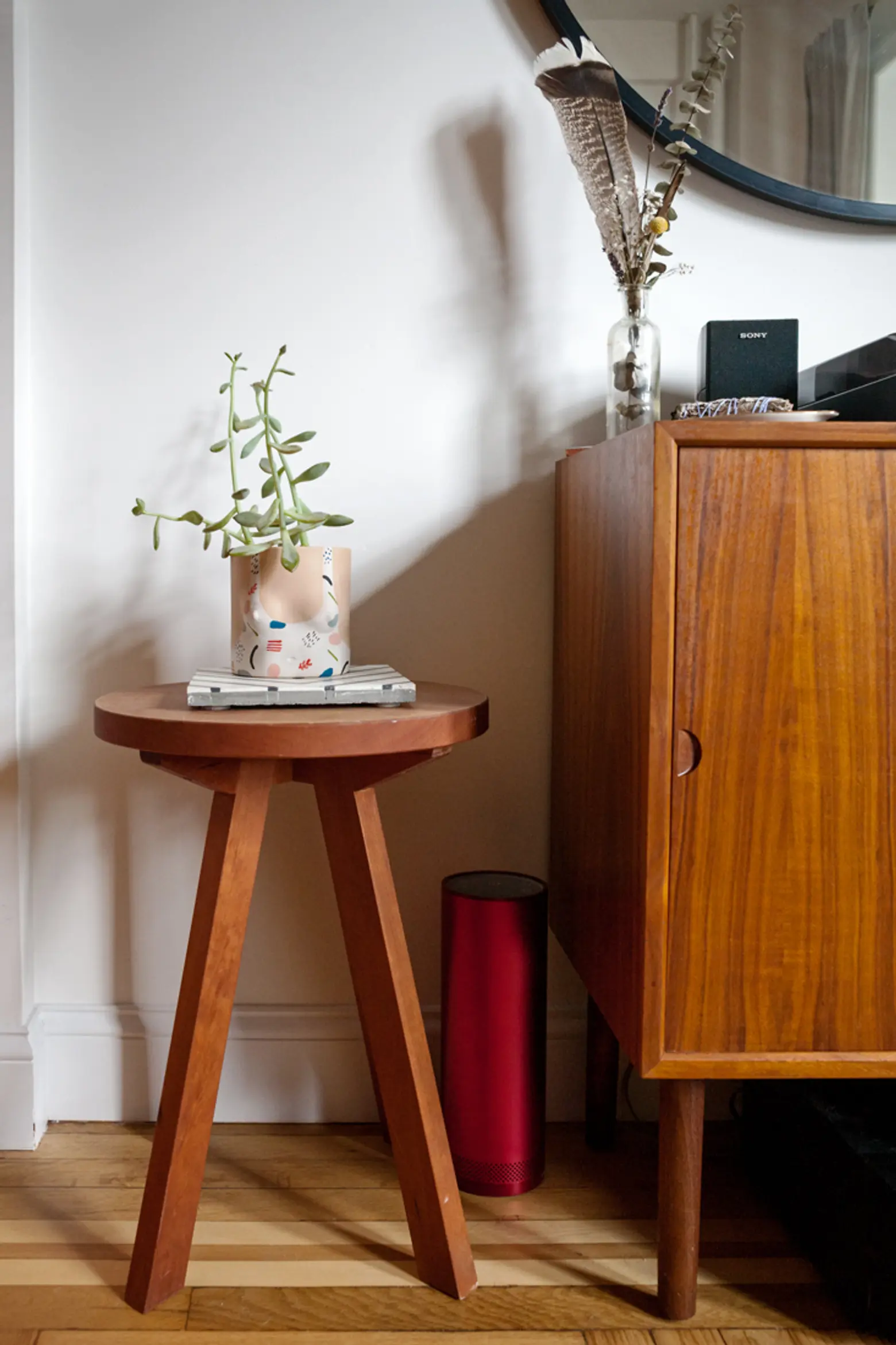 The wood floors are original; they just had them sanded and treated with a water-poly coating. 
How did you find your current apartment and what drew you to it?
Brian: We were looking for a larger space for us and the pups and searched all of the neighborhoods around Prospect Park. We knew we wanted to take on a big renovation so were looking for an apartment with good bones, lots of light, and in need of some love.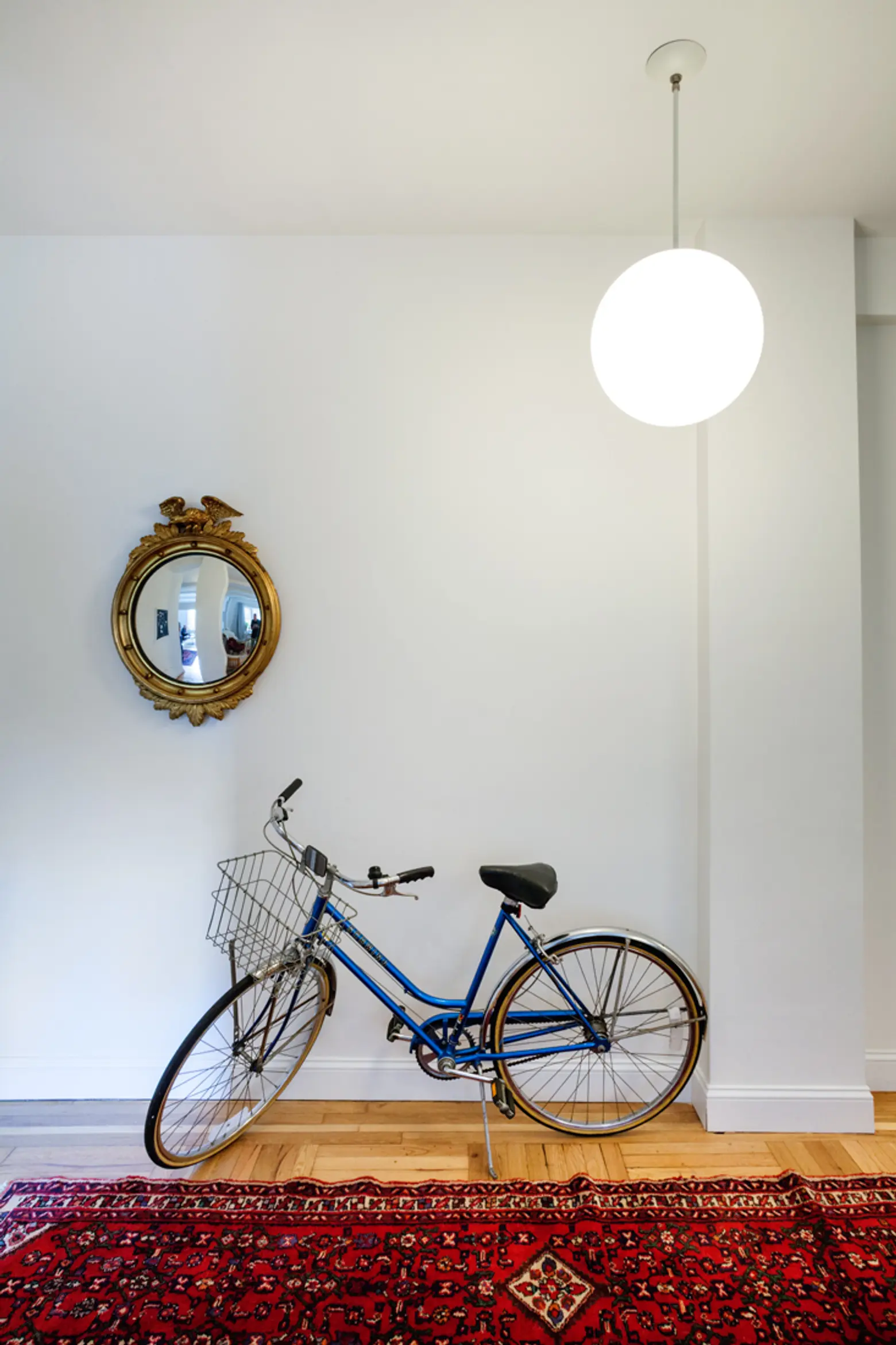 Amy and Brian closed on the apartment last June; the renovation was finished in October, and they moved in November.
Tell us a bit about the renovation process. How long did it take? 
Brian:  We closed on the apartment on June 1st, and started demo mid-July. We slowly started moving things in as the workers were painting and doing finishing touches in November.
Any unforeseen difficulties? 
Brian: There were a couple minor surprises along the way but nothing out of the ordinary for such an old building. The biggest shock was opening up a wall and finding an old telephone operator's switchboard. We didn't know what to do with it, so we just left it there and sheetrocked over to leave a surprise for the next person who opens up the walls.
The proposal chairs!
Any challenges in mixing your styles?
Amy: We've kind of landed on a mid-century-modern fondness in our apartment that we both really like. We do have very different opinions on what's an appropriate throw pillow count and how many decorative tiny plates seem reasonable to have in the kitchen. But overall, I think we have a pretty good time trying to mix our styles.
Brian: One of our first nights in the apartment we looked at our two favorite chairs and joked about how they seemed to personify us. Amy found this beautifully ornate, red velvet chair at an antique shop in Frederick, Maryland, her home town, and I pulled a busted-up mid-century chair out of the trash, cleaned it up and got it reupholstered. I think these chairs speak to our values, and anchor our home.  They've become our favorite spot in the apartment, and it's where I asked Amy to marry me.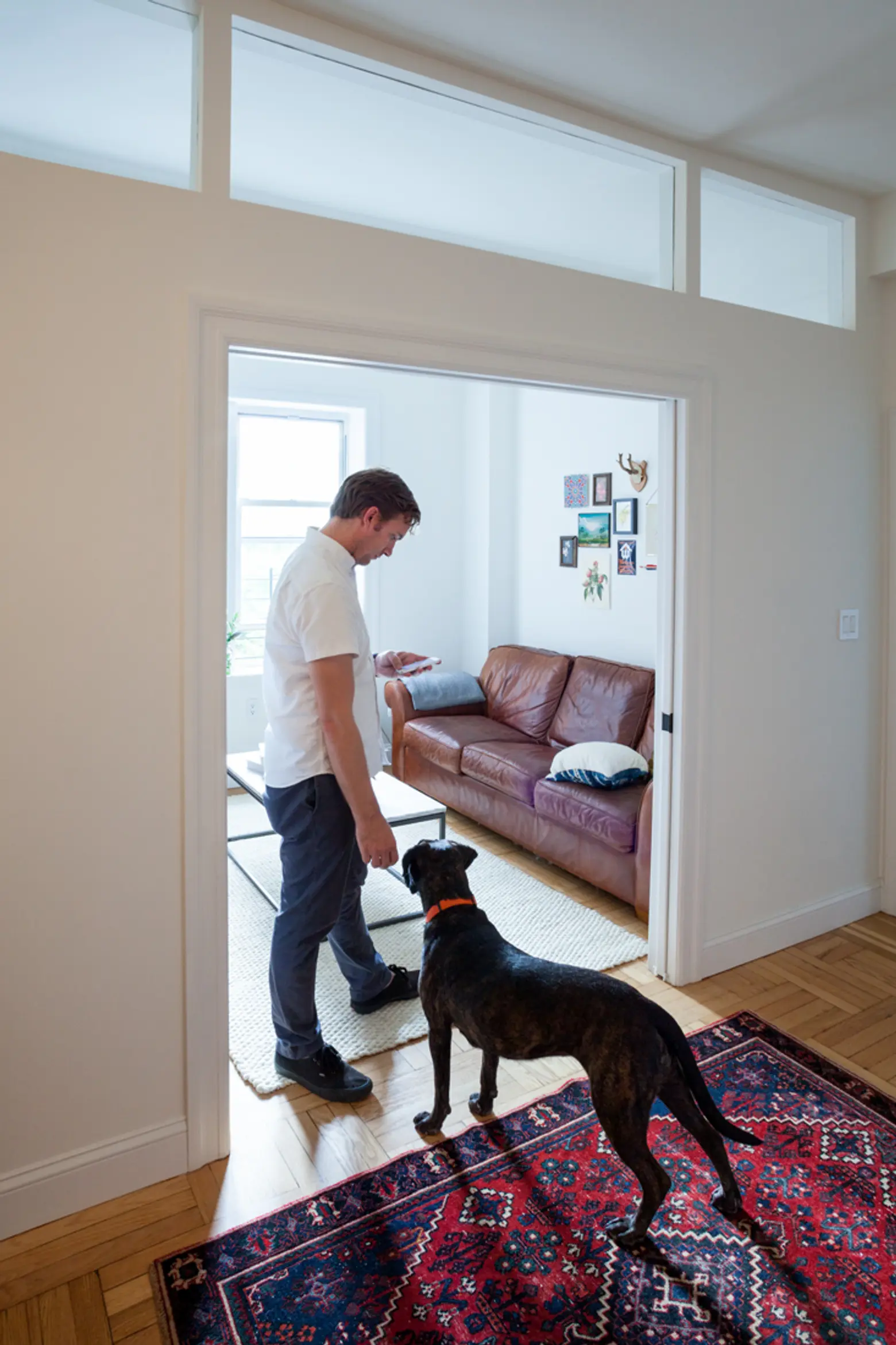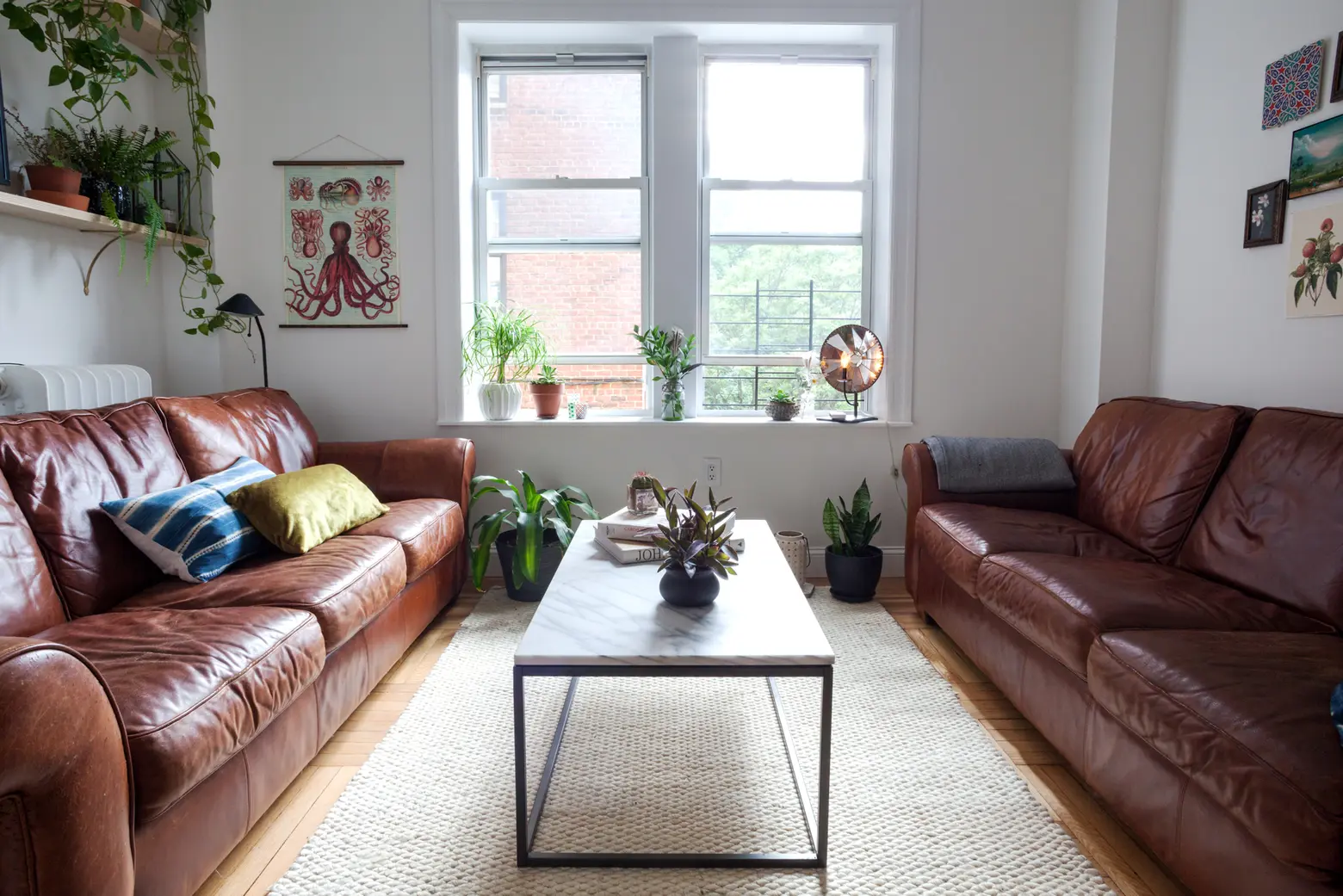 What were the most important things you wanted to accomplish?
Brian: We both loved the bones of the apartment and wanted to build off the original details that drew us to it, particularly the parquet flooring, beamed ceilings, massive tub, and gracious layout.  We tried to be strategic about what we introduced and were particularly concerned about using materials and details that will age gracefully.
Amy: We wanted to make sure that we kept the apartment feeling light and airy and the kitchen open and welcoming.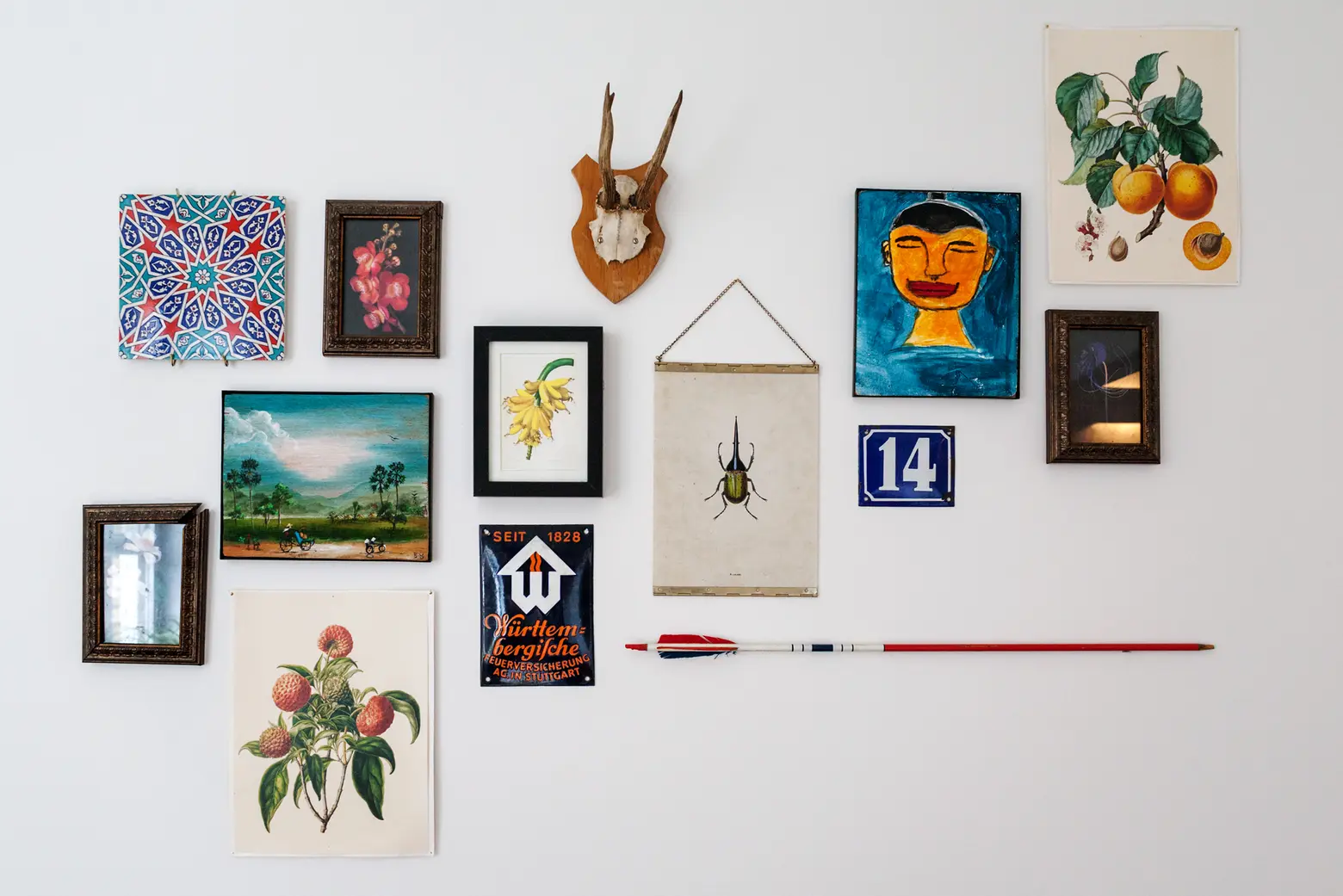 Was it tough being "homeless" for that time? 
Amy: It got pretty uncomfortable! We were Airbnb hopping and living out of suitcases for a month. There were a lot of late nights in our construction zone, but it did help us get more familiar with the neighborhood before we moved in.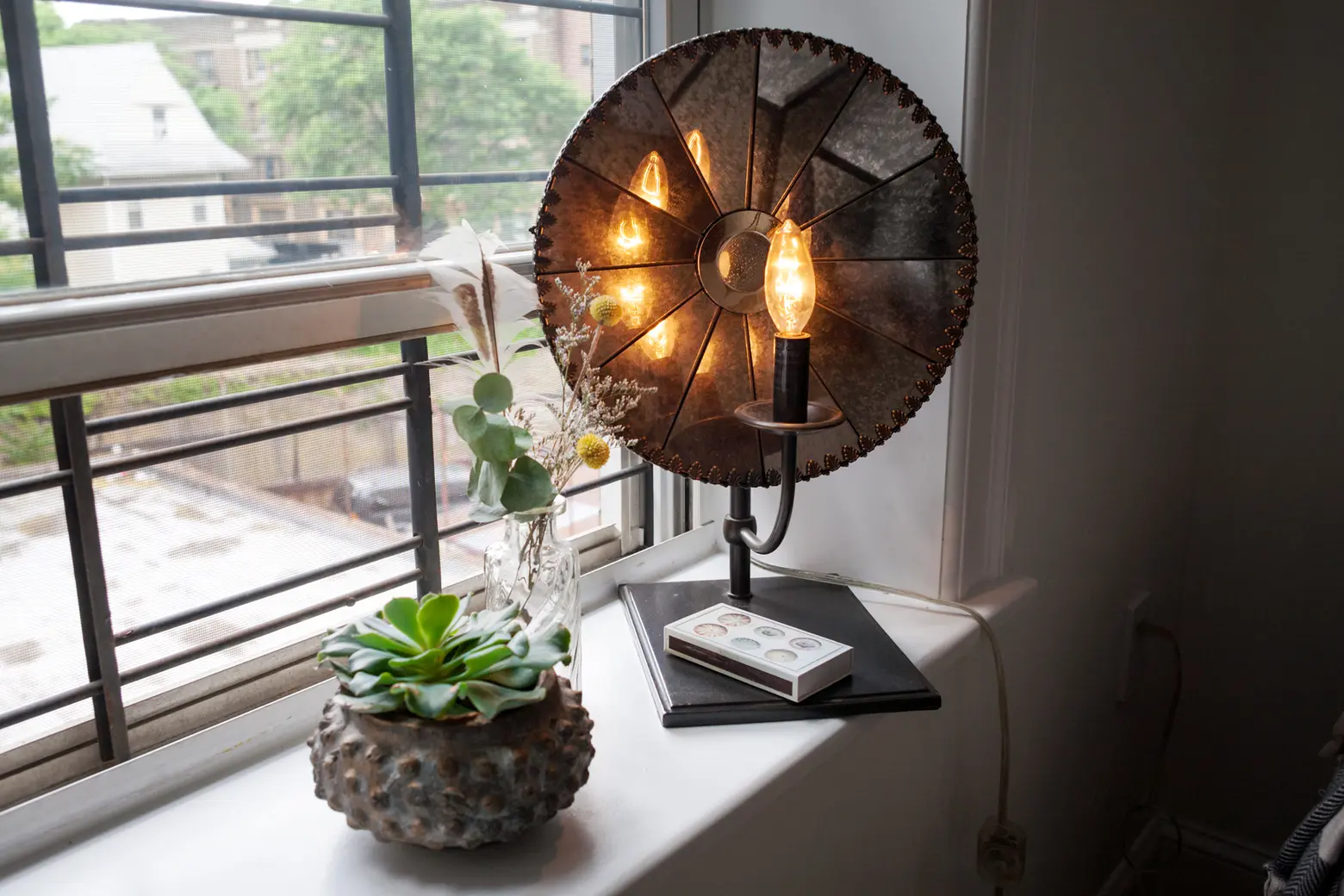 Brian, you're a landscape architect, so you definitely have knowledge of architectural drawings and construction. Did this come in handy?
Brian: Absolutely. Drafting plans let us think through all the details, both beautiful and mundane. They enabled us to clearly communicate our intentions with Landi, our contractor, who took a lot of pride in his work and was incredible to work with. It's so different designing a project for yourself, because when all is said and done you can only blame yourself for that one oddly placed light switch.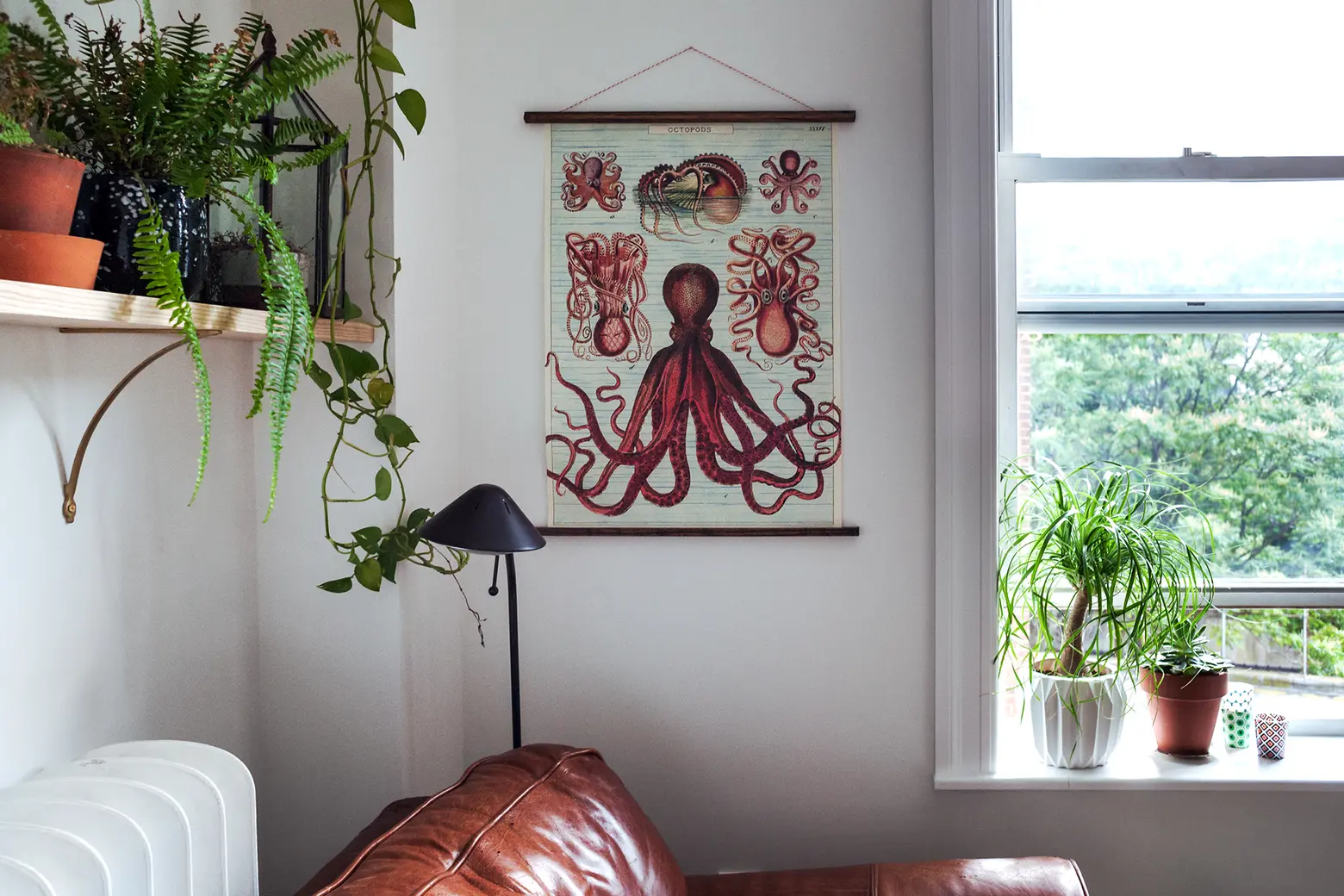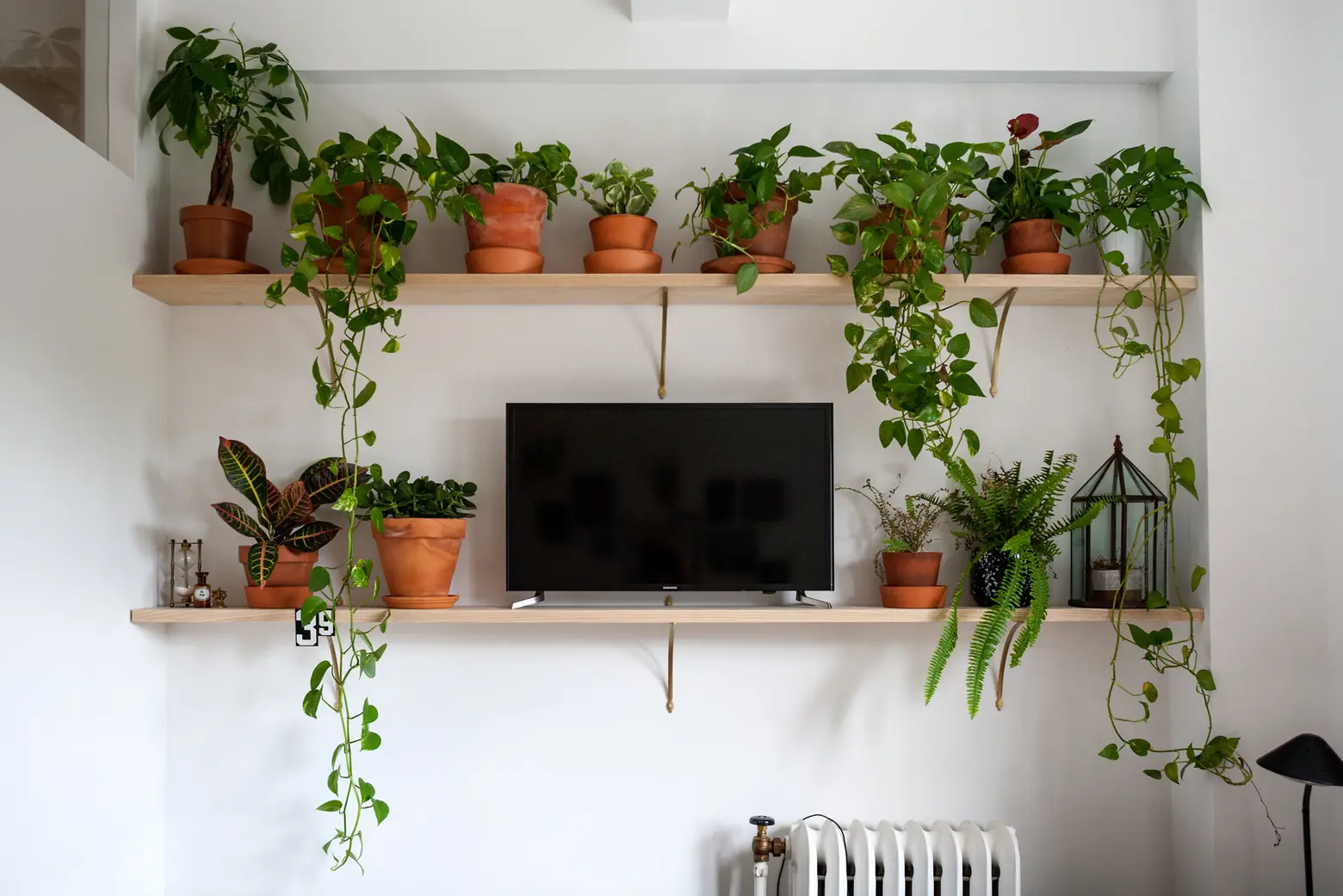 Brian, you surprised us by saying that Amy brought most of the plants into the apartment! 
Amy: Brian's mom was sweet enough to take care of our plants for us while we were between apartments and nursed them back to health after I burned them all on a rooftop. The plants have moved with me everywhere I've lived, but we've bought even more since moving in.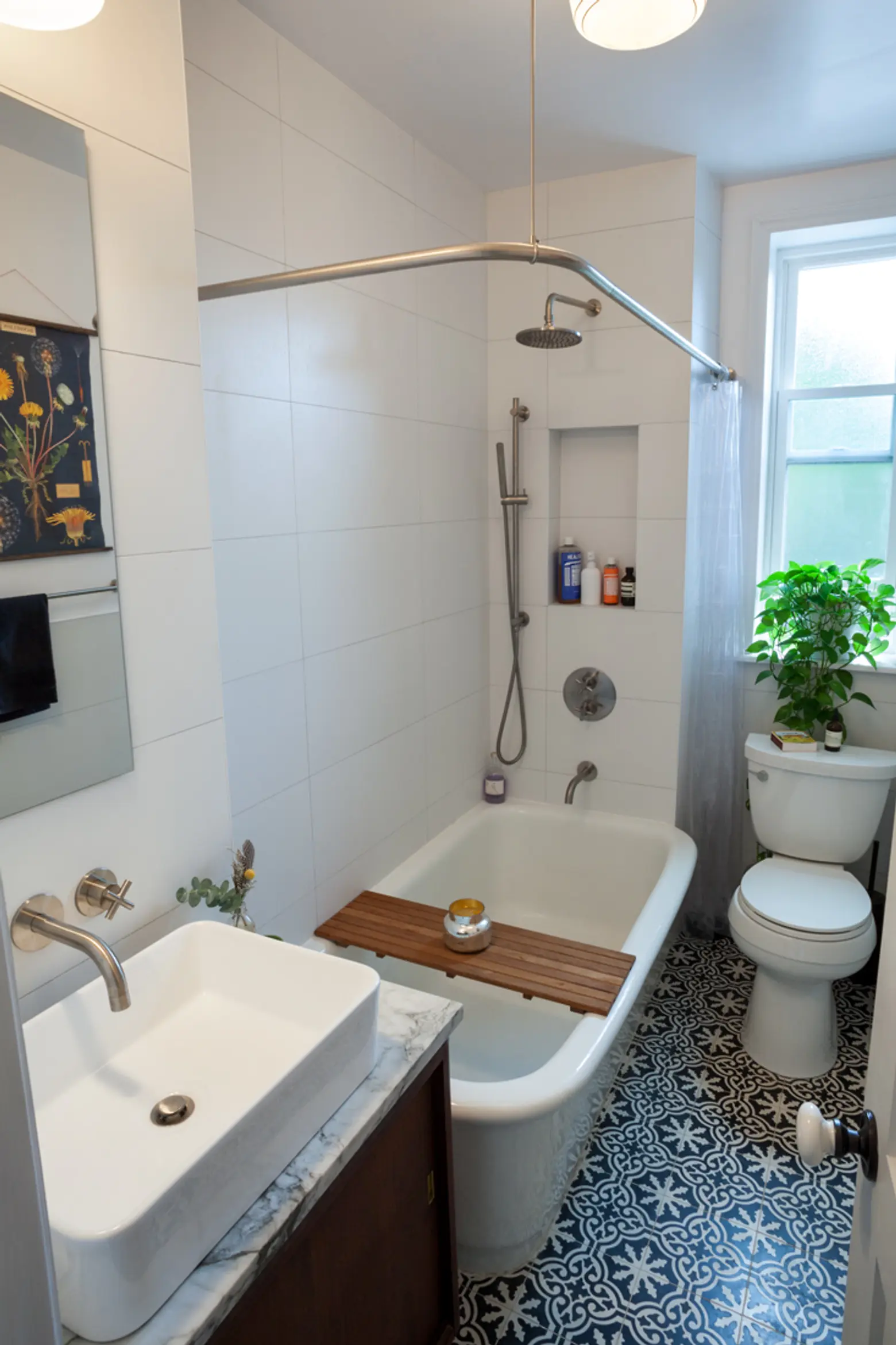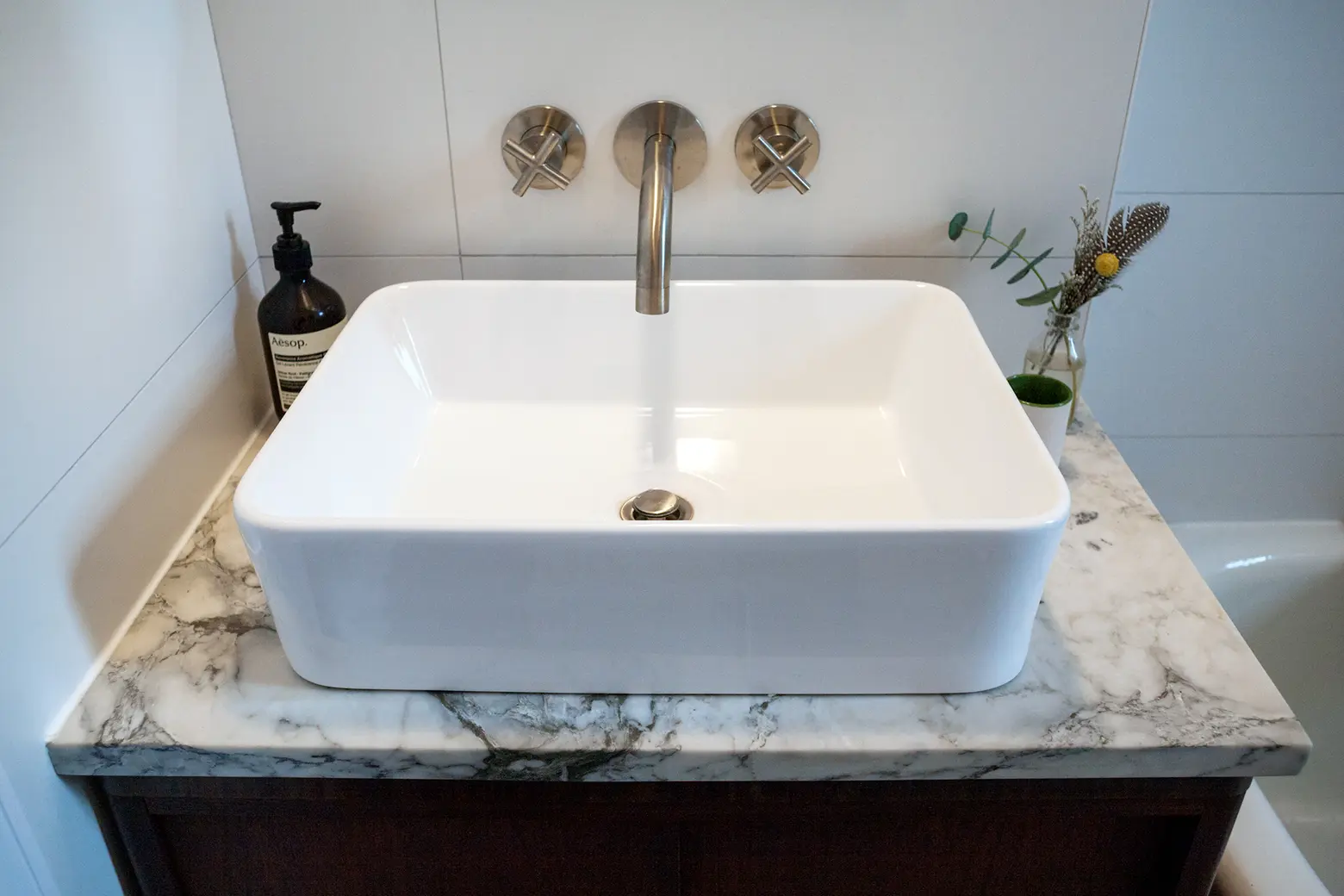 Now that it's all done, what's your favorite thing about the apartment?
Amy: I love our bathrooms and the tiles in them. Clé tile was a great resource. I also love our little floating bar moment and chairs, it's a great spot for a cocktail and catching up.
Brian: My favorite piece is the bathroom vanity. I searched forever for the base and finally found it on Craigslist. We drove three hours to go pick it up and it fits the space perfectly. We had an extra piece of stone from the slab for our kitchen, and we had it cut to fit the vanity.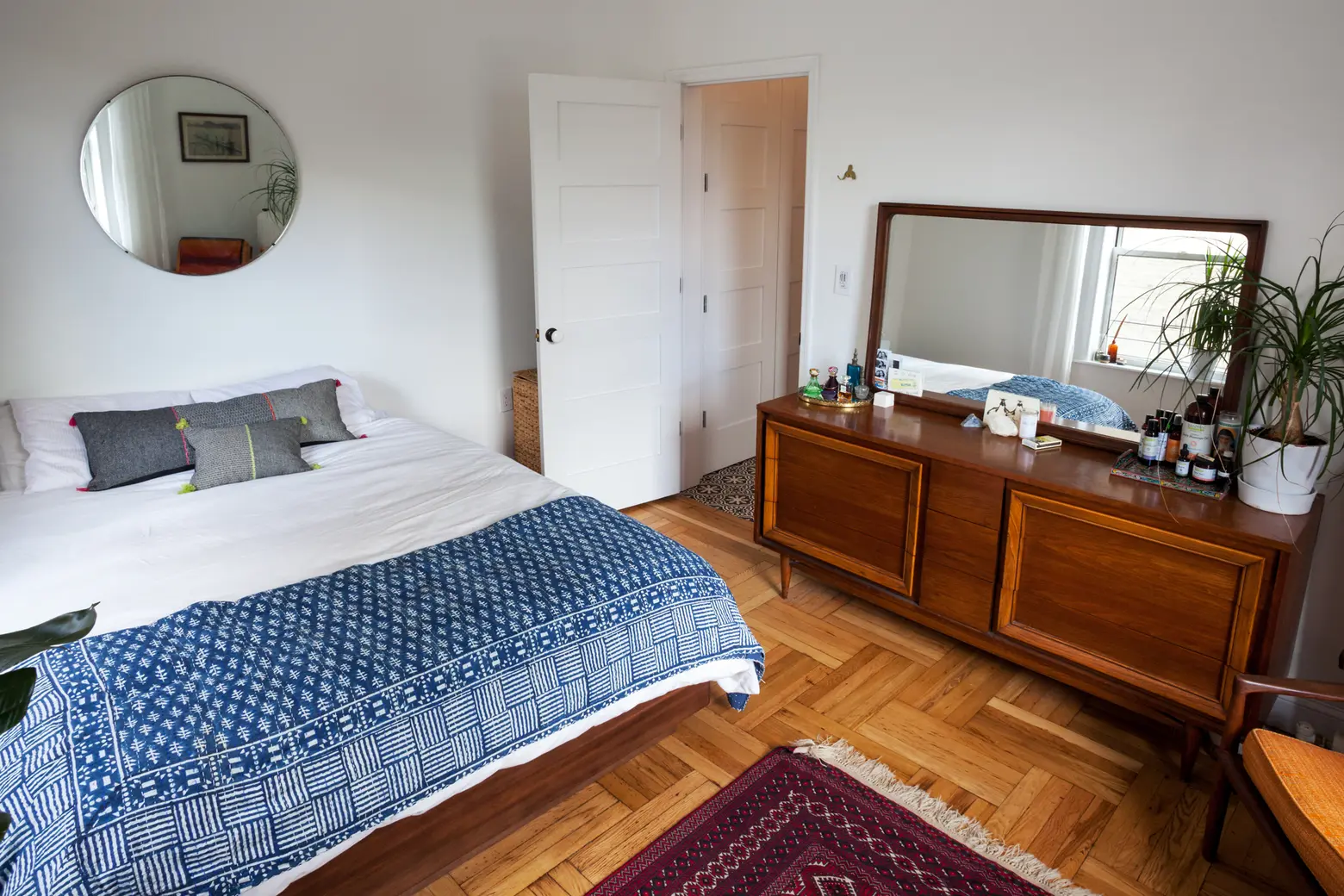 Amy's grandfather's trunk sits in front of the bedroom window. "He immigrated to the U.S. with it from France and his initials are still painted on the side. I like seeing how weathered it is and imagining how far it's traveled," she told us previously. 
You can each only take three items from the apartment–what are they?
Amy: My grandpa's trunk, CCPP painting, and my box of cards and pictures.
Brian: Amy and the pups.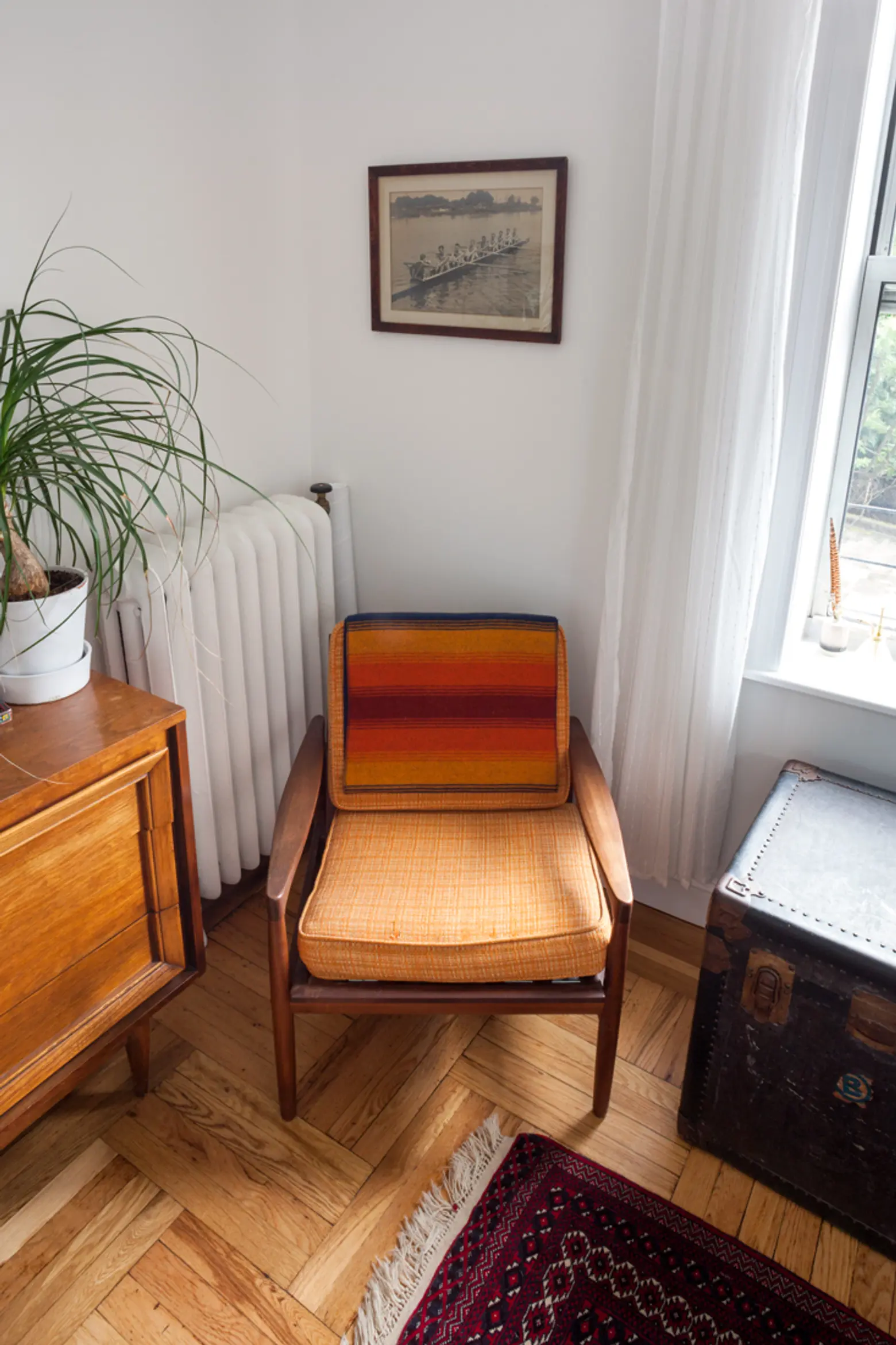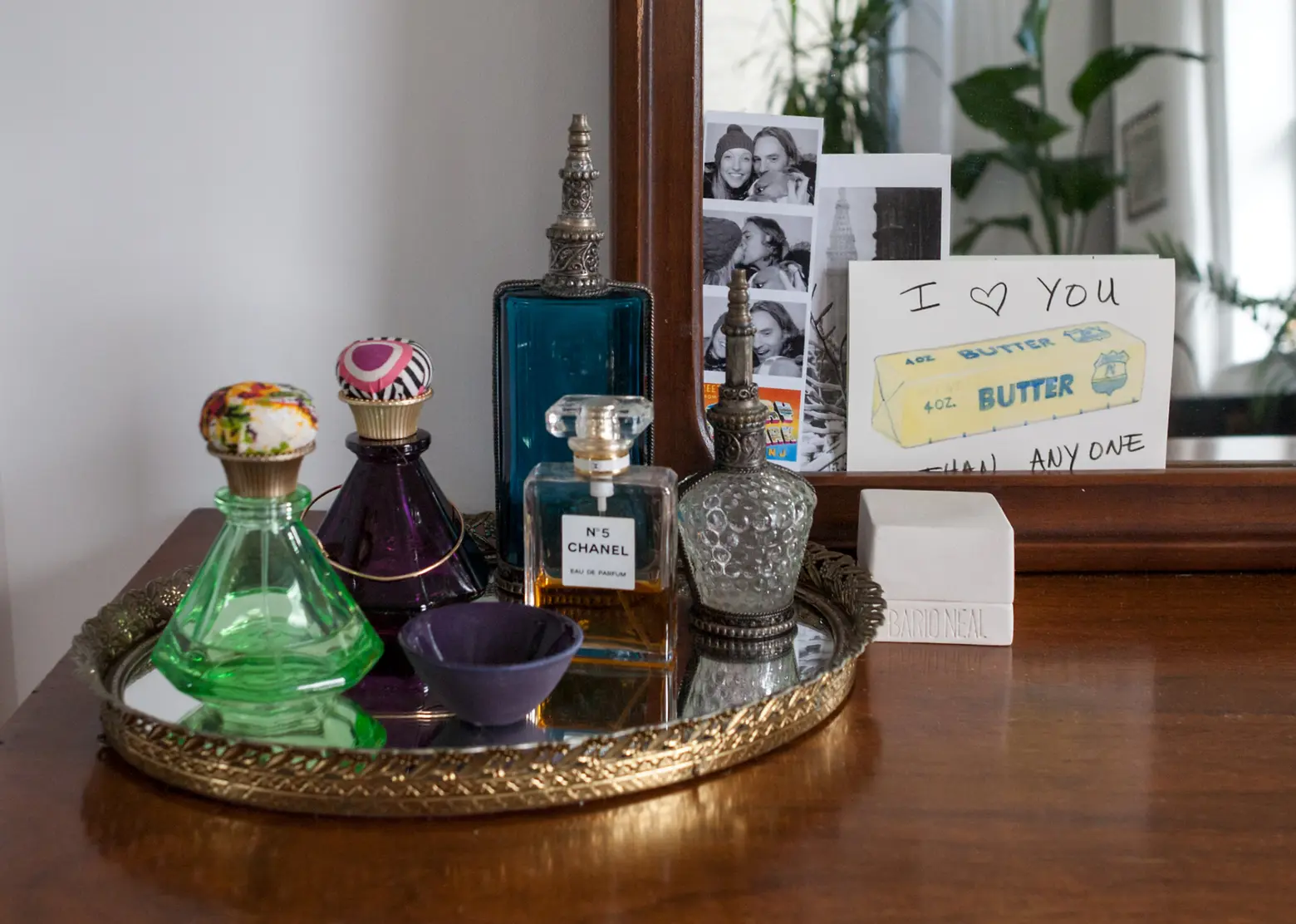 What do you love most about this neighborhood?
Brian: The neighborhood is amazing. We love walking around the old mansions on Albemarle and the historic limits of Prospect Park South. The houses there are so grand and gorgeous and such a surprise in the middle of Brooklyn. It's been really exciting to see so many of these buildings being meticulously restored.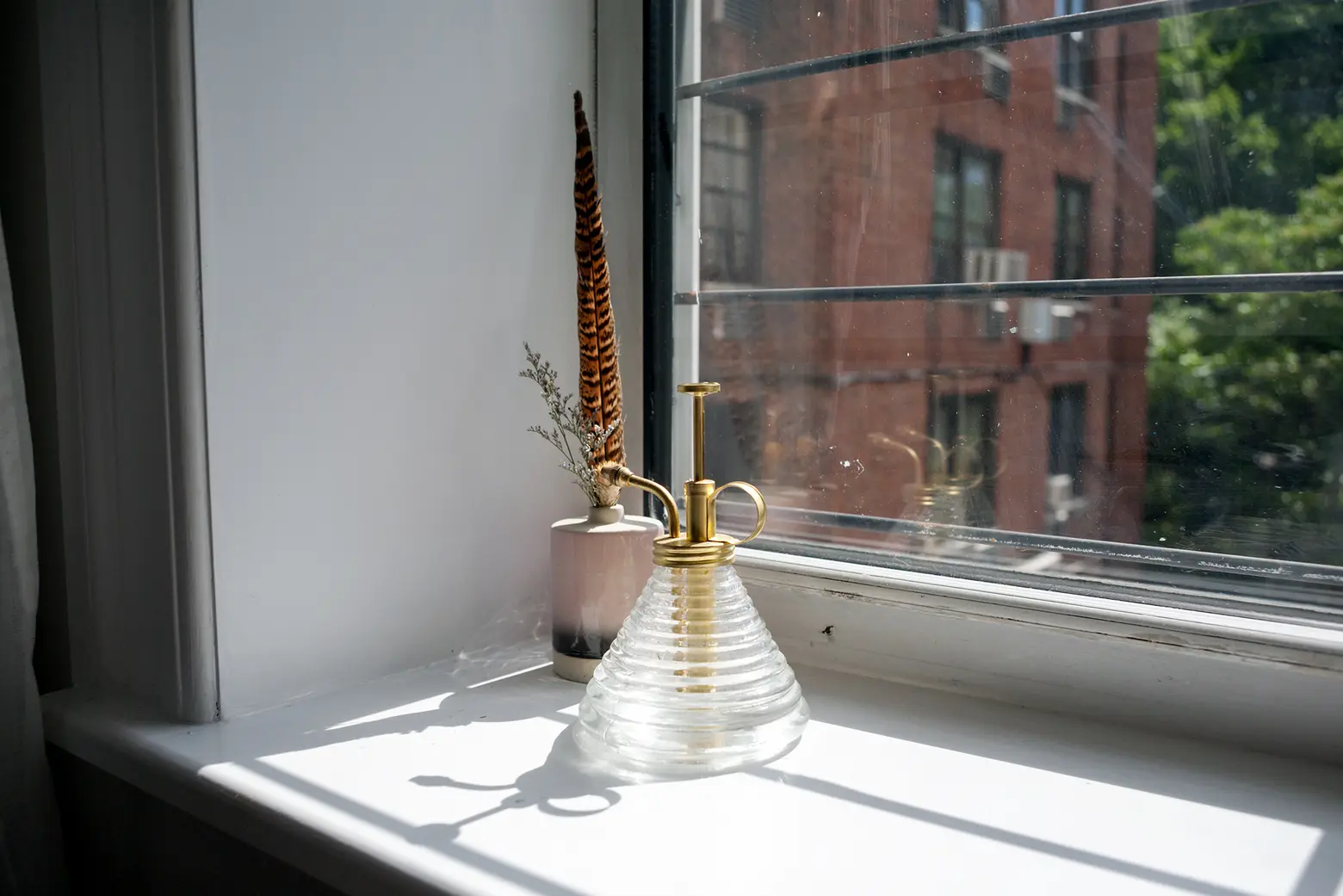 Favorite spots?
Amy: I love Sycamore, Elk Café, and WerkStatt.
Brian: All of these plus Der Pioneer, Blessings Café, and the Ox Tavern.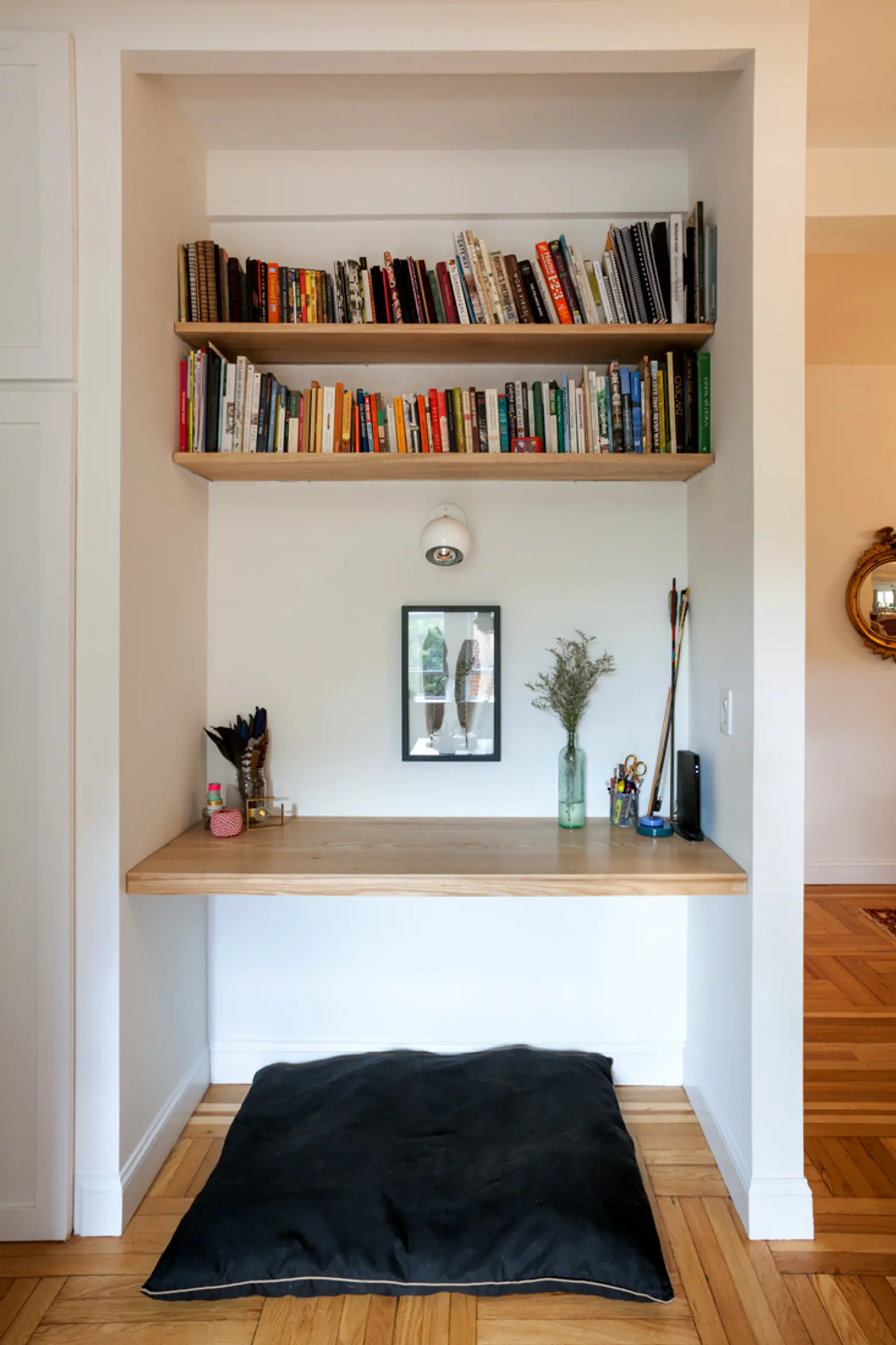 Do you take advantage of being so close to the park?
Amy: Every day! We're always in the park with the dogs and love a long Friday night walk with the pups.
Brian: Of course!  I knew the park really well before living here, but it feels much more intimate now that we're there every day. It's been incredible watching the park ebb and flow during each season throughout the year.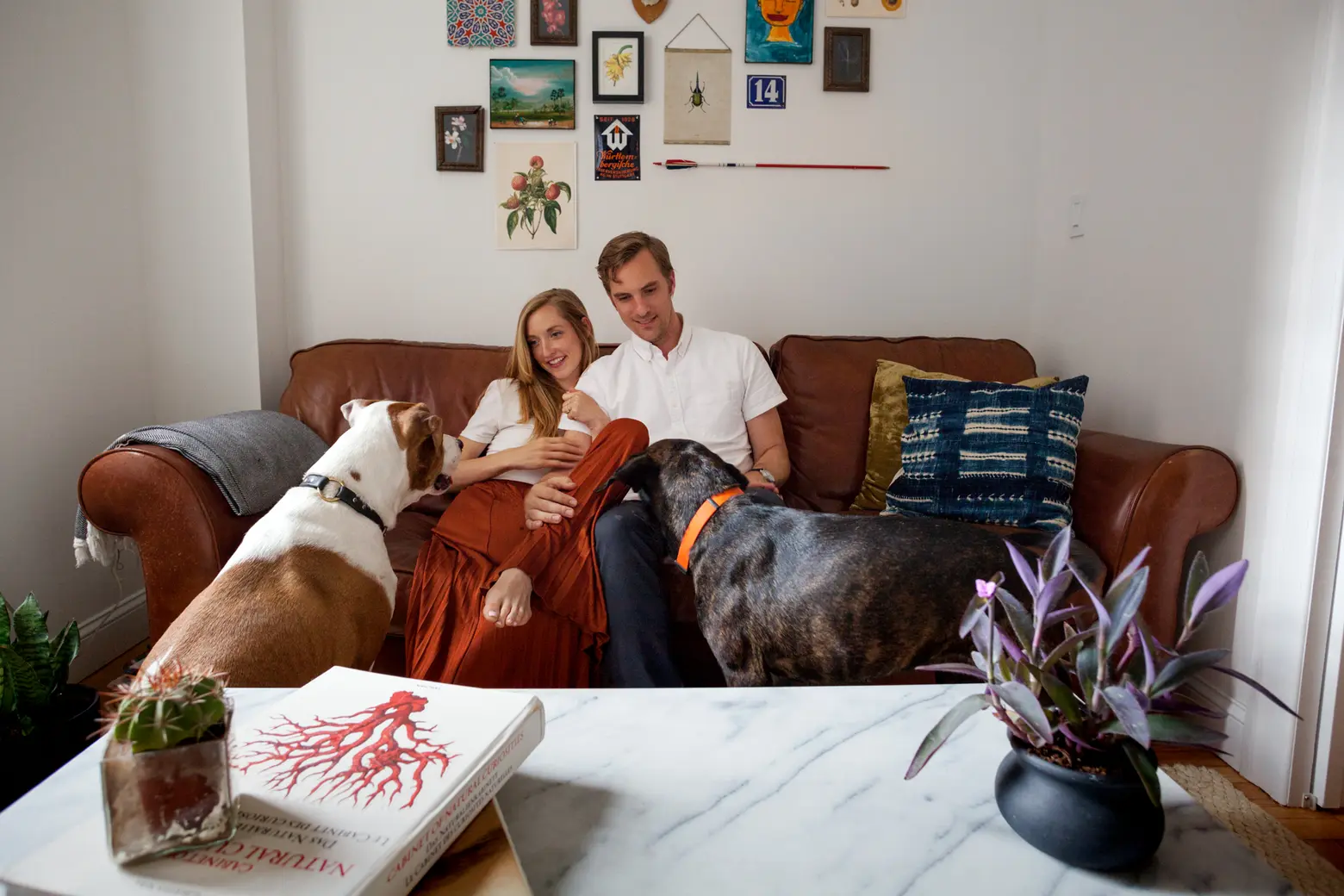 Okay, last but possibly most importantly, how do you make it work living with two large dogs?
Amy: We've gotten used to a lot of dog hair and having our bed commandeered every morning! Brian's a real sport about taking on a lot of the dog walking. Despite the chaos, we have a lot of fun with them.
Check out some before and during renovation photos from Amy and Brian below!
+++
RELATED:
All photos taken by James and Karla Murray exclusively for 6sqft. Photos are not to be reproduced without written permission from 6sqft.
Before and during the renovation; photos provided by Amy and Brian