My 2,200sqft: A Couple Brings Serene California-Style Living to Their Park Slope Brownstone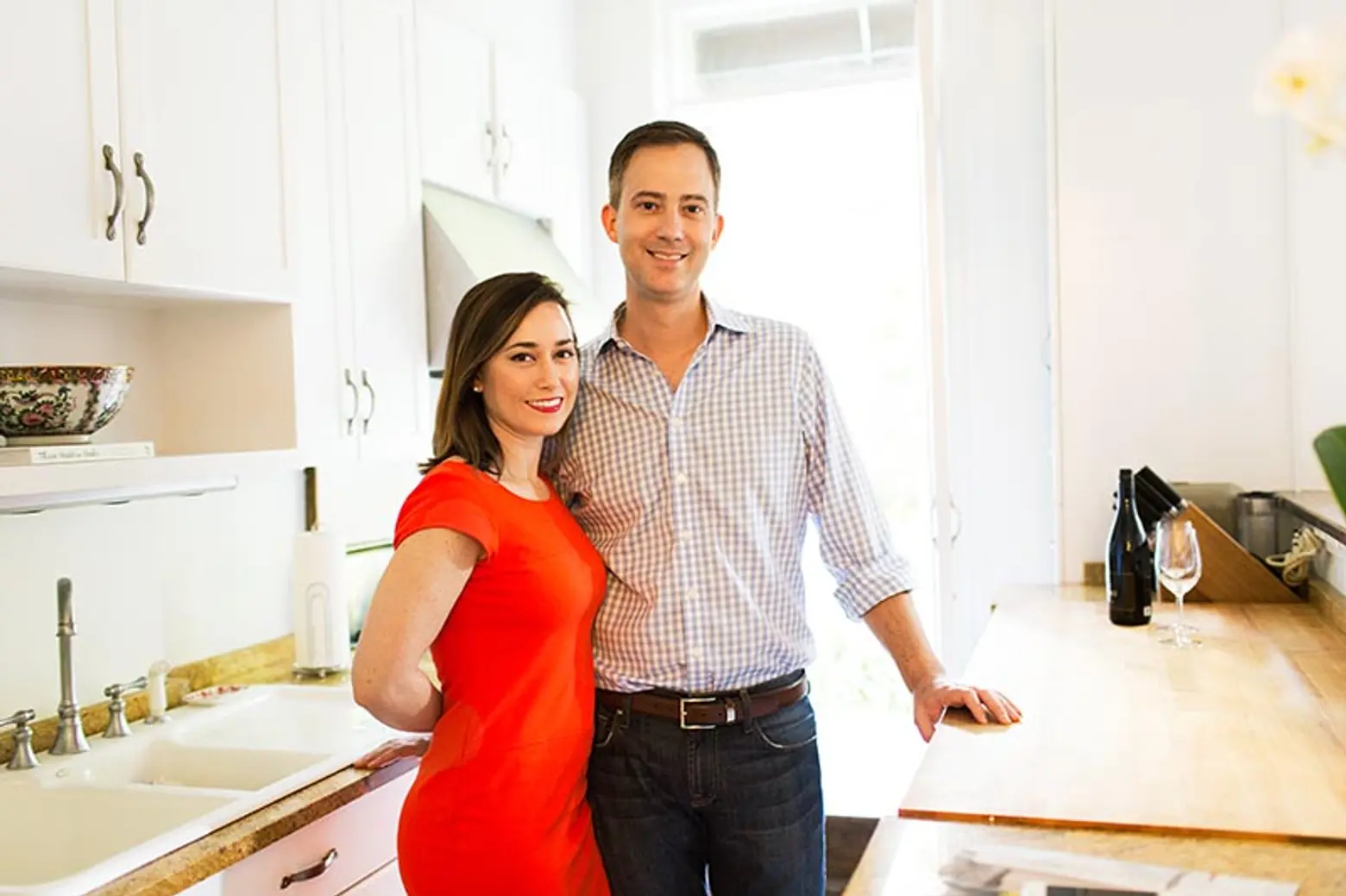 Our ongoing series "My sqft" checks out the homes of 6sqft's friends, family and fellow New Yorkers across all the boroughs. Our latest interior adventure brings us to Park Slope. Want to see your home featured here? Get in touch!
We've all been there: dreaming of leaving the city behind and heading out west for a new adventure. Some of us do it, but most of us continue dreaming. For financial services executive Bill Fellows and his graphic designer and nurse practitioner-in-training wife Kerr, change wasn't something to be feared, and more than six years ago the pair took a leap of faith and left for San Francisco. However, as anyone who's spent more than a year in the Big Apple can attest, once you've lived in a city as great New York, it's only a matter of time before you're sucked back in. And after a long stint on the other side of the country, Bill and Kerr came back to the city—this time in search of a calmer experience more akin to what they had on the west coast.
Since August of last year, the pair have been cozying it up in the bottom two floors of a Park Slope brownstone. Originally an unkempt photography studio and living space, Bill signed for the house before Kerr even had a chance to see it (now that's trust, people). When Kerr did finally check out the place, her design-background kicked in. She saw the challenges and opportunities that steeped the 2,200 square feet, and she got to work.
Keep reading to find out how Kerr and Bill turned a shamble into a tranquil, well-composed space.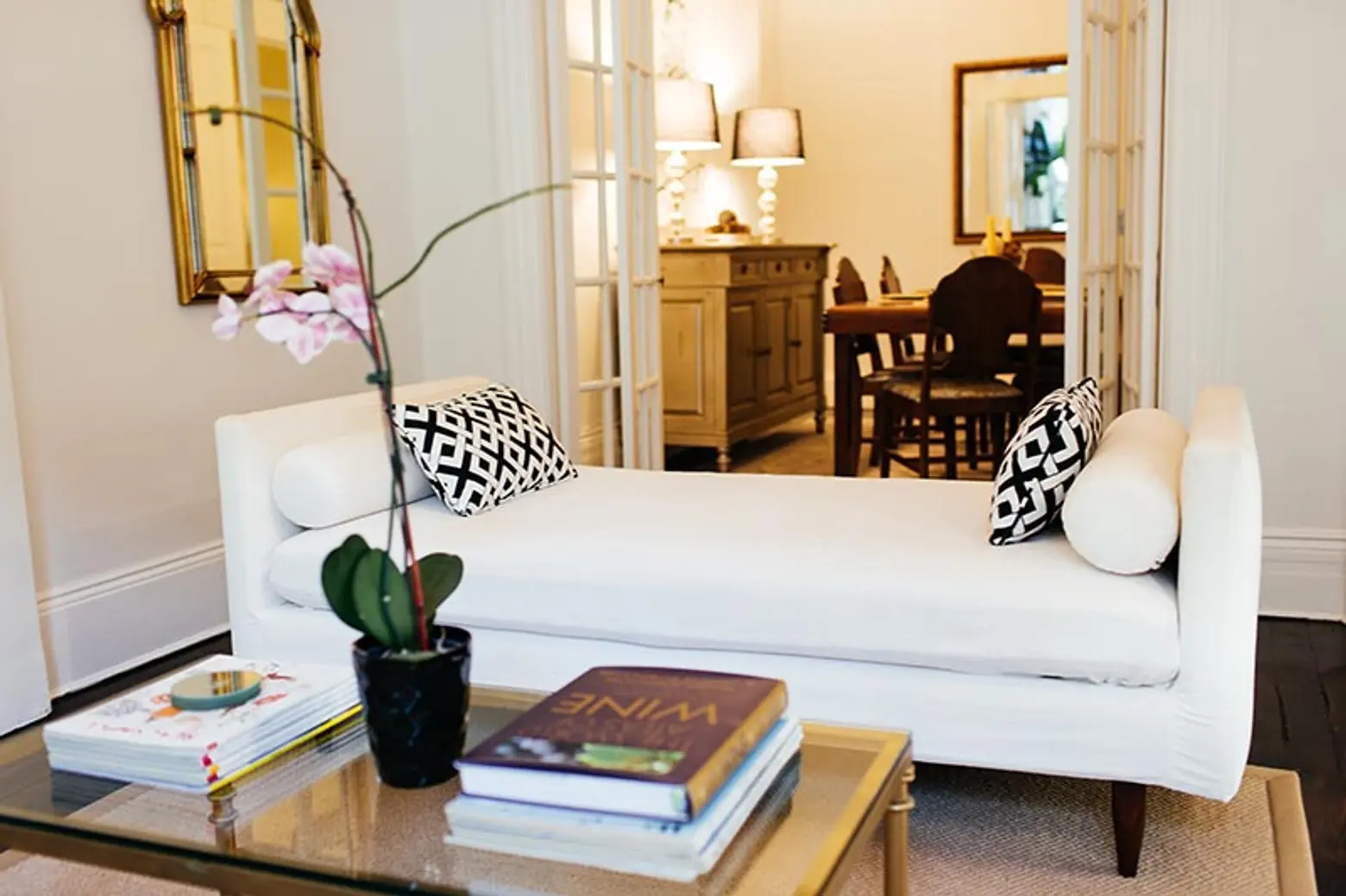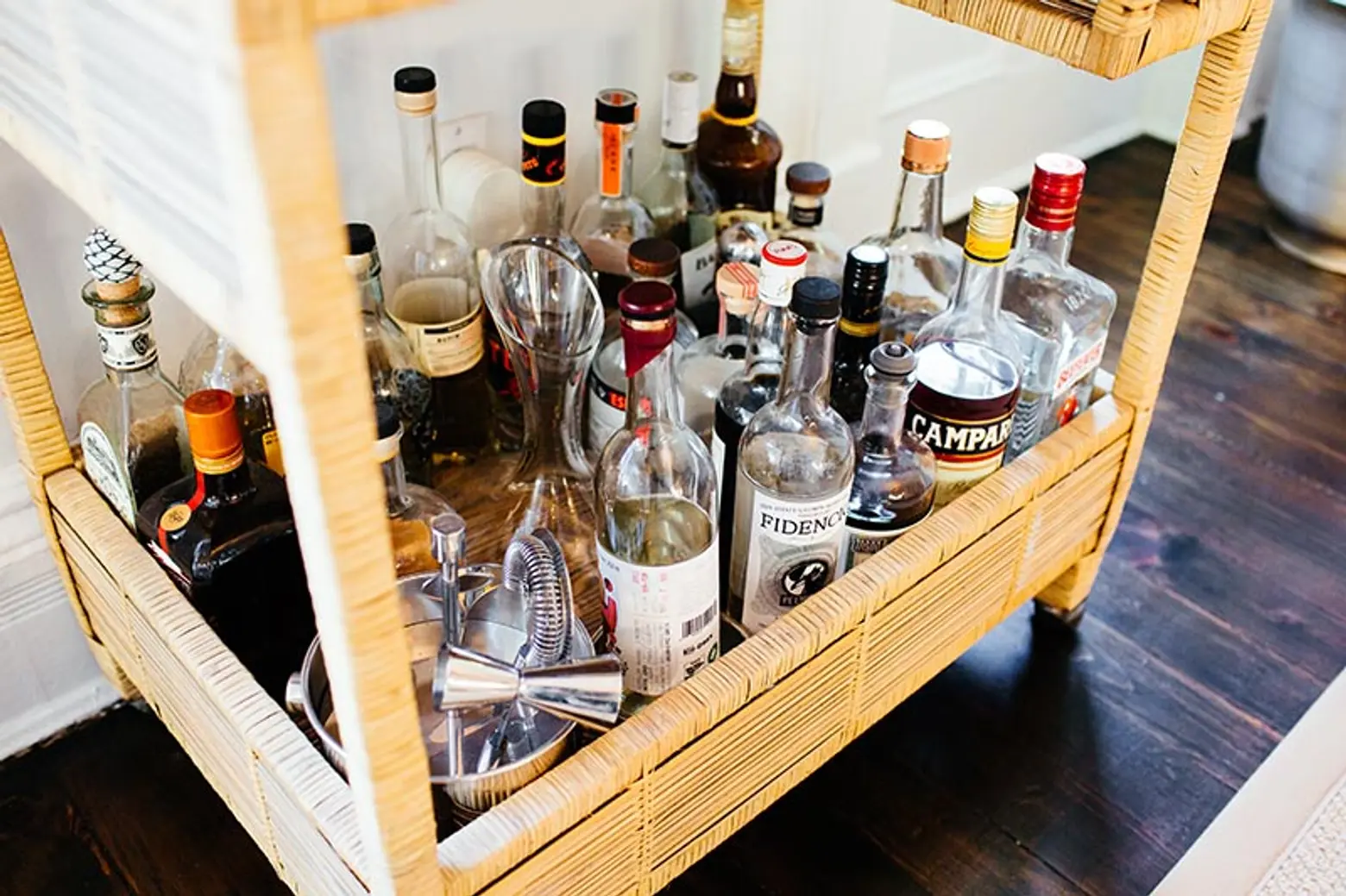 Bill, you saw the apartment first. What were your initial thoughts?
Bill: The apartment was huge—high ceilings, exposed brick, more rooms than I could count—and large back patio with a southern exposure. These were my two objectives. I had confidence that Kerr could make any place a beautiful home. That said, it was in a state of disrepair, the yard was completely overgrown and filled with dozens of planting pots of various sizes and composition. The place had potential, it just needed someone with the right eye to clean it up. I like to say I have the vision and Kerr makes it even better.
Kerr, what did you think when you finally saw the residence?
Kerr: The layout of the apartment was difficult for me to figure out. We had plenty of space, but how we should use it was hard to decide and I had to map it out blueprint-style on my computer. The previous tenant used the space for more bedrooms and had the entire downstairs as a photography studio and storage. The opportunities presented were that we could make it our own space and weren't tied to a layout that designated how rooms should be used. The apartment is a surprising 2,200-square-feet—palatial by any borough's standard—including a living room, master suite, dining room, kitchen, guest bedroom, two bathrooms, and a scotch library; or at least that's what we call it.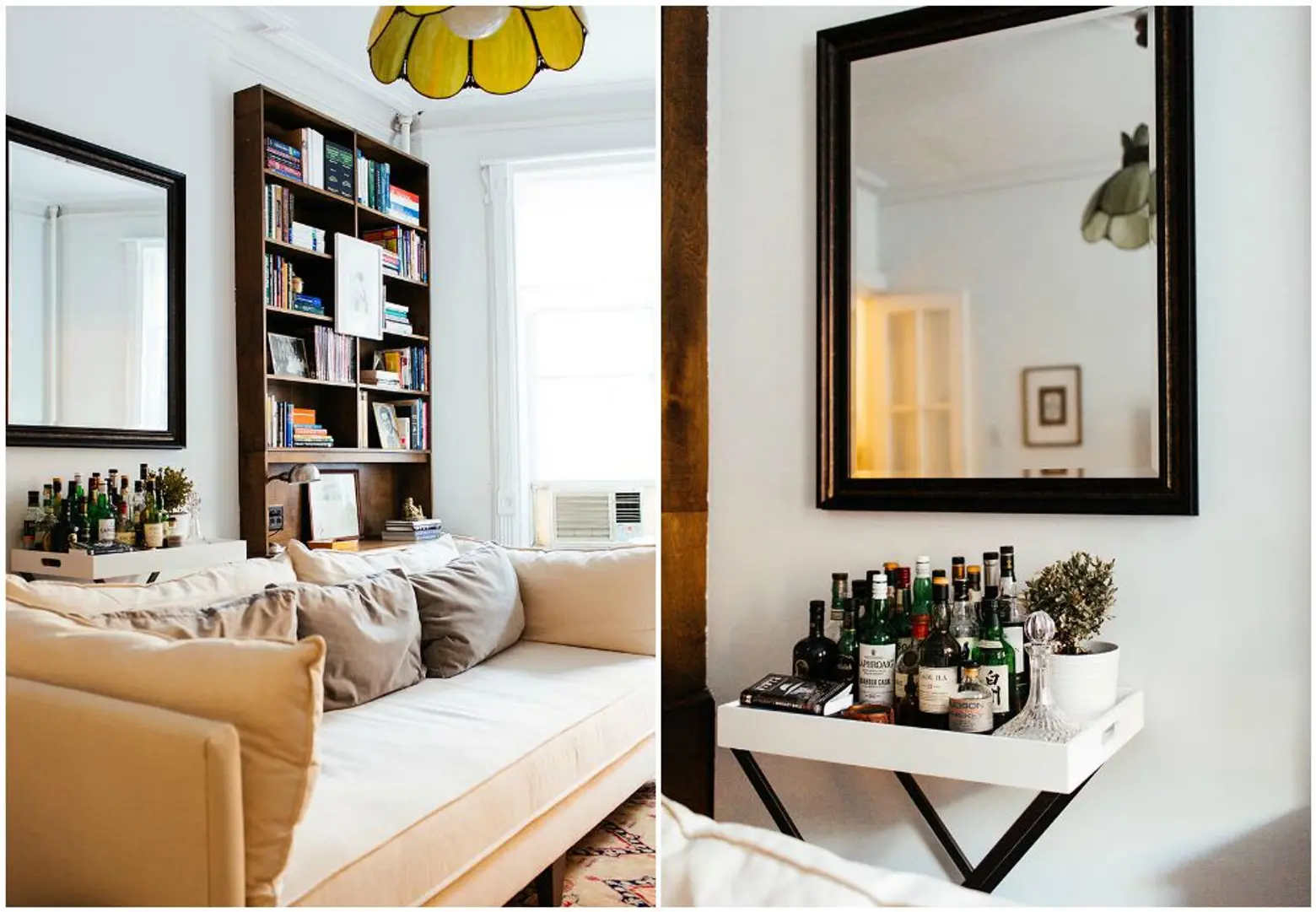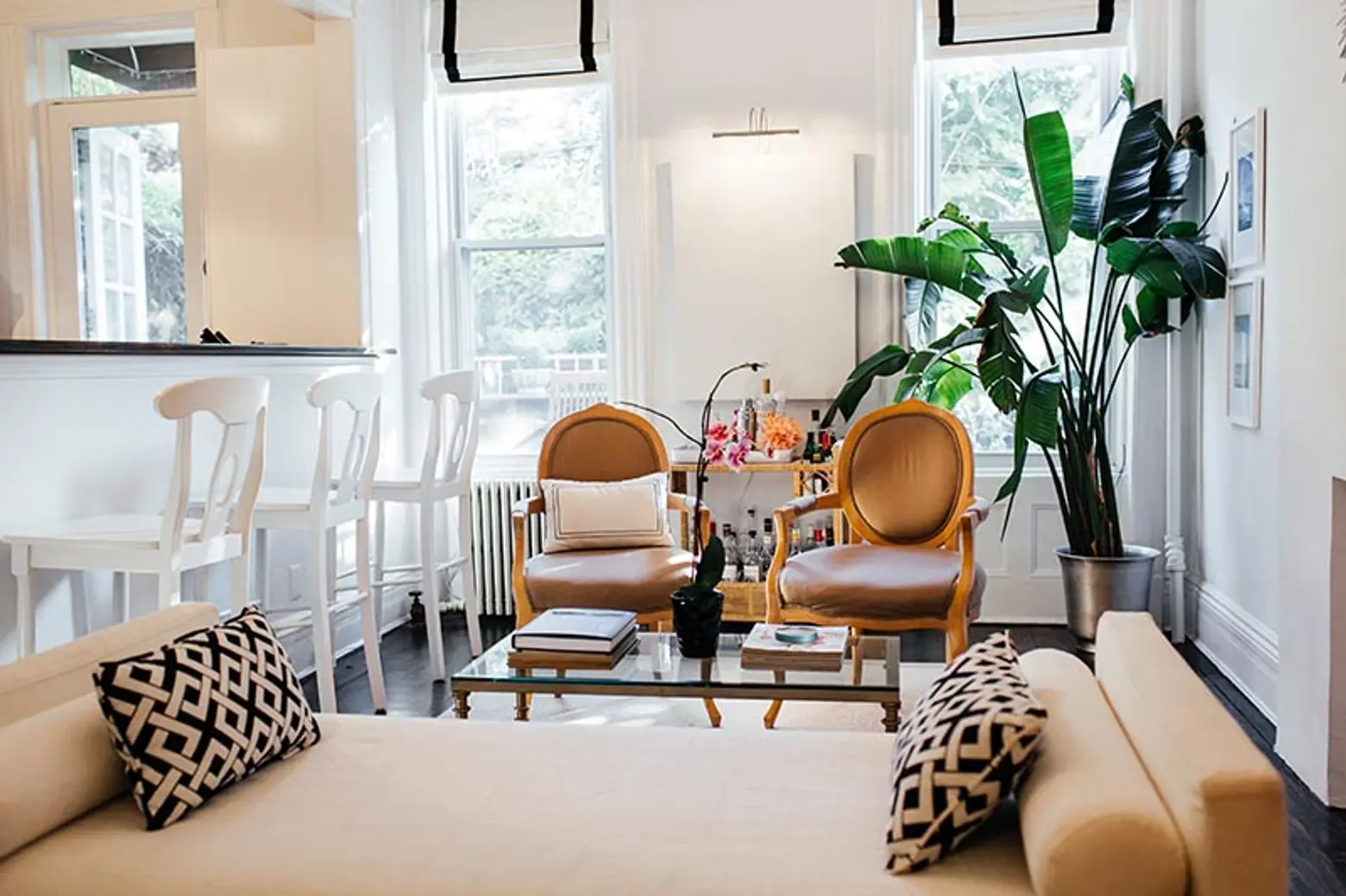 What is your favorite piece of decor or furniture?
Kerr: The Louis XVI arm chairs in the living room. We found these chairs on Craigslist in San Francisco. After rounds of emails, we went to see the chairs. We arrived at an art dealer's penthouse on a rainy afternoon. Once there, we realized the seller really did not want to part with them at all. He told us their story, how he used them in his gallery, who made them, how he cared for them. It felt like we were adopting his first born. In the end, we got the chairs. I had originally planned to refinish and reupholster them, but maybe I was influenced by our unspoken responsibility to care for the "adopted" chairs and couldn't bring myself to change them!
Bill: Scotch library collection. We have a bottle from everywhere we tasted in Islay and the Highlands of Scotland.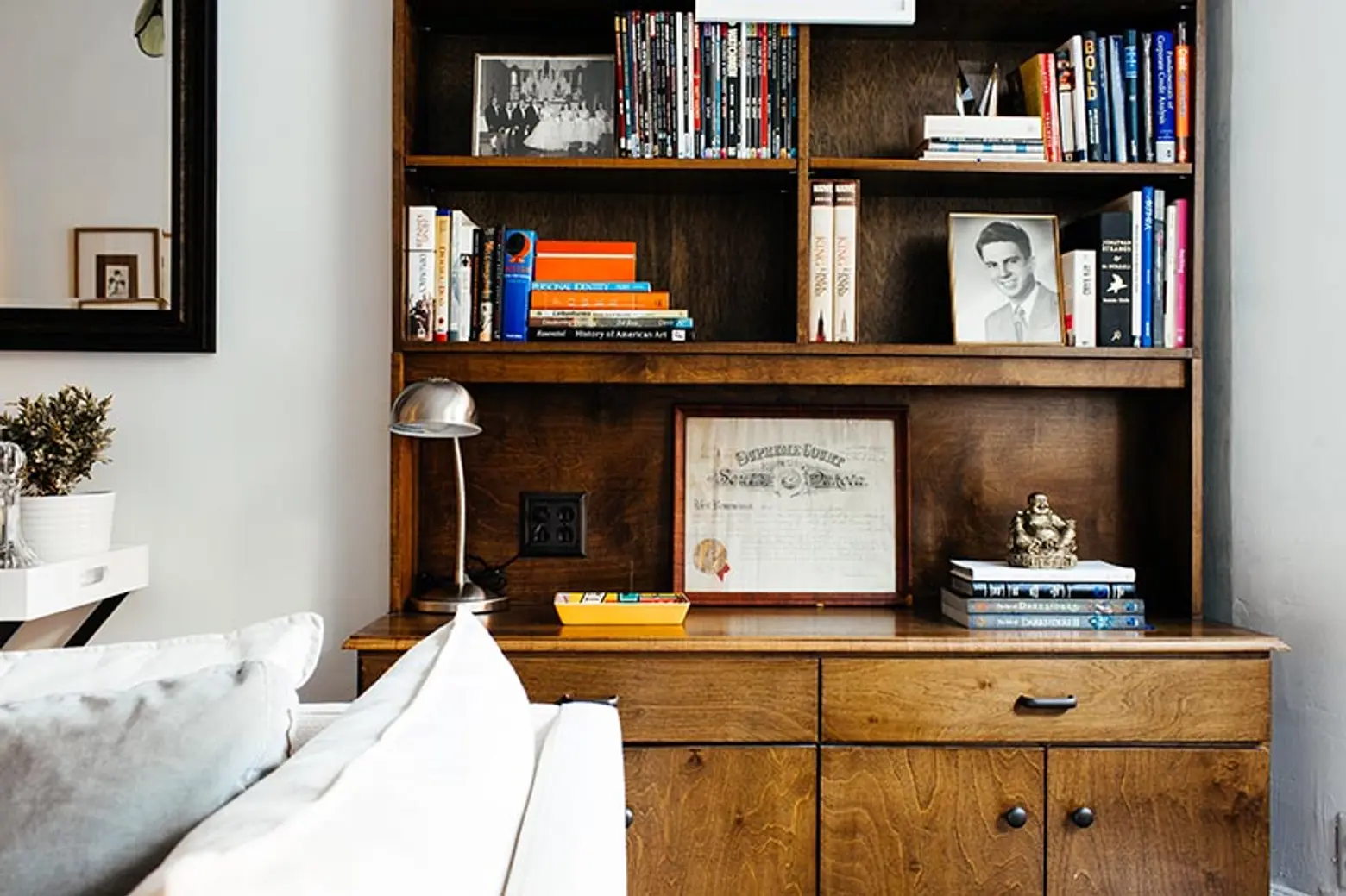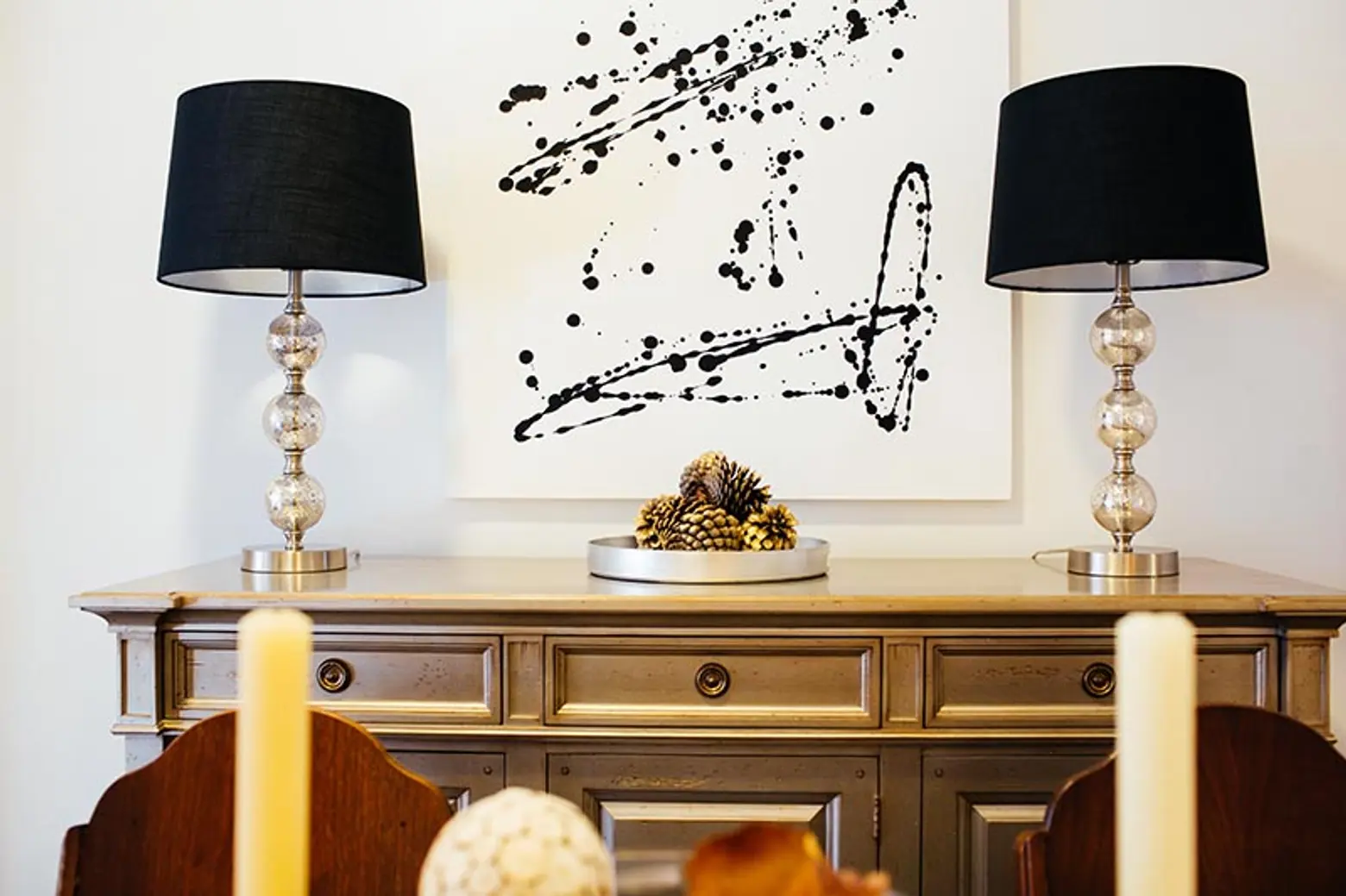 This console table was a Park Slope Housing Works find. It was a steal at under $200 for being basically brand new. Buying it was easy, transporting it was a different story. It took almost an entire day to get it into their home from a couple blocks away because it's actually incredibly heavy. The painting above it was done by Kerr.
How would you describe your apartment and its design aesthetic?
Kerr: The decor is a hangover from our San Francisco days, at which time I had a thing for whites and creams, as well as a touch of traditional Southern Living. There is also a nautical-like theme and inspiration from the trips we've taken as a couple to French Polynesia, Asia, and Scotland.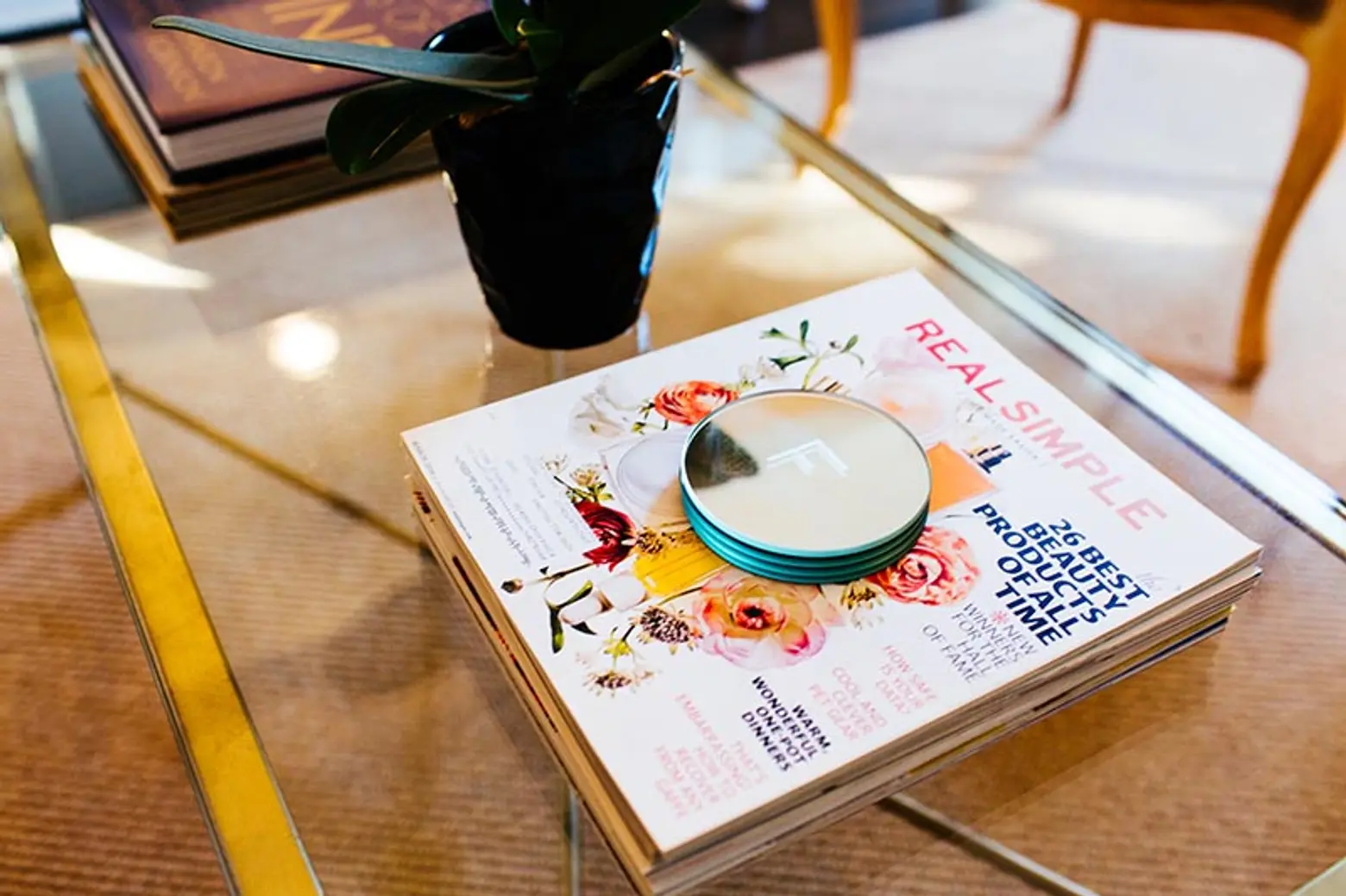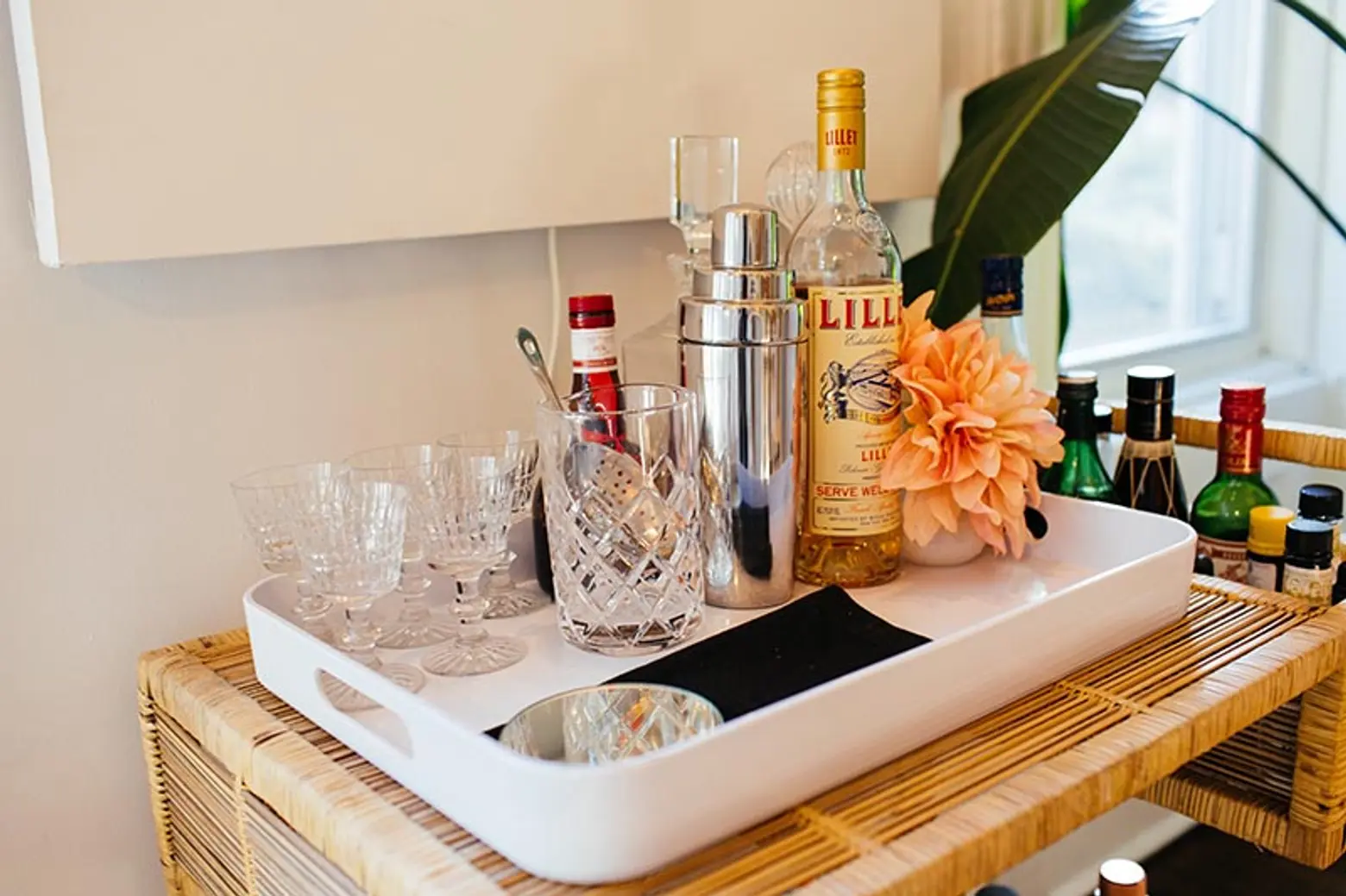 Since the decor is from your California apartment, do you have plans to re-decorate?
Kerr: I think that a home is in constant evolution and dynamic—it reflects who you are, what's important to you, and what makes you happy. With that in mind, I can already feel a sense of wanting to simplify and increase comfort in our next place and in our future purchases. It's becoming even more important to us now that our home be a relaxing place to nest and recharge.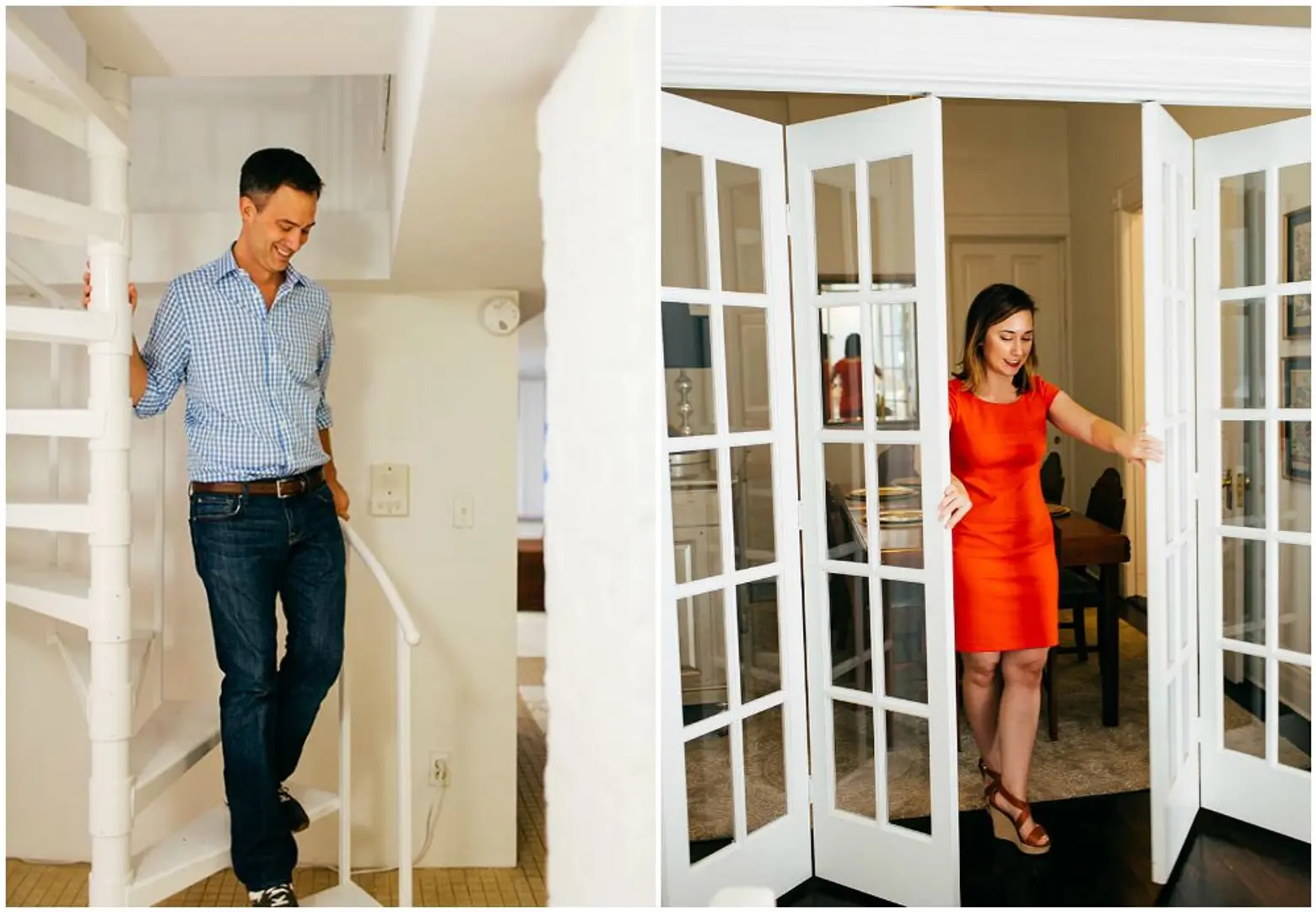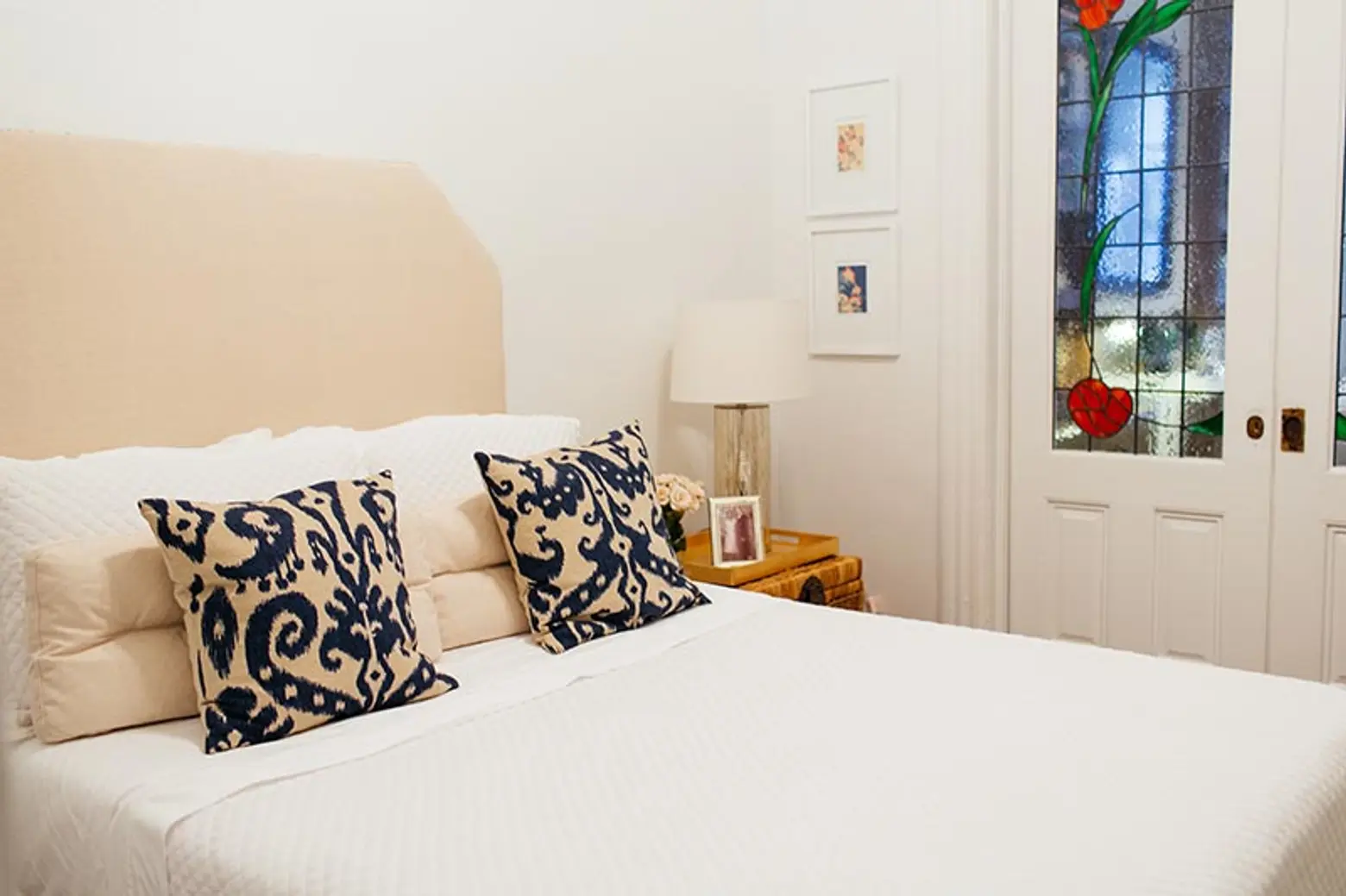 What is your favorite architectural detail about your home?
Bill: The spiral staircase. It just epitomizes city living to me, you don't see a lot of spiral staircases in Alabama or Nebraska, where we are from. And the high ceilings in the living room.
Kerr: The French doors in dining room and the windows above the doors.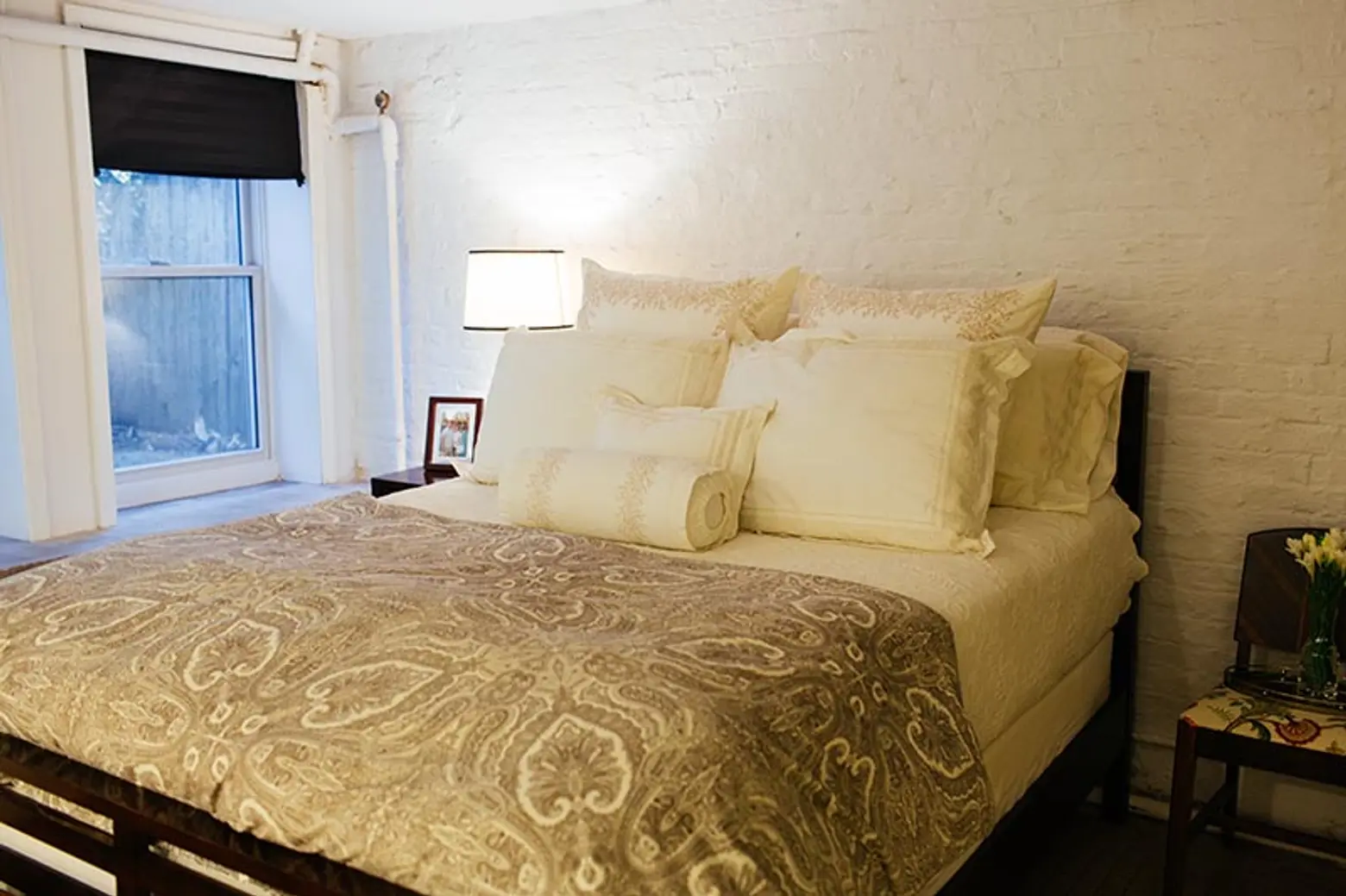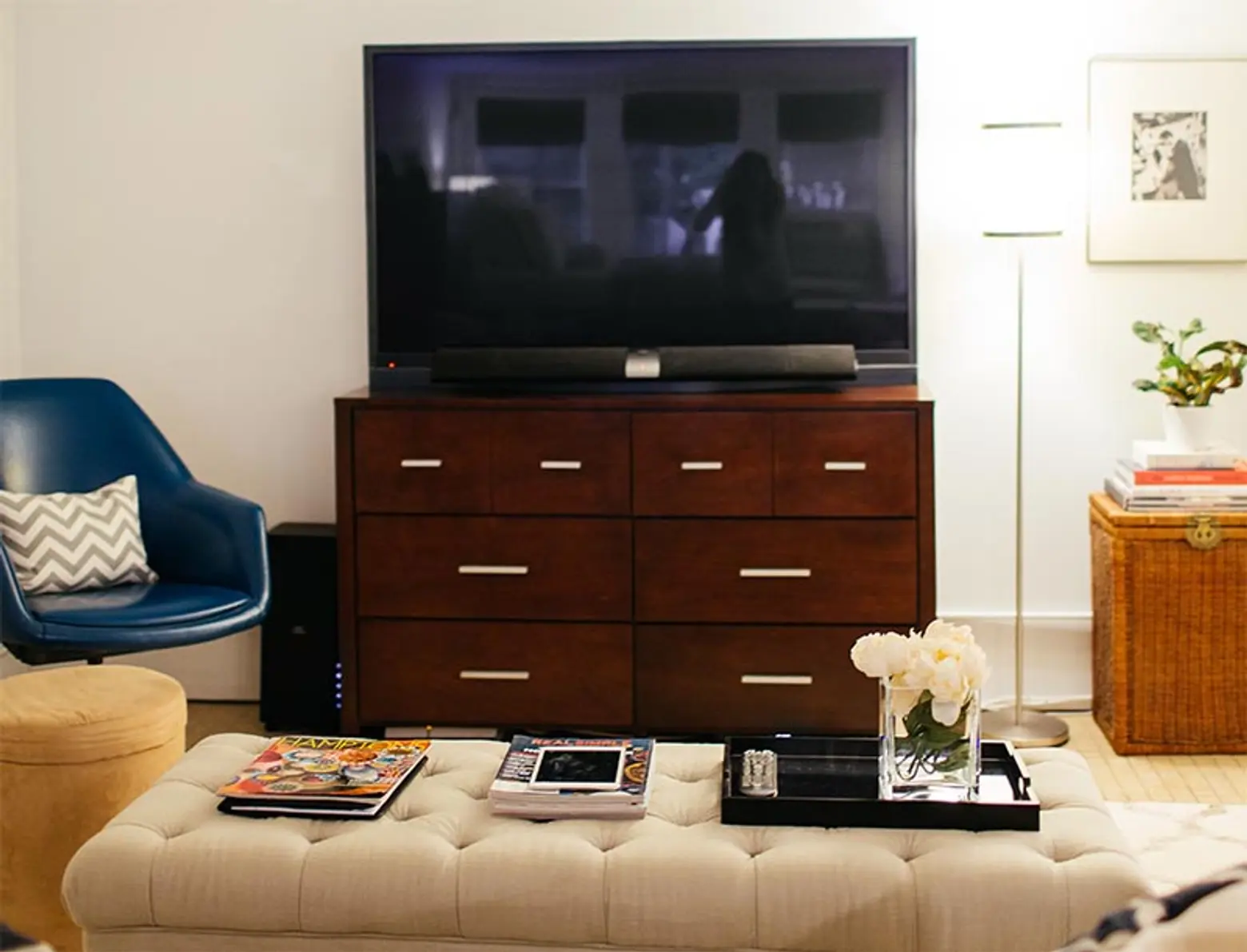 What is your favorite room in your home?
Kerr: Not a room technically, but the outdoor space. It's inspired a green thumb in Bill, and it elevates any quick meal into "al fresco dining." We enjoy grilling out on the weekends and host many cook-offs with our friends. As a student, I enjoy having the space to sit outside and study. My other favorite area is the huge walk-in closet that we installed.
Bill: Otherwise, we really enjoy the living room opening onto the kitchen. Both of us enjoy cooking, and it's very nice to be able to be in the kitchen but still part of the conversation.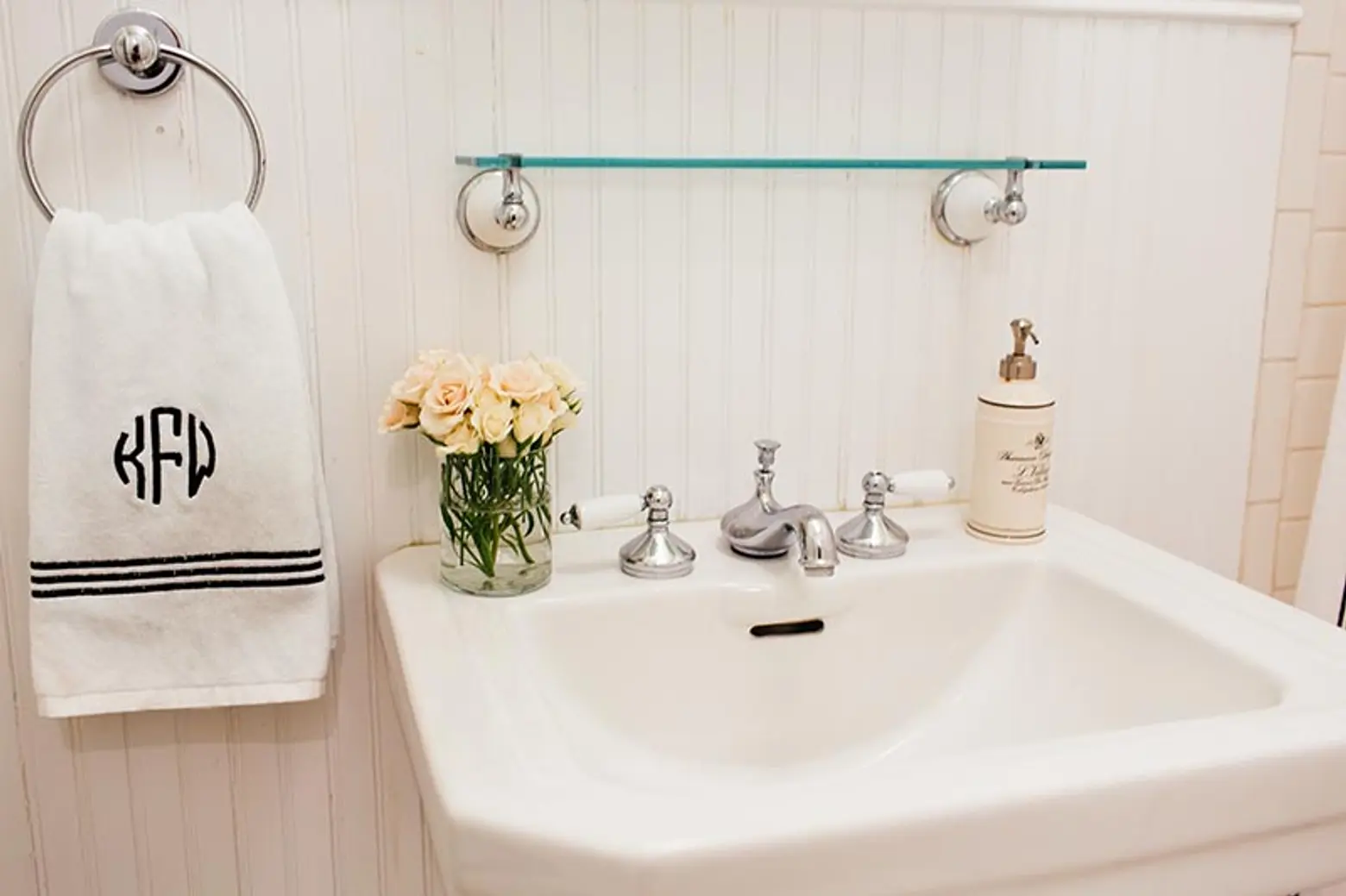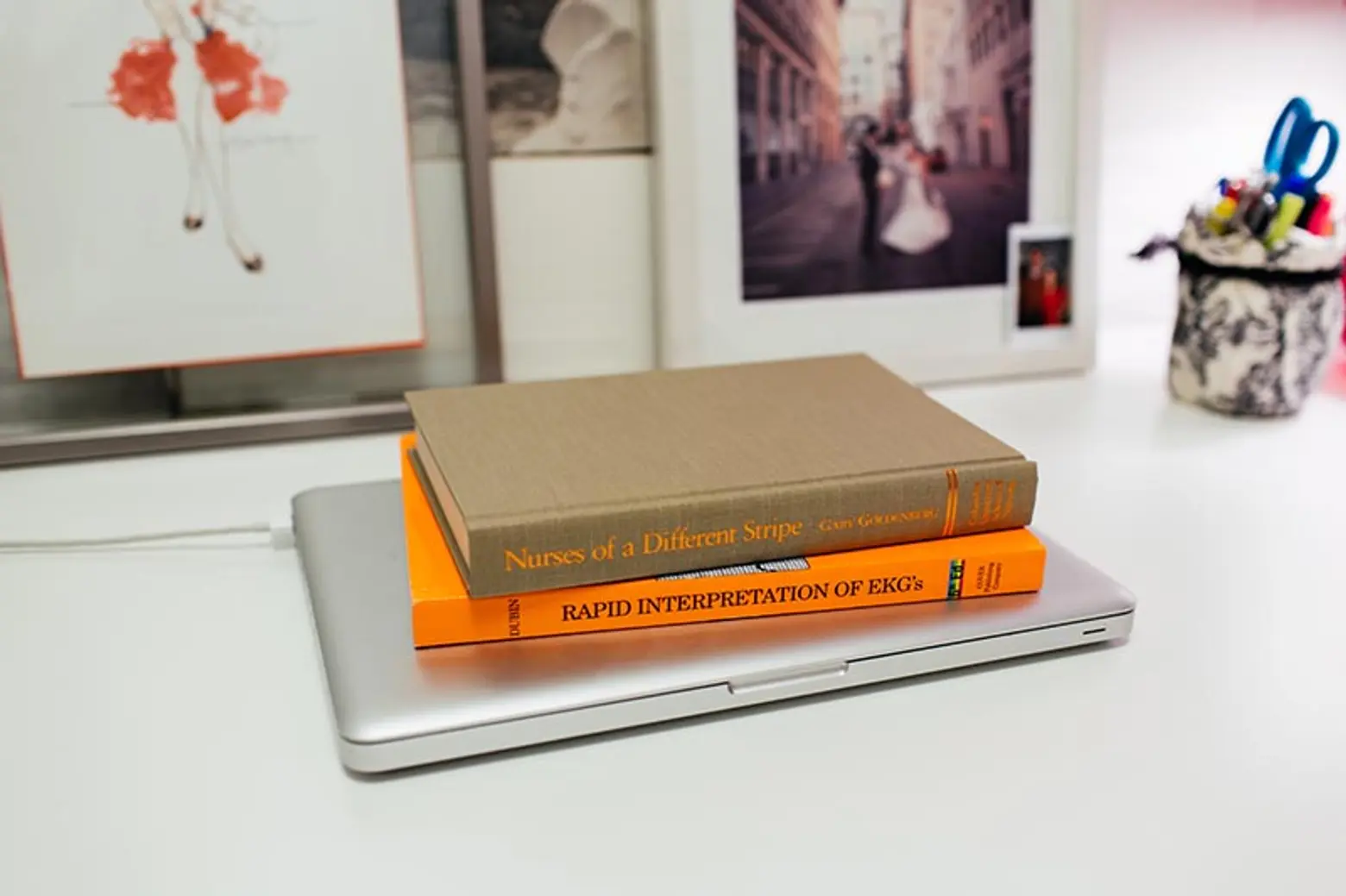 You haven't been here too long, but how has the neighborhood changed since when you first moved in?
Bill: Park Slope is pretty hot—real estate values have been climbing steadily since we moved here. Based on conversations with some of the business owners on 5th Avenue, the owners of the commercial real estate seem to think that they can increase their rents by the same amount—what that means is that a lot of restaurants and stores that have been here for years are getting priced out of the market, which is really a shame. We've seen numerous spots closed in just the year we've been here, some of which opened during that time.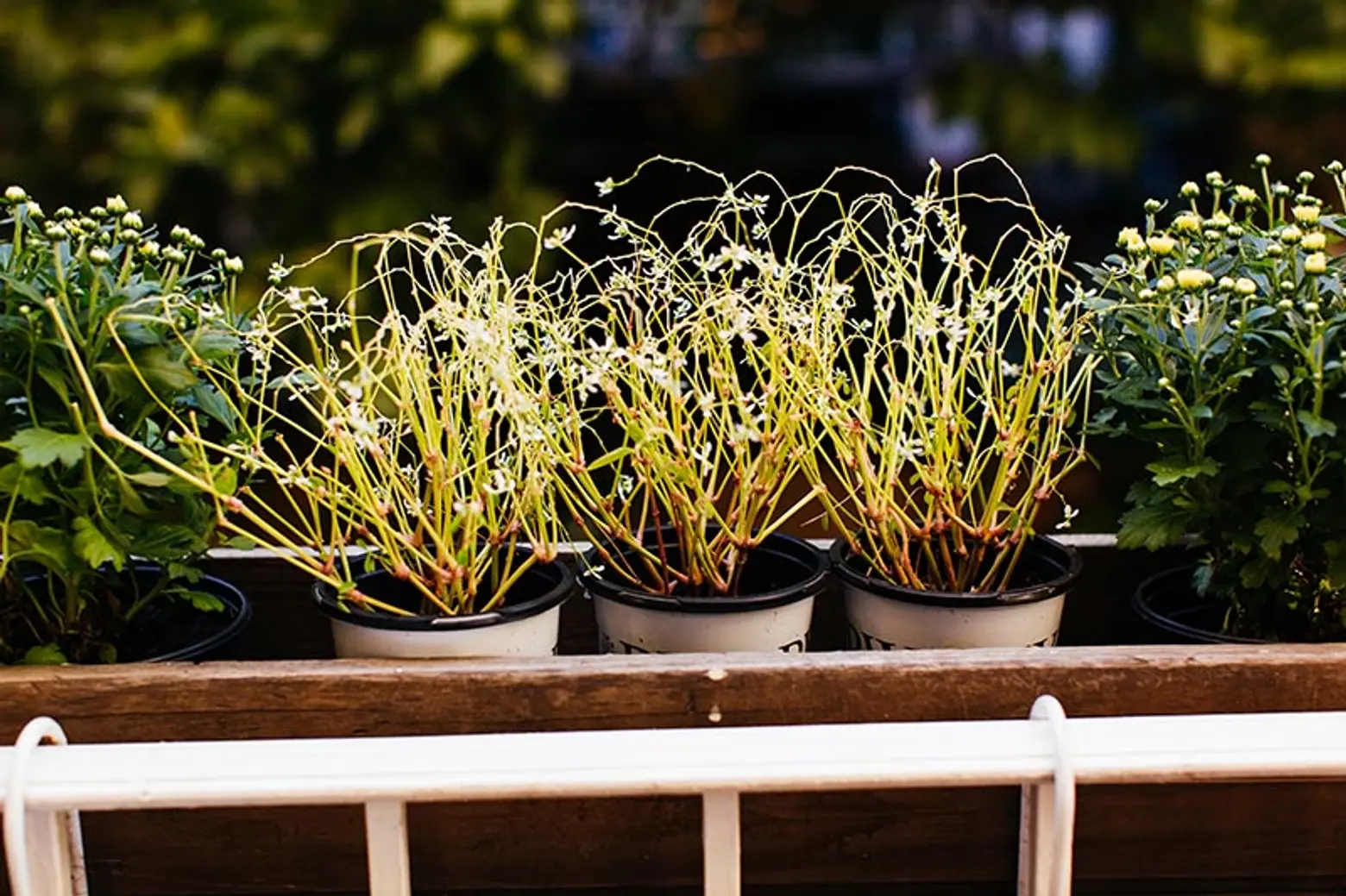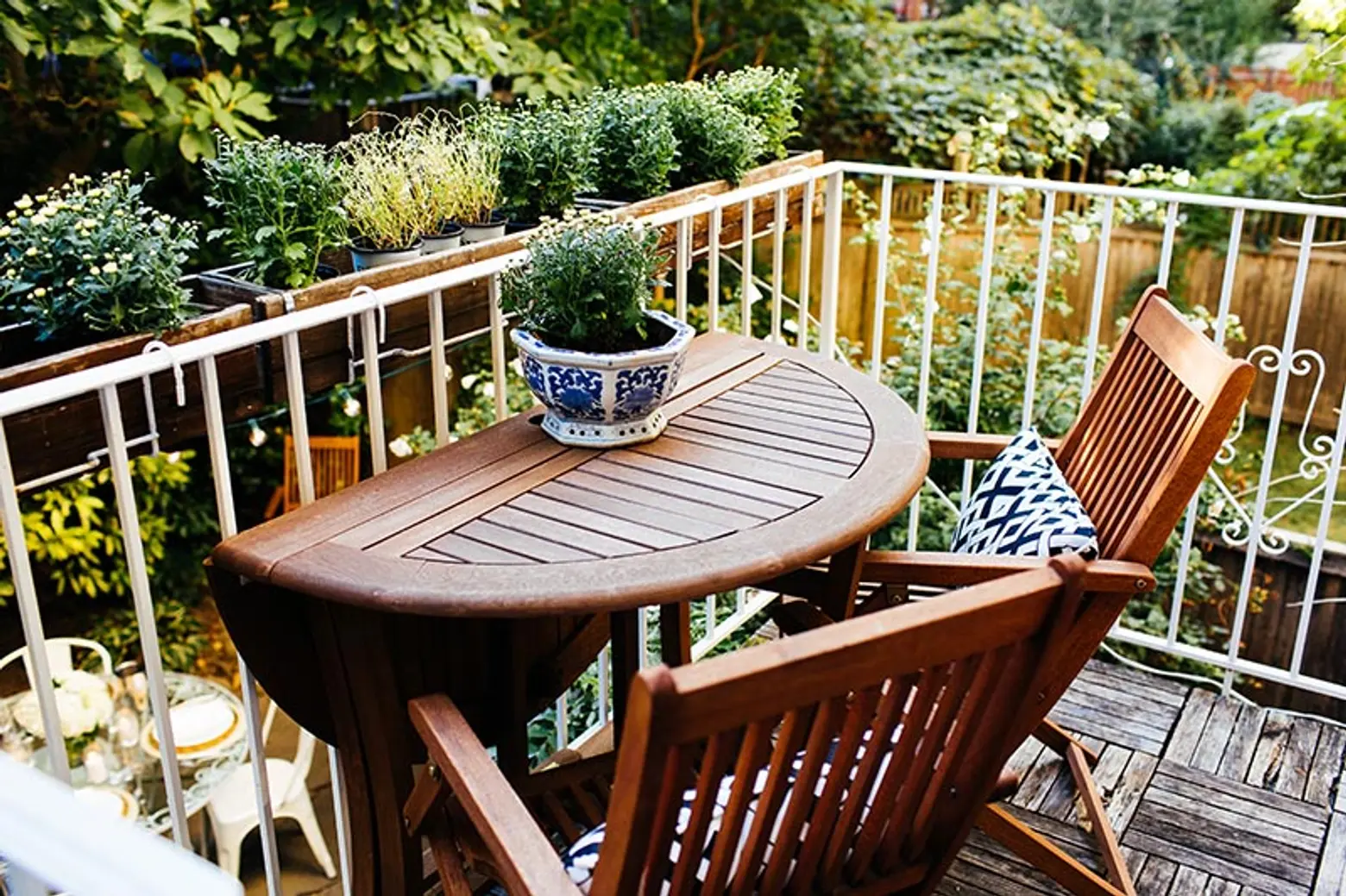 What would you change about your neighborhood?
Kerr: The biggest frustration for us is transportation. We rely on the R train to get us into the city, which is unfortunate because it is so unreliable.
Bill: Also why do only the numbered trains (1, 2, 3, 4, 5 and 6) lines have time estimates? If I knew I had to wait 10-15 minutes before the next train would arrive, I'd grab a coffee or walk to Barclays Center, which has many more transit options, and start my day less frustrated.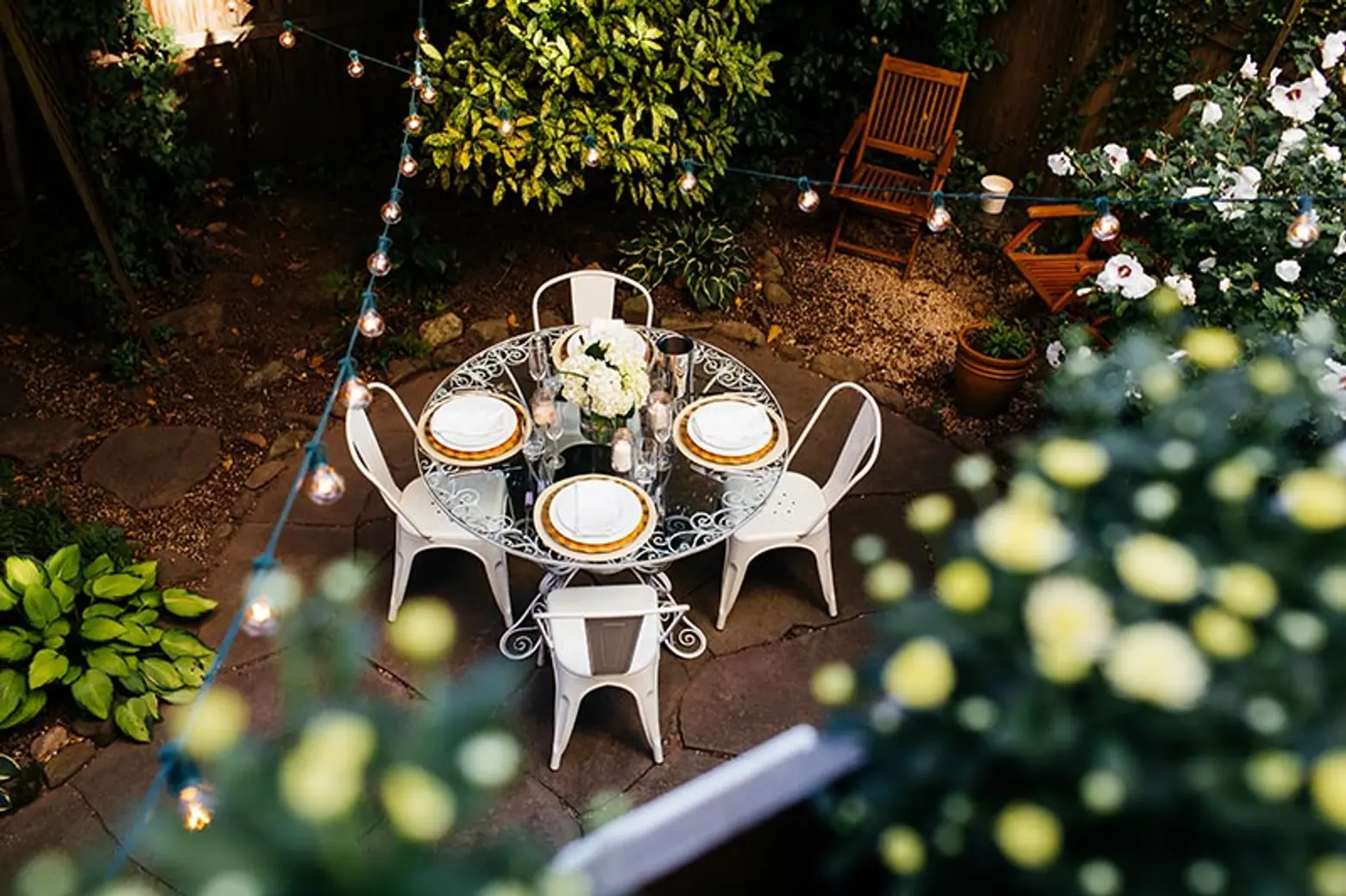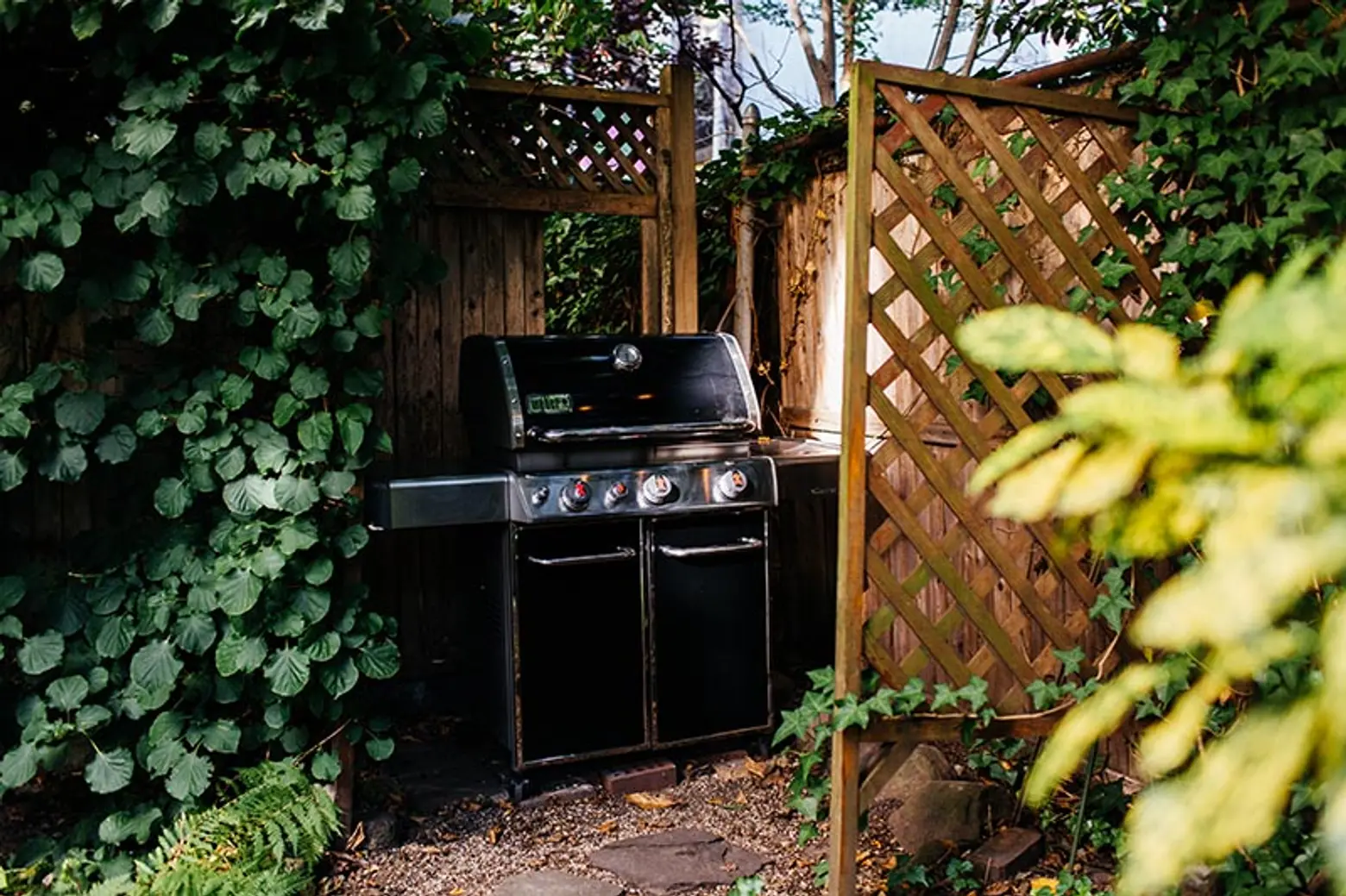 What are your favorite spots in the neighborhood? What do you love?
Kerr: Prospect Park is great—very accessible and lots of wide open spaces. Unlike Central Park, you can grill out there, too. Grand Army plaza as well as Barclay's Center round out the major neighborhood attractions. Ample Hills has amazing ice cream and is a short walk away. Some of our favorite restaurants are Al Di La for authentic northern Italian cuisine, and Bogota for Colombian—we race to make it in time for happy hour empanadas! Pork Slope, which has a great selection of whiskies and bar bites.
Bill: The fastest and best delivery around is from a tiny Vietnamese place called Henry's, some of the best banh mi we've ever had. The Gowanus Whole Foods was a major draw for us for this neighborhood. It's about a seven minute walk away and is one of the best Whole Foods we've been to.
We moved back to New York after living in San Francisco for six years. We had heard about how Brooklyn was changing and growing over the years. When I came to New York on a house hunting expedition, I saw numerous apartments in Manhattan that just seemed like the same old thing, but once I came to Park Slope, I was drawn to the charming neighborhood and tree-lined streets. It felt like I was in another place, in another time.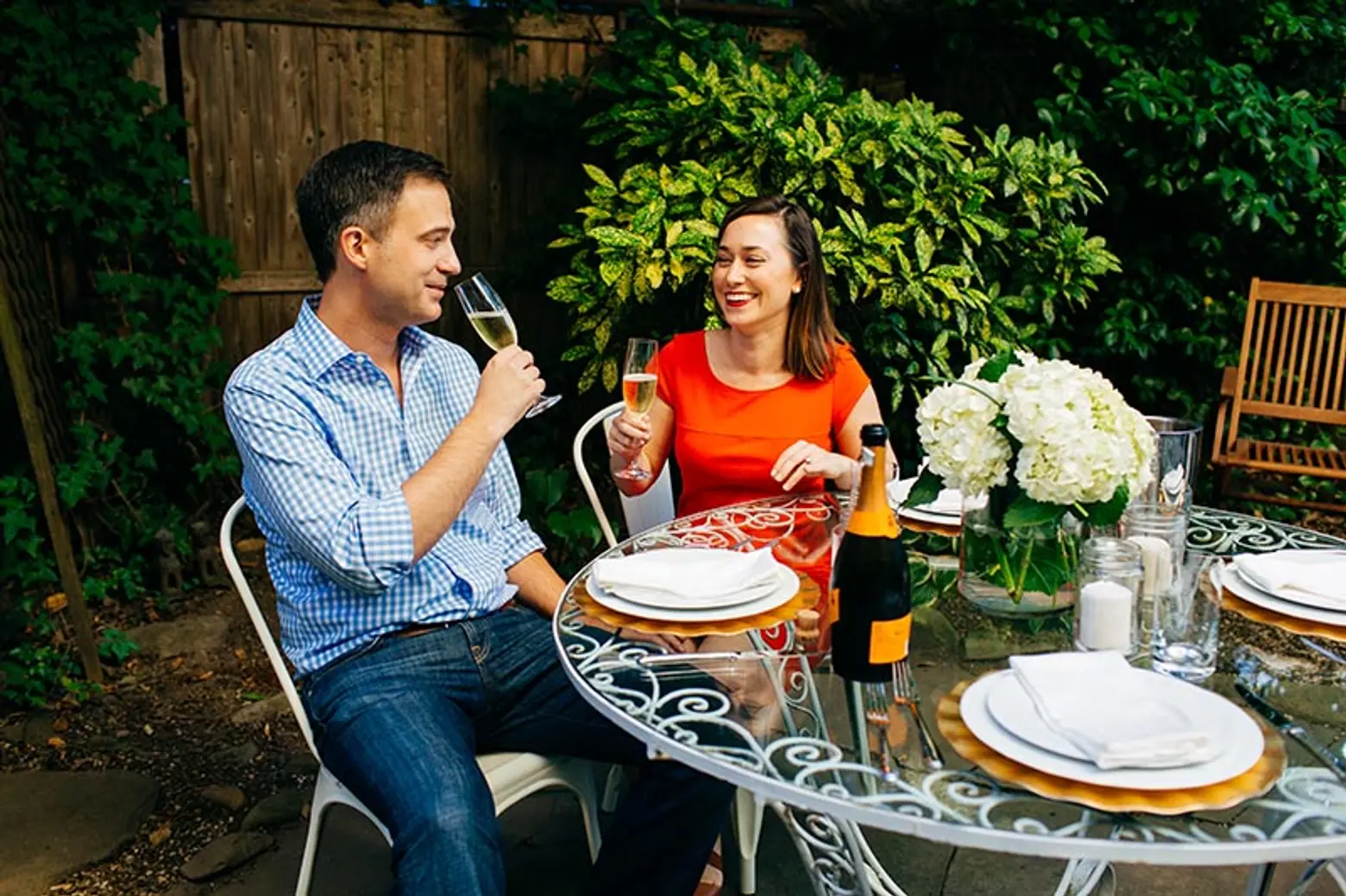 RELATED:
All photos taken by Erin Kestenbaum exclusively for 6sqft. Photos are not to be reproduced without written permission from 6sqft.