My 750sqft: A marketing strategist's passion for sustainability is on full display in her Park Slope pad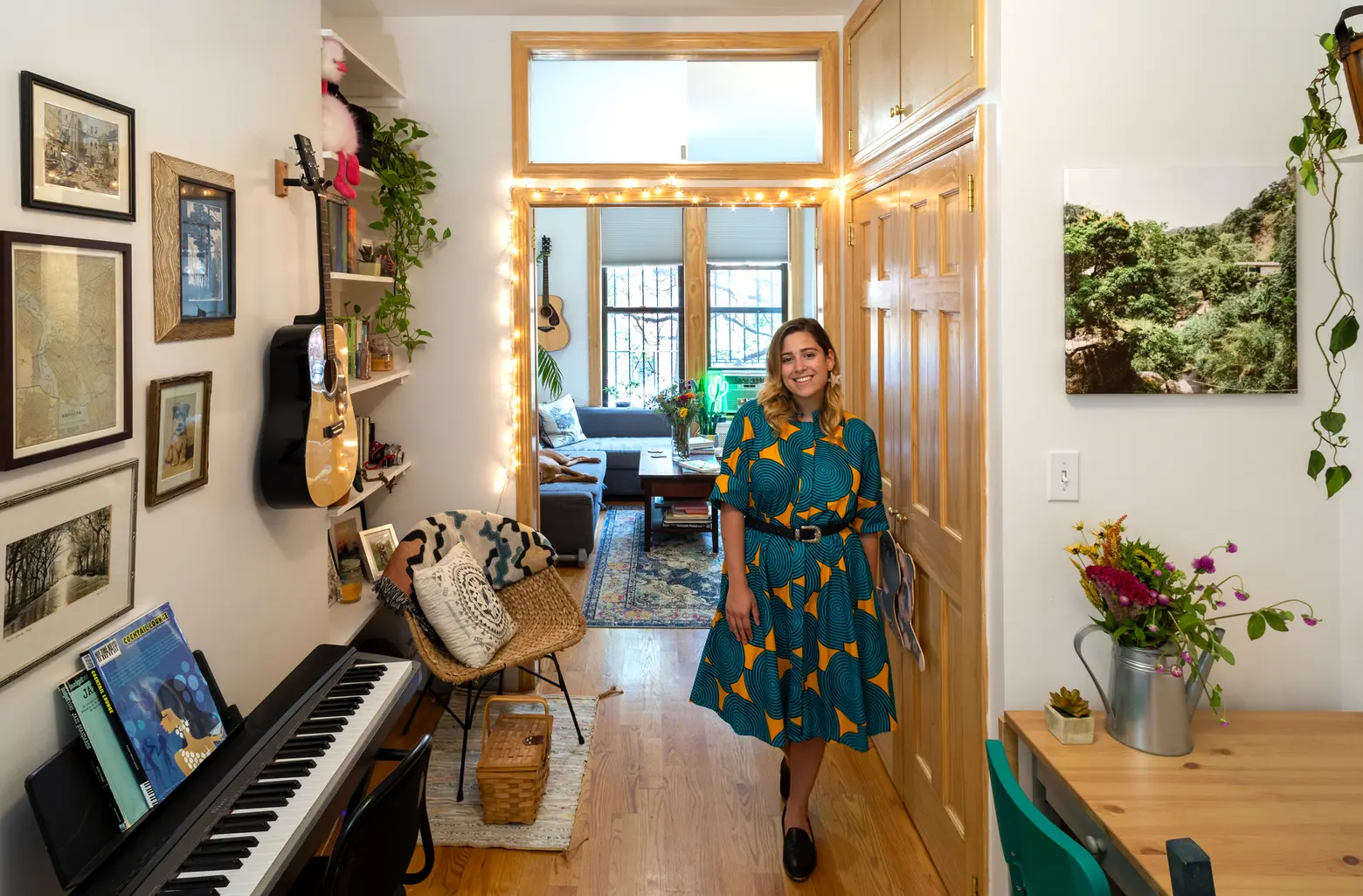 Our series "My sqft" checks out the homes of New Yorkers across all the boroughs. Our latest interior adventure brings us to the Park Slope apartment of digital marketing strategist and sustainability advocate Natalie Skoblow. Want to see your home featured here? Get in touch!
Many New Yorkers fill their apartments with second-hand goods for that vintage aesthetic or because it's affordable. But Long Island-native Natalie Skoblow thrifts because it also benefits the environment. "From the clothes in my closet to the photos on the wall, almost everything in our apartment is either locally made, thrifted, or sustainably made," Natalie told us on a recent tour of her Park Slope apartment. What began as a hobby in high school became a "full-fledged love affair" with supporting sustainable, ethical brands. From the books found on the sidewalks of her neighborhood to the antique maps of Brooklyn above the piano, Natalie and her boyfriend Jesse's apartment brings new life into old pieces. Ahead, meet Natalie, along with the couple's newly adopted puppy Ollie, and tour her apartment, which she describes as "playful, vibrant, and welcoming."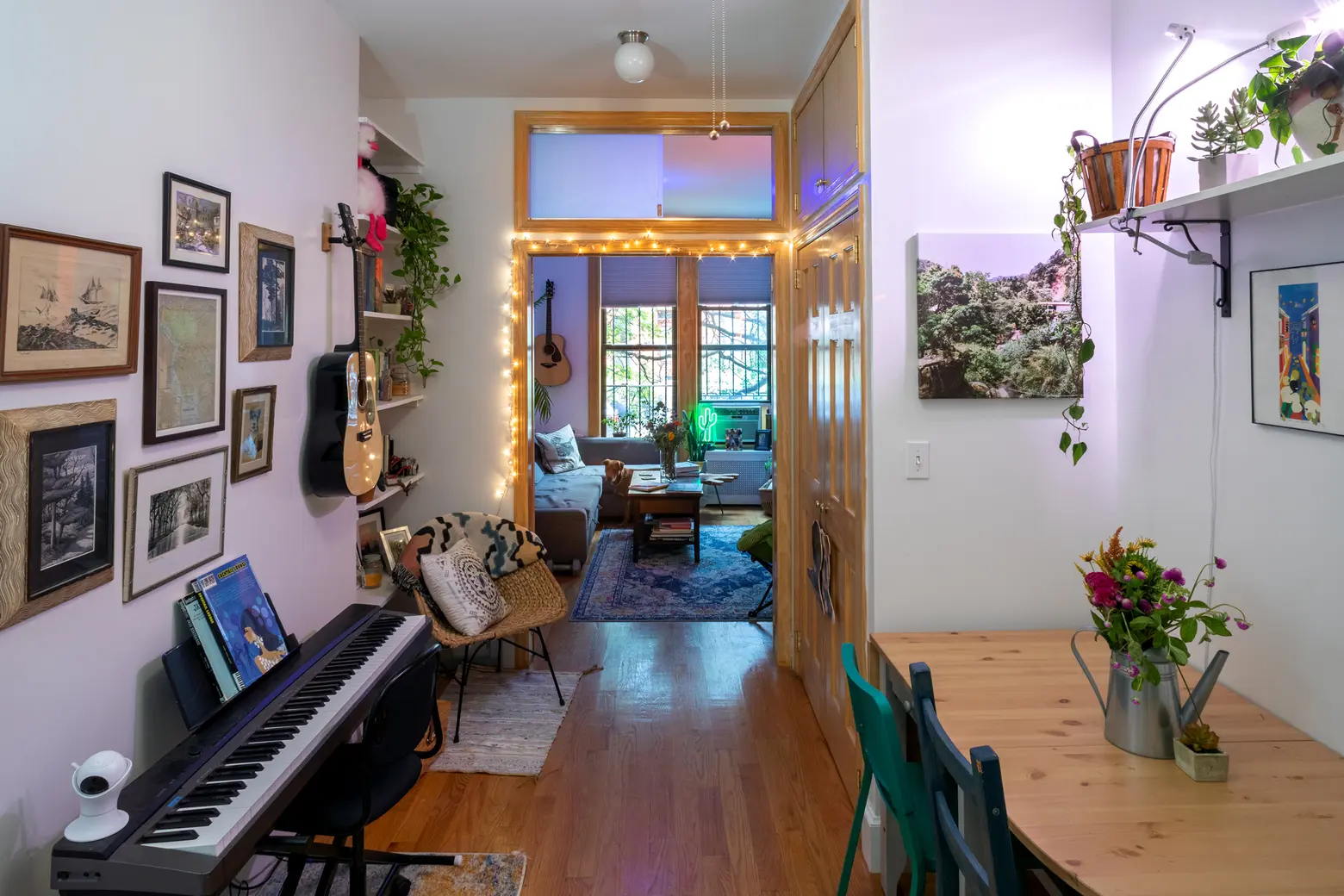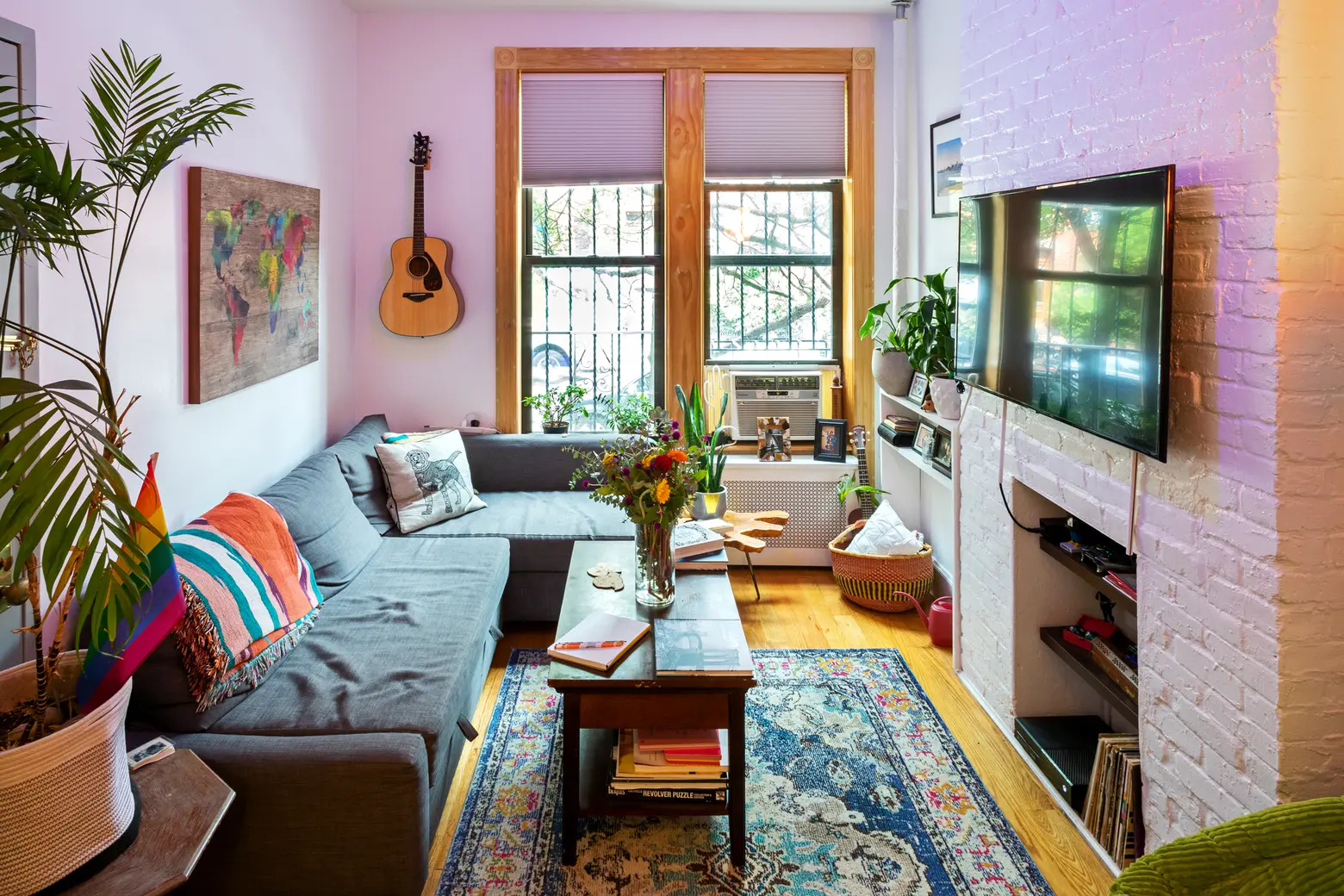 Tell us about yourself. What do you do for a living?
I'm a digital marketing specialist at the brand strategy agency, KWT Global. In the office, you can catch me creating content for our diverse list of clientele, managing organic and paid social media, handling influencer relations, and so much more. There's never a dull moment here! I'm also super passionate about sustainability and try to incorporate my knowledge of the space into all of the work that I do. I'm actually looking to pursue a certification in Corporate Sustainability at NYU/Stern to further blend these two passion points together. Outside of the office, I blog about sustainable fashion and mindful living (new website coming soon!) and love networking with female entrepreneurs.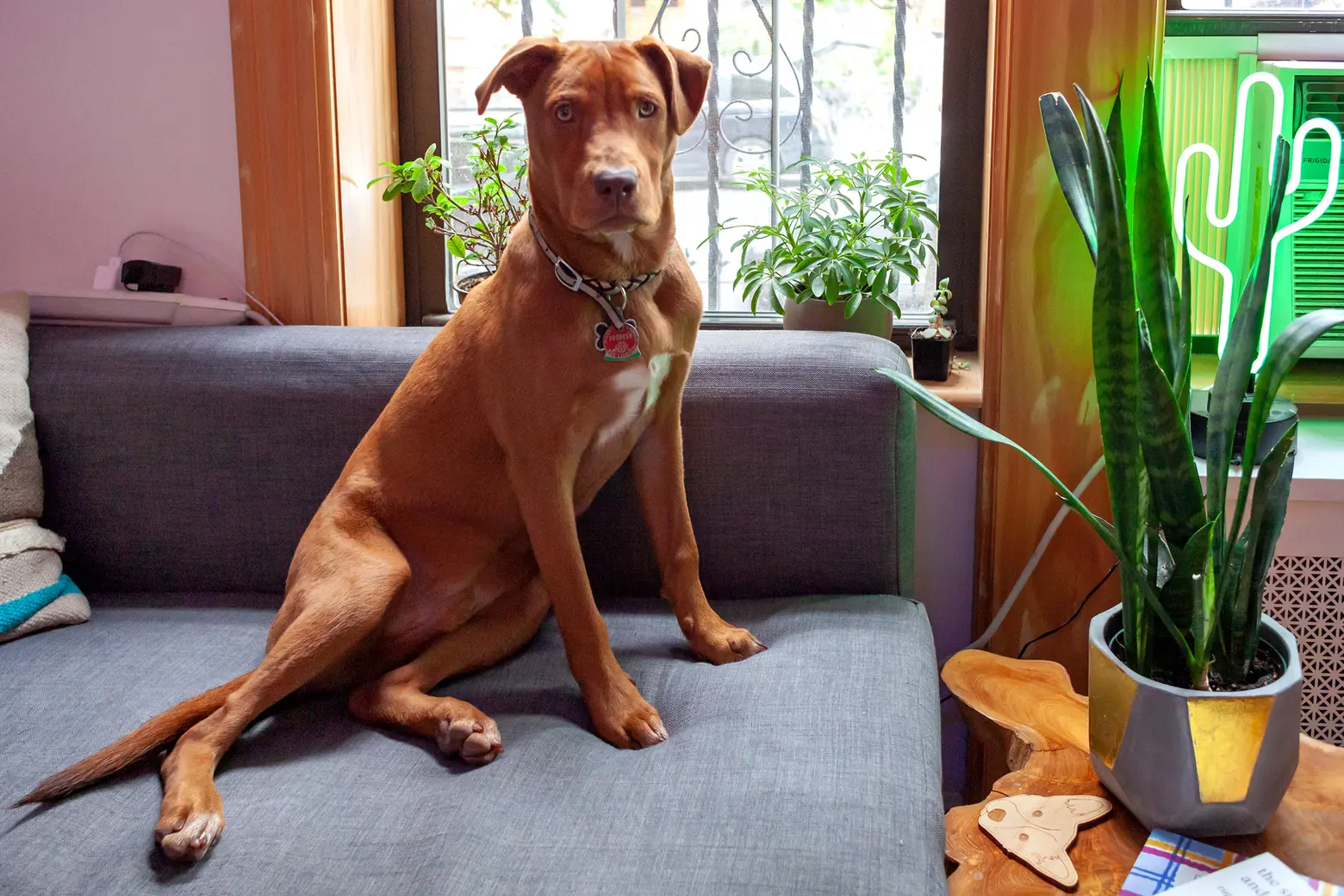 Meet Natalie and Jesse's adorable puppy named Ollie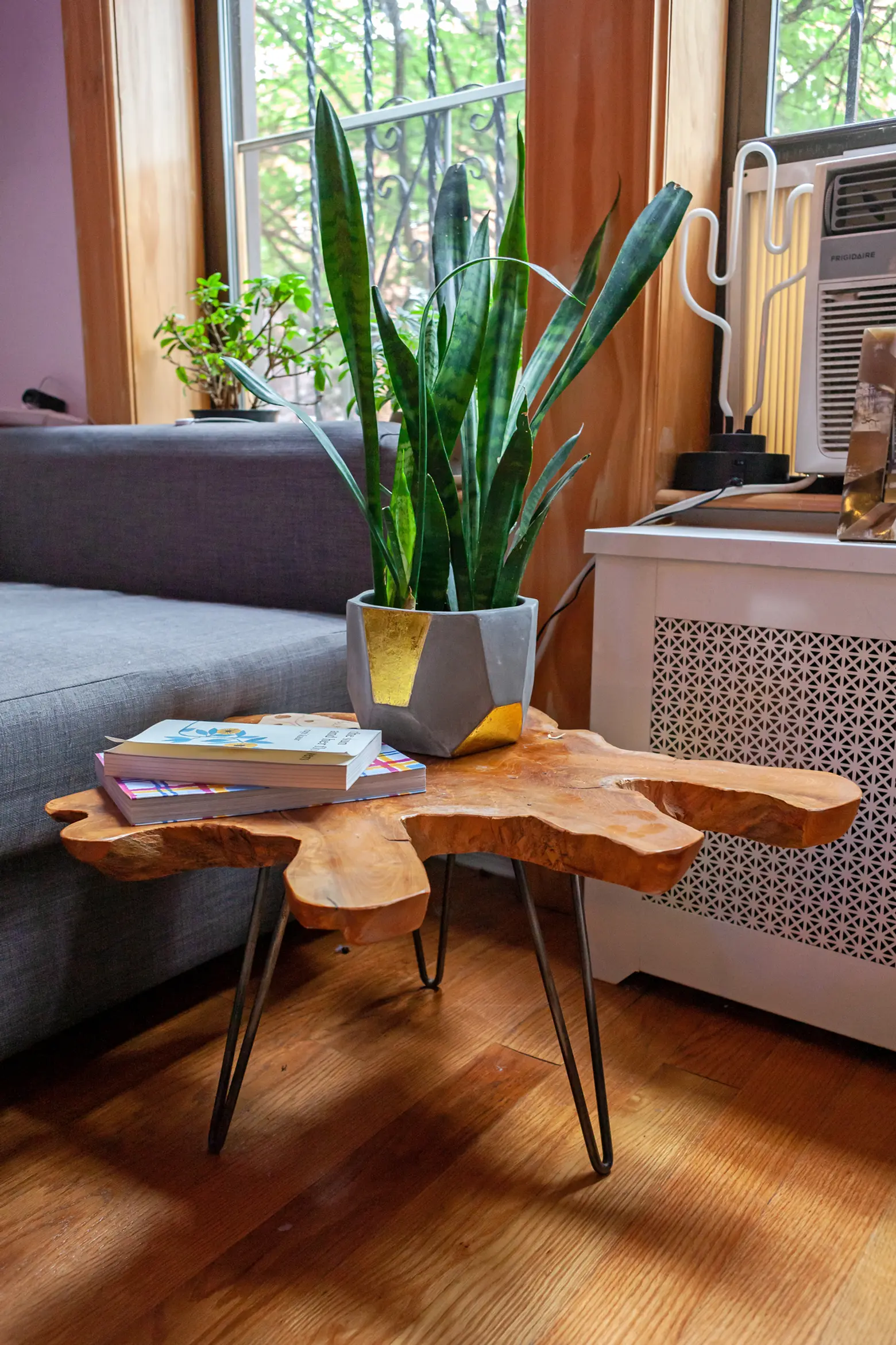 Why is sustainability important to you?
Addressing climate change and our environmental impact is not an option anymore, it's an absolute necessity. We, as individuals, as well as corporate companies need to play a significant role in putting forth our own sustainability and responsible business initiatives in order to reverse the negative impact these global issues are having on our planet. Whether that's learning how to recycle, composting, saying no to fast fashion or re-thinking the packaging of a product. We can all make a difference!
I first got introduced to sustainability when I started thrifting in high school. What started as a hobby turned into a full-fledged love affair as I learned about all of the environmental benefits thrifting has. So, I started researching more and became obsessed with sustainable, ethical, local, women and POC-owned brands that were giving back to communities and making sustainable choices, along with the game-changing CEOs and business owners behind these brands who are committed to making a positive impact. It's been such an inspiring journey so far, and I'm looking forward to continuing to immerse myself in this space and be an advocate for these companies.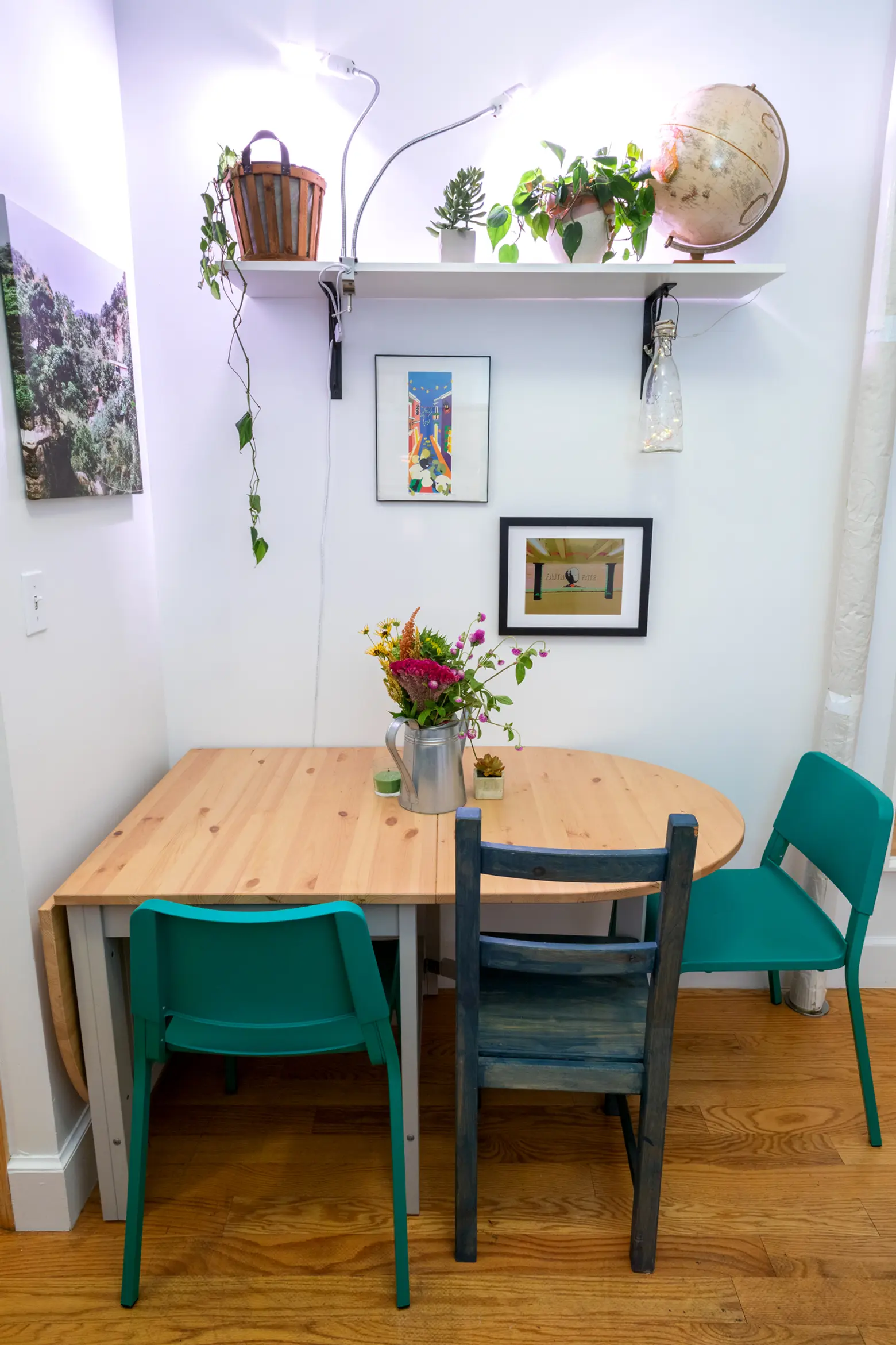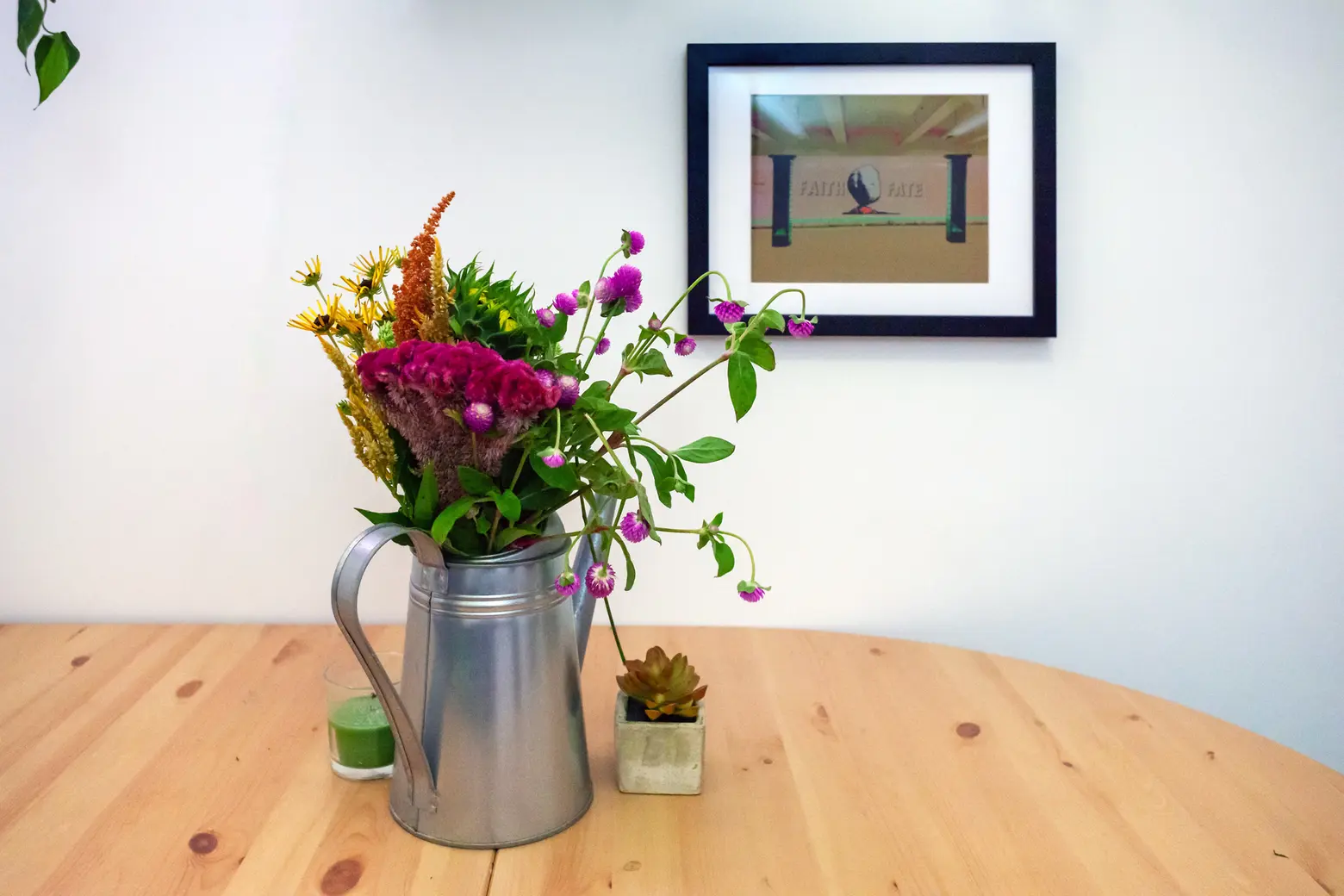 Jesse, Natalie's boyfriend, made these manipulated images seen framed above the dining room table.
And how does your passion for sustainability play out in your apartment?
From the clothes in my closet to the photos on the wall, almost everything in our apartment is either locally made, thrifted, or sustainably made. I absolutely loved designing our apartment and doing so in a meaningful and mindful way. Plus, this is me and my boyfriend's first place together, so it's been really special bringing this space to life and making it our home.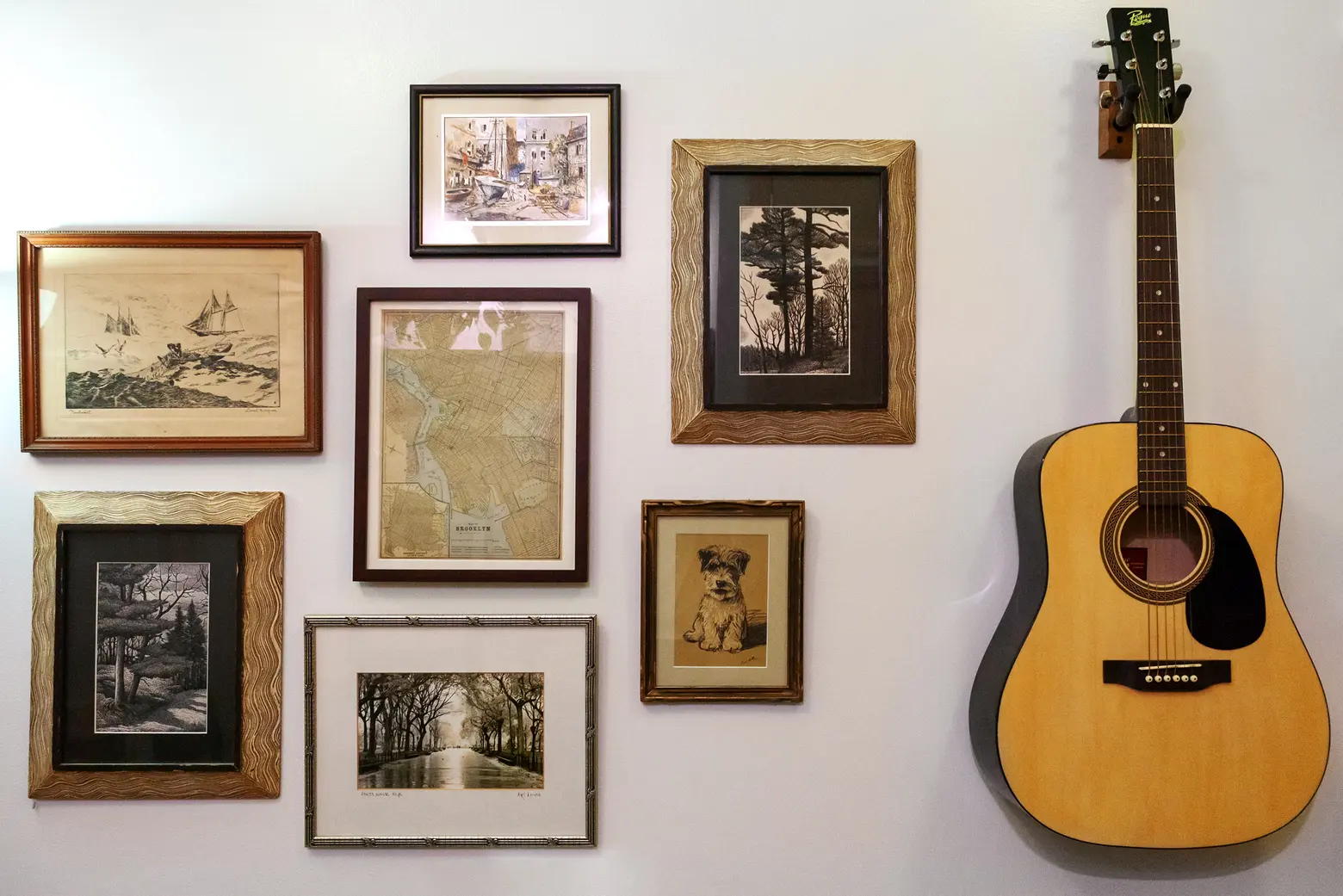 Natalie also sings and writes music. She hopes to get back into songwriting soon.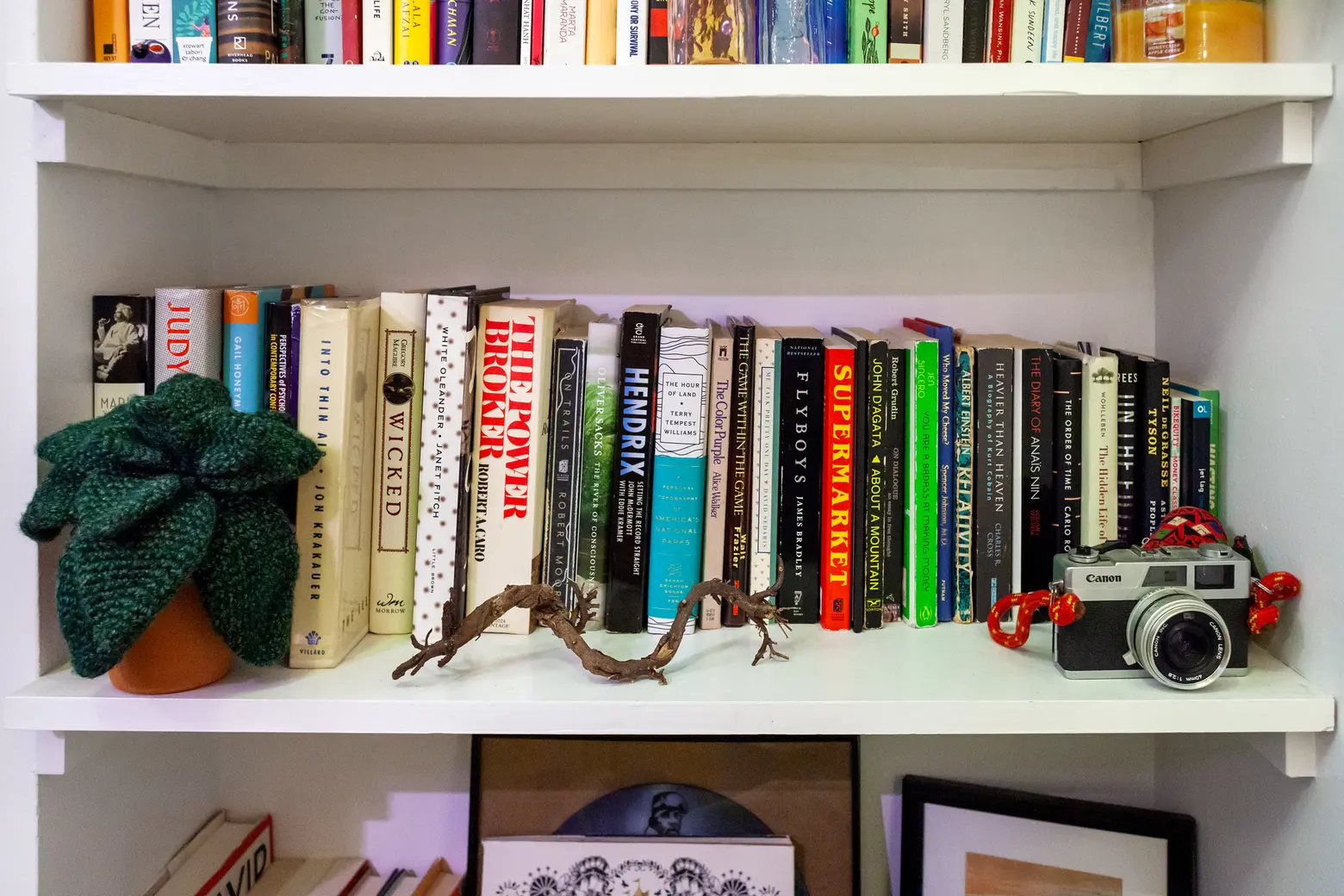 Natalie found most of these books on the streets of Park Slope. A lot of her neighbors leave them out for the taking. Her best friend Jenn Varon crafted the crocheted plant on the left.
How did you land in Park Slope?
These tree-lined streets and historic brownstones swept me off my feet the first time I came to the neighborhood. When Jesse and I were considering places to live, Park Slope was a no-brainer. We're a 5-minute walk from Prospect Park and the Bandshell where free concerts play during the summer, too! It's been amazing!

Natalie really loves this vintage dress hanging on her closet door.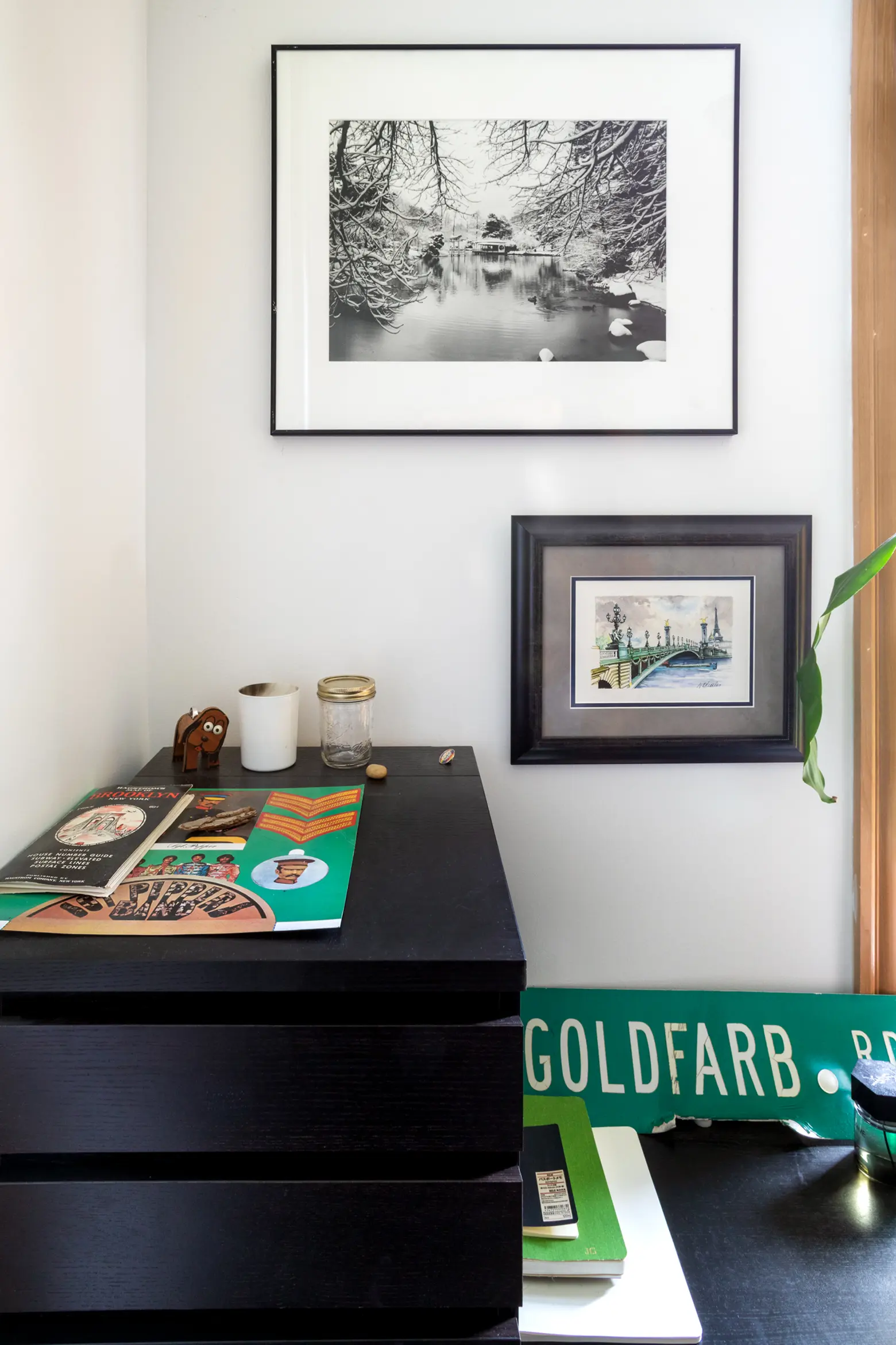 Describe your apartment's aesthetic in a few words.
Playful, vibrant, and welcoming.
You and your boyfriend started acquiring items for your home about a year before you moved in together. How did you go about meshing your styles?
We do have very different styles, but somehow it blended so nicely in this apartment! Every time we were out and saw a piece of furniture or art either of us liked, we would show it to each other and organically our ideas and visions for the apartment started to mesh. It actually started with a couple of uniquely-made blankets – one from Slowdown Studio that we bought from Housing Works' Fashion for Action event a few years ago and the other from this Brooklyn-based maker who I'm unfortunately forgetting the name of! The colors of these blankets inspired the vibe for the rest of the apartment. As music lovers, we have two guitars hanging up, a piano, and a ukulele. I used to write a lot of songs! I hope to get back into that soon as well.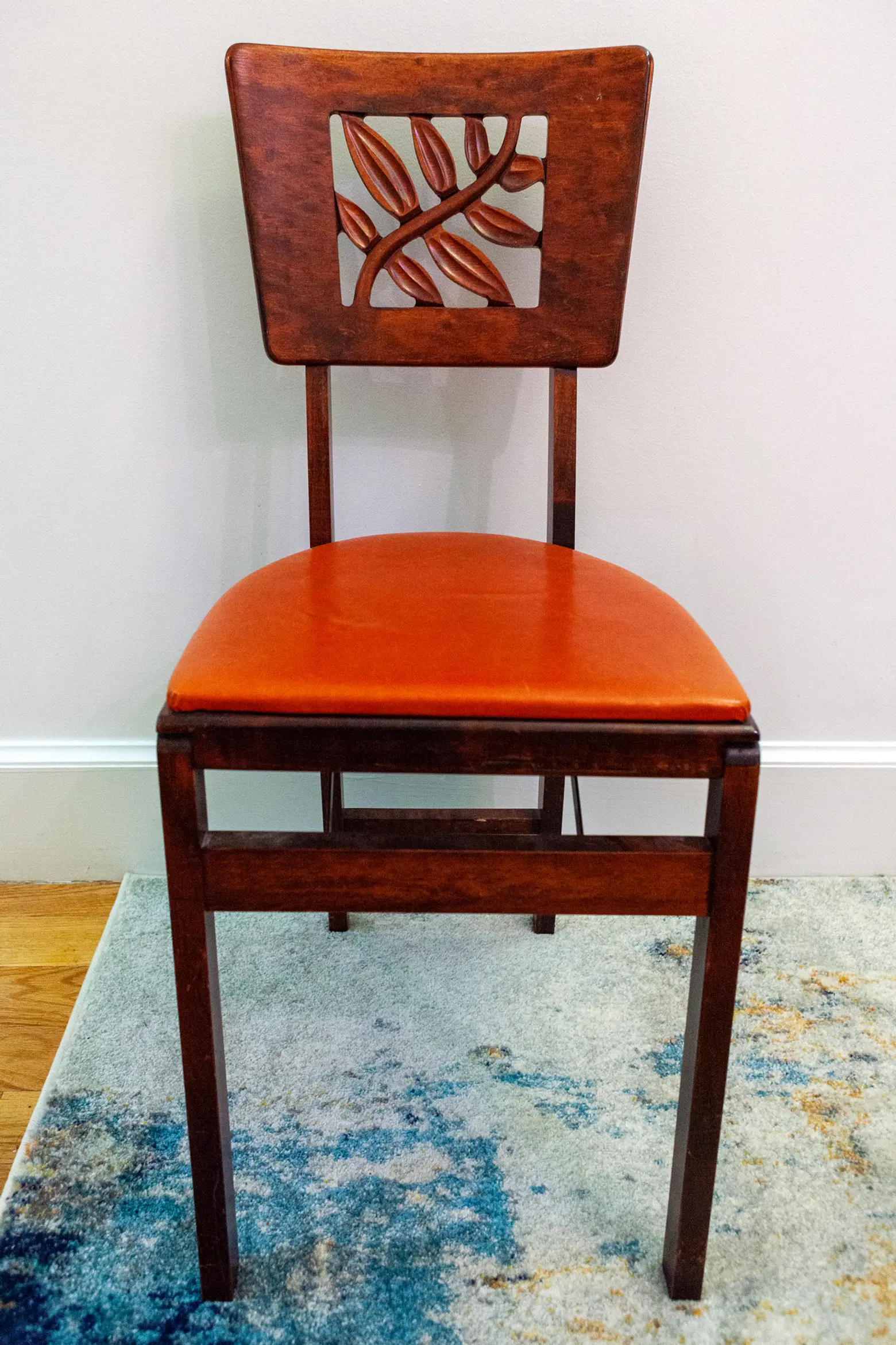 One of Natalie's' favorite pieces is this bright orange antique chair
What do you like most about your neighborhood? Any favorite spots?
I love how close we are to Prospect Park! It's so gorgeous and the perfect spot to lay out a blanket, picnic, listen to music, read, and relax. Plus – there's Dog Beach which is a little lake/watering hole area where dogs can swim – Ollie loves it! Outside of the park, there are some great restaurants and bars nearby, like Greenwood Park, American Cheez, brookvin, La Villa, and so much more. I also love the Housing Works Thrift Shop on 7th ave for some good thrift finds.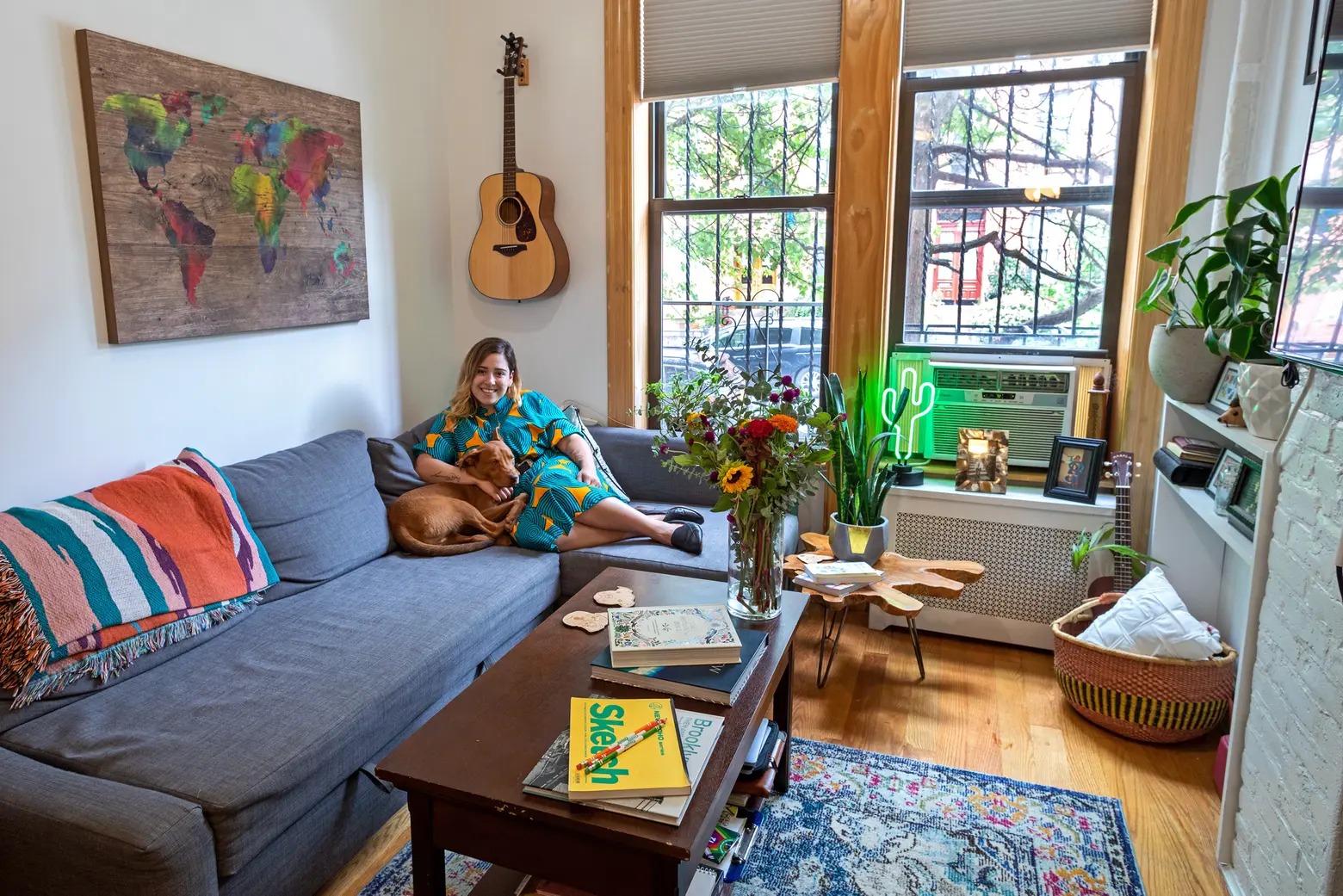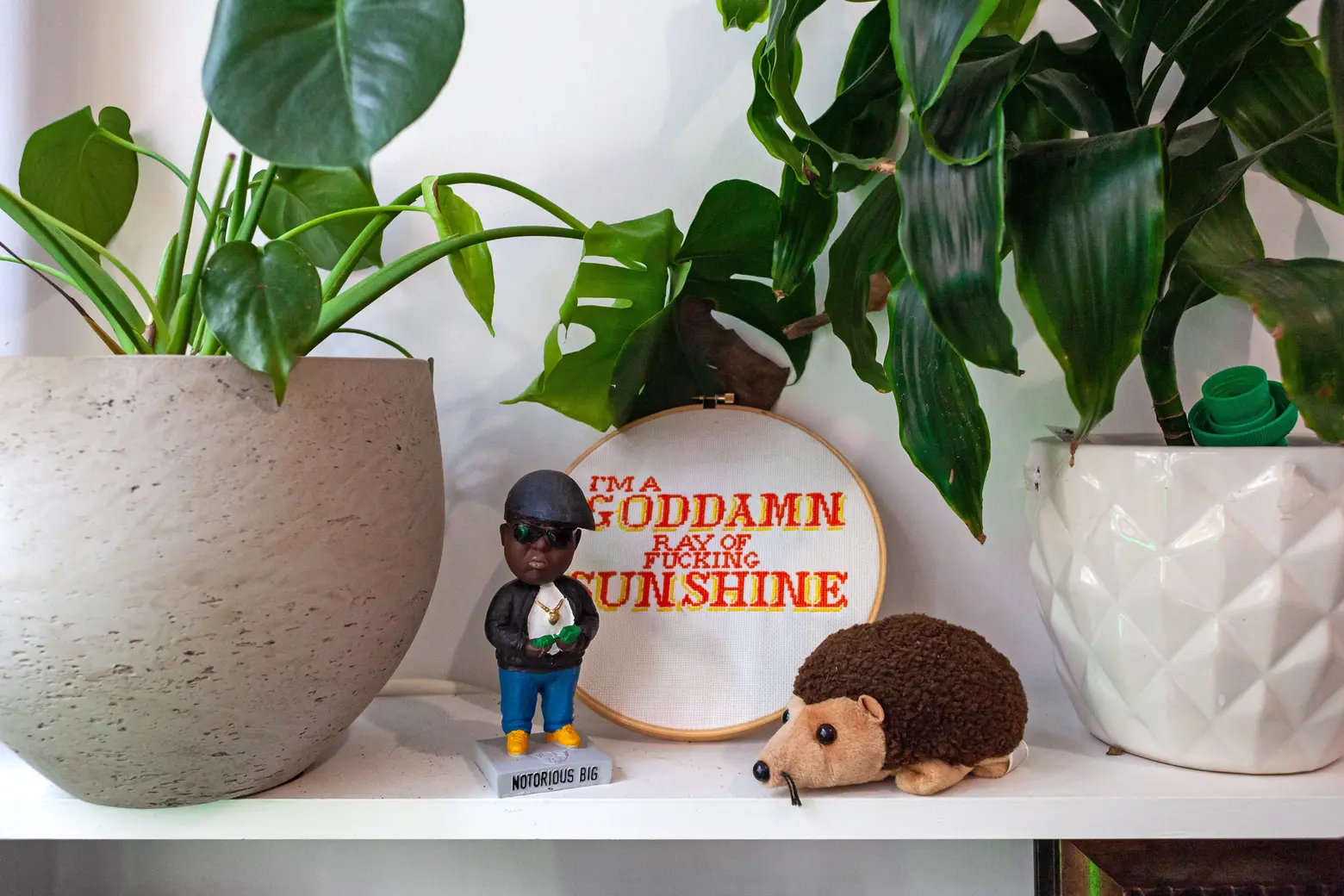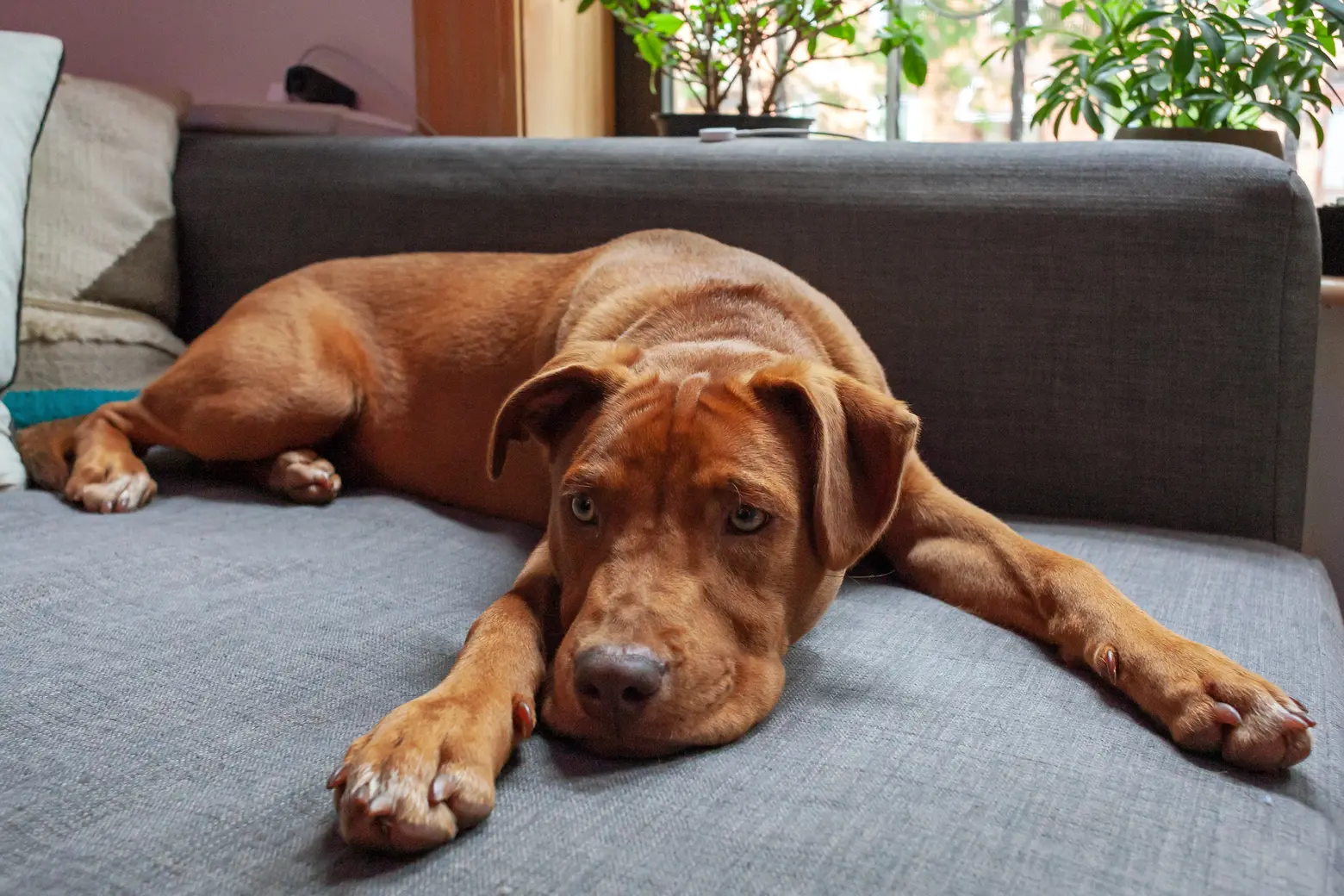 You used to live in Williamsburg. What do you miss most about it?
My eco-friendly laundromat, Celsious, the plethora of vintage and thrift shops, and the live music scene – specifically St. Mazie and Brooklyn Bowl. It's a bustling neighborhood with so much to do.
How has life changed since adopting your adorable puppy, Ollie?
It's definitely been an adjustment! In the early weeks, it truly felt like we were taking care of a newborn baby while he was adjusting to the apartment and our sleep schedules. But – we got extremely lucky with him. He's very smart, well-tempered, and such a mush. We love him so much and can't imagine our lives without him!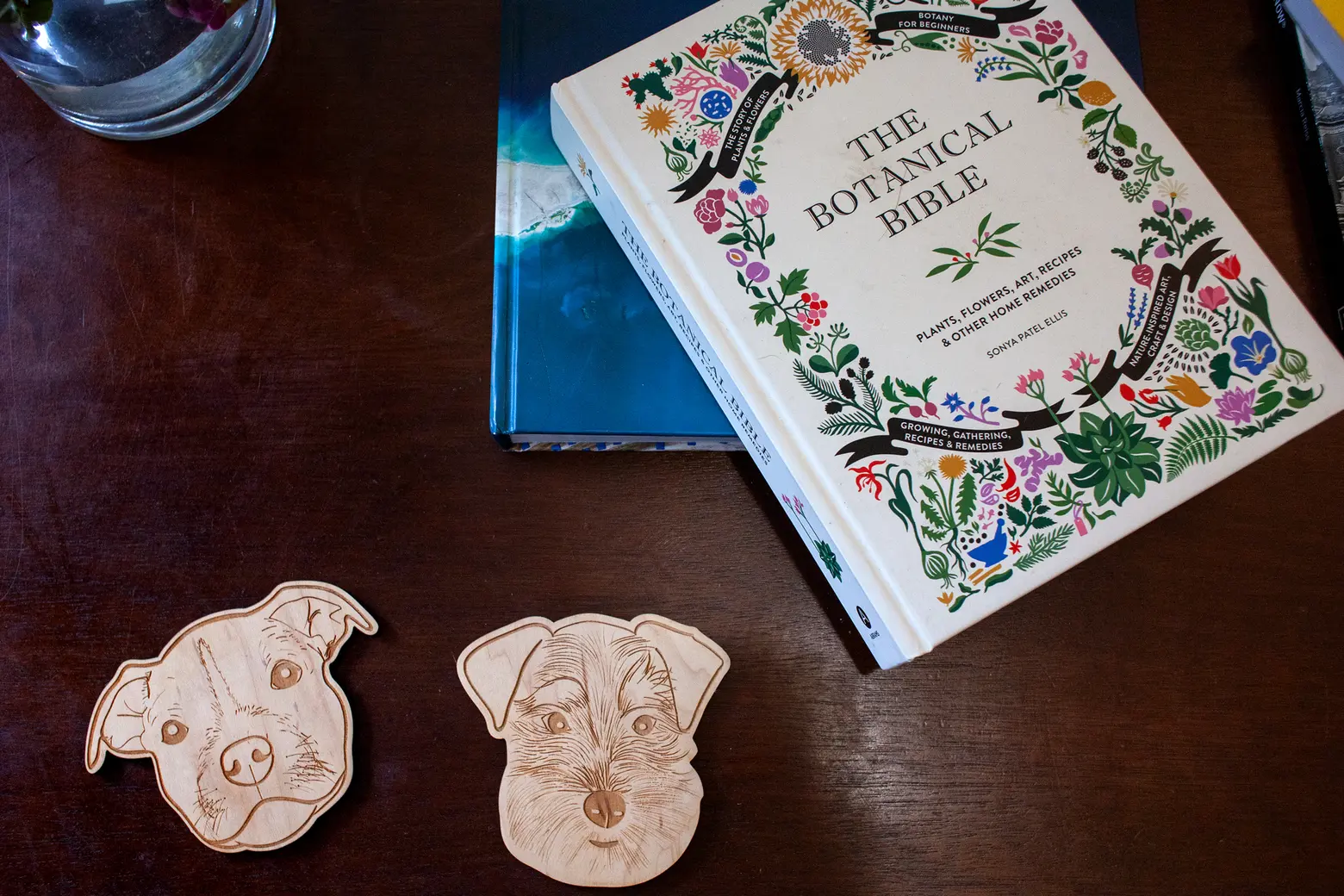 The dog coasters are from Artists & Fleas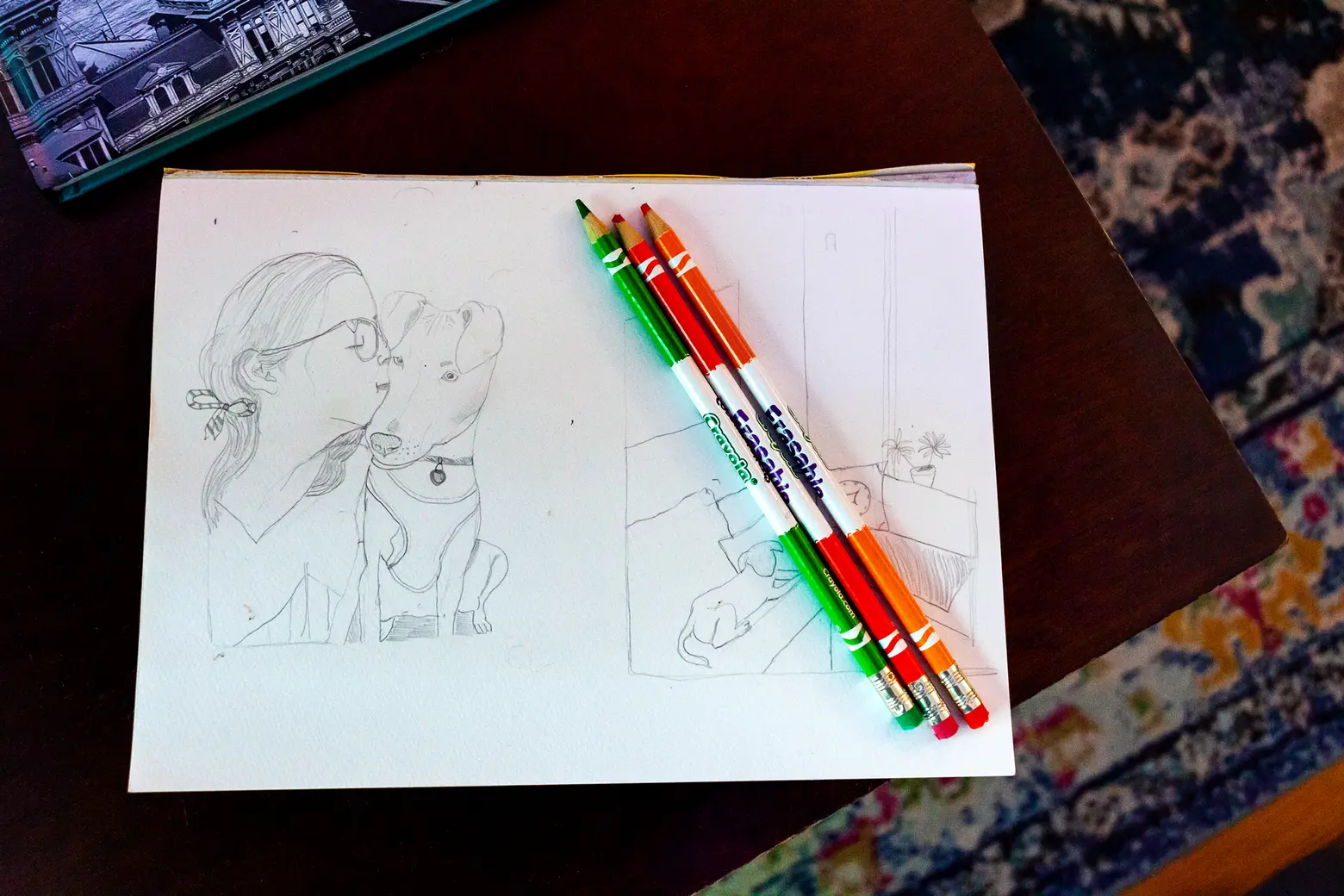 How do you spend a typical weekend?
Our weekends usually start off with taking Ollie for a walk in Prospect Park and grabbing some coffee at Ladybird Bakery or Café Grumpy. Jesse and I have been doing a lot of exploring lately to other Brooklyn neighborhoods, so you can usually find us bopping around the borough scoping out new spots to eat and hangout. I'm lucky, though! Since Jesse is Brooklyn born and raised, I get the inside scoop into all that Brooklyn has to offer as well as its rich history.
RELATED: 
All photos by James and Karla Murray exclusively for 6sqft. Photos are not to be reproduced without written permission from 6sqft