Our 700sqft: See how two musicians (and their instruments) make it work in Greenpoint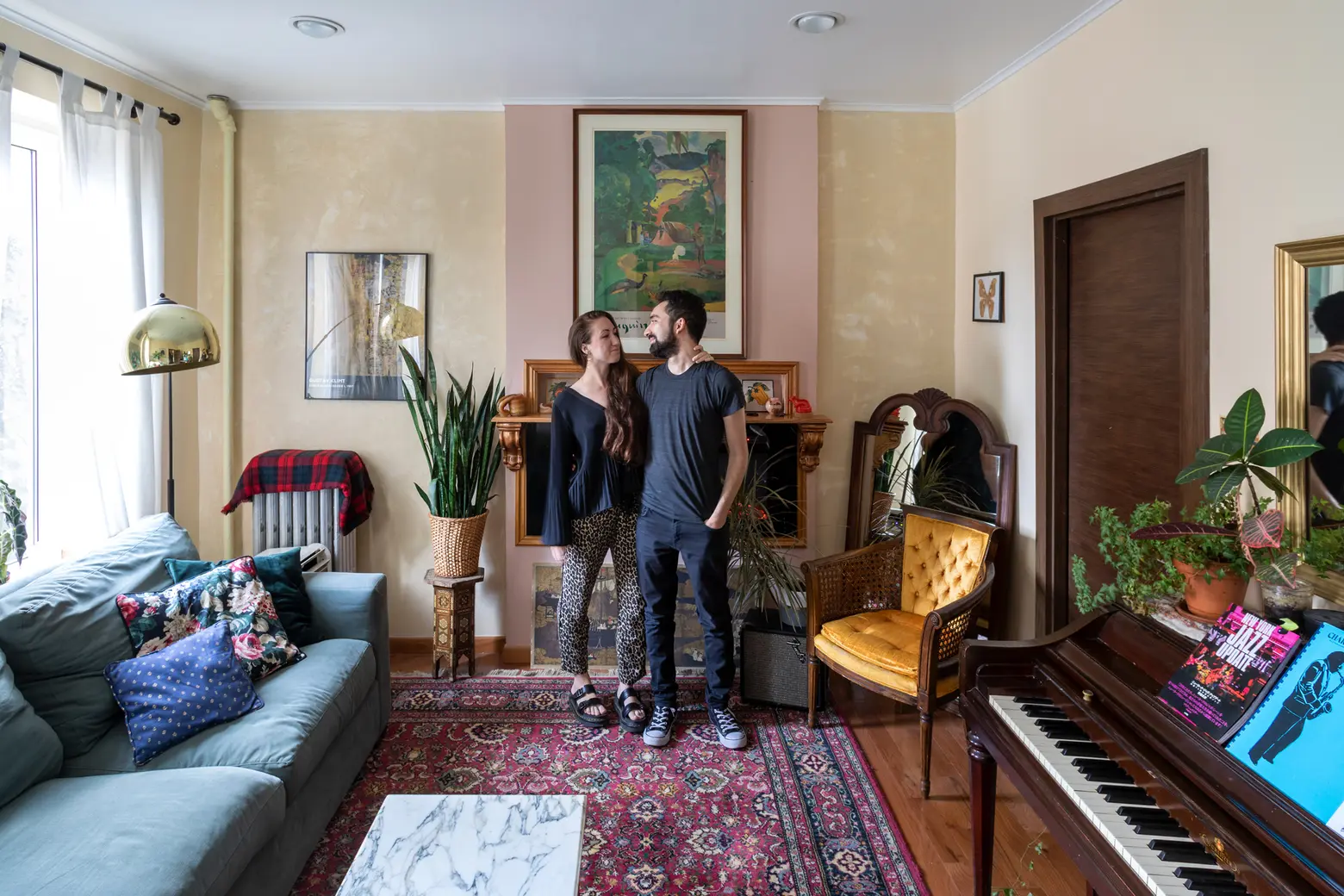 Our series "My sqft" checks out the homes of New Yorkers across all the boroughs. Our latest interior adventure brings us to the Greenpoint apartment of musician-couple Sara McDonald and Amit Peled. Want to see your home featured here? Get in touch!
Growing up in a military family that moved almost every year, Sara McDonald tried to feel settled in each new city by furnishing her room with framed photos and special pillows. "I would always spend a ton of time organizing and decorating my room even though I knew it wasn't permanent," she told us. "I just wanted to feel at home where we lived." In her Greenpoint apartment she shares with boyfriend Amit Peled, Sara has been able to do just that, styling her place exactly how she wants with Craigslist finds and unique mementos from abroad.
Both musicians (they met at the School of Jazz at The New School), Sara and Amit needed space for their many instruments. Thankfully, Sara, who composes and arranges music for her big band NYChillharmonic and plays the French horn, and Amit, a guitarist, and member of a hard-core Klezmer band, can use their apartment's second bedroom as a music studio. Their apartment boasts a vintage vibe, credited mainly to Sara's resilient effort to find pieces she wants online. Nearly everything in the couple's home cost them less than $200, with even the mahogany spinet piano picked up for free. "I always know exactly what I want, almost to a fault," she said. Ahead, meet Sara and Amit and learn how they made this funky Brooklyn apartment their own.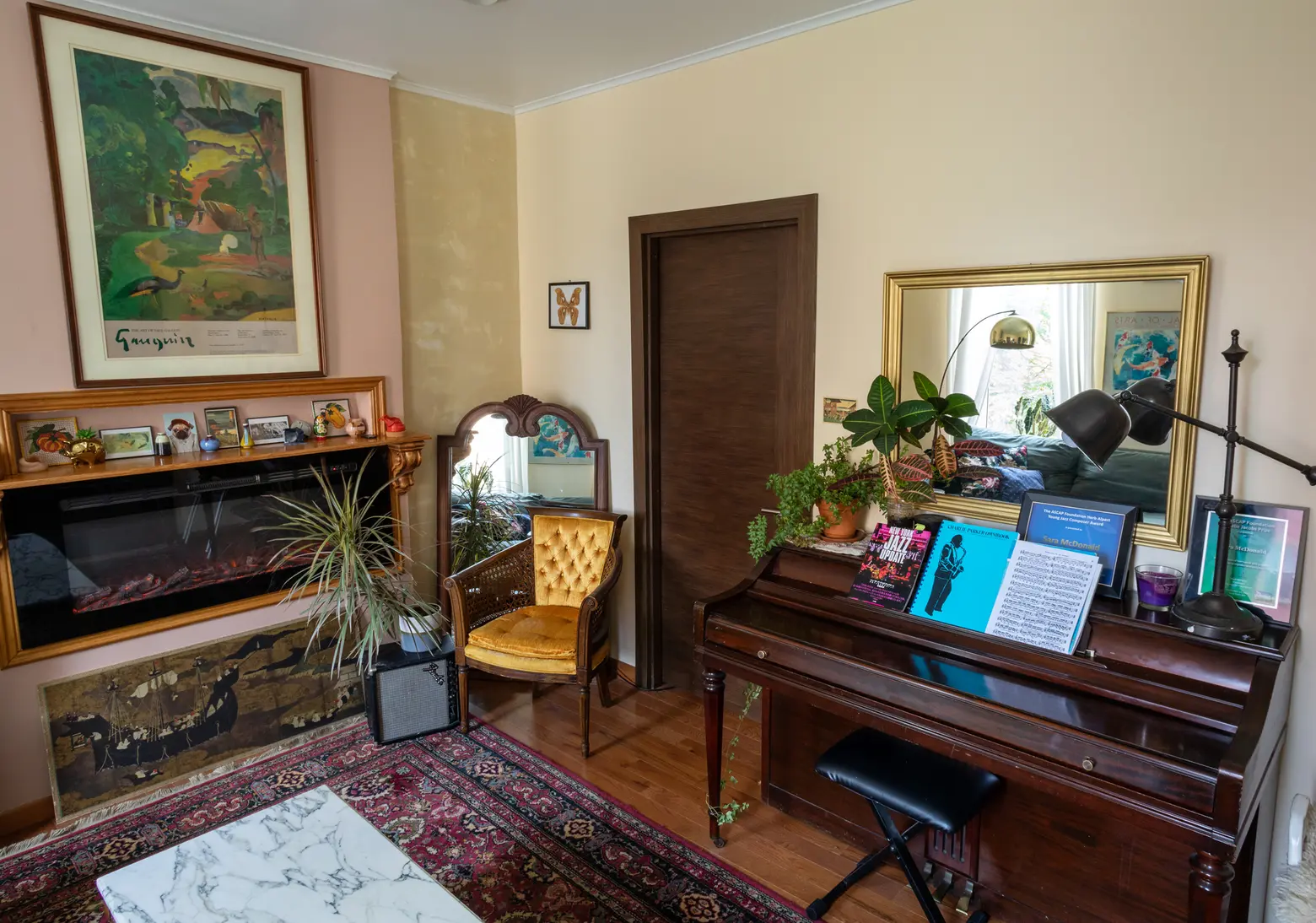 Sara checked Craiglist for a yellow velvet, cane-back chair for eight months until one day a seller from Washington Heights listed one for $20.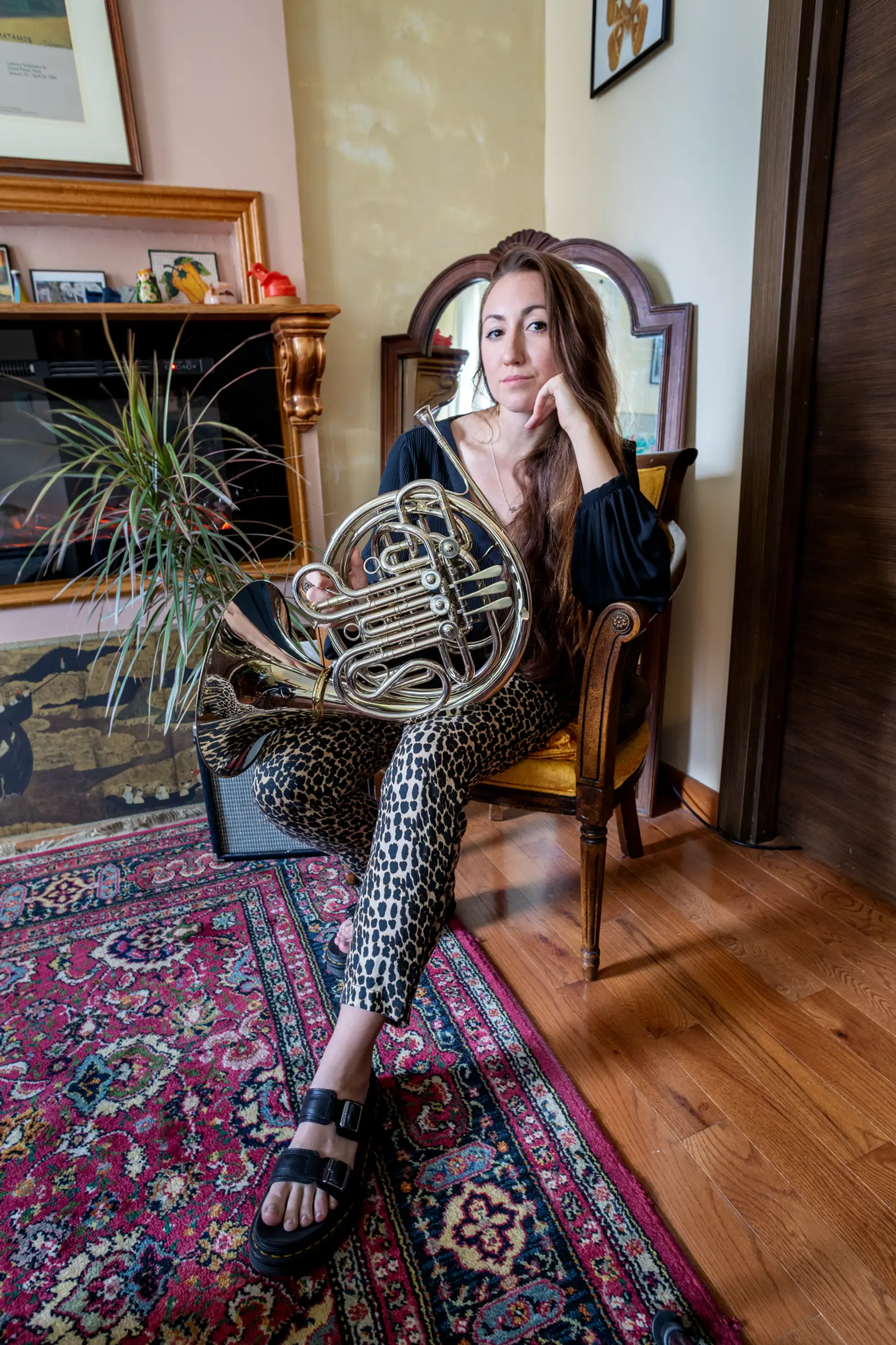 In addition to arranging music, Sara also plays the French horn and is a vocalist.

Sara and Amit both go on tour with their bands across the globe and are able to pick up eclectic items from their time abroad.
How did you two meet?
Jazz school! We both went to The New School for Jazz and Contemporary Music and were good friends for seven years before getting together two and a half years ago. Wild.
Tell us about your careers as musicians.
Sara: I have a large ensemble called The NYChillharmonic. I compose and arrange all the music for that project, which I then take on tour with my group or big bands in other places. I have won some composition awards like the ASCAP Herb Alpert Young Jazz Composer Award and the Phoebe Jacobs Prize. I also tour and perform my music with other large ensembles in different places. I've worked with bands in different parts of the US, Canada, Japan, Germany, China, Australia, The Netherlands – and soon Argentina!
I freelance on French horn, piano, and voice with other ensembles. I have a day job as an Associate Manager at a classical music booking agency, but I still get to tour internationally pretty frequently and play a good amount of local shows as well – so I stay busy.
Amit: I'm a guitarist that also plays bass, oud, and banjo. I tour frequently with a lot of different bands including my own guitar trio. I have a hard-core Klezmer band back in Israel that I tour with called Ramzailech. I also work as a producer on a variety of projects and get hired to do a lot of session/jingle work.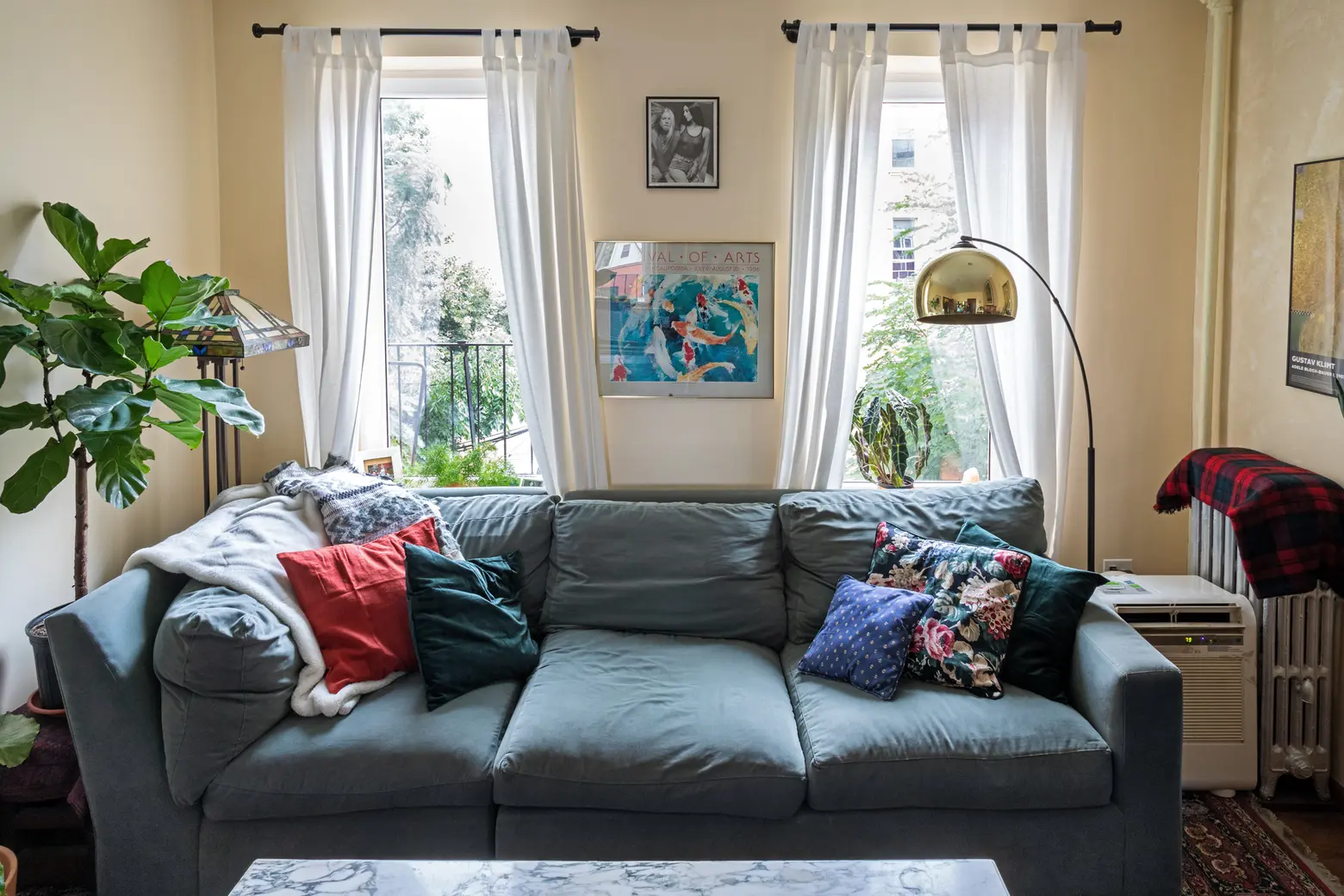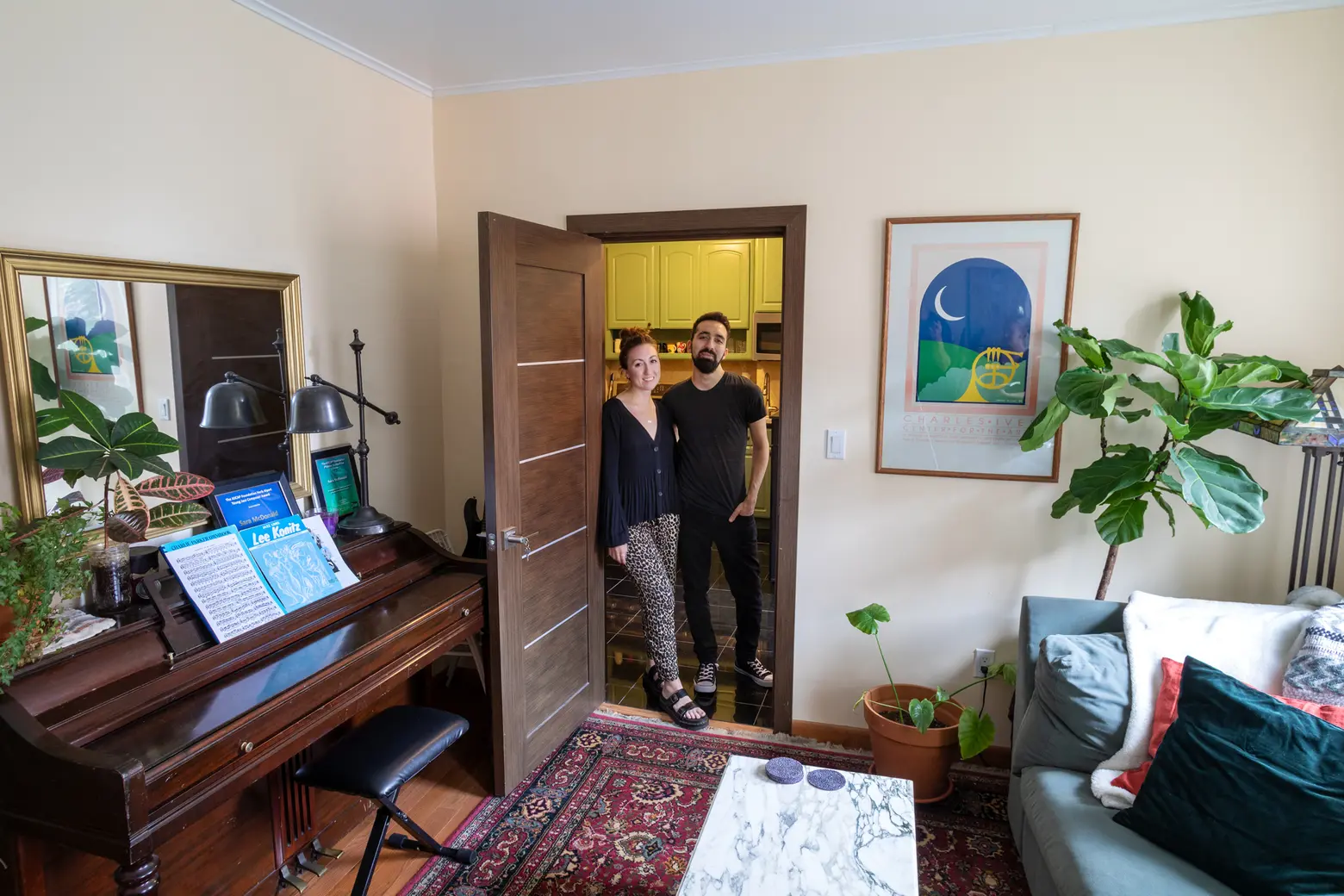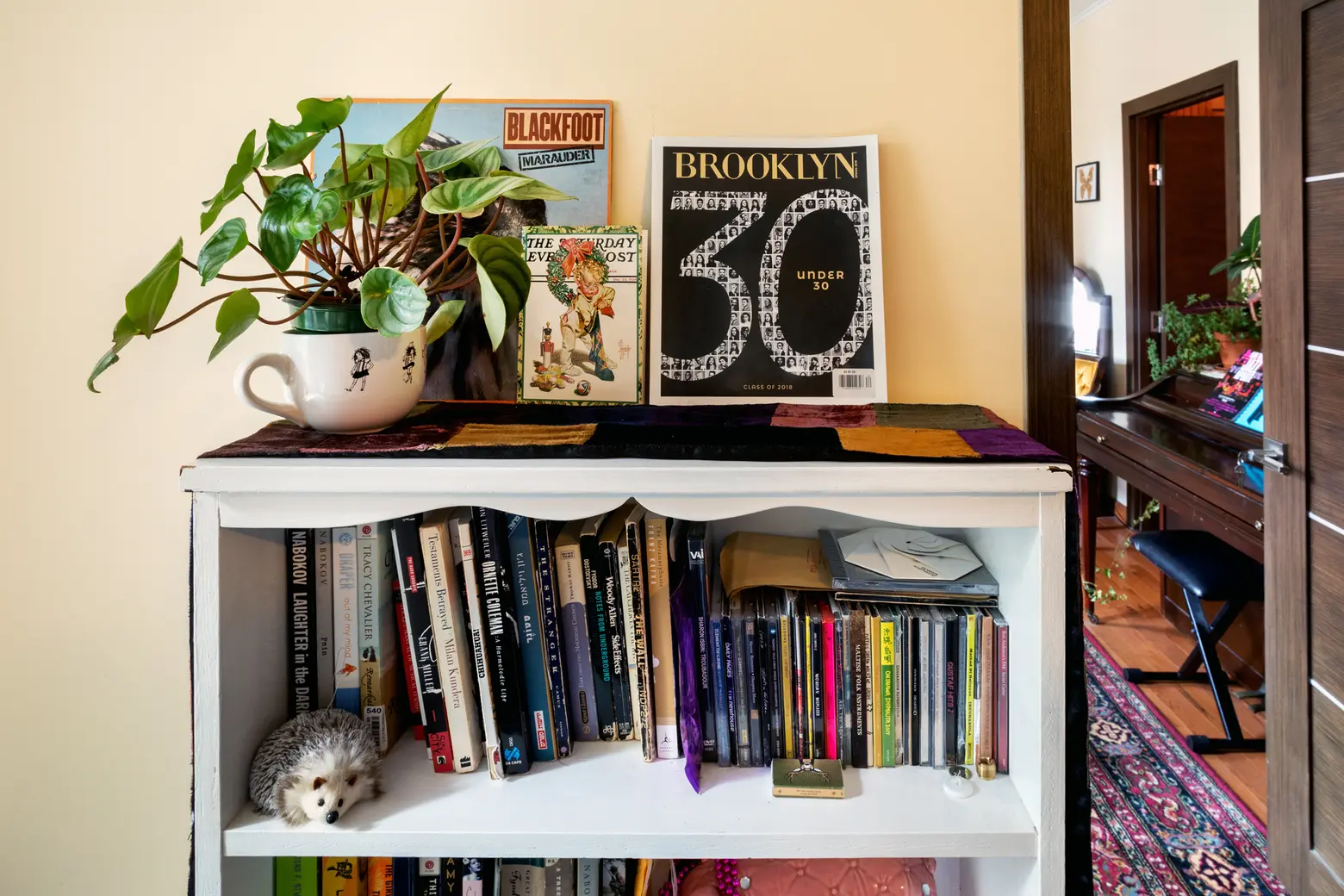 Sara was named one of Brooklyn Magazine's 30 under 30 last year
Do you have similar design styles? When you moved in together, how did you decide to mix your tastes?
Sara: When we moved in we both didn't have a ton of furniture so the main priority was getting what we needed for cheap. Basically, everything in the house was found on Craigslist, or in vintage stores. I like pieces with a lot of character, but I also value functionality over frivolity. So, everything needed to be really stylish but also comfortable and capable of storing our stuff.
I actually broke my foot three weeks after we moved in and was completely immobile, so I would find furniture on Craigslist and send Amit to go pick it up. He was such a good sport. In retrospect, that was a difficult time but he just took care of everything, including me.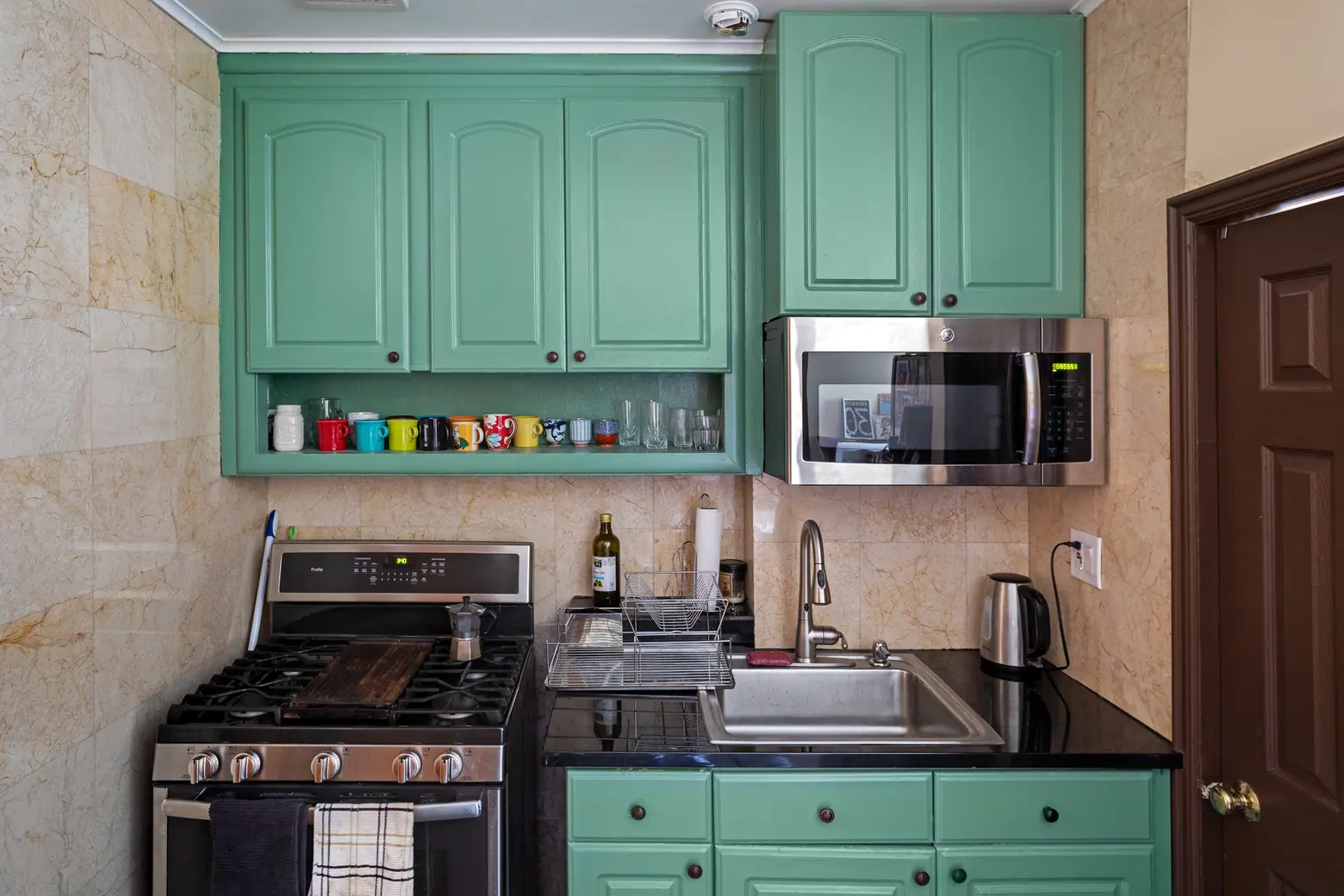 One day, Sara repainted her kitchen cabinets after she couldn't stand their original dark brown color.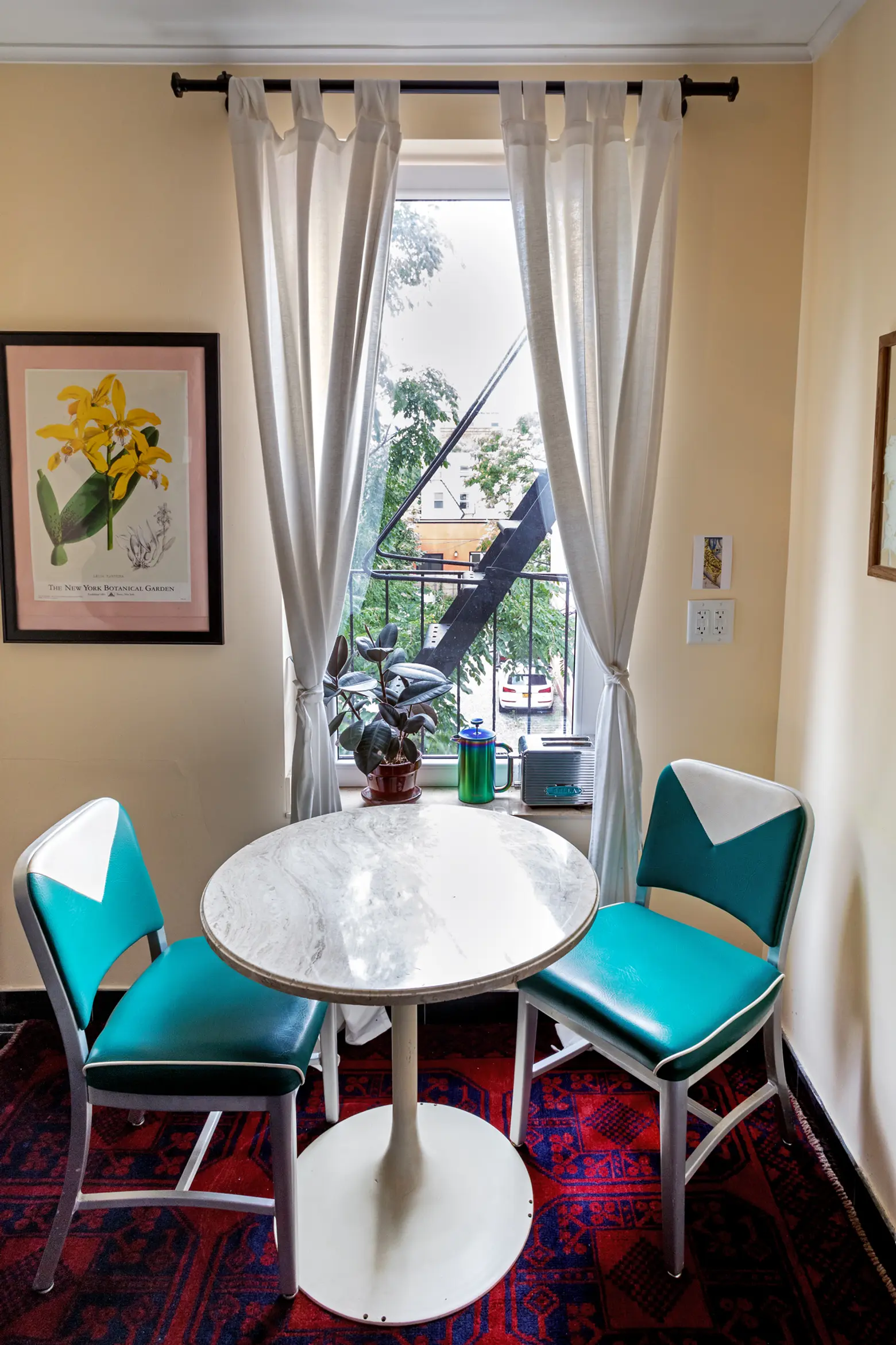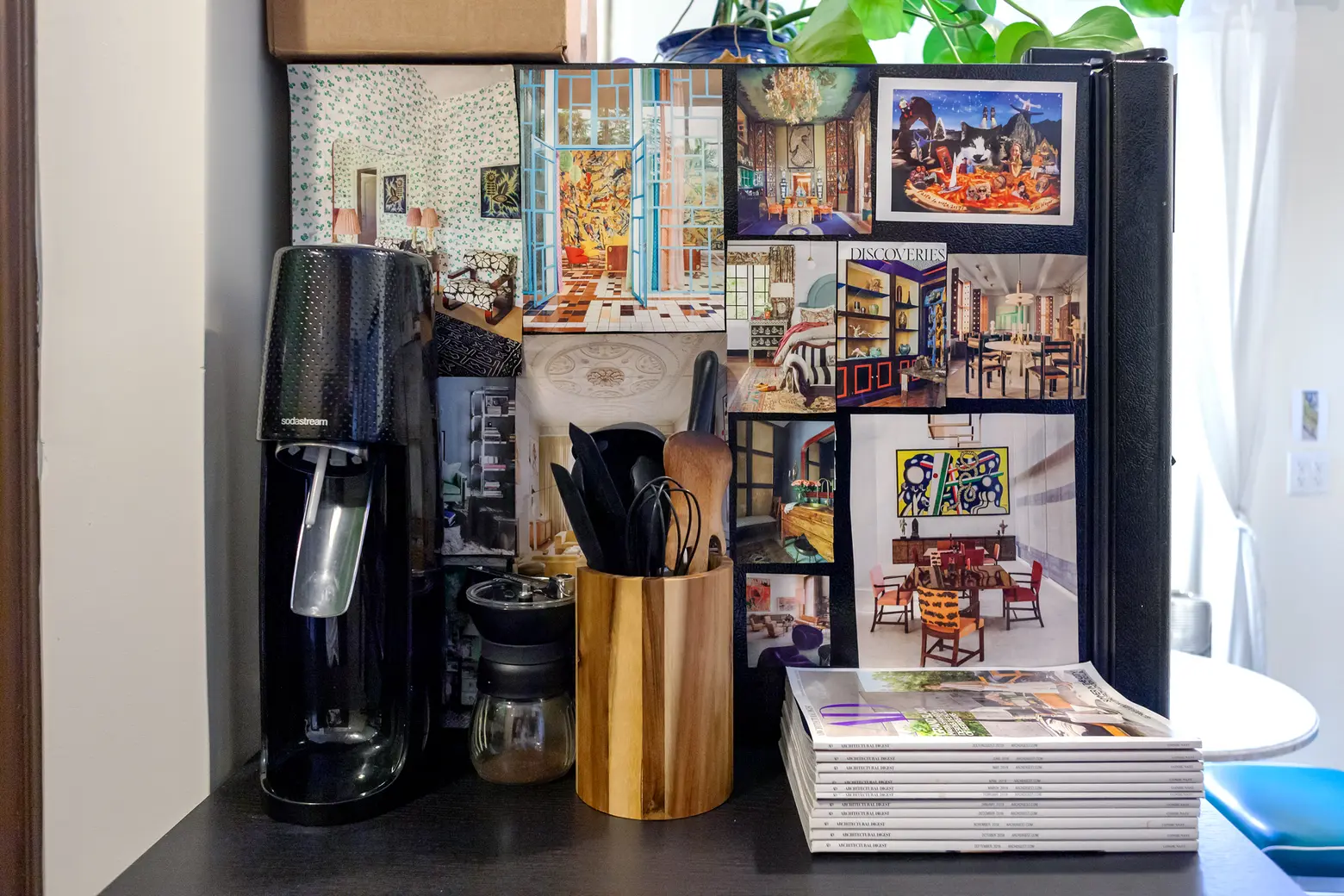 Sara likes looking at Architectural Digest for inspiration.
You told us that many of the pieces in your apartment came from Craigslist. How do you go about searching for items you want?
Sara: I always know exactly what I want, almost to a fault. I follow way too many interior design blogs and Instagram accounts. I have an Architectural Digest subscription. Like I could ever afford anything from that magazine, BUT it gives me ideas. Luckily we're in New York – if you search for an extremely specific item on Craigslist it will show up eventually.
For example, I knew I wanted a yellow velvet, cane-back chair for the living room and checked Craigslist for about eight months. One day it showed up for $20 in Washington Heights and the guy told me someone else claimed it but I was like, no I'll be there in an hour. Then I went and got it! Same thing with our piano. I knew a mahogany spinet would turn up eventually and it did. Plus, pianos are always free. People are usually moving and desperate to get rid of them. Craigslist hunting is an extreme sport. I'm sure Amit will cringe at this 🙂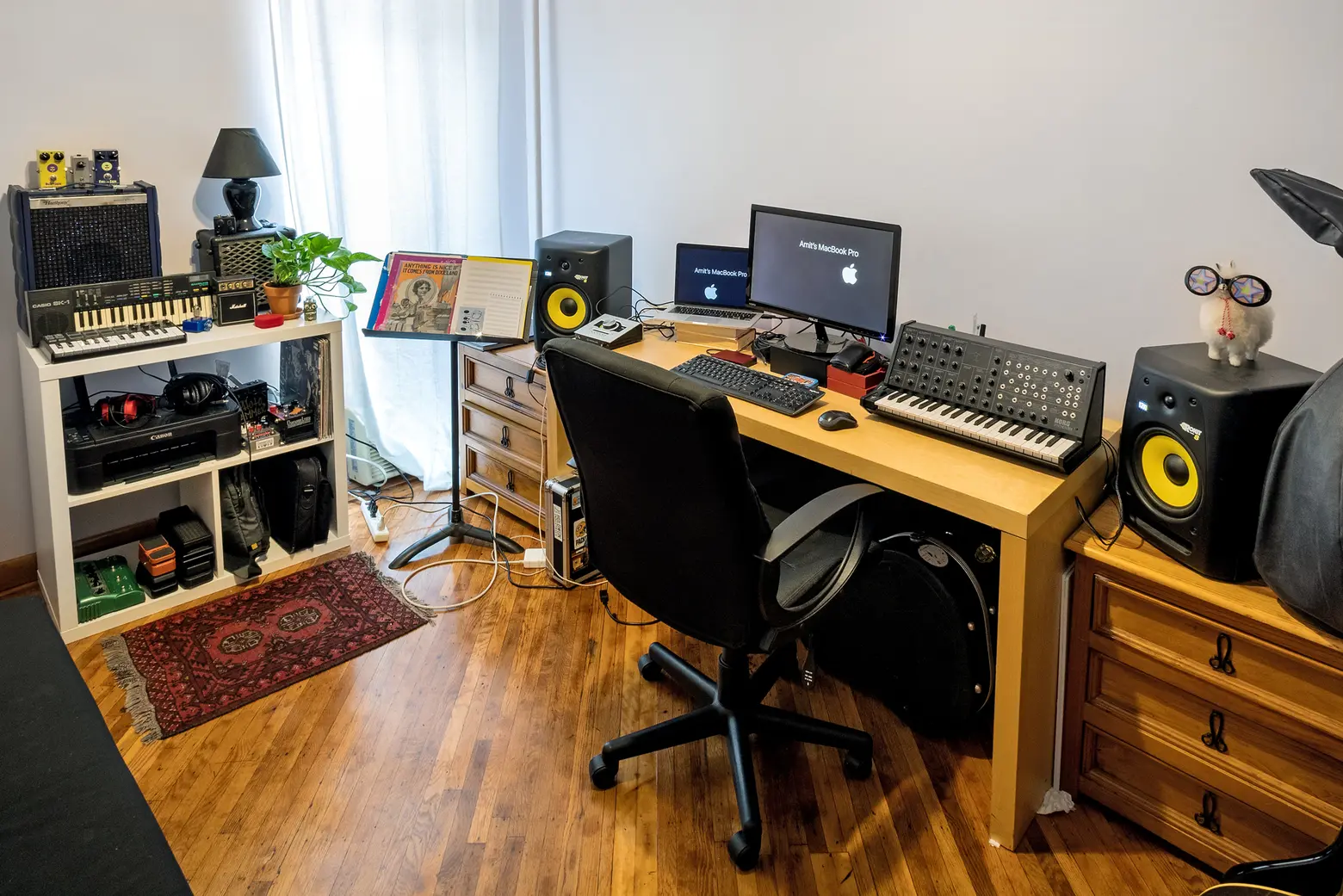 The apartment's second bedroom acts as both a music studio and a guest room.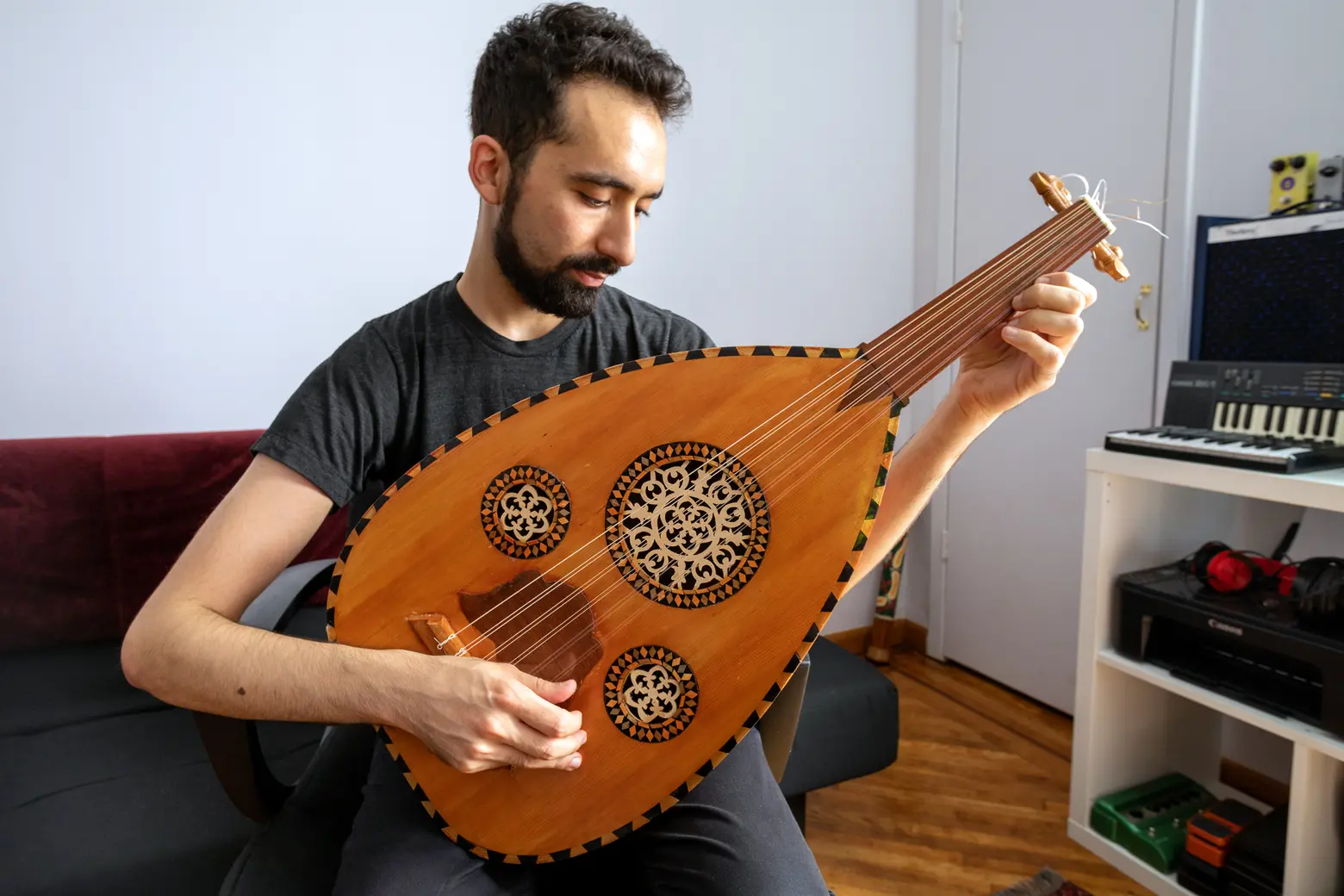 Amit plays the oud, an ancient string instrument originating in the Middle East.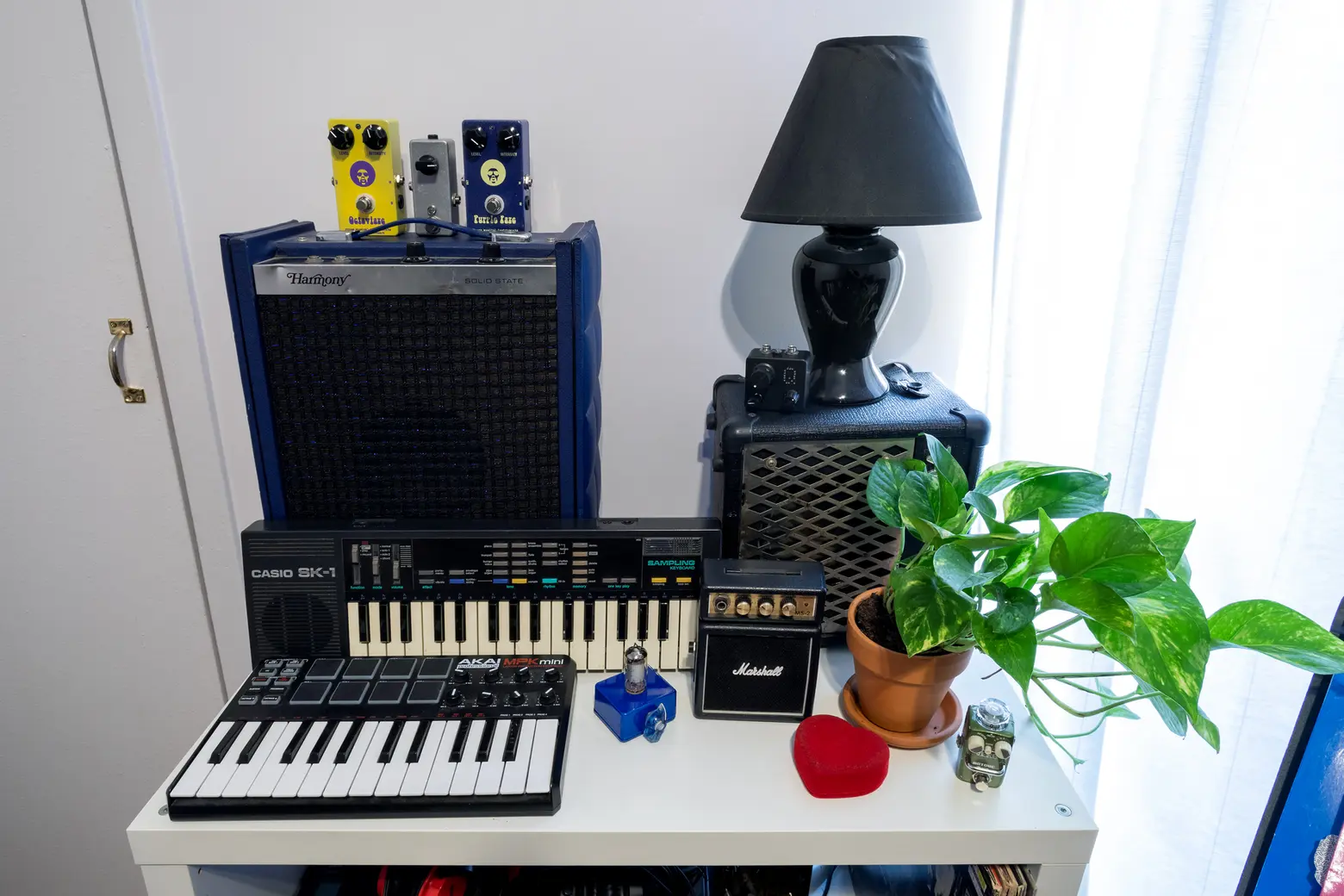 Sara, you obviously have an interest in interior design. Where do you think this comes from?
Sara: I don't know! Well, I kind of know. I grew up in a military family and we moved every 1-3 years so we never really got to settle into a place. I would always spend a ton of time organizing and decorating my room even though I knew it wasn't permanent – I just wanted to feel at home wherever we lived. When we would travel places, I would even take framed photographs and specific pillows, tapestries, etc. just so I could decorate wherever we were staying. I was also maybe 7 or 8 when I did this. Don't know why my parents let me travel with unnecessary stuff. (Is this a hoarding behavior??)
If you could only keep three items from your place, which would you choose?
Well aside from all of our instruments – the federalist marble coffee table (my greatest and most favorite craigslist find) the hand-woven rug I got in Jerusalem, and the framed mammoth moth (another random but cool craigslist find). Amit would keep the guitars.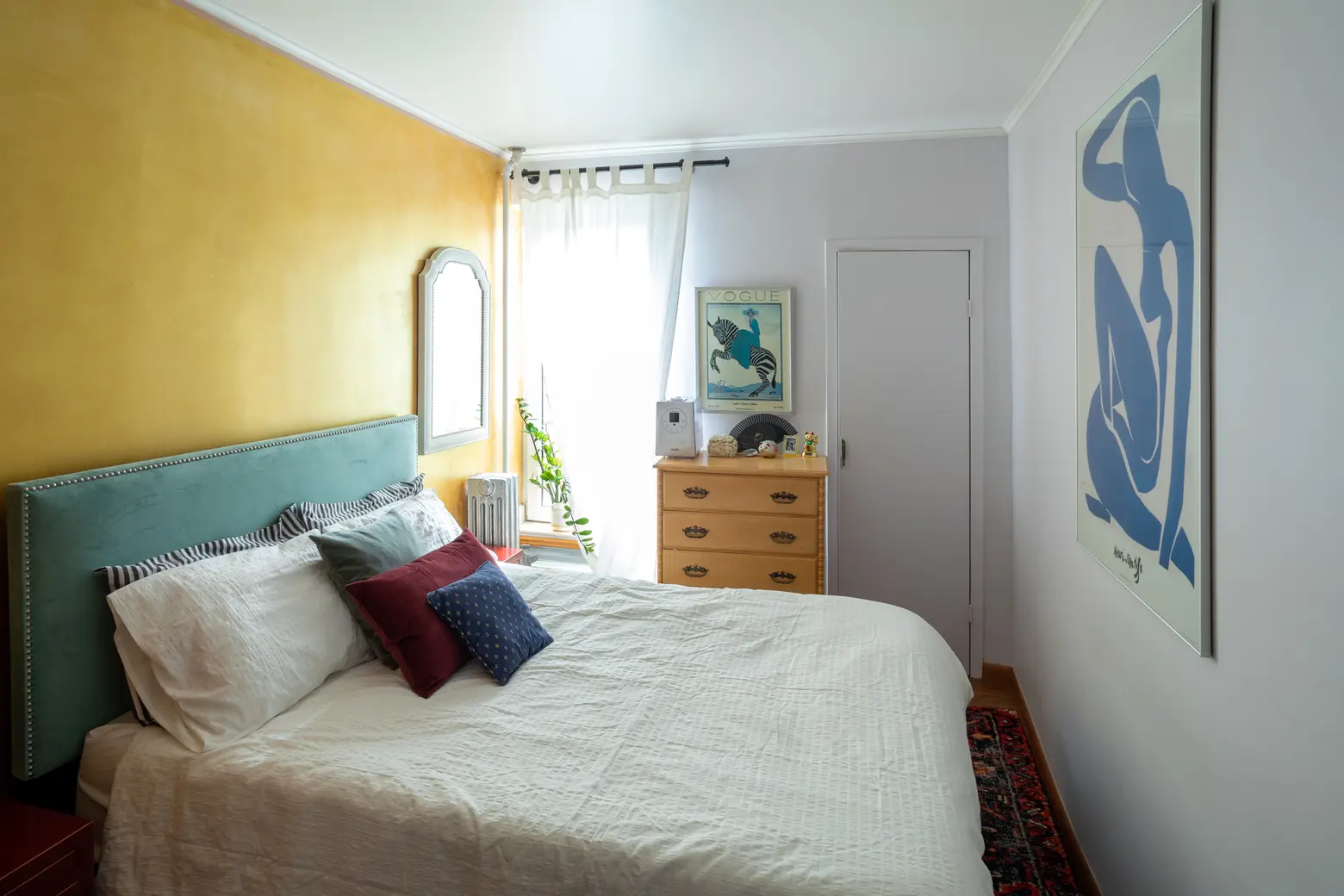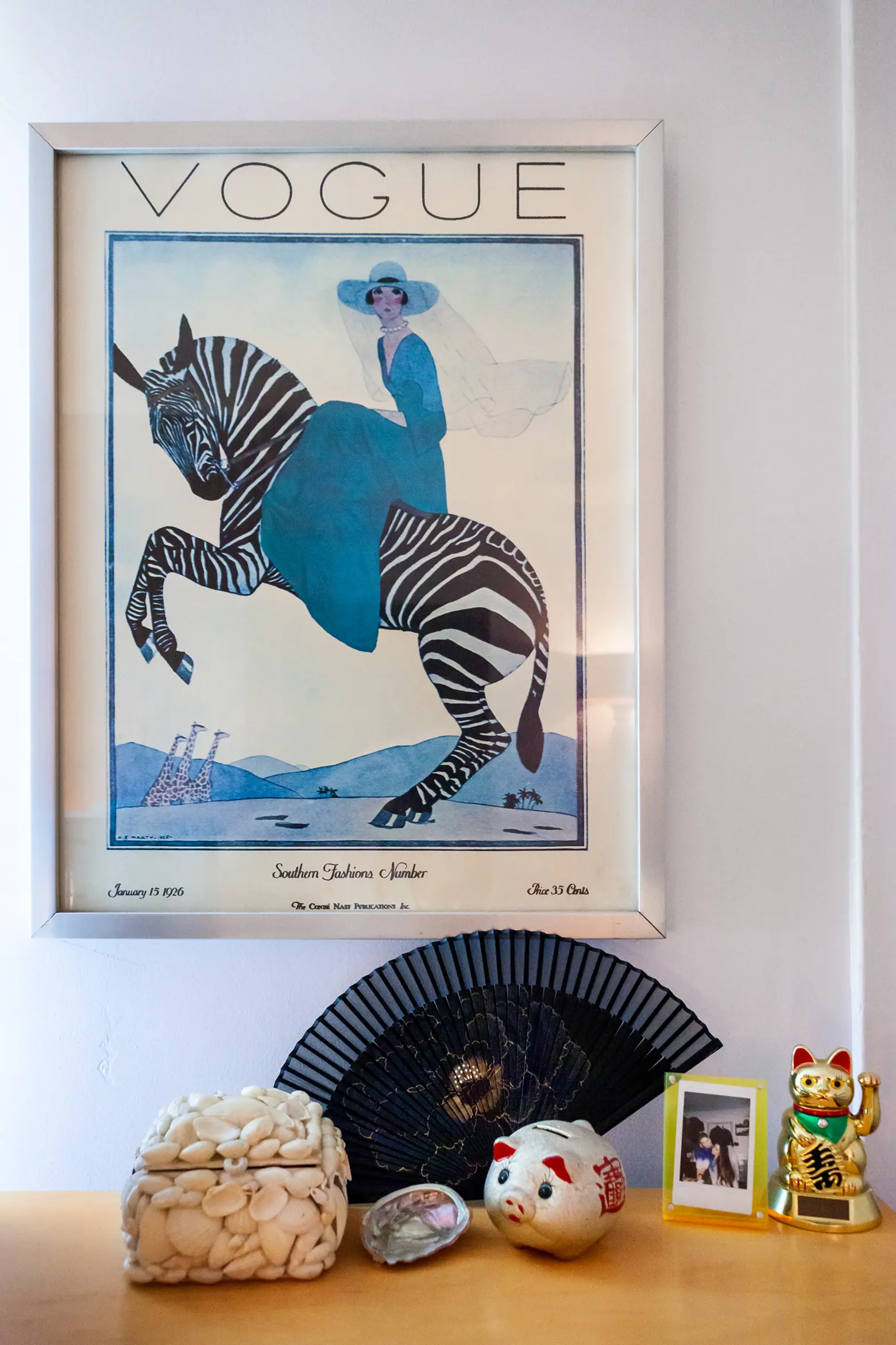 What are some of your favorite spots in Greenpoint?
Paulie Gee's Slice Shop: THE BEST vegan (& non-vegan) pizza.
Acapulco: The best tacos. Sorry to all other tacos.
Dandelion Wine: Amazing wine and knowledgeable staff.
Martha's Country Bakery: TECHNICALLY Williamsburg but their cake is extremely important.
Dobbin St. Vintage Co-op – Amazing vintage furniture and clothes.
Transmitter Park & McCarren Park
World of Flowers: My addiction.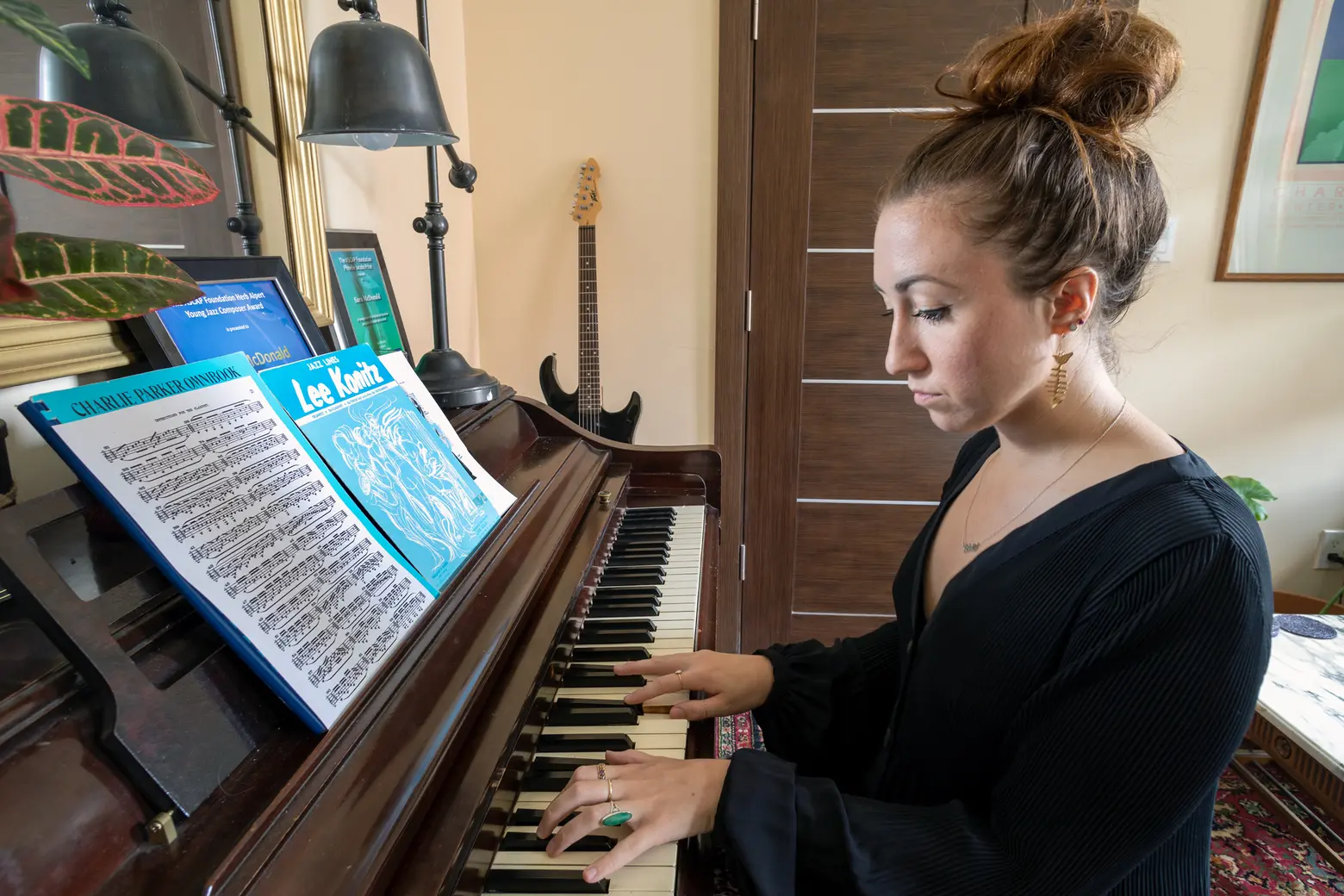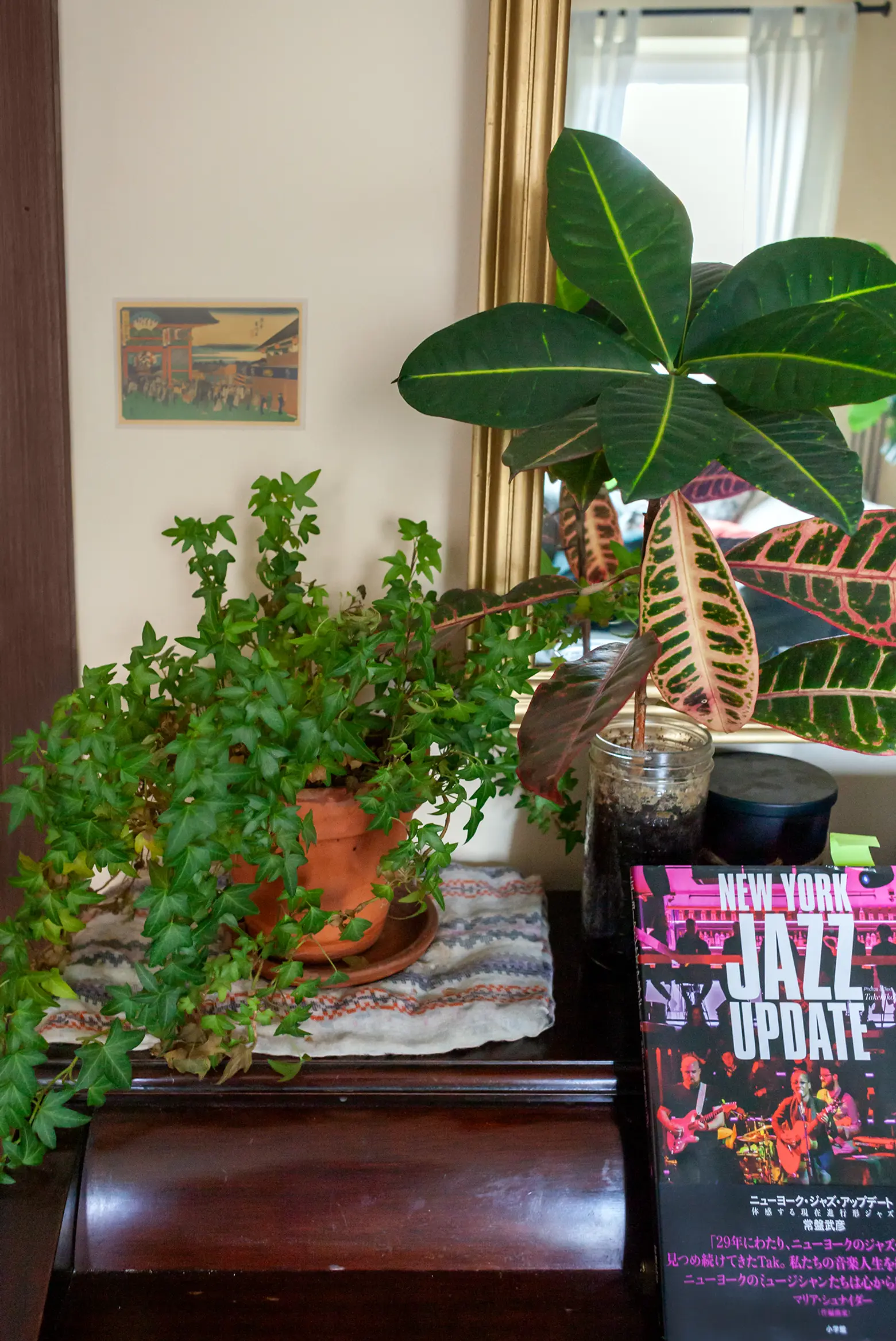 If you're not on tour, how do you spend a typical weekend in Brooklyn?
Eating. Also, cleaning, taking care of the plants, working on music, watching Hoarders.
Any exciting projects or plans (music or otherwise) on the horizon?
Amit is going on tour throughout the U.S. all of August. I'll be on tour in Argentina and Germany in November and December. More gigs. Sinus surgery. Repainting the metallic gold wall in the bedroom…
RELATED: 
All photos by James and Karla Murray exclusively for 6sqft. Photos are not to be reproduced without written permission from 6sqft