My 450sqft: Stamp artist and Rivington School rebel Ed Higgins shows us his LES apartment of 40 years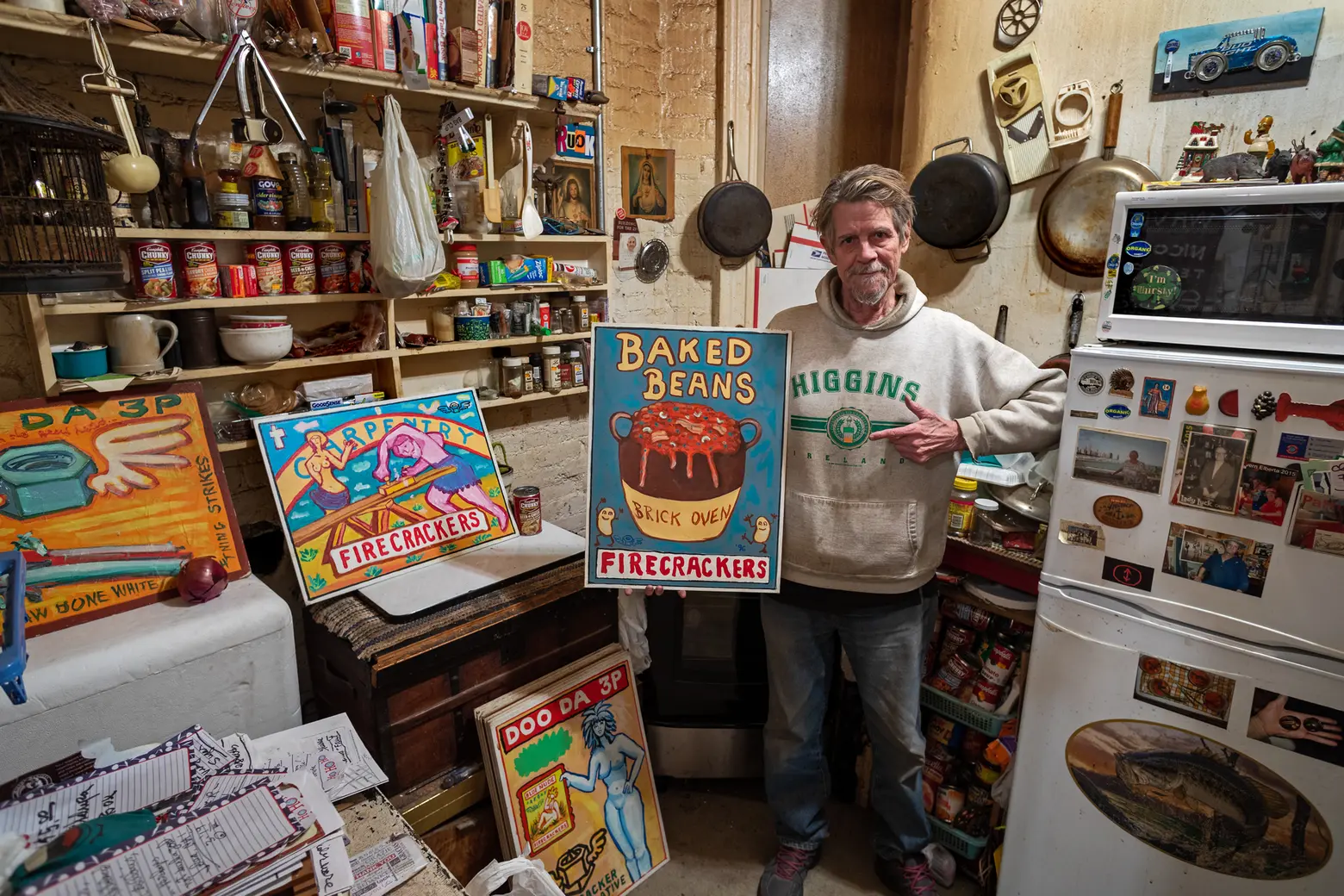 Our series "My sqft" checks out the homes of New Yorkers across all the boroughs. Our latest interior adventure brings us to artist Ed Higgins' Lower East Side apartment. Want to see your home featured here? Get in touch!
In 1976, with a recently earned art degree, E.F. Higgins III moved from Colorado to the Lower East Side. A small advertisement in the Village Voice led him to a rent-stabilized place on Ludlow Street for just $100 per month. Forty-three years later, Ed has never lived anywhere else. As expected, his rent has risen over the last four decades. He now pays "$500 and change" for his one-bedroom.
Upon arriving in Manhattan, the Midwestern-born artist became part of an art scene that was antithetical to what was happening anywhere else. Ed was a founding member of the Rivington School, a group of anti-commercial artists who took the city's open land as their own, creating make-shift gallery spaces and performance centers in basements and on vacant lots. A painter and printmaker by trade, Ed is a part of the mail art movement, which involves sending art through the mail via postcards, decorated objects, and original stamps. 6sqft recently toured Ed's apartment, which is full of his own Doo Da Post stamps, mail art that was sent to him, paintings, hand-written notes, and so many tchotchkes it's hard to discern one room from the next.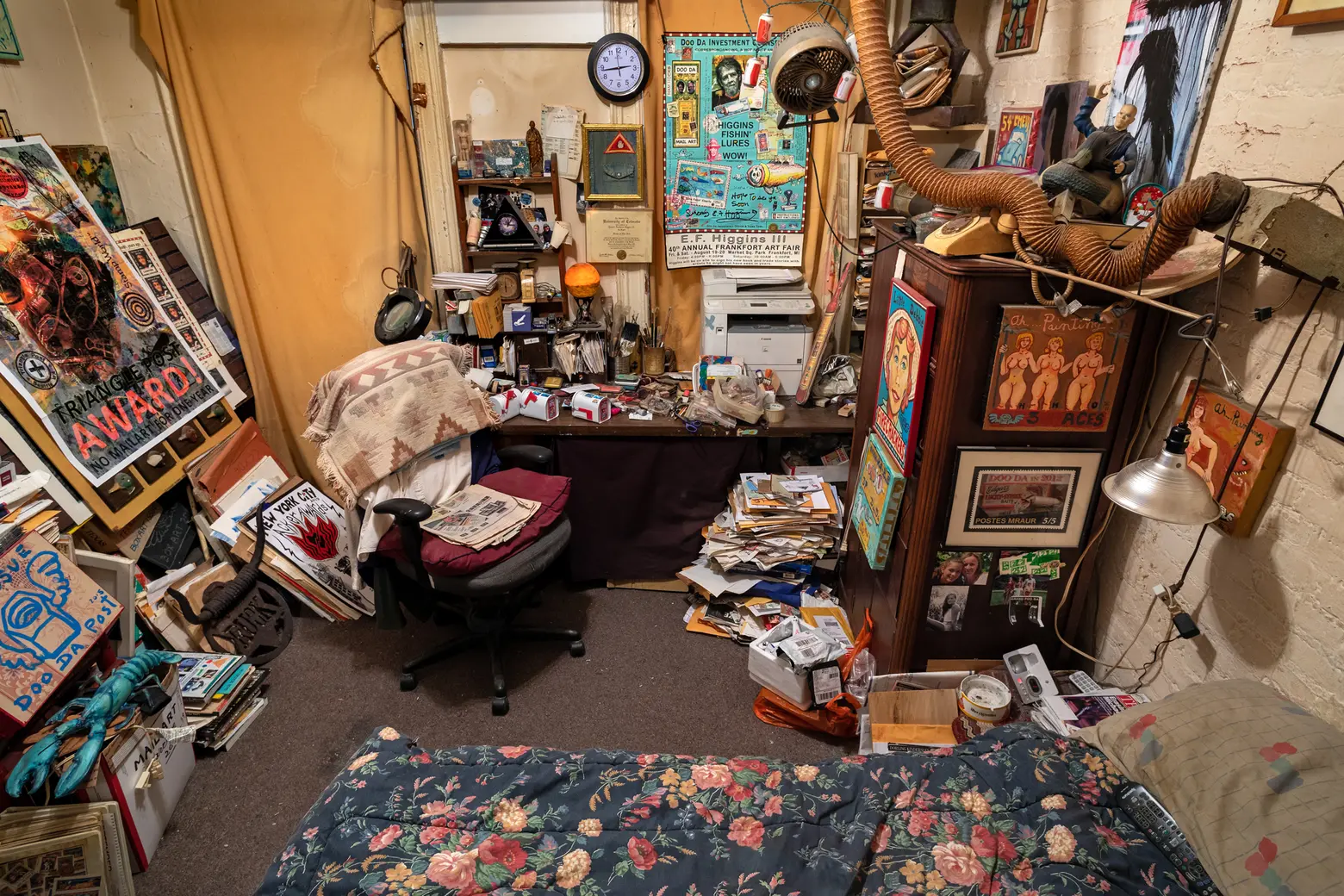 Ed has lived in this apartment since 1976. Just three others in the building have lived there longer than him.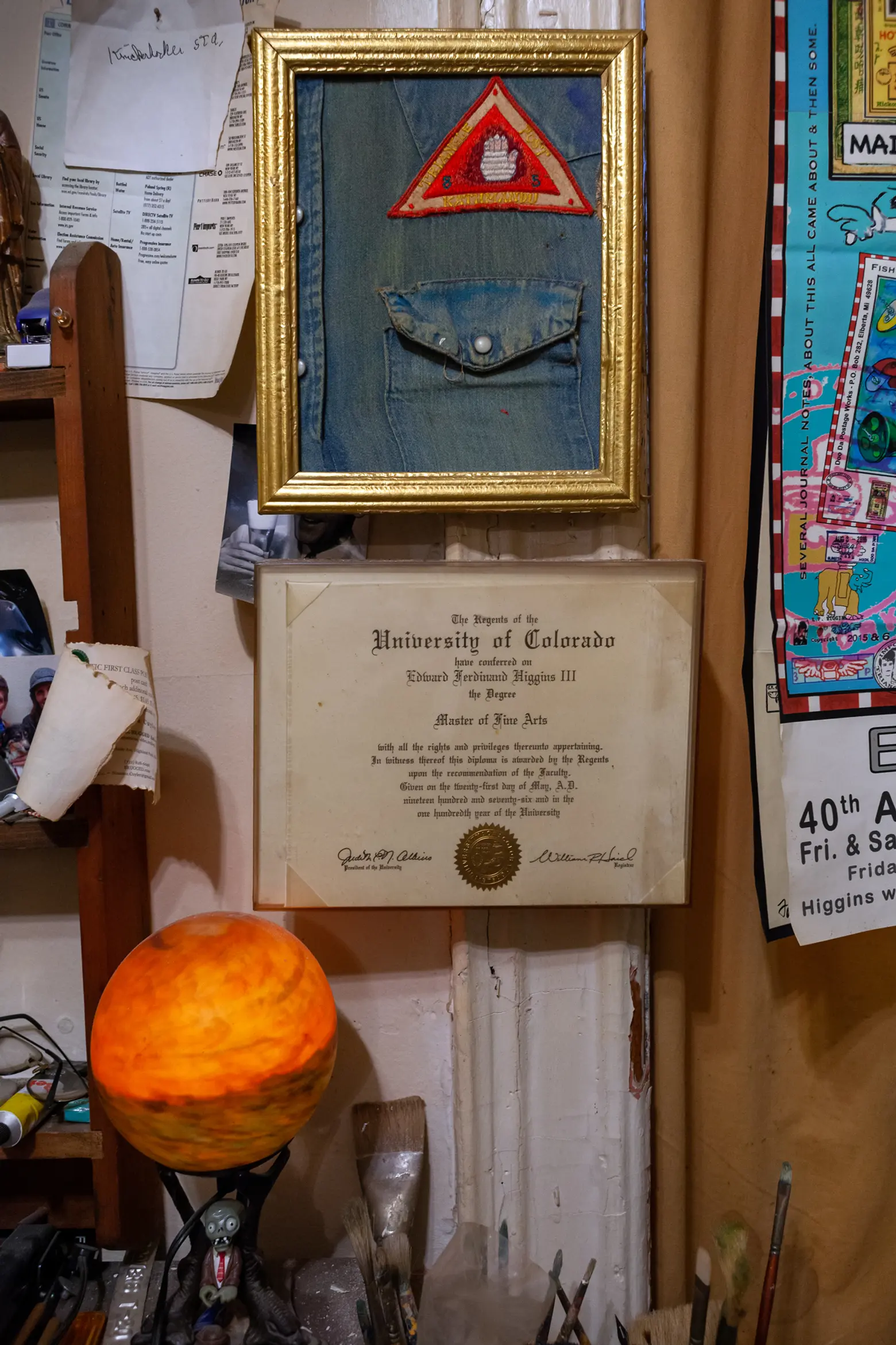 While living in Colorado, Ed was interested in printmaking, welding, and painting.
Born in 1949, Ed grew up in a suburb outside of Chicago. As a child, he'd collect stamps, make models and tree houses, and turn rubber erasers into stamps. He attended Western Michigan University but quit right before graduation. Ed later went on to get his BA at the University of Colorado, followed by his masters in printmaking and painting in 1976. He moved to New York City that same year because, "Yeah well, what are you going to do? You have to throw your hat in the ring," he told us.
While making and selling his artwork, Ed also worked on construction sites at the same time, supervising other workers and picking up scrap materials to later fashion his own furniture.
A few years after landing in New York City, Ed became a part of the Rivington School. The "school" began in the mid-1980s when "Cowboy" Ray Kelly opened a performance space in the basement of the No Se No Social Club at 42 Rivington Street. The space had little structure, allowing fluid performances from multimedia artists, filmmakers, musicians, and more.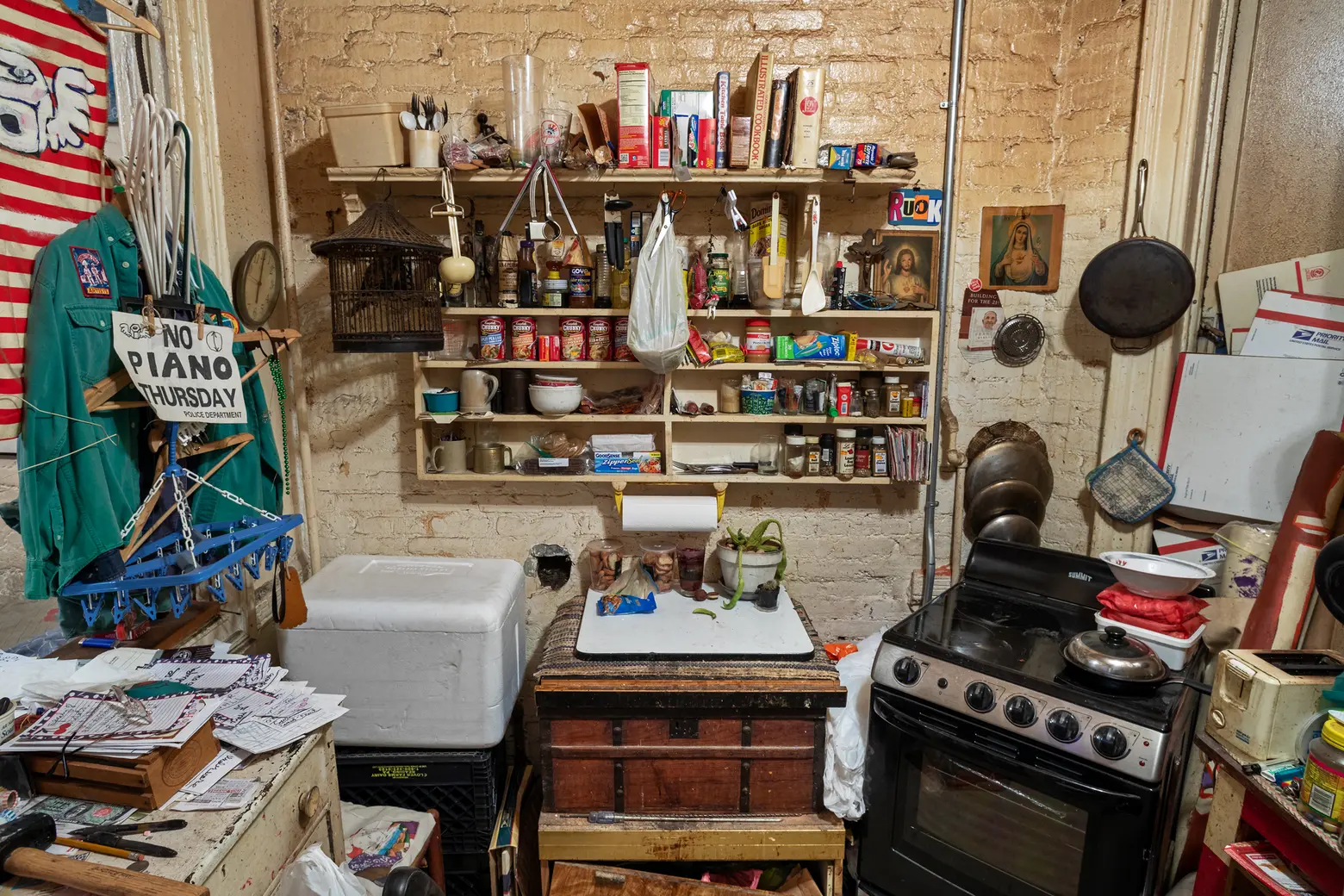 What does he cook? "I make Eddie's famous spaghetti sauce, I make Higgins' Famous Chili," Ed told us.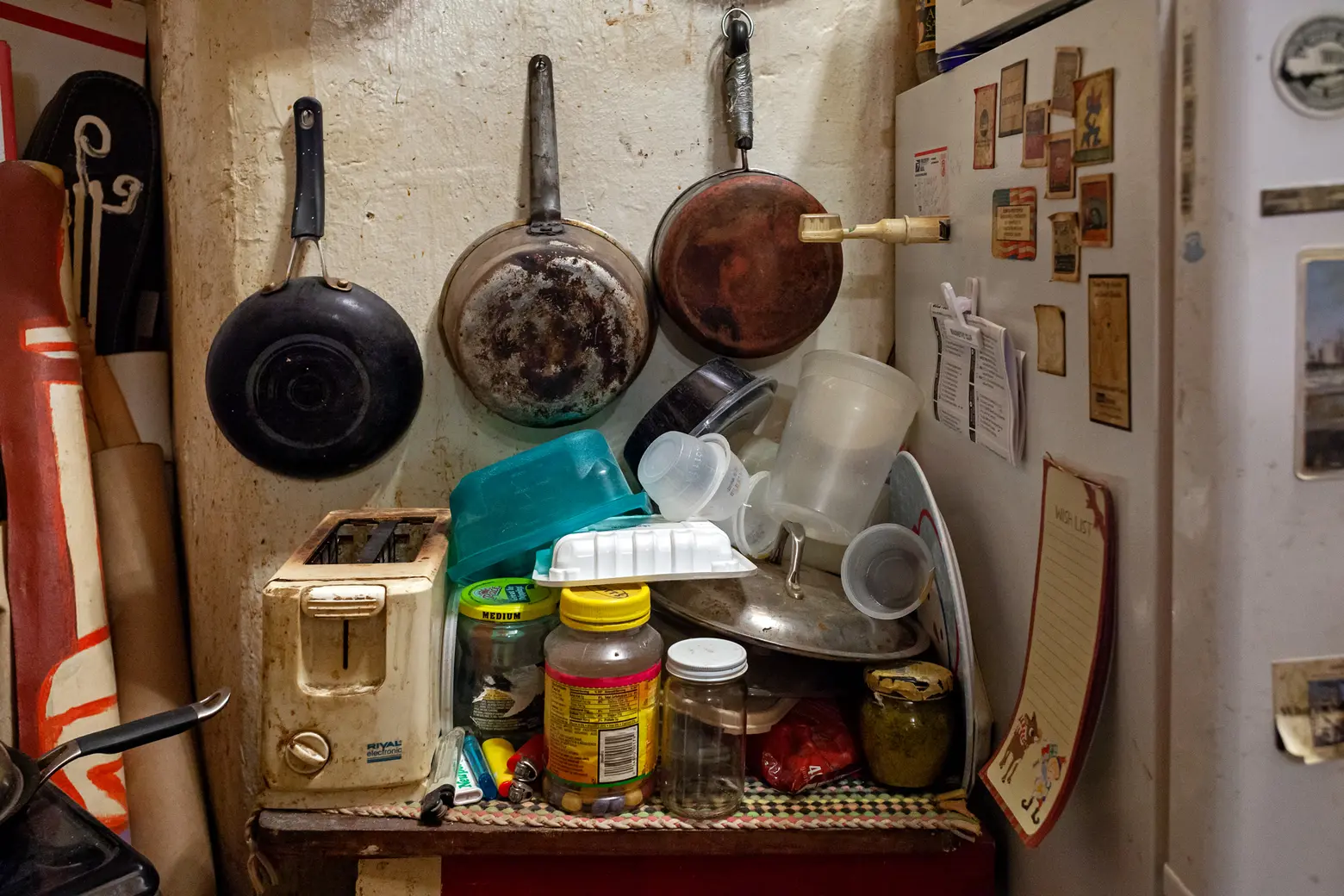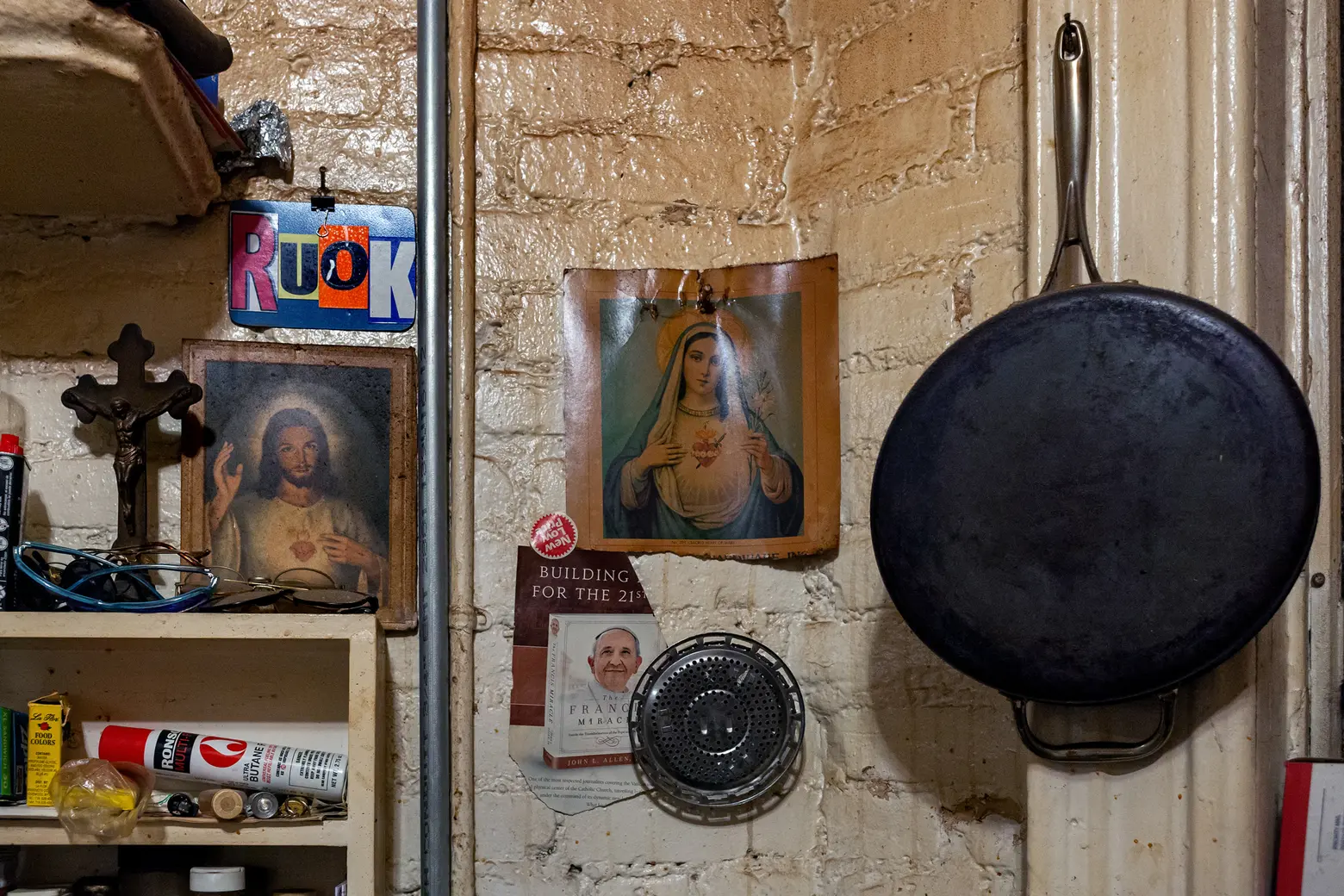 The group formed as an anti-establishment society of artists, a response to the often exclusive art scene of the city at the time. "The whole New York art scene said the heck with the Rivington School," Ed said. "We're not connected, we're not fancy dancy."
In 1985, the artists moved to the vacant lot across from the club on the corner of Rivington and Forsyth. It was here the group created their best-known piece, a giant sculpture made of welded trash.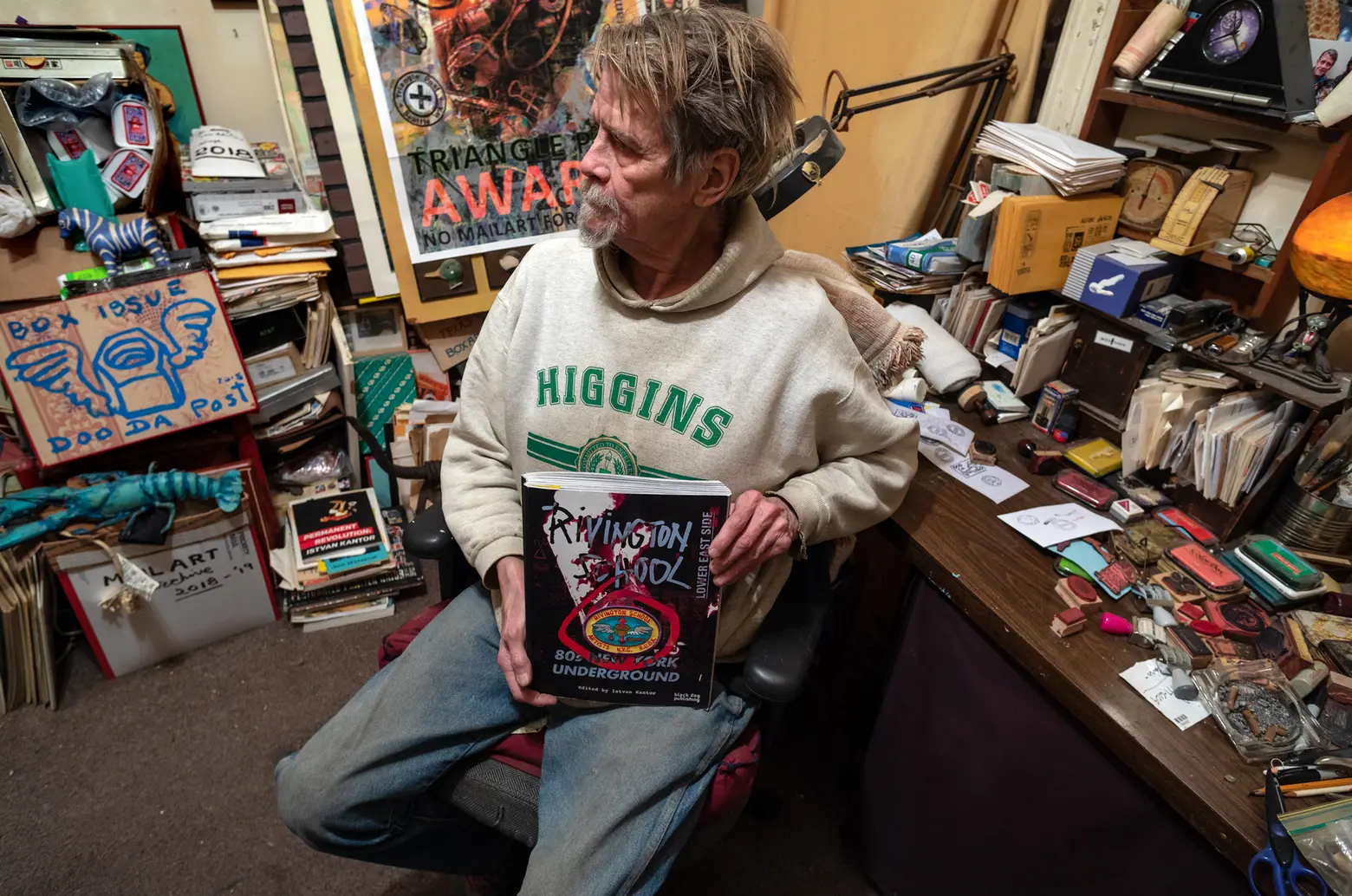 Rivington School members Istvan Kantor (aka Monty Cantsin) and Toyo Tsuchiya published a book about the school
Did the Rivington School ever run into legal trouble in the beginning? "Nah," Ed said. "This was the 7th precinct. They used to laugh at us."
With no law enforcement interference, the sculpture garden continued to grow for two years. And at one point, it reached nearly 20 feet tall. But when a piece of junk fell and "almost killed someone," according to Ed, the city finally got involved and demolished the structure in 1987.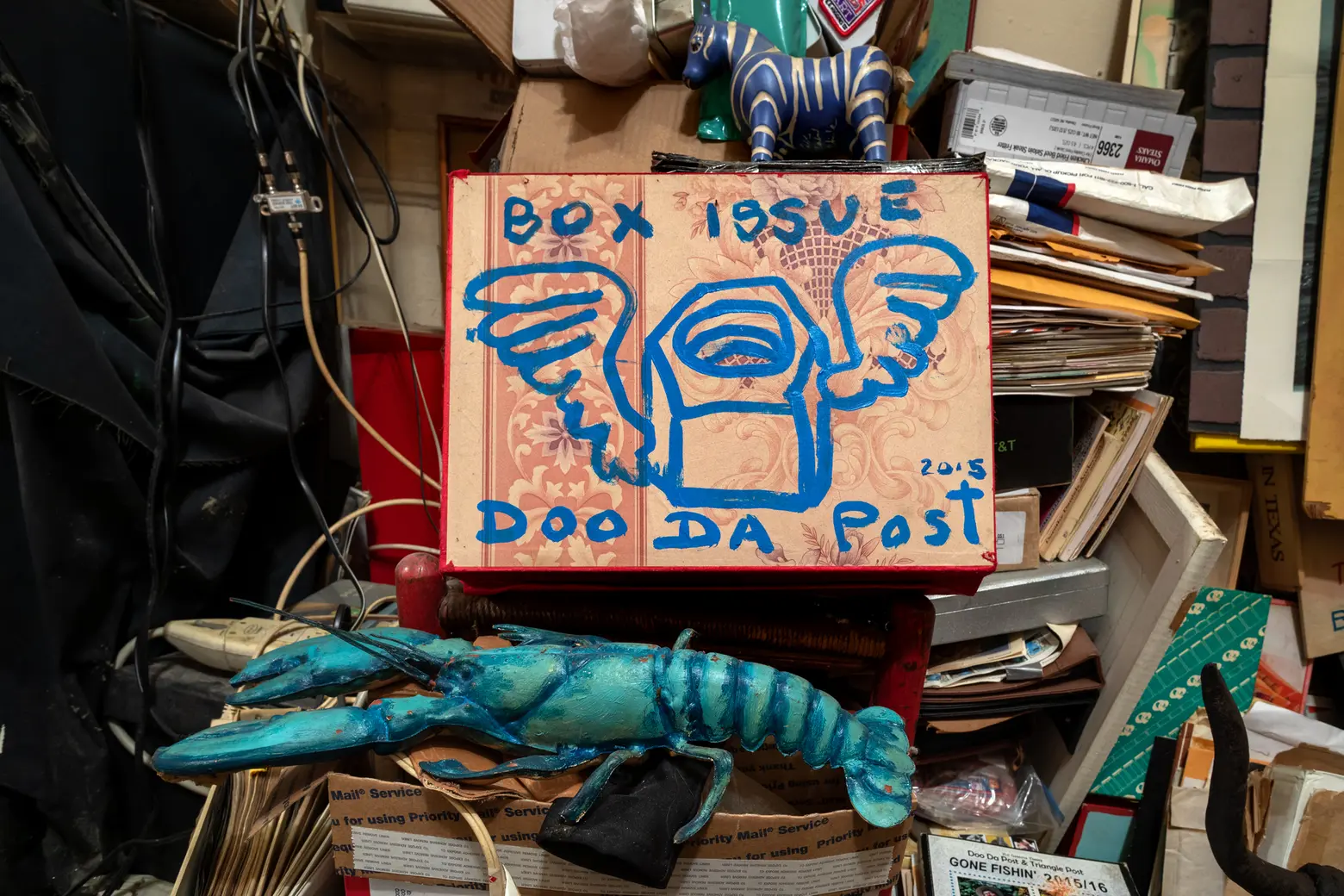 Ed's tag is a "wingnut," slang for someone who is "off the wall."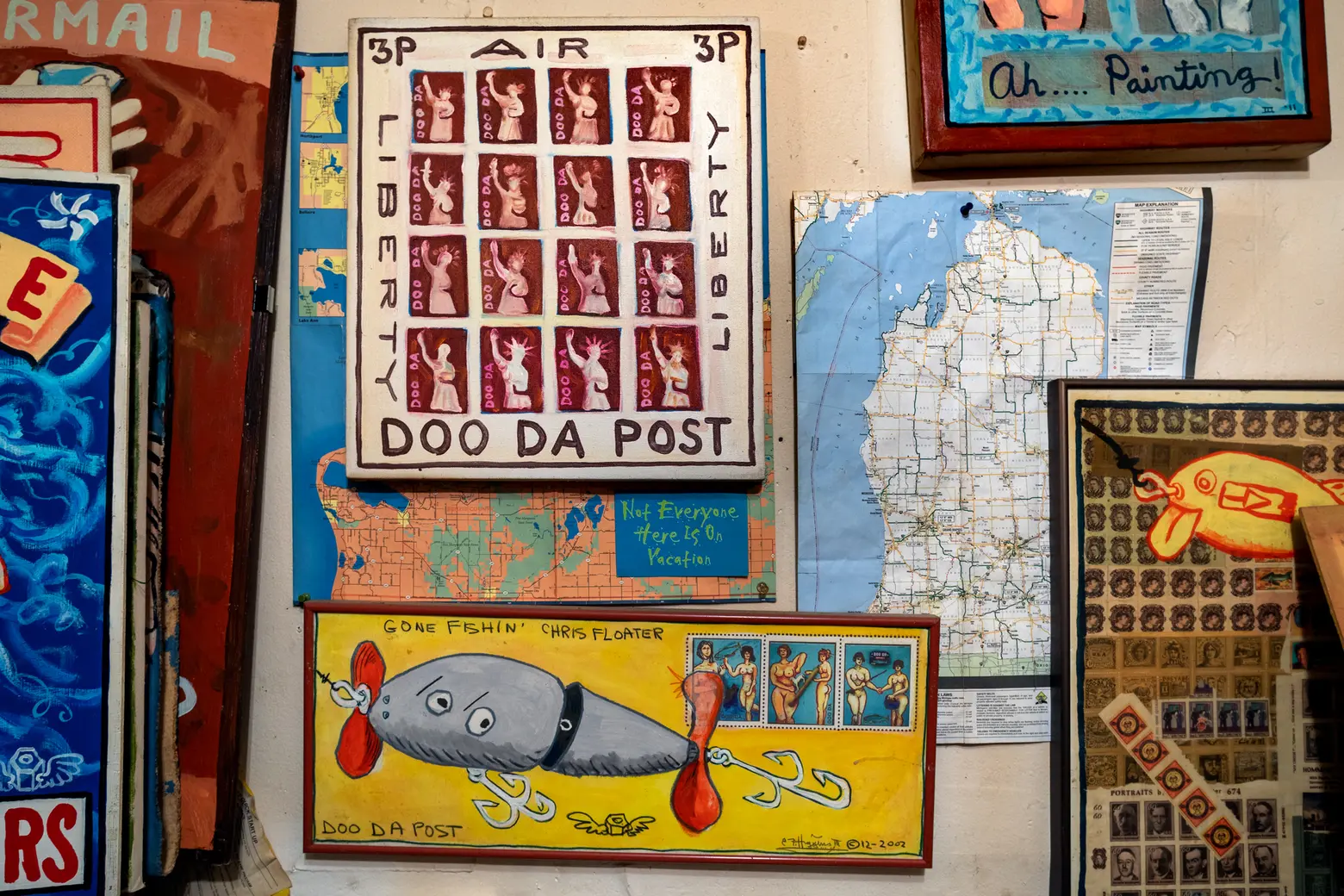 To send in the mail, stamps must have a value listed. The 3P on his painting and stamps stands for three pennies.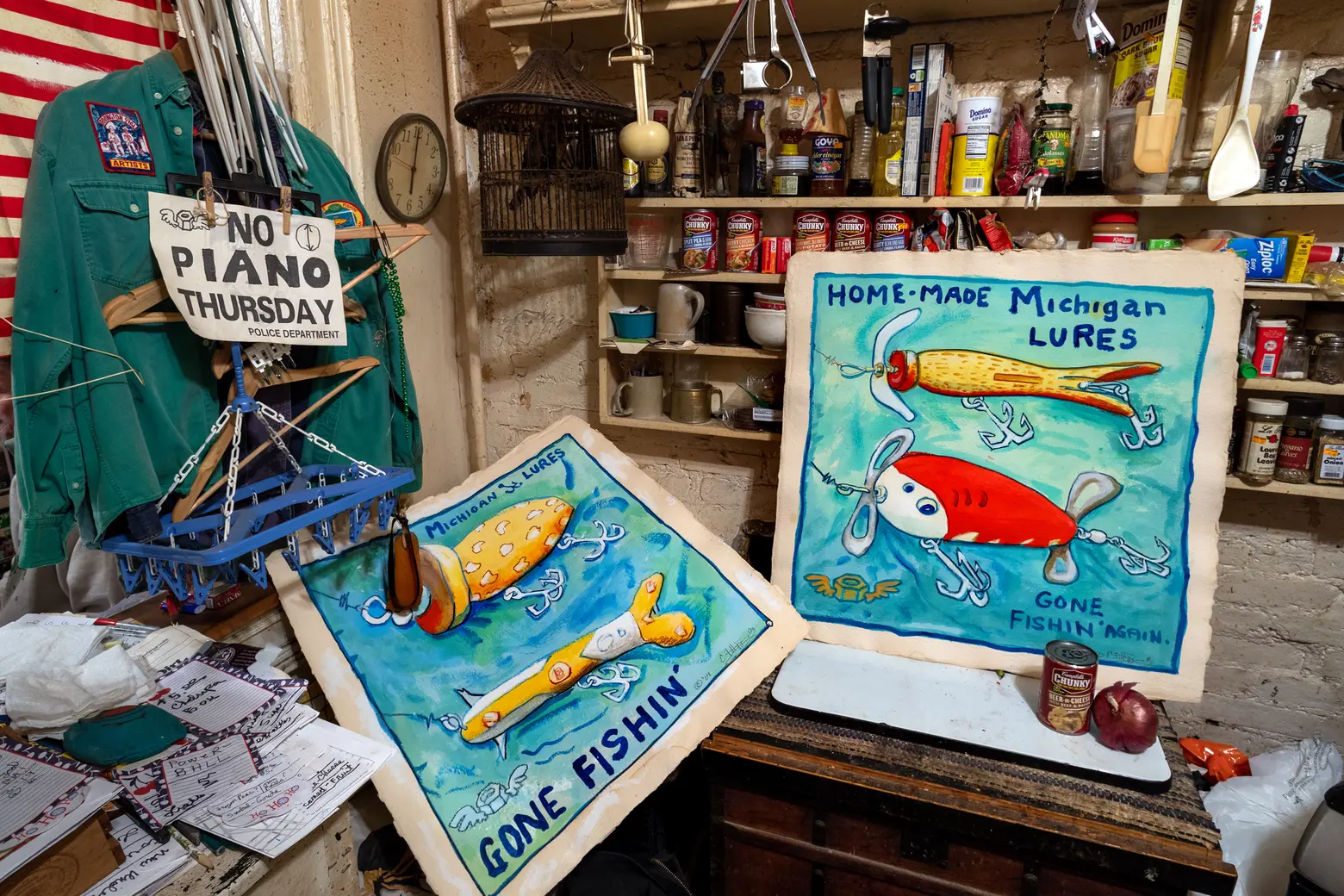 During this time, Ed had his work showcased at a variety of galleries in the city, including the Gracie Mansion Gallery. Taking the same name of the mayor's official residence, artist Gracie Mansion, who was born Joanne Mayhew-Young, opened an art gallery in the bathroom of her East Village apartment in 1982. She would also host "limo shows," which involved selling artwork out of a rented limo parked on Broadway and Spring with other artists.
Ed showed his work at the gallery and during our tour, hinted at a romantic relationship with Gracie. "I was very good friends with her, if you know what I mean," Ed said, with a wink.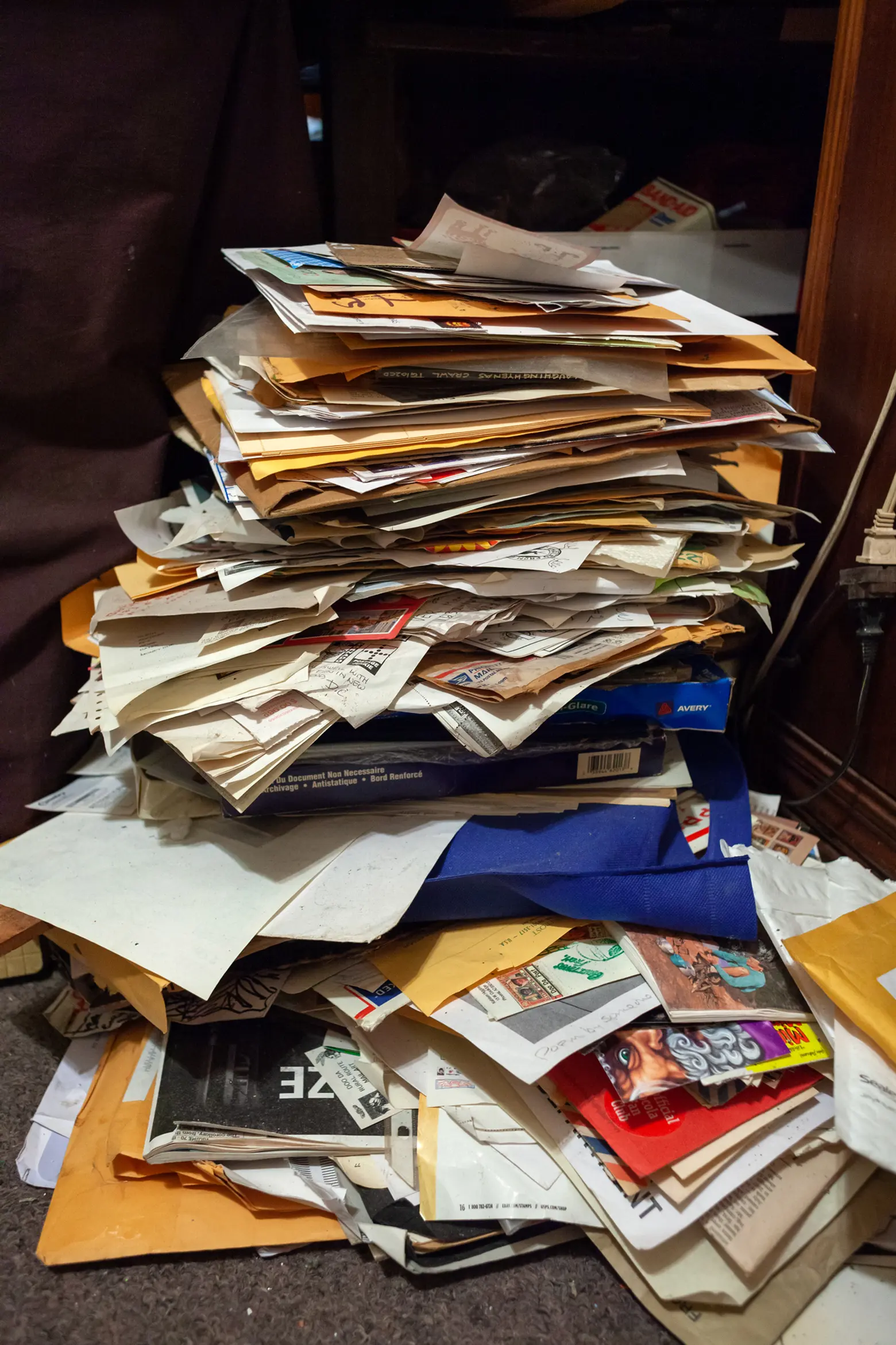 A pile of correspondence is stacked high.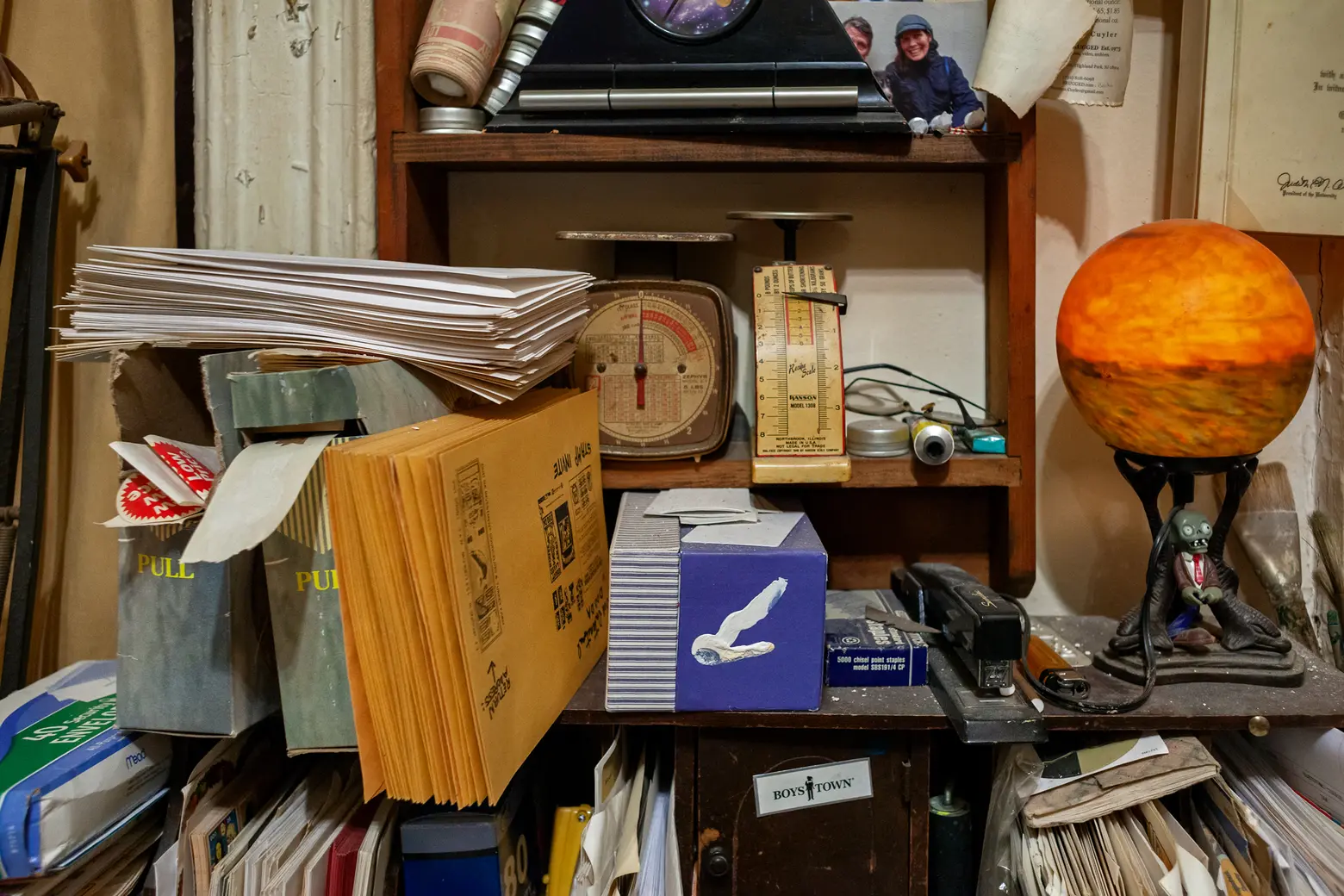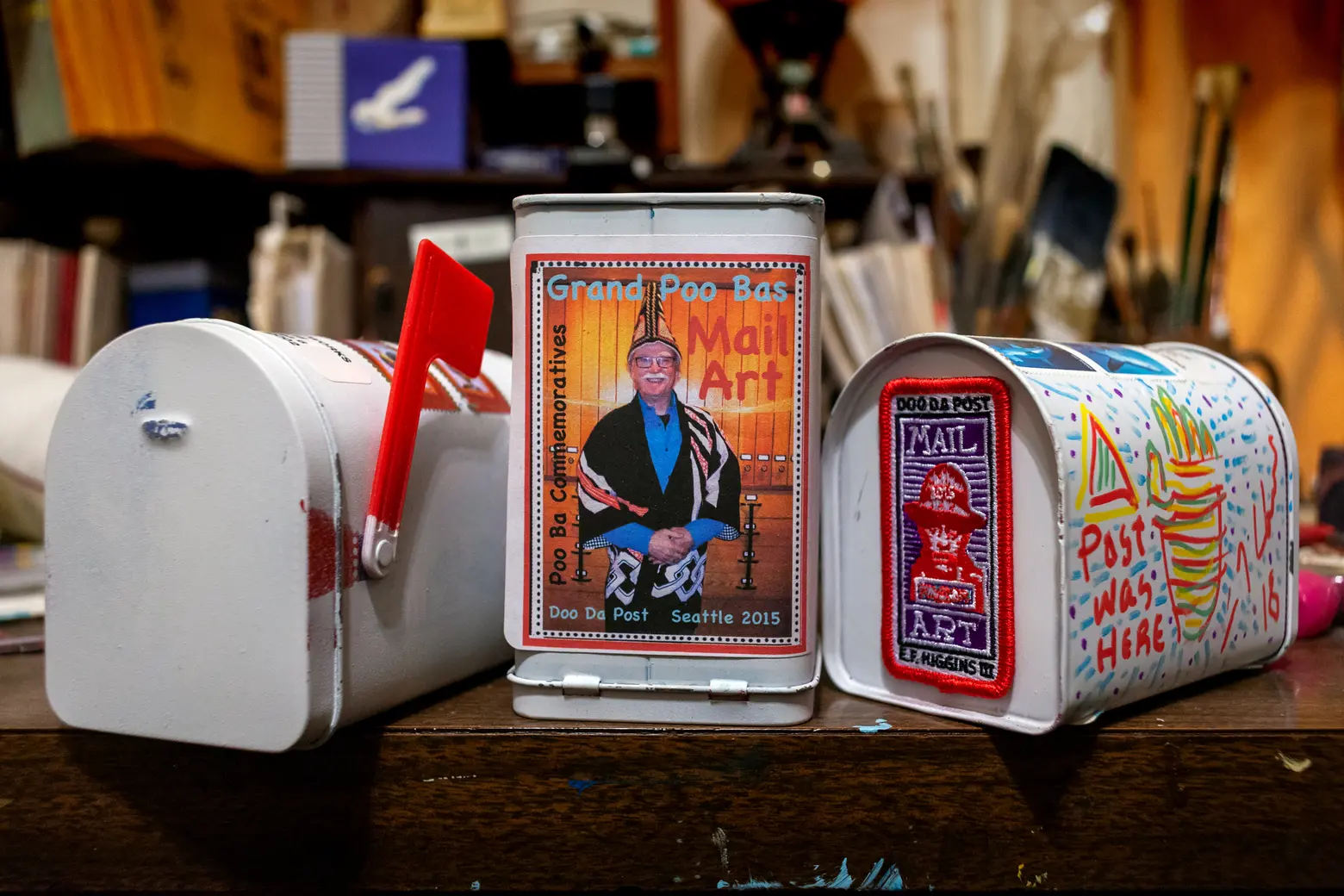 Ed plans on sending these mailboxes to a few people.
He first was introduced to mail art in college when a visiting artist suggested he contact Ray Johnson. Johnson is credited with starting mail art as a medium in the 1950s by adding "please add and send to" to pieces of mail. He was able to develop a correspondence network through the postal system that eventually spread across the country and the world.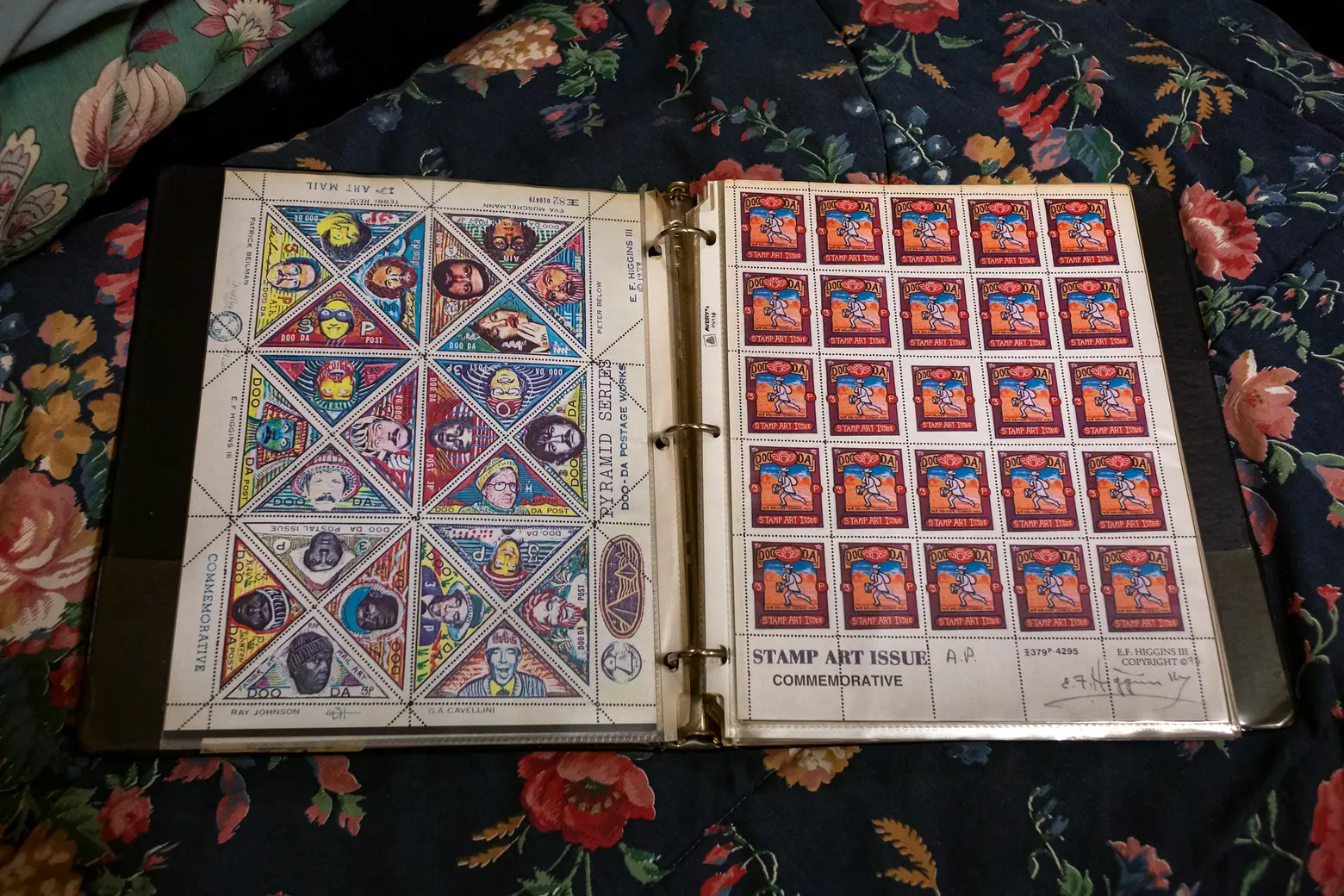 A binder full of stamp sheets Ed has created over the years.
Ed's mail art consists of images typically taken from a painting, which is then photographed, made smaller, and printed as a stamp. His postage stamps are called the Doo Da Post, which he said comes from the song "Zippety Doo Da." His famous tag is a "wingnut," slang for someone who is wacky and features a design of a bolt with wings.
Ed's apartment is filled with his own lighthearted and colorful paintings of dancing beans, fishing lures, and portraits of other artists, usually with bright graphic lettering. Stacks of correspondence he's received, empty envelopes, handwritten notes, and yellowed newspapers fill the space.
"There are hundreds of artists around the world that make postage stamps as an art form," Ed said. "Over the years, we've become aware of each other and have done things with each other."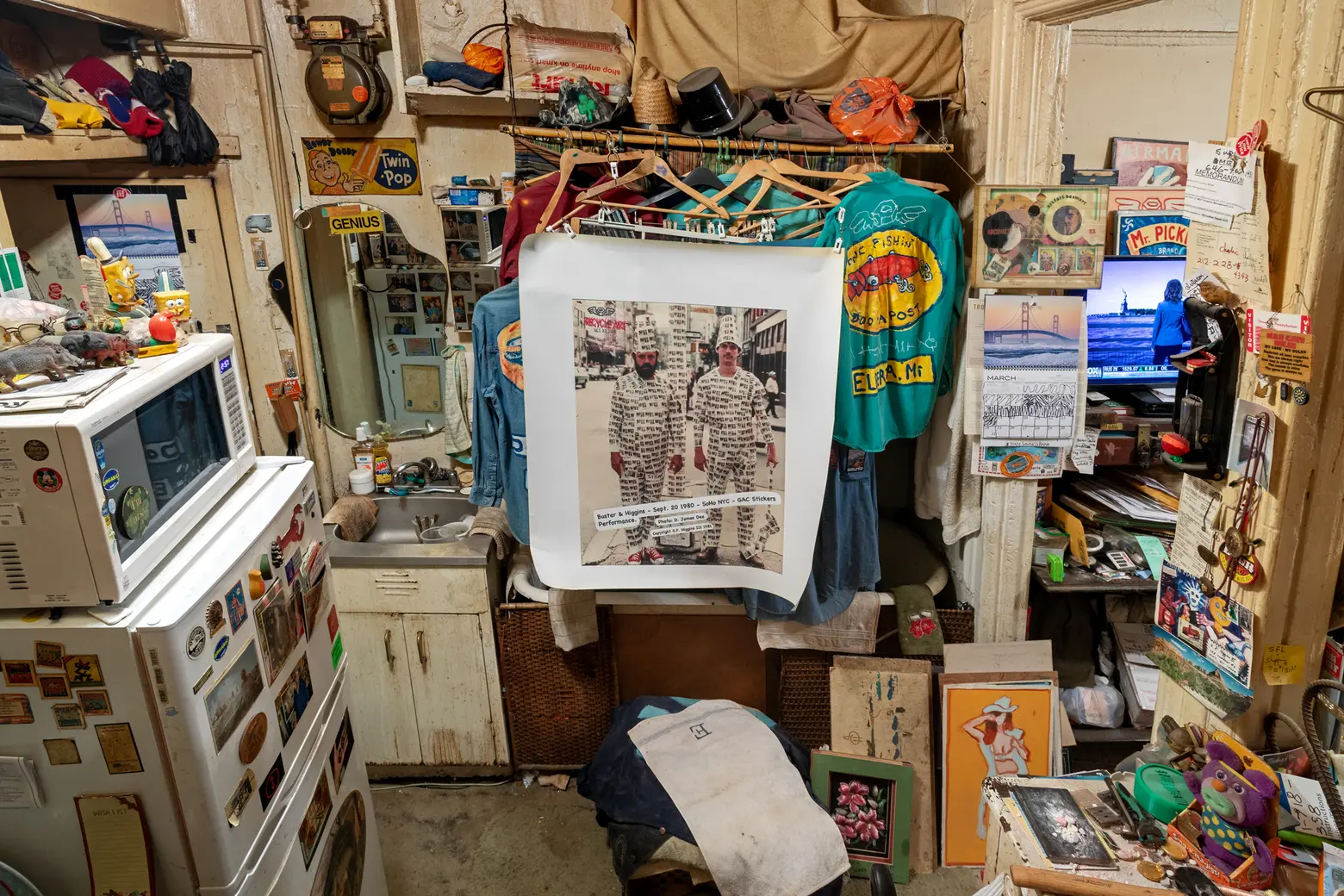 A promotion poster of mail artist Buster Cleveland and Ed hangs in a make-shift closet above what once was a bathtub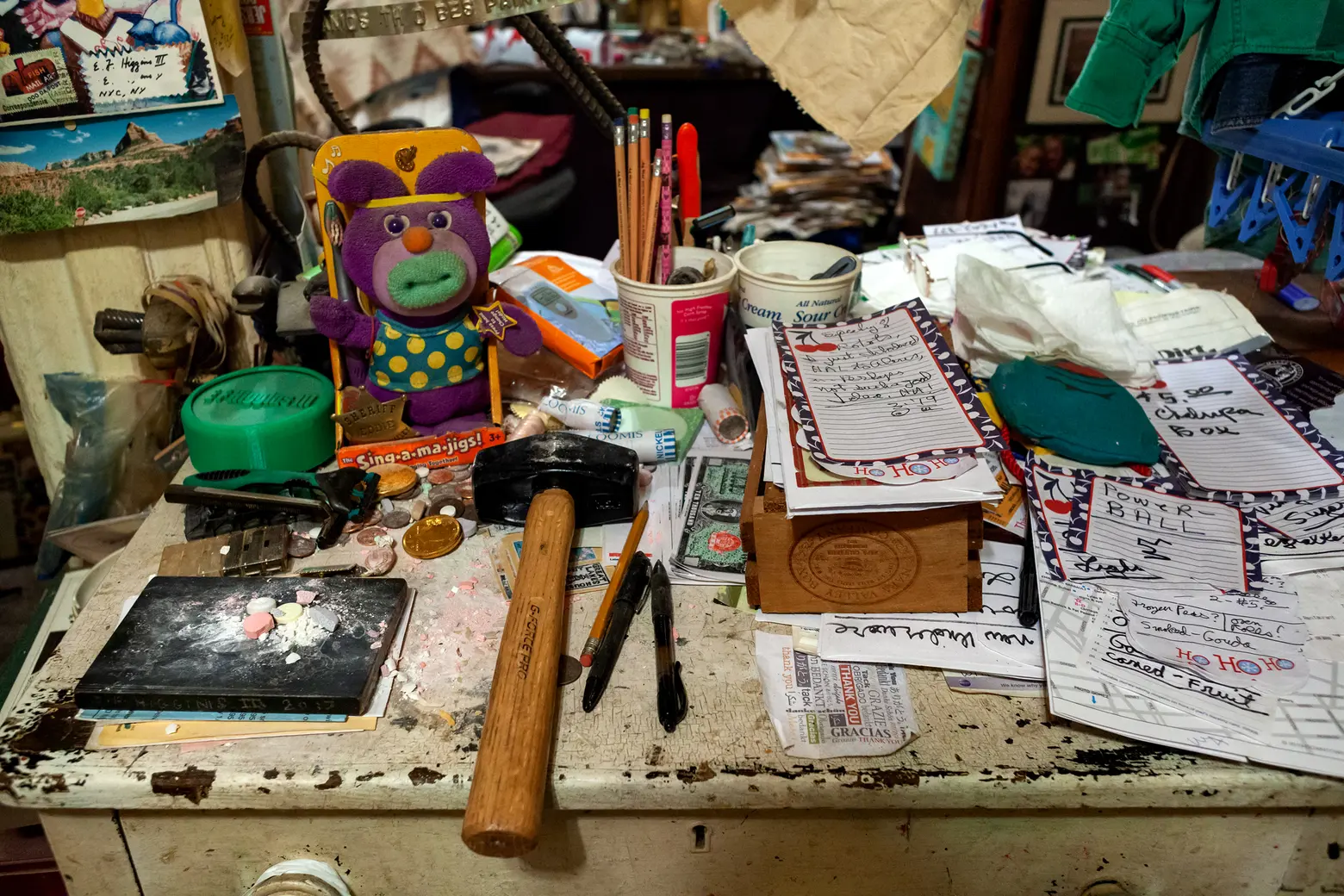 This is where Ed "bangs the wingnut" on things. To the left of the mallet are crushed up Rolaids, which he said are hard on his teeth.
In 1976, he met C.T. Chew, a Seattle-based artist who Ed describes as being a "stamp genius." For several years after their first meeting, Ed and Chew, of Triangle Post, corresponded almost daily with stamp sheets and new ideas. In 2015, they decided to write to each other every day for six months and document the work in a book. The quirky 240-page book "Gone Fishin'" was released a year later.
While Ed has managed to keep his apartment relatively the same for the last four decades, his building and the surrounding neighborhood continue to change. Half of the units in his 22-unit apartment building are getting gut-renovated and deregulated, one-bedrooms going for more than two thousand dollars over what Ed pays now.
And the Lower East Side looks very different than it did in 1976, with many of Ed's favorite restaurants and bars long-shuttered. "It started getting slightly better maybe 20 years ago," Ed said. "But it's only been in the last 10 years it's become fancy dancy, la dee da."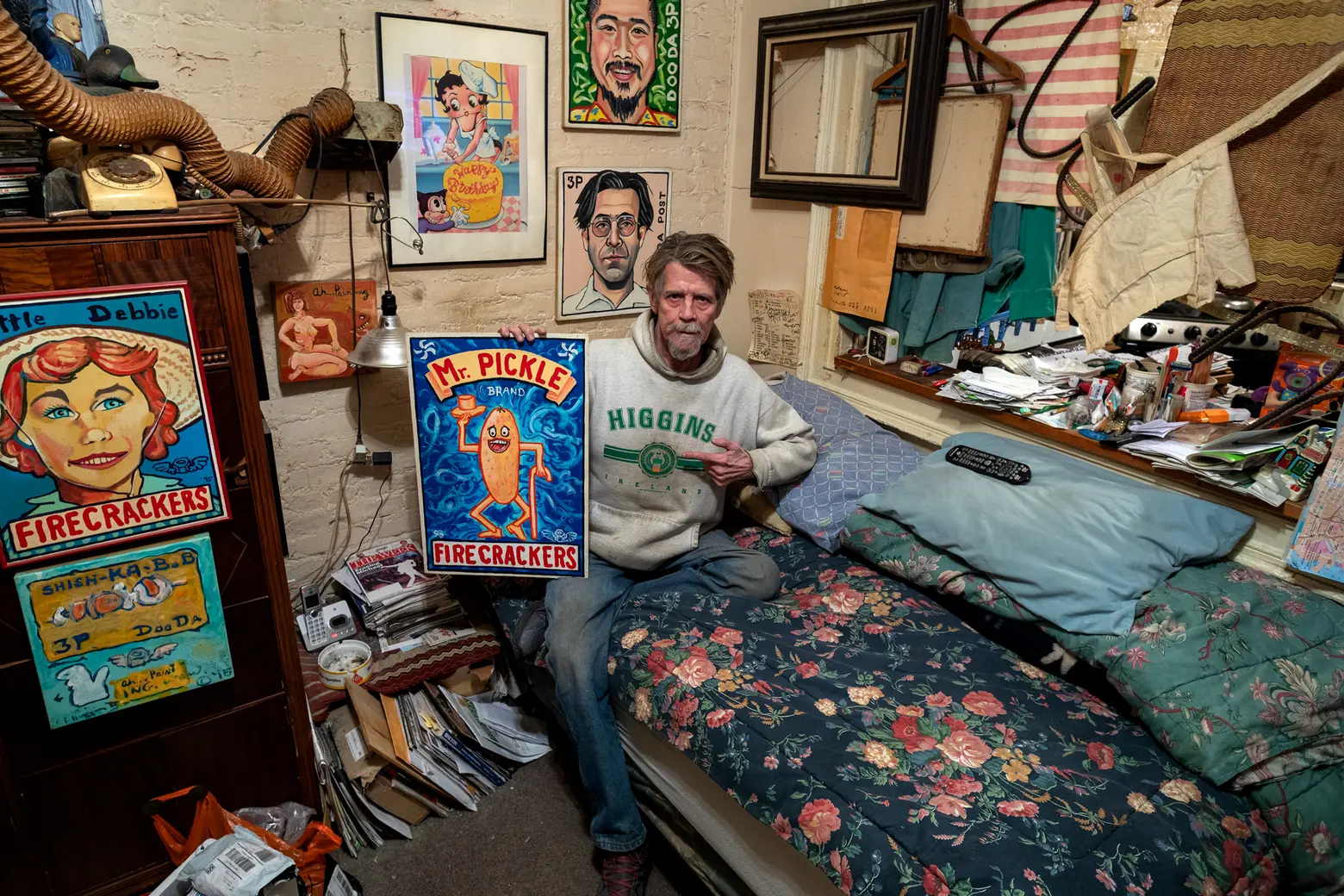 Even Katz's Deli, once a meet-up spot for artists, has become known for its pricey sandwiches. Last Christmas, Ed's sister bought him a gift card to Katz's for $25.
"I'm thinking, maybe I can get two sandwiches and invite a girl over," Ed said. "Twenty-three fifty for a friggin corned-beef sandwich? It better be a good one."
RELATED: 
All photos by James and Karla Murray exclusively for 6sqft. Photos are not to be reproduced without written permission from 6sqft