My 275sqft: Inside a Creative Director's Chic Lower East Side Micro-Apartment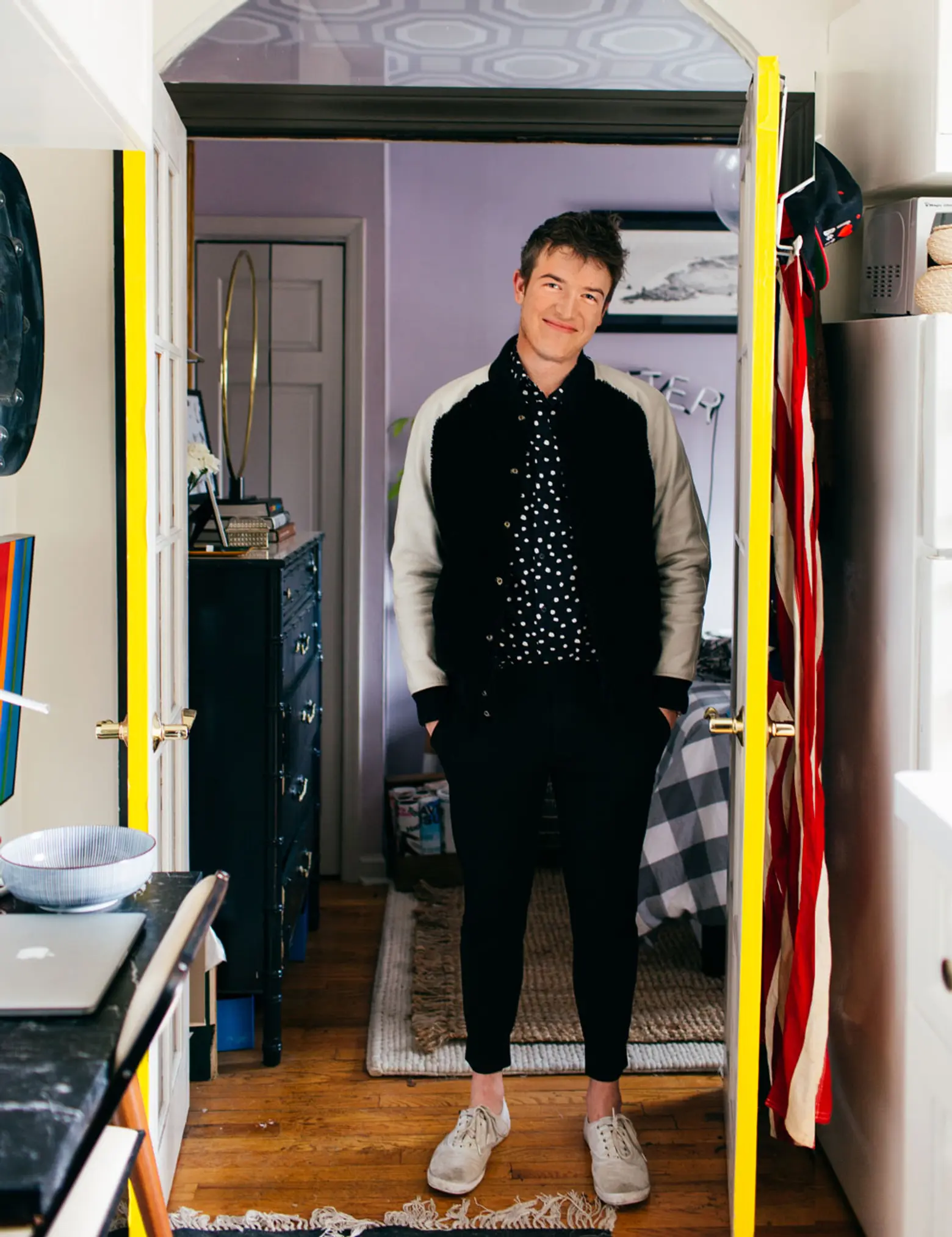 Our ongoing series "My sqft" checks out the homes of 6sqft's friends, family and fellow New Yorkers across all the boroughs. Our latest interior adventure brings us to co-founder and creative director of DNA Dustin O'Neal's Lower East Side apartment. Want to see your home featured here? Get in touch!
"Living in a small space is all about editing," says Dustin O'Neal. "You have to remove to grow."
Sage advice from the co-founder and creative director of DNA, a start-up consulting and PR firm representing some of New York's top and up-and-coming architects and designers.
While we know that cutting down your belongings is key to making a small space work, it's not often that we see tiny apartments stray from an all-white color palette to include purple, patterns, lots of art and even pops of electric orange and neon yellow. Having worked with dozens of creatives over the last few years, Dustin has picked up a thing or two about interior design, and his tiny 275-square-foot Lower East Side abode of three years reflects this knowledge. We recently visited the enterprising 26-year-old at home to see first-hand how you can transform even the smallest of apartments into a unique, style-filled space with less stuff.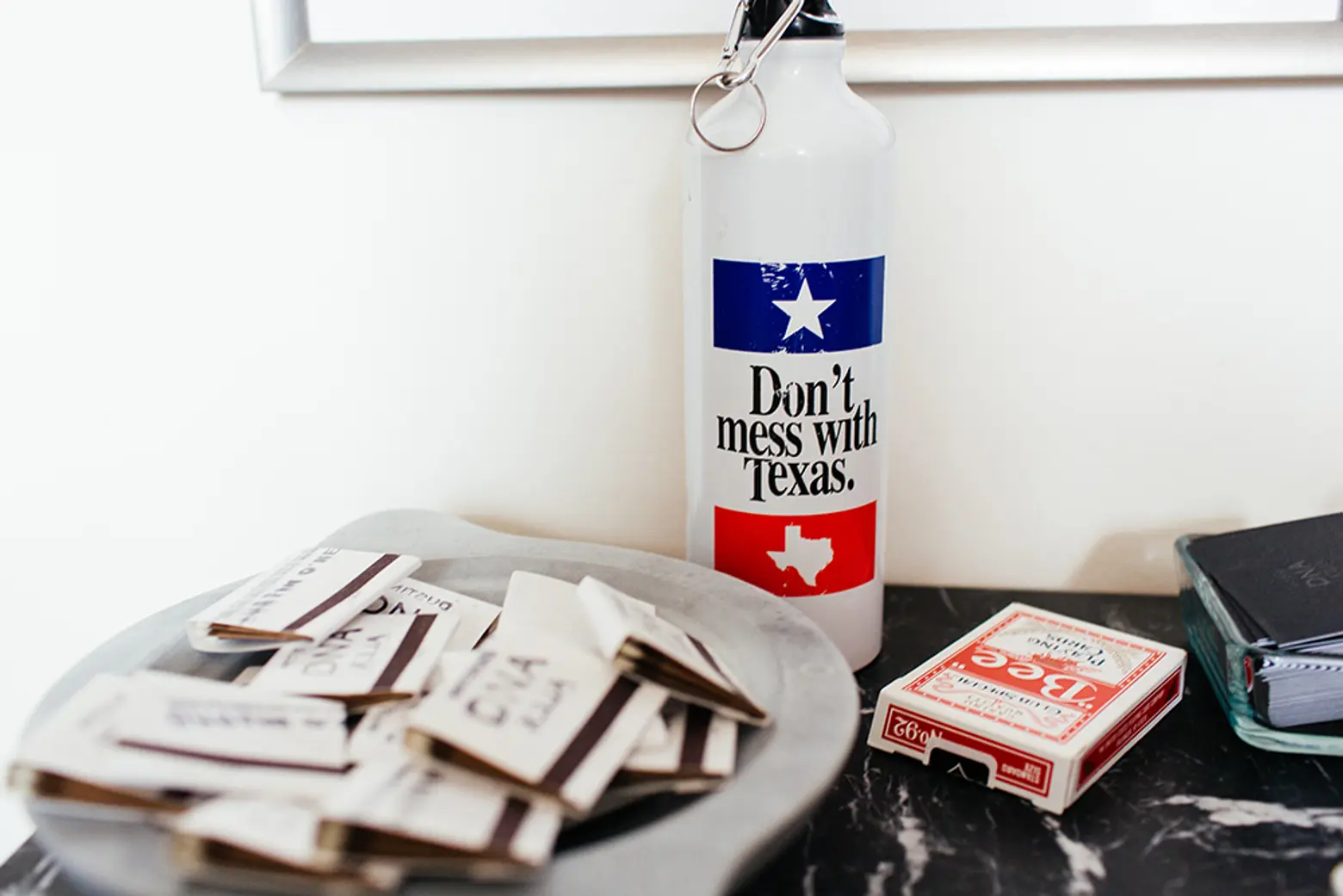 Where are you originally from and why did you choose to live in the Lower East Side?
I was born in Corpus Christi, Texas and raised in Austin. I moved to New York nearly four years ago on a whim, and after hopping around Brooklyn sublets for the first few months, I knew I wanted to live in Manhattan. I wanted to live downtown, and I wanted to shred my air mattress and light the remnants aflame. But everything changes below Houston; people carry themselves differently. I think because it's always been "cool," from Madonna to Pat Fields to Basquiat. Not saying they lived here, but they are part of the fabric of downtown New York.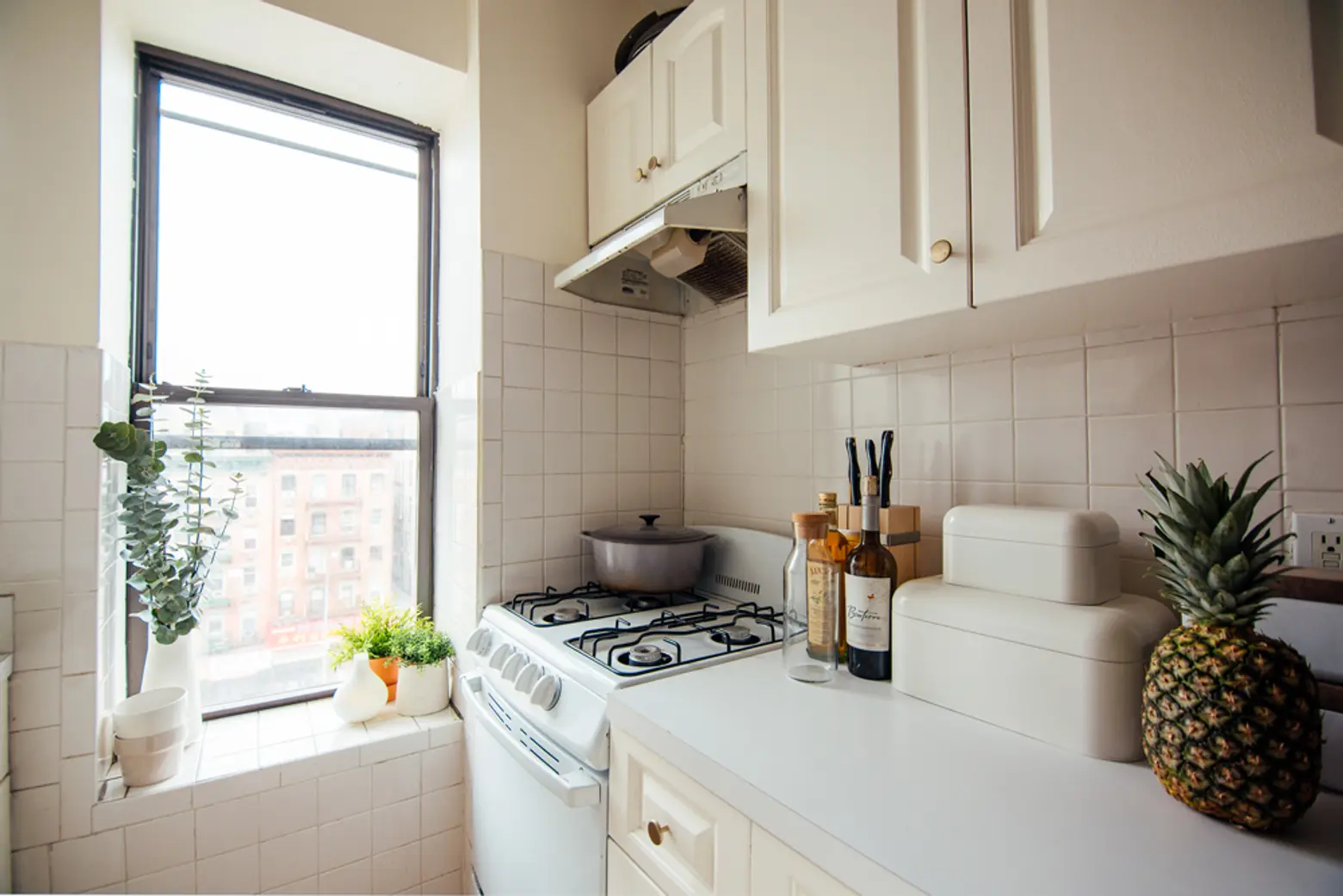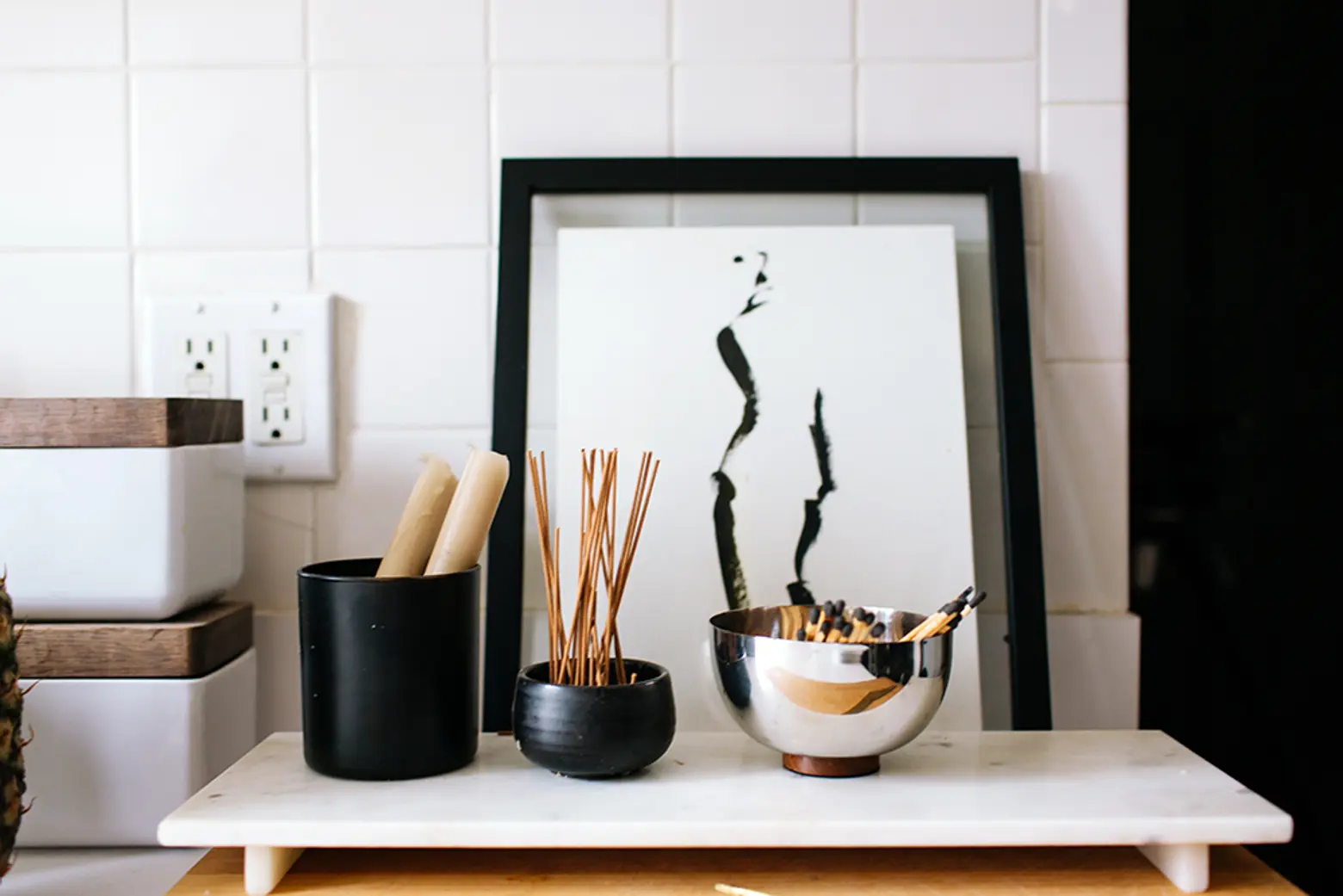 What do you love and hate about the neighborhood? 
The Lower East Side is awesome because every block feels completely different. And look, I'm only 26, and a proper critique probably requires a bit more context, but I do think the Lower East Side needs something big to happen. Not a high-rise—god no—but more interesting projects like The Lowline. Maybe we need a rooftop trampoline park or something. Actually that sounds really dangerous.
What are some of your favorite places in the neighborhood?
I take margaritas very, very seriously, but there's a Mexican place across from my apartment called Casa Mezcal, and every time I walk inside I feel like I've uncovered some hidden secret. RPM, a bar on the corner of Broome and Allen, has at least one amazing bartender—named Zach—and the weirdest crowd of regulars of any hangout I know of in the city. I've even seen someone working on their laptop at the bar after midnight. There's also a super cute shop in my neighborhood called Top Hat, and it's my go-to for those hard-to-find life essentials: imported incense, sturdy thermoses from Japan, rolls of tape printed with illustrations of little ducks. You know, things geeks like me need to ward off boredom.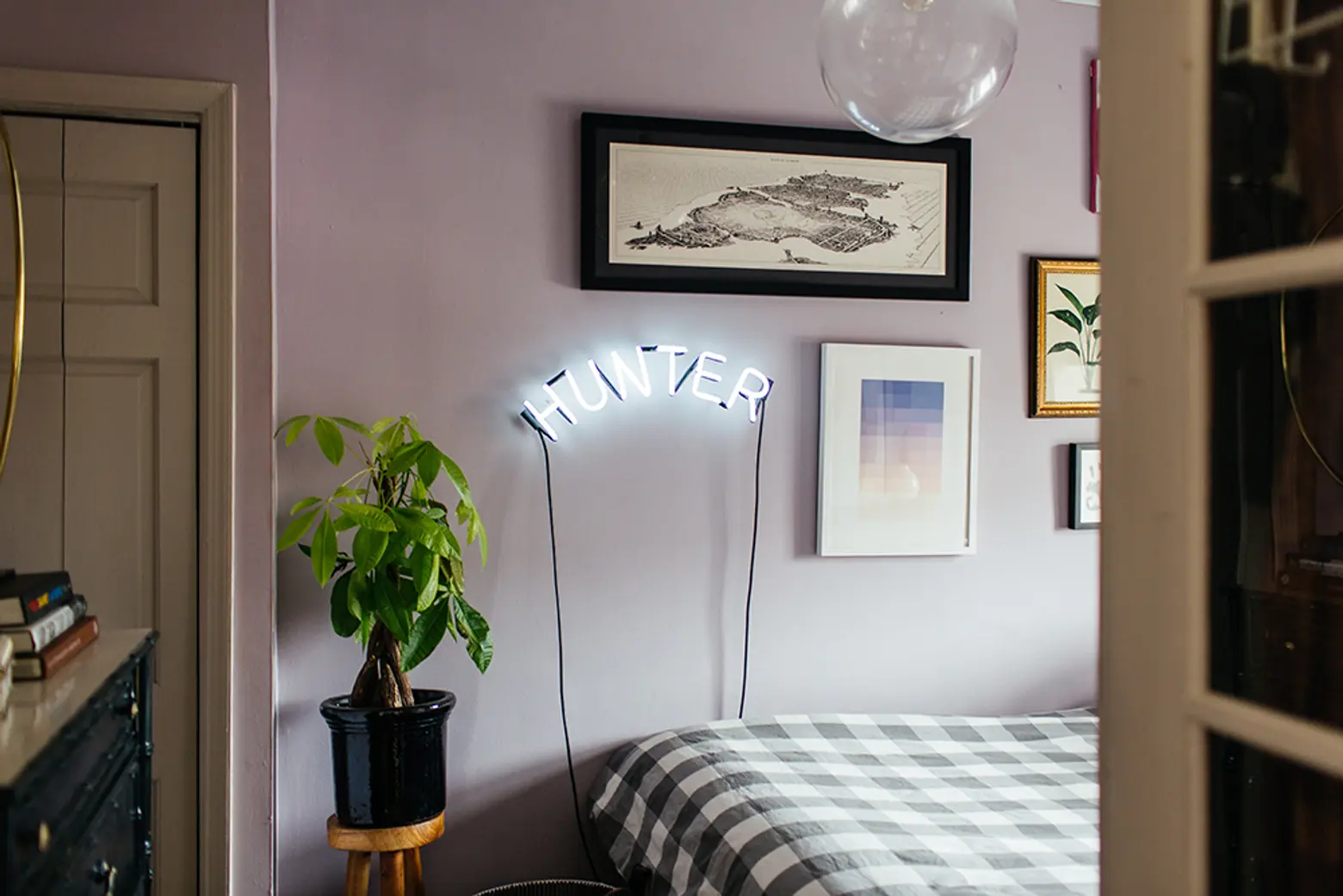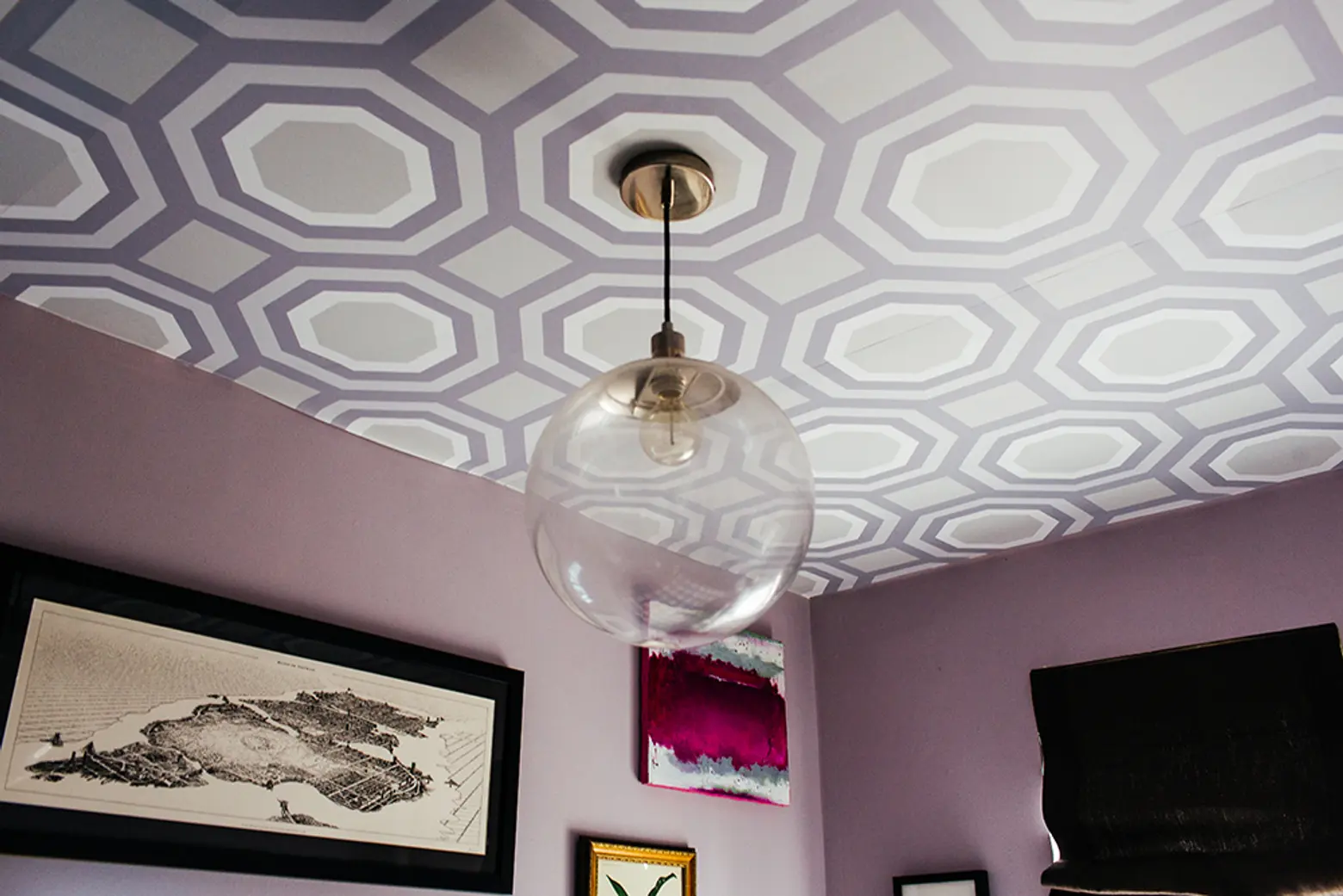 From the top: (1) The "Hunter" sign was found in Connecticut; (2) The ceiling is covered with a custom patterned vinyl wallpaper; (3) Much of Dustin's artwork, which he says is his favorite thing that fills the apartment, were gifts from his friends, boyfriend and father. The shade is Belgian linen from Dmitriy & Co., while the bunny was an Easter gift from a past client
You started your own company last year, can you tell us a little more about that?
I'm the co-founder and creative director of DNA, a start-up consulting firm on Great Jones. What we "do" is kind of vague because we do everything from high level marketing strategy to PR and identity design for companies in the industries of cultural innovation and human health, but my business partner Alex Polier and I are born problem solvers. We break up our workday with intermittent Justin Bieber dance sessions. And on Wednesdays we wear whatever we want.
Do you think that your job has helped define or refine your interior design style?
My work and the brilliant people I've been privileged to work with have totally refined my interior design sensibilities. But because I'm kind of a perennial student of the industry, that sensibility is constantly shifting in reaction to trends I grow tired of. I've ended up in a very comfortable place in terms of personal style, and it's defined by a Woody Allen-esque sense of humor. Life in New York is darkly funny, and my space tells a story that makes me laugh, at least in my head.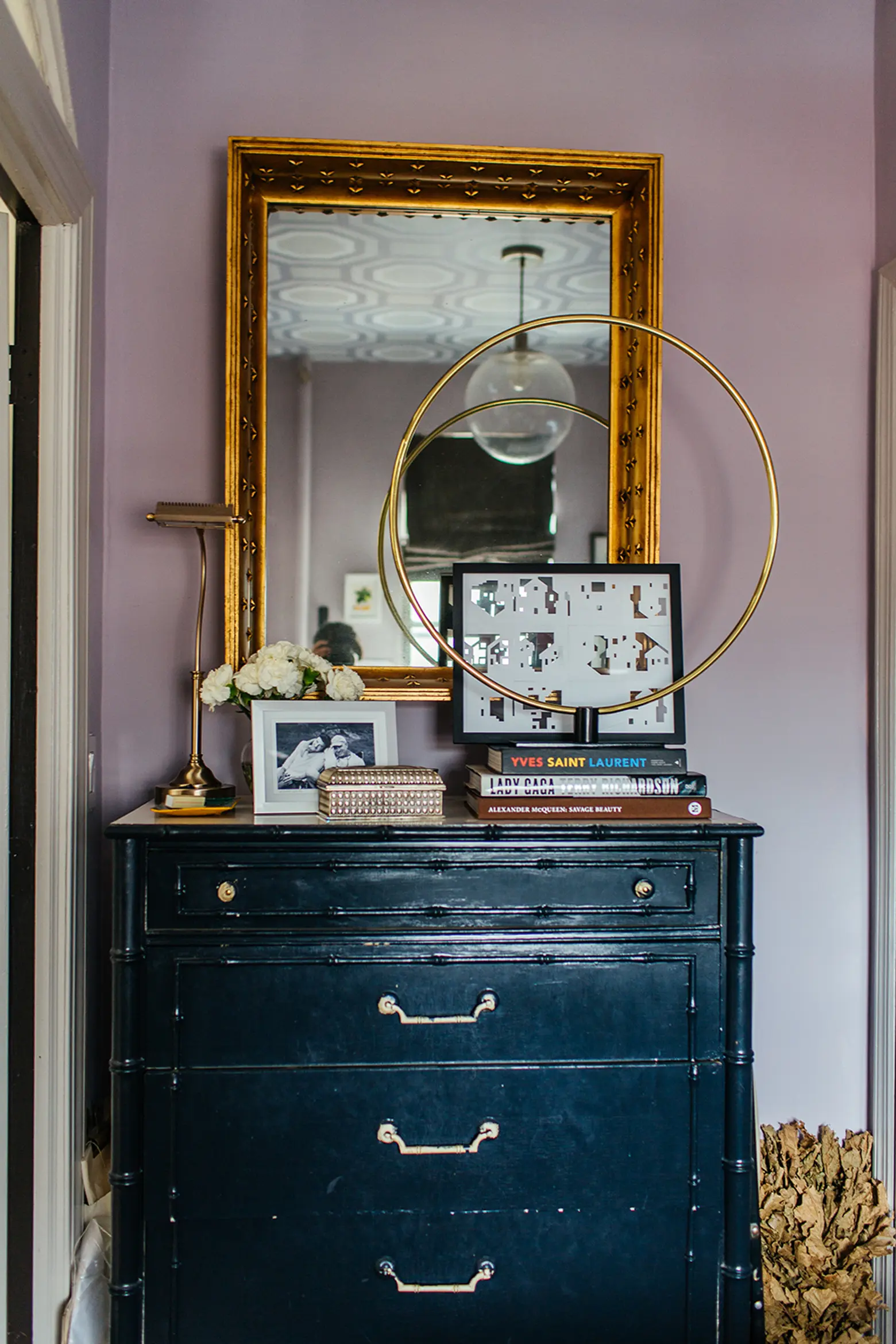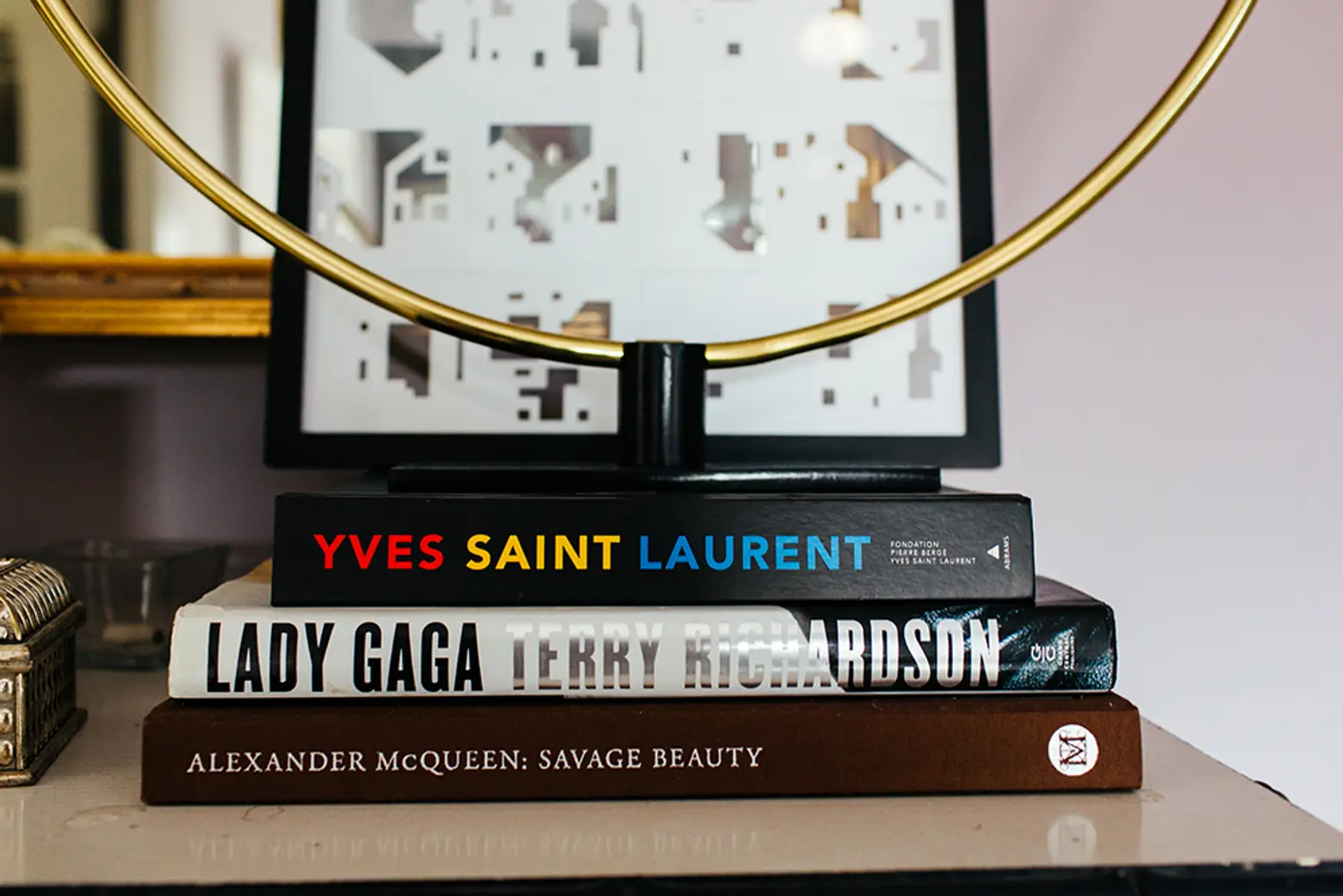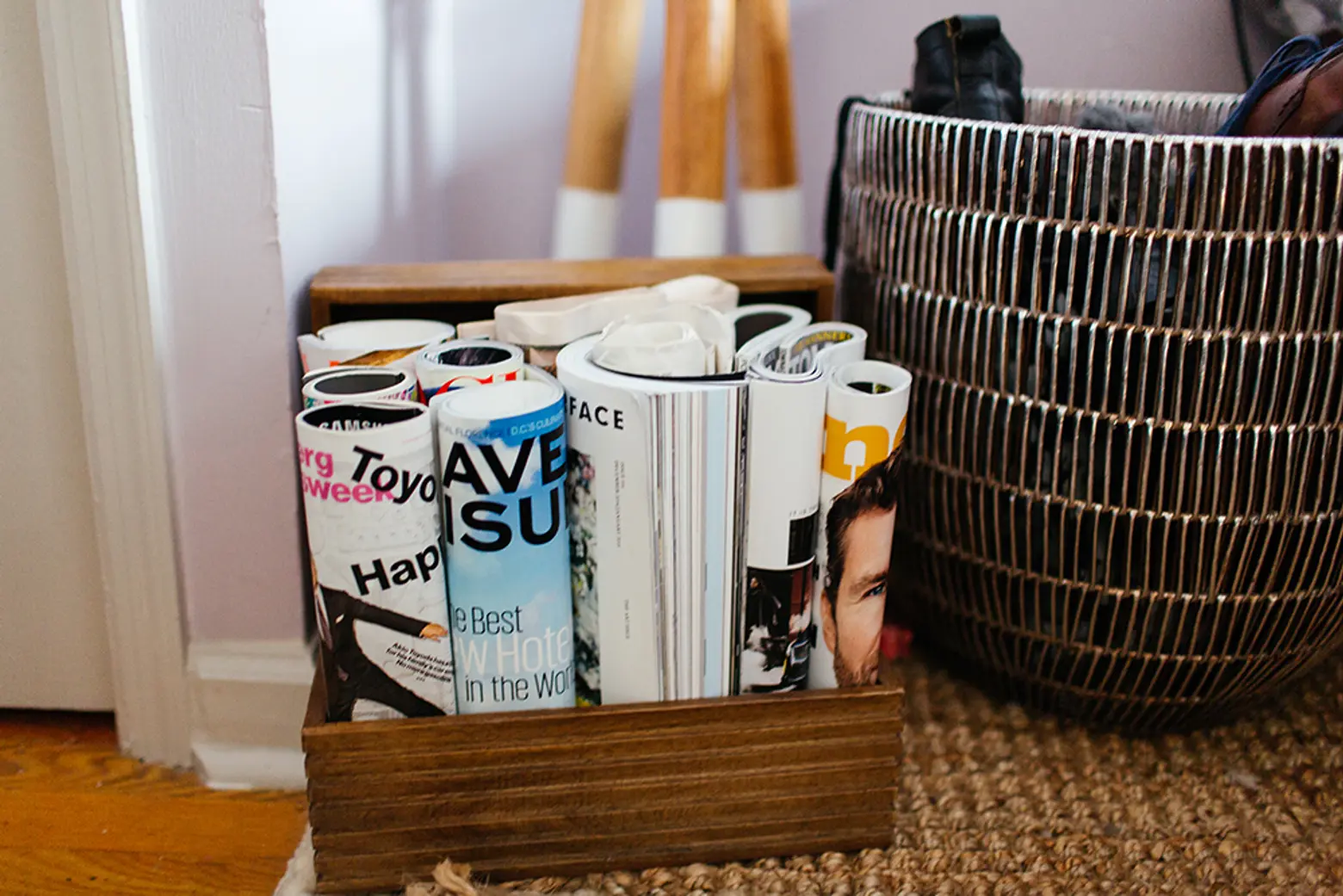 What are the biggest challenges with living in a such a small space?
The challenges of living in a small space actually change as I get older. The struggle of keeping a tiny apartment clean and organized is very real, but once I got that under control I now just feel like I need more space to think, period. My work is incredibly high stress and, coming from Texas, I'm used to throwing myself on a huge leather couch and wrestling my dogs on the rug when I need a break. But in my apartment the only comfortable place to sit, or eat, or watch Netflix, is on my bed. Guess it's not a problem when a boyfriend's around, but a friendly dinner party starts to feel like a sleepover when your dining table is an Ikea duvet.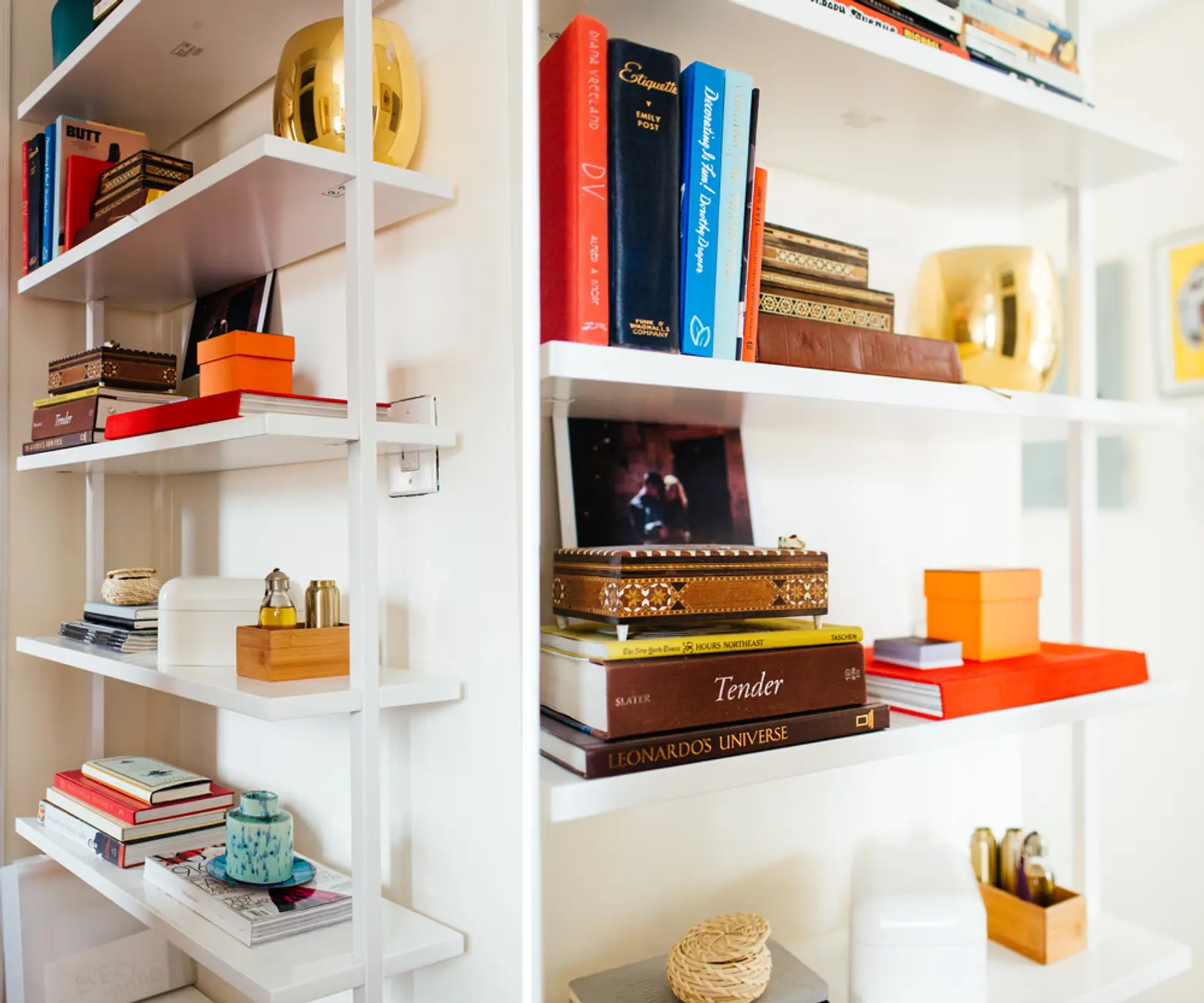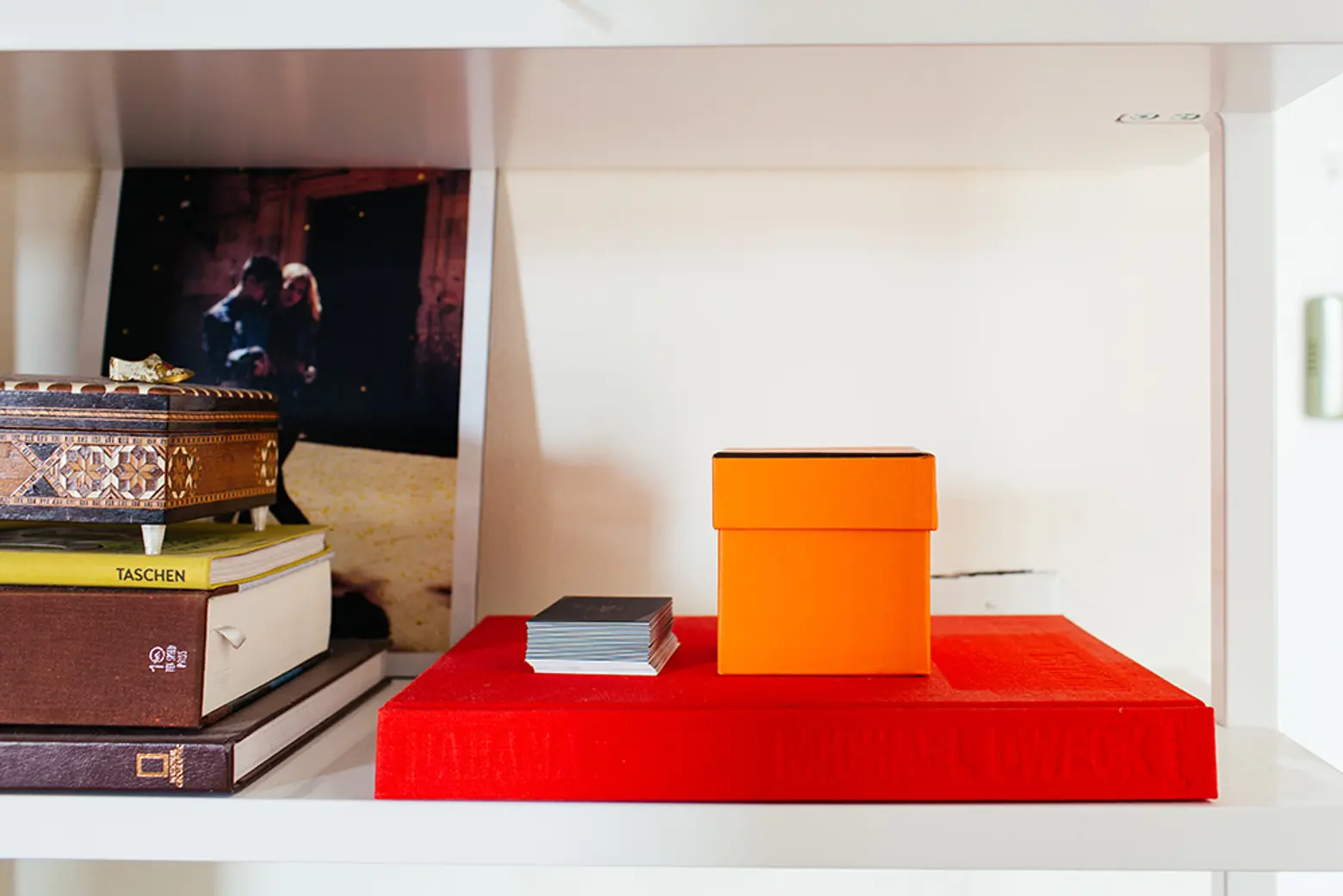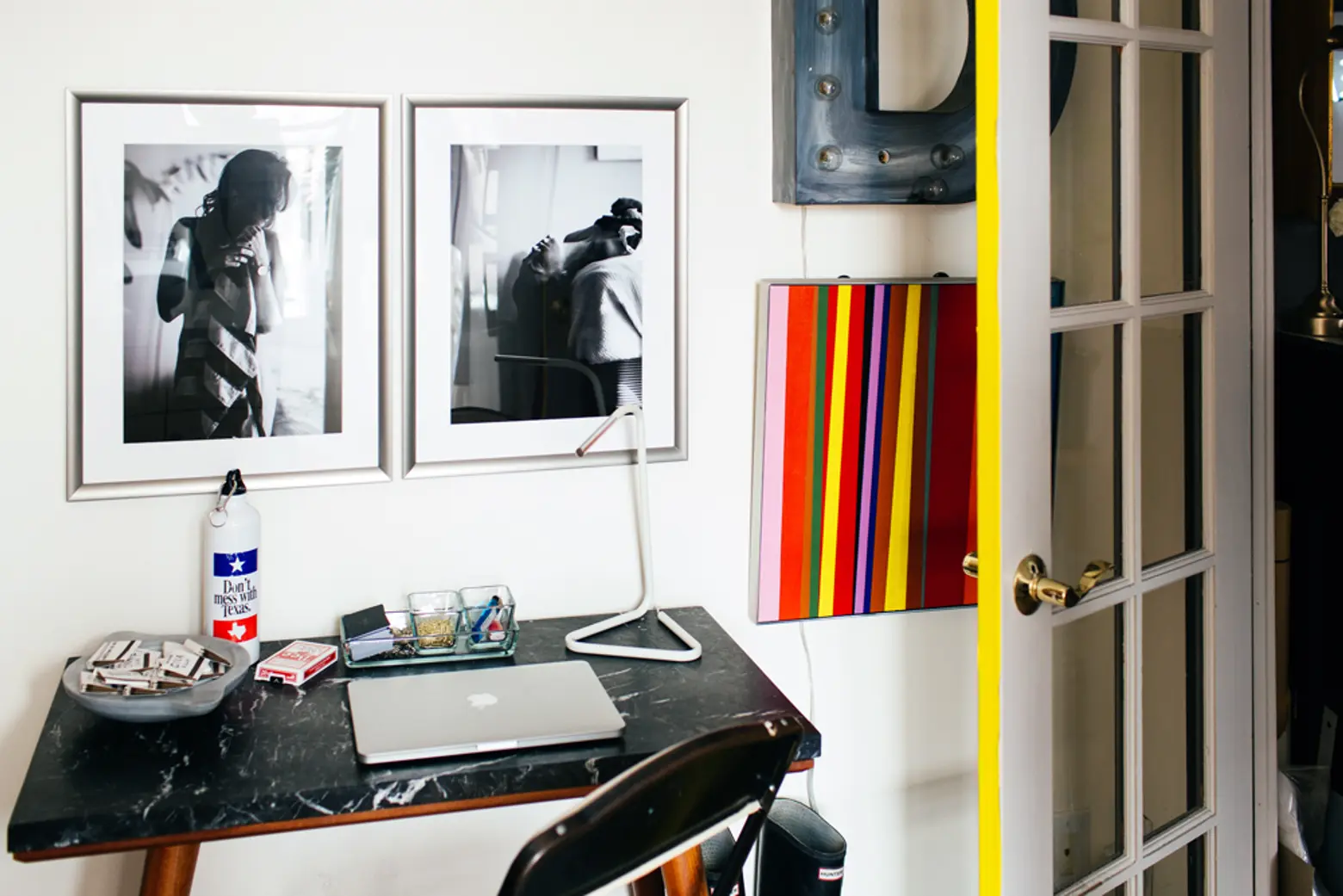 The two photos above Dustin's desk are of a friend taken by Dustin's photographer brother Dillon in the apartment; The desk is made from a remnant piece of marble given to him by a contractor. Dustin had a custom base built to suit
What's the best design tip you've gotten from one of your clients?
I have learned two basic principles that guide my instincts in interior design and, really, any design project for DNA clients: First, don't take your space so seriously, because nothing is permanent, especially design preferences; second, learn to let go of things when they lose their "magic." Daun Curry, Robert Passal and my partner Jon Call have been my biggest influences.
What's one design tip of your own you'd like to impart?
Design for utility above everything else. The last thing anyone needs is an argument with their space. People will fight without remorse. So keep your floors clear, your stuff organized and your tub clean at all times in case you need an emergency bubble bath. It happens.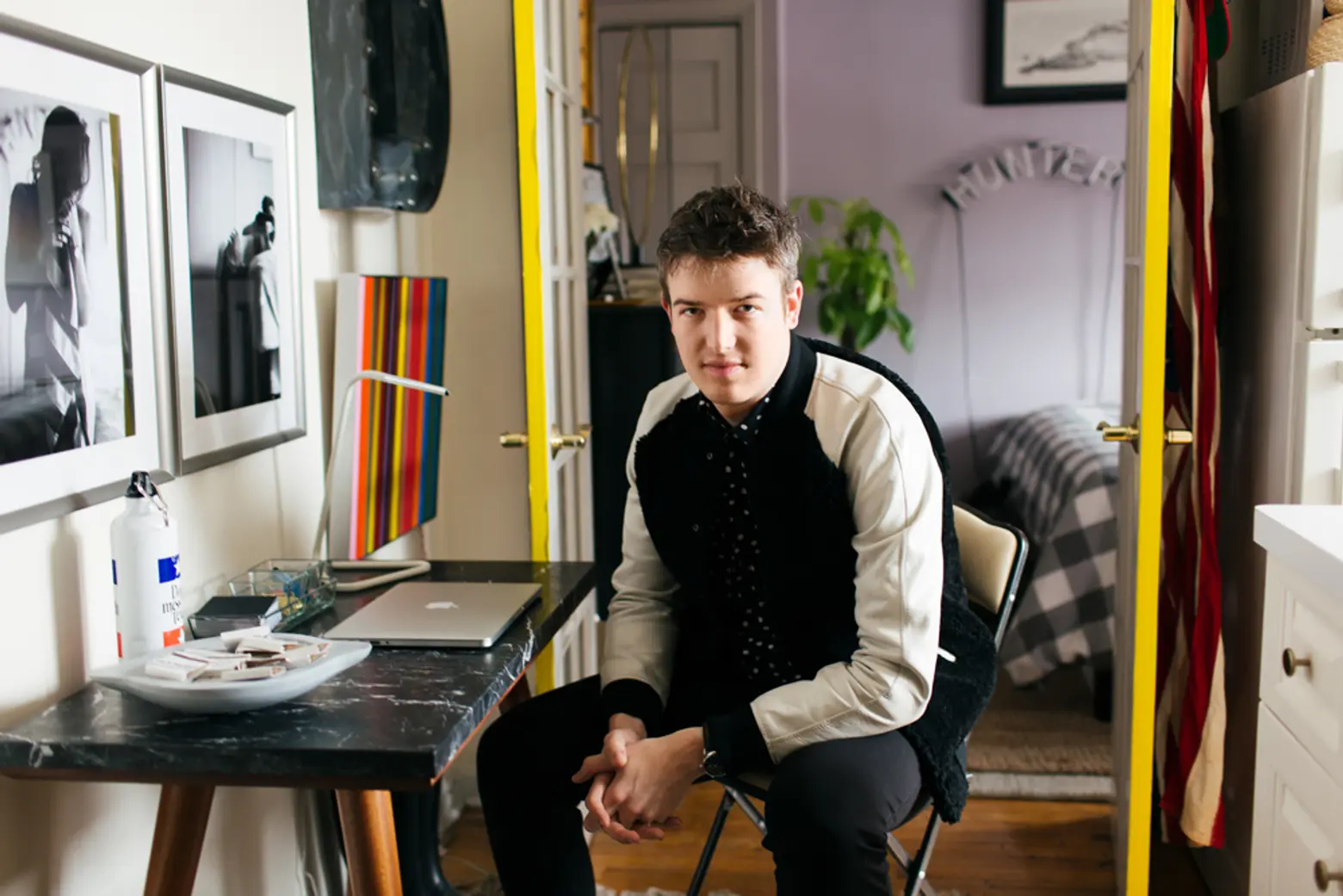 Follow Dustin on Instagram at @imdustinoneal. Find out more about DNA here.
RELATED:
All photos taken by Erin Kestenbaum exclusively for 6sqft. Photos are not to be reproduced without written permission from 6sqft.