My 800sqft: Art curator Blair Russell brings Miami to Midtown with graffiti art and fluorescent finds
Our series "My sqft" checks out the homes of New Yorkers across all the boroughs. Our latest interior adventure brings us to Blair Russell's Midtown
 apartment. Want to see your home featured here? Get in touch!
Florida native Blair Russell spends half of every month in Miami. And for the other two weeks, Miami comes with him to his New York City apartment. The curator-creative has decked out his Midtown abode, located in a 1910 building formerly home to an upscale children's apparel store, with fluorescent colors, graffiti art, and international finds, all while mixing in a mid-century modern flair. Blair first bought his home on 35th and 5th one month after September 11, at a time when living next to the Empire State Building wasn't exactly a selling point. "It used to be called the dirty 30's when I moved here in 2002," Blair told us.
A self-described third-generation artist, Blair made a career in Florida by helping developers outfit South Beach properties with art. Later, with housing experience under his belt, he began converting abandoned buildings into affordable housing for local artists. Now with real estate further in his rearview mirror, Blair is focusing on traveling and curating art for clients. "Everything I've done, I do it for one to 10 percent of the population. If more than 10 percent like it, it's probably not going to happen with me," he said. Ahead, see Blair's eclectic apartment, from his orange-painted orgy centerpiece done by a Warhol protégé to a door he took from the last peep show on 42nd Street.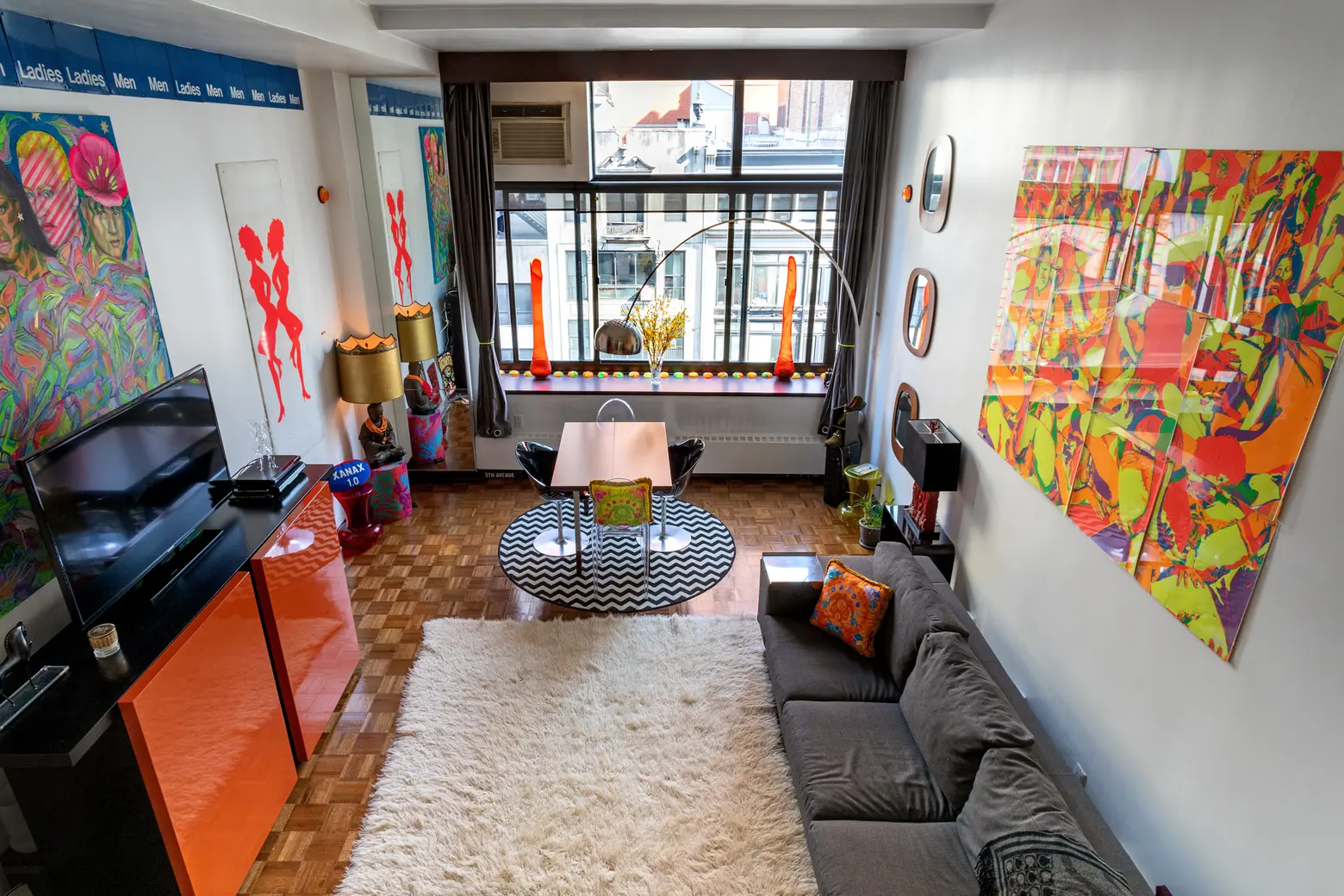 View of the apartment's living area from the loft; the 9-foot-long cashmere sofa is from Roche Bobois. Blair bought the orgy painting above the sofa from an estate sale at the Chelsea Hotel; it was done by an Andy Warhol protege.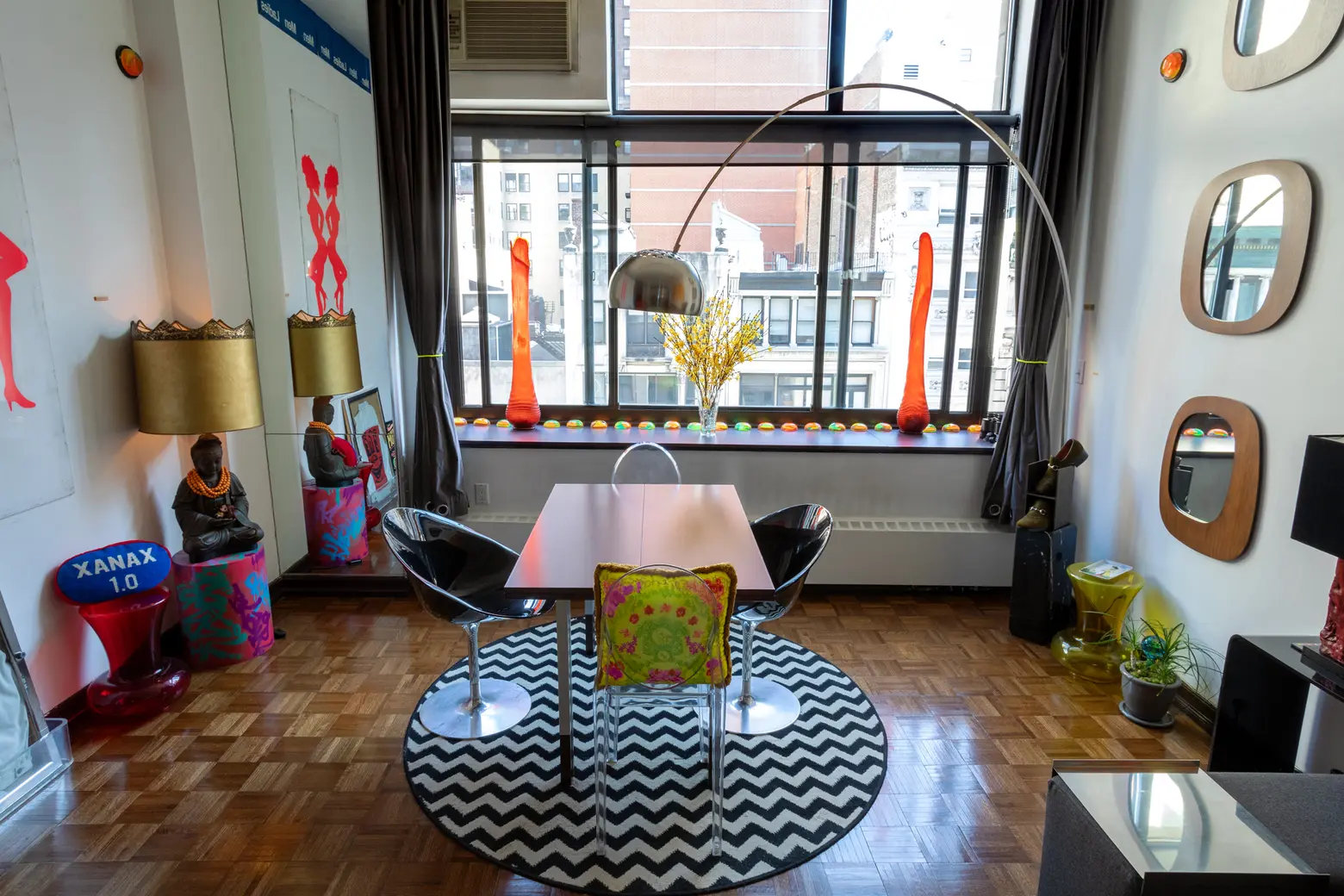 What sold Blair on the building? "If you walk in the front door, you can see this Juliet balcony, which looks like nothing, but it gives me a feeling of not being in Midtown."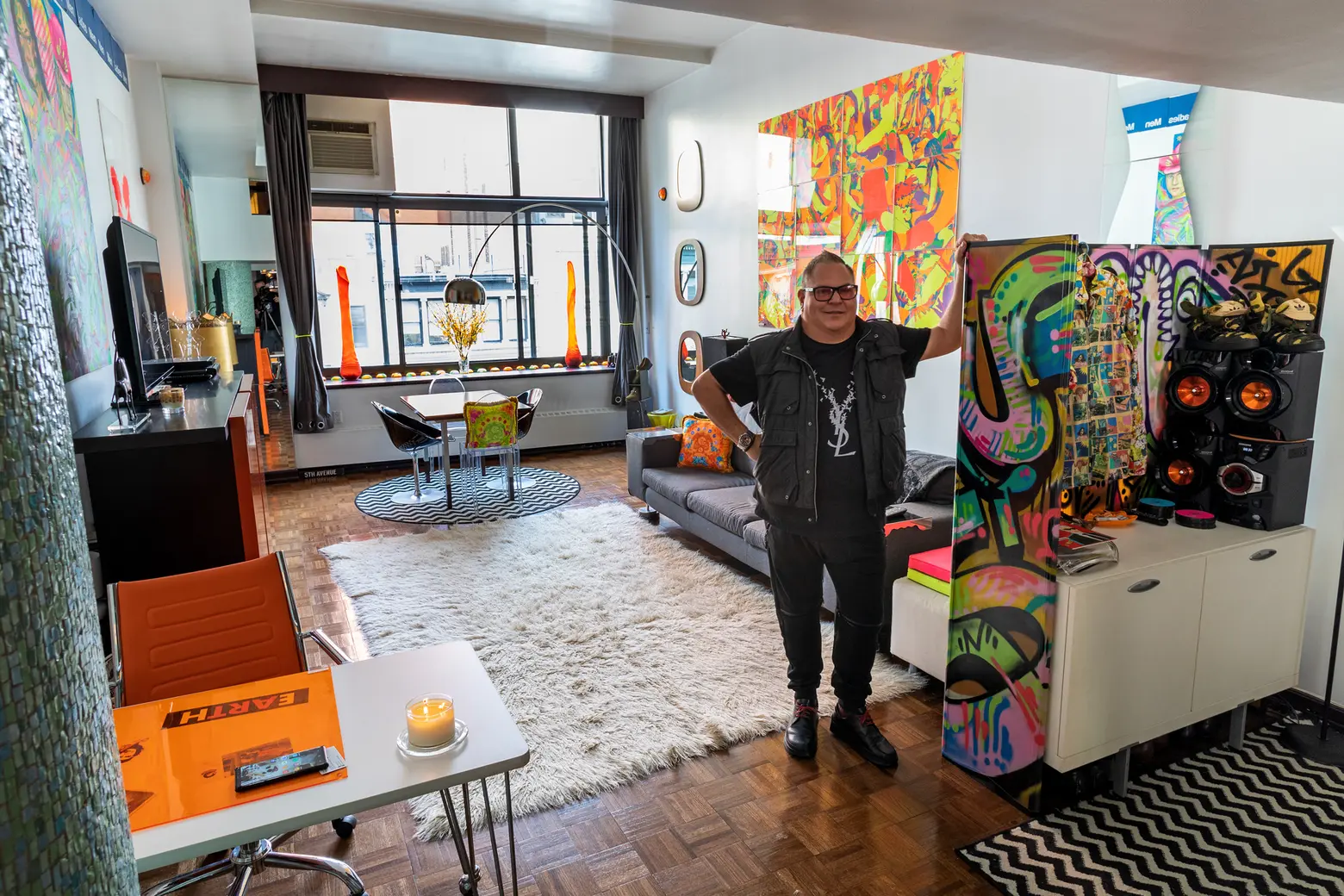 The Herman Miller screen was painted by graffiti artist Miles Wickham
Tell us about your background. Where are you from? 
I was born and raised in Palm Beach and then I moved to Miami. In 2002, I closed on this apartment thinking I was going to transition up here. But what I was doing in Miami, it's just so much easier. I have a backyard and a car.
I used to do affordable housing for artists. Although I'm a third generation artist, I always made money in housing. So I did this thing called "Art-partments." I would buy these crappy buildings, and I'm like I don't want to be a slumlord if I don't have to. I would bring in all my artist friends and they would just paint.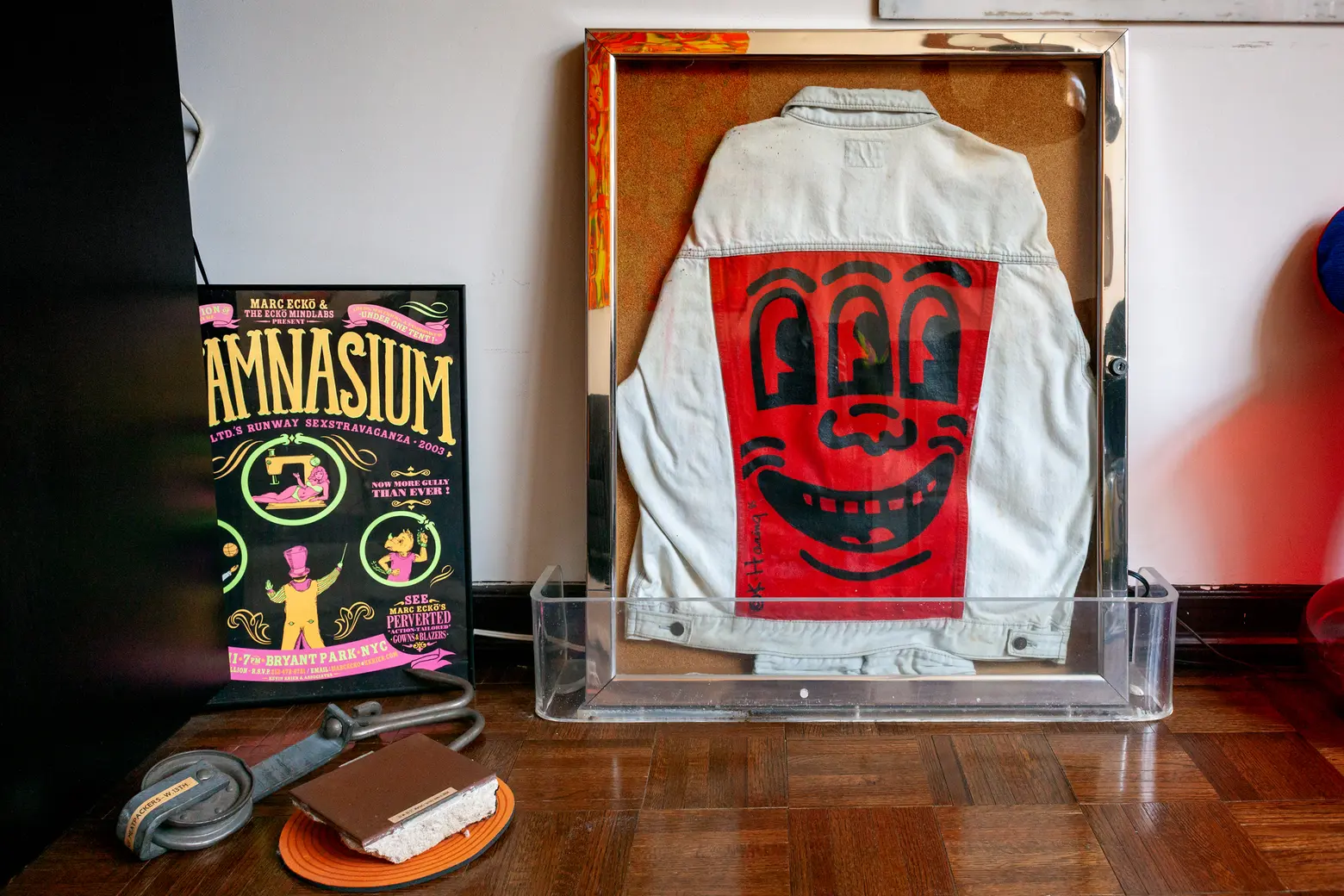 Blair has remnants of Diane Von Furstenberg's West 13th flagship and Andy Warhol's Factory on East 22nd Streets; A framed jacket painted by Keith Haring sits on the floor.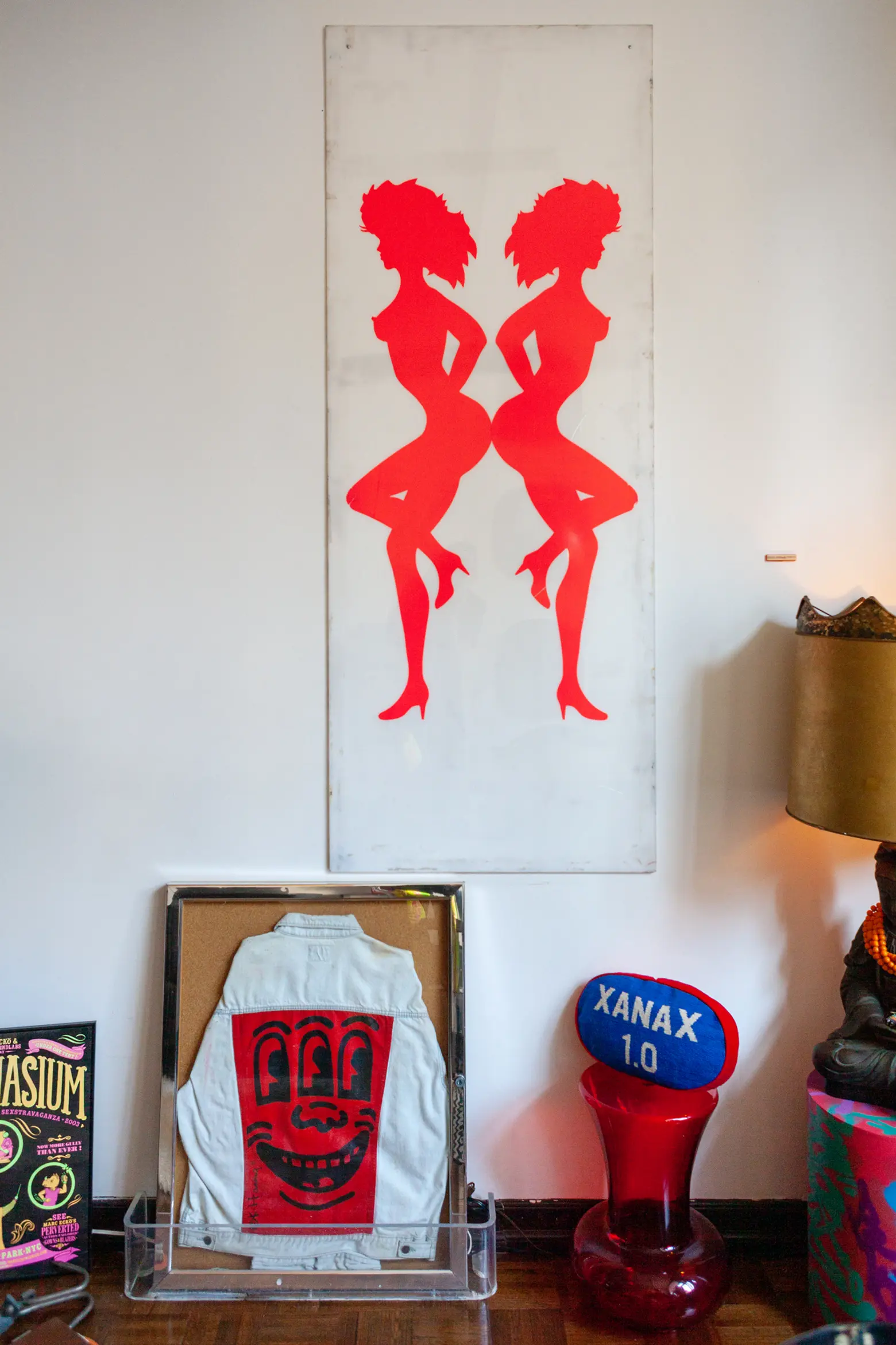 Blair spent $40 on the peep show door; he dragged it home from 42nd Street to his apartment.

Blair has commissioned a 6-foot-tall chandelier of a silhouette of First Lady Melania Trump, drawing inspiration from the peep show door. Why Melania? "Why not? I'm fascinated with her."
How did you get started in art curation and real estate? 
I started in 11th grade when I got a scholarship at the University of Miami from the Beaux Arts Foundation. My mom was an artist, my grandmother was an artist. I was bopping around the world when I met these guys. They were like, 'you need to come work for us.' They said come to Miami, we're converting these old folks homes and we need a stylish guy to get the artwork right. I was helping them stylize these places. Well, the places flip and sell in eight months.
I was seeing what these people were making, and the guys are like you're amazing, you should get your real estate license. I'm so not that person. But they talked me into it and I ended up doing 16 buildings with them. From there, I was chosen by a Brazilian company to do all this stuff. I just wanted to do marketing and styling, that side of my brain, but the money is on the other side. I worked in Brazil and it was an amazing opportunity.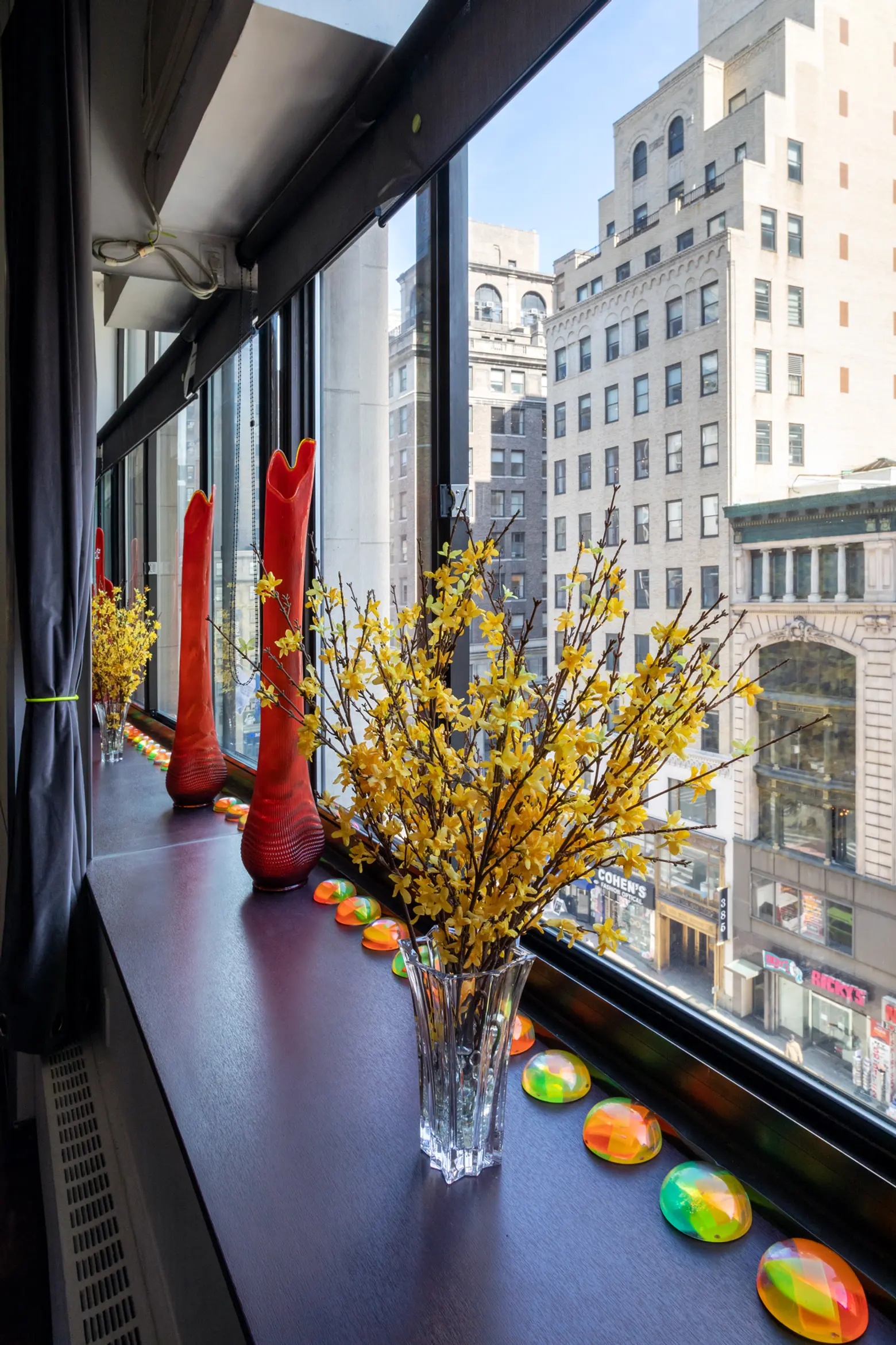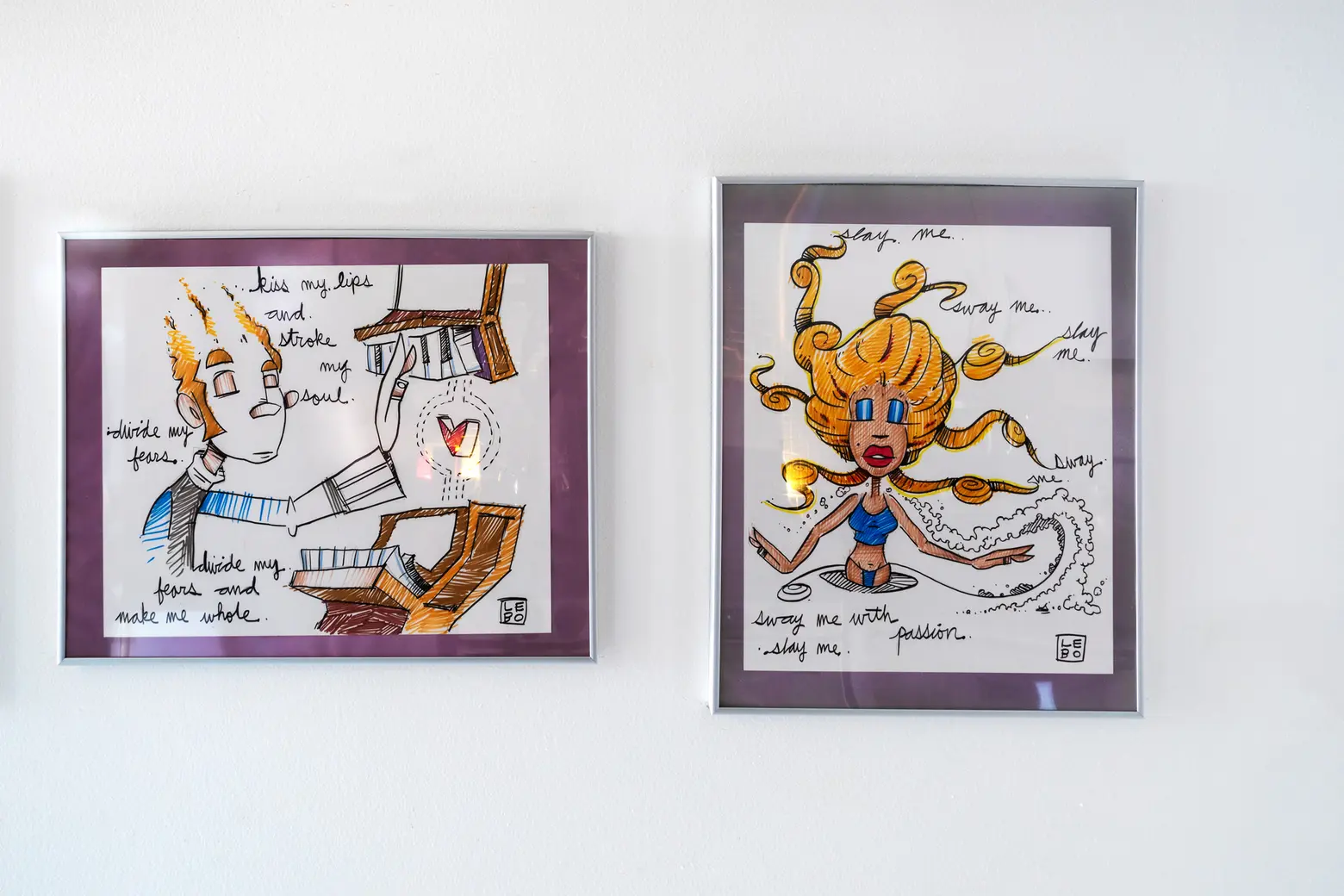 Artwork from muralist David Le Batard, or Lebo, hangs in Blair's kitchen.
How did you end up in this building? 
I bought the place a month after September 11. You know there's a 102-story building next door and we share this gorgeous roof terrace and everyone was afraid. So half of the building was for sale.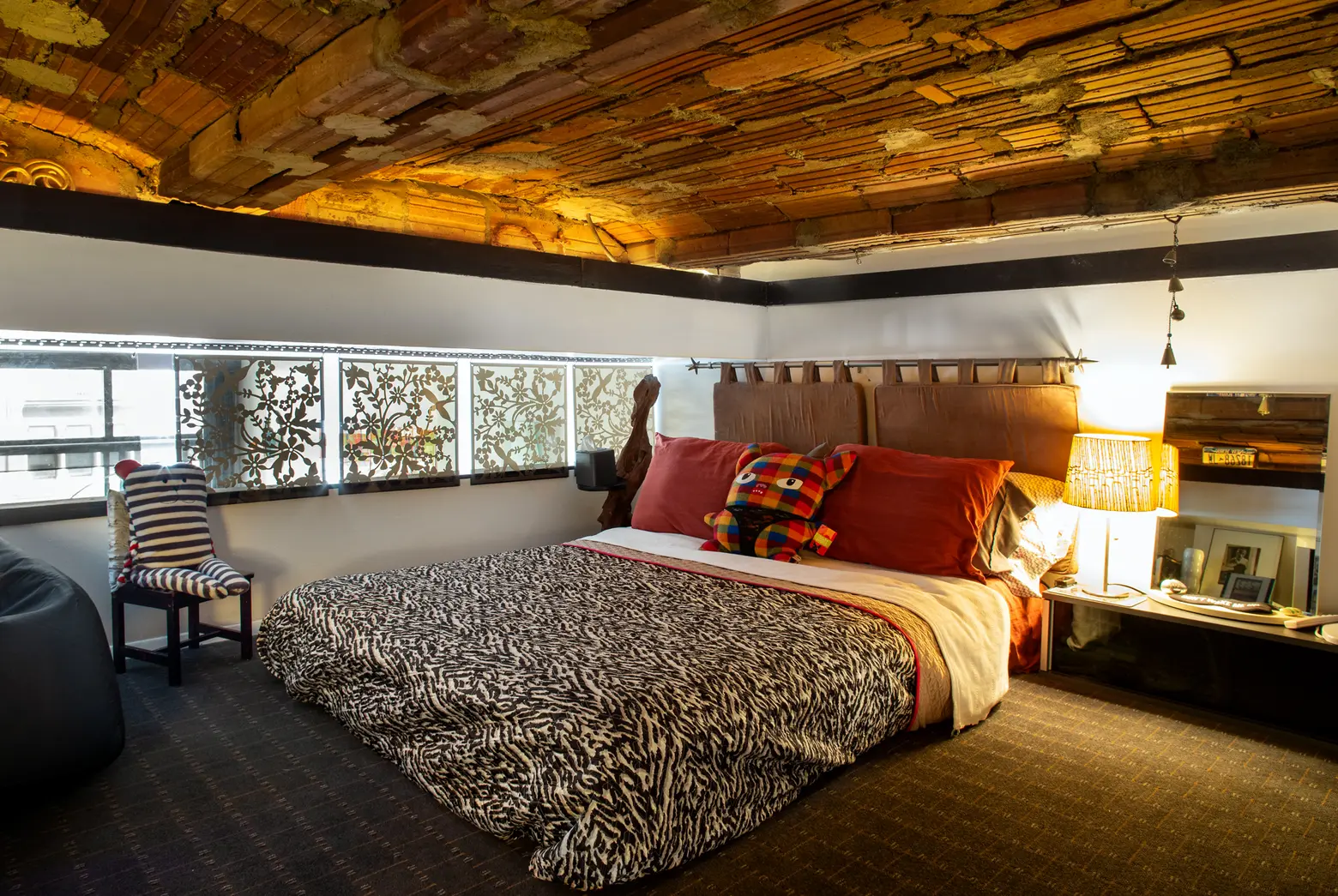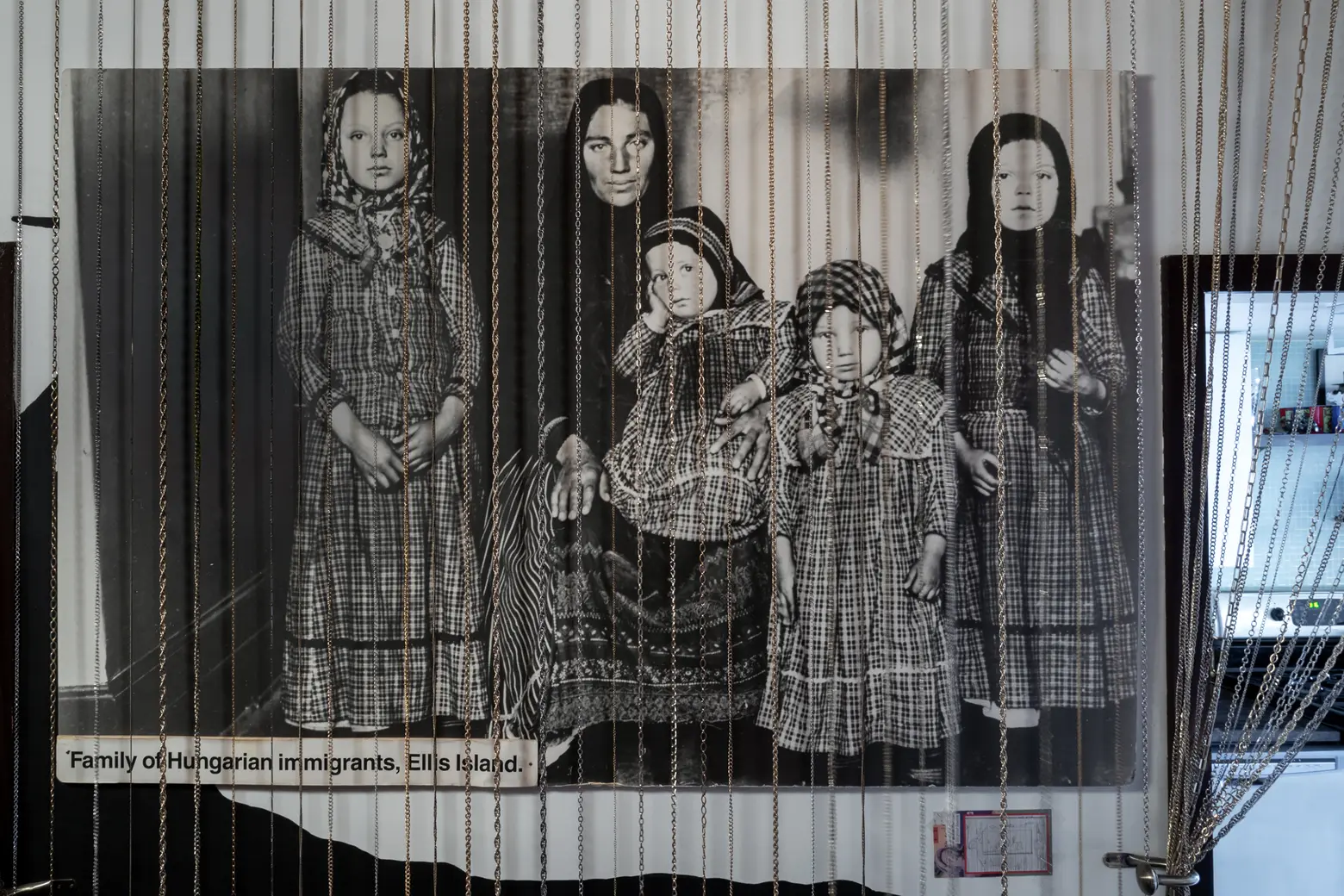 Blair installed chains over this photo of Hungarian immigrants.
Where in New York were you living before?
I was living at the Chelsea Hotel, with the hippie-dippie doos and the Ramones. I said if there's any time to buy, it's now. And I couldn't' afford the Chelsea Hotel for sure.
What was living at the Chelsea Hotel like?
Oh my god, let's do a side book. It was just sex, drugs, and rock and roll meet like cirrhosis of the liver. You know, the stuff you can't keep doing.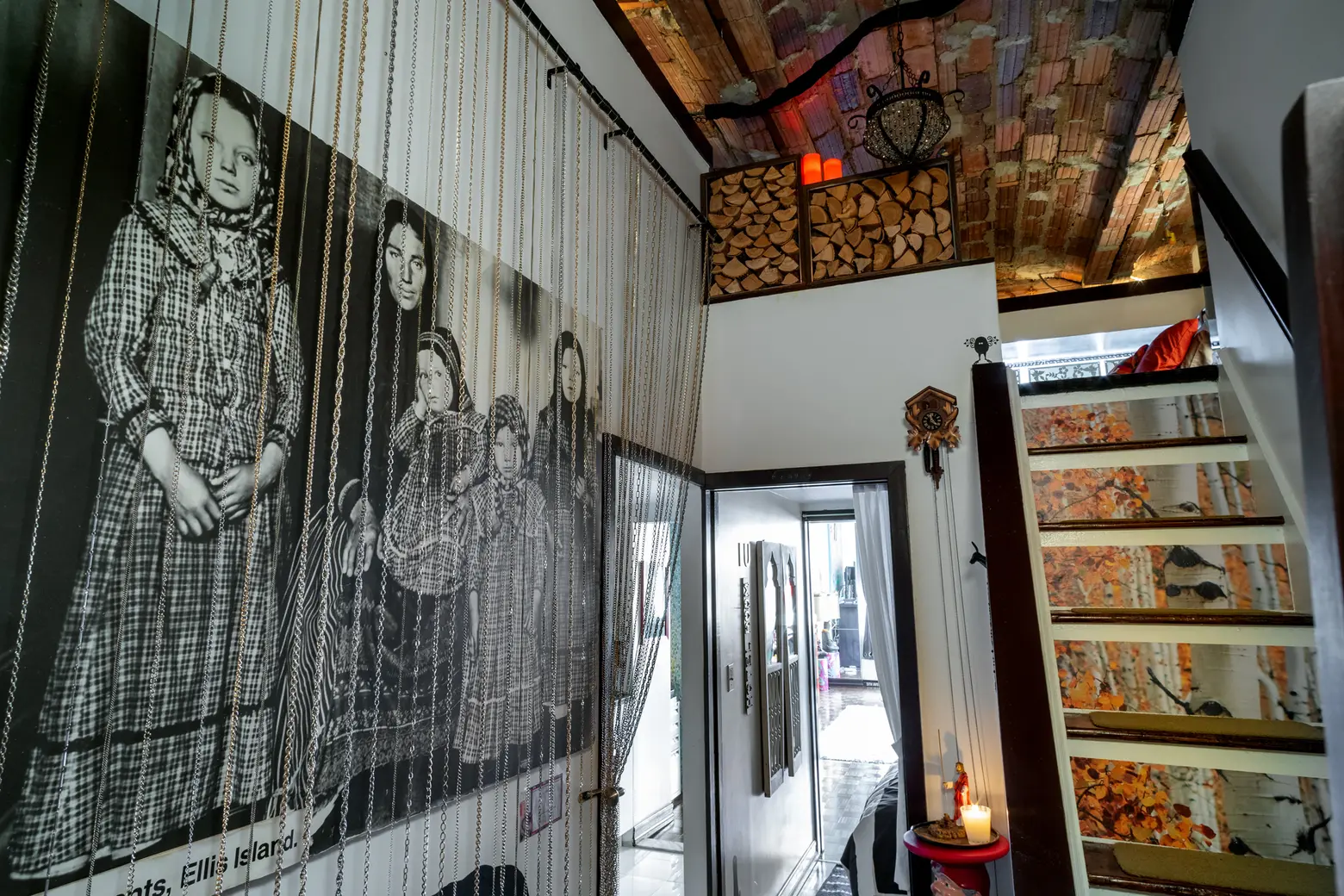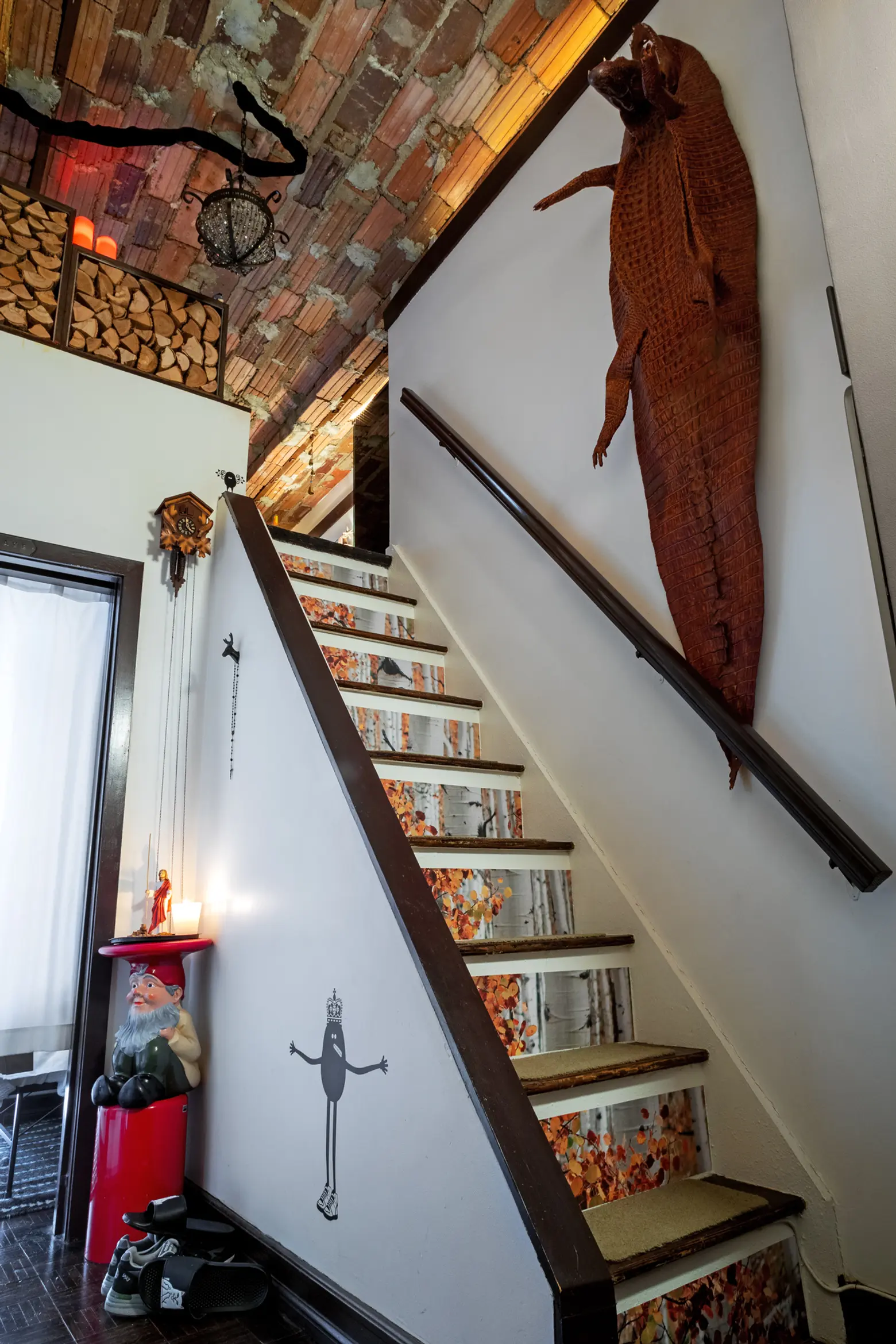 He had the ceiling chipped away to reveal this wavy brick.
Can you describe the work you had done to your ceiling to reveal the brick? And any other renovation projects you undertook in the apartment?
The majority of the renovation was simple elbow grease demolition that was made not so simple because it was so close after September 11 and available contractors and rental dumpsters were sparse. I found a lovely family from Armenia that was licensed that had all come over on a Visa lottery. They did quite a bit of the demolition of the ceiling which was very thick cement sheetrock and patched up the wavy bricks.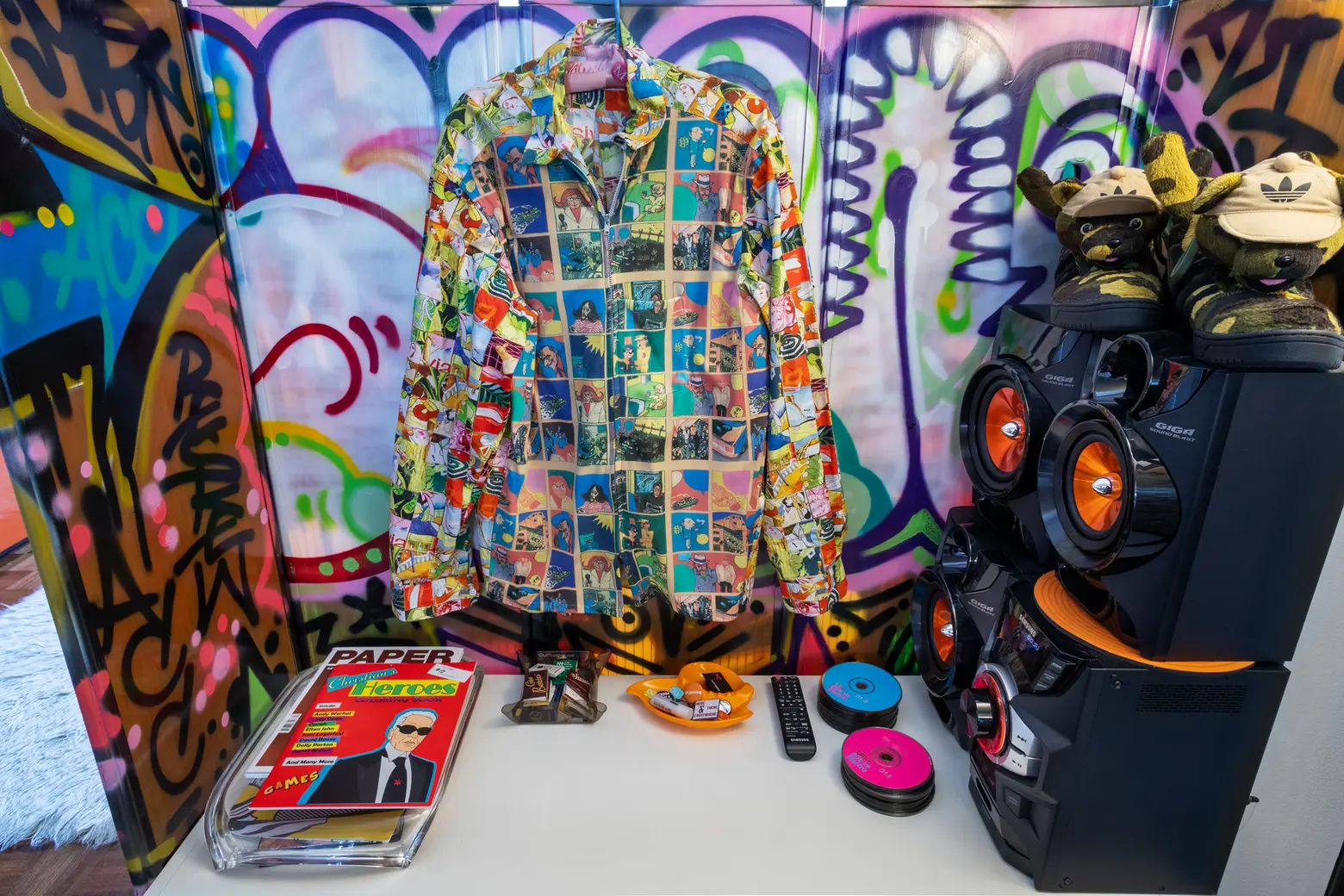 Blair works with the Elton John AIDS Foundation; he bought the bright, cartoon-covered shirt from the foundation.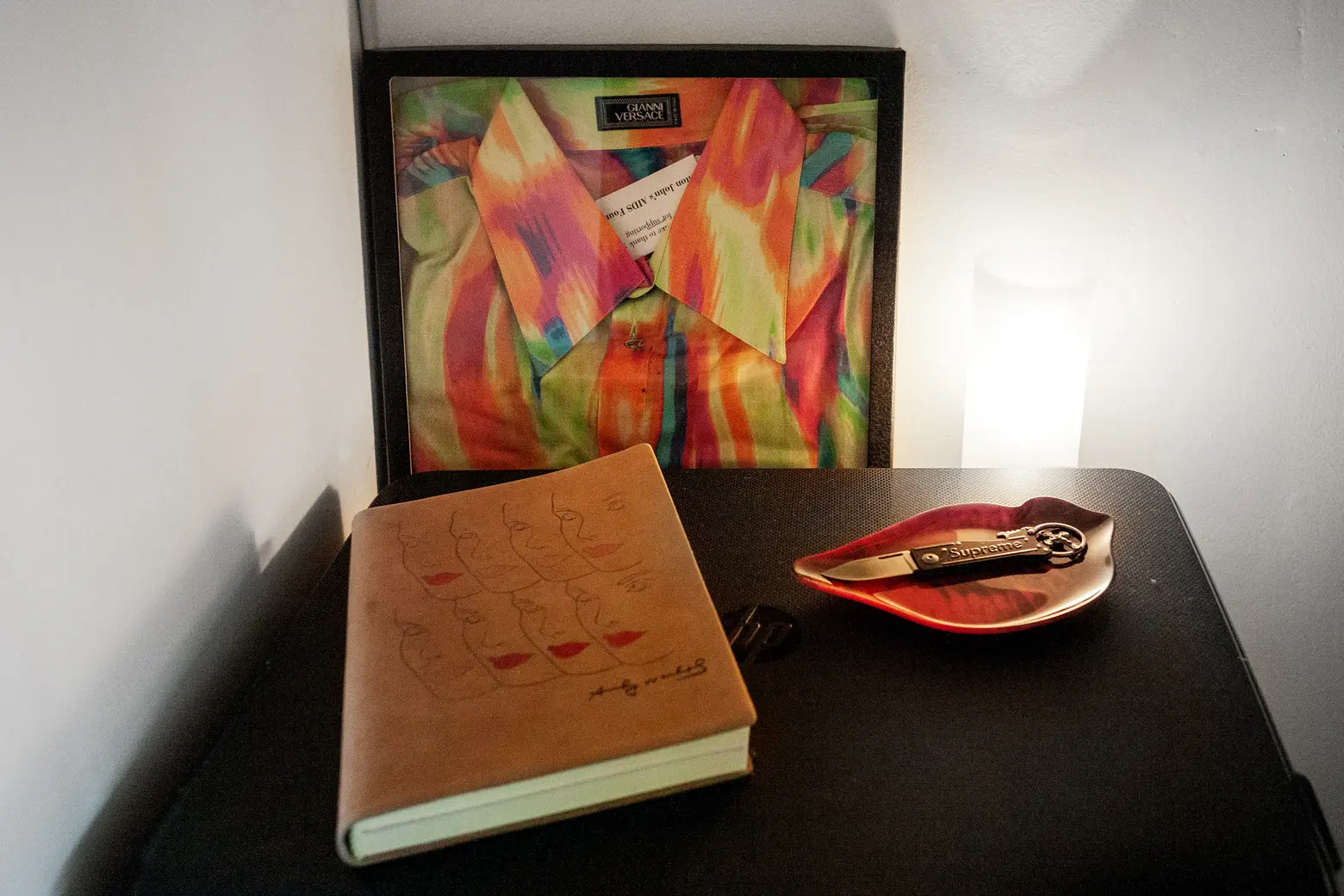 What are a few of your favorite pieces in the apartment, and where did you get them?
I do especially love my 13 and 1/2 foot ceilings! Of course, I love all of my personalized pieces from the Elton John Aids Foundation, including the custom Gucci's. I like my little 2nd-floor sleeping loft. It's a great place to store the occasional guest without making them too comfortable. Because every visitor seems to love my crossroads neighborhood for its convenience to Nomad, Korea town, Chelsea, etc. 

This part of 5th, looking out of the double height windows at other low, turn-of-the-century buildings, gives a sense of a much older and quieter neighborhood.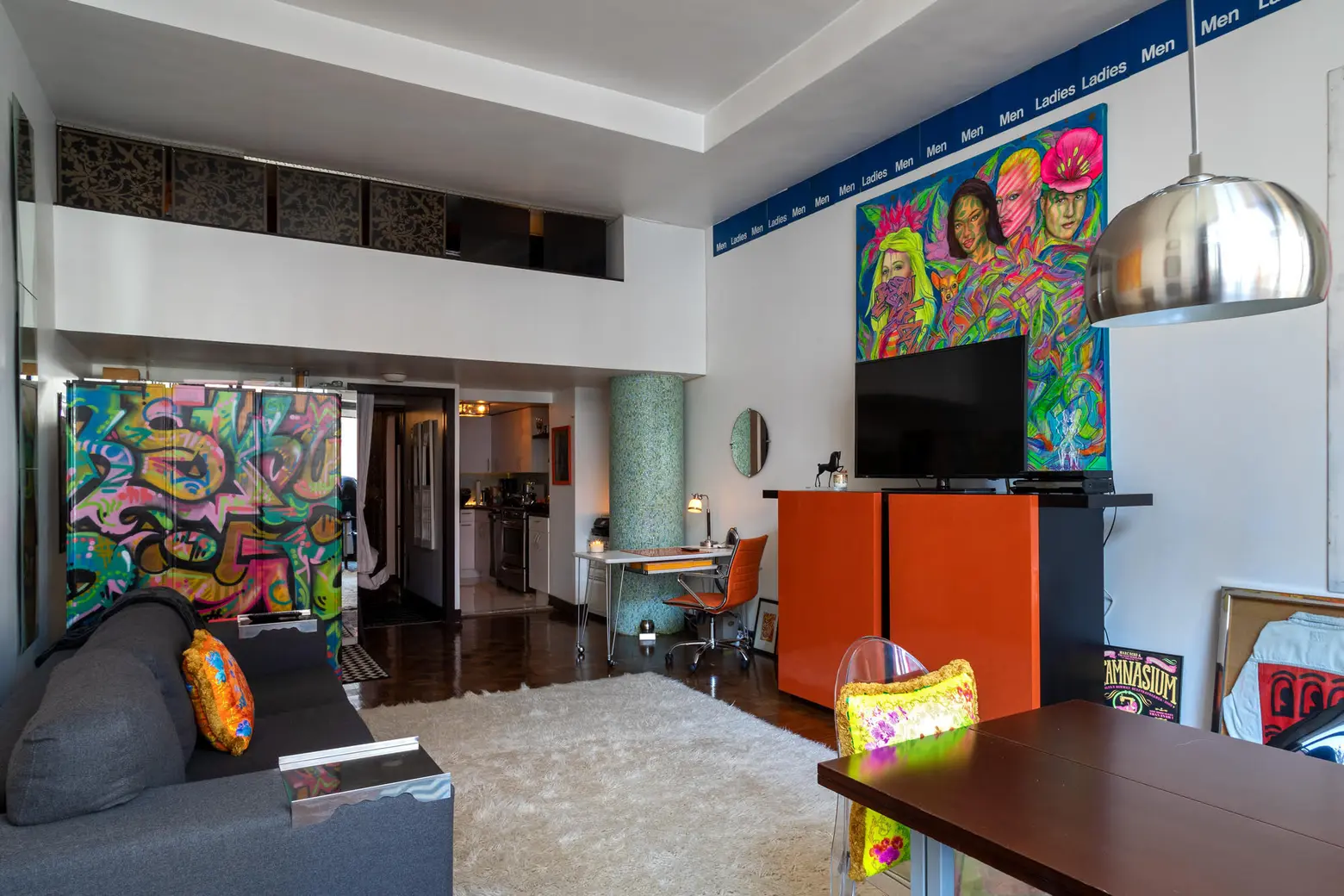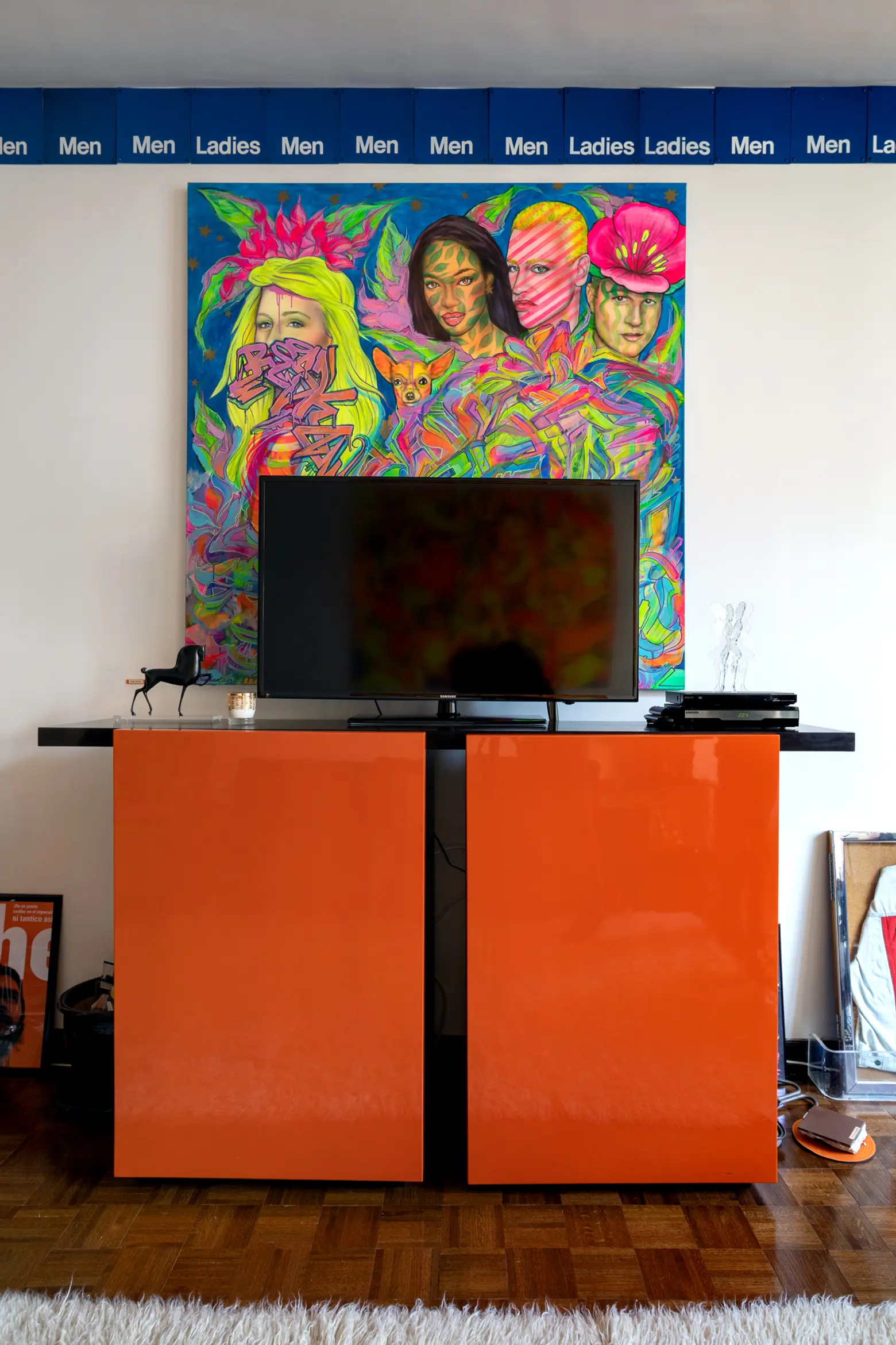 The artwork above the television was originally intended as a gift to Paris Hilton for her 21st birthday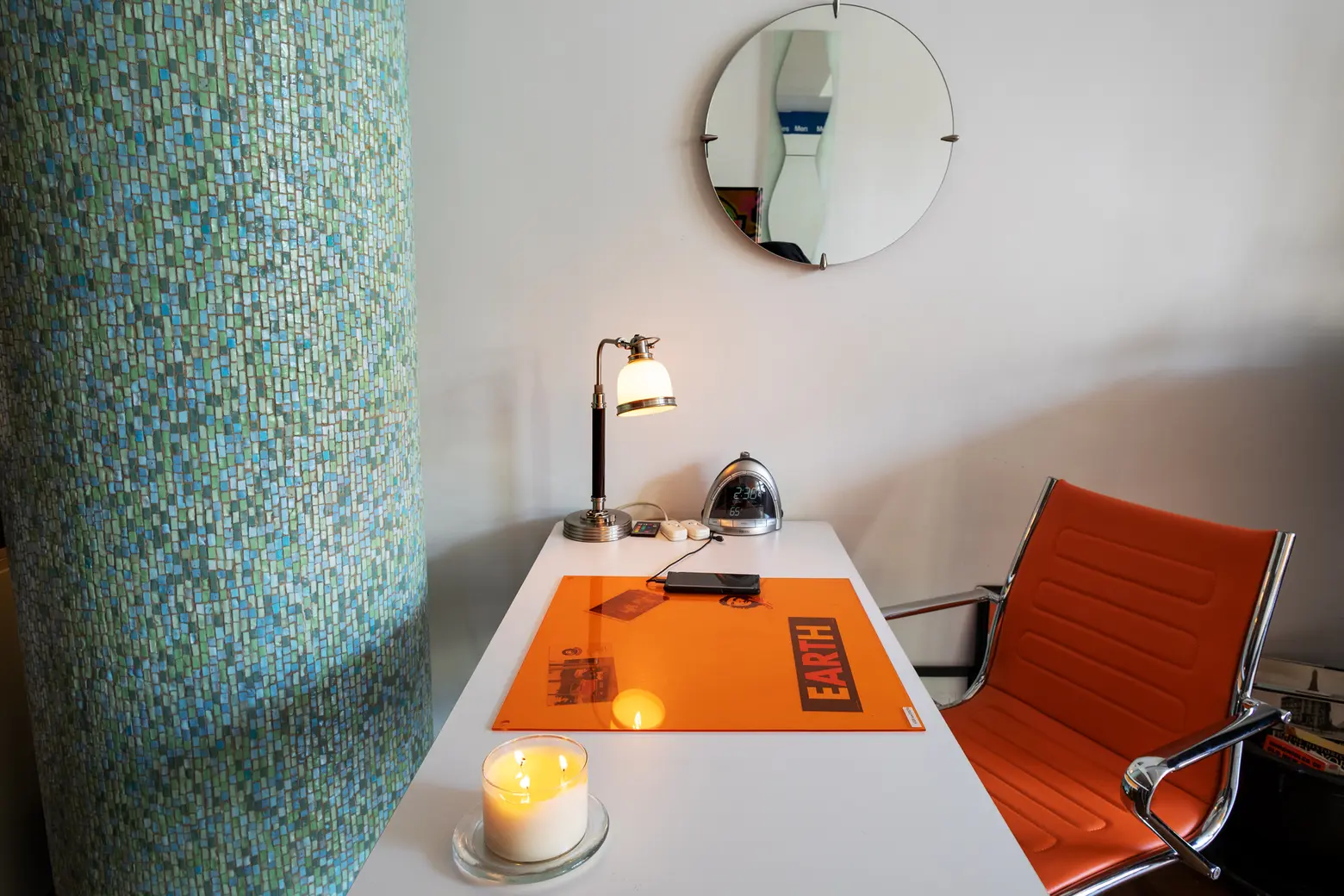 When Blair first moved in, this column was covered up. He chipped away to discover this blue and green tile done by Morris Lapidus, a Miami-based architect. The department store brought in Lapidus to help renovate the building during the 1950s.
What are your favorite spots in the area?
I am feeling Nomad. If I had money to invest, I tell people Nomad is happening. I love it over there. There's a place over there called Wagamama, so cheap, so fresh. When someone else is paying, I love the Nomad Hotel with the $70 chicken breast. Although I won't eat the foie gras. I love some places in Koreatown.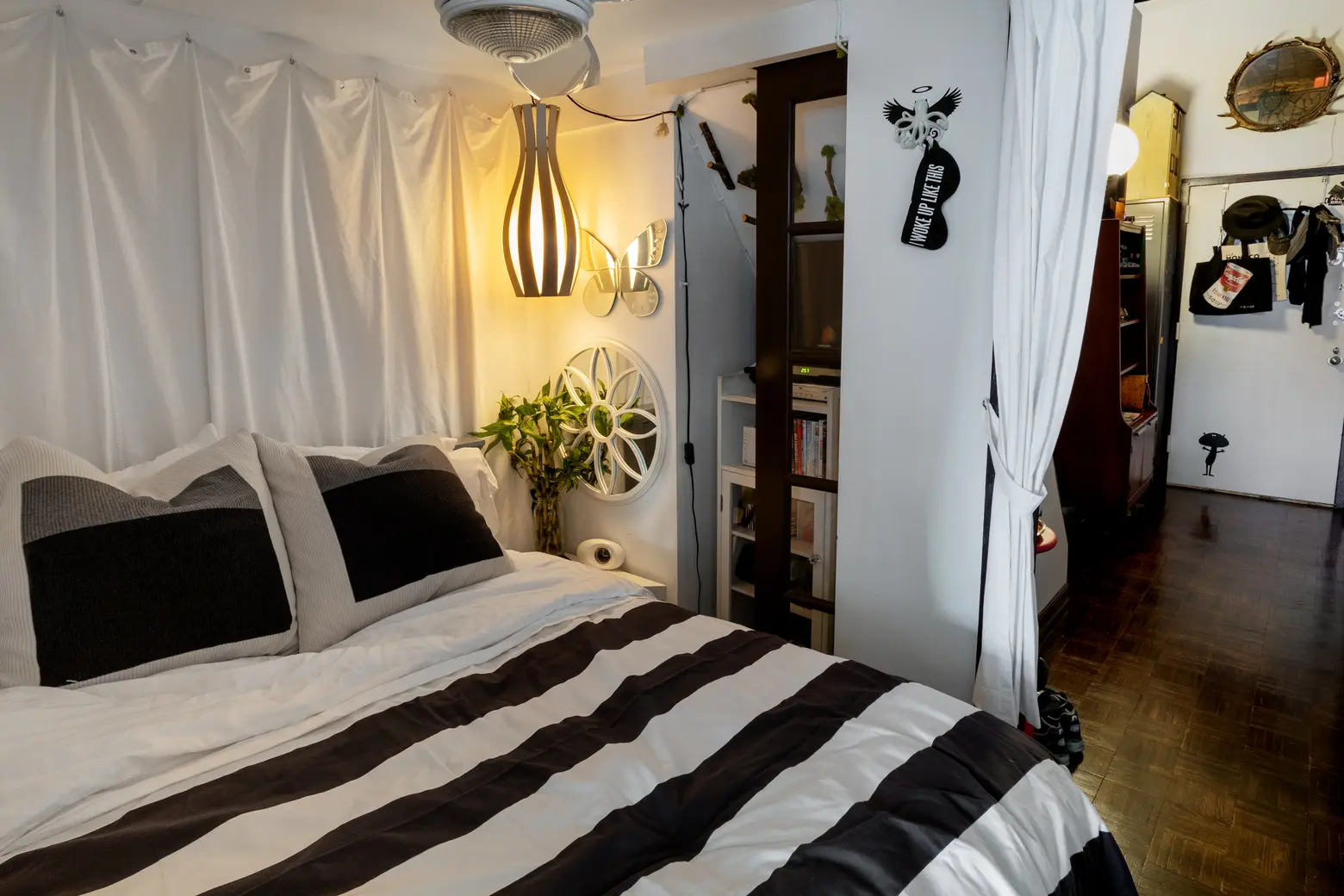 This room used to be a walk-in closest, but since he is only here part-time, Blair decided to keep it as a small bedroom.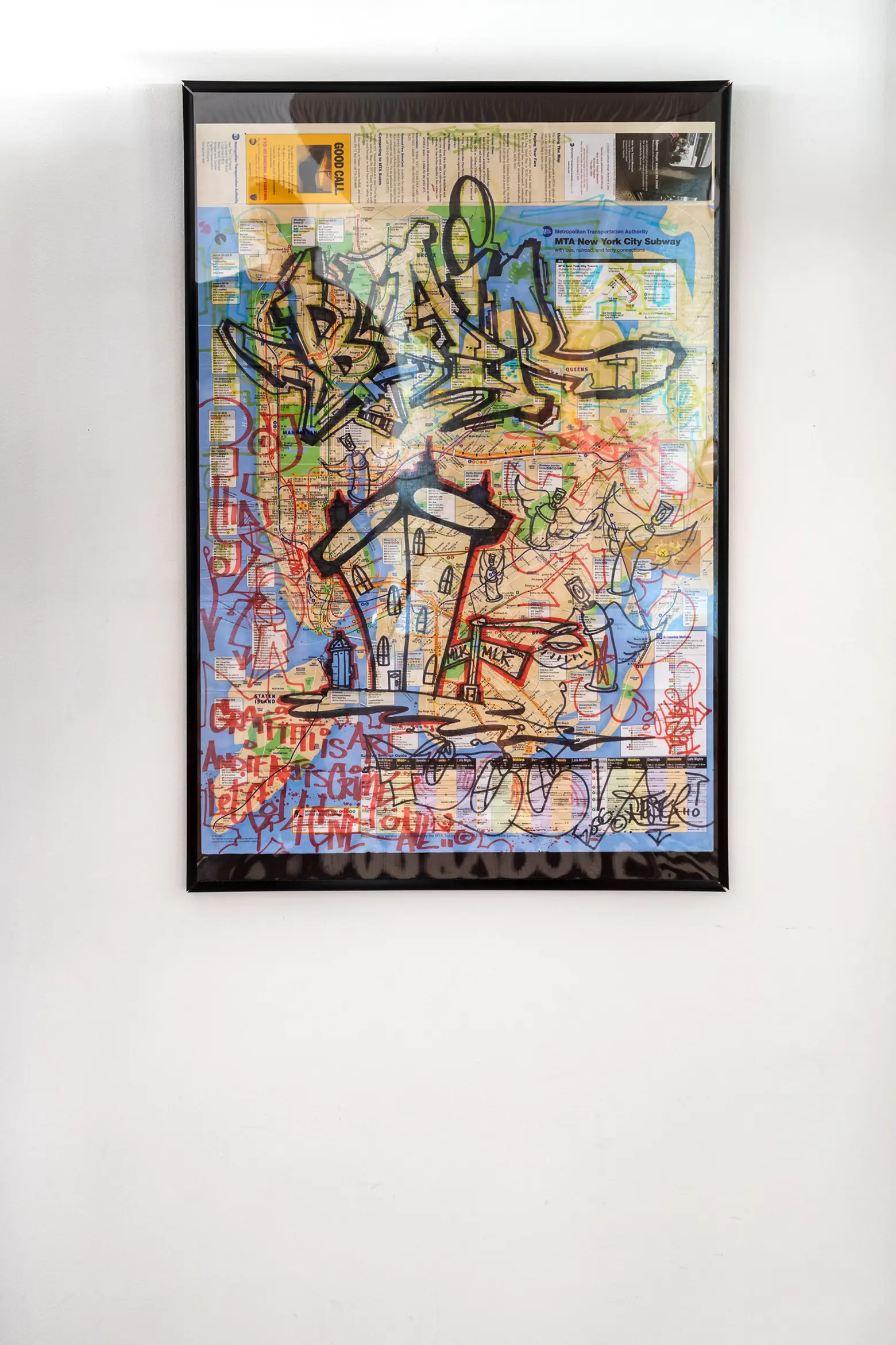 What was the area like when you moved here?
There was nothing here. A lot of Garment District was still going on, but there were no grocery stores, nothing around here. Now there is a Whole Foods at Bryant Park. But it was the dirty 30s, it was kind of yucky.
And everyone was laughing at me and asked how can you next to be the Empire State Building and all of those tourists and at Macy's? I'm like, I'm looking at shiny happy people, wearing their cute little vacation clothes, smiling, spending money. I don't mind it. They like New York, they ask me questions. I take people up to my roof.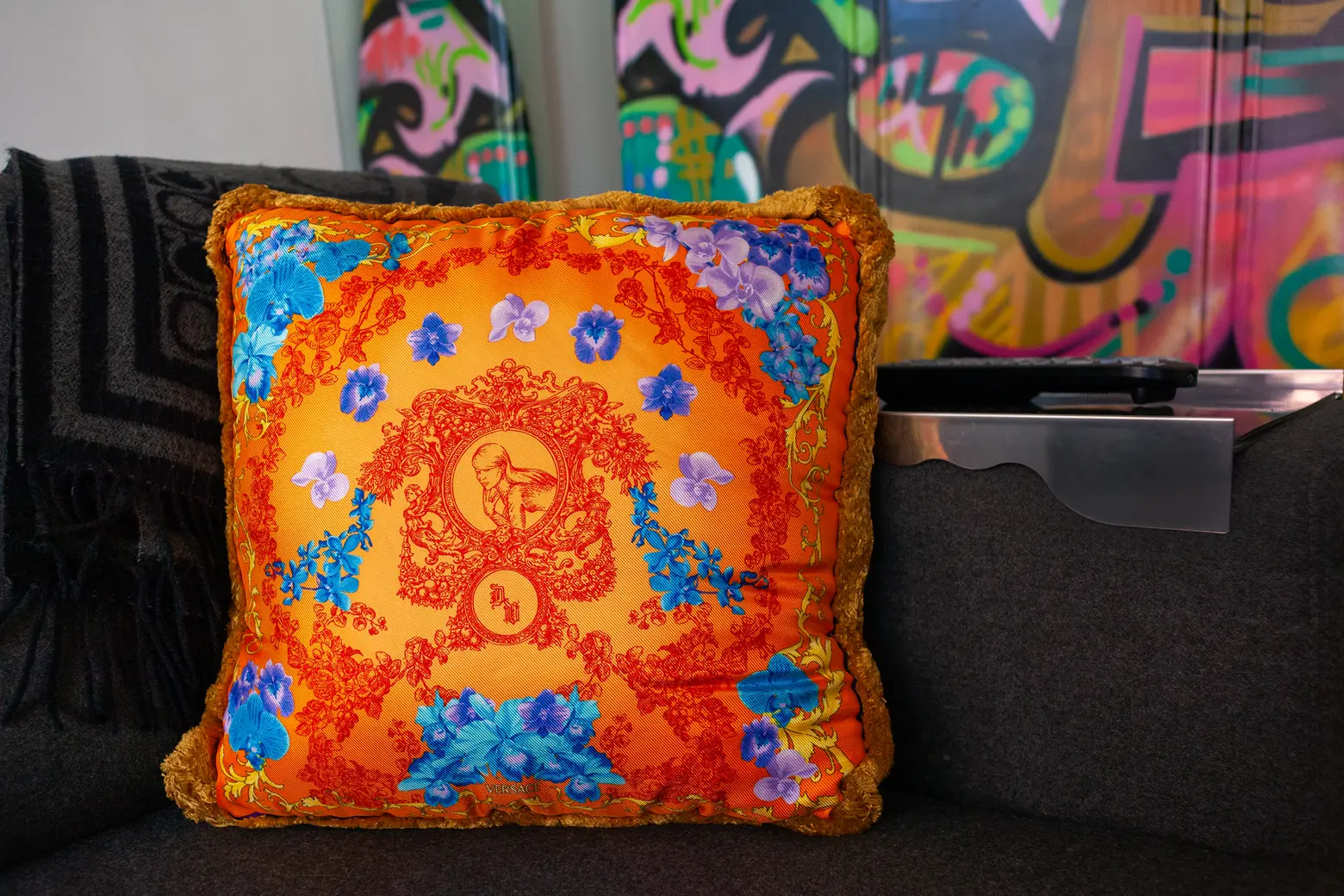 The pillow features Donatella Versace. It was a gift to Blair from her ex-husband, Paul Beck

The poster is from Argentina where "the guy literally took it off his wall" and gave it to Blair.
What do you like to do when you're not curating art?
I travel a lot. I want to go to every city's artist nest, and some are nicer than others. In Argentina, it's next to La Boca, which is the Argentinian artists ghetto. The guy literally took it off his wall. I like getting authentic things and it gives me a reason to travel. I like to curate shows that haven't been done before.
I'm 56. So I basically stopped making the money at 40, the real money. I was smart, I bought this [apartment] for nothing practically. The only bad thing about having a 110-year-old building is the fact is the maintenance is super high, it's like $1,700 a month. And that includes almost nothing but the roof terrace. I think I'll keep this place probably for another five years.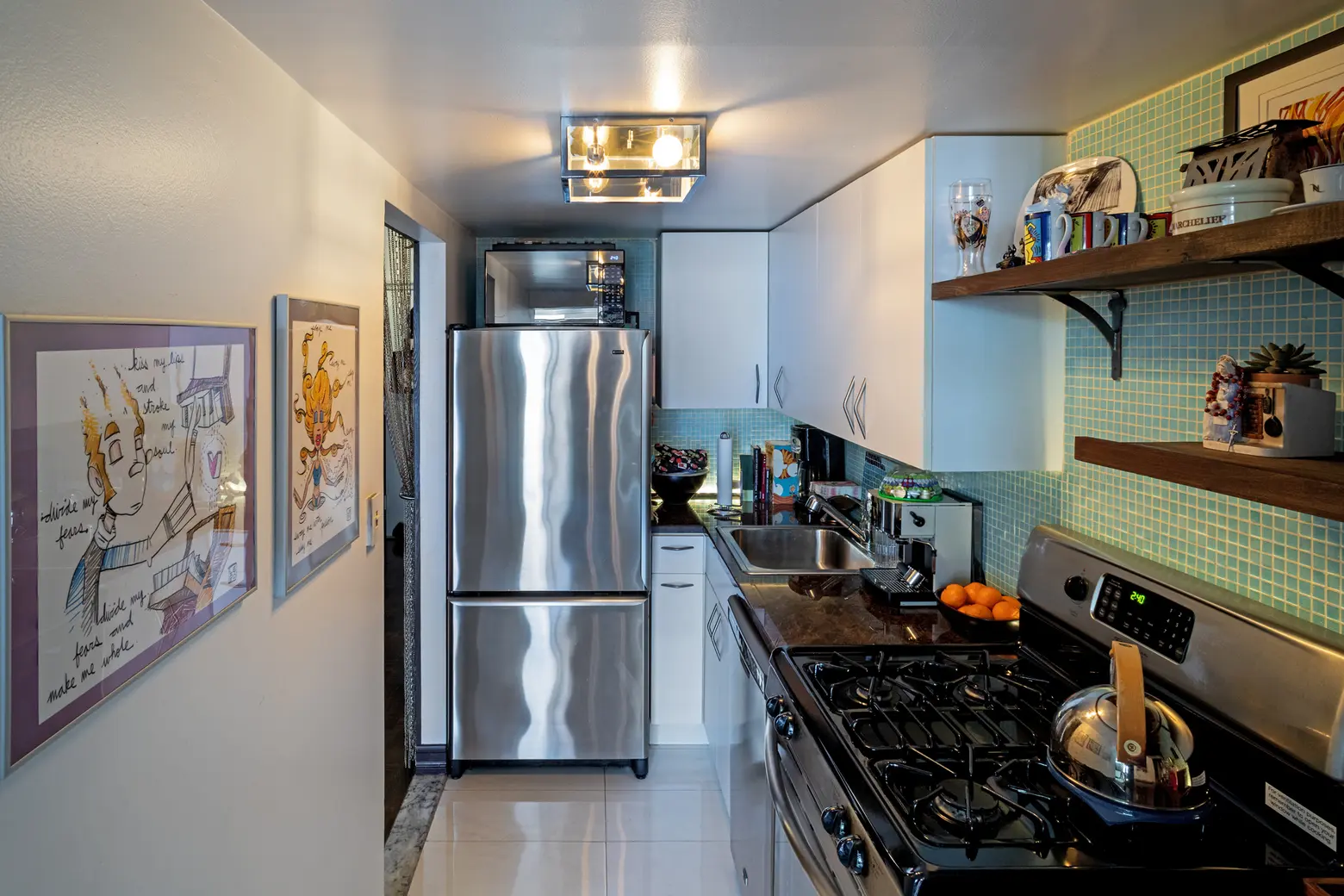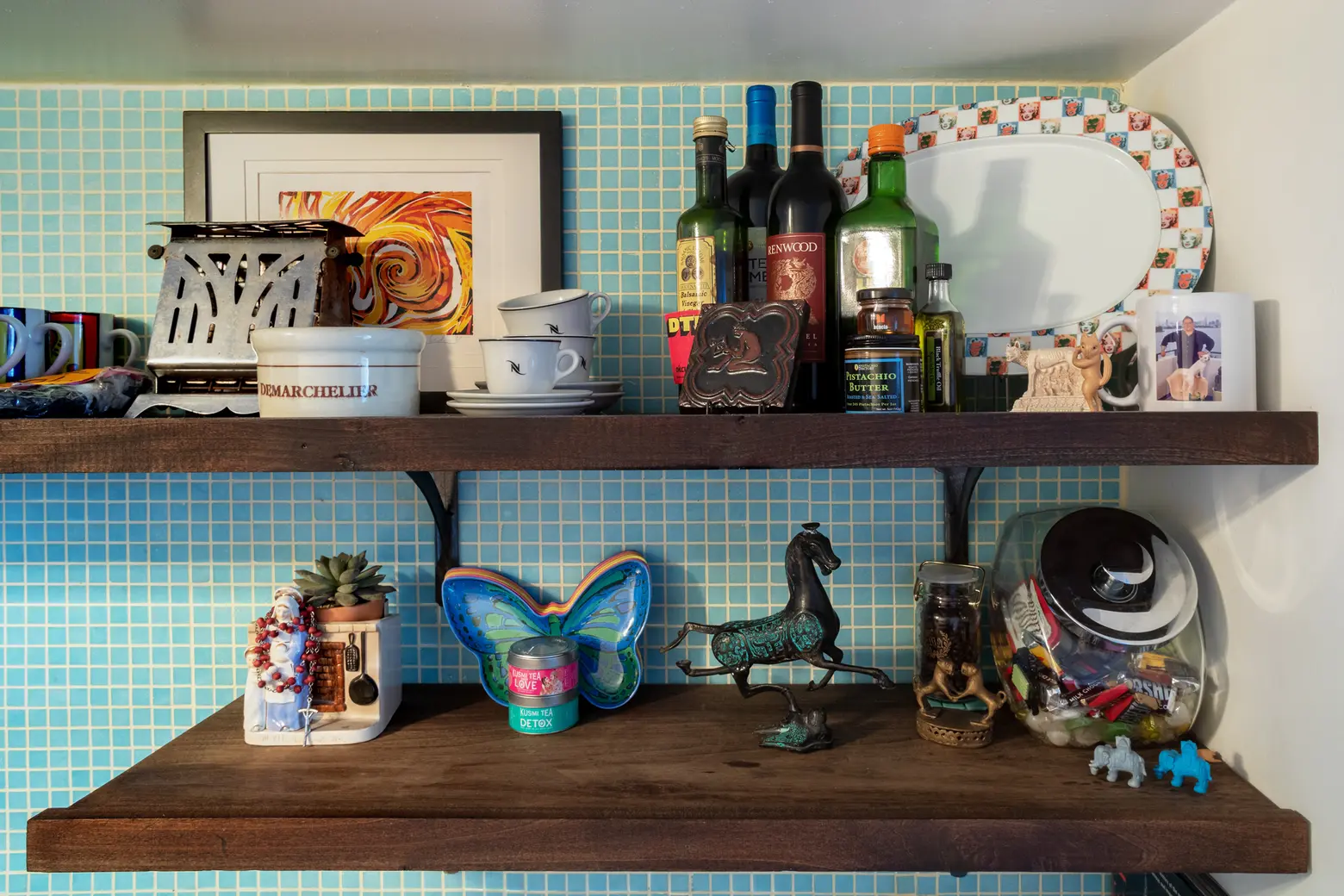 Would you stay in NYC?
I've been coming to New York for 30 years. It's so part of me. I love Florida, but there's no cultural scene, there are no museums. Each year they'll do [Art] Basel for one week in the year.
I'm here two weeks and I'm like grumbling, I want my car, I don't want to do Via anymore. And then I'll go there for two weeks and say there's nothing to do. I'm totally like my apartment. I think apartments should be like people, they can be serious but fun.
Everything I've done, I do it for one to 10 percent of the population. You know what, if more than 10 likes it, it's probably not going to happen with me. Because there's enough 90 percent everywhere, as hokey as that sounds. You either hate it or love it.
RELATED: 
All photos by James and Karla Murray exclusively for 6sqft. Photos are not to be reproduced without written permission from 6sqft.