My 3,000sqft: Power broker Louise Phillips Forbes shows her family-friendly Upper West Side home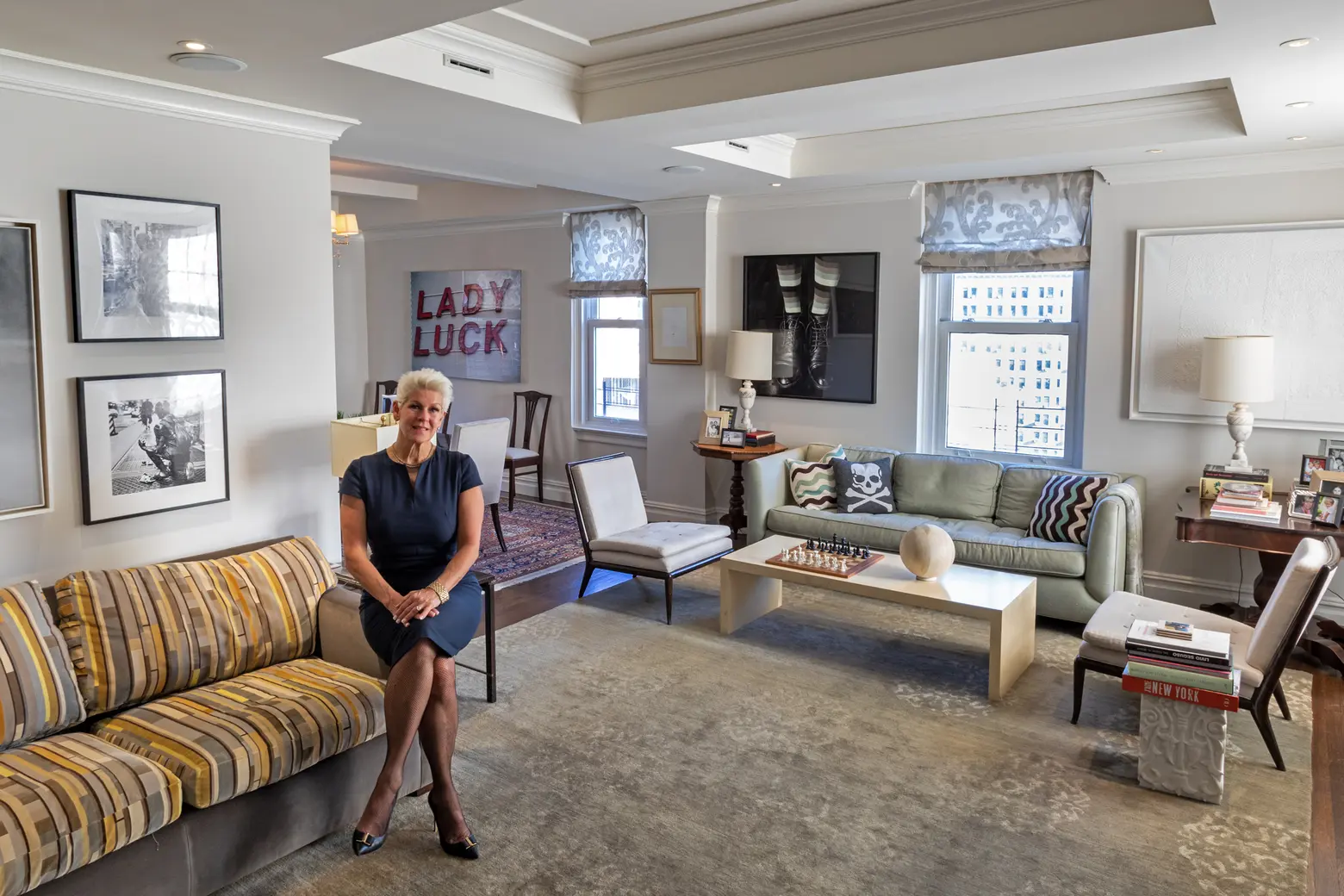 Louise Phillips Forbes moved to NYC from Nashville to further her dance career on Broadway when she was in her 20s. When an injury forced her to change her plans, she fell into real estate, quickly realizing that not only had she found her home in New York, but also her true passion. For close to three decades now, Forbes has been a powerhouse in the real estate field; in fact, her sales team is the number one at Halstead with more than $3.5 billion in career sales.
But Louise has the highly coveted ability to truly balance her work and personal lives. At home, everything is about her husband and two sons and their time together. And when she renovated her Upper West Side apartment, this comfortable, welcoming feel was her number one priority. When she's not closing sales or watching her sons' hockey games, Louise can be found at her local Soul Cycle or serving on the board of Change for Kids, as well as the advisory committees for several non-profit arts organizations. To get a glimpse into how she does it all, 6sqft recently visited Louise, took a tour of her home, and got to know her a little better.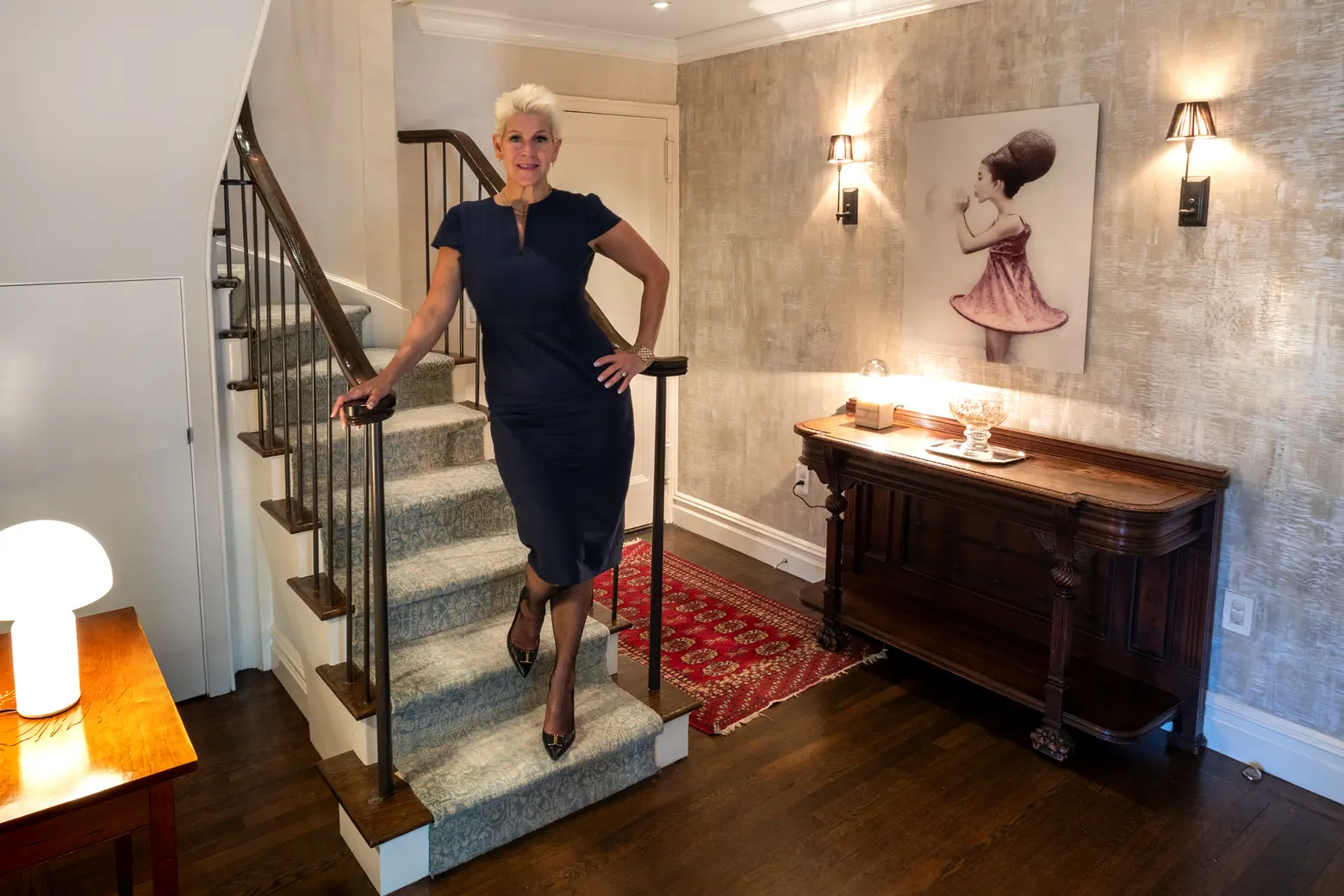 To brighten up the entryway, Louise opted for silver Venetian plaster walls
What originally brought you to New York?
I moved here from Nashville, Tennessee. I worked with special needs children, and I also had a scholarship to dance for two small companies. When I got to New York, I just knew I was home. The pulse of the energy, the mixing pot of people and experiences, and the why and how people get here.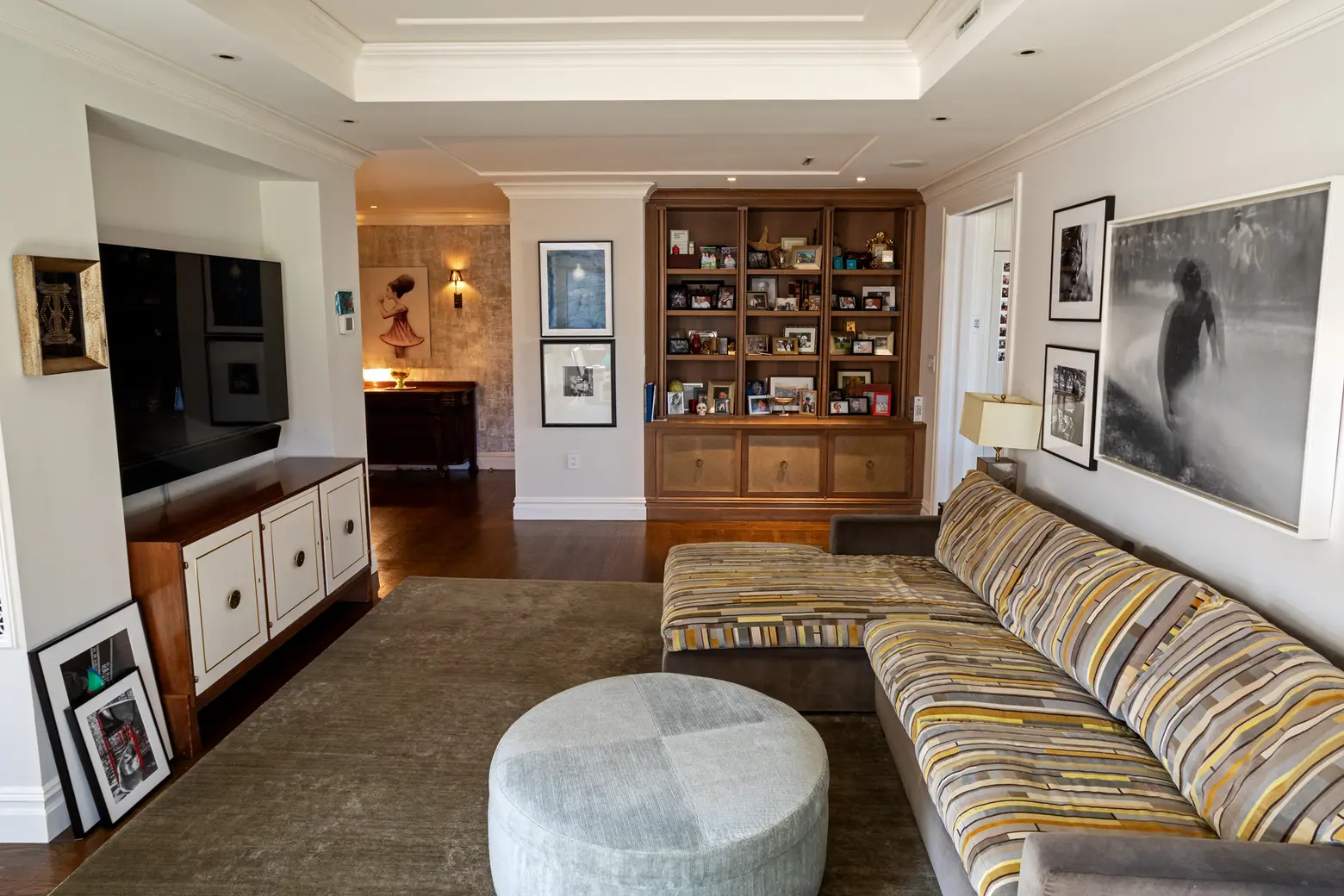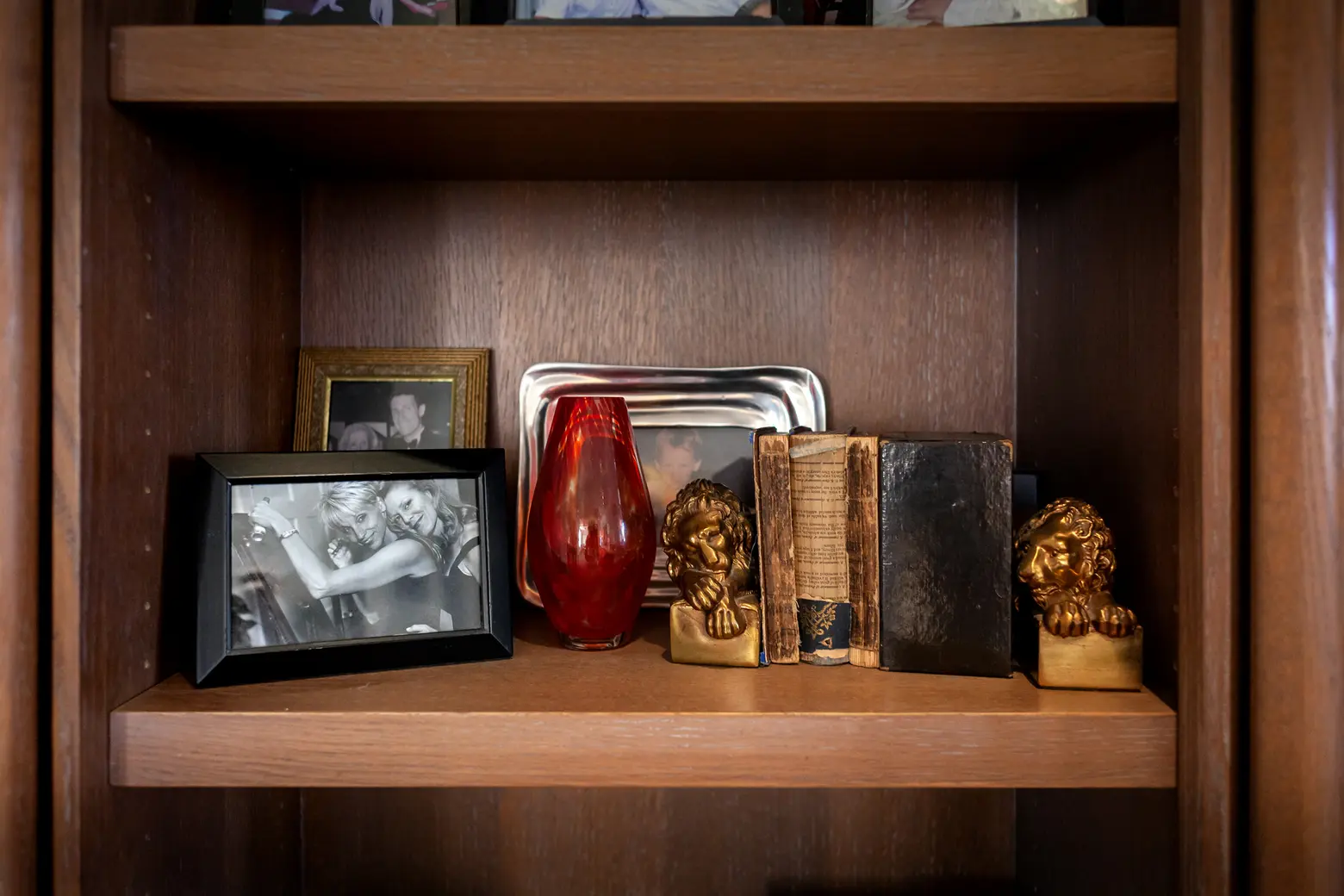 The coffered ceilings were actually a way to disguise the central air conditioning system and keep all the ceiling heights the same. 
And how did you get into real estate?
I injured myself [dancing], and it was not very long before I met somebody who said, "You'd be so good in real estate. Call my friend." I did, and I met a young man in his 20s who had two desks, two phones, and not even a fax, and said, "Come on, let's start in real estate." I made $8,400 my first year, but it didn't take long for me to really accelerate because I [realized] I was in a business that was built around people. I also realized very quickly that I didn't like thinking of myself as a salesperson, but rather an educator. I was happy to put the work in to educate individuals so that a level of trust could be built. I got into the business in 1989, and after starting at the small firm, I went to Halstead for three years. Then I went to Douglas Elliman until 2002, when I came back to Halstead.
When I was at Douglas Elliman, it was a family-owned business, and I started with five other brokers. We started a residential development division, which was really amazing to specialize in that portion of the business in the '90s because it was not really a science like it is today. I've probably more than 30 development projects since. Most of the projects that I got involved in were smaller projects that became a pivotal point in changing what a neighborhood is today.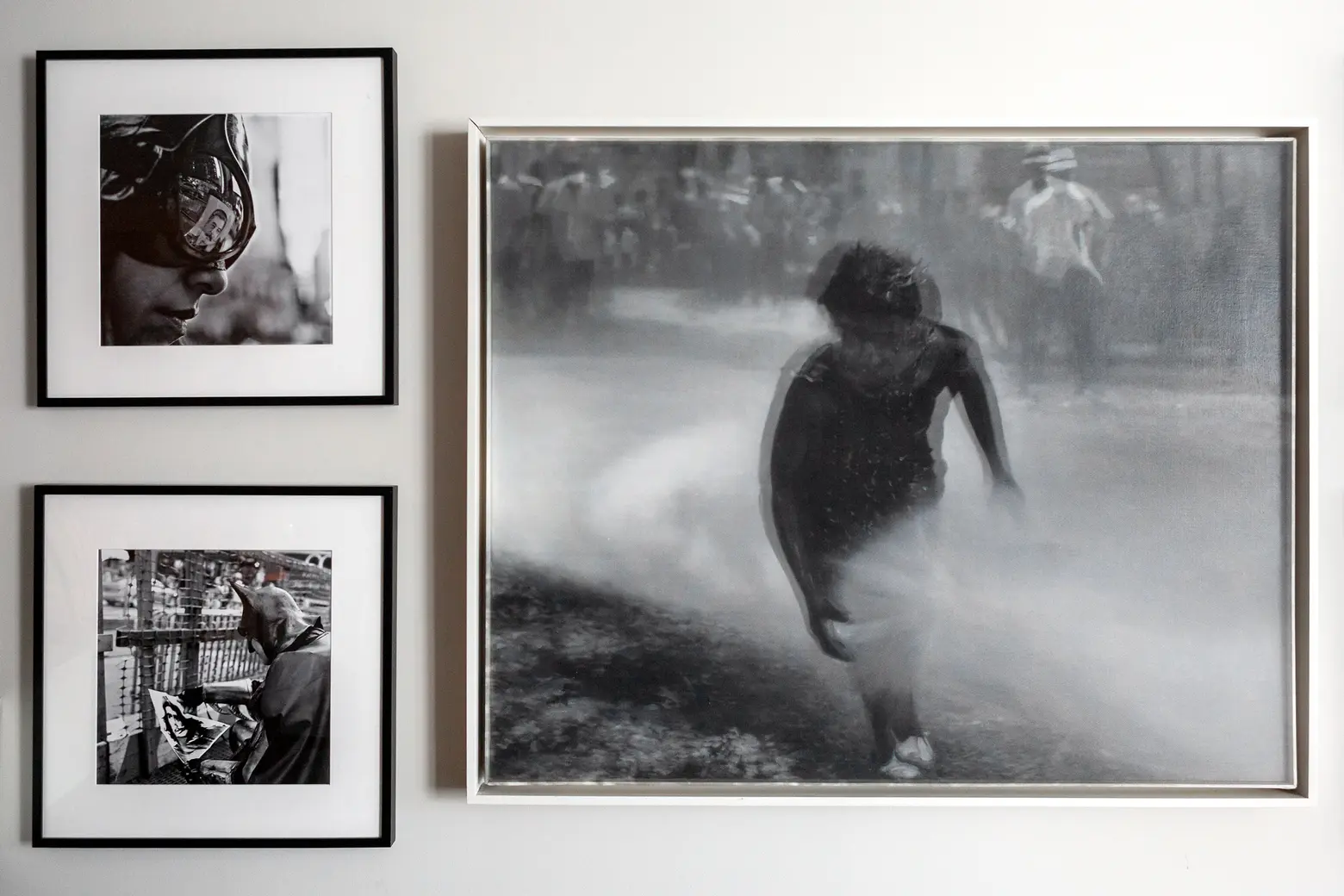 Done by a Cuban artist, the photos on the left are of superheroes looking at dictators. The piece on the right is by a French photographer who did a series called "The Birthday Party." 
Are you working on any development projects now that you can tell us about?
I have a few new things in the pipeline, a couple in Brooklyn and one on the Upper West Side, which is always such a pleasure because it's in my backyard. I'm finishing up phase two of 498 West End Avenue, which is at 84th Street. It's an old, grand 1910 building where we've completely reimagined all the apartments, and we've also added a two-floor penthouse, which is currently on the market.
The other one I just finished was 15 Hubert Street in Tribeca, a small boutique building with 12 units. It was four industrial buildings built in the 1880s that we combined. It was a very complicated transaction, but fun.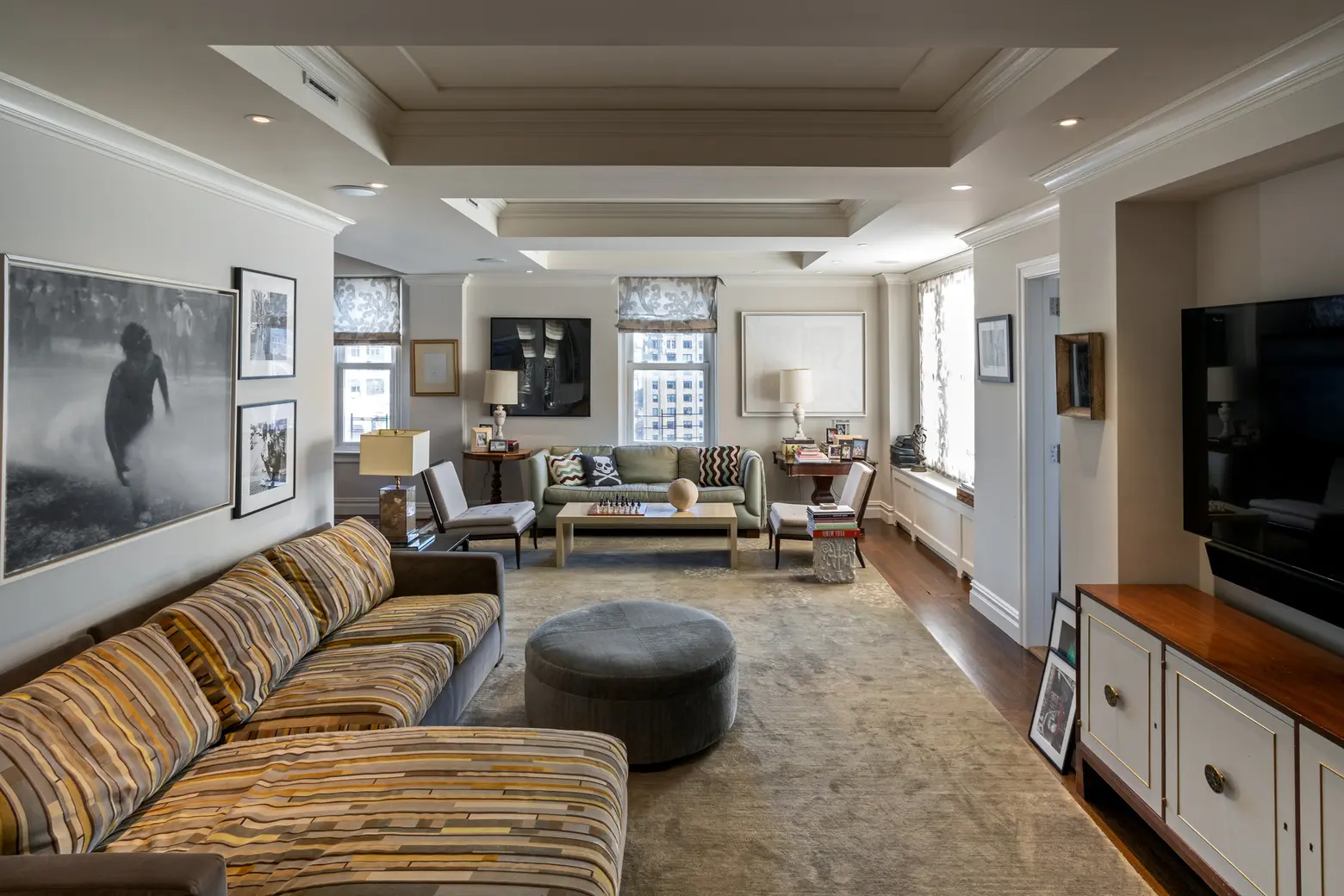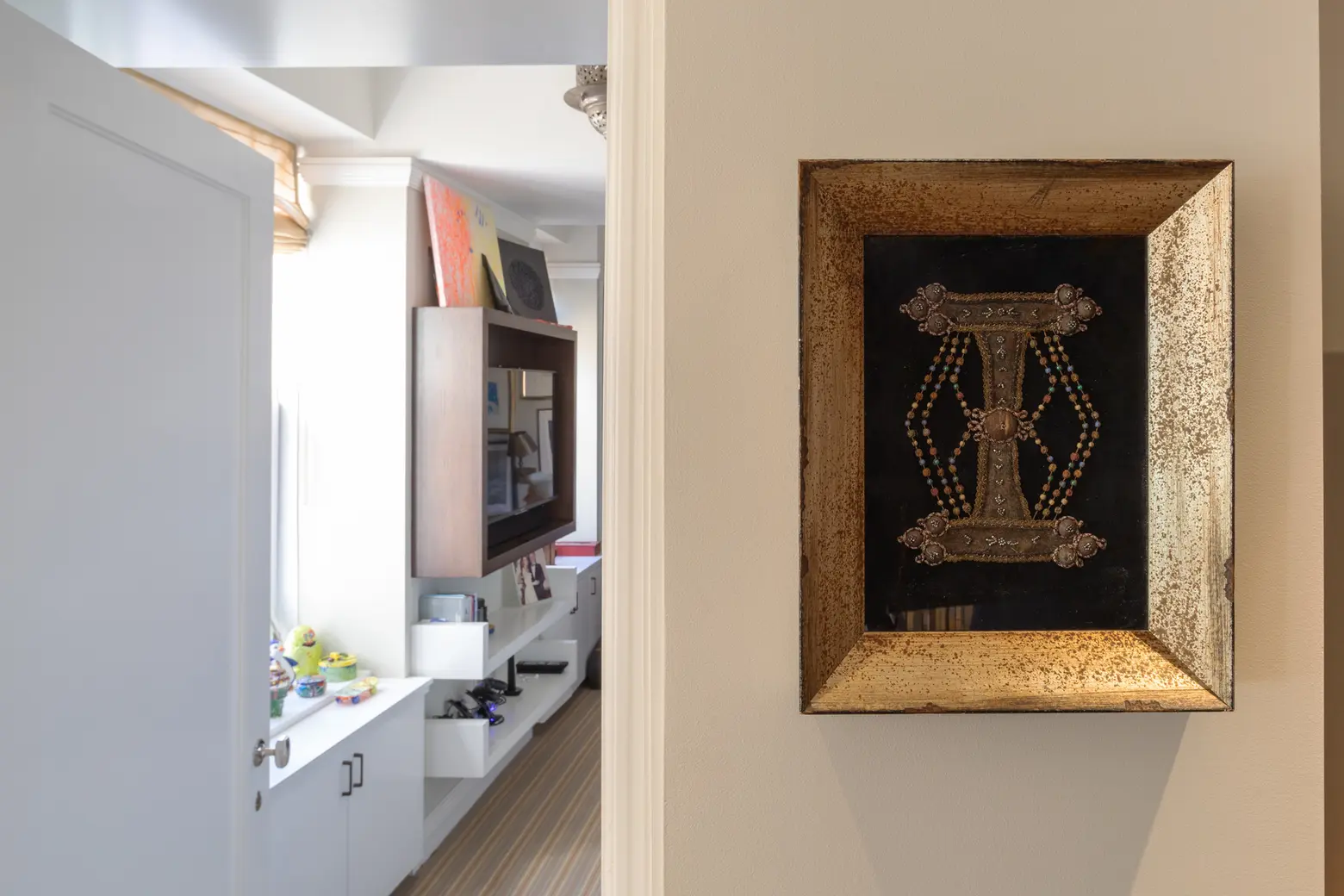 As a gift, Louise's sister framed beads from their great-grandmother's dress. 
Do you find yourself now leaning more towards the development side of things?
It's a strong piece of my business. In the early '90s, I learned how a building converts from a rental building to a co-op or a condo, and I used to "flip" tenant rights. There are brokers today who wouldn't even know what that means, but when a sponsor would convert a building, they would offer the renters, the insiders, a discounted rent. And I would then work with the tenants who were purchasing to flip their apartments and they would have the right to assign the contracts. Very rarely can you do that today, but it was a masterful way to create wealth for individuals. Those experiences really armed my ability to master trends and neighborhoods and understand the subtleties that gave me an insight and knowledge that I would otherwise not have today.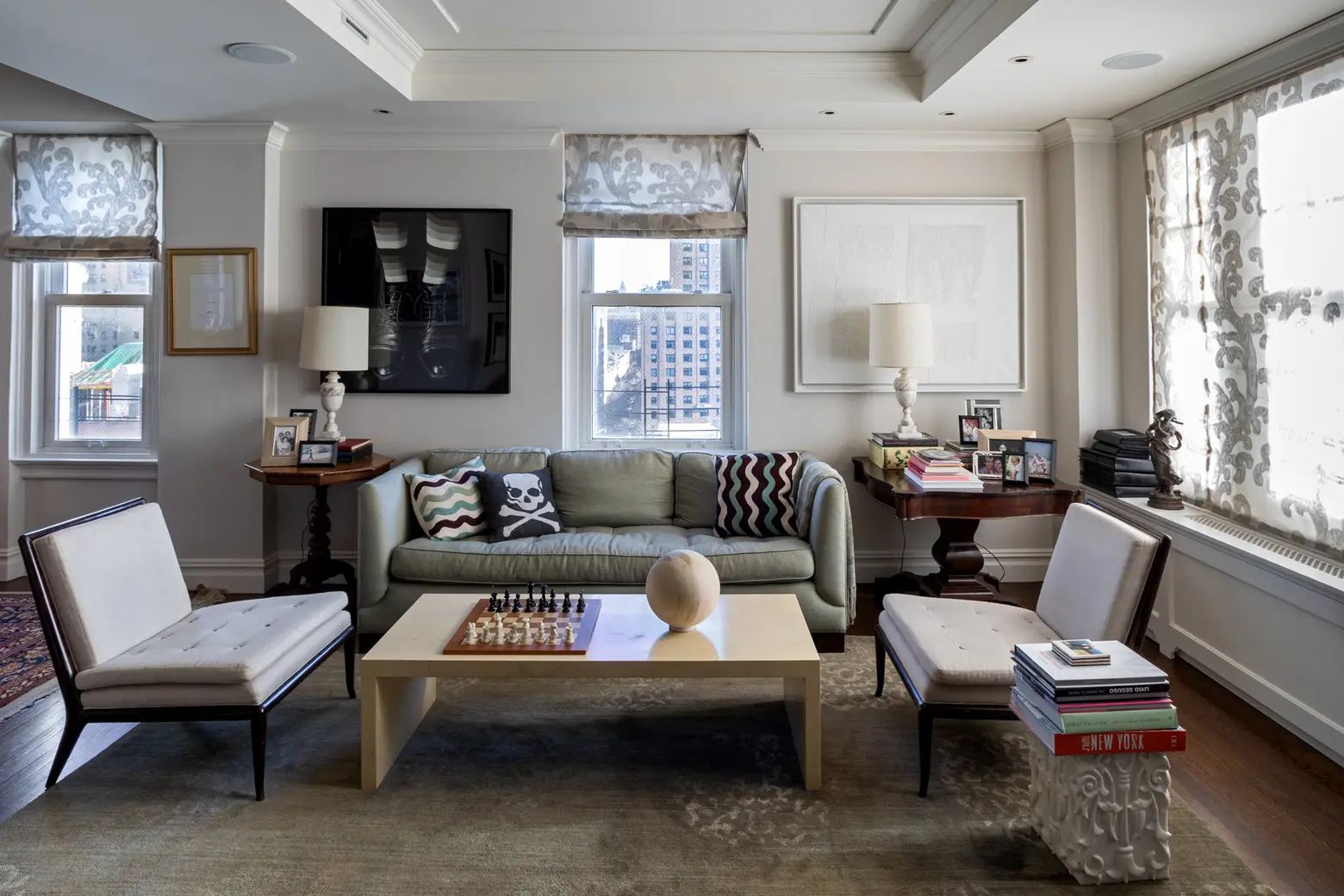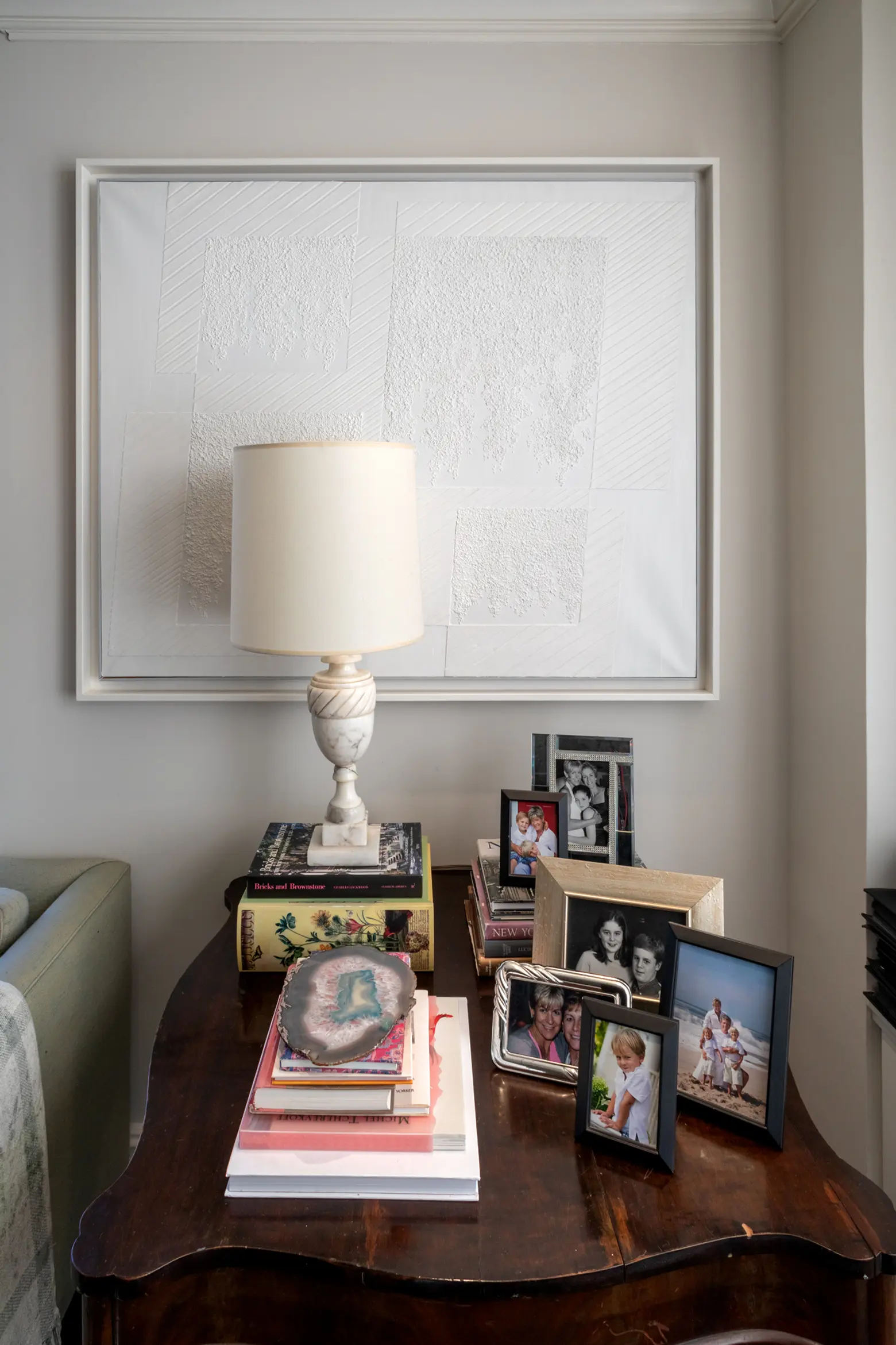 What would you say are the biggest differences in real estate today versus when you started?
Oh my god, technology. When I got into the business, nobody was in real estate who went to school to be in real estate. Now people are educated to have a profession in real estate. I think that's interesting. The access to information and the transparency is amazing. But the truth is, you can't decipher the texture of a market or why something happened unless you have the people touch. And so I feel that finding the right balance with technology and using it to interpret for the nonprofessional is something that is really an art.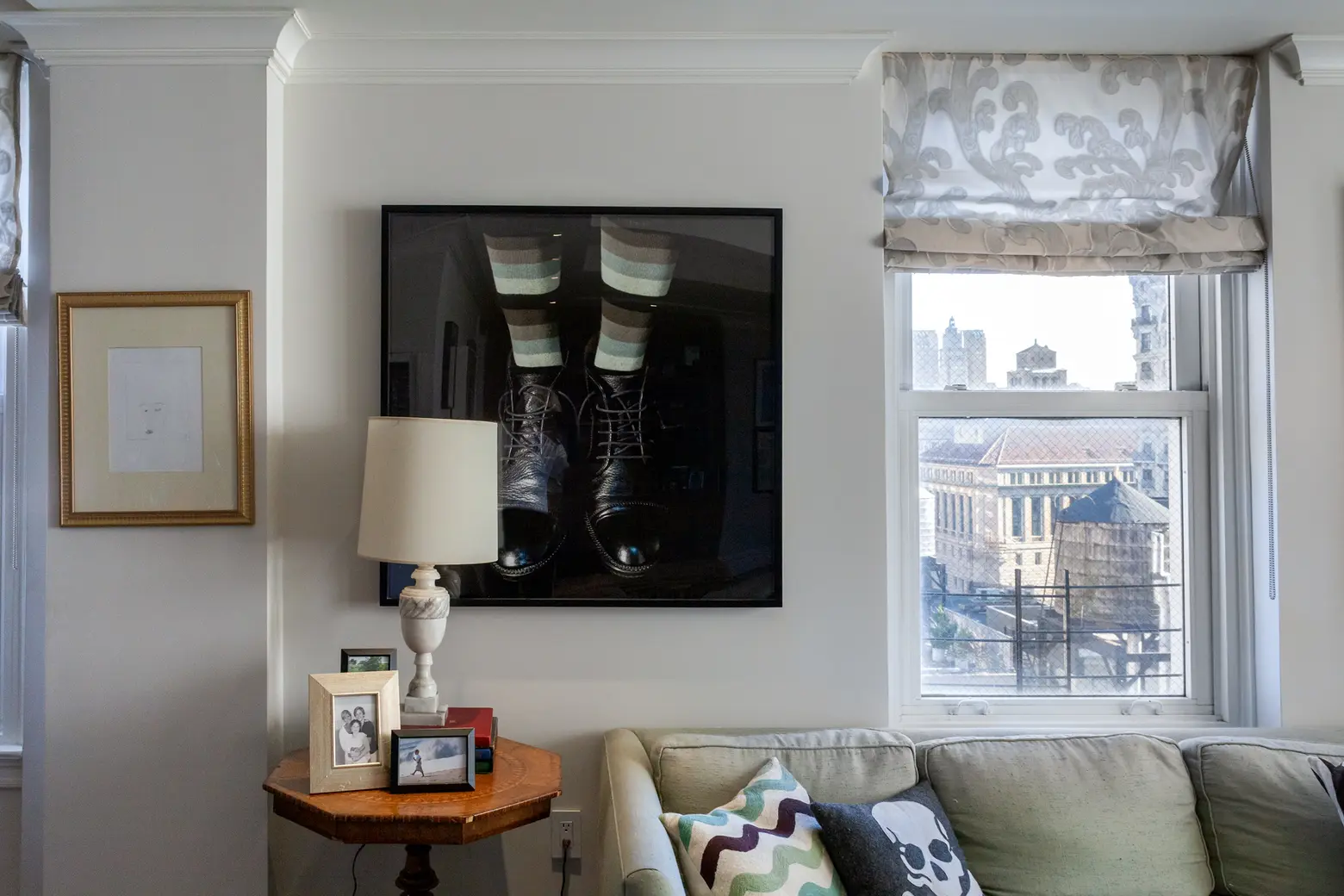 Let's talk about your home. Have long have you been in this apartment? 
I bought 14A in 1993. I was showing a customer this apartment. The plumbing in the maid's room was on the outside of the wall, the plaster was off, and the exposed brick was showing. The family had been here for 60 years and done nothing. But I backed out of the apartment going, "Holy Mackerel, I think I'm going to buy this." Because all the tradeoffs were there–It was a diamond in the rough, and I wanted light and location. I came here to dance, as I discussed, and I used to dance at Steps on West 74th Street. So it was the neighborhood I knew best, and it was kind of full-circle.
I met my husband on a blind date, and we got engaged in 2002. Three years later, I was pregnant with my second son, and we bought the apartment upstairs and sort of reimagined it.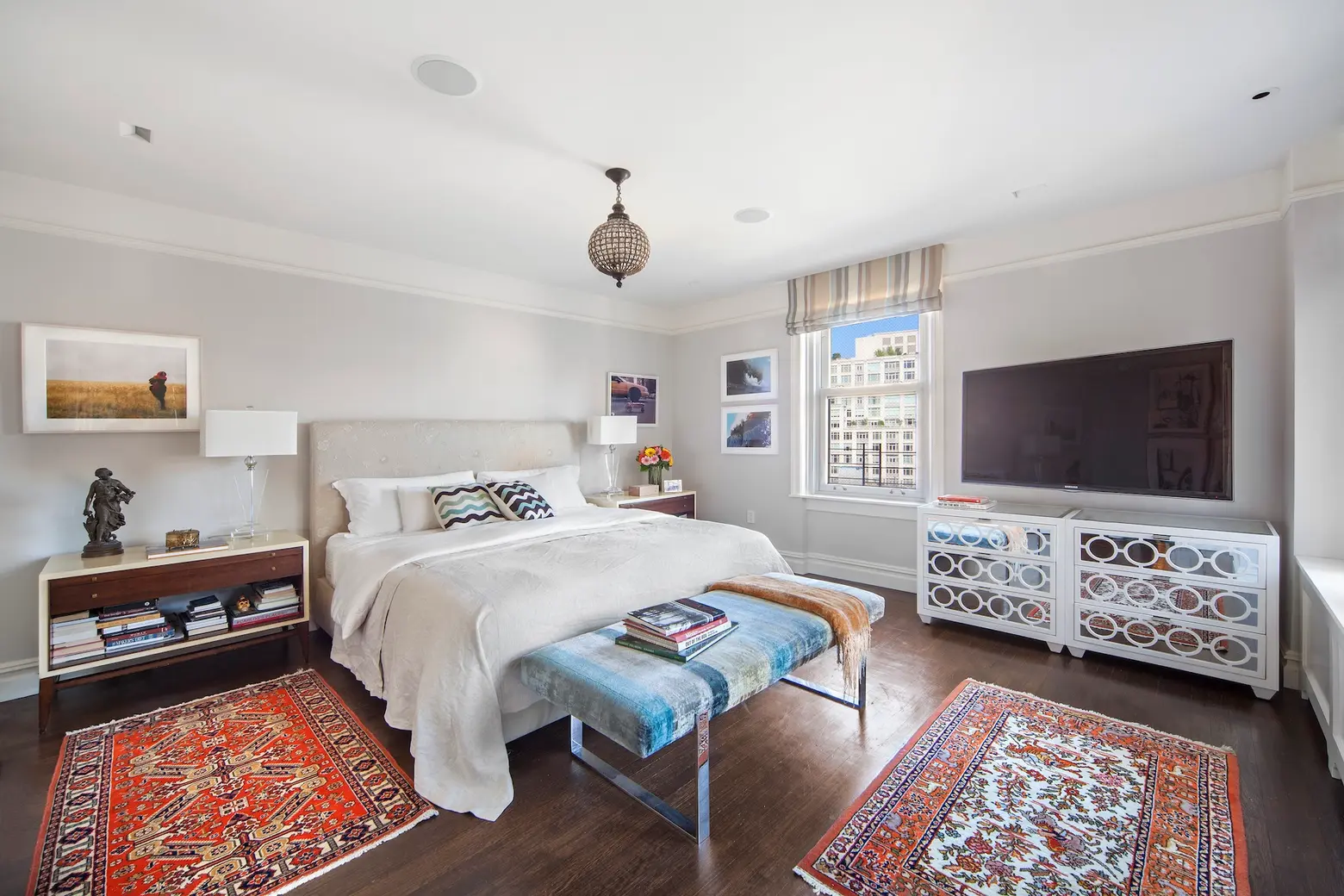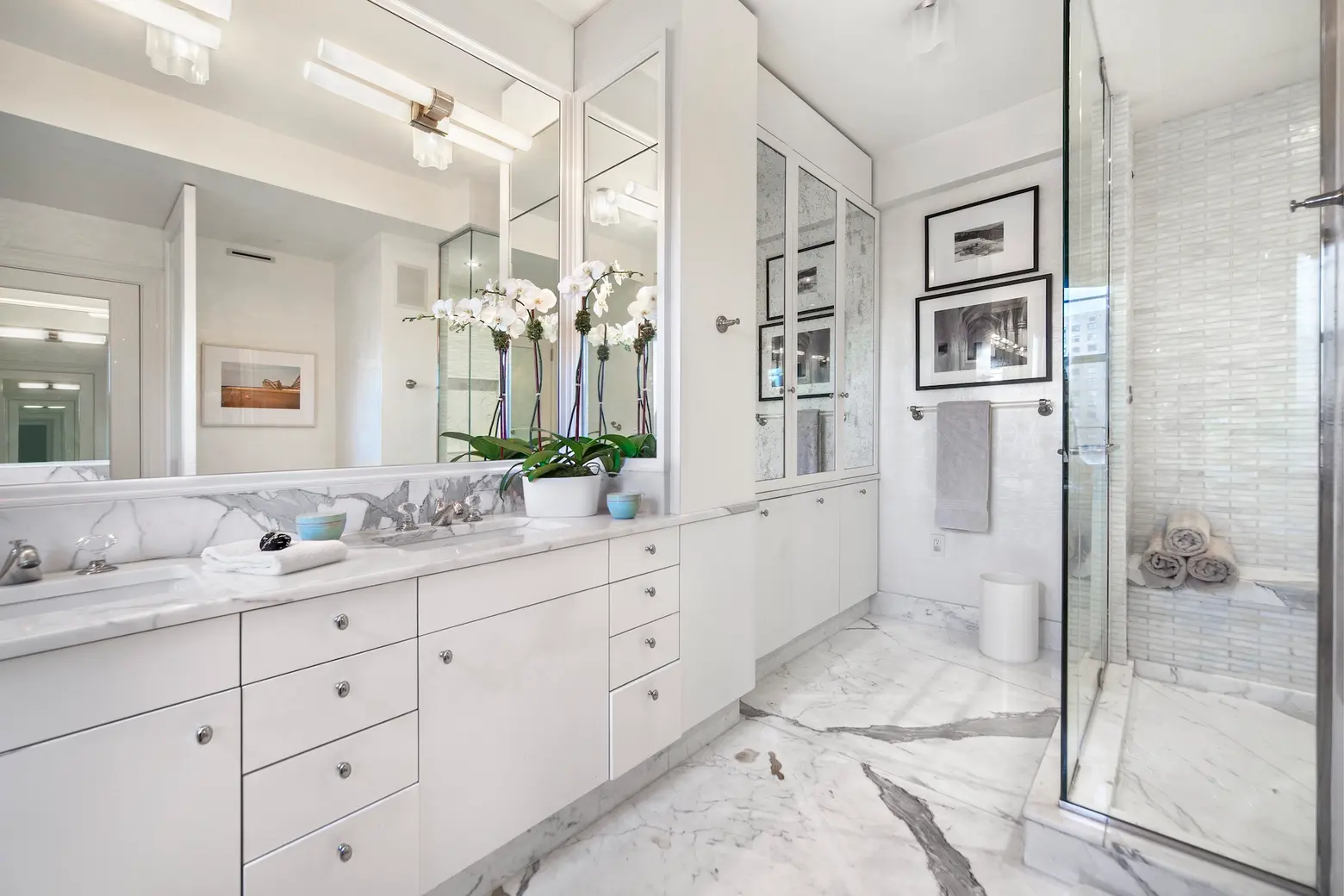 The master bedroom and bath; photos by MW Studio / Udom Surangsophon
You must've had a fairly large renovation.
Most people with a two-year-old and giving birth weeks later move out to do their renovations. I was such a stubborn person and said, "I'm going to live through it and I'm going to save that money and make a great master bathroom," which is what I did, but it cost me emotionally.
I moved out for two weeks and gave birth to my son. We lived downstairs and then we moved upstairs and we had no kitchen for six months. The refrigerator was in what is now my office area, and I had a hot plate, a microwave, and a coffee maker. We were luxury camping. I would not recommend that, but the end result was great.
Did that experience factor into your business?
Interestingly enough, I'm terribly dyslexic. I always love to have a voice around that because both my children are dyslexic, and I was undiagnosed until I was in sixth grade. But the amazing thing that I've come to learn as an adult, is that my spatial memory is like Rain Man. So [working] with developers, I'll look at one apartment, and I'll be able to reimagine it in an amazing way.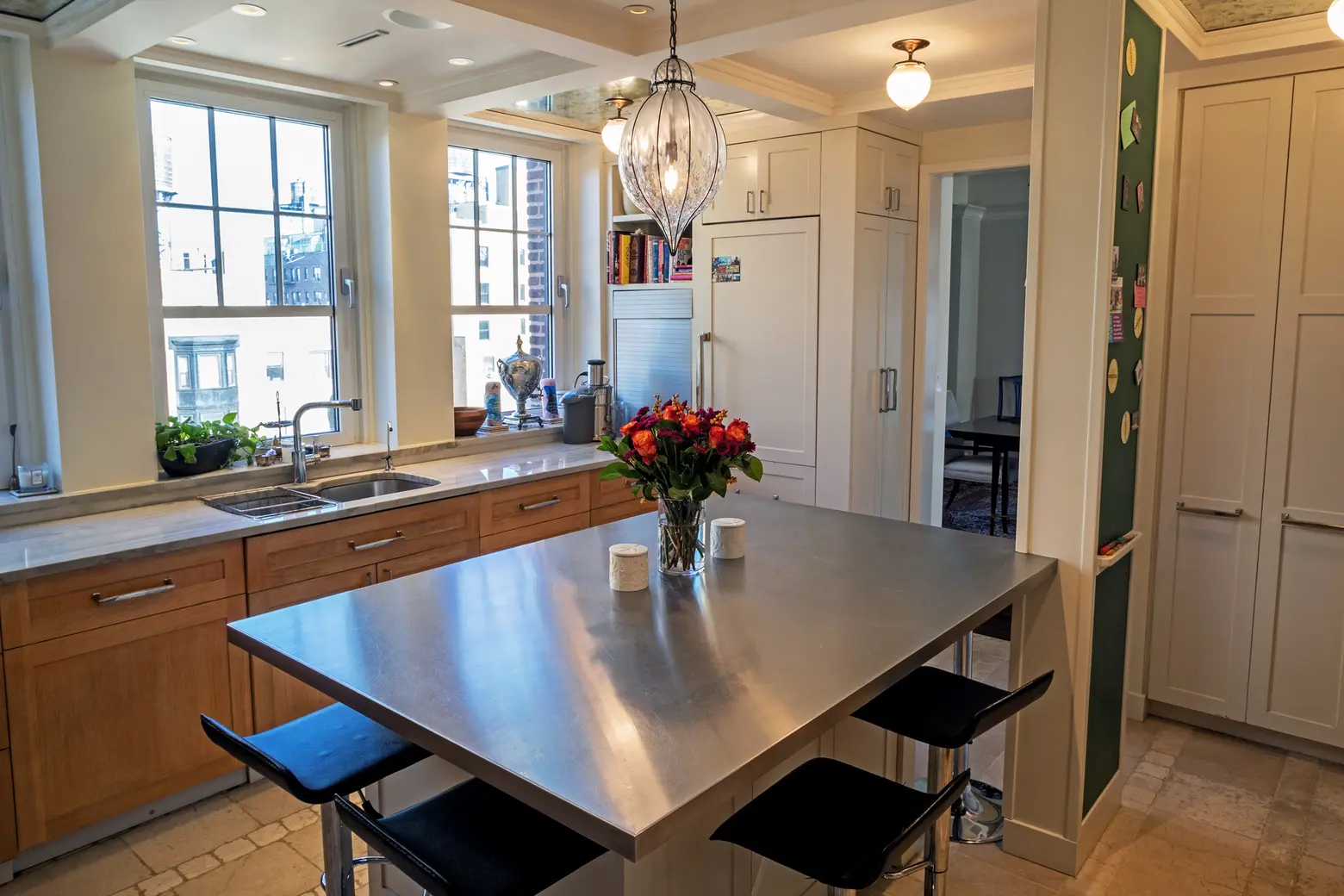 On the right, the riser now functions as a chalkboard wall and pantry divider. The light fixtures are from the 1930s; the antique mirror glass reflects the morning light beautifully. 
Did you encounter any hiccups during the renovation?
Yes. I found a riser in the middle of my kitchen; I thought they were further back based on all the renovations that I'd done, but I was miscalculating it. But these field conditions come up all the time, and you have to design around them. And that's what we did, it became [the chalkboard wall]. I was so concerned that my pantry was going to be too tight, but it's fine.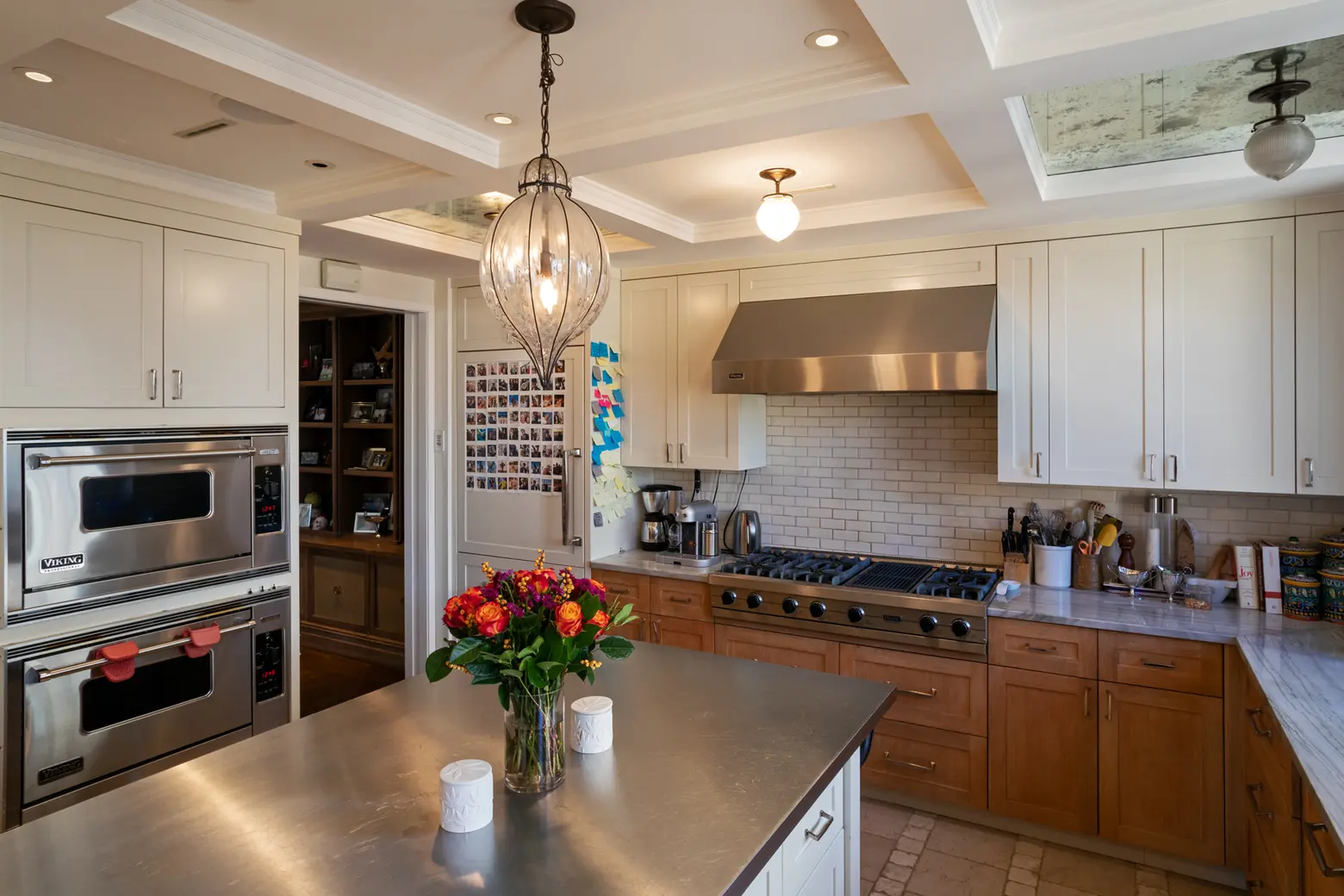 For several years, Louise's sons have been printing out photos Polaroid-style to keep this memory wall updated.
Were there certain must-haves in the renovation?
I really wanted a big kitchen. Every party ends up in the kitchen. I do pot lucks and buffets. I can have 50 people sitting throughout this whole floor, whether at the table or standing. We've had seven people at the island where we can have dinner and there's a casualness to it.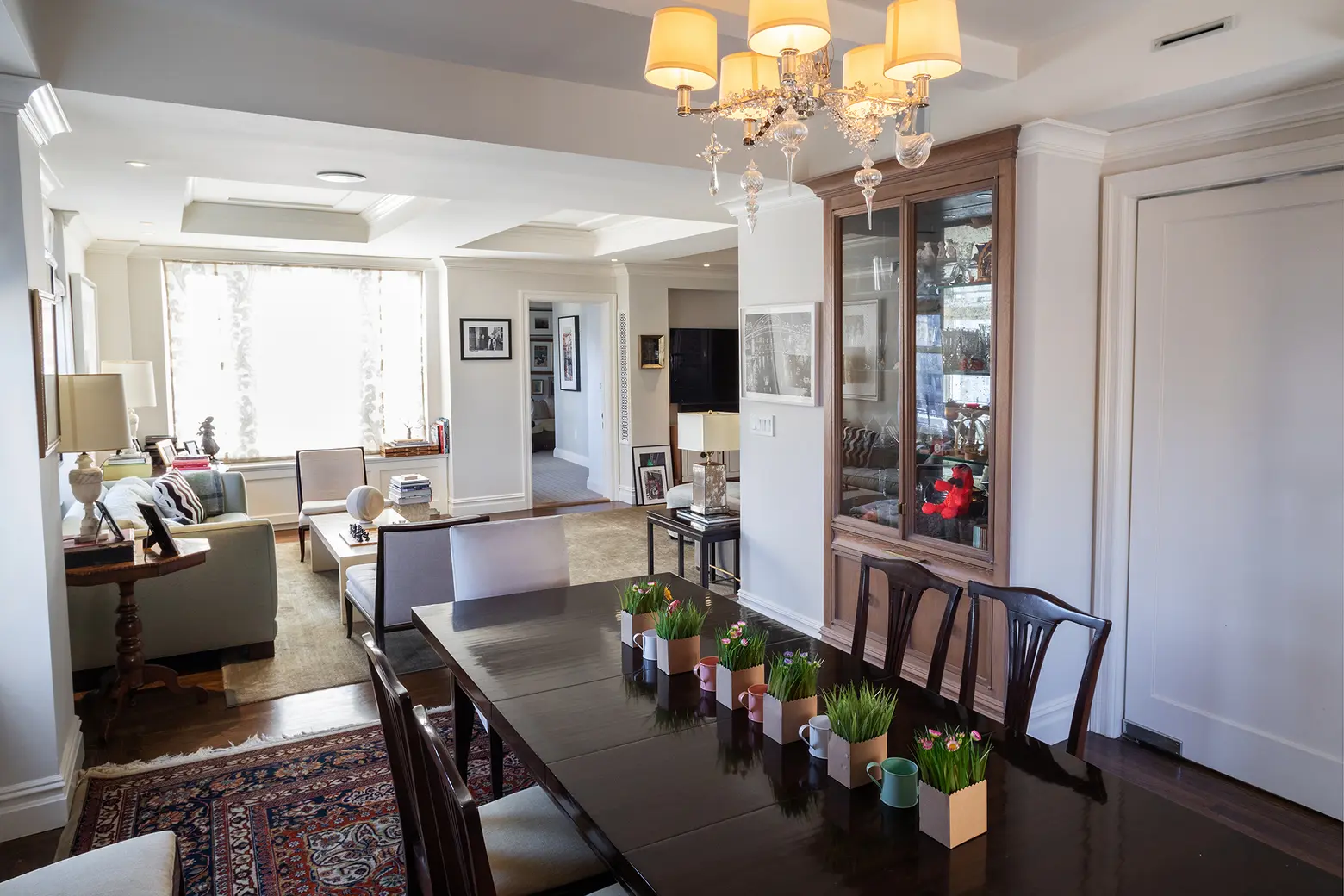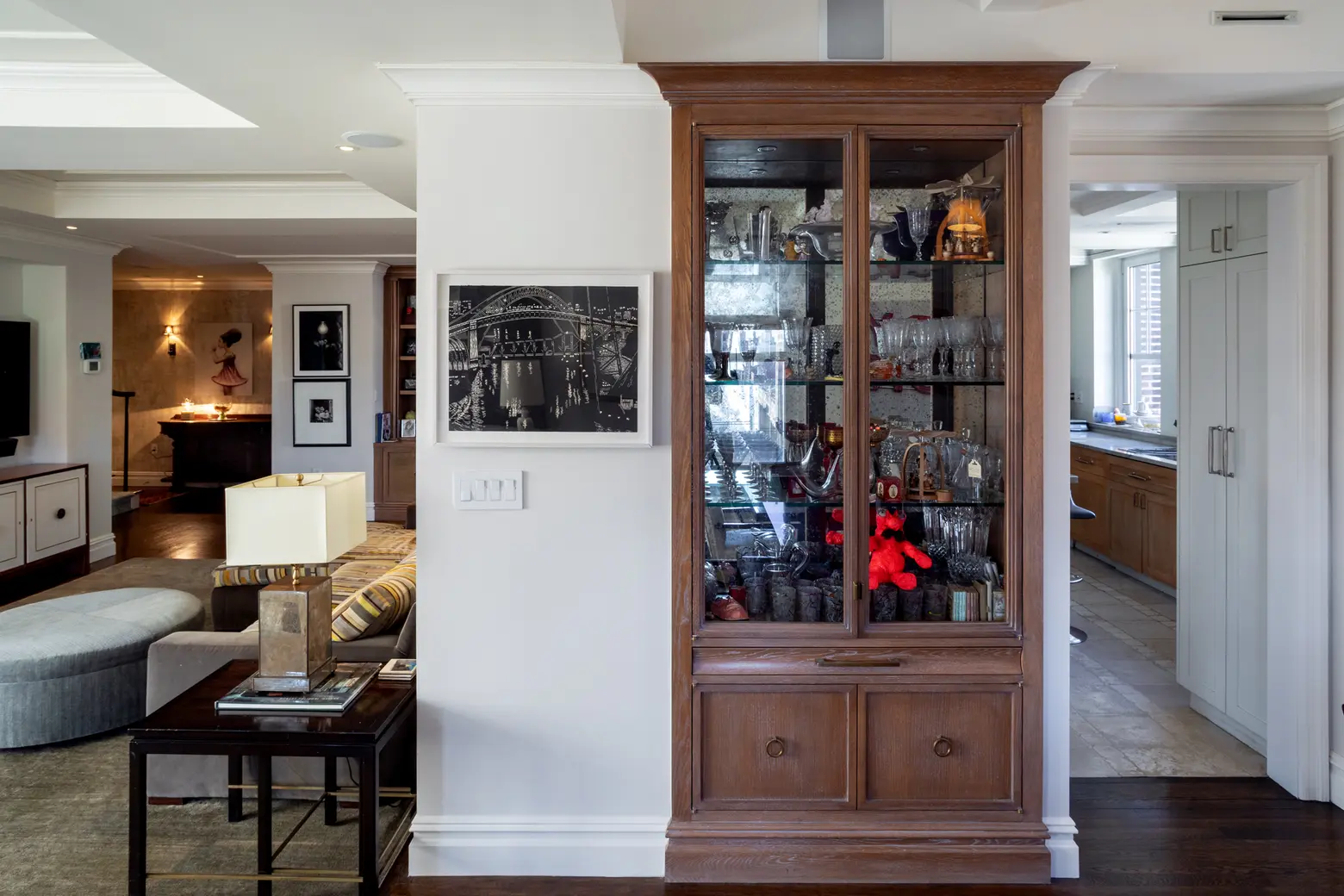 It seems like a lot of your design choices were focused on your children.
They like being home. Everything they do, we try to do together. We all surf together. We're a family of hockey players, a family of skiers. And then as it relates to their friends, we were hoping to create a place where the door is always open. When we entertain, often it's with their families. They bring all their kids and we do dinner here. And so that policy is something that's been important.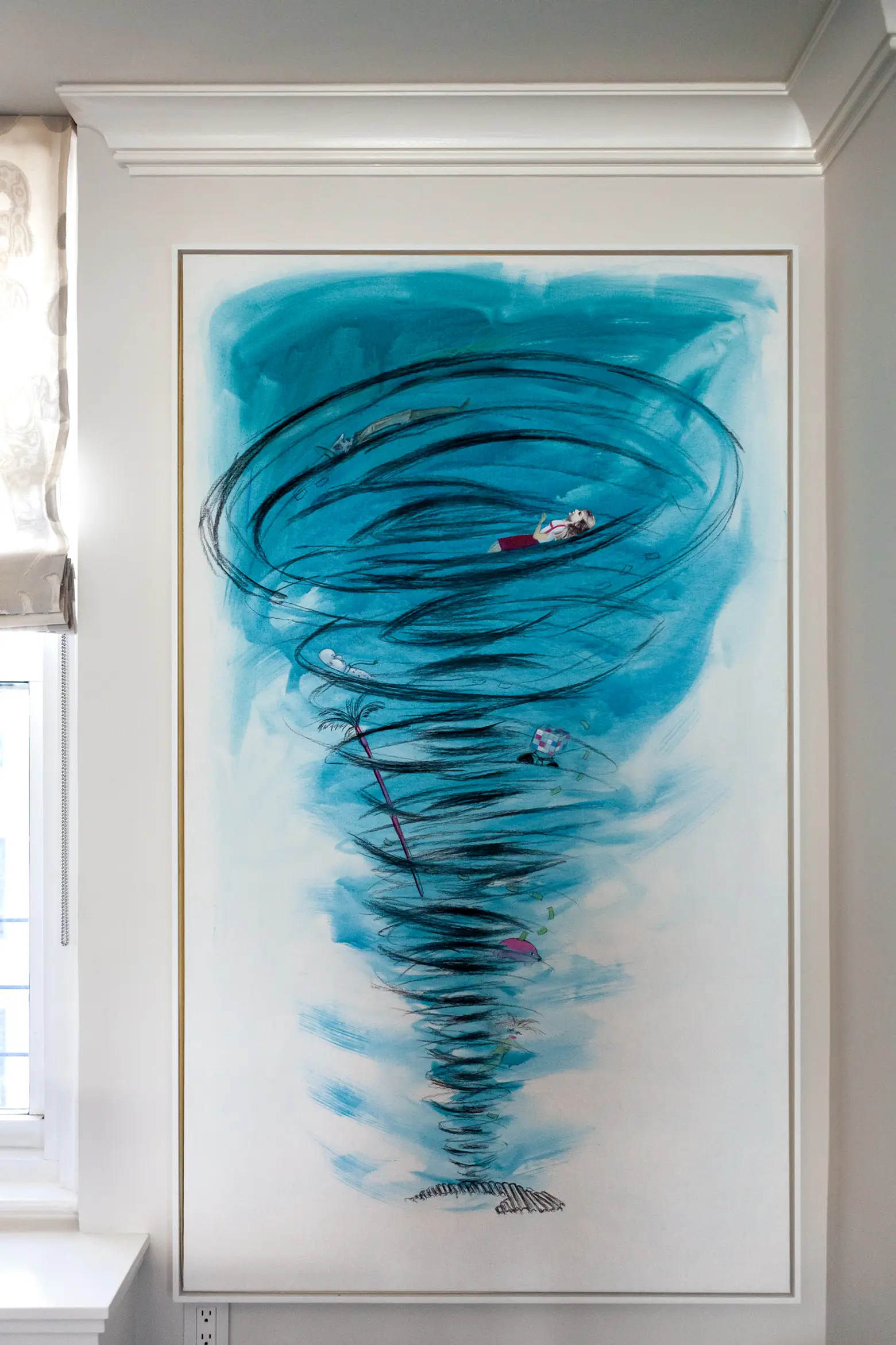 And the neighborhood is so family friendly, too.
My older son just went to boarding school, and my younger son is now navigating the subways by himself. So yes, being in this neighborhood is great because being able to be on their own is something we want. As long as they run in a herd, I'm happy.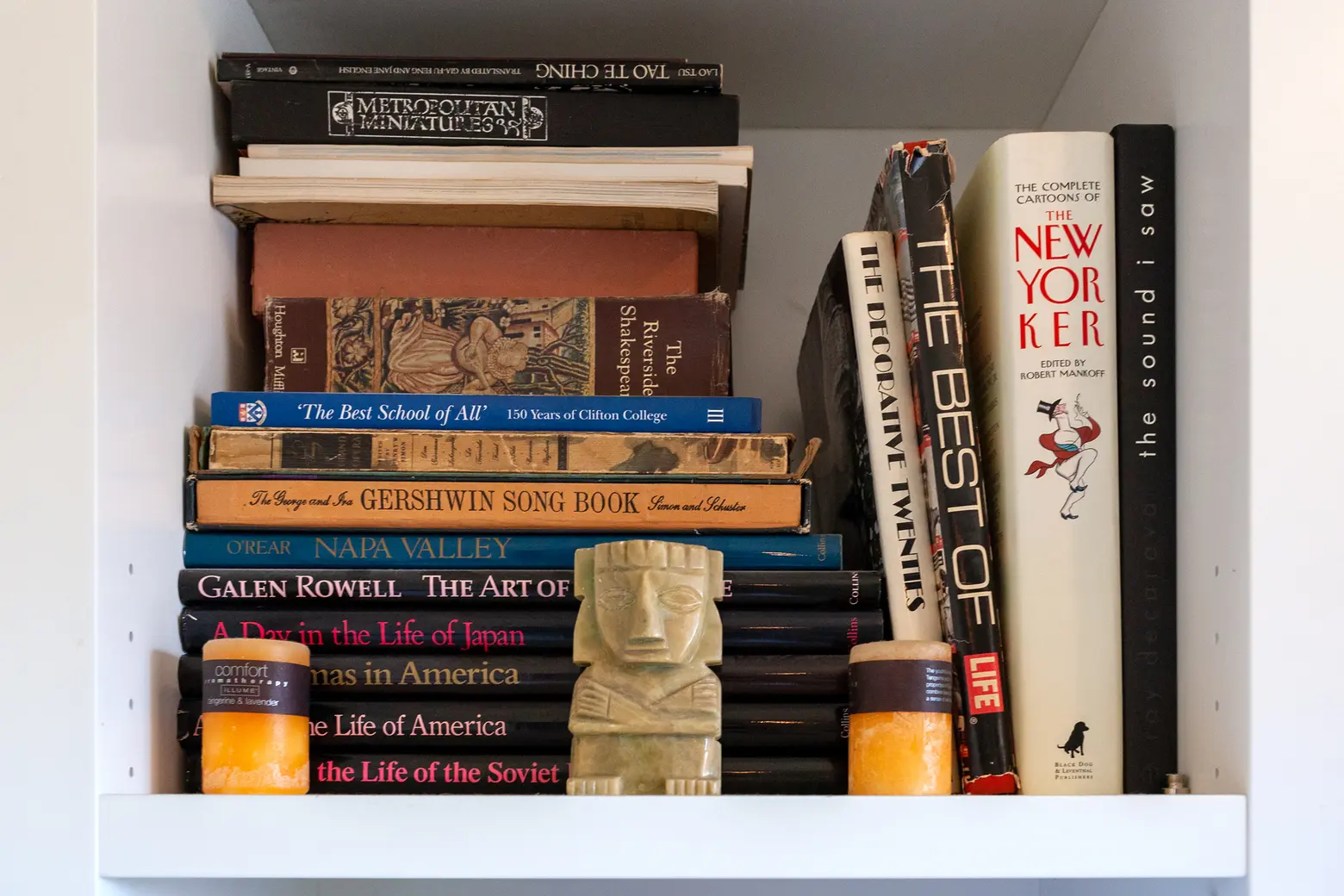 What are some of your favorite spots in the neighborhood? 
[It's great] to live behind Fairway and Citarella. If you have the bandwidth for the whole search, then you go to Fairway. If you're there for the quality and in and out, you go to Citarella.
For the years I've been here, the Upper West Side has not always been known for its restaurants, but I think that for us to get a Serafina [says something]. It's a stopping point for every kid. So having teenagers, they love it. We have the whole corridor of what's happening along Amsterdam in the last decade. It's got these great mom-and-pop restaurants that it's so nice to be able to support. You have neighborhood spots like Jacob's Pickles, and if you know Jacob, he is one of the kindest, most festive people. It's comfort food. And then you have Tessa, where we go at least once or twice a month. And Cesca has got great brunches. And there are some of these restaurants that have been there for many, many years, like Blue Ribbon for your sushi. For Upper West Siders who have had to travel for a long time, we don't have to travel so much.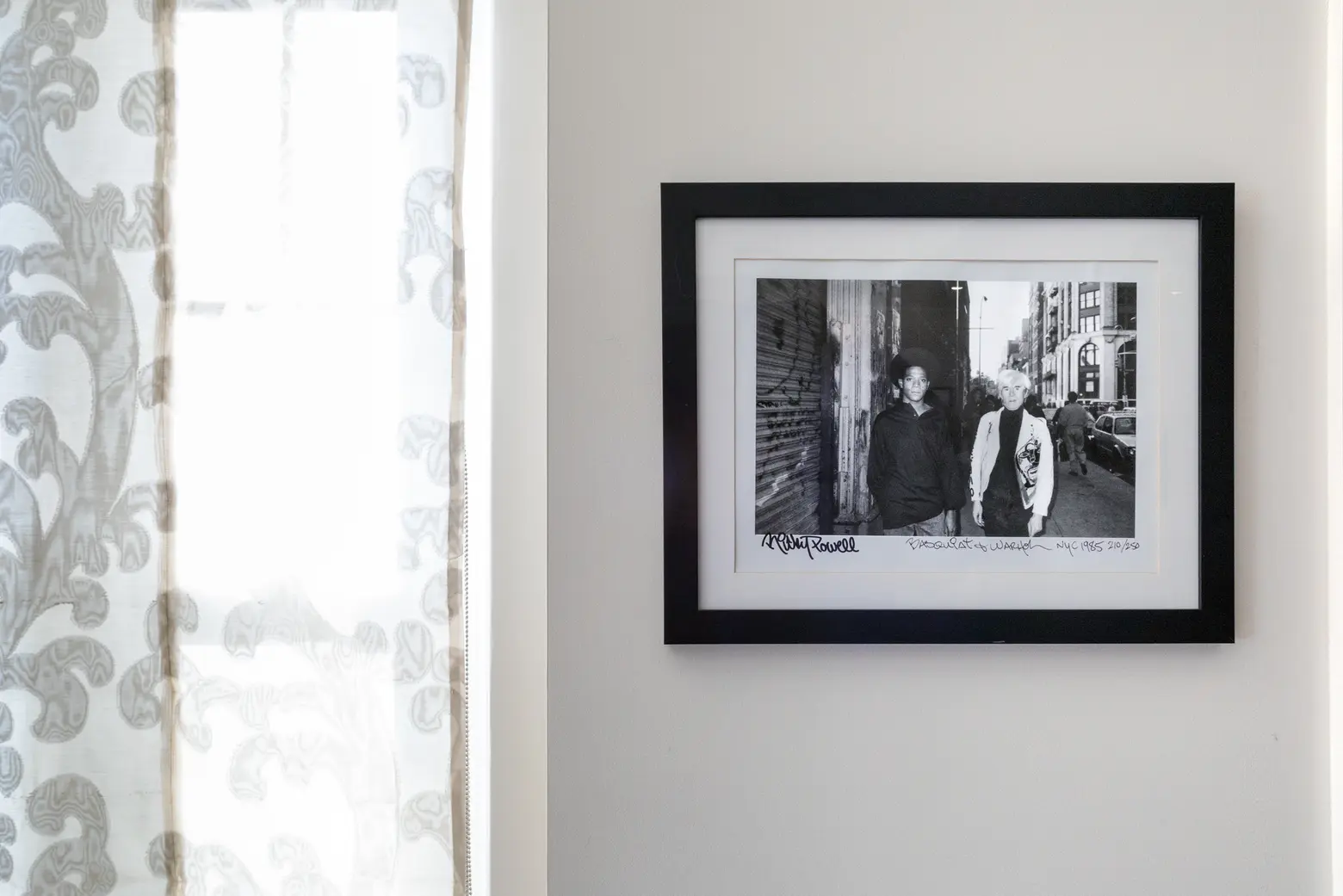 You also have a home in the Hamptons, right?
Yes. Because we're all surfers, we have a place in Butter Lane that we end up renting out. But we go to Montauk, where we have a tiny postage stamp [home] that's our slice of heaven. It's right on the beach and right on a break. The kids would love to just park themselves there [all summer], but they have hockey and [other activities]. But we do try to take the month of August off.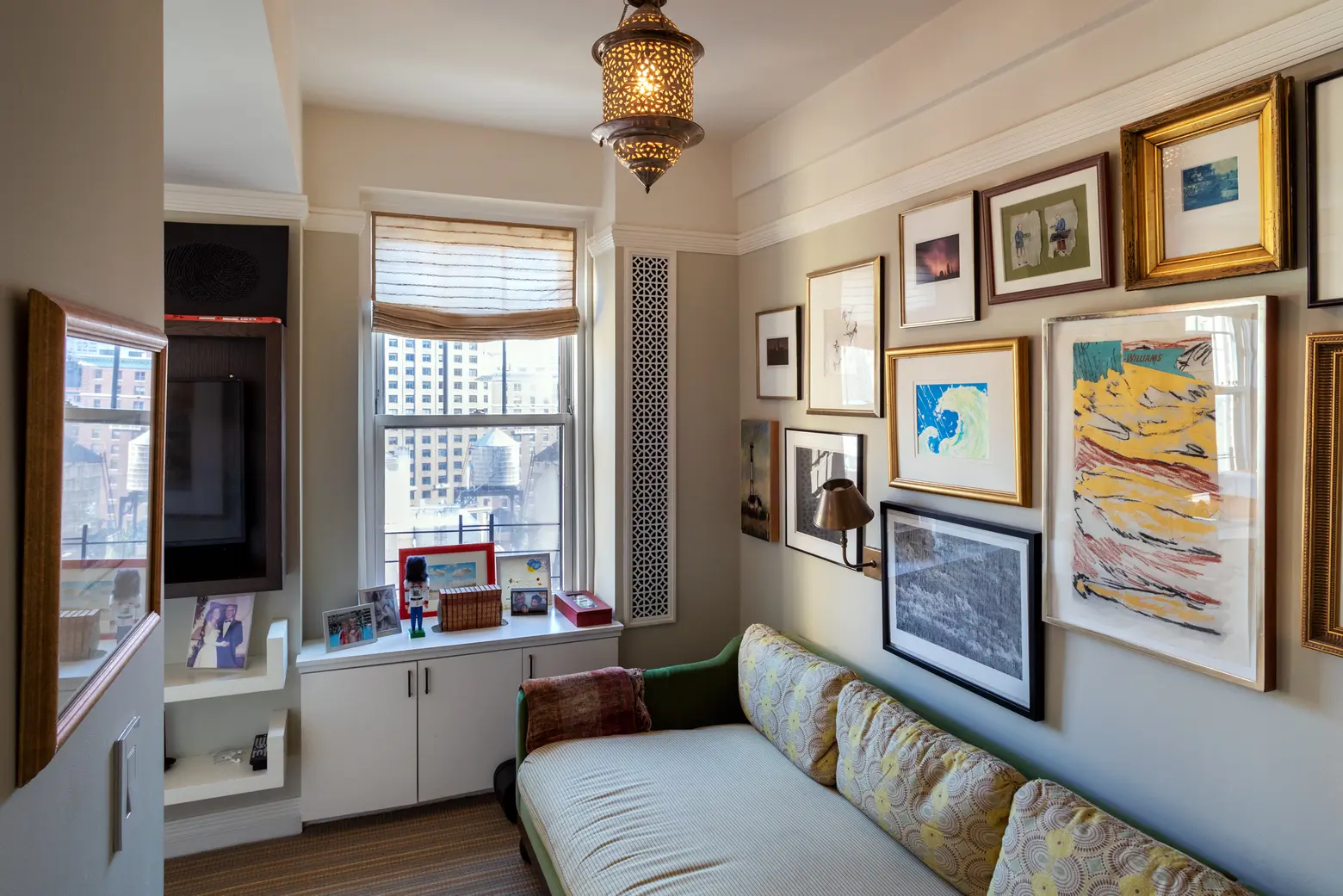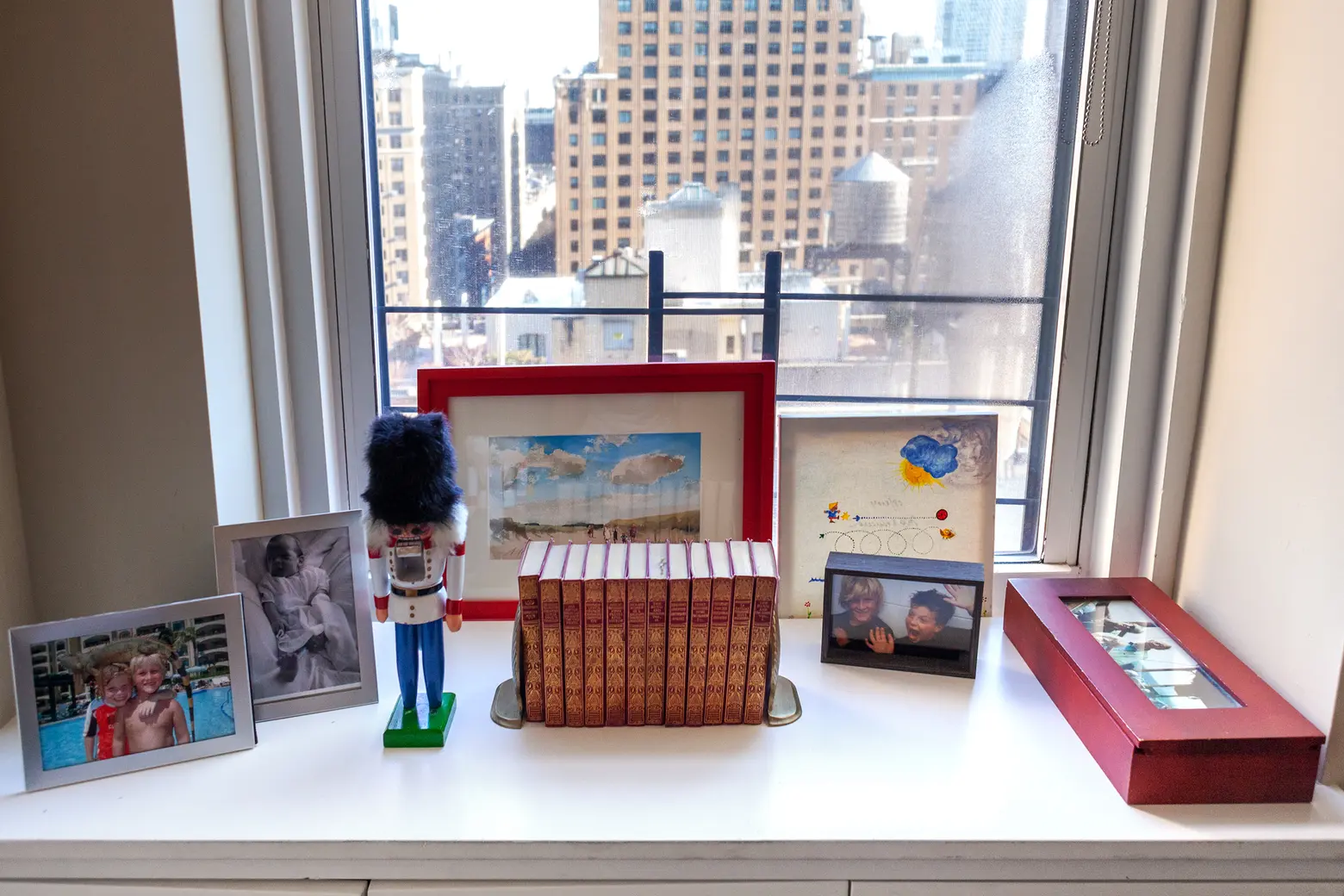 Can you talk a bit about your art collection?
My very dear friend who passed away last year was the executive director of the Bronx Museum. And before that, she was the executive director of Art in General, whose mission is to support up-and-coming artists from different countries and give them space to work. I was on the advisory board at the Bronx Museum for many, many years and was on the commissioner's circle for Art in General; I love supporting emerging artists.
One of the things that was nice for my husband and me was the idea of collecting art together. We traveled to Cuba and then went to Italy and we try to do Art Basel every other year. We also try to connect with artists who we actually know.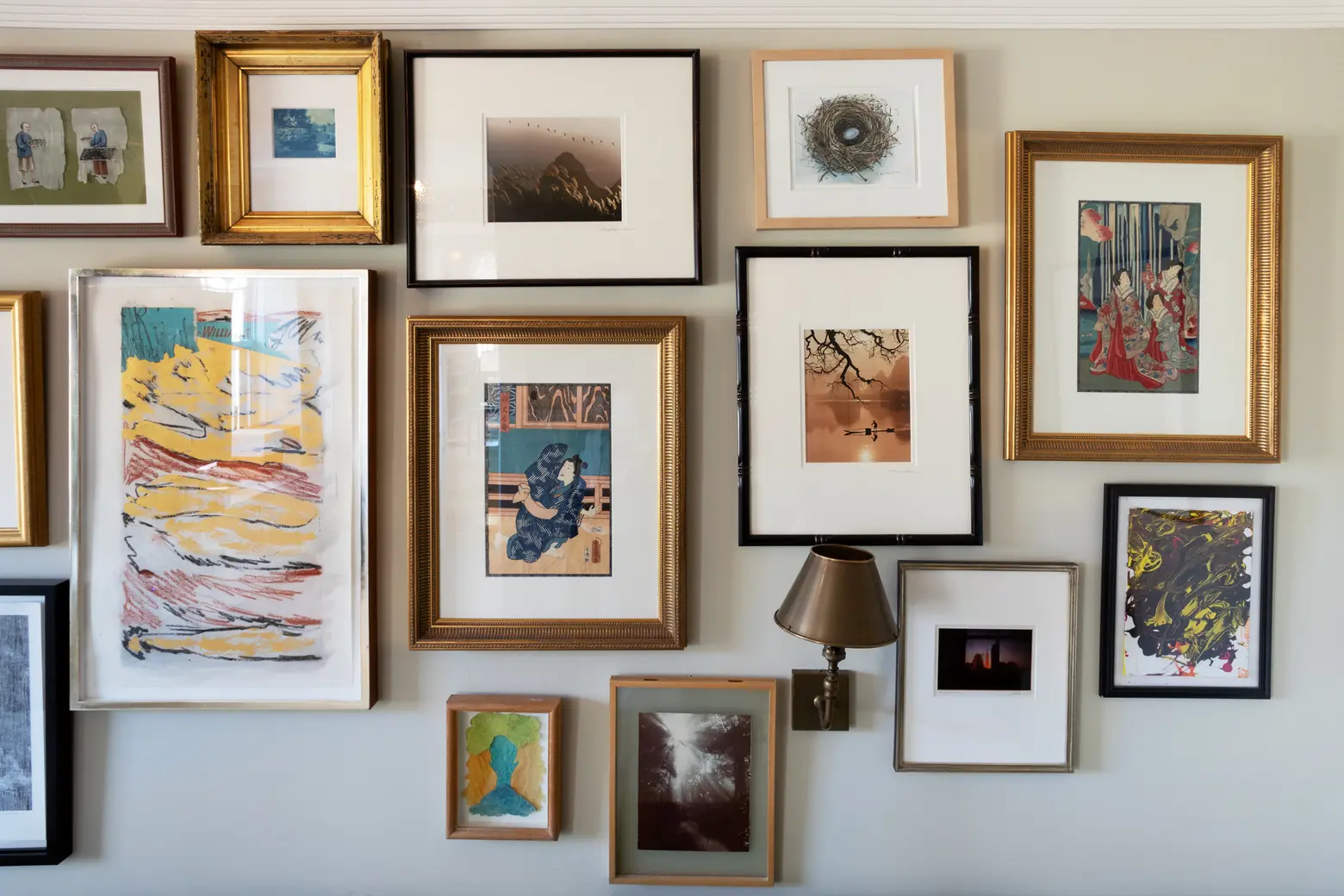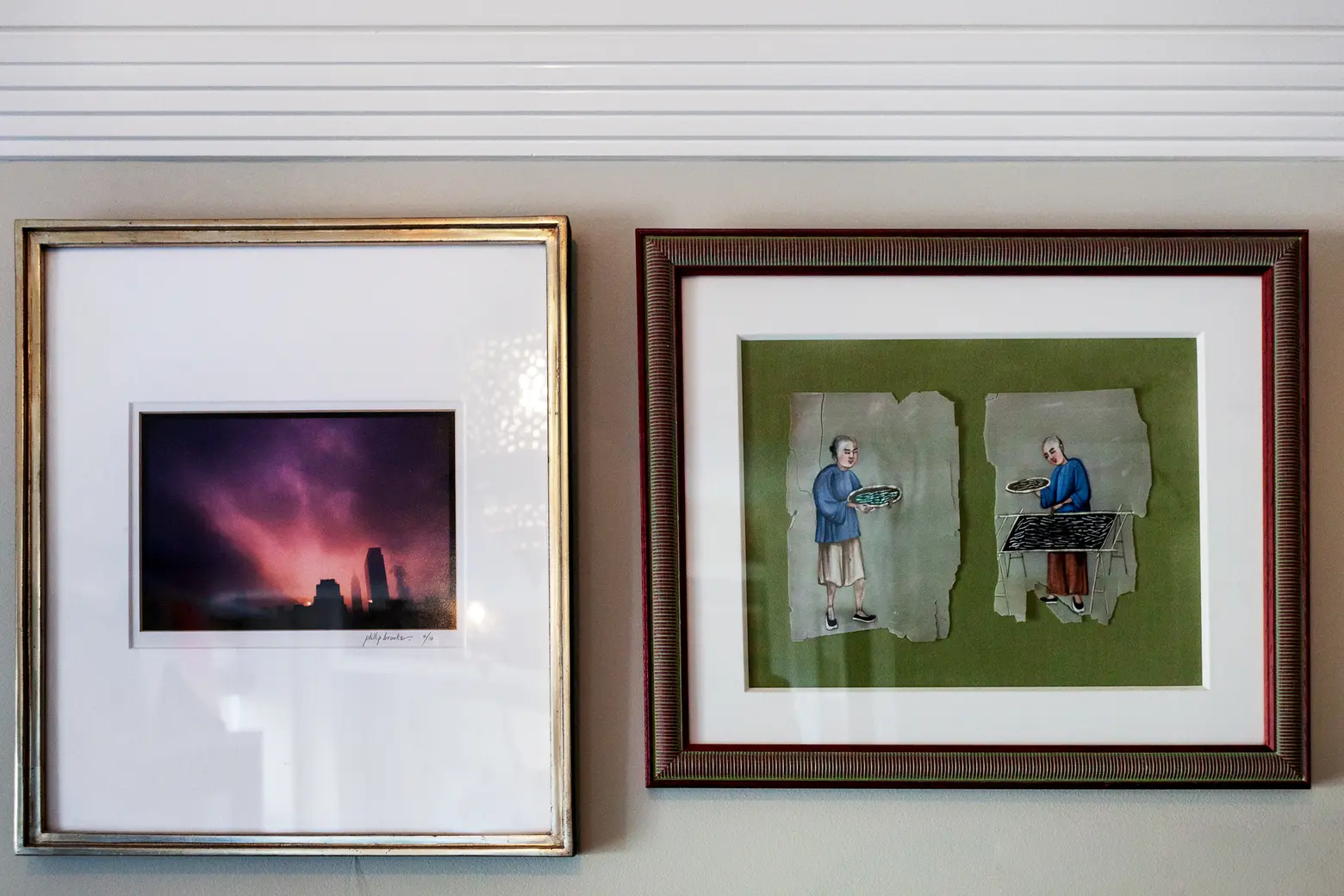 How did you get into Cuban art?
[While at Art in General], my friend met and fell in love with a number of Cuban artists. She wrote a book many years ago and really discovered most of today's iconic contemporary Cuban artists, like Los Carpinteros and Sandra Ramos. So when we went to Cuba in 2008, before everybody went, we met these artists. We would go to their house and they would organize a dinner and we could buy the art right there and hear their stories and the history of their art.
RELATED:
Unless otherwise noted, all photos taken by James and Karla Murray exclusively for 6sqft. Photos are not to be reproduced without written permission from 6sqft.