My 150sqft: Architect-turned-actor Anthony Triolo shows us his custom-designed tiny apartment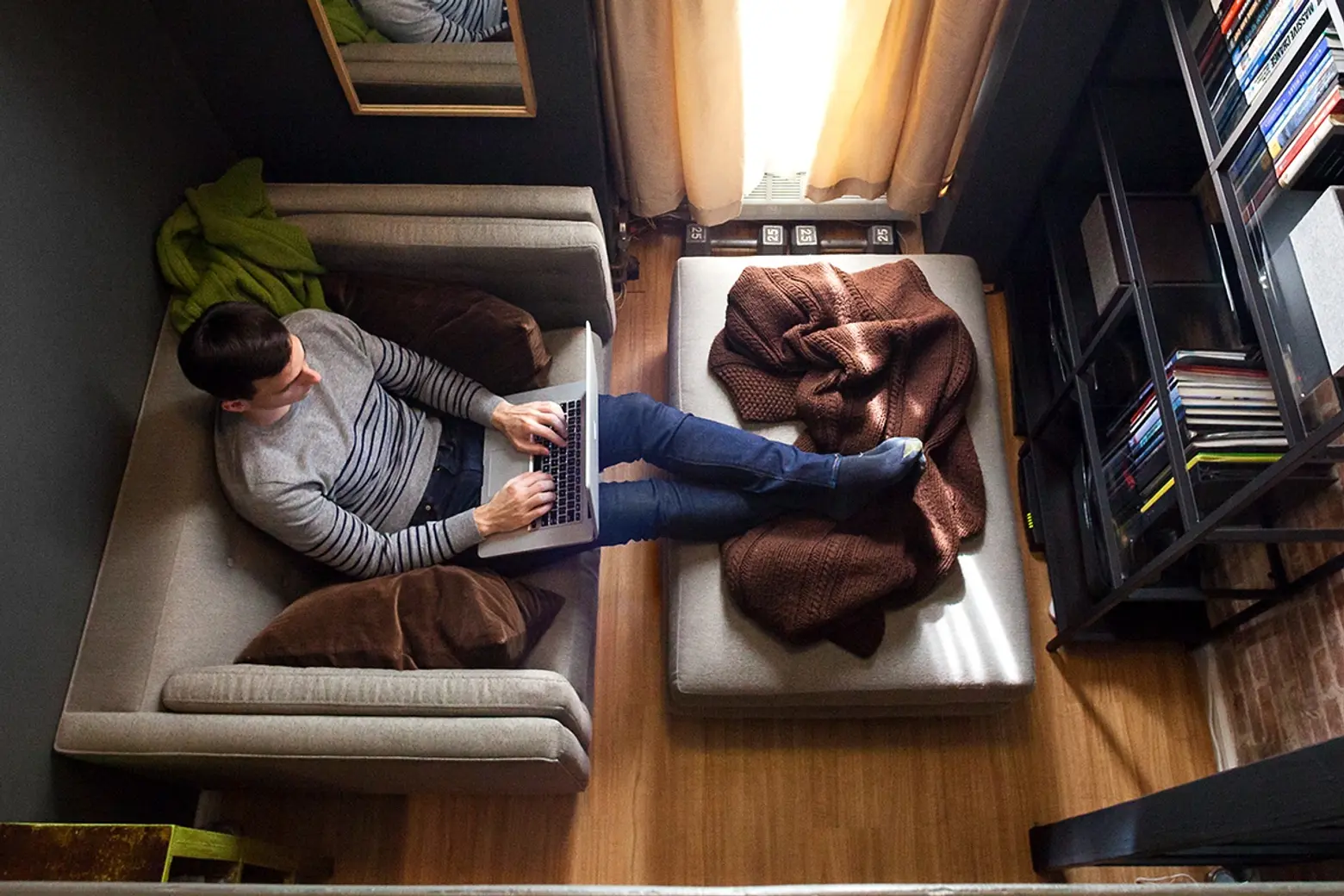 Our ongoing series "My sqft" checks out the homes of 6sqft's friends and fellow New Yorkers across all the boroughs. Our latest interior adventure brings us to an Upper West Side brownstone where Anthony Triolo lives in just 150 square feet. Want to see your home featured here? Get in touch!
When Anthony Triolo moved into a 150-square-foot studio on the Upper West Side in 2010, he thought it would be a temporary money-saving move. Seven years later, he's changed careers from the architecture field to acting (you've seen him in "How I Met Your Mother" and "How to be Single" and he's currently filming the upcoming show "Bull") and transformed his tiny home into a custom-designed, multi-functional retreat. Anthony describes his style as "casual elegance" and believes smart shopping and mixing affordable finds with some more high-end buys is the key to creating a comfortable home no matter what the size.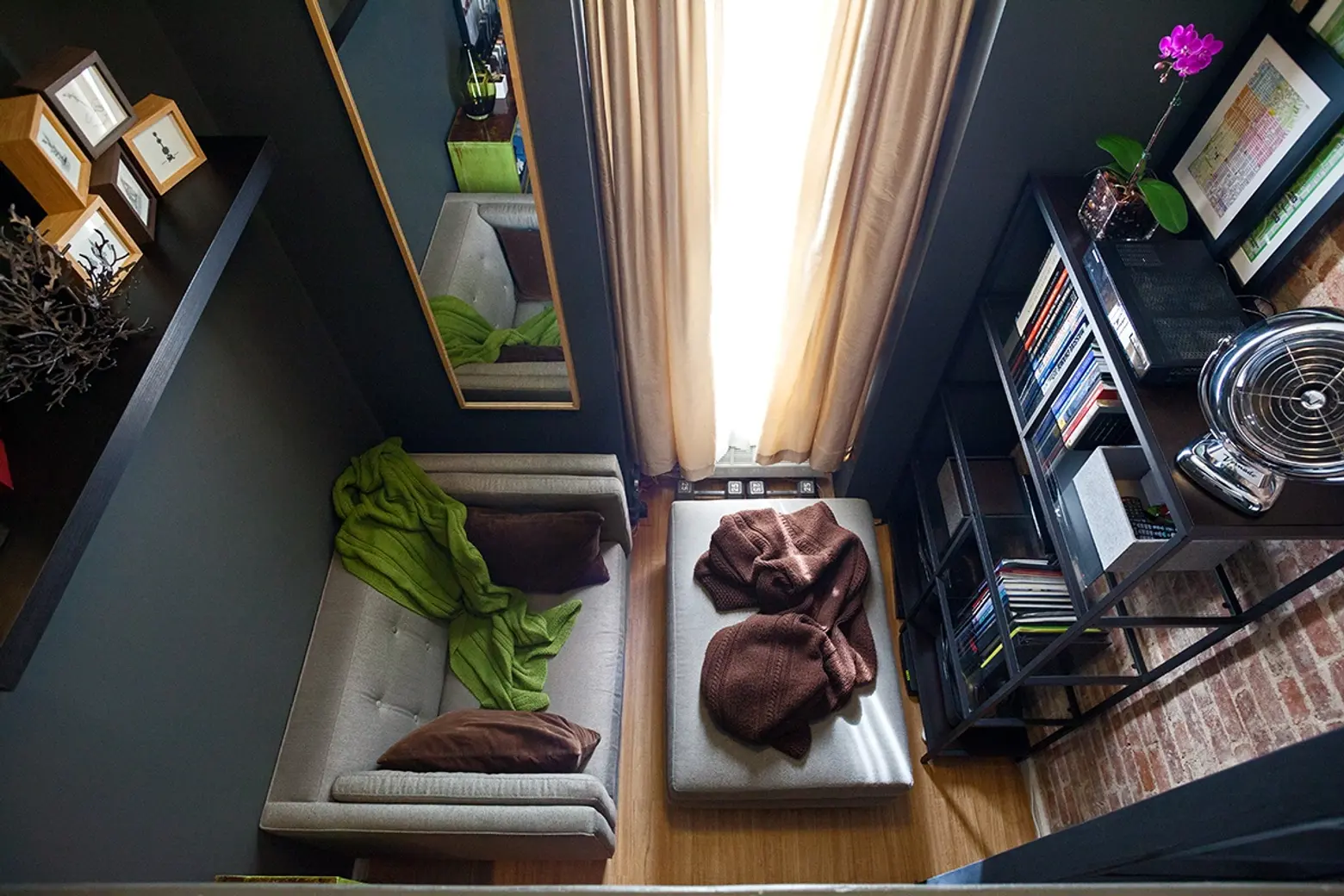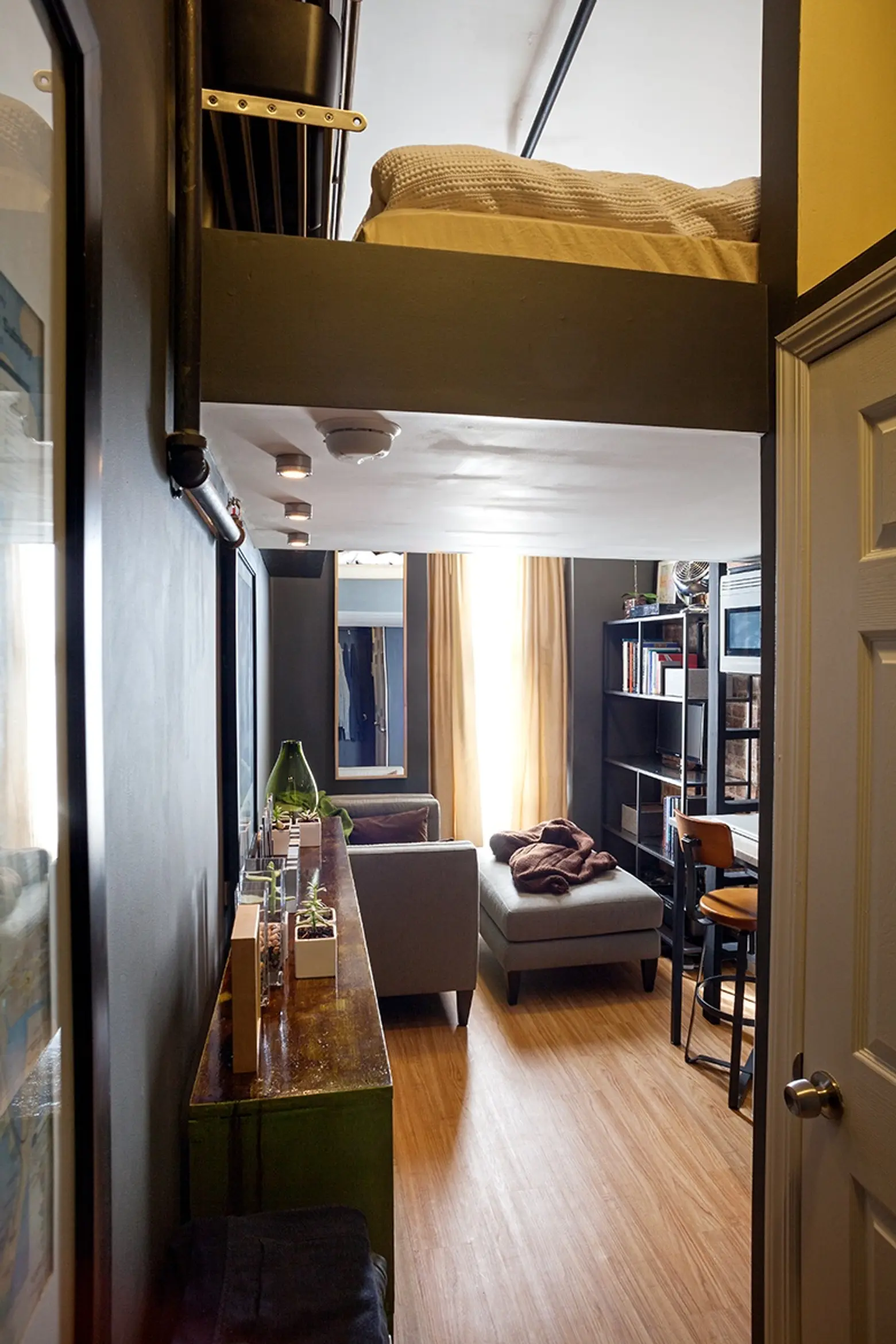 His mom made him the green blanket, which is where he got his color inspiration.
How did you find the apartment and what ultimately made you decide to go tiny?
I found the apartment on Craigslist. It was the first listing I read that wasn't a scam. I came to look at the apartment and it was definitely tiny, but I was working with a very limited budget and on a time crunch. The bathroom was just renovated and was nice and clean so I decided to take it. I originally thought of it as a temporary situation. For the first year or so it was just functional but the longer I stayed the longer I felt at home here and started making an effort to make it nice.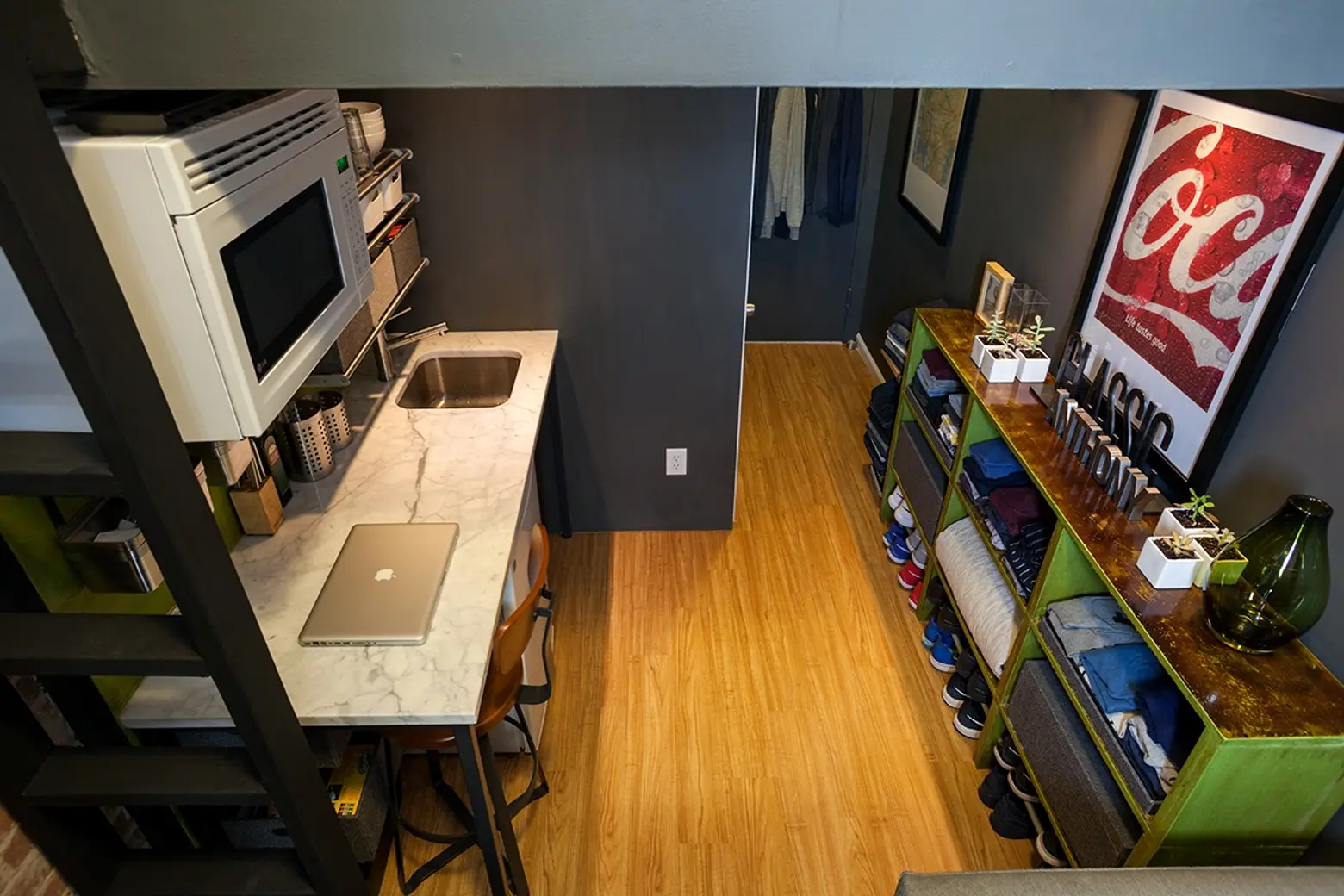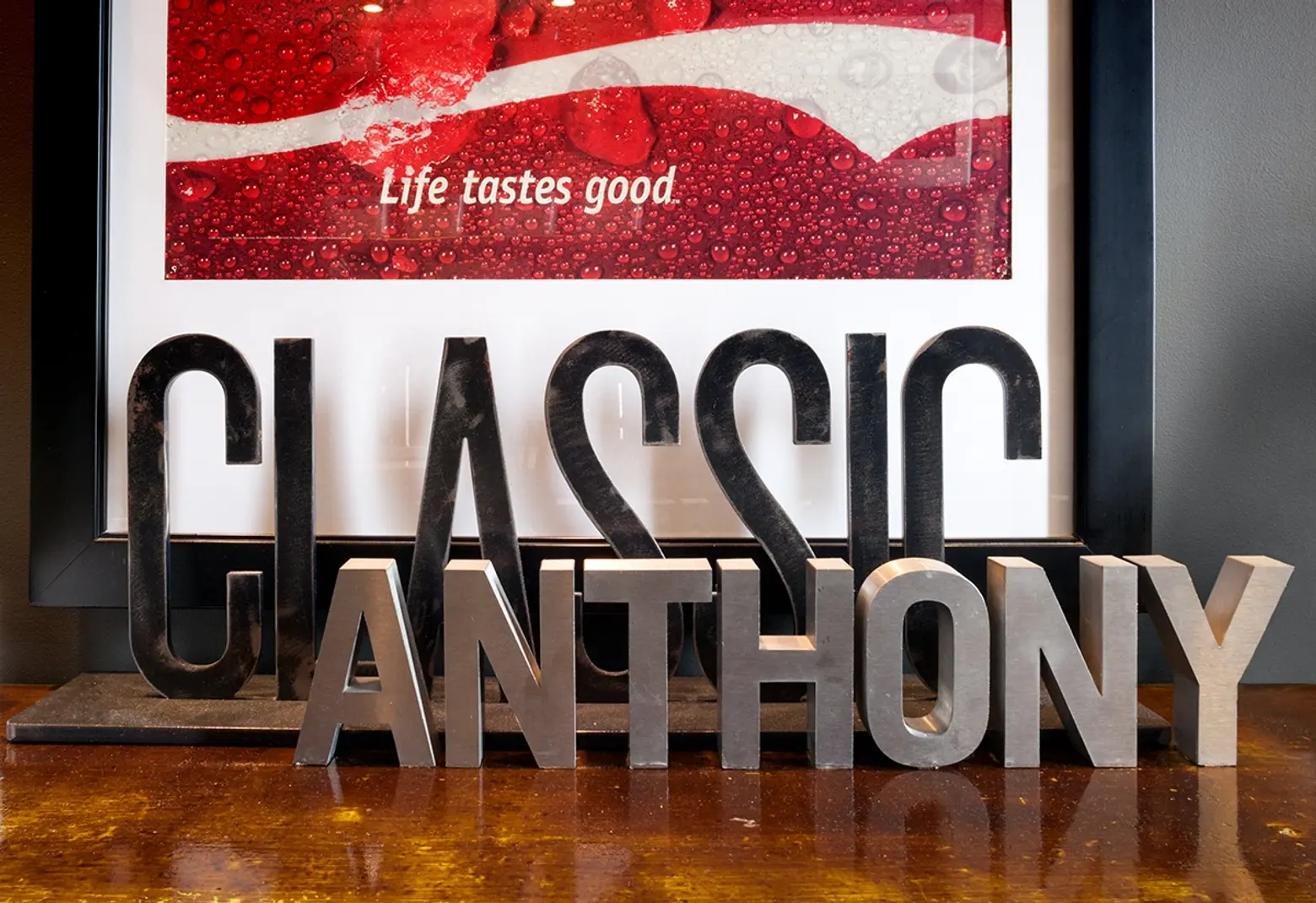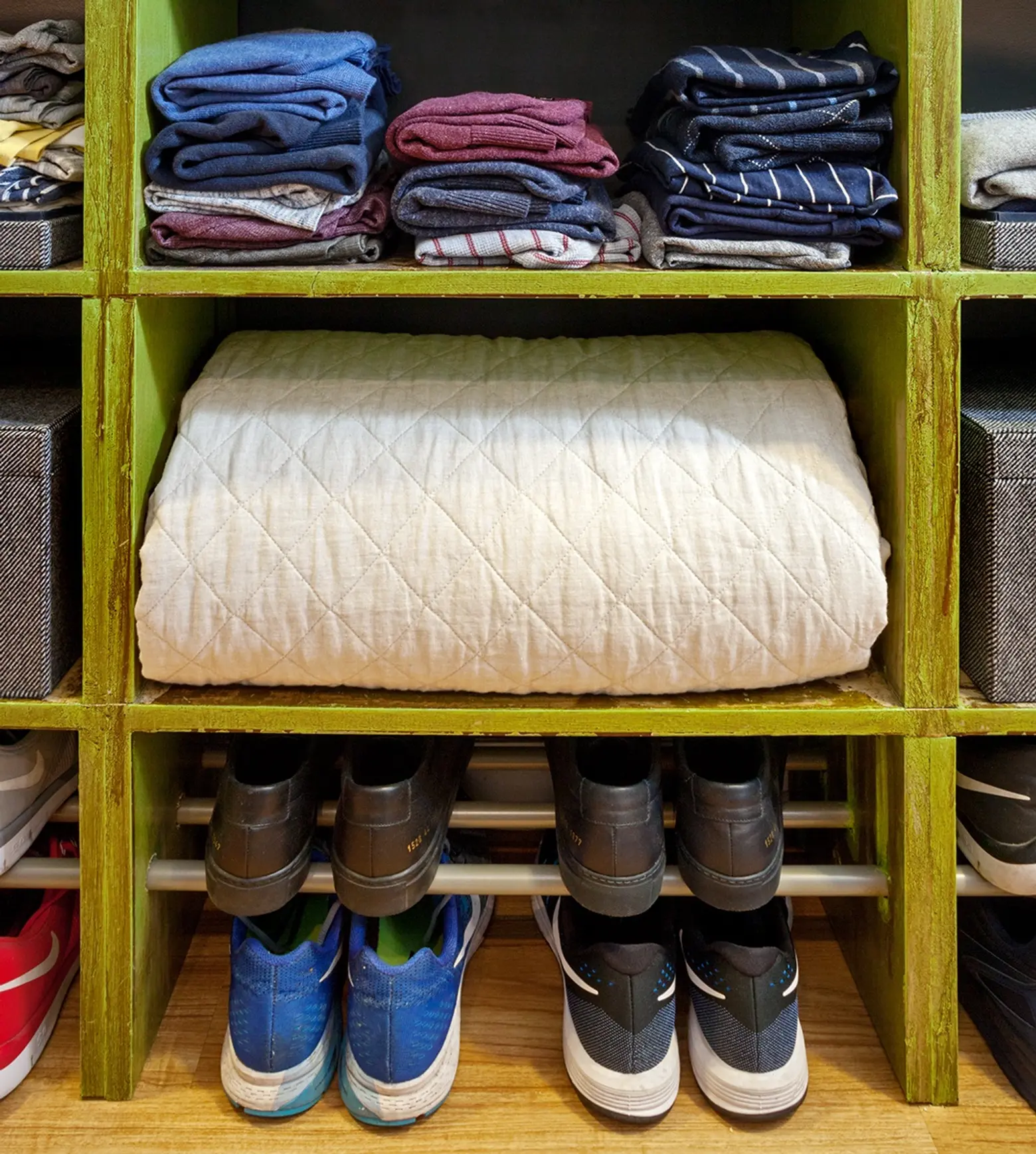 Anthony installed the floating floor himself. It's called TrafficMASTER and is a Home Depot exclusive. You simply cut it with a box cutter, and it's quick and quiet to install (top). Anthony added the shoe racks to the shelves to hold part of his 30-pair sneaker collection (bottom).
You have an architecture degree and designed a lot of the furniture and storage yourself. Tell us a bit about your process transforming the space.
Living in a tiny apartment you definitely have to look around for things that will fit in the space. The oversized chair is from Crate & Barrel and is slightly smaller than a standard love seat. It was the perfect size so I had to get it. Other things like the green shelves I built myself because I wasn't able to find a set of narrow shelves that wouldn't take up too much room.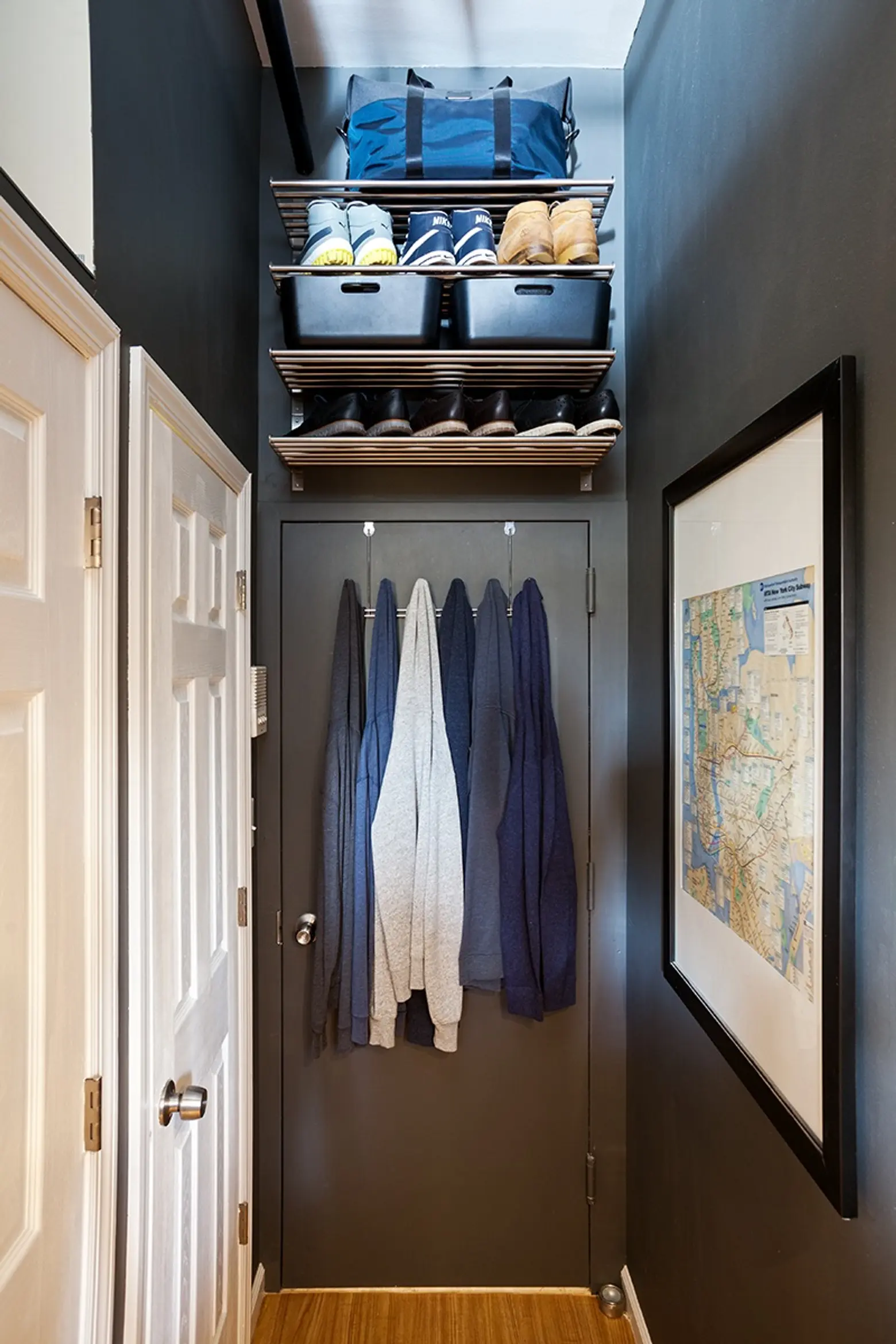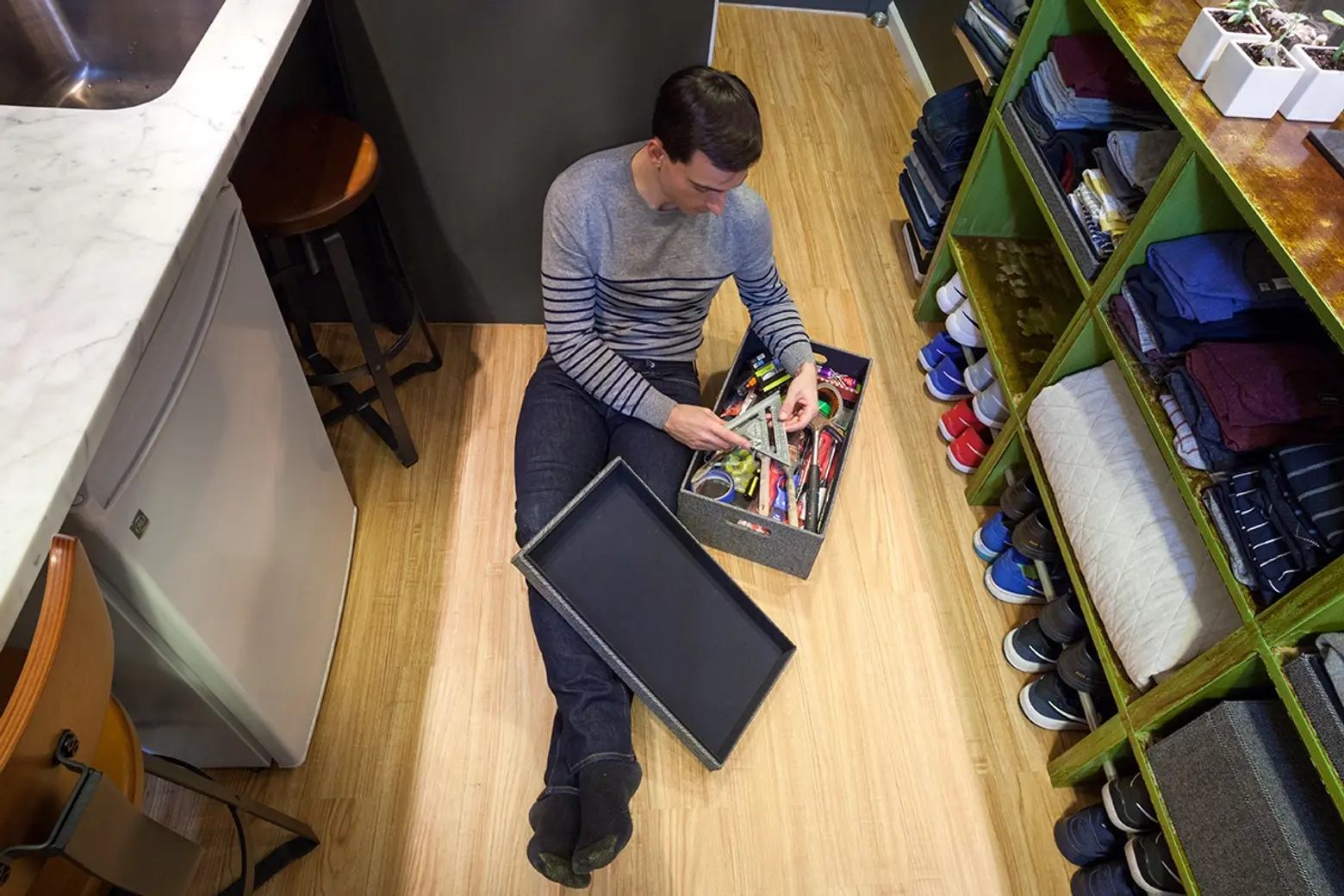 His "junk drawer"
What would be your advice for someone hoping to live in a very small space but who doesn't have the design background?
I don't think you need to have a design background to live in a tiny space or to make any space look nice. I think it's all about shopping around. All stores usually carry similar items each season, so for example, when gray furniture is in most stores will have it. I don't think there is any one store to look in, it's definitely all about shopping around and picking the items that work best in your space–everywhere from Home Depot to IKEA to Crate & Barrel, CB2, Pottery Barn, and West Elm.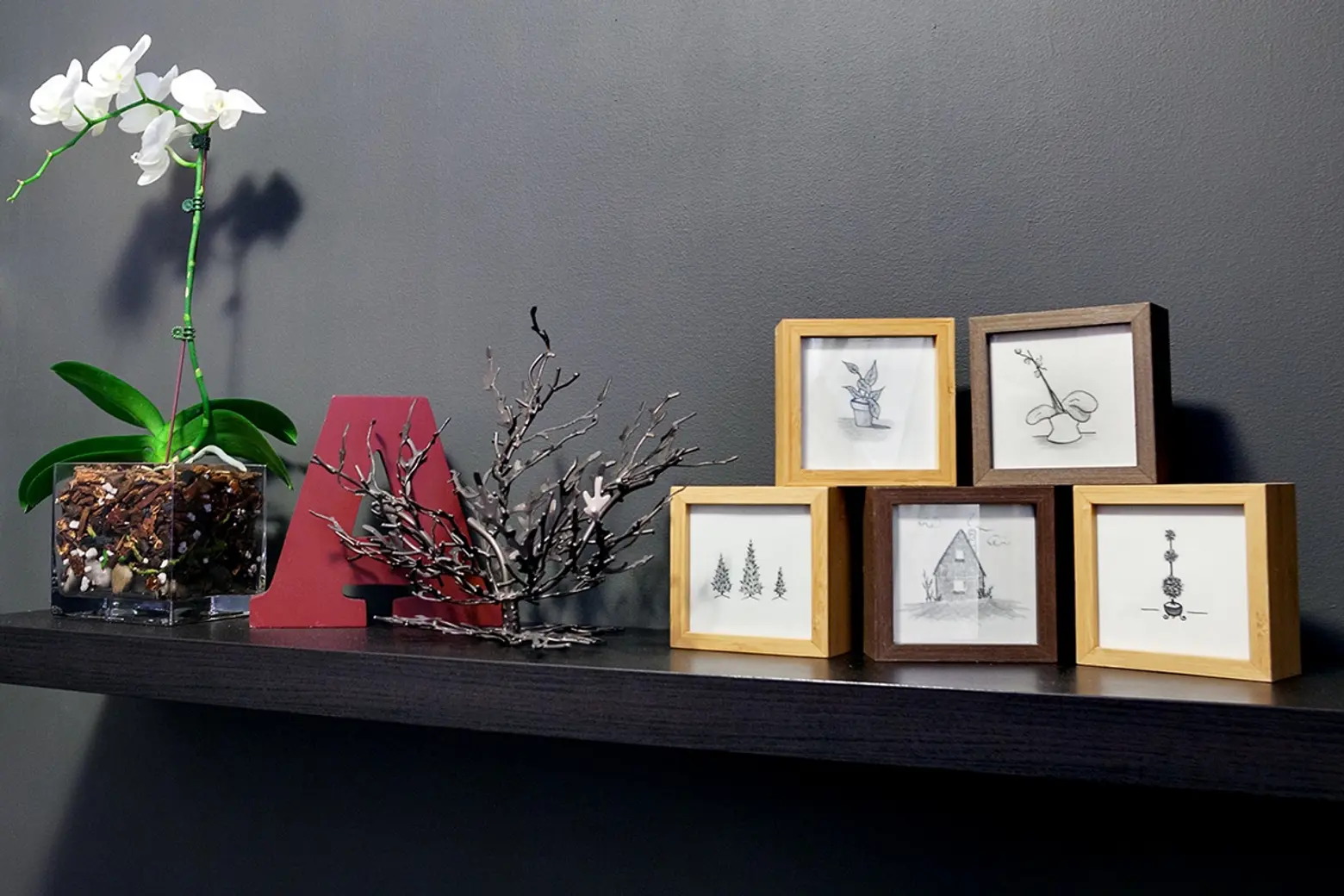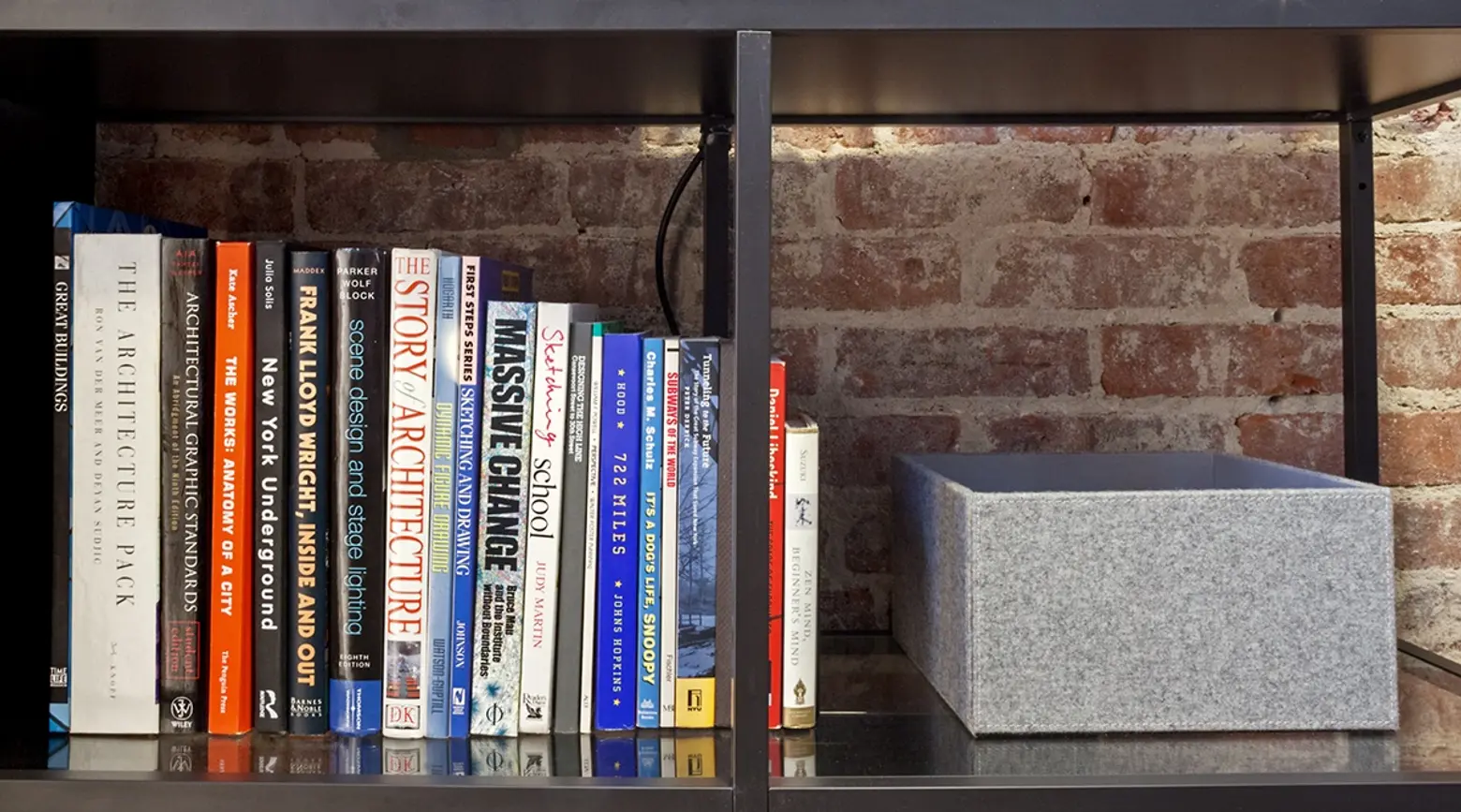 The drawings are by Anthony (top). 
Design is not always having to reinvent the wheel. Don't be afraid to run with a design you see in a magazine or elsewhere because you think if you do it will look like everyone else's. No two spaces are alike. If you like what you see in a magazine use that as your blueprint and inspiration; use a similar color scheme and buy pieces similar to those that work best in your space, and in the end, your space will be unique.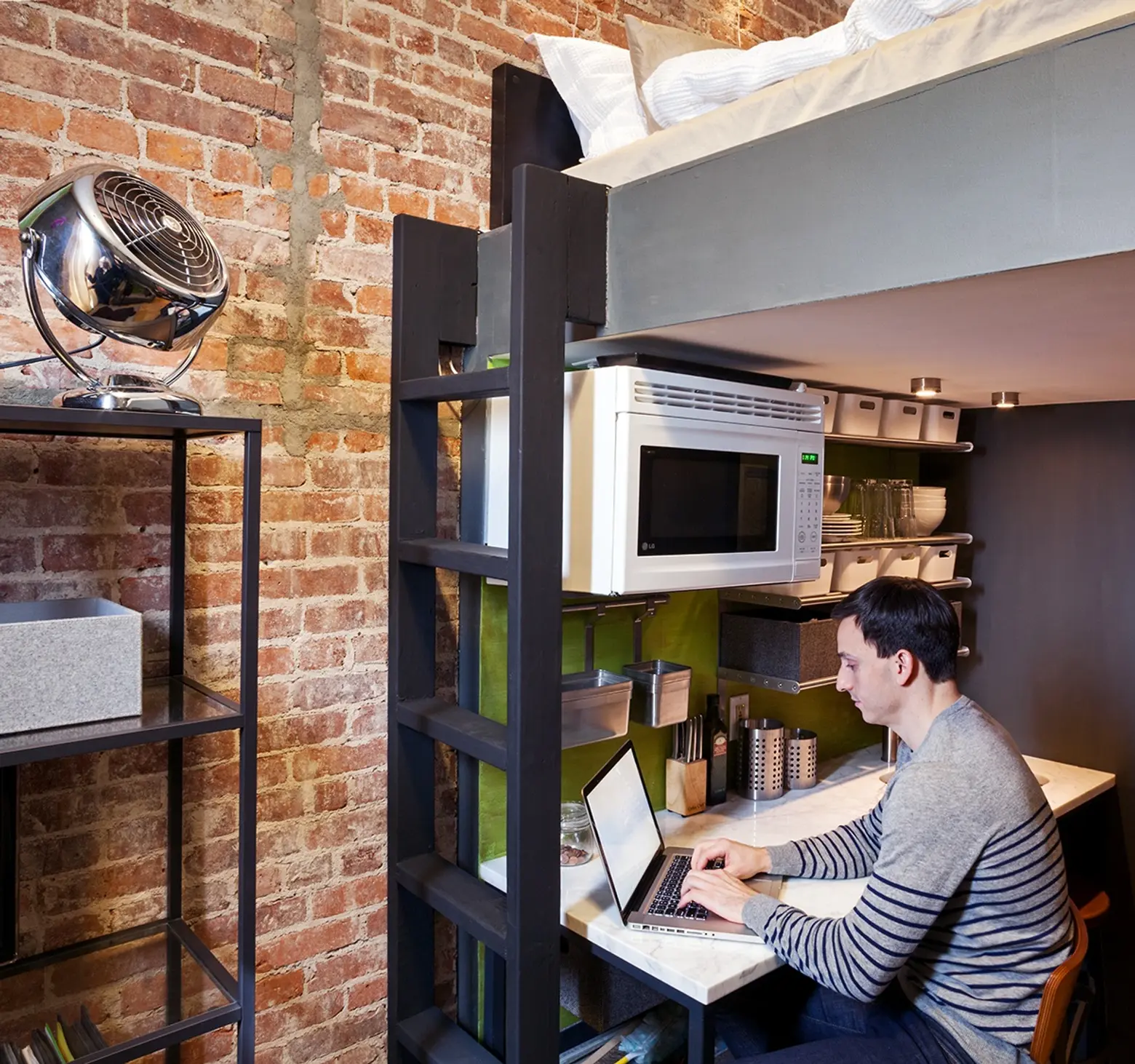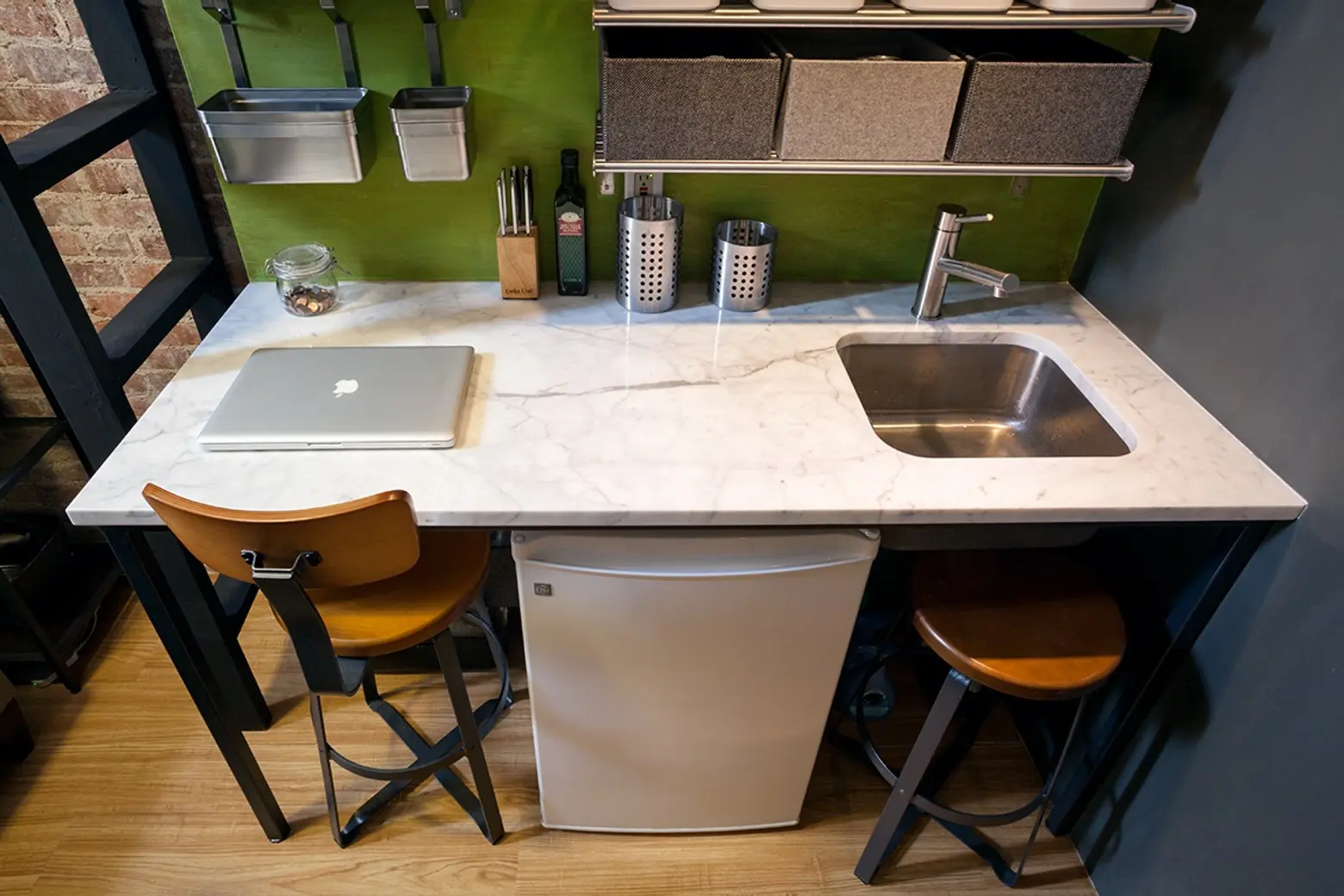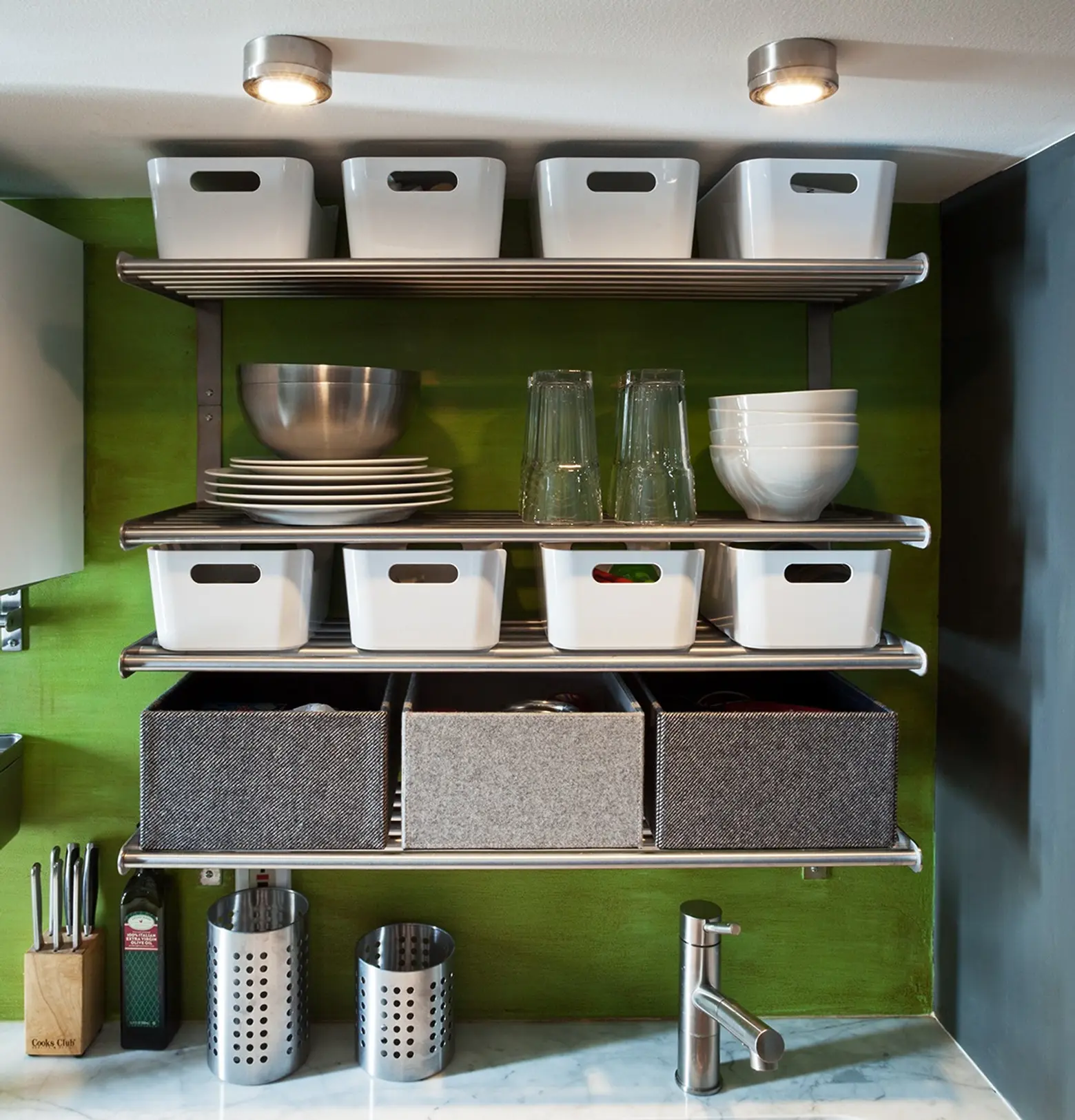 The kitchen counter is from Studium, and Anthony made the metal frame underneath (middle). 
Speaking of which, while a lot of your purchases came from Ikea, you did spend more on items such as the marble counter from Studium. What's your advice for deciding where to splurge and where to save?
Once you look in a bunch of stores you'll see all your options and where you can save money. My Ikea metal shelves are almost exactly the same as designer shelves, so that was something to save money on. The Ikea bins for the shelves are also pretty nice, but in some key places like the kitchen I mixed in some designer containers from CB2 just to add a little extra visual interest.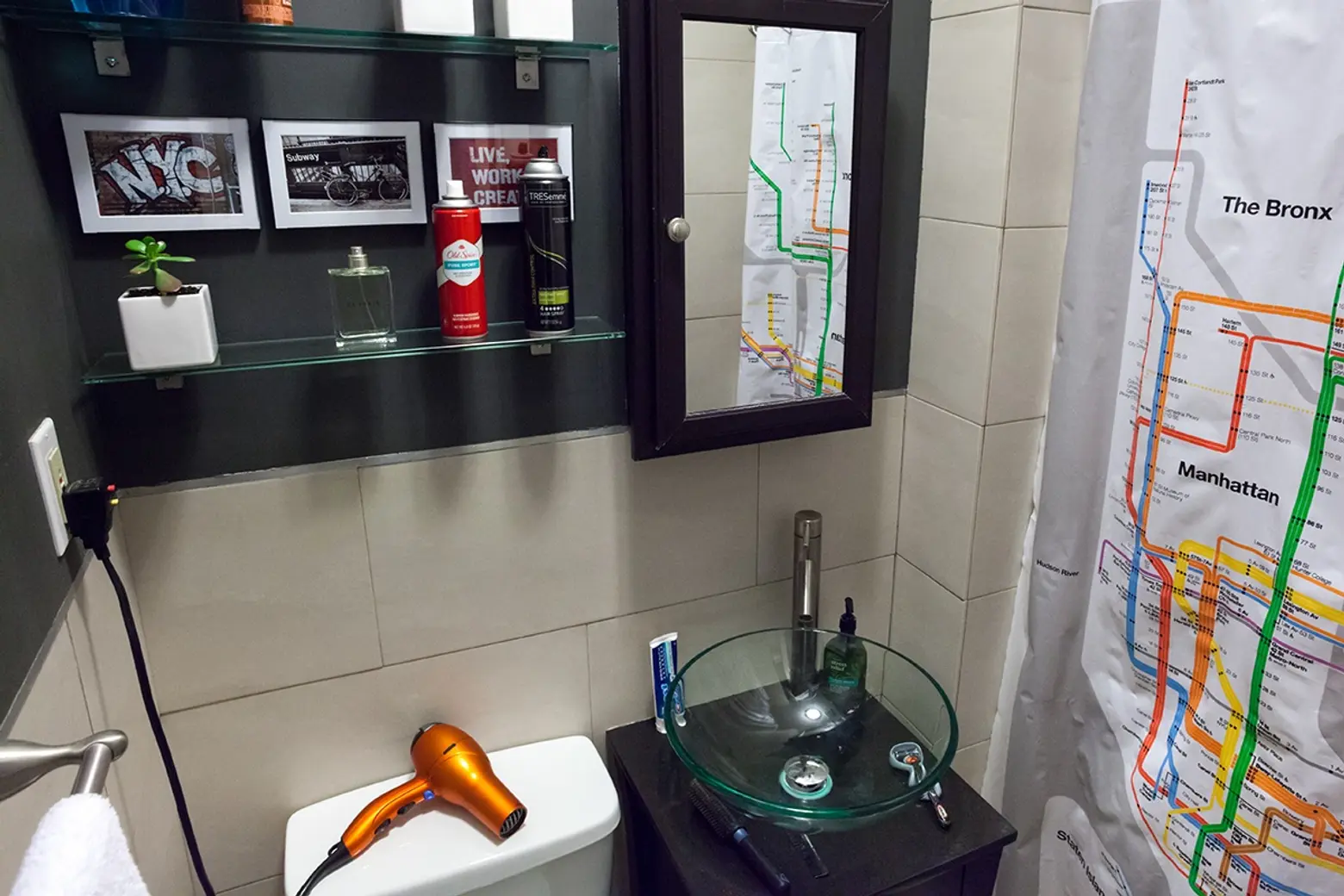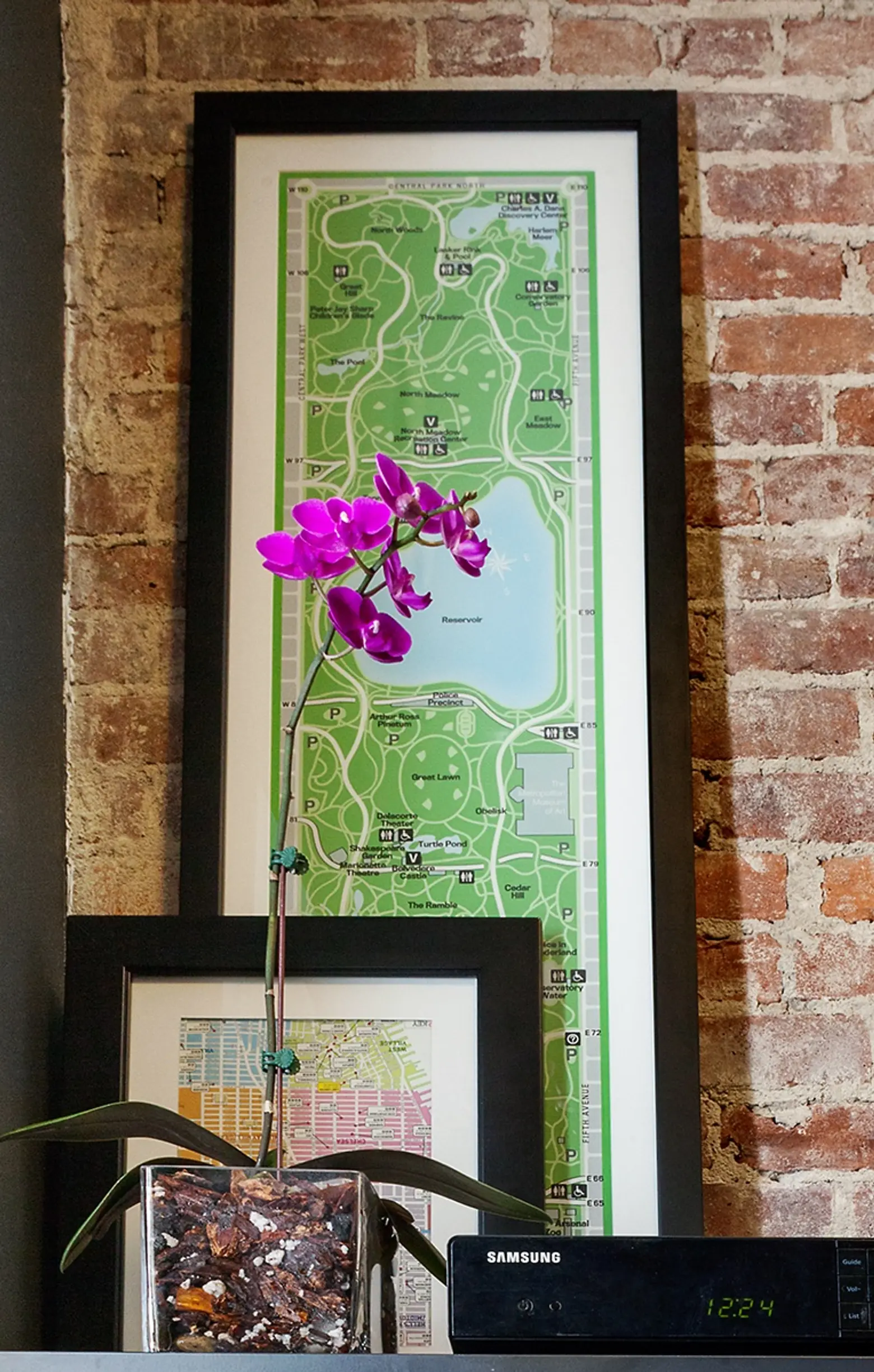 He's a big fan of framing maps to use as simple, inexpensive art. 
Talk to us a bit about color. Most people say dark colors make a space look even smaller, but you didn't shy away from painting the walls gray.
I don't think making a space look bigger or smaller is so much about color as it is about scale. Having furniture that is in scale with the size space you have is very important. I have a small space so I definitely had to keep that in mind to not get furniture that would overpower the room. With color, though, I do think it's important to break it up. The base of my apartment is gray and brown, which are great neutrals, but then I have pops of color, the green, to create visual interest.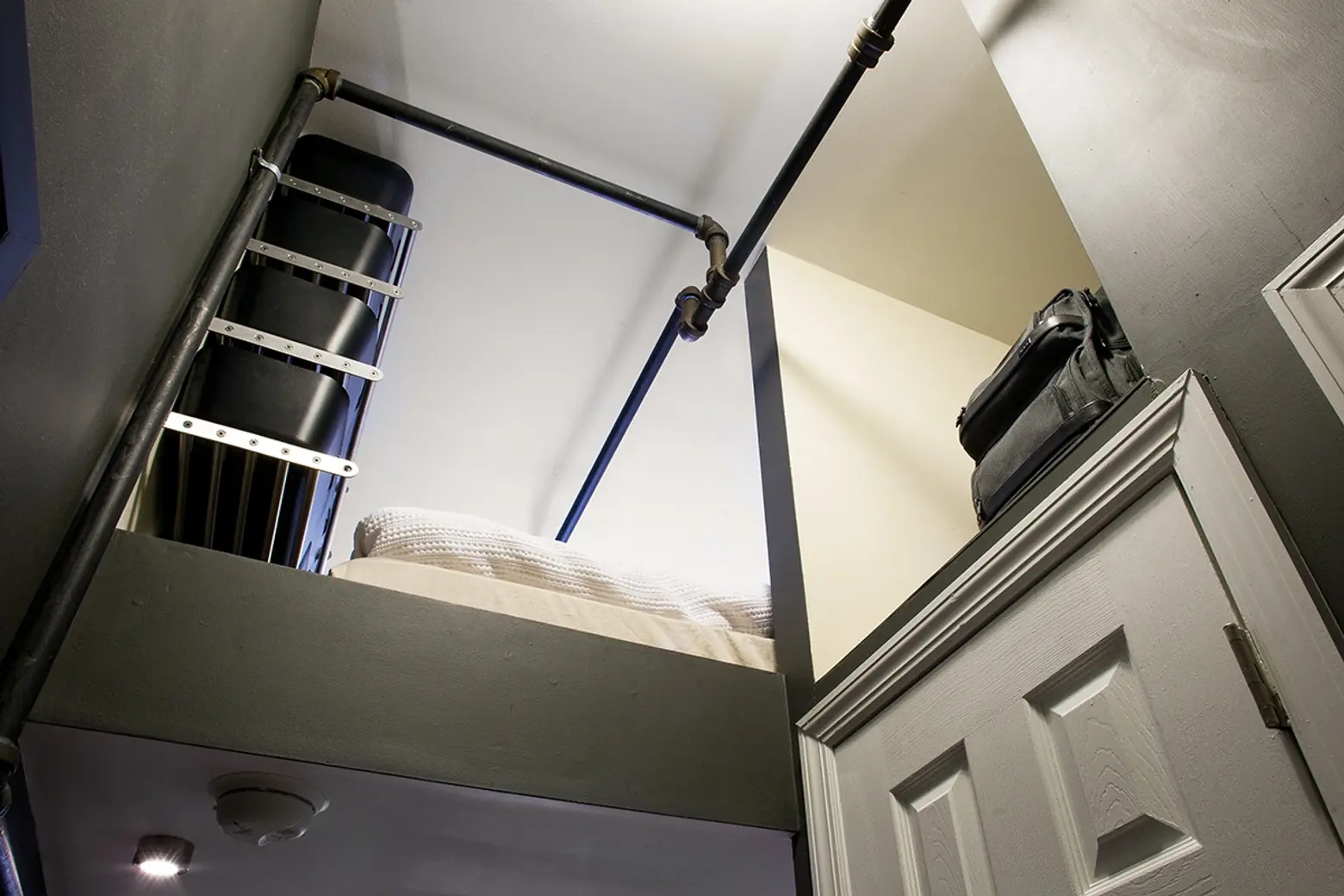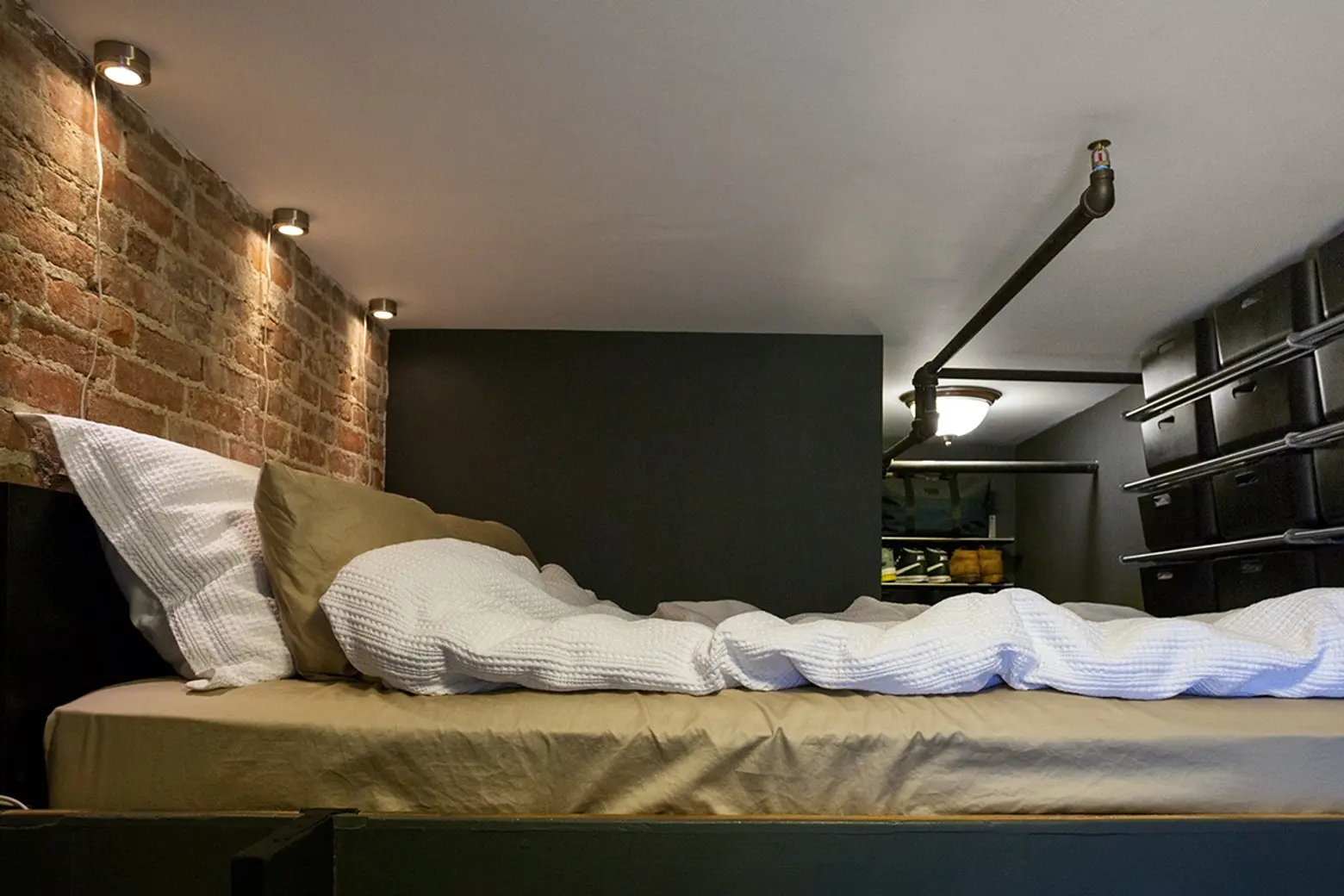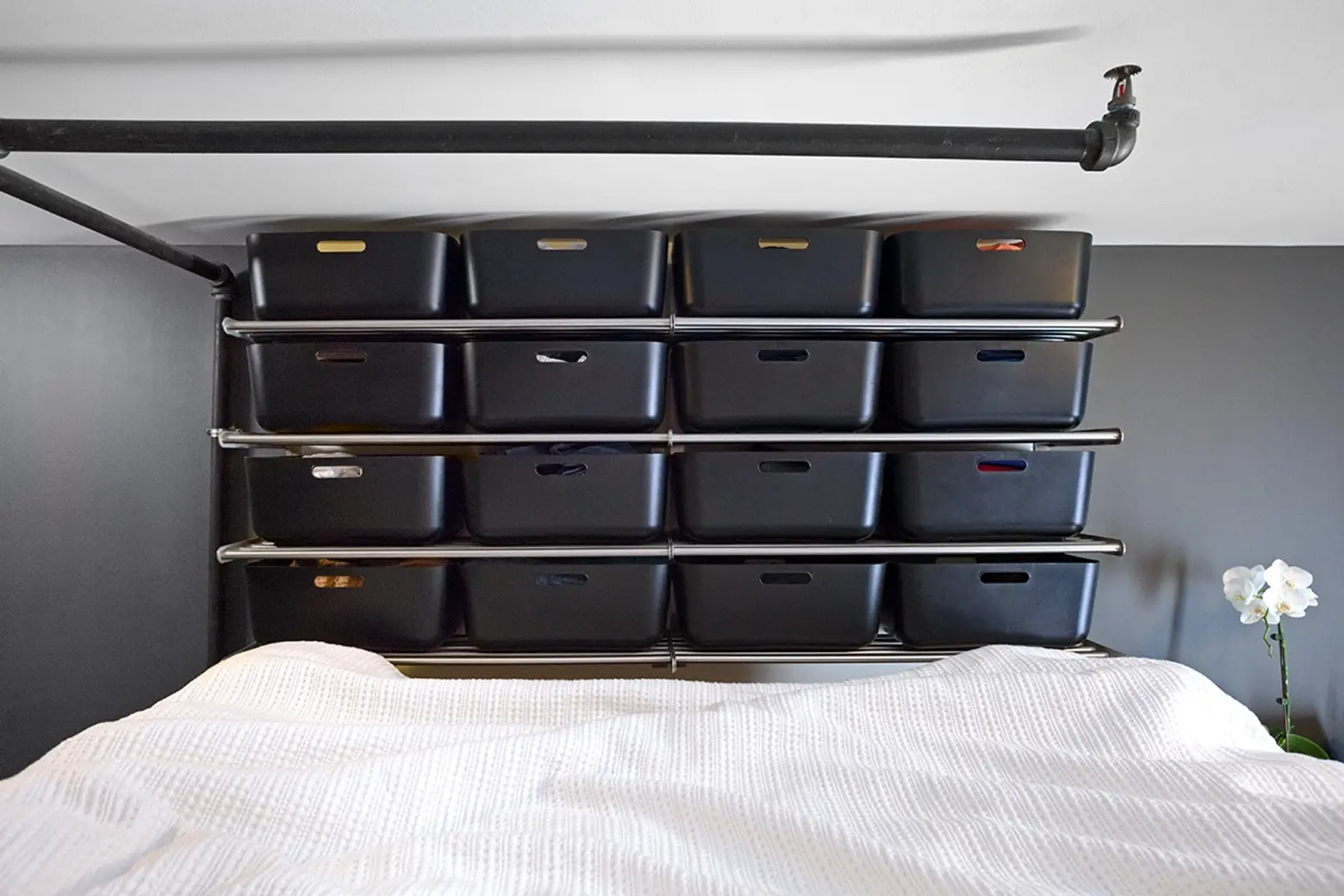 He had an extra foot of space at the foot of the bed so installed even more Ikea storage.
Do you have a favorite element of the apartment?
Loving my new mattress at the moment. Definitely an investment piece. Apparently, people spend a third of their lives in bed. Who are these people who have that much time to sleep?! But speaking more broadly, I would say the furniture in my apartment is very comfortable, and it's important to feel comfortable, relaxed, and at home in your space. Like I said, the oversized chair and ottoman from Crate & Barrel and the kitchen stools from West Elm weren't cheap but were definitely worth it. I can't imagine having to live in space I didn't feel comfortable in.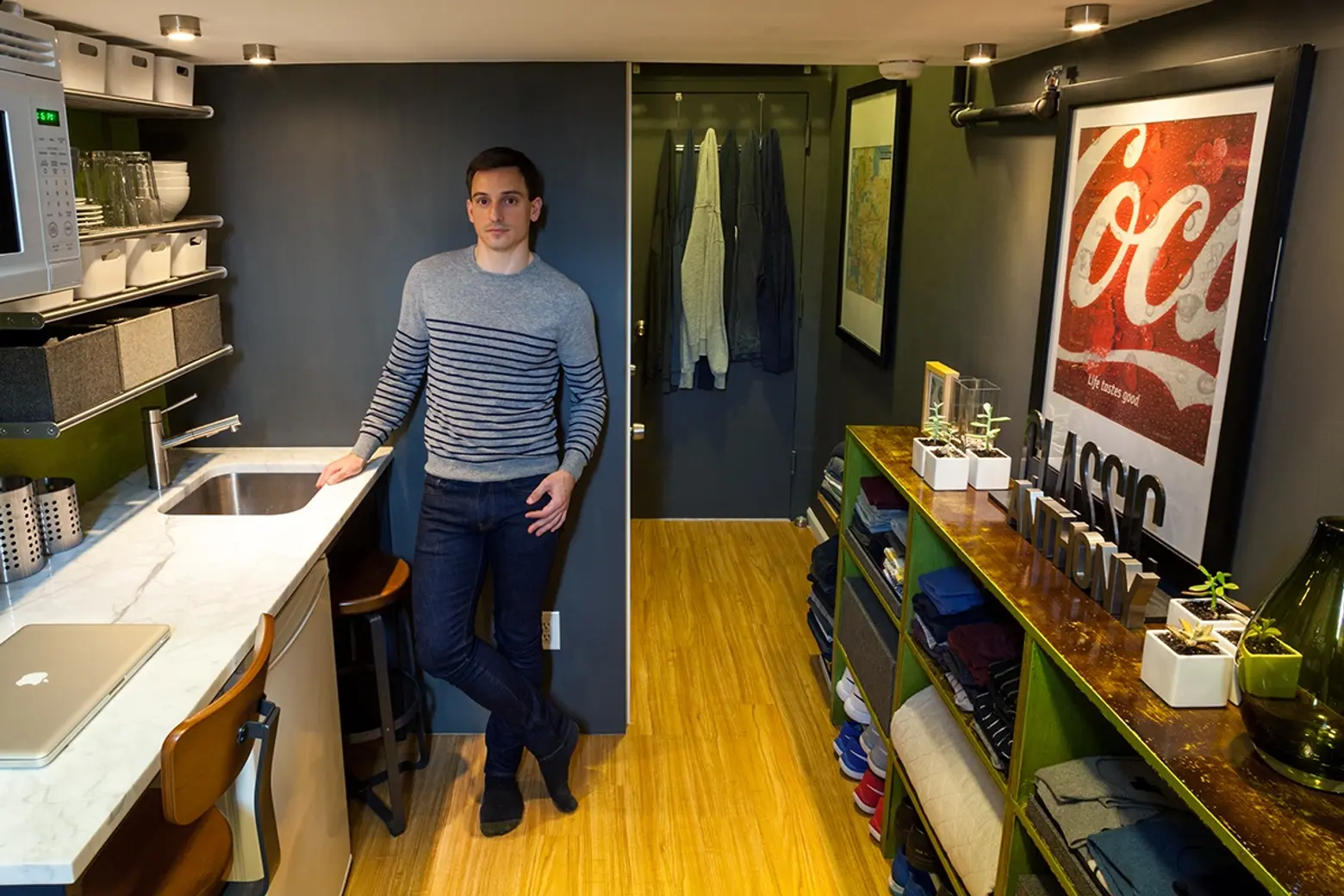 What are some of your favorite spots in the neighborhood?
I love my neighborhood. I definitely think it's better to have a smaller apartment in a great neighborhood than to have a larger apartment in not such a good neighborhood. As an actor, I shoot all over the city so I need to be centrally located. Also, the Upper West Side has a great neighbored feel. All the things I need on a daily basis are close by, lots of food places, dry cleaners ( I definitely send all my laundry out ) and lots of stores, even an Apple store for those phone emergencies!
I love starting my day by getting out and grabbing some coffee & breakfast, usually McDonald's in my case, then heading to the gym. Then I usually go a little more healthy for lunch, usually at Tasty Cafe or Just Salad. For dinner my favorite restaurant is AG Kitchen!
+++
All photos taken by James and Karla Murray exclusively for 6sqft. Photos are not to be reproduced without written permission from 6sqft.