Our 1,400sqft: A vibrant couple in their 80s ditches the suburbs for the West 70s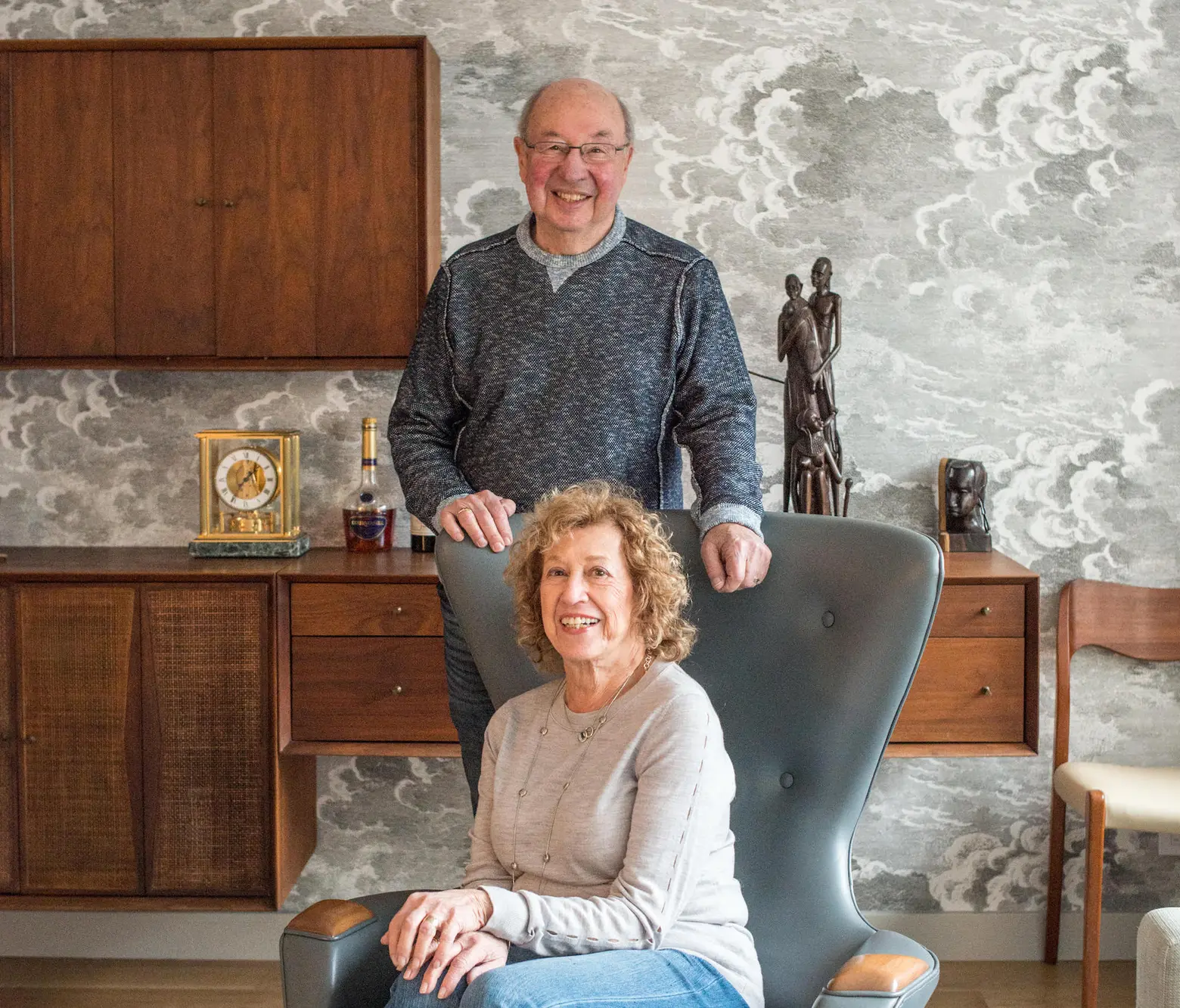 Marv and Fran Lifson have been married for 32 years. After combining their families (she had five children, he four), and spending three decades in Westchester, this self-described "active, older couple" decided to sell their home and relocate not to Florida or the Carolinas, but the Upper West Side.
Luckily for them, Fran's son David Katz has his own architecture firm and he stepped right in to help them with their search and, ultimately, renovation. After finding their dream home two years ago, a fixer-upper on 72nd Street and Central Park West, David combined a studio and one-bedroom into a spacious two-bedroom that's just as fresh and modern as its residents. 6sqft recently visited Fran and Marv to learn about why they'd grown tired of the suburbs, what they love about their new urban lifestyle, and how the renovation process went.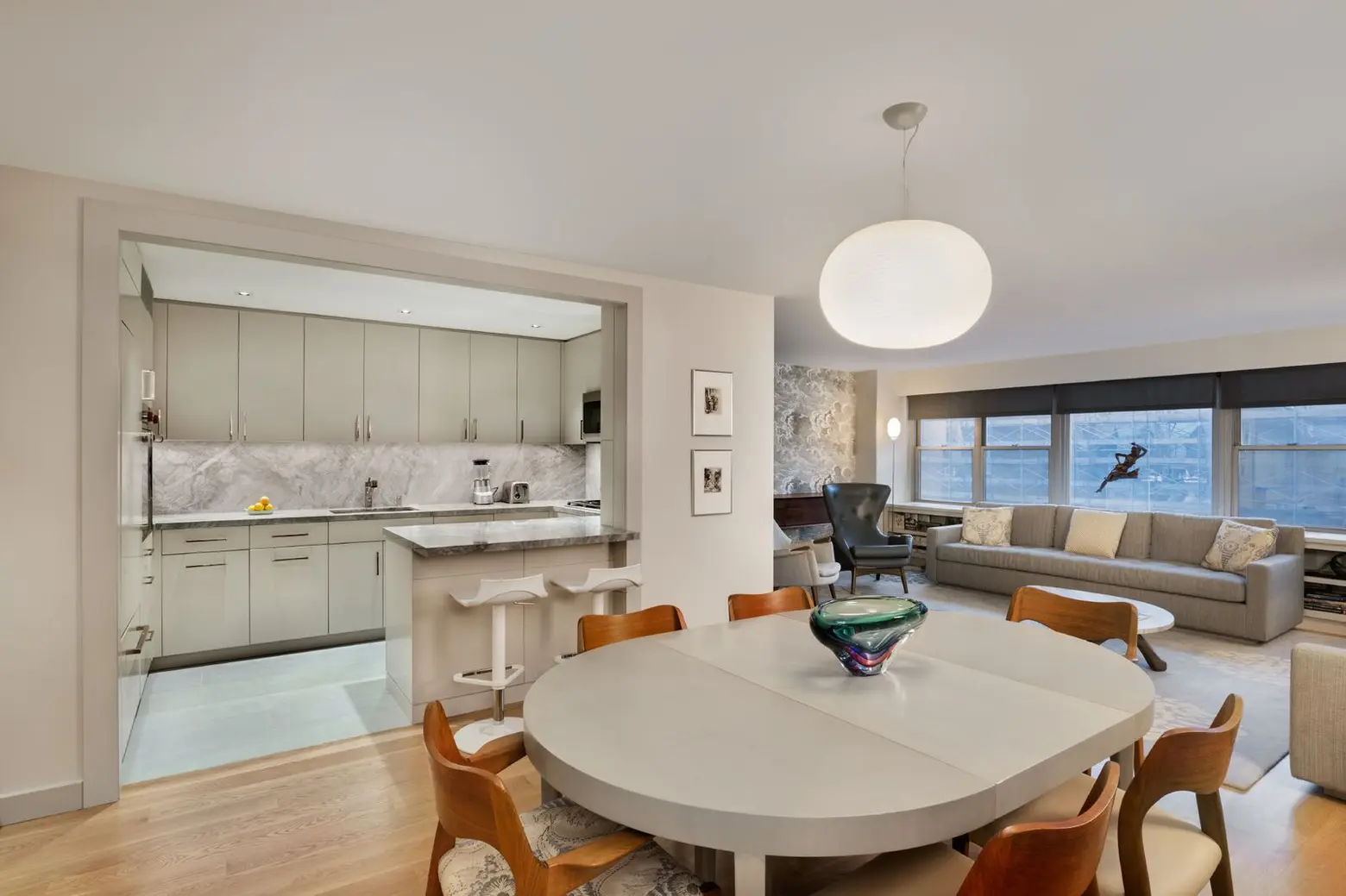 Photo courtesy of Katz Architecture
Where did the idea to move to Manhattan come from?
Fran: We lived in Westchester for 30 years, but we've always loved coming into the City. About 20 years ago, we decided to rent a small apartment on the east side so we could come in for a couple nights during the week. But that rent went sky high, so we started renting an apartment on West 83rd Street and Broadway, getting a taste of the west side, which we liked.
We lived in a house that was four stories, and even though we were able to go up and down the steps with no problem, we thought it was silly. We love the city, and at some point, the steps won't be so easy.
So we looked around, and we found this apartment, which was a one-bedroom and a studio combo. It was horrendous, but it had room; and we asked David, our son who's an architect. He looked at it, and he said, "I can make this space beautiful." We think he did. So we've been here for about a year now.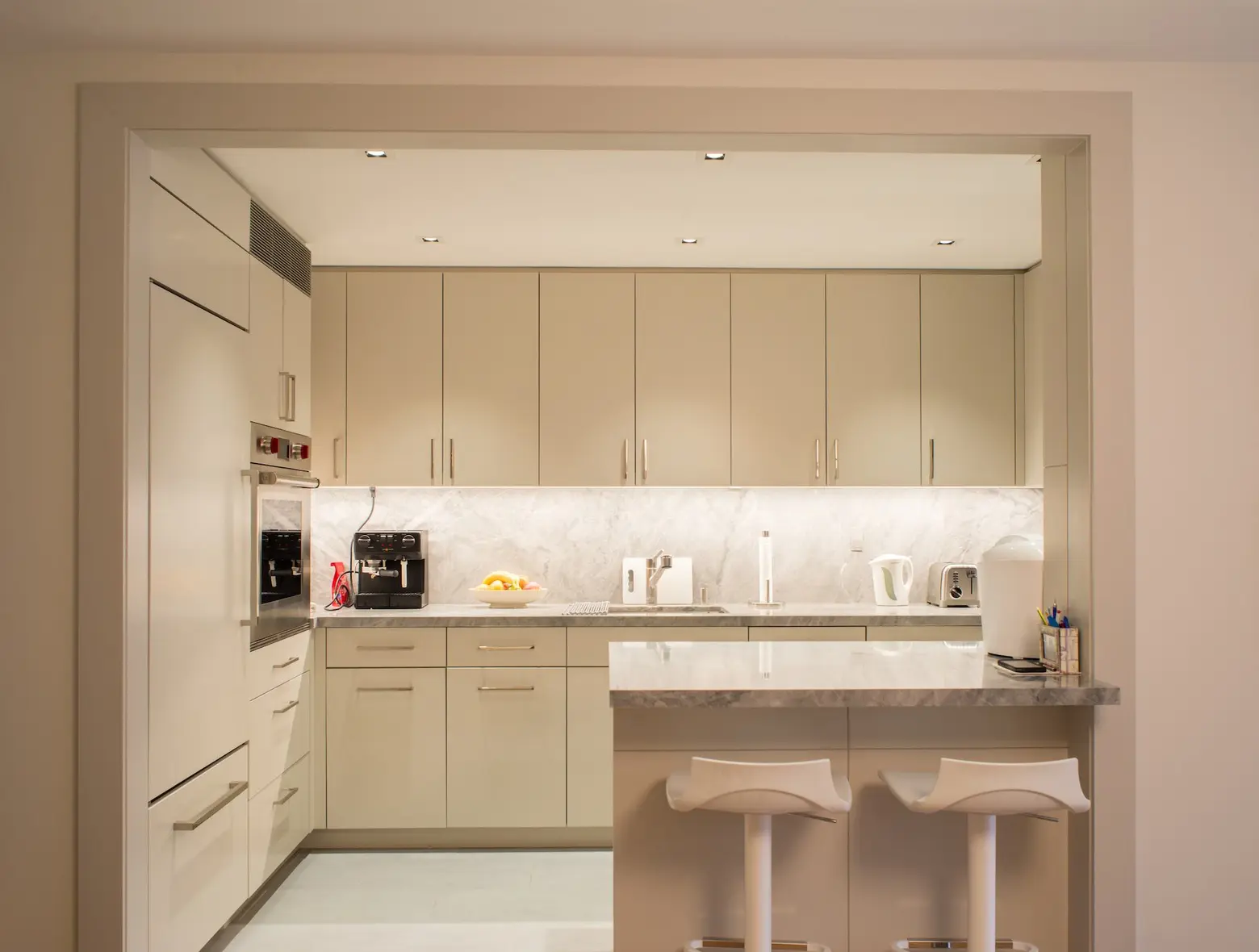 Are there things you miss about the suburbs?
Fran: Yes, I'll tell you what I miss. I told you we have large families, combined, and even just my side of the family is five children, grandchildren, and a granddaughter who has children. We were able to have holiday dinners in the house. We don't do that here. There just isn't enough room. I do miss that.
What do your friends from Westchester think about your big move?
Fran: They're amazed. They say, "We love The City, but we wouldn't want to live there."
Do you still get back there often?
Fran: Yes. We have very good friends in Scarsdale. We try to see them once a week. We take the Metro-North, and they meet us at Tuckahoe at the station, and we go to dinner from there. We gave up our car, but [the train is] much easier than trying to get a Zipcar.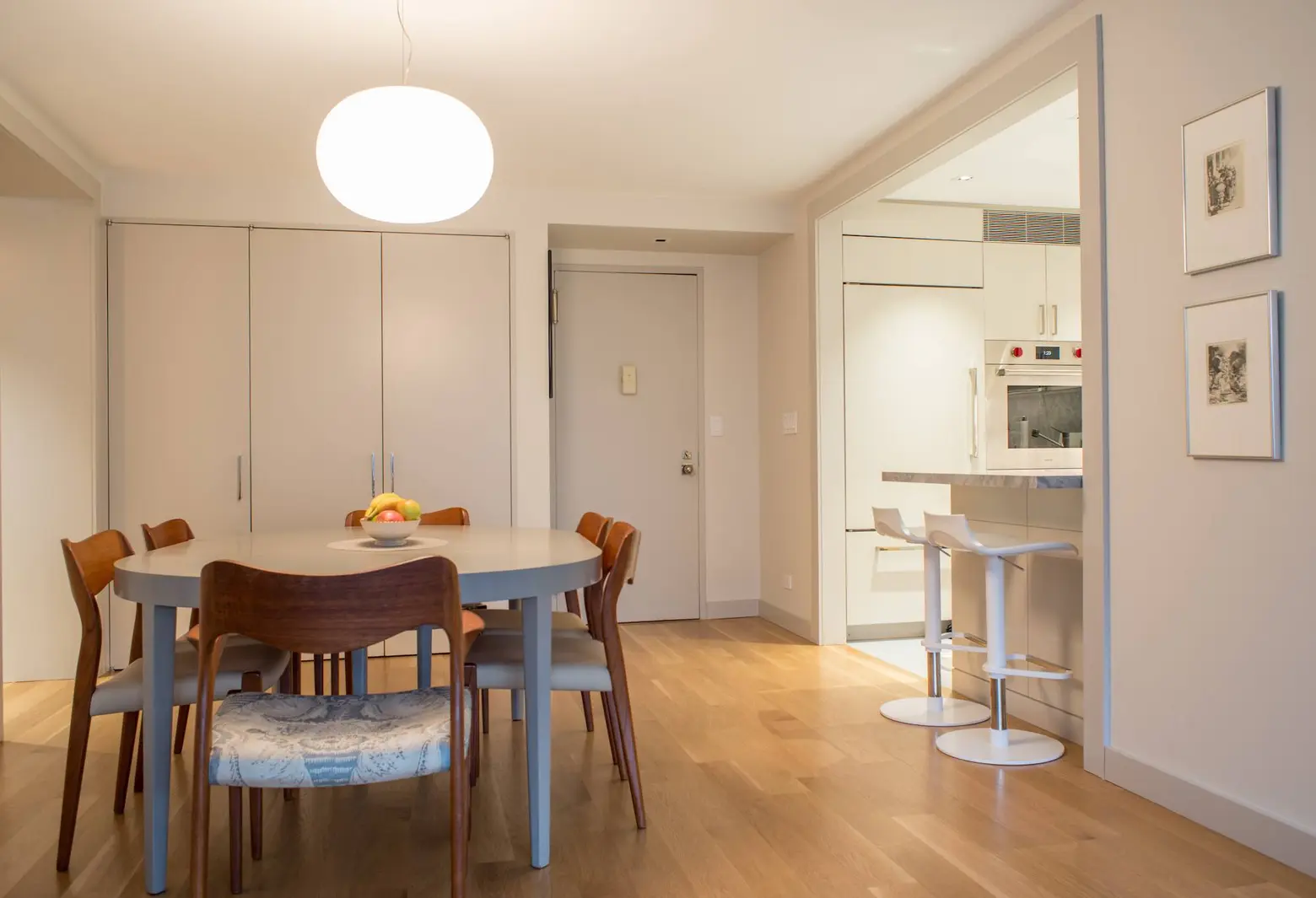 Was David involved in your apartment search?
Marv: Yes. He rejected a lot of places that we thought would do. He would see things that we didn't see. I'd disagree with him a lot of times, but he always won.
When this space became available, I understood why it didn't sell very fast initially. It didn't look like much; no one had been living here for a long time. They just wanted to sell it, and the price kept coming down and down.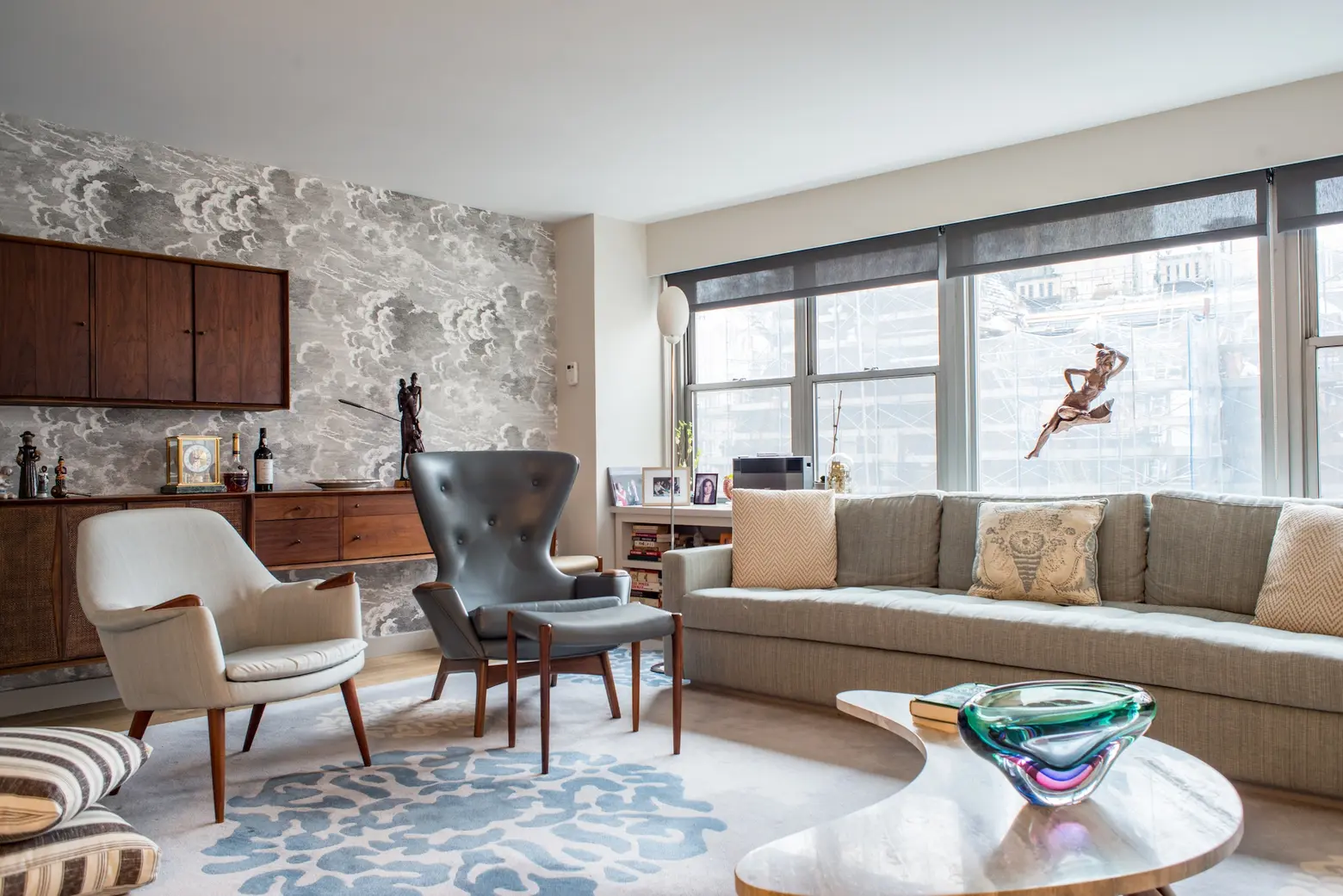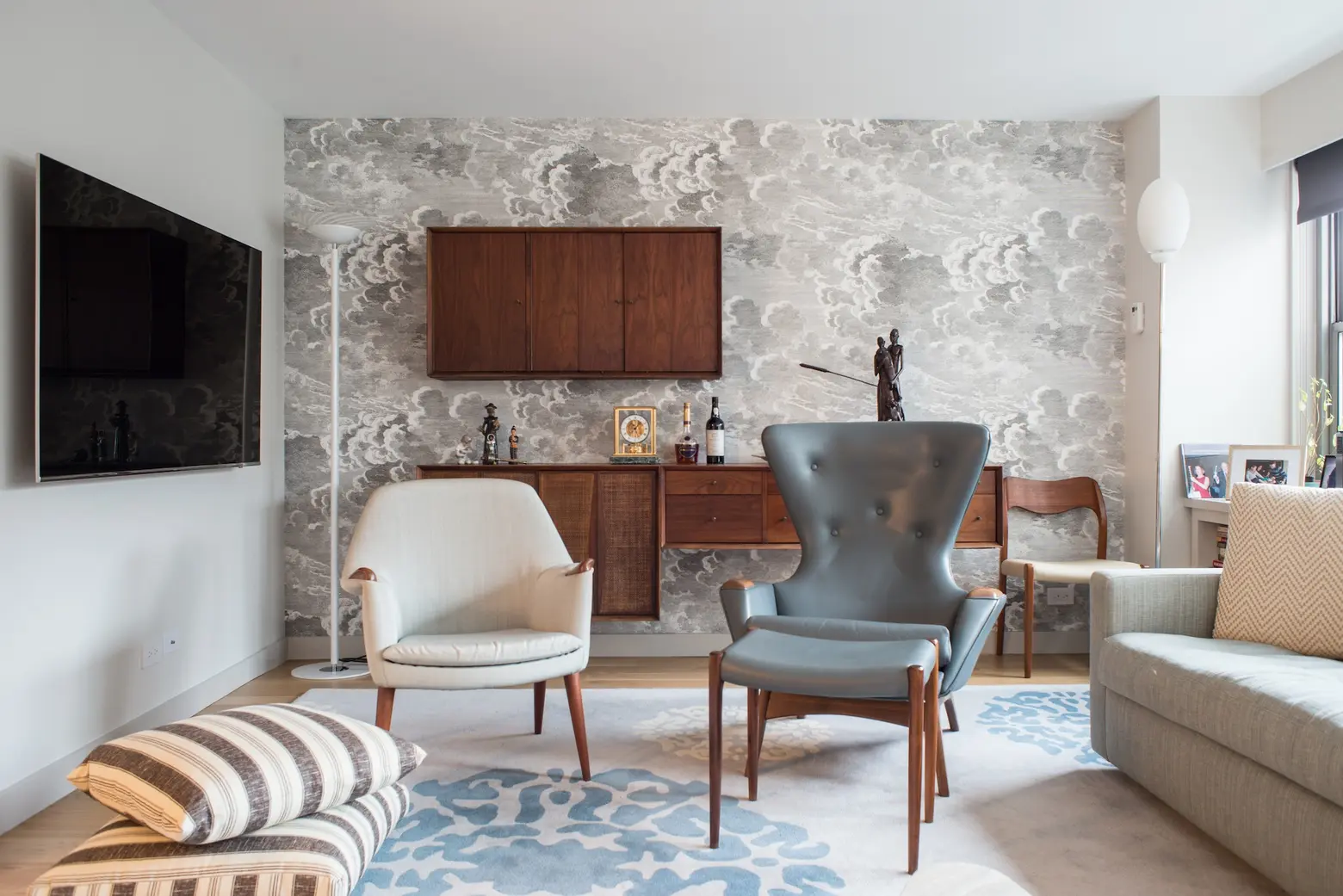 The view out the living room windows is of the Dakota, though it's currently covered in scaffolding. Much of the furniture has a mid-century-modern vibe. 
What were your must-haves when house hunting?
Marv: We were looking for something that was big enough that we could have all the things that were necessary. I wanted a little office. We wanted a TV room or a den and two bathrooms. We needed a spare room for grandchildren and great-grandchildren.
Fran: I wanted a doorman building more than anything else. It's so much easier when you get things delivered.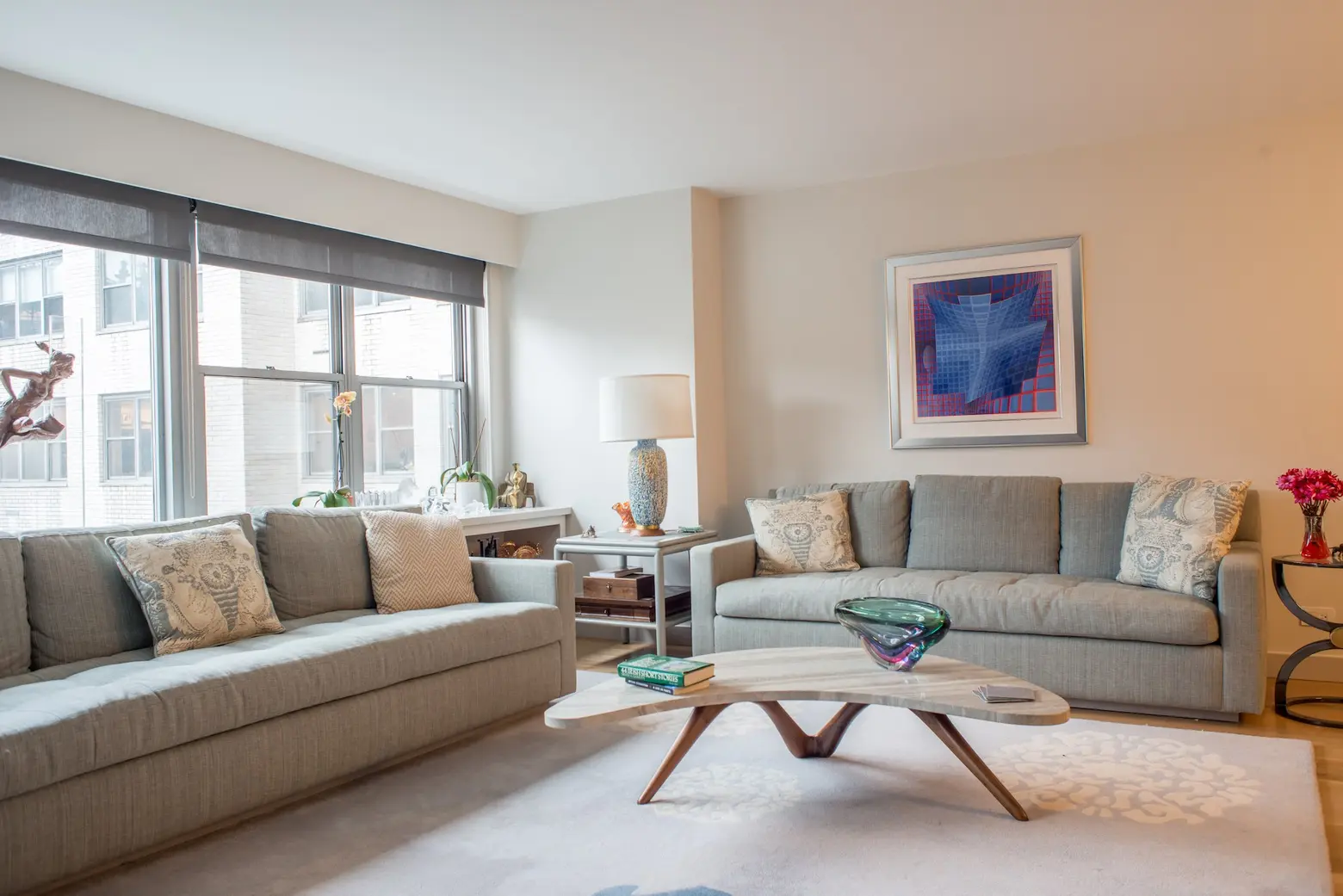 What do you love most about being in the city now?
Fran: The one thing I love most is that it keeps us so active. This morning when it was snowing, I bundled up with my boots to go out to the store. I was really amazed at how many older people were out walking. You don't see that in the suburbs. In the suburbs, you're in your house. You go to the car, and then sometimes if the weather's bad, you hesitate. You don't want to take the car out. Here, we are out every single day. So I feel that it really keeps us active and moving. We don't think twice about getting on the subway, walking. Our life is much more interesting here.
Marv: Fran's youngest son Eric, who has two children, lives in the city. He's on 97th and Central Park West. We can stop by whenever, so that is very, very nice. And David lives in Washington Heights.
I also found a racquetball game here; I play twice a week. I met a nice bunch of people.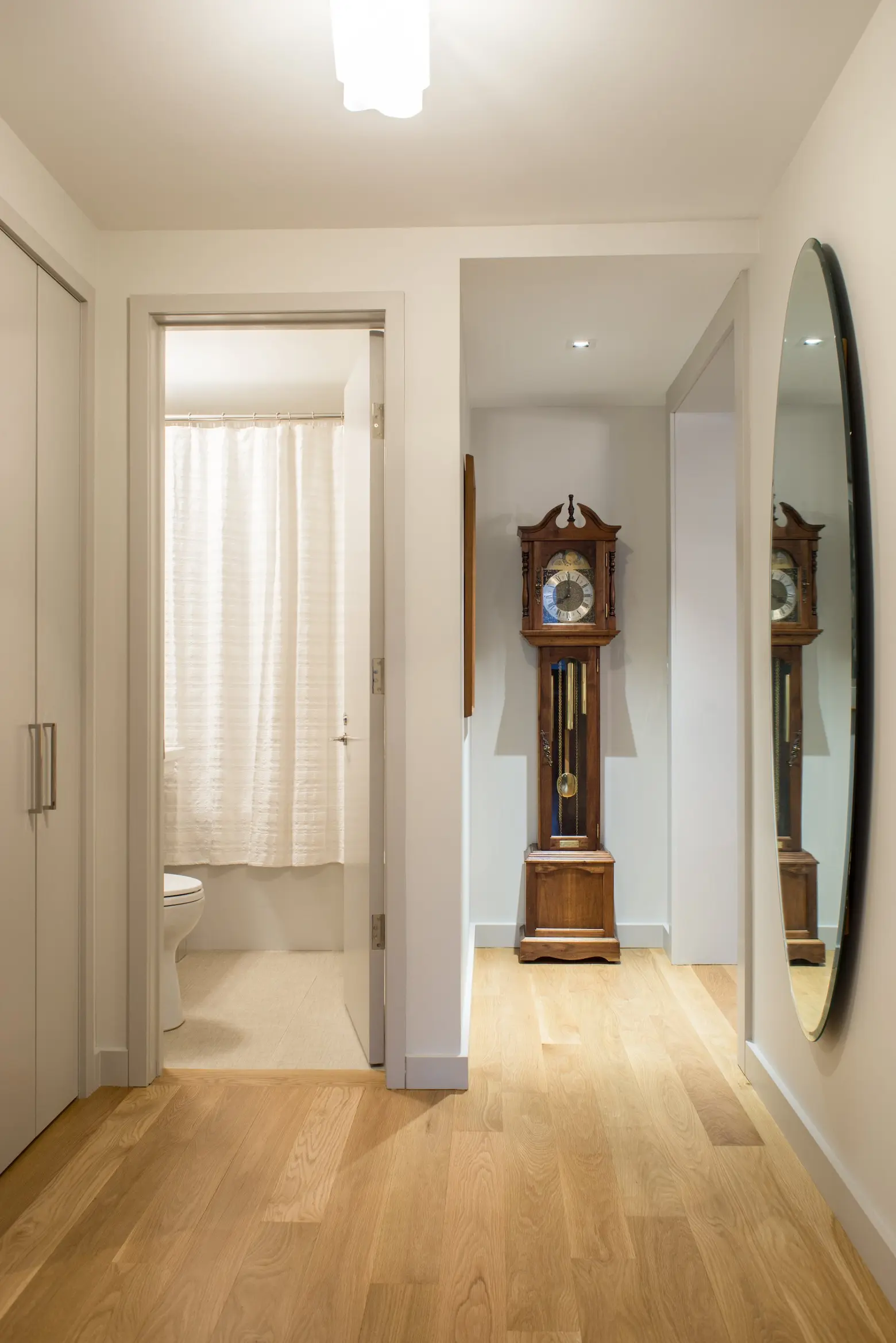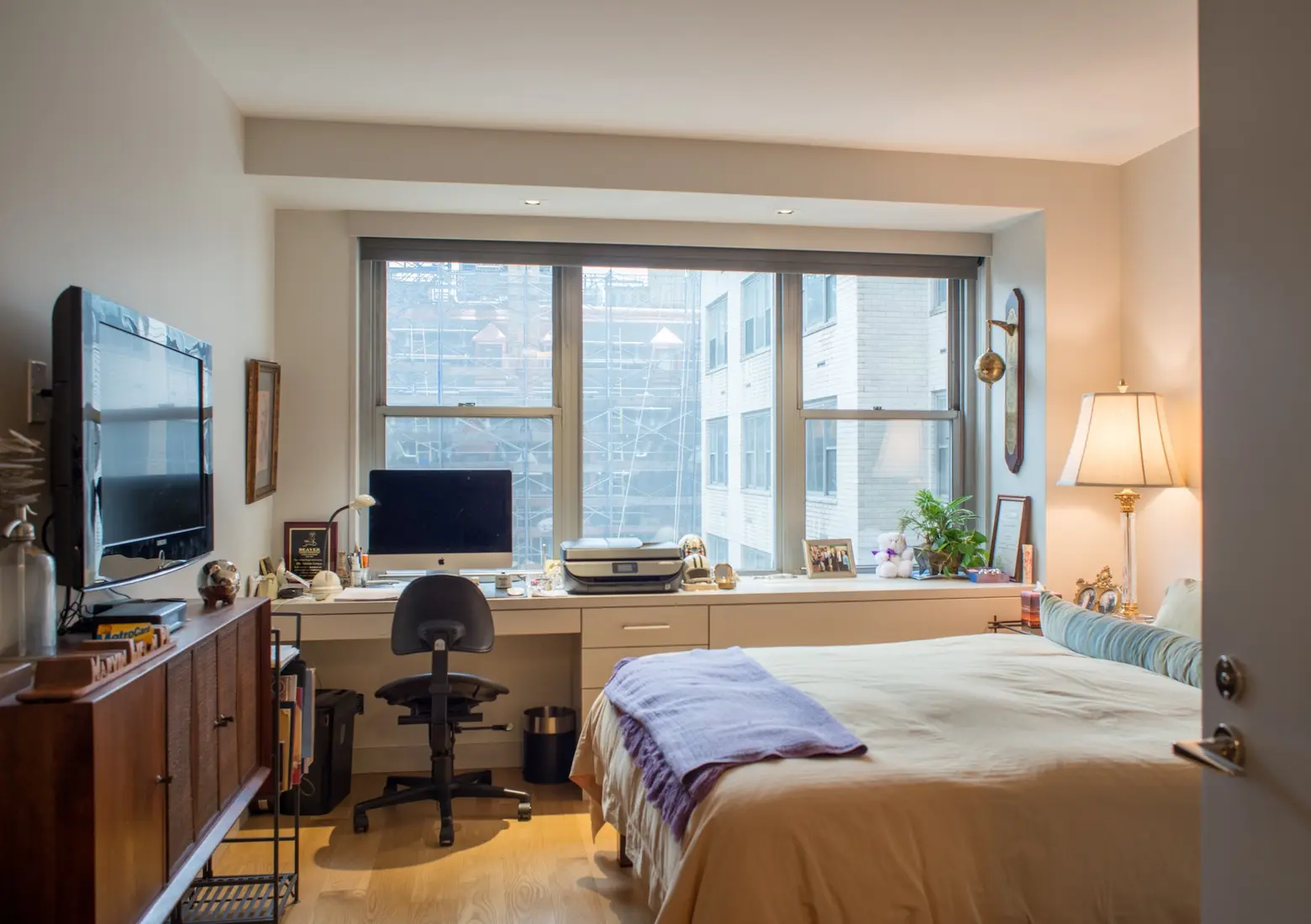 The guest room/office.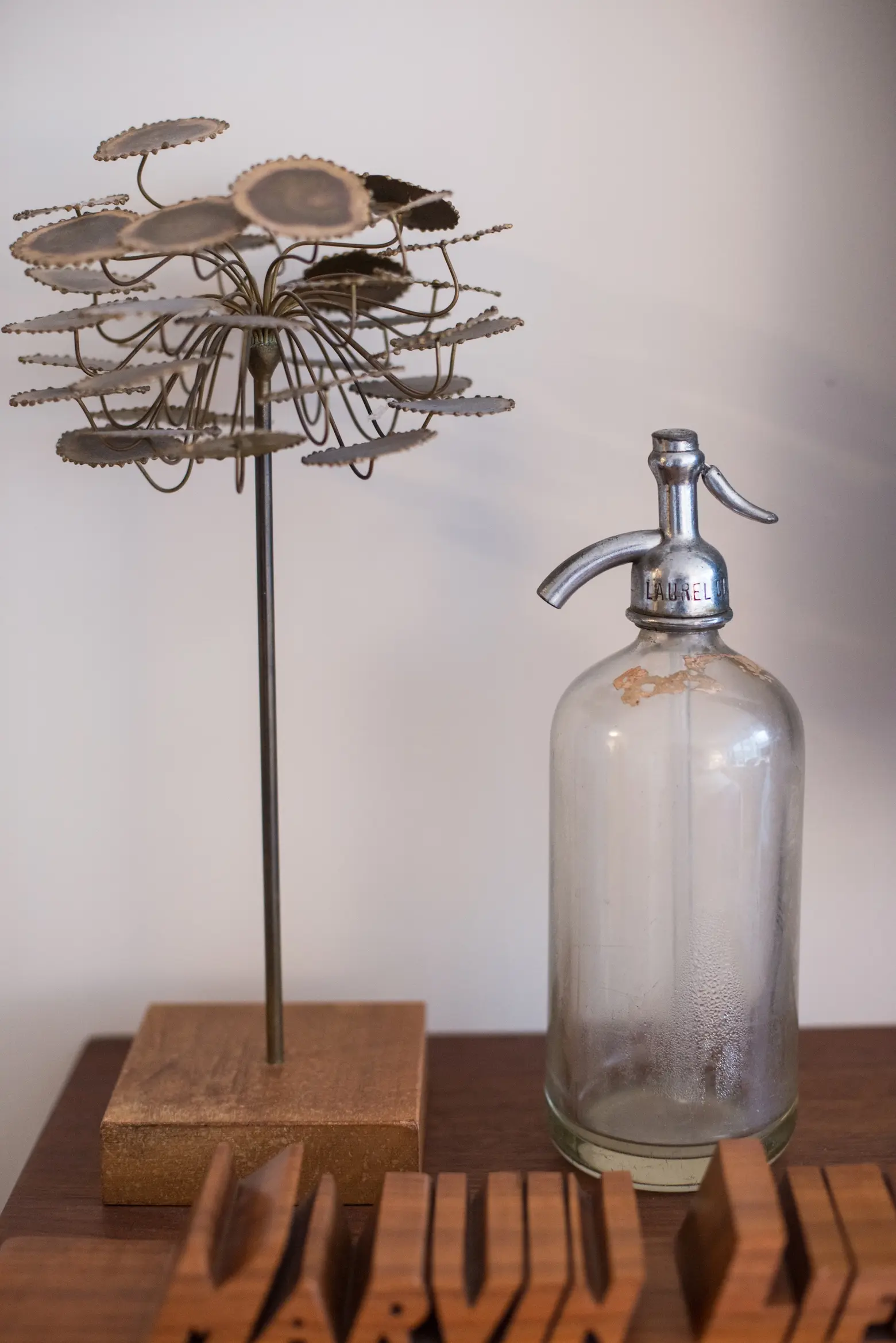 Marv's father was a seltzer man in Brooklyn; this is one of his personal bottles that Marv found in more recent years.
Why did you fall in love with the Upper West Side?
Marv: This was a neighborhood with real people all day long. I could just go to the corner and get a newspaper or a bottle of milk. On the east side, you can't do that. Where I was, I had to walk three blocks to get anything. The streets were desolate. There's nobody there after the boutiques closed at 6:00.
Fran: It's really convenient. Grocery shopping is easy; there are a number of places to choose from. And we can walk to Lincoln Center. We have subscriptions to the opera and to concerts.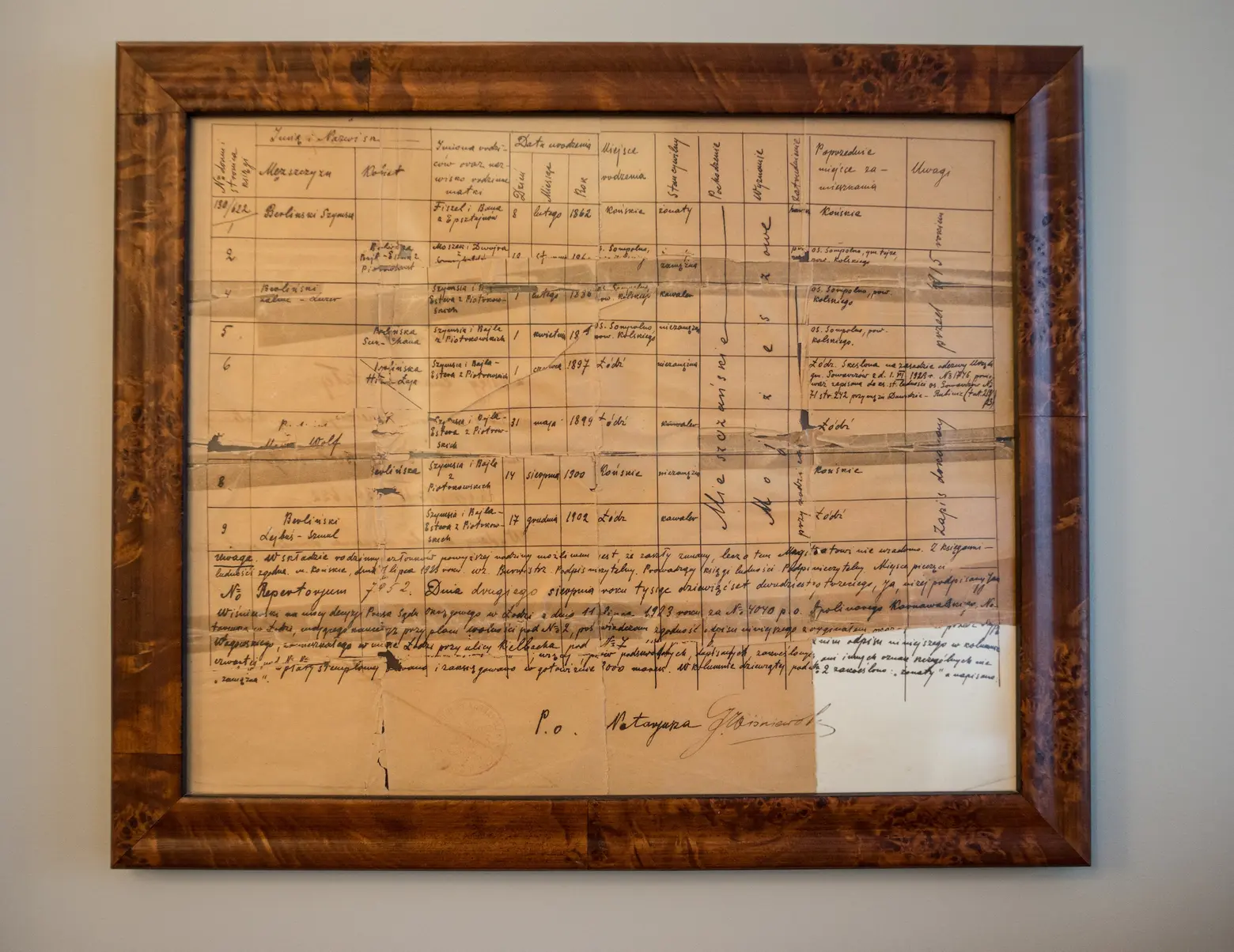 This is Fran's father's birth certificate from Poland that she had framed.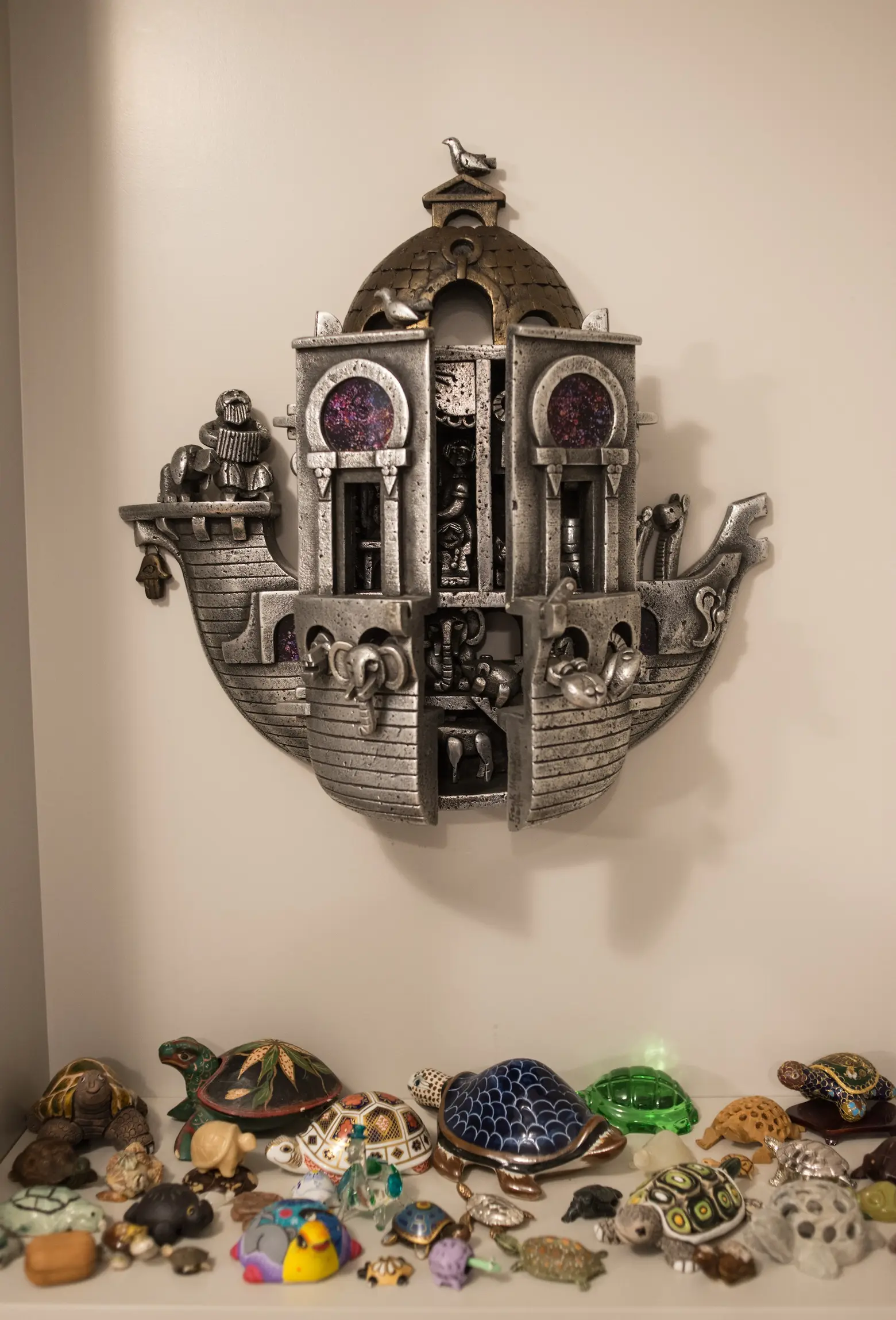 Marv has always collected turtles, but after moving to the city, he's started to give some away to his grandchildren.
Speaking of, what are some of your favorite spots in the neighborhood?
Marv: We go to Zabars on Sundays.
Fran: Citarella is one of my favorite places for meat and fish, but for grocery shopping, I go to Fairway. I just recently started to go to Trader Joe's.
As far as restaurants, we go to little tiny places that we like. There's a Chinese restaurant called Legend 72 we like that David told us about. There's a Thai restaurant we really, really enjoy right on 72nd Street. It's a half a block away–Thai 72. There are a lot of small ones on the side streets. There's no shortage of restaurants at all.
Marv: When we want to go a little more elegant we go to Tessa. We love it there. They never change the menu, but everything on it is just great.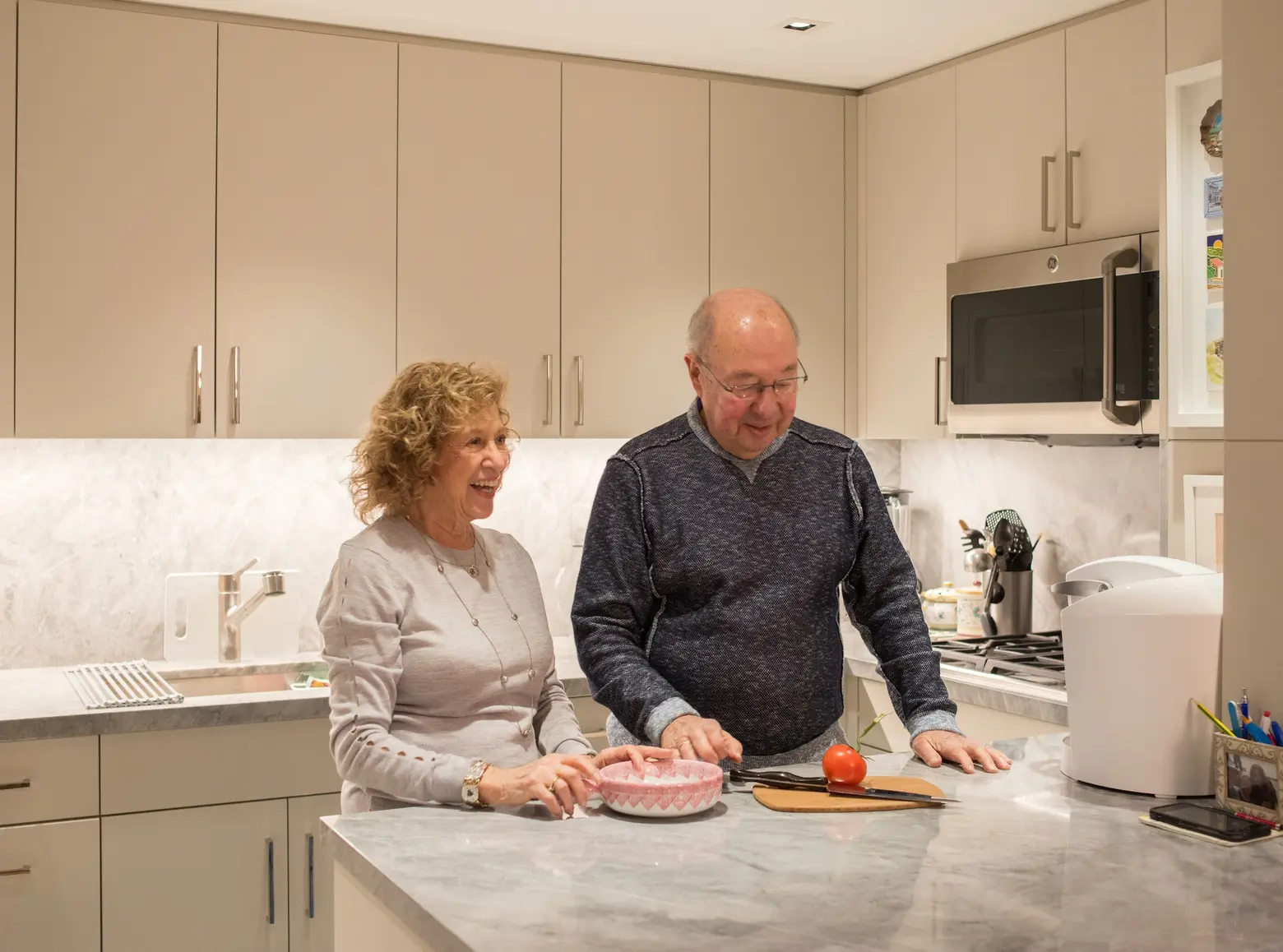 You mentioned you like to cook?
Fran: Yes; we don't do much as far as getting food delivered. Everyone said to me, "You're not going to cook. What do you need the kitchen for?" I said, "No, we will cook and use the kitchen." We do a lot of cooking together. It's comfortable in that kitchen. The fact that we don't have steps up and down makes a very big difference.
Marv: I sit there and chop while she cooks.
Do you find yourselves in Central Park a lot?
Fran: Yes, when the weather is fair. We even have a little spot we found. We buy lunch and sit on a bench and have lunch in the park.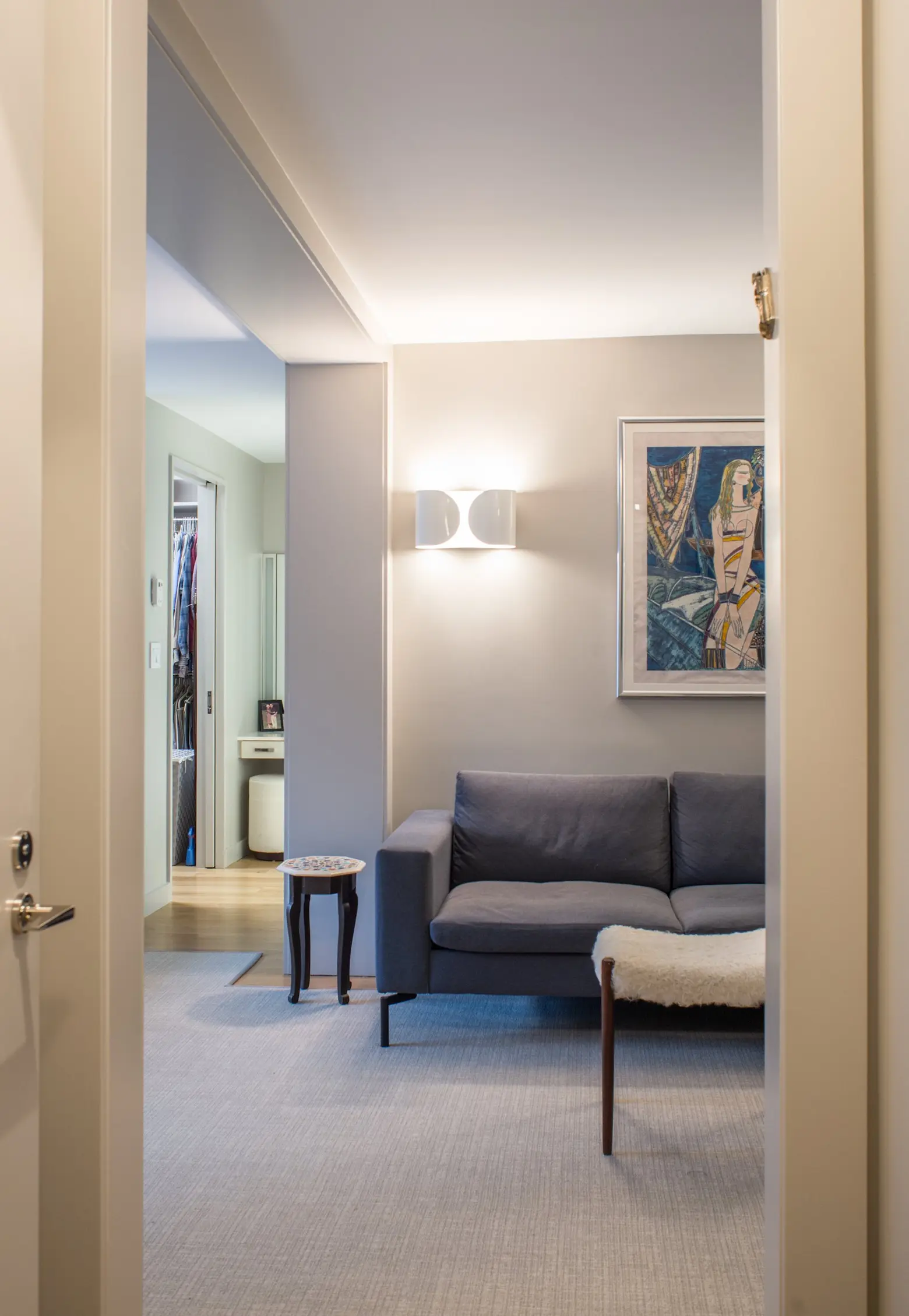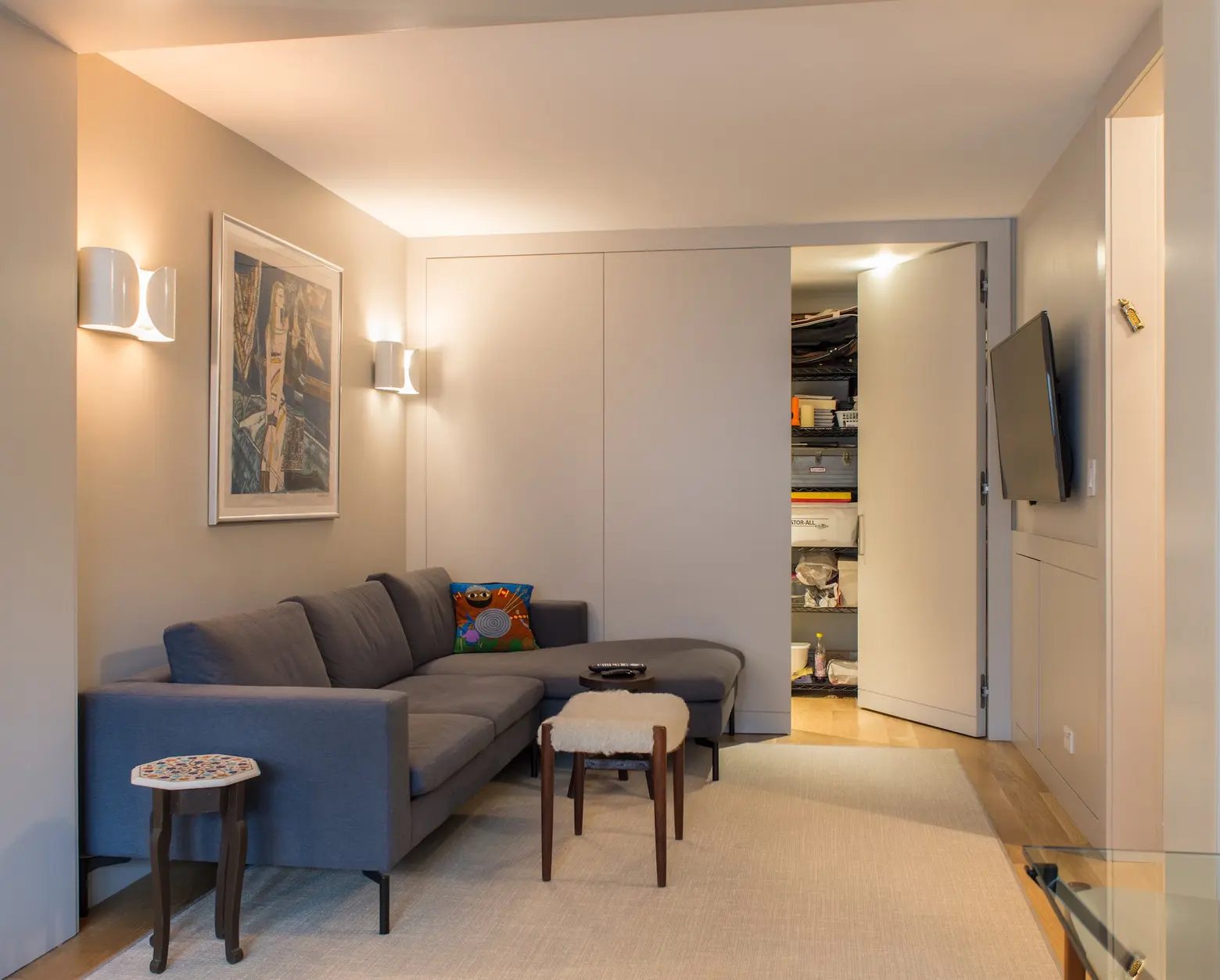 The hidden storage space in the den is the couple's "garage"
What were your goals in renovating?
Fran: We wanted it to be clean looking, to be more modern. The house was really not like that. It was eclectic; every room was different. But we really relied on our architect and our decorator. He came to Eastchester, and he measured everything and told us what he thought we could use in this apartment. All of the furniture in this living room and dining room came from Eastchester. The carpet was there also, and he had it cut down to size. So we were able to use everything. We didn't buy any new artwork; we have artwork we didn't use.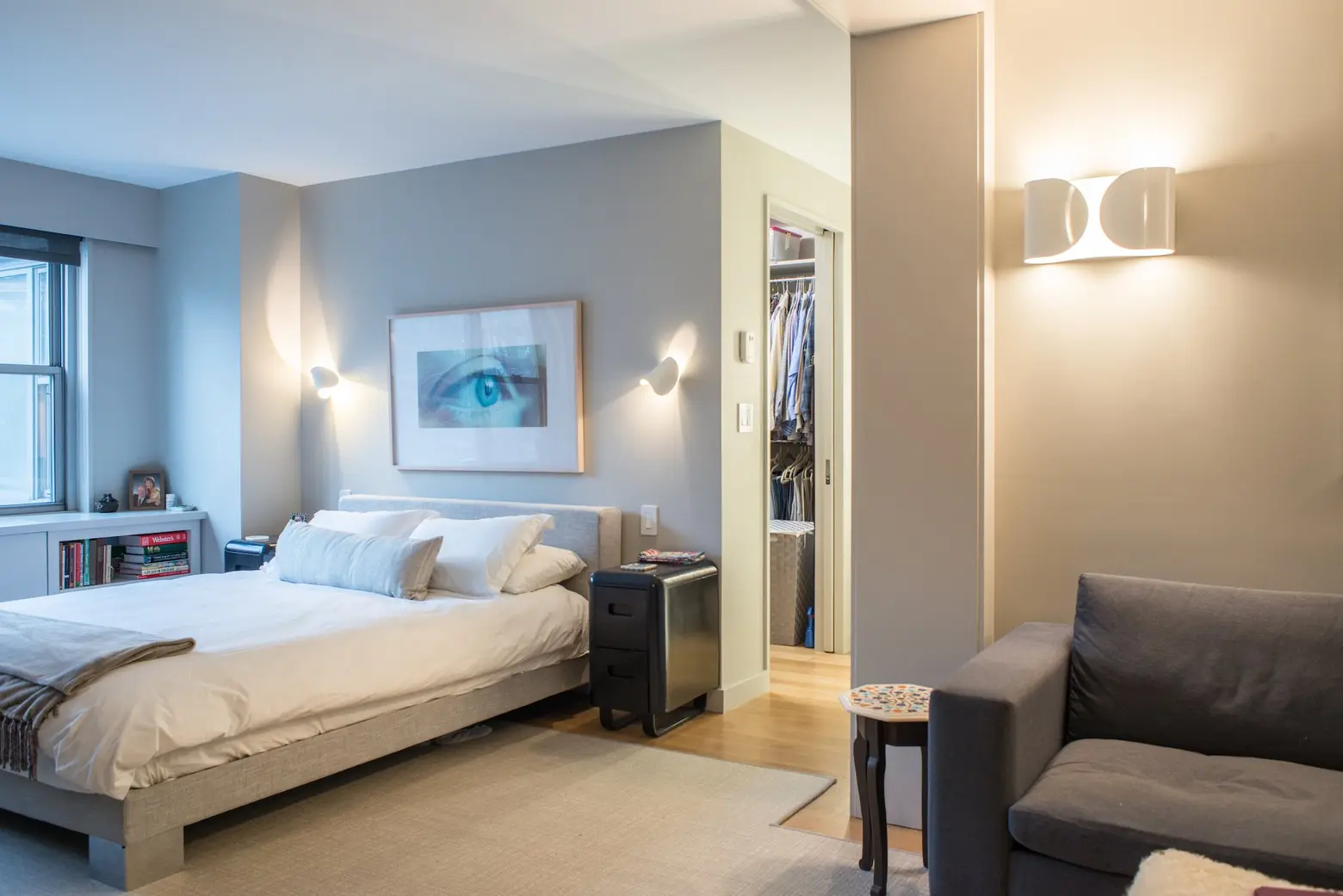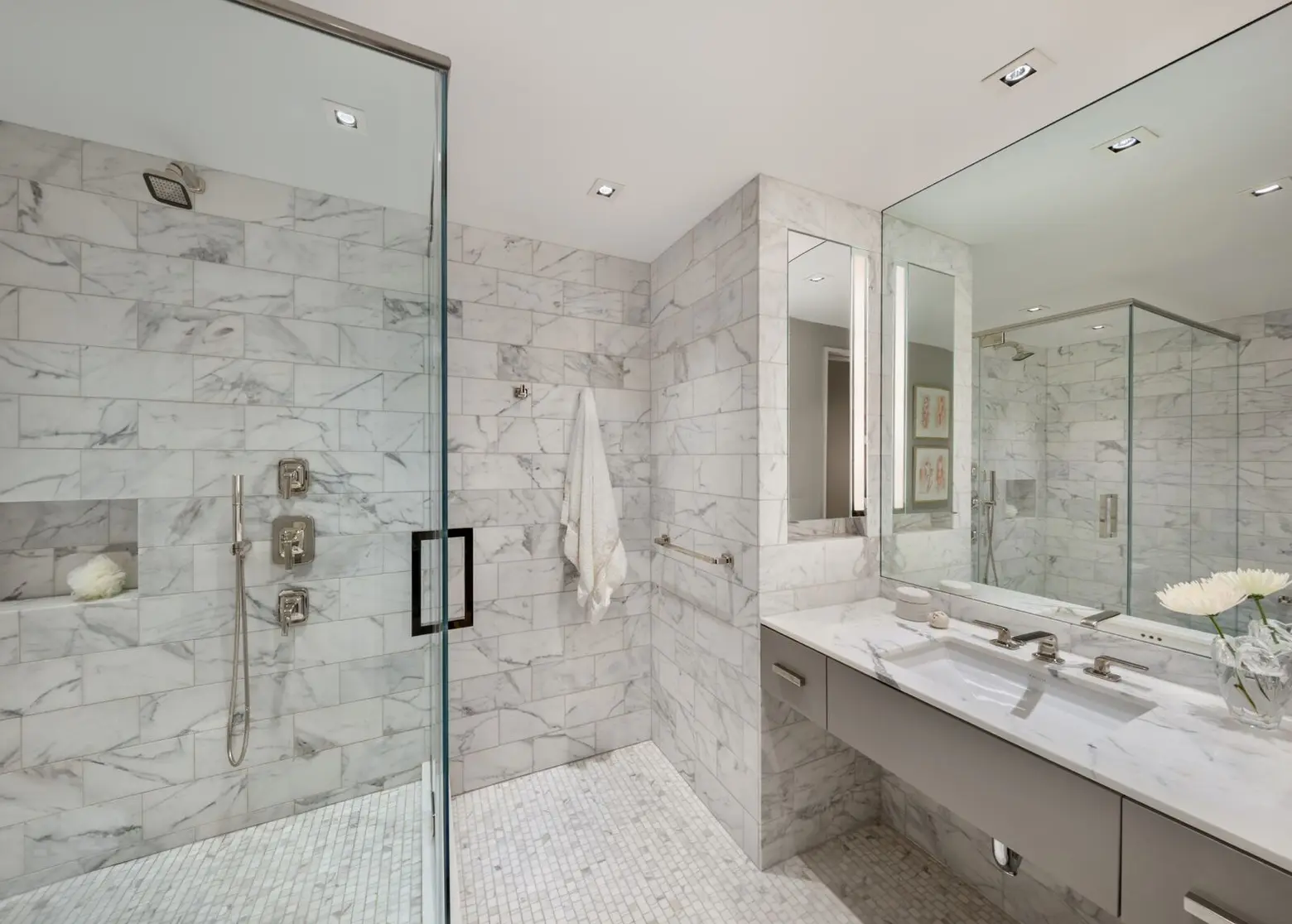 Photo courtesy of Katz Architecture
David, how did you approach the renovation?
David: Obviously, I was looking at it with an architect's eye–How can you satisfy all the programmatic requirements, but still make it a space that's very comfortable to live the lifestyle that these guys wanted to live? So storage was a very big deal. They had a large, luxurious bathroom in Eastchester that I had done many, many years ago. I knew I wasn't going to repeat that, but we needed to replicate it on some level.
Whenever I work on a combination, I want it to feel seamless so that you can't tell there are two apartments making up the one unit. The one area we could not satisfy for them was to have a separate entry space. So there were certain things we had to give up. But we could provide a generous kitchen. And we were able to make it feel larger than it actually was by opening it up to the dining room
I always try to create a separation between public and private functions. In this case, when you enter the bedroom area, there's a sense of pause. You know that you're transitioning from the area of the house where you have guests to the more private area. They didn't need a very large second bedroom, so that became more of an office and a place for a bed. The master bedroom was a little complicated because it had to be located in what was an L-shaped studio of awkward proportion. We wanted to create a den that felt both connected and separate from the sleeping area so we introduced a proscenium-like arch to define the spaces. With the remainder of the space (and a nod to the suburbs) we created a very large storage area we all refer to as "the garage."
+++
Unless otherwise noted, all photos taken by Trel Brock exclusively for 6sqft. Photos are not to be reproduced without written permission from 6sqft.