My 1,000sqft: Preservationist Cristiana favors family heirlooms and antiques for her Brooklyn home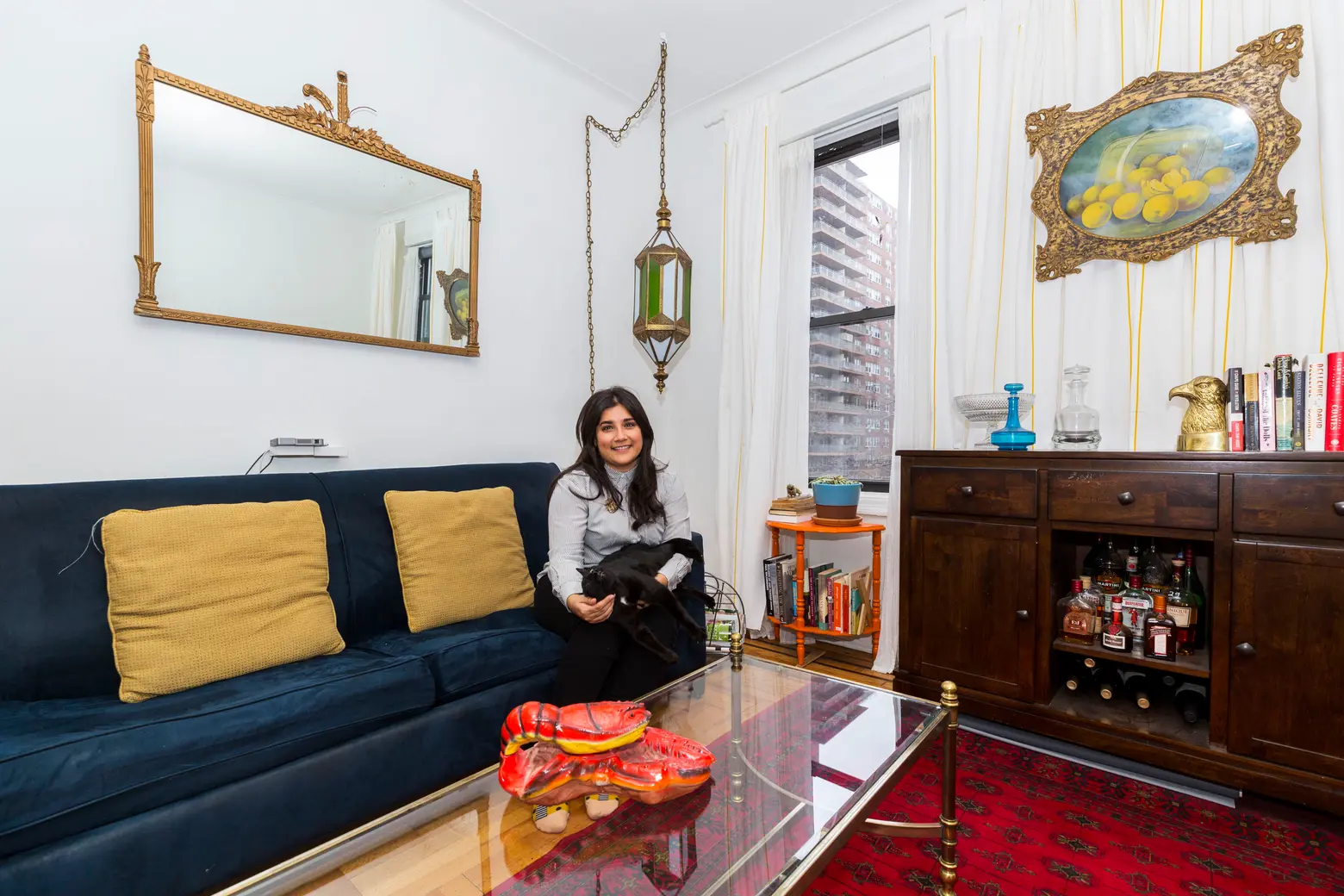 Our series "My sqft" checks out the homes of New Yorkers across all the boroughs. Our latest interior adventure brings us to Cristiana Peña's Prospect-Lefferts Gardens apartment. Want to see your home featured here? Get in touch!
Cristiana Peña is one of those people who will make you feel like you've known her for years when you've only just met her–especially when you visit her at her equally warm Prospect-Lefferts Gardens home. After growing up in Rapid City, South Dakota (her father was in the Air Force) Cristiana moved to NYC for grad school in 2006 to study preservation. She quickly became a force in the field, working at Woodlawn Conservancy and Cemetery and lending her expertise and advocacy skills to countless groups across the city. Today, Cristiana also works as a social media strategist, a perfect fit for her creative and snappy personality and natural knack for striking up a conversation. So it comes as no surprise that her pre-war apartment is also full of personal stories. From a mobile that her dad got while deployed in Saudi Arabia to a lobster-shaped wine decanter she found while on a trip to Maine, nearly every eclectic find in Cristiana's home comes with a childhood memory or a great tidbit about an antiquing outing.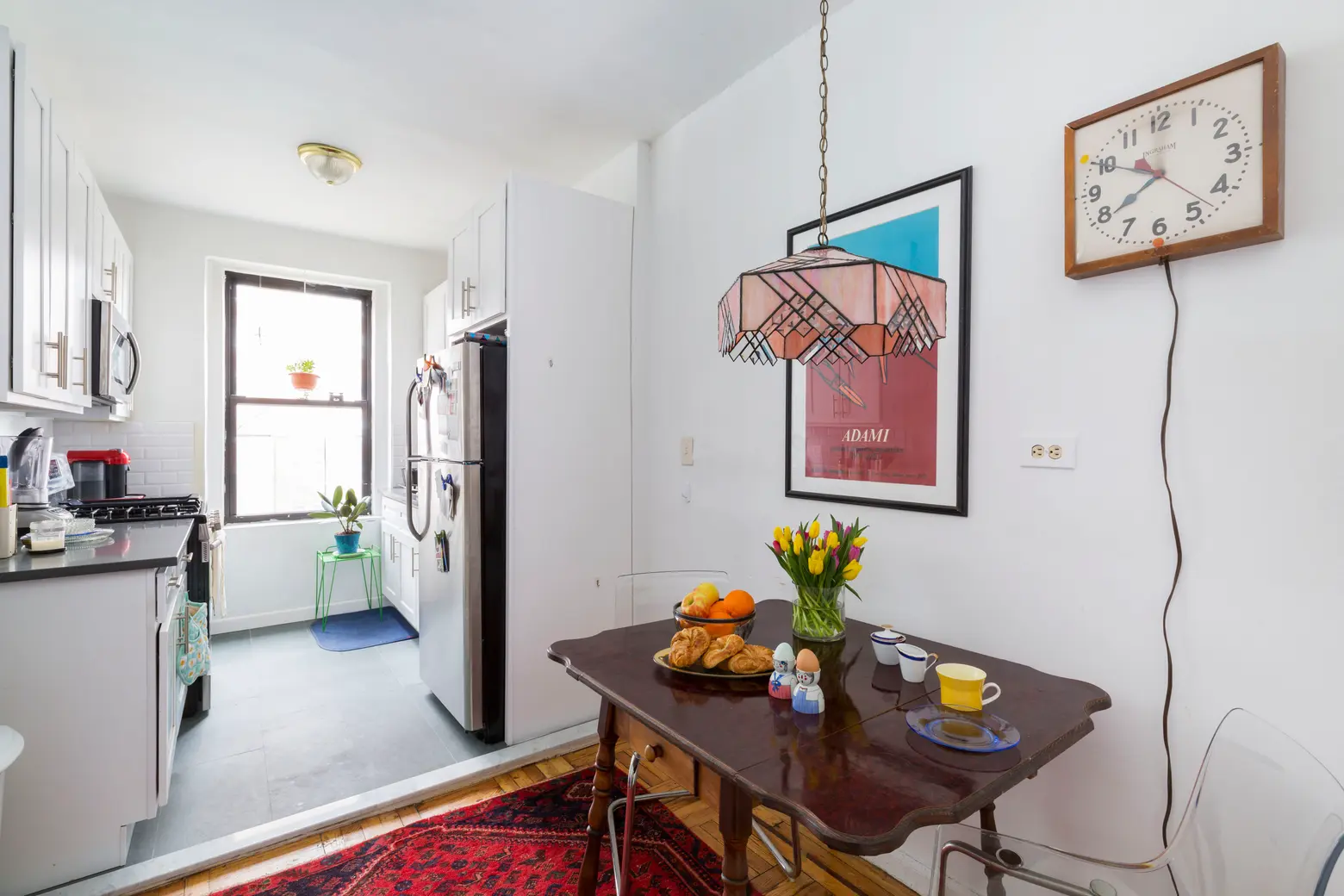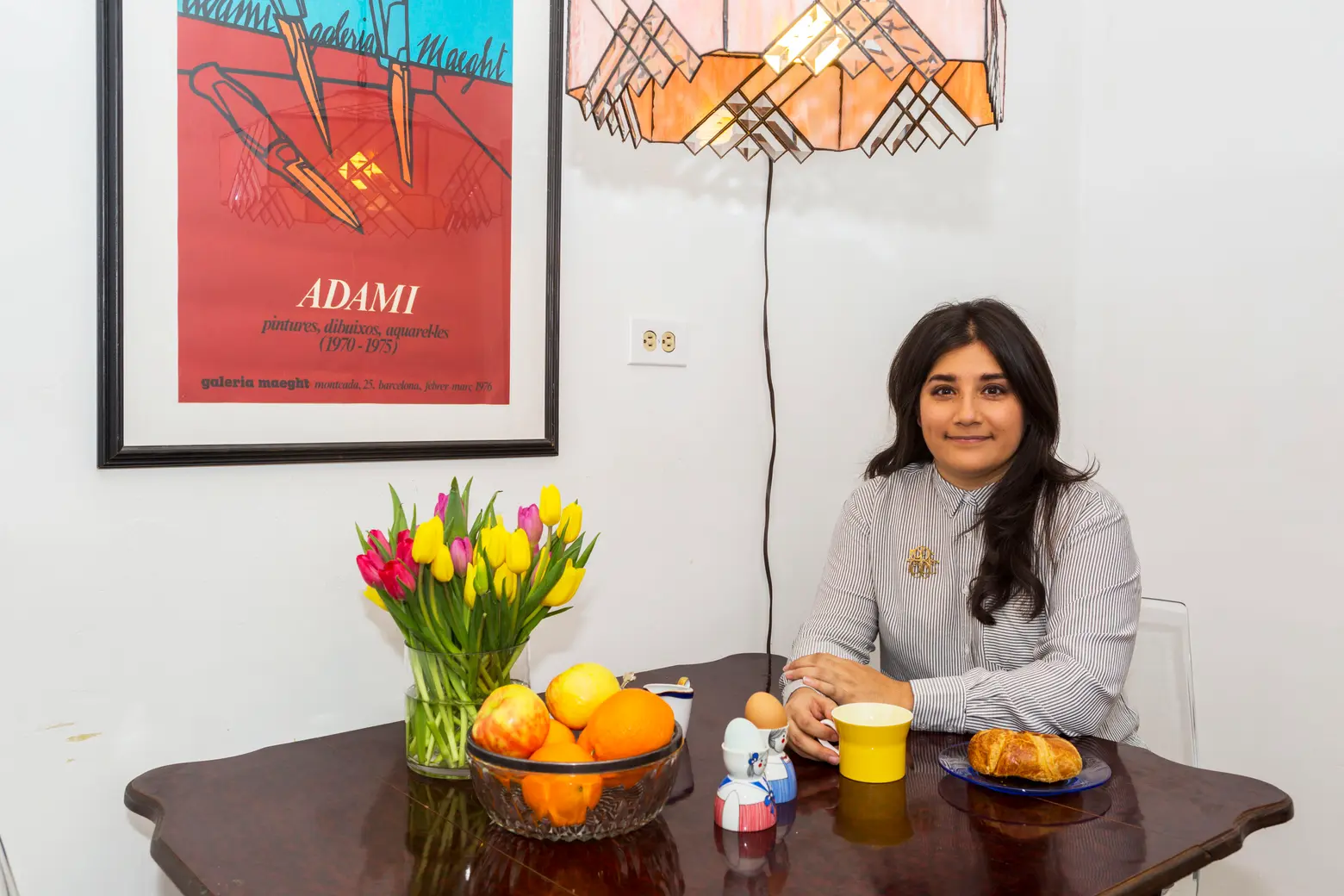 Where did you live before Prospect-Lefferts Gardens?
My first two apartments were in Harlem, on Saint Nicholas Terrace, and in Morningside Heights. After graduation, I moved to Crown Heights in Brooklyn for about two years. Then I decamped for the mainland and the Bronx (fun fact that people don't always realize–the Bronx is the only NYC borough attached to the continental U.S.).
I moved back to Brooklyn after three or so years in the Bronx, the result of a breakup and wanting to be closer to friends. I ended up in this neighborhood because of the great cost/space ratio (is there a fancy term for that?). I found this was the neighborhood where I could get the most space for my budget. I was over on Bedford Avenue at first, for about a year and a half. When I decided to move, I really wanted to stay in this neighborhood and couldn't believe my luck when I found this great apartment [on Craigslist] just three blocks away — and on the park!
What are some of your favorite spots in the neighborhood?
Hands down my favorite place is Pels Pies. The tomato cheddar is my favorite of their savory pies, and on weekends I always crave a stack of their pancakes. I don't know what the secret ingredient is, but they're the best I've ever had. On Flatbush Avenue, a few places I quite like are shwarma and falafel at Kulushkat, baked goods at Cinnamon Girl, pizza at Parkside. And not too far away, maybe a 15- or 20-minute walk is Church Avenue.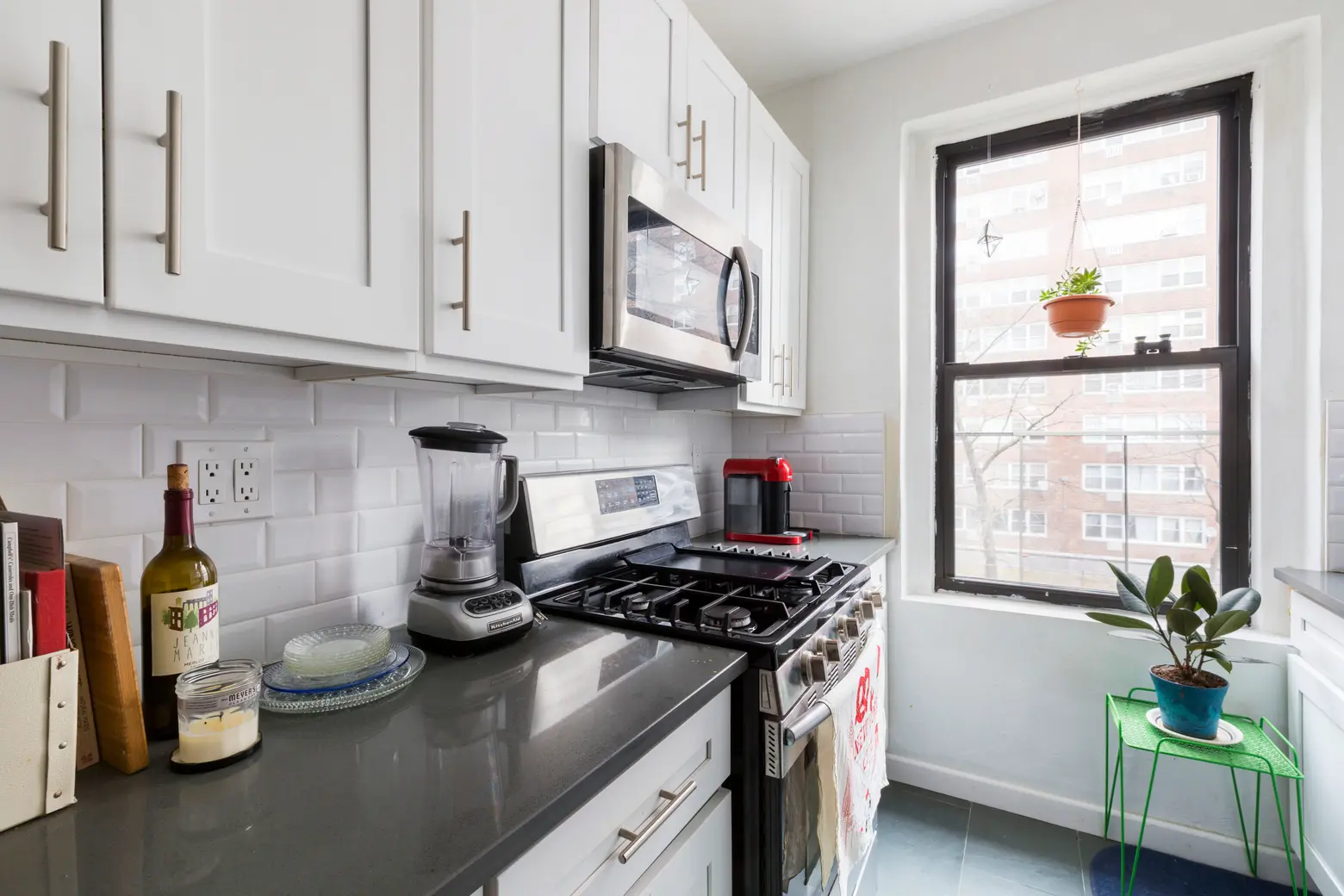 You're a preservationist. Was it very important for you to live in a historic building?
Without question, yes. I've only ever lived in older buildings: lobbies with terrazzo floors, apartment rooms with great molding. It adds such character.
Do you think you could ever live in a modern condo?
Never say never, but it probably wouldn't be something I'd seek out actively.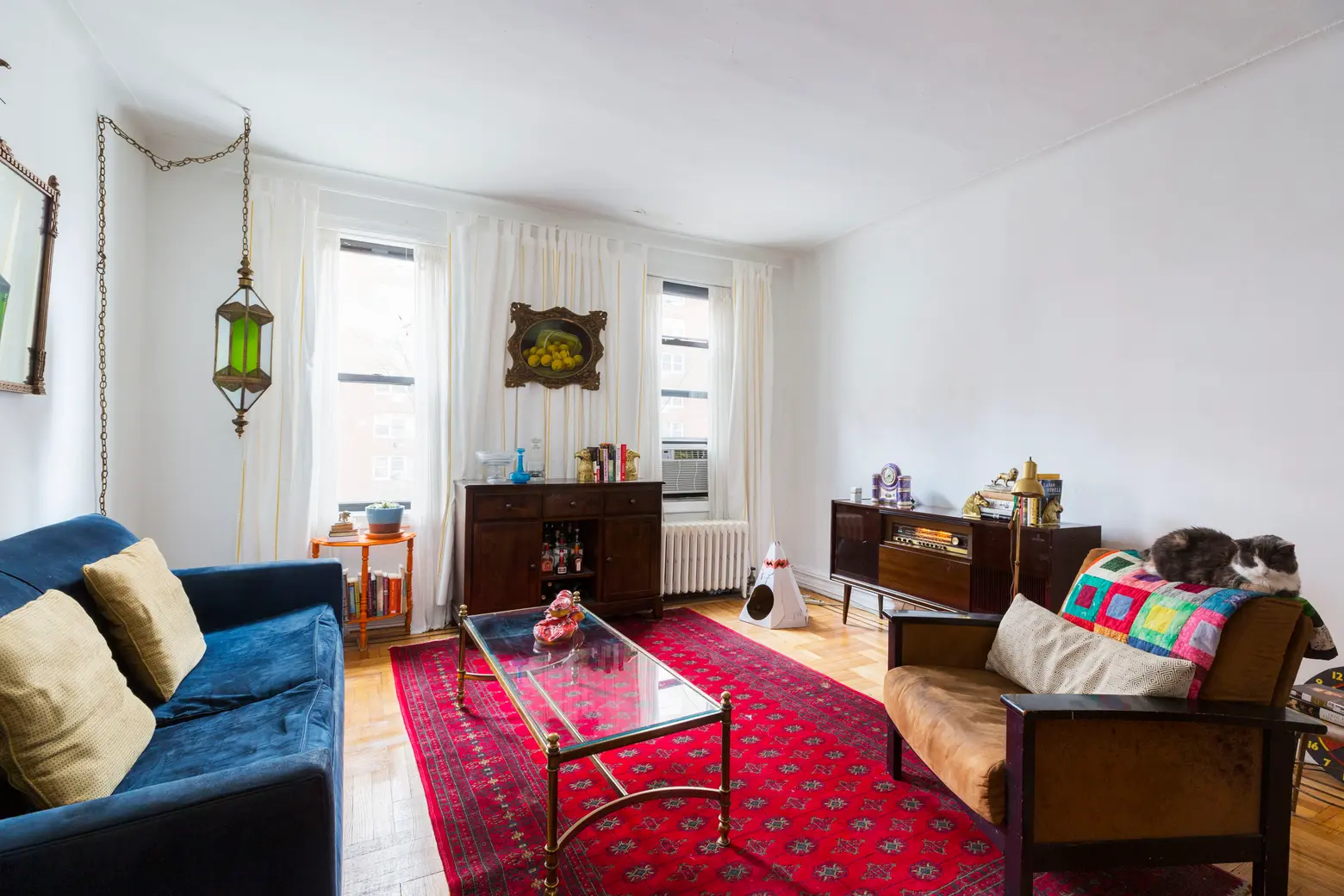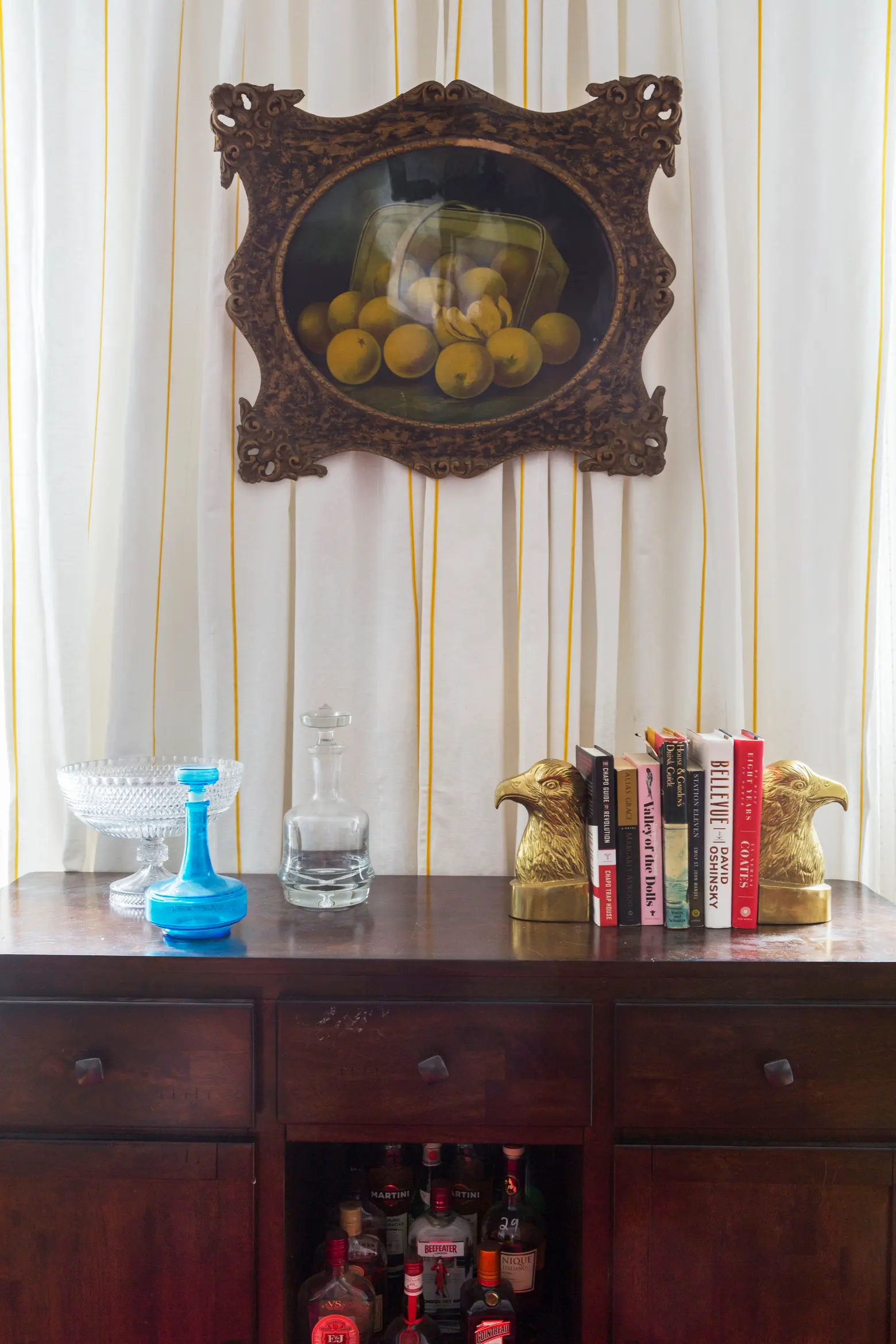 The fruit painting was just $20 at an antique store in South Dakota. The eagle heads were gotten during a fishing trip to Roscoe, NY.
You certainly have a lot of space! Do you like to entertain?
I love having people over! One thing I'm always keeping my eye open for when thrifting is glassware. You need lots of great glasses and serving trays when hosting guests, and I've been picking up coupes and stemware, smoke glass and deco-style trays for years. That said, I could do with more seating for large numbers of people. When I had my housewarming party at this apartment, I think most people ended up relaxing on the carpet… which made the cats quite happy.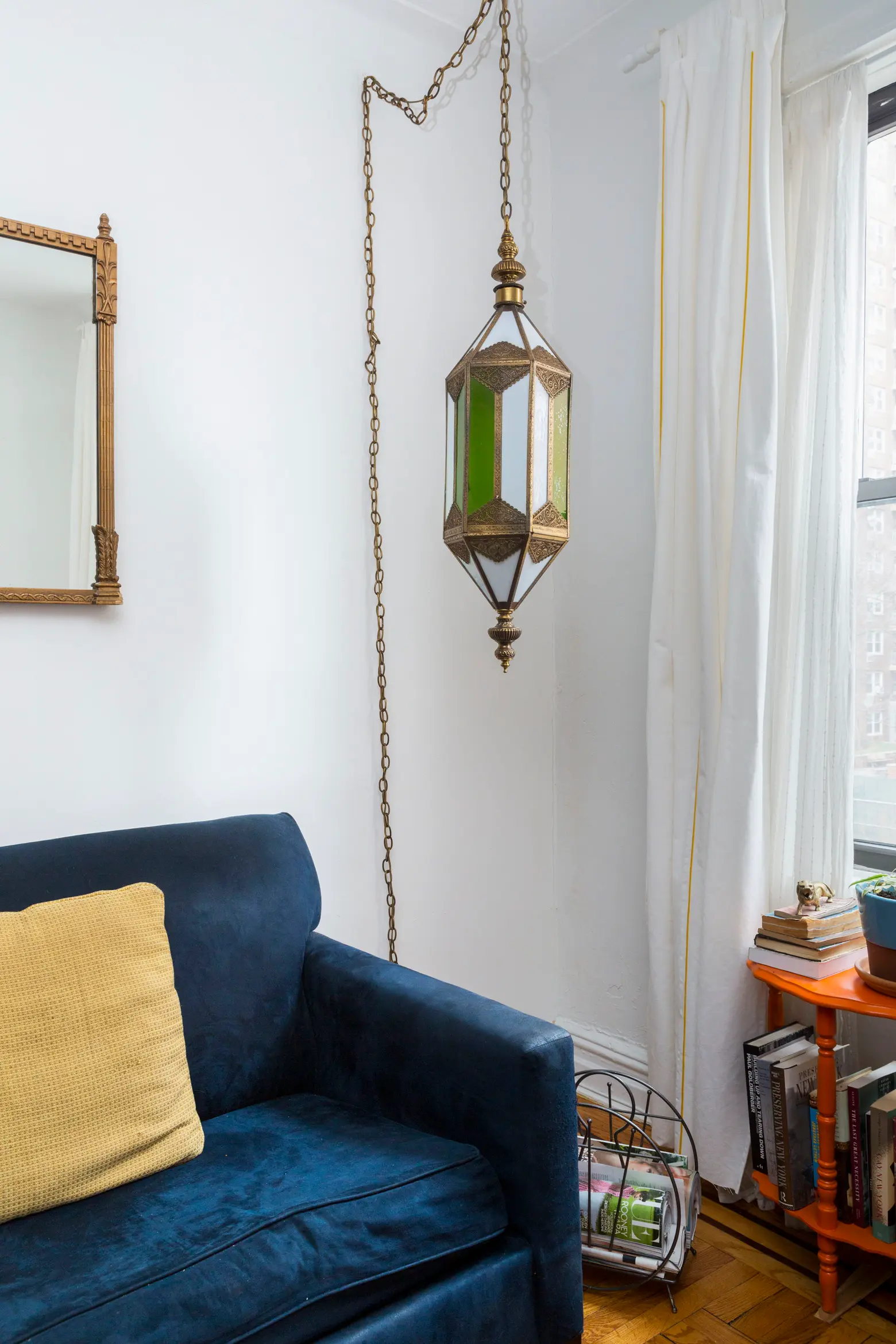 Cristiana found the hanging light for $40 at a vintage store in New Jersey.
Do you rearrange a lot?
I don't, actually–and haven't really thought about that fact until now! I think it's largely because so many things are hanging on nails and the walls are arranged in accordance with the furniture around/below them, so I've kind of designed myself into a singular layout. I'm fine with that!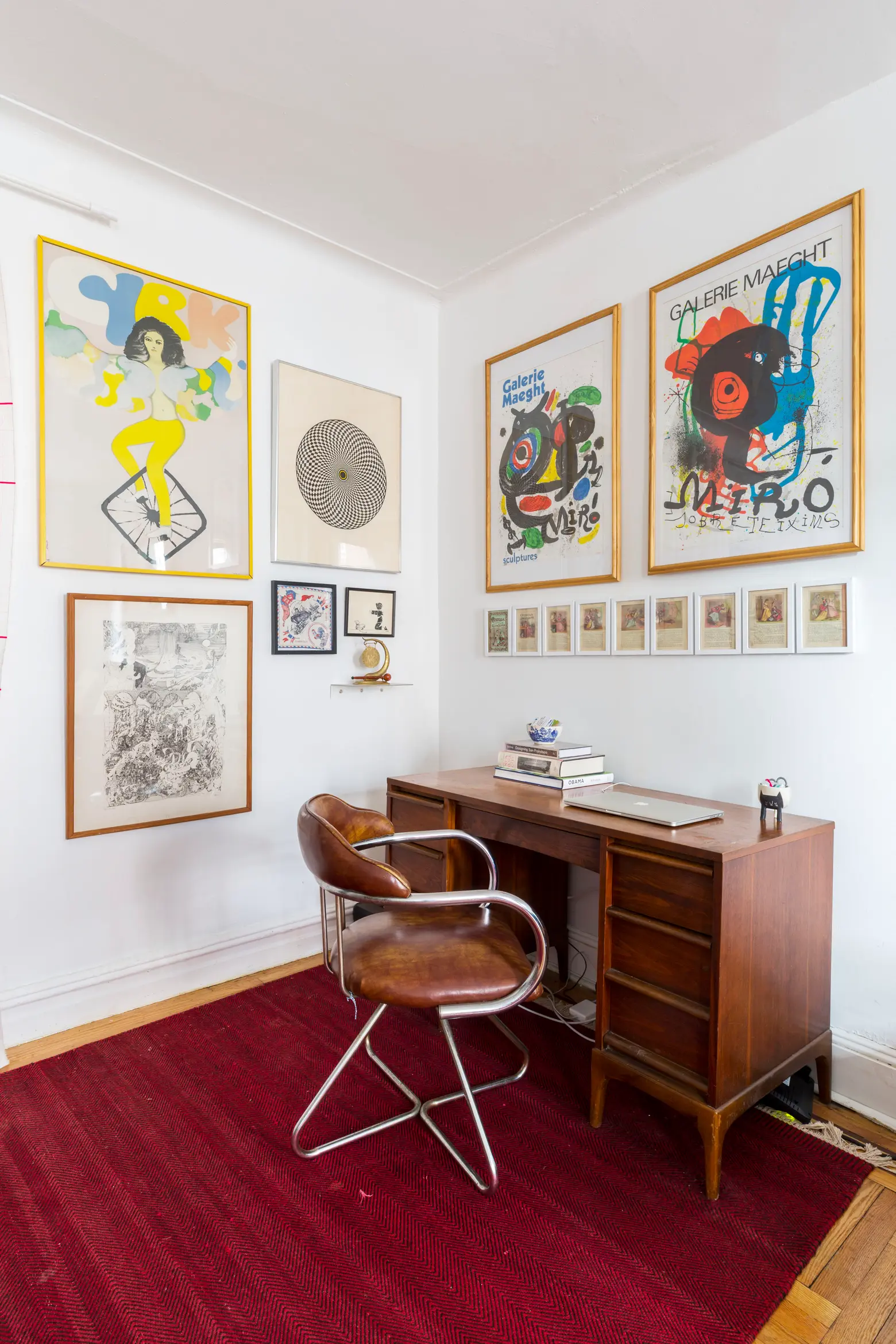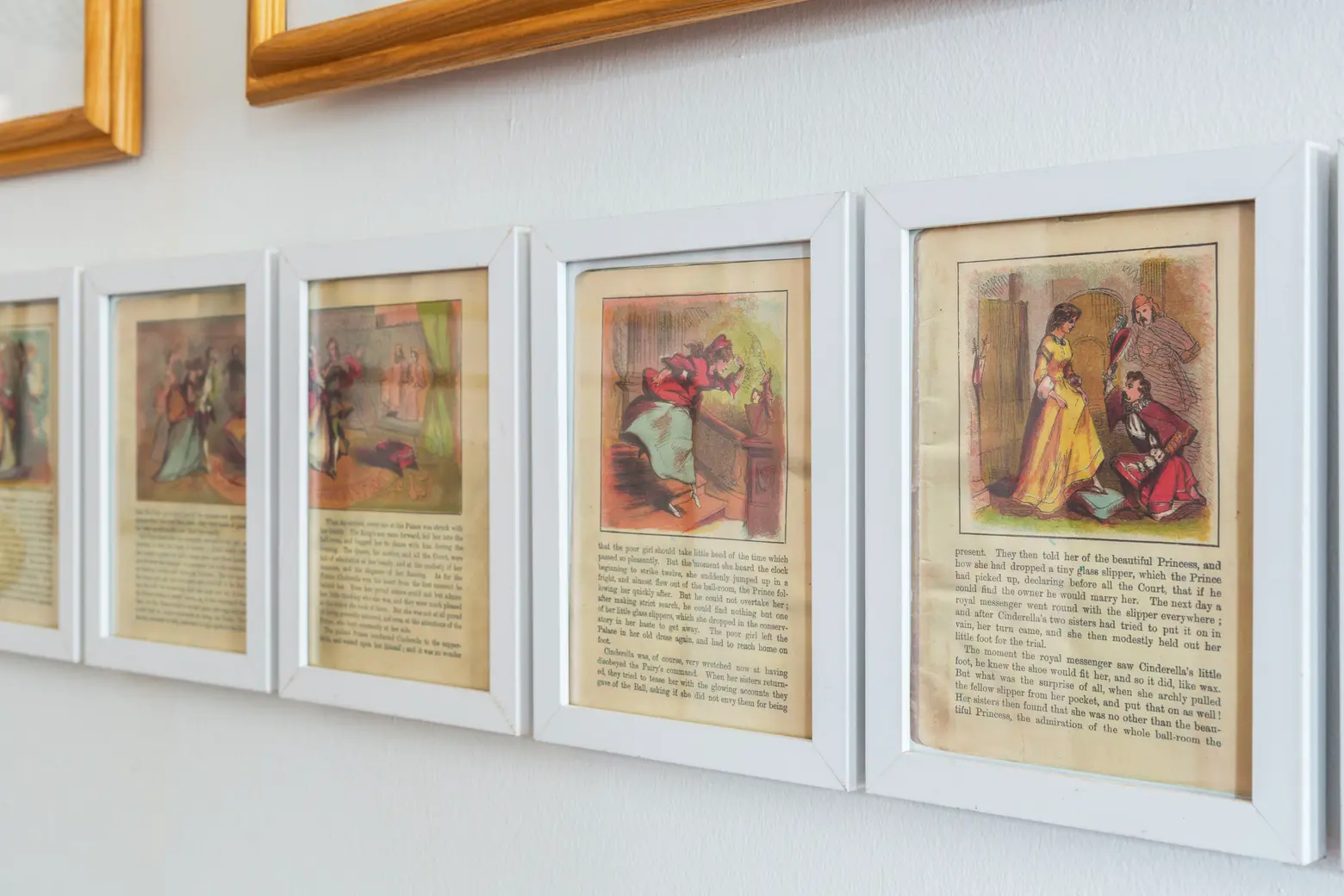 Cristiana's dad got the gold gong on the shelf while on a peacekeeping mission in the Persian Gulf. The framed book pages are from Cinderella. 
Speaking of which, you have a lot of nice gallery walls and art vignettes. Did you plan these out or did they happen naturally?
The wall around my desk I planned. It was blank, with frames just leaning on the wall, for quite a long time. But once I had all these pieces, I played around with their layout on the floor for a while and then grabbed the drill and screws and pulled the trigger! The wall around my bookcase shifted around a tiny bit after I initially put it up. I had to make room for that great blue-toned Chagall print which I found at a frame shop going out of business for just $35! For a while I'd wanted to add some dimension so was delighted to find these clear shelves, which I use to display a gong my father brought back from a tour of duty in Saudi Arabia in the '90s, and two white busts I picked up this last Christmas while home in Rapid City, South Dakota.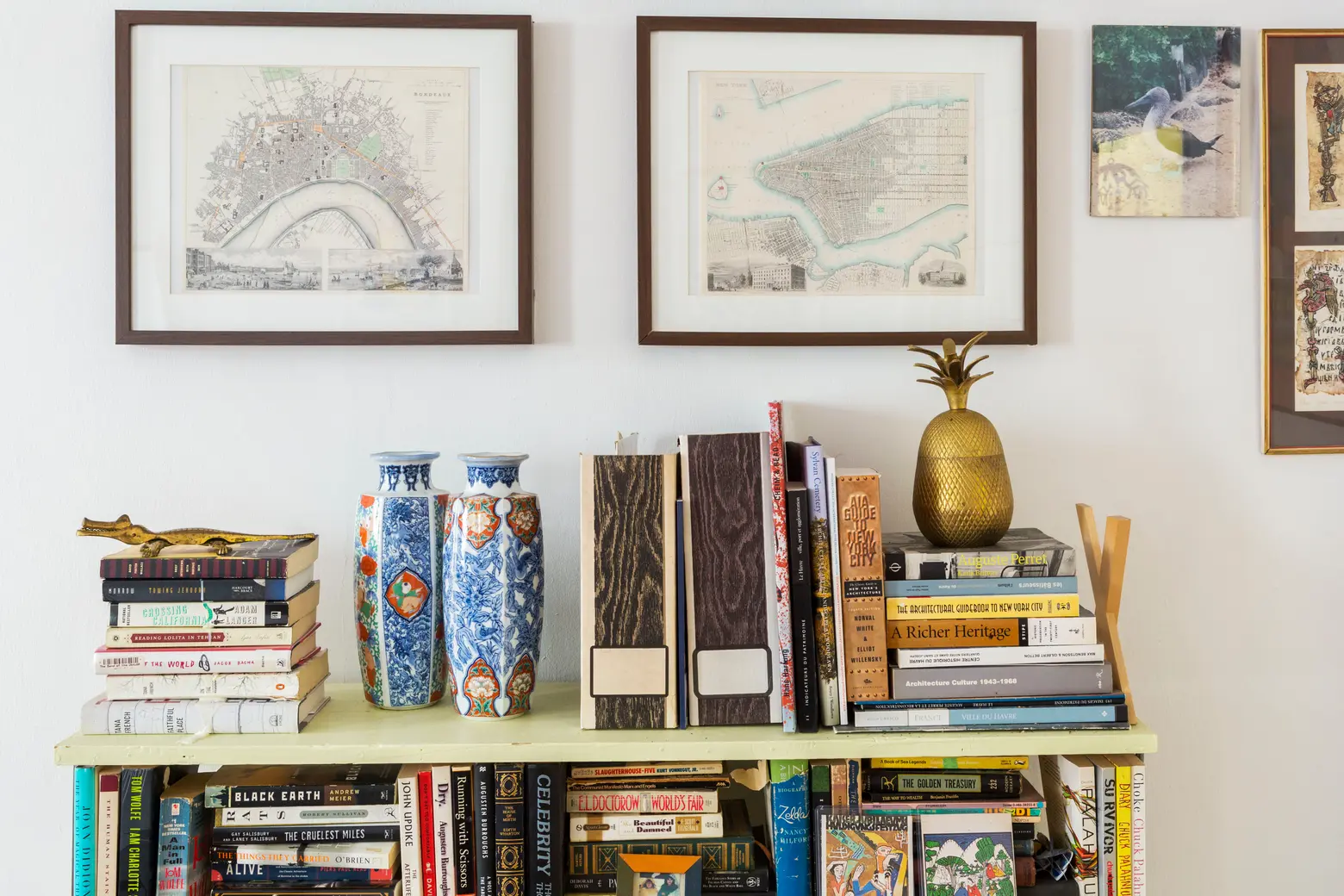 These prints came from a book of maps. One is of Bordeaux, where Cristiana lived between undergrad and grad school, working as a language assistant. The other is of Boston, where she interned at their landmarks commission for a summer (and her best friend lives there!).
You grew up in South Dakota; does that aesthetic influence your style at all?
Can't say it does! Although I will say that when I'm home, I'm now more appreciative of some of the local art, which seemed so ubiquitous when I was there, but which you don't find around NYC at all, of course. I have an interesting little work of art, which is a smoky depiction of teepees on the plains. It's a small thing but it makes me think of the store on historic Main Street where I bought it.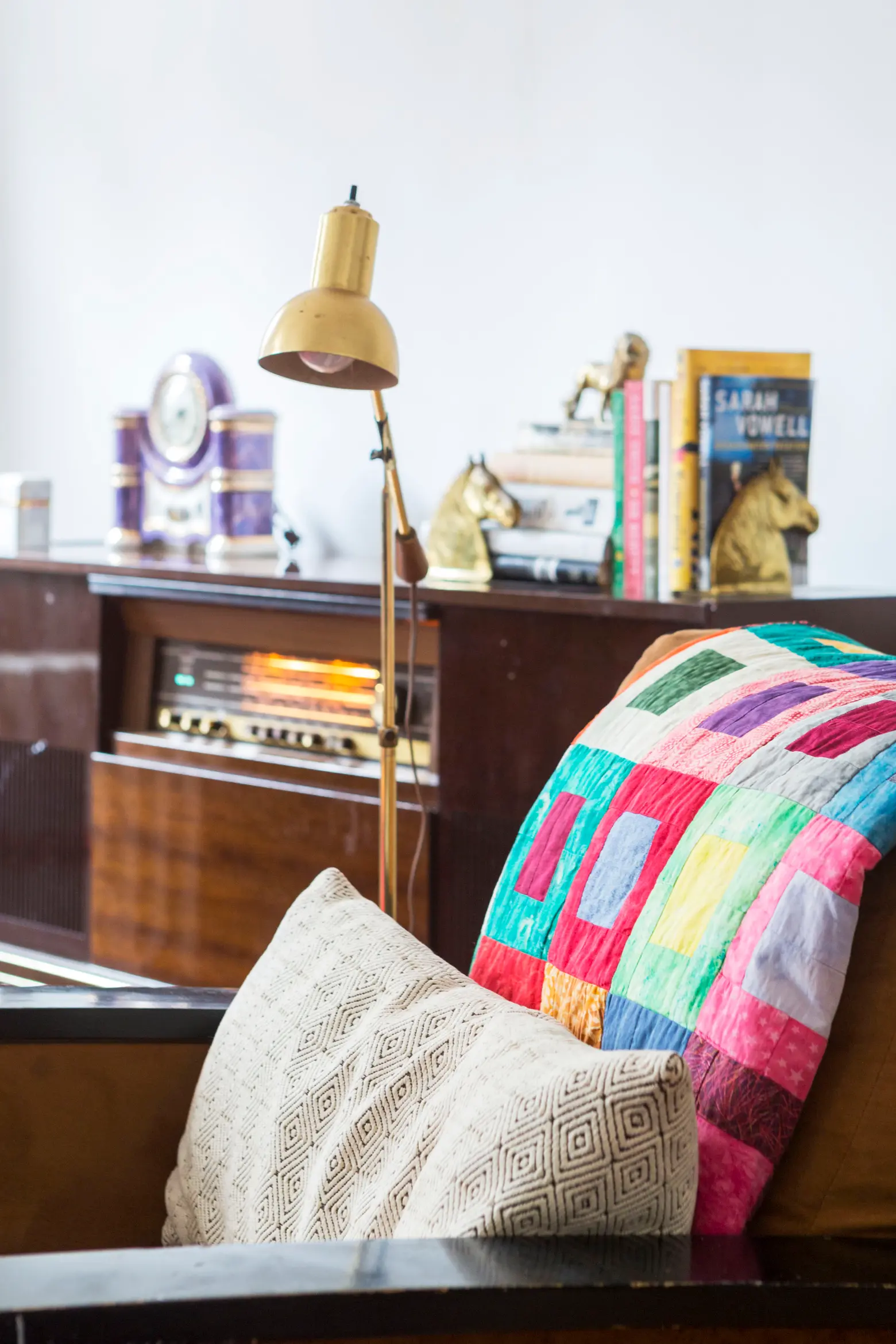 Cristiana's mom is a quilter. This is the first one she ever made for her.
How and when did you get into antiquing?
It started with thrift shopping for clothes, trying to stretch my tiny paycheck as far as I could as a kid. I think that's where I developed an appreciation for second-hand things. Once I had more space of my own to decorate, I started looking at the home goods side of the thrift shop… and there's been no turning back!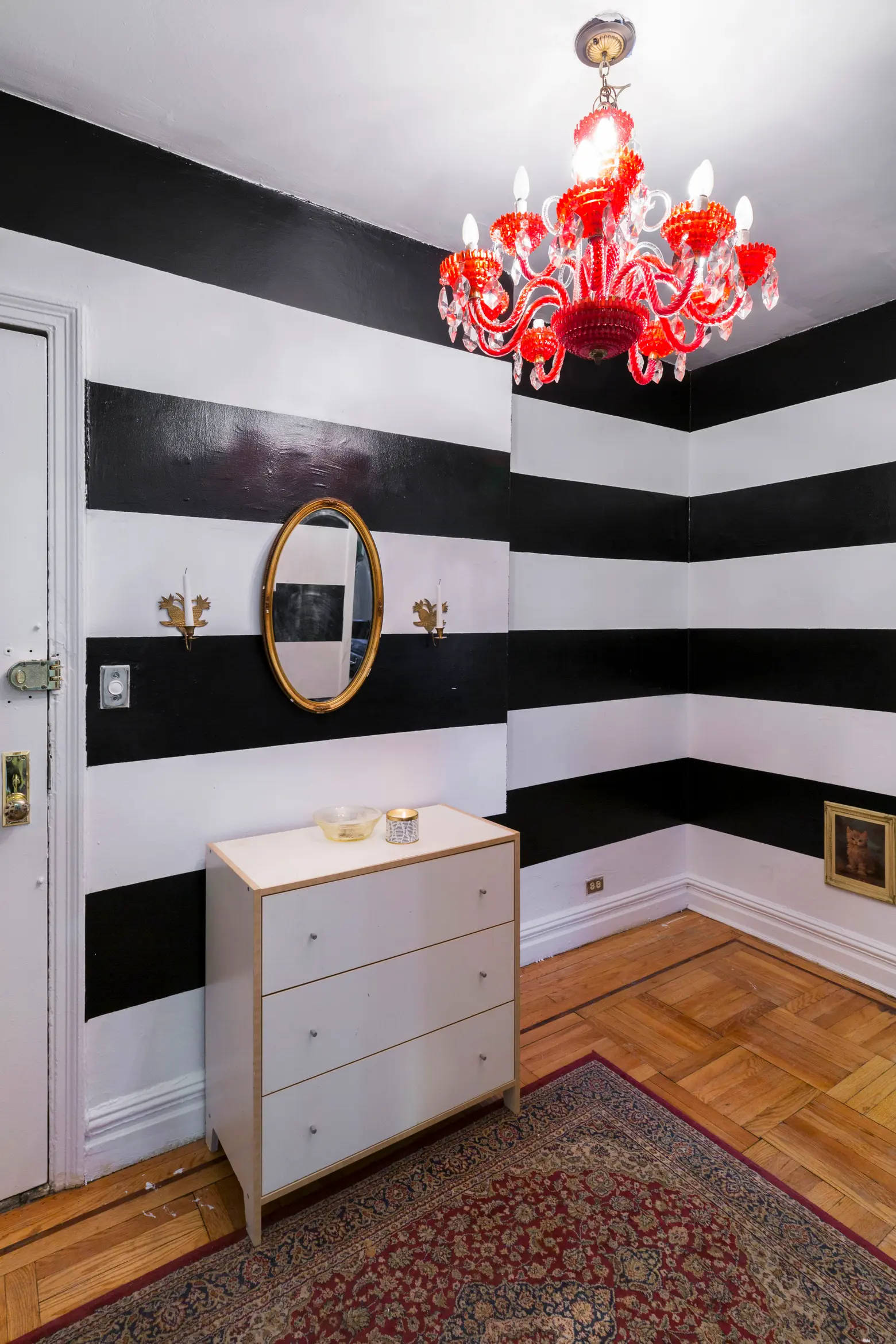 What are some of your favorite vintage stores? And what about day-trips New Yorkers can take for some great antiquing?
OH MY, SO MANY GREAT SHOPS TO RECOMMEND! I hope I'm remembering all the ones that matter! In New York, I'm such a fan of Dobbin St. Vintage Co-op. They have a really eclectic selection and their prices are truly reasonable. The print I have with the unicyclist and the word "CYRK" is from their Bushwick Outpost. Also in NYC is Pippin Vintage, where I found my incredible desk chair and the framed optical art. Pippin is a great little hideaway in the rear yard of their jewelry shop. I love Horseman Antiques on Atlantic Avenue in Brooklyn, although their prices are a bit rich for me. That said, my entryway chandelier is from there! I jokingly told friends that they should band together for my birthday… and they did! A few friends helmed the effort and even recruited my parents and my sister in Wisconsin to band together and buy it. Pretty sure it's Murano glass. Truly, the most thoughtful friends! City Foundry I like as well, and I'm eager for them to reopen at Industry City.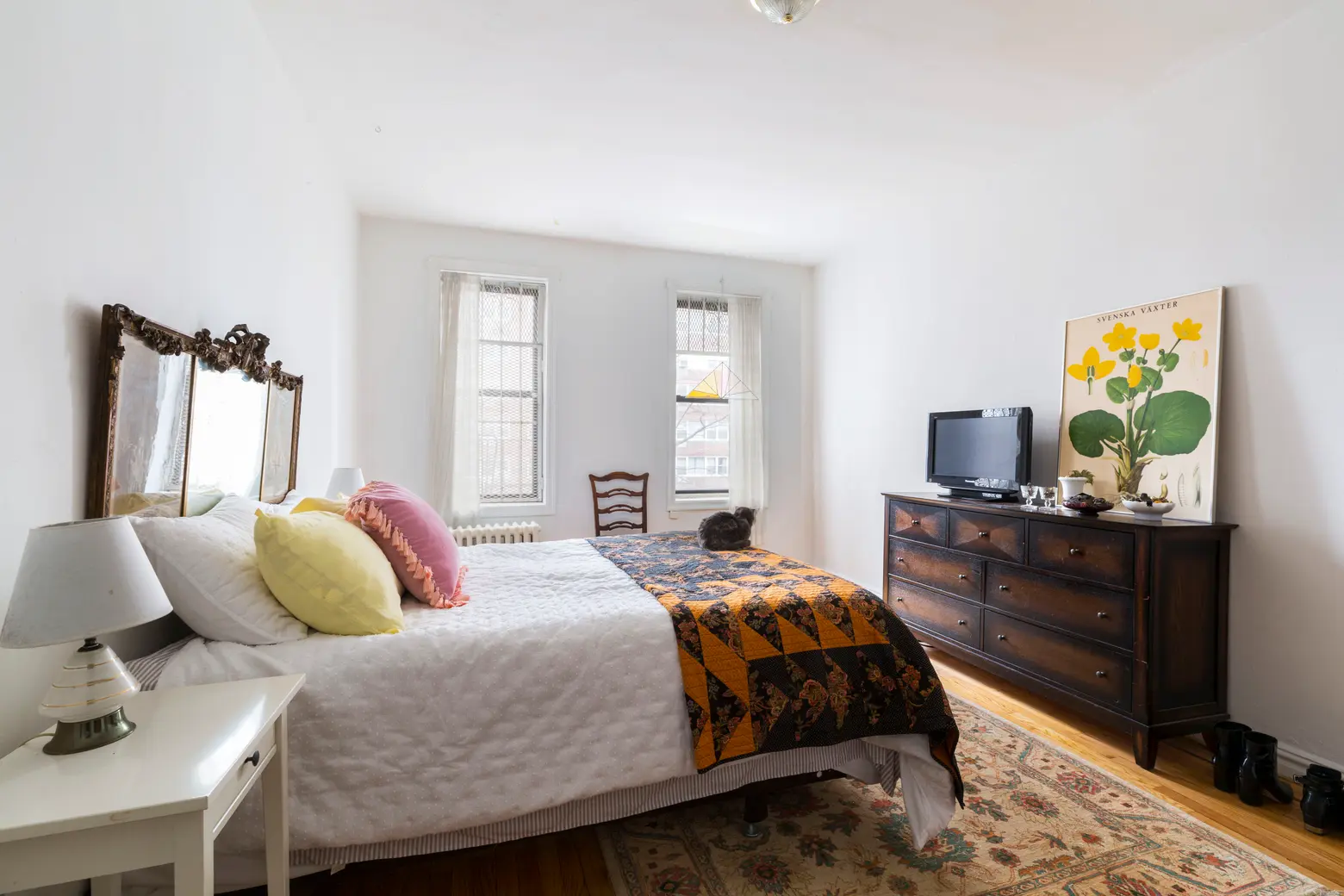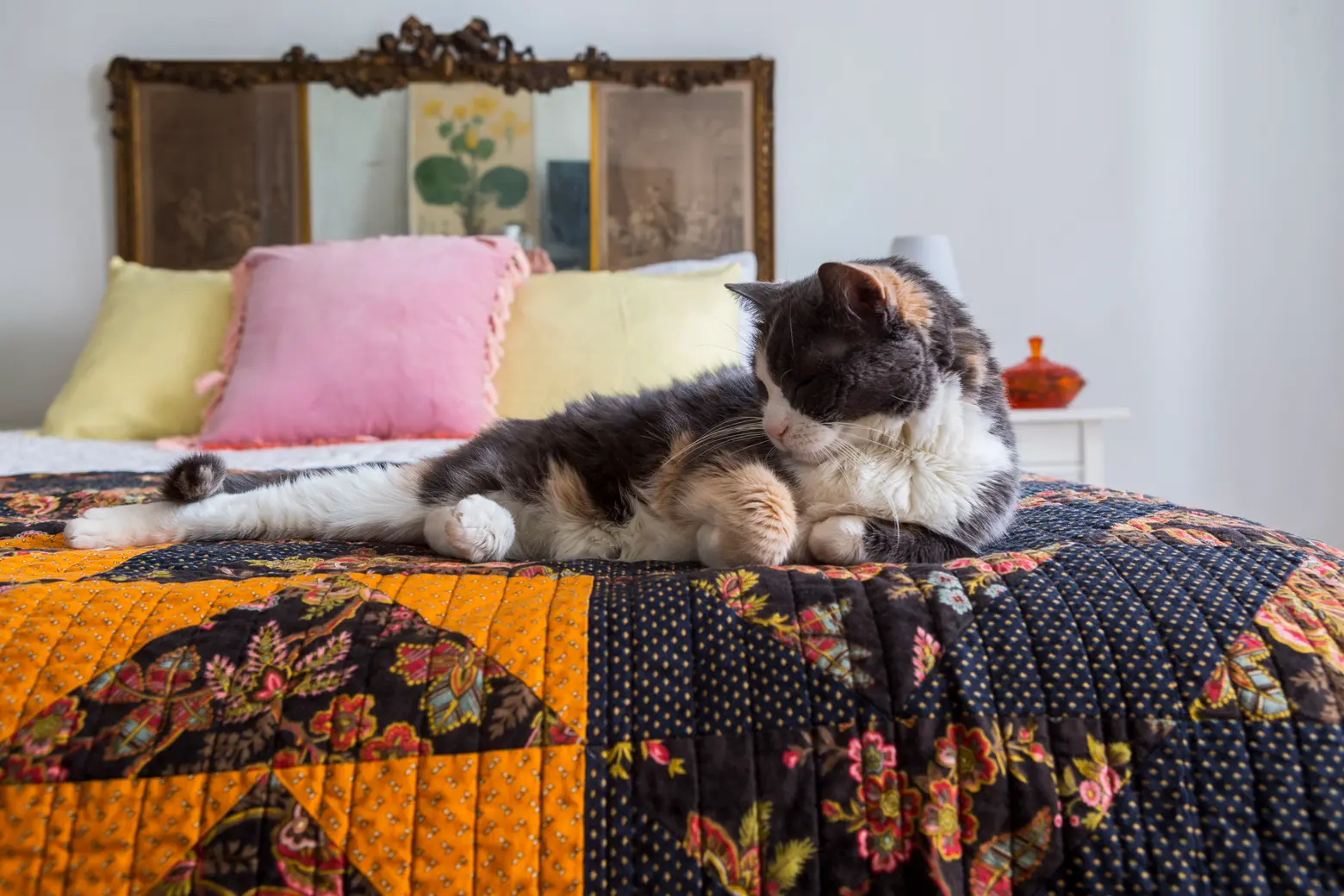 Cristiana got her cat Amelia 10 years ago. Her other cat, Tom, was a little camera shy.
Outside of NYC: That Nothing Be Lost in Garrison has the most glorious room of glassware! I try to go by there a few times a year to see what new little coupes or plates I can pick up. Lafayette Mill Antiques is where I found that incredible mirror I use for my headboard. I saw it on the wall and walked past it at least 10 times, texted photos to two or three other people for second opinions and then took it home. Scranberry Coop, in Andover, NJ, I found completely by chance but am so glad I did — it's where I scooped the hanging lights in my living room and kitchen. The Hamburg Antique Center, in Hamburg, NJ, was a fun find — lots of large furniture pieces but also some beautiful ceramics and more. The only thing I bought the day I discovered it was a pair of small opera-style binoculars … which I use to spy on the apartment across the way!  In the opposite direction, Simon Vintage in Neptune City, NJ, curates a really lovely selection of items. I found the mirror in my entry and the small orange window table there.
Outside of New York State, I adore Jinxed in Philadelphia. They post great items on their Instagram and you have to be ready to act fast because items sell out in a snap. The purple Rococo-style clock in my living room is from their Fishtown location. And if you ever find yourself in Green Bay, Wisconsin (where my sister lives) some of the best vintage and second-hand shops I've ever visited are in that area — you'll make out like a bandit!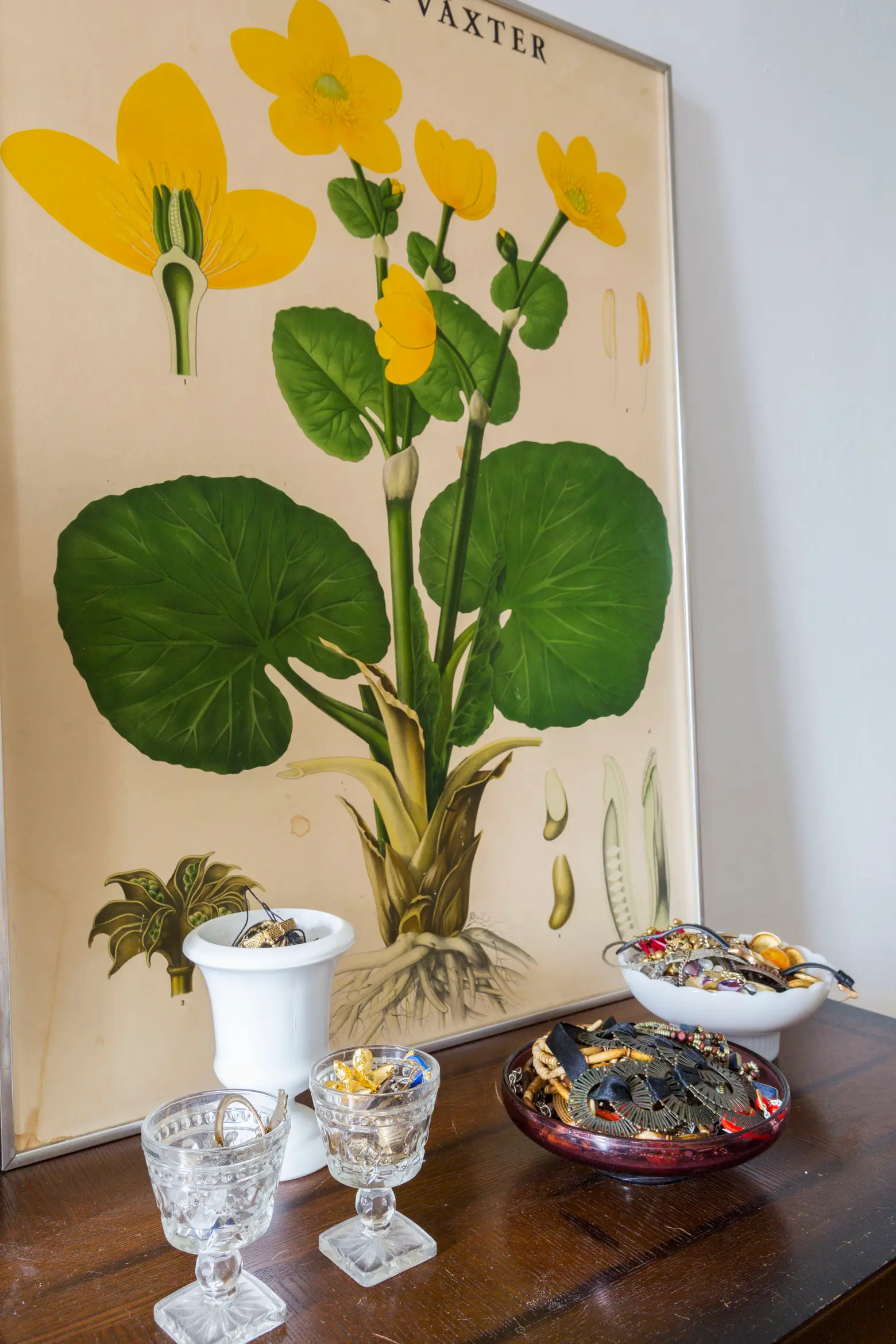 What about when you're buying new, where do you like to shop?
I hate to say it, but I try to buy second-hand whenever possible! Don't get me wrong, I'll peruse West Elm or Target or IKEA or even pine for sofas on Article. But I always have trouble pulling the trigger because I just dislike the idea of knowing that hundreds of others have the exact same Billy bookcase or Wayfair dresser as me. There's such a thrill to finding a piece of furniture or a decorative item that fits perfectly in your home… it's like kismet that you found one another at just the right moment!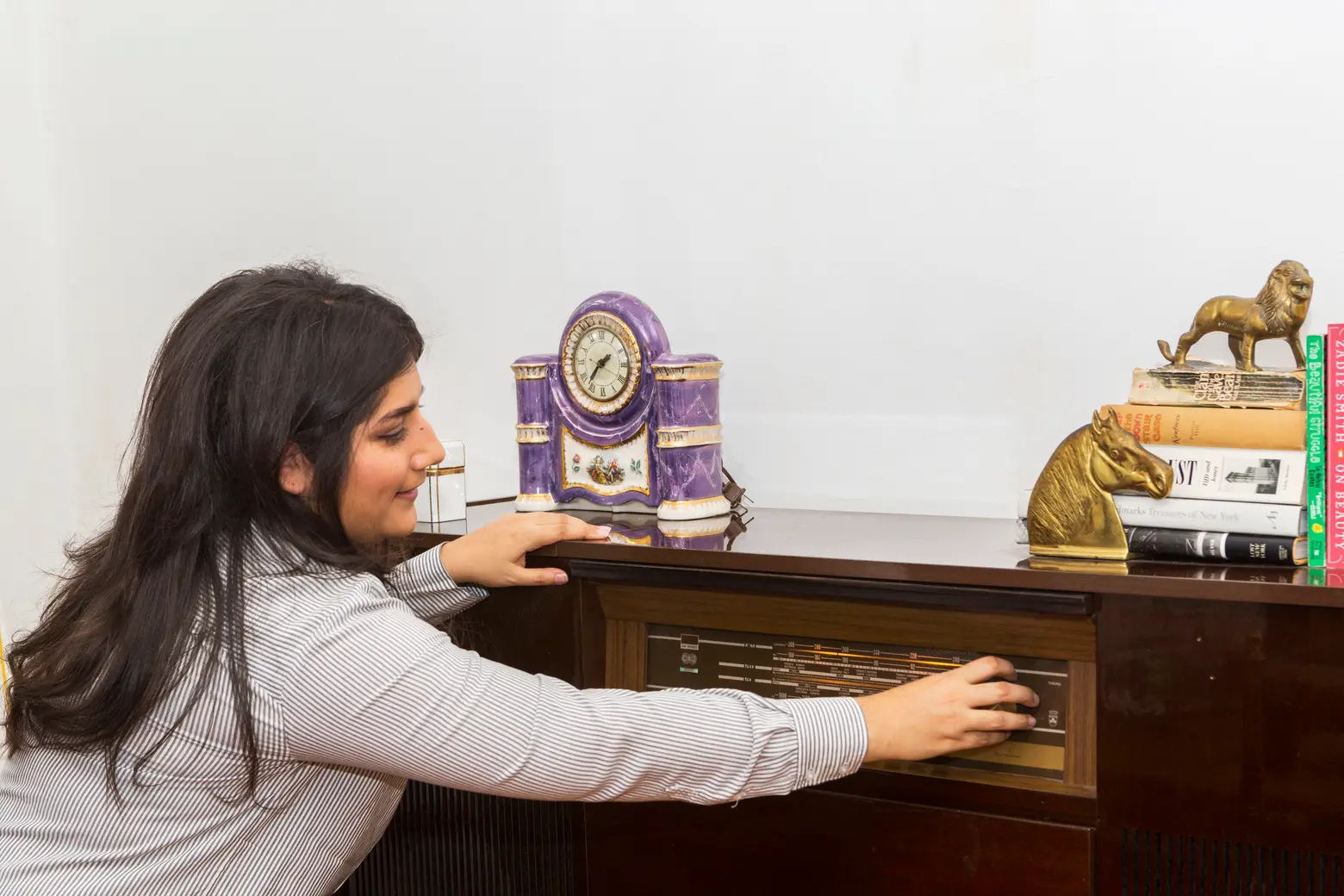 The horse busts come from a shop in Asbury Park, NJ.
You can only take 3 (non-living!) things from your apartment–what are they?
(1) The 1960s Grundig console radio for sure! Stumbled upon that at a Goodwill in Peekskill, NY. (2) My brass menagerie! I just found a parrot on a stand at a shop in Kanab, Utah (when on a trip to visit a friend at volunteer at Best Friends Animal Sanctuary). The parrot joins the brass lions, horse's head bookends, alligator nutcracker, pineapple ice bucket, and gong! (3) The Murano glass chandelier, because it's stunning and I have the wonderful memory of receiving it and learning about how my friends and family all collaborated to give me this gift.
RELATED:
All photos taken by Kate Glicksberg exclusively for 6sqft. Photos are not to be reproduced without written permission from 6sqft.