Flatbush block with distinctive homes designed by famous Brooklyn architects may be landmarked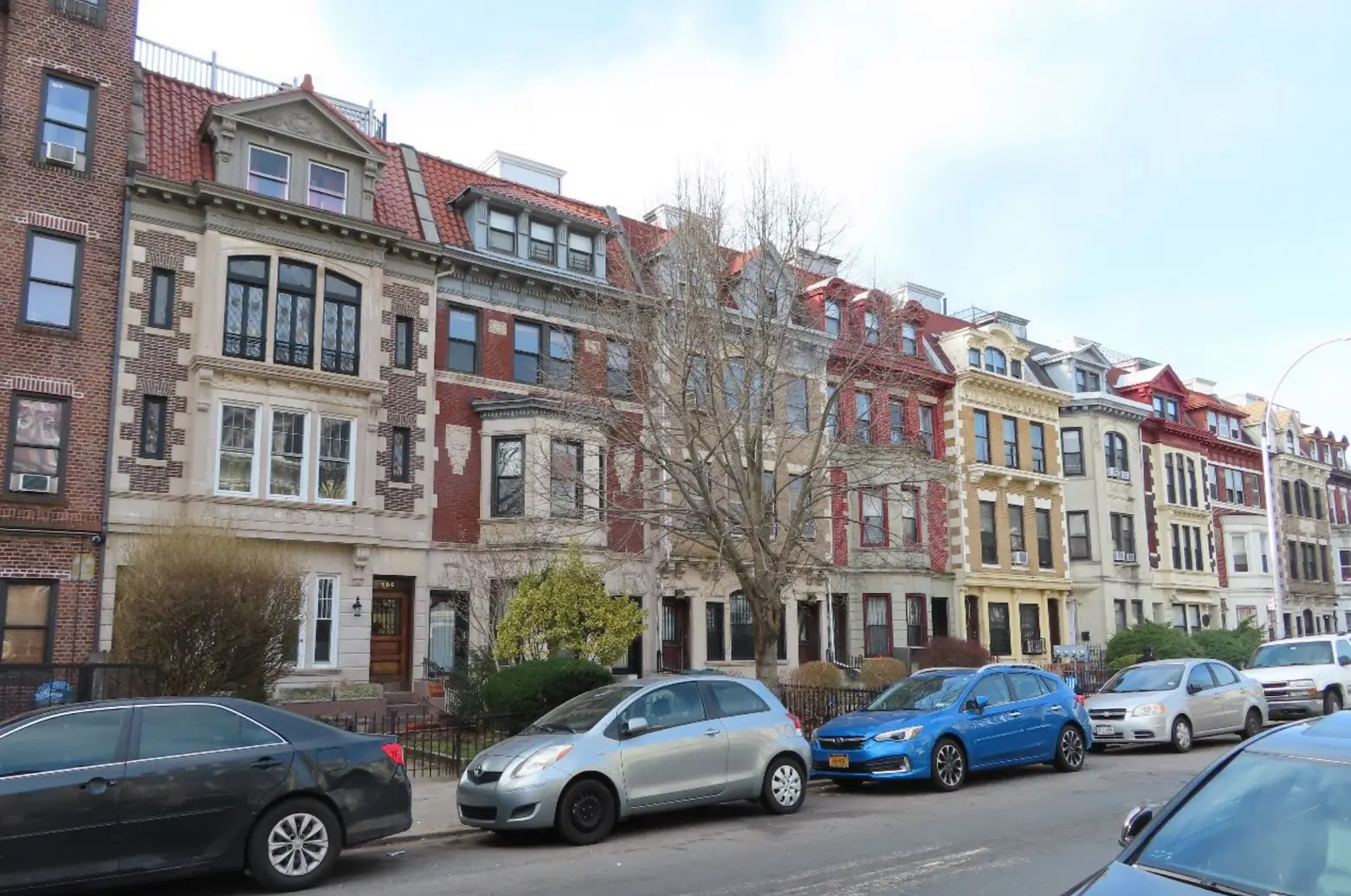 Photo of Parkside Avenue courtesy of LPC
A tree-lined block in Brooklyn with architecturally distinctive homes may become the city's newest historic district. The Landmarks Preservation Commission (LPC) on Tuesday voted to calendar the Melrose Parkside Historic District, which consists of 38 intact single and two-family row houses built by two of Brooklyn's most renowned architects, Benjamin Driesler and Axel S. Hedman. Located on Parkside Avenue between Flatbush and Bedford Avenue in Prospect Lefferts Gardens, the collection of homes has a distinct appearance and sense of place in the surrounding neighborhood due to the use of "neo-Classical vocabulary" in their architectural style, according to the commission.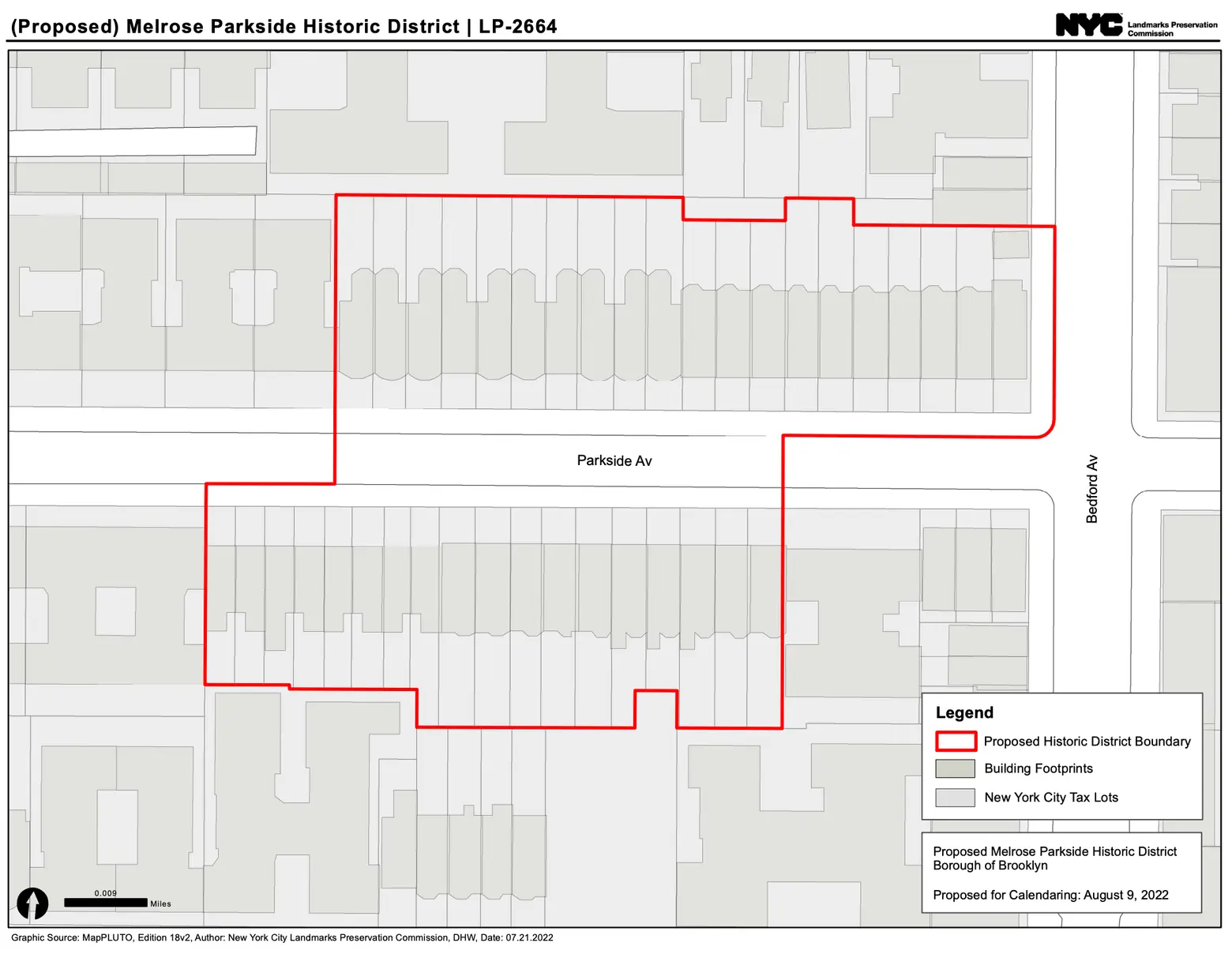 The homes within the proposed historic district were designed for developers William A. A. Brown and Eli H. Bishop & Son between 1909 and 1915, around the time when this type of home was in high demand. A large part of the district is made up of what were called "Kinko Houses," two-family duplex homes with separate private entrances. The houses were promoted by Brown as "the most perfect houses ever built for two families," and guaranteed residents the "privacy of a one-family house," according to the commission.
The request to designate the area as historic comes after support and a petition signed by Parkside Avenue property owners, according to Kate Lemos McHale, director of research at LPC. After being studied by LPC staff, the homes were approved to be considered for calendaring due to their unique architecture and historical significance.
LPC Chair Sarah Carroll said the property owners within the proposed district really "embrace the historic heritage" of their streetscape and support landmarking the block.
"This is another exciting neighborhood because we've been talking to many of the owners for a long time now and there's a lot of pride of place here in this group," Carroll said during Tuesday's meeting. "This group of buildings is a standout in the larger neighborhood."
The entire proposed historic district was completed between 1912 and 1915 when two additional rows of single-family homes were constructed. Designed by Driesler for Brown, eight of these homes are "no basement" row houses that stand out for their exterior embellishments, which include Jacobean-style gables. Ten of the other homes are "American basement" row houses, designed for Eli H. Bishop & Son by Hedman from 1914 to 1915.
Up until the 1950s, the majority of residents within the row houses and duplexes on Parkside Avenue were white and mostly born in the United States.
During the middle of the 20th century, Flatbush saw an influx of African American and Afro-Caribbean residents as many Black families left Central Harlem and Bedford-Stuyvesant for Central Brooklyn. The area quickly became the center of the city's Afro-Caribbean community, with more immigrants from the Caribbean settling in the neighborhood during the 1980s, as the LPC noted.
Calendaring is the first step in the designation process; a public hearing and a vote will come next.
RELATED: