Two tudor-filled areas in Queens' Cambria Heights designated as historic districts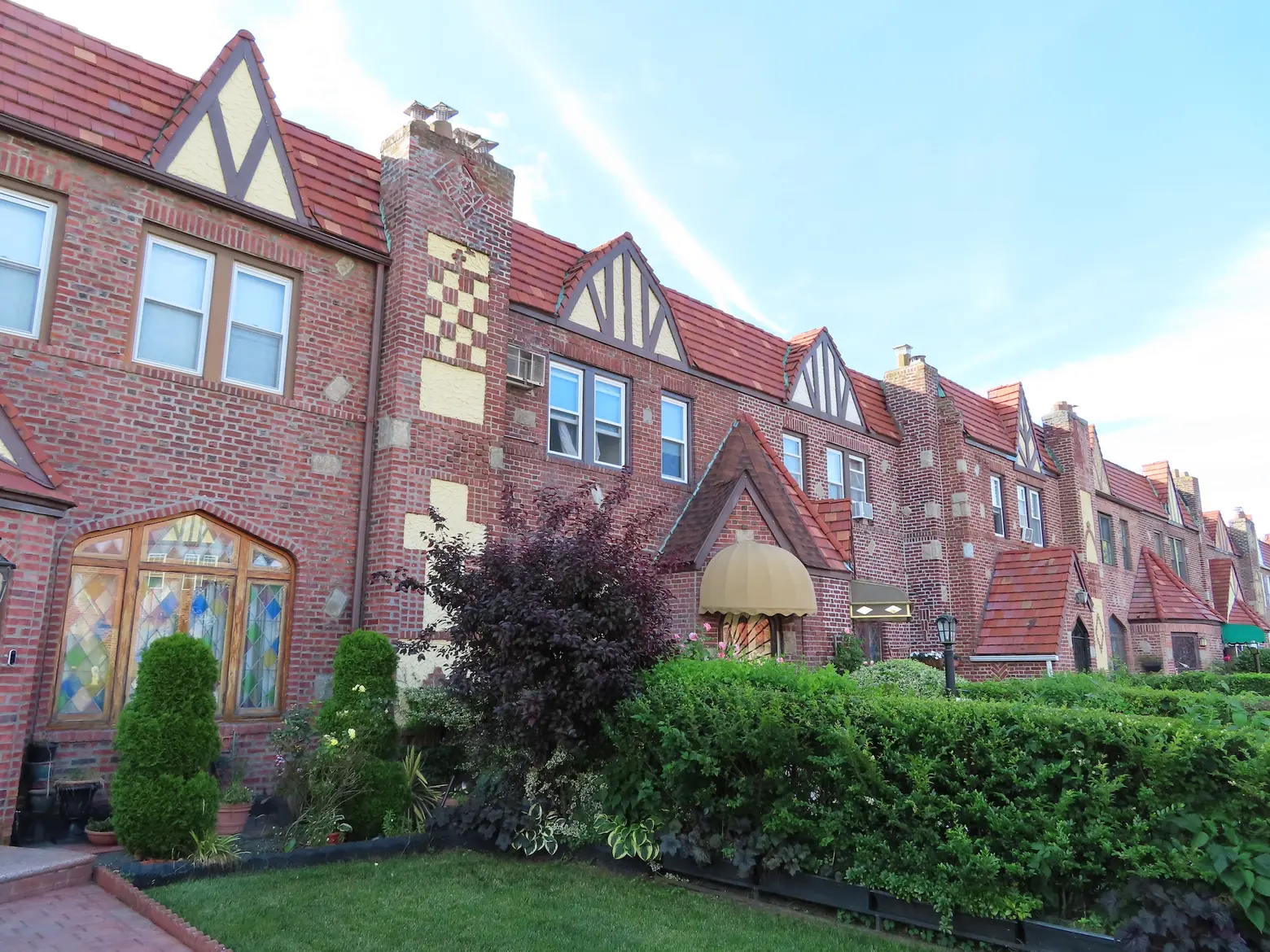 Image courtesy of the Landmark Preservation Commission
The Landmarks Preservation Commission (LPC) on Tuesday voted to designate two districts in the Queens neighborhood of Cambria Heights as historic districts. The two areas, known as the 222nd Street and 227th Street Historic Districts, contain 96 well-maintained Tudor-style rowhouses that incorporate Storybook design elements. Both historic districts have been deemed by the LPC to be extraordinarily well-preserved and give the area a "highly distinctive sense of place."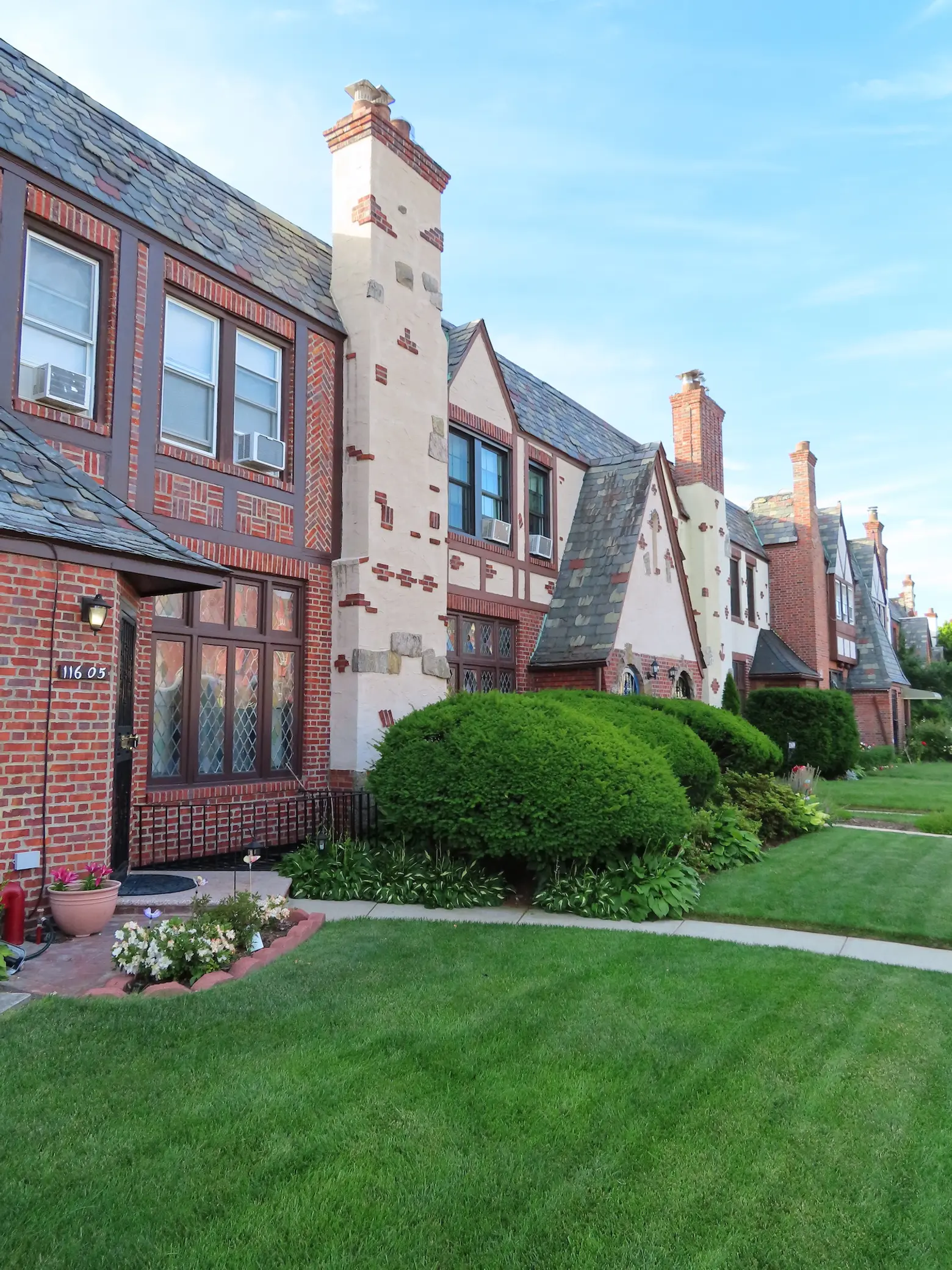 Image courtesy of the Landmarks Preservation Commission
The Tudor homes found in the two historic districts were built in 1931 as residential development spread through former farmland and more people gained access to automobiles. Located in the southeastern part of Queens, Cambria Heights is one of several prosperous Black communities in the borough. Initially inhabited by white middle-class New Yorkers, Black families began moving into the area in the 1950s, subsequently facing racism and discrimination from the neighborhood's existing residents.
In the 1980s, the neighborhood experienced a further influx of immigrants from the Caribbean, including Jamaica, Haiti, Trinidad and Tobago, Guyana, and Barbados. These groups of migrants settled in Cambria Heights, as well as the broader Jamaica, Queens area.
"For decades upon decades, the opportunity to own a home and build wealth was denied to Black families, immigrant families, and other families of color in this country. By designating these historic districts, we are stating clearly that those opportunities must be available to everyone in our city and our country," Mayor Eric Adams said.
Adams continued: "These homes are significant not only because of their appearance but also because of what they represent to the communities who felt that in Cambria Heights and Southeast Queens, the American Dream was within reach. This is what our city and my administration are about."
The 46 rowhouses found in the 222nd Street Historic District were developed by Brooklyn-based developer Selective Homes Inc. and designed by the firm Monda & Bertolazzi. While little is known about the developer, Selective Homes Inc. implemented a style of design influenced by English Garden City concepts that had been used previously in Jackson Heights, according to a press release. The style uses extended driveways within the interior of the block to allow for uninterrupted, fully landscaped front lawns.
The 50 rowhouses that lie within the 227th Street Historic District were developed by the Wolosoff Brothers. In early 1931, the brothers acquired a large piece of land in southeastern Queens with a vision of creating a 600-home development known as St. Alban's Lawn. While their full vision never came to fruition, the 50 rowhouses within the 227th Street Historic District still remain intact, and in even better condition than when they were first unveiled.
Both groups of houses incorporate Storybook-style design elements, an architectural style primarily associated with California that rose to prominence in the 1920s. Influenced by fantasy illustrations and movie sets, the houses in the 227th Street district feature "diamond-pane windows and stucco with brick and stone accents, as well as whimsical red, blue, and green slate shingles."
The houses found within the 222nd Street district also feature distinctive "Tudor-arched window openings, brightly colored terra-cotta roofs and windows, brick facades with random stone accents, and whimsically decorated chimneys with patterned brick and stucco panels."
The LPC's designation of the two historic Cambria Heights districts aligns with their new equity framework which was first introduced in January 2021. The framework aims to improve diversity and inclusion in the commission's historic designations, with the commission acknowledging the fact that there is a lack of designations for the historic area's communities.
"The designation of these two historic districts, the first in Cambria Heights, was a priority for me and fits within LPC's equity framework, as we seek to increase designations in communities not well represented by landmarks, and to better tell the story of all New Yorkers," Sarah Carroll, LPC Chair, said.
Carroll continued: "A predominantly African American and Afro-Caribbean community, Cambria Heights had no designated landmarks or districts. Both the 222nd Street and 227th Street Historic Districts clearly stand out within their larger neighborhood for their striking architecture and their highly intact historic character."
In August 2021, the LPC first introduced the idea of designating the two Cambria Heights districts as historic. At the time, there were only 11 historic districts in the entire borough of Queens.
RELATED: