NYC's Atlantic Avenue rezoning plan calls for 4,000 new homes and more open space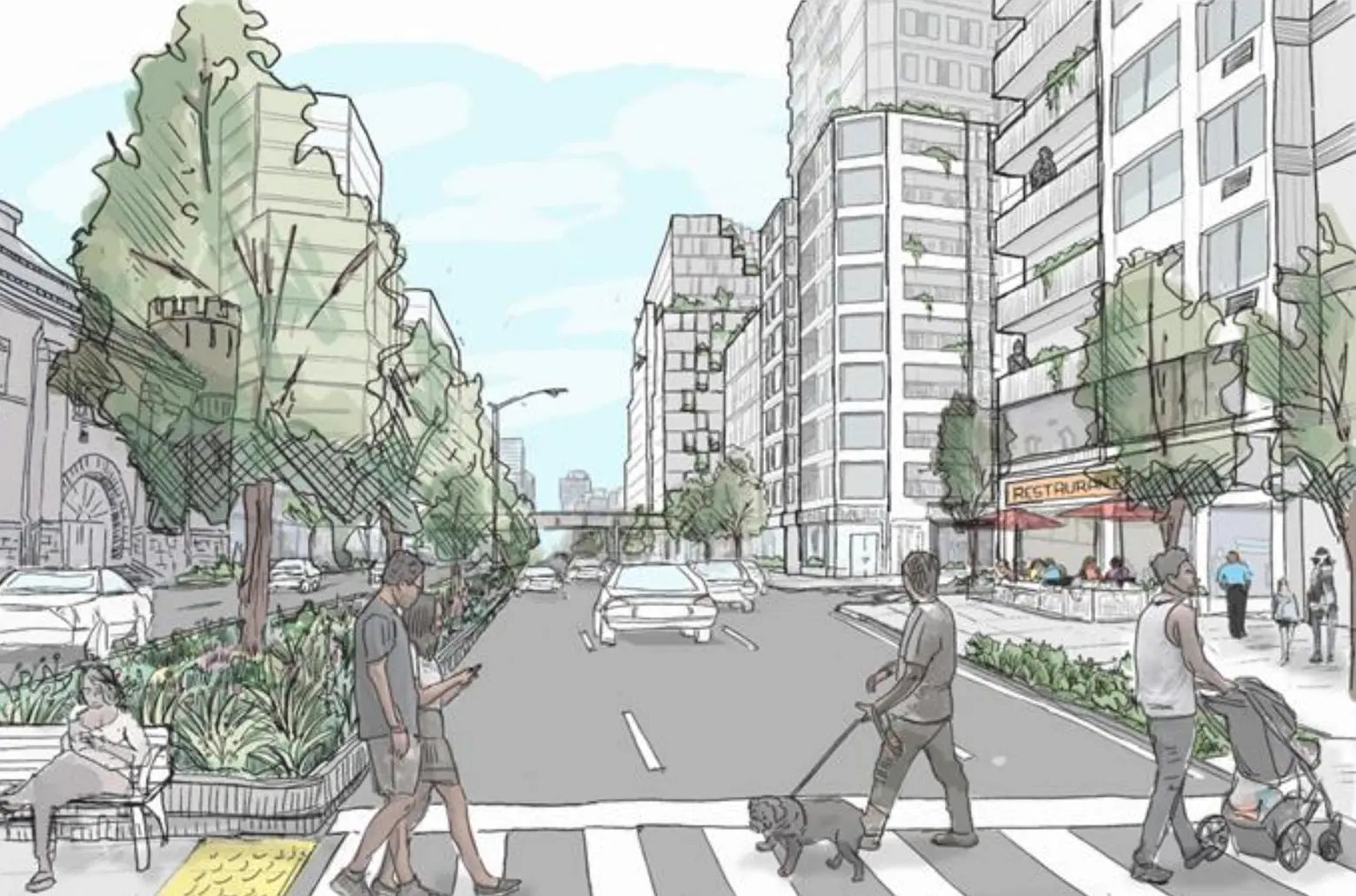 Preliminary vision of Atlantic Avenue looking west. Courtesy of NYC Planning.
The city wants to bring 4,000 new apartments to a stretch of Brooklyn's Atlantic Avenue currently home to vacant lots and auto shops. The Department of City Planning last week released the Atlantic Avenue Mixed-Use Plan, a preliminary rezoning framework for 13 blocks of an industrially zoned area that runs through Prospect Heights, Crown Heights, Fort Greene, and Bed-Stuy. The rezoning would allow for higher destiny residential and commercial use, with the potential for up to 1,550 income-restricted homes. Following additional community meetings and an environmental review, the proposal could enter the public review process in the spring of next year.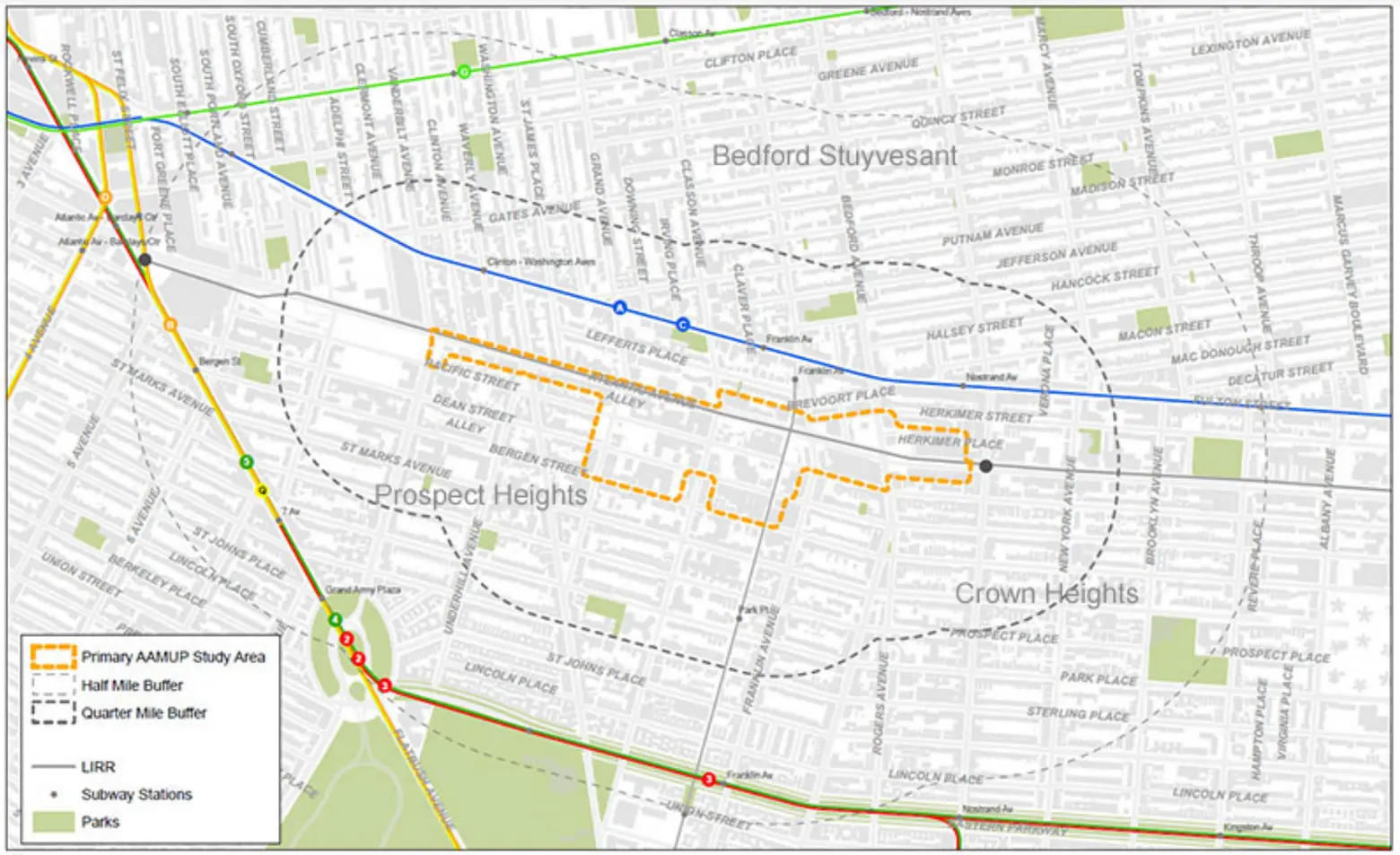 The current zoning from 1961 was intended for low-density, auto-dependent areas and does not allow for new housing. Updating the zoning for this area, which is connected to several public transit networks and employment hubs, will lead to more housing and job opportunities as New York City continues to face a housing shortage and affordability crisis, according to the city.
"With this zoning framework and investments in affordable housing, open space, and more, we are delivering the improvements that our neighbors who participated in the Atlantic Avenue Mixed-Use Plan engagement process have been asking for," Dan Garodnick, DCP director, said in a statement.
"For too long, outdated zoning has restricted housing opportunity and reinforced a car-and truck-centric streetscape on Atlantic Avenue. This is an important step forward to create a more vibrant Central Brooklyn."
Under the new zoning, high-density residential buildings of up to 18 stories with ground-floor commercial uses will be allowed on Atlantic Avenue. On mid-blocks between Grand Avenue and Franklin Avenue and on Herkimer Place, the proposal calls for 12-story mixed-use buildings with both housing and retail.
The proposal also includes bringing the landmarked Bedford-Atlantic Armory, currently a men's shelter, into compliance with the zoning to allow for renovations as well as potential affordable housing on-site.
Several public realm and open space improvements are included in the plan, like a landscaped median, more trees, daylighting, seating, wider sidewalks, and fewer curb cuts.
Announced alongside the draft rezoning framework, Mayor Eric Adams said his administration would invest $23.9 million in improving St. Andrew's Playground on Atlantic Avenue and Kingston Avenue.
"In the midst of a severe housing shortage, New York City must use every inch of space it can to create new homes and invest in communities across the city," Adams said.
"I represented this community for more than a decade as a state senator and as Brooklyn borough president, and now as mayor, and I've fought for these kinds of investments throughout my career. I'm proud to be the mayor advancing this neighborhood plan for Atlantic Avenue to create thousands of new homes, deliver long-overdue investments in St. Andrew's Playground, and advance the community's vision for a more vibrant neighborhood in Central Brooklyn."
Over the last decade, several individual rezonings have been granted to developers seeking to build new residential towers in the area, including a 17-story mixed-use development at 1057 Atlantic Avenue with 456 rentals.
A second community discussion and scoping meeting will take place in October, followed by community board discussions. The city expects to enter the Uniform Land Use Review Procedure in the spring. See the draft framework here.
RELATED: