100 percent affordable housing to replace two Boerum Hill parking lots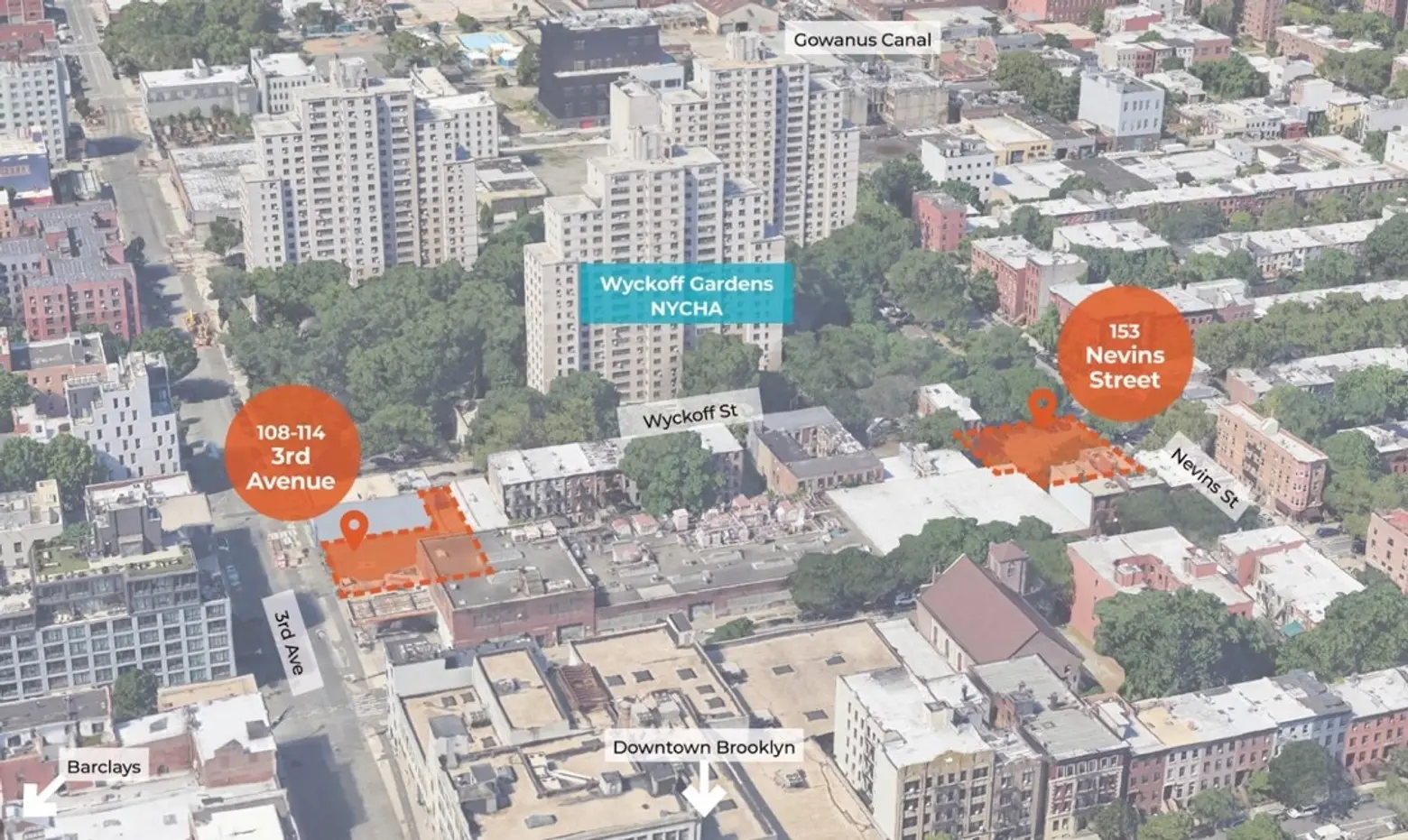 Image courtesy of the NYC Department of Housing Preservation and Development
New York City is moving forward with a development plan that will bring hundreds of new affordable apartments to a bustling part of Brooklyn. The city's Department of Housing Preservation and Development last week began community outreach for two 100 percent affordable developments on city-owned parking lots in Boerum Hill. The sites, located at 153 Nevins Street and 108-114 Third Avenue, will include 125 new apartments for families and seniors.
Last year, Council Member Lincoln Restler and community stakeholders established a number of goals for the project. Both Boerum Hill sites will be 100 percent affordable, with one designated for older New Yorkers and the second deeply affordable to families. There will also be a preference for projects with a higher number of homes for extremely and very low-income households, as well as formerly homeless households.
"I am thrilled that deeply affordable housing is coming closer to reality in Boerum Hill," Restler said. "The proposed sites will create much-needed affordable housing for families and seniors, including apartments for people exiting our shelters."
Following the conclusion of community engagement, a Community Visioning Report will be published that summarizes input from the community. The report, as well as any other public engagement information, will be available for viewing in the Nevins and Third Request-for-Proposals. Prospective developers will be encouraged to read the report to inform their work, and HPD will judge each developer based on their compatibility with the community's desires.
"Sites like the ones at Nevins Street and Third Avenue are key to the goal of building affordable housing across New York City, including neighborhoods like Boerum Hill," Adolfo Carrión Jr., HPD Commissioner, said.
"These sites have significant housing potential in an amenity-rich neighborhood with transit service and proximity to Atlantic Ave. HPD looks forward to working with community members to create a vision, move plans forward, and deliver solutions for tackling the housing crisis."
In December 2022, the City Council approved the rezoning of a nearly full-block stretch to make way for the creation of 450 new housing units, 50 percent of which would be fully affordable. The rezoning included a portion of Nevins Street to Bond Street between Wyckoff Street and Bergen Street, which is the last manufacturing block in Boerum Hill.
The previous owner of the properties had active commercial leases that were set to expire in 41 years, but with the work of Restler and city agencies, ownership of the lots was transferred to the city.
HPD will host block parties on Saturday, September 9 near the development sites on Bergen, Wyckoff, Warren, and Pacific Streets, followed by an open house in early fall where attendees will work with fellow community members to make recommendations for the project.
RELATED: