Affordable senior housing to replace Prospect Heights parking lot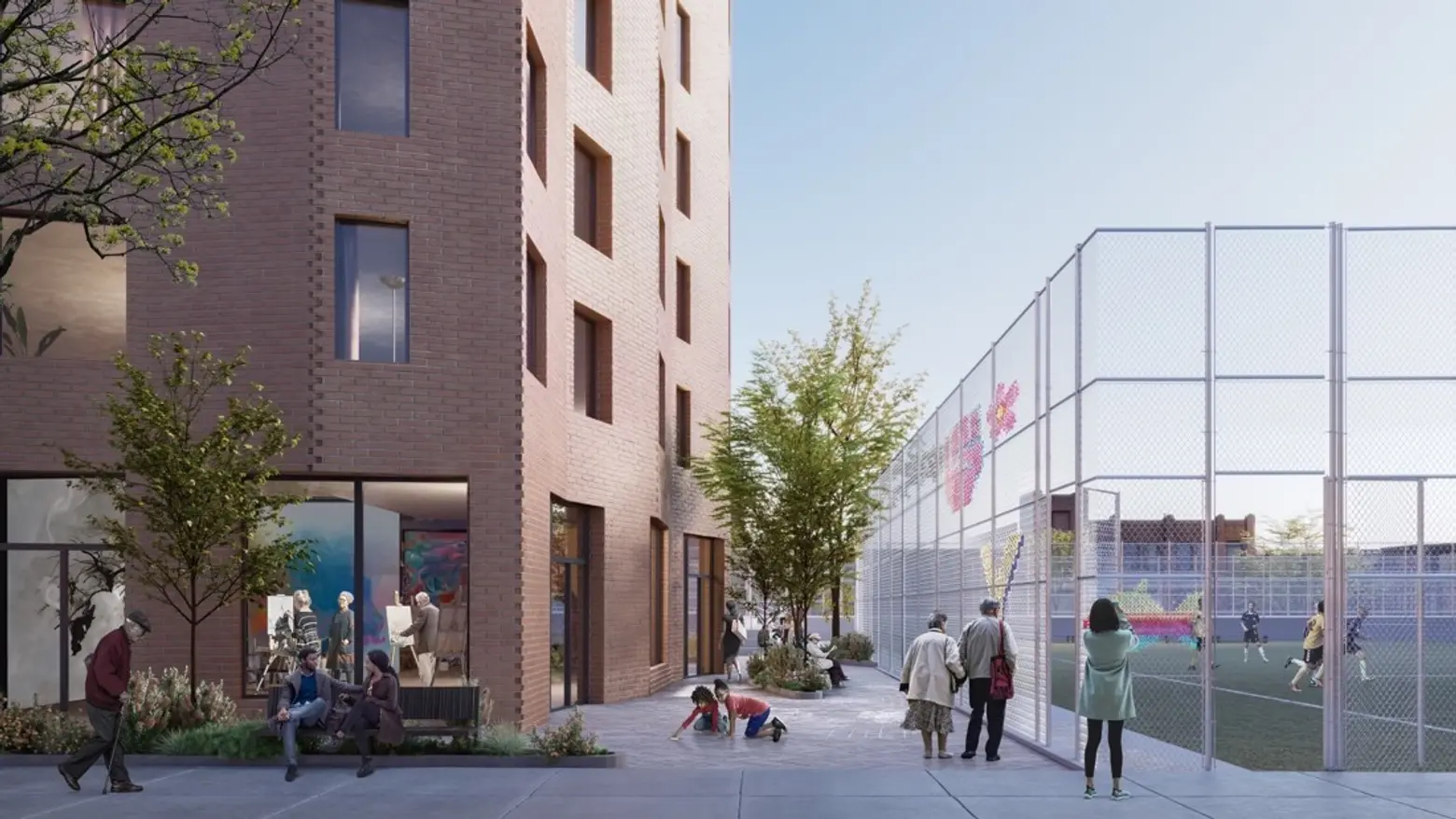 Rendering of the proposed plans for 542 Dean Street shows the new entrance to the park and public space created as part of the design for the affordable senior housing project. Courtesy of GRAPH.
A plan to replace a Prospect Heights parking lot with affordable housing for low-income and homeless seniors is moving forward. The city's Department of Housing Preservation and Development (HPD) on Tuesday announced its selection of Jobe Development, Corp., Mega Group Development, and the Institute of Community Living Room to convert a city-owned parking lot at 542 Dean Street into the residential development "Park Edge." The redevelopment is part of the Atlantic Avenue Mixed-Use Plan (AAMUP), which found a community desire for new affordable housing projects on city-owned properties.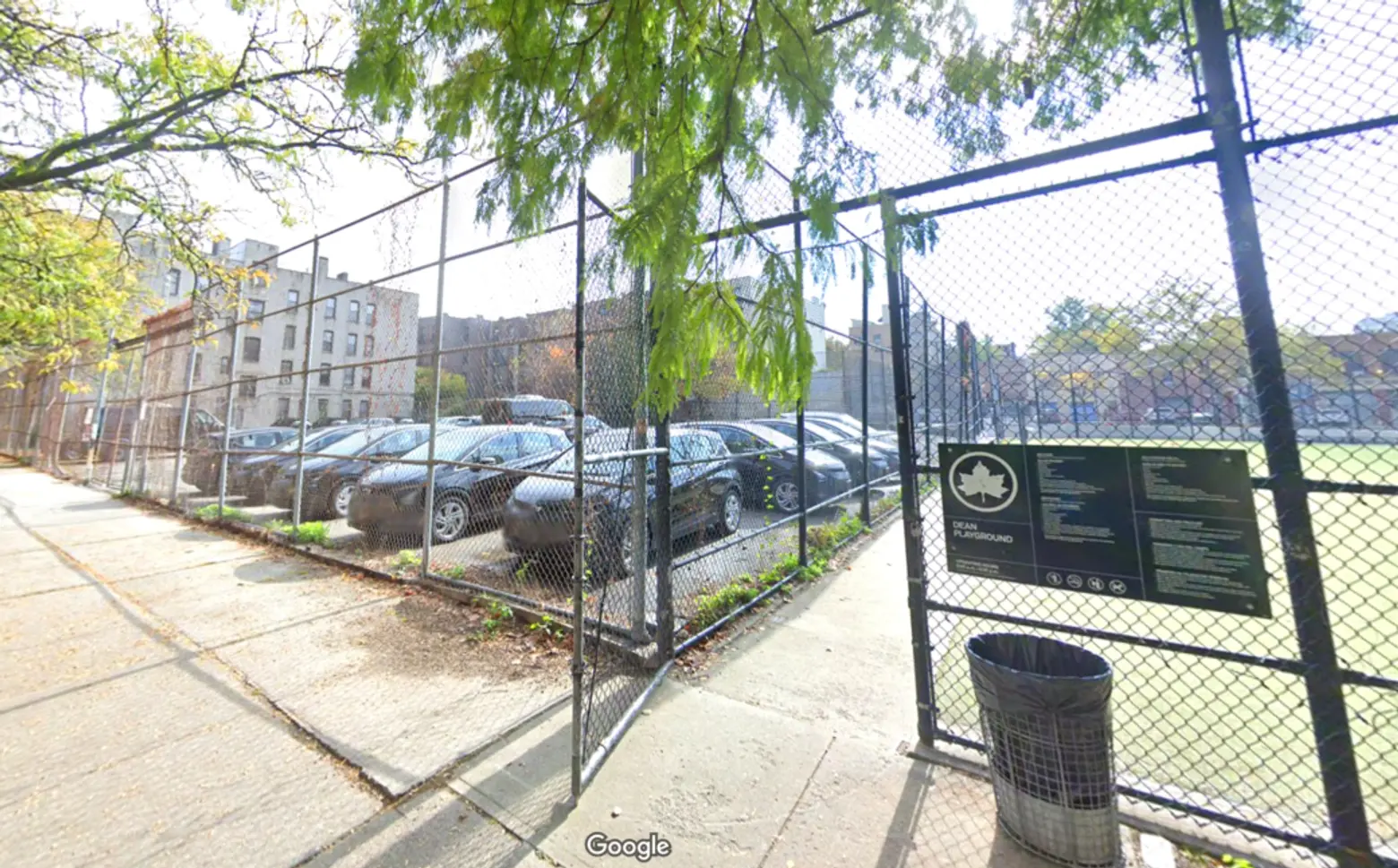 "Slated to serve as permanent housing for low-income and unhoused older adults, the project at 542 Dean Street has been integral to the Atlantic Avenue Mixed-Use Plan (AAMUP), wherein our neighbors made it abundantly clear that deeply affordable permanent housing is a necessity to guarantee our community's long-term vitality and wellbeing," Council Member Crystal Hudson, who represents the neighborhood, said in a statement.
"I am excited to see this development move forward and proud that our efforts to make sure AAMUP was truly responsive to community needs helped move this project forward."
Following the community engagement process, HPD identified the 17,145-square-foot parking lot as a potential space to be redeveloped and started reviewing proposals from developers. Park Edge, the winning proposal, takes its name from its close proximity to Dean Playground. As part of the design proposal, Park Edge will include a new entrance to the playground with public seating and plantings.
Designed by nArchitects, the building is inspired by Brooklyn's iconic rowhouses and brownstones, specifically their traditional bay windows. Every residence in Park Edge will have a pair of windows for natural light and to provide a better connection to the "neighborhood fabric," according to a press release. One of the development's most defining features is a setback ground floor that widens the sidewalk, providing a large space for community gatherings.
The project is part of HPD's M/WBE Building Opportunity Initiative, which addresses disparities among affordable housing developers by prioritizing minority and women-owned businesses. HPD issued two requests for proposals (RFP) in which a M/WBE business must hold a majority ownership stake. The first was in 2015 and included six developments across Brooklyn, the Bronx, and Harlem, leading to the creation of 600 homes.
The second request was made in 2021 and included 542 Dean Street and the nearby 516 Bergen Street, also located directly across the street from Dean Playground. The RFP is part of HPD's Seniors First Initiative, which is a plan by the city to create and preserve affordable senior housing. 
"The selection of Jobe, MegaGroup, and ICL for the Dean Street project advances several equity goals for the City at once," Maria Torres-Springer, Deputy Mayor for Housing, Economic Development and Workforce, said. "We have a major community-led rezoning that will create a more vibrant mixed-use corridor, and an MWBE consortium building affordable housing on a vacant lot."
During the community outreach for AAMUP, Crown Heights and Bed-Stuy residents indicated a desire that the city prioritize creating 100 percent affordable housing on public sites. The AAMUP process will continue later this year with the release of a report from Council Member Hudson, the Department of City Planning, and WXY Studio featuring community feedback and recommendations.
RELATED: