My 800sqft: See inside the memory-filled, minimalist Village pad of Museum Hack founder Nick Gray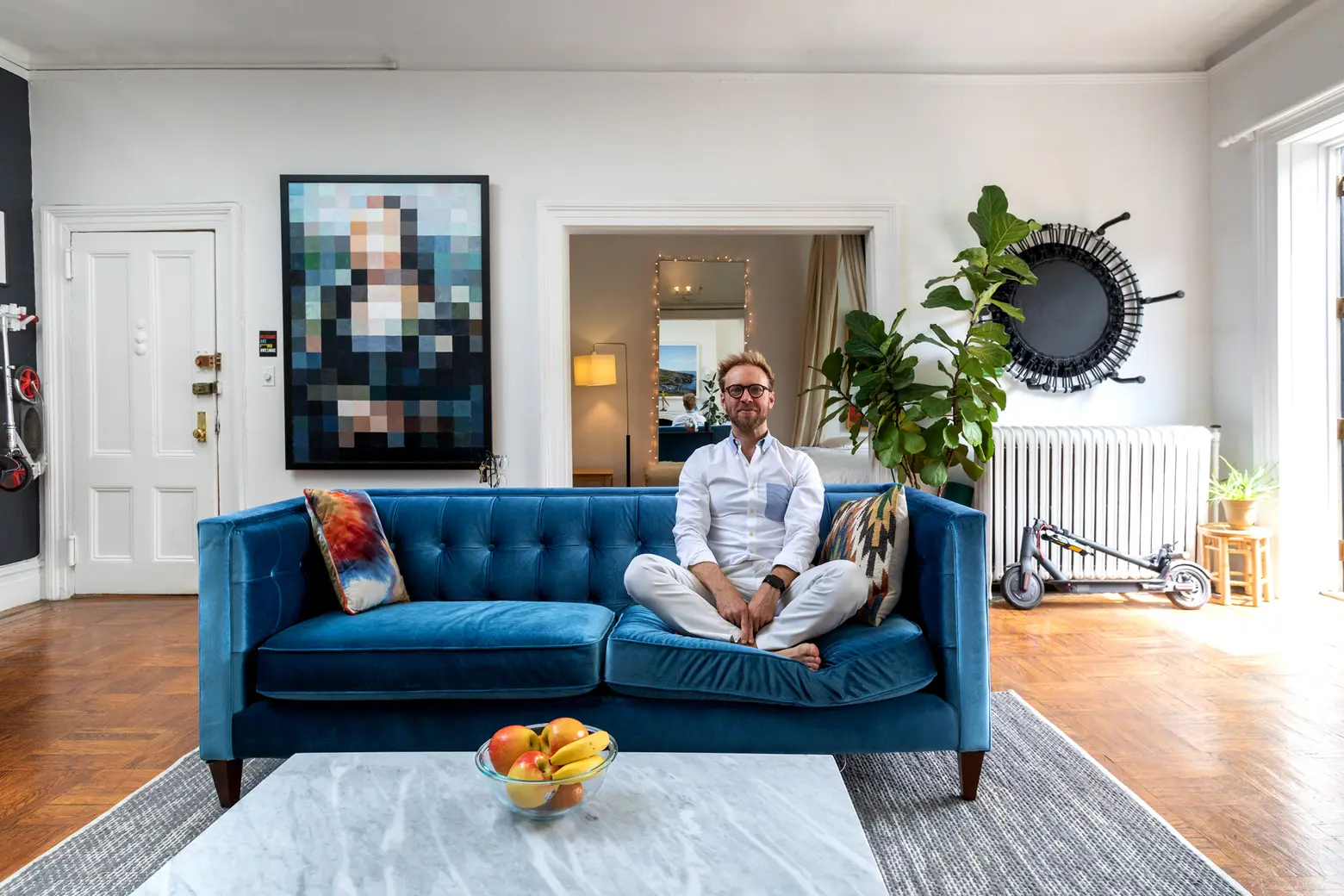 Our series "My sqft" checks out the homes of New Yorkers across all the boroughs. Our latest interior adventure brings us to the Greenwich Village apartment of Museum Hack founder Nick Gray. Want to see your home featured here? Get in touch!
A few years ago, a date brought Nick Gray to the Metropolitan Museum of Art and showed him all of the pieces she really loved. Something clicked. "The passion was contagious," Nick said. "I went back to the museum dozens of times, iPad in hand, doing a deep dive into the pieces I found most interesting." As this became a serious hobby, Nick, who has no background in art or history, began inviting friends to join him at the Met to teach them fun facts about lesser-known works of art and artifacts. What started as a new obsession with museums, grew into Museum Hack, a million-dollar company that leads "renegade" small-group tours of museums in New York City and four other cities.
Nick's enthusiasm follows him into his Greenwich Village apartment, where its minimalist design comes packed with memories. On a recent tour of his apartment–which boasts super tall ceilings, a skylight, and a wood-burning fireplace–he eagerly showed us a wall covered with polaroids of friends, his blue velvet couch inspired by a piece of furniture at the Met, and a large photo of "the craziest party" he's ever thrown. Ahead, tour Nick's bright pad, take his advice for museum newbies and learn about what he has planned next (it involves guacamole).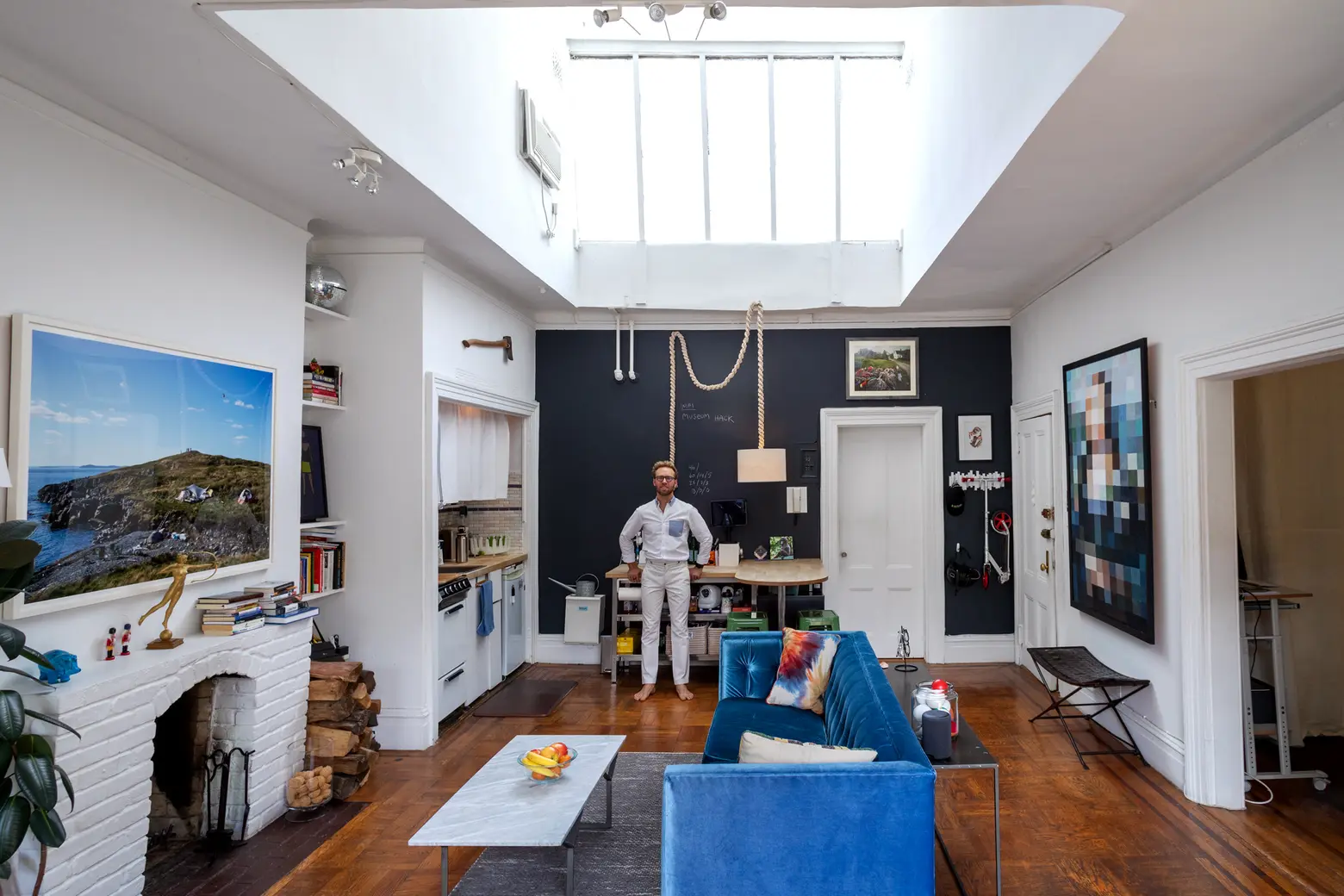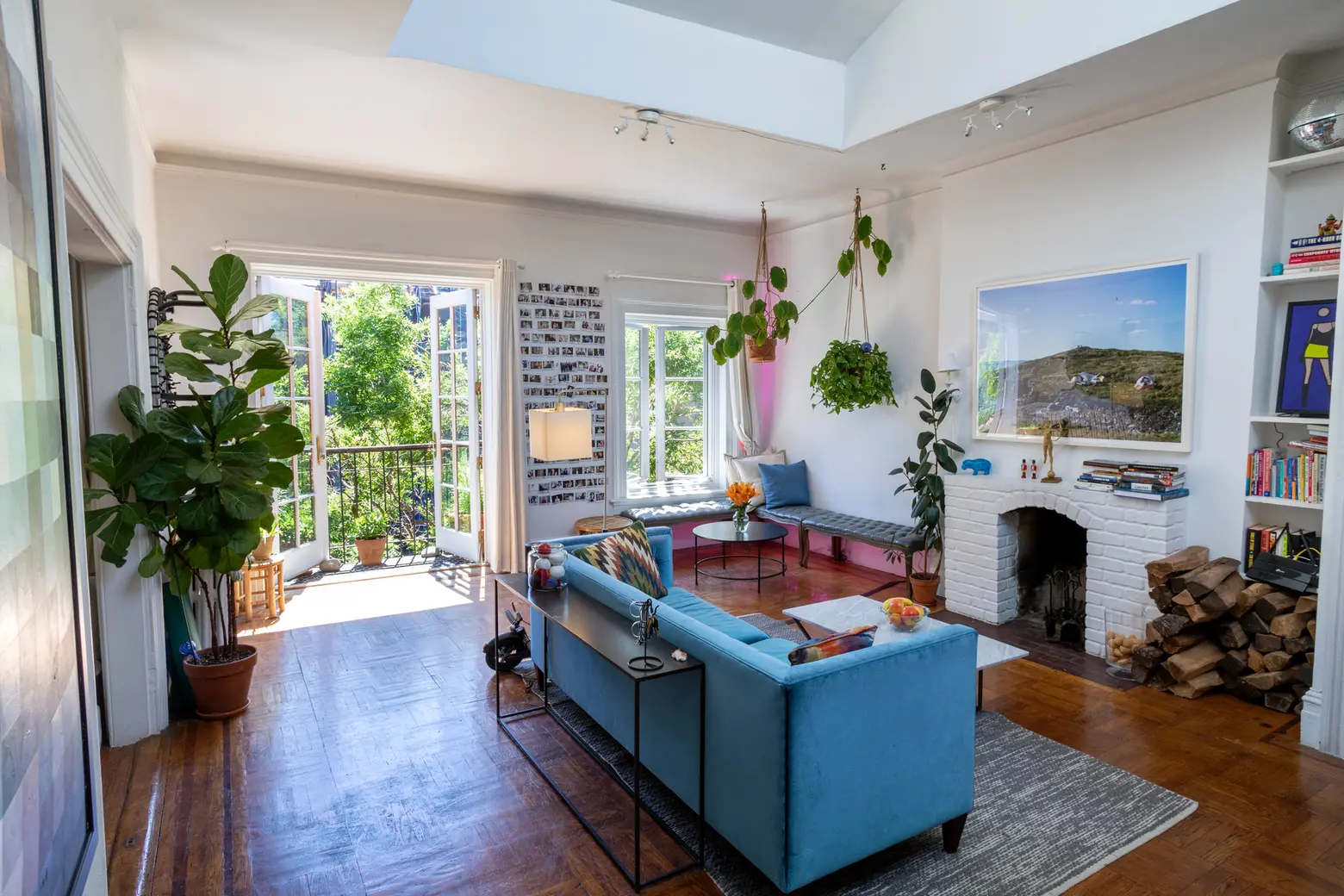 Nick found his blue velvet couch on a Craiglist-like website. It reminded him of one of his favorite pieces of furniture at the Met.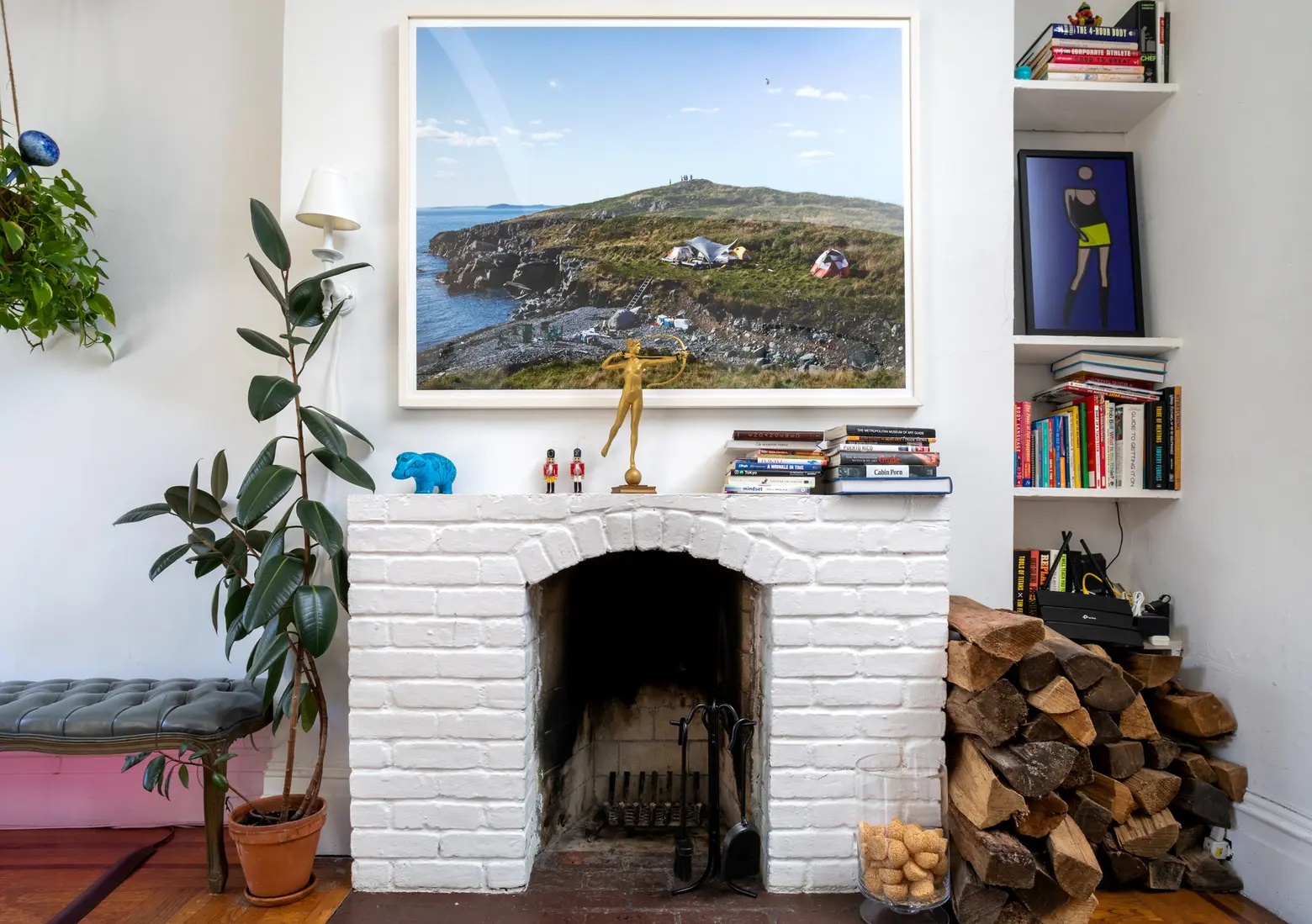 The photo above the fireplace is of "the craziest party" he's ever thrown for a friend's bachelor party. "It was crazy. We had to hire a lobster boat to bring us out there," Nick said, of the weekend-long bash.
Tell us about yourself. When did you move to New York City?
I'm a 37-year-old American man living in New York City. I LOVE museums, and I'm on a mission to reinvent the adult museum experience around the world. That is why I founded Museum Hack which leads renegade tours at the world's best museums around the country.
You used to live in Williamsburg. Why did you decide to move to this apartment in the Village?
I loved the light. I also used to juggle a lot more so I liked the tall ceilings, it's really perfect for juggling. Someone mentioned this to me, people who ride bicycles, who bike a lot, can tell when the road has an incline. They just know. Similarly, jugglers as soon as they walk into a room they feel the sense of the height for the room.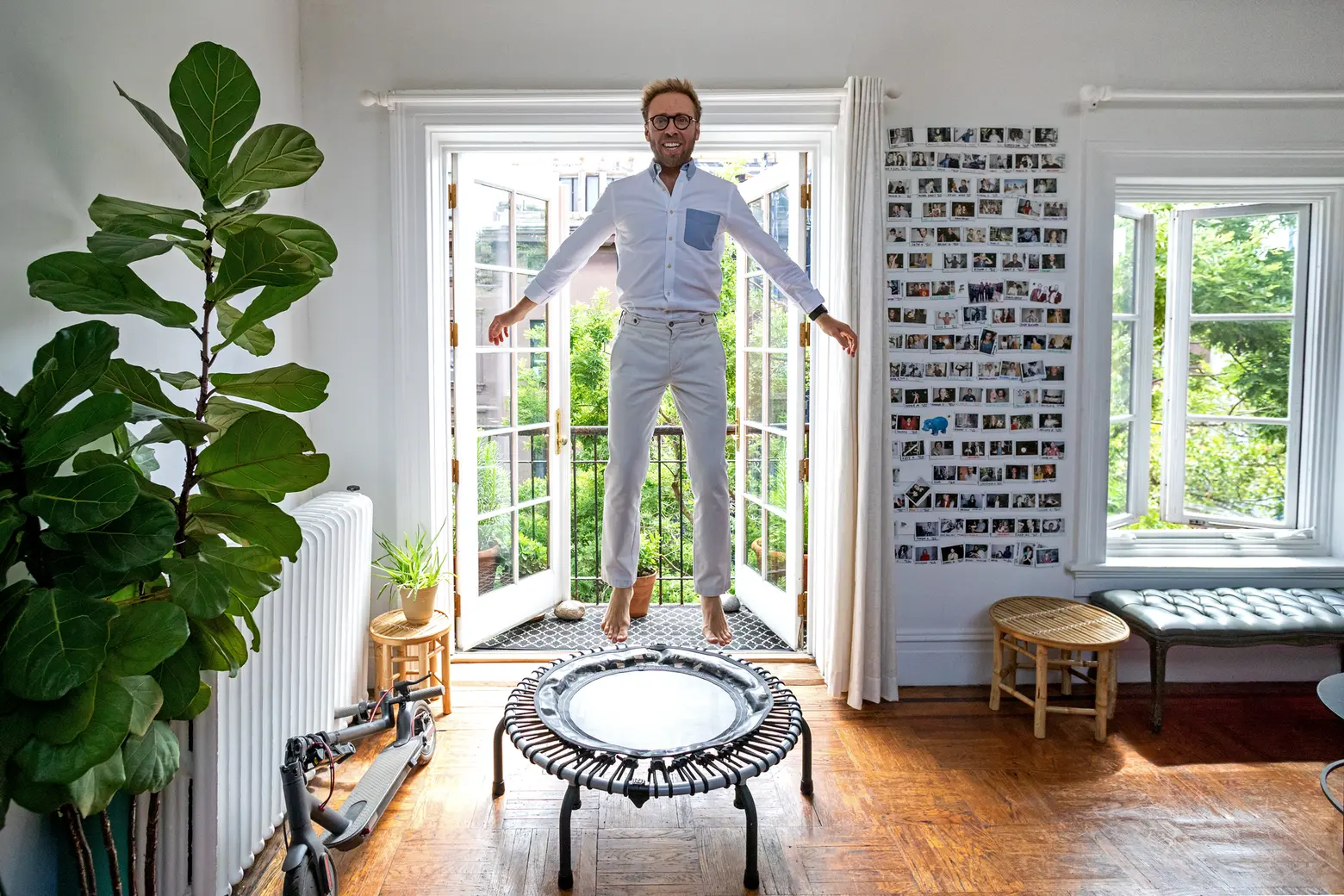 "I jump on the trampoline almost every day," Nick said. "It's a good way to wake up."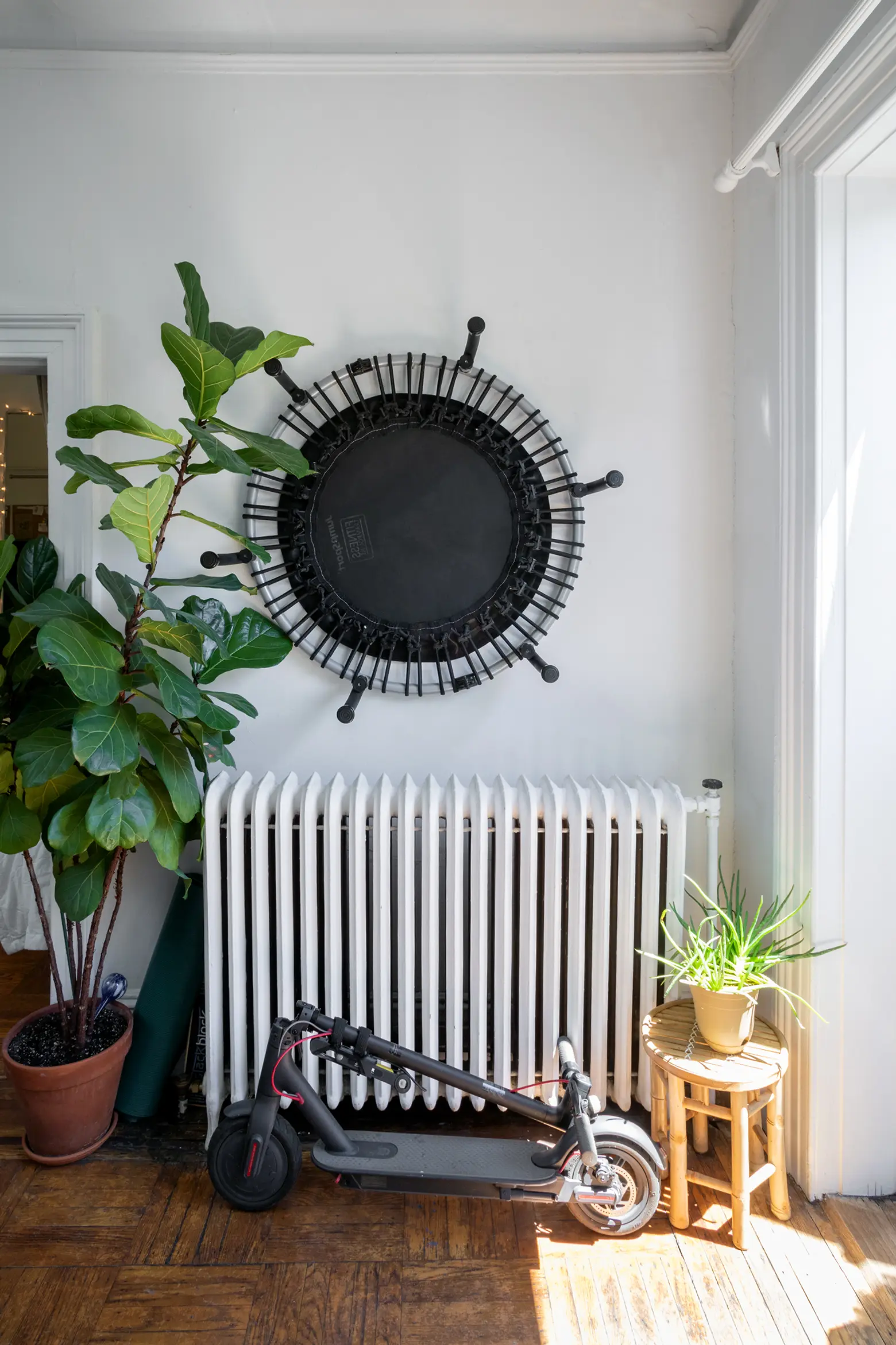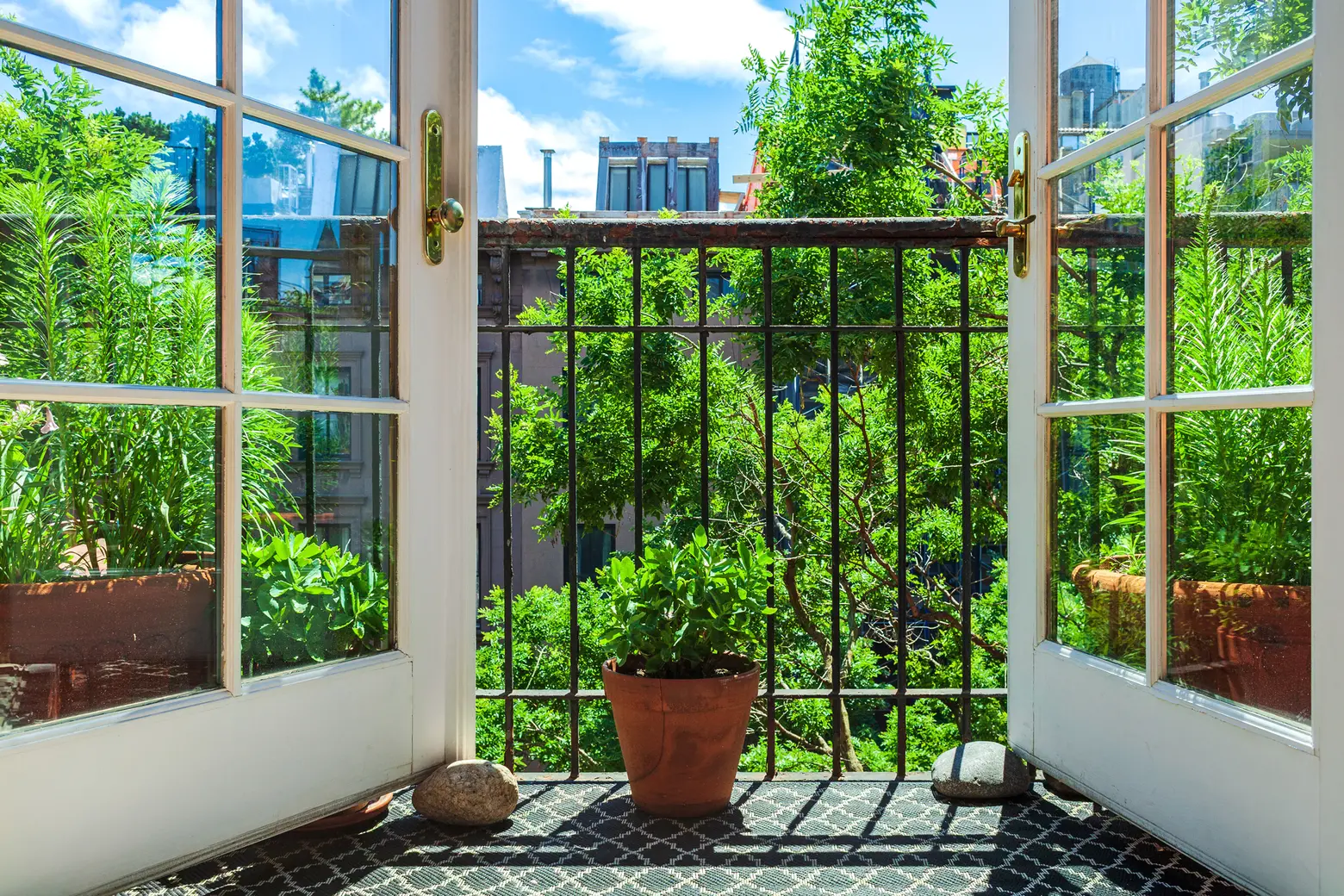 Nick called his balcony a luxury. "Feels like a little treehouse," he said.
In a few words, describe your apartment's aesthetic.
Friendly, bright, minimalist, bachelor. I host cocktail parties and get-togethers for my friends, so my apartment is set up to accommodate 10 or 15 people somewhat comfortably. I work from home a lot, too, so it is highly functional for me to cook basic meals, make tea, and work from a laptop.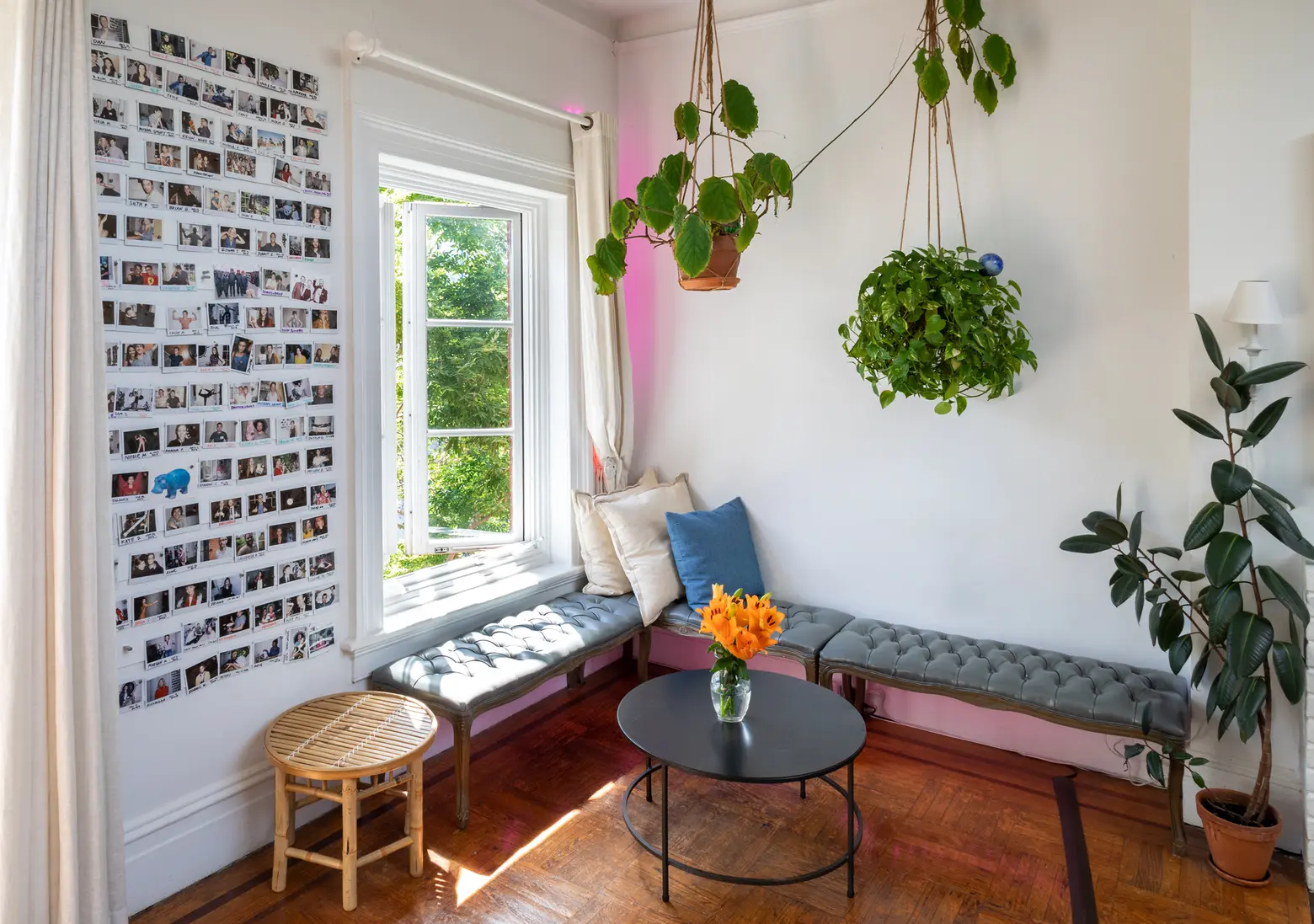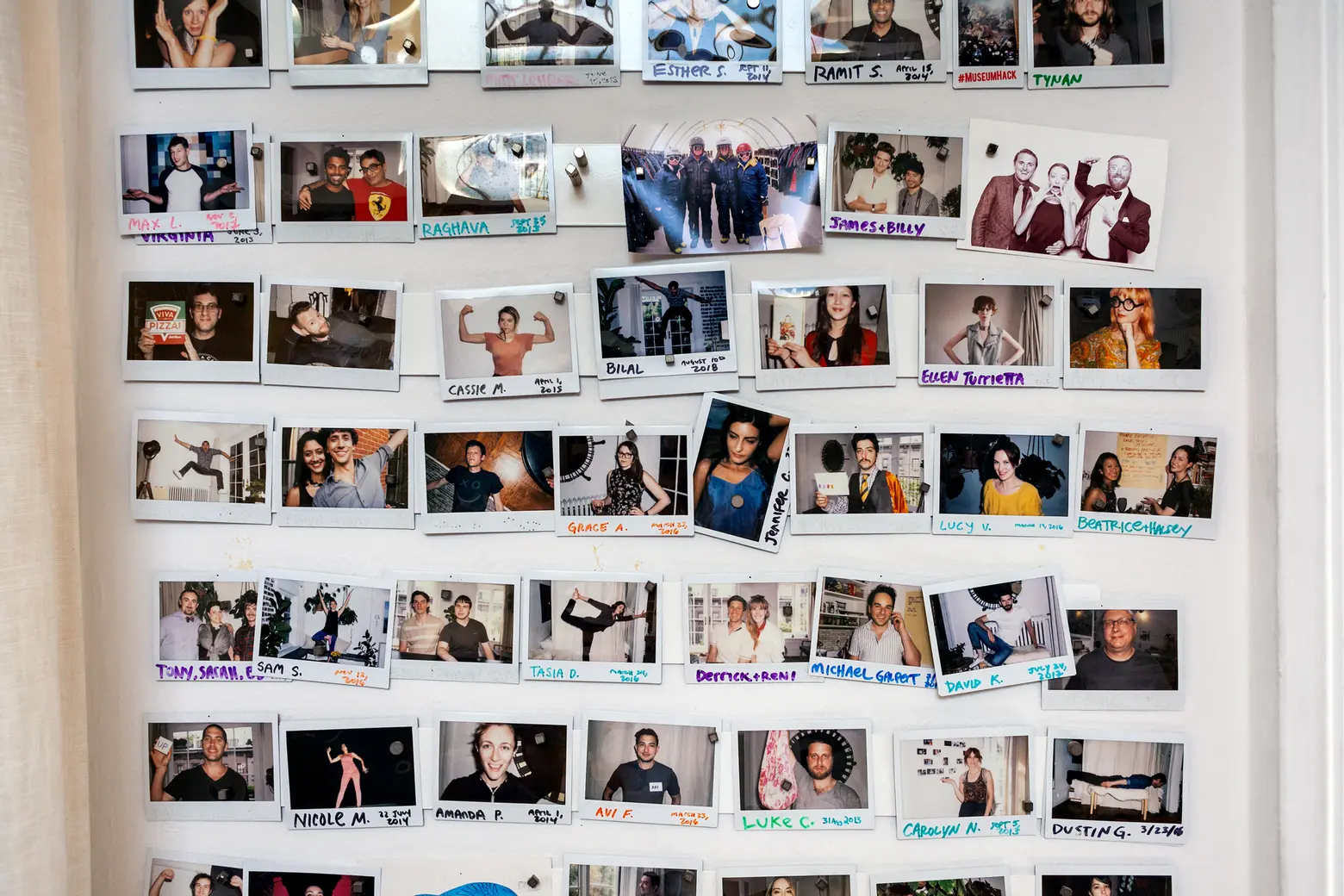 How does one get on the photo wall? Friends must have been to his apartment at least twice.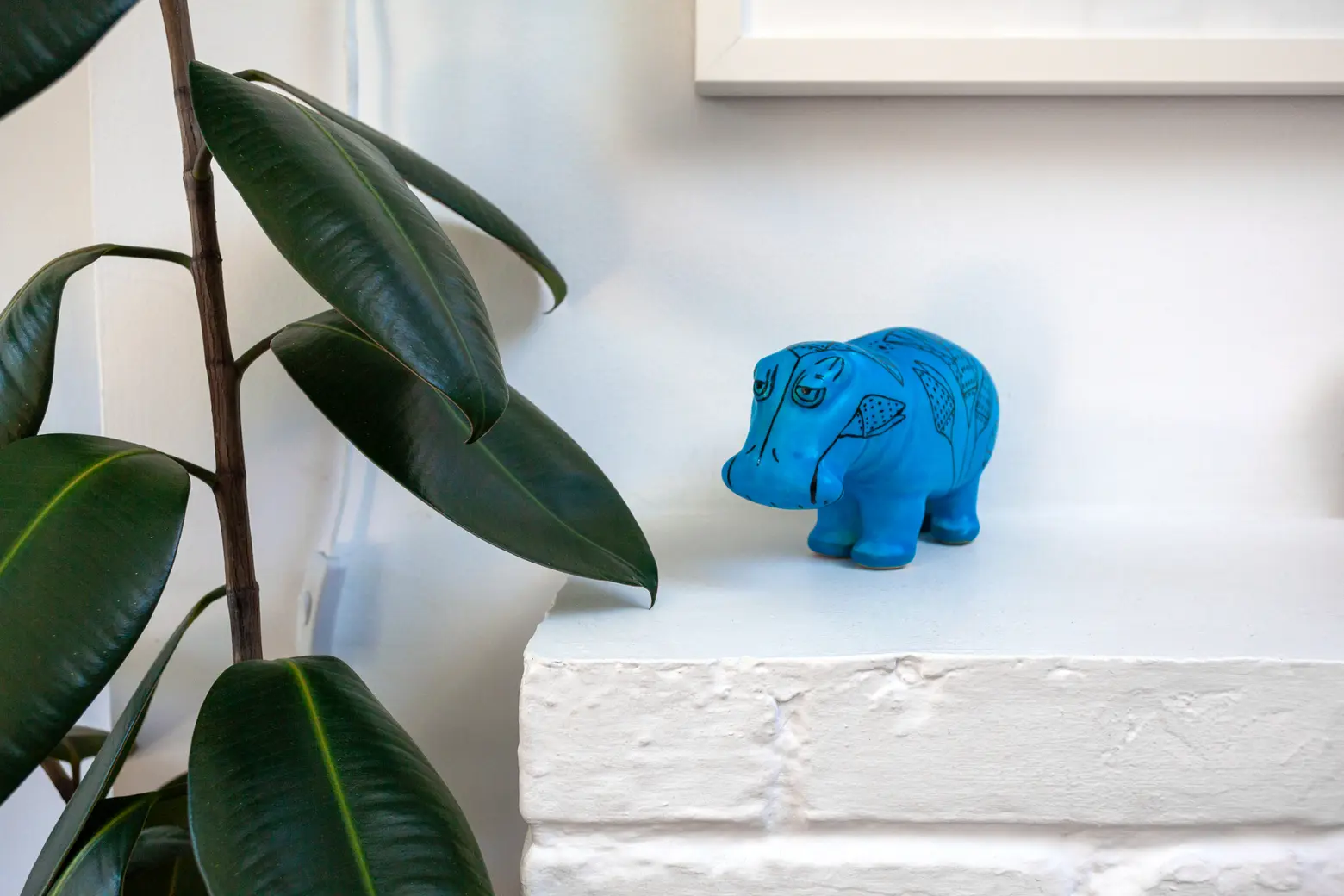 "William" the hippopotamus serves as the unofficial mascot of the Met and a favorite of Museum Hack.
Your love of museums–and the idea for Museum Hack–started on a date at the Met. Can you tell us about this a-ha moment you had there?
When I first moved to NYC, I thought of the Metropolitan Museum of Art as just another tourist place — somewhere you take your friends and family when they visit the city. Then a girlfriend invited me on a "museum date," where she showed me the art pieces she was passionate about. That passion was contagious. I went back to the museum dozens of times, iPad in hand, doing a deep dive into the pieces I found most interesting.
Then I started inviting friends to come and tour the Met with me, which was pretty informal and essentially a focus on the Un-Highlights, i.e., art that isn't necessarily the most famous or most expensive, but instead the pieces that have really cool backstories.
When a popular blog wrote about these "friend tours," over 1,000 people joined a waitlist for my tour. That's when Museum Hack became a business, with the early hires, charging money for tours, etc. While most museum tours focus on art history and showing off the most famous pieces, Museum Hack tours are different. We tell stories about the art and artists, do fun activities in the galleries, take selfies with the art, and generally have a great time. Today, there are more than 50 people working for Museum Hack spread across the country from NYC to Chicago to Phoenix to San Francisco!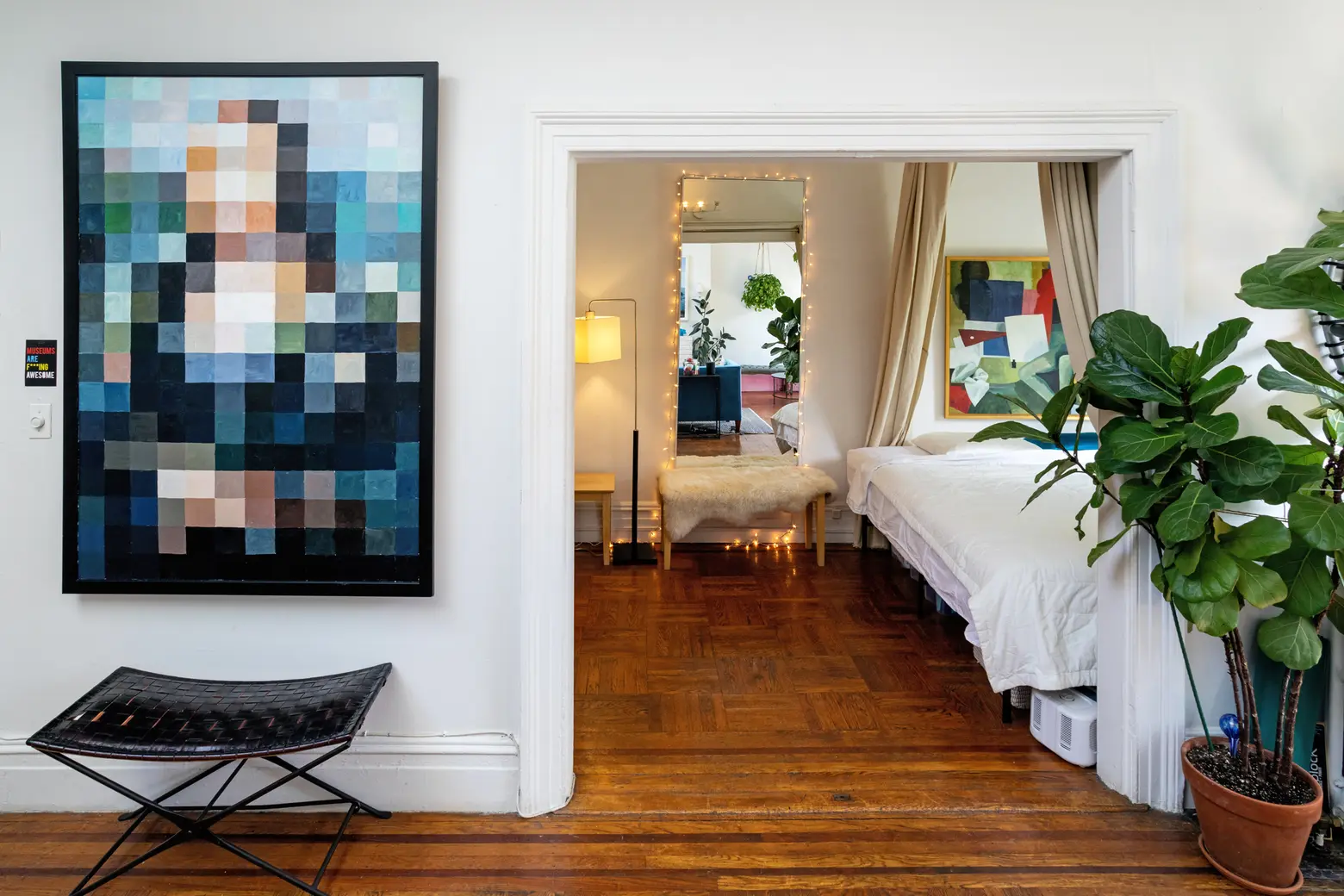 One of Nick's favorite pieces is this pixelated version of the Mona Lisa. His best friend's sister was able to make it for him.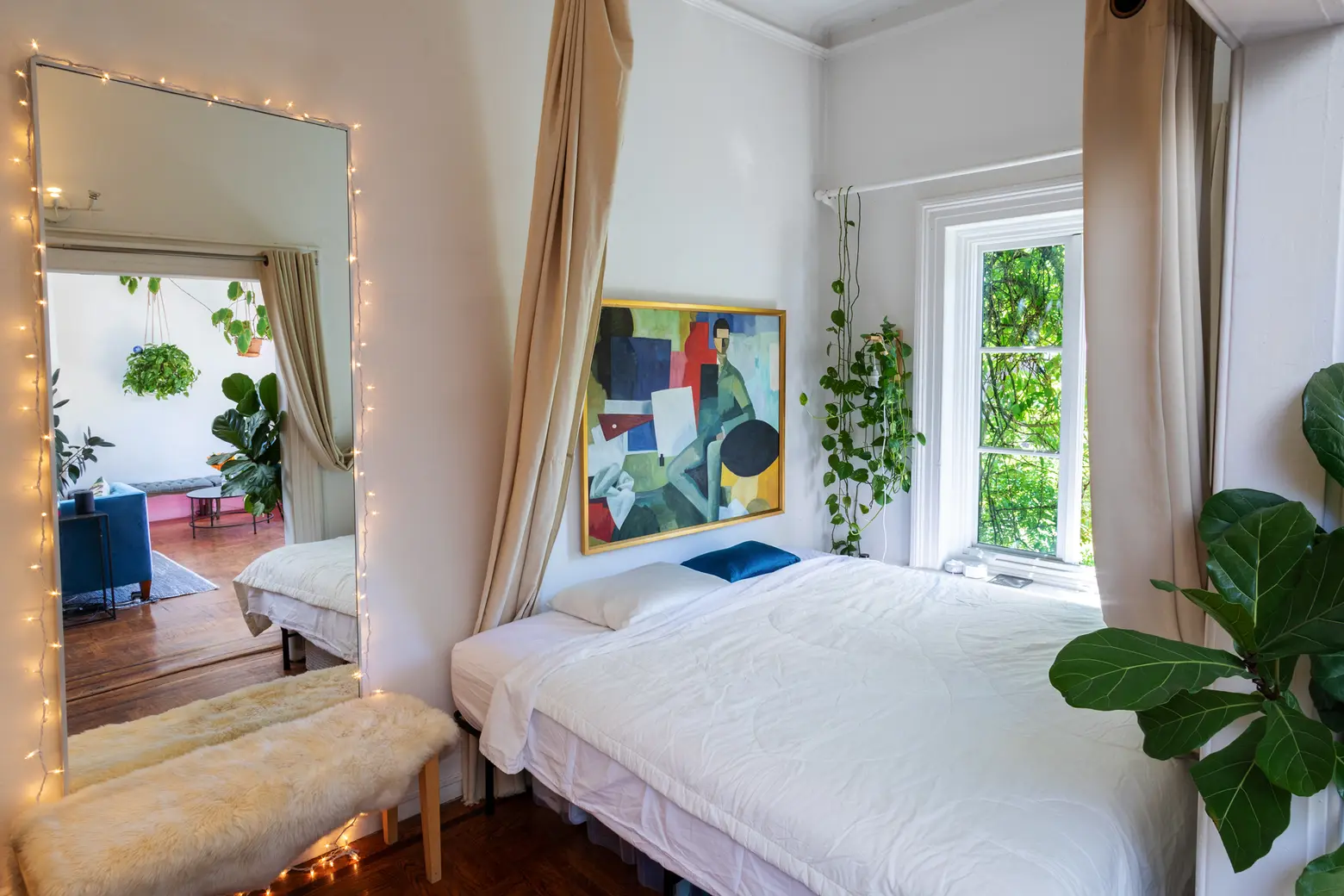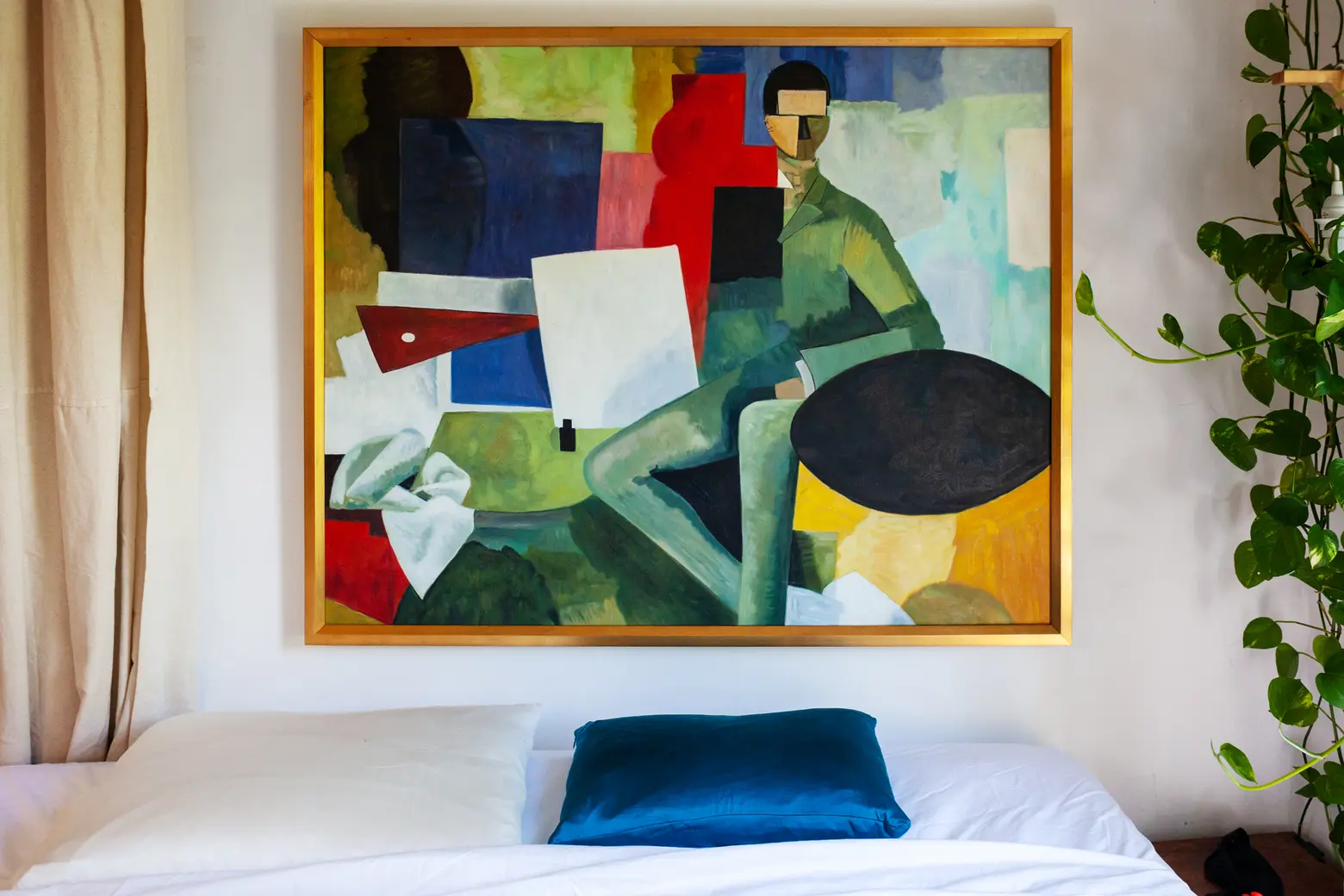 Nick picked this painting up at a market in China. "I love the crispness of it," he said.
How did you grow the company to what it is today?
I grew it with the help of a lot of smart guides. I think that's how we lucked out, just hiring really smart people. Like Leah, who before we hired was working as a birthday clown, or this guy Dustin, who used to work at the National History Museum. And Ethan, who worked at the Central Park Zoo. We also got really good reviews online.
The tour guides of Museum Hack are not your typical docents. Why hire comedians and actors?
I believe that in order to educate, you first have to entertain. Museum Hack does hire comedians and actors, but we also hire musicians, museum professionals, docents, historians, and artists. When we hire, we are looking for someone who is passionate and can spread their enthusiasm to a group. In fact, our tours are all different and based on the guide's interests. By encouraging personal passion and fun in museum spaces, we open the doors for our guides to connect with their audiences in unique, authentic and meaningful ways. So, I would say our guides are a lovely combination of award-winning entertainers, comedians, academics, and nerds.
What does the training process for guides entail?
Well, that's a little bit of a trade secret. But I can tell you that our new guides train in the Museum Hack craft for three months before ever leading a tour!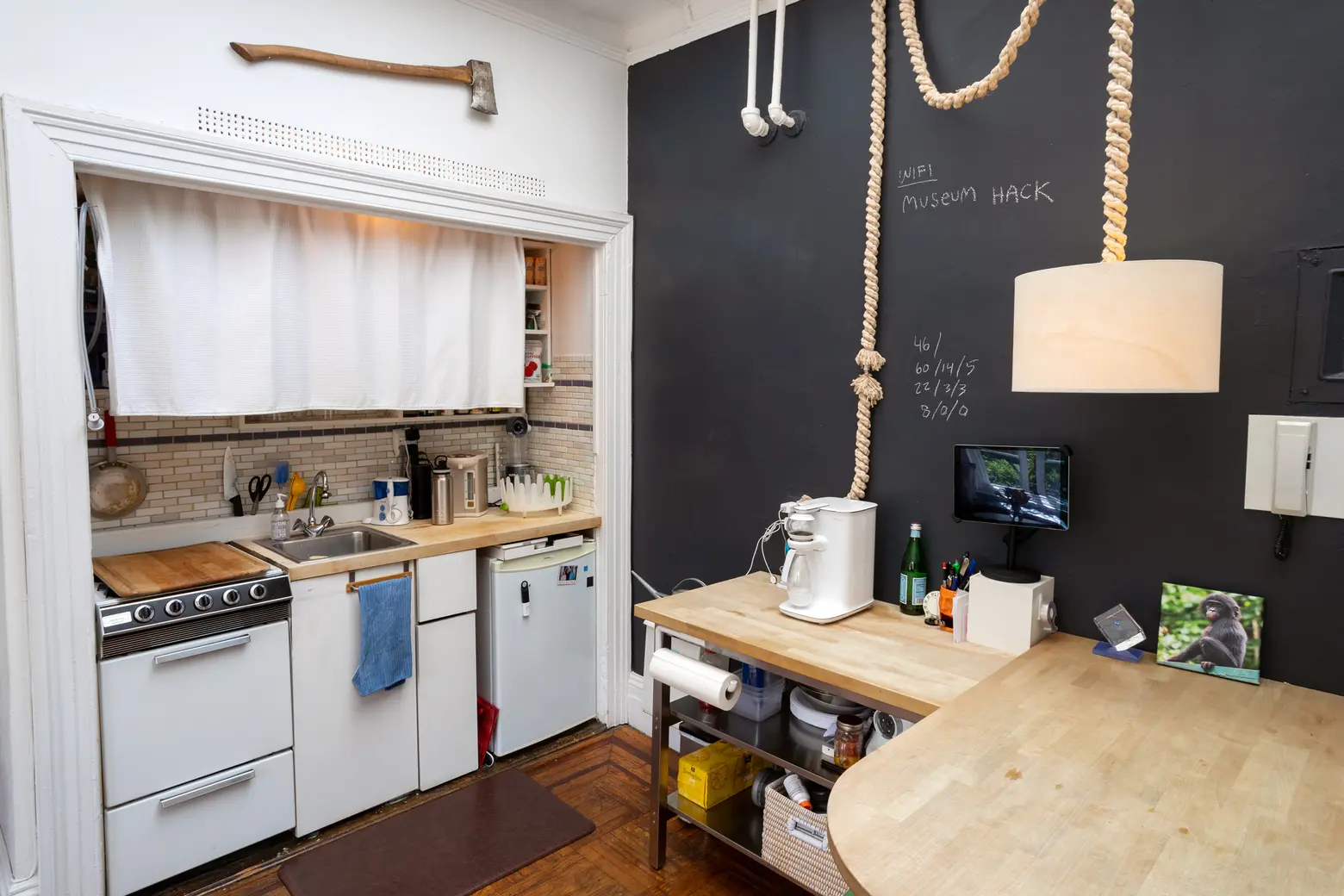 Nick used the ax found above the kitchen to chop firewood. When it broke, he decided to hang it as decor. "I think it can be a polarizing thing. I didn't even think it could be weird," he said.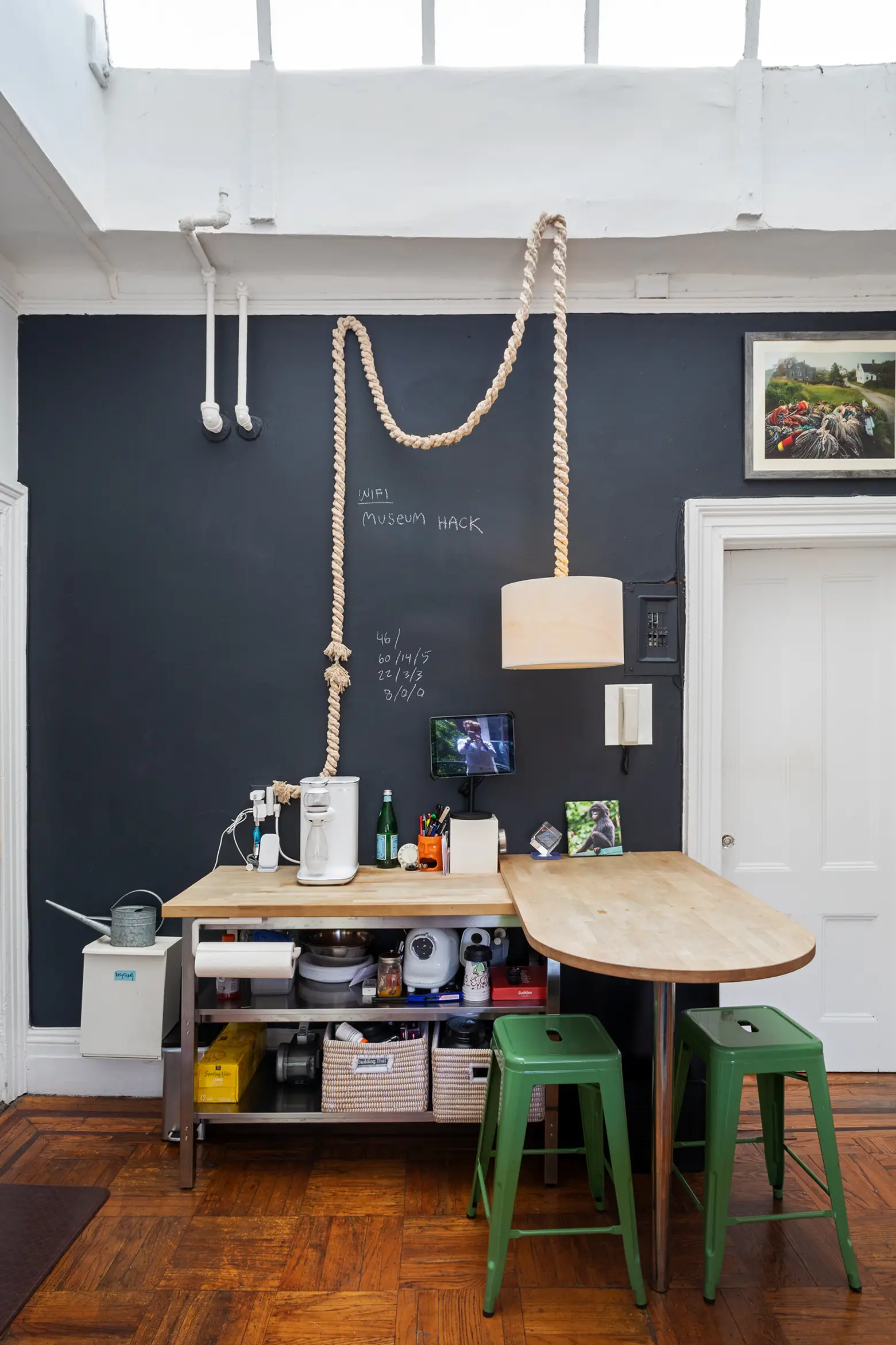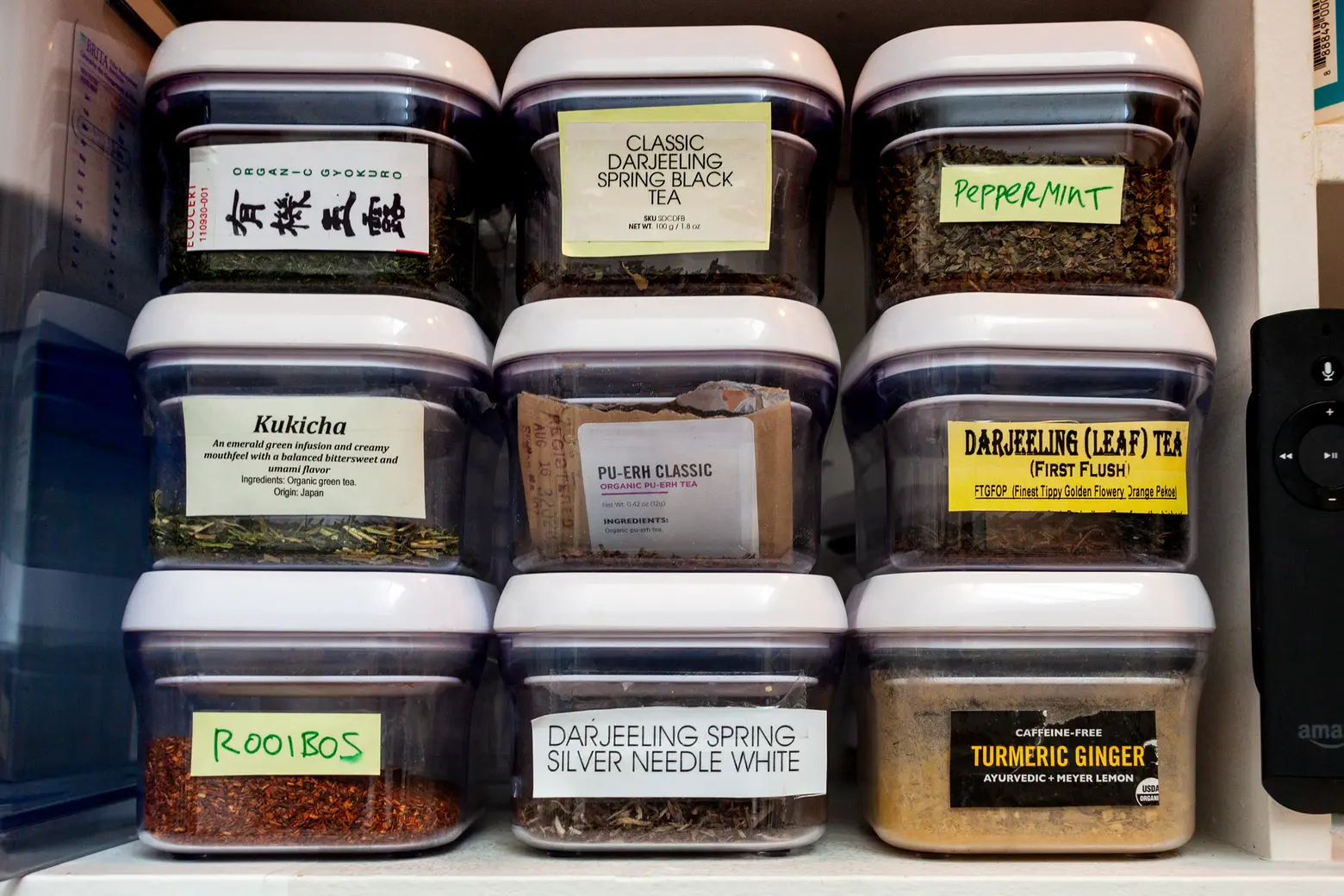 He has an eclectic collection of teas.
When you first started going to the Met regularly, did anything surprise you?
The fascinating stories. If you bring your phone or an iPad you can do quick research into art and objects using the accession numbers found on the artwork labels. And also the sheer size of the space. I think it is over two million square feet, all inside this sprawling building inside Central Park.
What advice do you have for museum newbies in NYC?
I know when people go to museums, they get tired and they forget what they see. This is my best piece of advice: Get a map, walk the full floor plan, and just walk, don't stop. Keep an eye out for something you like, but don't stop walking. You're building a mental model. Then, take a break. Let your mind decompress. I recommend going to the restaurant or cafe inside the museum for a cup of coffee or tea or wine. Then go back and explore at your own pace. Find a funny statue and have a laugh. Find a piece of art that calls your name. Museums are made for moments like this!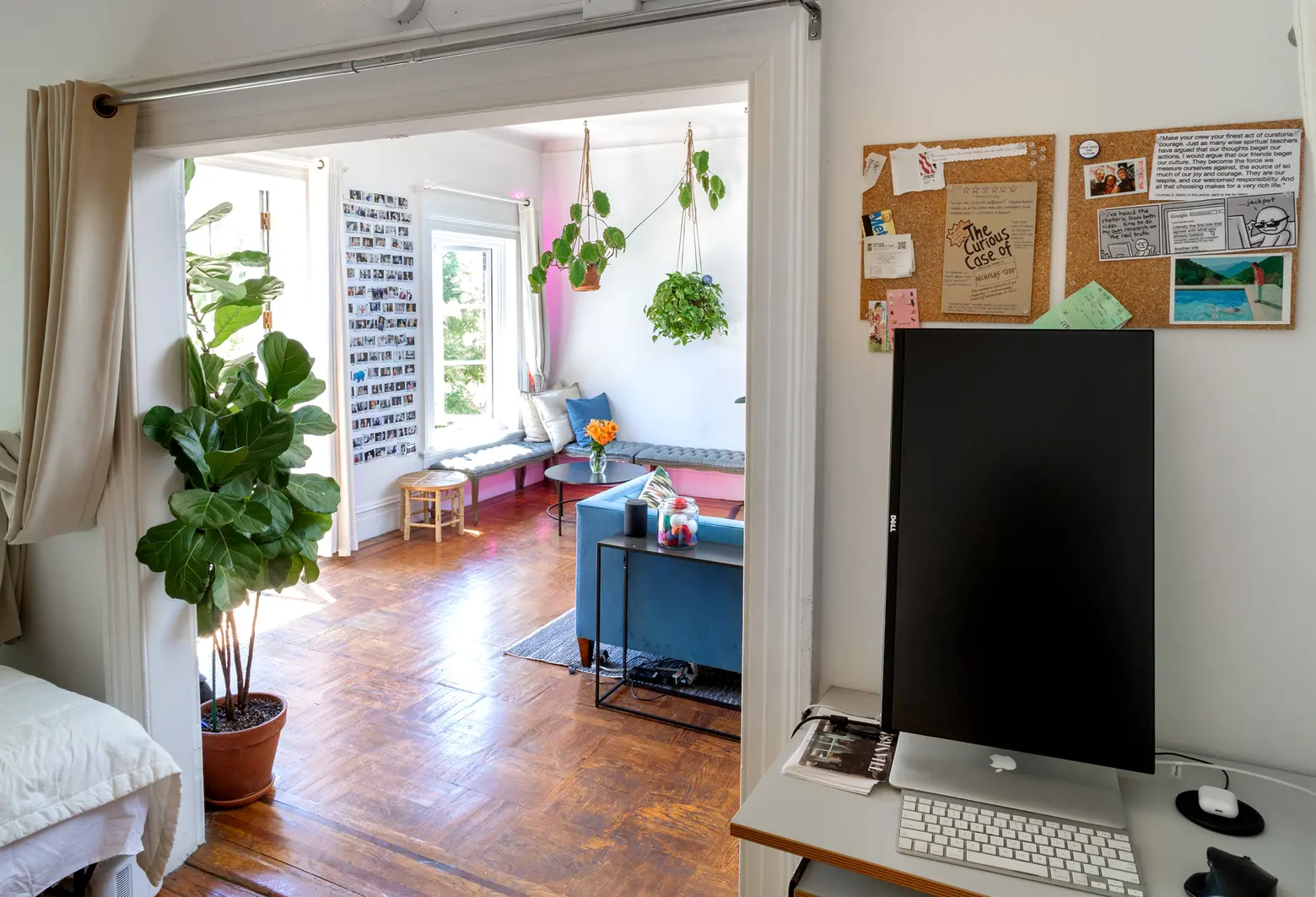 Nick spends a lot of his time working at his standing desk, which can be moved to various spots in the apartment.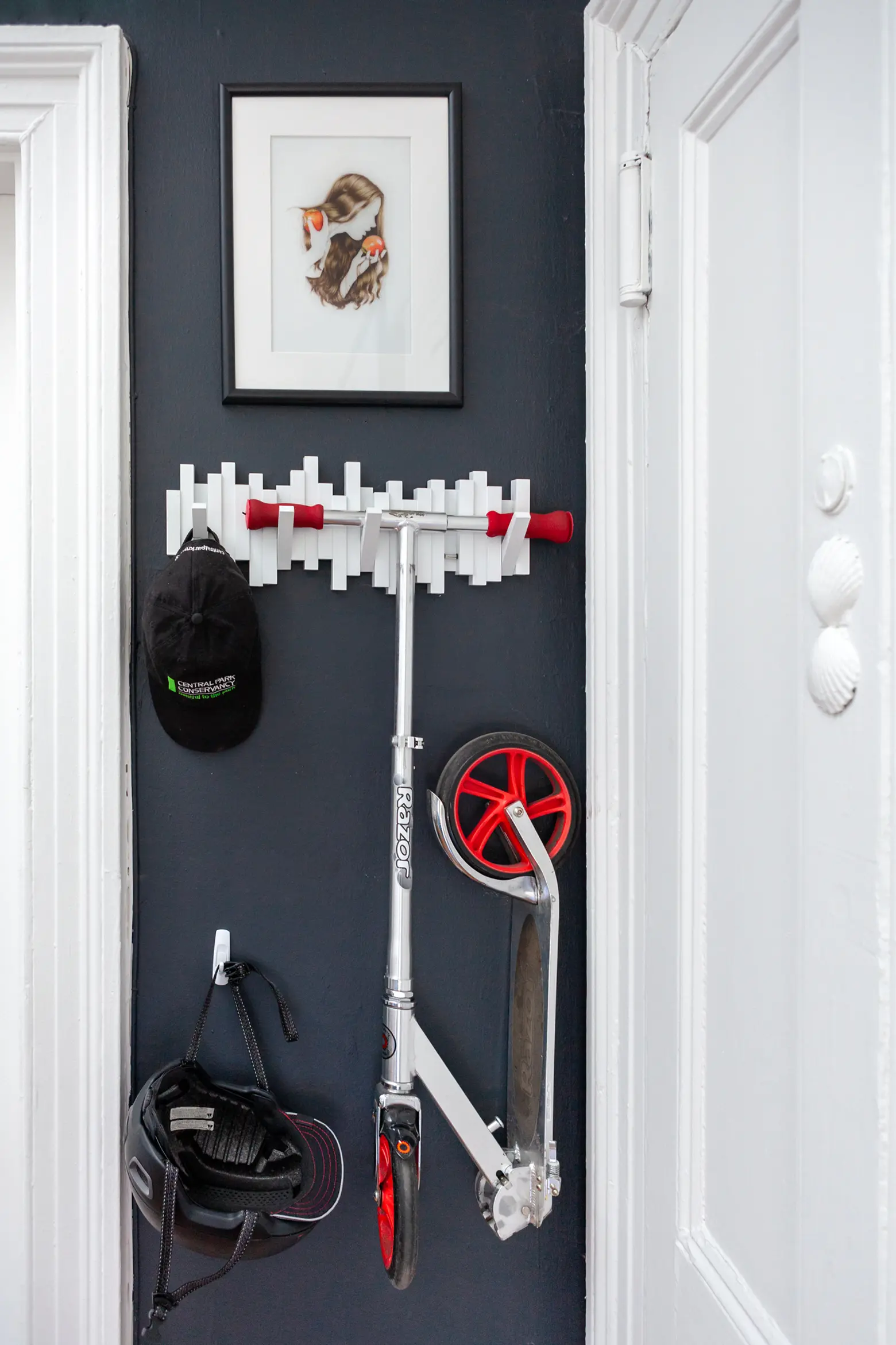 How do you usually spend a day?
I have this standing desk so usually when I'm working I can pull it out and can move it to various spots. I cook a lot. I cook usually one or two breakfasts because I like to eat eggs. Then I usually do an activity.
Any exciting projects in the works?
I have a new project I'm really excited about that just launched in fourteen cities across America (including NYC, San Francisco, Austin, Washington DC and other awesome cities). It is called The Great Guac Off! It's a company team building activity based on a guacamole making competition. The event combines people's pure love of avocados with fun games likes Punacado — in a way that helps improve communication and cooperation between colleagues, improves job satisfaction, etc. Our early adopter clients have said The Great Guac Off is avo this world.
RELATED: 
All photos by James and Karla Murray exclusively for 6sqft. Photos are not to be reproduced without written permission from 6sqft