Pre-Civil War church in Bed-Stuy to be demolished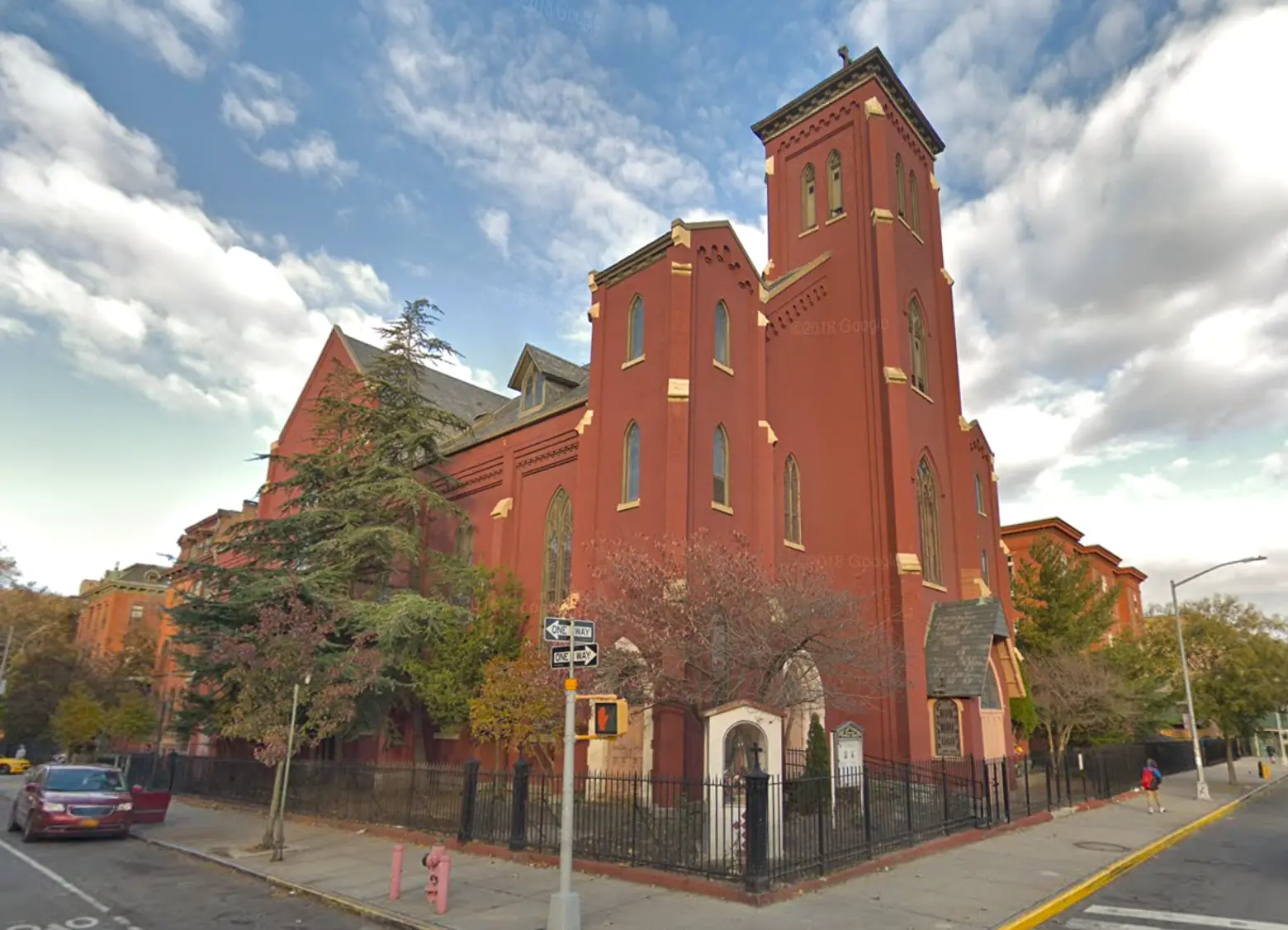 A historic church in Bed-Stuy constructed in 1856 is set to be razed and will likely be replaced with apartments, according to Brownstoner. Last week an application was filed for the full demolition of the St. Lucy-St. Patrick's Roman Catholic Church at 295 Willoughby Avenue and 920 Kent Avenue. The church agreed to sell the property in July for $12.25 million to developer Water Capital Group. Due to the size of the lot and zoning in the area, investment firm JLL marketed the site as a "rare opportunity to develop a sizable luxury residential building in a burgeoning Brooklyn neighborhood."
In July, the church agreed to a contract to sell the property and the rectory to developer Water Capital Group for $12.25 million, according to court records. The contract still needs the approval of the state's attorney general before demolition can move forward. The demolition permit includes two parcels of land, one at 920 Kent Avenue which houses the church, and the other at 295 Willoughby Avenue which includes the Second Empire/Italianate-style rectory.
Due to the church's large property and its "R6B residential zoning," the residential building that replaces it could be nearly three times bigger than the church, according to Brownstoner. No new building permit has been filed with the city as of last week.
Designed by architect James J. Lyons, the Gothic Revival church, initially just called St. Patrick's, was completed in 1856. In 1873, architect Patrick Keeley made significant upgrades to the building, and in 1875, the rectory was constructed. In 1974, St. Patrick's incorporated St. Lucy's, a church located just a few blocks north on Kent Avenue, to become St. Lucy-St. Patrick's Roman Catholic Church, according to the Tablet.
The church's sale and impending demolition join several houses of worship across Brooklyn that have been replaced in recent years. While some have been preserved, restored, or adapted for new use, most of them have been demolished and replaced with luxury housing.
St. Lucy's is located on what was once a three-block span of houses of worship and brownstones owned by religious institutions. The other churches include St. Mary's Episcopal Church, located between Emerson Place and Classon Avenue, and the Sisters of Mercy Convent, located between Classon Avenue and Taaffe Place.
The Sisters of Mercy Convent closed its doors in 2008 after claiming that they required $20 million in repairs, with all of the nuns who formerly served there having relocated. In 2021, St. Mary's landmarked parish and rectory were demolished and replaced with a 17-story apartment building.
In June, Bishop Robert Brennan announced that the church was no longer fit to be used for worship, which became official on July 1. The bishop's announcement also called for removing all sacred artwork and furnishing to ensure that these items, including statues and stained-glass windows, were properly removed and preserved.
RELATED: