The Urban Lens: A walk through the 90th annual Feast of San Gennaro in Little Italy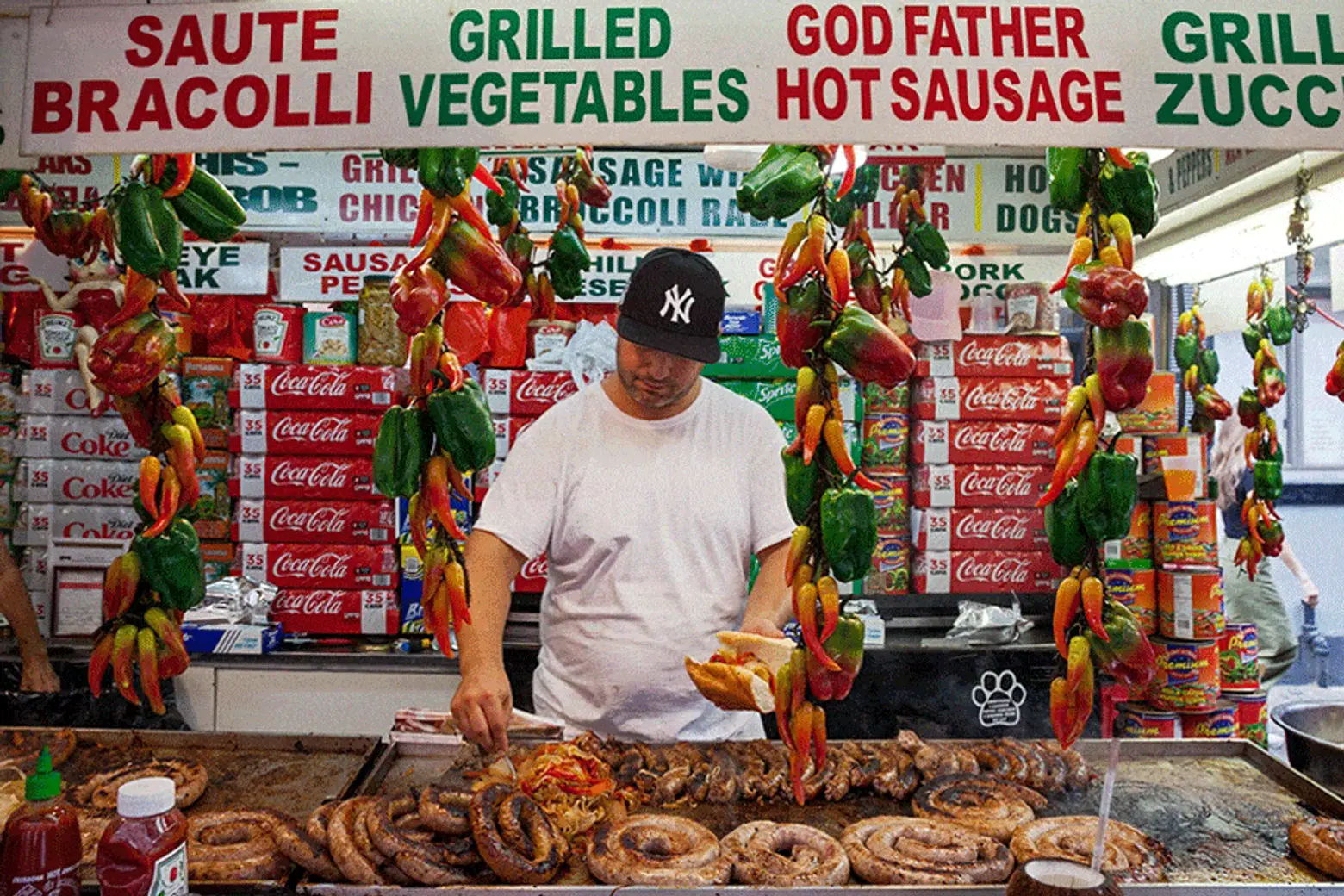 6sqft's ongoing series The Urban Lens invites photographers to share work exploring a theme or a place within New York City. In this installment, award-winning authors and photographers James and Karla Murray introduce us to the faces and food vendors that make up the 2016 Feast of San Gennaro in Little Italy. Are you a photographer who'd like to see your work featured on The Urban Lens? Get in touch with us at [email protected].
2016 marks the 90th anniversary of the Feast of San Gennaro, which is held in the "Little Italy" neighborhood of lower Manhattan from Thursday, September 15 through Sunday, September 25th. The Feast is an 11-day salute to the Patron Saint of Naples, Saint Januaries, and it is the longest and most popular street fair in New York City (anticipated to bring in one million tourists and New Yorkers this year).
Little Italy was once known for its large population of Italian immigrants and is now centered on Mulberry Street between Broome and Canal Streets. Italians first began to settle in the area during the 1850s, but by the 1960s, wealthy Italians began to move out and Chinese merchants for the first time began to move north of Canal Street—the traditional boundary between Chinatown and Little Italy. Observing the changes in the neighborhood, Italian merchants and restaurateurs formed an association dedicated to maintaining Mulberry Street north of Canal as an all-Italian enclave, which it still largely remains.
Ahead we document some of the longtime New Yorkers, tourists, and decades-old Italian vendors who've added their own flavor to this year's festivities.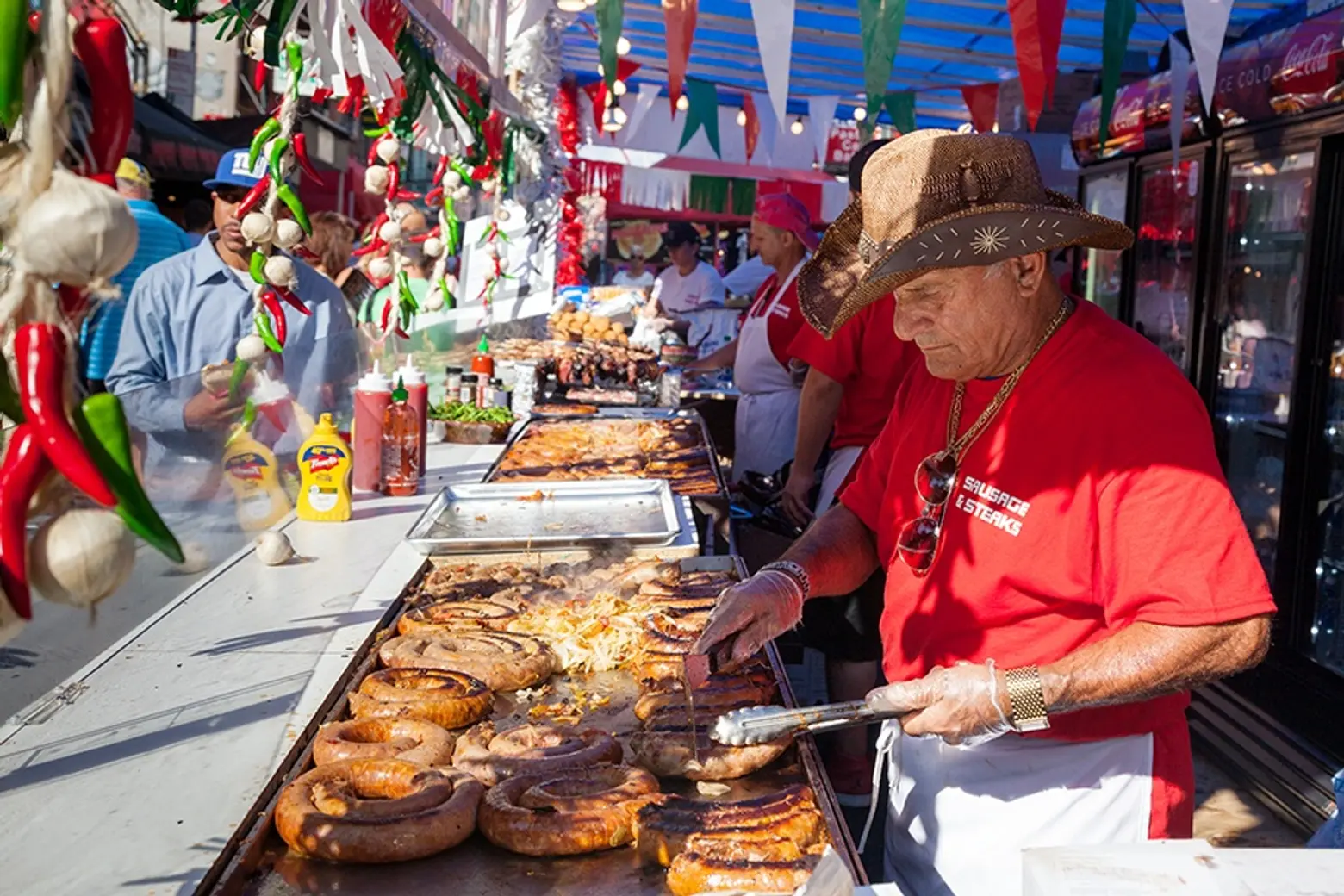 Italian Sausage. The food booths do a brisk business during the Feast. Italian Sausage is a style of pork sausage that is either sweet or hot. Recipes vary slightly but generally include a seasoning of salt, pepper, garlic and fennel seeds. The addition of hot red pepper flakes and paprika in the seasoning mix make the sausage hot rather than sweet.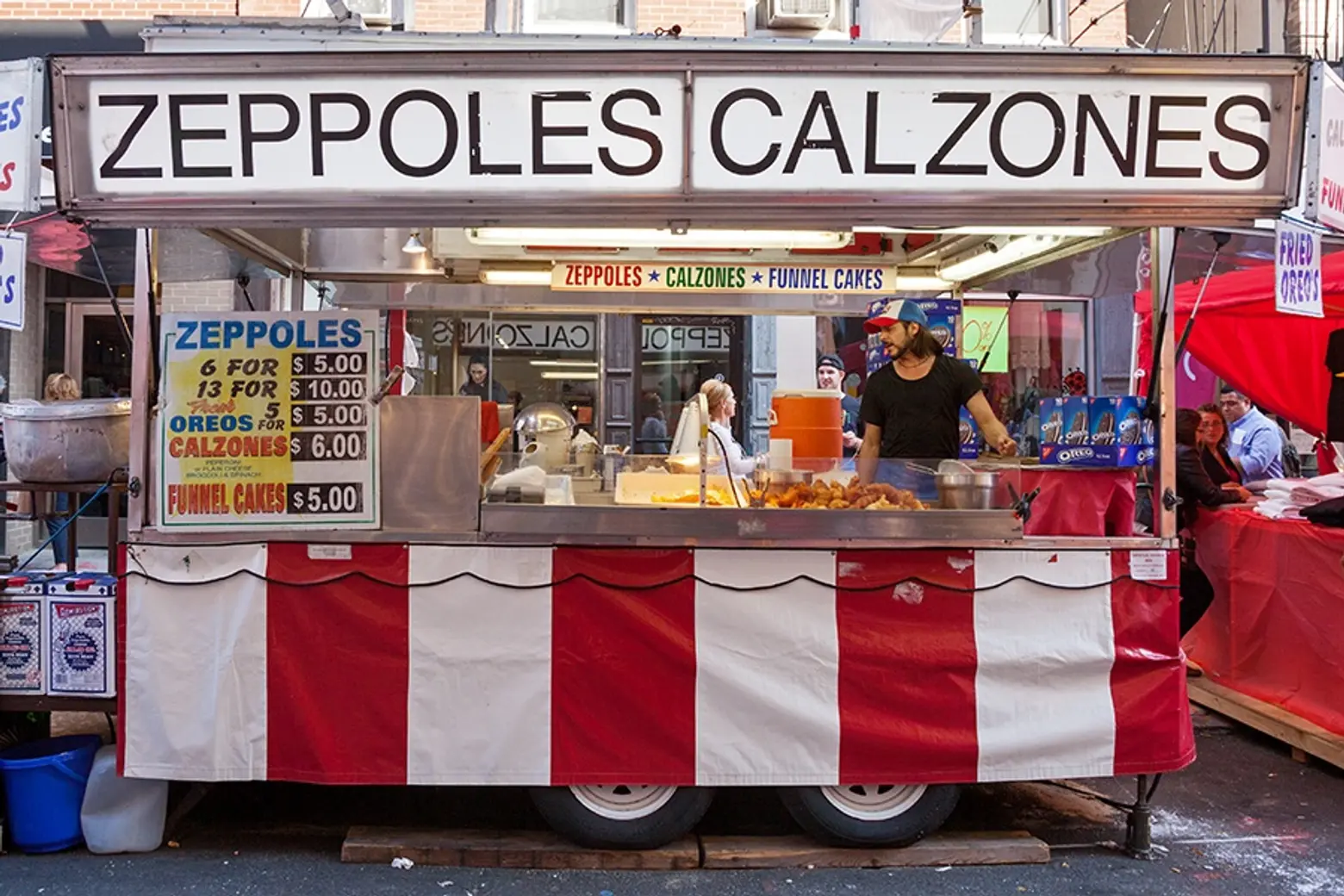 Zeppoles and Calzones. Zeppole, or Italian doughnut holes, are fried dough dusted with powdered sugar. They have become one of the most popular Italian street desserts served at the Feast of San Gennaro. Calzones are basically half-moon shaped folded pizzas made from pizza dough and stuffed with the same ingredients as pizza, including tomato sauce, mozzarella cheese and ricotta, and they often include pepperoni and possibly other cheeses and Italian sausage.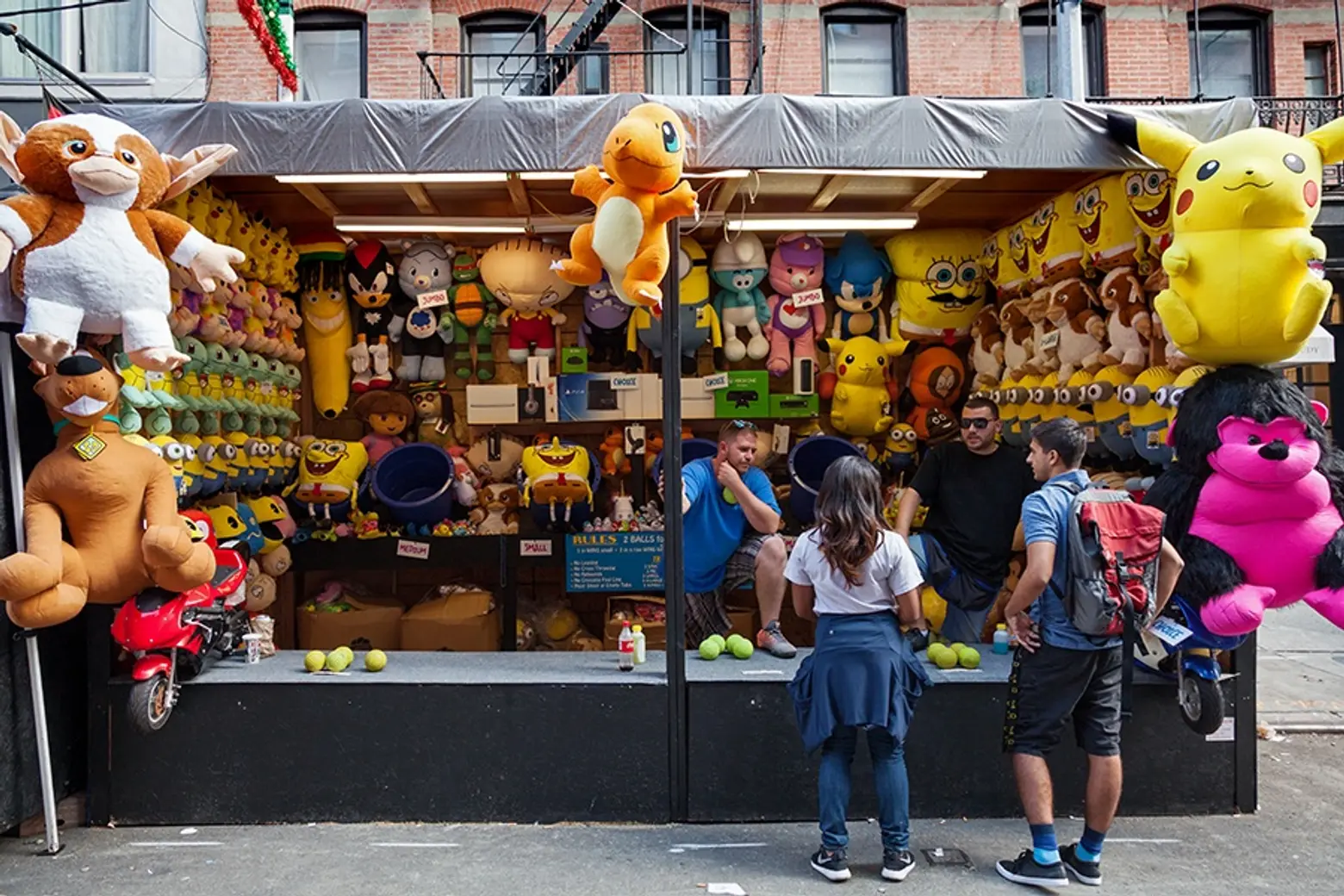 Ball Toss. Besides the innumerable food stands, games of chance are scattered throughout the Feast. Attendants shout to passersby to try their luck.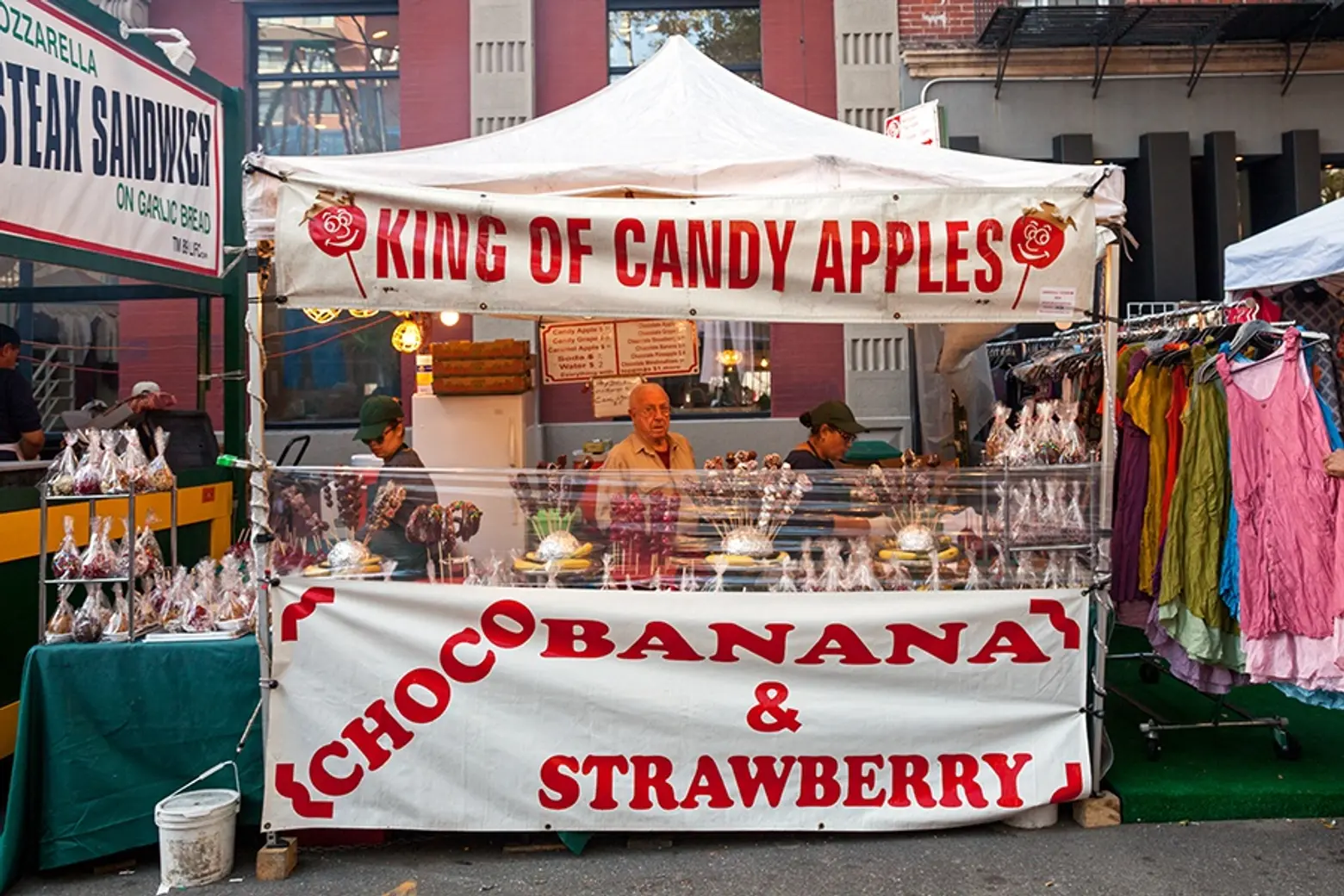 The King of Candy Apples. Candy apples are usually Granny Smith apples which are dipped into a liquid red candy mixture and served on a stick. The sweet candy exterior hardens to a crunchy texture and is a nice contrast to the sourness of the Granny Smith apple inside.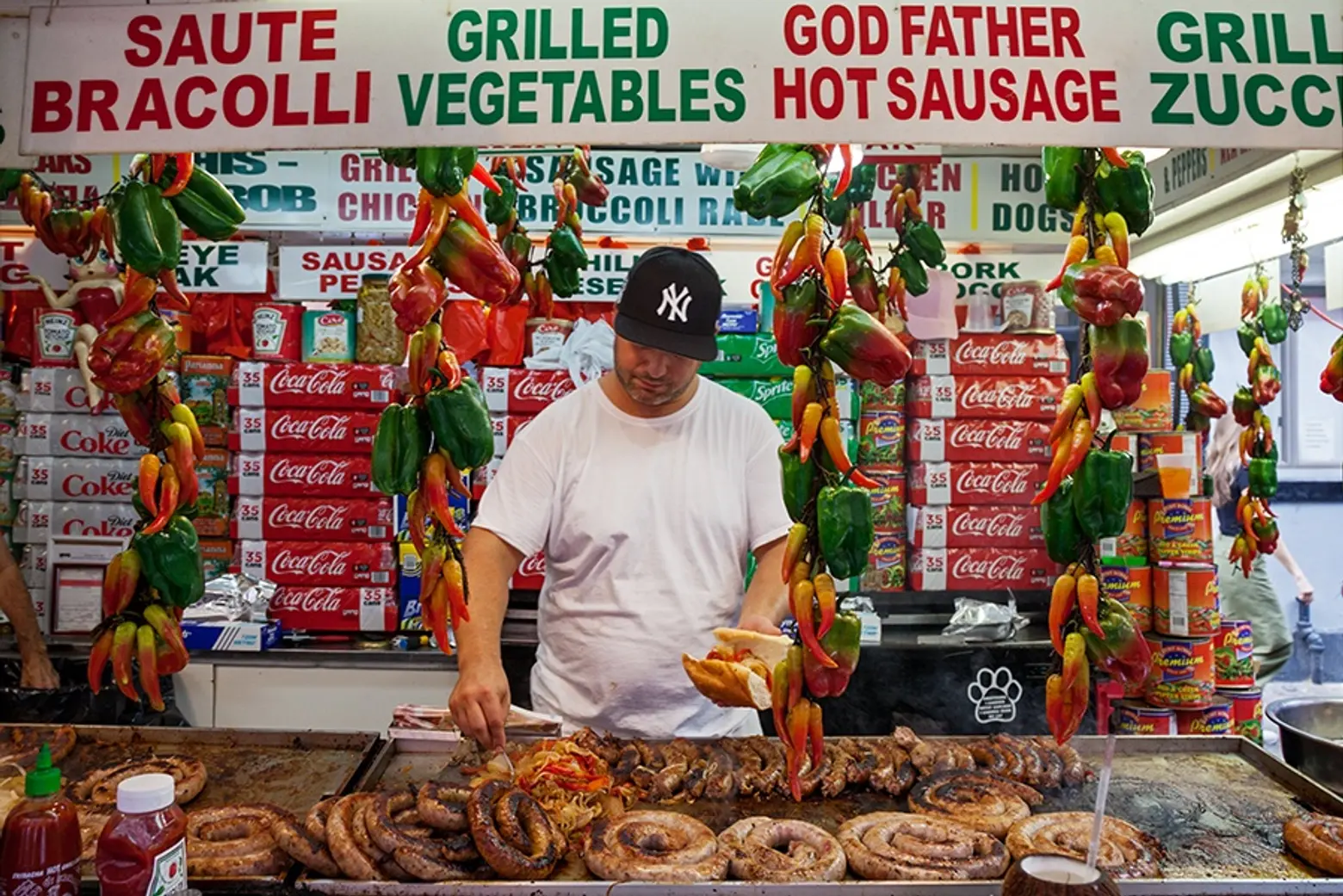 Sausage and Peppers. Lucy's Sausage Stand is found at all of the Italian feasts in NYC and many of the local street fairs. They have provided festival food including their famous sausage and peppers for over three generations.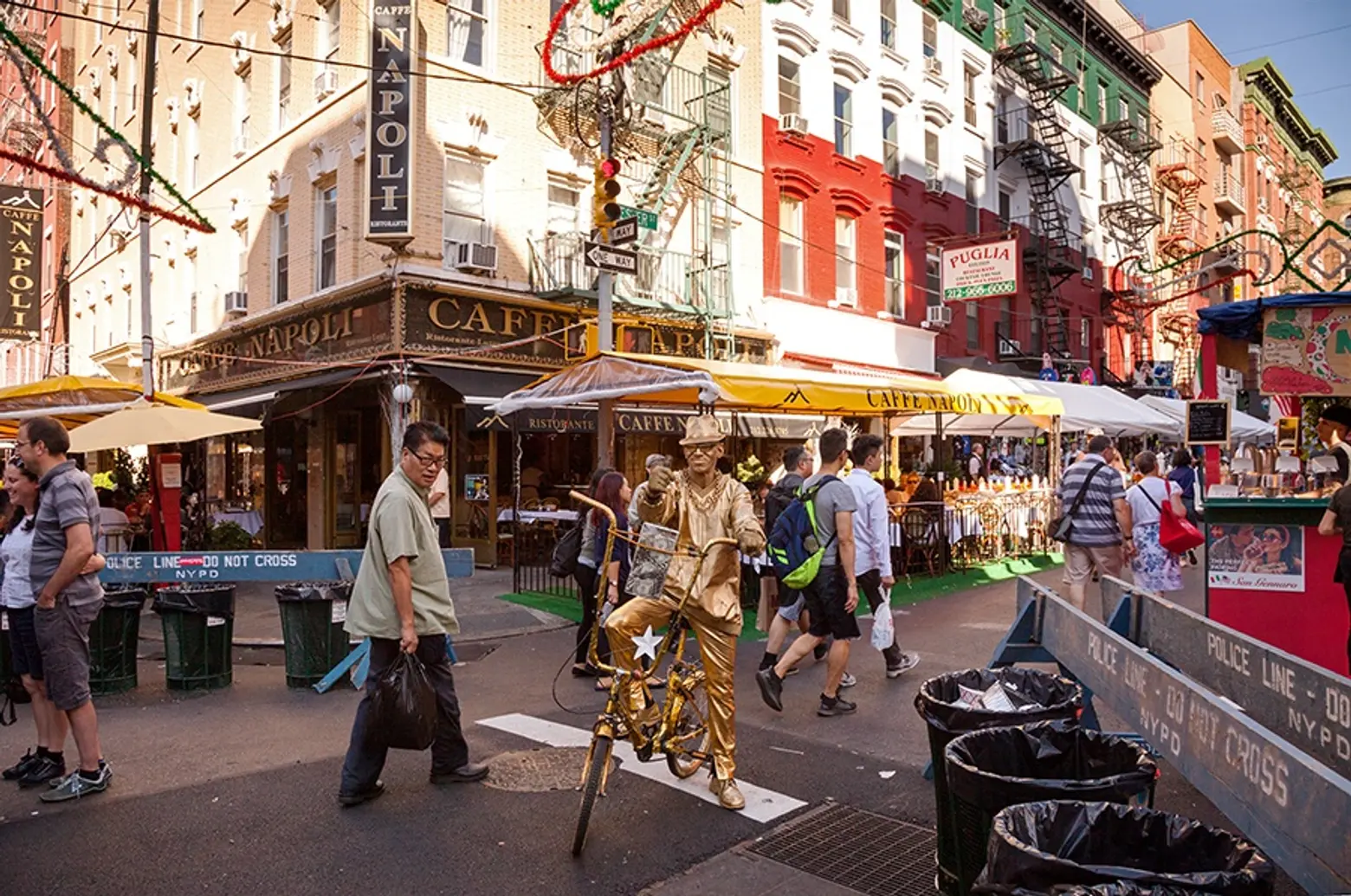 Street Performer. Like New York City itself, The Feast is attended by a mixture of nationalities. "The Feast brings the world to Little Italy and Little Italy to the world," says Joseph Mattone, President of Figli di San Gennaro, Inc.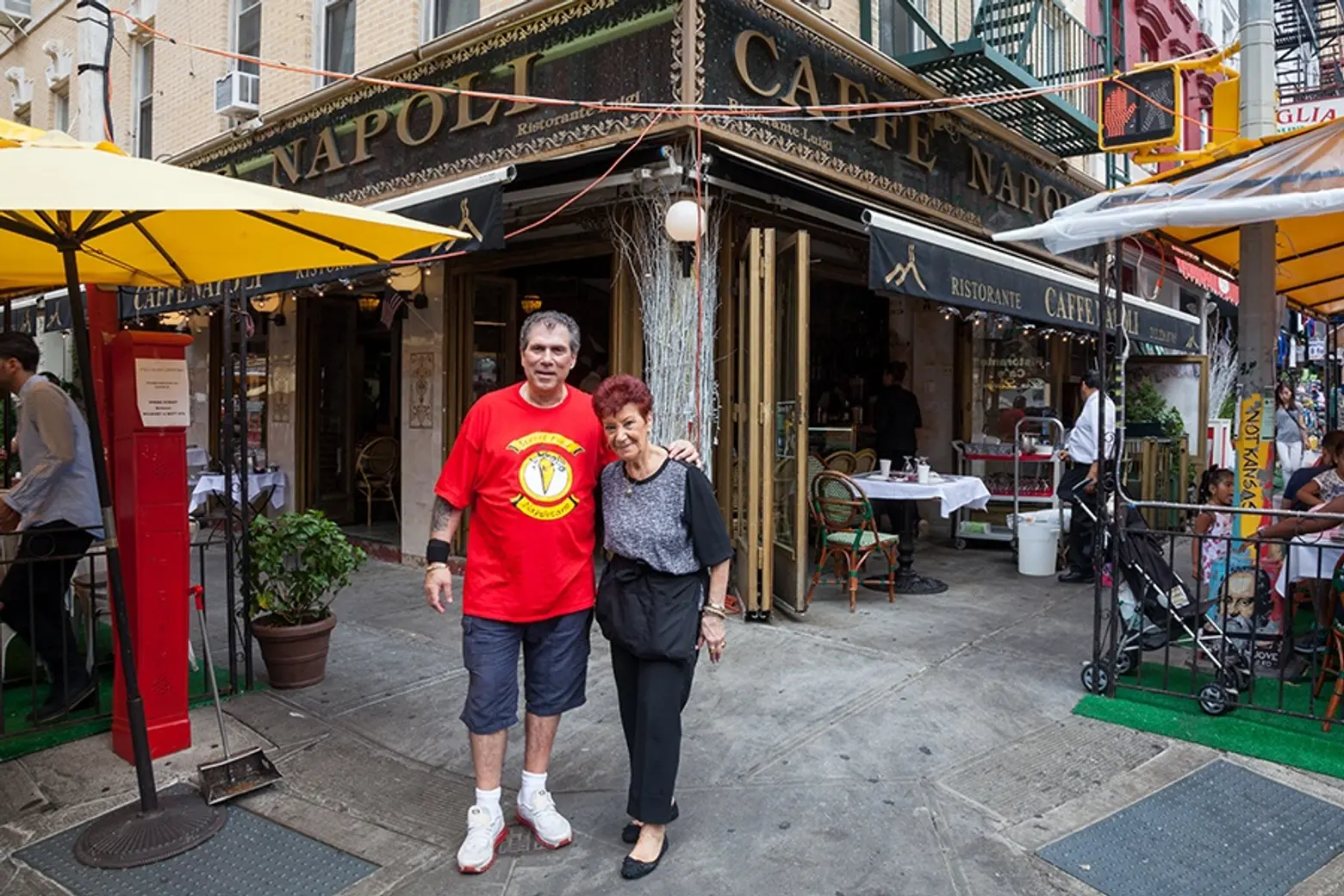 Anthony and Josie, Owners of Mulberry Street's Caffe Napoli. Caffe Napoli is a family-run Italian restaurant which has been in business for over 30 years. They have a large Italian menu including red sauce favorites of pasta, chicken and seafood.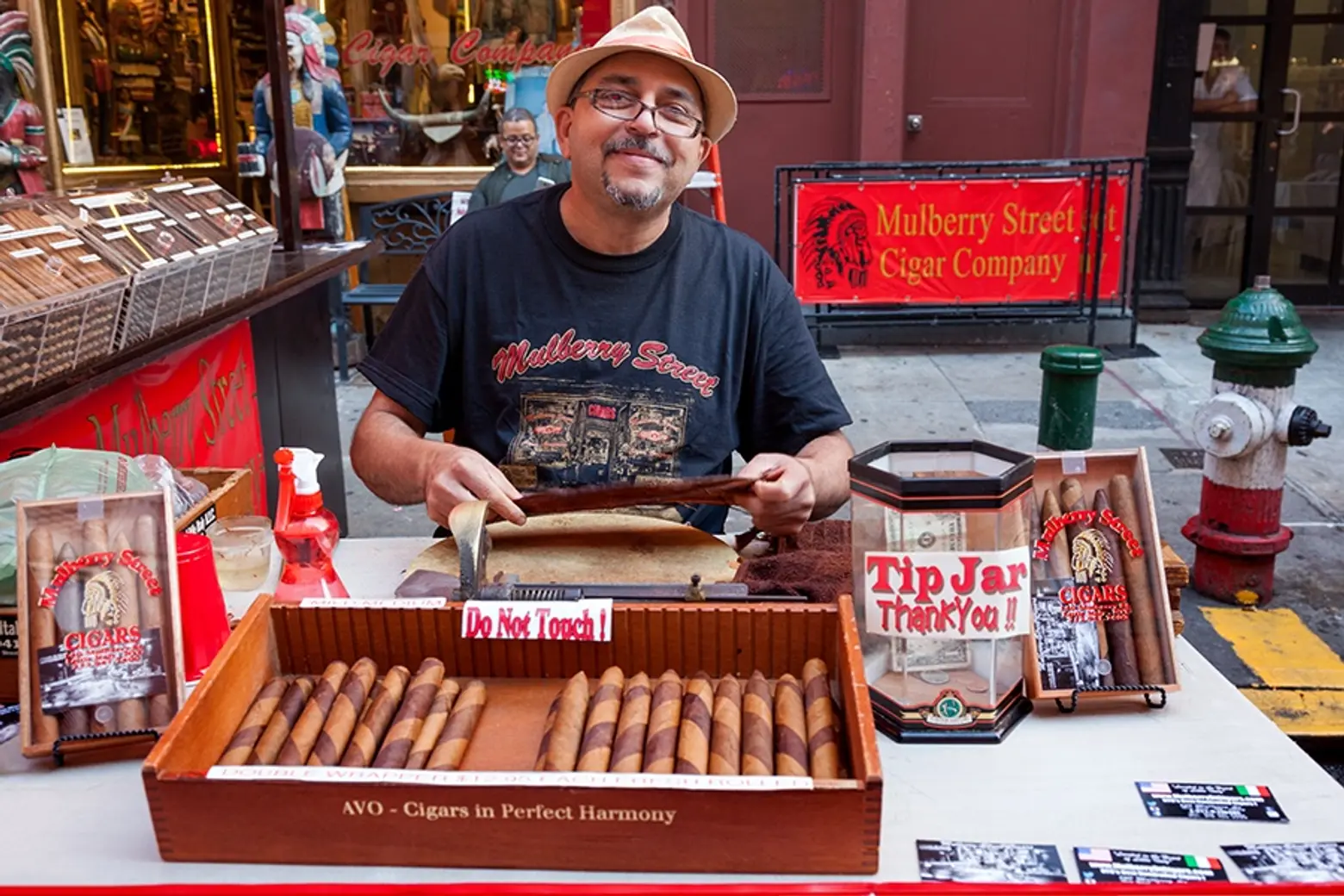 Cigar Roller. The Mulberry Street Cigar Co. was founded in 1999 and is known for its own hand-rolled line of cigars.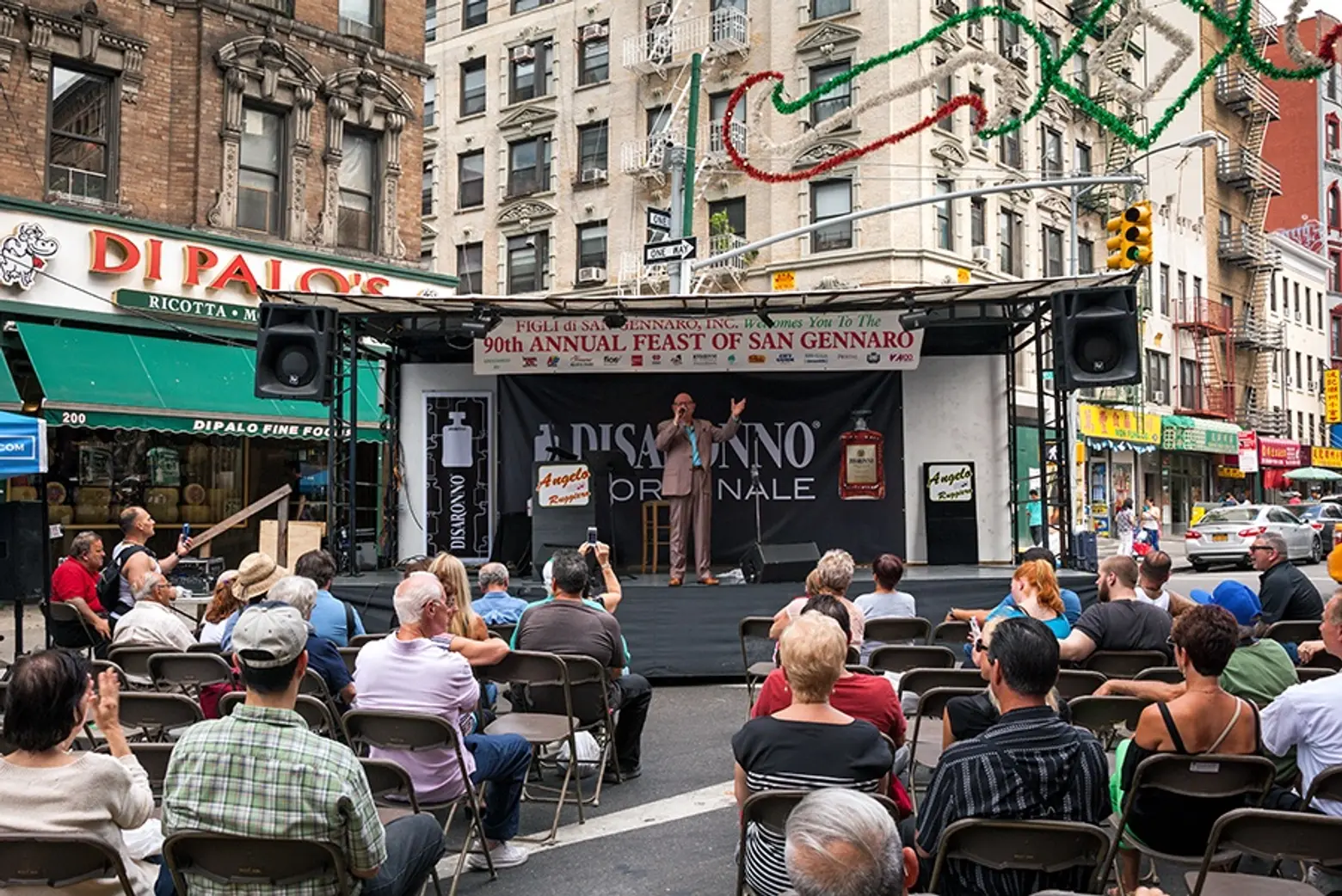 Crooner. Angelo Ruggiero belts out the standards on the main stage on Grand Street by Mott Street.
Meatball Eating Contest. On Saturday, September 24th at 2pm on the main stage there will be for the first time a Meatball Eating Contest hosted by "Who's The Boss" star Tony Danza. The meatball-eating contest was created in memory of John "Cha-Cha" Ciarcia, the unofficial mayor of Little Italy, who passed away last year. (To sign up, call 212-764-6330)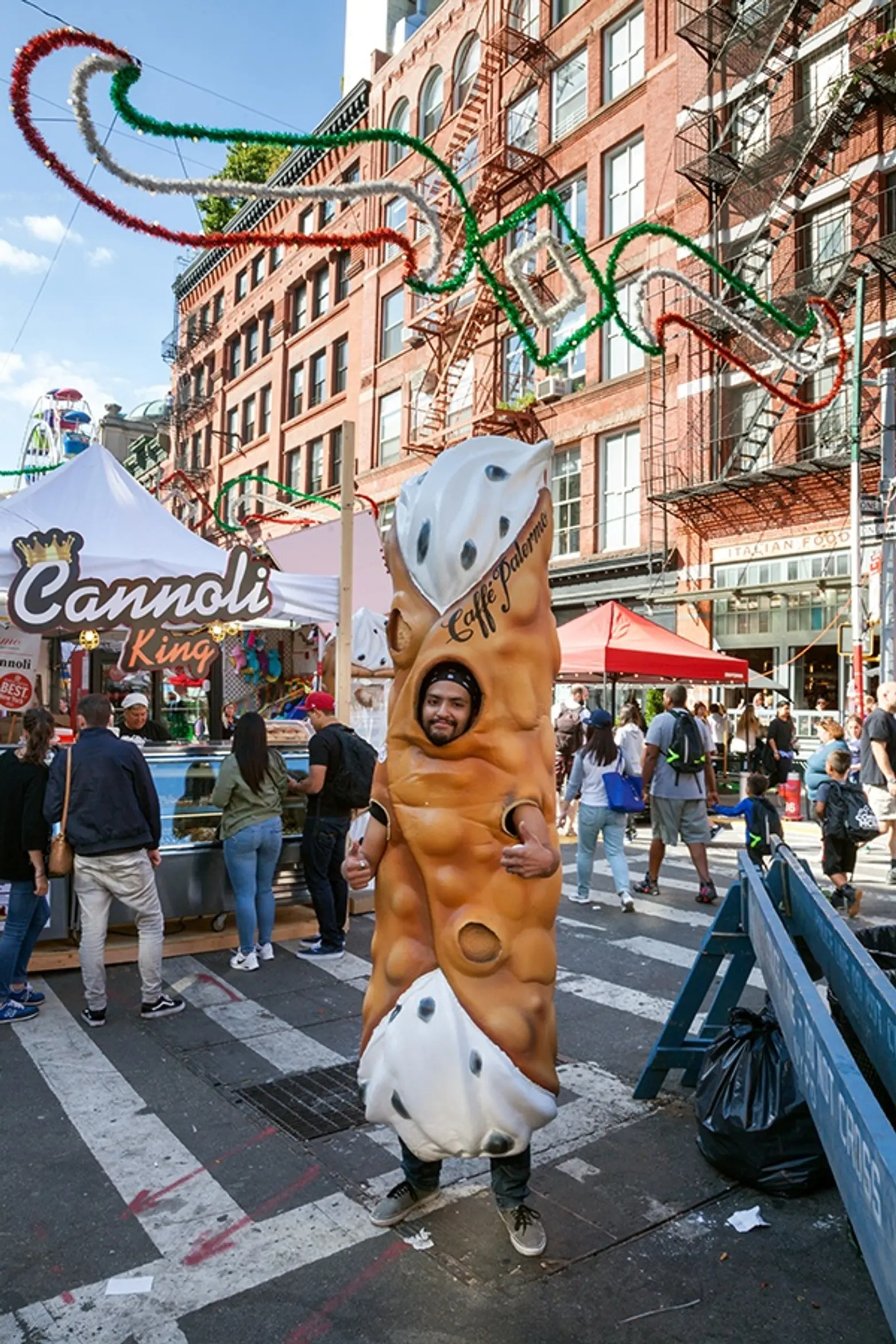 The Cannoli King. "Baby John" DeLutro is known as the "Cannoli King" because his Caffe Palermo dessert shop serves up some of the city's best cannoli. Caffe Palermo in Little Italy has been in business since 1973.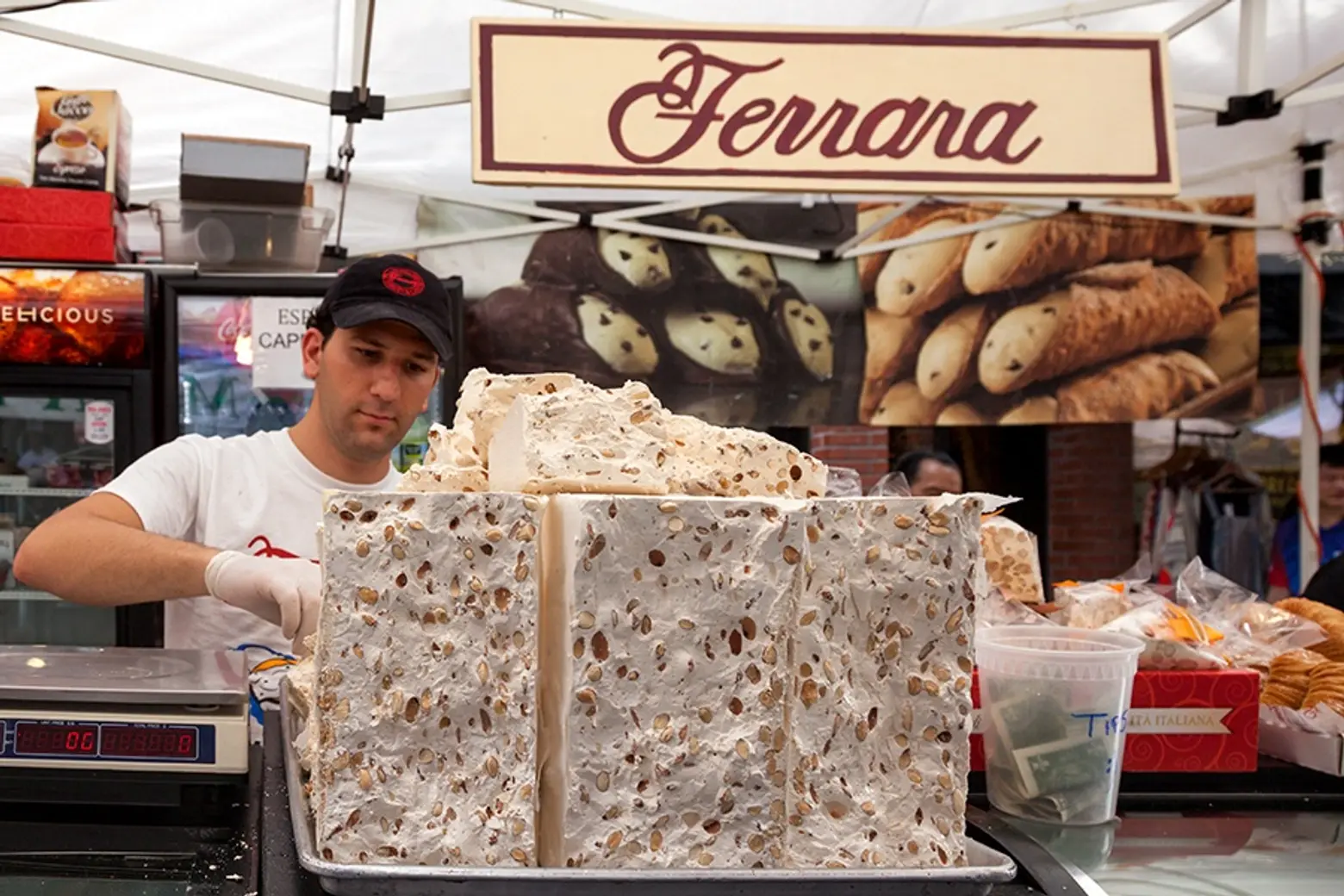 Blocks of Torrone. Ferrara Bakery & Cafe started shipping the non-perishable traditional Italian nougat candy called torrone, during World War II to many Italian-American soldiers overseas, thus starting a successful mail-order business. Ferrara's soon became known around the world for its torrone, which is made using large amounts of whole almonds and filberts in a time-honored style that is practiced in the region of Benevento, Italy. Whole nuts are always used for torrone rather than chopped nuts, because the entirety of the nut is what retains the flavor. Since there is no dairy in the candy, it packages and ships easily. Today, Ferrara's is operated by the fifth generation of the Lepore family.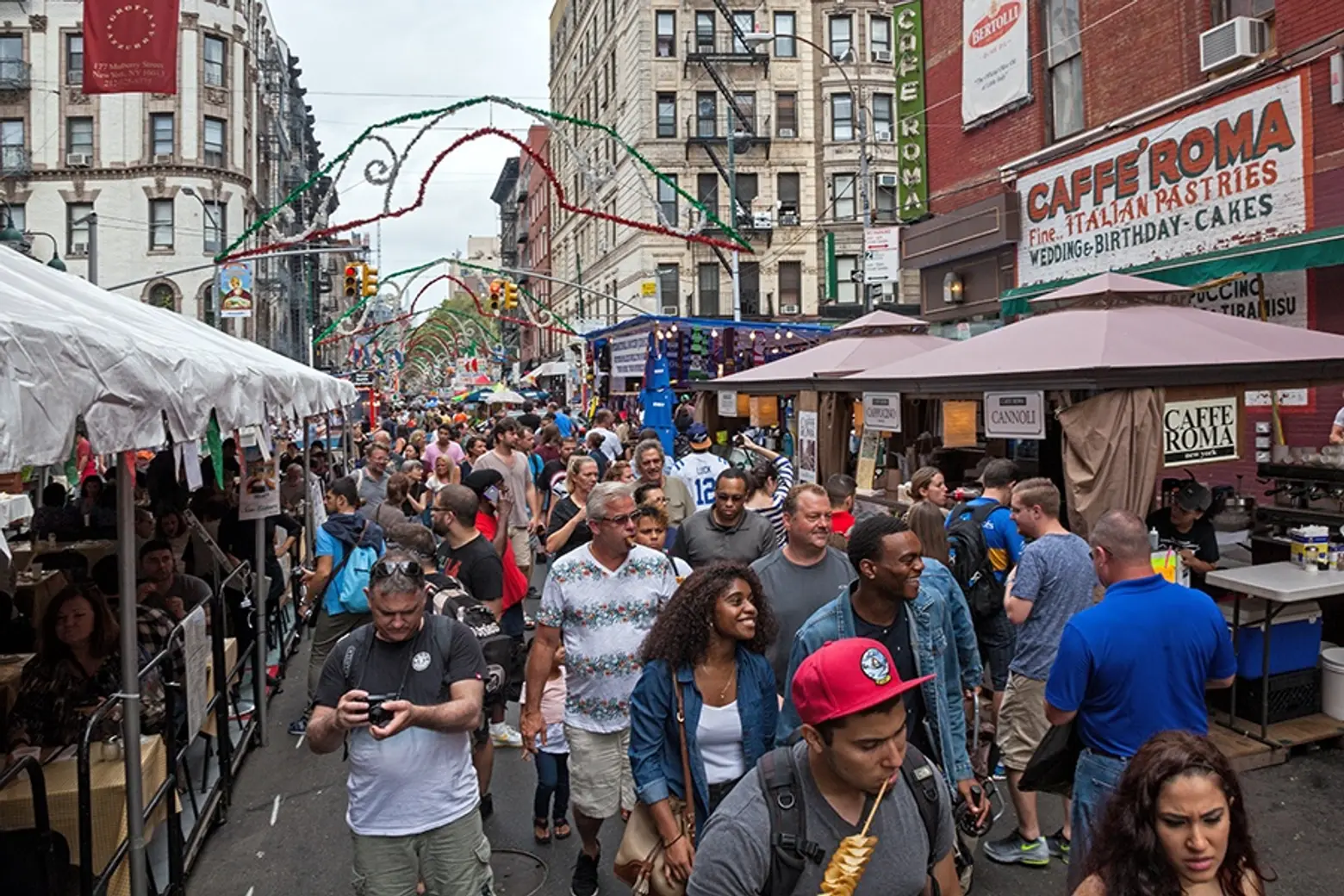 Outside Caffé Roma. Caffé Roma has been in the same family since 1952. It was originally called Caffé Ronca when it was opened by the Italian immigrant, Pasquale T. Ronca, in 1891. The Ronca family ran their popular pastry shop until 1952, when it was sold to a fellow Italian immigrant, Vincento Zeccardi, who changed the name slightly to Caffé Roma. They specialize in Italian pastries including cannolis, pignoli cookies, biscotti and sflogliatella.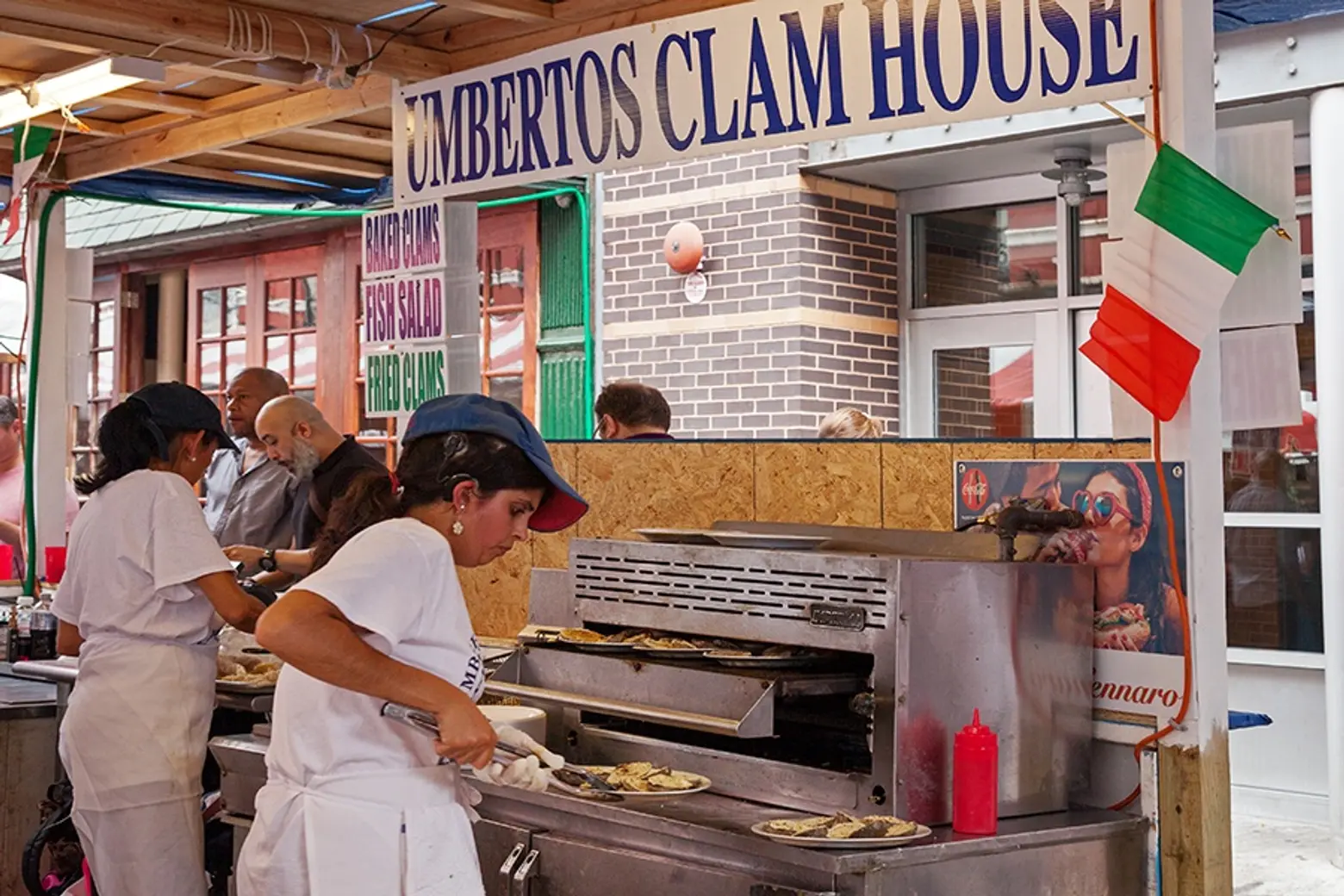 Baked Clams. Umberto's Clam House on Mulberry Street has been in business since 1972 and became famous for its celebrity clients and its signature clam dish with its hot red clam sauce.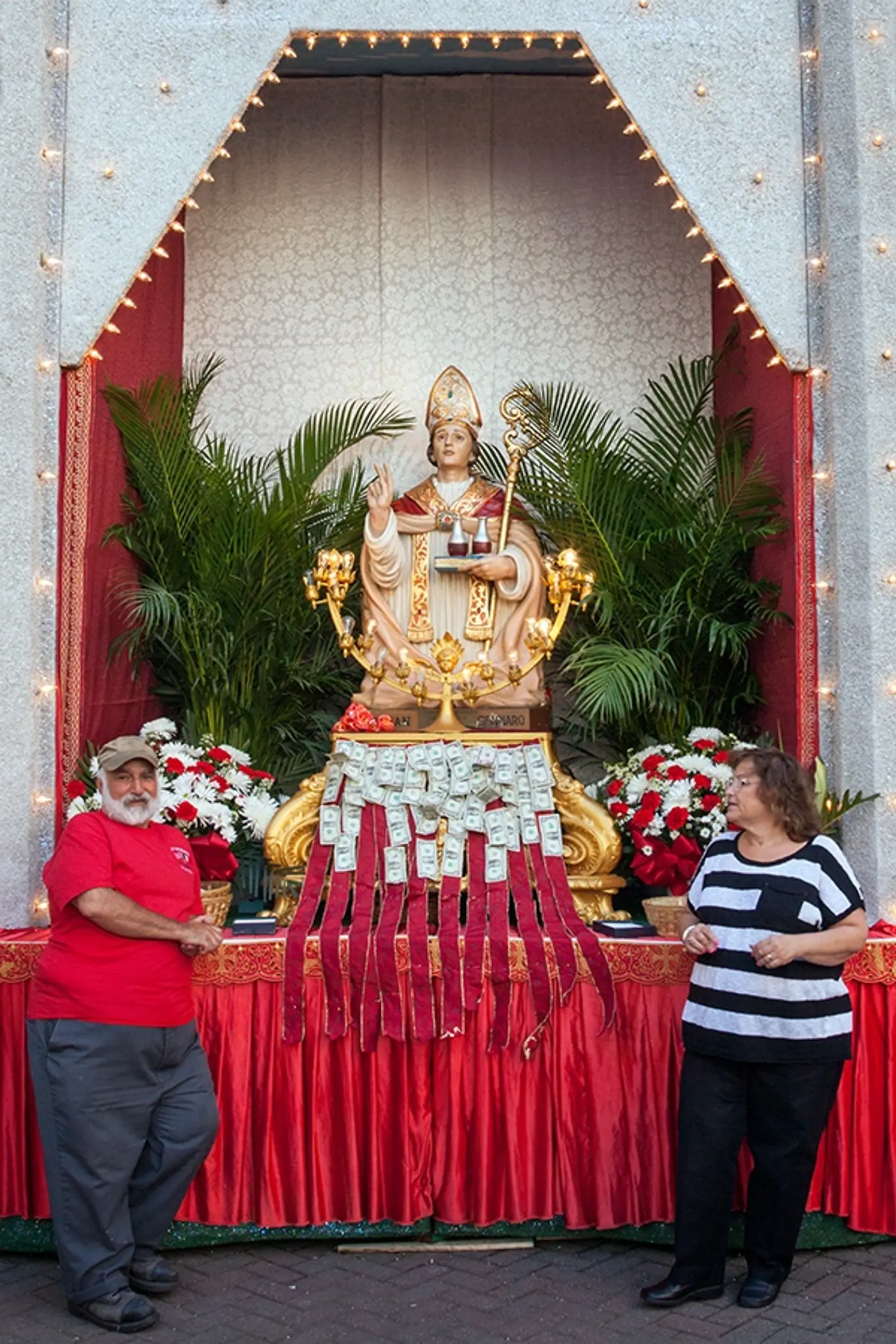 Offerings. The central focus of the celebration takes place every September 19th, the official Saint Day when a celebratory mass is held in Shrine Church of the Most Precious Blood. Mass is followed immediately by a religious procession in which the Statue of San Gennaro is carried from its permanent home in the church through the streets that comprise Little Italy.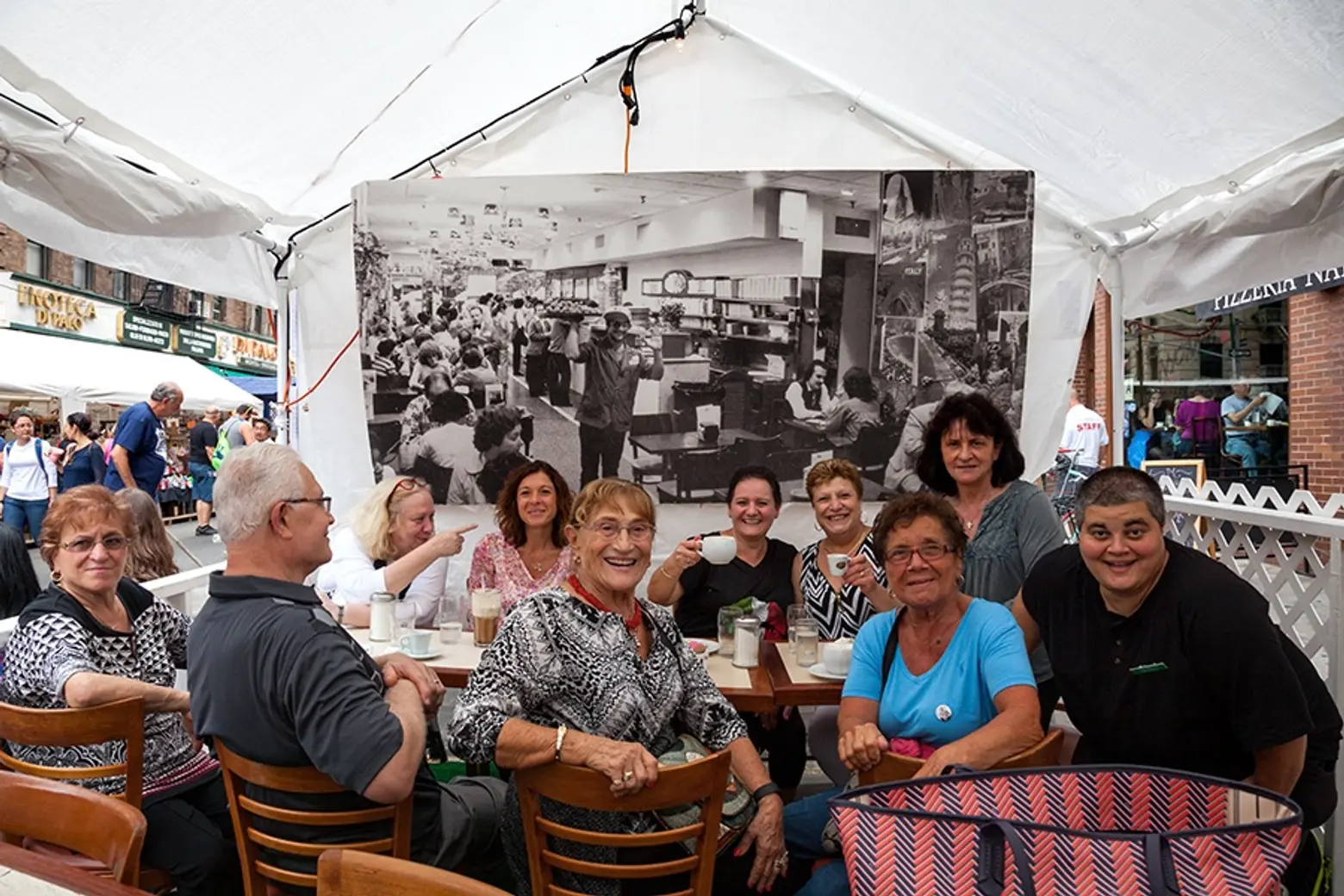 Outside of Ferrara's Original Cafe. Ferrara's is a sponsor of the annual Cannoli-eating Contest, which was held on Friday, September 16th. This year's winner, Wayne, downed 21 Ferrara cannolis in six minutes. Ferrara Bakery & Cafe was established in 1892 by Italian immigrants, Antonio Ferrara and Enrico Scoppa. Ferrara's is considered America's first espresso bar. The café later added Italian specialties including cannoli, sfogliatella and gelati to its menu. Pietro Lepore, a nephew of Antonio Ferrara, began working at Ferrara's after World War I and later married the daughter of Enrico Scoppa. Mr. Lepore bought out Enrico's interest in the café and took over ownership after Ferrara's death in 1937. Before World War II broke out, Lepore's strategic purchase of sugar protected the business during rationing.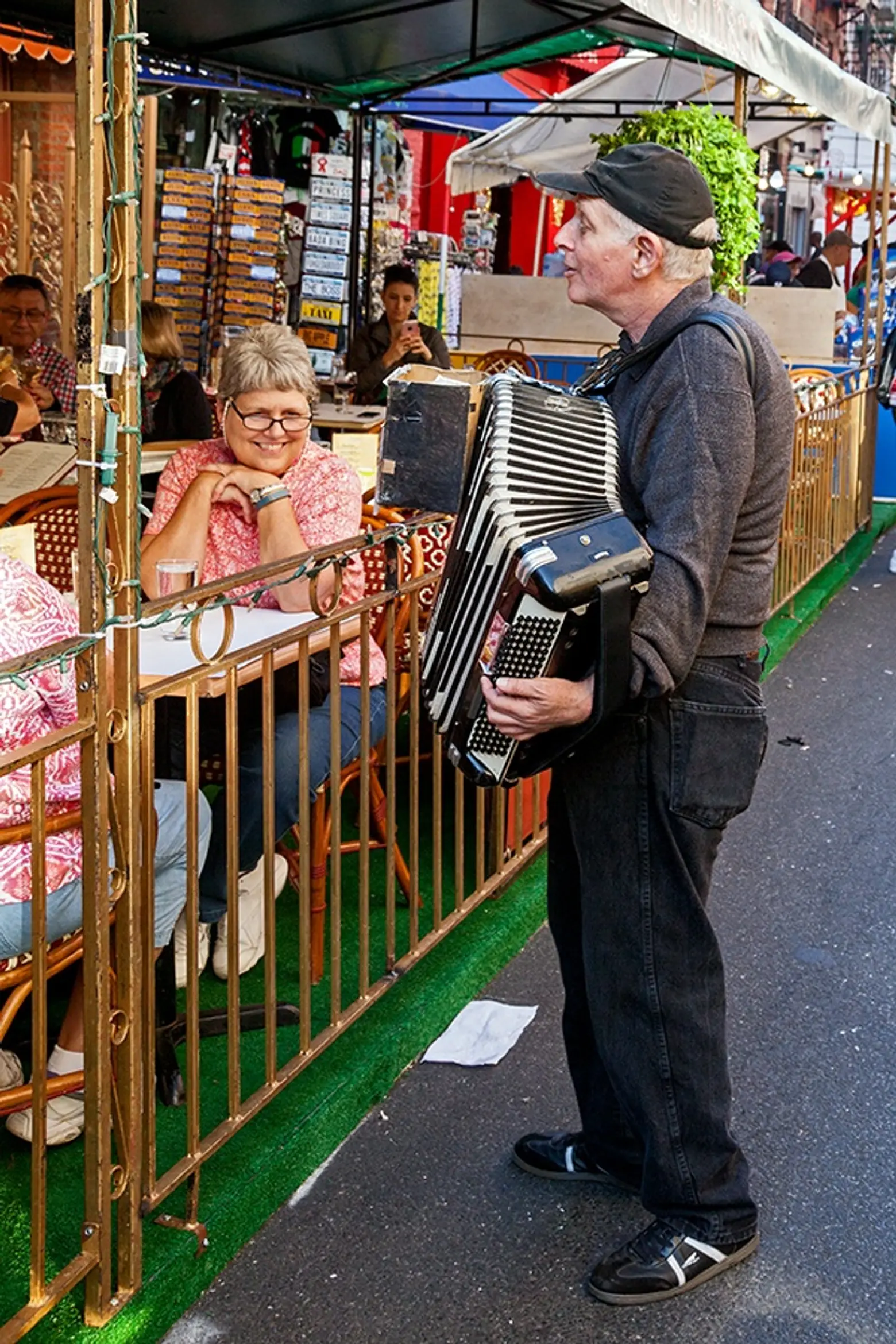 Accordion Player. The Figli di San Gennaro (Children of San Gennaro), a non-profit community organization dedicated to keeping alive the spirit and faith of the city's early Italian immigrants, has presented the Feast annually since 1996.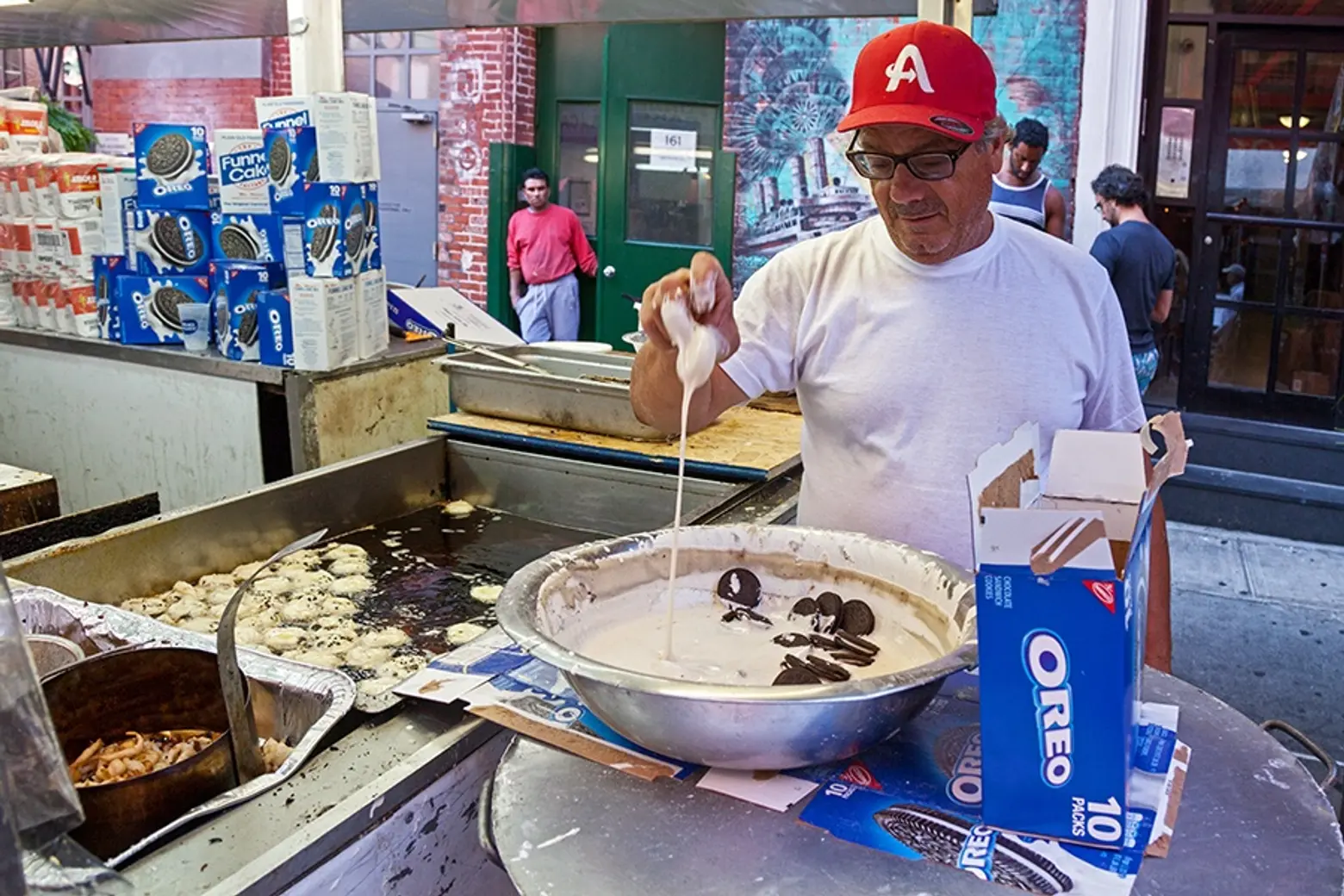 Fried Oreos. Fried Oreos are a street fair favorite.
Ferris Wheel. Although this is an annual celebration of faith, the Feast of San Gennaro is known for its festive atmosphere, featuring Italian cuisine, carnival food favorites, religious processions, colorful parades, free live music and entertainment, rides for kids and adults, games and vendors.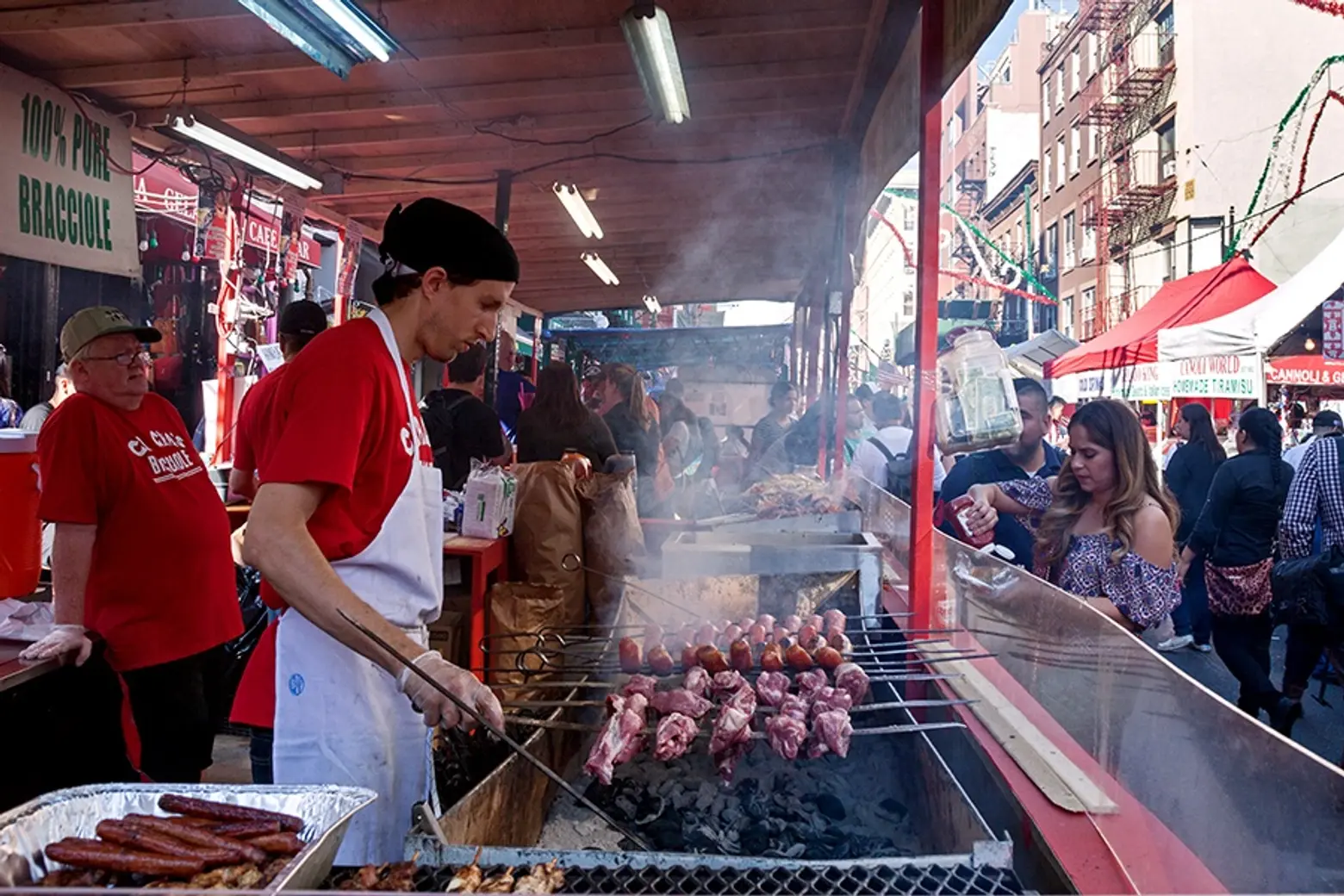 The Grill. Shish-ka-bobs and braciole. Braciole is an Italian dish made of pork rolled as a roulade with cheese, sausage or vegetables inside. It's braised in tomato sauce or grilled.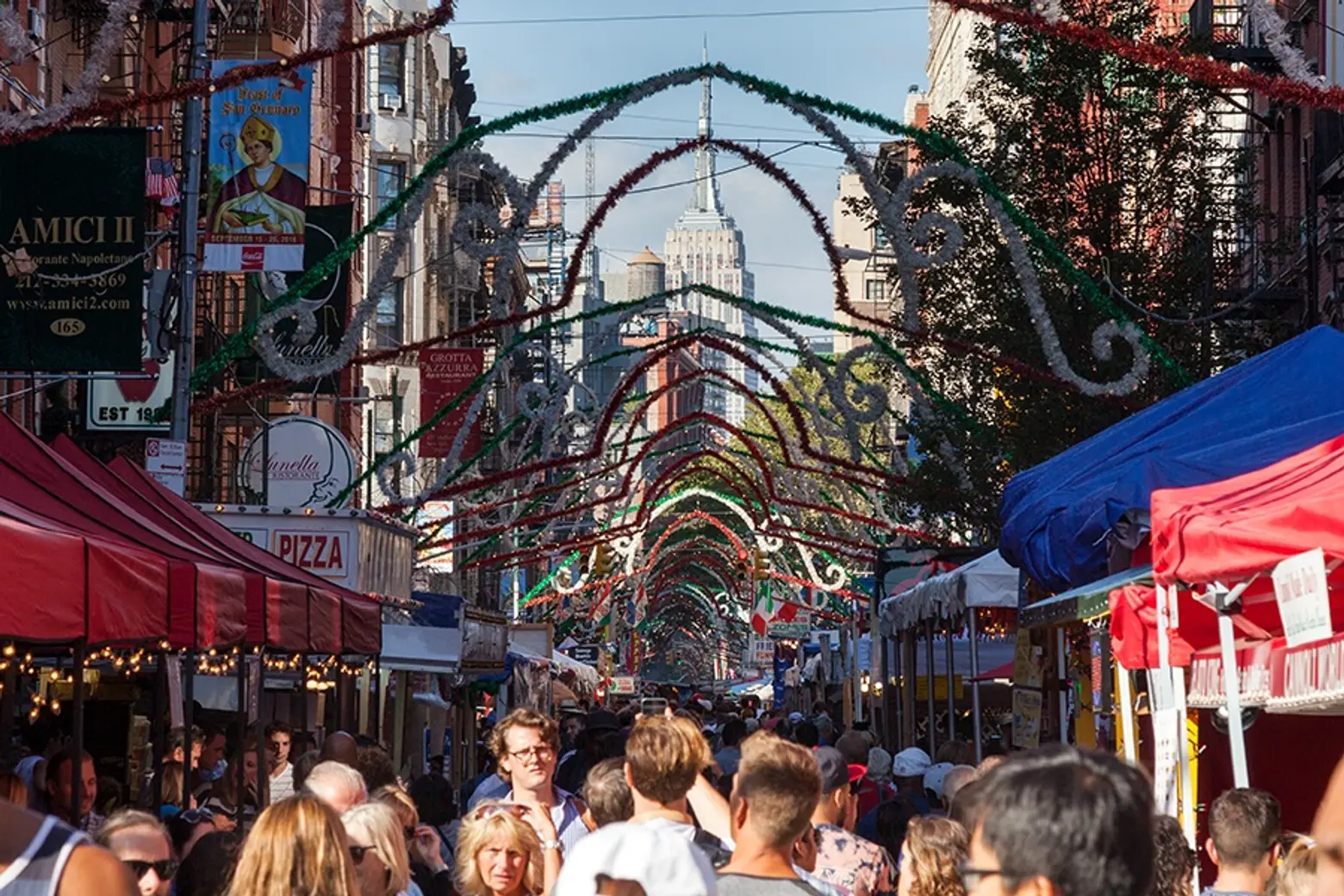 Want to explore the even for yourself? The hours of the Feast are from Sunday–Thursday, 11:30 am-11 pm; Friday and Saturday, 11:30 am-12 midnight.
+++ 

James and Karla Murray are husband-and-wife New York based professional photographers and authors. Their critically acclaimed books include Store Front: The Disappearing Face of New York, New York Nights, Store Front II- A History Preserved and Broken Windows-Graffiti NYC. The authors' landmark 2008 book, Store Front, was cited in Bookforum's Dec/Jan 2015 issue as one of the "Exemplary art books from the past two decades" and heralded as "One of the periods most successful New York books." New York Nights was the winner of the prestigious New York Society Library's 2012 New York City Book Award. James and Karla Murray's work has been exhibited widely in major institutions and galleries, including solo exhibitions at the Brooklyn Historical Society, Clic Gallery in New York City, and Fotogalerie Im Blauen Haus in Munich, Germany, and group shows at the New-York Historical Society and the Museum of Neon Art in Glendale, CA. Their photographs are included in the permanent collections of major institutions, including the Smithsonian Center for Folklife and Cultural Heritage, the New York Public Library, and NYU Langone Medical Center. James and Karla were awarded the 2015 Regina Kellerman Award by the Greenwich Village Society for Historic Preservation (GVSHP) in recognition of their significant contribution to the quality of life in Greenwich Village, the East Village, and NoHo. James and Karla live in the East Village of Manhattan with their dog Hudson.
All images © James and Karla Murray
RELATED: