10 places to find mooncakes in New York City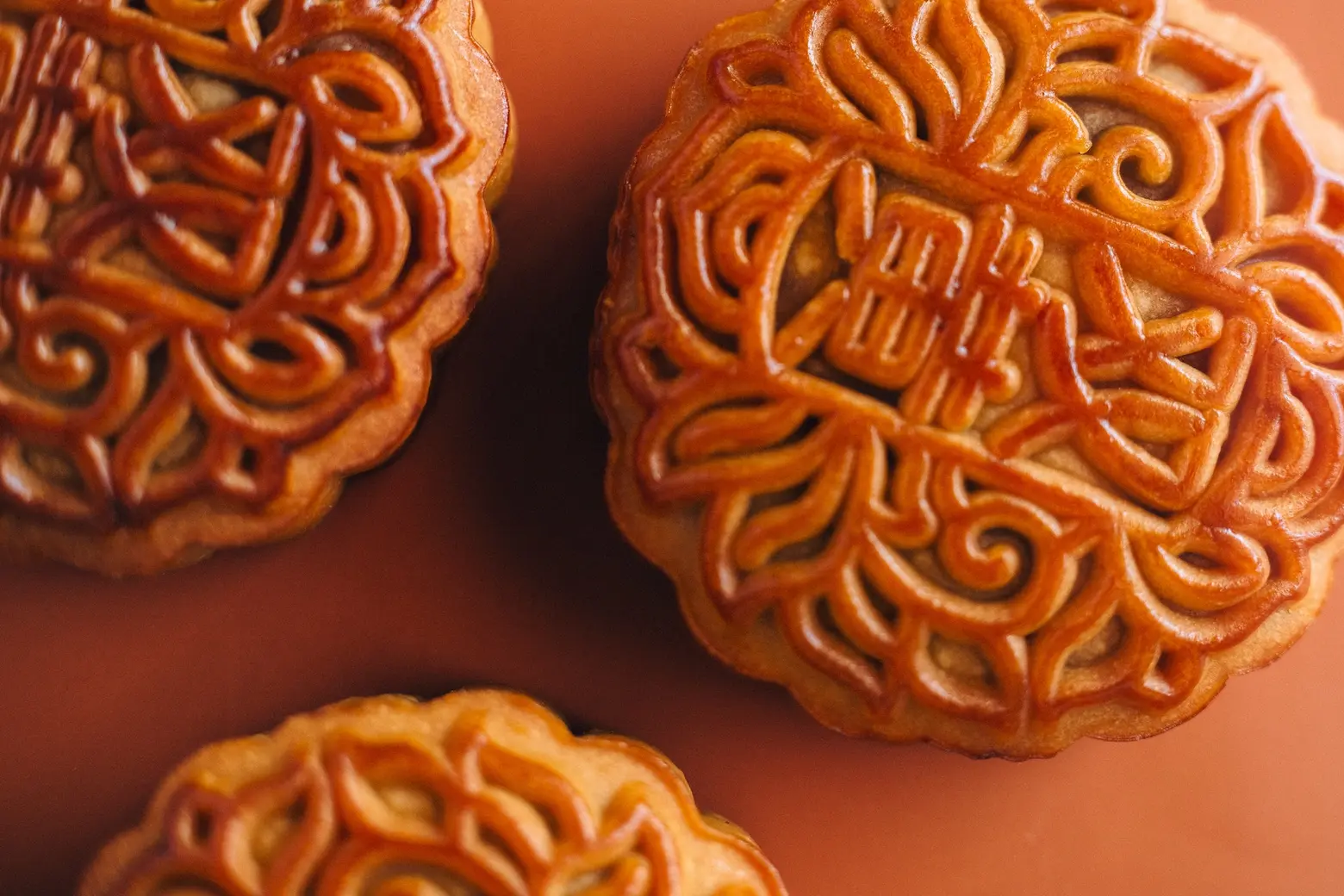 This year, the first day of the Mid-Autumn Festival falls on Friday, September 29. Also known as the Moon Festival or Mooncake Festival, the Asian holiday celebrates what is considered the brightest and fullest moon of the year, as well as the fall harvest. In China, where perhaps the holiday is most popular, it's similar to Thanksgiving, with families gathering for a meal, accompanied by lantern lighting. Symbolizing the harvest moon, the round-shaped mooncakes are another important component of the holiday. The pastries are traditionally filled with red bean or lotus seed paste and wrapped around a salted duck egg. They're then pressed into a mold to emboss the top of the pastry in detailed designs, which all have different meanings. Ahead, find a few of the best places in New York City to find all varieties of mooncakes, along with a few options for ordering online.
NYC locations
A special thanks to Welcome to Chinatown, for their Instagram post that helped us discover many of these local bakeries selling mooncakes.
Fay Da Bakery
What is arguably Chinatown's most iconic bakery is celebrating its 30th anniversary. Today, they have two Manhattan locations (Mott Street and 6th Avenue in the Village), 10 in Queens, and one in Connecticut. They're known for selling affordable, delicious Chinese staples like roast pork buns and egg tarts. For the Mid-Autumn Festival, their mooncakes are available in the following flavors: twin yolk white lotus; mixed nuts and egg yolk; Jujube and walnut; and red bean and egg yolk. They also offer a special "Lava Collection of colorful mooncakes with custard, matcha, durian, and orange fillings. You can buy these in the stores, or Fay Da is shipping boxes of them nationwide.
Taipan Bakery
With locations in Chinatown and Flushing, this Chinese bakery is known for its single-serving, super-fresh, not-too-sweet pastries. The pork bun and egg tart are very popular but don't miss out on the mooncakes.
Golden Fung Wong Bakery
This small Chinatown bakery sells mooncakes in lots of fun flavors like melon, pineapple, black sesame, coconut, and chestnut. While you're there, pick up some Hopia Black Bean Cakes, the rare treat for which they're famous.
Double Crispy Bakery
This Cantonese-style bakery in Chinatown is famous for its egg tarts, but around this time of year, you can also find mooncakes in store.
Go Believe Bakery
Serving up homemade Asian buns and pastries since 2012, this family-owned Chinatown bakery rolls out mooncakes each season.
Audrey Bakery and Cafe
This modern Chinatown bakery is loved for its tasty cake flavors, notably the green tea mango. Stop in this month to find mooncakes, too.
Nice One Bakery
In addition to mooncakes, this Chinatown bakery's pork buns get a lot of praise, as do their dim sum options.
Lucky King Bakery
You'll find all the Chinese standards at this Chinatown bakery and dim sum spot. In fact, their coffee tends to get good reviews, too. Which will taste great with a mooncake.
Bake Culture USA
With locations in Flushing, Chinatown, Long Island City, and Foxwoods Resort Casino, Bake Culture is primarily a Taiwanese bread bakery where "customers can learn about the origin and background of different types of bread." At all their shops, you can pick up a variety of flavors including red bean with egg yolk, lotus with egg yolk, sesame with sesame mochi, red bean with cranberries, taro with taro mochi, matcha with red bean mochi, chocolate chestnut, and pineapple.
Kitsby
This Williamsburg business is part dessert bar, and part seller of baking kits and mixes. For the Mid-Autumn Festival, they're taking pick-up orders for All-Star Mooncake Boxsets, which include four mooncakes. The boxes include one white lotus and salted egg mooncake, one black sesame mooncake, one black tea and salted egg mooncake, and one green tea and azuki beans mooncake.
Online ordering
Kee Wah Bakery
Kee Wah Bakery is a Hong Kong institution that's been around since 1938. They opened their U.S. store in Monterey Park, Los Angeles in 1958, but they also offer nationwide shipping. Kee Wah is best known for their Chinese bridal cakes and mooncakes, the latter of which they make more than 10 million a year, according to the New York Times. If you order them online, they'll be produced locally in one of their Hong Kong plants and arrive in a gorgeous decorative tin. Choose from date paste, golden or white lotus seed, yolk custard, mixed nuts and ham, low sugar, and more. You can even order from Kee Wah on Amazon.
Domi
This LA-based spot was actually founded in NYC in 2019 before making the move to the West Coast. Billed as a "modern, Asian-inspired dessert studio," their offerings look too good to eat, from gorgeous mirror cakes to their famous profiteroles. They also have a special Mooncake Gift Box that comes with four mooncakes: black sesame, red bean, red lotus, and jujube. The box is $55 plus shipping.
RELATED:
Editor's note: The original version of this article was published on September 16, 2021, and has since been updated.