10 iconic streets and spots in NYC open for outdoor dining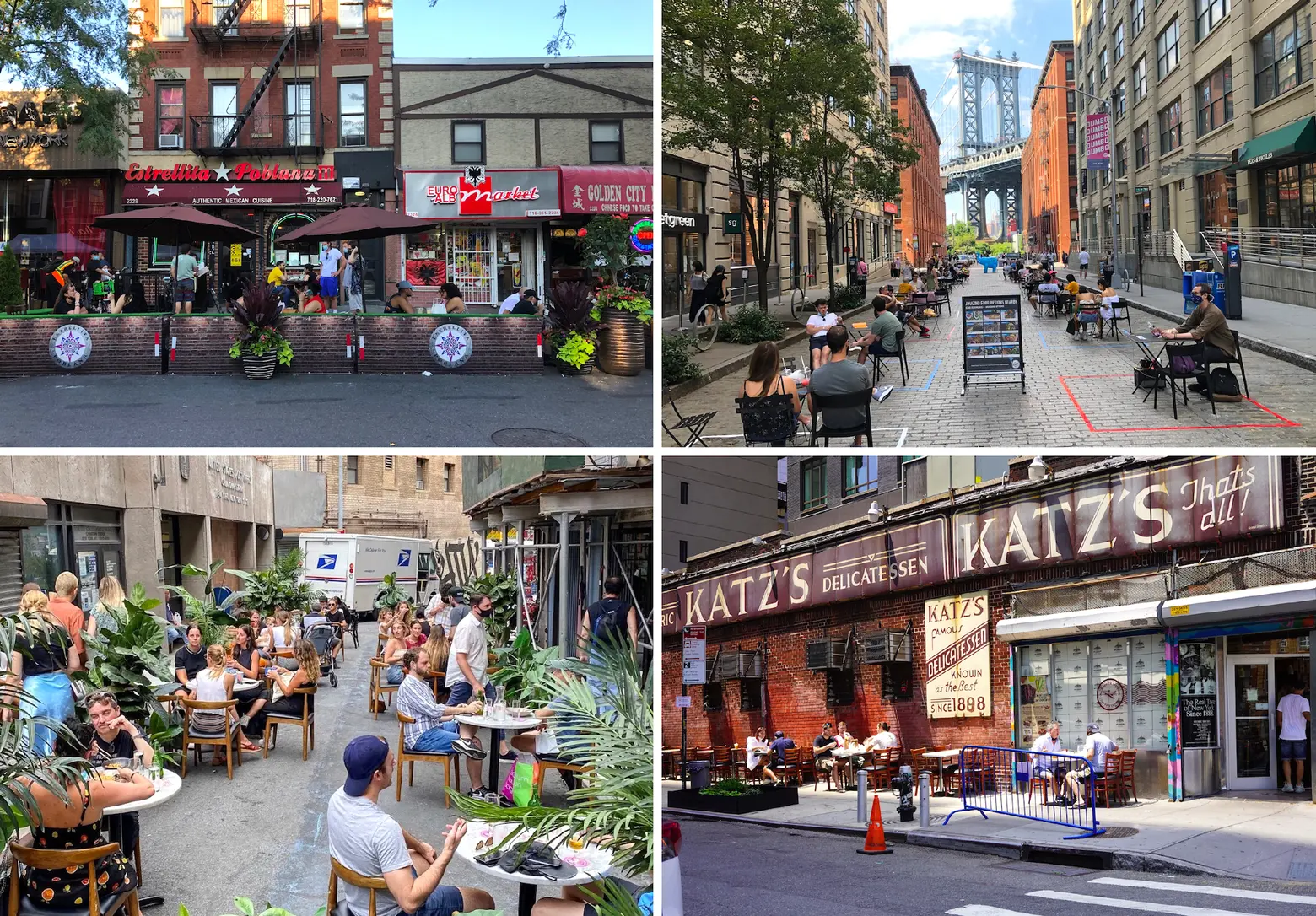 Since Mayor Bill de Blasio rolled out the open restaurants program last month, allowing eateries to serve diners on sidewalks and in adjacent parking spots, over 9,000 eateries have reopened for outdoor dining. Offering another lifeline to the struggling industry, especially now that indoor dining has been postponed indefinitely, the city has also closed more than 40 blocks to traffic for its weekend-only open streets dining program, overseen by community organizations and neighborhood Business Improvement Districts. With so many al fresco dining options available, we're rounding up the most iconic New York City streets and establishments now open for outdoor dining, from the most photographed block in Brooklyn and New York's oldest bar in Queens to open-air plazas with views of city landmarks.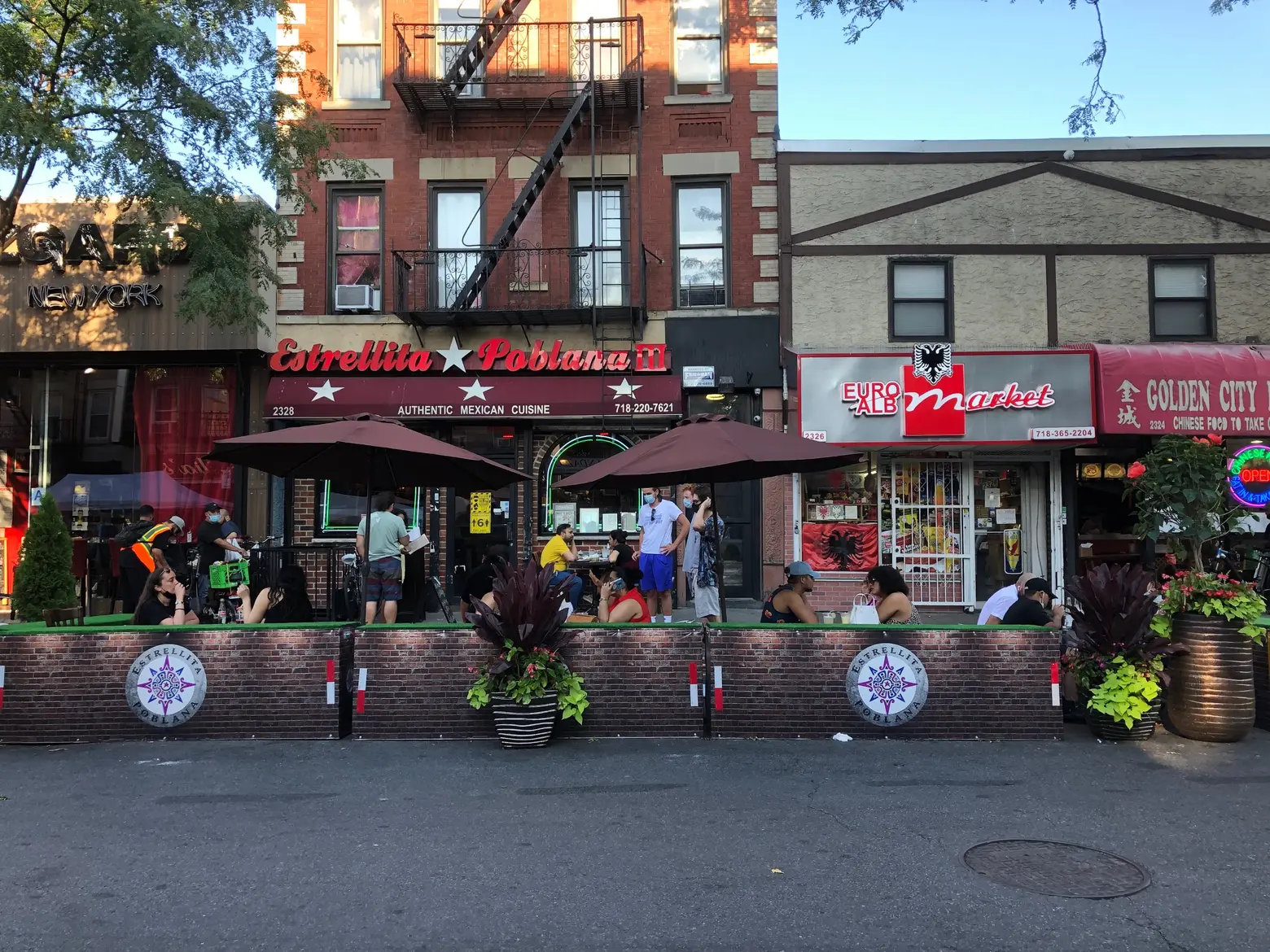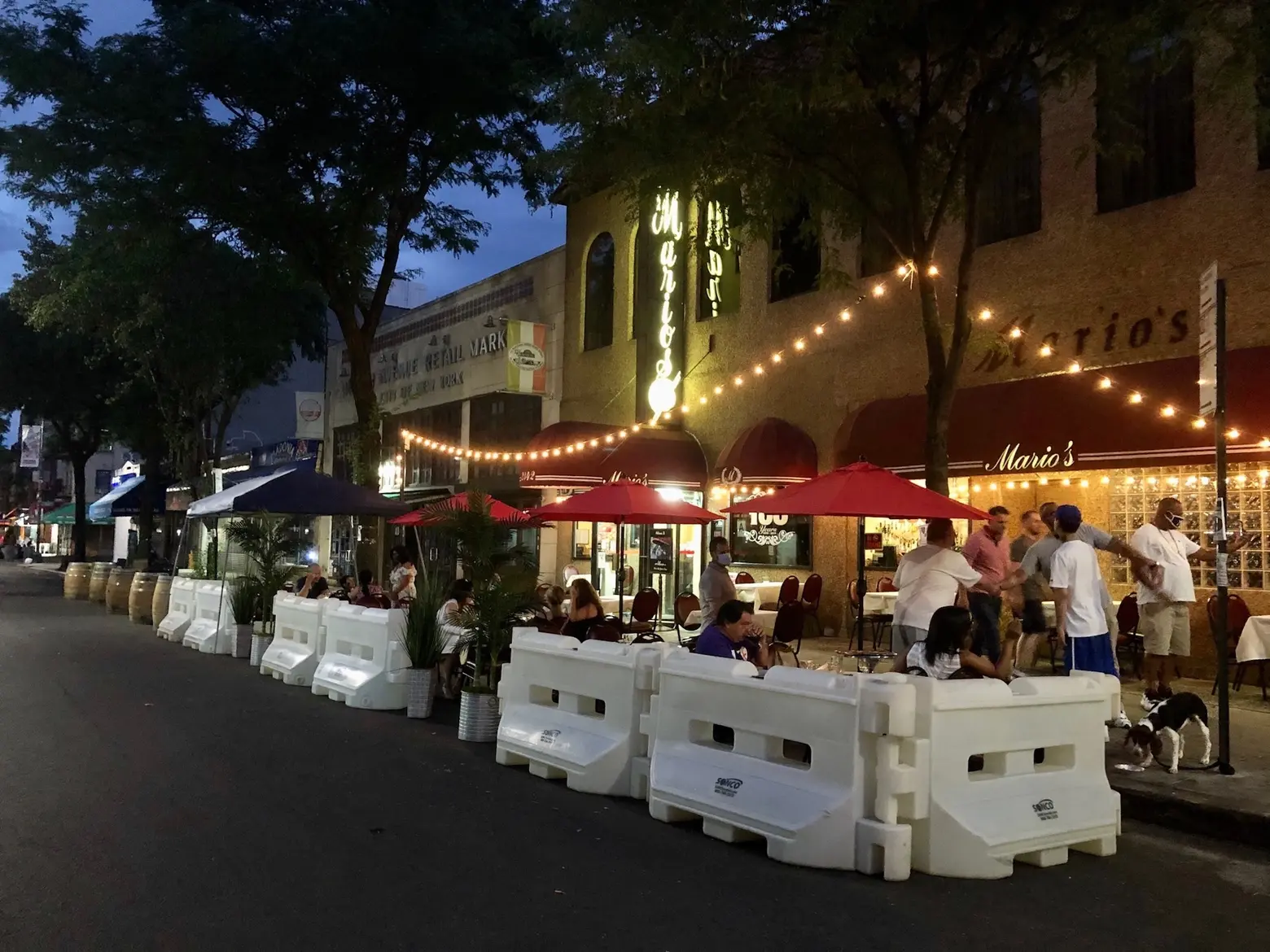 Photos courtesy of the Belmont Business Improvement District
1. Arthur Avenue
The heart of Little Italy in the Bronx has opened as "Piazza di Belmont," with more than 25 restaurants set up for outdoor dining on Arthur Avenue between East 188th and Crescent Avenue. Thursdays through Sundays, the historic strip of Italian eateries, bakeries, and specialty stores will serve weekend diners in a socially-distanced fashion on the street, with sidewalk seating available during the weekday. Some favorites participating in the program include Ann & Tony's, Antonio's Trattoria, Bronx Beer Hall, Emilia's Restaurant, Enzo's of Arthur Avenue, Mario's Restaurant, Mike's Deli, Zero Otto Nove, and more.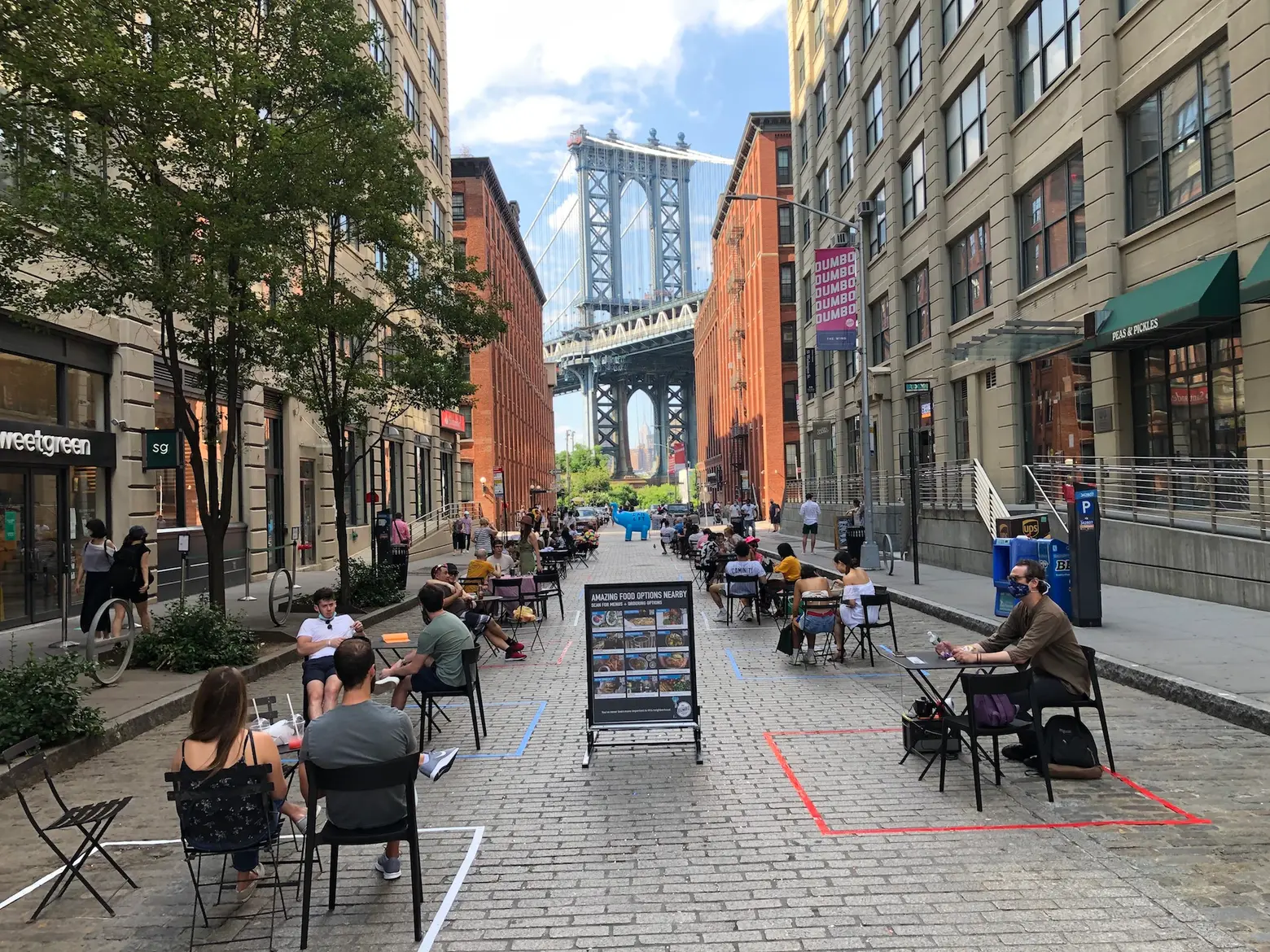 Photos of Washington Street and Main Street courtesy of the Dumbo Improvement District
2. Dumbo waterfront
For dinner with a view, head to the Brooklyn waterfront. In Dumbo, outdoor dining was expanded to several streets, including on Washington Street between Water and Front Streets, one of the most photographed blocks in the borough. Instead of elbowing tourists aside to get a great shot of the Manhattan Bridge, sit awhile and enjoy the view from a socially-distanced table. As part of the open restaurants on open streets program, the restaurants can take over the blocks on Friday nights and weekends only. Some restaurants open include Juliana's Pizza, Gran Electrica, OddFellows Ice Cream, Seamore's Seafood, Celestine, Front Street Pizza, Almar, Superfine, Los Tacos Al Pastor, and Archway Cafe.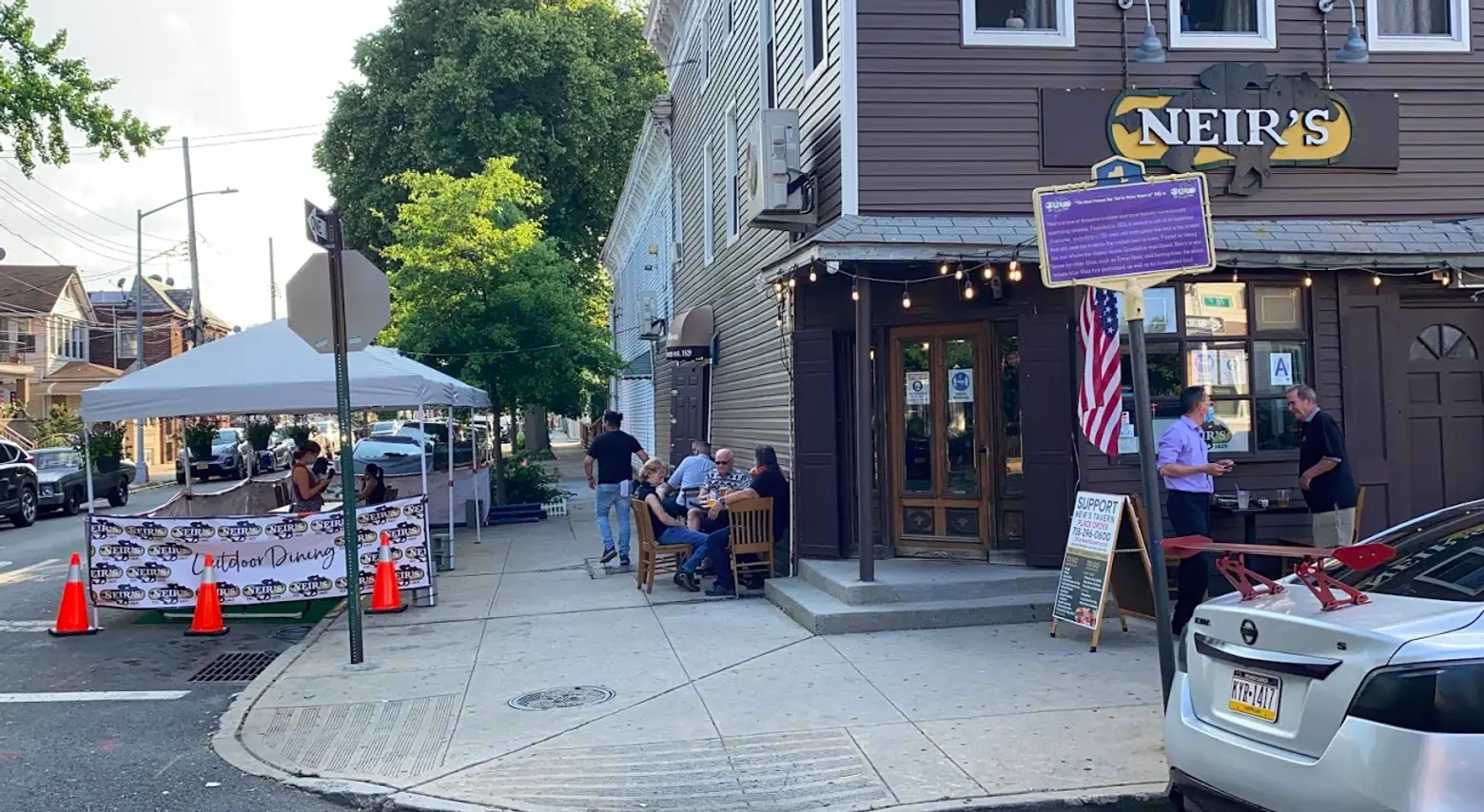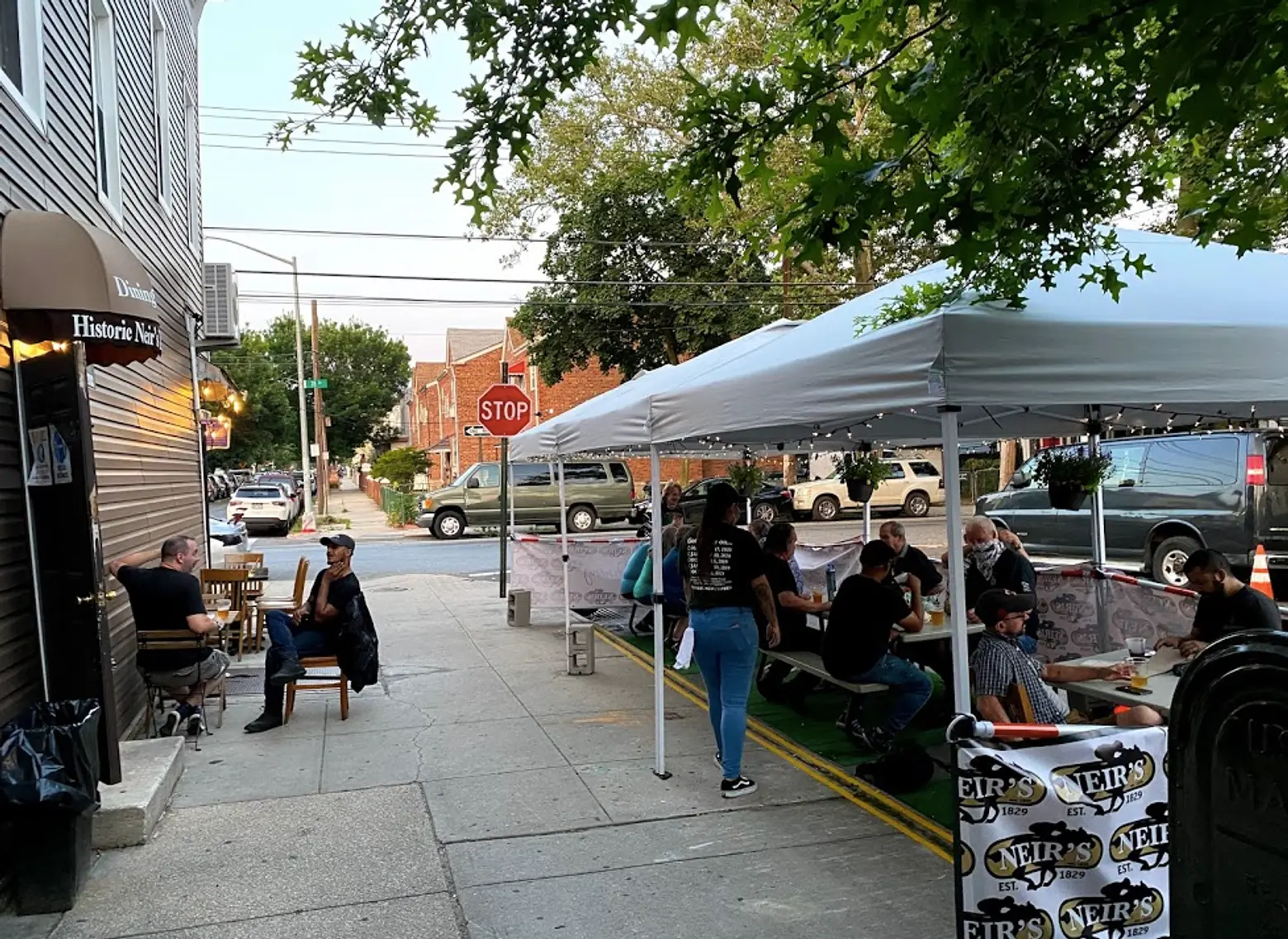 Photos courtesy of Neir's Tavern
3. Neir's Tavern
The city's "most famous bar you've never heard of" reopened for outdoor dining in Woodhaven earlier this month. Neir's Tavern, founded in 1829 and considered to be New York's oldest bar, is accepting reservations for curbside outdoor dining, with tables spaced six feet apart and protected from the elements with canopies. Enjoy burgers, wings, and brews outside of the historic watering hole Monday through Friday from 2 p.m. to 10 p.m. and Saturday and Sunday from 12 p.m. to 10 p.m.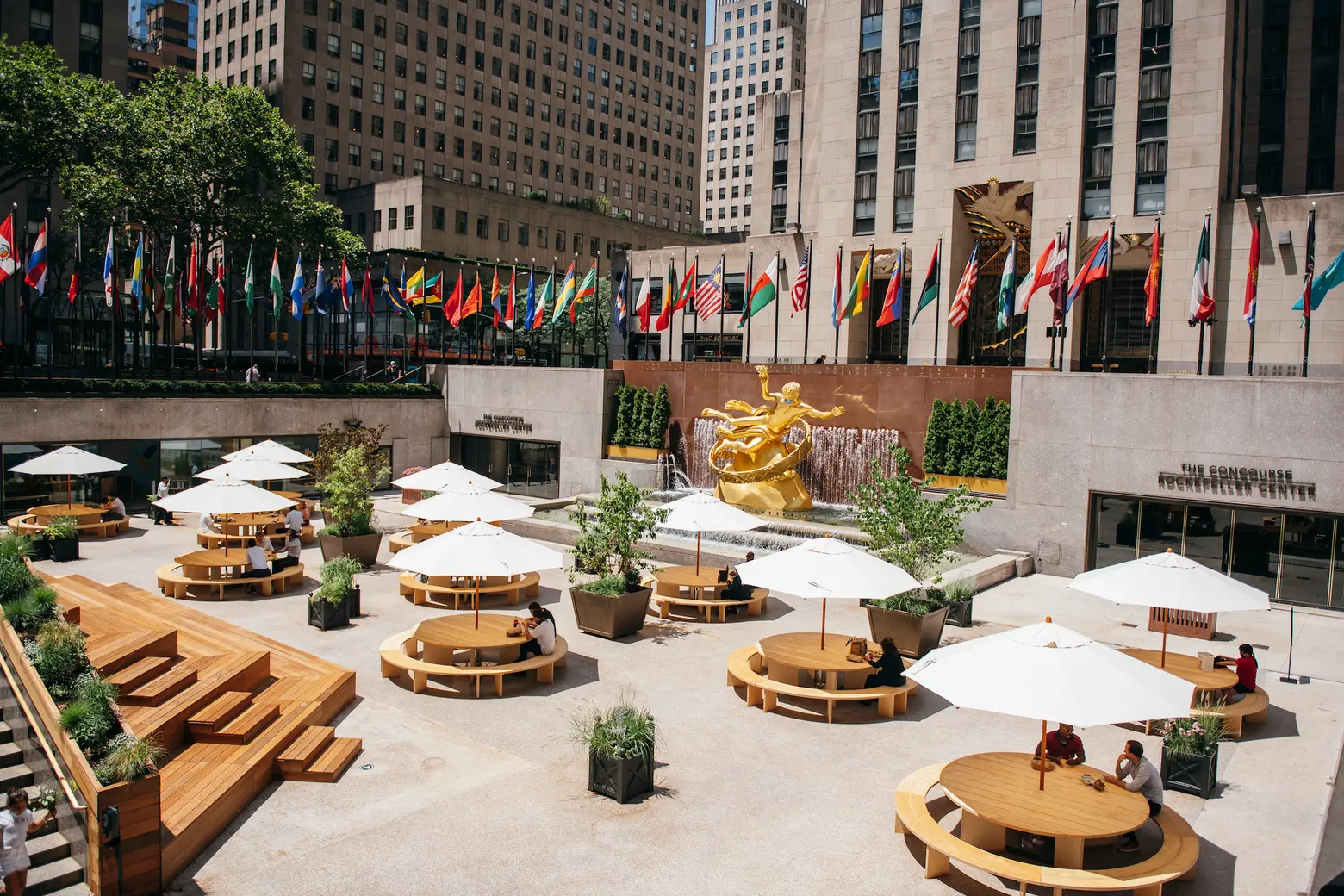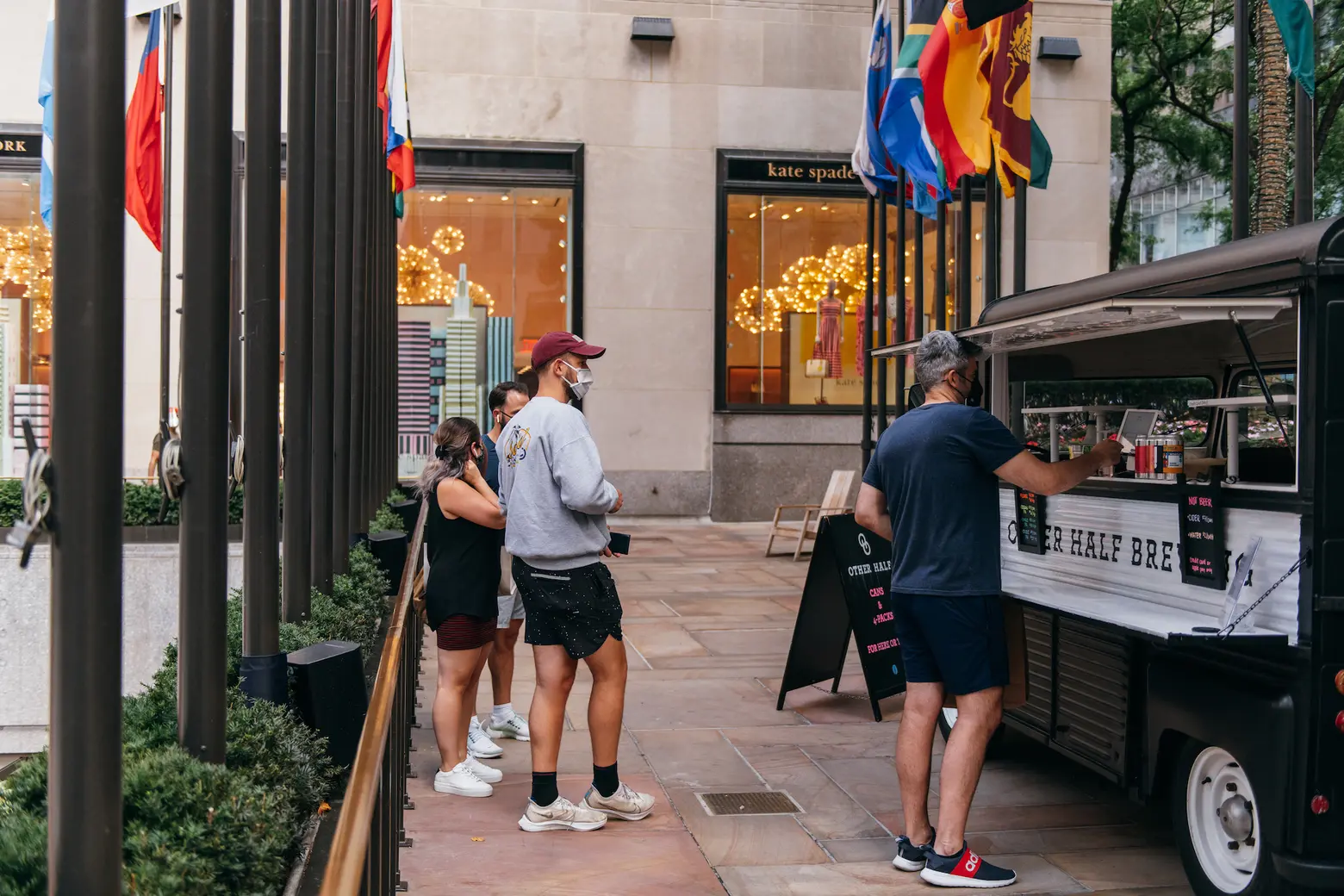 Photos courtesy of the Rockefeller Center
4. Rockefeller Center
Without the normal hordes of summer tourists crowding Rockefeller Center, now is the perfect time to view the Prometheus sculpture up close while enjoying the many food and beverage options offered at the iconic site. The Rink and Plaza have transformed into an outdoor dining oasis, with massive tables set up for social distancing. Vendors offering to-go bites and drinks include the Rainbow Room, City Winery, Alidoro, and Makina Cafe food truck.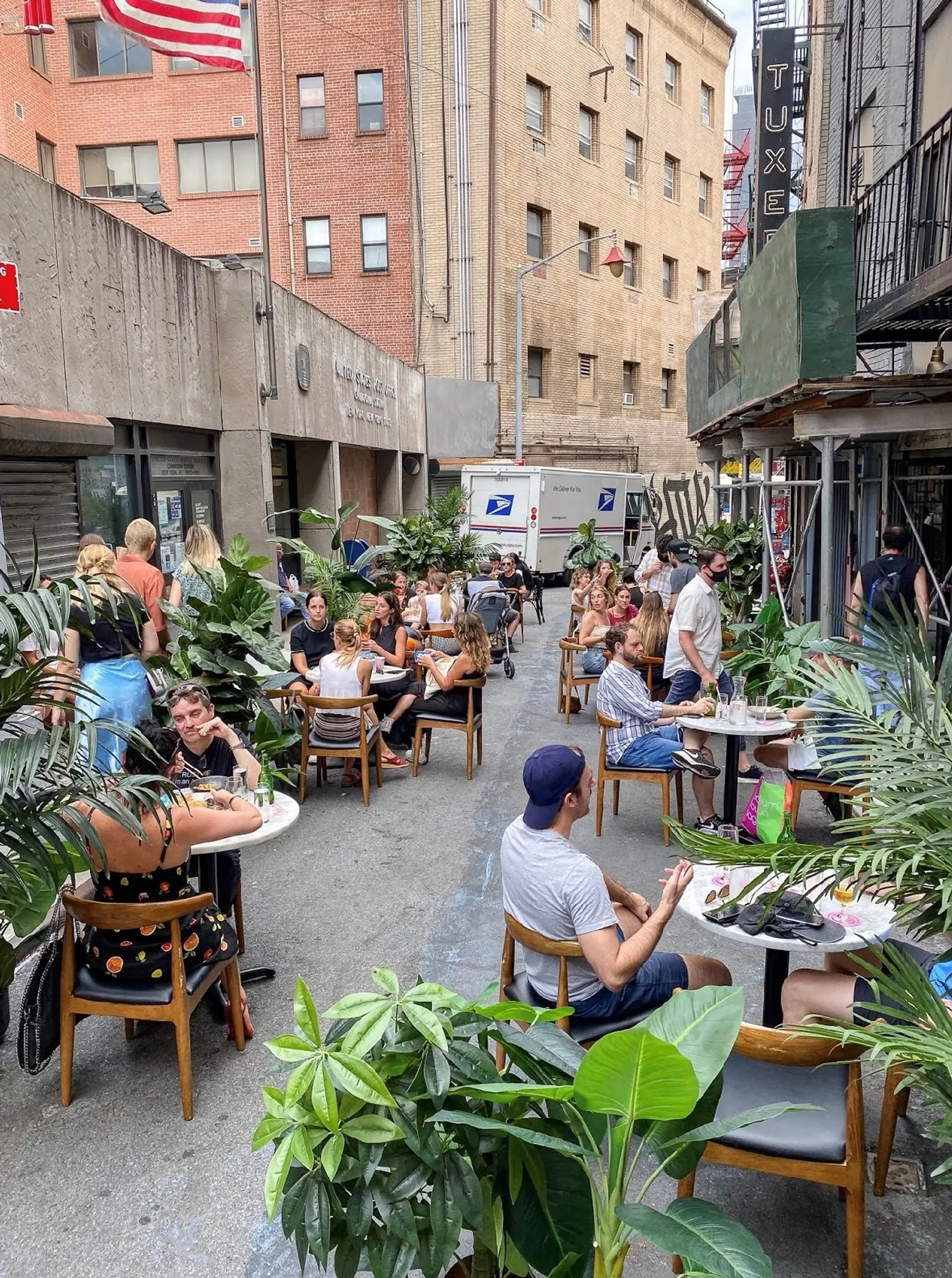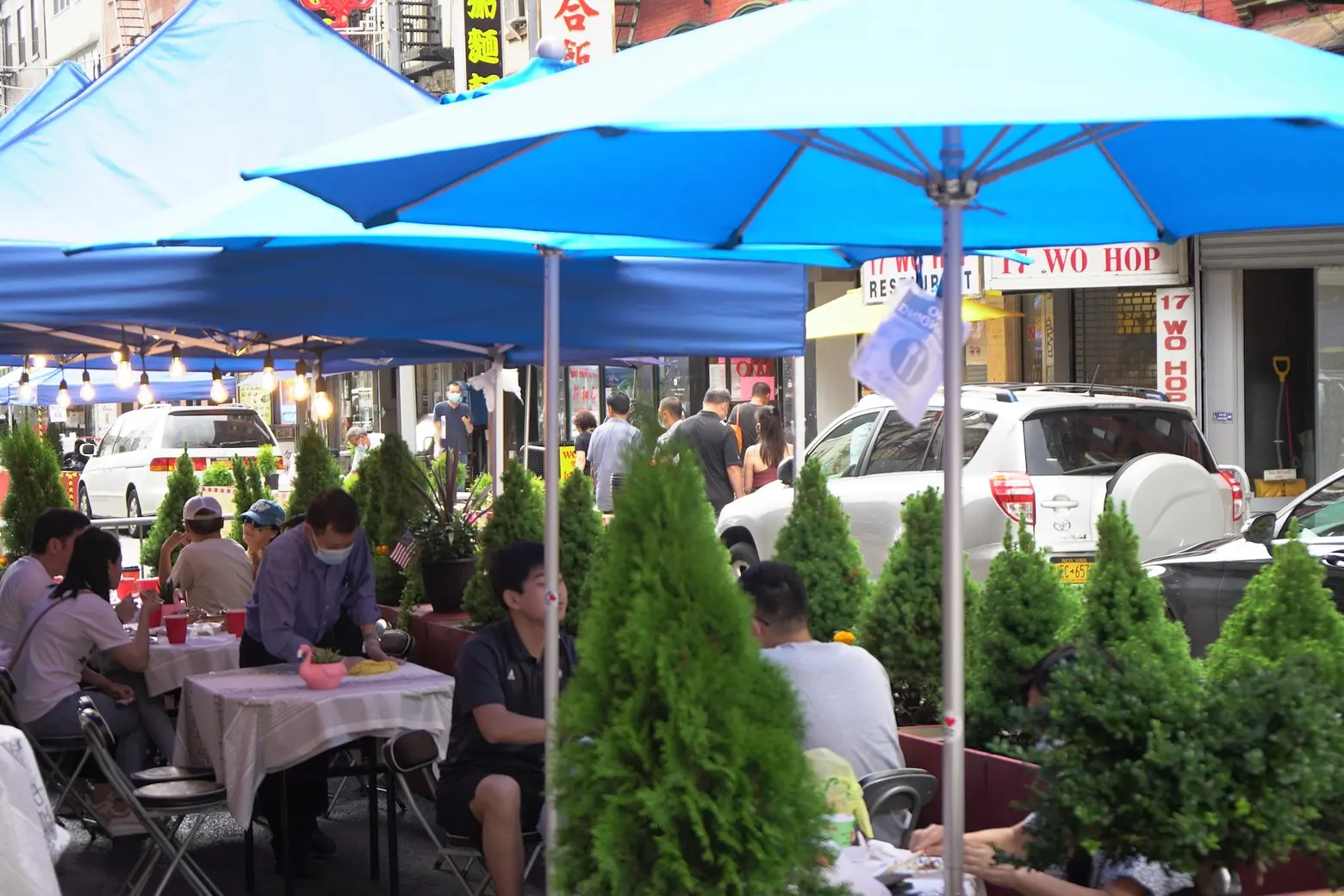 Photos courtesy of the Chinatown Partnership
5. Doyers Street and Motts Street, Chinatown
More than 60 restaurants have reopened for outdoor dining in Chinatown as part of the city's open restaurants program, including on historic, curvy Doyers Street on weekends. Don't miss an opportunity for al fresco dim sum from favorites Nom Wah Tea Parlor, the neighborhood's oldest restaurant, Jing Fong, which has shrunk its 800-seat dining room to a few tables curbside, and Wo Hop, an old-school basement shop known for its late-night service. Find a full list of open restaurants in Chinatown here.
6. Stone Street
The tiny cobblestone stretch of Stone Street, considered one of the oldest streets in New York City, has always offered a solid outdoor dining setup. And while many of the restaurants that dot the Financial District strip had to close in March because of the pandemic, many have reopened for outdoor dining, helping New Yorkers feel somewhat normal while enjoying bangers and mash from The Dubliner and barbeque and cocktails from Route 66 Smokehouse, all while maintaining six feet from others.
7. Mulberry Street
While the Feast of San Gennaro won't be taking place on Mulberry Street this year, you can still enjoy the best food Little Italy has to offer right in the street. Closed to cars from Broome Street to Hester Street, Mulberry Street now boasts additional curbside seating, adding to its popular existing sidewalk seating. The city this month also closed part of Hester Street, between Mulberry and Mott Streets. Some notable restaurants that have reopened for outdoor dining include Parm, Rubirosa, and Grotta Azzurra Ristorante. Photographers James and Karla Murray visited Mulberry and Mott Streets recently to see how the businesses are recovering in the aftermath of the coronavirus; watch it here.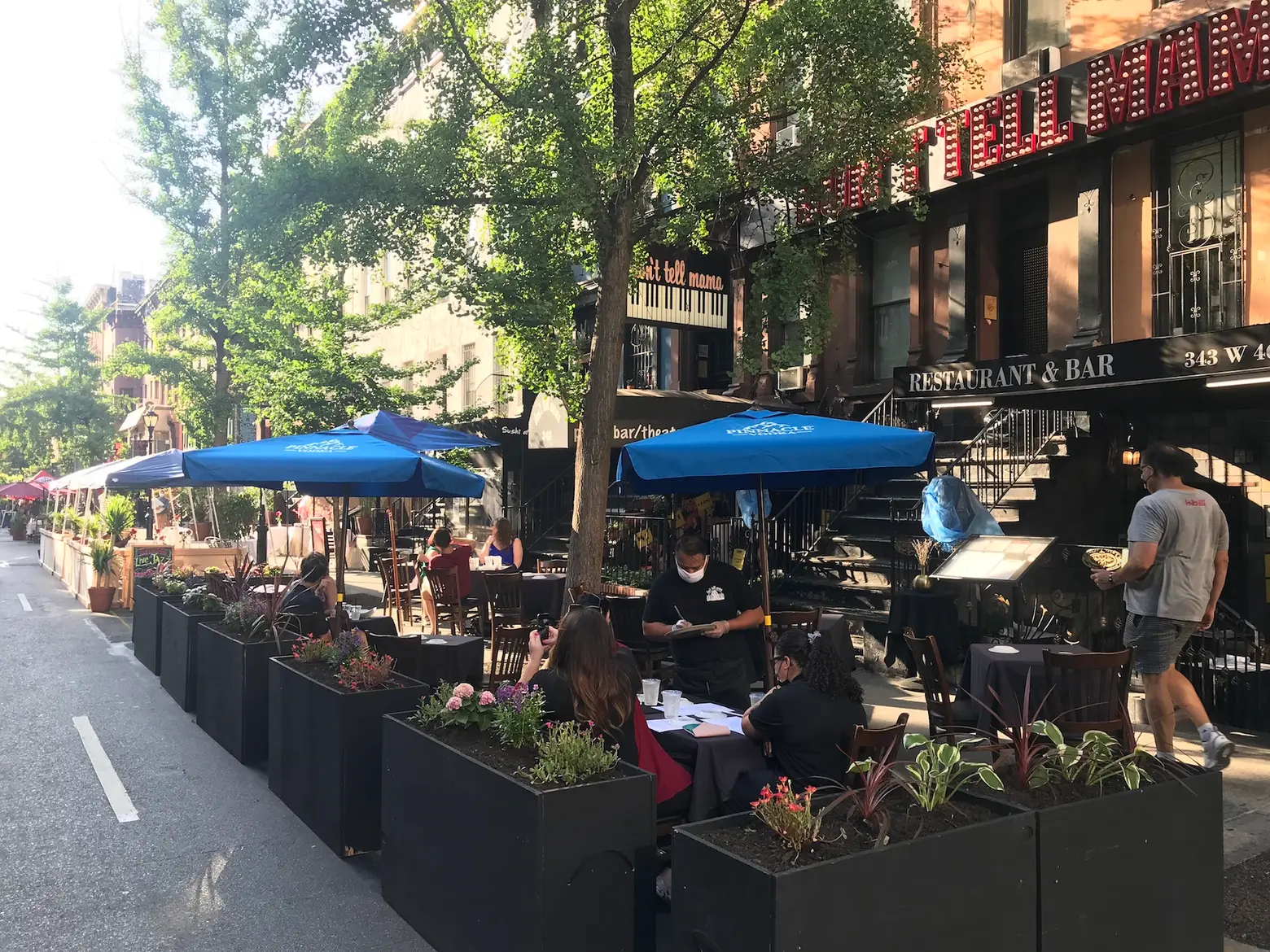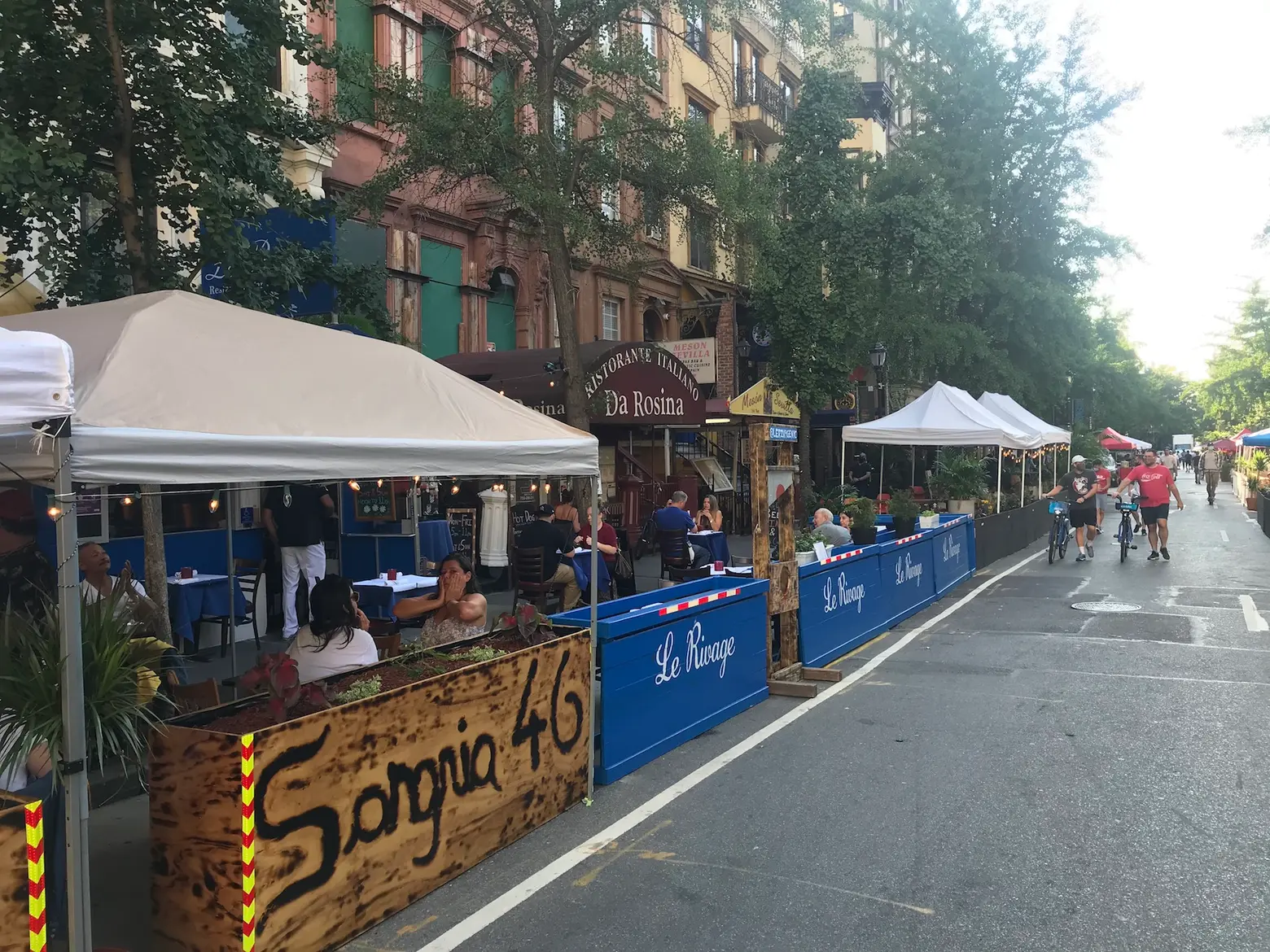 Photos courtesy of the Times Square Alliance
8. Times Square's Restaurant Row
While Manhattan's Theater District looks a little different without Broadway shows, Restaurant Row remains a destination for those in search of a good meal. More than two dozen restaurants in Times Square have set up curbside seating, with a number of establishments on West 46th participating in the open restaurants program with street seating available on the weekend. Sangria 46, Hold Fast Kitchen & Spirits, and an outdoor piano bar at Don't Tell Mama have all reopened on Restaurant Row.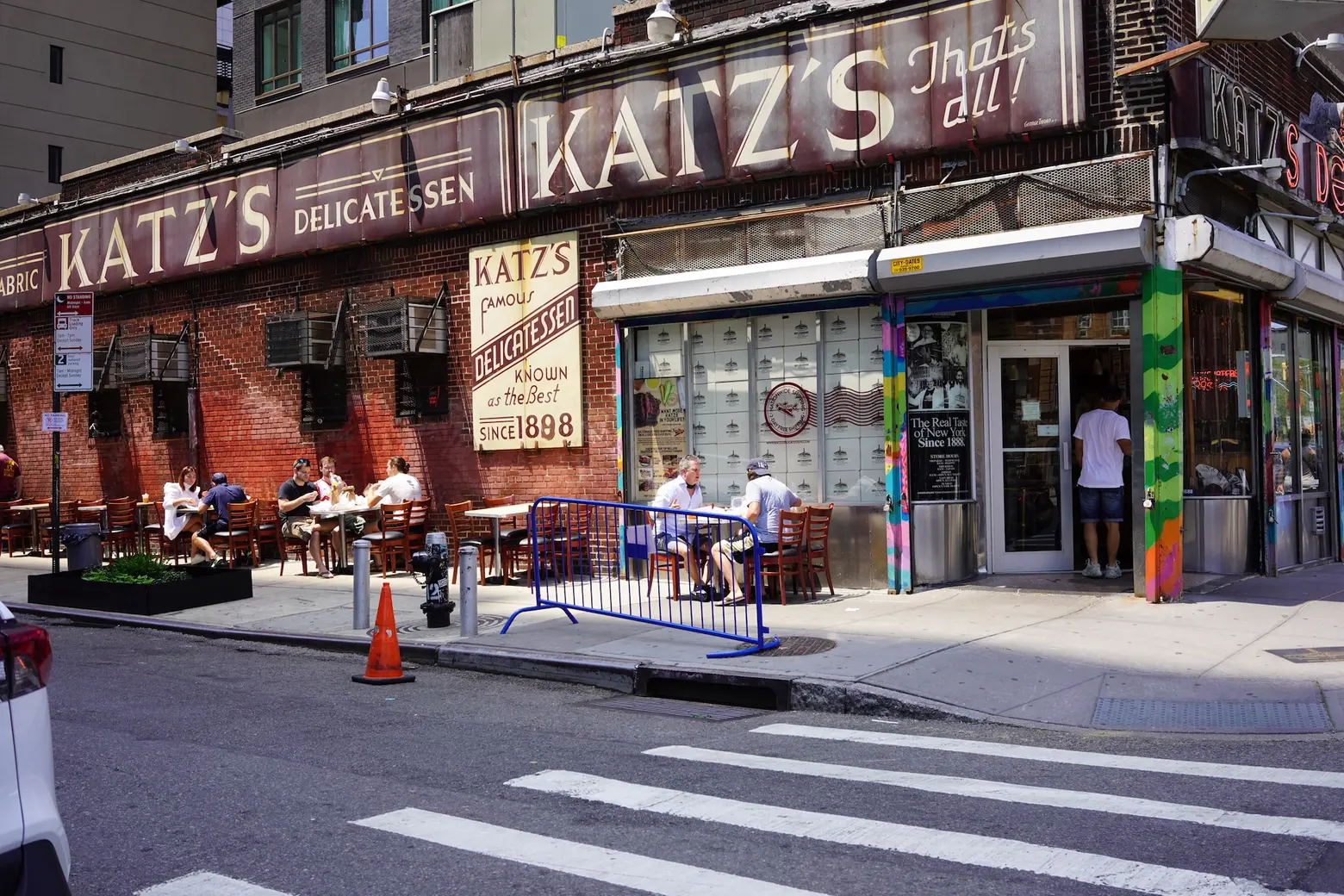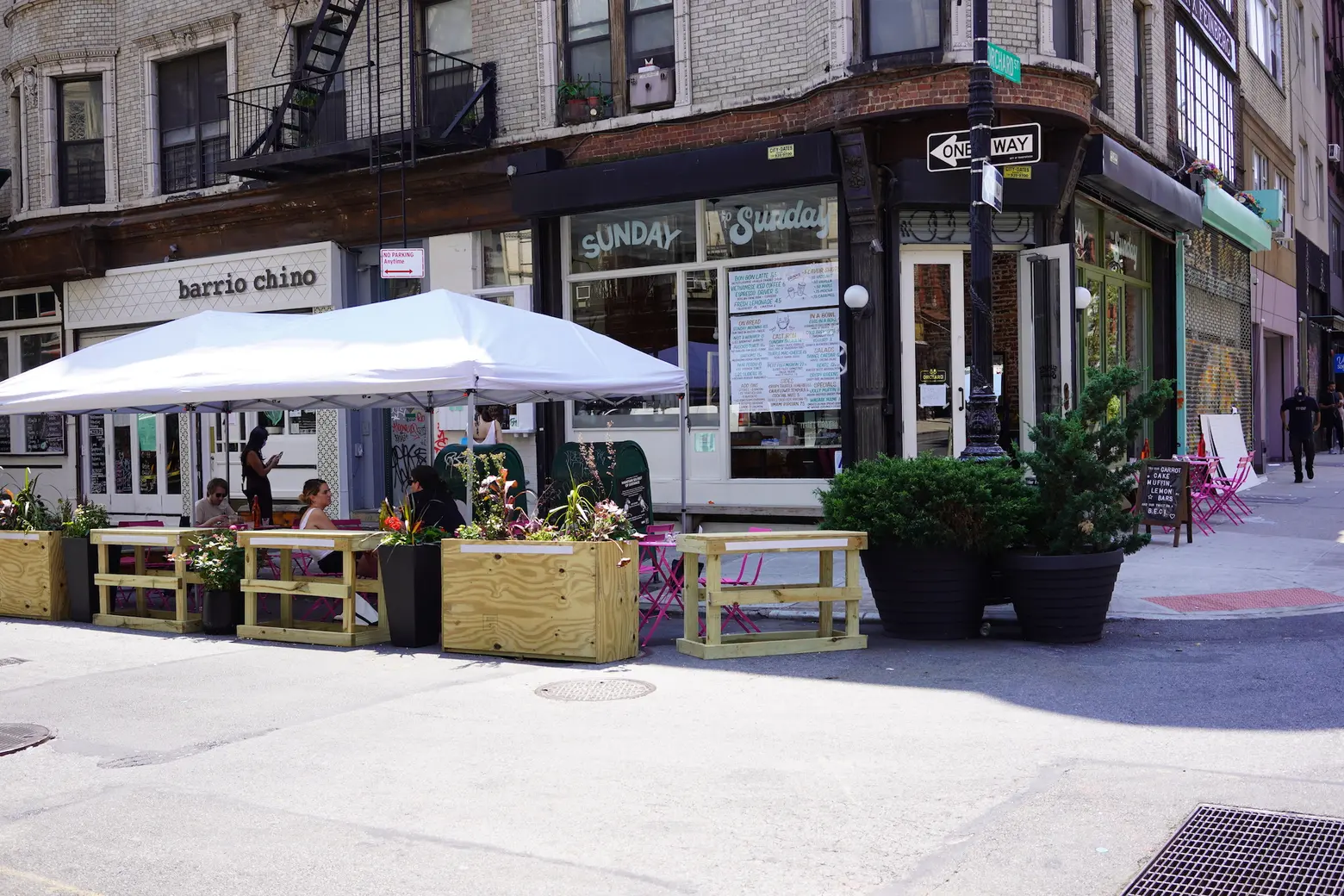 Photos courtesy of the Lower East Side Partnership
9. Katz's Deli, Lower East Side
Pastrami sandwich anyone? For the first time in its 132-year-history, Katz's Deli is offering outdoor seating. Located on the Lower East Side, the legendary deli has set up spaced-out tables alongside the building on Ludlow Street. While Katz's has been open for takeout and delivery throughout the crisis, nothing beats a fresh sandwich.
Nearby Broome Street from Ludlow Street to Allen Street is currently closed to cars during the weekend for restaurants to set up outdoor seating. Some local favorites include the cafe Sunday to Sunday, Mexican eatery Barrio Chino, and neighborhood cocktail bar Devon.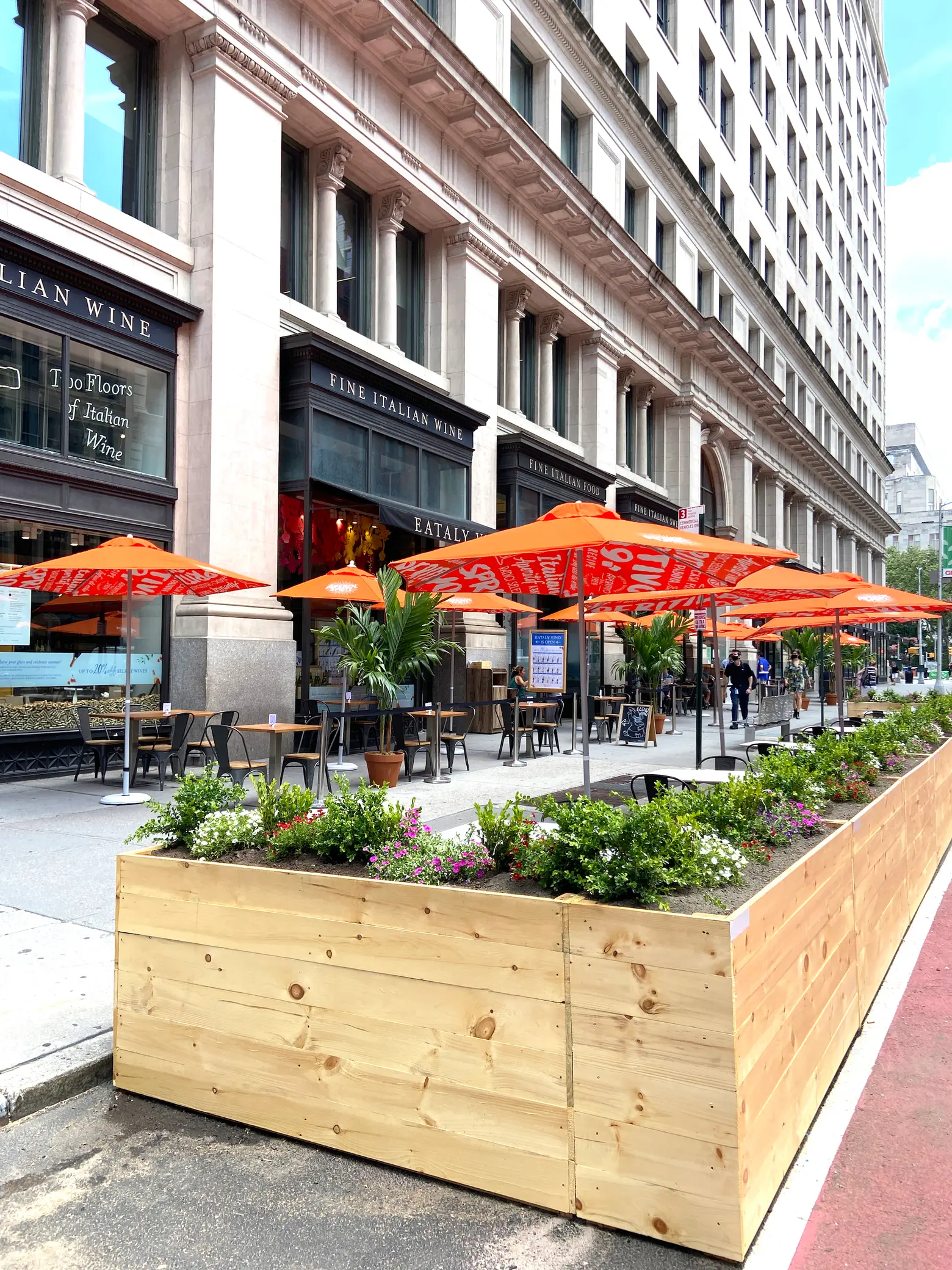 il Patio di Eataly- La Costa courtesy of Eataly
10. Flatiron District
For over a month, hundreds of restaurants in the Flatiron District and Nomad have taken advantage of the open restaurants program with new outdoor seating in and around Madison Square Park. In the most recent expansion of open streets dining, the city and the Flatiron/23rd Street Partnership have closed Broadway from 25th to 28th Street, West 22nd Street from Sixth Avenue to Fifth Avenue, and East 20th Street from Broadway to Park Avenue South for weekend dining.
Notable establishments open in the area include La Pecora Bianca, Cote Korean Steakhouse, and Eataly Flatiron's il Patio di Eataly- La Costa, which next week will offer a L'Aperitivo Regionale, a weekly stand-alone menu of wines and seasonal dishes from a specific region in Italy. And for the best views of the iconic Flatiron Building, check out the Flatiron Plaza, where the tables, chairs, and umbrellas have returned in front of the landmarked skyscraper.
RELATED: