150 NYC restaurants with outdoor dining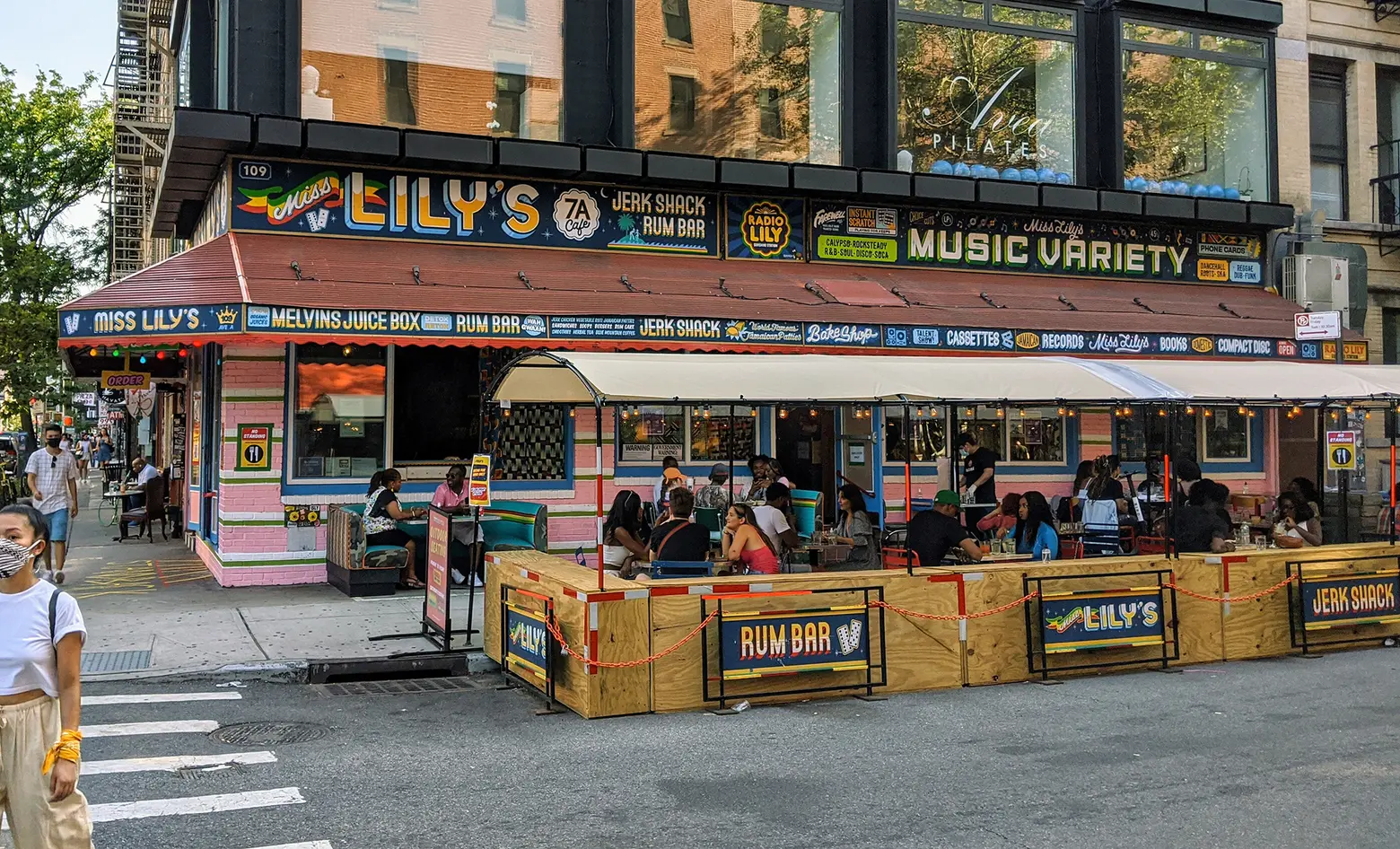 With outdoor dining in New York City extended through October, there are countless spots to dine al fresco, with restaurants able to set up seating on sidewalks, adjacent parking spots, rooftops, and gardens. To help you decide where to eat first, we've begun compiling a list of some of the best restaurants offering outdoor dining, neighborhood by neighborhood. This is by no means an exhaustive list, so we hope that you, our readers, will share more restaurants with us that we can add to this list.
Manhattan
Harlem
Melba's 
Popular southern comfort food restaurant Melba's made headlines this week when they debuted their David Rockwell-designed outdoor seating, which coincided with a visit from the Mayor. Another reason you'll feel good visiting–owner Melba Wilson has helped countless NYC restaurants over the past few months as president of the NYC Hospitality Alliance.
Harlem Tavern
This neighborhood bar and restaurant has been donating countless meals in partnership with World Central Kitchen, and now that their huge patio is open for outdoor dining, there's plenty of chances for us to give back to them. It's first-come, first-serve, and they're open Sunday-Thursday from 12pm to 10pm and Friday- Saturday from 12pm to 12am.
Baylander Steel Beach
Just off the West Harlem Piers at 125th Street, a former aircraft carrier has been transformed into a fun, new restaurant and bar.
Upper West Side
Harvest Kitchen
This sunny spot on Columbus Avenue has built a lovely outdoor patio in the parking spots adjacent. The restaurant was created by "neighborhood parents, chefs, nutritionists, and food lovers."
Sido Falafel & More
Perfect for an inexpensive but delicious meal, this Middle Eastern neighborhood favorite also has set up seating at the curb.
Cafe Luxembourg
This classic French-American bistro has turned the parking spots out front into a picturesque outdoor dining area.
Cafe Fiorello
Since 1974, this Italian favorite across from Lincoln Center has been a favorite for outdoor dining, and this summer is no different. Open daily from 12pm-9pm, enjoy all the classics, along with Cafe Fiorello's famous antipasto bar. 

Tiki Chick
This retro tiki bar has a standing outdoor bar where you can drink all the frozen cocktails while watching the hustle and bustle of Amsterdam Avenue.
Jacob's Pickles
The most "downtown" place on the Upper West Side, Jacob's Pickles typically has a bustling sidewalk cafe, full of folks enjoying fried chicken, fried pickles, and a cold beer. Because the place gets so packed, it's reservation-only and those are limited to one hour.
Maison Pickle
Jacob's next-door sister restaurant is also offering sidewalk seating, where they're serving their famous French dips and cocktails.
Cotta
For some delicious and reasonably priced pizza and pasta, Cotta has a lovely outdoor dining setup with both sidewalk and parking spot seating.
The Viand 
On the corner of Columbus and 75th, this Upper West Side mainstay has tons of spacious outdoor seating, some of which feature plastic barriers for added security.
Vin Sur Vingt
Unfortunately, most of this mini wine bar chain's locations remain closed, but their two UWS spots–one on 84th Street and one on Riverside–are open for outdoor dining, including daytime happy hour specials.
Jing Fong
Dim Sum spot Jing Fong, the city's largest Chinese restaurant, closed its doors in March after 48 years, but they've reopened with a very spacious outdoor patio (as has their Chinatown location).
Parm
If Carbone is too much of a splurge or a wait, head over to the restaurant group's more casual spot Parm (and please, do order the chicken parm). The Columbus Avenue location is accepting reservations (Little Italy is walk-in only).
La Boite en Bois
This quaint French bistro has been tucked into an Upper West Side side street since 1985 (its exterior often makes a cameo in Seinfeld), and their outdoor dining setup is just as romantic as inside.
Santa Fe
Popular Southwestern spot Santa Fe is still full of locals having a great time. For extra precaution, chips and salsa are pre-packaged, and meals are served on disposable plates. But don't worry, the margaritas are just as strong.
Upper East Side
Boqueria
Spanish tapas bar Boqueria has opened its outdoor patio from 4pm-9pm daily; reservations are recommended.
Felice 83 and Felice 63
Wine bar Felice is taking reservations for sidewalk seating at both of its Upper East Side locations. The restaurant is connected to its own vineyard in Tuscany, so be sure to try one of these three wines–Felice Bianco, Rosso, and Rosato.
Uva
Often rated the best spot on the UES for dates, Uva is also known for its romantic backyard garden. This outdoor space is now open, as is an expanded set of sidewalk seating. It's first-come-first-serve, so make sure you reserve some time to wait for your pasta.
Sfoglia
Many will tell you this is the best Italian spot in the neighborhood. If you want to see for yourself, Sfoglia is open for outdoor dining every day from 5-9:30pm.
Hell's Kitchen
Casa Del Toro
This Mexican restaurant and cocktail bar has both sidewalk seating and a backyard patio where you can enjoy tacos starting at $4 and an array of margaritas.
Gotham West Market
Since it's a bit off the beaten path, this food hall tends to get less packed than others. They've now set up an outdoor patio where you can enjoy your food from places like Corner Slice pizza, Dell'anima, La Palapa, Don Wagyu, and Sushi on Jones.
Cantina Rooftop
Head to this rooftop Mexican restaurant and dine under a canopy of multicolored, floating umbrellas. It's reservation-only, and there will be live music by DJ Javi.
Midtown
Haven Rooftop
Atop the Sanctuary Hotel on West 47th Street, enjoy a bite to eat and a summer cocktail.
Jams
Just one block south of Central Park on Sixth Avenue at the 1 Hotel Central Park, Jonathan Waxman's Jams restaurant has brought its seasonal, farm-to-table cuisine to an outdoor patio.
Nerai
Enjoy Greek island cuisine at one of eight outdoor seats currently available for lunch and dinner. On Monday, June 29th, Nerai will debut an expansive new courtyard.
Boqueria
Spanish tapas bar Boqueria has opened its outdoor patio from 4pm-9pm daily; reservations are recommended.
Magic Hour rooftop at Moxy Times Square
The largest all-season indoor/outdoor hotel rooftop lounge in NYC has reopened to the public serving food and drinks.
Sushi Lab
As of July 1, Sushi Lab is opening its rooftop space at The Sanctuary Hotel. With room for 30 guests, they'll offer omakase and a la carte options.
MakiMaki
At their location on 6th Avenue just south of Central Park, fast-casual sushi bar MakiMaki has a covered patio where you can enjoy their sushi rolls that are made with state-of-the-art robotics.
Benjamin Prime
Nothing says Midtown like a good steak, and Benjamin Prime just opened up its 40-seat outdoor patio.
Chelsea
Loulou Petit Bistro & Speakeasy
This cute Chelsea spot has 15 tables for dining al fresco, serving up bistro classics like Steak Frites.
Catch Steak
Catch Steak and Catch NYC have combined to offer three outdoor spaces and one killer surf-and-turf menu. Enjoy the raw bar, sushi, hot seafood, and steaks ranging from a truffle butter filet to a New York strip.
Union Square/Flatiron
abc kitchen, abcV, and abc cocina
All three abc restaurants have set up an outdoor patio with a limited-time curated menu. The patio is open Tuesday through Saturday from 4-9pm; reservations are encouraged but not required.
Rezdôra
Popular pasta-centric Italian restaurant Rezdôra is accepting reservations for its outdoor seating. The menu includes classics like "Grandma Walking Through The Forest" and Gnocco Fritto, as well as new dishes like the Buratta Peperone and the Tagliolini "paglia e fieno."
Serra Fiorita by Birreria
Eataly's rooftop restaurant has been transformed into a flowering greenhouse with a seasonal menu and build-your-own gin drinks.
La Pecora Bianca
In pre-pandemic times, this was a great spot for a work lunch, but even if you're working from home, it's still a lovely place to sit outside and enjoy a glass of wine and an Italian sandwich.
Nomad
Scarpetta
Located at the James New York Hotel, this upscale Italian restaurant has partnered with cult rose wine brand Whispering Angel for its outdoor dining garden café, which is decorated with Mediterranean-inspired flowers, trees, and ivy.
Gramercy/Murry Hill
Broken Shaker
This super trendy rooftop cocktail bar at the Freehand hotel is back open for walk-ins Wednesday through Sunday from 3-11pm. There will be more than half the usual capacity, and temperatures are being taken, but you'll still get the same tropical drinks.
Hole in the Wall
With 15 outdoor seats, you can relax in the courtyard and nosh on a breaky roll or crispy pork belly and sip a jalapeno bloody mary or a blood orange negroni. Outdoor dining hours are Thursday through Sunday from 3pm-8pm and reservations can be made through Yelp.
Macchina
This Italian restaurant and wine bar has a burrata pizza (enough said, right?). They also have a full menu available outside.
Greenwich Village/Meatpacking

Pastis
Meatpacking classic Pastis is open for outdoor dining, but it won't be easy snagging a table. You can make reservations up to a week in advance through Resy or by phone.
White Horse Tavern
This historic bar set up sidewalk seating before it was technically legal, but now you can grab a drink on the up-and-up.
Bubby's
Though the High Line park is still closed, adjacent spot Bubby's has reopened their outdoor patio. Enjoy their popular pancakes and a mimosa at brunch.
Dante
This cafe, serving small plates and cocktails, has been around since 1915, and they're not going anywhere. You can now make reservations online for their sidewalk seating. You'll also like to know that they've delivered over 5,000 meals to local hospitals.
Boucherie
This uber-trendy French spot doesn't come cheap, but if you're in the mood for foie gras or one of their dry-aged steaks, there's sidewalk seating all along their long Seventh Avenue South storefront.
Extra Virgin
Owned by black restauranteur Michele Gaton, this neighborhood gem has been serving up creative Italian, French, and Mediterranean food for 16 years. Their intimate outdoor setup–24 seats with little trees between each table–is perfect for enjoying their truffled mushroom asparagus turkey burger, banana French toast, or house special spicy margarita.
Don Angie
Lovely corner Italian bistro Don Angie has both reservations and walk-ins, so everyone has a shot to feast on dishes like stuffed garlic flatbread, BBQ calamari, sourdough pasta cacciatore, and shell steam al limone.
Carbone
Arguably the city's most popular Italian-American restaurant, Carbone's outdoor dining program is giving those who were never able to snag a table a fighting chance, as you can only reserve two days in advance.
Old Homestead
The 152-year-old steakhouse shuttered in March, but they're back this month with outdoor seating.
Soho
Miss Lily's 
"Caribbean oasis" Miss Lily's is offering outdoor seating at their West Houston outpost (see the East Village section for their other location) seven days a week from 5-10pm. On Tuesdays, they're offering a $38 jerk crab boil, but note that seating is first-come, first-served.
Tribeca
Bubby's
Neighborhood favorite Bubby's has reopened its sidewalk seating in Tribeca. From fried chicken and burgers to tons of breakfast options, this is a great pick for the whole family.
City Vineyard
On a normal summer day, it's near impossible to snag a prime-time table at this waterfront restaurant/wine bar/music venue. Unfortunately, their new outdoor dining program still doesn't take reservations, but it may be worth the wait to enjoy the outdoor patio. This space is open Thursdays and Fridays from 4pm to 10pm and Saturdays and Sundays from 12pm to 10pm.
Frenchette
This wildly popular French bistro (the James Beard Foundation named them best new restaurant of 2019) only began outdoor dining in August, but the reservations immediately booked up. They're open from Tuesday through Saturday from 5 p.m. to 9 p.m. If you can't snag a reservation, takeout is available and delivery launches on August 18.
Tribeca Grill
Robert DeNiro's tried-and-true neighborhood classic launched outdoor dining in August with hours from 4pm – 9pm, Tuesday through Saturday. They are taking reservations, and the location on a classic cobblestone street is the perfect backdrop.
El Vez
Open every day for lunch and dinner, El Vez is serving up its casual Mexican-American fare outside. As their website explains, "the menu is built around guacamoles, fundidos, ceviches, tacos, quesadillas and enchiladas made from scratch." And of course, plenty of margarita and tequila options.
Grand Banks
This isn't just outdoor seating, it's outdoor seating ON A BOAT. The trendy raw bar is now taking reservations for seating on the boat or on the pier deck.
Tamarind
This upscale Indian restaurant is offering limited outdoor seating.
East Village
Veselka
Ukrainian staple Veniero's typically has a large sidewalk cafe, and they've opened it back up so you can enjoy pierogis, borscht, and a good cup of coffee.
Ruffian
Starting this weekend, this intimate and incredible wine bar will have outdoor seating every day except Tuesday from 1pm-9pm, which will feature a special tasting menu.
Veniero's
This historic Italian bakery has a new sidewalk cafe where you can order their famous cheesecake, cannoli, cappuccino, and more.
Lil' Frankies
Beloved Italian spot Lil' Frankies is taking reservations for its outdoor seating, where you can order wood-roasted garlic bread, the handmade ravioli of the day, and homemade tiramisu.
Miss Lily's 
"Caribbean oasis" Miss Lily's is offering outdoor seating at their 7A Cafe and Rum Bar (see the Soho section for their other location) seven days a week from 5-10pm; on the weekends, there's also brunch from 11am-4pm. On Tuesdays, they're offering a $38 jerk crab boil, but note that seating is first-come, first-served.
Dirt Candy
Chef Amanda Cohen's uber-popular vegetarian spot Dirt Candy took a bit longer to reopen, but their outdoor patio is now welcoming guests from Tuesday to Saturday from 12-8pm.
Lhasa
When this Tibetan restaurant started out in Jackson Heights, Queens, Anthony Bourdain featured it on his show "Parts Unknown." Their East Village outpost opened in early August with outdoor seating where you can feast on cold beef noodles, momos, and more.
Huertas
This Basque-centric Spanish restaurant is still offering most of its classic dishes for outdoor dining, including pan con tomate, six conserva (canned seafood) options, tortilla española, and saffron fried rice. And be sure to order a glass of vermouth on tap.
Cathédrale at the Moxy East Village
Cathédrale is a French-Mediterranean Restaurant at the Moxy Hotel, and they've just opened up their hidden outdoor dining terrace. It has a retractable roof, can seat 58, and is full of fun foliage. They're closed Sunday and Monday, but you can make reservations online.
Lower East Side
Wayla
This popular Thai spot has opened its backyard for reservation-only seatings for 14 days out. According to an Instagram post, "All of our tables will be 6ft apart and seatings are limited to 90 minutes so our staff can safely sanitize the table for the next guest."
Katz's
Thanks to its stellar pastrami sandwich and famous scene from When Harry Met Sally, Katz's has long been a NYC institution. After ordering your pastrami on rye, you can sit at a sidewalk table. If that's not your thing, they've also launched their own local delivery service.
Ernesto's
Basque-inspired restaurant Ernesto's has set up a casual and super-safe outdoor dining experience where guests can order at the counter and then dine from disposable containers, enjoying pinxtos and Spanish wines. They're open Friday and Saturday from 5-9pm and from 3-7pm on Sunday.
Market Line Patio
Market Line, the food hall at Essex Crossing, opened an outdoor patio with a menu made up of a mix of food from its various, local vendors like Slice Joint, Ends Meat, and Essex Pearl. The seating on the corner of Delancey and Norfolk Streets can accommodate 40 people.
Little Italy
Caffe Roma
This 129-year-old pastry shop reopened in early August with outdoor seating where you can enjoy a cappuccino, cannoli, or gelato.
Parm
If Carbone is too much of a splurge or a wait, head over to the restaurant group's more casual spot Parm (and please, do order the chicken parm). The Mulberry Street location is walk-in only (UWS takes reservations).
Rubirosa
Famous for its vodka sauce pizza, Italian restaurant Rubirosa has first-come, first-served patio seating from 12-9:30pm.
Chinatown
Nom Wah Tea Parlor
Arguably New York's most famous dim sum spot, Nom Wah has been in business since 1920. They've set up outdoor dining along historic Doyers Street, which is even more charming due to its winding shape.
Jing Fong
Dim Sum spot Jing Fong, the city's largest Chinese restaurant, closed its doors in March after 48 years, but they've reopened with a curbside seating.
FiDi
Fraunces Tavern
Fraunces Tavern celebrated its 300th-anniversary last year, and the pandemic is not going to stop them. The tavern that once welcomed George Washington is open for outdoor dining daily from 12-11pm, with happy hour from 4-7pm on weekdays and live music on weekends.
The Greens
In the South Street Seaport, The Rooftop at Pier 17 has a new dining experience called The Greens, where guests can book one of 28 "mini-lawns." The private cabana-style plots can accommodate eight guests each.
Clinton Hall
From 4pm-10pm on weekdays and 12pm-10pm on weekends enjoy a nice cold craft beer with some elevated bar food.
Hole in the Wall 
With 10 outdoor seats, you can relax in the courtyard and nosh on a spicy fried chicken sandwich or smoked salmon salad. Outdoor dining hours are Thursday through Sunday from 3pm-8pm and reservations can be made through Yelp.
Brooklyn Chop House 
Overlooking the Brooklyn Bridge, this steak house is offering 10 outdoor seats. You can make reservations on Open Table.
Brooklyn
Downtown Brooklyn
DeKalb Open-Air Market
DeKalb Market Hall has transformed itself into an al-fresco market. Located on Albee Square West and within Willoughby Square Park, the open-air market will remain functional through October on Monday through Friday from 11:00AM to 8:00PM. More vendors will be announced soon, but those currently participating include: A Taste of Katz's, Likkle More Jerk, Pierogi Boys, 100% Mr. Lin, Andrew's Hard Times Sundaes, Fulton Seafood Landing, Jianbing, Kotti Doner, Brooklyn Wine Cellar, The Flo, Cuzin's Duzins, and Craft & Carry.
Brooklyn Heights
Fornino at Pier 6
What better place to dine outside than right on the East River? Fornino has rooftop seating for 100, where they have a weekday happy hour from 4-7pm that you can enjoy alongside a wood-fired pizza. Reservations can be made through Yelp.
Estuary
At Michelin Star Chef Danny Brown's restaurant Estuary, the patio is open with a super-summery seafood-focused menu.
Dumbo
Harriet's Rooftop & Lounge and The Osprey
1 Hotel Brooklyn Bridge is located just south of the Brooklyn Bridge, right on the East River, and both of its restaurants are offering outdoor dining. Harriet's is offering its craft cocktails and shared plates on the rooftop; reservations are required with a two-hour maximum and minimum of $50. The Osprey is a more casual restaurant serving up market-driven American comfort food. You can make reservations for the Osprey's large patio for dinner Wednesday through Sunday and for weekend brunch.
Time Out Market
This waterfront food hall from Time Out has more than 10,000 square feet of outdoor dining space, including the fifth-floor roof terrace. Ice & Vice, Fish Cheeks, and Ivy Stark are among the first group of eateries to reopen, along with two full-service bars.
Williamsburg
Lilia
In normal times, you're lucky to get a table at Italian pasta spot Lilia a month out, but these days, people are booking three months out for a table outside. But if you're someone who knows it's worth the wait, they have a large outside setup in an open plaza on North 10th and Union that they're calling Lilia Beach. If you can't get a res, Caffe Lilia is a more casual outdoor dining experience that's open every day from 8am to 4pm.
St. Anselm
This is a great spot for an affordable but amazing steak, which you can now enjoy in their backyard patio. Other picks from the menu include bourbon-brined pork porterhouse, a sweet tea-brined chicken, and a whole trout.
Ainslie 
Located in a former warehouse building, Ainslie has plenty of options on a normal day–wine bar, beer garden, wood-fire pizzas, steaks. And this hasn't changed now. They currently have 36 sidewalk seats, 50 garden seats, and will soon be opening a 26-seat rooftop. Also on offer is an all-you-can-drink brunch on weekends from 12-4pm. You can make reservations on their website.
Gertie
This all-day cafe has set up the Gertie Summer Shack for outdoor dining on weekends from 11am to 7pm. You can order at the to-go window or via mobile ahead and enjoy sandwiches, veggies, ice cream, natural wines, summer cocktails, and tallboys.
Ten Hope Outdoor Garden
This massive open-air patio, complete with climbing vines and rooftop canopies, is brand new and was designed with social distancing in mind. Enjoy summery dishes like a burrata salad, shakshuka flatbread, and shrimp and scallop ceviche, along with rotating frozen cocktails and a spiked spritz menu. The Ten Hope Outdoor Garden is open Tuesday through Friday from 5pm-11pm and Saturdays and Sundays from 12pm-11pm.
The Bedford
If you're in the mood for some pub grub like a mac n' cheese burger or pickleback fried sandwich, you'll want to sit outside at the Bedford. Even the cocktails are creative, including a pecan old-fashioned.
Roebling Sporting Club
Come for the craft cocktail and beers but stay awhile for some bar snacks.
Llama Inn 
Popular Peruvian restaurant Llama Inn is opening its rooftop and a new outdoor area next week for dinner every night and brunch on the weekends. Parties of up to 6 guests can make reservations on Resy.
Le Crocodile
Located at the trendy Wythe Hotel, this French brasserie has opened its garden terrace every day from 5-10pm. The outdoor space looks like a Parisian bistro, with hanging lights, climbing vines, and a black-and-white tiled floor.
Greenpoint
Fornino
At their other location, Fornino is serving wood-fired pizzas to 24 seats in their backyard. Reservations can be made through Yelp.
The Springs
The backyard at this bar is massive, but it somehow still manages to feel like your own backyard. There's a new menu of creative, warm-weather cocktails, including several alcoholic slushies (available in pitchers, too!) and boilermakers. Groups over 10 are not permitted, and groups of 6-10 can make a reservation.
Oxomoco
This Michelin-starred, wood-fired Mexican restaurant is reservation-only for its outdoor brunch and dinner seating.
Bushwick
Roberta's
Pizza people-pleaser Roberta's is well known for its bustling outdoor garden, and it's now back open. You can make a reservation via Resy; the garden is open every day from 11am-1opm.
Outerspace
This brand new outdoor restaurant and bar looks will transport you to the Caribbean with its bamboo table dividers, canopied palm trees, and seasonal veg-heavy menu.
Fort Greene
Miss Ada
This lovely little Mediterranean restaurant is well known outside of the pandemic for its sunny, landscaped backyard. They even grow their own herbs back there. Miss Ada is currently accepting walk-ins only with hours of 5:30-10:30pm Wednesday-Sunday. Feast on one of their specialty hummus, kabobs, Israeli-inspired salads, or entrees like za'atar-crusted salmon.
Black Forest Brooklyn
German restaurant Black Forest has set up sidewalk seating at its Fort Greene location. They serve traditional dishes like schnitzel and goulash, as well as a special flammkuchen menu, a thin-crust flatbread. They're closed on Mondays but open 5-9pm Tuesday through Friday and 12-9pm on weekends.
Evelina
The dine-in patio menu for this upscale corner bistro just steps from Fort Grene Park changes daily, but you can expect lots of salads and veggies, along with larger dishes like hanger steak and grilled black bass.
Park Slope
Negril 
Architecture firm the Rockwell Group designed the outdoor seating in the parking spaces in front of this Caribbean restaurant. In addition to banquette seating, they have bar-height counters for casual standing room.
Prospect Heights

Lalou
Natural wine bar and restaurant Lalou has opened its backyard patio from 5pm-9pm.
Olmsted
After operating as the more market-like Olmsted Trading Post since the early days of the Pandemic, this crazy popular farm-to-table restaurant has finally reopened its gorgeous garden for outdoor dining. They're closed on Mondays and Tuesdays, but you can make a reservation for dinner starting at 5pm any other evening.
Sofreh
Modern Persian restaurant Sofreh is taking outdoor dining reservations, where guests can enjoy sharable plates like flatbreads, salads, dips, and Persian rices.
Boerum Hill
Black Forest Brooklyn
German restaurant Black Forest has set up a socially distant backyard beergarden at their Smith Street location. They serve traditional dishes like schnitzel and goulash, as well as a special flammkuchen menu, a thin-crust flatbread. They're closed on Mondays but open 5-9pm Tuesday through Friday and 12-9pm on weekends.
Sunset Park
Bangkok B.A.R
In the lovely Industry City courtyard, this Thai eatery is hosting special pre-fixe meals on Thursday and Friday evenings. The series, called Full Moon Thai BBQ, is $69 and will include yummy offerings like Yum Pla Dok Foo (crispy fish wafer, mango salad), Jin Hoom Nuea (oxtail stew, rice, seafood sauce), and a spicy cilantro margarita. It's reservation-only, and there will be two seatings each night–at 6:30PM and 8:30PM.
Red Hook
Red Hook Lobster Pound
Nothing says summer like a lobster roll, and Red Hook has some of the best. They now have expanded sidewalk seating and are accepting reservations. Plus, for the mont of June, they're donating all proceeds from alcohol sales to Know Your Rights Camp.
Queens
Long Island City
American Brass
Newly opened on the Gantry State Park waterfront, there's plenty of sidewalk seating at this restaurant with a deep craft beer list.
Ravel Hotel
This trendy hotel opened three outdoor dining spaces, including a brand new rooftop Greek restaurant called Perivóli. There's also luxury pool lounge Profundo and Asian and South American restaurant The Penthouse. To ensure a safe space, Ravel partnered with Vestibular Diagnostics PA to provide private COVID-19 testing for all guests with a reservation.
Astoria 
Bel Aire Diner
This retro diner recently transformed its parking lot into a drive-in movie theater, and they recently added live comedy shows to the roster. Those with tickets can order food off the menu and enjoy it in their cars.
Eastern Queens
Pa-Nash
In the Rosedale section of Queens, this unique restaurant merges middle eastern and traditional soul food. With outdoor seating designed by the Rockwell Group, they're also offering a "Summer Sidewalk Series" from Thursdays to Sundays that features drink specials, karaoke, and live music.
Bronx
Belmont
From Thursdays to Sunday, the heart of Bronx Little Italy is transformed into "Piazza di Belmont," with more than 25 restaurants participating in outdoor dining on Arthur Avenue between East 188th and Crescent Avenue. These include:
Ann & Tony's, Antonio's Trattoria, Bronx Beer Hall, Emilia's Restaurant, Enzo's of Arthur Avenue, Mario's Restaurant, Mike's Deli, Zero Otto Nove, and San Gennaro
South Bronx
Hudson Smokehouse (opening July 2)
Ribs, fried chicken, BBQ pork–you can get your full barbecue fix at this South Bronx spot with outdoor seating designed by David Rockwell.
Ceetay (opening July 2)
Another restaurant utilizing David Rockwell's outdoor seating design, Ceetay has tons of sushi options.
Throughout NYC
The Butchers Daughter
This plant-based restaurant has opened its outdoor patios for all three of its locations–West Village, Nolita, and Williamsburg.
Tacombi
This laid-back taco spot has opened outdoor seating at its locations on the Upper West Side, Nolita, and Fort Greene. You can reserve a table ahead or join a mobile waitlist if you're a walk-in.
Numero 28
This pizza spot is popular for groups, and even though this might not be possible, they've still set up outdoor dining at their East Village and West Village locations. We assume they'll open up more of their spots, too.
Haru Sushi
Haru is a great choice for upscale sushi that won't break the bank. Their locations in Hell's Kitchen, the Upper West Side, Times Square, and Wall Street have outdoor dining options.
Beyond Sushi
This vegan sushi spot is offering a small number of outdoor seats at their Upper East Side, Hell's Kitchen, Nolita, and Union Square locations.
Fields Good Chicken
This healthy chicken mini-chain has opened up outdoor dining at its 40th and Madison, 52nd and Lexington, Financial District, and Union Square locations. In addition to regular plates, all of the locations are offering a Meals to Share menu, which is catered to groups and comes with a choice of three sides, two house-made sauces, and three pieces of gluten-free cornbread.
Share more reopenings with team 6sqft in the comments below!
+++
RELATED:
Editor's Note: This story was originally published on June 5, 2020, and has been updated.