A new digital cookbook is supporting Chinatown businesses impacted by Covid-19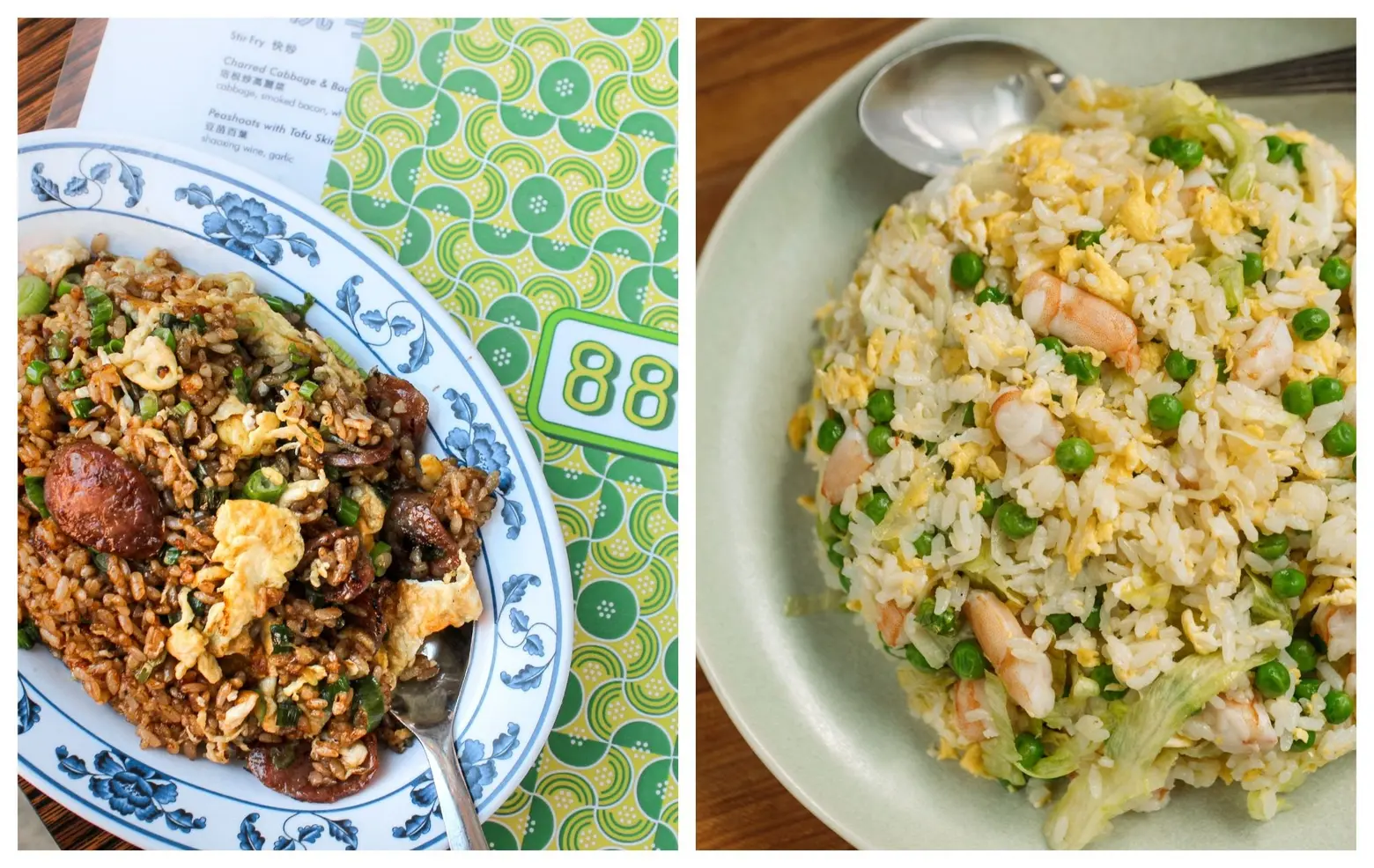 886's Taiwanese Fried Rice (left); Wing Hin's Shrimp Fried Rice (right). Courtesy of Send Chinatown Love + Umamicart.
Wing Hing Seafood Restaurant, 46 Mott St., Grand Tea & Imports, 886–these are just a few of the restaurants featured in the new digital cookbook Around the Roundtable: Recipes for Chinatown Favorites that was created to support Chinatown businesses. The free, downloadable cookbook comes from Send Chinatown Love, an entirely volunteer-run organization whose goal is to provide relief to small, immigrant-owned Chinatown businesses impacted by the effects of Covid-19.
Even before the state enacted a stay-at-home-order, "Asian-owned businesses across the boroughs had already lost 60-70% of their revenue," explains Send Chinatown Love. "Racially-charged rhetoric like 'kung flu' and 'China virus' deterred customers away from bustling Asian neighborhoods, and unprovoked hate crimes became alarmingly commonplace." Moreover, many of these independently owned businesses preserve a "low-tech, cash-only nature," which made it difficult for them to adapt to a pandemic-era model.
Thus, Send Chinatown Love was born as a digital community that can support these establishments. After identifying a merchant in need, the all-volunteer team works one-on-one with the small business owner to provide additional sources of revenue and tailored business development support. In addition to offering pro-bono business consultants, the organization also accepts ongoing donations and runs a Gift-a-Meal initiative that allows donors to gift meals from Chinatown merchants to individuals in need.
Though the Around the Roundtable cookbook is free to download, it brings positive attention to the participating restaurants and hopefully encourages more people to donate to the organization.
Send Chinatown Love also partnered with Umamicart, a recently launched female-founded online Asian grocery store. Umamicart has created two cause-driven, curated grocery collections inspired by the cookbook. They're available for next-day delivery in New York and select mid-Atlantic states (CT, DC, DE, MD, NJ, PA, VA), and a portion of proceeds will be donated to Send Chinatown Love. The two collections are:
886's Taiwanese Sausage Fried Rice – features ingredients for the East Village restaurant's dish, including Kokuho Rose pink medium grain rice (5lb), Chinese sweet sausage, Lee Kum Kee premium soy sauce, Lee Kum Kee chicken bouillon powder, Bull Head Sacha BBQ sauce, and organic green onions
Wing Hing's Baby Shrimp Fried Rice – features ingredients needed to make the Brooklyn restaurant's fan-favorite dish, including Kokuho Rose pink medium grain rice (5lb), Napa cabbage, frozen peeled shrimp, and Urban Roots English peas
RELATED: