Lunar New Year 2021: Celebrate with virtual events, food, gifts, and more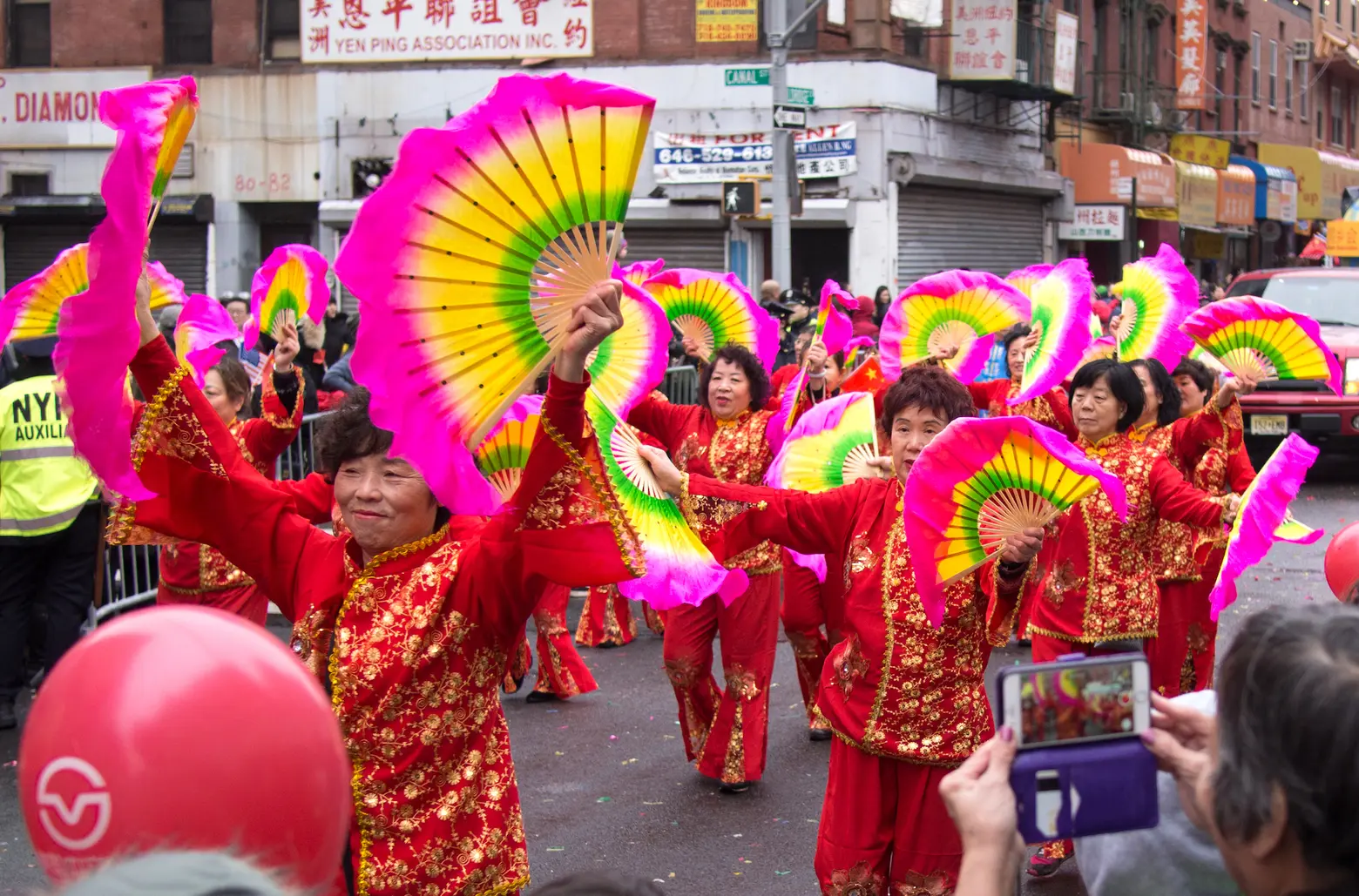 Next Friday, February 12th, begins the Year of the Ox, an animal whose attributes are hardworking and honest. The Lunar New Year is a 16-day celebration, often marked by lantern festivals, parades, and fireworks. But since we aren't able to enjoy a lot of these gatherings this year, we've rounded up some of the best safe celebratory events in New York City, including virtual dumpling-making classes, papercutting workshops, a small business crawl in Chinatown, and traditional Chinese dance and music performances.
Outdoor fun
Lunar New Year Crawl
Send Chinatown Love–a digital community that was founded in March of last year to support Chinatown and its 7,000 businesses amidst the pandemic–has created a Lunar New Year Crawl in Manhattan, Brooklyn, and Queens that highlights 29 vendors, ranging from gift shops to restaurants, and encourages communities to shop at local Asian-owned businesses in celebration of the holiday. To keep the event safe, takeout and delivery options are available. And to get you in the competitive spirit, for every three receipts collected from vendors or donations to Send Chinatown Love, participants can log them onto a special Passport to Lunar New Year mobile site to win raffle tickets for giveaway baskets.
Spend a "perfect day in Chinatown"
NYC & Company has made visiting Chinatown easy thanks to their handy map of the neighborhood. "In one day, you can take an audio-guided walking tour, weave your way through a market, sip tea, get reflexology treatment and, of course, stop for amazing meals along the way."
Lunar New Year at the Queens Botanical Garden
February 6-28
The Queens Botanical Garden is celebrating the holiday safely with festive décor, grab-and-go activity kits so you can make your own paper blossom branch, and a lucky plant sale where you can pick up an auspicious jade plant or peace lily.
Lunar Ice at Brookfield Place
February 12, 3-8pm and February 13, 10am-3pm
New York City-based art collective Okamoto Studio will set up its famous ice sculptures on the Waterfront Plaza at Brookfield Place.
"Restoration" at the Oculus
February 11-13: 10am-5pm
In partnership with the Asian Cultural Center, Westfield World Trade Center will present Ding Guohong's "Restoration," an immersive art display on the Oculus floor. The exhibit is made from golden stainless steel featuring Jin Shan, a traditional ceramic technique that repairs broken pottery with a gold adhesive. In addition, the Port Authority will light the Oculus, Goethals and Bayonne Bridges, JFK Tower, and One World Trade Center in red and gold to commemorate the holiday.
Virtual events
Lunar New Year Celebrations at NYPL
Various dates and times
Free
The New York Public Library is offering a bunch of fun, virtual Lunar New Year events for all ages. Kicking things off on Feb. 3 is a children's reading of "Ruby's Chinese New Year," a discussion about the holiday, and time to create a Chinese zodiac calendar. On the 8th, there's a book chat and origami craft for teens, and on the 12th, there's another children's discussion about the holiday where kids will make a paper dragon. For adults, there's a Chinese papercutting workshop on the 10th and a musical event on the 13th.
Brooklyn Public Library
Various dates and times
Free
With the support of Apple Bank, BPL is offering a slew of free, family-friendly virtual events on its Facebook page. On the morning of the 12th, they've partnered with the Museum of Chinese in America for a retelling of the Legend of Nian, which will be followed by a tutorial on how to turn household items into festive rattle drums that you can use to scare away the Nian monster until next year. On the 13th, there's a musical celebration with the Ba Ban Chinese Music Society, and on the 22nd, you can learn how to make your own dance prop and perform a traditional dance.
Chuang Hua Papercutting Workshop
February 9: 6-7pm
Free
Local nonprofit Think!Chinatown is hosting a traditional Chinese papercutting workshop so you can make decorations for your home. It's being taught by artist Ling Tang, who will also explore the history and culture of this traditional art.
Lunar New Year Virtual Family Festival at MOCA
February 11-19
The Museum of Chinese in America is ringing in the Year of the Ox with more than a week of Lunar New Year festivities including crafts, storytimes, live performances, and more. More details will be announced soon.
Year of the Golden Ox with the Nai-Ni Chen Dance Company
February 11-13
Free; donations encouraged
This unique dance company combines the Chinese cultural traditions founder Nai-Ni Chen studied in Taiwan with the modern and contemporary dance she studied in New York. To celebrate the Lunar New Year, the company is offering a three-day dance and music festival that includes traditional dances performed at the Chinese New Year (the Lion Dance and the Dragon Dance), a colorful folk dance, and instrumental music featuring Erhu, Ruan, Pipa, Chinese Opera, and Kuaiban.
China Institute's Chinese New Year Family Festival
February 13 at 11am
Free
The China Institute is kicking off the Year of the Ox with the virtual edition of their signature New Year Celebration for families. The festival opens with a lion dance and puppet performance followed by New Year-themed workshops and activities including dumpling making and lantern painting.
Flushing Town Hall's Chinese Temple Bazaar
Sunday, February 14: 2pm
Free
For the first time, Flushing Town Hall is taking their Lunar New Year event virtual, streamed on YouTube. It will feature traditional dances by the Nai-Ni Chen Dance Company, a new Chinese hand puppet production by Chinese Theatre Works, paper-cutting, classic new year dish demonstrations (for sweet and savory rice balls, a meatball dish called "braised lion head," and a whole fish), and more.
Storytelling Pop-Up Art
February 18: 6:30-7:30pm
Free
Think!Chinatown in collaboration with the 1882 Foundation is hosting artist Spica Wobbe for an inventive pop-up art workshop where you'll learn how to make your own "Tuan Yuan" greeting card to send to loved ones this Lunar New Year.
Food
Order takeout!
Resy has created a handy guide to celebrating Lunar New Year in New York. Their list includes Chinese and Taiwanese restaurants across the city offering festive specials for takeout and outdoor dining (note that indoor dining also returns on the 14th).
Eat and shop your way through Flushing
New York's City's other Chinatown, "is said to have ushered in the term 'Lunar New Year,' which for this community includes both Chinese and Korean New Year (called Seollal) celebrations," according to NYC & Company. The city's tourism agency has put together an interactive map highlighting Asian American–owned businesses, so you can "pick up a Boston cream pie from Yeh's, try some wontons at White Bear, browse books at Xinhua, and get cultured at the Queens Museum."
Lucky Meal and Lion Dancing at Chelsea Market
February 13: Two seatings at 12pm + 2:30 pm
$150 for a meal for four
Asian emporium Pearl River Mart and Very Fresh Noodles is offering a special ticketed Lunar New Year meal at Chelsea Market's heated outdoor expansion. The lucky meal menu comes with La Mei Taiwanese beef noodle soup from Very Fresh Noodles; bulgogi beef and yubu (vegan) kimbap rolls from Kimbap Lab; steamed bao, "PRC" noodles, kung pao chicken, and bok chow mushroom from Mao's Bao; peach black tea with boba from Tea and Milk; an Asian-inspired pastry from Kitsby for dessert; and libations from Lunar Hard Seltzer and Brooklyn Food & Beverage. In addition, the Wan Chi Ming Hung Gar Institute Dragon and Lion Dance Team will perform a historic lion dancing and will visit each table individually.
Lotus + Cleaver Chinese Prosperity Salad
February 12-19
$28
Lotus + Cleaver is a newly opened Chinese fast-casual restaurant in Long Island City. Meant to be tossed together with loved ones to bring good luck, their special Chinese New Year Prosperity Salad serves 2-4 people and includes salmon sashimi, house marinated ikura, oishii shrimp, shredded vegetables, house-made pickles, candied peanuts, and crispy taro with a salted plum dressing. It's available for pick-up only, with pre-order via RESY required at least 24 hours in advance.
Noz Market
Newly opened on the Upper East Side, Noz Market is a resource for New Yorkers in search of high-end seafood, Japanese accouterments, and delicious prepared sushi and sashimi. It's staffed by chefs trained at Sushi Noz, the Michelin-starred companion restaurant right next door. If you're willing to splurge this Lunar New Year, they're offering a $625 takeout Okashira-Zukuri Box that includes an entire sea bream that has been hollowed out and filled with sea bream sashimi, along with toro, scallop, abalone, uni, king crab, spot shrimp, and more. It's perfect for four people and must be reserved in advance on Tock for pick up on Thursday, February 11th.
Cooking Classes
Dumpling Filling and Fortunes for All Ages with Tasting Table
February 7: 3-5pm
$29 per screen
Cooking school Tasting Table is starting Lunar New Year early with its Dumpling Fillings and Fortunes class that's accessible for the whole family. Participants learn how to mix up various dumpling fillings (shrimp shumai, shiitake and cabbage vegetarian dumplings, pork and chive or chicken pot stickers), fill wrappers, and fold them into at least three different shapes. You'll also bake up personalized fortune cookies.
Dumpling-making class with Anita Lo
February 12: 6:30-7:45 pm
$49.99 per screen
100 Pleats is a website that offers personalized, virtual cooking lessons taught by master chefs. On the 12th, they're celebrating Lunar New Year with a dumpling-making class taught by NYC local chef and Top Chef Masters alum Anita Lo who will show you how to make her famous pork, shrimp, and chive dumplings. Fun fact: the reason dumplings are synonymous with Chinese New Year is because they're shaped like ancient Chinese money.
Cooking Classes with Think!Chinatown
Fa Gao: February 14, 3-4pm
Tang Yuan: February 25, 6-7pm
Free, suggested donation $5-$15
Think!Chinatown is also offering two fun cooking classes. Fa Gao is a distinctive sticky-fluffy cake that's known as "prosperity cake" or "fortune cake" and eaten at the Chinese New Year. Tang Yuan is a traditional Chinese rice ball, and in this class you'll make them with red bean and black sesame fillings. The Tang Yuan class is in collaboration with culinary instructor Ye Ye and Essex Market.
Brooklyn Public Library's Community Cooking: Lunar New Year
February 18: 2pm
Free
BPL will be streaming live on Instagram, celebrating the new year with a special family recipe for Tibetan momos (dumplings). A week before the session, you can find the recipe, a list of ingredients, and the tools you will need on their website.
Gifts
Johnnie Walker Blue Label Year of the Ox + Cocktail Kit
If you're looking for a boozy gift, Johnnie Walker Blue Label Year of the Ox is a gorgeous bottle that no one will want to throw away. It's available for home delivery for $250 from Reserve Bar. In addition, Johnnie Walker and international music collective 88rising have teamed up with cocktail delivery service Cocktail Courier to release a new, Lunar New Year-inspired cocktail kit called the Gold Moon Highball. You'll get the dynamic flavors of Johnnie Walker Black Label with the smoky notes in Lapsang Souchong Tea, along with a splash of clementine soda on top for good luck. The kit also comes with an 88Rising x Johnnie Walker limited-edition, co-branded crewneck sweatshirt.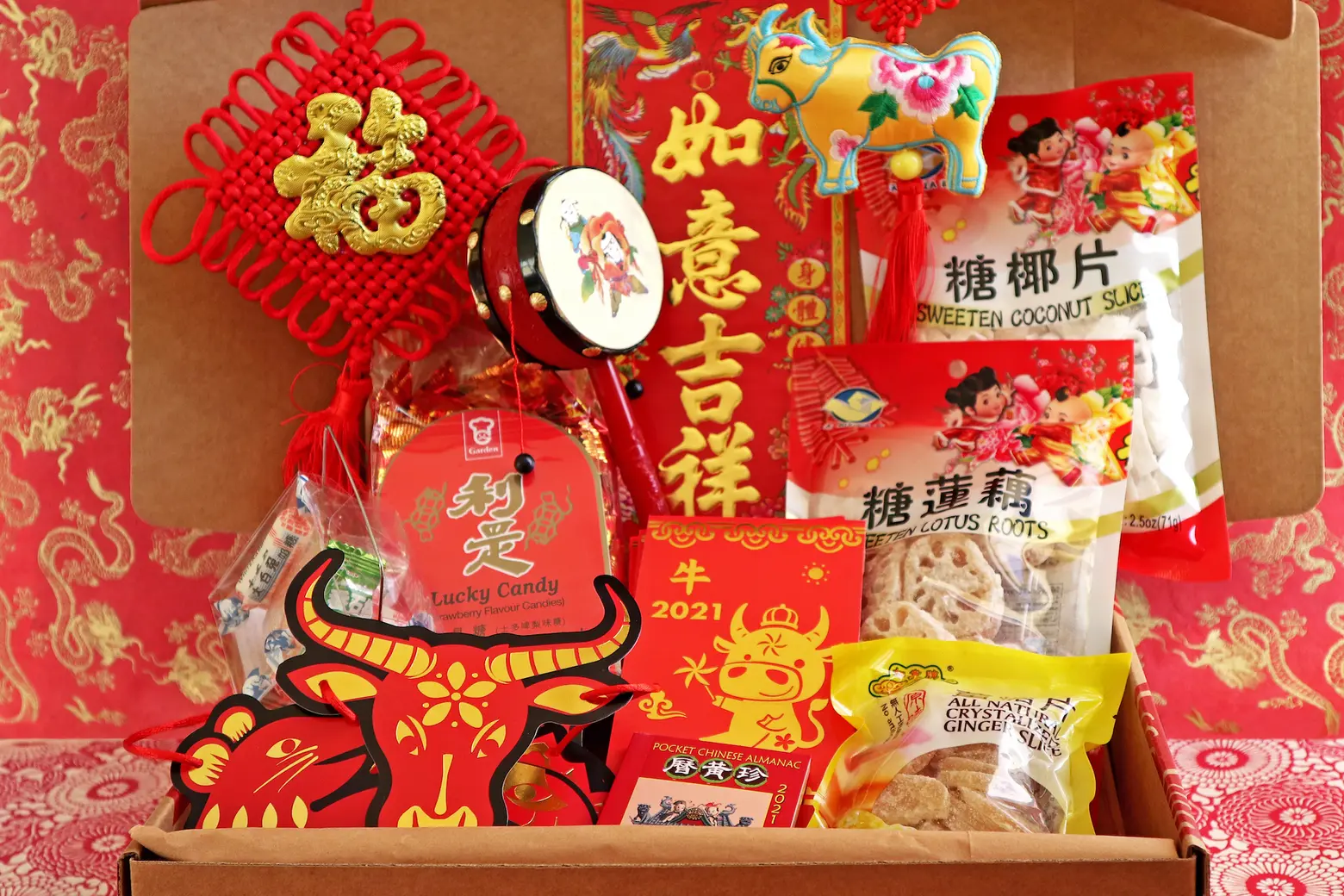 Lunar New Year Friendship Boxes from Pearl River Mart
The iconic Pearl River Mart is celebrating with its Lunar New Year Friendship Boxes that can be delivered nationally or picked up at their Chelsea Market store. For $50, the box includes ginger sweets, lucky candy, and other auspicious treats; a Year of the Ox plush doll or ornament; red money envelopes, lucky decorations, noisemakers, and a pocket Chinese Almanac.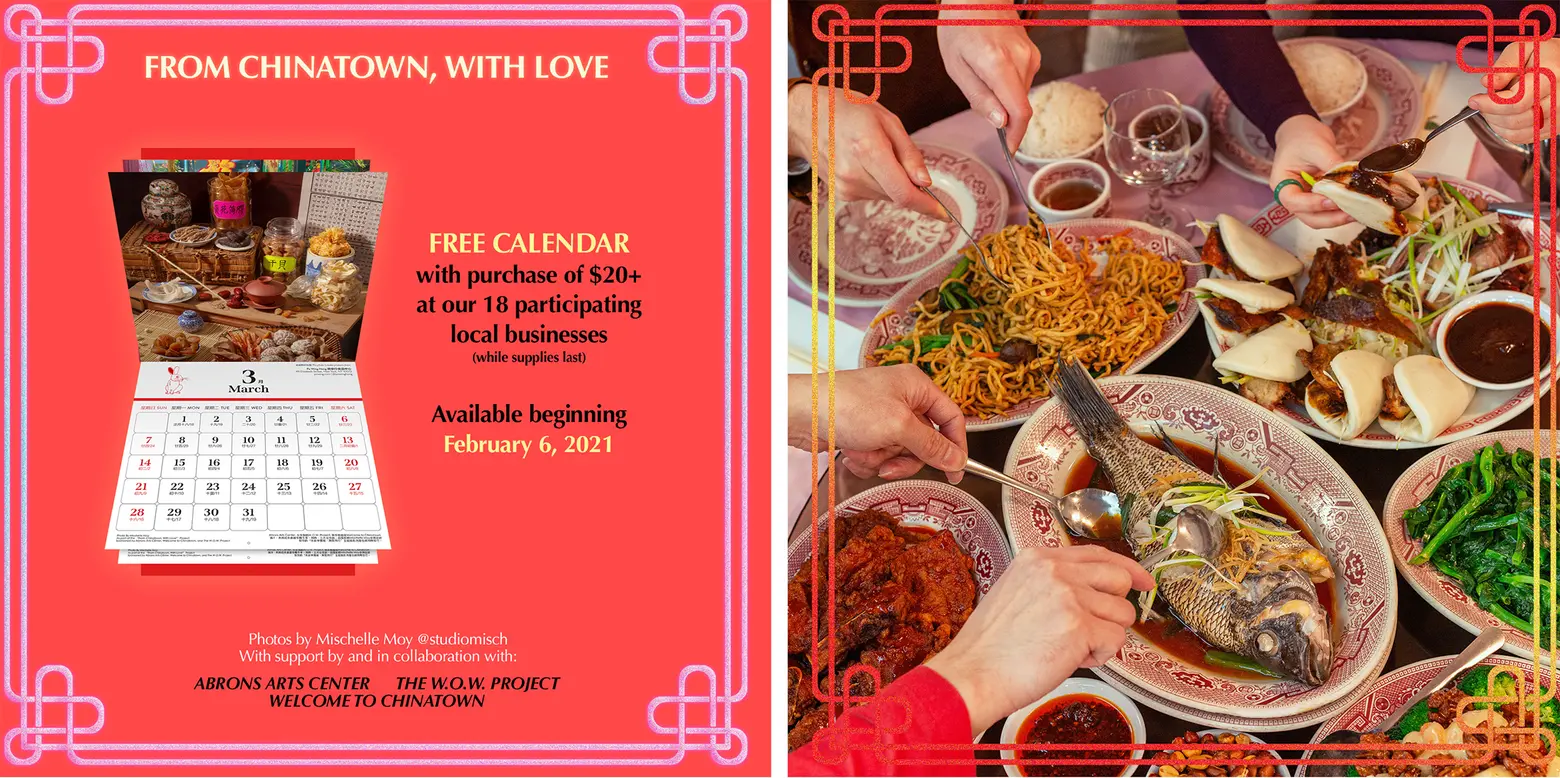 "From Chinatown, With Love" Calendar
Abrons Arts Center, Wing on Wo's the W.O.W. Project, and grassroots initiative Welcome to Chinatown come together to celebrate the Year of the Metal Ox with the launch of the first edition of "From Chinatown, With Love," a 12-month photo calendar designed by photographer Mischelle Moy. The calendar will feature products from 18 Chinatown businesses and will be available at participating businesses (where you can pick up plenty of other gifts!) beginning on February 6th. Beginning February 12, a limited run of calendars will also be on sale at Wing on Wo's website. A percentage of proceeds from calendar sales will be donated to the Welcome to Chinatown's Longevity Fund, a relief fund that supports small businesses in Chinatown.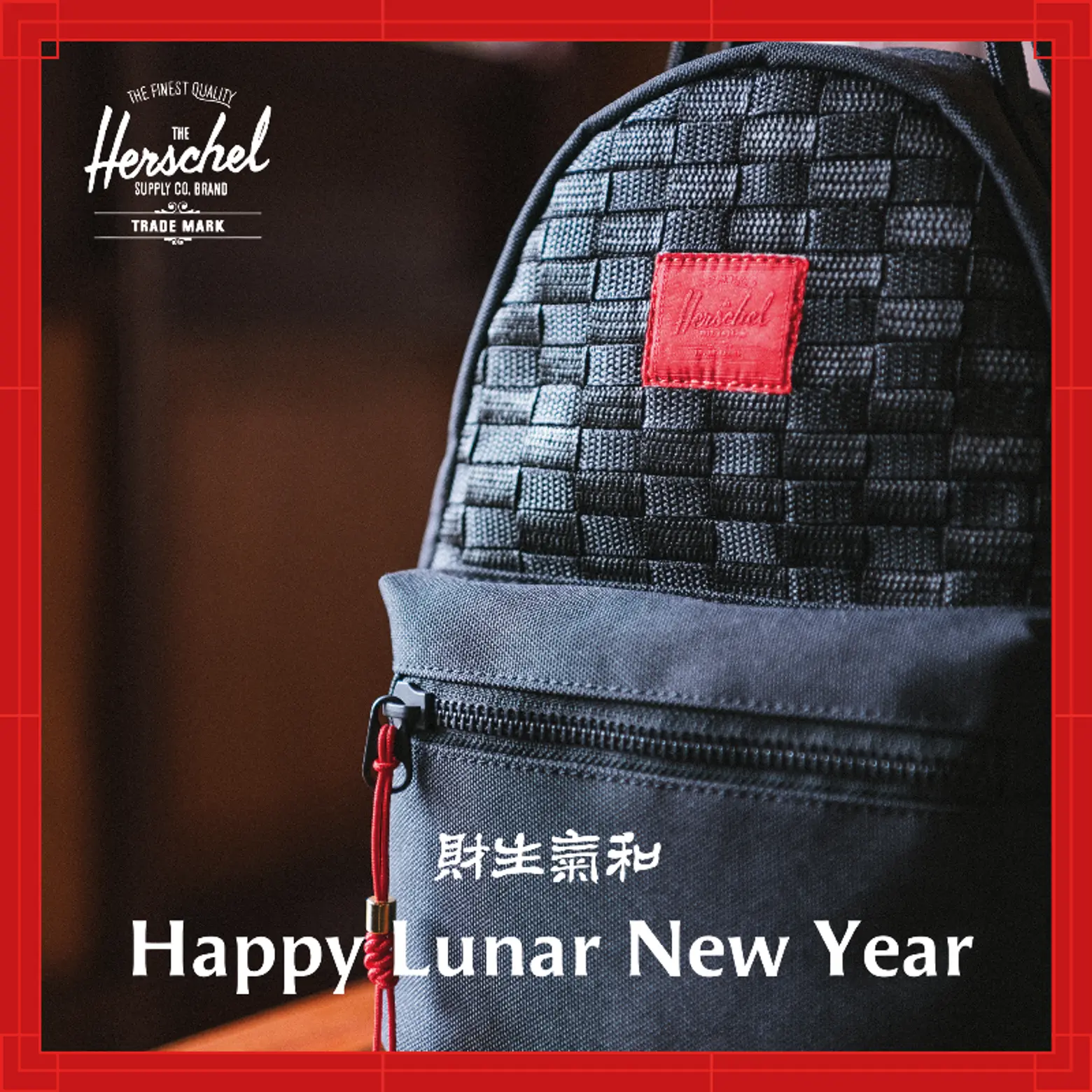 Herschel Supply Co. Lunar New Year Collection
Accessories brand Herschel has an amazing Lunar New Year Collection that includes five styles–a travel kit, a duffle, two backpack styles, and a hip pack–all done in this limited-edition black interlaced fabric inspired by traditional Chinese basket weaving. (Bonus: any purchase from the collection comes with three traditional envelopes and a Novel duffle key ring!)