The best international grocery stores in NYC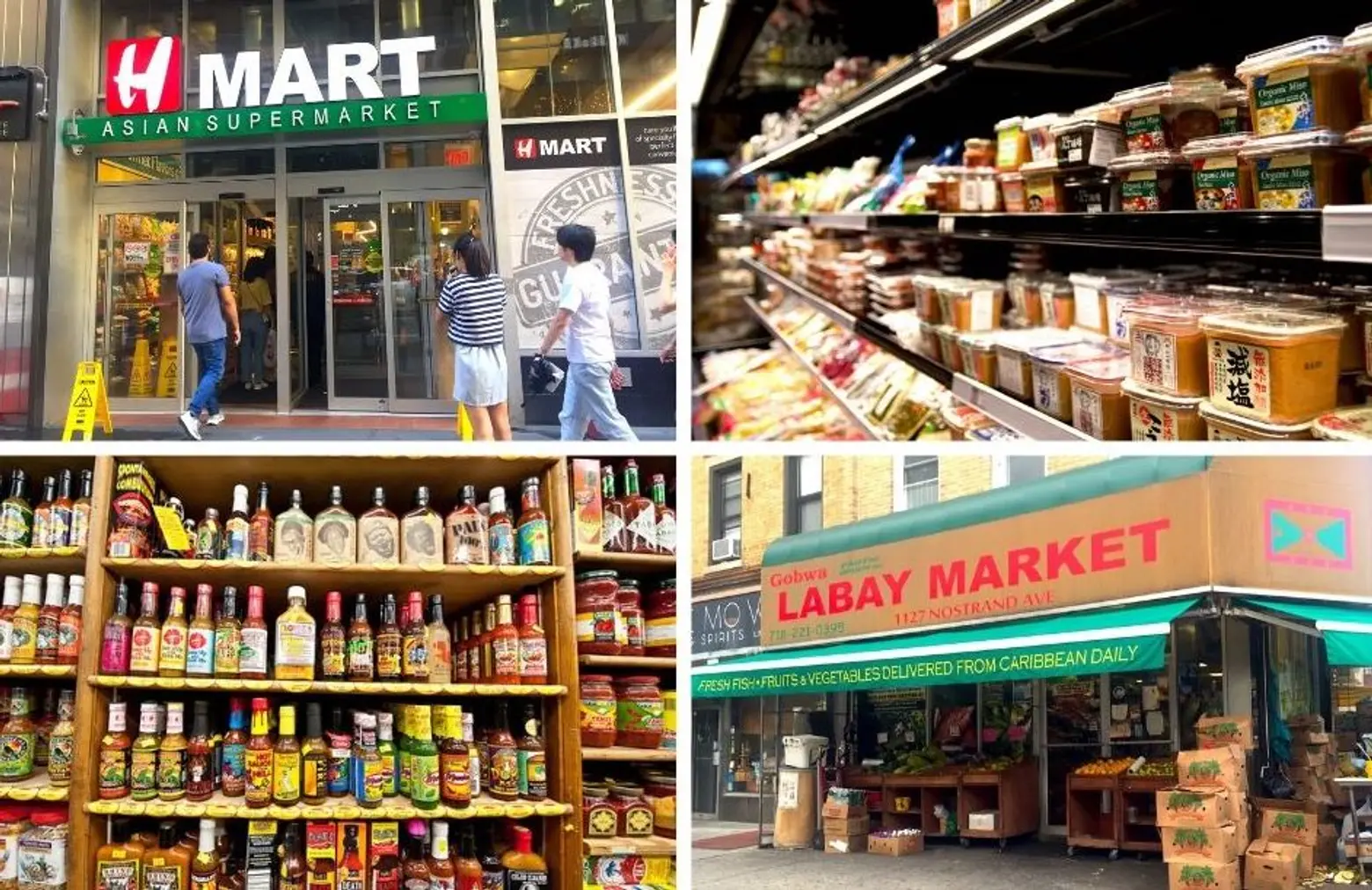 Not only can you eat nearly every type of cuisine in New York City, but you can also cook it. Thanks to the many specialty grocery stores across the five boroughs, no fare is off the table. Whether you hit popular stores like Kalustyan's selling Middle Eastern and Indian spices in Murray Hill or check out the more obscure shops, like Sri Lankan-supermarket Lanka Grocery on Staten Island, there are endless options when planning an international menu.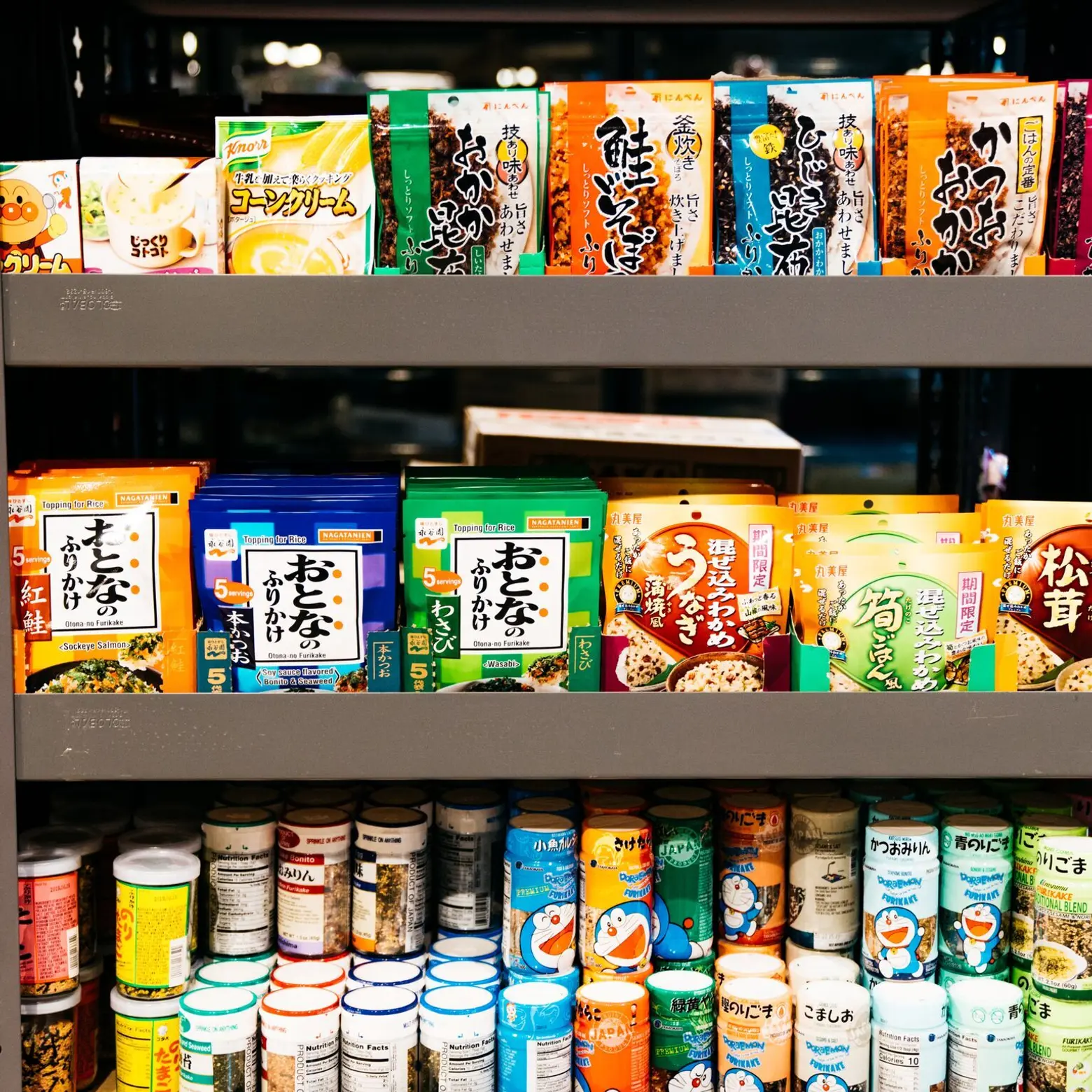 Photo of seasonings; courtesy of Industry City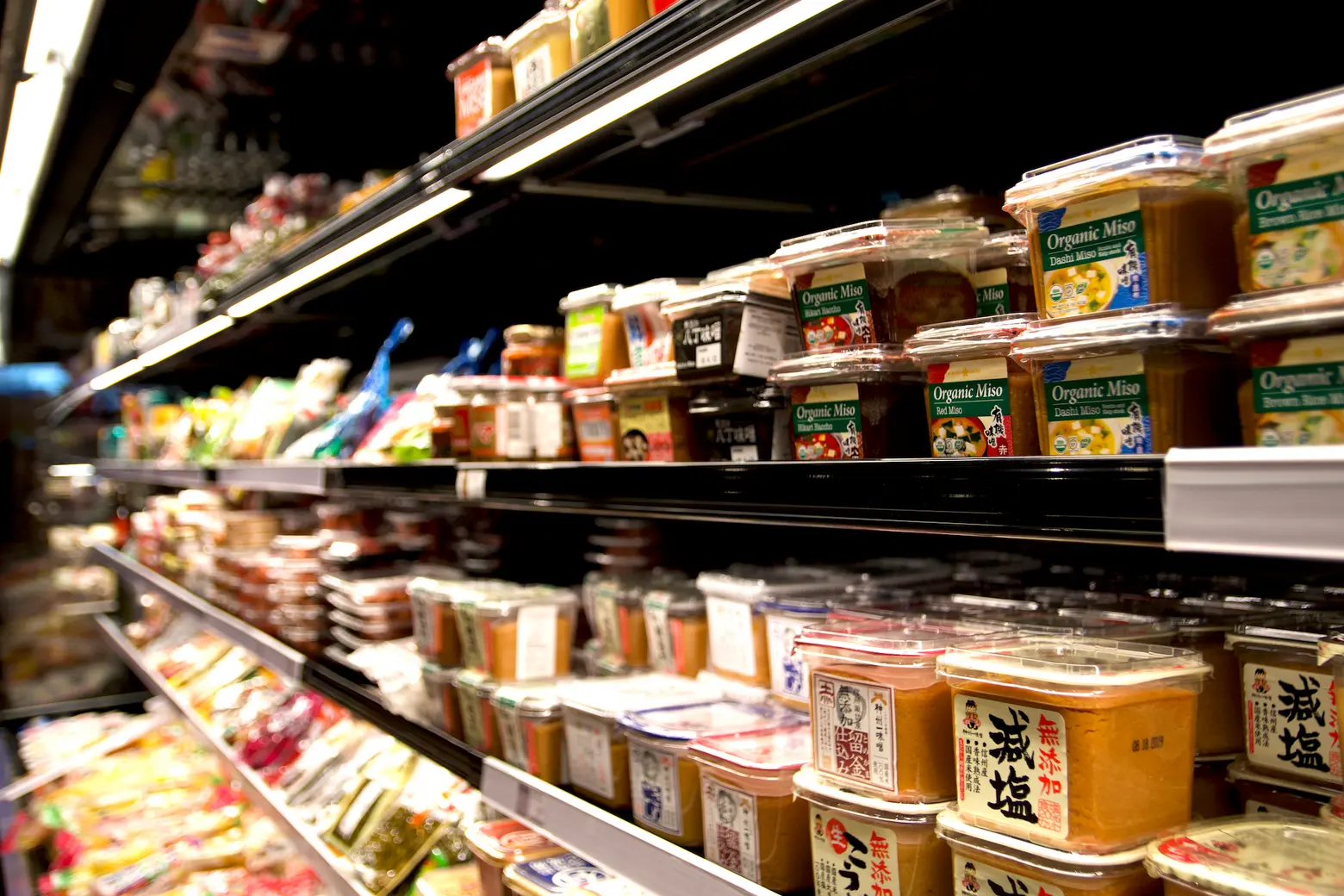 Photo courtesy of Japan Village
Sunrise Mart
4 Stuyvesant Street, East Village, 934 3rd Avenue, Sunset Park, 494 Broome Street, Soho, 12 East 41st Street, Midtown East
Sunrise Mart has been selling traditional Japanese goods in the East Village for over two decades. Imported items sold range from fresh fish and a wide variety of miso to Japanese eggplant to daikon root. The grocery store has since branched out from the East Village, with locations in Midtown, Soho, and Sunset Park's Industry City complex. In Brooklyn, Sunrise Mart sits within the massive Japan Village, which includes 11 vendors, a restaurant and cocktail bar, and a Japanese liquor store.
The Kosher Marketplace
2442 Broadway, Upper West Side
This family-owned marketplace is the place to go for Kosher groceries. They have a wide selection of prepared dishes, as well as organic vegetables and meats. Their dedicated approach to providing quality meat and sustainably sourced fish make the Kosher Marketplace a staple for even those who don't keep Kosher. Make sure to stop by early on Friday if you need anything for the weekend. The store is closed Friday evening and all of Saturday for Shabbat.
Despaña
408 Broome Street, Nolita and 86-17 Northern Boulevard, Jackson Heights
Serving up traditional Spanish cuisine, Despaña is the perfect place for anyone craving jamón, chorizo, or Spanish cheeses. Grab a few orders of tapas at their SoHo location, and make sure to stop by their wine shop, conveniently located next door. A second location in Jackson Heights, Queens brings the same high-quality Spanish products to bustling Northern Boulevard.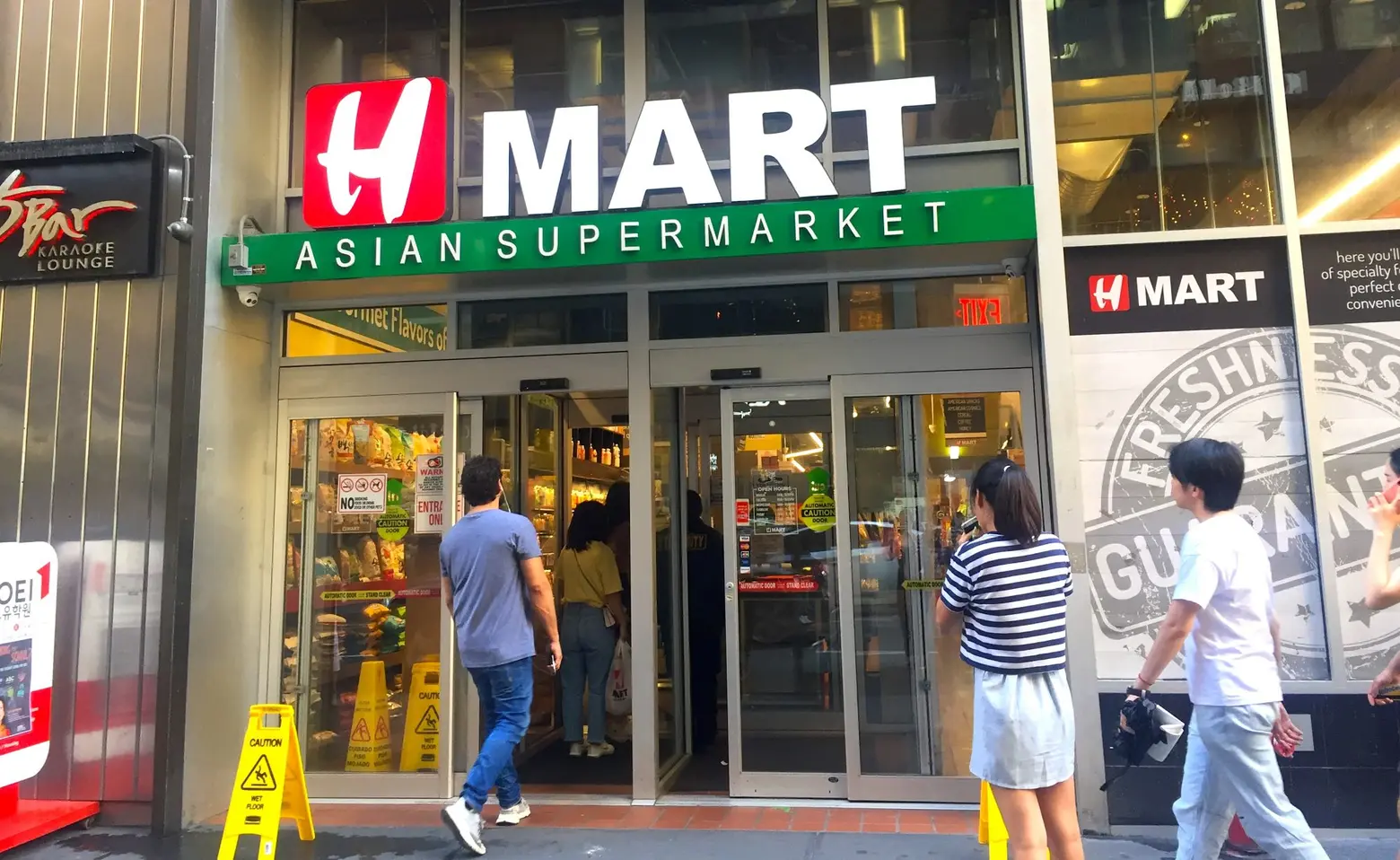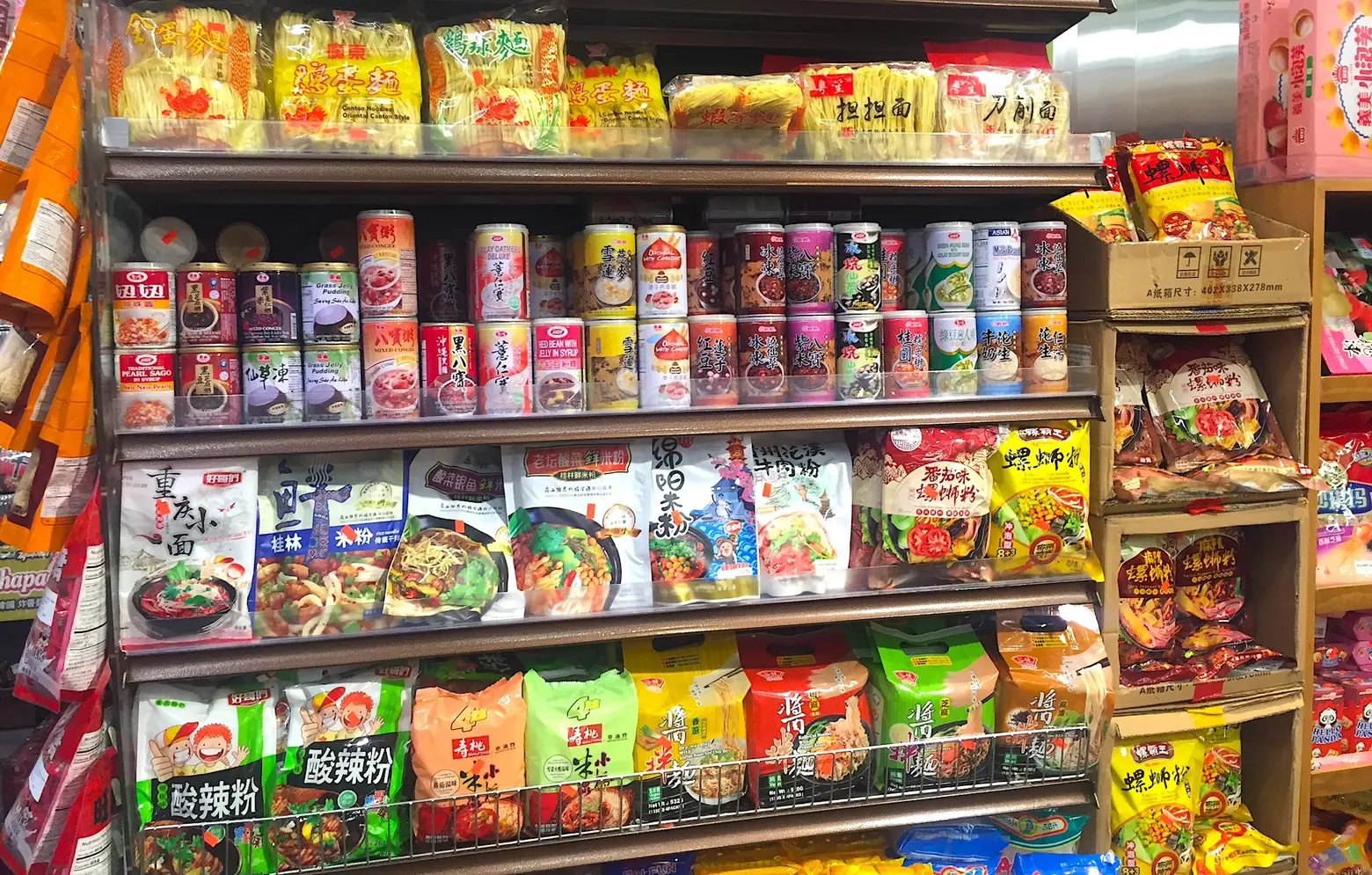 Photos © 6sqft
H Mart
38 West 32nd Street, Midtown West
With more than 97 locations in the United States, H-Mart is the largest Asian supermarket in the country. The chain started as a single store in Woodside, Queens, and has grown to have 10 stores in New York City alone. Although the chain started out selling solely Korean food, H Mart now carries a wide variety of foods and home products from around Asia. Find a store near you here.
Brighton Bazaar
1007 Brighton Beach Avenue, Brighton Beach
Located in the primarily Eastern-European neighborhood of Brighton Beach, Brighton Bazaar sells all of the dishes you'd expect from a Russian market, including freshly baked bread, fruit, and imported sweets. However, they also have a large prepared food bar, where you can load up on blini and borscht. The bazaar sells 300 varieties of hard-to-find international fruit and vegetables, according to its website.
El Tepeyac
1621 Lexington Avenue, East Harlem
El Tepeyac is a hidden gem in East Harlem. The Mexican grocery has an attached meat market, as well as homemade guacamole and a large selection of imported beer. In addition to selling fresh groceries, El Tepeyac also has an attached taqueria serving up lunch and dinner. As the shop describes, "we combine traditional preparations with local ingredients for dishes that are authentic to both their Mexican origins and New York setting."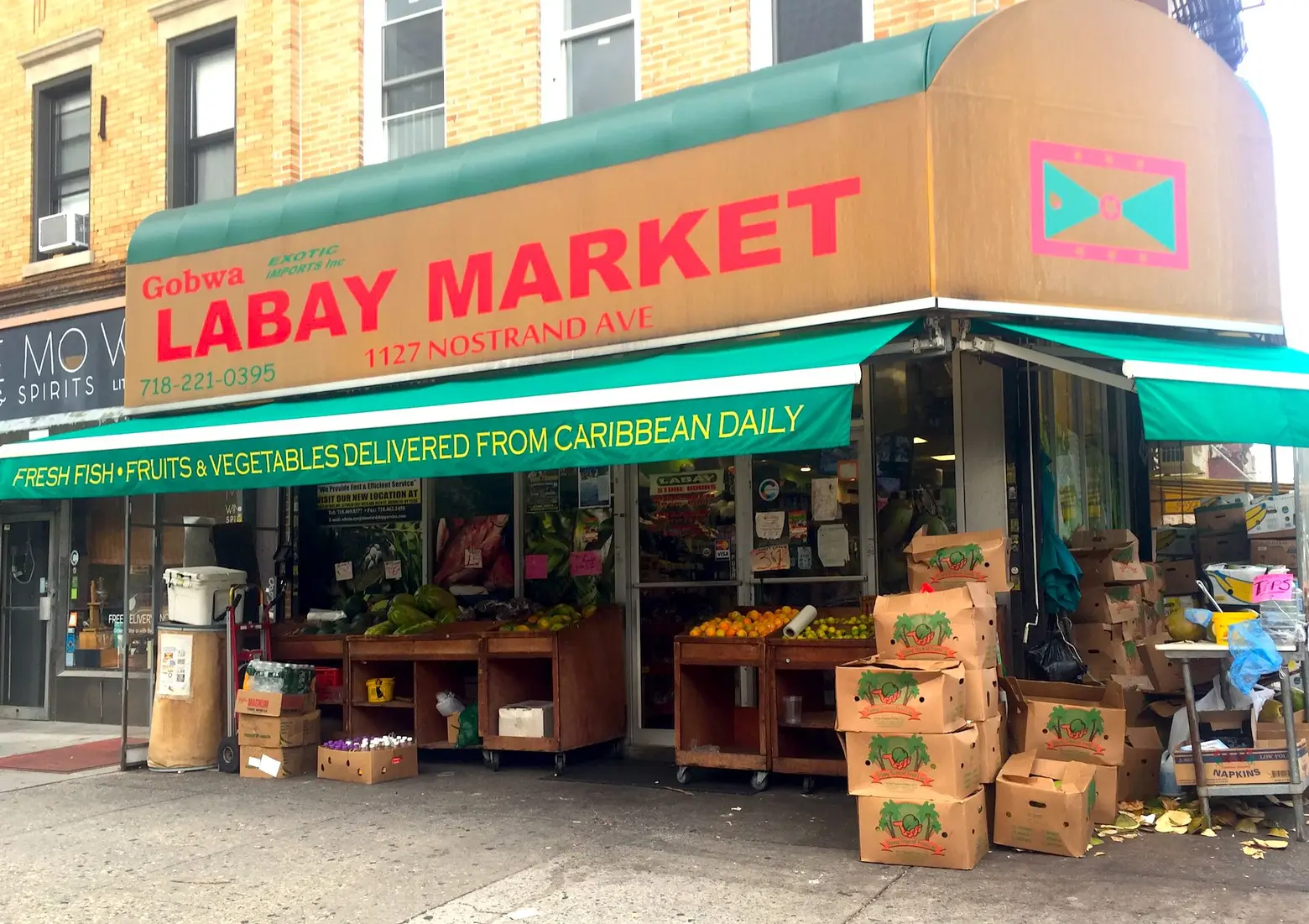 Photo © 6sqft
Labay Market
1127 Nostrand Avenue, Prospect Lefferts Gardens
Find all the fresh Caribbean fruits, vegetables, and spices you can dream of at Labay Market in Prospect Lefferts Gardens. The owner imports his goods from Grenada, like soursop and breadfruit, giving the Caribbean community in the neighborhood a little taste of home.
3 Aunties Thai Market
64-04 39th Avenue, Woodside
This family-run market has become a neighborhood staple. The storefront may be small, but the shelves are well-stocked with tea, spices, and candies. Hot foods are prepared in-house, and they even carry dried crickets and silkworms, for the adventurous.
Mediterranean Foods
30-12 34th Street and 22-78 35th Street, Astoria
Mediterranean Foods has been feeding Astoria the best of Greek specialties since 1974. The grocery store specializes in Greek and Mediterranean cheeses, olive oils, coffees and teas, and frozen foods like moussaka and spanikopita. The store, which has two locations in the Queens neighborhood, boasts an impressive cheese collection, with 20 types of feta alone.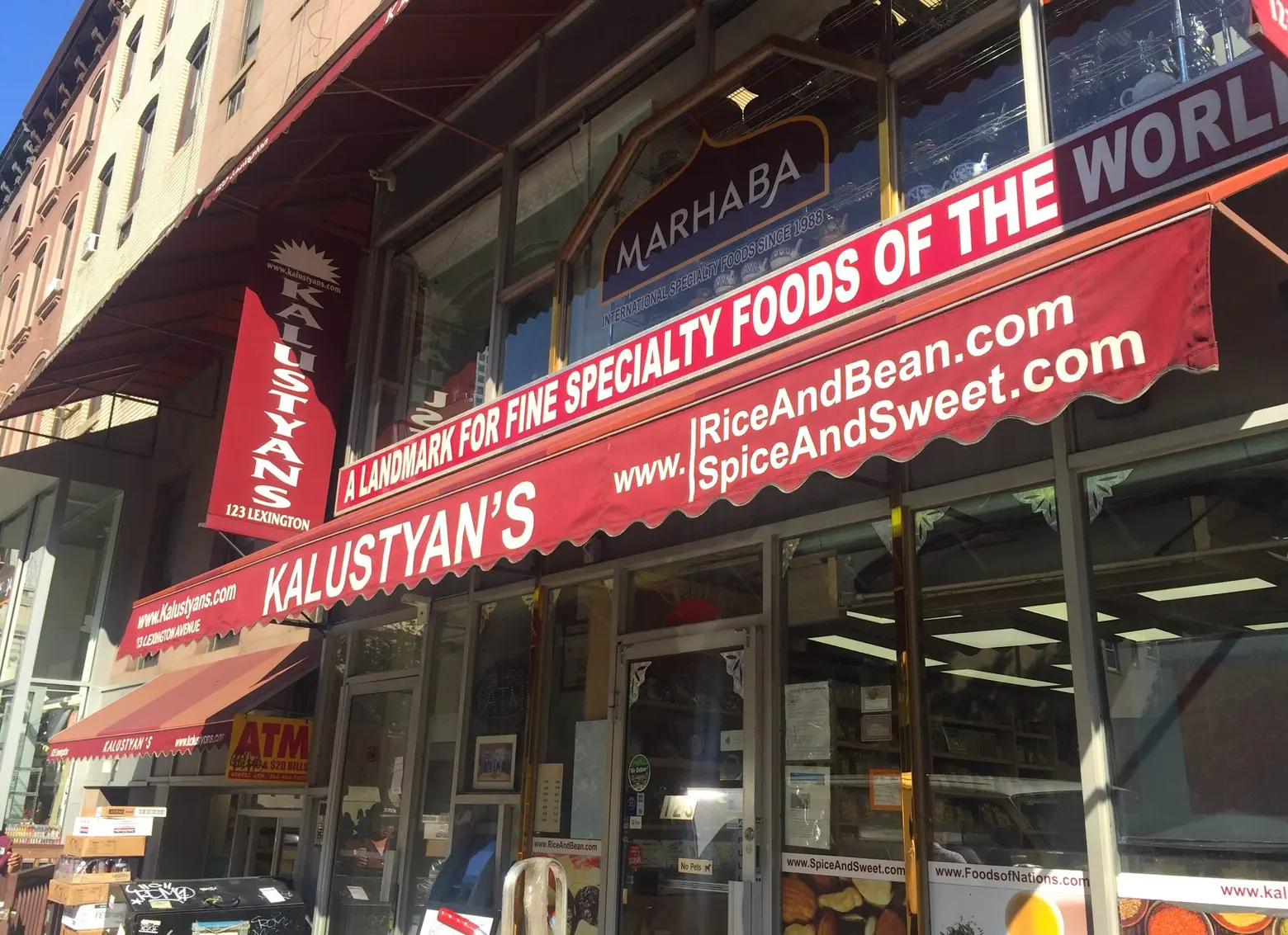 Photo © 6sqft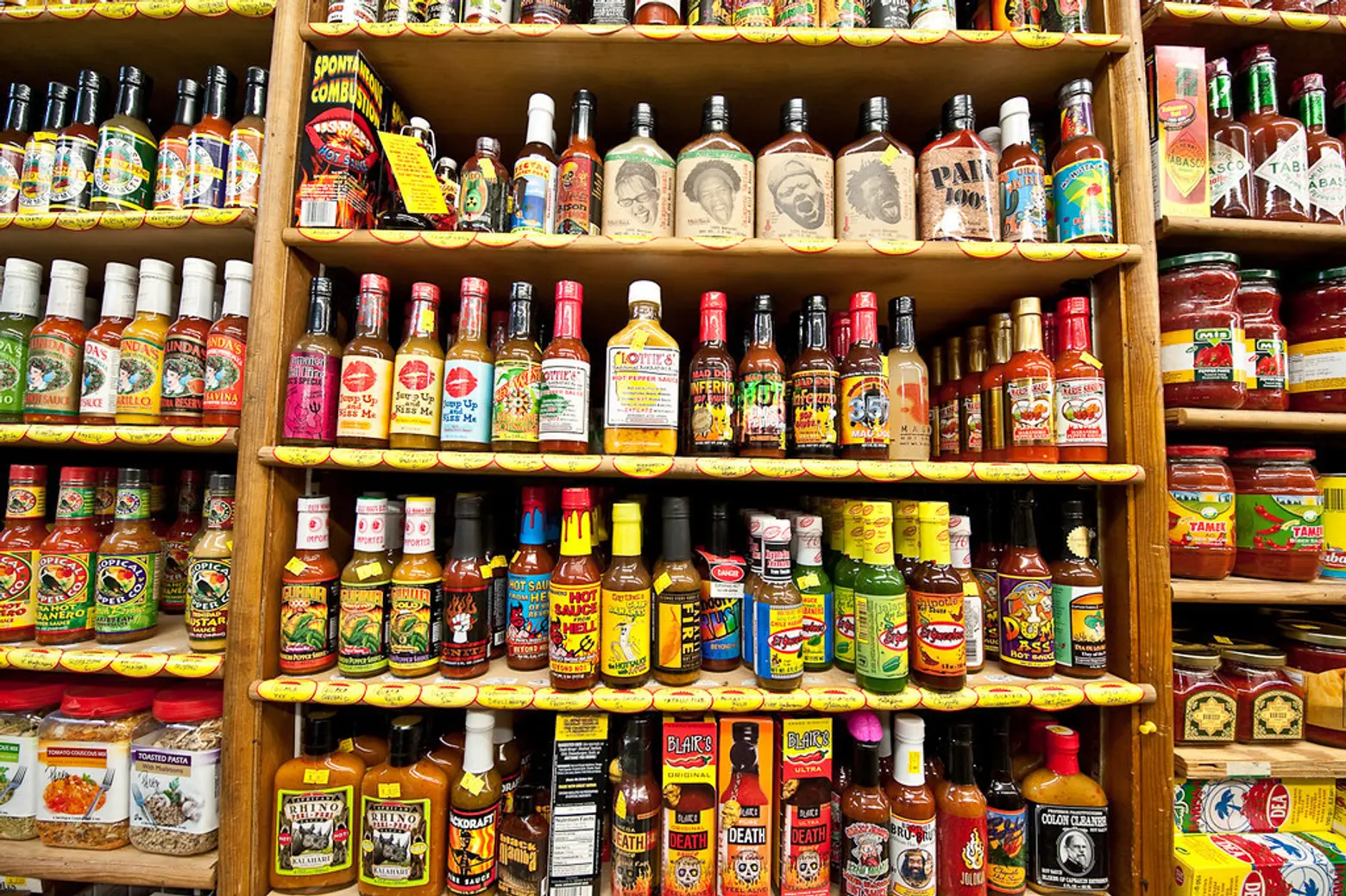 Photo by Jazz Guy on Flickr
Kalustyan's
123 Lexington Avenue, Murray Hill
Kalustyan is as historic as it is expansive. Located in Murray Hill and established in 1944, the Indian market is best known for its spices. Foodies, home chefs, and professional gastronomers alike all rave about the wide selection of spices and herbs. There's also a deli-cafe upstairs, and with celebrity chefs like Padma Lakshmi and Martha Stewart frequenting the so-called "spice mecca" of NYC, you might find yourself rubbing elbows with some of the city's culinary elite.
Phil-Am Foods
527 Thompkins Avenue, Staten Island
Since 1985, Phil-Am Foods has offered Staten Island's growing Filipino-American community a place to connect and shop for authentic grocery items. In addition to selling groceries and ready-made meals, the grocery store also will ship "balikbayan" boxes to the Philippines. In 2014, Phil-Am Kusina, a sit-down restaurant connected to the store, opened, serving up specialties like adobo chicken wings, sauteed noodle dishes, and shaved-ice dessert Halo-Halo.
Lanka Grocery
344 Victory Boulevard, Staten Island
Home to the city's Little Sri Lanka, Staten Island's Tompkinsville and St. George neighborhoods contain the best options for home-cooked Sri Lankan cuisine. Lanka Grocery, also known as Apey Kade ("our market"), sells hard-to-find chilis, spices, and fish chips.

Photo © 6sqft
New Kam Man
200 Canal Street, Chinatown
Founded in 1972, Kam Man Food was the first Chinese supermarket on the East Coast. Now a chain found 8n New York, New Jersey, and Massachusetts, this Chinese emporium offers a wide selection of goods, from BBQ roast pork to plates to beauty products. Spread out over three floors, the grocery store's main draw is its low prices and its selection of otherwise elusive imported snacks.
Adja Khady
251 West 116th Street, Harlem
Located in an area of Harlem sometimes referred to as "Little Senegal," Adja Khady is one of the few Senegalese markets in NYC. The store is small, but you'll find all sorts of West African staples, like roasted peanuts, palm oil, blazing hot peppers, and a variety of grains. There's even a selection of homemade teas.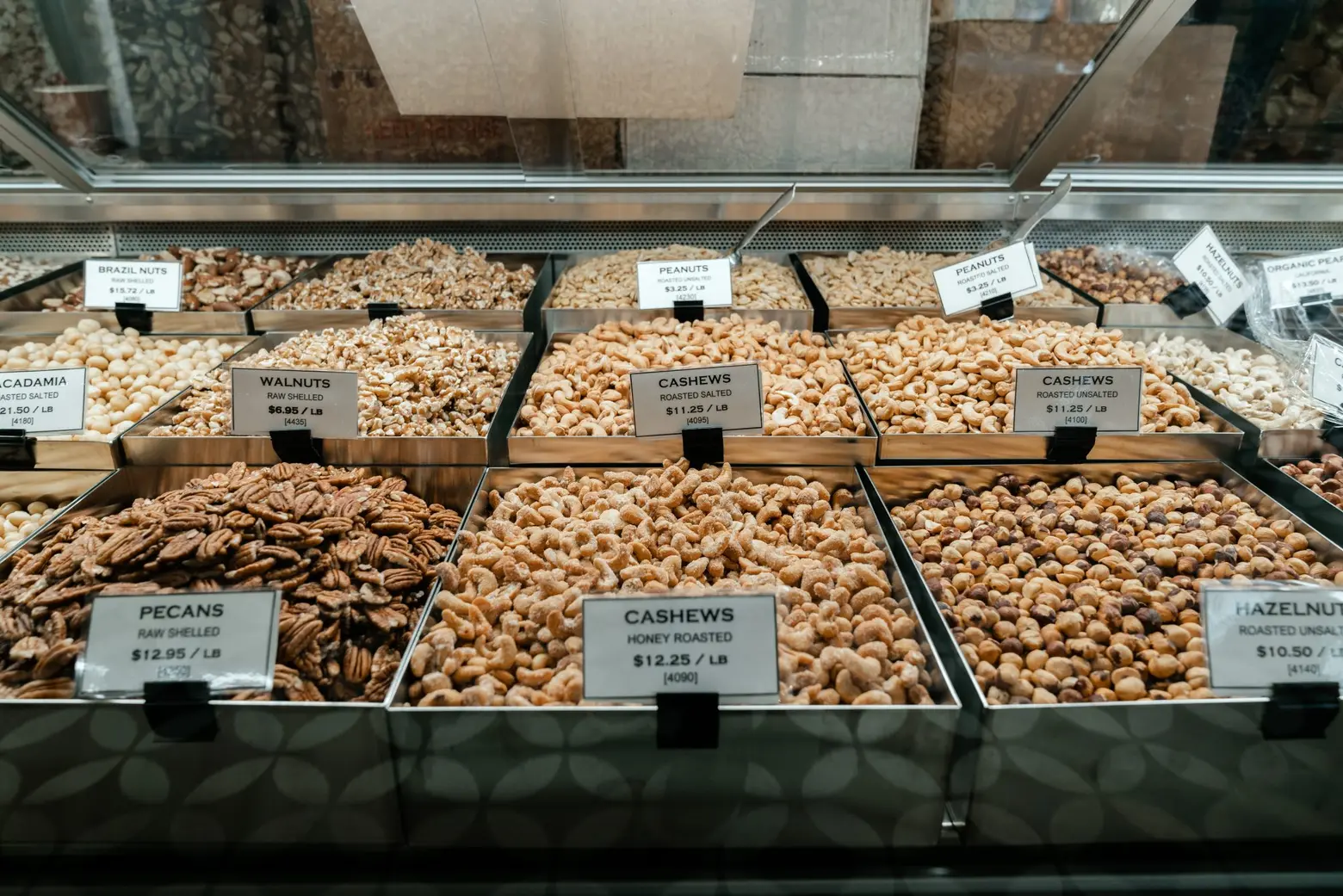 Courtesy of Industry City
Sahadi's
187 Atlantic Avenue, Cobble Hill and 34 35th Street, Sunset Park
A community staple for over 120 years, Sahadi's is no doubt a New York City institution. Originally established in Manhattan's "Little Syria" in 1895, the Middle Eastern specialty shop has been located on Atlantic Avenue in Brooklyn since 1948. The third-generation family-owned business opened its second location in the borough in 2019 at Industry City, along with a sit-down restaurant. The grocery store is known for its massive collection of grains, spices, dried fruits, olives, coffee beans, roasted nuts (which take up more than 200 bins!), and other items.
RELATED: 
Editor's note: An earlier version of this story was published on August 27, 2019.