Dining guide: Where to eat and drink at Hudson Yards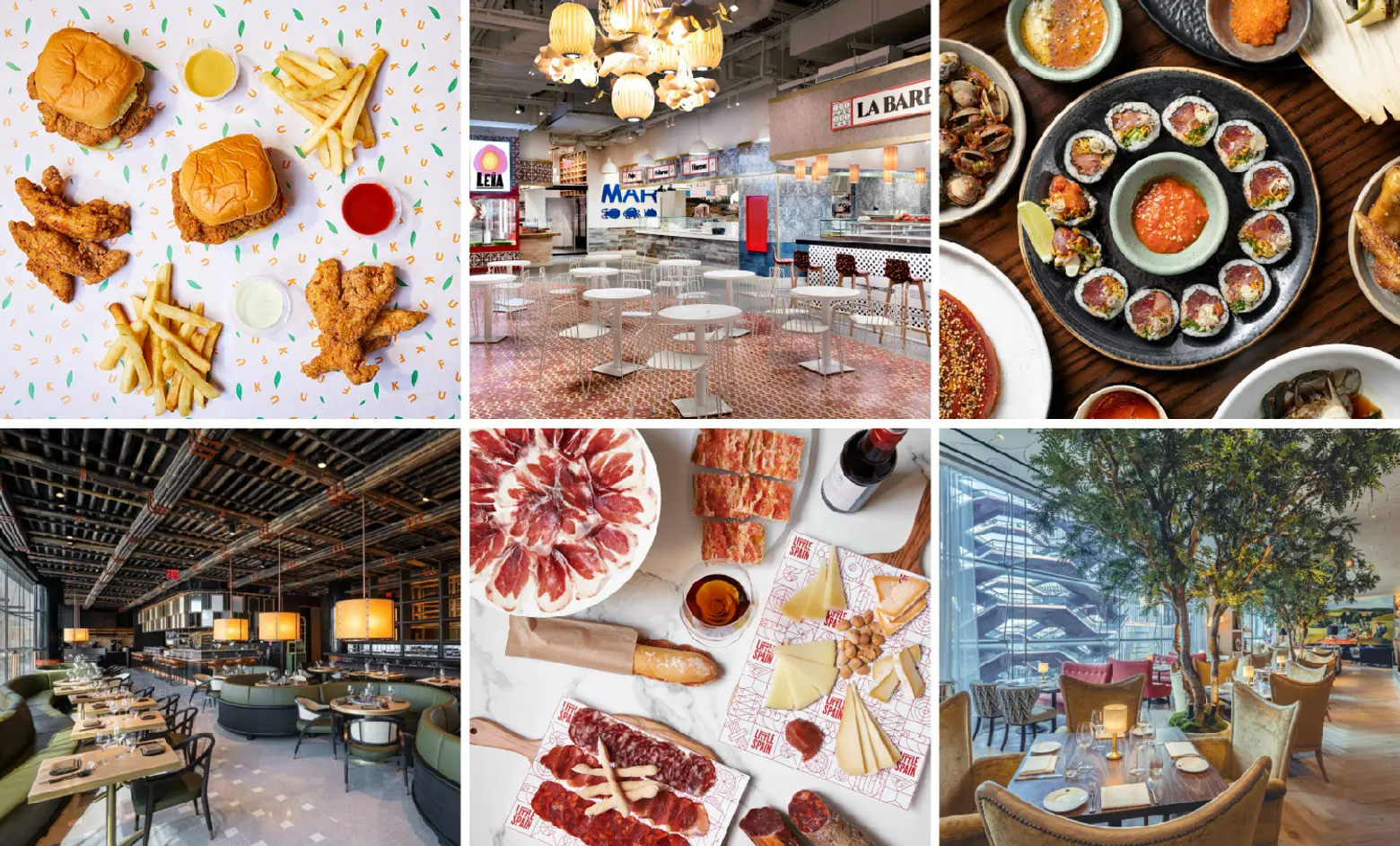 The food offerings at Hudson Yards are among the biggest draws of the new neighborhood, bringing restaurants from acclaimed chefs like Thomas Keller, David Chang, Estiatorio Milos, and more, alongside Chef José Andrés' Mercado Little Spain, a 35,000-square-foot Spanish food hall. The restaurants at the development were carefully co-curated by Chef Thomas Keller and Kenneth Himmel and will feature every type of dining experience you could want, from coffee to cocktails, to grab-and-go salads and lavish dinners. Below, check out a guide to everything that's already opened and more soon to come.
Mercado
Photo by Liz Clayman
Described as the Spanish version of Eataly, Chef José Andrés' Mercado Little Spain is already one of Hudson Yards' biggest food destinations. Andrés—a DC-based chef who owns more than a dozen restaurants as part of his company Think Food Group and holds two Michelin stars—partnered with brothers Ferran and Albert Adrià of El Bulli fame. The 35,000 square-foot Mercado will have three full-service restaurants, plus Spanish retail, bars, and 15 tapas kiosks. The bright and colorful interior design is the result of a collaboration between New York-based iCRAVE and Barcelona-based architects Capella Garcia Arquitectura. With a huge ground floor entrance, Mercado will likely become a central access point to the building with round-the-clock fare.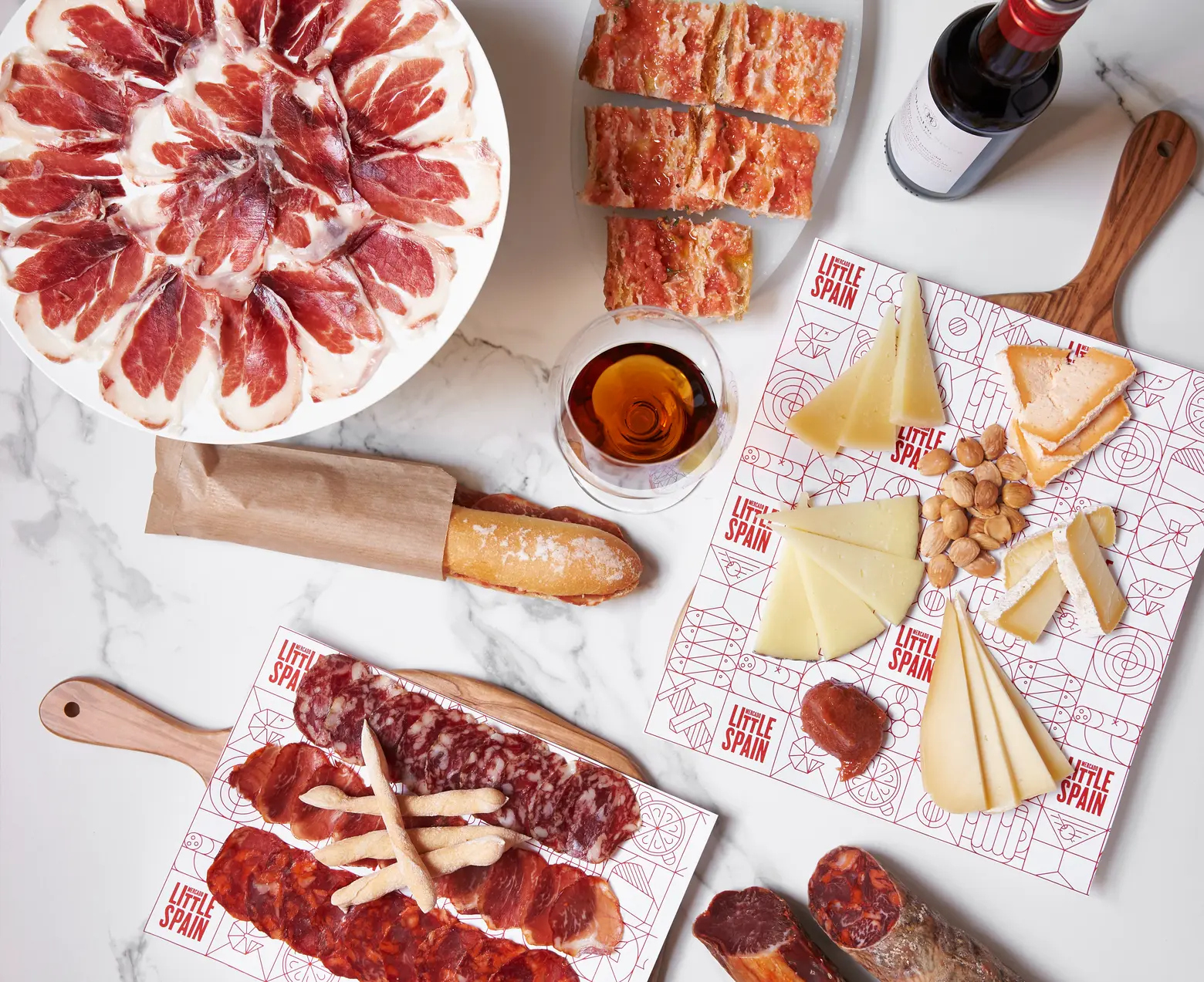 La Barra (top) and Jamón y Queso (bottom); photos courtesy of Mercado Little Spain
The offerings at Mercado will open in phases, with some of the kiosks already open and the full-service restaurants slated to debut a little later. These will include Leña, a restaurant focused on traditional cooking techniques with wood and charcoal; Mar, a seafood restaurant showcasing a wide variety of techniques and types of dishes; and Spanish Diner, the most casual of the three, which will eventually be open from 7 a.m. to late night offering homestyle Spanish cooking, like egg tortillas, sandwiches, and a combination platter with rice, eggs, tomato sauce, and sausage.
Wild Ink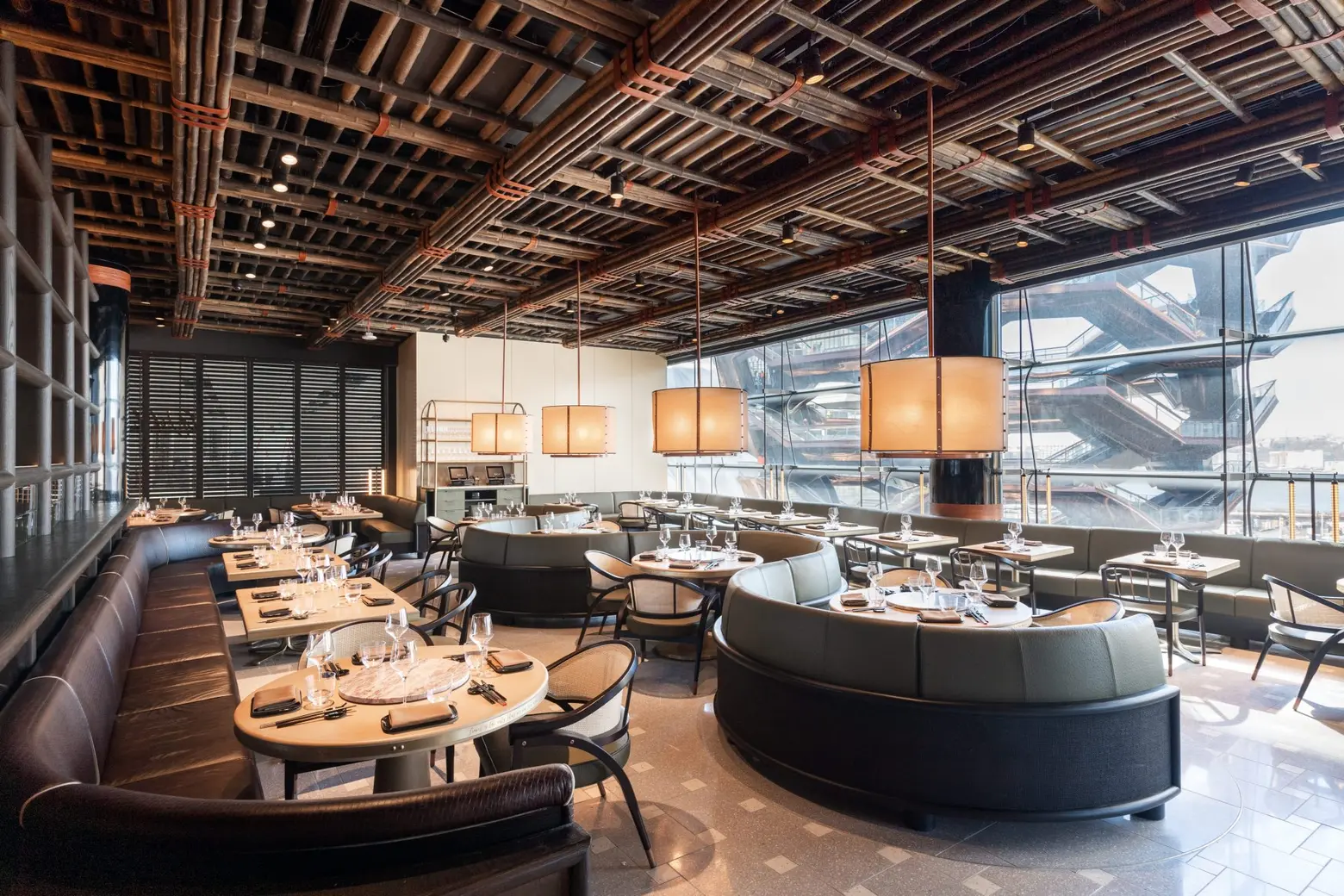 Image courtesy of Wild Ink
The design of Wild Ink's 5,800-square-foot, 175-space was inspired by the original Penn Station with Eastern influences, created by London-based designer Robert Angell who is known for his work at The Berkeley and The Savoy. The space—located on the fifth floor of 20 Hudson Yards—features curvy banquettes, an open kitchen, a big bar, lots of bamboo, and tables topped with Lazy Susans.
This is the first international project from premier UK hospitality group rhubarb. Helmed by Executive Chef Peter Jin, Wild Ink will feature an inventive menu incorporating Asian influences and techniques with global flavors and ingredients. Alongside a range of small dishes and dim sum, food options include a Japanese risotto with shiitake mushroom dashi, a curried lamb momo, and a miso custard tart.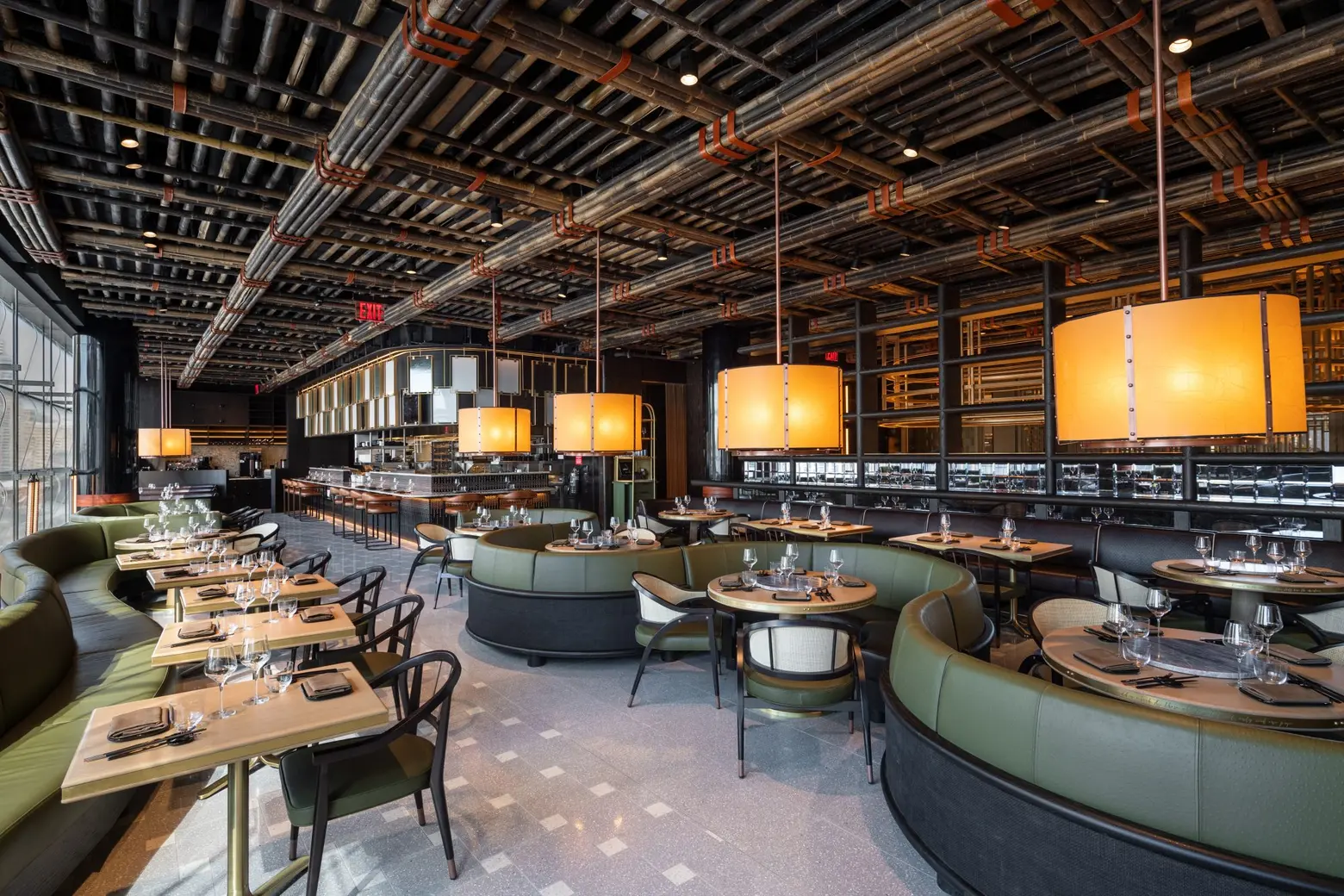 Image courtesy of Wild Ink
Later this year, rhubarb will also open a 10,000-square foot restaurant and events space at 30 Hudson Yards, occupying the top level of the 1,296-foot-tall tower, featuring the highest man-made observation deck in the western hemisphere with breathtaking views.
Kāwi and Peach Mart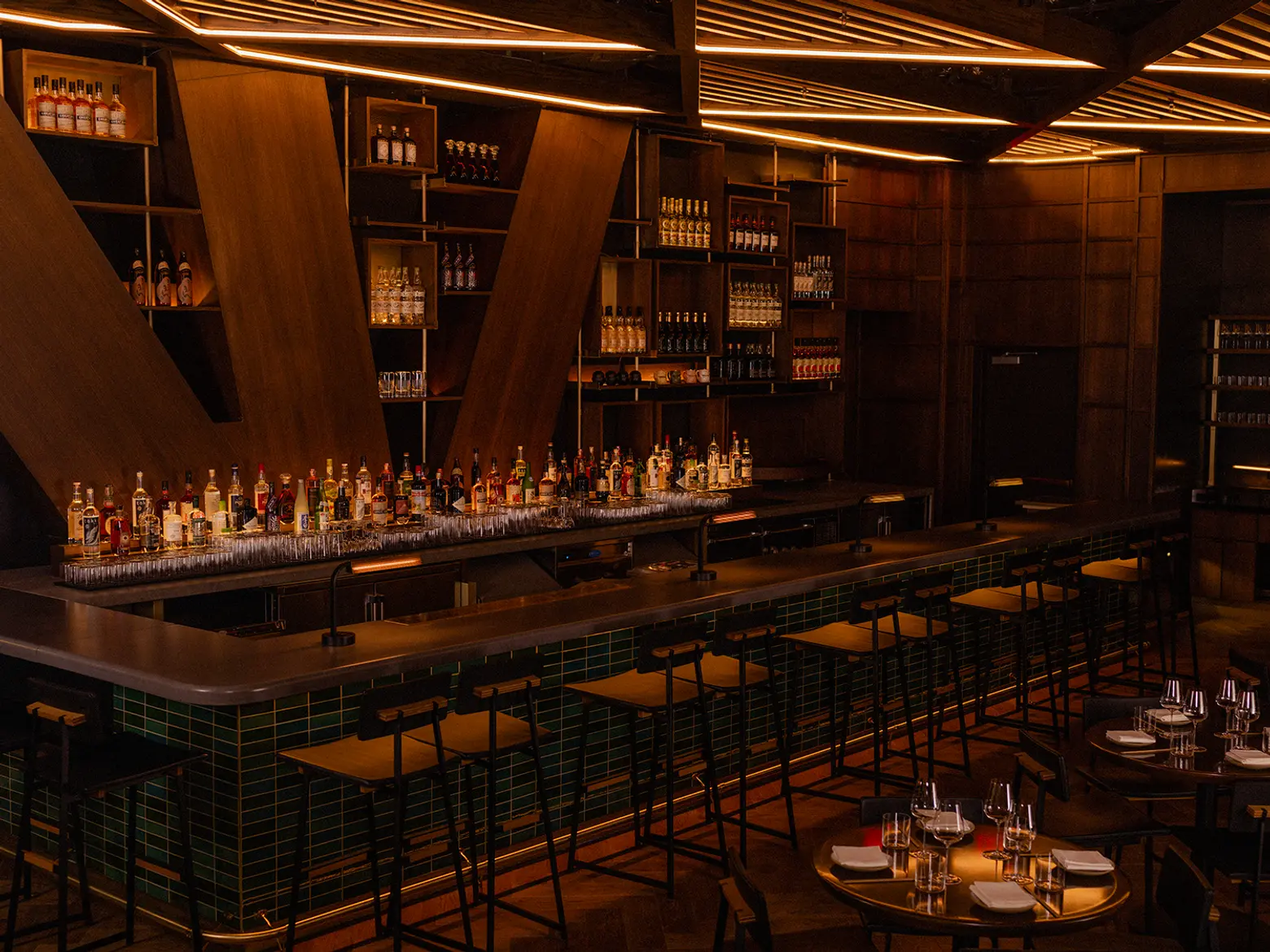 The bar at Kāwi, photo by Molly Matalon (top); The food at Kāwi, photo by Andrew Bezek (bottom)
David Chang also makes a huge appearance on the fifth floor of 20 Hudson yards with the 5000 square-foot Kāwi, a slightly more luxe iteration of Momofuku restaurants. It will have a dining room, a bar, and a counter with seats looking into an open kitchen. Chef Eunjo "Jo" Park, formerly of Daniel and Per Se, will create anti-traditional Korean fare inspired by her varied cooking experiences, with a focus on small and shareable plates, and dishes with tableside elements for a wow factor. For now, Kāwi is only open for lunch.
Next door to the restaurant will be Peach Mart, your new favorite Asian-inspired convenience store where you'll be able to find a wide range of snacks and prepackaged sandwiches like Spicy Tuna, Chicken Katsu, and Potato Salad.
Belcampo
On the fourth floor, you'll find an exciting new offering from northern California, a fast-casual option inspired by Belcampo Meat Co., a butcher and farm in Shasta Valley helmed by co-founder and CEO Anya Fernald, who is focused on ethical meat sourcing.
The menu is a celebration of meat and will offer a 28-day dry-aged beef burger with white cheddar cheese and a 100-day dry-aged beef burger with raclette alongside bowls and salads topped with Belcampo's meats, starting at $14, plus bone broth, sausage, roast chicken, duck confit, lamb shawarma, and steak-frites. The casual 80-seat spot will primarily offer counter-service, and there will be a separate bar with a full-service bartender and special menu items, like carpaccio. No butcher shop here; instead, a special case in the middle of the restaurant will feature finer cuts of meat from the farm for people seeking a spendier dinner.
Queensyard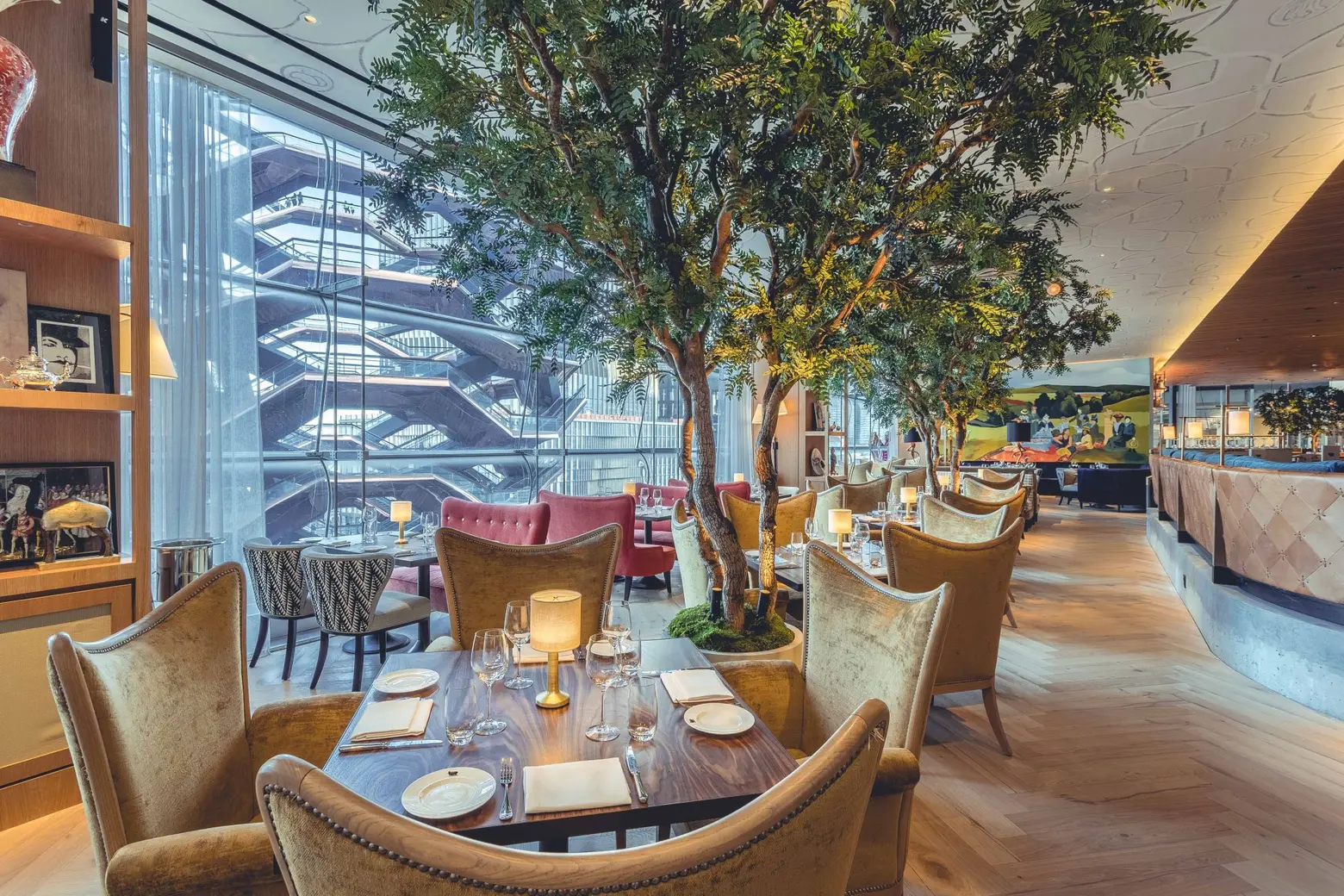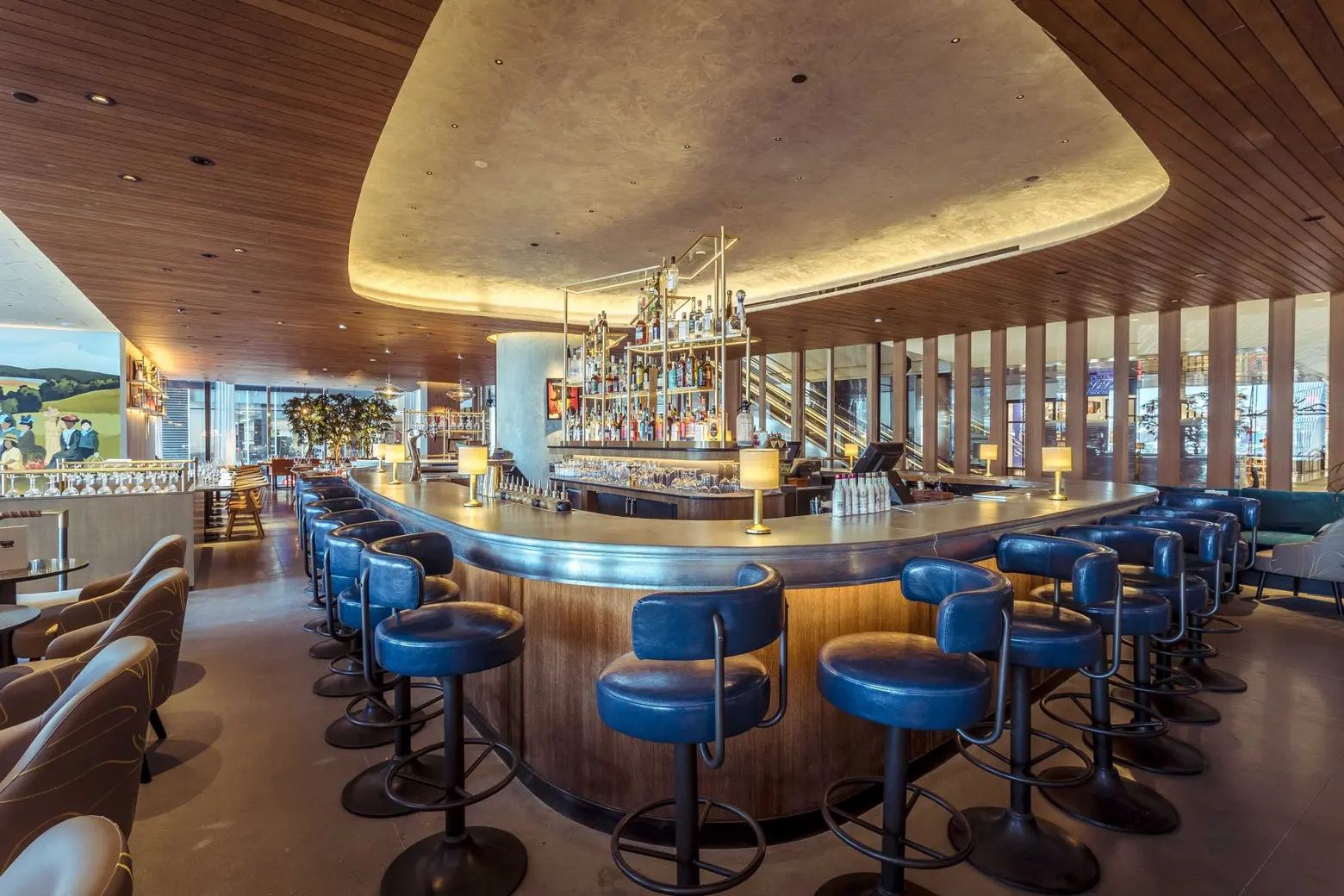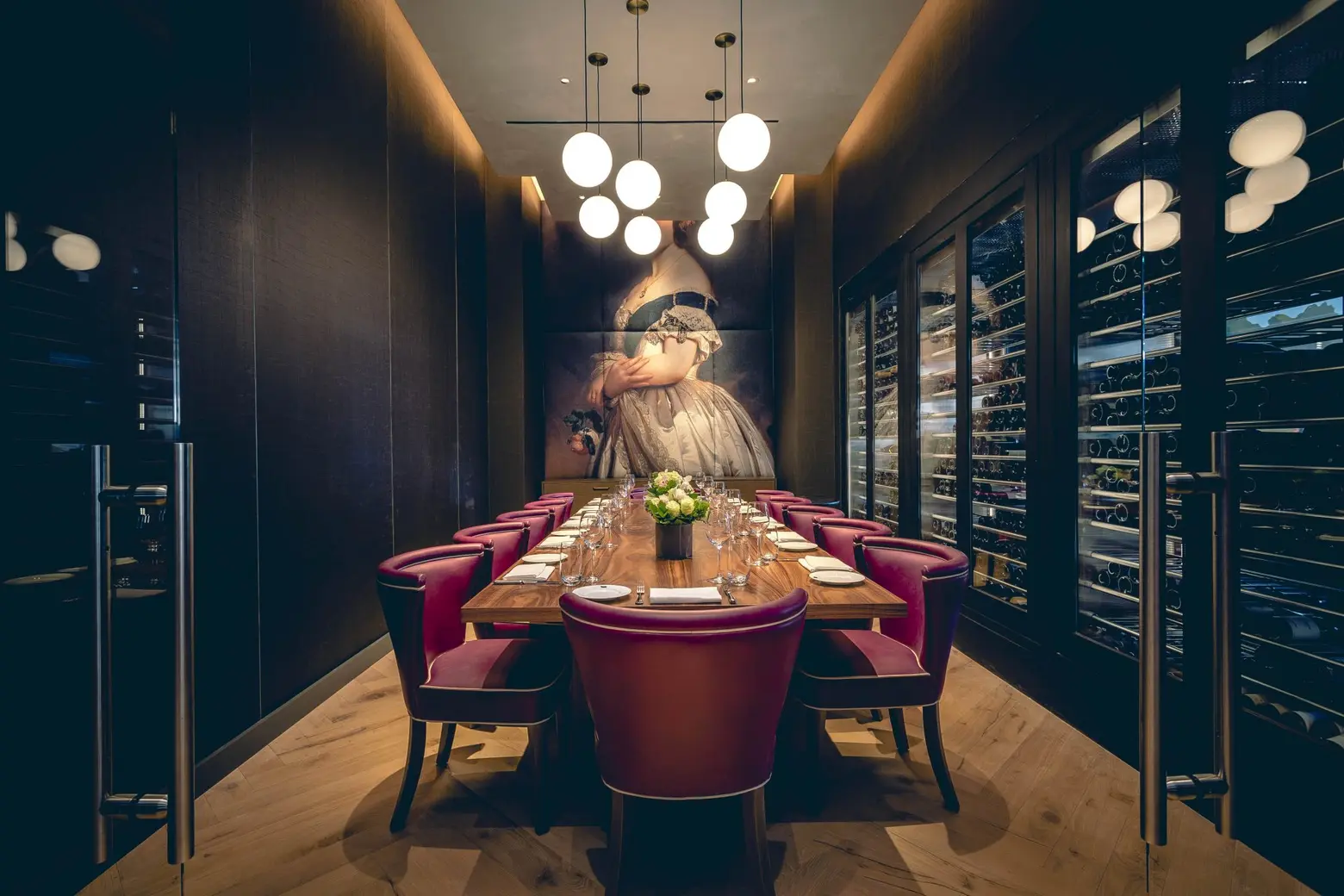 Photos by Will Stanley, courtesy of Queensyard
For a full-service experience on the same floor, customers can opt for Queensyard, the second NYC restaurant from the D&D London hospitality group and designed by CetraRuddy. The main dining room seats 110 and offers views of Heatherwick's Vessel. The menu features British fare such as Beef and Marrow Pie and Venison Scotch Eggs, and a martini cart making the rounds on the floor. The 11-000 square-foot space has cushiony banquettes, real trees inside the restaurant, and large murals on the walls. In the bathroom, you'll hear songs by Queen, exclusively.
Estiatorio Milos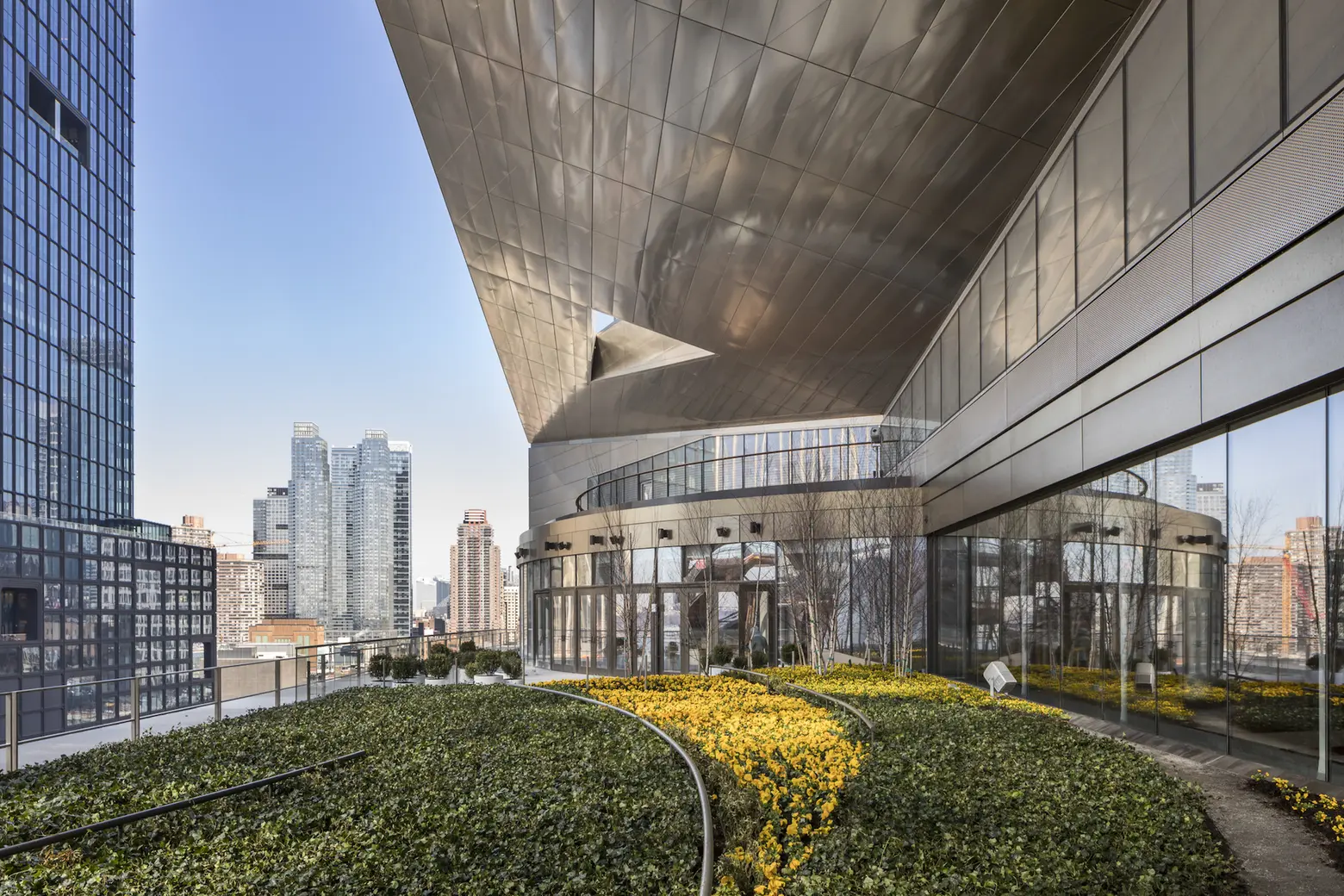 Estiatorio Milos Terrace, with a view of 55 Hudson Yards
Chef Costas Spiliadis first opened his sleek Midtown restaurant in 1997 and has attracted a lot of attention (though dwindling in recent years) since then. Its new outpost on the fifth and sixth floors at Hudson Yards will feature marble floors, a spiral staircase to the dining room, great views, and will be the only restaurant with an outdoor terrace. The menu will be similar to his first location, but with the addition of a wine bar (highlighting Greek wines), a yogurt bar, and a range of packaged goods.
The Zodiac Room
The Zodiac Room will be inspired by the Zodiac, a snazzy spot for the ladies-who-lunch crowd inside Neiman Marcus's flagship Dallas location. Slightly hidden in the middle of the store's women's department on the seventh floor, the restaurant will serve the popovers that have been crowd-pleasers in Texas for decades and other comfort finger foods, which visitors can enjoy while overlooking the great views onto 10th Avenue. A coffee shop and a bar will also open later.
Hudson Yards Grill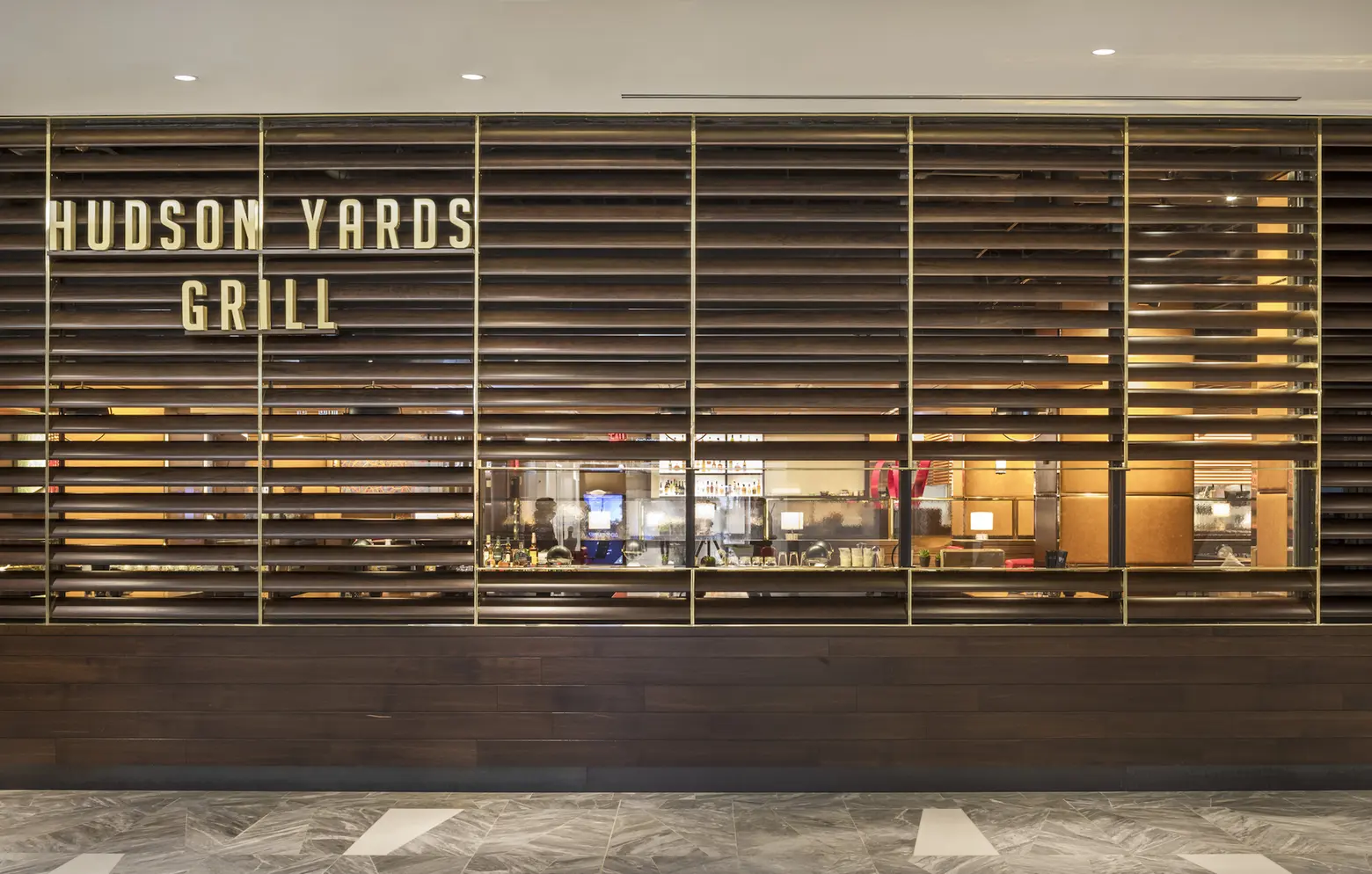 Image courtesy of Francis Dzikowski for Related-Oxford
Michael Lomanaco, the TV personality and chef behind Time Warner Center steakhouse Porter House Bar and Grill, will be opening his second New York restaurant on the fourth floor, a collaboration with Boston's Himmel Hospitality Group. The 265-seat restaurant with an open kitchen and big bar will offer something for everyone, from a variety of meats cooked on a spit, to American classics like fried chicken, and even pizza and sushi.
Other notable spots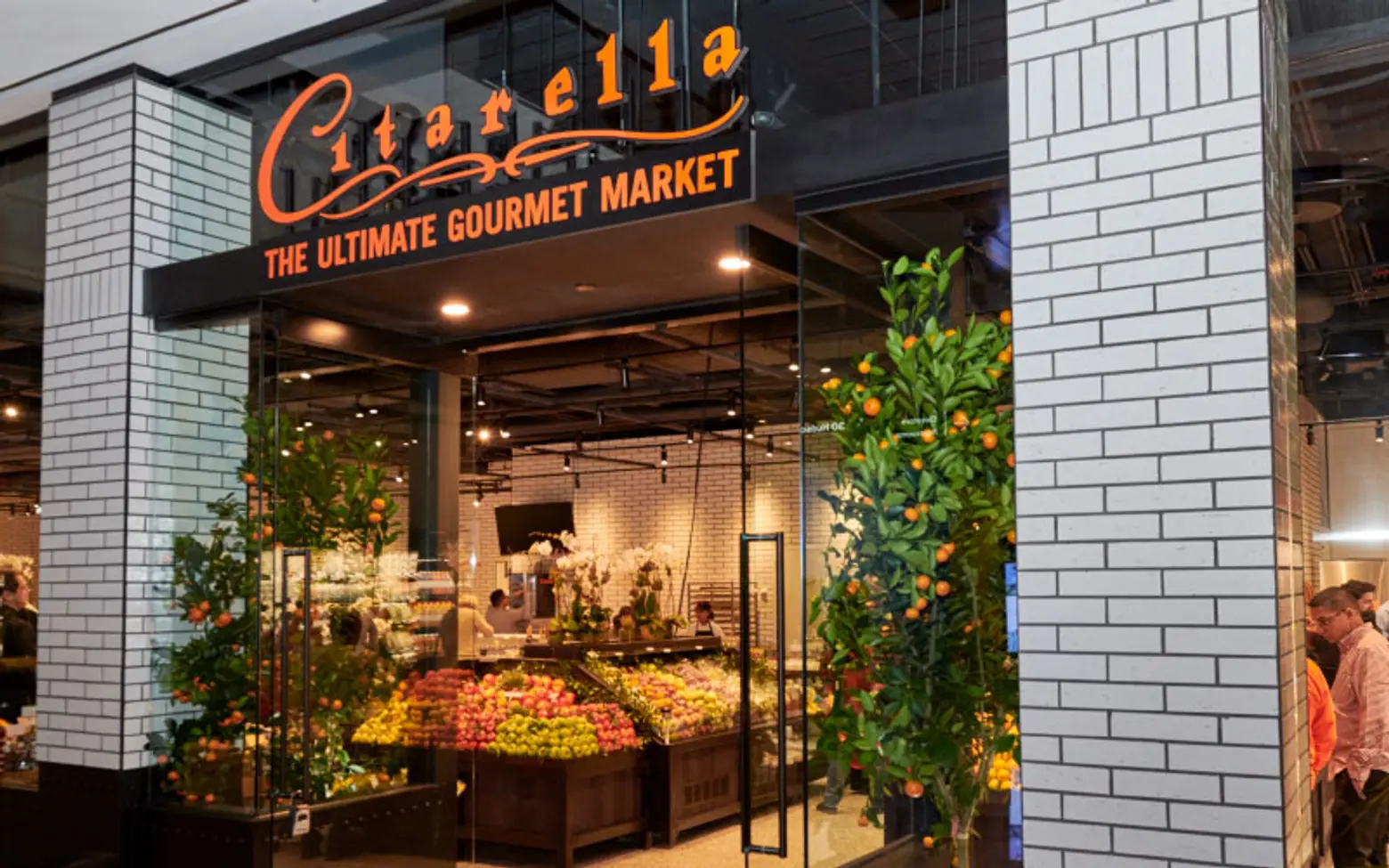 Courtesy of Citarella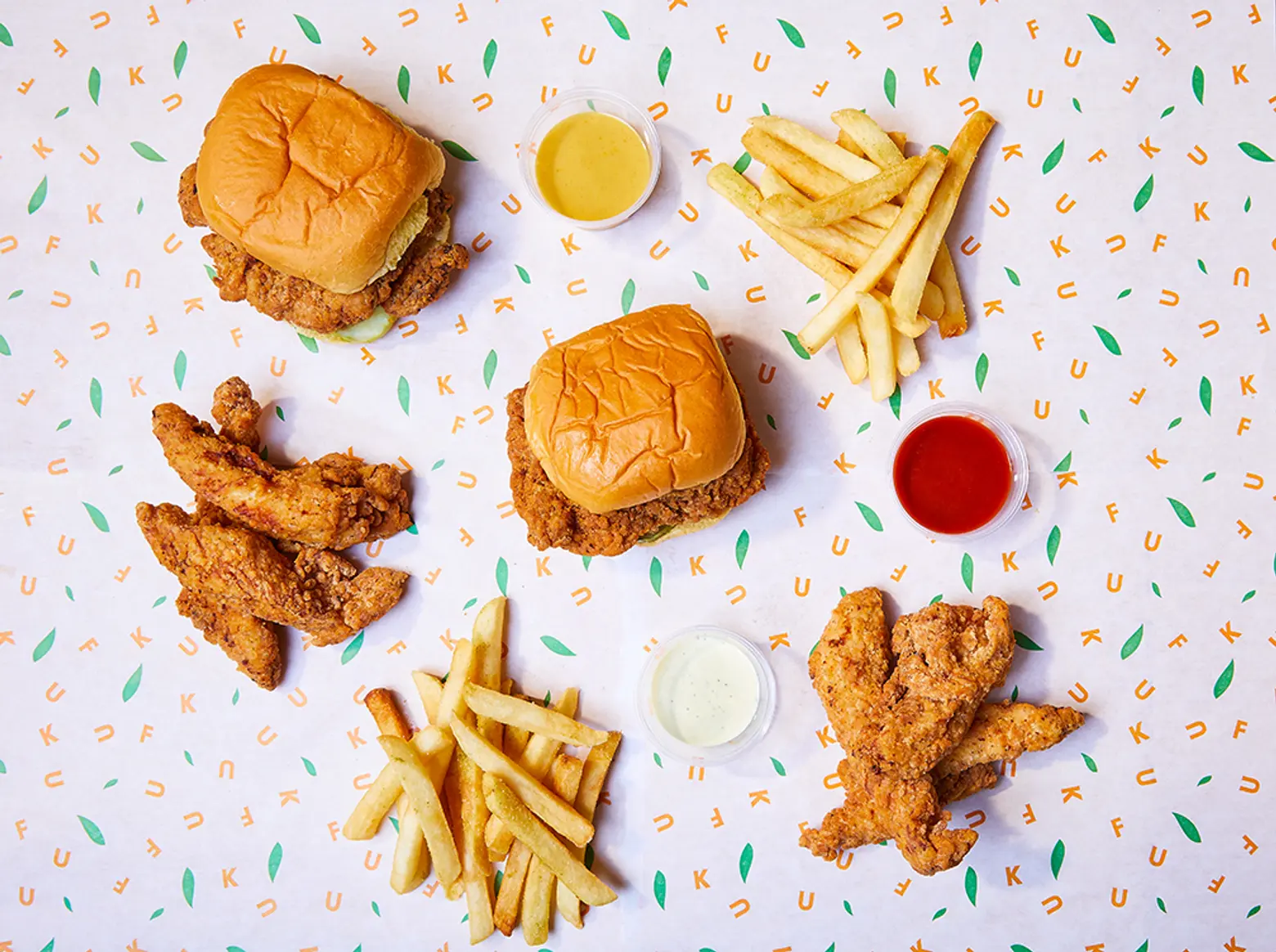 Fuku, photo by Zack DeZon
Second floor
High-end grocer Citarella (best known for its fish counter) has a full market, plus a prepared food section with seating and a wine and liquor store. An ice cream and cereal bar from fashion brand Kith will be inside Snark Park, an immersive exhibition space. Bay Area-based company Blue Bottle Coffee is on the southwest side and a location of David Chang's fried chicken restaurant Fuku will be here as well.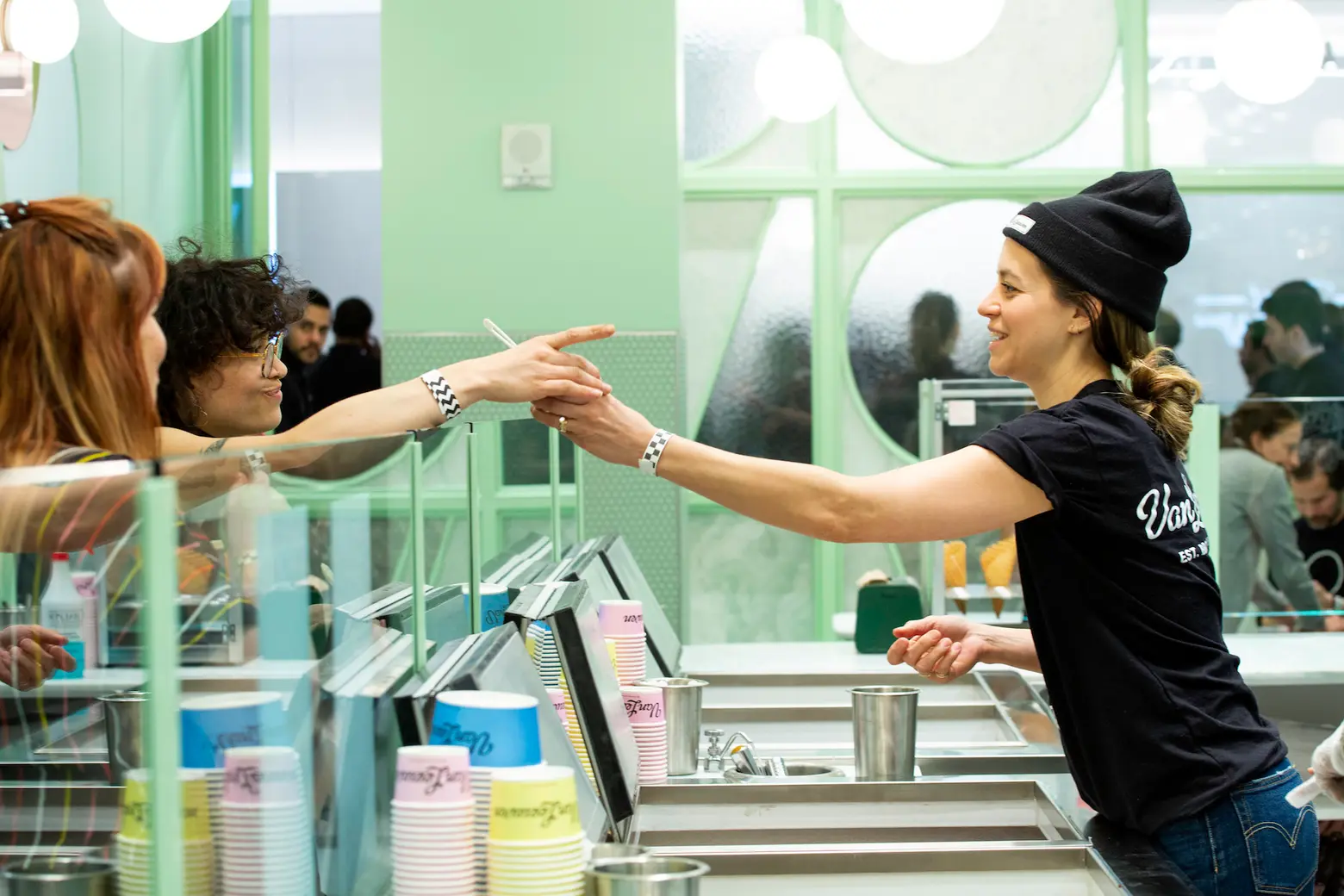 Courtesy of Van Leeuwen
Third floor
Australian coffee chain and cafe Bluestone Lane has an outpost, right next door to Greenpoint-born artisan ice cream shop Van Leeuwen. William Greenberg Desserts, the Kosher bakery open since the 1940s called is opening a new location on the third floor where it will serve its famous black-and-white cookies and brownies in a 500 square-foot space reminiscent of its Madison Avenue flagship.
Fourth floor
Danny Meyer's Shake Shack will be across the hall from Jack's Stir Brew Coffee and an outpost of Dylan's Candy Bar. Manhattan's oldest chocolate house Li-Lac Chocolates will offer more than 100 handmade chocolate varieties.
Other buildings
Over at 10 Hudson Yards, at 30th street, salad chain Sweetgreen is open and 55 Hudson Yards will have a location of bakery chain Maison Kayser.
Coming Soon
TAK Room
Thomas Keller, who had his hand in selecting all the dining options at Hudson Yards, will open his own spot on the fifth and sixth floors. The 200-seater will reportedly be less pricey than his tasting menus at French Laundry and Per Se. The menu will feature Continental food and there will be champagne carts and live music. It's been hosting celebrity-packed private parties but won't be opening to the public until later in March. You can reserve a table now, but Anderson Cooper joked at the Hudson Yards opening that even he couldn't get a spot. 
A not-yet-named Stephen Starr restaurant
The James Beard-award winning restaurateur will open a restaurant inside the Equinox Hotel with a focus on seasonality and healthy food, expected to open in June.
Cedric's at The Shed
Danny Meyer's latest spot will cater to visitors of The Shed. It will have 121 seats when it opens in April and will be open from morning to late evening. Drinks will be the focus here over food, which will be mainly light fare like snacks, sandwiches, and salads.
RELATED: